This post is an overview of our stay glamping on Governors Island in collaboration with Collective Retreats.
Did you know there a peaceful place and one of the most unique hotels in New York City where you wake up facing the Statue of Liberty with nothing between you and her except for water and enjoy being up close to those majestic skyline views in close to silence?
Sounds like something that only exists in storybooks but the reality is you can enjoy one of the most serene stays in NYC glamping at Governor's Island.
From the months of May through the end of October you can enjoy this luxury oasis on the former strategic military base that was built to protect the New York Harbor was used from the American Revolutionary War until 1996.
There are no shortage of things to do on Governors Island from walking around the historic buildings, some of which have been converted into art installations or house the resident artists, climb viewpoints, picnic on the lawns, take a ride down a thrilling slide, take a leisurely bike ride, and if you're lucky you may even spot a few of the resident sheep who graze not to mention the stellar views of the Statue of Liberty and Lower Manhattan.
But what makes this place a really great escape is something that is a true rarity to find in New York City, it's peaceful and quiet.
In fact, if you've ever visited on a day trip to the island, which is insanely easy to do with a short 5-minute ferry ride from Lower Manhattan or Brooklyn, you might wish you could just stay especially after enjoying a night glamping Governors Island with Collective Retreats.
Governors Island Glamping: Overview of the Property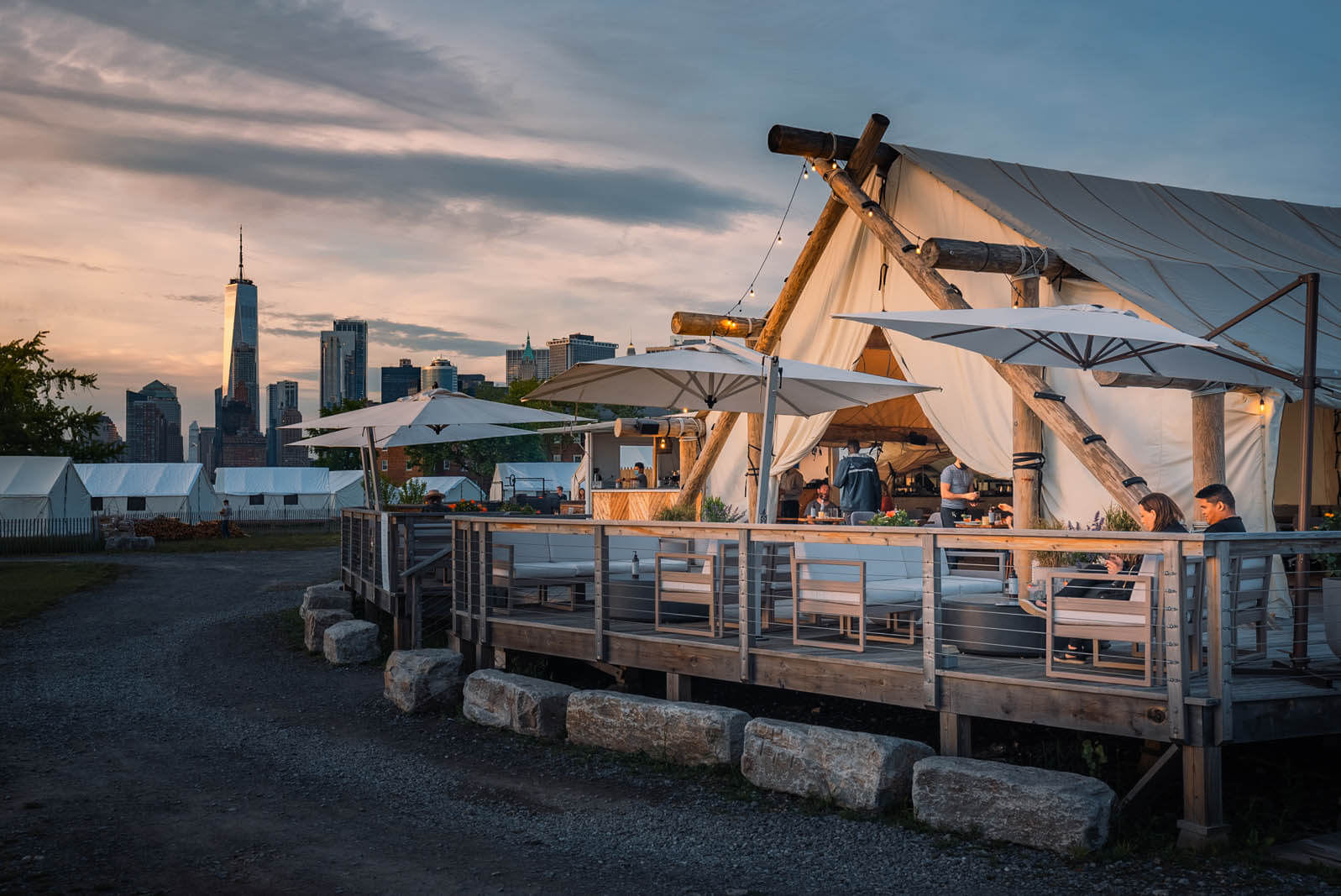 Collective Retreats glamping at Governor's Island is located on the side of the island in New York Harbor facing the Statue of Liberty and if you turn, facing Lower Manhattan and the skyline including the towering World Trade Center.
The property has different glamping areas for the different styles of tents they offer as well as a restaurant with a sunset terrace, concierge, and tents with individual bathrooms for guests on the property and those who are staying in a tent without private restrooms.
The concierge can arrange for pick-ups and drop-offs via a golf cart to help get you to and from the ferry with your luggage quickly and easily.
Whether you're staying and want to enjoy coming for dinner after the public ferry hours or you are just coming for a romantic sunset dinner here and need to return to the city, they can arrange for their private water taxi.
Their restaurant, Fire & Water at Three Peaks Lodge offers a seasonal 'farm to island' menu with a focus on seafood alongside an extensive wine list, cocktails, and drink list. Often during sunset, you can relax enjoying your meal and drinks while watching the harbor, skyline, and the Statue of Liberty with an extra dose of atmosphere with a live musician performing while you kick back and relax.
Non-overnight guests to the glamping on Governors Island can enjoy lunch or dinner at Fire & Water, reservations are required and can be booked via OpenTable. Since the ferries do not operate past 6 pm, Collective Retreats will accommodate dinner guests with reservation transportation on their private water taxi.
There are also culinary experiences available and are different every day from oyster shucking to wine tasting with the sommelier, so before booking be sure to ask what the offerings are during your stay.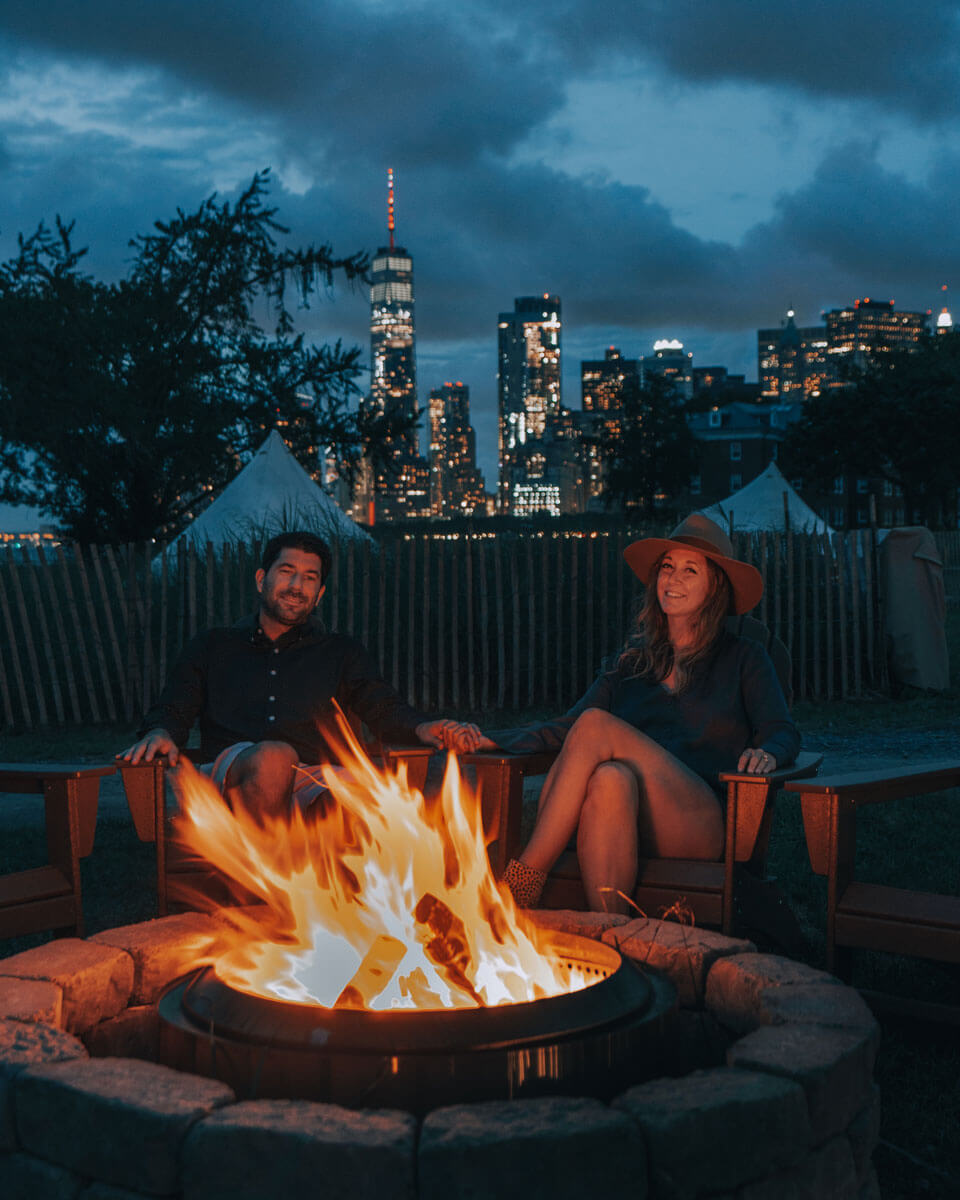 If you're visiting the city and are doing sightseeing, be sure to arrange for Collective Retreats to pick you up after hours so you can get back to your glamping on Governor's Island retreat!
After dinner, head to the lawn around a fire pit, and be sure to stop by the s'more station to pick up supplies so you can make a delectable little dessert, or bonus dessert if you already enjoyed something sweet at Fire & Water.
The private, shared bathroom area is near the restaurant behind the Journey glamping tents, there are individual tents and a bathroom attendant who cleans after each use and lets you know which tents are available and open, sort of like a fitting room attendant.
These bathrooms are just as nice as the private restrooms in the Summit tents, plus very clean since they are cleaned up frequently.
In the mornings, breakfast is delivered to your tent and you also have the option to join the morning meditation or yoga class that is complimentary to guests of the glamping on Governors Island with Collective Retreats.
Governors Island Glamping: The Tents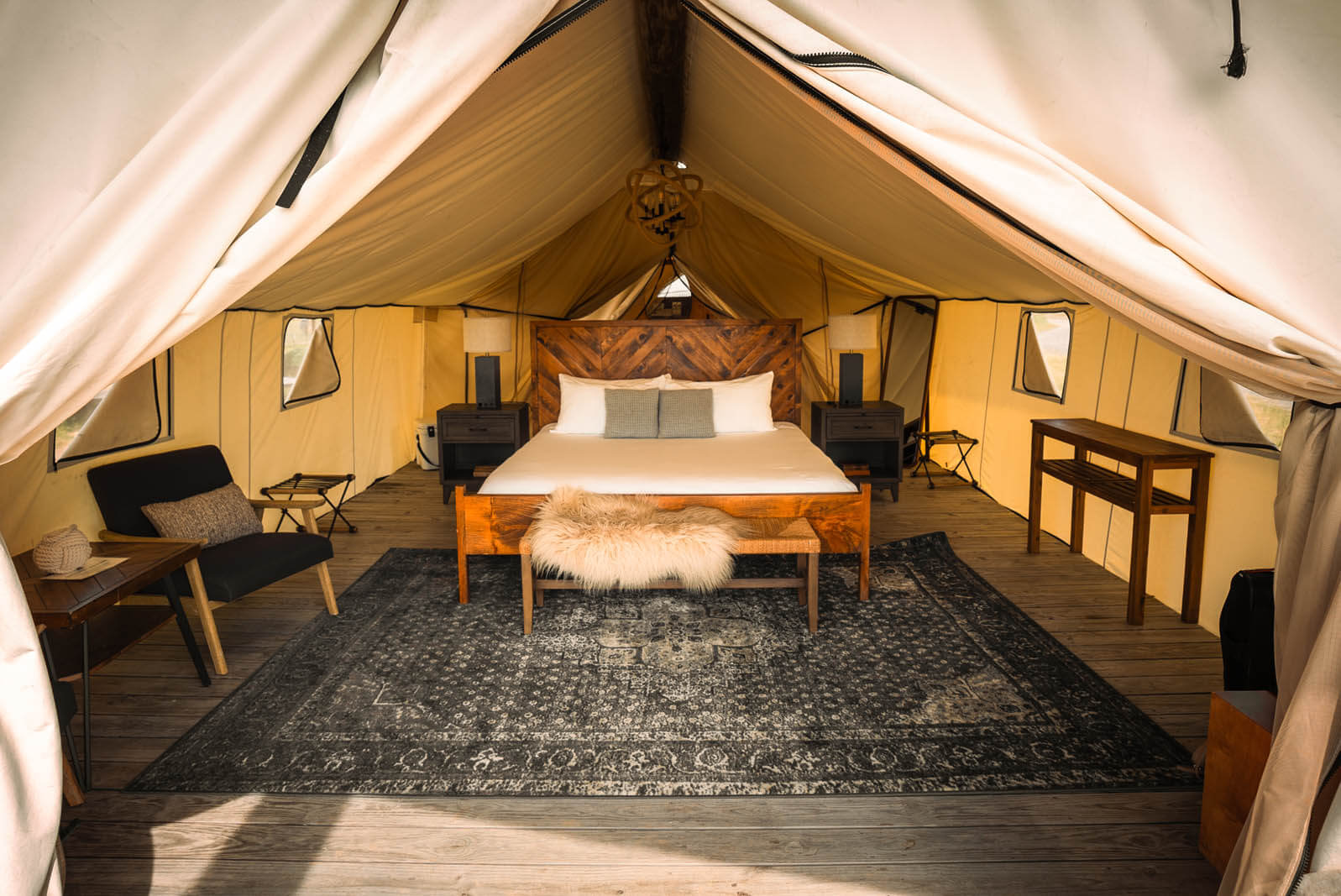 Glamping at Governors Island has some options, there are three styles of accommodation, the Summit Tents, which are the most deluxe version of the tents, the Journey tents, and the Outlook Shelters which are like tiny houses.
All of the accommodation options offer designer interior decor, luxury toiletries, and complimentary in-tent breakfast in the mornings that are delivered to your room at the time you request including coffee, fresh juices, bakery items, cured meats, and other goodies so you can have breakfast in bed with your view!
Here's a breakdown of the different accommodation types and what each offer for Governors Island glamping:
The Summit Tents are the most deluxe tents you can stay in during your glamping on Governors Island experience and offer some of the best views with private waterfront decks that your tent opens up to with chairs and views of the Statue of Liberty and/or the skyline.
The Summit Tents also offer private bathrooms attached to the back of your tent with designer toiletries in dispensers (yay for being eco-friendly), robes, full flush toilets, and a rain-style shower.
We stayed in a King bed Summit Tent which had a safe in case we wanted to lock up any valuables as well as an ample amount of chairs to sit and relax in, however, we stayed or sat in the bed almost the entire time as it was one of the most comfortable mattresses I've ever experienced.
The Journey Tents are basically the same as the Summit Tents with a few minor differences, the Journey tents are slightly smaller and have private, shared bathrooms with rain-style showers that are cleaned regularly.
There are private decks for each tent that also offer views and a sitting area to enjoy those views!
The last style of accommodation are the Outlook Shelters which are luxury, tiny houses that have their own individual spa bath with views, two private terraces with chairs with views of either the Statue of Liberty or the Lower Manhattan skyline, or both!
All accommodations include temperature control options with an air conditioning unit and while not advertised, if it's extra chilly, there are electric blankets in the room you can add to your bedding. Other things included are breakfast delivered to your room each morning, luxury 1,500 thread count linens, and an extra rollaway bed option for an extra fee if you need it.
The beds available are everything from a double twin room or king-size bed, you'll have to check availability when booking your glamping at Governors Island stay.
Governors Island Glamping: Is It Worth It?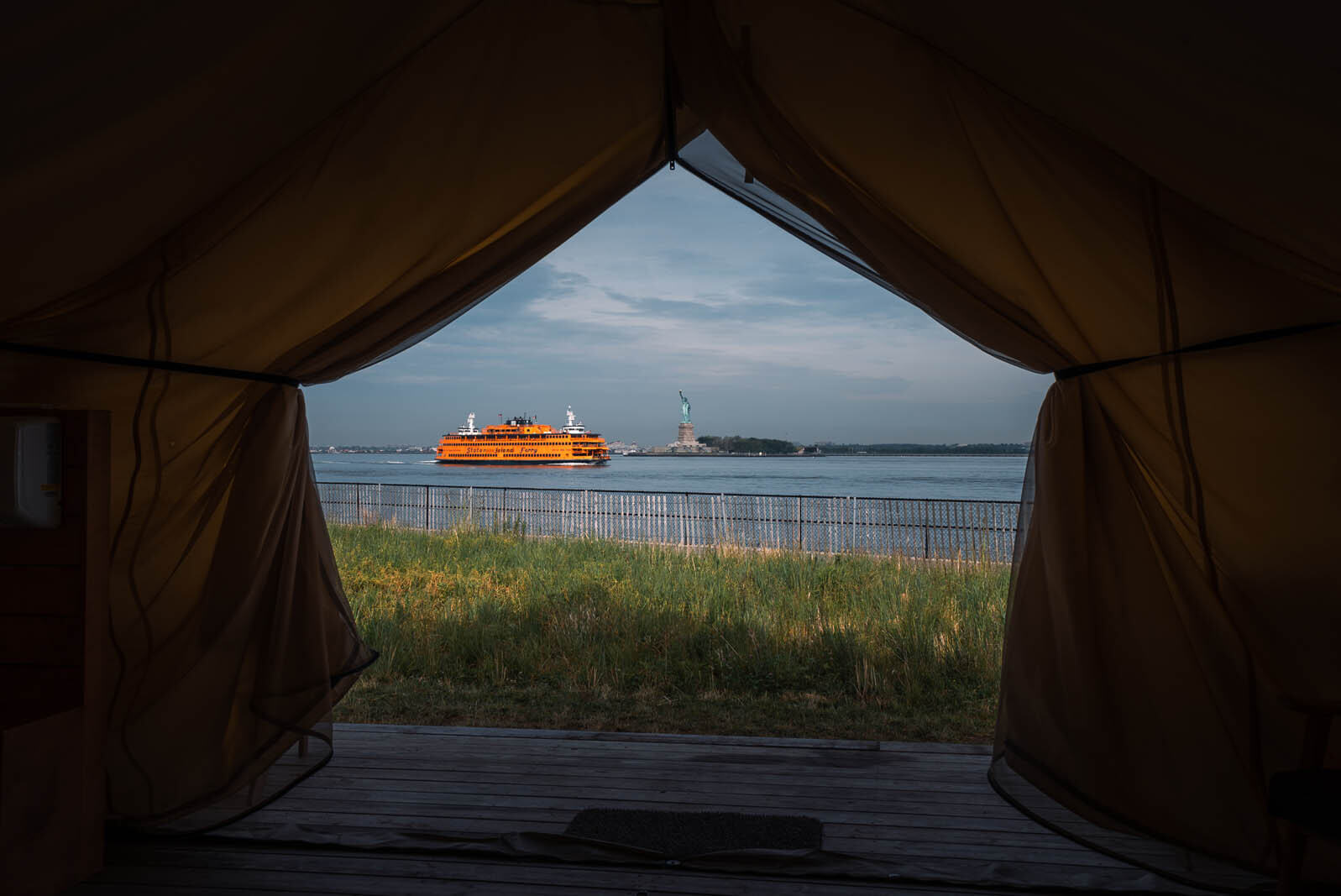 For locals:
Absolutely yes, one hundred times over. I mean for us, even though we live in Brooklyn sometimes it's hard to justify splurging on a staycation in the city, but sometimes that's the best option.
You don't have to factor in renting a car, city traffic in the car, or have to go very far. (did not mean to rhyme!)
But, sometimes you need a break and maybe you only have a night, or two, or you don't want to go far. This was a very rejuvenating experience for us, within 30 minutes of leaving our apartment we were at a luxury retreat with stellar views of the city and something that is very rare to find in the city, silence.
For parents who need just one night away, grab a sitter and feel like you've escaped your hectic life just by crossing the water over and enjoying New York City's version of island life.
Not to mention, exploring Governors Island is one of my personal favorite things to do whether we're walking or casually zooming around on a bicycle.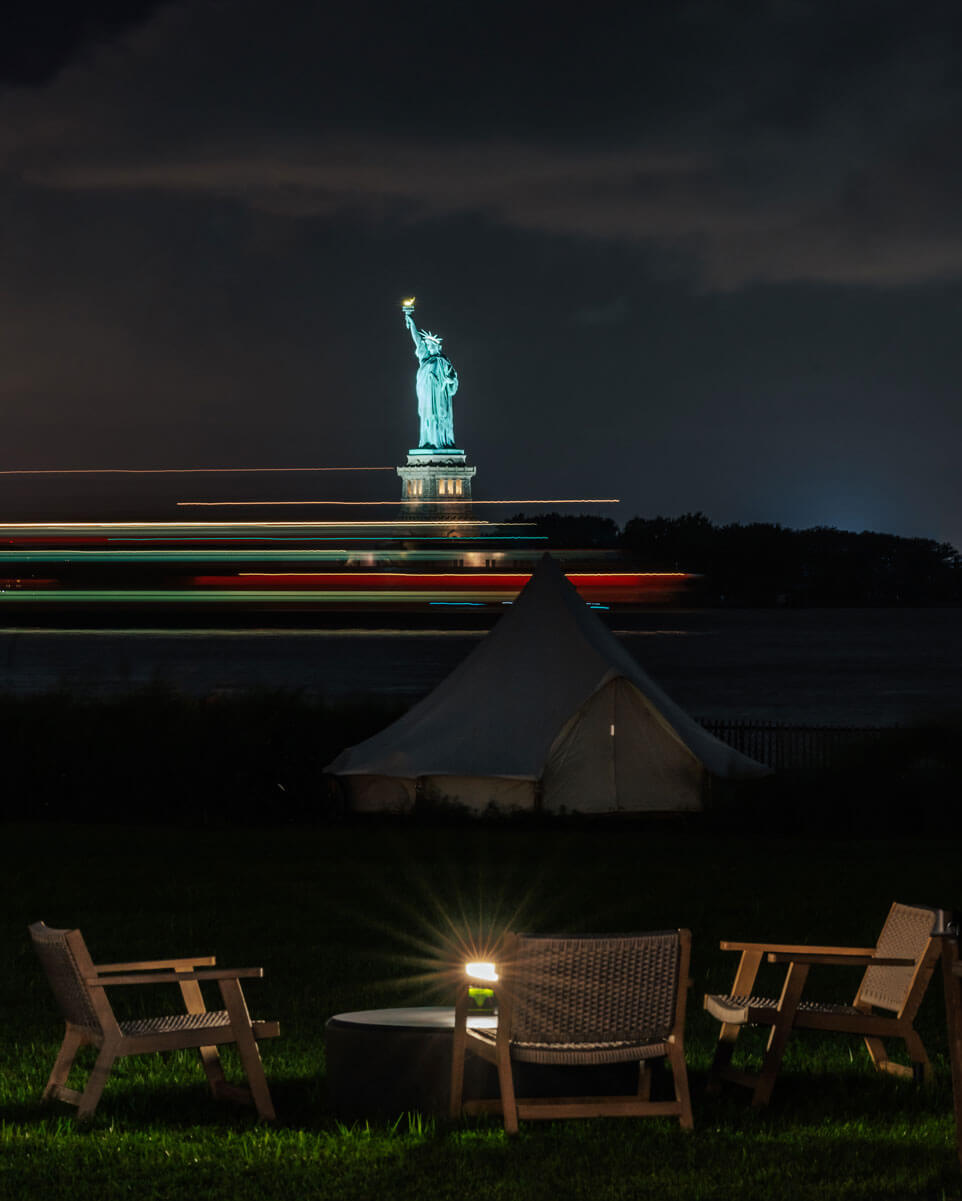 For visitors:
YES! Glamping on Governors Island is really one of the most unique places to stay in the city and unlike anything else you can do here.
If it's your first visit to NYC, come and spend a day at the island and do the Governors Island glamping enjoying the best views money can buy then resume the rest of your regular sightseeing itinerary in the city.
Another great option is that you can stay many days and enjoy sightseeing in the city and return to the island anytime before 10 pm. You can use the regular ferry service until the early evening or for anything between 4 pm and 10 pm you can schedule a private water taxi directly from Collective Retreats from Manhattan.
There really is no place else like this in the city, so staying at least one night is one way to have one of the most memorable stays in the city while also being able to conveniently come back and forth.
Governors Island Glamping: FAQ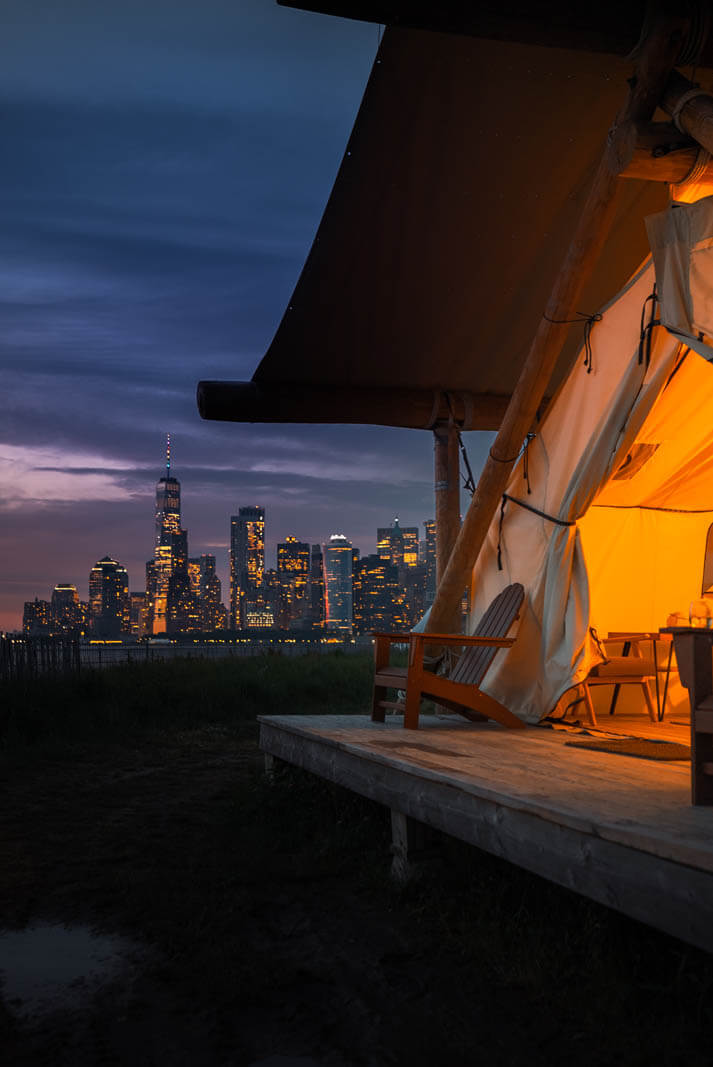 What if I want to explore off the island?
Not a problem! If you're glamping on Governors Island for just one night, you might not need this option as there are plenty of things to do and see on the island to fill your morning or afternoon before or after enjoying your stay. If you want to do some city sightseeing, it's easy!
If you're going to/from the city during the day you can just use the regular water taxi, which is around $3 per ride for adults and they run for about every 30 minutes (see the ferry schedule here). Children and those over the age of 65, plus a few others, ride for free. Advance tickets are necessary but are easy to book online.
On Saturdays and Sundays, the Governors Island ferry is free to passengers before noon.
There are three terminals to catch the Governors Island ferry, from Lower Manhattan at the Battery Maritime Building (10 South Street) available 7 days a week.
There are two Brooklyn ferry options that are only available on Saturdays and Sundays. One option is Pier 6 in Brooklyn Bridge Park and the other is the Atlantic Basin in Red Hook.
After 4 pm, you will want to organize a private water taxi with Collective Retreats. They run private water taxis from 4 pm to 10 pm to guests or those with dinner reservations.
There are late-night public ferry options from July through September that run until 10 pm too, just be sure to check beforehand to make sure that this option is available during your stay.
It's easy to explore on and off the island as long as you plan to be back by 10 pm.
When is glamping at Governors Island?
Governors Island glamping is only available when Governors Island is open to the public seasonally. The island is closed to visitors in the winter and operational during the months of May through the end of October.
How do I get there?
As mentioned above, there are ferry options and private water taxi options from the hours of 4 pm to 10 pm if you make a reservation or organize with Collective Retreats only to/from Manhattan.
If you're taking the public ferry, someone from Collective Retreats will greet their guests at the ferry terminal with a sign that says "Collective Retreats." These guests hop on the golf cart where you will be carted along with your luggage to the glamping at Governors Island area.
The ferries operate from:
Battery Maritime Building at 10 South Street in Manhattan (7 days a week)
Pier 6 at Brooklyn Bridge Park in Brooklyn (Saturdays and Sundays only)
Atlantic Basin in Red Hook, Brooklyn at the intersection of Conover and Pioneer Streets (Saturdays and Sundays only)
What are the bathrooms like?
The bathrooms at Governors Island glamping are pretty awesome, it is glamping after all. All of the bathrooms are in private tents with hot water, rainfall showers, fully flushable toilets, and designer toiletries.
For those using the private, shared restrooms don't fear. These are individual tents that have their own toilet, sink, and shower inside and have a bathroom attendant who is constantly cleaning them in between uses so it's as if it's your own bathroom.
I am not a fan of shared restrooms, but these are like no other shared restrooms I've ever seen.
Is there electricity?
Yes! All the accommodation options for glamping at Governors Island have electricity equipped with outlets so you can charge your devices and wifi in case you don't have the best signal, although this wasn't a problem for neither I nor my husband who use Tmobile.
Can I just come and not stay?
There is one option to enjoy the glamping at Governors Island with Collective Retreats that doesn't require a stay! Fire & Water at Three Peaks Lodge is the restaurant on site located inside a giant, beautiful open-air tent with an outdoor deck with umbrellas.
Non-guests are invited to dine at the restaurant for lunch or dinner with a reservation which you can make on OpenTable.
---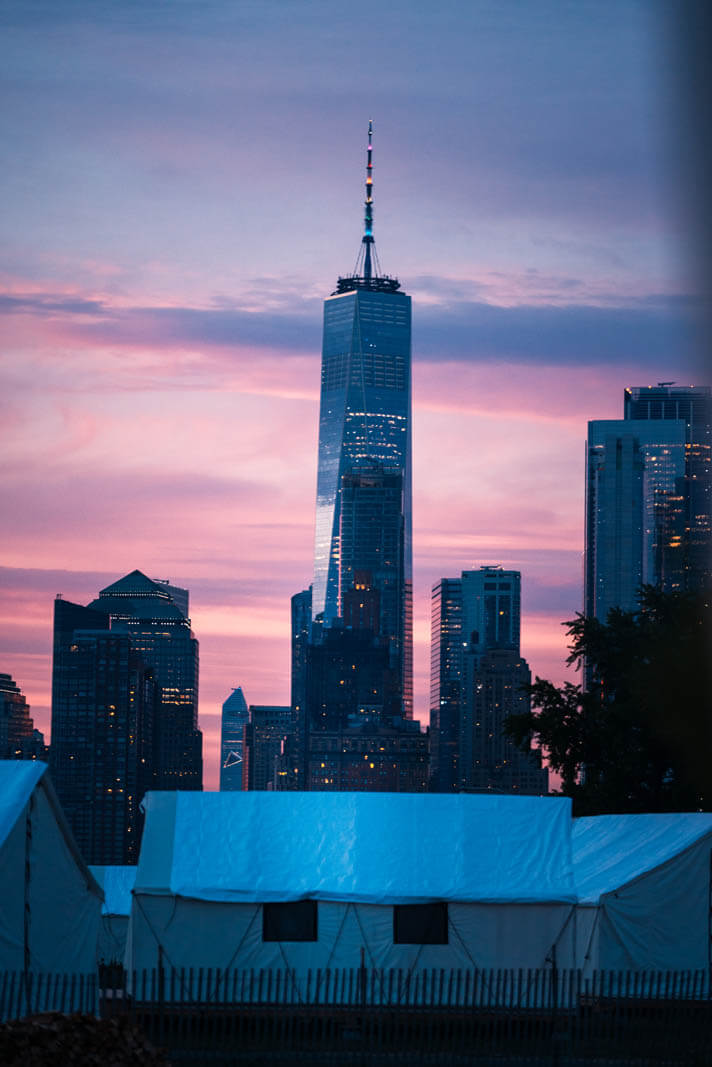 I really enjoyed our glamping on Governors Island experience, I have been wanting to do this since I discovered it so this was a big Brooklyn bucket list item checked off! While some might think this is a one-and-done kind of experience, both my husband and I are interested in coming back for a stay when we need a break next but can't go far or take alot of time off, this is really perfect for that as a local.
As for those visiting, I really do recommend spending at least one night here to enjoy this experience if you're looking for something truly unique and want some of the best views in the city!
You really have great views all over the island, especially from the Hills where you can climb to a gorgeous outlook and viewpoint. Not only are you able to find those from around the island, but you have more private views available at Collective Retreats glamping at Governors Island.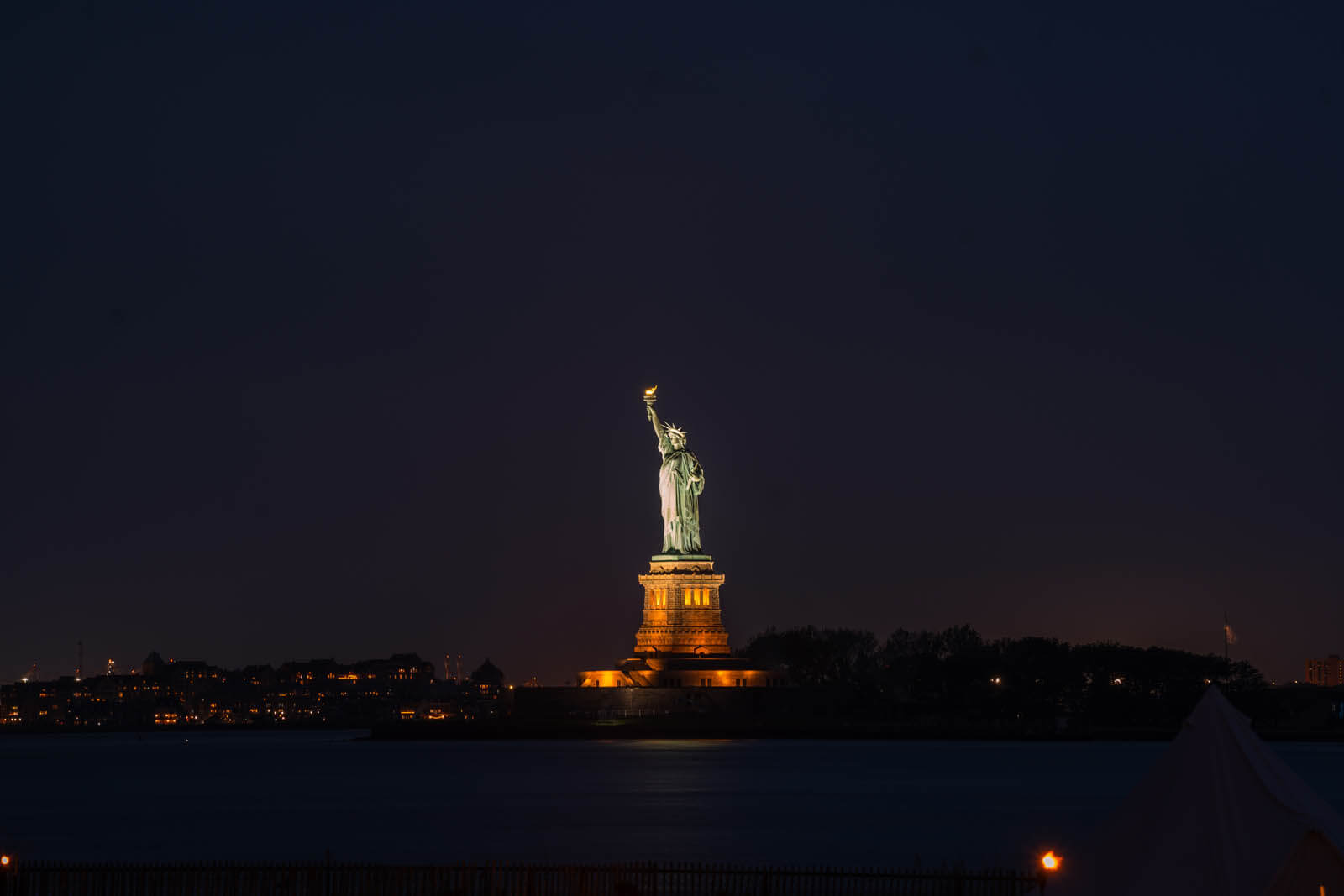 My husband and I kept our tent open to the Statue of Liberty all night, we honestly didn't get much sleep because we were just in awe of how quiet and breathtaking it was to be sitting in a comfortable bed in our own private tent with one of the closest unobstructed views of the Statue of Liberty you can find in the entire city.
Then we woke up extra early to enjoy the sunrise with the same view and hopped out to our chairs and private deck in our bathrobes to enjoy the city coming to life with the colors of the sky looking towards the World Trade Center.
I'd do this again in a heartbeat as I felt so relaxed and oddly connected to nature as much as you can get in the city since it was so quiet and all we could hear and see, along with those views of course, were the birds coming and going from our deck in the morning.
If you need a break, a special place for an occasion or celebration, or something unique I highly recommend the experience of Governors Island glamping.
If you're looking to just do the glamping experience for a night or two and the rest of your trip in the city, consider checking out our guide to the best NYC hotels with a view to continuing the incredible views with your stay the rest of the trip including hotels with views from your bed, more rooftop lounges with views, and bathtubs in your room with stunning views!