By Christopher Frederic Lapinel
People these days don't often visit cemeteries. Few go without a particular, somber purpose in mind. So, what might otherwise inspire the typical person to see tombstones? Admiring natural scenery, architecture, or art installations might not be the first answers springing to mind. Yet among the many jaw-dropping treasures Brooklyn holds, Green-Wood Cemetery stands front and center.
The strange and marvelous Green-Wood Cemetery in Brooklyn currently attracts half a million people every year, matching its heyday in the late 19th century.
Inspired in part by the Pere Lachaise Cemetery of Paris, but more particularly by the Highgate Cemetery of London and the Mount Auburn Cemetery of Massachusetts, Green-Wood was founded in 1838 by Henry Evelyn Pierrepont and designed by David Bates Douglass.
Its maze-like collection of winding walkways sprawls across 478 acres. The magnificent Gothic revival gates house Argentinian monk parrots. Japanese cherry-blossom trees flourish near an ornamental pond. All of which help cast a spell over visitors.
During the Victorian and Edwardian eras, a family spreading a blanket for an afternoon picnic wasn't an uncommon sight. After all, Green-Wood was technically Brooklyn's first recreational park.
By 1860, Green-Wood Cemetery was the second most visited tourist attraction in the nation, right after Niagara Falls. It should come as no surprise then that the iconic Central Park and Prospect Park were later built to compete with the beauty of Green-Wood Cemetery.
"It is the ambition of New Yorker to live upon Fifth Avenue, to take his airing in the Central Park, and to sleep with his fathers in Green-Wood."

The New York Times, 1886
Of course, as a cemetery, Green-Wood also hosts the artfully arranged ranks of some 560,000 residents—and counting. Their markers are dappled by the sunlight that filters through the cool shadows cast by 8,000 trees and shrubs.
From exotic Camperdown elms to native Tulip trees, Green-Wood's flora is extensively detailed on the following websites: Green-Wood Tree Finder and The New York Phenology Project.
Undoubtedly one of the best things to do in Brooklyn and one of the best unofficial parks in Brooklyn, Green-Wood Cemetery has many wonderful highlights, points of interest, and stories to uncover.
Points of Interest in Green-Wood Cemetery
Green-Wood Cemetery in Brooklyn has always served as a tourist attraction but also as a national memorial. Being the second oldest rural cemetery, it has preserved U. S. history from the Revolutionary and Civil Wars up to this day. And every aspect of the site is lovingly studied and kept.
The following are the must-see sites of this National Historic Landmark:
The Brownstone Gate
If Green-Wood Cemetery were a crown, its entrance would be a jewel! Designed by Richard Upjohn in Gothic Revival Style, its double gates feature two pointed arches and three looming pinnacled towers. The brownstone gate, with its distinctive, delicate tracery, is unique to New York.
And if you look up, watch for one of our favorite hidden gems in Brooklyn, the monk parakeets as they nest here! And fun fact, these parakeets actually protect and preserve not only the grand entrance but the neighboring brownstones! These parakeets keep the pigeons away whose excrement actually highly acidic and overtime damages buildings.
Minerva Statue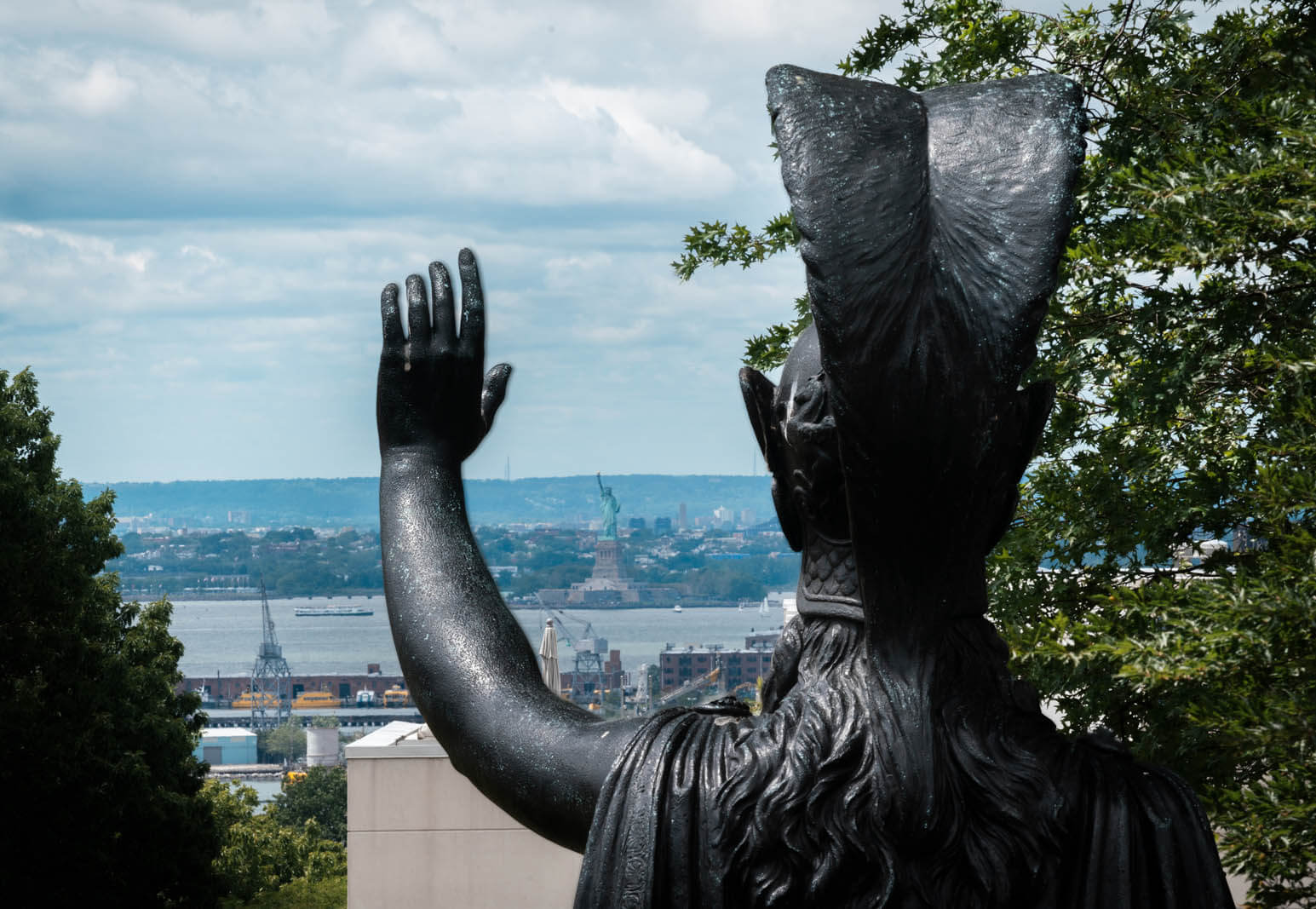 The bronze statue of Minerva depicts the Roman goddess of wisdom. She stands atop Battle Hill, commemorating the Battle of Long Island at the outset of the Revolutionary War, the first and largest battle that resulted in a loss to the British troops.
Minerva faces west toward her sister, the Statue of Liberty, whose epic torch of freedom is saluted by Minerva's upheld hand; this connection symbolizing the commemoration of this significant battle in American history.
Catacombs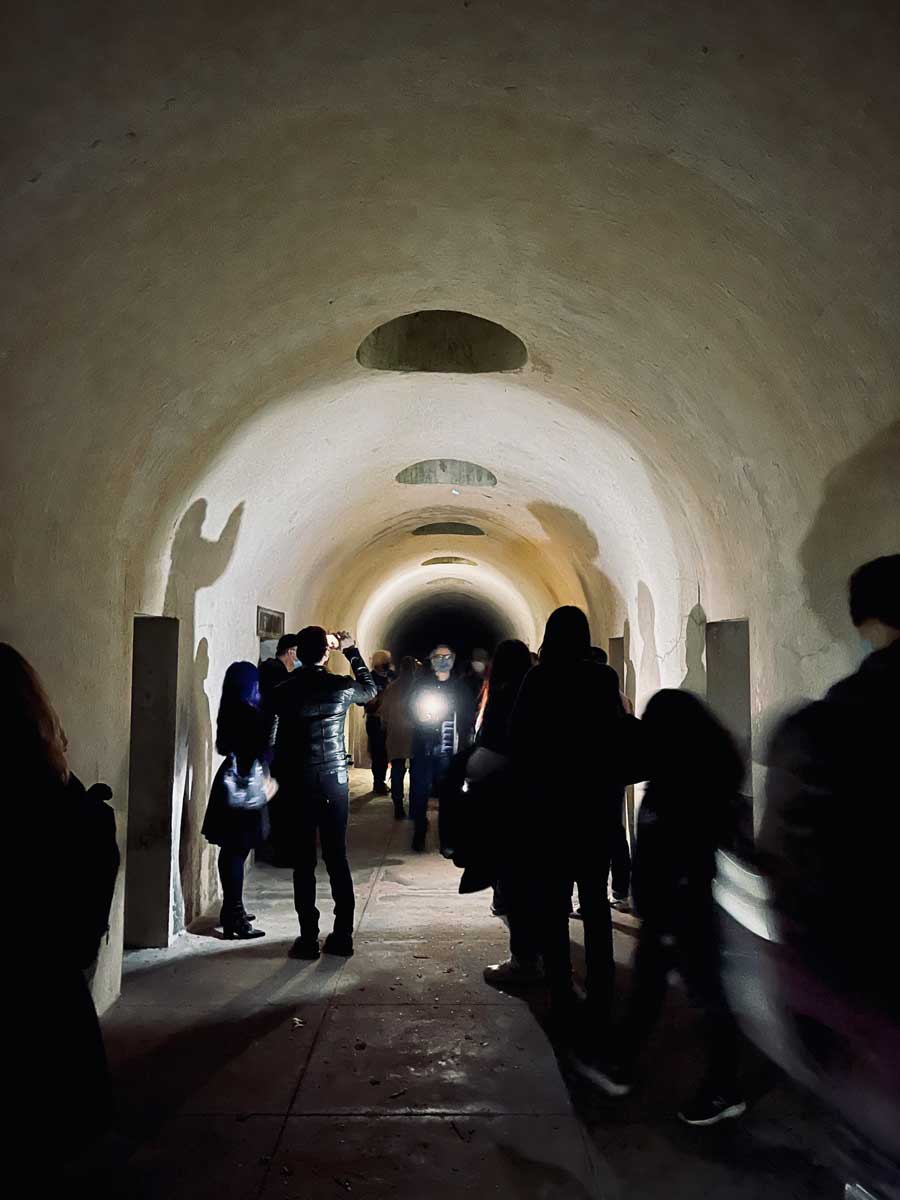 The catacombs are underground walkways linking thirty underground vaults. They are lit by skylights having been initially constructed for people who feared being buried alive, which seldomly happened but in the early 19th century became such a widespread fear in addition to that fear being heightened by Edgar Allan Poe in his stories that led to an invention of 'safety coffins' during this period.
The catacombs' selling point was that if you were in fact still alive you could wake up and follow the natural light from the skylights not to mention a final resting space in the catacombs was also more affordable than a grand family mausoleum.
The catacombs at Green-Wood Cemetery are not open regularly to the public but periodically open for guided tours or concerts and the Moonlight Tour hosted by Green-Wood.
Alternatively, you can visit the exterior of the subterranean crypt by standing on the hill where the skylights are! Look down and you can see where the light enters the underground catacombs.
Cemetery Chapel
The chapel is often referred to as the focal point of Green-Wood Cemetery. It was built by the Warren & Wetmore firm between 1911 and 1913, another fine example of Gothic architecture in the cemetery. Further evidence of their architectural prowess can be seen at Grand Central Terminal.
The chapel is non-denominational and features magnificent stained glass windows and where you can host events as a venue from weddings to concerts.
DeWitt Clinton Monument
At first, Green-Wood Cemetery in Brooklyn was a breakout hit as a day-trip destination, not a cemetery. People weren't ready to rest somewhere other than the church's courtyards, but because of overcrowding and health concerns from urban cemeteries there was a huge push in the 19th century for 'rural cemeteries' built within 5 miles of the city so they were easy to visit but far enough away.
This became known as the Rural Cemetery Movement and the ambitions took time to catch on with the general populace.
Then in 1844, the remains of DeWitt Clinton, a father-like personality to New York City and the 6th Governor of New York after the Revolutionary War among also being a US Senator, Mayor of NYC, and the one responsible for the construction of the Erie Canal, was interred there. This proved a game-changer and was considered somewhat as a celebrity endorsement turning Green-Wood Cemetery into one of the most prestigious burial grounds.
This is what kicked off Green-Wood into becoming a very popular public greenspace and kicked off the projects and founding of Central Park in Manhattan followed by Prospect Park in Brooklyn.
Dewitt Clinton's burial site is adorned with a large bronze sculpture and is one of the most notable points of interest regarding the history of Green-Wood Cemetery and the parks of NYC!
Civil War Soldier's Monument on Battle Hill
The Civil War Soldiers Monument, which also hosts the Minerva statue, located on Battle Hill includes a memorial and a cluster of markers dedicated to the fallen soldiers of the Civil War erected in 1869 only 4 years after the end of the war towering at 35 feet high and is distinguished by its four soldier statues surrounding the base.
Not far away from this area of the cemetery is the Hill of Graves are where 5000 identified Union and Confederate soldiers are laid to rest from different battles including Shiloh and Gettysburg among others. Most of the stones have rounded domes, but those with pointed tops belong to Confederate soldiers buried in secret as being located in the north, were considered the enemy.
Another notable memorial is the Drummer Boy who was the first casualty from Brooklyn. Clarence, who was 12 at the time of his death, was a drummer boy in Brooklyn's 13th Regiment and unfortunately, his loss was actually due to an accidental misfire of a weapon not even on the battlefield.
Tomb of Secrets
Have a deep, dark secret you're aching to get out? What if we told you that you could get out your secret without anyone knowing it's you? The Tomb of Secrets provides this in Green-Wood Cemetery.
This simple marble obelisk presents a storytelling project by Sophie Calle that began in 2017. It has a slot through which anyone can slip a handwritten secret.
Above the slot is inscribed the phrase: "Here Lie the Secrets of the Visitors of Green-wood Cemetery." So, if you have a burden that you can't speak aloud, write it down and shed it!
This is one of the few tombs that have no remains either as it's an art installation that will be up for 25 years inspired by when Calle's ex-partner broke up with her and left her with a huge secret that was alot to bear.
Why only 25 years? This installation is using a European tradition of leasing a gravestone for a set number of years, if your lease is up that spot gets new tenants. Who knows what secrets this tomb will hold for a quarter of a century!
Stewart Mausoleum
Those seeking the best architects in history eventually come across the innovative work of Stanford White. And the Stewart Mausoleum of Green-Wood Cemetery, though relatively plain overall, bears his distinctive mark.
The bronze reliefs depicting angels were sculpted by Augustus Saint-Gaudens, who often collaborated with White. The sumptuous design of the reliefs offset the simplicity of the stonework.
When this mausoleum was first unveiled it was quite the controversy at the time because the angels weren't depicted as sad enough.
Last but not least, this family mausoleum is of the same family of the Isabella Stewart Gardner Museum in Boston that's famous for the art heist of 1990 where 13 works of art were stolen. If you are fascinated by this, check out the Netflix documentary titled This is a Robbery: The World's Biggest Art Heist.
Van Ness Parsons Mausoleum
Green-Wood Cemetery is a veritable showroom of neo-Classical, Romanesque, and Gothic revival architecture. However, it also possesses some Egyptian accents, as you'll find at the striking Egyptian pyramid at the Van Ness Parsons Mausoleum.
Fittingly, the man buried within the pyramid had been an amateur Egyptologist. The ornate sculptures adorning the façade boast a sphinx, Christian saints, and occult magical symbols.
During the 19th century was the Egyptomania craze which was essentially a renewed interest in ancient Egypt following Napoleon's French campaign in the Ottoman territories of Egypt and Syria and influenced architecture from everything from gravestones to movie theaters.
Seeing Egyptian-style monuments and obelisks became common especially in cemeteries which were interesting in itself since Egyptian architecture has pagan origins.
To combat the backlash from religious communities Christian figures and symbols were added to the obelisks and Egyptian-style tombs in both the Americas and Europe, and the Van Ness Parsons mausoleum is an exact example of this.
Visiting graveyards in the US, it's common to see obelisks used as these became popular not only during the Egyptomania phase but also because a few notable presidents used obelisk gravestones.
Fun fact: In the 2006 Martin Scorcese film, The Departed, there is a scene with Leonardo DiCaprio filmed next to one of Green-Wood Cemetery's obelisk tombs. See more Brooklyn filming locations in our complete guide!
Park Slope Plane Crash Memorial
Two airliners collided over Staten Island in a gruesome accident of December 1960. "All 128-holiday travelers on both planes were killed, along with six bystanders, when the United Airlines Flight 826 careened through the intersection of Seventh Avenue and Sterling Place" in Park Slope after a failed attempt at an emergency landing at LaGuardia Airport making it the deadliest air accident of its time.
On the 50th anniversary, on December 16, 2010, Green-Wood Cemetery built a pillar as a memorial of those lost ones.
You can actually visit the crash site in Park Slope and still see damage from visible to this day at 126 Sterling Place. If you look up at the top of the brick building you will see a pattern of bricks that is visibly off color from the rest of the building where a 25-foot section of an airplane wing damaged the top of the building and was repaired.
At 123 Sterling Place, you can also see damaged brick sections on the building if you look closely which are where they made repairs after the accident.
The Trees of Green-Wood
Another one of the most notable facts about Green-Wood Cemetery in Brooklyn is the trees! The cemetery itself is considered a Level III Arbotoreum due to its collection of century-old trees and 500 types of plants.
While being a final resting place for those who have passed, the cemetery also protects the living as the trees pump oxygen into the city and remove around 12,000 pounds of pollutants like carbon monoxide from the air annually.
Some of our favorite trees in the cemetery include the two rare Camperdown Elm trees found in the cemetery. These trees are especially important because they are direct descendants of the trees from the Earl of Camperdown in Scotland and oddly grow sideways.
The most famous Camperdown Elm tree in the city is actually found in Prospect Park behind the Boathouse that was falling in disrepair until a young poet wrote about it and basically grew public interest preserving the tree to this day. The Prospect Park Camperdown Elm is the oldest in Brooklyn and the second oldest is found here in the cemetery.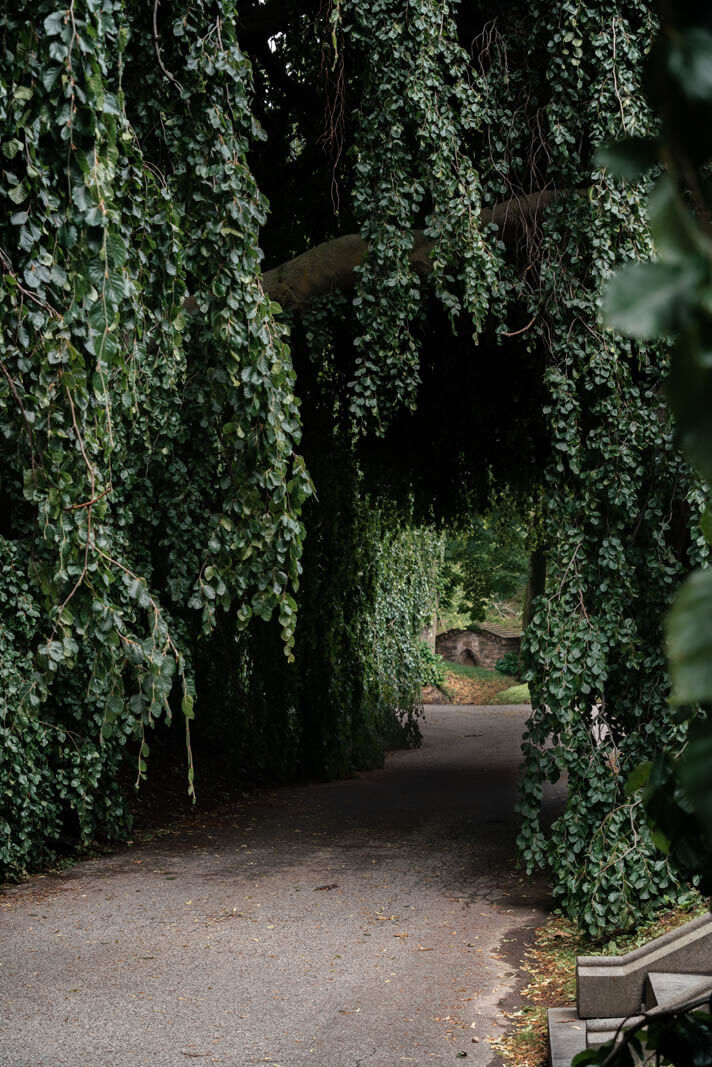 There are plenty of incredible trees to look out for but the other most breathtaking display of trees you can encounter in Green-Wood Cemetery is the tunnel of weeping elms that you can walk through where the branches feel like they could wrap around you as you pass through the natural tunnel they create.
Passing through is beautiful but there definitely is an eerie feeling as you pass through, almost as if the branches will come to life and wrap around you. You can find the tunnel of weeping trees next to Larch Street in the cemetery.
John Anderson Mausoleum
Another famous mausoleum is that of John Anderson, a successful tobacco manufacturer with a shop on Broadway and merchant that may have inspired the first true crime story and sparked a huge unsolved scandal of its time, the murder of Mary Rogers.
Anderson attracted famous clientele like Washington Irving whom both had estates and homes in Tarrytown north of the city in the Hudson Valley as well as other literary giants including Edgar Allan Poe. Part of the attraction to the shop was his 'beautiful cigar girl' who worked in the shop named Mary Rogers.
Mary became very popular as she was known as a beauty like no other and pretty much had a fan club clientele base. It is said that John Anderson set up a publicity stunt as she disappeared once which caused many of her most devoted clientele to swarm the shop. She returned and people were a little suspicious the next time she disappeared but never returned.
Her body was recovered along the shores of the Hudson River on the New Jersey side near Sybil's Cave. Due to her connection to Anderson, he became the prime suspect in her disappearance and death although ultimately it's still a mystery.
As Spiritualism became more popular in upstate New York in the 1840s, author Edgar Allan Poe became interested in this case and allegedly claimed that the ghost of Mary Rogers came to him in his dreams and gave him stockbroker information. While he was fascinated with her case, he was never able to solve the crime and it inspired his work The Mystery of Marie Rogêt, which is said to be the first murder mystery story based on a true crime.
Anderson was obviously a suspect and some suggested he could have been the one to do it out of a fit of jealous rage when his advances towards Mary were rejected. While he is buried here in Green-Wood, he actually spent his final days in Paris and claimed that on these last days he was tormented by Mary's spirit.
Spritz Cookie Grave
If you love these traditional Scandinavian holiday cookies then you will want to seek out the Spritz Cookie Grave in Green-Wood Cemetery, the gravestone of Naomi Odessa Miller-Dawson who's famous spritz cookie recipe is engraved on the top of her grave to look like an open recipe book.
Famous People Buried in Green-Wood Cemetery
Many of the city's most celebrated (and notorious) personalities rest in Green-Wood Cemetery among the 560,000 permanent residents. Some of the names have faded from collective memory, if not from the markers above their graves; others are familiar, somehow keeping their former pop-culture status. Who knows what the future portends?
For example, the Prentiss brothers' graves are found near the Green-Wood Chapel. During the U. S. Civil War, one brother had sided with the Confederacy, the other with the Union. The brothers unknowingly fell in the same battle, just feet apart from each other.
Walt Whitman, who had volunteered as a nurse treated them both as they died and later wrote about them.
Six Canadian soldiers from World War I are also buried there.
Though convicted criminals are explicitly forbidden in the rules of the grounds, William M. Tweed, the infamous political machine of the 1800s also known as Boss Tweed, the boss of Tammany Hall where he funneled $25 million to $200 million dollars of New York taxpayers dollars to his own pockets got himself interred there.
More sympathetically, Green-Wood broke another rule for a dog named Fannie, buried beside her beloved Elias Howe Jr., the sewing machine inventor. Pets, you see, are not allowed on the premises but if you had enough money you could essentially buy your way in as it is believed that there are around 7 dogs in the cemetery.
Fannie even had a full-on high society funeral with music, a glass coffin, and the upper-class friends with their dogs in attendance.
You'll also find the sensational Neo-Expressionist artist Jean-Michel Basquiat's final resting place here after he tragically passed away at the age of 27.
Other legendary artists buried here include Louis Comfort Tiffany, of Tiffany stained glass, and musical genius Leonard Bernstein.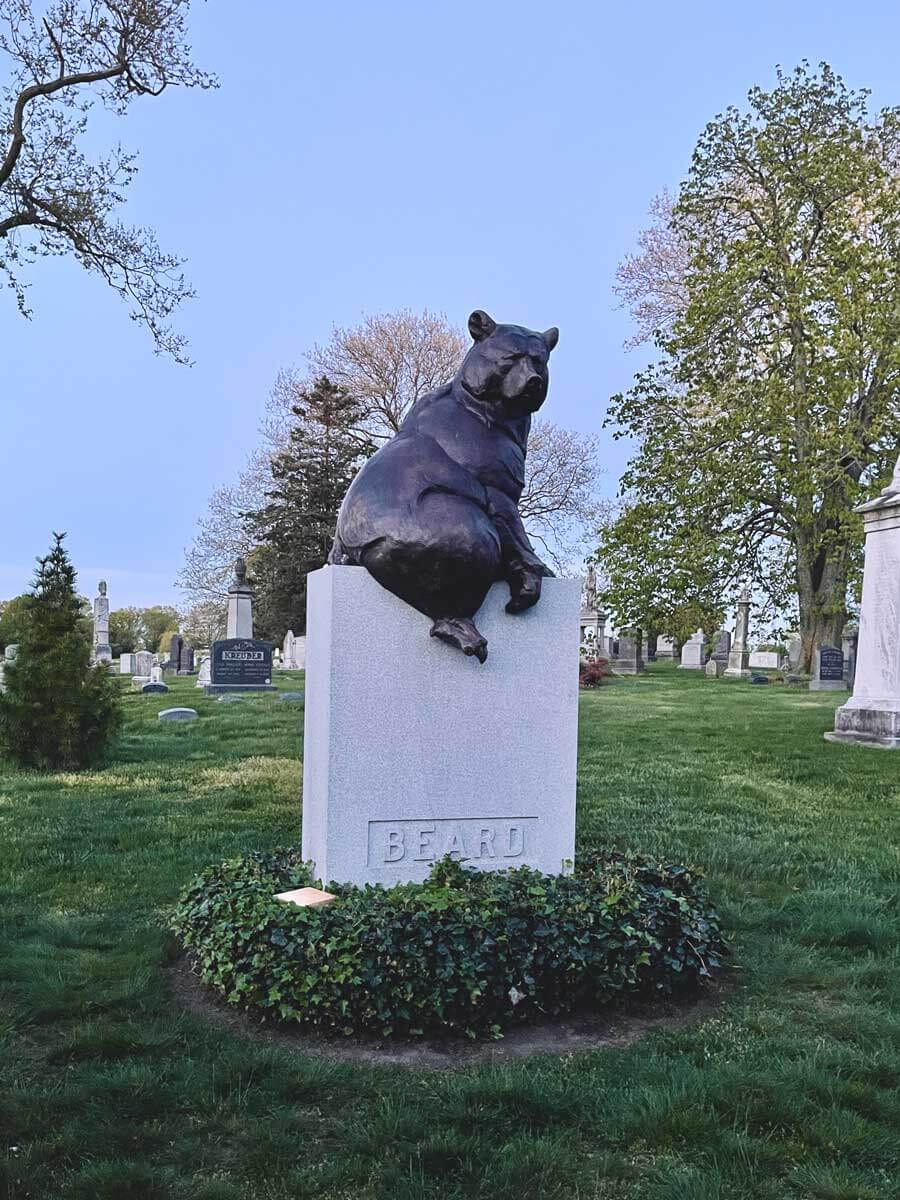 Another artist who has an interesting gravestone is that of William Holbrook Beard, an American painter known for his satirical works of art of animals enjoying human-like activities which include The Bulls and Bears in the Market depicting the stock market and is on display at the New York Stock Exchange as well as his famous The Bear Dance where there are bears dancing in a circle in the forest.
Beard actually had no gravestone when he passed in 1900. When a local historian discovered that this great artist didn't have a proper gravestone he campaigned with a gallery owner to create a proper tomb for the well-known artist and in 2002 his gravestone was complete with a fitting bronze statue of a bear sitting on the top.
Henry Chadwick, the sportswriter and known as "the Father of Baseball", and Horace Greeley, the founder of the New York Tribune, Henry Ward Beecher an abolitionist and Congregationalist who played a significant role in shaping modern mainstream Christianity, and Brooklyn rapper Pop Smoke to name a few.
Green-Wood Cemetery and Hollywood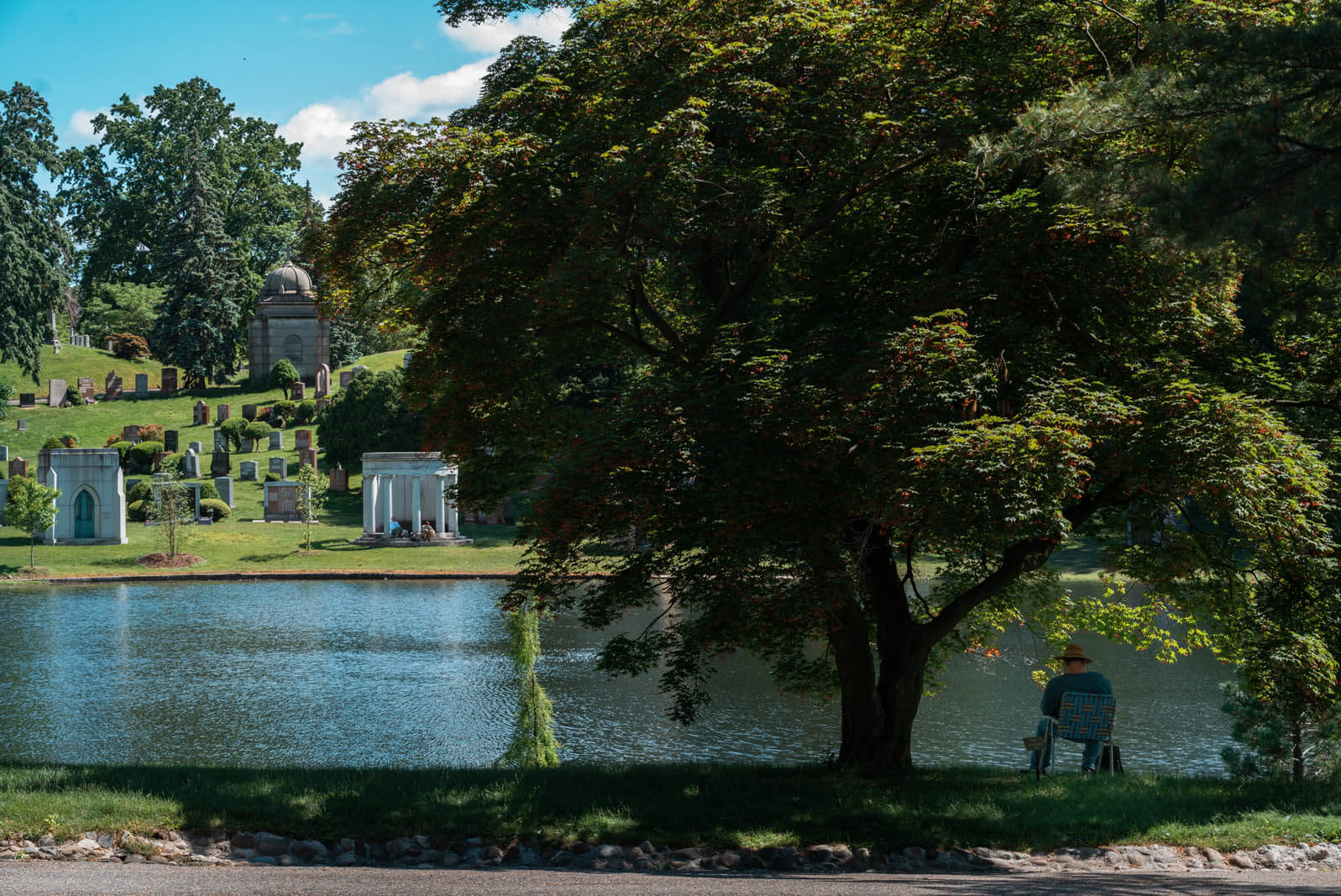 As mentioned earlier, Green-Wood Cemetery was used as a filming location in Martin Scorcese's 2006 film The Departed. That wasn't the only Scorcese connection to Green-Wood, before the release of the Gangs of New York in 2002, Scorcese actually paid for a gravestone for Bill the Butcher as he was in an unmarked plot and foreshadowed an interest following his multiple Academy Award-winning film depicting the violent Catholic and Protestant feuds of the 19th century.
William Poole, or Bill the Butcher, was the leader of the Bowery Boys Gang and was portrayed by a fictionalized version by actor Daniel Day-Lewis in Gangs of New York, was another criminal who somehow found his way into the cemetery despite the rule of no criminals allowed.
Besides the notable Scorcese films and ties to Green-Wood, there have been several other films that had scenes filmed in the cemetery including John Wick, Extremely Loud & Incredibly Close, The Girl on the Train, The Other Guys, Trainwreck, and Brooklyn Rules to name a few.
Tips for Visiting Green-Wood Cemetery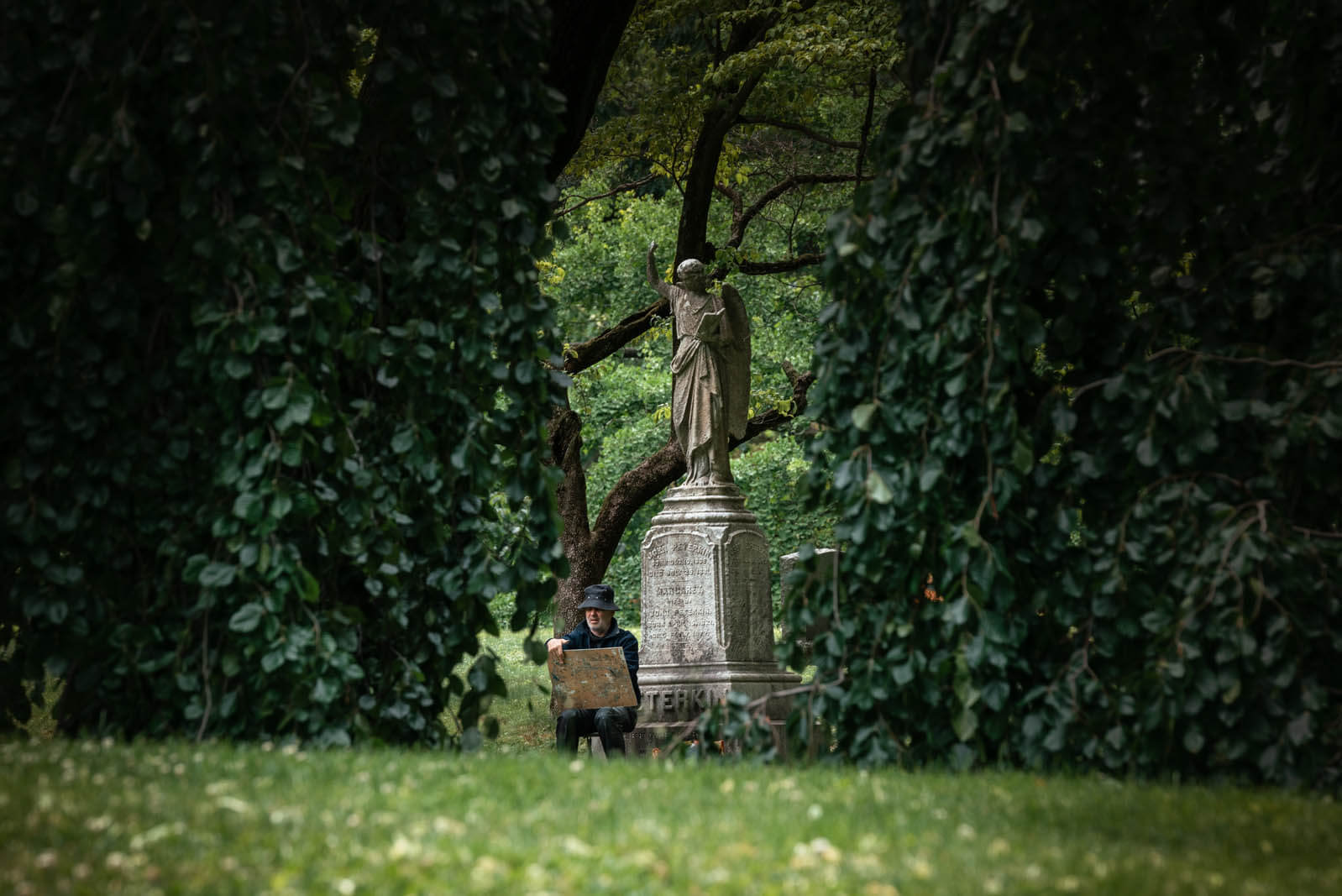 Green-Wood Cemetery in Brooklyn is enormous and like a giant maze. We recommend grabbing a copy of a map at the guard booth or main entrance, alternatively, you can access a PDF version of the map online.
The general hours you can visit the cemetery are daily from 7 am to 7 pm with different hours at each of the different entrances.
The Main Entrance, where the grand brownstone gates are located at 5th Avenue and 25th Street and are open 7 am to 7 pm for pedestrians and vehicles.
The Sunset Park Entrance at 4th Avenue and 35th Street is open daily from 8 am to 7 pm for pedestrians and 8 am to 4 pm for vehicles.
The Fort Hamilton Parkway Entrance can be found at Fort Hamilton Parkway and Micieli Place is open 11 am to 7 pm on weekdays for pedestrians only and 8 am to 4 pm to vehicles.
The Prospect Park West Entrance at Prospect Park West and 20th Street is also open from 11 am to 7 pm on weekdays for pedestrians only and 8 am to 4 pm for vehicles.
Something to keep in mind is that bicycles and scooters are not permitted and neither are pets. There are bicycle racks outside the cemetery for you to park your bike outside the gates.
There are three restrooms located at the Main Entrance, Sunset Park Entrance, and Prospect Park West Entrance.
Try a Tour or Event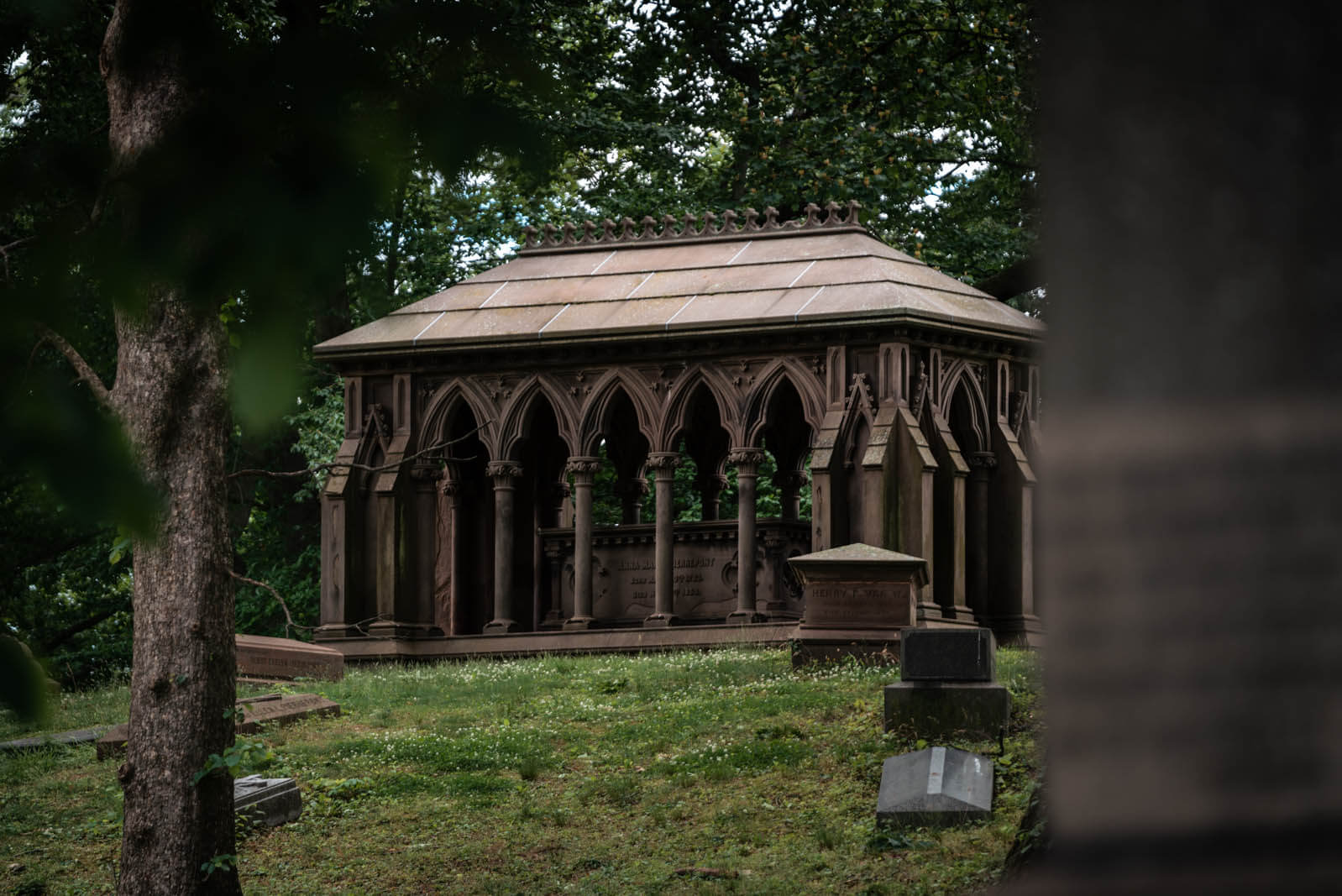 There are always various events happening at Green-Wood Cemetery from musical concerts in the Catacombs to outdoor film screenings with Rooftop Films in the summer months. Be sure to check their event page for the next upcoming events.
Since the cemetery is so fascinating and so large, one of the best ways to enjoy Green-Wood is by joining one of their many tours available including trolley tours and walking tours.
The Trolley Tours are a great option with minimal walking and are ADA compliant and typically take place on the weekends.
If you're up for more walking you can join one of their many group tours from the 'greatest hits' to moonlight tours that take you through the catacombs and graveyard after hours as well as request a private tour if you want something a little more intimate.
---
The Rural Cemetery Movement, which gave rise to cemeteries like Green-Wood, contributed to a drastic shift in the West's perception of death. By pushing away from puritanical pessimism, toward an expansive spirituality, emphasizing life, this movement reimagined humanity's relationship with the natural world.
Accordingly, Green-Wood Cemetery eschewed the grim skulls adorning church plots for effigies of seraphs and cherubs, not to mention botanical motifs like ivy, oak leaves, poppies, and acorns. Instead of an endpoint, death became a milestone along an infinite, cosmic journey.
And the staff at Green-Wood Cemetery does everything possible to preserve this Romantic vision while honoring the spirit of the present.
Read Next: Most Haunted Places in NYC