A long-standing, vibrant center of the American Jewish diaspora, New York City is a veritable hub for Jewish culture and community. The city's historical affiliation with the Jewish people can be traced back to as early as the 17th century – however, The Great Wave of immigrants from Ellis Island (in which the population of Jewish people skyrocketed from 80,000 to approximately 1.5 million between 1880 and 1924) is the likeliest influence on modern-day New York Jewish culture.
Today, New York is home to the largest percentage of Jewish people in the United States. So it should come as no surprise that if you're looking for NYC Hanukkah activities, you've come to the right place!
Hanukkah, also known as the Festival of Lights, commemorates the rededication of the Second Temple of Jerusalem in which a one day supply of oil was miraculously able to last for eight days. Families gather to light a menorah – a religious candelabra containing one candle for each of the eight evenings that the oil lasted, as well as a shamash, the attendant candle for lighting that sits above the rest.
Children enjoy playing the game of dreidel, a traditional four-sided top inscribed with the letters Nun, Gimel, Hey, Shin – standing for the words Nes Gadol Haya Sham, or, A Great Miracle Happened Here. The rules of dreidel vary depending on who you ask and you may inspire a fierce debate between siblings!
Traditional Hanukkah cuisine is oil-themed and includes latkes (fried potato pancakes) with sour cream and applesauce, sufganiyot (fried jelly donuts), and gelt (traditional gold-foil covered chocolate coins, stemming from an Eastern European tradition where children presented their teachers with coins as a token of gratitude).
It's a wonderful winter holiday full of community and meaning – so where should you go if you're hosting or attending a Hanukkah party and mayyyybe you set off your smoke alarm trying to make latkes?
Or maybe, it's your first year living alone in the city and you find yourself without a menorah and just a few hours to go before sunset – don't kvetch, we've got you covered.
In this NYC Hanukkah guide, we'll point you in the right direction for where to get the best latkes, sufganiyot, gelt, candles, dreidels, and menorahs in the city, as well as take you through the vibrant holiday programming available at community and cultural centers throughout NYC.
We'll take you through some of the beautiful outdoor menorahs (and lighting ceremonies) around town and of course, where to find the best Judaica and Hanukkah-themed presents for family and friends. Let's gear up for eight nights of joyous celebration and one of the best winter holidays in NYC to celebrate!
NYC Hanukkah Festivities
HANUKKAH FOOD AND DRINK IN NYC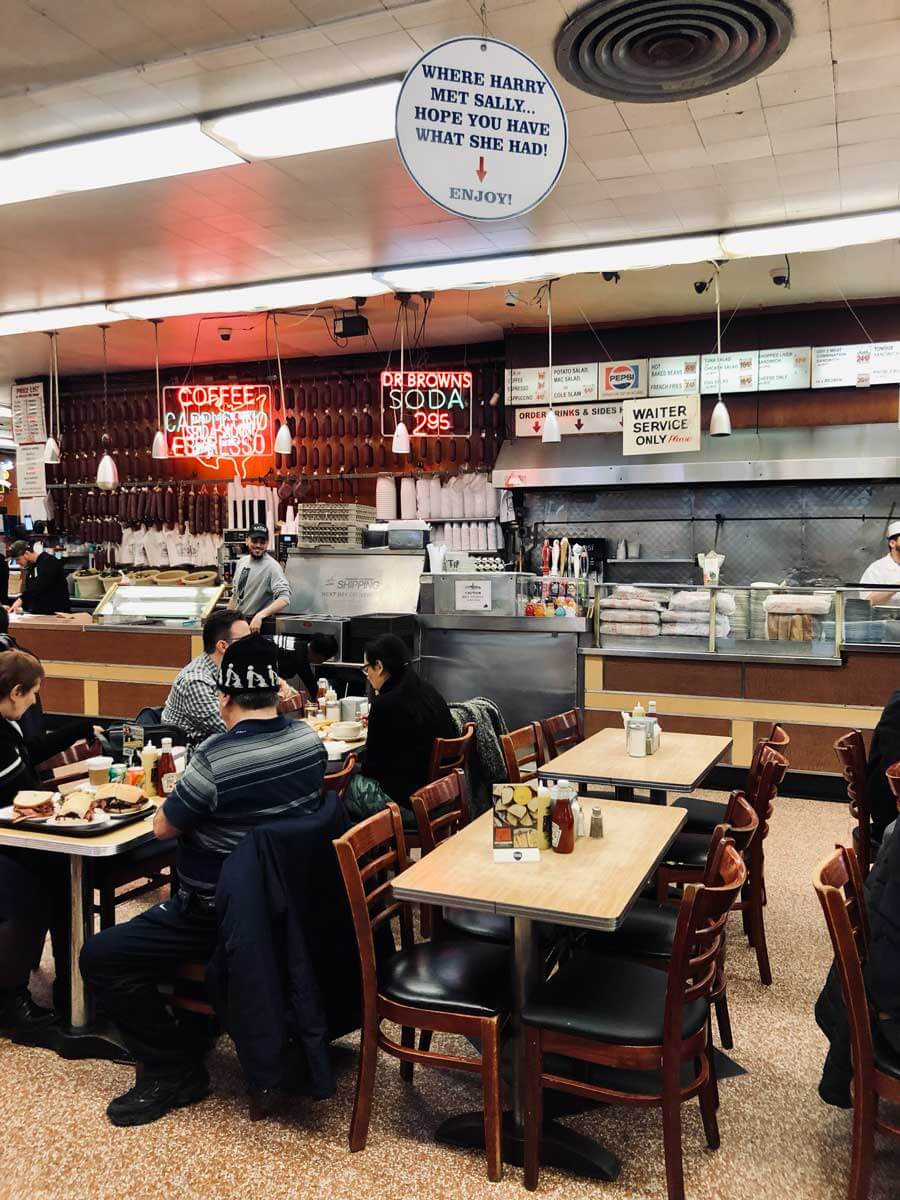 One of the tastiest ways to celebrate NYC Hanukkah is by enjoying delicious fried foods! While it's likely true that the best latke out there is made by someone's grandmother, if you're tasked with bringing them to a gathering there are a few key spots in NYC to find latkes worthy of Bubbe. Russ & Daughters (179 E Houston Street, also featured in our guide to NYC's Best Bagels!) has been a mainstay for latkes for over a century.
A part of the Great Wave of Immigration in 1907, founder Joel Russ got his start selling schmaltz herring out of a barrel on the lower East Side, eventually working his way up to a brick-and-mortar store opened in 1914.
In 1935 he made the bold (and unusually progressive move) of changing his business name and making his daughters full partners in the store – and thus, Russ & Daughters was born.
Still family owned and operated decades later, Russ & Daughters is known for a variety of traditional Jewish cuisine favorites, including of course, incredible small-batch latkes and seasonal sufganiyot. Be sure to also try their babka, smoked lox, and knishes while you're there! Russ and Daughters also has a wonderful tradition of inviting guests to join them in lighting the menorah each evening of Hanukkah.
And if you're hosting a gathering yourself, they also cater! Who's to say that you didn't make those latkes? I won't tell.
Another giant of the NY Hanukkah scene is Zabar's (2245 Broadway and again, is also featured in our guide to bagels!). This Upper West Side stalwart is known for its incredible prepared foods and signature orange merch (you know a Zabar's bag when you see one!).
In addition to their supreme deli counter, be sure to check out their latkes, rugelach (chocolate and cinnamon are both fantastic), and gelt.
They also sell Hanukkah-themed gift baskets, including a latke-specific insulated basket known as the Lot A Latkes Box. Both would make perfect host gifts for your next Hanukkah gathering!
A few short blocks away on the Upper West Side is Barney Greengrass (541 Amsterdam Ave), a must-try on our Hanukkah in NYC guide. The motto at Barney Greengrass is "a food store for those who demand the best", and they have been delivering on that promise for over 100 years.
They've also been frequently featured in NYC-centric movies and TV shows, including Seinfeld, 30 Rock, You've Got Mail, Revolutionary Road, and my personal favorite, Law and Order.
Now operated by grandson Gary Greengrass, founder Barney Greengrass began a long tradition of offering obsessively crafted appetizing specialties, including their famous latkes.
While not Hanukkah-specific, I must also recommend their cheese blintzes, which are sweet crepes wrapped in farmer's cheese that are a perfect balance of creamy and crispy.
Sometimes, Google says it best – legendary Katz's Delicatessen (205 E Houston St) is described as a "No-frills deli with theatrically cranky service serving mile-high sandwiches since 1888."
This is all unequivocally true and verified by personal experience. Open on the Lower East Side since the late 19th century, Katz's is known not only for their top-notch, generously-filled sandwiches and yes, that scene from When Harry Met Sally, one of the best movies set in NYC, but also a joyously chaotic cafeteria-style eating experience complete with red trays and a large bull-pen eating arena.
Enjoy the freshest cut pastrami piled high on rye bread, lose your receipt ticket and suffer. Try their mini latkes, knishes, and again – while not Hanukkah-specific, do not miss out on their noodle kugel.
They also offer a Hanukkah dinner package featuring matzo ball soup, pastrami sandwiches, latkes served with their signature deli mustard, and babka! I'll have what she's having.
The Bronx neighborhood of Riverdale is long known for its vibrant Jewish community – sitting in the center of the nabe is Liebman's Deli (552 W 235th St, Bronx), a kosher deli serving up fantastic traditional fare year-round since 1953.
During Hanukkah, Liebman's offers "bagel-sized" latkes, so popular that they make 2,000 a day during the holiday. Other highlights include the potato knish, chicken soup with noodles and matzo balls, and the pastrami burger.
While you're uptown, top off this stop on your Hanukkah in NYC guide by visiting nearby Wave Hill Garden (4900 Independence Ave, Bronx) for beautiful winter views of the Hudson River!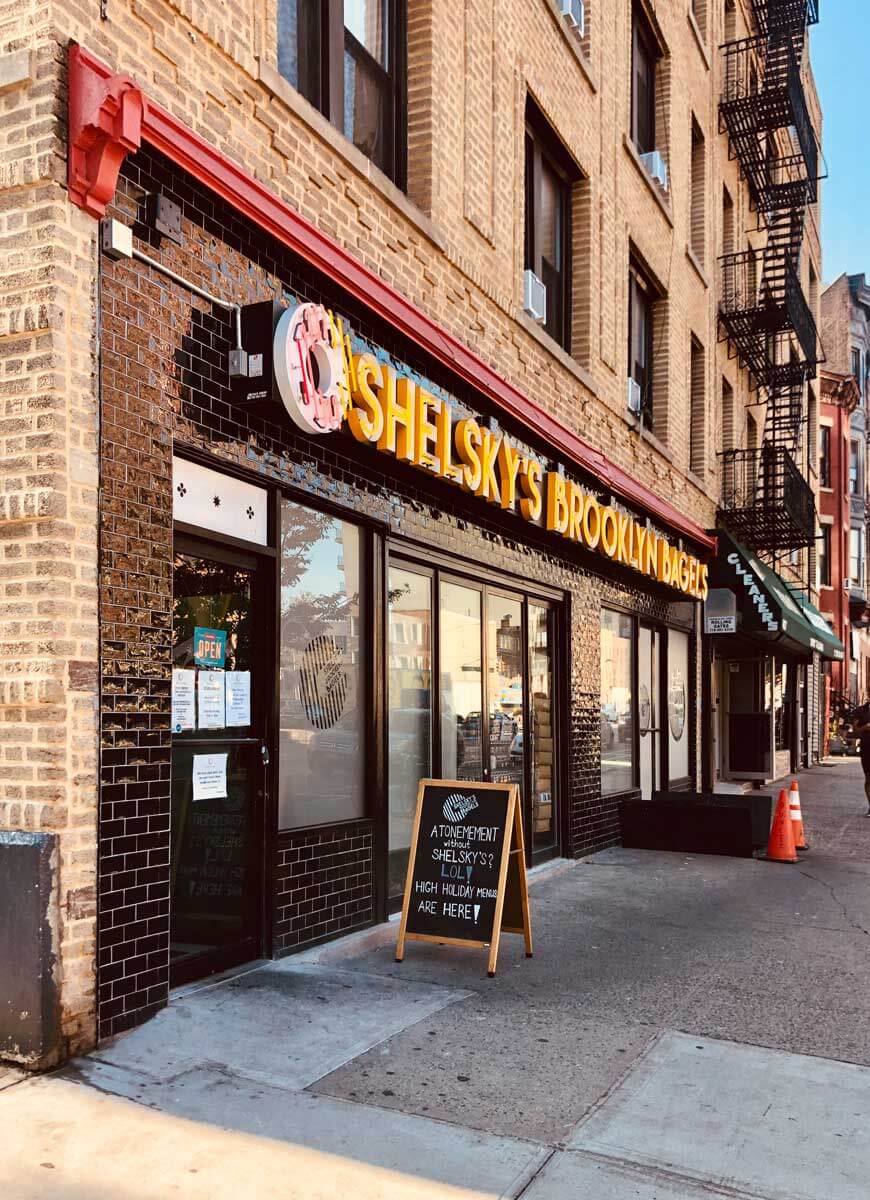 On the "new-school" end of NYC appetizing joints is Shelsky's of Brooklyn Appetizing and Delicatessen (141 Court St, and 453 4th Ave, Brooklyn), a "non-traditional traditional" deli specializing in popular Jewish foods with a modern twist and unexpected flavor combinations, plus home to some of the best bagels in Brooklyn.
Founder Peter Shelsky grew up in Manhattan and was inspired by the heavy-hitters mentioned above when he decided to open his own spot dedicated to the art of appetizing.
Brilliant bagels (again, the Venn Diagram between our bagel guide and Hanukkah food guide is basically a circle!!), Reuben sandwiches, rugelach, babka, matzo ball soup, and latkes are all available for feasting.
Shelsky's latkes are served with "Grandma Yetta's chunky applesauce" and creme fraiche!
Canadian import Mile End Deli (97 Hoyt Street, Brooklyn) is known for their combination of traditional Jewish appetizing foods and mouth-watering poutine.
Modeled after the Jewish delicatessens of Montreal's Mile End neighborhood, hometown to founders Nora and Rae Bernamoff and Joel Tietolman.
Mile End puts out a yearly Hanukkah menu – past offerings have included latkes with a generous variety of toppings (applesauce, sour cream, lemon-herb and caviar creme fraiche, whitefish mousse, chopped liver, and smoked salmon!) as well as schnitzel fingers, hot dogs in blankets, braised brisket in jus, roasted za'atar chicken, and of course, sufganiyot!
Looking for something slightly different this Hanukkah in NYC season? Check out kosher steakhouse Reserve Cut (40 Broad Street), a fusion steakhouse featuring Wagyu beef and sushi, all prepared with Glatt Kosher standards of cooking.
Founder Albert Allaham is descended from a long line of butchers reaching back 200 years to Damascus, and he's taken this long lineage of expertise to Reserve Cut.
In addition to year-round servings of excellently prepared filet mignon, ribeye, and rainbow rolls, Reserve Cut offers up yearly Hanukkah specials including latkes (past years have included latkes with poached eggs, salmon, and roe). Check them out for a luxurious spin on NYC Hanukkah!
Did you fill up on latkes and are just looking for some sufganiyot to top off your meal? Be sure to check out Breads Bakery (1890 Broadway and 18 E. 16th street) for their special, seasonal tribute to Hanukkah.
Dive into their delicious jelly-filled donuts that come with a variety of filling flavors – local strawberry jam for traditionalists, and Nutella, coconut-lime, and yuzu-infused custard for those looking to branch out on their sufganiyot journey.
In addition to the many incredible restaurants available to celebrate NYC Hanukkah, there are a few bars with Hanukkah-themed pop-up specials and decor, as well as low-key joints serving up kosher wine.
Are you looking for a great bottle of wine to bring to your NYC Hanukkah gathering? Check out Goblet Wine Inc., (6010 20th Ave., Brooklyn), an intimate kosher winery in Bensonhurst where all wines are manufactured on the premises.
Goblet sells 40 varietals of top-notch kosher wine and also offers customizable labels – a perfect option for surprising your Hanukkah hosts! Check them out in our guide to the best wine bars in Brooklyn!
You may recognize Miracle on 9th Street (The Cabinet, 649 E 9th St) from our Holiday-Themed Bar and restaurant guide – and yes, the bar is mostly Christmas-themed. But there is a delightful Hanukkah corner of the space, complete with dreidels and blue/white decor.
Enjoy winter-themed cocktails (past Hanukkah-themed options have included the Dreidel Dreidel Dreidel made with chocolate gelt-infused tequila, Pedro Ximinez sherry, maple syrup, and black walnut bitters) and challenge your friends to a dreidel tournament (loser buys everyone's drinks!).
Did you know that hidden above the 2nd Avenue Deli (a legend in its own right that also offers a yearly Hanukkah menu) is a secret kosher cocktail bar known as 2nd Floor Bar & Essen (442 1st Ave, don't be distracted by the fact that it is not on 2nd ave.)?
2nd Floor & Essen specializes in themed cocktails with a nod to Jewish culture (look no further than the Manischewitz Flip made with Bourbon, Rum, Demerara, Allspice, Mulled Manischewitz, and Whole Egg!).
They also serve delicious, bite-sized versions of their downstairs classics like potato pierogi, pigs in a blanket, pastrami sliders, and seven-layer cake. Stop by for a holiday cocktail hour with friends!
HANUKKAH SUPPLIES AND GIFTS
View this post on Instagram
Maybe you have your Hanukkah food game locked up, but…you don't own a menorah? Where should you go? Luckily, NYC is home to several fine Judaica shops to prepare you for the holiday.
And remember, not all Hanukkah candles are alike! Check the size of your menorah before you buy candles, or you may end up duct-taping your candles to the menorah to stay upright (not that I speak from experience or anything…).
West Side Judaica and Bookstore (2412 Broadway) is a must-visit on our Hanukkah in NYC guide. This family-run Upper West Side gem opened in 1934 and is home to the requisite menorahs, candles, dreidels, and gelt, as well as year-round and high-holiday Judaica staples like kiddush cups, kosher snacks, yarmulkes, Shabbat candles, seder plates, religious philosophy books, Hebrew-language books, children's reading materials and coloring books, and art from the diaspora.
Pick up some dreidels, gelt and Hanukkah coloring books for the kids in your life and become their favorite person!
Another excellent option is Riverdale Judaica (located not far from Liebman's Deli at 3706 Riverdale Ave, Bronx). This well-stocked shop is another particularly great place to find children's gifts like Hanukkah tic-tac-toe sets, dreidel sets, and even a Judah Maccabot™ dancing robot!
They also carry a wide variety of traditional and electric menorahs (a great option for those of us that wake up in the middle of the night wondering if we left a candle burning).
Riverdale Judaica is home to an exceptional variety of books in categories veering from holiday-themed to educational to Spanish language to cookbooks. Pick up a cookbook and try your hand at sufganiyot this year!
Looking for a menorah in NYC with a sculptural, modern-art edge? Look no further than the shop at the Jewish Museum (1109 5th Ave), located appropriately on Museum Mile.
The menorahs in the museum shop are such works of art that they'd make great year-round fixtures in your home. The Jewish Museum shop is also a wonderful place to get your holiday shopping done, as they offer everything from children's Hanukkah pajamas to delicate 14k gold Star of David and Hamsa necklaces to jaunty bagel-themed jewelry and event buttons declaring your chutzpah!
MENORAHS IN NYC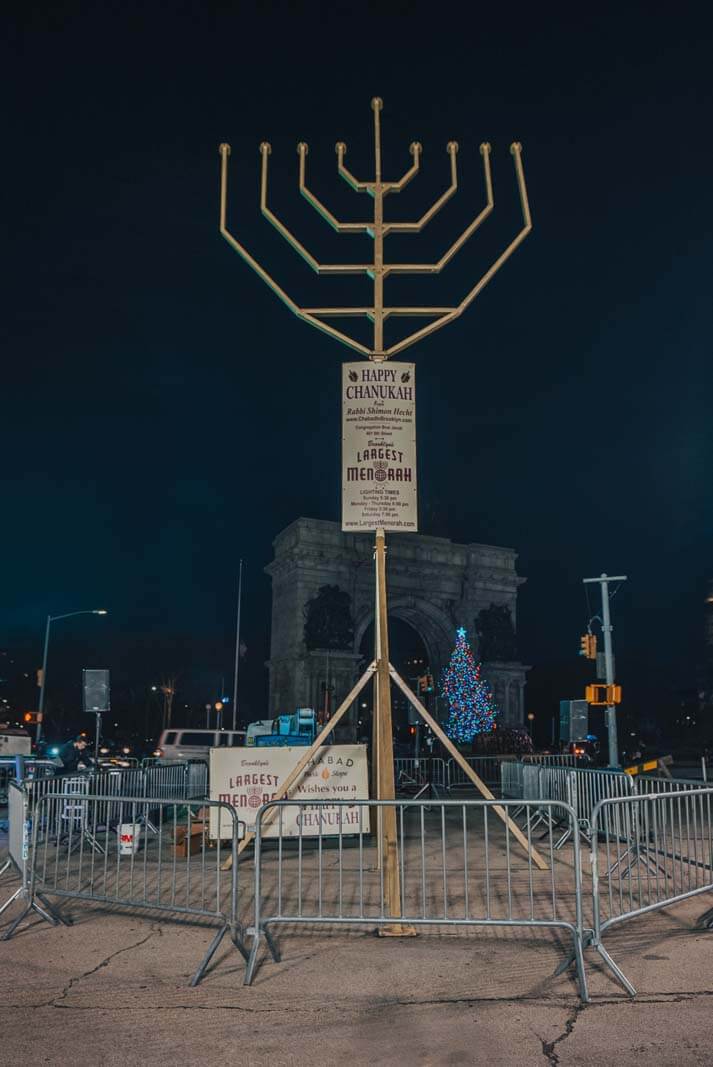 In addition to picking up your own personal menorah in NYC, you may want to visit one of several public displays around the city that host lighting ceremonies over the course of the holiday.
Grand Army Plaza (Flatbush Ave, Brooklyn) at the northern corner of Prospect Park is known for its picturesque Soldiers' and Sailors' Arch, a tribute to the plaza's Revolutionary War and Civil War history.
During Hanukkah, a large-scale menorah is erected to accompany nightly lighting ceremonies (check the NYCGO website for exact times).
Uptown at the other Grand Army Plaza (Midtown, Southeast corner of Central Park), an equally large 32-foot tall, 4,000-pound steel pound menorah is lit each evening. Both locations feature the largest menorahs in NYC (and the world!), nightly live music, and hot latkes (you can never get enough latkes!).
If you're downtown, head to Washington Square Park (South end of 5th Ave) for another excellent menorah display. Chabad House Bowery traditionally hosts the lighting ceremony.
Further uptown, the Fort Tryon Jewish Center (524 Fort Washington Ave) traditionally hosts a Heights Lights parade, in which community members parade from Fort Tryon Park to Bennett Park with electric menorahs and celebrate with sufganiyot and singing.
The office of the Queens borough president often hosts a menorah lighting at Queens Borough Hall in Kew Gardens (120-55 Queens Blvd, Queens), as does the borough of Staten Island at Staten Island Borough Hall (10 Richmond Terrace, Staten Island).
There is also a ceremonial lighting at the Staten Island Mall (2655 Richmond Ave, Staten Island) – another great way to get your NYC Hanukkah shopping in before checking out a fantastic menorah in NYC.
In the Bronx, menorah lightings can be found at Loreto Park in the Morris Park neighborhood (Haight Ave, Bronx, NY), hosted by the Bronx Jewish Community Council, as well as at the Bell Tower Park in Riverdale (W. 239th St. &, Riverdale Ave, Bronx).
The Bell Tower Park ceremony is hosted by Chabad of Riverdale and features the largest menorah in the Bronx, live music, sufganiyot, and dreidels!
Be sure to check individual park websites for exact dates and times, as Hanukkah's dates change each year to coincide with the Jewish calendar and begin at sundown!
HOLIDAY PROGRAMMING AND ACTIVITIES
View this post on Instagram
While we've already mentioned the Jewish Museum in our Hanukkah in NYC guide, we'd be remiss not to shout it out as an excellent (and indoor!) spot to celebrate with family-friendly activities.
In addition to being an educational and meaningful place to learn about Jewish history and art year-round, the Jewish Museum hosts an annual Hanukkah Family Day, featuring tours of Hanukkah-themed exhibits, concerts, and menorah-building workshops. The museum also features winter vacation-week art workshops!
Over at the Brooklyn Museum (200 Eastern Pkwy, Brooklyn, not too far from the giant menorah lighting at Grand Army Plaza!) you'll find a treasured annual Latke Festival, featuring over 20 gourmet varieties of the pivotal Hanukkah dish and a judges panel to determine the Ultimate Latke!
The 92nd Street Y (1395 Lexington Ave) has long been known as a Jewish cultural and community center and a beacon of NYC Hanukkah activity.
Founded in 1874, the 92nd Street Y was originally known as the Young Men's Hebrew Association but has since expanded its mission as a center focused on Jewish guiding principles that serves communities of all faiths.
Past Hanukkah-themed events have included a glow stick Hanukkah dinner dance, a rooftop Hanukkah concert and menorah lighting under the stars, and a hot-cocoa Hanukkah social.
Be sure to check out their website for specific event details and dates!
On the music front, check out Symphony Space on the Upper West Side (2537 Broadway) – they frequently feature Hanukkah-themed concerts with artists like The Klezmatics, a Grammy-winning klezmer band. Downtown, the Bowery Ballroom (6 Delancey St) hosts an annual Hanukkah Run concert featuring yearly headliners Yo La Tengo.
If you've yet to perfect your Hanukkah desserts, check out a baking workshop at Taste Buds Kitchen (109 W 27th St) – annual times and themes vary, but they have featured Hanukkah gingerbread house workshops in the past!
Additionally, the NY Cake Academy (118 W 22nd St) frequently hosts Hanukkah-themed classes – past classes have featured Hanukkah cookie decorating!
Looking to turn it up a notch? Brooklyn's favorite bacchanal House of Yes (2 Wyckoff Ave, Brooklyn) hosts their annual A Very House of Yes Hanukkah party that includes a candle-lighting ceremony…as well as aerial performers, latkes, and a kick-ass DJ set. They put it best: "join us as we cram eight nights of debauchery into one spectacularly fabulous event"!
While it's not necessarily Hanukkah-themed (unless of course, Hanukkah and Christmas Eve overlap), we do need to include the MatzoBall on our Hanukkah in NYC guide.
This yearly gathering is held at changing venues every December 24th as a way for young Jewish singles to mix and mingle sans Rudolph. Put on your finest party outfit, have a few cocktails, and look for your beshert (soulmate)…or at least your New Year's Eve date!
---
By now you should have more than enough ideas to fill eight nights of Hanukkah fun – but the good news is that most NYC Hanukkah activities are a yearly treat!
You can always try a new latke or menorah lighting or concert each year in one of the world's most Hanukkah-friendly cities!
---
About our Guest Author
Sarah Beling is a playwright, New Yorker, and passionate food enthusiast who is always looking for her next meal. You can find her in an NYC park, enjoying a chopped cheese sandwich and reading about NYC's best new places to eat.