Heading to Brooklyn and looking for some of the hidden gems in Red Hook? We've got you covered, if you've already been to and discovered all the other best things to do in Red Hook that are already becoming popular in this industrious, waterfront neighborhood.
This guide will help you discover some of my personal favorite hidden gems in this creative and historically interesting and semi-isolated neighborhood in Brooklyn when it comes to transportation that is becoming more and more popular with its entertainment, dining, and artistic scene, not to mention great waterfront views of the Statue of Liberty.
These may not be 'hidden' to locals, but for visitors or people not as familiar with the area, you may want to add a few of these interesting points of interest to your day of exploring! If we missed one of your favorite hidden gems, let us know in the comments below! We love when our readers get involved with sharing some of their favorite spots for others to enjoy!
And if you love finding lesser-known spots and landmarks with a fascinating backstory, check out the rest of our favorite hidden gems in Brooklyn!
1951 Trolley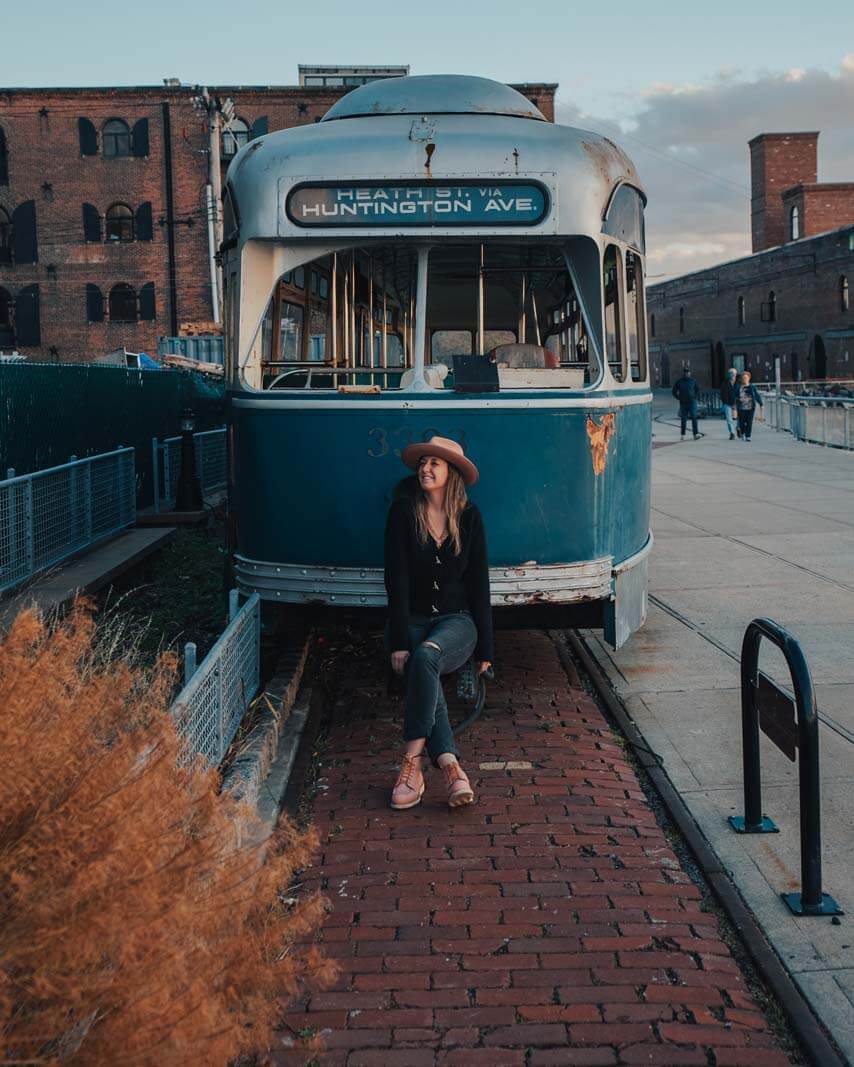 One of my favorite hidden gems in Red Hook is this old abandoned, slowly decaying street trolley from 1951 nestled between the waterfront and an old industrial warehouse by the waterfront.
Why is there an old trolley here you might be wondering? This is the last remaining trolley from the ambitious project to bring trolley car transportation to Red Hook and attempt to popularize the 'trolley lines' in Brooklyn as a mode of public transport that would run from Red Hook to Downtown Brooklyn.
Even to this day, the public transportation options in the Red Hook neighborhood are limited and there are no subway stops here, just a ferry stop and bus stop!
There was a brief moment in time in the 1990s and early 2000s where there was a collection of old trolleys from around the country and an operating 1-mile trolley loop in Red Hook that ended up being decommissioned and repaved over in 2004. Womp womp.
There were a total of four trolleys like this on the Red Hook waterfront until Hurricane Sandy damaged this area severely and now there is only one which you can visit for free!
I can't help but wonder how awesome it would be if we had a few trolley lines in Brooklyn, or even if just this neighborhood had a trolley line, but we will keep dreaming because that's probably never going to happen.
This is also one of the best Instagram spots in Brooklyn too and one of the best sunset spots in Brooklyn!
Waterfront Museum & Showboat Barge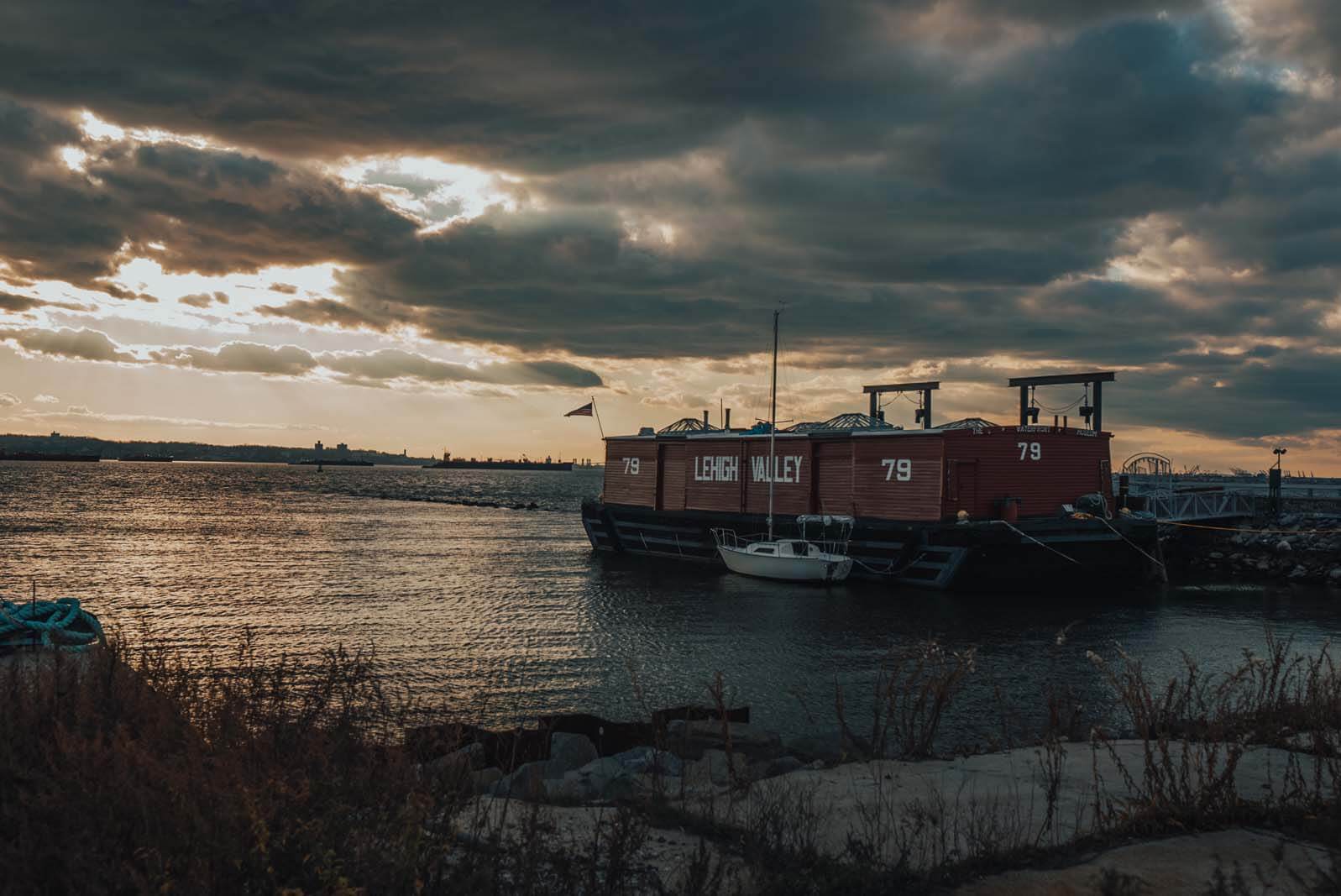 Another cool hidden gem in Red Hook that's educational and where you can learn a bit more about the history of the area is the Waterfront Barge Museum or Waterfront Museum and Showboat Barge.
This museum is dedicated to the historic preservation and heritage of the New York Harbor and waterfront, from the history of the passageway for commuters, its role in the local economy, and water sport and recreation all aboard a historic barge!
There are many different exhibits and displays including historic boats from wooden barges to tugboats. You can also learn about the different historic figures who had a role to play in the local history along with their personal stories all while onboard the Lehigh Valley Railroad Barge Number 79, a preserved Hudson River Railroad Barge that houses the museum!
Better yet, this is free! There are seasonal closures and hours vary, it's best to check their website before to plan your visit. But even if they are closed, you can still see the barge and museum from the exterior.
Amorphic Robot Works
Another interesting hidden gem in Red Hook that's located on Pioneer Street is the Amorphic Robot Works HQ, aka "The Robotic Church."
This is a unique gallery and art installation by multimedia artist Chico MacMurtrie. This location houses a collection of over 50 pneumatic robot sculptures on display in a former Norwegian Seaman's Church here in Red Hook.
All of these sculptures that make up this art installation were made by MacMurtrie between the late 1980s through 2006.
This space is filled with all kinds of different robots, some of which are as big as 15 feet in height, and some are programmed and operate to perform tasks or make a sound. Together the machines move with rhythm and percussive sounds.
If you want to visit this interesting hidden gem in Red Hook, you're going to have to sign up for the artist's newsletter as it's only available to see during special events throughout the year.
The Closest Land View to Lady Liberty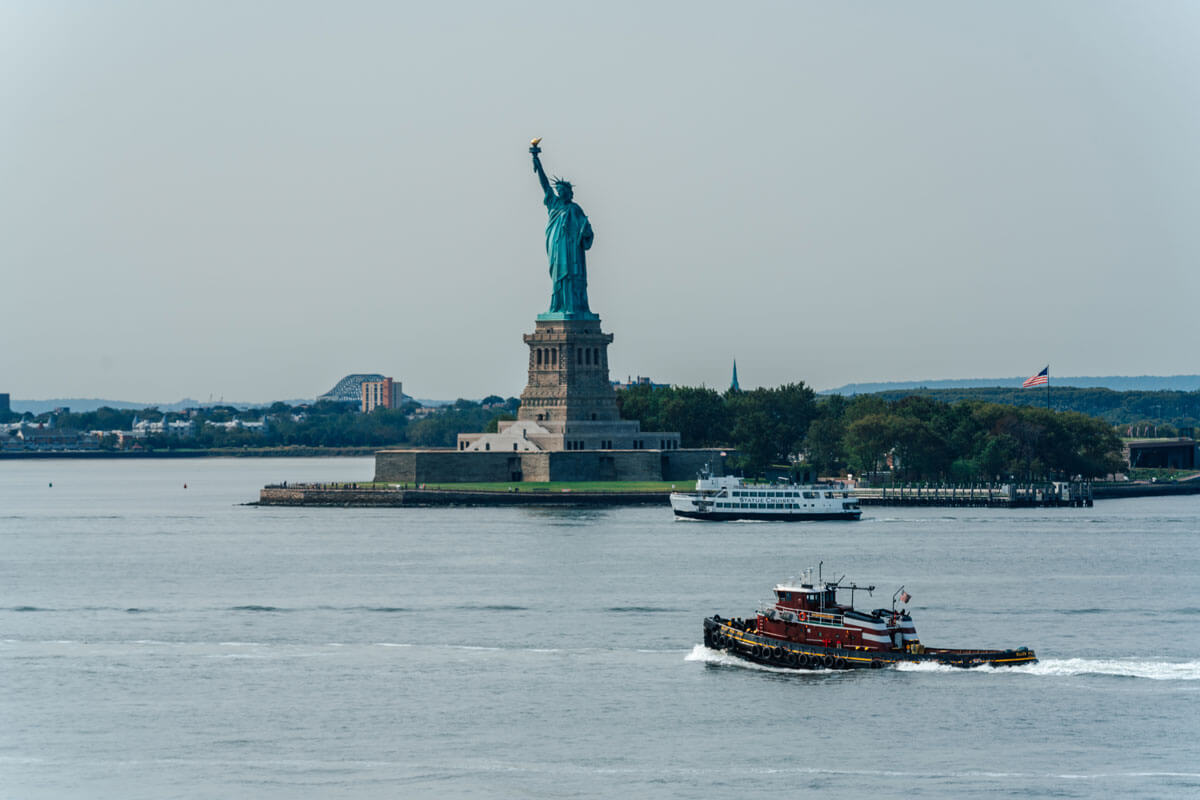 Another great hidden gem in Red Hook, worthy alone of coming here to explore, is getting the closest land, front-facing view of the Statue of Liberty at Louis Valentino Jr. Park and Pier, one of our favorite parks in Brooklyn.
This waterfront park not only has great, front row seats to look at Lady Liberty, but this is also has a great Brooklyn view of the Manhattan skyline, specifically Lower Manhattan. If you look the opposite direction you get a nice view of the Verazzano Narrows Bridge in the distance too, another one of the most famous bridges in NYC located in Bay Ridge.
You also get views of Governor's Island, which if you are visiting in the summer, I highly recommend taking at least a few hour trip to if not an entire day trip, as well as views of Staten Island and Governor's Island from here as well and a nice small lawn for picnics with a cool mural.
The park itself is named after a brave firefighter by the name of Louis Valentino Jr., who passed away in 1996 trying to save injured firefighters in a three-alarm fire, this park pays tribute to this local hero.
While you're here, be sure to grab a slice of Steve's Authentic Key Lime Pie next door, the most famous key lime pie outside of the Florida Keys.
Red Hook Winery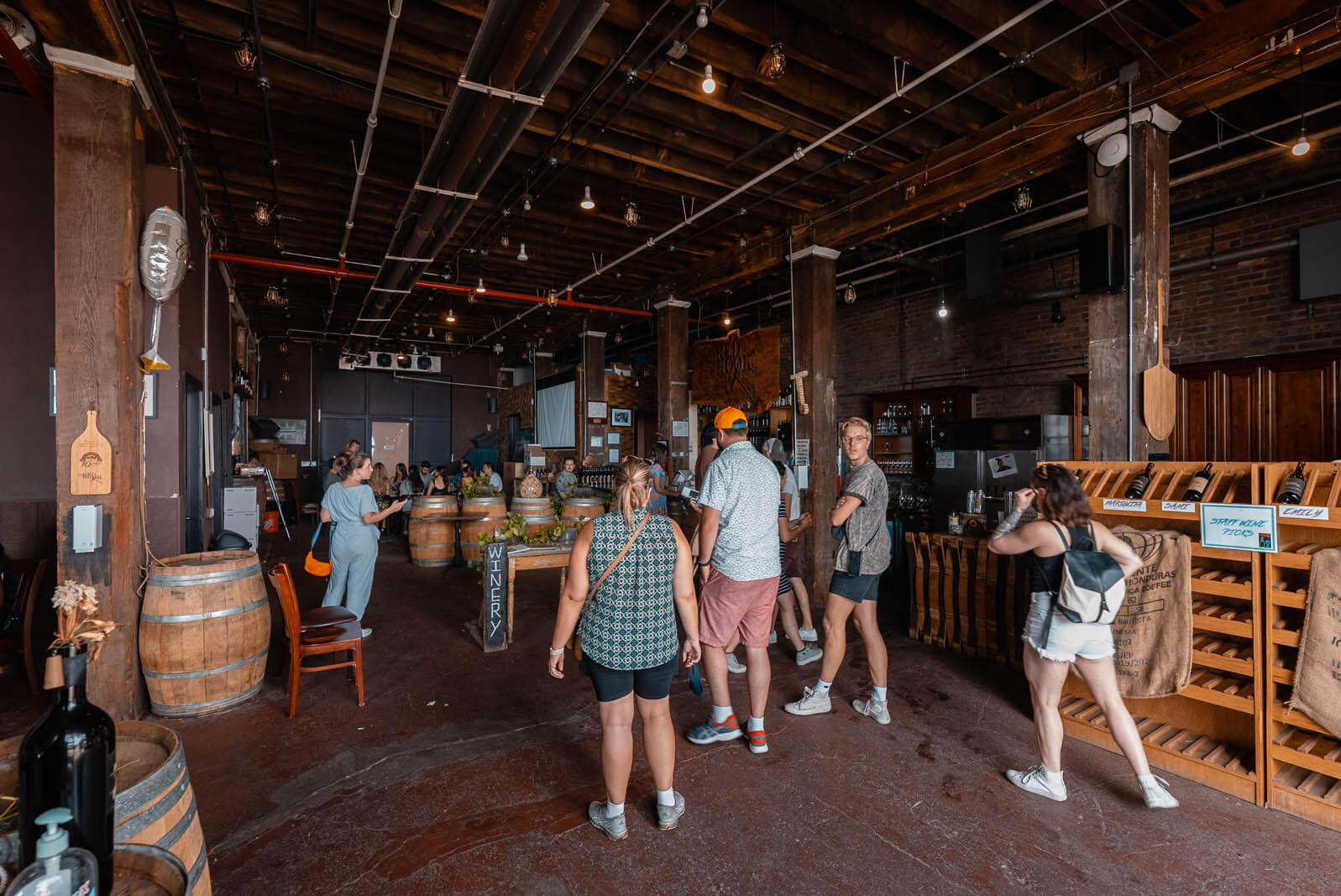 Did you know there's a winery in Brooklyn? Actually, there are a few wineries in Brooklyn, and to my surprise, one is right here in the neighborhood making it one of my favorite hidden gems in Red Hook.
Red Hook Winery grows its grapes in the vineyards of North Fork, Long Island in the Hamptons and the notoriously great wine region of the Finger Lakes in Upstate New York. They bring their grapes to Pier 41 where they process, make, and bottle their wine highlighting the best of winemaking in the state of New York.
Visitors can come to the tasting room to sample these New York made wines by the glass or flight with drop-dead gorgeous views of Lower Manhattan and the Statue of Liberty as its right on the waterfront.
Cacao Prieto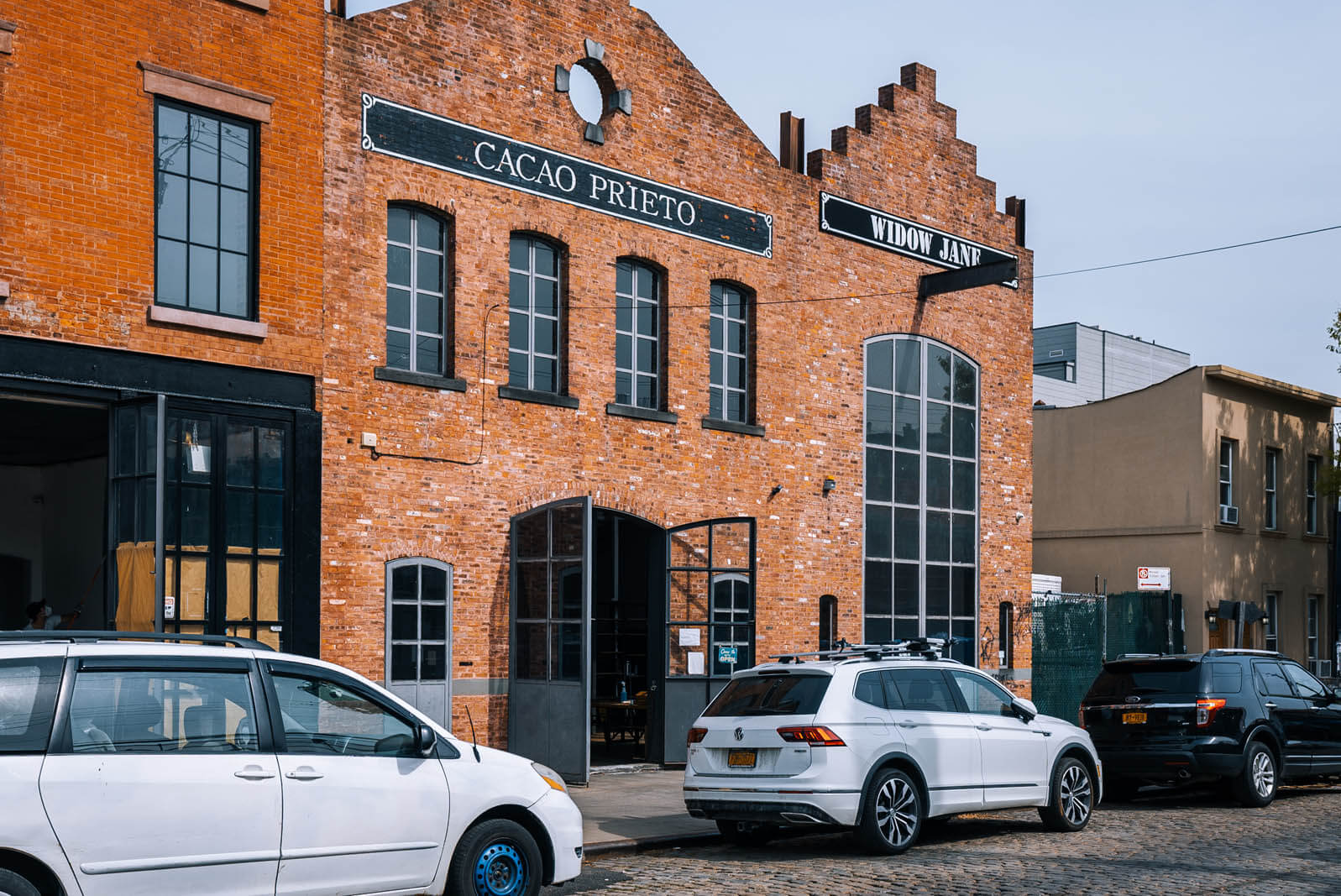 One of the most interesting hidden gems in Red Hook I just recently discovered is Cacao Prieto, a liquor distillery and chocolate factory here in Brooklyn! Located in one of the historic old warehouses, this is the spot to go to for sweets and drinks.
Their cacao used in all their products is sourced from the Dominican Republic and is 100% organic and kosher friendly. The chocolate is processed beans to bar, here on-site daily, and the cacao is used in their cacao-based liqueurs and rums.
On the weekends you can join a tour of the facility to see where guests can follow the facility's process of the cacao bean and how it goes from farm to chocolate bar as well as how chocolate is infused into distilling rums, liqueurs, and whiskey in their grain to bottle process.
Find the Red Hooks of Red Hook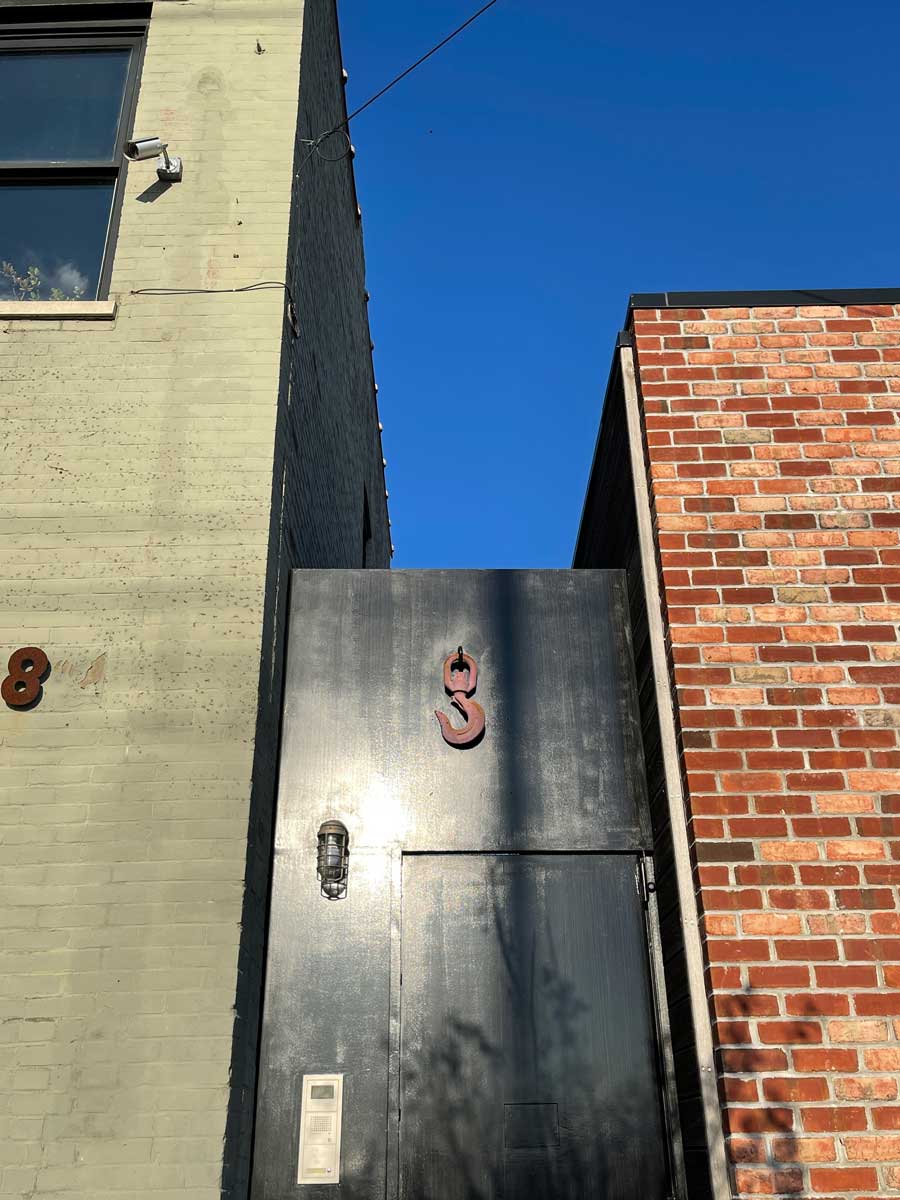 I wish I had a better backstory or the history of this hidden gem in Red Hook, but I don't so I am going to do my best to make a hypothesis based on the history of the neighborhood.
If you like wandering up and down random streets like I do, you can do an unofficial scavenger hunt in Red Hook looking for the 'red hooks of Red Hook." Many of the homes pay homage to their neighborhood by adding a small detail to their homes, they add little red hooks hanging somewhere on their homes or business.
Red Hook gets its name from the Dutch colonizers in the 17th century, one of the earliest areas in Brooklyn to be settled in 1636, they called it Roode Hoek, which means 'red point,' because of the red clay in the soil here. In the early 20th century Red Hook was a very prosperous shipping and port area.
Because of the history with this being a crucial industrious shipping port, you'll find a lot of industrious old warehouse-style buildings, pre-Civil War federal-style buildings, reminders of the shipping port days, and row houses that used to be the homes of the shipyard workers and longshoremen.
Since the neighborhood was named after the red clay soil and I am sure the style of red hooks you will sometimes spot on homes and businesses could also tie into the shipping and industrious history of the neighborhood, I came to the conclusion that playing on the words of 'red hook' and tying in its industrious history is just a fun way to pay homage to their neighborhood and a sense of local pride.
Anyway, like little hidden gems, as you're walking around Red Hook, Brooklyn, and like a little Easter egg hunt, lookout for some of the little red hooks on display on random homes and businesses in this neighborhood and enjoy yourself a little scavenger hunt.
The Manger Cats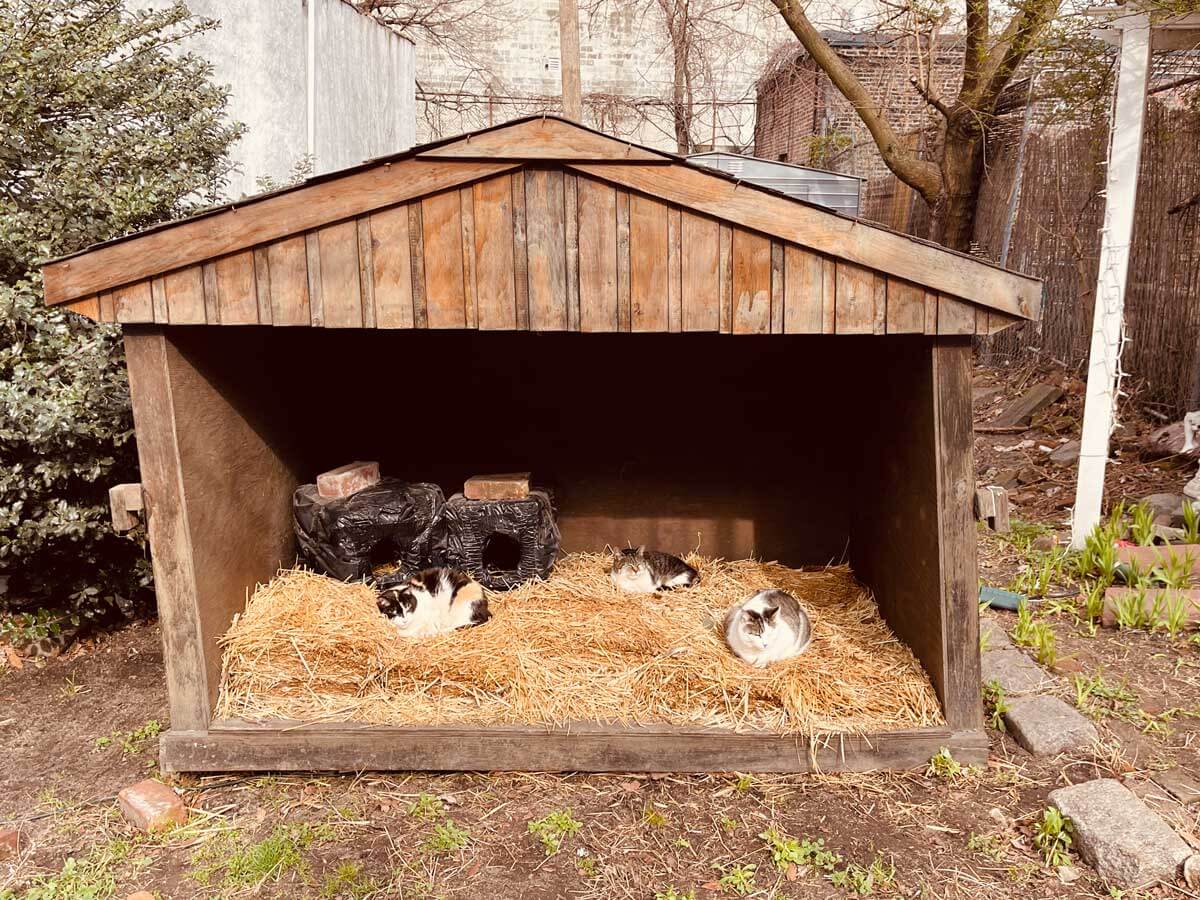 I'm not going to lie, I really love cats so I get excited when I 'spot' a cat in the streets, especially ones that are well looked after and taken care of by the local community. You'll find that alot here, the cats are a part of the community and neighborhood here and one of my favorite hidden gems in Red Hook are the 'manger cats' on Van Brunt Street.
On any given day you can spot cats curled up and all cozy in here and it's one of those random things that always makes me smile.
The best part though is, around the Christmas holiday, locals turn the manger into 'cativity' scene instead of a full nativity scene. Instead of adding a baby Jesus, they leave it open for the cats to sit in his place next to the Virgin Mary and Joesph statue. These cats in their holiday display are so famous they even made a feature in People Magazine.
And if you're a big fan of cats and thirsty, head to The Black Flamingo cafe across the street on Van Brunt, grab a delicious drink, and head to their pretty, garden backyard patio where the neighbor cat Billy swings by to greet guests and visitors on a regular basis.
---
Be sure to also check out our favorite hidden gems in NYC while you're exploring some of these secret or lesser-known spots in the city!