Heading to Brooklyn and looking for some of the hidden gems in Williamsburg? We've got you covered, if you've already been to and discovered all the other best things to do in Williamsburg that are already popular, this guide will help you discover some of my personal favorite hidden gems in this trendy, waterfront neighborhood that is popular among hipsters and the young, creative scene.
These may not be 'hidden' to locals, but for visitors or people not as familiar with the area, you may want to add a few of these interesting points of interest to your day of exploring! If we missed one of your favorite hidden gems, let us know in the comments below! We love when our readers get involved with sharing some of their favorite spots for others to enjoy!
While you're at it, be sure to check out the best street art in Williamsburg and other fun guides to this neighborhood like great cafes in Williamsburg.
Hidden Gems in Williamsburg
City Reliquary Museum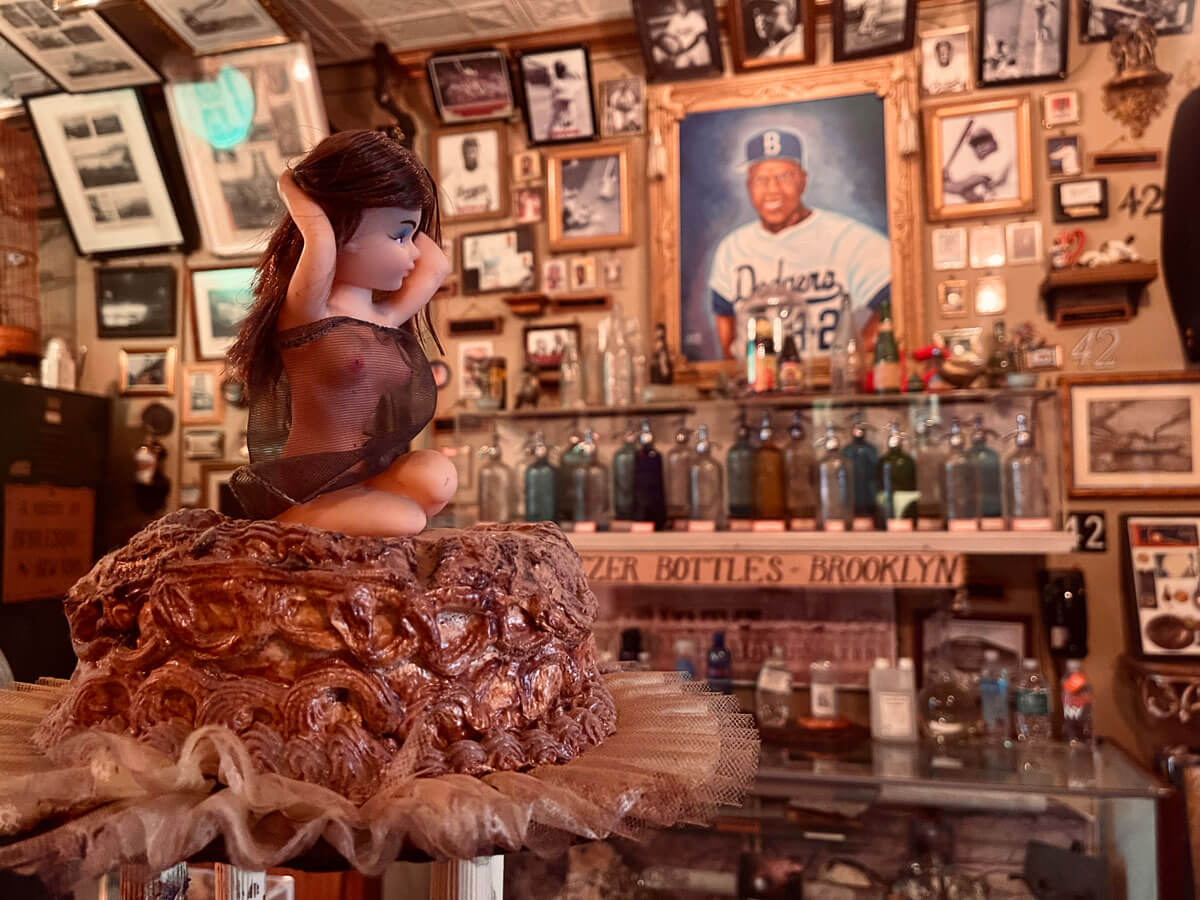 One of the best hidden gems in Williamsburg is this community-run museum that highlights the history of New York City to its visitors as well as being an unofficial shrine to New York City.
The City Reliquary Museum has displays of artifacts, community collections, and cultural events from both the past and the present all about NYC. The museum's origins are even interesting starting in the first floor of an apartment in Williamsburg where the owner painted a map and directions to any nearby landmarks on the side of the building.
Some of the oddities you'll encounter here include everything from New York City rat bones, old postcards, fragments of historic landmarks in the city, and other random finds by the community all tied to New York City. Also, be sure to check out the rotating exhibits they host throughout the year as well.
In 2019, they housed a collection of artifacts from New York City Public Schools from the years of 1850-1970 with items like a dunce chair and classroom decorations. Check out more of the amazing museums in Brooklyn worth visiting!
Marsha P Johnson Park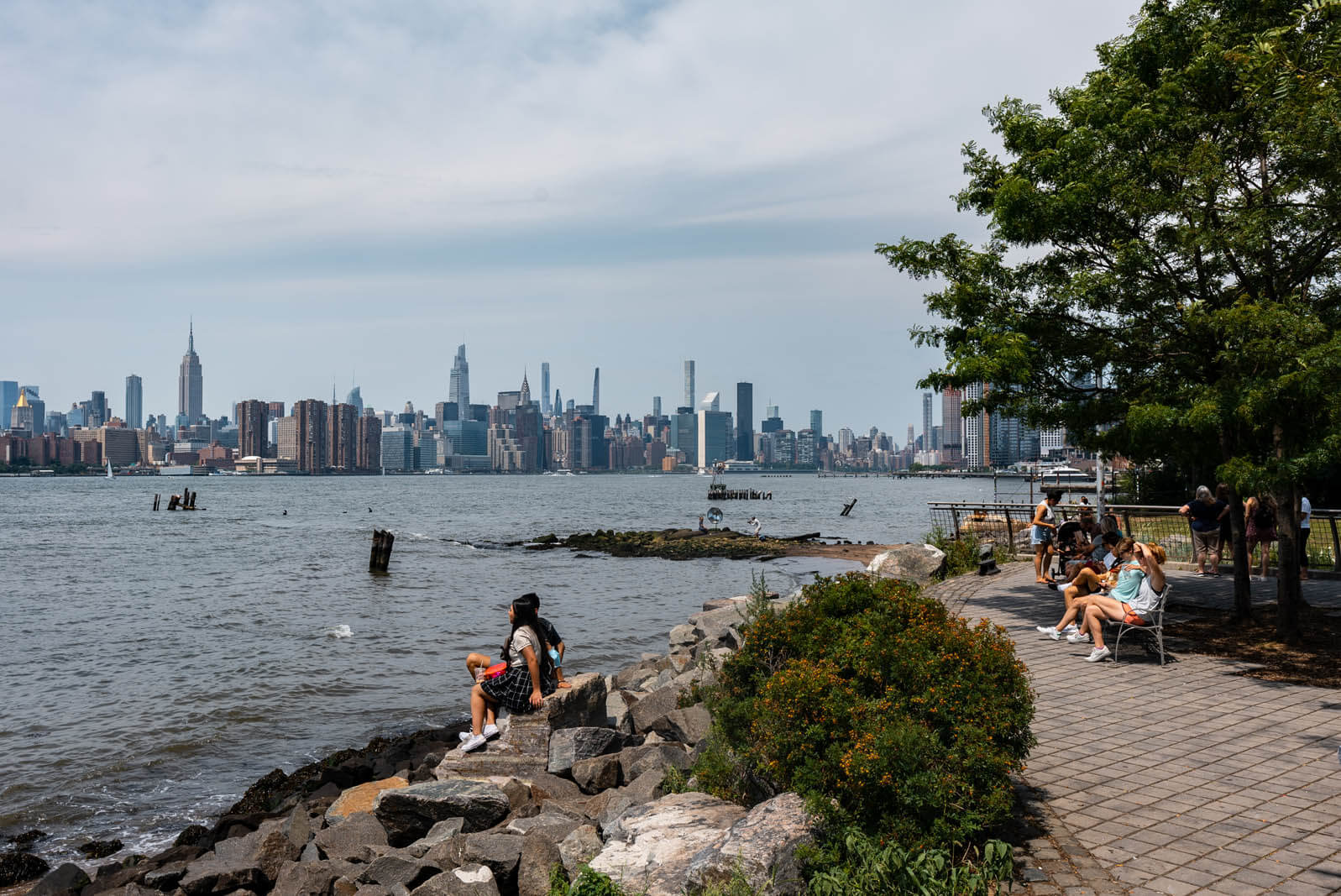 Aka the East River State Park and next to Bushwick Inlet Park is Marsha P Johnson Park on Williamsburg's waterfront. Most people know of Domino Park because of its waterfront location right under the Williamsburg Bridge and interesting old Domino Sugar Refinery ruins, but this waterfront park is worth checking out as it has front-row views of the NYC city skyline from across the East River.
This park was formerly known as East River State Park, but in 2020 Governor Cuomo had to park renamed to Marsha P Johnson to honor her involvement and as a pioneer in the LGBTQ civil rights movement for her involvement in the Stonewall Uprising in 1969, one of the national parks in NYC.
If you're a history buff, pay attention to the interpretive signs around the park pointing out significant historic landmarks as this was the site of a former 19th-century shipping dock.
In addition to the great views of the East River and Manhattan, the park offers native meadow plantings among the historic rail yard remnants, great picnic spots with a view, and outdoor recreational opportunities.
Not to mention, this is one of the best Brooklyn views of Manhattan and the city skyline!
Spectacle Theater
I personally love this hidden gem in Williamsburg and so will any other cinephiles out there or those who just love all things film. Spectacle Theater is a volunteer-run movie theater is known for screening rare and under-appreciated films every day of the week for a reasonable price of $5 making it one of the most affordable things to do in Brooklyn!
The location is intimate and allows you to bring your own food and drinks which is a very rare offer not only for movie theaters but in NYC where prices are expensive.
Speaking of expensive prices, as rent prices were skyrocketing in the area, the community successfully ran a fundraising campaign to help continue their independent theater and community project led by local volunteers.
As mentioned, this space is smaller and intimate and can fit no more than 30 people so plan on getting there early to find a good seat. This makes for a really great date idea in NYC too!
Check out more of the best movie theaters in Brooklyn!
Ruins of the Domino Sugar Refinery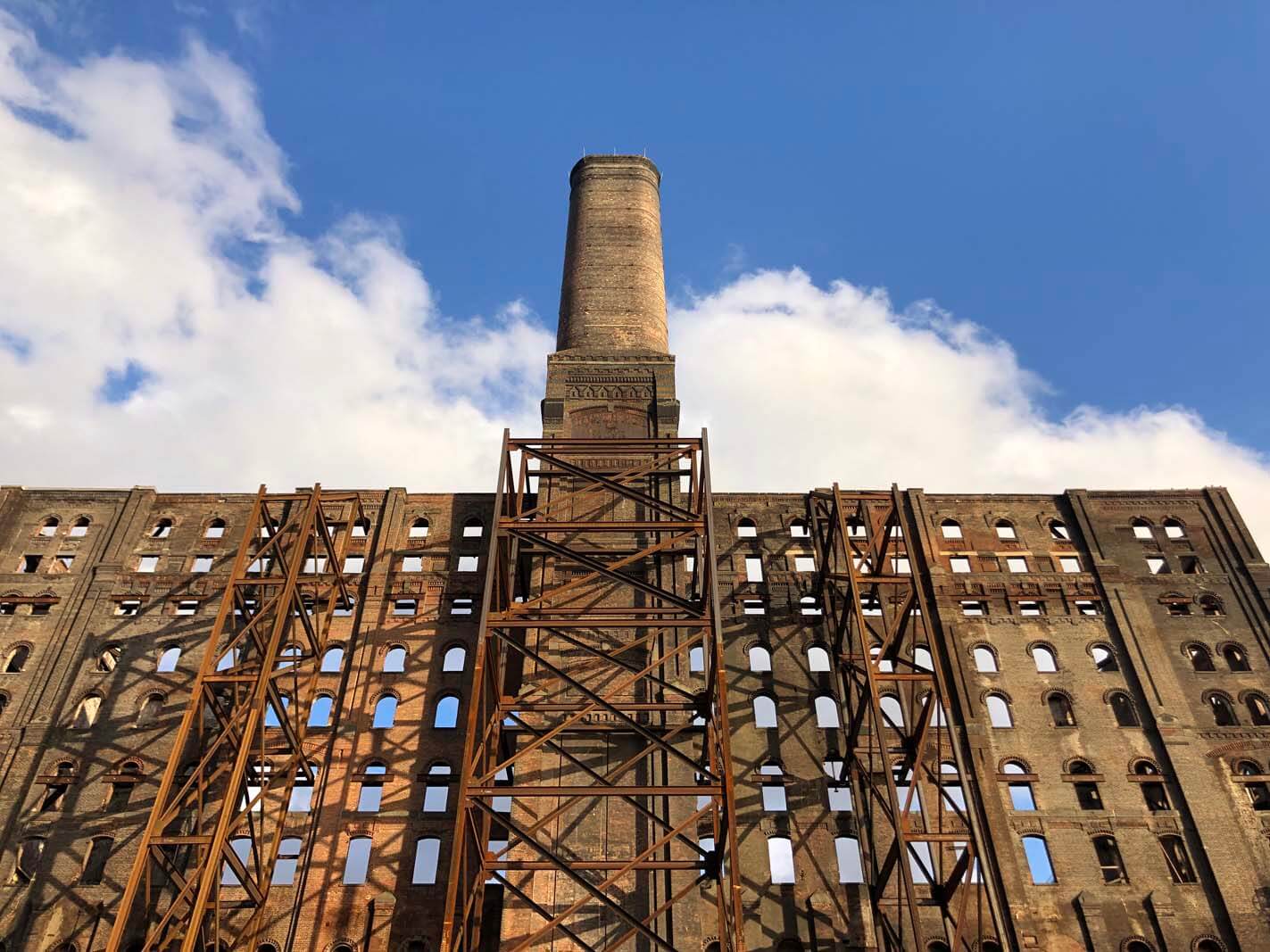 By no means are we trying to claim that Domino Park is a hidden gem in Williamsburg, but what we do think is interesting and worth pointing out is the history of this park and what once stood here. The park itself is actually built around the ruins of a Domino Sugar Refinery, hence the name of the park.
The park is built around the salvaged equipment and industrial buildings, which also pay homage to the history of industry along the East River here in Brooklyn. The designer responsible for other stylish urban parks like the High Line in Chelsea helped bring this park to life in 2018, just 14 years after the Domino Sugar Refinery closed after 138 years of operation.
Enjoy the elevated walkway, dog area, volleyball & bocce courts, as a children's playground. There's even a taco stand if you forget to bring your own picnic serving up cocktails if you need a drink. But the best part are the waterfront views of the skyline, which is one of the best views in the city.
Desert Island Comics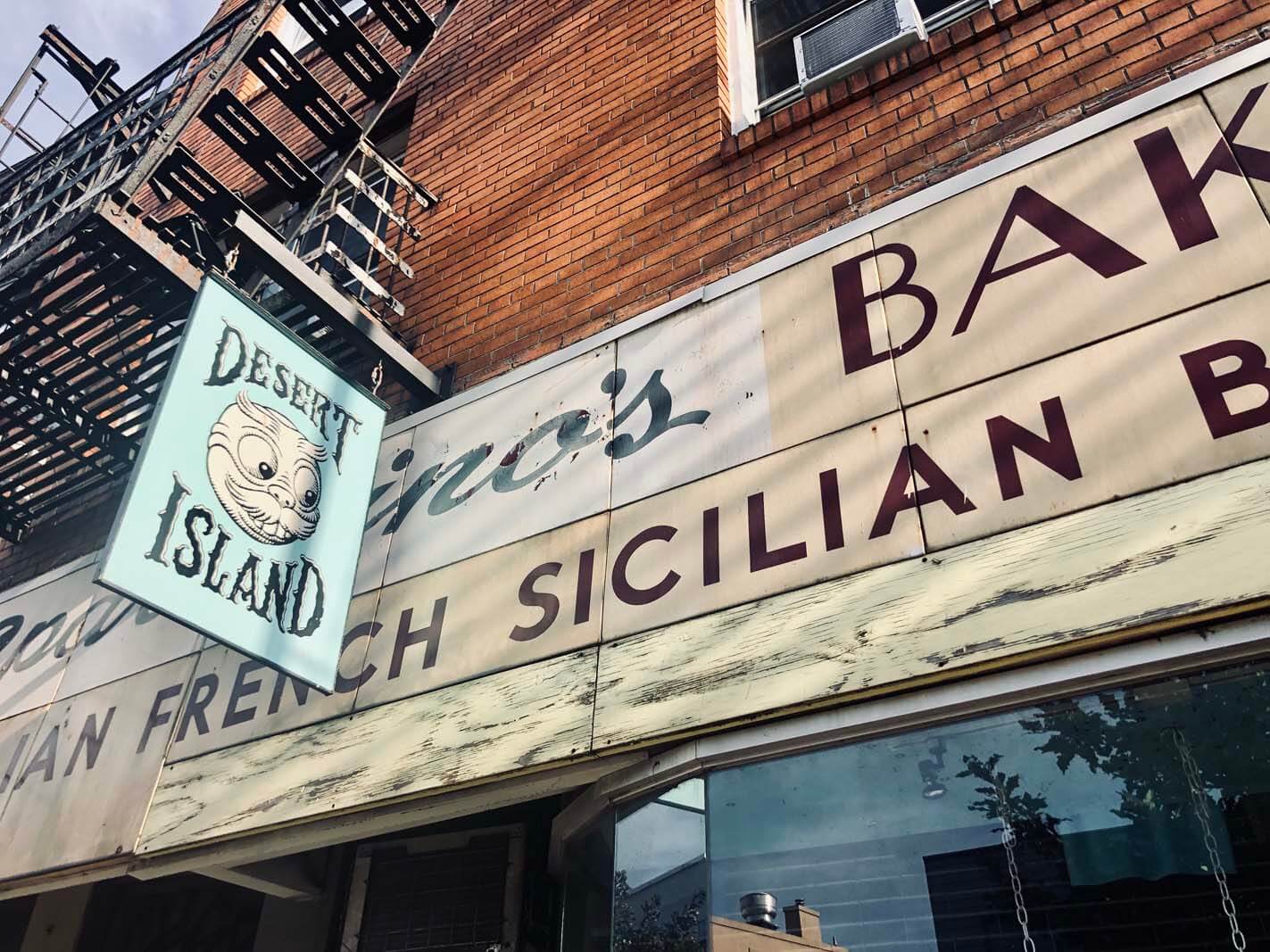 I don't mention a lot of shops in my hidden gem round-ups, but this one certainly was deserving of a mention. Desert Island Comics on Metropolitan Avenue is a rare gem here in Williamsburg.
This independent comic book shop sells rare, alternative, and underground comic books on a consignment basis. Besides also carrying some nifty trinkets, you can walk out with a free printed comic too!
This store publishes its own quarterly comic on a newspaper called Smoke Signal and even won an Eisner Award for Best Anthology. Better yet, they hand them out to customers and visitors for free. If you have any comic fans in your life, stop by and pick them up a copy!
They are also responsible for the annual Brooklyn comic book festival too and occasionally host events and author signings in their shop.
Hewes Street & Marcy Avenue Stations
One of my favorite photography locations and hidden gems in Williamsburg are from the platforms of the Marcy Avenue Subway Station and the Hewes Street Station. These elevated platform subway stops operate the J and M subway lines and offer a really cool view of the Weylin dome, formerly the Williamsburgh Savings Bank, the rail tracks, and even a peek at the Williamsburg Bridge.
If you're planning a public transportation route, see if you can arrange to make a stop here or start from here so you can check out this great view.
Weylin
The large, ornate building with the dome you can't miss while exploring in Williamsburg is the former Williamsburgh Savings Bank, a Brooklyn financial institution through the 19th-20th centuries. While this gorgeous building no longer houses a bank, it has been repurposed for a luxury event space in this historic landmarked building.
The building itself was built between 1870 and 1875 by a popular architect known as George B. Post who also designed the New York Stock Exchange in the Financial District along with other Beaux-Art buildings and mansions. This building represents one of the first examples of French-inspired Classical Revival Style of architecture here in the United States.
The interior of this grand building was designed by Peter B. Wight who is responsible for the gorgeous oval windows that leak light and sun rays into the giant 110-foot dome and this is where you can find the last surviving mural by Wight.
The restoration of this building actually won quite a bit of awards and is considered one of New York City's most premier venues for events as there are multiple event spaces in this giant building including spaces for rent under the iconic dome adorned with frescoes, mosaic designs, intricate wood carvings, along with furniture and period decor.
Diner
View this post on Instagram
This is one of the more unique dining experiences and hidden gems in Williamsburg! Diner is a a diner located inside an old dining car under the Williamsburg Bridge. Does that even make sense?
Basically, this diner, that goes by the name Diner is a restaurant that has a nearly century-old Pullman Car, a railway dining car, inside so guests feel like they are dining in another time in a historic railroad dining car. How cool is that?
Not to mention, diners are a quintessential New York experience and this restaurant didn't skimp on details, be sure to see our favorite old-school diners in Brooklyn too.
This place has been around the neighborhood a few decades now, and it hasn't lost its charm or quality in food and farm-to-table ingredients all while in an intimate, historic space that also happens to be one of the best brunch spots in Williamsburg.
Also, check out our guide for the best Williamsburg restaurants to check out!
McCarren Park Pool
View this post on Instagram
Did you know that McCarren Park, one of the most popular parks in Brooklyn, has a historic public pool and bathhouse? During the summer months, if you need to cool off you can do so in this massive pool that reopened in 2012 after renovations and restoration.
This pool was opened by Robert Moses in 1936 and operated until 1984, this was one of the 11 pools he designed around the city. Between 1984 to 2005, the pool sat empty and neglected until it was used as a local concert, movie, dance, and entertainment venue before going under the hefty restoration efforts it took to reopen the pool for its original intended use. in 2012.
The design of the pool is rather large and symmetrical with a main arched entrance with two bathhouse wings on either side of the giant rectangular-shaped Olympic size pool.
---
Be sure to also check out our favorite hidden gems in NYC while you're exploring some of these secret or lesser-known spots in the city!