Looking to find the best-hidden parks and secret gardens in NYC? We've got you covered in this guide to the best hidden parks and gardens in NYC from those hidden in plain sight and those that require a little more effort to find and are local's best kept secrets!
While Central Park and Prospect Park are the most well-known parks in New York City, the city's unique environment provides for a wide range of non-traditional open spaces. Some of the city's best green spaces are hidden gems waiting to be explored.
It's hard to believe there are so many hidden and secret parks in NYC that offer a little bit of respite and serenity in the middle of the buzzing city.
Here are our favorite hidden parks in NYC that can only be found in a multi-level, multi-layered city: from elevated parks to secret beer gardens!
Hidden & Secret Gardens in NYC
The High Line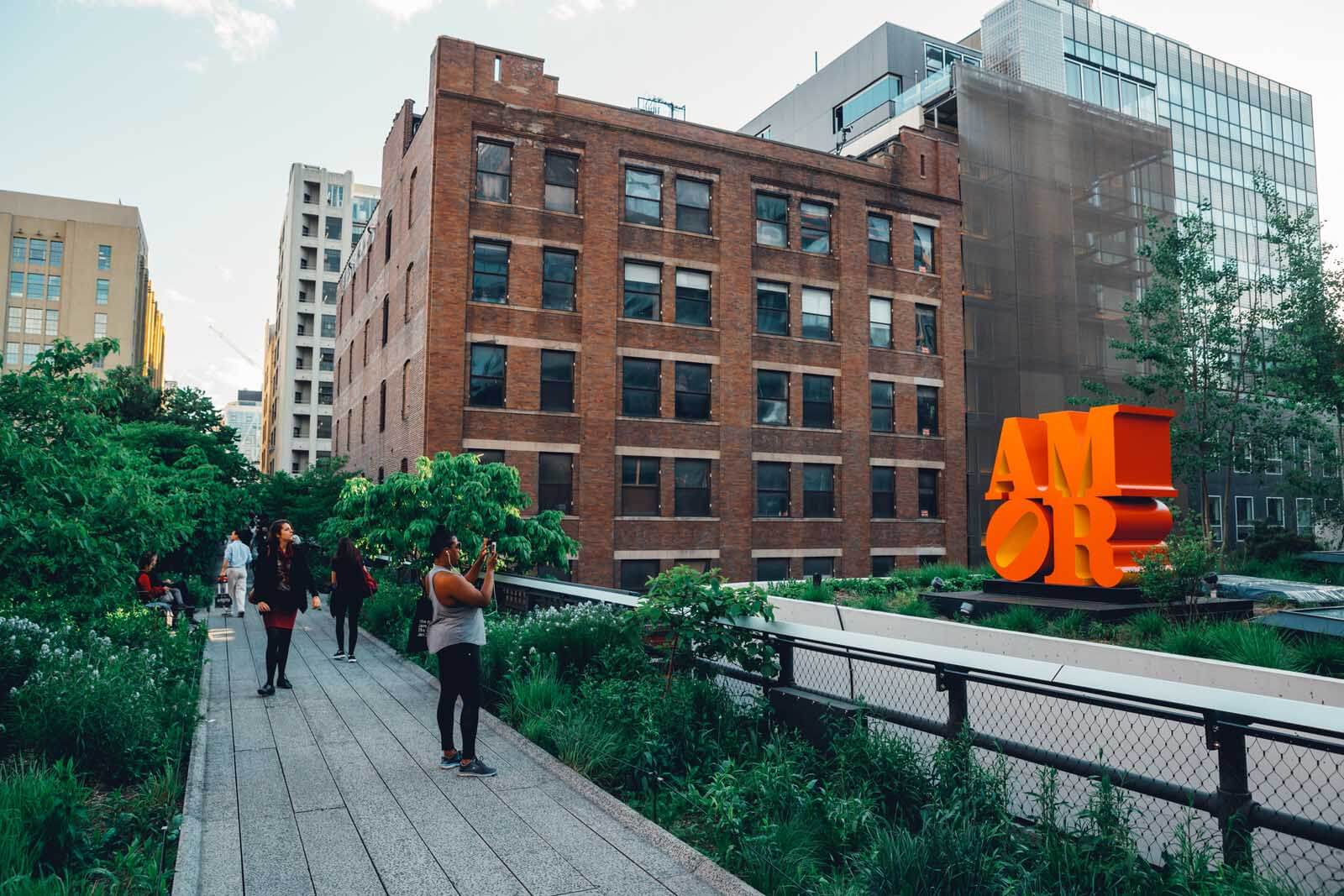 Gansevoort Street, 23rd Street, or 30th Street – Manhattan
Let's get the less secret park and garden out of the way first. The High Line is no secret if you're a local or you've been to NYC in the past few years, but we had to mention it for those who haven't been to NYC in awhile.
You'll want to add The High Line to your list of places to explore if you're looking for one of the top hidden parks in NYC. In 2009, a former freight track of a railway line was revived and became one of the top parks in NYC.
The High Line is one of the most unique parks in the city with magnificent NYC views and is the only park like it in the world, extended above the city stretching from the Meatpacking District to the famous Hudson Yards, with a 1.45-mile 30-foot-high, elevated walkway.
The best time to visit this hidden park in NYC is the spring and summer when all of the garden and plants are in bloom. However, visiting in the fall and winter also offers different opportunities like enjoying the High Line without all the crowds!
Better yet, you can enter and exit at various points of the High Line visiting some of the best stops below it too including Chelsea Market and several art galleries around the High Line in Chelsea.
Along the walk you will also spot giant murals including works by Brazillian artist Kobra and art installations along the High Line and even little stops that have benches where you can sit and take a break looking at the view.
There are several entry points to the park, you can see the list below to plan your visit.
Gansevoort Street and Washington Street (elevator access)
14th Street (elevator access)
16th Street (elevator access)
17th Street
18th Street
20th Street
23rd Street (elevator access)
26th Street
28th Street
30th Street (elevator access)
10th Avenue
30th Street and 10th Avenue
Crossroads Connection (ramp access)
30th Street and 11th Avenue
34th Street (ramp access) – open 7:00 a.m. to sunset
Paley Park
View this post on Instagram
3 E 53rd Street – Manhattan
One of the world's most admired urban 'pocket parks,' this hidden park in NYC is small but mighty. Located in an outdoor area with a magical hidden NYC waterfall wall that hides the sounds of the city, trees, and plenty of places to sit, Paley Park is one of our top picks for hidden parks in NYC because it truly is a hidden gem!
Paley Park has become one of Manhattan's jewels, a marvel of urbanity and grace. You'll love the serenity of the space and the fact that it is just minutes from some of New York City's biggest attractions, such as Radio City Music Hall.
Morningside Park
View this post on Instagram
Morningside Drive – Upper Manhattan
Morningside Park, a 13-block stretch of land that connects Harlem and Morningside Heights in NYC, is a local favorite and top choice for hidden parks in NYC. This park is also interesting because it's built on a steep incline.
The community park offers beautiful scenery all year round but is especially beautiful in the fall. Wildflowers bloom abundantly along meandering trails, one of which leads to a waterfall.
Saturdays are outdoor market days, so local farmers may be seen selling artisan goods and fresh produce throughout this hidden garden in NYC. Morningside Park is ideal for wanderers or people who want to enjoy the beauty of nature while taking a lengthy walk. There are also playgrounds for the young ones!
While you're here, check out the Giant Boulder in Morningside Heights, one of our favorite hidden gems and unusual things to do in NYC.
Astoria Park
View this post on Instagram
19 19th Street, Astoria – Queens
Astoria Park is situated along the East River, which is this hidden park's main attraction. Views of the roadway and the Hell Gate Bridge and Triborough Bridge, one of the most famous bridges in NYC, are striking making Astoria Park a hidden gem and one of our top choices if you're looking for hidden parks in NYC.
The track serves as the focal point, with individuals running, jogging, and strolling with their shirts off, enjoying some exercise and some sun at the same time. This is also where the Astoria fireworks show takes place on July 4th celebrations.
This park is also known for housing the oldest and largest pool in the city! Besides having a great pool, you can find a track for running and walking along with trails, basketball courts, playgrounds, tennis courts, and even a bandstand!
Corlears Hook Park
View this post on Instagram
397 FDR Drive – Manhattan
This waterfront park, located on Manhattan's Lower East Side, offers spectacular vistas, baseball fields, a playground, and dog-friendly sections.
During the summer months, the park is known for its outdoor movie presentations. Because Corlears Hook Park is hidden away from the city, the park is rarely busy and is a top choice when looking for hidden parks in NYC.
A little history tid bit about this park and its name, Eleanor Roosevelt gave a speech at the open-air theater in the early 1950s, and the park is located along FDR Drive.
Through footbridges and meandering walkways, Corlears Hook Park and East River Park are linked. The Manhattan Waterfront Greenway, a 32-mile network of connected parks along Manhattan's coastline, includes and connects to both parks.
There are also athletic fields here including softball, tennis courts, and skateboarding spots not to mention public performance areas.
Highbridge Park
View this post on Instagram
W 190th Street & Amsterdam Avenue – Upper Manhattan
Highbridge Park in Washington Heights on the Harlem River's side has been renovated and provides a beautiful complimentary space to the freshly rebuilt High Bridge, the city's oldest standing bridge dating back to 1867.
One of the top hidden parks in NYC, Highbridge Park has gone a long way in becoming more accessible and accommodating for leisure strolls and gorgeous waterside cycling paths. It is a fantastic place to visit and be sure to check out the new skate park created beneath one of the park's overpasses.
This park also has the first mountain biking course available in New York City!
While you're here be sure to keep an eye out for rare city wildlife spotting including the dusky salamander and the white footed mouse which is actually unique to this hidden park in NYC!
Monsignor McGolrick Park
View this post on Instagram
Russell Street & Nassau Avenue – Brooklyn
Monsignor McGolrick Park is a quieter alternative to its popular neighboring park in Brooklyn, McCarren Park, and is loved by Greenpoint residents.
This hidden park in NYC is laid-back, dog-friendly, and full of giant trees that give lots of shade in the summer. The historic center pavilion was built in 1910, and adjacent memorials honor local World War I soldiers and the USS Monitor's construction.
Swings, spray showers, and imaginative climbing structures, are available to children of all ages in the fenced play area. McGolrick Park may is ideal if you're looking for a fantastic Sunday farmer's market, to give your dog a space to run, or simply relax for a few hours in a calm place.
Elevated Acre
View this post on Instagram
55 Water Street – Manhattan
Elevated Acre, a lesser-known and secret park in Lower Manhattan's Financial District offering a breath of fresh air and is one of the best picks for hidden parks in NYC.
This park and small 1-acre meadow is two flights of stairs off the street and is ideal for a lunch break. Greenery and flowers provide shade and offer perfect views of the Brooklyn Bridge, East River, and Brooklyn skyline.
This top pick for secret gardens in NYC comes with its own beer garden, an amphitheater, and Brazilian hardwood pathways. Elevated Acre is one of the city's best-kept secrets.
Inwood Hill Park
View this post on Instagram
Payson Avenue & Seaman Ave – Manhattan
This top choice for hidden parks in NYC is reached by riding the A train to the end of the line. Inwood Hill Park itself is vast and has a 2-mile hiking route. You don't even have to leave town to feel the benefits of nature (or see a bald eagle if you're lucky).
The park contains prehistoric caverns, valleys, and hills for the public to explore. The 196-acre park has maintained its thick woodland and the last remaining salt marsh in the city too. Built on Manhattan schist, a local rock along with glacial ridges, and is home to the largest remaining old-growth forest in Manhattan.
Inwood Hill Park also features fields, playgrounds, designated dog areas, and picnic spots. If you want to disconnect from the city, Inwood Hill Park is the perfect spot to do it.
Sutton Place Park
500-514 E 55th Street – Manhattan
One of my favorite hidden parks in NYC are the 5 pocket parks along the East River known as Sutton Place Park. These are little isolated, waterfront retreats overlooking the Queensboro Bridge and Roosevelt Island.
You can find benches, sculptures, and neatly manicured greenery all along this pretty fenced-off park overlooking the water.
You can access this park from Sutton Place, right behind and between the townhouses. Not all of the parks connect so its worth going to check them all out.
The history of these little pocket parks are also interesting as they are named after Effingham B. Sutton who made his fortune during the California Gold Rush and moved to NYC to become a successful entrepreneur and shipping merchant. He built the beautiful townhouses you see here between 57th and 58th Streets.
This area actually saw a sharp decline by the turn of the century and the area that are now the parks were the gathering location for the street gang known as the Dead End Kids.
This tiny treasure is an oasis for busy people in the city looking for somewhere to relax and breathe. Scenic landscaping in the summer also makes Sutton Place Park feeling one of the top-secret gardens in NYC.
Wave Hill
View this post on Instagram
4900 Independence Avenue – The Bronx
Riverdale's Wave Hill estate, which dates back over a century, is one of the city's most attractive and thriving public gardens but also one of the top-secret gardens in NYC as many visitors to the city (and even locals) don't know about this hidden oasis.
Immerse yourself in the beauty of the estate and nature in their gardens overlooking the Hudson River and views of the New Jersey Palisades.
Throughout the year, various activities are planned that include concerts and art shows where many artists display their work. The estate hosts "Sunset Wednesday," during the summer, which consists of outdoor performances on the Great Lawn.
Green Dome Garden in McCarren Park
View this post on Instagram
227-235 N 12th Street – Brooklyn
It's nearly difficult to avoid all the various ways to be active in McCarren Park, including a track, sports fields, tennis courts, a swimming pool, and even a secret community garden in NYC tucked away within the larger area. The Green Dome Garden is a designated quiet zone, and the bloom-filled sanctuary is located on the southwest corner of North 12th Street.
The Green Dome is one of North Brooklyn's best-kept secrets and one of our top picks of hidden gardens in NYC.
The 2,500-square-foot green area, named after its neighbor, the green dome-topped Russian Orthodox Cathedral, features a Belgium brick promenade, different plant habitats, and seating to enjoy a moment of solitude here. It's open from 9 a.m. until dark every day.
Carroll Street Garden
534 Carroll Street – Brooklyn
In 2013, this little section of Brooklyn and secret garden in NYC was upgraded to become a water-absorbing cog in the area's attempt to promote more green landscapes. With permeable pavers, flood-tolerant plants, and a rain garden that absorbs 150,000 gallons of rainfall each year, it now contributes to the health of the neighboring Gowanus Canal.
An outdoor classroom with raised planting beds and a composting station is available and a birch reading forest and patio with seats.
And, lest you believe the Gowanus Canal stinks up the place, there's a carefully designed scent trail with sweet magnolia and orange azalea to distract you; this is one of our top choices for secret gardens in NYC.
This park is now named Gil Hodges Garden named after a legendary Brooklyn Dodgers player.
New York Chinese Scholar's Garden
View this post on Instagram
1000 Richmond Terrace – Staten Island
Another one of our favorite hidden gardens in NYC can be found in Staten Island. This oasis, which is part of the Snug Harbor Cultural Center and Botanical Garden, has moon gates, rocky landscaping elements, and eight gorgeous pavilions, as well as walkways zigzagging through a bamboo forest, waterfalls, and a koi pond making this one of the best-kept secret gardens in NYC.
It is one of only two authentic outdoor Chinese gardens in the United States, and it is modeled on gardens from the Ming Dynasty (1368-1644 AD). The whole structure, including the bridges, columns, beams, tiles, windows, and doors, was built in Suzhou, China.
Find the tranquilizing beauty by walking through the narrow passage that leads you to the main garden. The thoughtful and traditional design is meant to evoke feelings of harmony and a sense of infinite space within an enclosed space.
The garden is traditionally entered through a narrow passage where meditation takes place, prior to entering the main garden. The design of the garden produces harmony through its views and concepts. The garden creates an infinite space within an enclosed area making it a soothing sanctuary tucked away from the hustle and bustle of the city.
Bartow-Pell Mansion Museum
View this post on Instagram
895 Shore Road – The Bronx
Located in the Bronx in the northern portion of Pelham Bay Park, you can find the historic Bartow-Pell Mansion. This is a well-known historic site and its Greek Revival interiors are regarded as among the best in the country. Its gardens and grounds are free and available to the public daily from 8:30 a.m. until sunset.
The formal terraced gardens, created by architects Delano & Aldrich in 1915, are divided into four quadrants by a brick wall, with a square pool in the center.
Our top pick if you're looking for secret gardens in NYC, Bartow-Pell Mansion Museum is littered with rotating sculptural installations and is the perfect place to escape the buzzing of the city.
5 Bonus Hidden Parks & Secret Gardens in NYC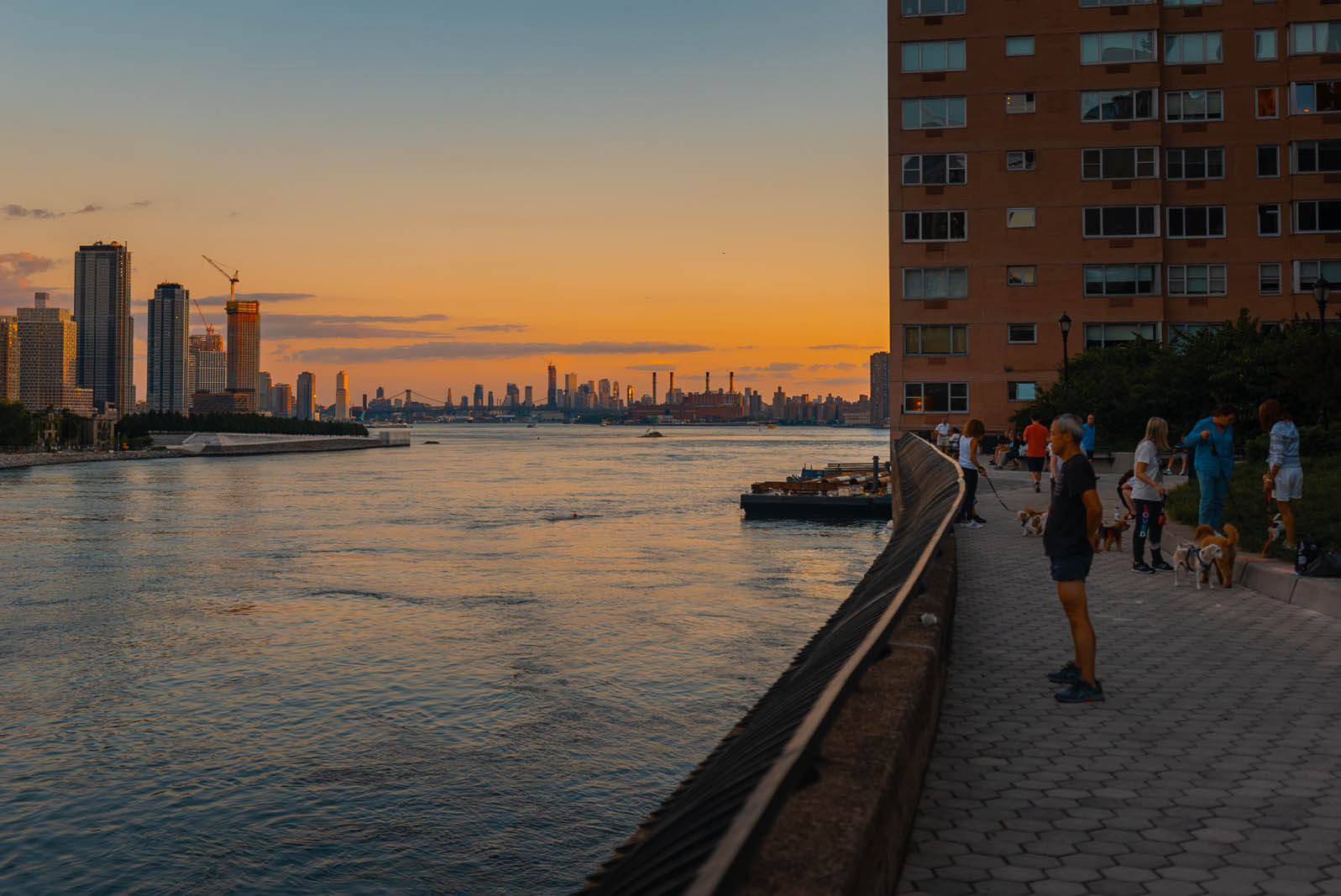 Central Park Conservatory Garden – a secret garden in NYC in the northeastern corner of Central Park hidden in plain sight at one of the most popular places to visit in NYC.
Fort Tryon Park Heather Garden – located within Fort Tyron Park along the Hudson River is this secret garden that is also the city's largest public garden known for growing wild heather.
Greenacre Park – a tiny, privately-owned vest-pocket hidden park located in the Turtle Bay neighborhood of Manhattan that's accessible to the public.
Lotus Garden – a secret rooftop greenspace and park located in the Upper West Side open to the public on Sundays from 1-4 pm.
The Rooftop Gardens at Rockefeller Center – Series of five secret rooftop gardens in NYC on the 7th floor of the Rockefeller Center that date back to the 1930s with stunning skyline views!
---
Did we miss your favorite secret gardens in NYC or hidden parks in NYC? Let us know in the comments below!