History of Coney Island – Nickel Empire by Christopher Frederic Lapinel
The history of Coney Island, America's beloved amusement park and one of the city's most famous tourist attractions has a storied history well before the rides, carnival games, and boardwalk. Dating back to the first encounters between European colonizers and the Native American Lenape people to when this became a seaside vacation resort area for the wealthy.
This guest feature explores Coney Island history at a glance highlighting the ups and downs along the way. To read more by our guest author, check out the history of Prospect Park, Walt Whitman's Brooklyn, and the history of the Brooklyn Bridge.
Coney Island History
A Perfect Getaway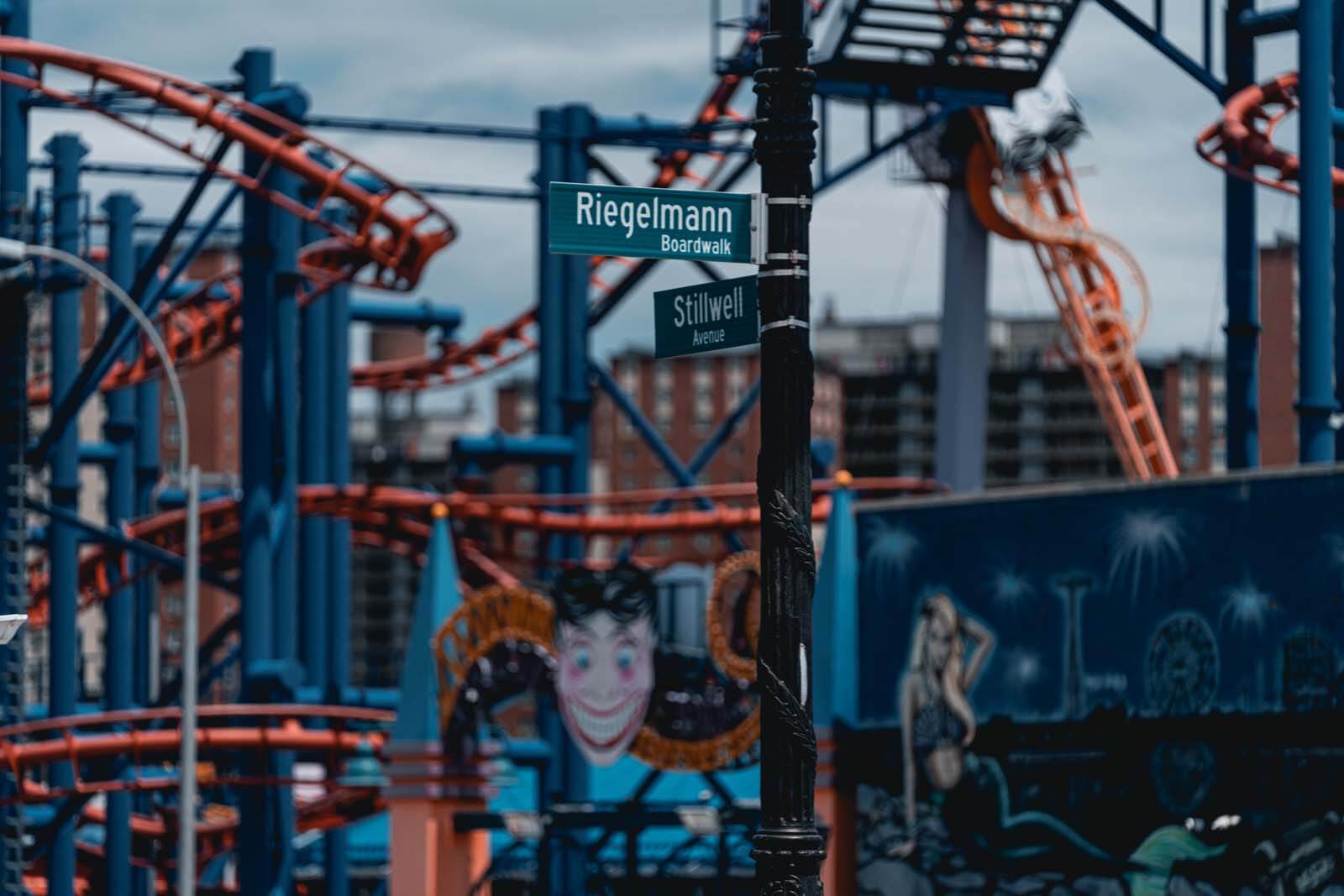 Coney Island is for New York natives and tourists alike a day-tripper's paradise, even just for the sake of soaking up the nostalgia. Possessing an unlikely and dazzling history, it's an integral part of Brooklyn's identity as well as a national treasure.
In Coney's heyday, it was known as the Nickel Empire, because for those seeking to escape the doldrums of inner-city life the train ride there only cost a nickel.
Those times are long past. Yet, Coney Island still conjures for us images of crowded boardwalks, light-drenched beaches, and, of course, legendary amusement parks. But how well do you really know it?
History of Coney Island: Five Fast Facts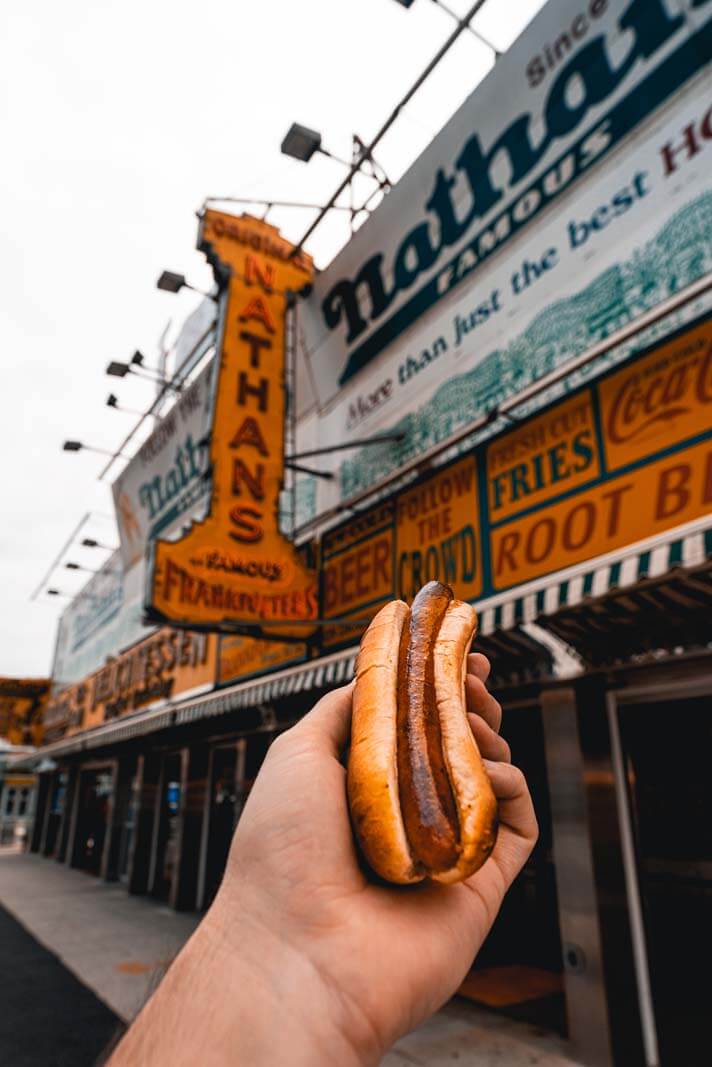 The hotdog was invented there by a German immigrant named Charles Feltman in 1867.
Coney's 1954 branch of the Brooklyn Public Library was the first library built on stilts over the Atlantic Ocean.
Luna Park's Cyclone, built in 1927, is one of the only remaining historic wooden roller-coasters in the nation.
The Mermaid Parade, held there every June, is the nation's largest art parade.
The Elephantine Colossus (1885-1896), an elephant-shaped hotel contained a brothel; moreover, it was the first structure visible to immigrants arriving in New York.
Star Attractions
Currently, Coney Island possesses two major amusement parks, the new Luna Park (2010) and Deno's Wonder Wheel Amusement Park (1983), as well as several independent rides—totaling 50 in all.
There are also tons of other amazing things to do at Coney Island offering numerous other attractions, such as skeeball, ball tossing, bumper cars, and carousels; not to mention a sideshow, where a crew of sword swallowers, contortionists, and geeks amaze crowds with their unique skills.
Coney Island also hosts a minor-league baseball team, the Brooklyn Cyclones.
This legendary amusement area is one of the few in the United States owned by several businesses, instead of just one. The following is a list of some major attractions.
Roller Coasters:
Cyclone (Luna Park)
Steeplechase (Luna Park)
The Phoenix (Wonder Wheel Park)
Other Rides:
B&B Carousel (Luna Park)
Spook-a-Rama (Wonder Wheel Park)
Wonder Wheel (Wonder Wheel Park)
Other Attractions:
Ford Amphitheater
Gargiulo's Italian Restaurant
Maimonides Park
Nathan's Famous Hotdog Contest
Riegelmann Boardwalk
Totonno's Pizzeria Napolitano
Coney's Origin Story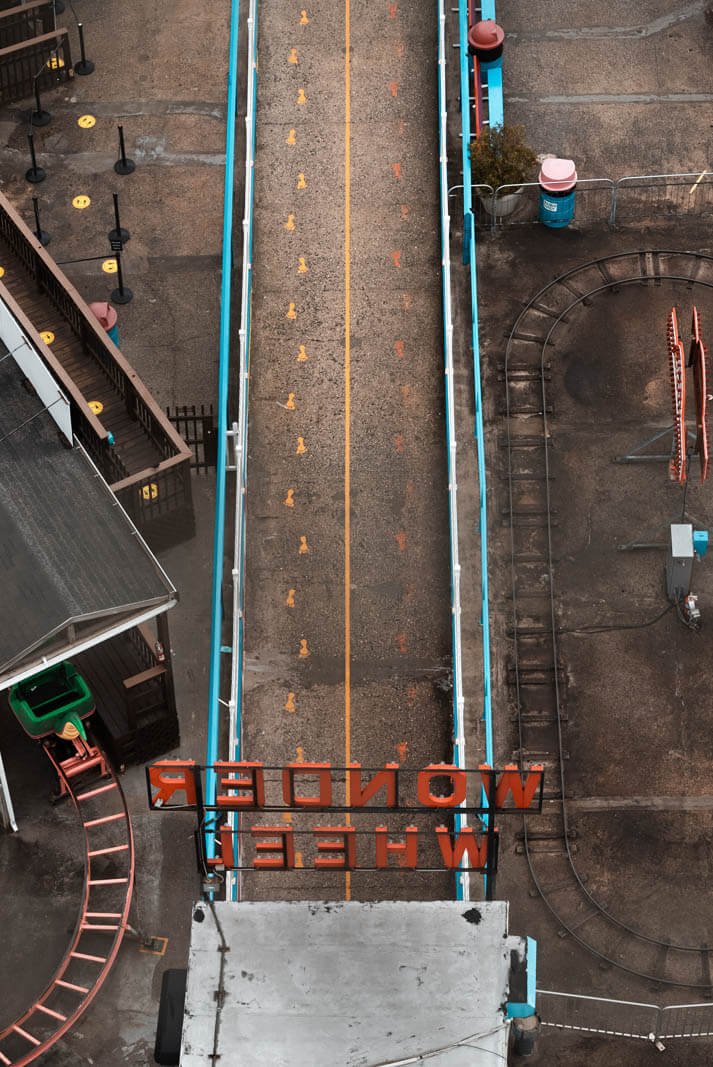 Covering the history of Coney Island starts with the name. There's a dispute over how Coney Island got its name. Some argue the name comes from a massive rabbit population that allegedly lived there—"coney" being a somewhat archaic synonym for "rabbit."
Others say it meant "Corner Island" for its position near the entrance to the harbor.
Before this, however, it had another name: Narrioch, which in Lenape means "Land Without Shadows" or "Always in Light."
Regardless, Coney Island really, truly was an island once. Just a slip of land jutting into the Atlantic Ocean (or rather a permanent patch of ever-shifting sand), it was the westernmost of a string of barrier islands.
What's more, the channels separating the islands were shallow. People and other animals easily crossed at low tide.
Even after the Dutch replaced the Lenape and the English replaced the Dutch, the island setting remained relatively the same until just before the American Revolution. Let's not jump too far ahead in our Coney Island history, though!
Back in 1645, the Dutch colony of New Amsterdam purchased a large tract of land from the Lenape. Part of this tract became the Gravesend settlement, which included the barrier islands. All this for a gun, a blanket, and a kettle.
Talk about shady deals, huh? This would be the first of many that mark Coney Island history – storied, often sordid destiny.
About the same time, a colonist named Guysbert Op Dyck acquired the island (by then redubbed Conyne Eylandt) when he purchased 88 acres from the town of Gravesend. Guysbert never took occupancy. Instead, he leased sections of land to settlers.
The islands would see many owners over the following years. Each new owner changed the islands' demographic and topographic profiles, resetting the trajectory of entrepreneurial development too. The initial transformations of Coney Island history were gradual, taking place over centuries.
Colonial tenant farmers, wanting pastures for their cattle, began turning the islands into a peninsula. Families carried buckets of sand to fill the channels, and ocean currents deposited sand at the inlets.
By 1734, a road of crushed shells connected the islands to the mainland. The road introduced commercial trade to what had been primarily an agricultural setting.
One of the most famous bits of the history of Coney Island involved the tale of seven mutineers. The late historian Manny Teitelman re-counted how in 1830, seven sailors aboard a brig called Vineyard stole $54,000 in Mexican gold and silver.
They lost the bulk of their ill-gotten gains during a storm off the coast of Pelican Island, which itself long ago disappeared into the Atlantic.
Portions of the lost treasure periodically washed ashore in Manhattan Beach. To this day, beachcombers hunt the beaches with methodical dedication.
Seaside Resort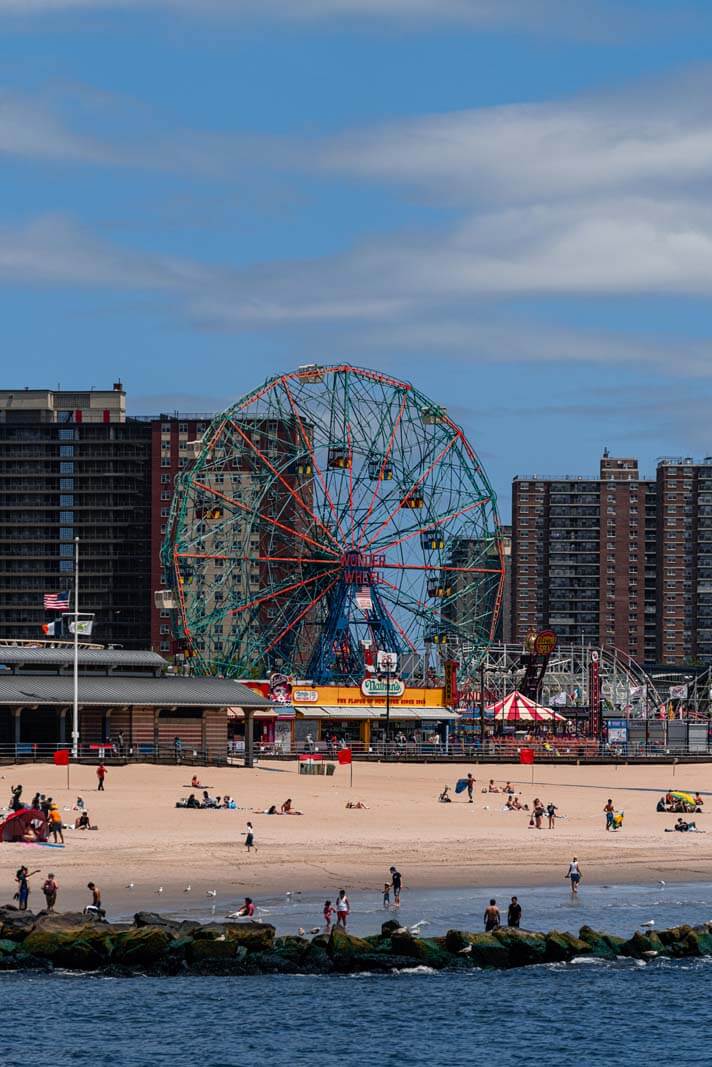 This is where modern Coney Island history is more familiar for most. In the mid to late 19th century, wealthy families from the city—enjoying its secluded, rustic atmosphere—started vacationing in Coney Island.
Moreover, technological innovations, like railways and steamships, made it accessible to ever-growing crowds of people. Herman Melville reputedly lived at Coney Island House, the first hotel in the area, while writing Moby Dick, in 1849.
"At the time, Coney Island was split into three competing, adjacent seaside resorts: West Brighton, Brighton Beach and Manhattan Beach. West Brighton appealed to the working and middle classes, Brighton Beach to the upper-middle class, and Manhattan Beach to wealthy socialites." (Heart of Coney Island, David Sullivan)
Not long after, the first luxury hotels, music venues, and amusement parks were built. The Switchback Railway (1874) was the first roller-coaster in Coney Island and among the first in the world, making Coney Island history not only locally, but globally.
Amusement Park Era: 1895-1915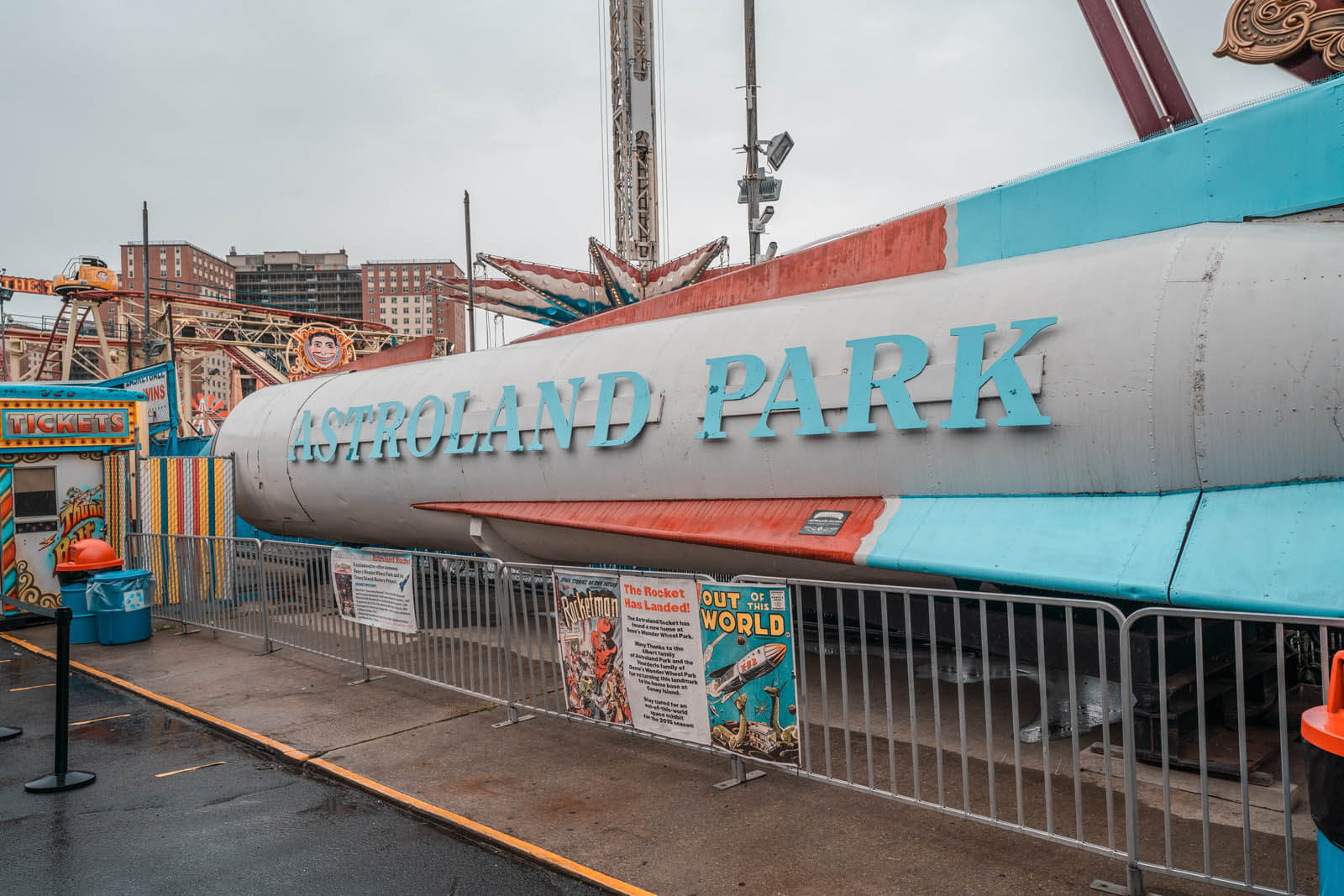 David Sullivan, founder of Heart of Coney Island, in explaining how he became obsessed with the rich history of Coney Island which perfectly captures Coney's universal appeal.
He wrote:
"What I discovered was a fascinating world that few people know once existed in New York City. Wild entrepreneurs funded the speculative ideas of leading mechanical engineers, creating the modern carousel and roller coaster. Millionaire gamblers rubbed shoulders with politicians and Broadway stars. A young doctor in desperate need of funding resorted to displaying his much-ridiculed incubators and the babies in them as a freak show. Upper class families went looking for resorts or a thrill. Working class singles dressed up and escaped the austerity of tenement life for a day. All of these stories coalesced in a unique place called Coney Island."
The Coney Island of the late 19th century, much like today, had something for everyone. By the 1880s, New York City's political elite, entrepreneurs, and gangsters all vied for a piece of this lucrative pie.
In the background, men of power grabbed real estate, battling each other for dominance. In the foreground, these machinations expressed themselves as an ongoing contest between its entertainment and residential fixtures.
As the general public rushed to Coney Island for day trips, the locals witnessed a shocking rise in criminality, mainly organized crime, prostitution, and murder.
Likewise, as the fortunes of successive capitalist ventures rose and fell, new elements of industry (both criminal and legit) continued to mold Coney Island's growing appeal.
Until 1900, Coney Island remained principally a seaside resort. Yet, even as early as 1895, as more amusement parks and residential complexes sprang up, things had begun changing.
Sea Lion Park (1895-1902), the first enclosed park, pioneered charging general admission.
Steeplechase Park (1897-1964), which had previously existed as a scattered assortment of rides, followed their successes.
Then Luna Park (1903-1944), built on the site of Sea Lion Park, quickly became the premier attraction.
Dreamland (1904-1911) further strengthened the area's growing global reputation.
The iconic amusement parks era soon eclipsed anything that came before or after. No one could get enough of the place, it seemed.
Robert Moses & Fred Trump: Decline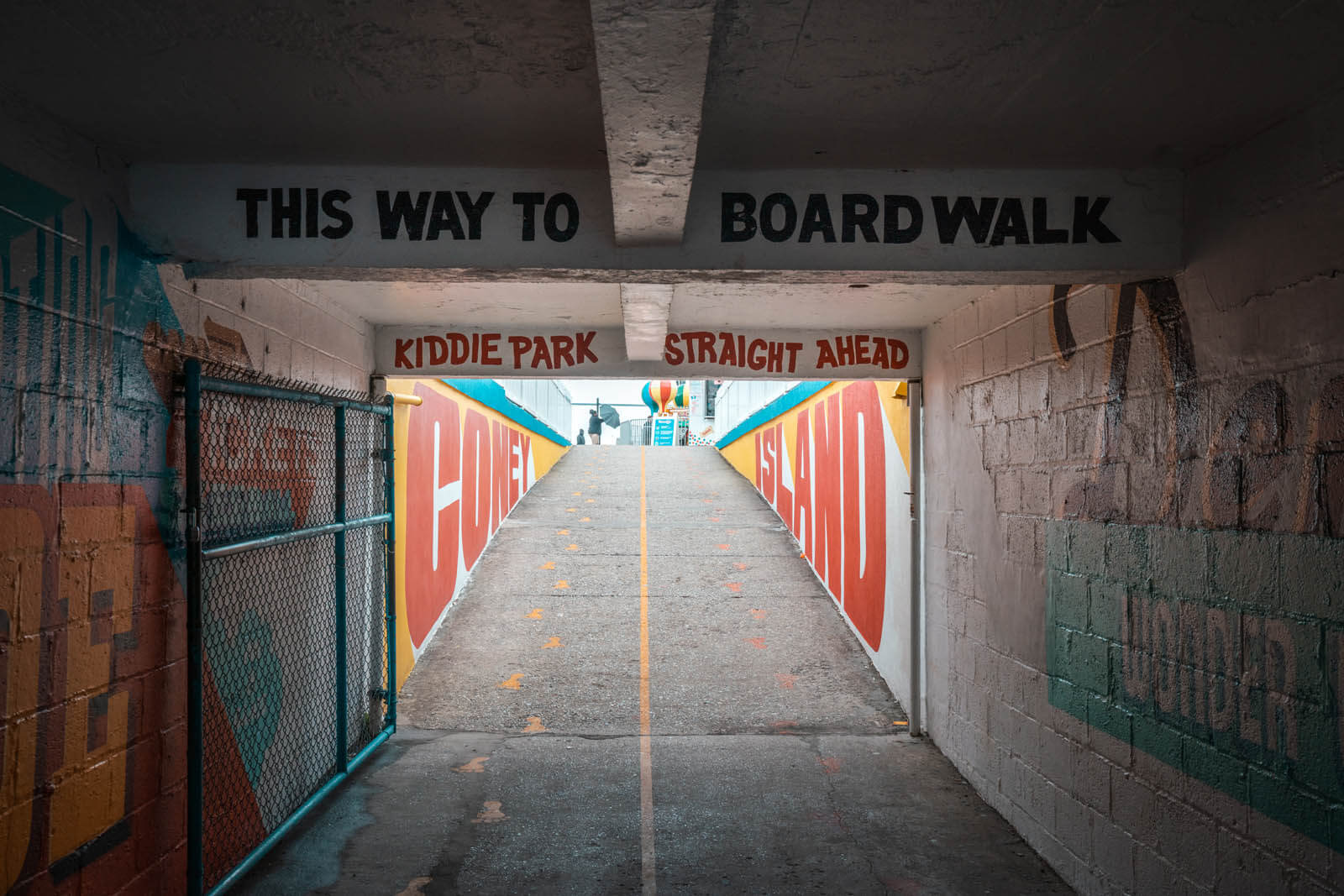 By the middle of the 20th century, shortly after World War II, however, public interest peaked and this would shape the history of Coney Island once again, for some, it is very surprising to hear that the Trump family is involved in the history of Coney Island.
Everything went downhill quickly, except the crime rate. Those in power made multiple efforts to save Coney Island. Nothing appeared to stem the die-off of businesses nor turn around the poverty-stricken, crime-ridden neighborhoods.
Starting in 1946, the so-called "master builder" Robert Moses began acquiring real estate in Coney Island. Moses, in collaboration with Fred Trump, father of former president Donald Trump, planned to demolish several amusement parks and rezone them for high-end housing.
Together, Moses and Trump instituted a "slum clearance" program, which relocated over 900 impoverished families, principally people of color.
Their efforts were a gift to wealthy developers but a nightmare for the lower classes. And cleared the way for developments like Trump Village.
Around this time, Fred Trump also purchased Luna Park and the Velodrome. He lost them both in 1955, however, after the federal government blacklisted him, for profiteering and fraud.
One of the better-known of Fred Trump's outrages occurred, however, after he had been denied a zoning permit to develop high-rises on the Steeplechase Park site.
On September 1st, 1966, in a fit of spite, Trump threw a party, replete with bikini-clad models, and invited guests to smash the stained-glass façade of the Pavilion with bricks, shattering the iconic funny-face logo.
This act symbolized the death of old Coney Island. Trump was ultimately forced to sell the property to the city. Even in this, he managed to profit.
By the early 1970s, in all the history of Coney Island, this has been the moment it had reached rock bottom.
The historian Charles Denson wrote:
"It's been 50 years since Trump's demolition of the Steeplechase Pavilion, and it's taken the Coney Island community a half century to recover."
Present-Day Coney Island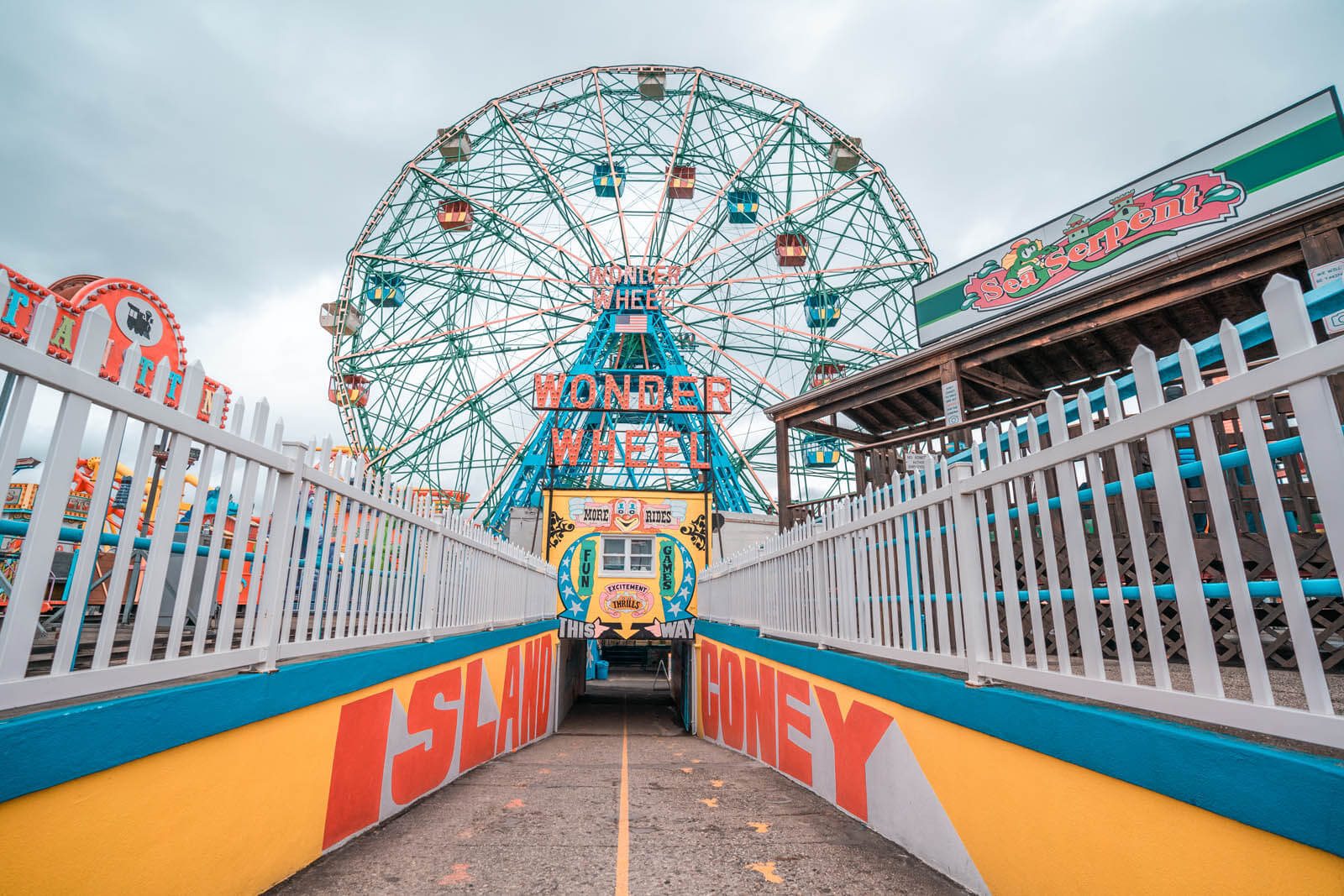 Coney Island endured, nonetheless. Despite everything, Coney Island somehow persevered both as a living legend and, for many immigrant communities, a home. As Coney Island history shows, slowly but steadily, it recovered.
Much of Coney's glory resides in its history. Echoes of which run along every street and by-way. Voices of long-gone revelers, felt more than heard, resonating in the landmarks and architecture.
Infusing the atmosphere with nostalgia. It's a place where, for many, fantasy still holds sway over reality. The rides, food, people, even the air are all touched by this distant glory.
Regardless, as much Coney has mellowed in its present incarnation, it is and always has been the "Land Without Shadows," the sun-drenched point where Brooklyn meets the Atlantic Ocean. And the natural spectacle it provides is, in itself, priceless.
---
If you love Coney Island consider checking out our guide to the best Coney Island hidden gems to check out on your visit! Each of these have an interesting backstory and or history or are easy to miss gems you want to find on your visit!
Also, fuel your wanderlust by watching these movies set in Coney Island before or after your trip!