Looking for the best holiday window displays in NYC? We've got you covered. This is hand down one of my absolute favorite traditions to enjoy during the holidays. Bundled up and heading out on a walk up and down Fifth Avenue and seeking out all the department stores for the most elaborate Christmas window displays in NYC of the season!
It's not exactly a secret that the holidays are an…expensive time. It's easy to get swept away in the joy and generosity of the season, and after a few months of parties and dinners and gift exchanges, your wallet may be a bit emptier than you'd like. Or perhaps you're hitting up the best things to do in NYC during Christmas and your wallet could use a break.
Maybe you're looking for an activity for you or if you're a local and your family is in town. This is one of the few things that is completely free to do that won't break the bank or a way to plan that friend get-together without a multiple-drink minimum, or you want to celebrate the season with a date.
Look no further than the many extravagant yet completely free-to-view holiday windows in NYC. While many holiday displays are at New York's most luxurious stores, there is no obligation to purchase anything while strolling by! Though I can't guarantee that you won't be tempted…
What distinguishes NYC holiday windows from the rest? The city's window displays are a year-round exercise in high-art conceptual visuals, but they truly outdo themselves during the holiday season.
Brands frequently collaborate with boldface-named artists to create wildly fanciful themes and visual feasts that are the perfect marriage of fashion and holiday cheer.
Many displays even have interactive features and daily light shows that immediately transform the block into a scene out of a Christmas movie, complete with a festive soundtrack!
Speaking of scenes from Christmas movies, check out the Dyker Heights Christmas lights in Brooklyn! Or if you want to literally watch a holiday themed flick, check out the best Christmas movies in NYC and hunt down the Elf filming locations in NYC and the Home Alone 2 filming locations in NYC during the holidays to relive those magical moments!
And if you do fancy some shopping, check out the best Christmas markets in NYC to check out!
Back to the NYC holiday windows. I've organized the list below into a few sections: the classics, the couture, the children's paradise, and the combo-packs.
While you can certainly visit them all, it might take a couple of days on your New York City Christmas itinerary to complete, so you may wish to plan your visit around the sections that interest you the most.
Christmas Windows in New York City: The Classics
Macy's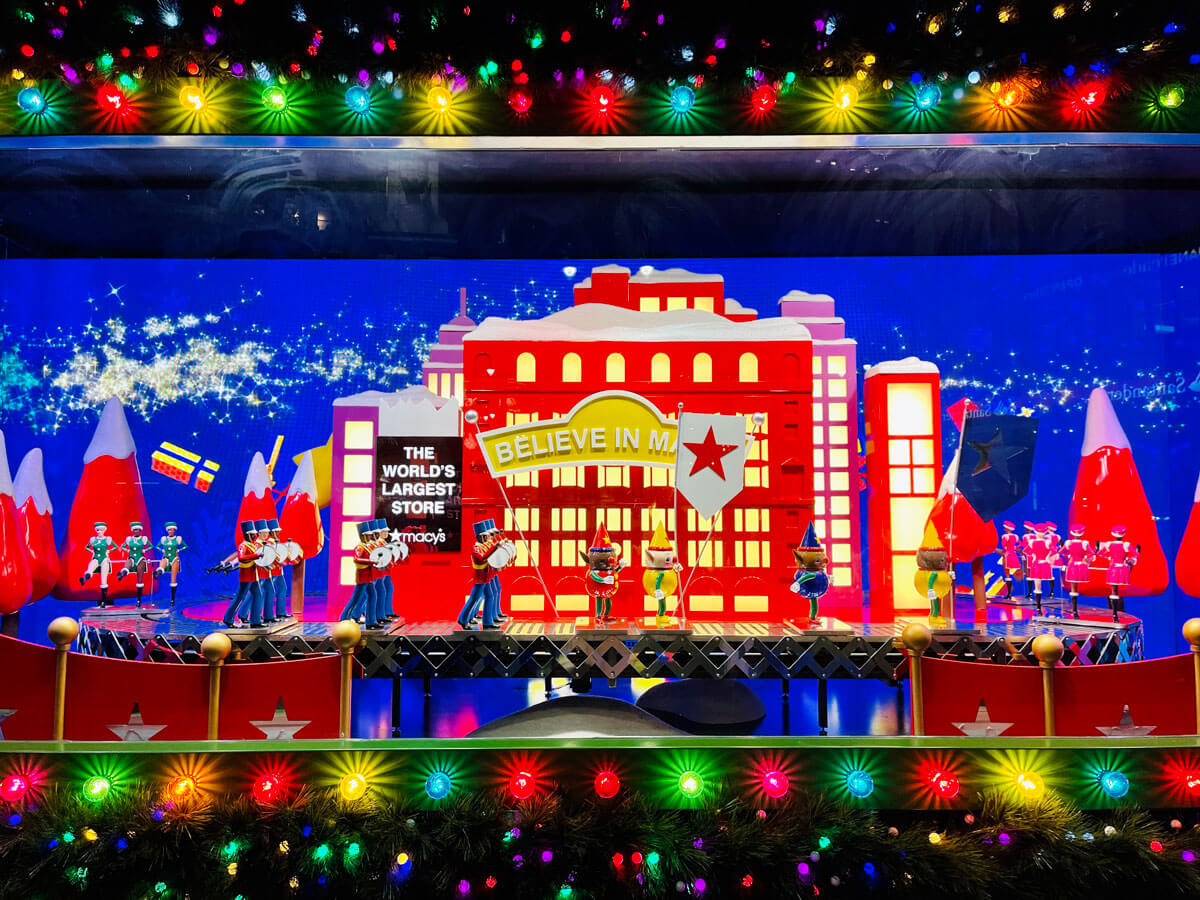 151 W 34th St
Perhaps the most recognizable Christmas windows in NYC, the holiday display at Macy's is a must-visit while you're touring the town. Macy's began the tradition of constructing animated displays in the 1800s, at their original 14th street location and later at their mainstay on 34th.
While their annual holiday window displays in NYC are now unveiled shortly before their world-famous Macy's Thanksgiving Day Parade, for several decades the end of the parade featured Santa himself revealing the windows to signify the beginning of the holiday season.
While we can probably blame holiday-season creep (Halloween candy in August, anyone?) on the early unveiling, I personally don't mind having a bit of cheer blanket Herald Square as temperatures drop.
The team at Macy's takes an entire year to choose, design, and construct their holiday window theme – past themes have included The Peanuts gang, Steampunk, Around the World at Christmas Time, and Give, Love, Believe.
If you'd like to venture inside, Macy's is also known for its detailed Santaland, featuring Santa's magic forest, toy workshop, and of course, a place to meet the man himself and snap a photo (be advised that this is a very popular holiday activity and reservations are required, but admission is free!).
If you're inspired by your yearly viewing of the Macy's Thanksgiving Day parade, head over to 34th Street to check out the magic in person this holiday season!
The Empire State Building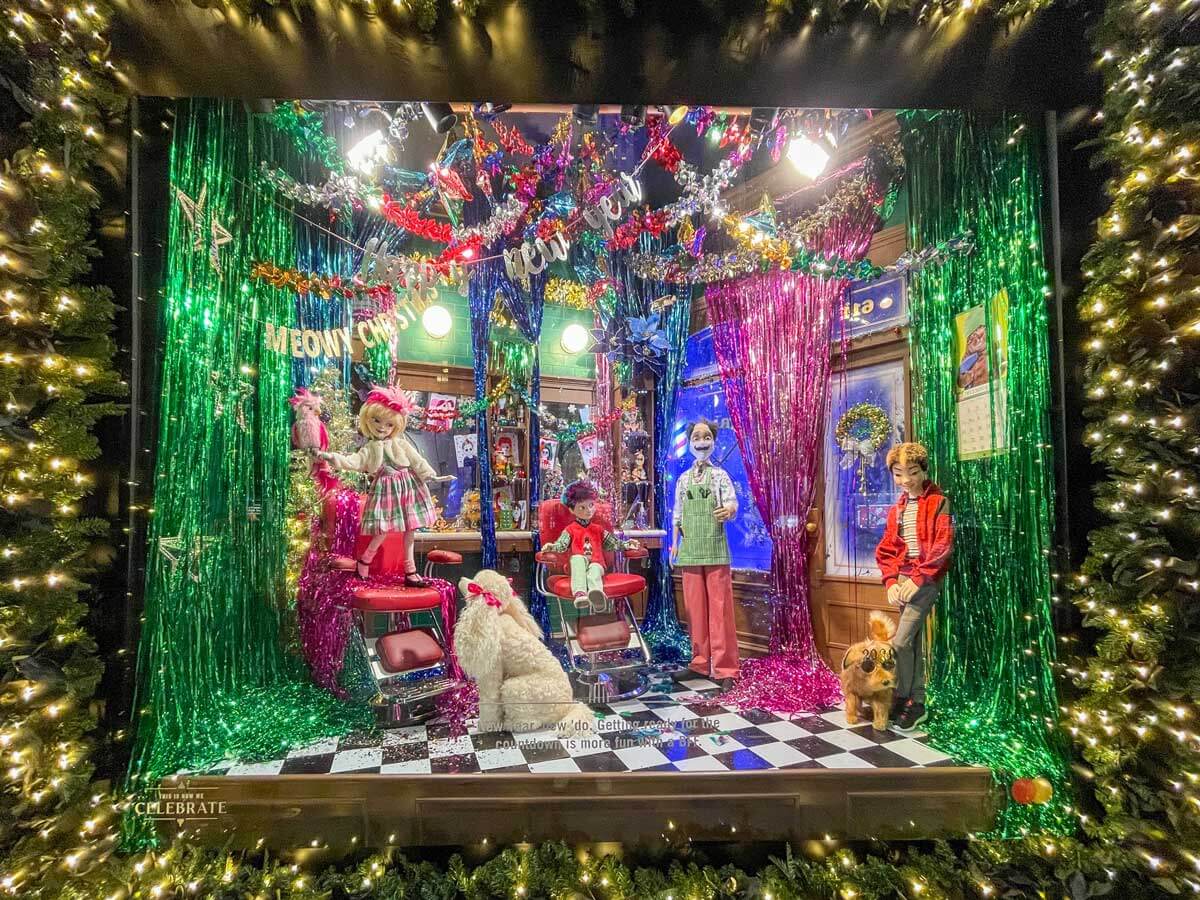 20 W 34th St
After Macy's, head over to the nearby Empire State Building for an art-deco take on NYC holiday windows. This iconic city landmark dresses up year-round, with themed lights that honor various organizations and holidays, including Christmas, Chanukah, and Kwanzaa.
During the holiday season and December in NYC, the 5th Avenue side windows of the building are decorated with a newly chosen theme. Past years have included Star Wars via the world of Legos, a Nutcracker and candy-themed Empire State Building, and an ode to Art Deco.
The folks at the Empire State Building don't just stop at the windows, however, and extend their festive decor to the lobby, observatory entrance, and 86th-floor viewing deck – if you'd like to visit the observatory, be sure to reserve tickets ahead of time and read our full guide to tips and tricks for visiting the Empire State Building.
If you're not concerned about checking out the observatory, you can keep your ESB experience completely free by enjoying their annual holiday light and music show. Lighting designer Marc Brickman creates a dazzling display of flashing holiday lights covering the 72nd to 102nd floors of the tower, set up to pulse to the music of each year's special recording – past artists featured include Gwen Stefani, Mariah Carey, and John Legend.
To tune in, simply download the iHeartRadio app and find a vantage point of the tower during the light show premiere (usually about a week before Christmas, be sure to check the ESB website for exact dates). The show runs nightly through Christmas and is a perfect way to enjoy holiday window displays in NYC and a beautiful light show.
Saks Fifth Avenue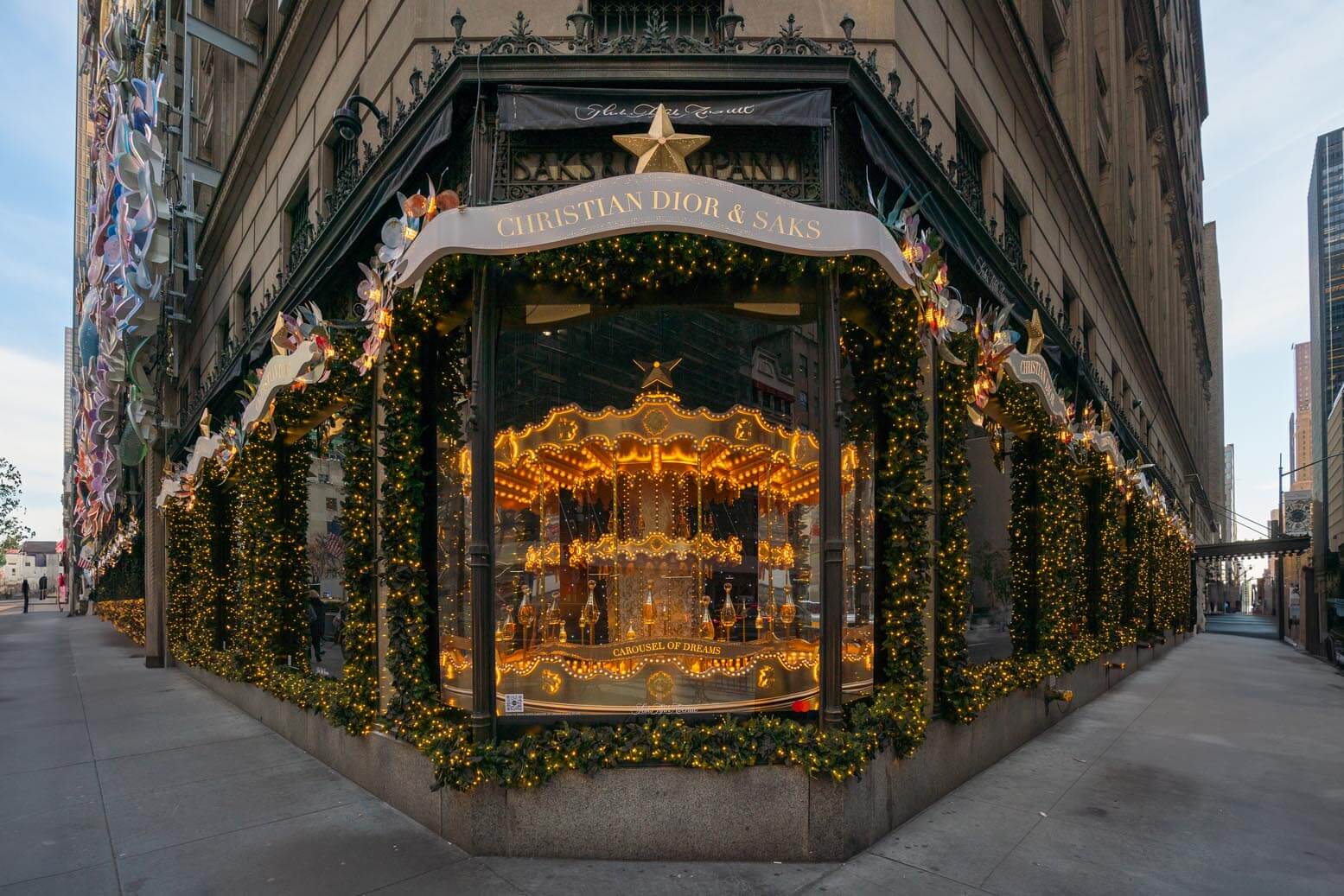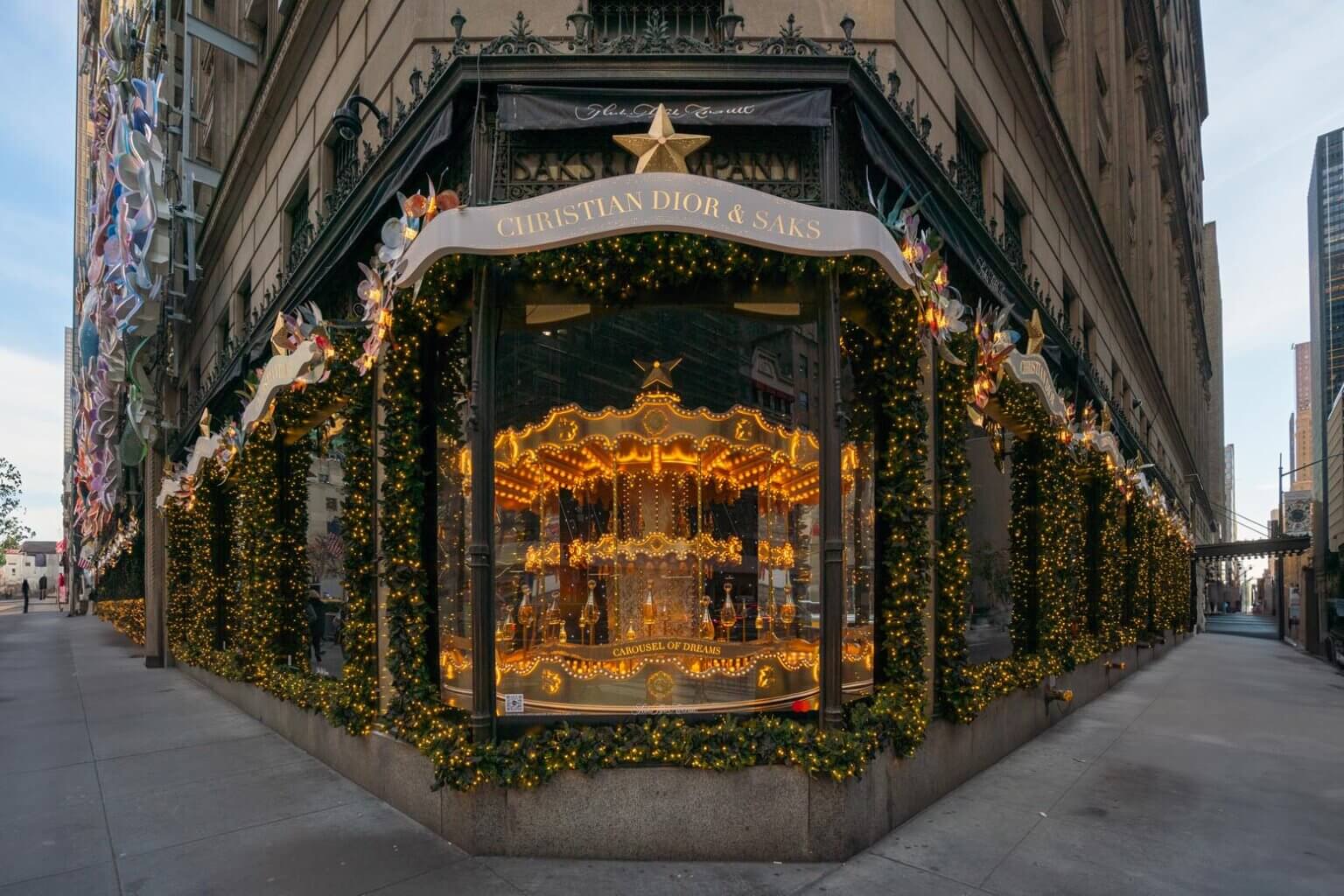 611 5th Ave
Standing tall on the corner of 49th Street and 5th Avenue, Saks has been a shopping institution in New York for almost a century. Known for their high-end designer duds and legendary shoe department (fun fact, the shoe dept. once received its own postal code), Saks is also famous for its world-class holiday window display and large-scale daily light show.
The team at Saks works year-round to develop their windows, beginning the tradition in 1924 (past themes have included Broadway, Frozen, and Snow White).
Once completed, they celebrate the hard-working designers with a public unveiling of the display, accompanied by a glittering light show that covers the entire 5th Avenue side of the building. The light show repeats daily throughout the holiday season, running every ten minutes from 4:35-11:35 PM.
To avoid a "front-row-at-the movies" viewing experience, stand across the street by Rockefeller Center for the best view of the full building, then make you're way to the Rockefeller Center tree, one of the best Christmas trees in NYC and also where you can find one of the best ice skating rinks in NYC whether you want to join in on the fun or just watch others!
Bloomingdale's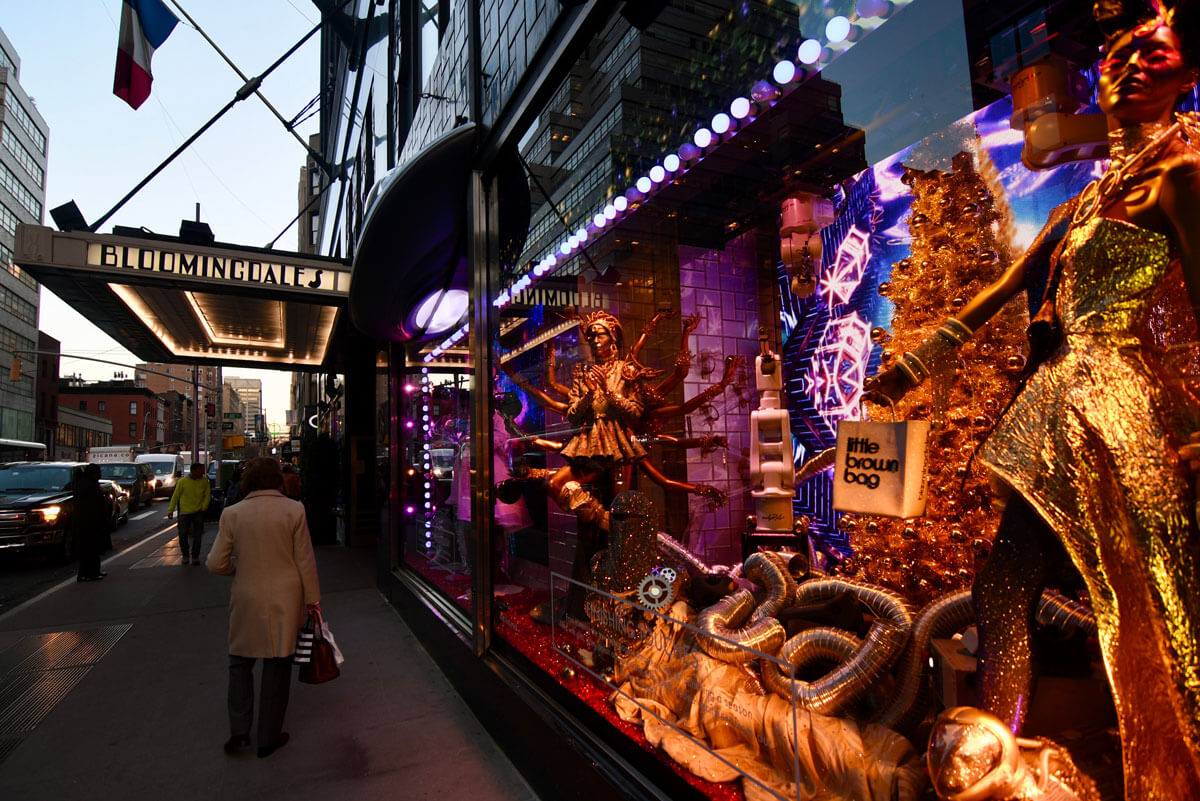 1000 Third Avenue 59th Street and, Lexington Ave
There's something about Bloomingdale's that already feels festive– maybe it's the black and white checkered theme throughout their awnings and floors, maybe it's the old-school signage, or maybe it's the classic department store vibe, but the shopping behemoth on 59th Street and 3rd Avenue perfectly lends itself to its annual holiday window display.
Known for cheery, colorful-yet-chic odes to the season, past display themes have included "Give Happy", "The Grinch Who Stole Christmas", "Out of This World", and "Chandeliers/Light".
The store frequently plans a celebration gala surrounding the unveiling, inviting special guests (past guests have included John Legend, Andra Day, Misty Copeland, and Ali Wentworth), broadcasting live to nearby crowds and through social media.
The unveiling benefit also raises funds for their philanthropic partner organization, New York-based nonprofit Child Mind Institute. So make sure to head over to Bloomingdale's for one of the best sets of holiday windows in NYC that is sure to get you into the spirit of the season!
Also, if you want a fun keepsake, Bloomingdale's always has one of the best NYC snowglobes and some great NYC Christmas ornaments to shop from!
Bergdorf Goodman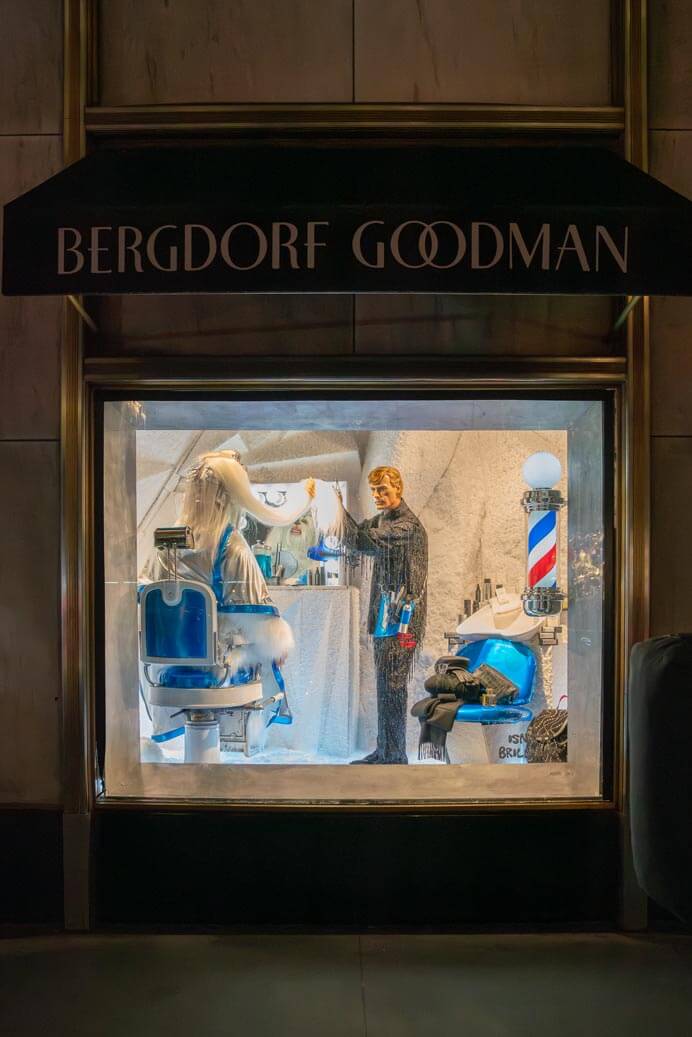 754 5th Ave
Founded in 1889 (and located on 5th Ave. and 58th since 1928), Bergdorf Goodman is the backbone of the city's shopping scene, frequently appearing in books and films about New York.
The building has a storied, elegant feel to it, which is only enhanced by its glamorous holiday window display. Senior Director of Visual Presentation David Hoey works with a team of over 100 people for ten months to develop the design and production of the following year's themes.
Past themes have included an ode to the Ziegfeld Follies (the iconic Ziegfeld Theater was located just a few blocks south on 54th street), a tribute to the iconic buildings of NYC (featuring the likes of The American Museum of Natural History and New York Historical Society), Carnival of the Animals, and Bergdorf Goodies (an ode to candy!).
Regardless of theme, the designs are simultaneously over-the-top, color-themed per window, and intricately detailed, with incredible artisan craftsmanship throughout. Within the display, the team at Bergdorf even goes as far as to include distinct sub-themes in each window and Easter Egg-style elements throughout for the discerning spectator to spot.
Take in the visual feast at one of the best Christmas windows in NYC before heading for a holiday stroll in Central Park!
This is also one of the best Christmas photo spots in New York City out of all the holiday windows in my opinion!
Christmas Windows in New York City: The Couture
Prada
5th Ave #724
The Devil may wear Prada, but Santa does too. Known for its sleek, lacquered, and structural collections, Prada takes its chic aesthetic through the holiday season, preferring to showcase its year-round clothes in subtle yet elevated references to the season.
Past themes have included geometric metallic Christmas trees with black and white checkered ornaments, Prada in the Skies, and a floral, resort-weather themed travel display.
Marvel at Prada's seamless integration of their signature bags with finely-drawn elements of holiday whimsy – they're some of the most fabulously, fashionably lit NYC holiday windows. If you've feasted your eyes on the couture and are looking to actually feast, head over to nearby fashionable spot Nobu 57 (40 W 57th St) for sushi that tastes as good as it looks. And yes, the sushi at Nobu won't be free, but it's pricelessly good!
David Yurman
5 E 57th St
Well-loved for their cabled, sculptural, and eternally chic styles in mixed-metals (that already exude a New Year's Eve elegance), the team at David Yurman designs yearly holiday windows in NYC that consistently dazzle. "Enchanted", a snow and polar-bear themed window that raised awareness for Polar Bears International and a starry ode to the night sky are just two of the brand's recent themes.
The team at David Yurman is known for their incredible attention to detail and collaboration with top-notch artisans to bring their intricate visions to life in their holiday window displays in NYC – in the case of their Enchanted theme, they worked with New York-based ice sculptor Shintaro Okamoto and local glassblowers to carve sculptures into selenite and create glass blown banks of snow that hypnotized passersby with their beauty.
After checking out some of the best NYC holiday windows paired with sculptural jewels, head slightly uptown to Central Park South and 5th Ave. for an additional architectural feat at the Pulitzer Fountain.
Designed by sculptor Karl Bitter and donated by publishing magnate Joseph Pulitzer, the fountain looks especially festive in winter, surrounded by the lights of the Plaza Hotel (another great stop for holiday cheer) and sometimes, surrounded by Christmas snow!
Van Cleef and Arpels
744 5th Ave
Van Cleef and Arpels exude a sense of casual luxury – yes, they do offer some items that are reminiscent of royal jewelry but their most popular collection, the ubiquitous Alhambra, has a low-key, graceful elegance.
And while their pricing isn't exactly…low-key, a girl can dream – and where better to dream than by visiting their Christmas windows in NYC?
The team at Van Cleef and Arpels goes all out during the holidays, constructing elaborate scenes to highlight some of their most show-stopping pieces.
Past themes have included a marine wonderland, a "luck" motif (very appropriate, given their signature clover jewelry!), and a fairytale castle. They also often include thematically accompanying music to complete the fanciful ambiance! So get swept away in the fantasy of jewelry that looks worthy of "The Princess Diaries" showcased in magical, miniature settings. 
Coach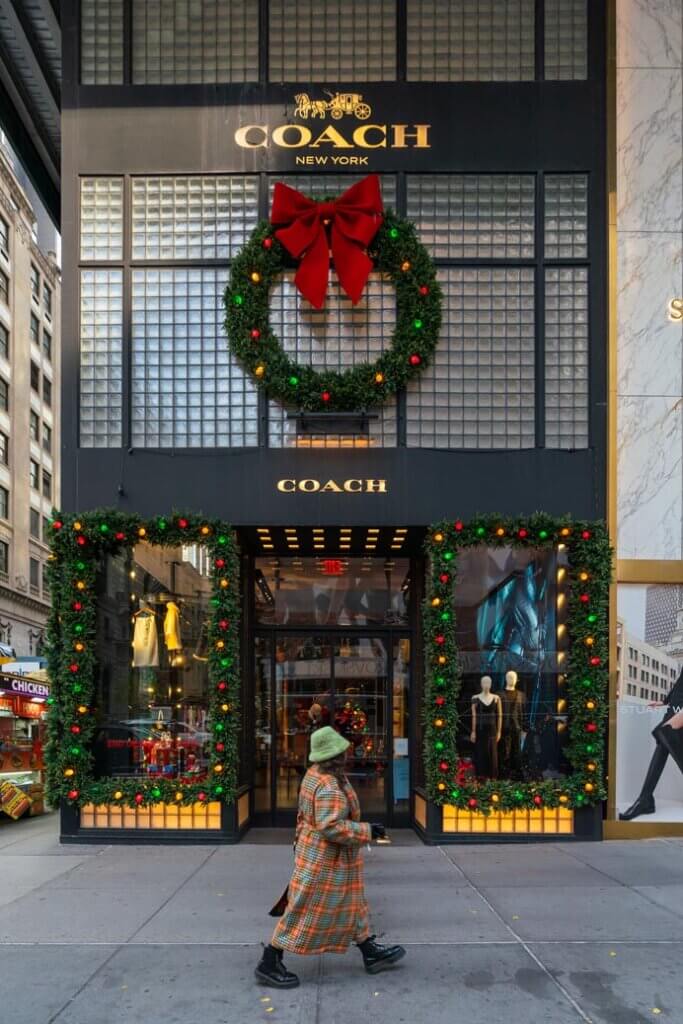 685 5th Ave
Another great spot to admire holiday window displays in NYC on 5th Avenue is the Coach store.
Each year, Coach transforms its windows with creative and festive themes, showcasing a blend of luxury and artistry.
Past themes have ranged from winter wonderlands to artistic collaborations, incorporating the brand's signature style. These displays attract visitors with their innovative designs, adding a touch of magic to the holiday season.
Dior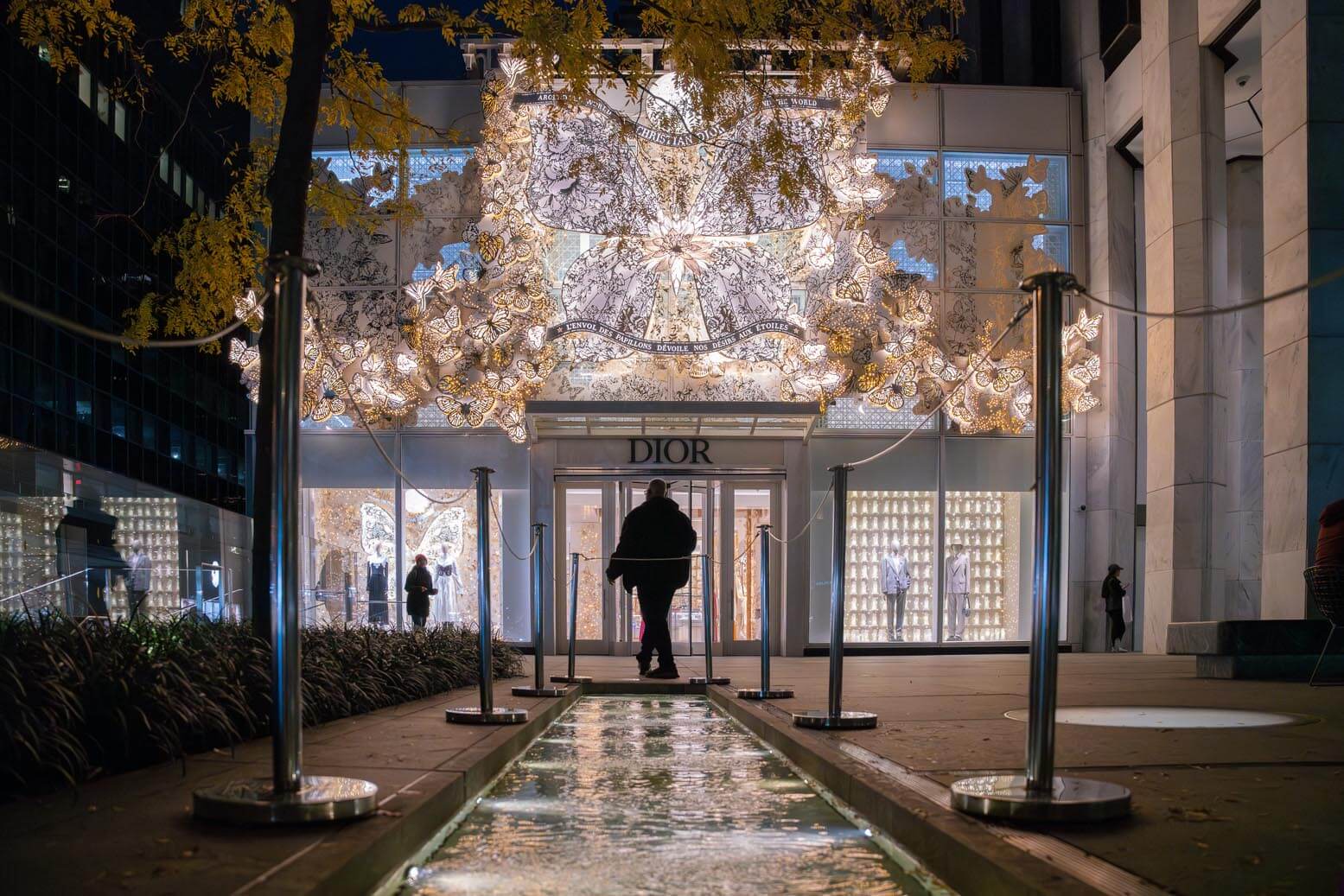 767 5th Ave
Another elegant holiday window display in New York can be found at the Dior 5th Avenue location right next to Central Park and the famous Apple store in the clear glass box! I don't understand why, but people all over the world love to visit that specific Apple store.
If that's you, then you're next to the luxury Dior location that offers elegant illuminations. It's an easy store to miss as it's past the Apple store and further past most of the window displays you'll be seeing along 5th Avenue, but trust me, it's worth going an extra block to see what they have in store each holiday season with their exterior displays!
Cartier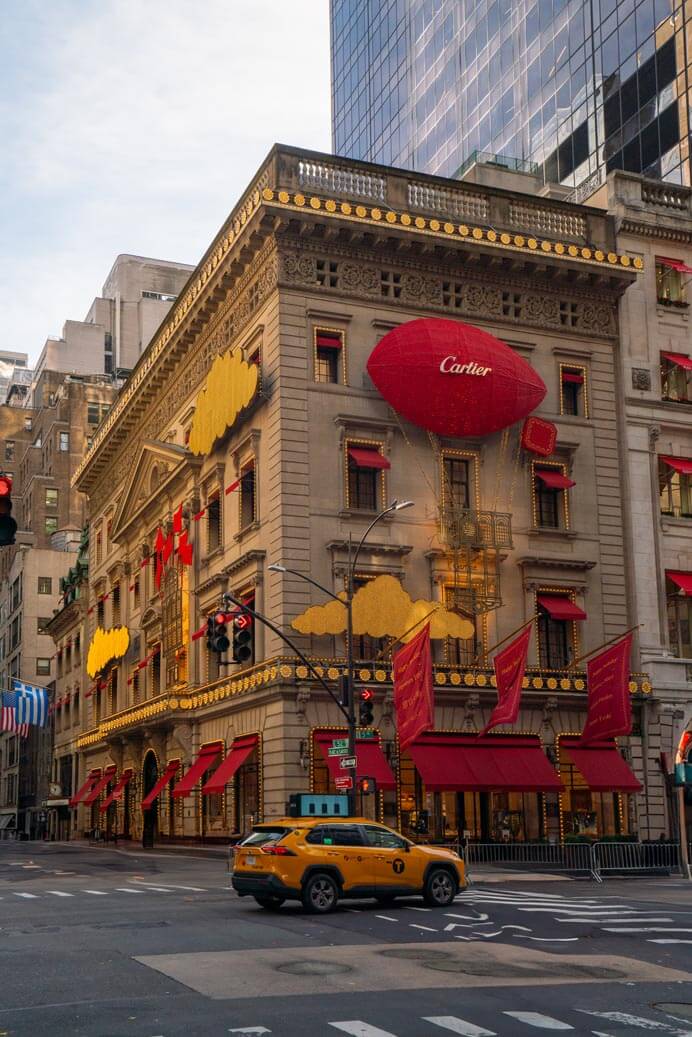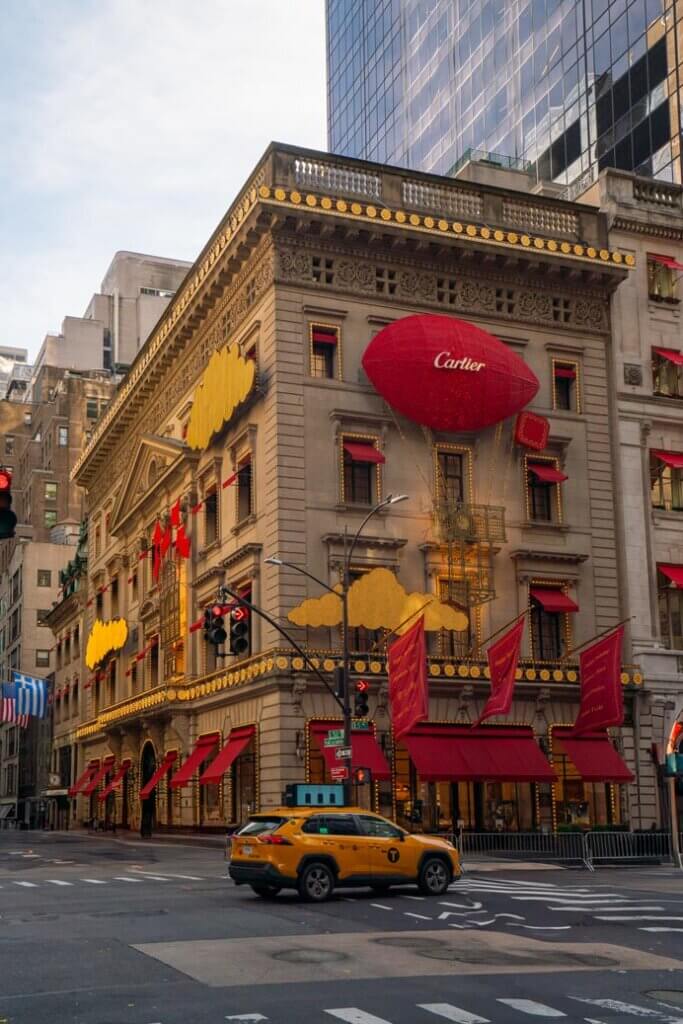 653 5th Ave
You may have noticed by now that I really do love a jewelry store window-shopping experience, especially ones that have some of the best holiday window displays in NYC. What can I say, diamonds are a girl's best friend (or at least an acquaintance that you visit through the display case every once and a while!).
Cartier doesn't need much to dress up their incredible jewels, but they jazz it up for the holiday season anyway. The flagship Cartier store on 5th and 52nd is adorned with a gigantic, illuminated red bow that wraps the entire building up like an exceptionally glamorous gift.
Cartier keeps the red motif going throughout their yearly displays, incorporating greenery and twinkling lights along with sprinkling other brand elements (like their signature jaguar) into corners of different windows.
The jaguar also makes a sneaky secondary appearance, as a lighted cat that "climbs" up the walls of the mansion at Christmastime. In addition to its excellent holiday windows in NYC, Cartier is known for its beautiful mansion interior, which is also decorated with festive flair for the holidays.
Walking through the store in December is basically like visiting the Warbucks mansion for Christmas (shoutout to my Annie fans!) – it's worth a visit to check out the sparkle and shine, inside and out!
Bulgari
730 5th Ave
Italian luxury brand Bulgari's flagship store stands tall on the corner of 57th and 5th Ave. and is a crown jewel (pun intended) of holiday windows in NYC.
Bulgari is known for its luxury watches, fine fragrances, and jewelry favored by glamorous starlets like Elizabeth Taylor and Ingrid Bergman.
During the holidays Bulgari adorns their building with elaborate light installations ranging from diamond necklace to glittering serpent (the serpent is a frequent motif in Bulgari's designs, a reference to the Roman symbol of rebirth, fertility, and protection against evil spirits).
Bulgari's year-round gold latticed walls lend themselves perfectly to the spirit of the season and mix well with their festive ornamentation. Like Cartier, I also recommend visiting the interior of Bulgari, which boasts several floors of gilded, marble-clad showrooms that are the perfect place to buy a very holiday special present.
Tiffany & Co.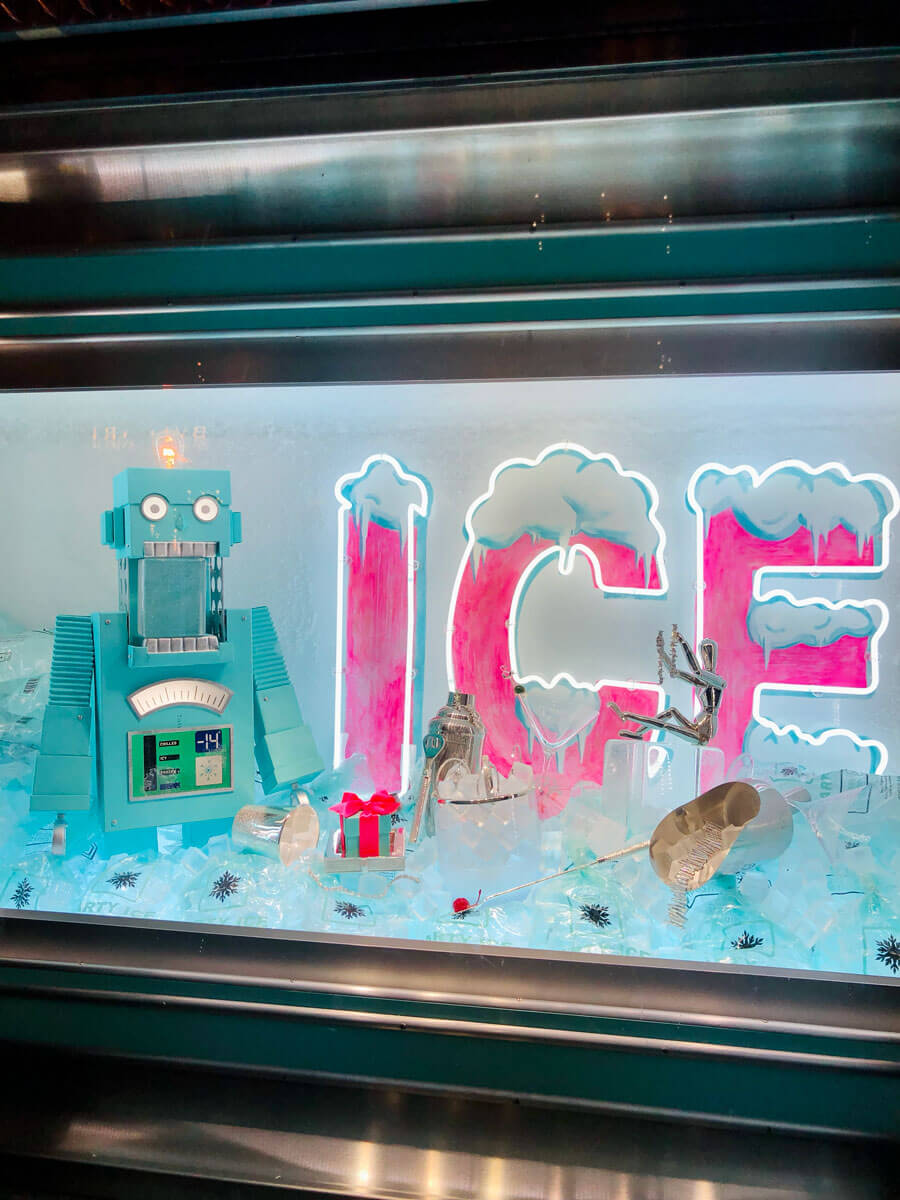 6 E 57th St
Ah, yes – the store that launched a movie that launched a thousand college dorm posters! The last stop on our jewelry tour of the best holiday window displays in NYC! The iconic Tiffany & Co., home of the original six-prong setting (since 1886!) and its own trademarked color blue.
Tiffany works its signature color into the holiday display, filling their windows with Tiffany Blue ornaments, trees, and iconic gift boxes, often incorporating chic metallic accents and glistening faux-snow.
Be sure to visit this highlight among NYC holiday windows for a quick dose of cheer!
Louis Vuitton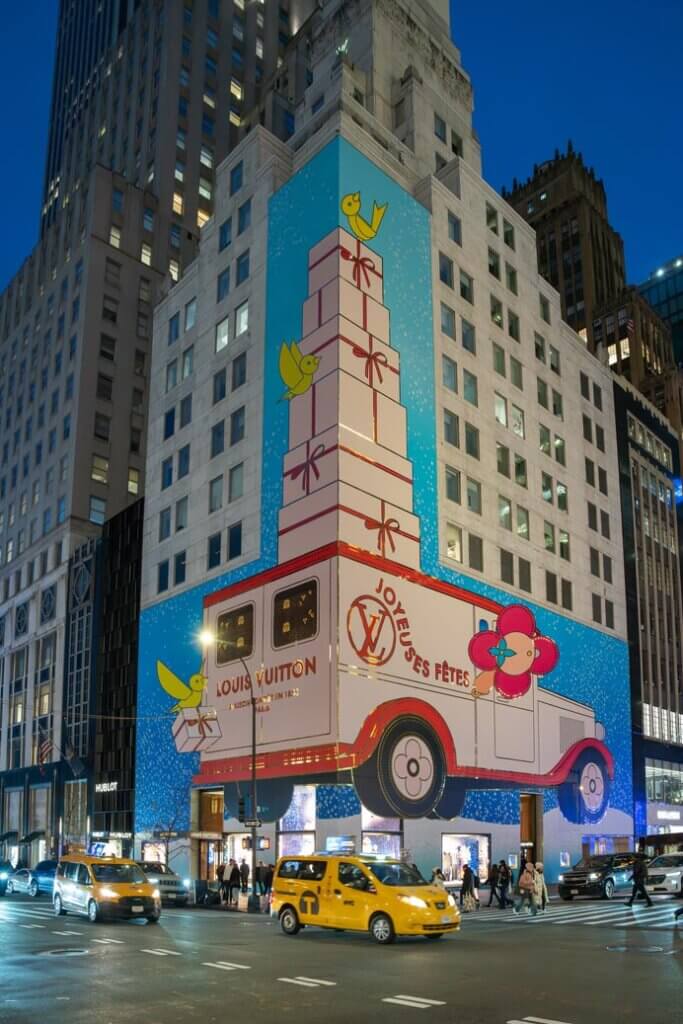 1 E 57th St
Another one of the best holiday window displays in NYC not to be missed located right across the street from Tiffany & Co. is Louis Vuitton, which serves up holiday cheer along with their luxe designs. Known for their elevated, conceptual displays, past window themes at Louis Vuitton have ranged from arboreal (a giant multicolored tree projected onto the side of the building and roots that grew in individual windows) to logo-centric (the brand's ubiquitous "LV" projected in rainbow glory on the walls and lit up in neon windows).
Fans of Louis Vuitton's popular handbags will spot them sprinkled throughout the holiday displays filled with cheerful, colorful logo blocks and ornaments – making their windows the perfect marriage of product showcase and magic of the season!
Hermès
690 Madison Ave
The flagship store of the fashion house known for its lush scarves and extremely sought-after bags is a creative mainstay of the holiday season, decking out its Christmas windows in NYC with whimsical scenes and inventive materials.
Hermès commissions world-renowned artists like Christopher Boots and Don Porcella to design their displays and focuses on bright, lighthearted motifs – past themes have included Playing Through: Another Trip Around the Sun (a golf and leisure setting) and Gift Me a Dream (a space-age abstract on the celestial).
Wander by to admire the bags merrily decked out in the season's finest decor, and wander in to put your name on that Birkin bag waitlist!
Christmas Windows in New York City: The Children's Paradise
American Girl Place
75 Rockefeller Plaza
As a child of the 90s, I was a huge fan of the American Girl Doll collections, and am glad to see they've carried on (more than a few!) decades into the future. The flagship store selling dolls and accompanying character novels is also a fantastic place to take kids during the holiday season.
The Rockefeller Center store team starts their design journey in July, working with copywriters, visual managers, and graphic designers to imagine a holiday narrative with some of the brand's favorite characters.
Prior to installation, the team creates 3D samples to stage the intricate scenes to perfection, rearranging and re-constructing elements until the window is unveiled in early November (check American Girl's website for exact dates).
The New York window is a feat to behold, measuring 15 feet high x 24 feet wide, and making a trip to the display a great way to spend some time with younger visitors to the city.
FAO Schwarz at Rockefeller Center
30 Rockefeller Plaza
Forever immortalized in one of the best NYC movies of all time "BIG", the original location on 5th Avenue sadly closed in 2015.
Luckily the iconic toy store experienced a rebirth at Rockefeller Plaza, and while it's true it resides in a smaller space, the team still manages to make seasonal magic with their holiday window displays in NYC.
Adorned with classic soldier motifs on the welcoming exterior that sits directly behind the Rockefeller Center Christmas tree, FAO Schwarz is even more fun inside, filled with trains, teddy bears, a towering clock, and yes, even a recreated interactive piano (this time with neon lights!).
Take the kids here for an afternoon full of free interactive fun, and maybe you can convince them to pose for your annual Christmas card photo in front of the store…
Christmas Windows in New York City: The Combo-Packs
Hudson Yards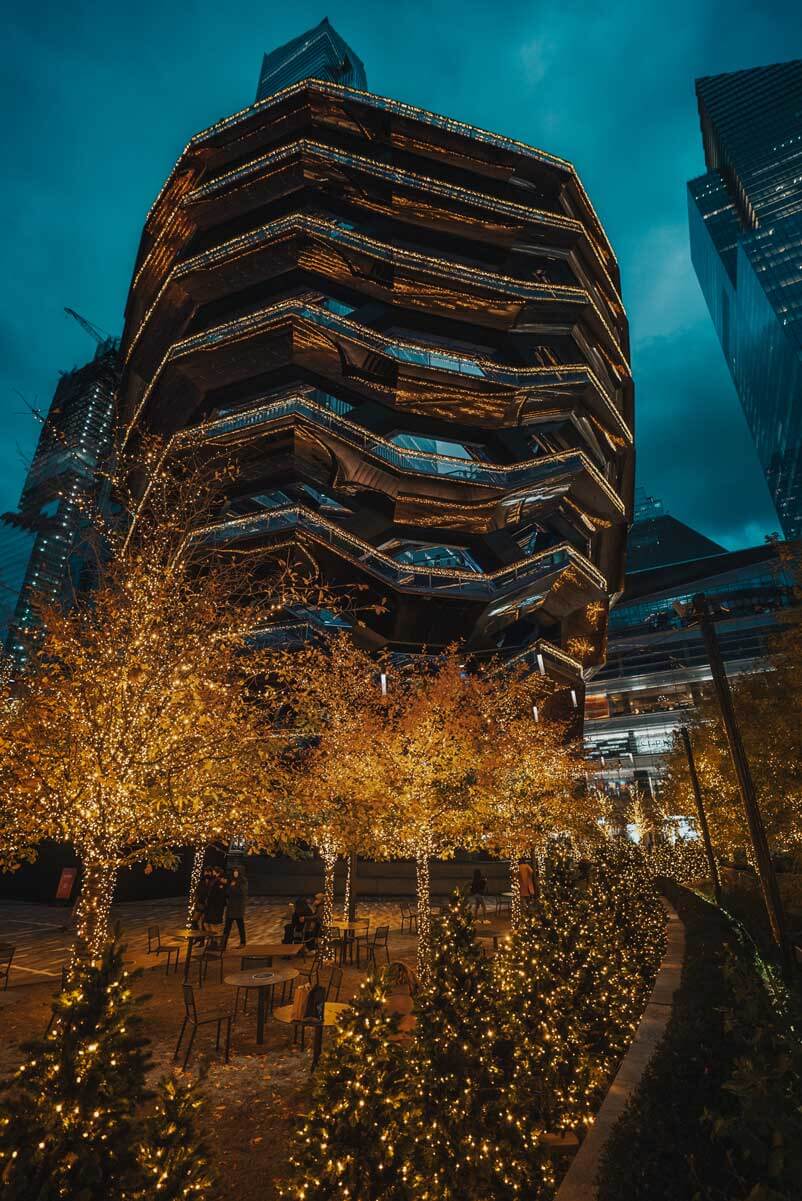 34th Street and 10th Avenue
Hudson Yards is Manhattan's newest shopping behemoth and a fantastic coalescence of holiday window displays in NYC as well as one of our favorite spots for Christmas lights in NYC!
Located at the West end of Midtown, Hudson Yards is home to a variety of high-end boutiques (Dior, Fendi, and Theory to name a few) and inventive restaurants with cuisine ranging from tapas to bespoke Belgian chocolate.
In addition to the festive showings at individual storefronts, the complex itself stages a magnificent light show that plays through the holiday season. More than 2 million lights are added throughout the complex, blanketing the indoor walkways and outdoor plazas with individually controllable LED bulbs.
Music-coordinated shows play most evenings throughout the holiday season along with interactive cookie decorating, crafting, and live performance events. When the winter winds are whipping through the city, Hudson Yards is the perfect place to wander warmly and take in some glittery, glossy holiday decor.
The Shops at Columbus Circle
10 Columbus Circle
The Shops at Columbus Circle are another fine choice if you are looking for Christmas windows in NYC with the added benefit of a heated space.
Admire the annual star display (with accompanying light show "Holiday Under the Stars" every evening from 4-7PM) in the atrium entrance, then stroll throughout the multi-floor complex where shops like J.Crew and Michael Kors showcase their seasonal duds with cheerful winter-themed scenes.
Warm up inside the Shops at Columbus Circle before checking out the nearby outdoor Columbus Circle Holiday Market (an equally festive village of artisan snacks and goods housed in candy-cane style cottages) or take a break at one of the complex's excellent dining choices (Momofuku Noodle Bar, Masa, and Bluebird London are some of my favorites).
And while they don't necessarily have an elaborate Christmas window display, I always recommend walking through Williams Sonoma in Columbus Circle during the holiday season – something about their gadgets feels especially suited to the holidays, and they do carry items perfect for hosting Christmas dinner!
South Street Seaport
Fulton Street (between Water and South Street)
Are you looking to re-enact A Christmas Carol? Look no further than the cobblestoned streets of the South Street Seaport Historic District. This historic neighborhood features some of the oldest remaining architecture in the city, as well as lovingly restored 19th-century buildings housing New York-centric spots like McNally Jackson books (one of our favorite bookstores in NYC), SJP (Sarah Jessica Parker's shoe design house), The Big Gay Ice Cream Shop, and the South Street Seaport Museum.
Stroll around the thoroughfare by gently-lit Christmas trees, anchored by their 60-foot centerpiece Norway Spruce, which boasts a yearly lighting ceremony with performances that rival the Rockefeller Center lighting (check the NYCGO website for tree lighting time).
If you've worked up an appetite, head over to nearby Pier 17, which offers individual glass dining cabins with fanciful decor, views of the Brooklyn Bridge, and tasty seasonal fare (they're featured in our guide to Holiday-Themed Restaurants and Christmas Bars!). It's enough cheer to make even the Scrooge-iest among us have a holly jolly Christmas!
---
That's it, my friends! Christmas window shop in NYC to your heart's delight and mentally save a few items for your Christmas wishlist!
About our Guest Author
Sarah Beling is a playwright, New Yorker, and passionate food enthusiast who is always looking for her next meal. You can find her in an NYC park, enjoying a chopped cheese sandwich and reading about NYC's best new places to eat.
---
There are so many magical holiday window displays in NYC beyond the bit department stores and shops we mentioned, let us know if we missed your favorite! We can't wait to check out this year's Christmas windows in New York City either!