Looking for the best hotels in NYC with a view to stay at during your NYC trip? We've got you covered!
For better (and occasionally worse), living in New York City can feel like living in a movie – there are triumphant montages of running for the subway, laughing with friends over cocktails in a glamorous bar, staring into the middle-distance of the Hudson as the sun sets, crying on the street corner after a breakup, escaping a rainstorm in a bodega and making friends with the requisite Bodega Cat – you get the idea.
A good part of the cinematic nature of New York is due to its unparalleled views – there's a reason the New York City skyline is the definitive opening movie shot. And I'd be lying if I didn't mention that I very regularly cue up Billy Joel's "New York State of Mind" to play while approaching the city on…a Greyhound bus (yes, I am an embarrassing character in my own movie).
The NYC skyline is iconic, and whether you live here or are visiting you should take full advantage of all its drama and splendor.
When visiting the city, one excellent way to incorporate this is by choosing a New York hotel with a view. After all, nothing is more of a letdown than arriving here only to find your hotel room is windowless or looks out directly into an air shaft.
Conversely, it's very easy to feel like the protagonist (antagonist??) in Succession while looking out of a wall of windows onto Central Park at night.
This roundup includes hotels with waterfront views, avenue-long vistas, windows onto NYC's many verdant parks, and views of iconic buildings just waiting for a commemorative snapshot. Some of the best places to stay in New York City offer epic views, so rest assured you'll have plenty of great options to choose from!
Don't miss how to spend your time in the city too with our curated itineraries to help make planning a breeze! All of our suggestions are different for each guide, feel free to use them all to customize your trip exploring all the best things to do in NYC!
Disclaimer: This article contains affiliate links meaning if you book a hotel through our link we receive a small commission at no extra cost to you. Thanks for your support!
---
About the Guest Author
Sarah Beling is a playwright, New Yorker, and passionate food enthusiast who is always looking for her next meal. You can find her in an NYC park, enjoying a chopped cheese sandwich and reading about NYC's best new places to eat.
NYC Hotels With the Best Views
Collective Retreats at Governors Island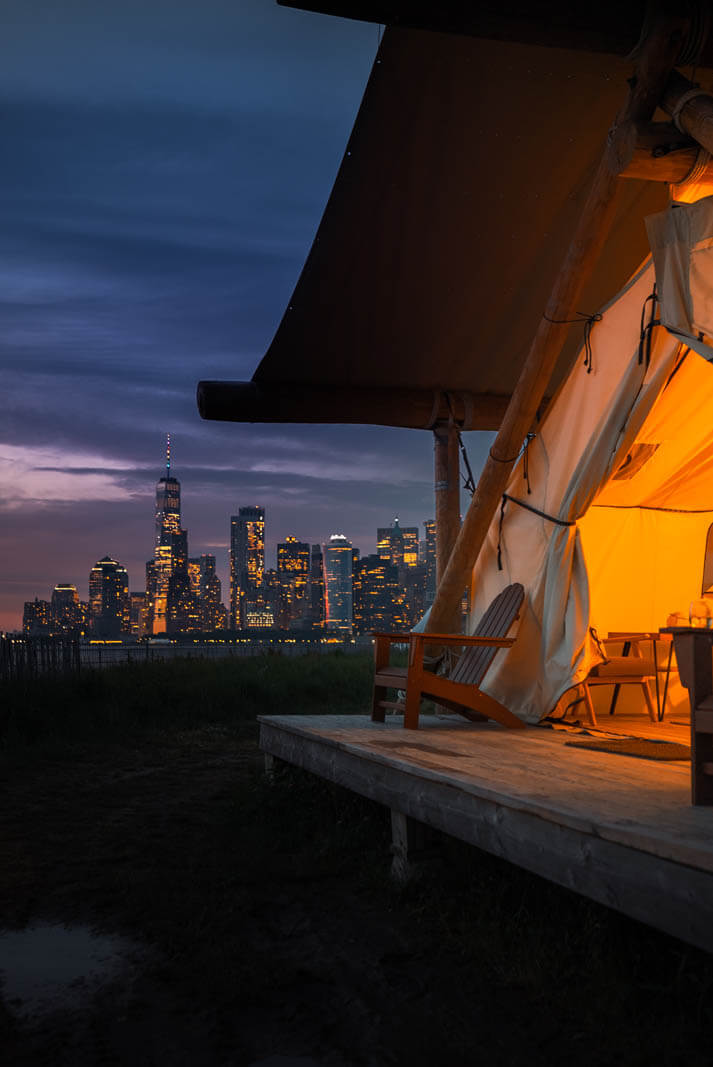 (seasonal, May through October) Governors Island
So let's say that you're a true country-mouse, and the idea of being in a skyscraper holds no appeal for you. Don't let that stop you from visiting New York!
Believe it or not, we do have camping available right here within city limits on Governors Island, one of New York City's most magnificent public outdoor spaces.
Easily accessible via ferry from downtown Manhattan, Governors Island is a delightful smorgasbord of food trucks, concerts, performances, art installations, bike, and pedal cart trails, and hammocks overlooking views of the Statue of Liberty and the East River.
Until recently, there was no way to stay overnight on the island (as there are no apartments or other hotels), but Collective Retreats has developed a seasonal "glamping" experience that allows you to enjoy the bucolic views of the island and downtown Manhattan/Brooklyn.
Enjoy luxury tents outfitted with electricity (including air-conditioning!), high thread-count sheets, and private/semi-private bathrooms (depending on choice of accommodation – private bathrooms are available in the Summit Tent and Outlook Shelter).
Dinner is available at Collective Retreats's restaurant Fire & Water, and complimentary continental breakfasts are delivered to guest tents each morning. There are also specialty experiences ranging from culinary classes to yoga and meditation available on a rotating schedule.
Finally, guests are able to book Collective Retreats's private water taxi service to leave/return to the island after regular ferry hours – note that these make for great bonus views of the city! So if you're seeking the best hotels in NYC with a view and a wholly unique city experience, look no further than Collective Retreats at Governors Island, and be sure to check our in-depth guide to glamping on Governors Island. Book here.
1 Hotel Brooklyn Bridge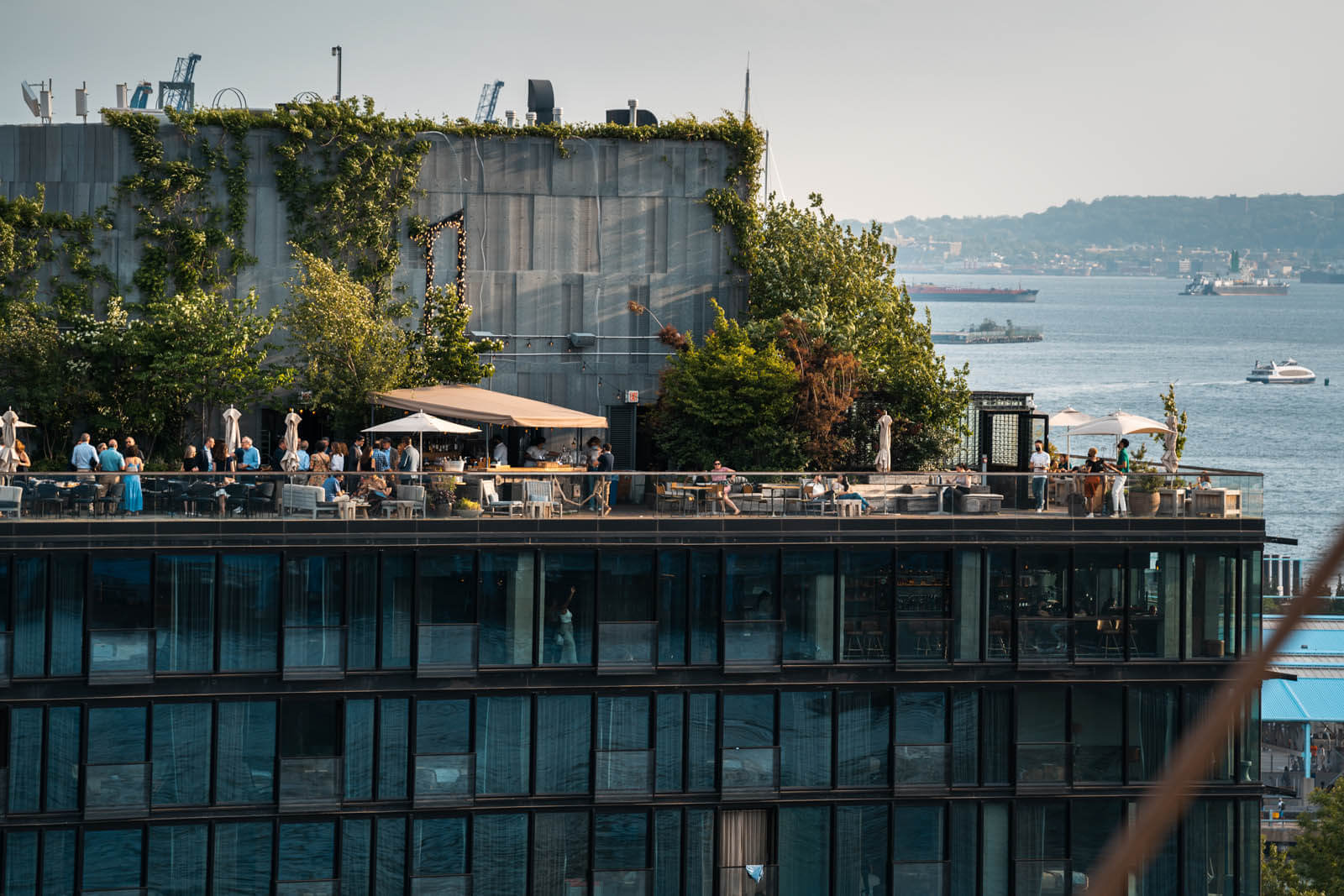 60 Furman Street, Brooklyn Heights
A stone's throw from Governors Island is the 1 Hotel Brooklyn Bridge, a stunning waterfront hotel with incredible views of the East River, Manhattan skyline, Statue of Liberty, and Freedom Tower.
1 Hotel Brooklyn Bridge not only prides itself on its sleek and upscale design but its commitment to sustainability, as the hotel is made of reclaimed materials and employs the use of low-energy LED lights, smart heating/cooling, carbon offsets, and an irrigation system that uses reclaimed rainwater for its landscaping.
In addition to floor-to-ceiling windowed rooms with views of the Brooklyn Bridge and East River (ask for the Liberty King or Bridge King rooms), hotel guests and visitors can enjoy spectacular vistas from Harriet's Rooftop Bar (an open-air patio overlooking the water and one of the best rooftop bars in Brooklyn), Harriet's Lounge (a classic cocktail bar with full-walled window views of the bridge and passing ferries), and the Osprey (a New American restaurant specializing in farm-to-table cuisine with views of the verdant hotel patio and Brooklyn Bridge park).
And until the East River is clean enough to swim in (don't hold your breath), the 1 Hotel's rooftop pool is an ideal place to cool off with a cocktail and enjoy the view. Book here.
Hotel Indigo
View this post on Instagram
171 Ludlow Street, Lower East Side
Hotel Indigo's slogan is "Life in Artful Excess" – which, all in all, is an accurate descriptor for the Lower East Side. Experience the grit, glamor, and eccentricity of the neighborhood by staying in the Indigo's trendy, minimalist rooms that look like a supermodel's apartment with views of the Lower East Side to match (views available in most rooms, for an ultimate city view ask for the Deluxe King with Terrace).
Guests enjoy the cutting-edge vibes of its lobby, bars, and restaurant, the most notorious of which is rooftop bar and lounge Mr. Purple. Stylish and scene-y without being a gimmick, Mr. Purple is frequented by celebrities, locals, and visitors alike and is one of the most popular rooftop bars in NYC.
Enjoy a potent margarita served in a disco ball by the pool in the summer, an espresso martini in a heated bubble in the winter, or an Old Fashioned in their indoor bar space, which still boasts expansive views of downtown and midtown Manhattan.
Highly photographable and stylish, Hotel Indigo is a must-stay of hotels with a view in NYC. Book here.
William Vale
View this post on Instagram
111 N 12th St, Williamsburg
At the center of busy Williamsburg sits the towering William Vale hotel. Opened to much fanfare in 2016, this Brooklyn hotspot is known for its award-winning cuisine, windowed rooms (all with balconies!!) with views of Brooklyn and Manhattan, a sleek pool lounge, and of course, The Westlight rooftop bar, one of the best rooftop bars in Williamsburg.
A crown jewel among NYC rooftop lounges and one of our favorite bars in Williamsburg, Westlight features 360 degree views of New York and is an absolutely dazzling place to take in the sunset or city lights on a date – I was once so impressed that a date booked us a reservation there that I married the guy!
And if you're single, head to Westlight for a signature Curveball cocktail (Bacardi Ocho, Sherry, Apricot, Lemon, Honey, Pineapple, Orange) and put your odds on Cupid.
The William Vale offers an additional rooftop green space with yoga classes, movie screenings, and weddings in the sky. Just think of the money you'll save on decorating when the New York City skyline is your wedding setting AND you can say that you met at Westlight!
Ok, now to the rooms which offer views of the city you can see without leaving your bed including bathtubs with views! Not to mention, William Vale won the title as one of the Best Hotels in 2021 by U.S. News & World Report! Book here.
Read our full guide for more ideas for where to stay in Brooklyn by neighborhood.
The Dominick Hotel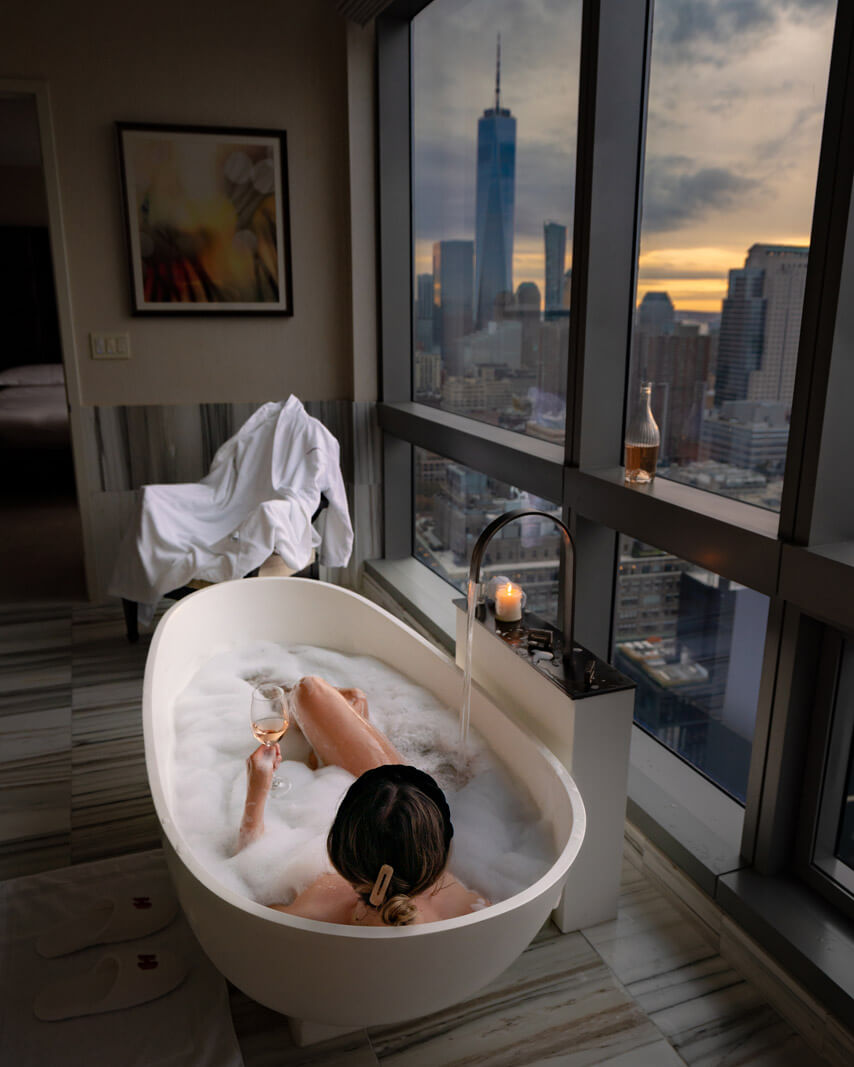 246 Spring St, SoHo
The Dominick Hotel is a glossy, lustrous, luxury hotel located in the heart of SoHo and is definitively among NYC hotels with the best views. Floor-to-ceiling windows look out over the Hudson River, Lower Manhattan, The Chrysler Building, the World Trade Center, and Empire State Building views – the 9th through 15th-floor rooms and Eastern facing 16-23rd floor rooms face Hudson Square, while the North/West/South facing 16-23rd floor rooms face the NYC Skyline and South SoHo.
The seventh floor terrace is an oasis among busy SoHo streets and is seasonally open for swimming amongst the skyscrapers.
While you're downtown, be sure to check out SoHo's many boutiques and galleries – a favorite of mine is the Morrison Hotel Gallery (116 Prince St., 2nd floor, New York, NY 10012), which features artistic photographic portraits of legendary musicians. Book here.
LUMA Hotel Times Square
View this post on Instagram
120 W 41st St, Times Square
There's a reason that Times Square is known as the center of New York City – Broadway theaters, flagship stores and brand headquarters, the convergence of most train lines – but it can be, let's say, overwhelming.
If you want access to Times Square but also need a place to quiet your mind after a busy day in the city, look no further than the Luma Hotel Times Square.
Convenient to the hustle and bustle of 42nd street but worlds away in its sense of calm and tranquility, the Luma Hotel is the perfect place to unwind after a marathon of Broadway shows or business meetings, with rooms that boast views of Midtown's skyscrapers (be sure to ask for the Metro, Park Ave., Skyline, or Luma Suite rooms for the best views).
Additionally, the Luma is around the corner from Bryant Park, an oasis in midtown that not only provides a bit of much needed green space, but also hosts fantastic events like summer movie screenings, winter ice-skating, and seasonal holiday markets.
There's also a robot butler, ALINA that will come to your room! Not to mention rooms give you a birdseye view to Midtown and Times Square! Book here.
Equinox Hotel Hudson Yards
View this post on Instagram
33 Hudson Yards, Hudson Yards
On the western end of Midtown sits Hudson Yards, a gleaming, futuristic complex of new shops, restaurants, art installations, and performance spaces that overlook the Hudson River. Fitting right into the fashionable spaceship vibe is the new Equinox Hotel Hudson Yards, which is meticulously designed to impart a maximum sense of wellness for its guests.
In addition to engineering rooms with expertly designed sound transmission classification, amenities like sleep ritual kits, aromatic herbs infused into shower water, and in-room yoga and meditation accessories ensure that guests can fully relax at the end of their day while enjoying views of Manhattan's West Side (best views are in the Premier King and Deluxe suites).
As this is an Equinox, there are, of course, top-notch workout facilities and a seasonal outdoor pool terrace with views of the Hudson at sunset that rival any beach vacation. And if you're more dedicated to food and drink than HIIT, Electric Lemon is a gigantic (8,000 square feet!) rooftop terrace with cutting-edge seasonal cuisine and cocktails that will more than satisfy your craving for a New York hotel with a view. Book here.
The Standard High Line
View this post on Instagram
848 Washington St, Meatpacking District
There's something about the Standard High Line's vibe that cements it as the funky, bacchanalian, New York hotel of your dreams and celebrity memoirs. Maybe it's the wild, champagne-punch bingo nights, maybe it's that Madonna sometimes casually shows up at Le Bain, maybe it's the proximity to the Meatpacking District's many galleries, clubs, and famous residents, but the Standard captures a glamorous, glitzy, eccentric corner of downtown New York that is a must-visit to truly understand the city, and to experience hotels in NYC with a view.
Compounding The Standard's caché are the truly phenomenal views of the Lower Manhattan skyline, the Hudson River, and New Jersey (all rooms have a great city view but the best can be found in the Superior King and Deluxe King and Queen rooms). You don't have to leave your bed for a panoramic view and some rooms even have tubs that overlook the skyline.
The best places to catch a sunset or snap a selfie (in addition to the view from guest rooms) are the Top of the Standard, a mid-century modern meets art-deco cocktail paradise and of course, the raucous rooftop Le Bain.
Additionally, don't forget to try the world-famous cuisine at The Standard Grill after a trip to the nearby Whitney Museum (99 Gansevoort St, New York, NY 10014). Book here.
The New York EDITION
View this post on Instagram
5 Madison Ave, Flatiron District
The New York EDITION is an upscale New York hotel with a view and a spectacular location. Situated on the Eastern side of Madison Square Park, The New York EDITION's sleekly outfitted guest rooms boast views of the park, the Empire State Building, and the Chrysler Building, while offering a place to stay that's easily walkable to Chelsea, Gramercy, Union Square, the East Village, and of course, the newly-mined NoMad neighborhood (North of Madison Sq. Park, for the unfamiliar).
NoMad is a hot-bed for up and coming new restaurants, designer pop-ups and warehouse-sized outposts of New York favorites like Milk Bar (1196 Broadway at 29th St. New York, NY 10001) and a perfect place to shop locally before heading to Madison Square Park to relax among its frequently updated art installations and the (original!!) Shake Shack.
If you'd like to plan a truly luxe day, I recommend an afternoon at the EDITION's spa followed by a dinner reservation at the legendary 11 Madison Park (11 Madison Ave, New York, NY 10010) restaurant. It's a splurge, but you'll save money on cab fare by strolling back to your hotel directly across the street! Book here.
Moxy Chelsea
View this post on Instagram
105 W 28th St, Chelsea
At the meeting point of NoMad and Chelsea is the eponymously named Flower District, known as the supplier of flowers for major stores, restaurants, museums, and public spaces throughout New York at the Moxy Chelsea.
Tucked away amongst the hyacinths is the Moxy Chelsea, a well-appointed and colorfully decorated boutique hotel with floor-to-ceiling windows that offer stunning views of the Chrysler Building, Empire State Building, and the West Side (ask for the King view, Double Double view, or the Mondo Suite for the best skyline options).
But what makes it one of the NYC hotels with the best views is The Fleur Room, a botanically-themed cocktail lounge with a 360-degree view of the Manhattan skyline. The Fleur Room's groovy feel is cemented by a gigantic vintage disco ball from LA's notorious Vertigo club and its frequent appearances in Vogue's party roundups.
Party all night at an album-release party at Le Fleur, stumble upstairs to your guest room to crash, and grab a coffee and some flowers to cure your hangover like a member of the New York glitterati. Book here.
The Pierre, A Taj Hotel
View this post on Instagram
2 E 61st St, Upper East Side
Opened in 1930, The Pierre is one of the longest-standing hotels with a view in NYC (and NYC hotels in general).
A mainstay for appearances in New-York centric movies and its celebrity guests (Coco Chanel, Karl Lagerfeld, Hubert de Givenchy, Elizabeth Taylor, Audrey Hepburn, Yves Saint Laurent, Barbra Streisand and Joan Collins are just a few of its legendary visitors, with Karl Lagerfeld once remarking that "I discovered New York from the Pierre"), The Pierre was built for a staggering $15 million (approximately $240 million today) and is known for its unobstructed views of Central Park (ask for the Park view or Signature Park view rooms) and the distinctive top floors of the hotel, which are modeled after Mansart's Royal Chapel at Versailles.
Come for the splendor of Old-World New York, stay for the proximity to Central Park as well as some of the best museums in NYC including The Met Museum (1000 5th Ave, New York, NY 10028) and The MOMA (11 W 53rd St, New York, NY 10019). Book here.
The Langham New York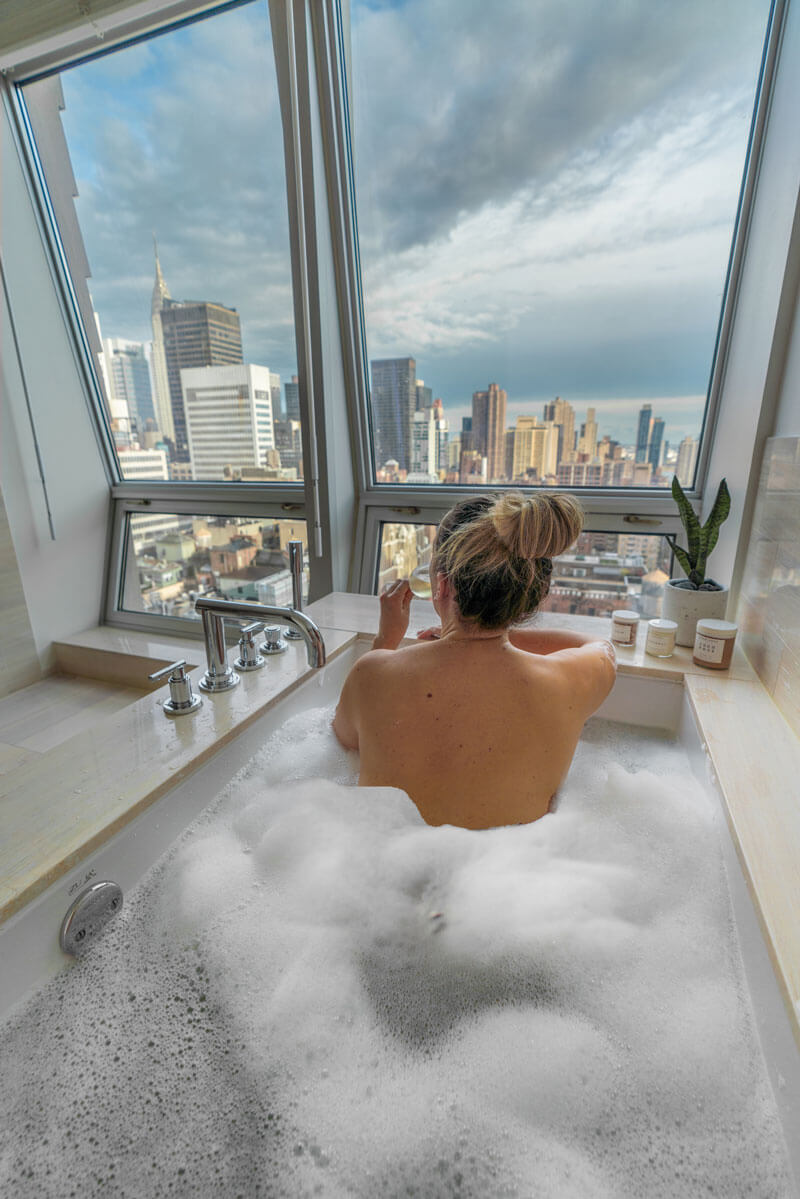 400 5th Ave, Midtown
The Langham New York is a chic, sleek, well-appointed 5th Avenue hotel voted one of New York's best by Conde Nast Traveler's Reader's Choice Award.
Guest rooms offer impressive views of the Empire State Building and 5th Ave., and some suites include private terraces for an even more luxurious feel (ask for one of the Empire suites for direct views of the building).
The Langham is home to Ai Fiori, a Michelin-starred Italian and French restaurant headed up by chef Micahel White as well as the Sky Terrace, a delightful outdoor patio restaurant available for meals and cocktails alike.
The Langham also offers a truly superb in-room breakfast selection that I can honestly say is some of the best hotel food I've ever had. So if you're looking for hotels in NYC with a view, be sure to try The Langham for a five-star stay. Book here.
Hotel 50 Bowery
View this post on Instagram
50 Bowery, Lower East Side
The Bowery sits at the crossroads of Little Italy, Chinatown, SoHo, The East Village and the Lower East Side. Known historically as New York's oldest thoroughfare, the Bowery is on the National Register of Historic Places and is still home to some of New York's most legendary museums, artistic venues, and historic residences of New Yorkers who changed the course of the city's history.
Hotel 50 Bowery is a bustling, contemporary New York hotel with a view (ask for the City view rooms, King view rooms, or suites for best vistas), paying homage to the cultural crossroads of the area and the historic impact of Asian-Americans in the neighborhood by featuring an in-house art collection curated by Exhibition A and an on-site gallery run by the Museum of Chinese in America (be sure to visit at nearby 215 Centre St, New York, NY 10013).
Hotel 50 Bowery also features The Crown, a year-round rooftop bar featuring fantastic panoramic skyline views of Lower Manhattan. Order a Last Word (tanqueray gin, green chartreuse, luxardo maraschino, lime juice) after a day exploring one of New York city's most vibrant and important neighborhoods. Book here.
Four Seasons
View this post on Instagram

Two locations: Original: 57 E 57th St, Upper East Side & Four Seasons Downtown: 27 Barclay St, Tribeca
The Four Seasons is synonymous with luxury, and both of its New York outposts are no exception. With an uptown location, the Four Seasons New York boasts views of Central Park and the skyline (ask for a Park Ave room or Central Park junior suite for best views).
There's also a Four Seasons Downtown location boasting views of TriBeCa's signature architecture (ask for a Manhattan room), staying at the Four Seasons is an art-deco fantasy with opulent lobby staircases and sleek guest rooms with expansive full-length windows for gazing.
The downtown location also features a stunning, indoor, light-filled lap pool that will make you feel like a billionaire taking a dip in their manse. Both locations offer luxurious wedding packages for a truly unforgettable New York celebration. Or, save some dough and just start casually dropping hints to your engaged friends to enjoy being a wedding guest at some of the most upscale hotels with a view in NYC! Book Four Seasons New York (UES) or Book Four Seasons Downtown (Tribeca).
Mandarin Oriental Hotel
View this post on Instagram

80 Columbus Circle
Located at the southwest corner of Central Park in Columbus Circle, The Mandarin Oriental Hotel is a world-renowned luxury New York hotel with a view of Central Park and Manhattan's West Side (all rooms have a view, some face the Hudson while others face Central Park or cityscapes).
Located in the Time Warner Building (home to many shops and well-regarded restaurants like Bluebird and Per Se) and convenient to Times Square, the Upper West Side, and Hell's Kitchen, the Mandarin Oriental not only offers views from its guest rooms but also its world-famous spa and in-house cocktail lounge.
While you're there, be sure to check out the nearby Museum of Arts and Design (2 Columbus Cir, New York, NY 10019), a museum celebrating historic and modern achievements in innovative design. Book here.
Refinery Hotel
View this post on Instagram

63 W 38th St, Midtown
One of the most centrally convenient locations for picking where to stay in the city is in Midtown (and this is one of the best hotels in Midtown) and better yet, getting an NYC hotel with a view is even better and increases your chances when you're around this area.
Your secret weapon in planning a New York meetup is the hotel rooftop bar, and Refinery Rooftop at the Refinery Hotel is one of the ideal places to meet among NYC hotels with the best views (if also staying there, ask for a Studio King with Empire Views room for the most direct vista).
The Refinery Hotel is housed in the historic 1912 Colony Arcade Building, and its stylish, industrial fixtures reflect an old-school-meets-contemporary vibe.
The Refinery Hotel features several great food and drink options, with live jazz at lobby bar Winnie's, ribeye and soft-shell crabs at restaurant Parker & Quinn, and of course, innovative cocktails at the spectacular Refinery Rooftop.
Featuring views of the Empire State Building, the Refinery Rooftop is the perfect place to hold your birthday party or friend meetup, with convenient access to Midtown trains and offices.
Order a round of Empire Palomas (mezcal, pomp & whimsy, simple syrup, grapefruit juice) and toast to a night of celebrating with friends and the New York skyline. Book here.
Hotel Hugo
View this post on Instagram

525 Greenwich St, SoHo
SoHo's Hotel Hugo is a must among hotels in NYC with a view. Outfitted according to the neighborhood vibe, the hotel offers ultramodern, chic rooms designed with the same style acumen as chic SoHo residents and features views of Lower Manhattan.
Hotel Hugo is home to an all-season duplex rooftop bar (Bar Hugo rooftop, formal and featuring a glass-enclosed paneled view of the city) and Cuban cantina Azul on the Rooftop (vibrant, artfully decorated outdoor patio with views of downtown, the Freedom Tower, and the Hudson).
While you're in the area, make sure to also check out nearby and historic Ear Inn (326 Spring St, New York, NY 10013), one of New York's oldest drinking establishments infamously known for changing their sign from "BAR" to "EAR" to avoid city signage restrictions. Book here.
Hotel on Rivington
View this post on Instagram

107 Rivington St, Lower East Side
A stylish glass tower on the Lower East Side, Hotel on Rivington is a highly-photographable place to stay. Most rooms have floor-to-ceiling-windows, including some rooms that feature bathtubs with a view (your own spa-like atmosphere!).
Hotel on Rivington is walking distance from many of the worthwhile highlights of the Lower East Side such as the Clinton Street Baking Company (4 Clinton St, New York, NY 10002), Tenement Museum (103 Orchard St, New York, NY 10002), and Russ and Daughters Cafe (127 Orchard St, New York, NY 10002, featured in our guide to the best NYC bagels!).
When you're looking for NYC hotels with the best views, make sure to stop by Hotel on Rivington for an enviable downtown getaway. Book here.
Yotel New York
View this post on Instagram

570 10th Ave, Midtown
Yotel New York has a distinctly fun, space-age vibe. It sort of feels like you're staying in a hotel that the Jetsons would frequent. Located on the west side of midtown an easily walkable but slightly less hectic few avenues away from Times Square, Yotel is known for its simply designed rooms for reasonable prices (especially for the area!).
But the pricing belies the true value of Yotel – the views from the Premium Queen View, First-Class Junior Suite with Terrace, and the VIP King Suite View. Floor-to-ceiling windows let Midtown's skyscrapers sparkle as you settle in for the night.
Additionally, Yotel makes the NYC hotels with the best views list for its great rooftop terrace that is an ideal place to grab a cocktail before or after a Broadway show. And for even more local entertainment, Yotel has on-site lounge Green Room 42 which regularly features cabaret sets from professional performers. Book here.
Check out more of the most unique hotels in NYC to find some of the funkiest and coolest spots to stay in the city!
NoMo Soho
View this post on Instagram

9 Crosby St, SoHo
If your number one priority is to find the finest hotels in NYC with a view, look no further than The NoMo Hotel. The NoMo SoHo is known for its funky lobby and restaurant decor, its serene blue and white patterned rooms with floor to ceiling windows, and for displaying vibrant, unparalleled views of Lower Manhattan.
The Crosby Suite, Crosby Balcony Suite, Soho Studio, Soho Balcony Studio, NoMo Balcony Suite, and Penthouse Balcony Suite all offer private terraces of varying sizes, culminating in the NoMo – the highest view in the neighborhood from the penthouse residence.
In addition to the spectacular views from its guest rooms, the NoMo SoHo features lush greenhouse garden views in its NoMo Patio Kitchen, offering seasonal farm to table cuisine prepared by chef Omar Lorenzana. Book here.
W New York Times Square
View this post on Instagram
1567 Broadway, Times Square
If you love the glittering lights of Times Square but need a little break from shuffling through crowds of people, may I suggest staying at the W Times Square Hotel. Book a "Cool" room or a "Marvelous" room for direct views of Times Square from above while enjoying top-notch room service and a movie.
The W Times Square also features the excellent Dos Caminos restaurant for a dine-out experience without hassle. Finally, the W is pet-friendly (a rarity!), making it an ideal choice for a vacation with Fido!! The W is part of the Marriott family and therefore often a great deal for Marriott Bonvoy members looking for hotels with a view in NYC!
So whether you're stay-cationing or vacationing, try one of these New York hotel experiences for an unforgettable setting worthy of a movie! Book here.
---
Enjoyed this guide to these gorgeous NYC hotels with the best views? Save for later or share with a friend!