Headed to the city and wondering what Brooklyn eats are a must? Check out all these iconic places to eat in Brooklyn to add to your Brooklyn food bucket list on your trip!
You will never have to wonder where to go for some amazing food after reading our full guide to the best food in Brooklyn! We have researched (and tasted) some of the most delicious and best of Brooklyn food you need to try when you're visiting this delicious borough.
Be sure to come hungry!
On this guide to iconic places to eat in Brooklyn and Brooklyn food you have to try, we have included a variety of cuisines, where they're located, and what they're most known for. All that's left for you to do is pick what to start with!
All you really need to know is that Brooklyn is every foodie's paradise and there is something for you on this list! We hope you add a lot of our Brooklyn food picks to your bucket list!
Iconic Brooklyn Eats To Try
Grimaldi's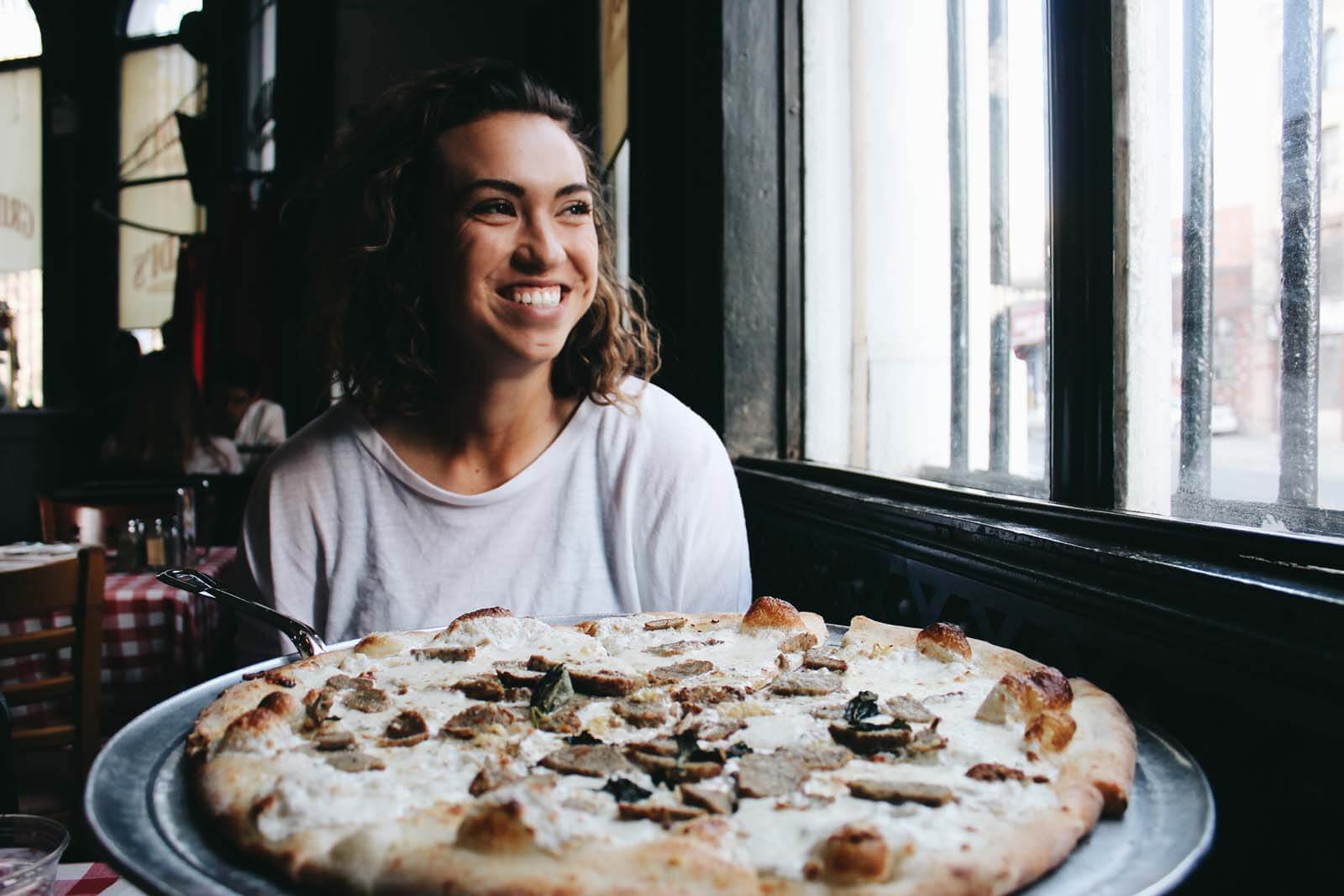 DUMBO
If you didn't already know, Brooklyn is home to arguably the best pizza in the entire country, and of course, pizza is some of the best of Brooklyn food to try – and for pizza lovers you will be excited because there are a few options starting with the legendary Grimaldi's under the Brooklyn Bridge.
Grimaldi's is easily one of the most famous pizza places in New York City and if you're struggling to decide where to eat in Brooklyn, this is always a great go-to.
This Brooklyn food spot has been serving up the best pizza in town since 1990 when it was founded by Patsy Grimaldi using over 100 years of pizza making tradition using a coal oven, one of the few places left that still cook pizza using a coal oven since being outlawed in the city.
Grimaldi's has a number of specialty pies and you can even build your own. Some of the most popular are the Margherita, Garden Pesto, and Prosciutto Arugula. Whatever you go with, it will not disappoint.
Keep in mind that there is usually a line waiting to be seated outside this fine establishment as this is a popular pick for where to eat in Brooklyn, it is also cash only, and you cannot get pizza by the slice here.
For more on Grimaldi's, check out our full guide to the Best Pizza in DUMBO!
Juliana's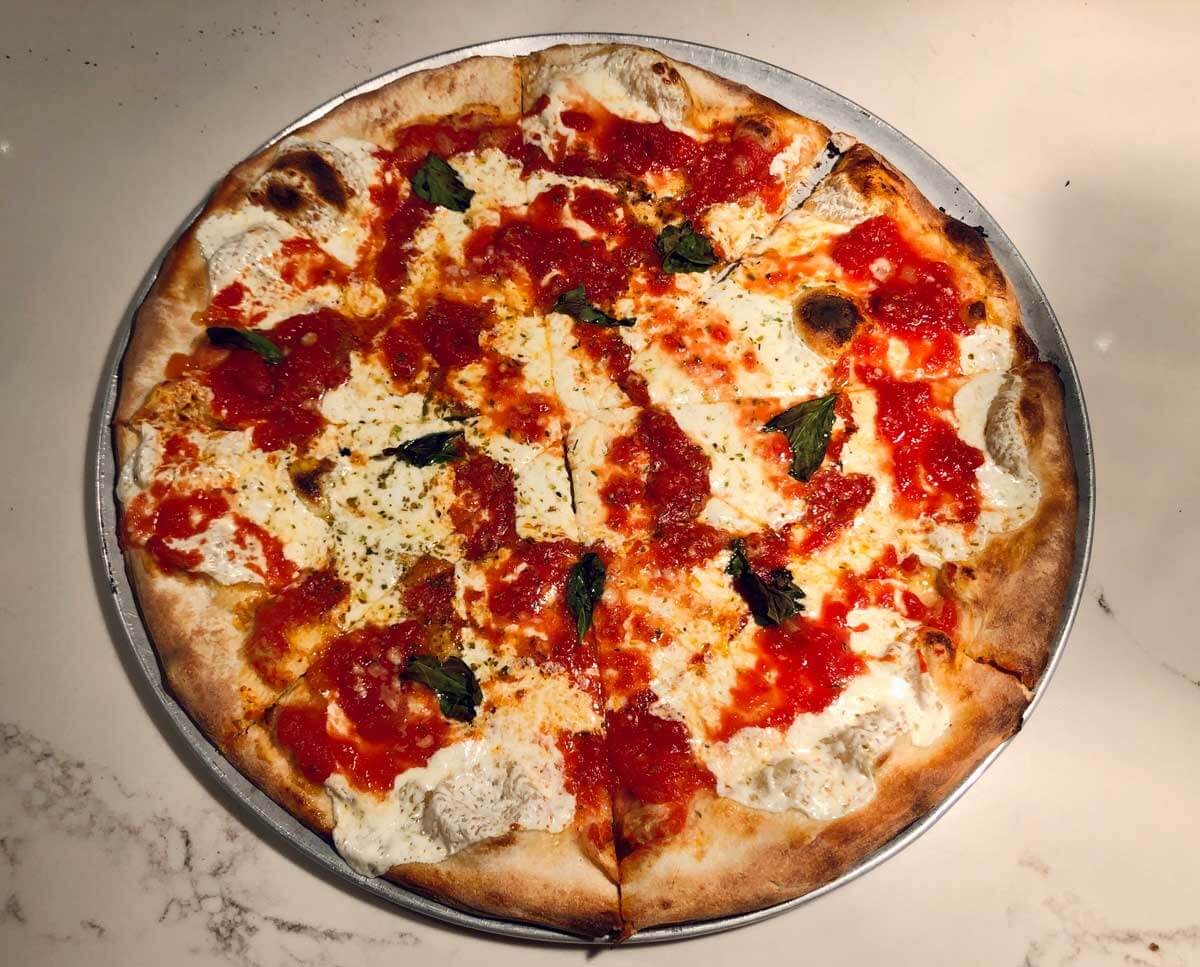 DUMBO
Here is where things get interesting. This iconic Brooklyn food article is about to explore the pizza battles of DUMBO. Juliana's is a pizzeria right next door to Grimaldi's and was actually founded by the same man, Patsy Grimaldi! It's actually pretty impressive he opened two places to eat in Brooklyn that are also known to being some of the best food in Brooklyn to try, not to mention with a great location. See our best DUMBO restaurants with a view to see why!
In the late 90s, Patsy Grimaldi ditched the coal-fired ovens and sold the Grimaldi name and pizzeria, he wanted to retire, or so he thought.
In 2012 he changed his mind and came out of pizza retirement and opened Juliana's, which is actually the building where the original Grimaldi's was first located. (Grimaldi's new owner lost that location) Grimaldi's moved to the storefront next door when the previous location's rent became too high.
You may think these two pizzerias are similar, but they definitely have their differences.
If you choose a classic pie, you're allowed only two toppings and if you choose a specialty pie, there are no changes or substitutions allowed. So choose wisely, because New Yorkers are serious about their pizza.
Juliana's also usually has a line out the door since there are no reservations, so plan ahead!
So now that I've given you a lesson on Brooklyn pizza history, you'll have to decide for yourself if you are team Juliana's or team Grimaldi's!
Also, if you're looking for the perfect pizza caption or just love pizza quotes, we have a whole guide dedicated to them!
Di Fara Pizza
View this post on Instagram
Midwood
I bet you're starting to wonder how many picks for where to eat in Brooklyn are going to involve pizza, and for those who aren't huge fans of pizza bare with us, some of the best of Brooklyn food is pizza, but we have more iconic Brooklyn eats to come!
Also considered one of the best pizzerias in New York, Di Fara is a little more casual than our two Brooklyn food spots listed above.
Di Fara's opened up in 1965 in the Midwood section of Brooklyn. Famous for how expensive it is and how long it takes to get your pizza. You can expect over an hour to wait sometimes, just like some of our other best places to eat in Brooklyn! What can we say, they are popular so plan accordingly.
Here you can get both pizzas by the slice and entire pies, the price is just higher than most you would find on a street corner in Brooklyn, but keep in mind, you're paying for the experience and quality ingredients also!
For a regular slice, it's around $5 and a square slice is $6. Adding a topping is an additional $1 and it's an additional $2 for a specialty topping.
For an entire pie, you can expect to pay anywhere from $30-40 and then some if you're adding toppings. They offer regular pies, square pies, white pies, and then some specialty pies.
One is the Classic Pie, which includes sausage, pepper, mushroom, and onion. Then the Chaos Pie, which includes sausage, meatballs, tomatoes, wild onions, and fresh garlic.
So if you're looking for a true New York slice and don't mind spending the time or money, get to Di Fara! It's legendary and always on top foodie guides for best places to eat in Brooklyn.
A fun fact about this Brooklyn pizza shop is that is actually received one of the highest review scores from pizza expert Dave Portnoy of Barstool Sports, which was a 9.4/10, which basically means Di Fara is the real deal.
Be sure to check out the best pizza in Brooklyn too!
Roberta's
View this post on Instagram
Bushwick
Next up on our best Brooklyn food to try is another pizzeria, but this one is a little different considering it has basically put Bushwick on the map to tourists who didn't use to venture out to this part of Brooklyn along with the Bushwick Collective.
We recommend checking out all the best things to do in Bushwick so you can make a food stop plus explore the neighborhood while you're here.
Best known for its wood-fired pizza or 'za as they like to call it, Roberta's also has a bunch of food you'll want to cross off your Brooklyn food bucket list and dine where famous celebrities have once dined like Beyonce herself.
They have a long list of incredible pizzas, the hard part is deciding which one you want!
Go classic with the Margherita or be bold and choose something like the Bee Sting, which comes with mozzarella, tomato, sopressata, chili, basil, and honey. I'm definitely adding this pie to my list of must-try Brooklyn eats.
While you're here try the Duck Prosciutto, cheeseburgers, or even their pasta. You will not be disappointed!
Like our other famous and best food in Brooklyn pizza spots, there is usually a wait or line here. We recommend trying to get here earlier in the day to best secure a table without a super long wait!
Steve's Authentic Key Lime Pie
View this post on Instagram
Red Hook
Although key lime pie originated in Florida Keys, although its origins have been heavily debated and some say it was invented decades earlier than the Keys right here in NYC in 1931, Steve's Authentic Key Lime Pie in Red Hook is known to be the home of the country's best key lime pie and one of the most unlikely best Brooklyn eats to try!
Steve's has been serving Brooklyn for over 20 years now and they are one of two bakeries in the U.S. that actually uses freshly squeezed limes.
This Brooklyn food spot has been operating in Red Hook and in recent years opened its only vendor located in the Dekalb Market in Downtown Brooklyn.
Steve's has a lot to offer beyond their delicious whole pies. Visitors can get iced key limonada, fresh key limes, or a Swingle, which are frozen lime tarts dipped in chocolate that are served on a stick. They also have raspberry flavored!
If you're looking for a perfect spot to satisfy your sweet tooth, this is one of your best places to eat in Brooklyn that has become legendary. While you're here check out all the best things to do in Red Hook.
Egg Cream at Brooklyn Farmacy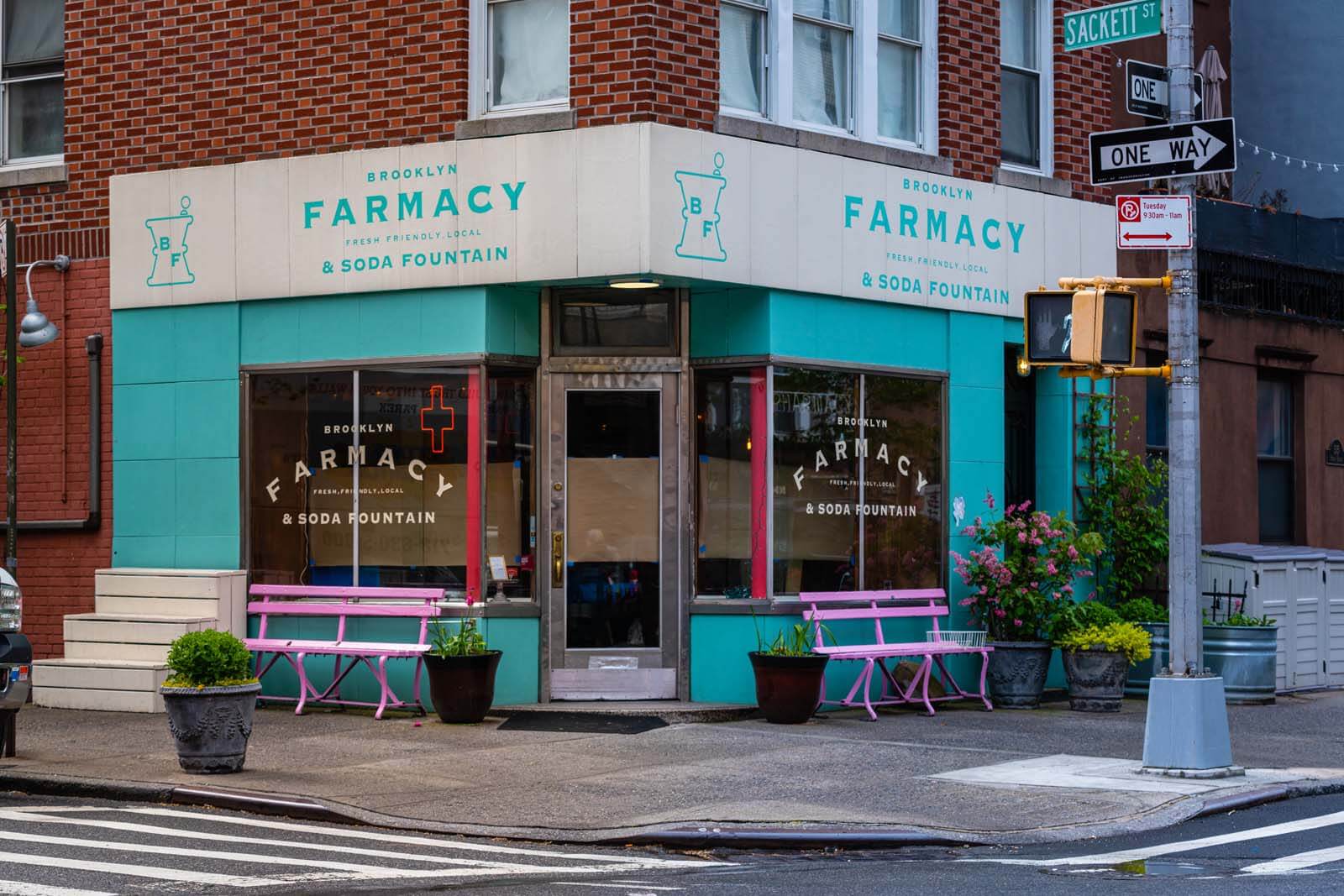 Carroll Gardens
Ready for more legendary Brooklyn food to satisfy your sweet tooth? Head to Brooklyn Farmacy & Soda Fountain in Carroll Gardens!
The Brooklyn Farmacy & Soda Fountain is famous for its wide selection of delicious desserts, especially egg creams, at their old fashioned themed diner.
First off, egg creams do not even contain egg, and there are a few conspiracies on how it actually got its name. A true Brooklynite told me that it was originally pronounced something like "Et Creme," based on a beverage from Paris but New Yorkers heard it as egg cream. And so it was born, but this is just one of many theories.
For just $4 you can experience their delicious chocolate or vanilla egg creams. Photos on their Instagram page show The Flatbush Float, which is a chocolate egg cream with a scoop of vanilla ice cream on top!
The Brooklyn Farmacy also serves a variety of sundaes, house-made sodas, milkshakes, beer, wine, and much more making it a great pick for where to eat in Brooklyn in one of the borough's prettiest neighborhoods to explore.
Be sure to check out the rest of the best things to do in Carroll Gardens while you're here too.
Junior's Cheesecake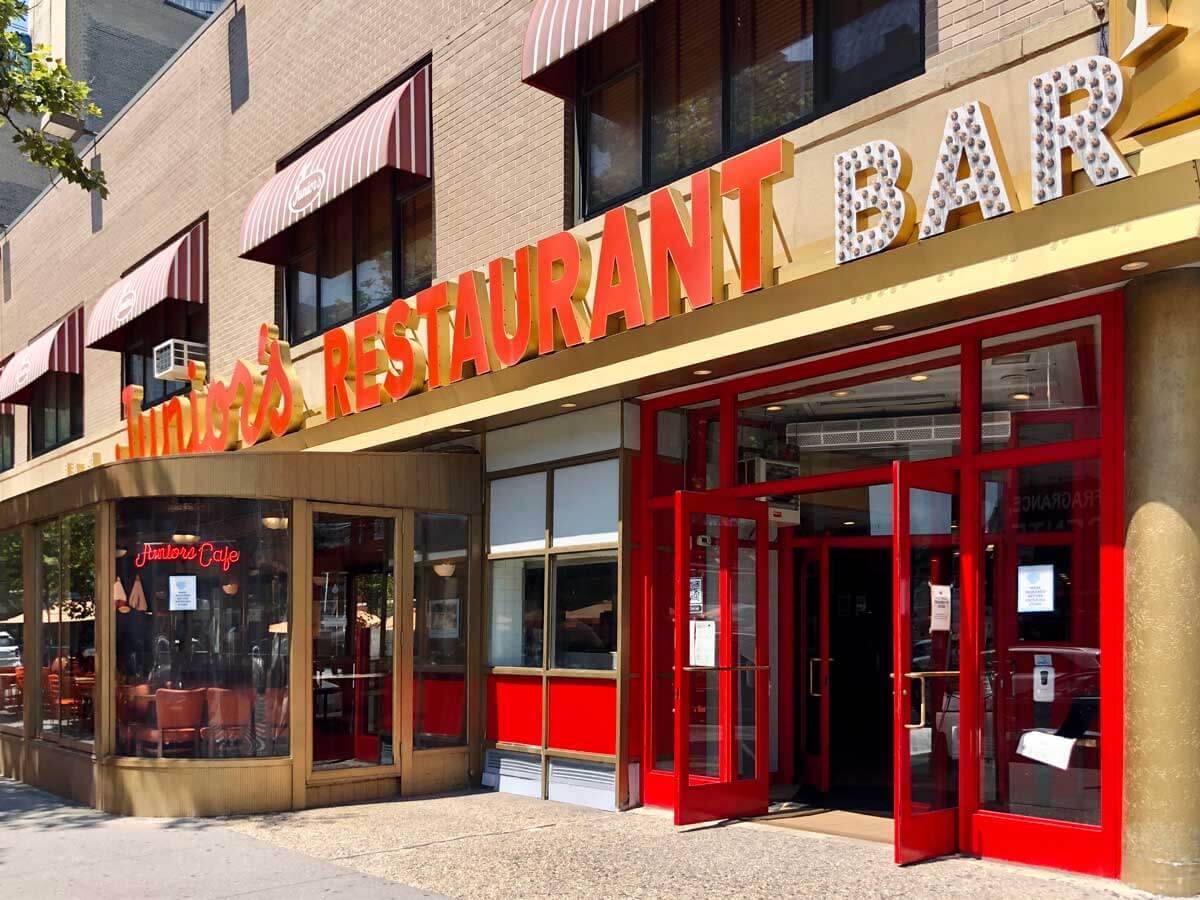 Downtown Brooklyn
Junior's is probably one of the most iconic Brooklyn food spots. Getting a slice of Junior's Plain Cheesecake is an absolute must when visiting NYC and most people do so at their glitzy Times Square location in Manhattan, but the original is right here in Downtown Brooklyn!
If you're not a fan of cheesecake, I can personally vouch for their Chocolate Fudge Layer Cake.
Since 1950, Junior's has committed to making the best cheesecake in all of New York and has been deemed "The World's Most Fabulous Cheesecake," by many.
I frequent this landmark often for a cup of coffee and a slice of cake. So you can dine in for just the cheesecake, or save it for after you check out their extensive menu!
If you don't make it to Downtown Brooklyn for the Junior's dine-in experience, you could always get some cheesecake shipped to you! My family out in California has actually ordered Junior's Cheesecake for special events on Gold Belly.
And if you aren't able to make it to the Brooklyn Farmacy, Junior's also has their famous Fox's U-Bet Brooklyn Egg Cream for just $4.50 for another iconic Brooklyn food!
Peter Luger Steakhouse
View this post on Instagram
Williamsburg
One of the most famous places to eat in Brooklyn for fine dining and a perfect idea for a special occasion or date night is Peter Luger Steakhouse in Williamsburg.
Peter Luger has been named the best steakhouse in New York since 1984 and for good reason, they are legendary. Since it's a little more on the luxurious side, it isn't all that easy to dine in here.
At least in my experience, I had to make a reservation three months in advance! But I can tell you right now, it was worth it and where to eat in Brooklyn if you're craving one of the best steaks in the city.
Know that at this fine dining establishment you're also paying for a famous New York experience and some of the best quality meal you'll have in the city.
The sides come separately, I would highly recommend the German Fried Potatoes, and I've heard great things about their Luger Bacon.
This luxurious Brooklyn food spot is cash only unless you are a Peter Luger card holder. This is a special card you can pay with if your application is accepted! Otherwise, we recommend having a few hundred dollars on hand to dine here since a steak for two without sides or drinks is around $115.
Nathan's Famous Hot Dog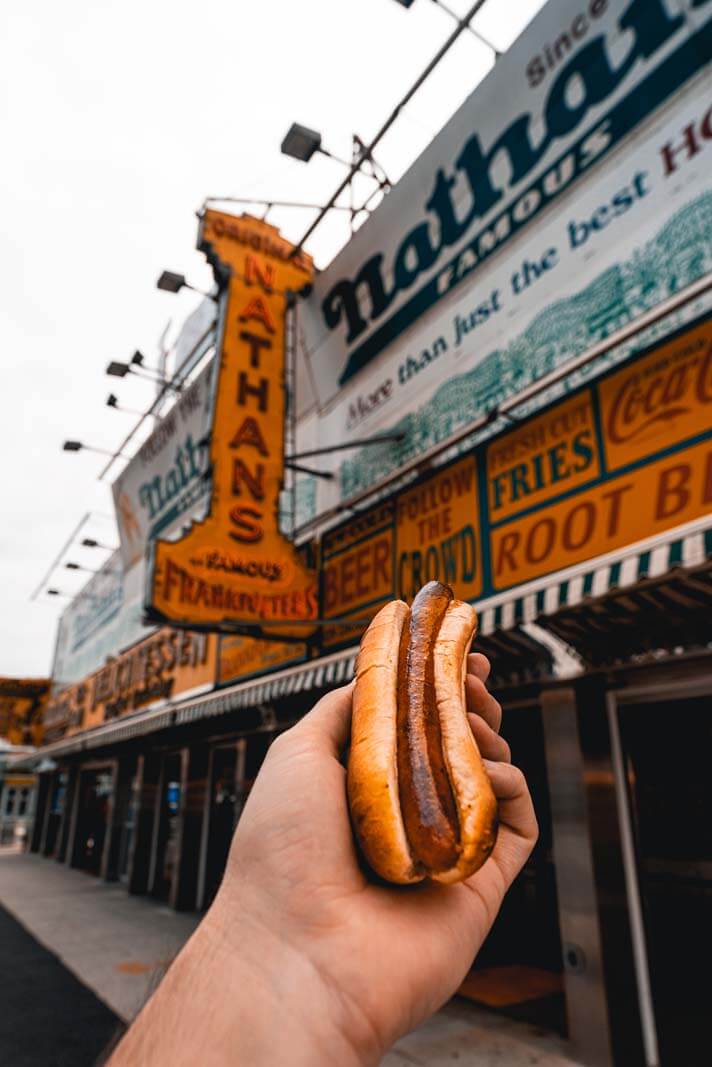 Coney Island
You can't have a list of iconic Brooklyn eats without mentioning the country's most famous hot dog! Located at Coney Island, Nathan's Famous is home to one of the most famous hot dogs in the world and one of the best Brooklyn food spots at this iconic amusement park and neighborhood!
Nathan's Famous is easily one of the most iconic places to eat in Brooklyn. It was founded in 1916 by Nathan Handwerker, who started selling his hot dogs for a nickel a piece.
So if you're looking to cross a legendary Brooklyn food off your bucket list, go with the hot dog combo. This way you'll be able to try some of their delicious fries while you're at it.
There are currently over 300 Nathan's Famous restaurants across the country and you can also find their dogs in grocery stores, concession stands, and baseball stadiums nationwide, but the original location is at Surf Avenue with another location on the Riegelmann Boardwalk boardwalk.
Nathan's Famous is clearly most known for their hot dogs, but their menu is actually quite long if you're wanting to try other things too! Nathan's also has salads, Philly cheesesteaks, burgers, nuggets, onion rings, and more!
OG Brooklynites recall coming here for their frog legs, oysters, and clams!
We love this spot for the large picnic table area and the option to take your meal onto the beach or walk around the amusement park, boardwalk, and all the other amazing things to do in Coney Island plus Coney Island hidden gems!
The original location of Nathan's Famous on Surf & Stillwell is open year-round and is a great Coney Island winter activity!
Shelsky's of Brooklyn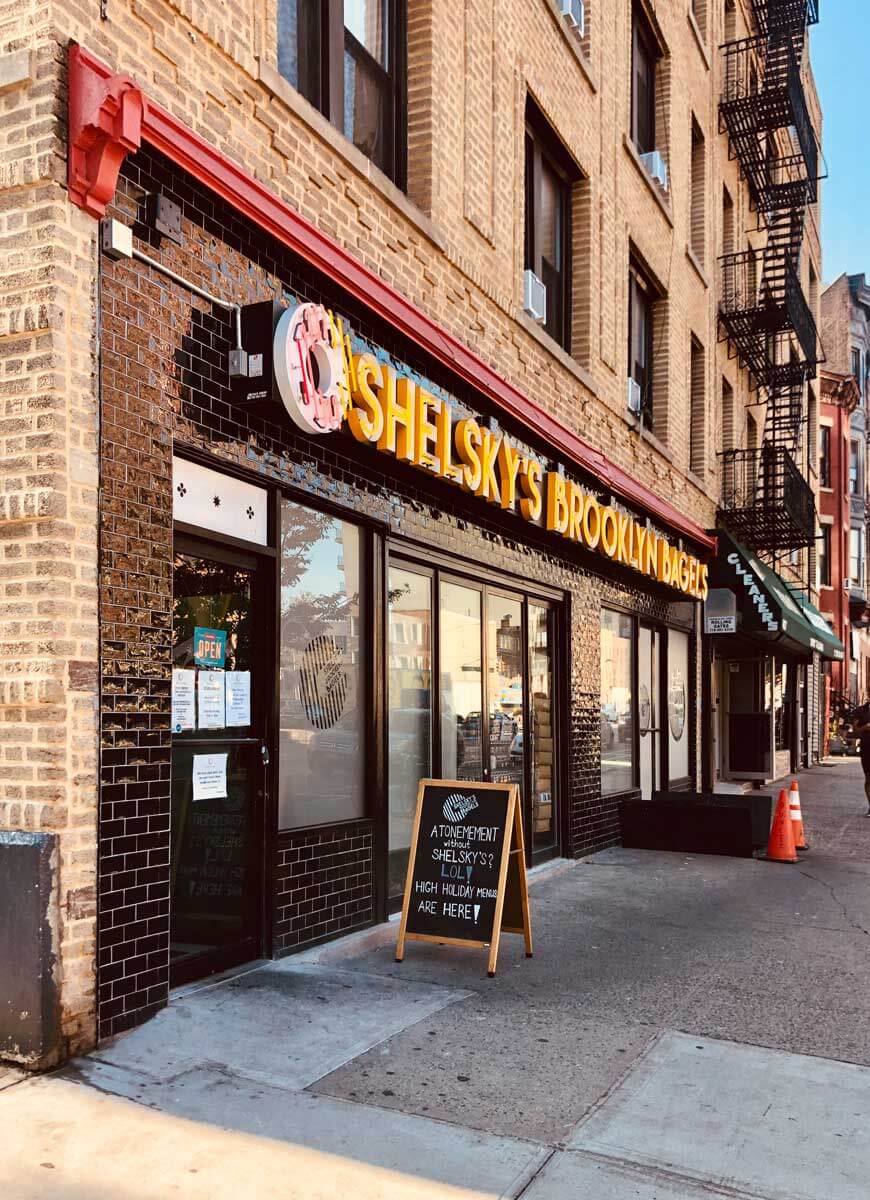 Cobble Hill & Park Slope
Next up on our iconic Brooklyn foods to try, Shelsky's of Brooklyn. Shelsky's opened up in 2011 after the partnership of two Brooklyn food gurus, Peter Shelsky and Lewis Spada.
This delicatessen is most famous for their lox and smoked fish, and if you're not familiar with lox (like me), it's salmon that is prepared with a saltier and more raw texture.
So if you're a seafood person and a bagel person, this is one of the great places to eat in Brooklyn. Even if you're not into lox, there are other flavors of cream cheese and bagel sandwiches to try. We recommend checking out the chili chip cream cheese!
Shelsky's has two locations, the original is Shelsky's of Brooklyn Appetizing & Delicatessen in Cobble Hill, where you can get fish by the 1/4 pound, 1/2 pound, or by filet and you can also get delicious pastrami, corned beef, and a variety of appetizers here.
The second location Shelsky's Brooklyn Bagels in Park Slope, where you can get fresh New York bagels with a variety of flavored cream cheeses, breakfast sandwiches, and even lunch sandwiches with a wide selection of delicious deli meats and fish.
So if you're ever in the mood for some lox or a bagel, just try them together at Shelsky's! Check out more of the best bagels in Brooklyn.
Tom's Diner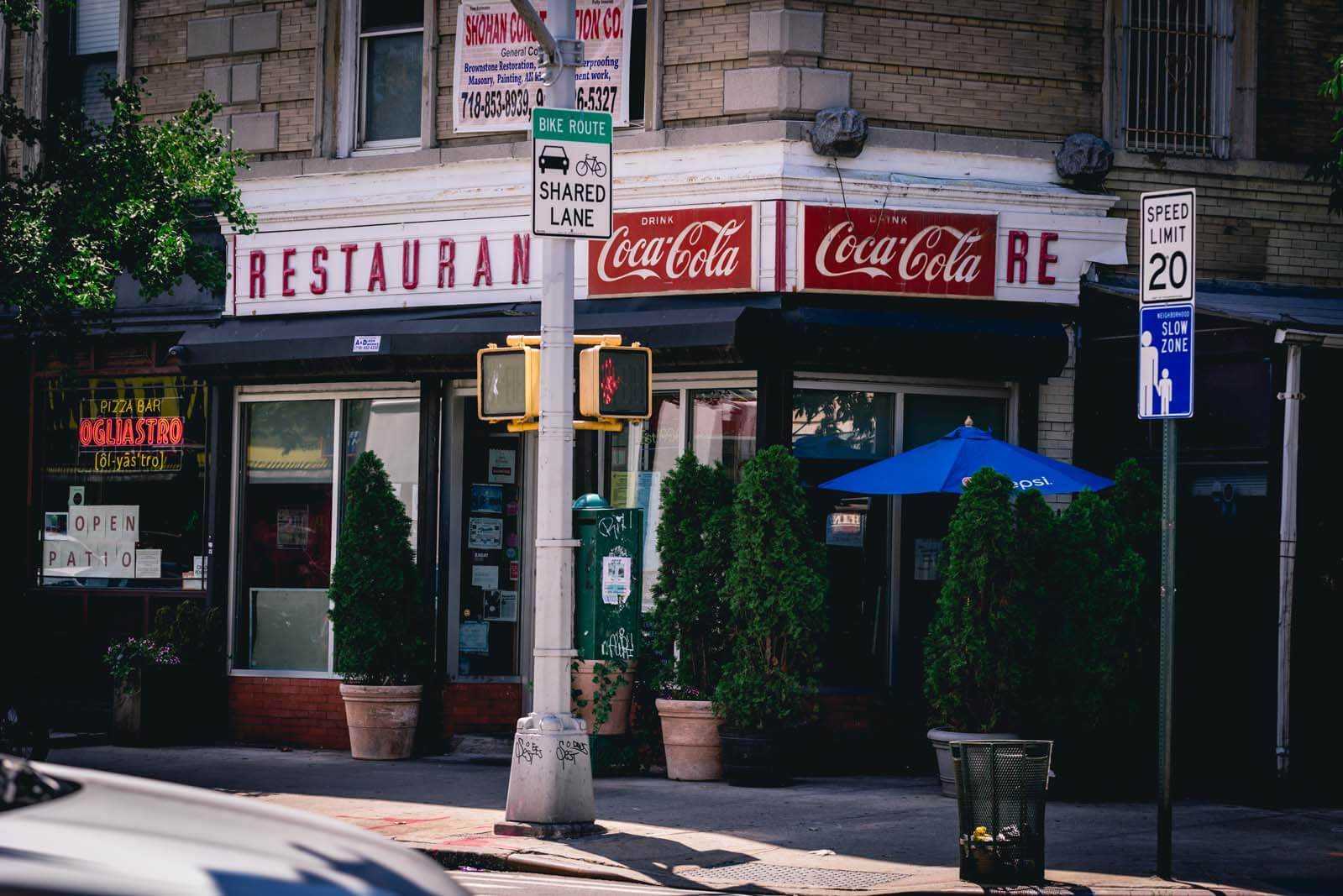 Prospect Heights & Coney Island
Tom's Diner in Brooklyn is easily one of the most famous places to eats in Brooklyn for breakfast food, pancakes to be specific. And don't worry, breakfast is served all day long here at Tom's.
Tom's is one of the hottest picks for where to eat in Brooklyn on the weekends, so if you're looking for a classic diner-style breakfast at the end of the week, be prepared to wait a line out the door.
Remember though, it's about the experience!
Although you may wait in line to be seated, you can expect some free coffee, cookies, and more while you wait. The staff has been praised for their quick service, sense of community, and generosity.
This American diner opened up in 1936 under the name of "Tom's" to honor the owner's father, who was a World War II veteran. It originated as an ice cream shop and eventually turned into a spot for iconic Brooklyn eats.
Many will recommend the Danish Pancake, which may surprise you. These pancakes are decorated with ricotta and parmesan cheese, lemon zest, and blueberries.
But their pancake line up is stacked with incredible options. You can go with something classic like the Chocolate Chip Pancake or the Fluffy Pancake. If you're a little more adventurous, try the Lemon Ricotta, the Harvest, or the Supreme Pancake. Pair any of these with a milkshake, Tom's Famous Egg Cream, or Tom's Famous Cherry Lime Rickey.
It's definitely best to visit the original Tom's on Washington Ave in Prospect Heights since the Coney Island location has seasonal hours.
New York Times called Tom's, "Brooklyn's Great American Diner." They also stated that Tom's is, "One of those very rare places that feels welcoming to all who enter."
Tom's is without a doubt one of the best old school diners in Brooklyn, they even have a second location on the Coney Island boardwalk.
See more at the best ice cream shops in Brooklyn.
Patsy's Pizzeria
View this post on Instagram
Downtown Brooklyn
I'm going into my 5th year living in Brooklyn and this is still one of my favorite places to eat in Brooklyn. Although they are famous for just about everything on their menu, Patsy's is home to one of the most delicious and somewhat unique type of pie. This masterpiece is the Alla Vodka Pizza.
If you love Vodka sauce, this is the perfect pie for you. It's 8 slices for $24, which is great for a New York dining experience. Although I usually order it plain, feel free to dress up your pie with any toppings you like!
In addition to the Vodka Pizza, I always get a meatball appetizer and a side of the supli, which are rice balls.
Check out their fantastic list of wines, beers, and cocktails for the ultimate dining experience.
Something else that's important when looking for Brooklyn food is the vibe of the establishment. This place is a classic Italian spot with a strong connection with the community.
I've been dining here for three years and they remember me and my exact order each time I walk in. This is the kind of service that keeps New Yorkers coming back.
It's a great place if you're balling on a budget but looking for some fine dining in NYC.
Time Out Market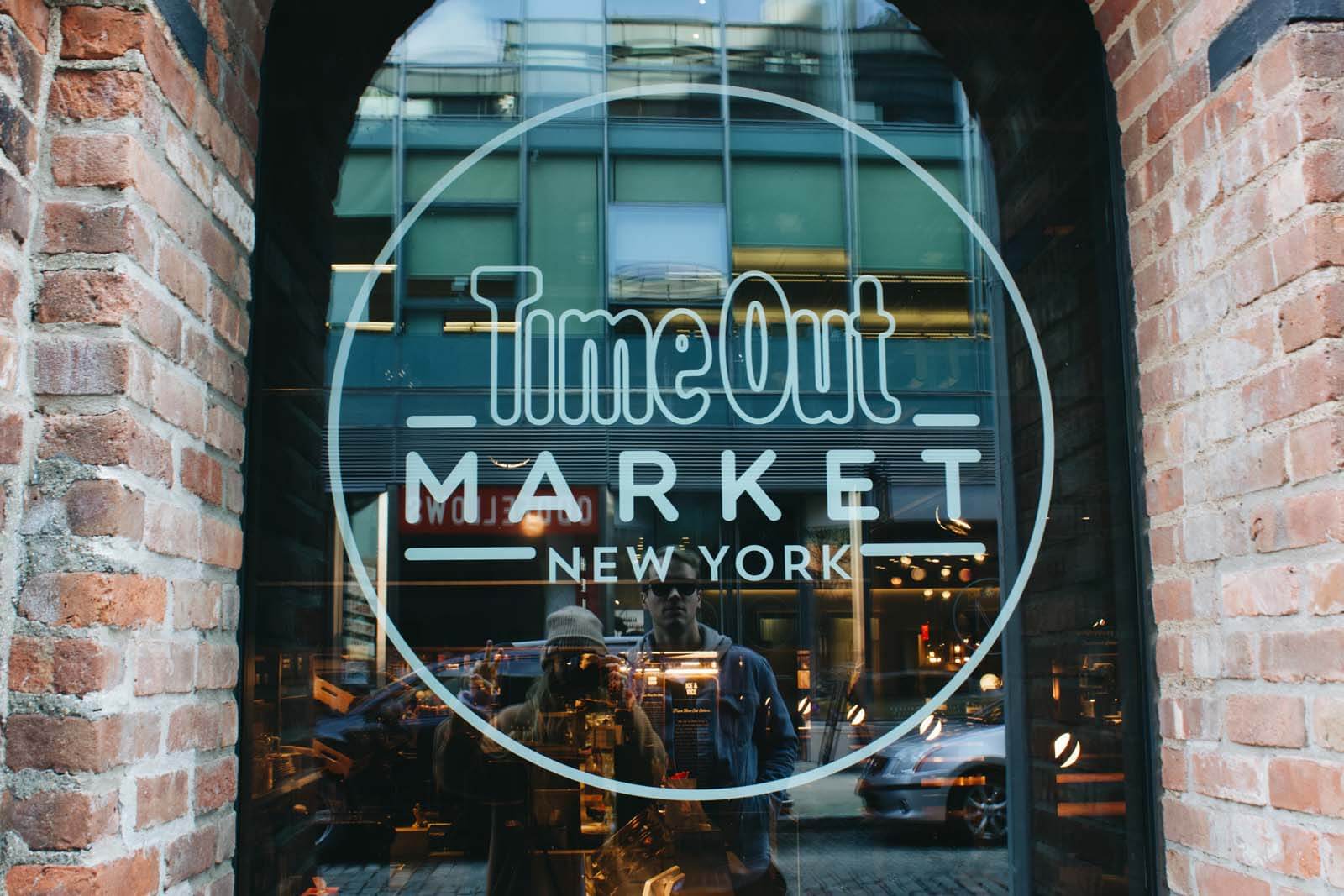 DUMBO
If you can't decide among all the delicious Brooklyn food options, I would easily recommend Time Out Market along the waterfront in DUMBO which is semi-new to the city opening 2019 in the Empire Stores building on Water St.
Although DUMBO has been known for their insane amount of delicious restaurants, Time Out Market has kind of become a staple for the neighborhood because it has a collection of the best Brooklyn food and NYC food all under one roof.
Time Out has 21 different vendors with all types of cuisines and cultures all packed under one mouthwatering roof representing some of the best flavors of the city at these secondary locations. What's great about these food halls is that you can find some of the most iconic places to eat in Brooklyn & NYC here and everyone in your group can order something from different stalls pleasing different taste buds!
A few examples of what you can find here are:
Jacob's Pickles— This vendor is all about southern comfort food, which we all love. They're known for their Nashville Hot Chicken, Mac n Cheese, pickles, and even their fried Oreos!
Clinton St. Baking Company— This is my personal favorite! A wonderful spot for breakfast widely known for their blueberry pancakes!
FELICE Pasta Bar— Fresh out of Ma's oven style Italian, don't bother flying to Italy, New York has everything you need.
Time Out is also home to one of the best bars in DUMBO, we prefer the one on the upper level since you have epic views of the Brooklyn Bridge, NYC city skyline, and Brooklyn Bridge Park.
Something else that makes Time Out special, is that it has the second Juliana's Pizza location on their fifth floor. This is great for those who don't want to wait in a long line outside the original restaurant.
Also on the fifth floor, customers can enjoy a brew from the indoor bar while taking a seat with the best view in New York City. The fifth floor of Time Out has a gorgeous outdoor terrace that overlooks the bridges and the East River. It's also completely free.
So what are you waiting for? This spot has some of the best food in Brooklyn all in one spot! Perfect for anyone short on time but still want to try the flavors of the city.
Keep in mind that Time Out is cashless! You must pay with card at every vendor except for the bars.
Dekalb Market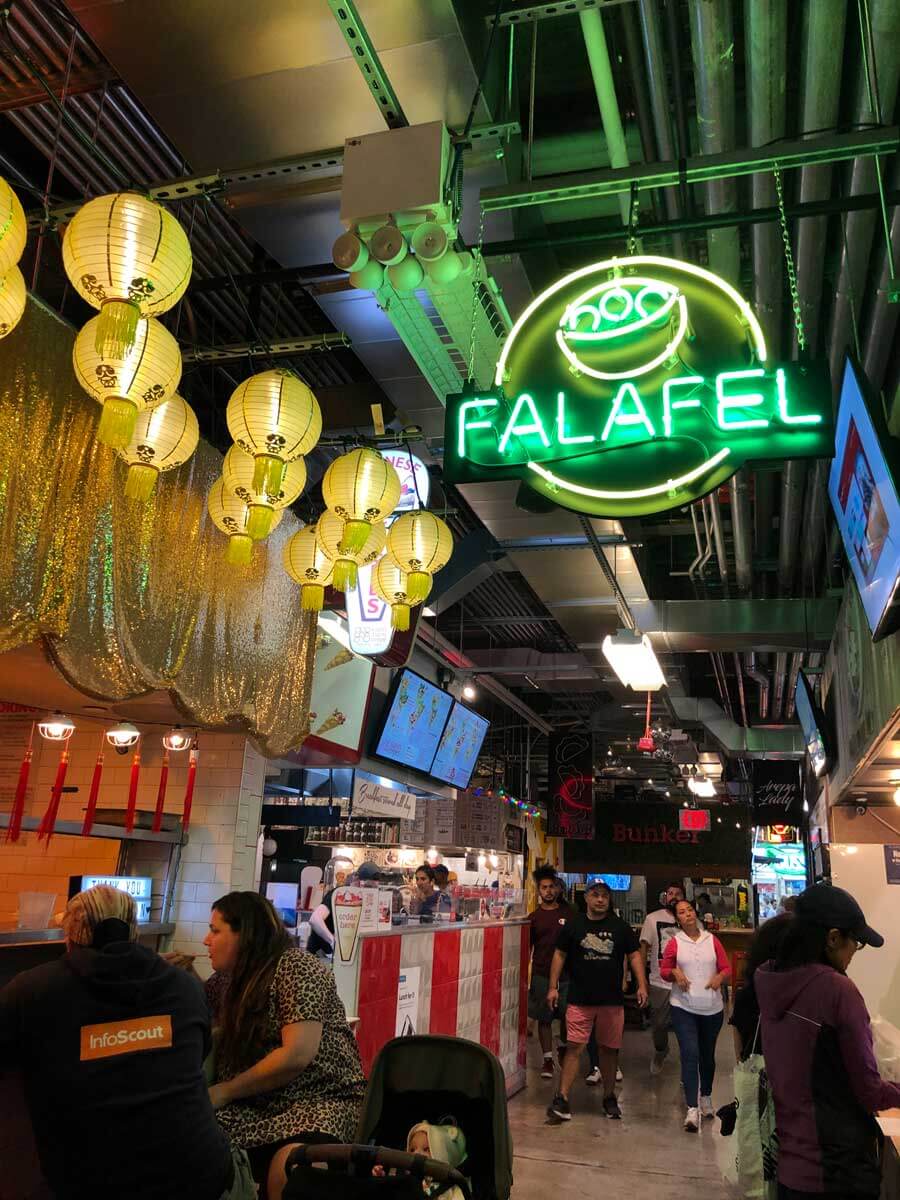 Downtown Brooklyn
This Brooklyn food hall is near and dear to me. Since I'm located in Downtown, this is my GO-TO. Whenever you aren't sure what you're in the mood for, Dekalb Market will decide for you.
Similar to Time Out Market in DUMBO, Dekalb Market has over 40 vendors in their 27,000 square foot space. It's located in the basement of City Point and when it opened in 2017, Brooklyn started to see a lot more people crossing the bridge.
Dekalb is packed with famous local and regional eateries, bringing fabulous cuisines from different cultures all over the globe.
Most known for their Taste of Katz's, which is the only secondary Katz's Delicatessen location. The original delicatessen is located on Houston (pronounced House-ton) Street on the Lower East Side. Established in 1888, this is the most famous place in New York to get some world class pastrami and a famous star in the movie When Harry Met Sally.
If pastrami isn't your thing, I'm sure Dekalb has something that is your thing.
Some more of the other popular options are:
Daigo Handroll for all your sushi cravings
Pierogi Boys for a delicious Polish meal
Eight Turn Crepe for Tokyo style street food/dessert
Han Dynasty for delicious Chinese food, also one of the restaurant style vendors in Dekalb.
The list goes on! Dekalb Market also has bars and live music, it's the perfect place for a date or a night out with friends. This is definitely one of the best places to eat in Brooklyn and easy to please a crowd since everyone can pick food from different vendors!
Brennan & Carr
View this post on Instagram
Sheepshead Bay
Calling all hot beef sandwich lovers, this next pick for where to eat in Brooklyn is for you. Brennan & Carr opened up in 1938 in Sheepshead Bay and has always been very popular among the people in the neighborhood and even drawing crowds to enjoy their famous Brooklyn food. They pride themselves on their strong relationship with the community.
The building is made of brick and is definitely old-fashioned. It may just be me, but it kind of gives me medieval times vibes.
Many New Yorkers may be familiar with Roll-n-Roaster, but most Brooklynites actually prefer Brennan & Carr for their hot beef sandwiches soaked in broth.
And if you've never heard of Brennan & Carr, Eater NY actually named their roast beef to be one of the top 25 things you can eat in New York. They actually wrote an entire article about this historic Brooklyn food spot.
In addition to serving up some of the best sandwiches in Brooklyn, customers love their charred hot dogs and blueberry pie à la mode. They also serve wine and beer here!
Nargis Cafe
View this post on Instagram
Brighton Beach
Next on our list of places to eat in Brooklyn takes our tastebuds to Uzbekestaqin through the food at Nargis Cafe. They serve a variety of Russian, Uzbek, and Middle Eastern cuisines and also offer some great vegan options on their menu.
Nargis Cafe opened its doors in 2007 and have been giving New Yorkers a unique opportunity to step into Central Asia culture through your tastebuds along with a welcoming dining atmosphere.
They are most famous for the Manti, which is a popular dumpling among multiple cultures. The dumplings usually have some sort of meat combo and can be boiled or steamed. They are homemade here at Nargis and have made customers come back year after year.
They are also known for a wide variety of different foods
spiced salads
samsa, which are steamed meat dumplings
plov, which is lamb meat with rice, carrots, and chickpeas
a variety of shish-kabobs made with the highest quality meats
and so much more
The restaurant is beautiful on the inside and out and has such a warm and welcoming environment. Add this unique Brooklyn food experience in Brighton Beach to your bucket list.
Ba Xuyen
View this post on Instagram
Sunset PArk
Very famous for their Vietnamese sandwich, the Banh Mi, New Yorkers will suggest you do not pass up an opportunity to eat at this Brooklyn food stop!
A Banh Mi sandwich traditionally includes cucumber, pickled carrots, onion, cilantro, peppers/chilis, and a protein. If you're not that adventurous with your food, you can get a grilled chicken Banh Mi and choose whether you want it spicy or not.
The best part of this incredible must try Brooklyn eats is the price point. You can get a filling sandwich here for around $6!
Although Ba Xuyen seems to be a hole in the wall in Park Slope, most people will consider this spot to have the best Banh Mi in New York.
As we've learned so far, Brooklyn has some real hidden gem restaurants. Add this one to your Brooklyn food bucket list ASAP!
Gino's
View this post on Instagram
Bay Ridge
If you're wondering where to eat in Brooklyn, you can never go wrong with Italian.
Gino's in Bay Ridge has been family owned and operated ever since its opening in 1964. When Gino's first opened, it started out as a tiny pizzeria with just 4 dining tables. Today it has 3 different storefronts with about 100 tables.
One Brooklynite told me, "You know the quality is amazing when some of the waiters have been there for over 30 years."
I can personally vouch for the amazing service and even better food, I've been here a number of times and it's easily one of the best places to eat in Brooklyn.
Gino's is well known for their pastas, like gnocchi and my personal favorite, the rigatoni with grilled chicken and peas in vodka sauce. They're also known for their calamari!
If you're not a huge pasta person, don't be afraid to try the chicken parm. You can order it with pasta or french fries, and getting fries at an Italian restaurant may sound odd, but somehow it just makes sense.
Don't forget to add some orders of rice balls even if you don't see them on the menu, they're basically a secret menu item.
Gino's has a full bar and a classy vibe. Perfect spot for an elegant night out with friends or a date night.
Sweet Chick
View this post on Instagram
Williamsburg & Prospect Heights
This Brooklyn food establishment opened its doors in Williamsburg back in 2013 and have since been widely known for their fried chicken and waffles.
They are also home to one of the best fried chicken sandwiches in NYC. One customer loved her sandwich so much she posted, "Those of you hung up on the Popeyes Vs Chick-Fil-A need to get a grip and try this Lil Sweet Chick."
Customers rave about the rustic vibes and welcoming environment. It's also known to be a hot spot for brunch. So if you're wondering where to eat in Brooklyn on the weekends, look no further!
People come from all over to try Sweet Chick, so customers can expect to wait in line but it's totally worth the wait. Sweet Chick is also known for their awesome cocktails, so don't forget to order one!
Chadwick's
View this post on Instagram
Bay Ridge
Chadwick's is one of those hidden gem places to eat in Brooklyn. Since Chadwick's doesn't rely on advertising for their business, they get customers based on word of mouth, which is a lot more valuable to New Yorkers.
Chadwick's Restaurant serves high-end and delicious American cuisine for a reasonable price, which isn't always easy in this city. They offer such an elegant atmosphere, perfect for a lovely night out with family or a significant other.
When it comes to the food, Chadwick's is well known for their flavorful meat entrees. A few examples are the filet mignon, black Angus rib steak, or the Long Island duck, and so much more.
They also offer a special fixed price menu, which is very popular among families looking for a nice meal.
I've been to Chadwick's a few times and it is definitely one of my personal favorites and highly recommended places to eat in Brooklyn.
L&B Spumoni Gardens
View this post on Instagram

Gravesend
Another pizzeria makes the list for best Brooklyn eats, are you surprised?
L&B Spumoni Gardens opened up in 1939 in the neighborhood of Gravesend, Brooklyn. They have been family owned and operated through four generations now. They're most famous for their thick Sicilian square slices.
Visitors come from all over to try this Brooklyn food spot even though it is quite the hike from Manhattan and even Downtown Brooklyn.
They have a dining room and a large outdoor seating area, so there's plenty of space for all you pizza lovers.
Their website says a DUMBO location will be coming soon, so keep an eye out for this pizza gem!
I don't know about you, but I'm absolutely adding Spumoni Gardens to my Brooklyn eats bucket list.
Ferdinando's Focacceria
View this post on Instagram
Cobble Hill
Next up on our top picks for where to eat in Brooklyn is this authentic Sicilian in Brooklyn since 1904! Ferdinando's is most famous for the vastedda, which is a Sicilian baked sandwich made with spleen, ricotta and grated cheese, on a delicious roll. Some OG Brooklynites will say it's totally normal to order your vastedda without the spleen, I know I would.
Next on their list of Sicilian hits is the panelle. It's similar to the vastedda, but it is made with chick pea flour and is deep-fried. The panelle is everything a vegetarian dreams of.
In addition to these special dishes, Ferdinando's serves many classic Sicilian dishes that you will love.
Ferdinando has such a classic old-fashion New York vibe, it's a must when looking for places to eat in Brooklyn!
Habana Outpost
View this post on Instagram
Fort Greene
Habana Outpost does not only serve amazing Mexican and Cuban style cuisine, they thrive on bringing their community together, which is why I love it so much!
They are most famous for their Mexican style corn served with cotija cheese, chili powder, and lime. Customers also love their Cuban sandwich. It is roast pork, ham, swiss cheese, pickles, and chipotle mayo.
I personally love their tacos! Long story short, you will not be disappointed with Habana's menu.
Habana Outpost is one of the best places to eat in Brooklyn on a beautiful day, or any day really. But they do have a lovely outdoor seating area which is why we love this Brooklyn food spot on those gorgeous weather days.
They are also open as late as 12 AM, which makes for the perfect midnight snack.
Be sure to also check out all the best things to do in Fort Greene while you're at it too!
Patrizia's
View this post on Instagram
Williamsburg
Last but certainly not least is Patrizia's in Williamsburg. My boyfriend and I have put almost everyone we know on this restaurant, and hopefully you're next!
One thing about Patrizia's that arguably blows every other Italian place out of the water is the environment.
Although people are usually packed pretty tightly in here, most customers don't even mind because of how much fun they're having.
You get to listen to some awesome oldies music and when it's someone's birthday, everyone in the entire place waves their napkins around while a loud birthday song plays over the speakers. It's an amazing place to let loose and enjoy some delicious Brooklyn eats with your friends, family, or significant other.
If Italian food is your thing, you won't want to hesitate on getting to Patrizia's. They have a large menu with a lot of delicious items. They have a variety of pizzas, paninis, salads, pastas, and more!
My favorite dish is the Penne Alla Vodka, the portion is big enough to share and the sauce is to die for. Another popular dish is the Chicken Parm, this is usually what my boyfriend gets and the chicken is usually hanging over the side of the plate, that's how huge the serving size is.
The best thing about Italian food in New York is that it's usually family style, and at Patrizia's you can get large portions for a great price.
They also serve a mean pitcher of Sangria here and don't be afraid to get some dessert. Easily one of my favorite places to eat in Brooklyn.
Table 87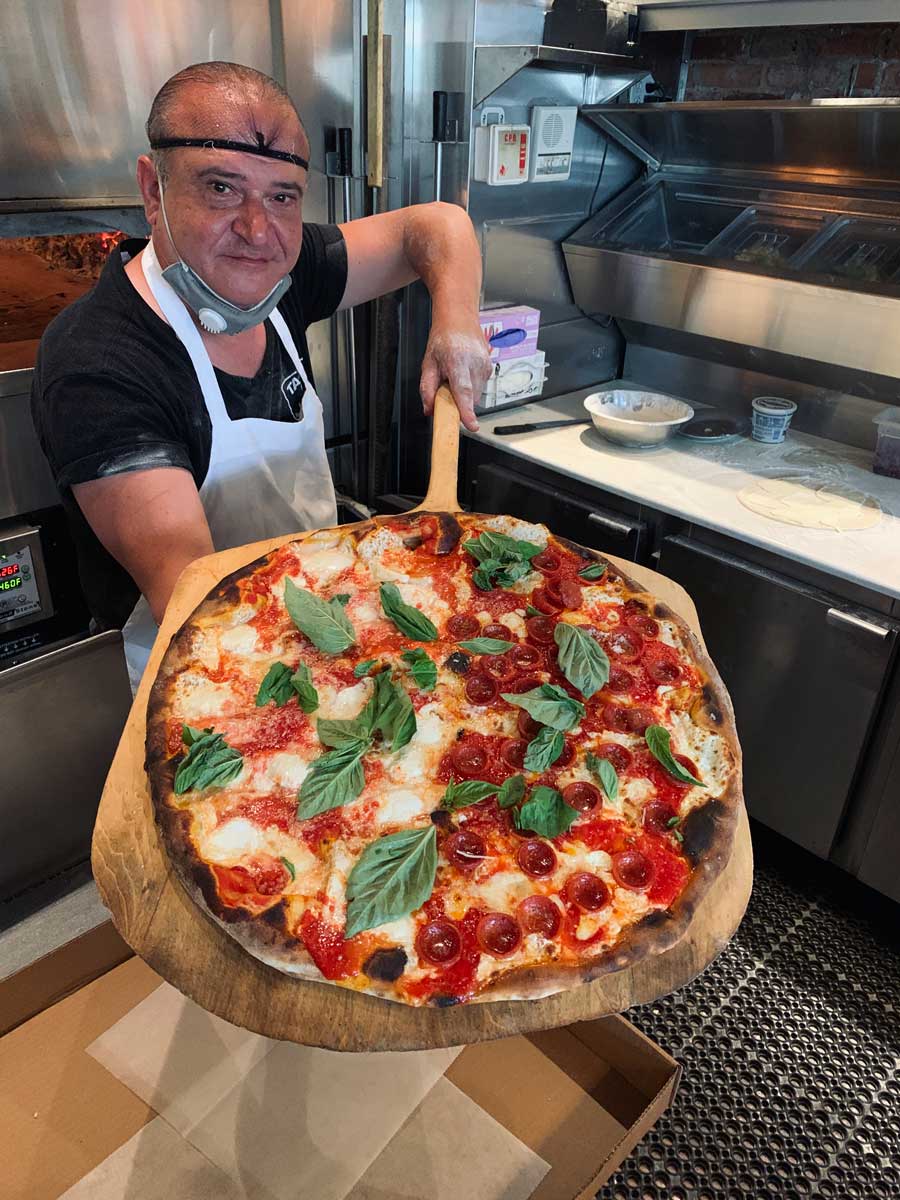 Gowanus
Another favorite place to eat in Brooklyn that happens to be another pizza spot, what can we say that's one of our best Brooklyn eats, is the incredible coal oven pizza at Table 87. Try one of the specialty Brooklyn coal oven pizzerias that are highly coveted in the city!
The reason you find alot of the best pizza in all of NYC in Brooklyn is because coal oven pizza stoves were made illegal in Manhattan. A few pizzerias were grandfathered into keeping their coal oven pizzerias open in Manhattan because they were around before the law which is why you can find a few rare coal oven pizzerias in Manhattan, but most of them in Brooklyn!
There's something so special and unique about the flavors you get from a coal oven as well as the famous NYC pizza dough. Add some amazing toppings like burrata and roasted garlic as toppings at Table 87 and you have one of the best pizzas you'll try in your life.
A fun fact about Table 87 is that the owner made an appearance on the popular Shark Tank show where he pitched their famous pizza as frozen coal oven pizzas that could be shipped around the country! I won't give any spoilers though, you'll have to watch the episode to see how it all went down!
In the meantime, head to Table 87 while exploring all the best things to do in Gowanus, their pizza is perfection!
Defonte's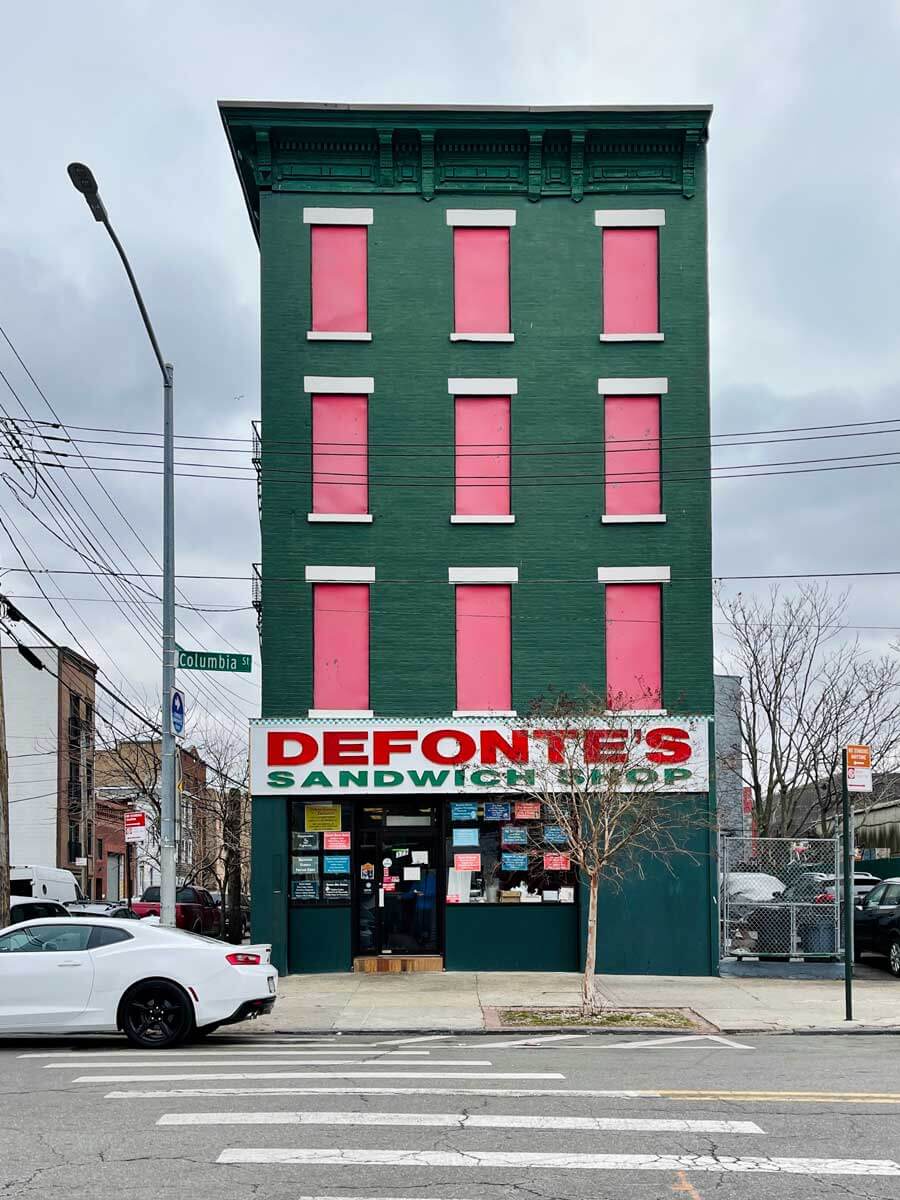 Red Hook
Three generations of Italians later, this is iconic Brooklyn eatery remains legendary in the NYC eats community even after 100 years of business. While their pasta dishes and classic salads are also notably tasty, it's Defonte's old school Italian deli combinations that earned the community's admiration offering up some of the best sandwiches in Brooklyn.
Customers report that the deli's Golden Boy (chicken, fresh mozzarella, and flavorful prosciutto smothered in vodka sauce) is so scrumptious it's hard to accept you're not dreaming.
Portions are huge. Sandwiches are excellent. Customer service is impeccable. Stopping by Defonte's is a no-brainer. But be sure to preface your visit with a trip to the ATM. Defonte's is a cash only business!
---
Did we miss any of your favorite Brooklyn eats? Let us know in the comments below. Found this post on the most iconic places to eat in Brooklyn and best Brooklyn food to try?! Bookmark for later or share the love below on Pinterest!