Industry City in Brooklyn is one of the coolest, under-the-radar spots in the city for dining, drinking, art, and seasonal entertainment bringing new life to the former industrious warehouse complex near the waterfront of Sunset Park.
While things seem to be always evolving here with new restaurants, shops, artist studios, events, and more empty warehouses getting ready to be converted into growing the space, you can expect to keep a watch on this area and see the changes in the coming years.
From what to do, see, eat, and drink, this guide to Industry City in Sunset Park will help plan your visit. Trust us, you'll want to think about what you're going to eat at the bare minimum because once you get here, there are so many decisions it's hard to choose!
Another thing to love about Industry City events and visiting is that each season it changes, no two visits are the same. The space collaborates with artists to not only bring art to the walls of Industry City, but also decorate with temporary installations from spooky skeletons in the fall to creating a charming winter snow globe village around the holidays, and even decked out with hearts at Valentine's Day.
About Industry City
Located in the South Brooklyn neighborhood of Sunset Park, Industry City has it all!
What now consists of 16 different buildings spread across 35 acres used to be a large industrial space that was established back in the 1890s. Then called Bush Terminal, this space was used for manufacturing and distributing. When the manufacturing biz started to take a hit in the 1960s, the complex was no longer serving its original purpose, leaving a large empty space with endless possibilities.
In the 2010s new owners took on this project to revamp this area and build the Industry City that we know today! Since then space has become home to over 550 companies and there are more than 50 retailers and eateries.
Visitors can relax in the courtyards between buildings in the ample amount of space and areas designed for seating, dining, and playing for all ages from kids' areas to mini-golf, fire pits, and outdoor yoga classes.
The Space & Artist Community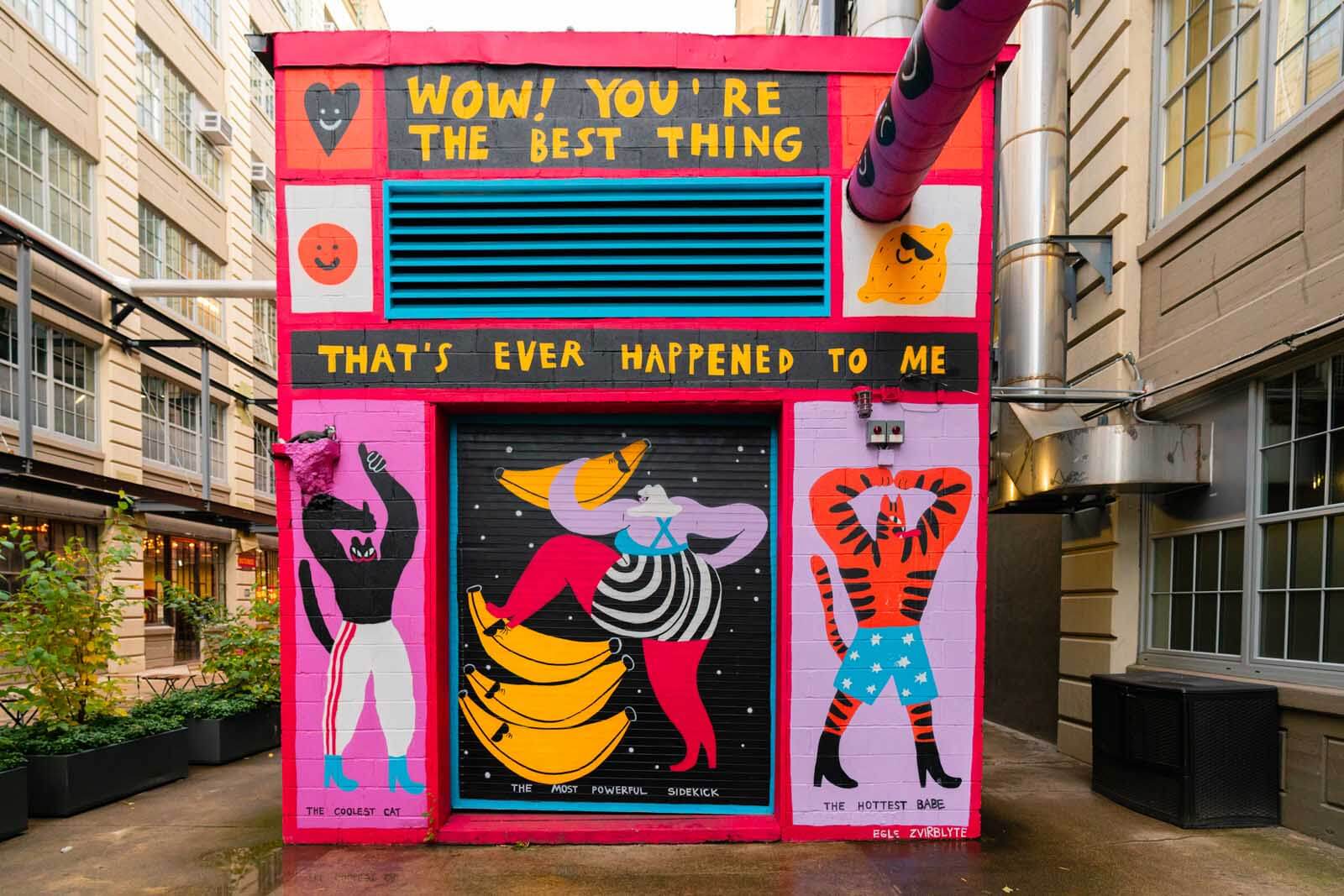 The space is the most jaw-dropping aspect of Industry City in Brooklyn. The former warehouses converted into a lifestyle and entertainment gathering place teeming with creatives created an atmosphere that will have you wanting to stay for hours on end to enjoy their multi-use indoor and outdoor campus full of restaurants, murals, places to get a drink, shop, and hang out to just socialize in between.
One of their best-shared spaces for lounging is the courtyards. This space is spread out over five full acres of land and it is a beautifully furnished outdoor area. Perfect for socializing, taking a snack or coffee break, and it is also where they host a variety of Industry City events, which we will cover more extensively later in this guide.
In addition to the courtyards, there is a communal lounge called The Landing where people can relax, play games, and enjoy each other's company. This spot is also used as an occasional event space.
Lastly, there is Innovation Alley which is not only used as a pedestrian path, it also helps connect all of the indoor and outdoor spots. Ultimately it links the campus together.
In addition to the outstanding lounge space, Industry City in Brooklyn also serves as a platform for the up and coming and established artists and visionaries.
If you're planning a trip to Industry City Sunset Park, you can download their art tour map, the art displays at Industry City are founded on The Collision Project.
"The Collision Project is a diverse and flexible testing ground for artists and visionaries of all disciplines to collaborate and discover at Industry City. We nurture art as experience, not as an object, and facilitate and activate new areas of co-creation."
You can find more about The Collision Project on their Instagram page and the Industry City Sunset Park website.
Industry City Dining
The best thing about dining at Industry City in Brooklyn is the fact there is something for every mood and occasion. Whether you're looking for something quick or more of a sit-down, there are options!
First, the food hall, which has everything from coffee to savory eats. So let's briefly dive into our options which are satellite locations for popular eateries around the city!
Food Hall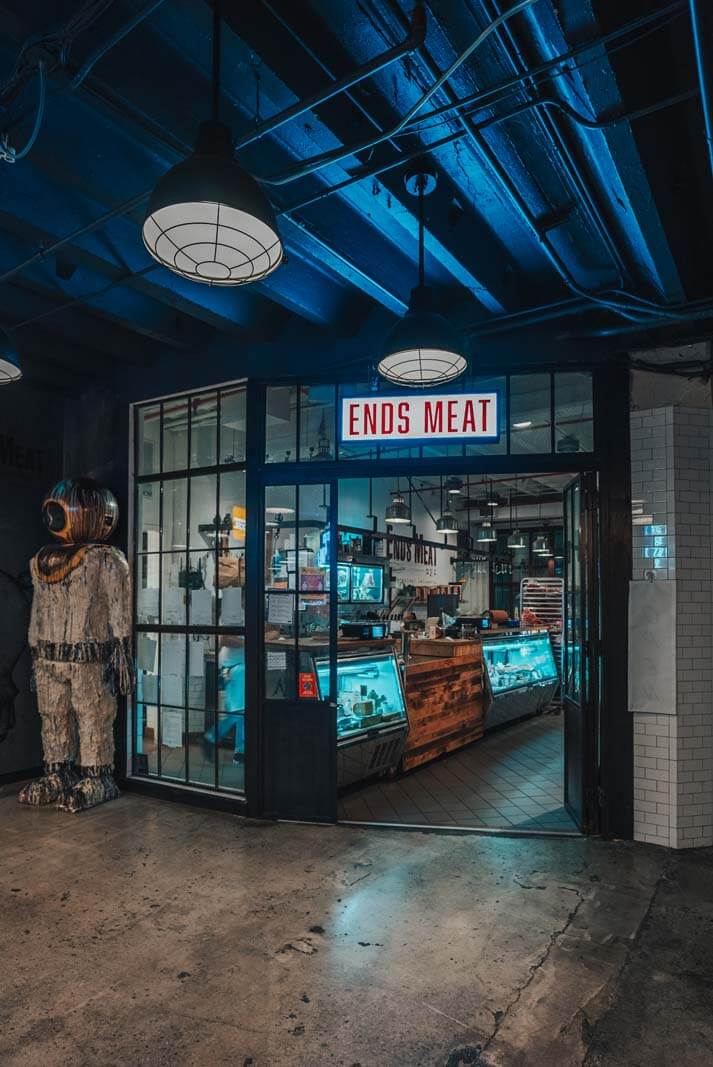 Bangkok Bar— Although it may be self-explanatory, this eatery provides savory eats from Bangkok to Brooklyn! Stop here for some delicious Pad Thai or even some Thai-inspired adult beverages.
Burger Joint— After working up an appetite around Industry City in Brooklyn, give Burger Joint a try if you're craving an American classic, hand-pressed burger popularized from the hidden restaurant in Le Parker Meriden in Manhattan. Don't be afraid to add one of their select beers on tap or a yummy cocktail.
Ejen: Korean Comfort Food— Labeled one of the "Absolute Best Restaurants in Sunset Park," Ejen is a great pitstop to make while visiting Industry City. This restaurant has brought the idea of Korean comfort food from Seoul and Los Angeles all the way to our lovely Brooklyn. They offer a variety of rice and noodle dishes, meat and fish entrees, specialty teas and so much more!
Ends Meat— This butcher shop offers fresh and local meats raised on family farms located in both New York and New Jersey. They specialize in dry-cured meats, which have been inspired by European traditions.
They offer pork, beef, and chicken as well as fresh vegetables delivered from local farms in New Jersey each week. When dining at Ends Meat, you can count on responsibly sourced food while supporting local farms not to mention they have some of the best sandwiches in Brooklyn!
Kotti Berliner Döner Kebab— Interested in trying some German eats without hopping on a plane? Good, because in the word of Döner Kebab, there are "No passports required," to eat from their delicious German menu.
This is a fantastic option for those who are looking for something a bit more on the healthy side. Döner Kebab offers a variety of bowls, salads, wraps, and sandwiches with either chicken or beef. You can find another Döner Kebab location at our beloved Dekalb Market Hall in Downtown Brooklyn!
One Girl Cookies— You've heard us mention them before for their three locations in Brooklyn, but it's time to check out One Girl Cookies at Industry City Sunset Park. This is the perfect spot for a pick-me-up. Whether that's a coffee or some sort of baked good, One Girl Cookies will not disappoint!
Renegades of Sunset— This eatery is 100% vegan and 100% added to my Brooklyn eats bucket list! You can find almost anything on their menu as you would at any regular restaurant, except all of their options are considered to be "compassionate and sustainable." In addition to their clean eats, almost everything on their menu is made in-house. From mac n cheese to a chicken parm hero, Renegades definitely has something you will love. And it's all 100% vegan! Can you believe that?!
If you're on a plant-based diet be sure to also check out our guides to the best vegan restaurants in Brooklyn and the best vegan restaurants in NYC.
Supernatural Cafe— Supernatural Cafe is not your typical eatery, so I wouldn't recommend this spot if you're looking for a burger and fries. What it is good for though is some holistic health coaching and a variety of products and goodies that are great for self-care. Supernatural Cafe is all about getting your mind and body right through what you put into it!
Table 87— With three locations in Brooklyn, we are pumped that Table 87 is serving up its best pizza in Brooklyn at Industry City. What's awesome about this location is that plenty of visitors get to try the legendary Table 87 slices as well as calzones, sandwiches, and beer at their convenient counter-service restaurant. If you have a hard time deciding what to eat at Industry City, you can never go wrong with a slice.
Taco Mix— As you can already tell, the options at Industry City Sunset Park seem to be endless. But it gets even better. How about a taste of Mexico right here in Brooklyn? Taco Mix offers incredible Mexican food options such as savory tacos, sandwiches, chimichangas, tostadas, nachos, and more all available with a variety of meat choices.
They even serve breakfast burritos, making this the perfect stop no matter what time of day it is! Don't forget to add a drink, some salsas, and maybe even some flan!
Taza MKT— The variety continues with Taza MKT. This spot serves Indian food home cooking style. Taza MKT aims to serve more authentic Indian food, which is typically lighter and healthier. Enjoy either pork, lamb, or chicken for meats with a variety of sides and vegetables.
Powerhouse at IC— Not food, but available by the food hall in Industry City is another location to one of the most popular bookstores in Brooklyn.
You may be familiar with the Powerhouse location in DUMBO, well now you need to check out this iconic bookstore and more at Industry City Sunset Park. While you're there and browsing, you can snag some coffee drinks or partake in some spirits tasting!
Beyond the Food Hall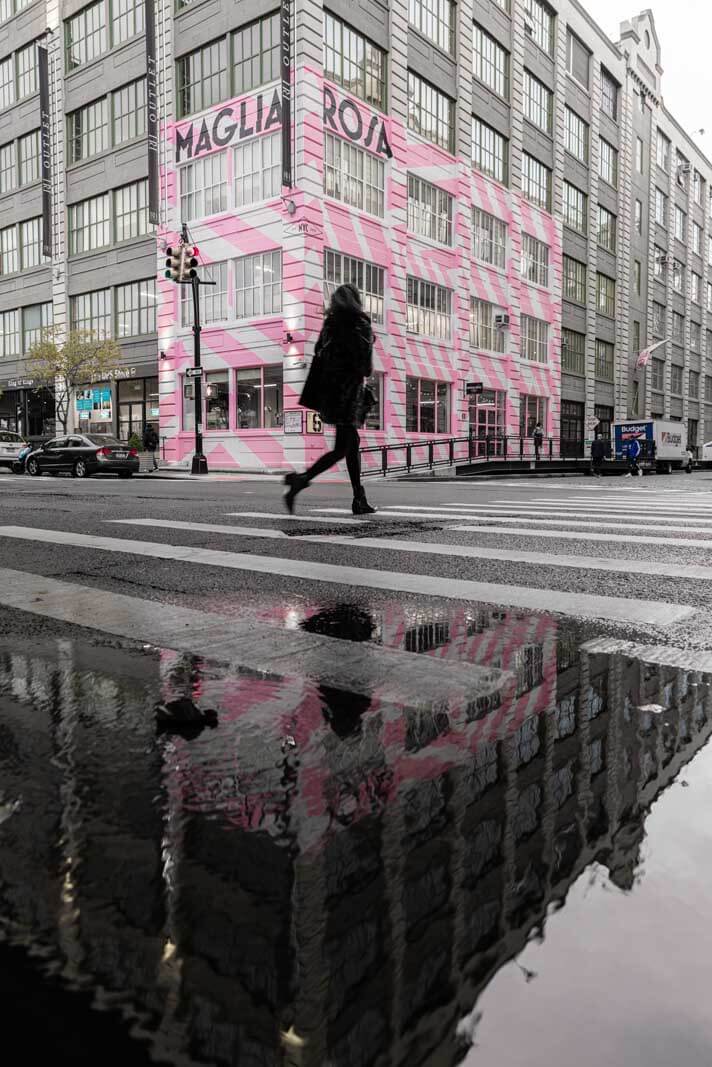 Colson Patisserie— Colson is an awesome one-stop-shop if you're looking for a quick bite or coffee on-the-go. This Belgian bakery offers a variety of pastries to hold you over as well as to-go sandwiches and salads. Don't forget to add that caffeine boost! They have some can't miss specialty lattes, coffees, and some herbal teas.
They also have another location which is one of our picks for best cafes in Park Slope!
Frying Pan Brooklyn— Frying Pan in Brooklyn is a great family-friendly option when visiting Industry City in Sunset Park. Known for their seafood and bar foods, there is something for everyone at Frying Pan.
In addition to their popular seafood items, they have short rib tacos, a watermelon salad (YUM), two different kinds of grilled cheese, and even some vegan options! You can't forget to visit their alcohol menu. They carry a wide selection of beer, both draft and canned, as well as wine and cocktails.
Gumption Coffee— Needless to say, there is no lack of coffee shops at Industry City in Brooklyn. Gumption Coffee is a neat spot in Brooklyn because the company started out as just a small café in Australia.
We would recommend Gumpton as another one of those perfect options for a quick bite or on-the-go kind of meal. They serve cold brew, espresso, lattes, and a number of other delicious drinks. In addition to the caffeine, they have some sweet or salty treats to choose from.
Hometown Bar-b-que—With its original location in Red Hook, Brooklyn, Hometown Bar-b-que in Industry City offers walk-up counter service to those craving some Southern-style eats. You can find all your Southern classics and favorites here.
Anything from brisket, pulled pork, ribs, to savory sides like mac n cheese, cornbread, and more. You just can't go wrong at Hometown Bar-b-que!
Japan Village— Japan Village serves Industry City in Brooklyn by providing visitors with an incredible cultural experience, or as they say, visitors can, "Take a trip to Tokyo without the jetlag."
Japan Village says they pride themselves on culture, community, and cuisine. Within Japan Village, you can find Sunrise Market, which is a marketplace where you can find products unique to Japan! This is the perfect place to stock up on grocery items like mochi, ramen, and Japanese ingredients.
Aside from the market, Japan Village has an entire food hall dedicated to sharing authentic Japanese cuisine with Brooklynites. The food hall has at least 10 different restaurants to choose from! Also included in this realm are two other Japanese spots, they are located in Building 3.
The first is Kurachi, a place for Japanese sake and spirits. Next is WakuWaku, this spot is a traditional Japanese izakaya, which is a type of Japanese bar for cocktails and snacks! They have also started to serve lunch sets and full dinner service!
Editor's Pick: Try the Gyudon at Moriya, Okonomiyaki at Hachi, or Ramen at Setagaya!
Yaso Shanghai Street Food— Yaso prides themselves on their fast and casual service, providing customers with amazing and authentic foods from Shanghai.
Industry City Yaso is just one of 4 locations scattered throughout the NYC area (one being in Jersey City). Yaso offers a number of different dumplings, noodle dishes with a variety of different meats or tofu, as well as some small plates and rice dishes.
Take Home
Li-Lac Chocolates— Good luck trying to resist a sweet treat from Li-Lac Chocolates during your visit to Industry City Sunset Park. This delicious and chocolatey company was founded nearly 100 years ago and offers over 120 variations of chocolate.
Their specialties seem to be small batches of chocolate and gift-able chocolates perfect for a Valentine's Day gift or any special occasion.
Moore Brothers Wine Company— Looking for a different kind of souvenir from Industry City? How about a special bottle of wine from all over the globe!
Moore Brothers offers wine options that are produced in a number of different countries across the globe. Visitors can choose a bottle from any of the family estates located in France, Italy, Germany, Spain, Argentina, and the U.S.
Another perk of visiting Moore Brothers is that their wine tasting table is open daily.
Sahadi's— Sahadi's is a Brooklyn institution and the original location on Atlantic Avenue is one of the best things to do in Brooklyn Heights. Sahadi's is a Middle-Eastern grocery store to bring flavors of the Mediterranean and Middle East to your kitchen as well as some of the best freshly made hummus in the city.
The Industry City location has not only a grocery store but also a food counter and bar so you can actually order a delicious wrap or a plate of a few dishes from their counter.
The bar offers a great walk up from the outside and a seating area that is available all year long, as a matter of fact they had the largest heated outdoor seating in Brooklyn during the winter!
Drinking at Industry City
If you're looking to indulge in some cocktails or other adult beverages during your visit to Industry City Sunset Park, in addition to all of the previous restaurants we covered, here are some great spots to check out.
Barrow's Intense Ginger Liqueur— This tasting room is a wonderful spot to unwind after a day of exploring Industry City. Barrow's offers comfortable outdoor seating including a fire pit and heat lamps. You can find live music here as well as New York City's largest selection of hard liquors from New York State, such as whiskey, gin, vodka, and brandy all paired with, you guessed it, Ginger Beer!
Big Alice Barrel Room—An NYC native brewery, Big Alice Barrel Room is a farm brewery that provides visitors with 14 different brews and rotating taps and board games. They also partner with a local restaurant to deliver food directly to your table while enjoying some fresh draft brews!
Brooklyn Kura— If you're looking for something a little different than your typical draft beers, give Brooklyn Kura a taste. This spot is a sake distillery and it's all brewed right here at Industry City in Brooklyn. Sake is sometimes referred to as Japanese rice wine because it is made by fermenting rice. Brooklyn Kura strives to make sake more accessible to all.
Fort Hamilton Distillery + Fortress Bar— This next bar began its venture in 2016 and prides itself on "America's original and finest whiskey style," which is New York Rye. In addition to their New York Rye, you can order all the basics like beer, wine, and other alcohol-free beverages.
Oldies— Oldies is another spot where you can find some sake. This Japanese cocktail bar loves to serve up some delicious drinks with a number of savory bar foods to choose from.
Standard Wormwood Distillery— This spot is perfect if you're looking for a little more from your bar experience. If you visit on the weekends, you can catch a tour and/or some tastings. This distillery and cocktail bar offers a plethora of options for its visitors. All of their liqueurs and spirits are made right here at Industry City.
Carreau Club – This adorable outdoor bar available in the summer months has drinks for sale and you can play a round of Petanque with friends found in the courtyard 5/6.
Industry City Shopping
With about 30 shops, the retail scene will definitely keep you busy while visiting Industry City Sunset Park. What we love about the shopping here is that there are many local boutiques and small businesses thriving here as well as a number of stores you already know and love.
While shopping in Industry City you can find anything from home decor to vintage clothing stores. You can also find record stores, a barbershop, a ceramics studio, and so much more.
As mentioned earlier, there's Powerhouse IC which is an independent bookshop in the city to browse titles, gifts, and other goodies located by the food court.
Head to Building 5 and make your way up the staircase to the second floor where you can find art galleries and artist studios as well as additional shops and even pop-up shopping showrooms from time to time known as the Maker's Guild.
A few of the noteworthy stops in this area include Micol Ceramics, a Mediterranean ceramic studio that has great gifts and home decor and Mr. Boddington's Studio, a cute stationery store to name a few.
On the lower level of Building 5, you can also find Imports from Marrakech with gifts and items from a Moroccan grand bazaar and Arcade Vintage which has a gorgeous selection of unique vintage pieces curated by the eye of a vintage collector.
If you're looking for designer accessories, Teresa Foglia has a studio, showroom, and shop here where you can get a customized hat by appointment Mondays through Fridays or pop in on a Saturday afternoon. The burning technique they use on their hats is fascinating if you get to catch a demonstration during your Industry City in Brooklyn visit!
Building 3 has HiFi Provisions Record Shop if you want to browse vinyl.
For the home, head to CityFoundry which has a gorgeous collection of vintage pieces for the home from lighting to furniture. There are also Restoration Hardware and West Elm furniture outlets located on the property as well as a Design Within Reach location which sells overstock items, showroom furniture, or gently damaged pieces at a lower price.
Murals and Art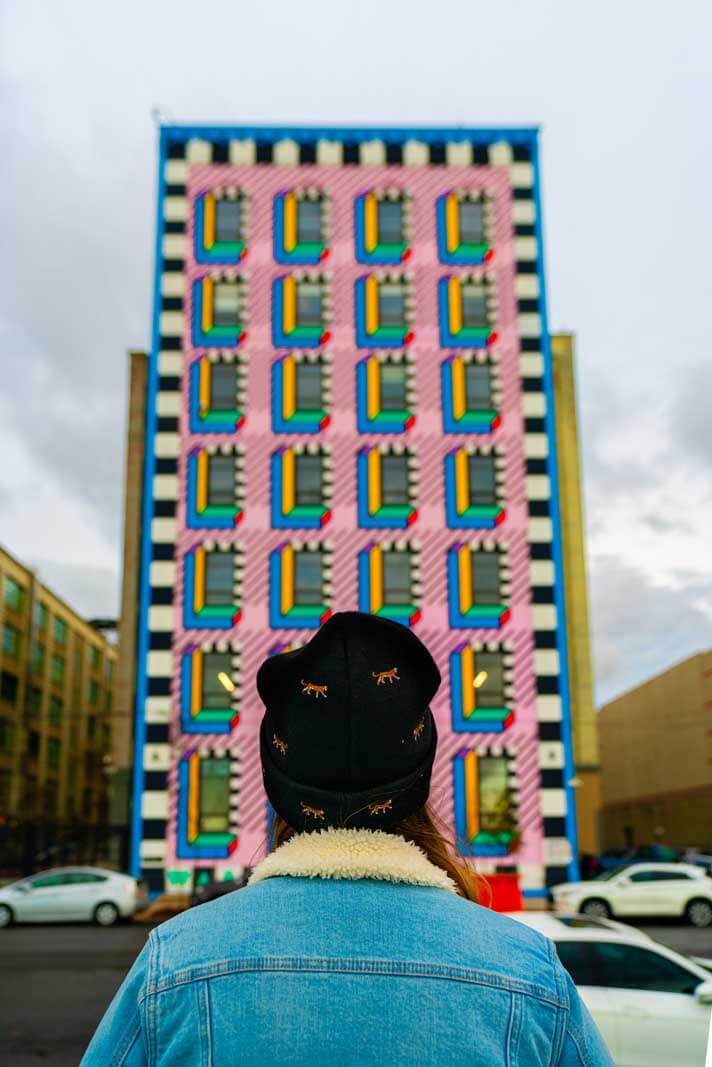 As mentioned earlier, there are tons of murals around the property known as the Collision Project with huge artists from all over the world like the giant 3D pop art mural covering an entire building by artist Camille Walala, Japanese inspired art by Japan Village by artist Lady Aiko, and 'Hottest Babe' by Egle Zvilbryte to name a few.
Exploring the best murals here, which can be found everywhere, is best done just by exploring the property because some of the best street art in Brooklyn are found here IMO.
Having so many murals and other collaborations with artists throughout the property really highlights the emphasis on fostering the creative community at this space.
As mentioned earlier, the Maker's Guild in Building 5 on floor 2 is also home to many artist studios and galleries that you can shop from too including Pigtown Atelier where you can get some fresh ink at this gorgeous tattoo parlor to a blacksmith studio at Nazz Forge.
Other Spaces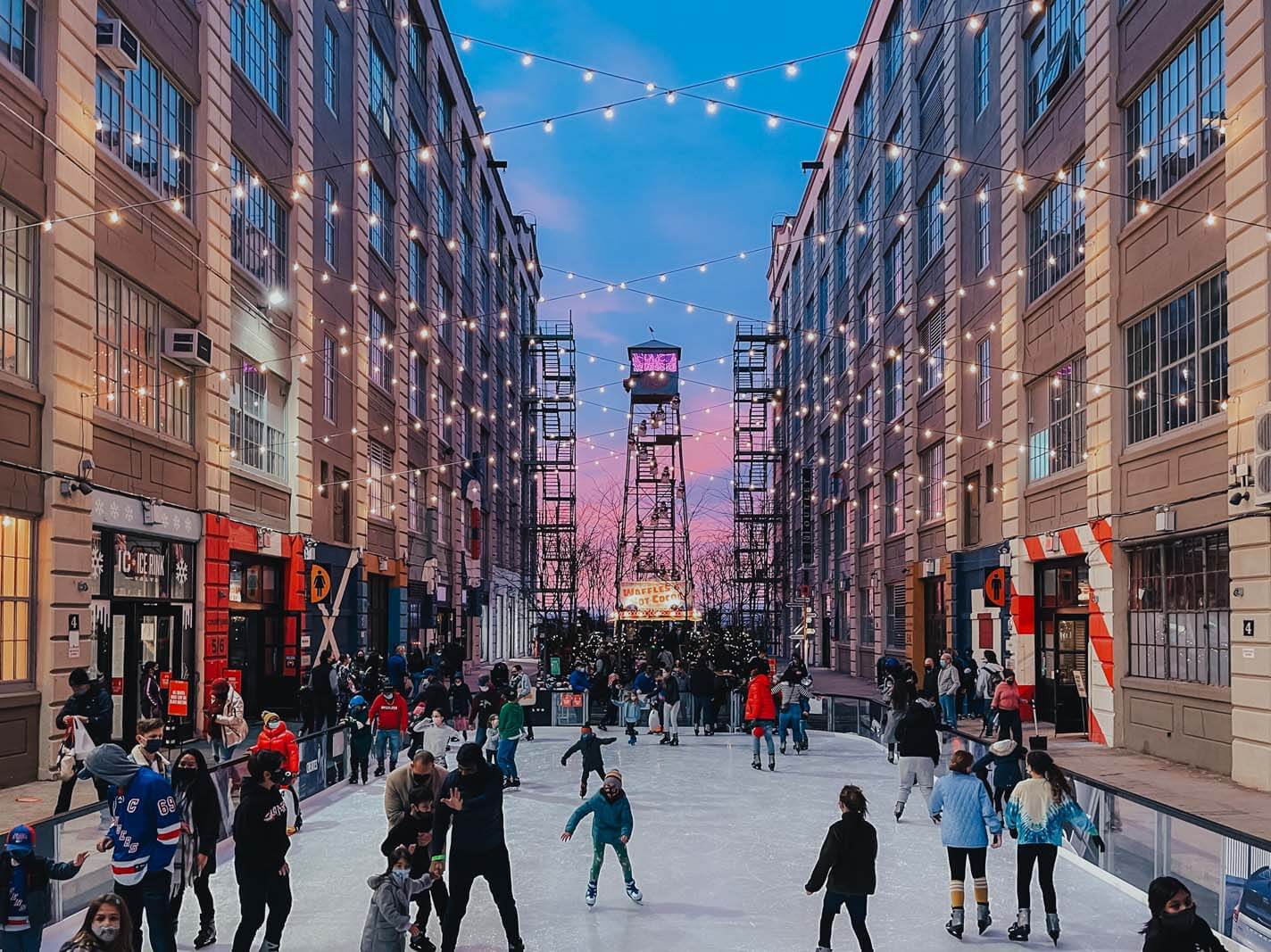 Besides places to eat, drink, and enjoy art along with shopping, Industry City in Sunset Park also has a few spaces that just don't quite fit with the other categories worth mentioning!
Camp David offers a beautifully designed co-working space where creatives, entrepreneurs, small business owners, and freelancers work from in a collaborative space complete with workspaces, on-site gym, content studio, and cafe.
If you're looking for extra storage in the city, Industry City in Brooklyn has that too! Once you are here you will understand how large this complex is and how much space there is which is great if you're looking for a convenient and great storage unit to rent at Extra Space Storage.
Mentioned earlier, but worth bringing up again are the seasonal festivities and events that take place. From live music and Oktoberfest celebrations to having one of the best winter ice skating rinks in NYC, there are always things to check out every season of the year. Industry City does a great job keeping their entertainment options stacked throughout the seasons making each visit different from the last, so be sure to check to see what is being offered during your visit or just show up and be surprised and know that no two visits will be the same.
Industry City Events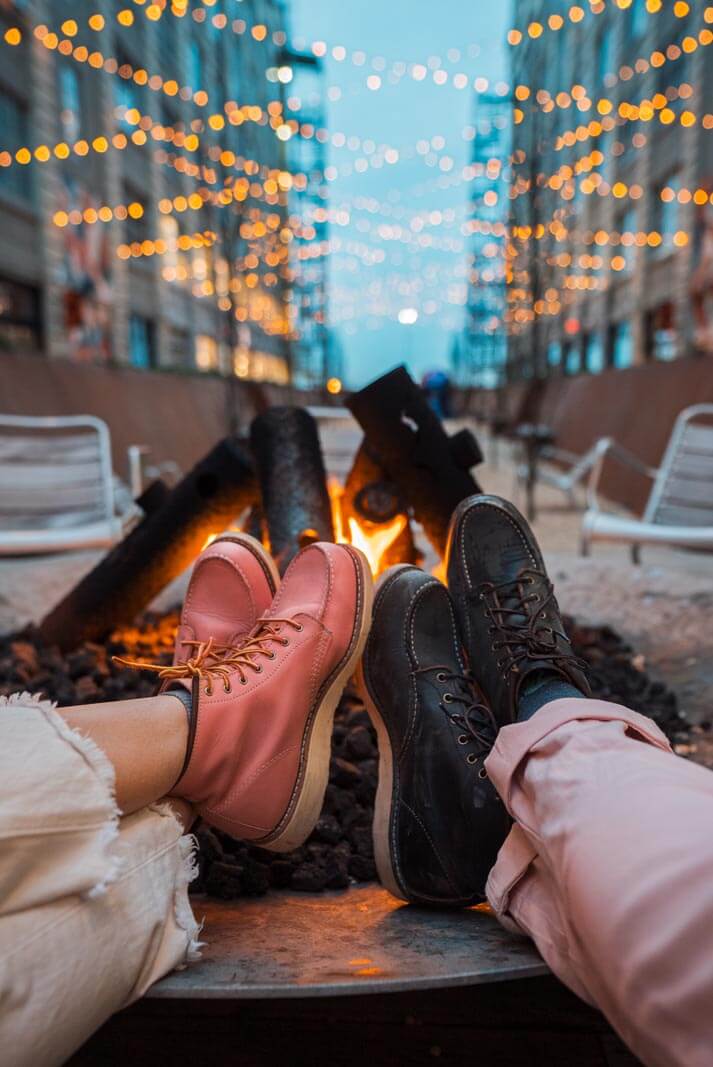 Another huge perk of taking a trip here is being able to partake in any and all Industry City events and seasonal happenings. You can always count on there being frequent live music events and just as many fitness events like Sunset Yoga or Crossfit in the outdoor courtyards in the warmer months.
Live music is pretty frequent, you will just have to check their calendar to see which businesses or what courtyard has a live performance during your visit – or you can probably stumble upon it as you are wandering the property.
Another one of the Industry City events we love is the "Artists & Fleas," events. Here you can find a marketplace full of work from amazing creators.
If you're looking to host your own event whether it's a corporate dinner, wedding, or a cool place for a commercial photoshoot you can rent spaces throughout Industry City meant solely to be used for events. There are multiple different size space venues available to rent including some of the public areas in the courtyards like the seasonal winter ice rink!
Getting to Industry City
Getting to Industry City couldn't be easier. If you're driving a car, there is free parking under the BQE, if you're driving here on the BQE you can get off on exit 23 and find street parking. There is also paid parking at Industry City available.
By train, you can get to Industry City in Brooklyn easily on the D, N, & R lines getting off at 36th Street Station, from here it's about a 5-7 minute walk. If you don't want to walk, look out for the Industry City shuttle bus which picks up at the subway stop and takes passengers directly to Industry City.
Another option is by bicycle. There are bike racks if you have your own bike, if you don't you can use CitiBike which has multiple docking stations around the property and is an easy ride from many spots in Brooklyn including Park Slope which is less than a 10 min bike ride away.