When thinking of DUMBO Instagram spots, these are the most popular DUMBO photography locations! DUMBO is known for being one of the most scenic spots in New York City, so of course, this is one of the best spots in Brooklyn to step up your Instagram game.
Also, see our guide to the best Brooklyn Instagram spots for more photography locations and inspiration to spruce up your feed on your Brooklyn trip!
Best DUMBO Photography Locations
The Famous DUMBO photo spot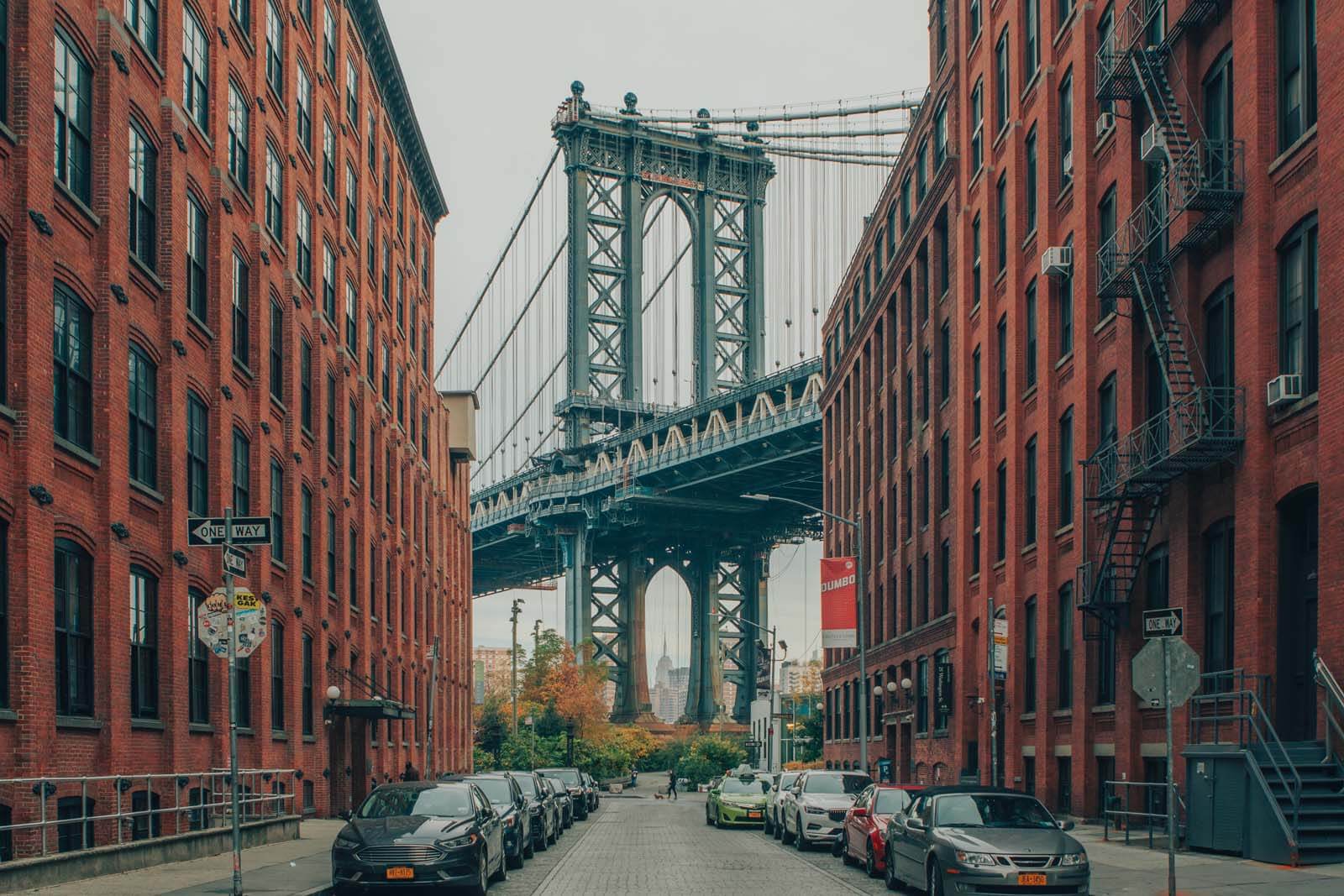 As mentioned in our local's guide 30+ Amazing Things to do in DUMBO, this is one of the most iconic photo spots in New York City.
You and every other visitor in Brooklyn and NYC are striving for the same perfect Instagram post. The key to success at this spot is patience.
It's important to not get uncomfortable or embarrassed by how many people may be around you or watching you, it's inevitable.
Find this beautiful backdrop at the intersection of Washington St and Water St.
Some things that can help you have an amazing photo experience are:
Avoiding tourist rush hour (think early mornings)
Going to this spot during the week
Watch for traffic, this is a working road and cars do drive through here, be mindful and be sure to watch for moving cars and get out of their way.
Also, check out some unique vantage points by doing the Manhattan Bridge walk – a less crowded scenic walk than the Brooklyn Bridge.
Fulton Ferry Landing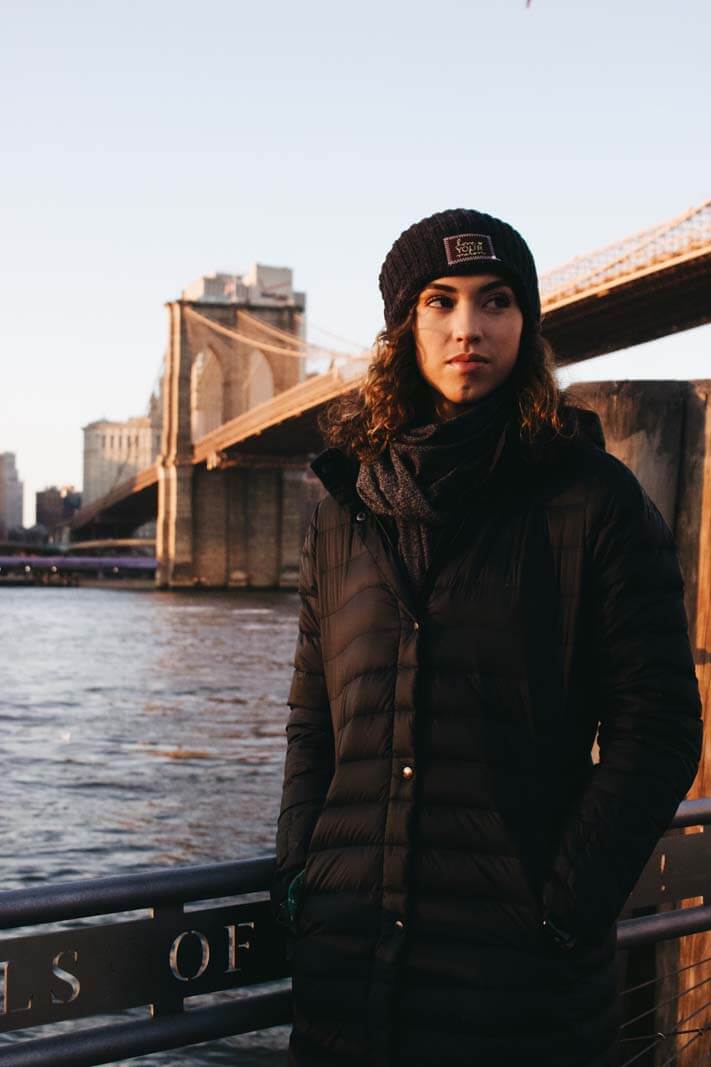 Another one of the best DUMBO photography locations is Fulton Ferry Landing. Easily one of the best views anyone could possibly see while visiting New York City.
This pier looks over the water onto the East River with the Brooklyn Bridge and the Manhattan skyline front and center. Although this spot is beautiful at night when the buildings are lit, we would recommend posing for your Instagram during the day when you can really see everything this setting has to offer.
This DUMBO Instagram spot is located at the base of Old Fulton Street and is apart of the Brooklyn Bridge Park.
Find yourself hereafter eating some of the best pizza NYC has to offer or because of Ample Hills Creamery located on the Landing.
There's nothing too tricky about getting picture-perfect in this spot. Usually seems to be less crowded, but we would suggest hitting Fulton Ferry during the week. Weekends can get hectic around the park.
Read Next: Best DUMBO Cafes to Check Out
Jane's Carousel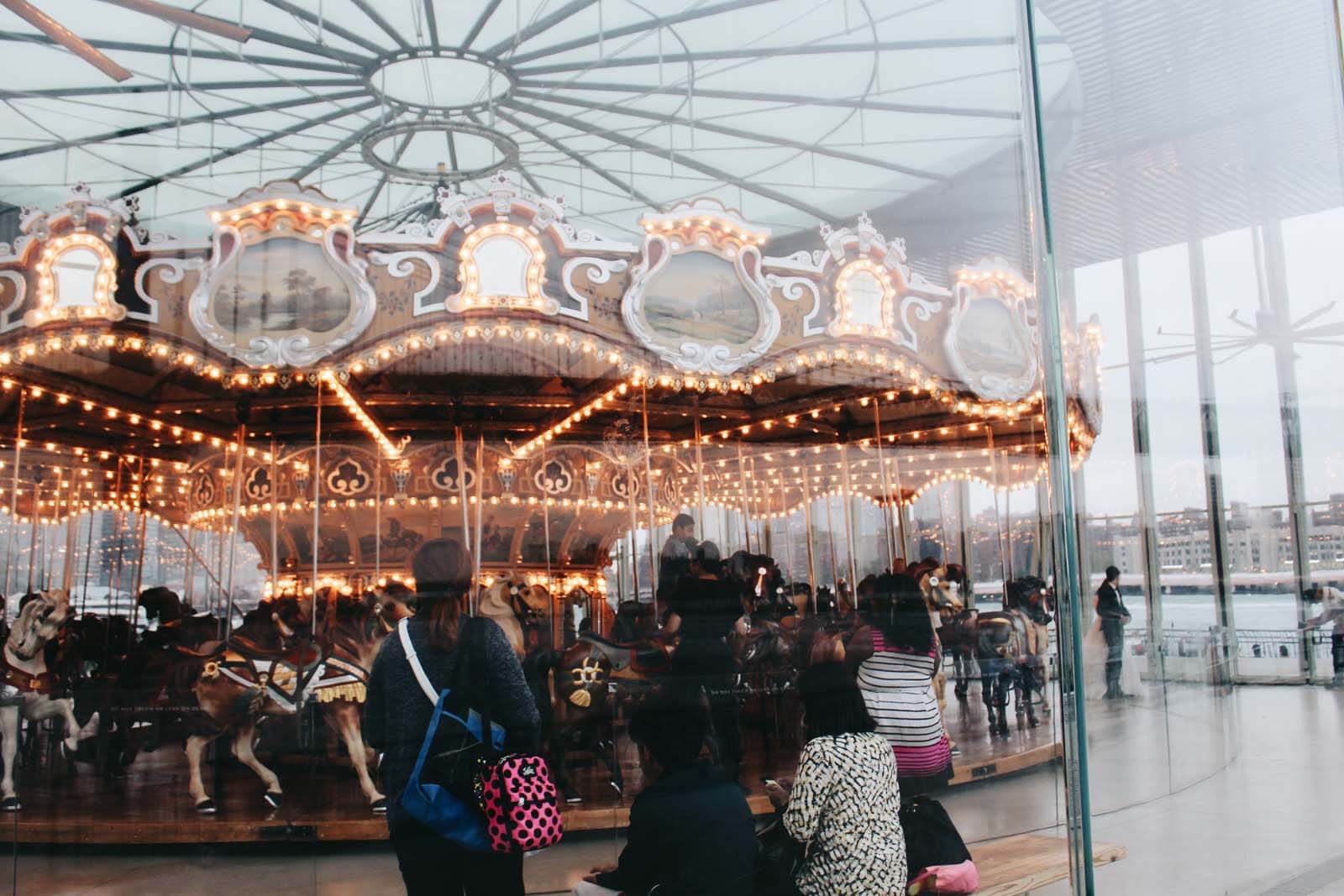 Located in Brooklyn Bridge Park, Jane's Carousel brings a gorgeous element to your DUMBO pictures. This carousel was given a second chance by Jane and David Walentas and since September 2011, it has completed this area located right under the Brooklyn Bridge.
You can find the bright carousel in the Empire Fulton Ferry section of Brooklyn Bridge Park. This backdrop looks beautiful at all times of the day and is often never too crowded to where you couldn't get a good photo.
One thing, make sure you check Jane's hours before planning a photoshoot here. The pictures turn out the best when the lights on the carousel are lit!
Under the Manhattan Bridge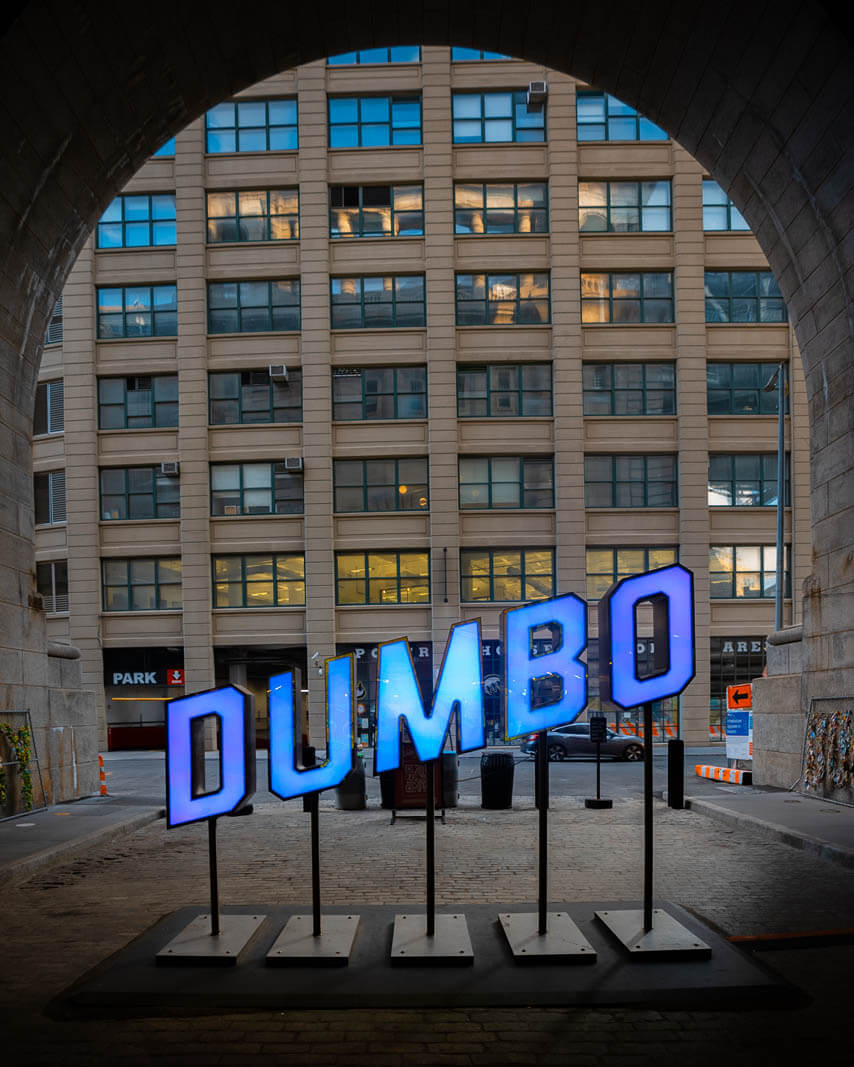 One of the most iconic DUMBO photo spots and Instagram spots can be found under the archway of the Manhattan Bridge. This noisy spot, well when trains pass above you, is full of fun in the warmer months as there's a pop up bar called DUMBO Station (April – October) that sells wine and beer plus has live music sets.
Come and take your photo with the changing color DUMBO sign and stay for a drink or two, or three!
St. Ann's Warehouse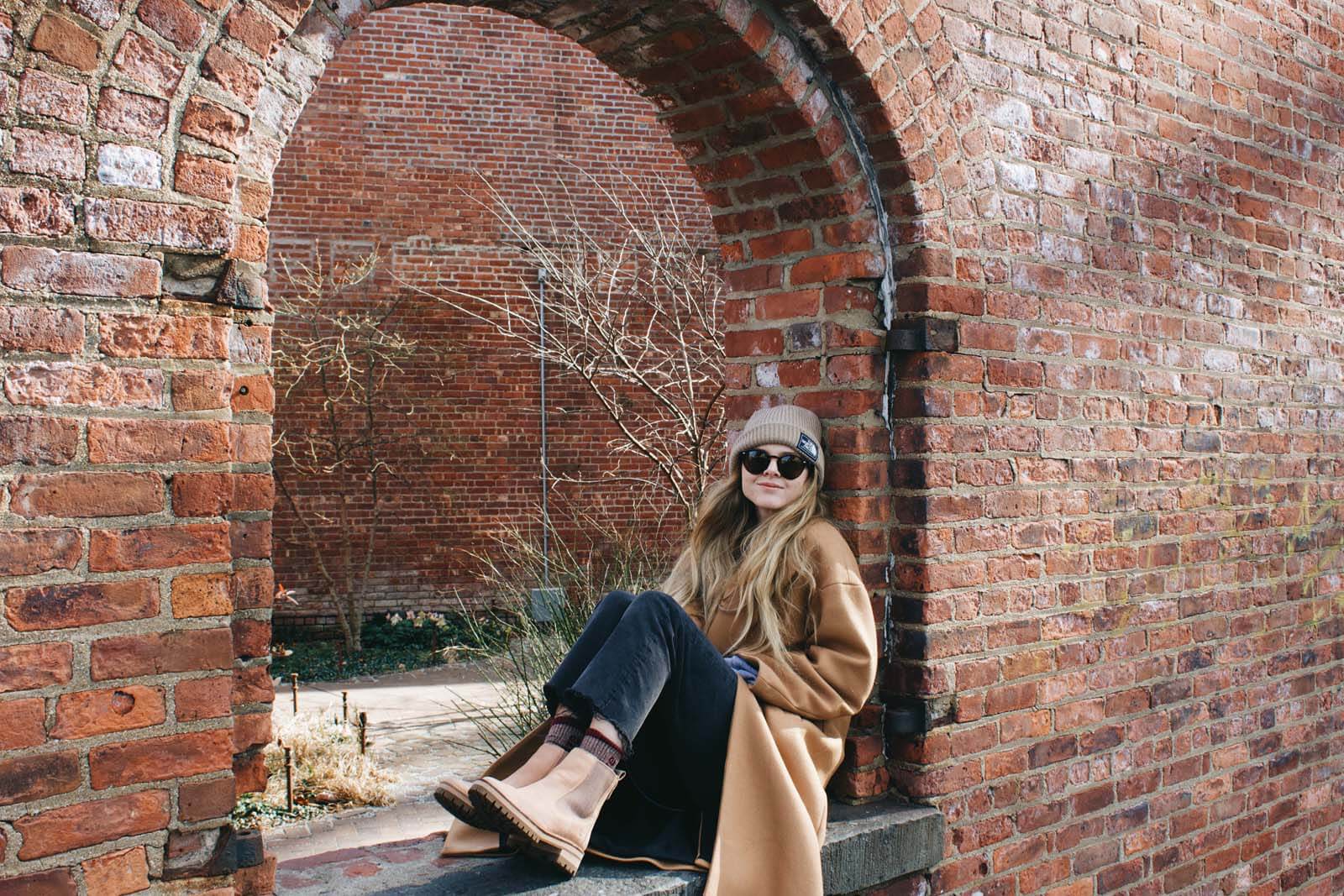 If you can't catch a show at St. Ann's during your visit, make sure you hang around their beautiful outdoor park, a great place for DUMBO photography.
Take a seat in the window of the brick walls or hang out around the trees and greenery behind the brick walls.
Whichever you choose, it'll be picture perfect. This spot makes for great photos any time of the year. You may overlook this as one of the must do DUMBO Instagram spots, but the brick walls make for effortless, simple, and gorgeous photos.
Located at 45 Water Street, it's conveniently close to many other DUMBO Instagram spots.
Brooklyn Bridge Park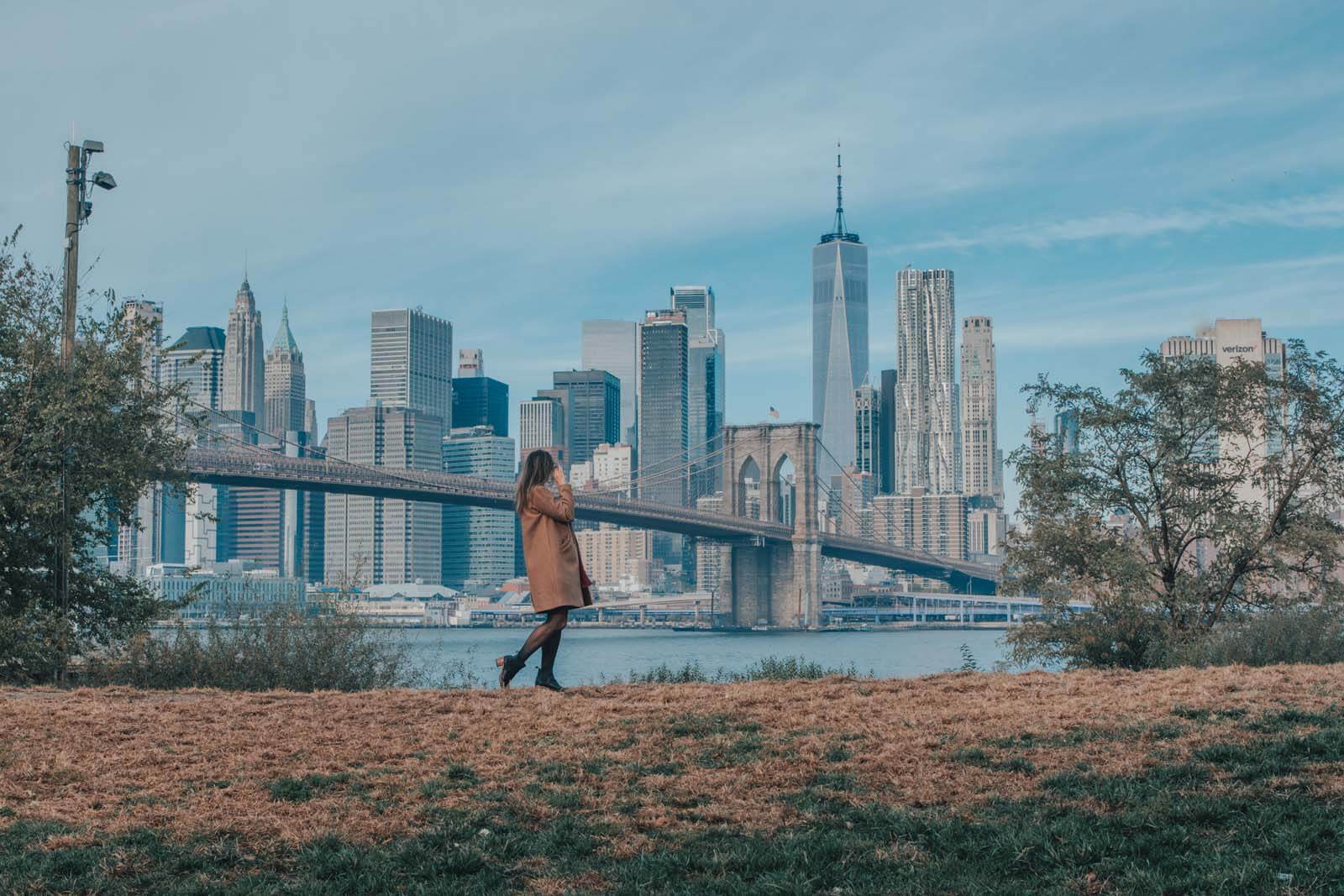 This may seem vague, but the park is full of DUMBO pictures and photo ops. Although the bridges and skyline can be seen from many of the spots on this DUMBO Instagram spot list, the cool thing about being in the park is being able to create a different image or background based on what part of the park you're in.
The easiest way to make sure you're getting a good variety of DUMBO pictures is to continue moving throughout the park. Spend time taking pictures in each area of the park at different times of the day.
The open lawns can be used for sun bathing, kicking a ball around, but most importantly, this is an awesome spot to bring a picnic or lunch to go. Bring a cute blanket, some friends, and you have the perfect post.
While you're here check out the Stained Glass House which was designed by a famous New York City sculptor named Tom Fruin, one of our favorite Instagram spots in Brooklyn.
Read Next: Best Parks in Brooklyn
Railroad Tracks
View this post on Instagram
It's no secret that DUMBO used to be an industrial area full of warehouses as the neighborhood is probably the birthplace of the chic industrial look as all the old warehouses have been converted into some of the coolest buildings in the city. As a matter of fact, this is one of our favorite hidden gems in DUMBO.
That being said, the Belgian blocks street of DUMBO still have the railroad tracks that were for operating the Jay Street Connecting Railroad way back when this area was in its industrial heydey.
From what we've learned about these tracks is that they have been deemed the shortest rail in Brooklyn for its main line stretching just barely half a mile.
These historic tracks have a stunning view of the Brooklyn Bridge in the distance. This DUMBO Instagram spot and photo op is a good way to set your feed apart from those who normally stay toward the skyline and the park.
Time Out Market Rooftop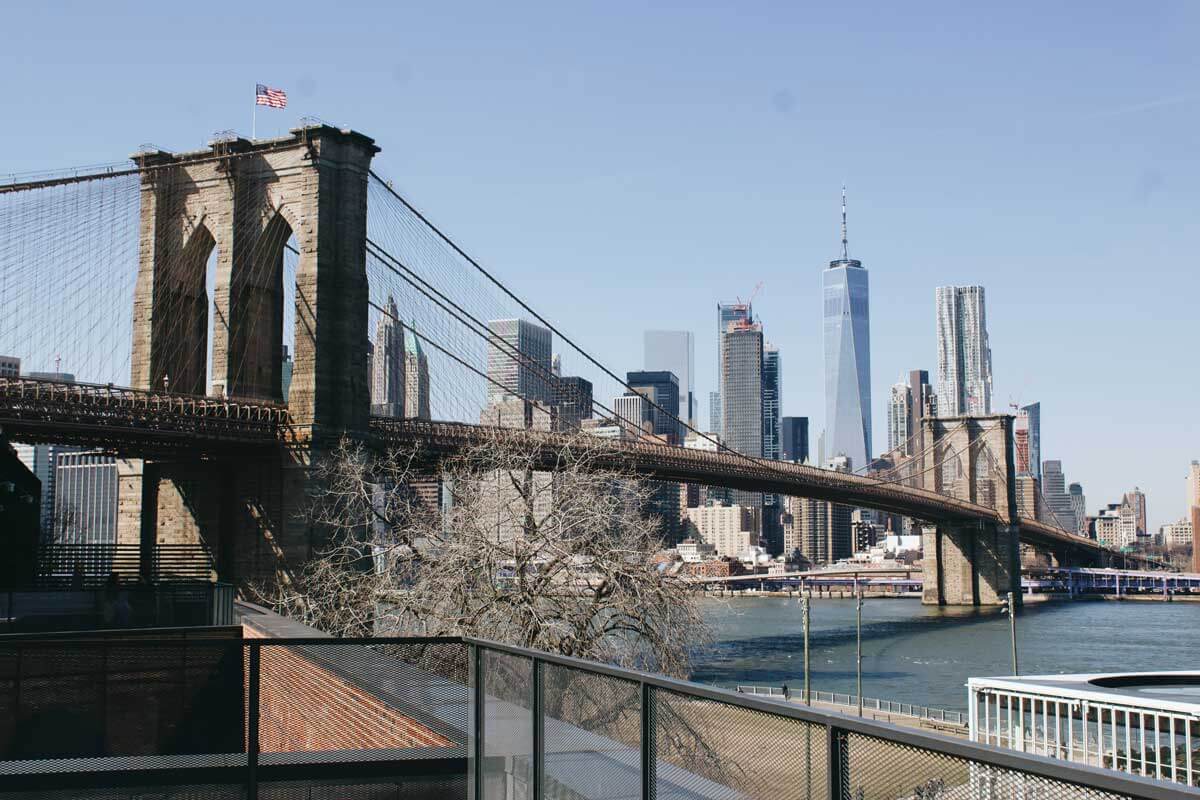 The Time Out Market New York rooftop is the perfect place to work up an appetite while posing for the likes. The Rooftop has an unbeatable view of the skyline, the bridges, Jane's Carousel, and more of the best DUMBO Instagram spots and best DUMBO bars to check out.
Visiting Timeout is one of the best things to do in Brooklyn, just happens to also be a great DUMBO Instagram spot.
Catch a bite to eat before, during, or after you snap your pictures. The Rooftop opens at 12 pm daily and offers a bunch of good eats. Pose by yourself, with your friends, and make sure you document your delicious meal with the view.
It's located at Empire Stores, 55 Water Street.
Empire Stores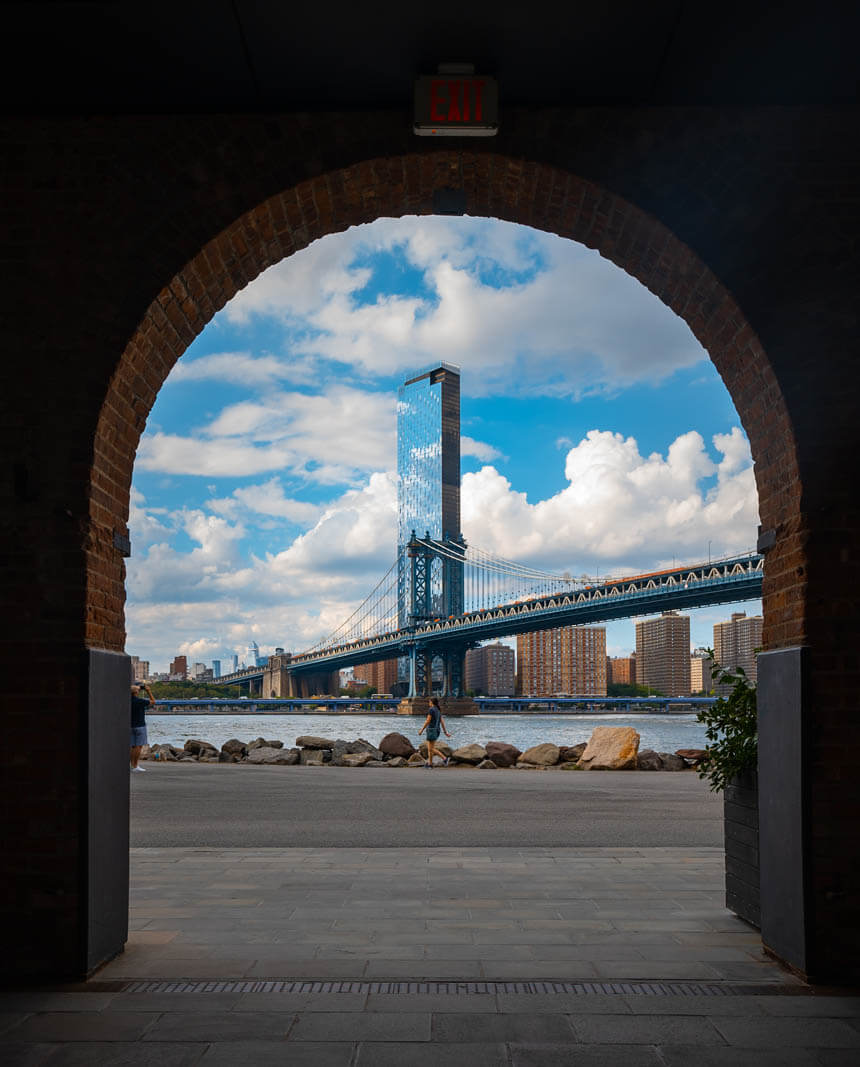 Empire Stores is home to Timeout Market, Cecconi's, Brooklyn Historical Society, SUGARCANE raw grill bar, and much more including great DUMBO photography locations.
Inside and out of this building is beautiful. Renovated in the 1860s, this old warehouse makes an amazing backdrop for your rustic, vintage, and artsy photos.
Capture your pictures before or after you finish at the Timeout Market Rooftop! The best thing about taking photos in DUMBO is that everything you want to photograph is so close together. So take advantage of this beautiful location and grab some of the best food Brooklyn has to offer while you're at it!
As mentioned above, this DUMBO Instagram location's address is 55 Water Street.
Brooklyn Bridge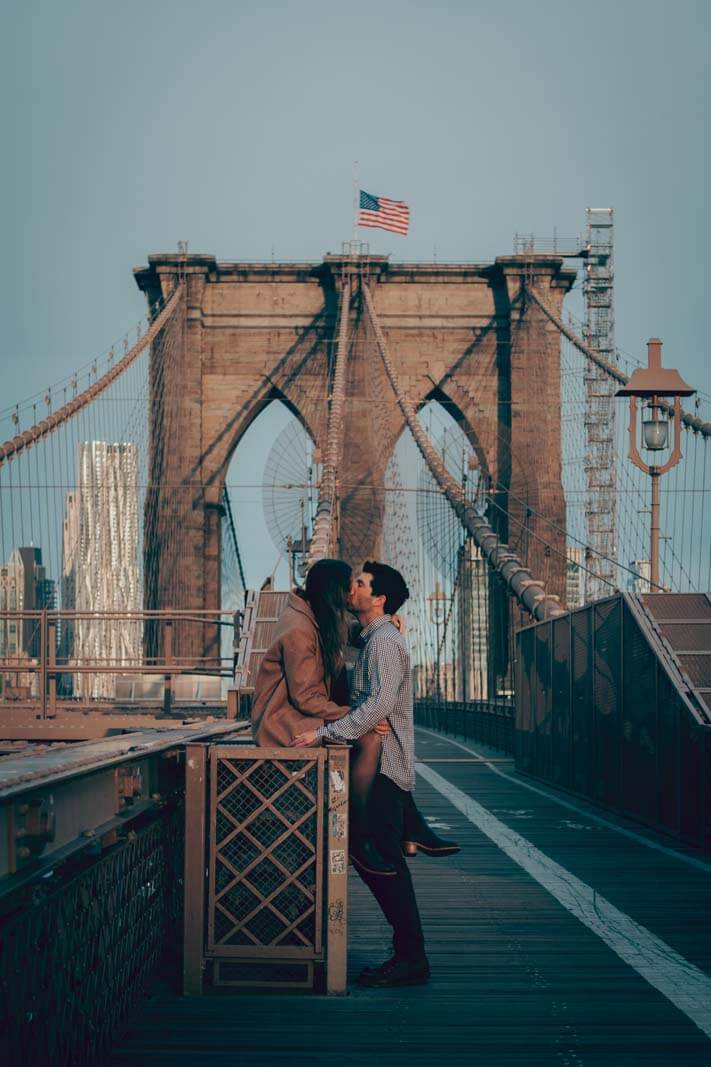 Enjoy a walk on the Brooklyn Bridge if you've wrapped up the DUMBO picture taking at the ground level. There's a staircase for pedestrians to make their way onto the bridge's walking path.
From DUMBO walk down Washington Street and walk under the Brooklyn-Queens Expressway and the pedestrian entrance is under the bridge!
Although the bridge is often crowded, this DUMBO Instagram spot is almost mandatory when you're visiting New York City. The best ways to beat the crowds are to get on the bridge bright and early first thing in the morning or on a rainy day.
If you plan on crossing the Brooklyn Bridge completely plan for around 45 minutes. Once you get closer to the middle of the bridge the crowds start dispersing as some only hop on the bridge for a photo and don't cross the entire bridge! So even on a crowded day you still have a chance to get a great DUMBO picture on the infamous Brooklyn Bridge!
Be mindful of the bicycle lane and steer clear of it unless you want to make some cyclists very angry! It's also dangerous for both the pedestrians and the cyclists, so please stay in the walking path.
Read our entire guide on walking the Brooklyn Bridge for all our best tips and tricks!
DUMBO Walls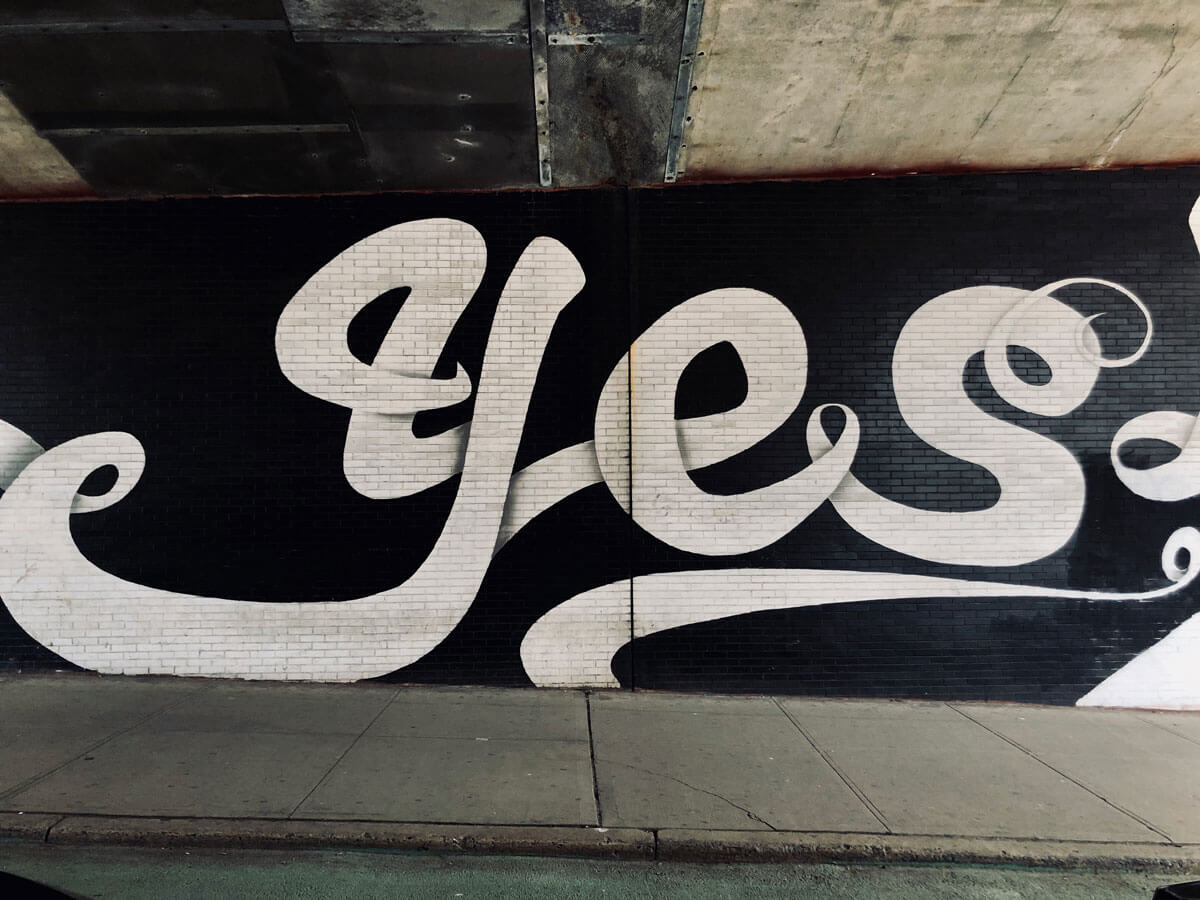 We love making Brooklyn beautiful. Many artists in DUMBO have painted unbelievable murals along the Brooklyn-Queens Expressway.
Not only are we grateful for the murals because art makes Brooklyn what it is, but we appreciate these walls because they make an excellent backdrop and amazing DUMBO photography spots!
Don't miss this DUMBO Instagram spot with artwork by Eltono, MOMO, Shepard Fairey, and more!
These pieces can be found in DUMBO along York Street between Washington Street and Pearl Street.
Brooklyn Bridge Piers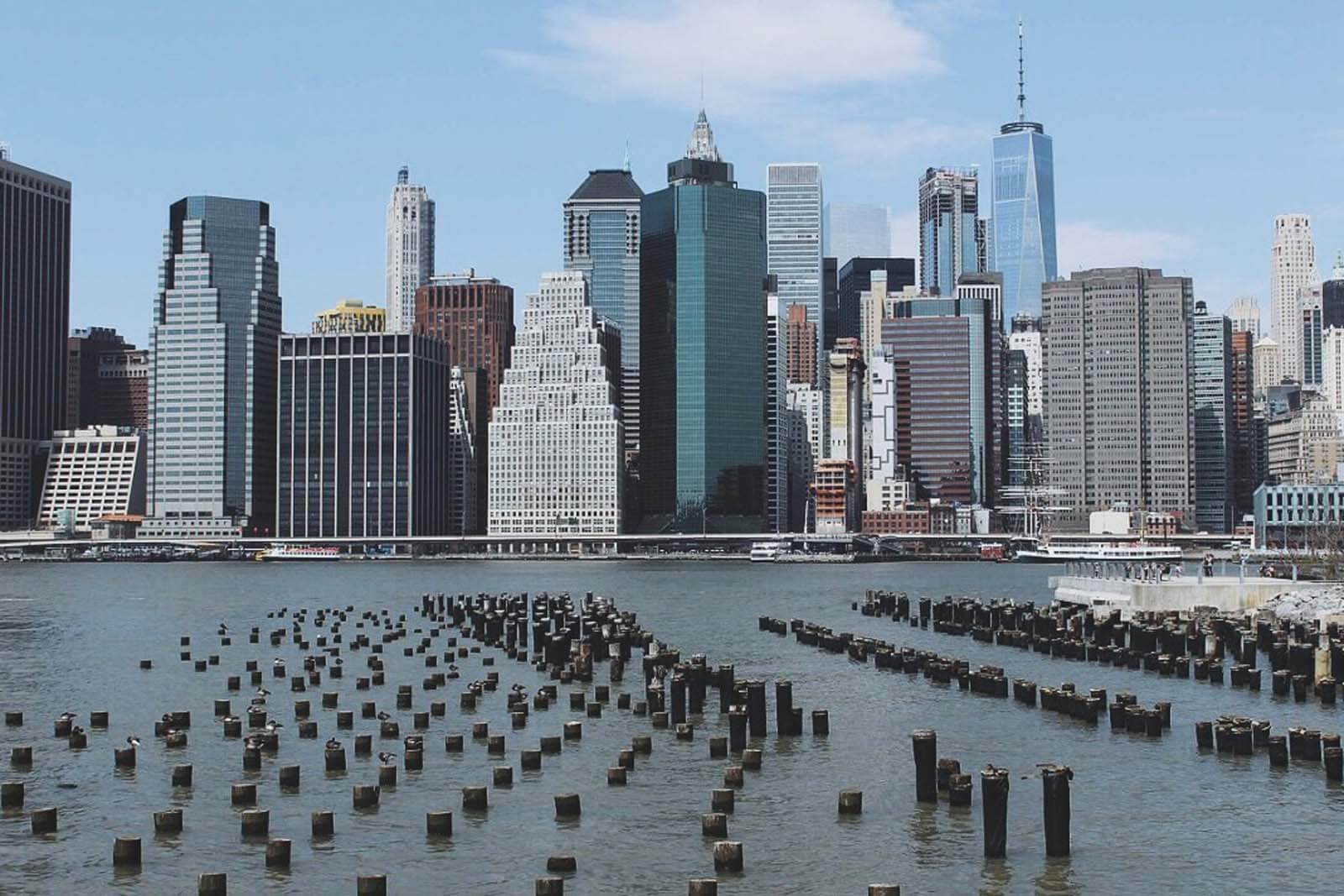 Although we covered the Brooklyn Bridge Park already as a great area to find the best DUMBO Instagram spots, the piers are almost separate from the grassy picnic areas mentioned earlier.
The most Instagram worthy photo op lives between Pier 1 and Pier 2 of the park. This is where you'll find the Manhattan skyline with a pile field in the East River as the foreground.
This spot adds an interesting element to your DUMBO photography you can't get anywhere else in the city.
Flower Fields at Pier 6
View this post on Instagram
Nature is calling in this next DUMBO picture perfect spot! After strolling by all the piers, roam over toward Brooklyn Heights to get to the beautiful flower fields and greenery that Pier 6 has to offer.
Continue past the beach volleyball courts to stumble upon all the beautiful landscape perfect for DUMBO photography.
The flowers are in full bloom here toward the end of the summer but the area is undoubtedly beautiful all year long offering amazing views even when it's not in bloom!
Pose With Your Pizza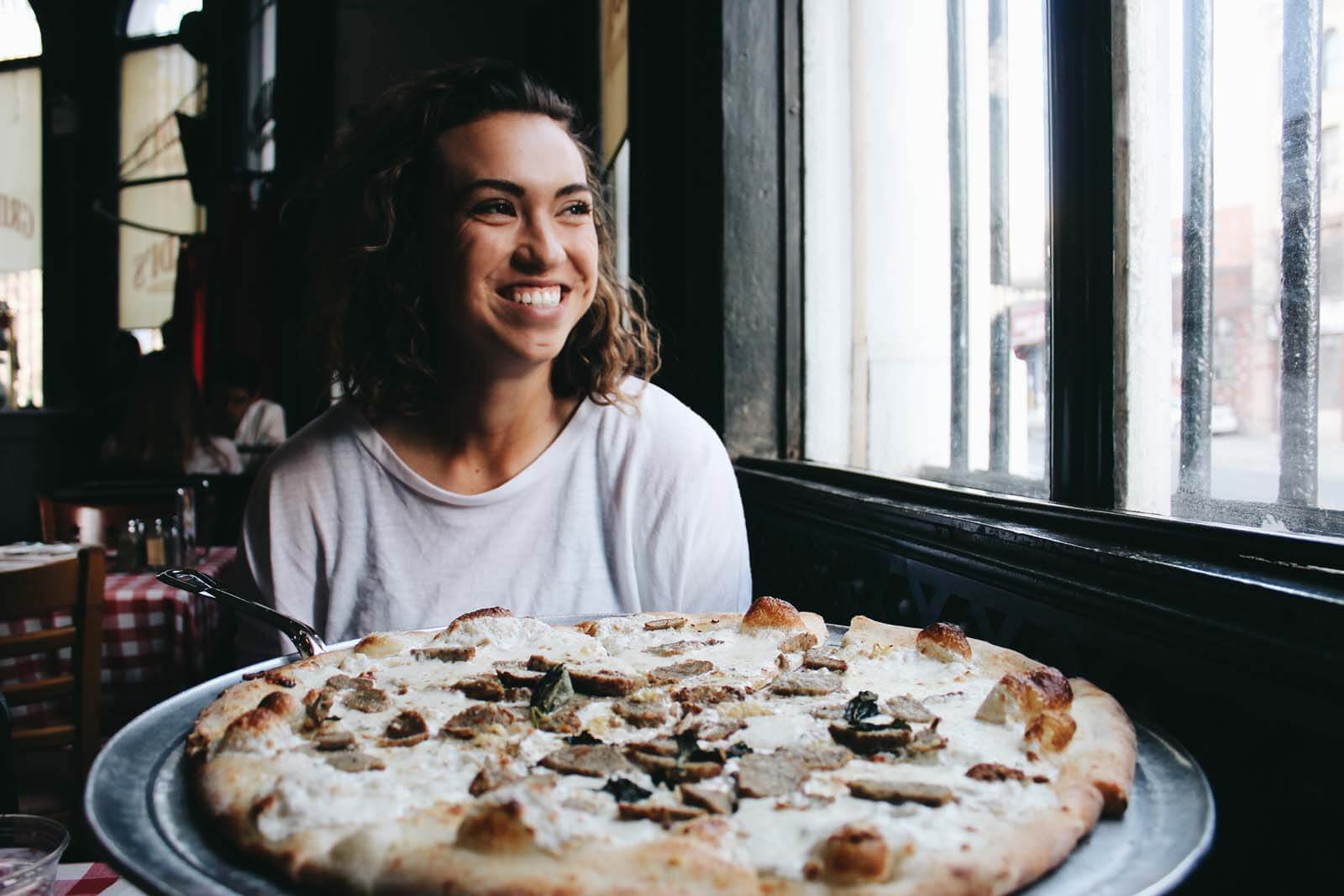 You'll always make your followers jealous when posting real New York City pizza. Give your followers a taste of your trip to Brooklyn with a post from Grimaldi's or Juliana's!
From all the other DUMBO pictures you'll be taking, we are sure you'll work up an appetite. Nothing can satisfy you more than New York pizza after a long day of doing it for the 'Gram.
Find Juliana's at 19 Old Fulton St and Grimaldi's at 1 Front St.
You might get hungry on your adventures, be sure to check out all our picks for best restaurants in DUMBO while you're exploring this amazing neighborhood!
Harriet's Rooftop & Lounge
View this post on Instagram
Cheers to a successful day of cheesing for the camera at all the different DUMBO photography locations, but it's not over yet! You don't want to miss these Brooklyn rooftop views if we haven't stressed that enough.
This DUMBO Instagram spot is perfect for documenting the beauty that Harriet's Rooftop & Lounge has to offer. The lounge allows for indoor seating and an amazing view of the cityscape from the bridges, NYC skyline, and Statue of Liberty which is why it's also a pick for our best rooftop bars in DUMBO.
On a nice day, find yourself on the 10th floor to take advantage of the rooftop section. Get up close and personal with the Brooklyn Bridge and smile pretty.
Harriet's is located at the 1 Hotel Brooklyn Bridge.
Pebble Beach
The park that keeps on giving, for DUMBO photography locations that is… Find Pebble Beach right between the two bridges in Brooklyn Bridge Park.
Nothing beats this rocky DUMBO Instagram spot on a beautiful day. On any given day, don't be surprised to stumble upon a wedding photoshoot in this very spot. T
his DUMBO Instagram spot is the best of both worlds when it comes to New York City and finding a way to unwind, it will probably be the most relaxing stop you make all day.
New Yorkers and tourists alike, love this spot. It's an awesome place to capture some of the best DUMBO photography.
If you're looking for more Instaworthy locations check out the best brunch in DUMBO for some of the best photogenic meals in the city!
---
Did we miss any DUMBO Instagram spots? Let us know in the comments! Or if you liked this post on the best DUMBO photography locations or found it helpful, bookmark for later or share the love below on Pinterest!