Looking for some exciting things to do in NYC in March? We've got you covered.
Believe it or not, March in NYC is a great time to be in the city as there are fewer visitors on average (that is until the second half of the month things start slowly picking back up as the weather warms up and we get closer to spring break) and there are exciting events happening and holidays to celebrate like St. Patrick's Day.
If you're a visitor and plan before popular spring break weeks, this is a great time to take advantage of New York City on a budget as you can find hotel deals and enjoy some of the best things to do in NYC in the month of March from attractions, tours, and popular restaurants without the crowds.
This guide will cover some of the best happenings and things to do in New York City in March from annual events, to tourist attractions that you can get into before the crowds return, and other fun and exciting things going on throughout the city.
New York in March Weather
March in NYC might be one of the trickier months to prepare for. On average the month is about 48F (9C) during the day and 36F (2C). So not terribly cold, but not warm either.
With an average of 19 days being sunny or partly sunny and the other 10-11 days with rain.
With that in mind still recommend bringing layers. Bring lightweight layers like scarves, gloves, a light raincoat, and short sleeve things as well because it can and will fluctuate and you can find yourself enjoying a patch of sun and want to expose those bare arms for the first time since pre-winter.
Keep in mind if you're planning on being around any of the waterfront area (there are quite a few of those around NYC) you'll want warmer layers as the wind from the water has a nip to it and can get really chilly as the breeze from the water sometimes gets funneled into the grid of all the skyscrapers creating little random wind vortexes that can get you if you aren't prepared.
Things to do in NYC in March
New York Botanical Garden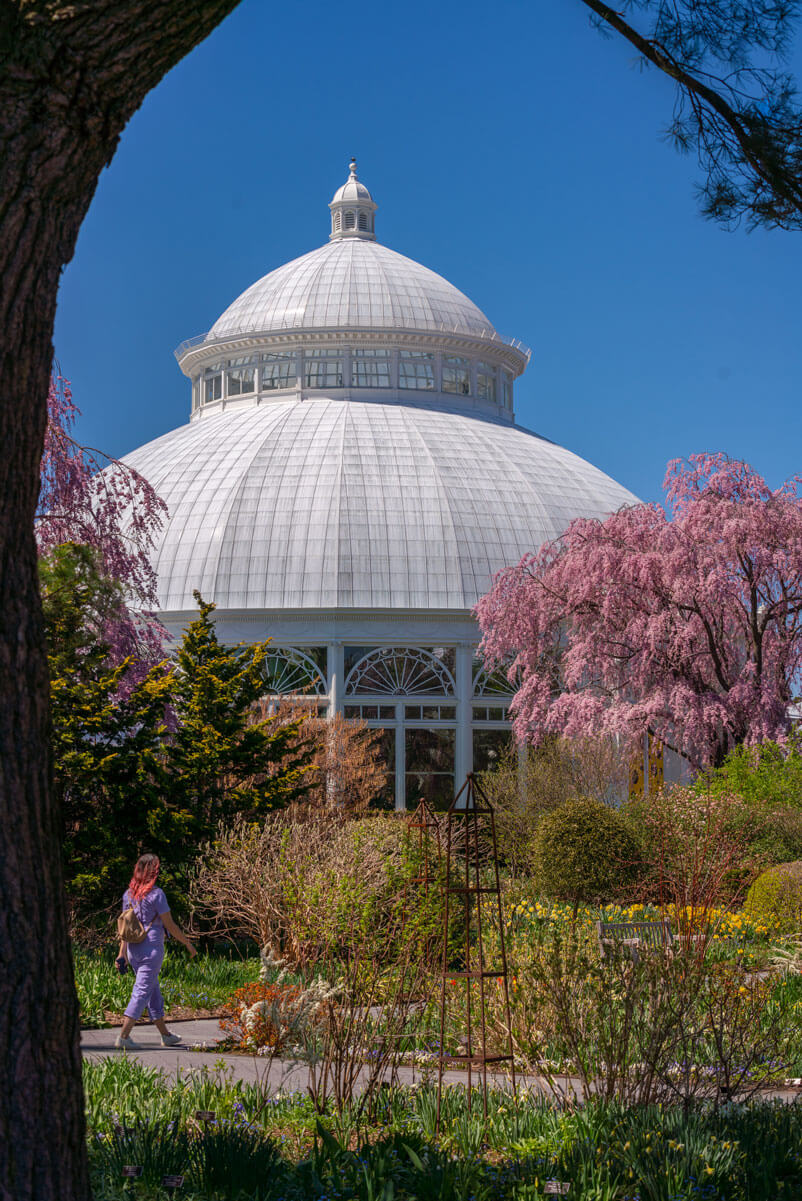 Ahh, one of the most exciting things to din in NYC in March is welcoming spring at the New York Botanical Garden. NYBG goes all out every year hosting the Annual Orchid Show that transforms the conservatory into a beautiful flowery paradise featuring thousands of orchids of all shapes, sizes, and colors in breathtaking displays.
It's on display every year beginning from the end of February until the beginning of March. Making this by far the most flowery ways to celebrate early March in New York City.
Macy's Annual Flower Show
Speaking of Flowers. Macy's also has an Annual Flower Show every March (typically towards the end of the month through early April) located on the ground floor of the iconic department store at Herald Square.
Inside is a two-week-long event that includes live music, seminars, fun activities for kids, interactive flower exhibits and is spread out over three of Macy's marquee stores in New York, Chicago, and San Francisco.
Pi Day on 3/14
What you have to love about New York is that with over 8 million people living here they will find a way to celebrate just about anything. This is what a lot of local businesses do all around the city, which if you ask us keeps things fun and exciting which March is no exception.
Keep your eyes out on Pi day as a lot of places (especially bakeries, pizza shops, pie shops) will offer something for $3.14 as a way to get a nice treat at a modest price to celebrate all things pi or other pi deals like 3 pies for $14 to getting creative with incorporating the pi symbol into their baked goodies somehow.
With over 26,000+ places to eat in NYC, it's way too hard to track down which ones are all participating but just keep your eyes peeled.
Here are a few pie shops that we know have participated in the past:
Bubby's (120 Hudson St) is one of our favorite brunch spots, originally was a pie shop in its humble beginnings and pays homage to that every Pi day! If you're not sure what to try, check out their Apple Whiskey Crumble Pie, it's a real crowd-pleaser.
Petee's Pie Company (61 Delancey Street & 505 Myrtle Avenue) with locations in both LES and Brooklyn and even offers delivery options. Petee's not only has your signature dessert pies but also savory pies if you're looking for the perfect pie meal on pie day. In the past, they've stamped the pi symbol on top of their pies on this historic day!
Little Pie Company (424 W 43rd St) was awarded the best apple pie in New York and they deliver. YES.
If you're into key lime pie then you'll be happy to know our favorite, Steve's Authentic Key Lime Pie (185 Van Dyke St) based out of Red Hook Brooklyn participates! They have their single portion swingles (chocolate-dipped of course) or whole pies – if you're asking us though we suggest just trying them all.
Another Brooklyn favorite is Four & Twenty Blackbirds (439 3rd Ave & 634 Dean St) in Gowanus (and Prospect Heights), which celebrates Pi day and delivers making this a no-brainer.
Catch a Basketball Game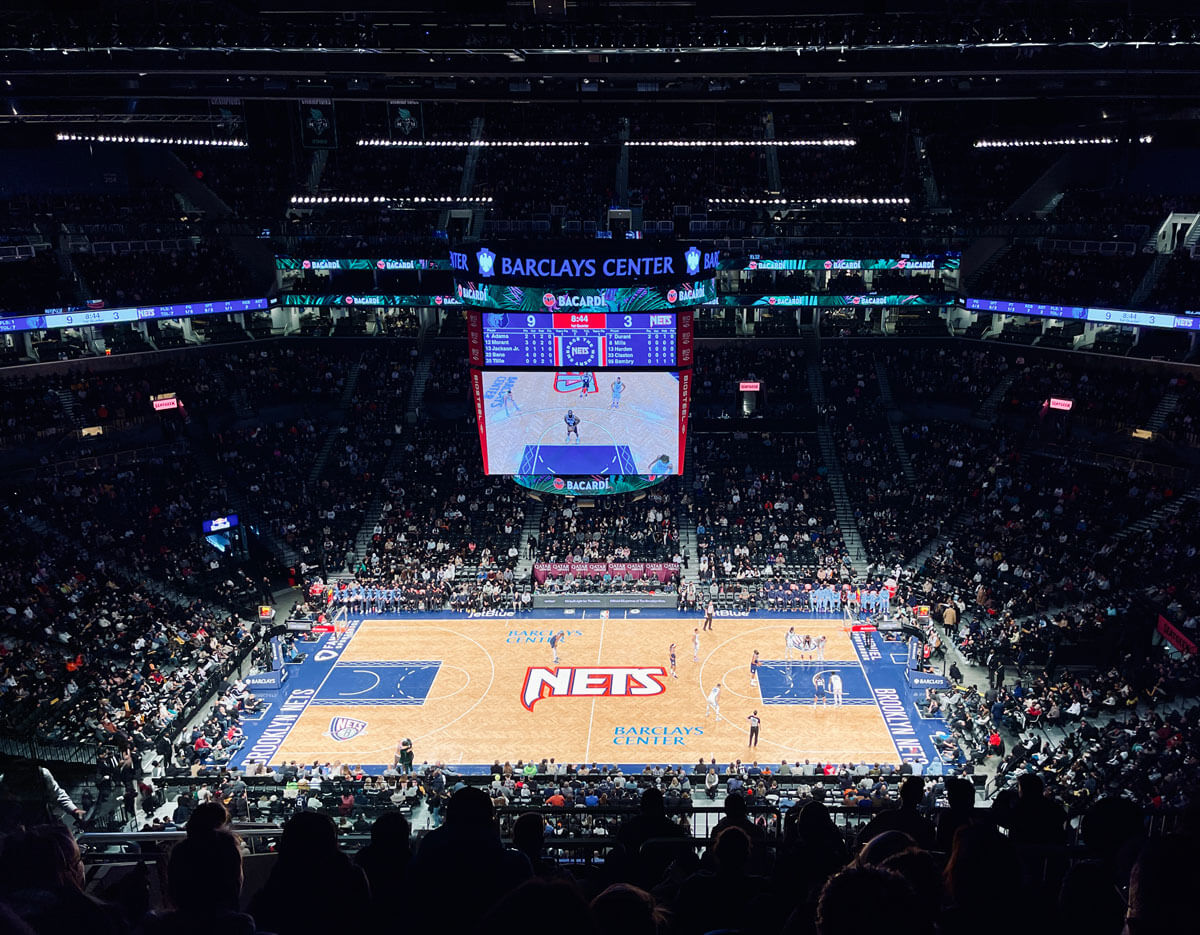 If you're a basketball fan then you're in luck, you have two great choices for basketball in NYC in March!
If you're in Manhattan you should definitely catch a game at the iconic Madison Square Garden to cheer on the Knicks. There's a good chance to catch a glimpse of Knicks superfan and famous Brooklynite Spike Lee along with other celebrities who are huge fans of the Knicks.
If you're staying in Brooklyn or just an NBA junkie, Barclays Center in Downtown Brooklyn is another great choice to catch the Nets as they are one of the best teams in the NBA, and our favorite team but we might be biased.
And plan your pre or post-event by checking out the best restaurants near Barclays Center just a short walk away! There are so many incredible food options, so take a local's recommendation from our guide.
Speaking of basketball March Madness will be going on and there are plenty of amazing sports bars to catch the game at.
Harlem Tavern (2153 Frederick Douglass Blvd) is a neighborhood bar, restaurant, and beer garden with a menu of American fare and gastropub favorites. They've got screens all around the bar and even have special events for big games which you'll want to make a reservation for in advance!
Blondies Sports NYC (212 W 79th St) This popular UWS sports bar has a fun atmosphere and a perfect place to catch a game not to mention they were voted the top wing spot in the city by Eater.
The Supply House (1647 2nd Ave) Another laid-back sports bar with TVs airing games and a not to be missed fried chicken sandwich and great wings.
The Three Monkeys (236 W 54th St) Located on Broadway and 54th this sports bar is a favorite amongst beer lovers featuring 36 beers on tap with plenty of TVs. They have a pretty large offering of options on their menu and an outdoor patio perfect for warm weather days (we do get surprised with those sometimes during March in NYC)!
Break Bar & Billiards  (32-04 Broadway, Long Island City) This sports bar in LIC has 16 TVs and two projectors to play the game on those big days for sports fans. You can also find games like billiards, darts, foosball, and other fun games like arcade games here for more endless entertainment.
Finn's Corner (660 Washington Ave) is another cool sports bar located in Prospect Heights that you can catch the game at and play some of the games they've got here like darts, pool, and board games. On a nice day, you can take advantage of their nice outdoor seating area. On game day, they have 11 tv screens making it a great stop during March Madness.
O'Keefe's Bar and Grill (62 Court St) is a local staple in Brooklyn Heights that's got a great neighborhood bar vibe going on, 20 brews on draft, a great food menu, cocktails, and of course TVs for those game days.
Hull Sports Bar (66 Water St) is operated under Seamore's – a great seafood restaurant in the city. Their menu of course has those familiar Seamore's items including Baja fish tacos and oysters in their speakeasy-style aesthetic and is a great place to catch a game. Just keep in mind they only open late afternoon through the evenings – so this is where you catch those later in the day games.
---
SeatGeek, a popular ticket search engine that makes finding tickets to sporting events, concerts, and many other live events at Barclays Center quick and easy.
When you add our promo code BROOKLYNGUIDE to your SeatGeek account, you receive $20 off your first ticket purchase.
(We receive a small commission at no extra cost to you)
---
Women's History Month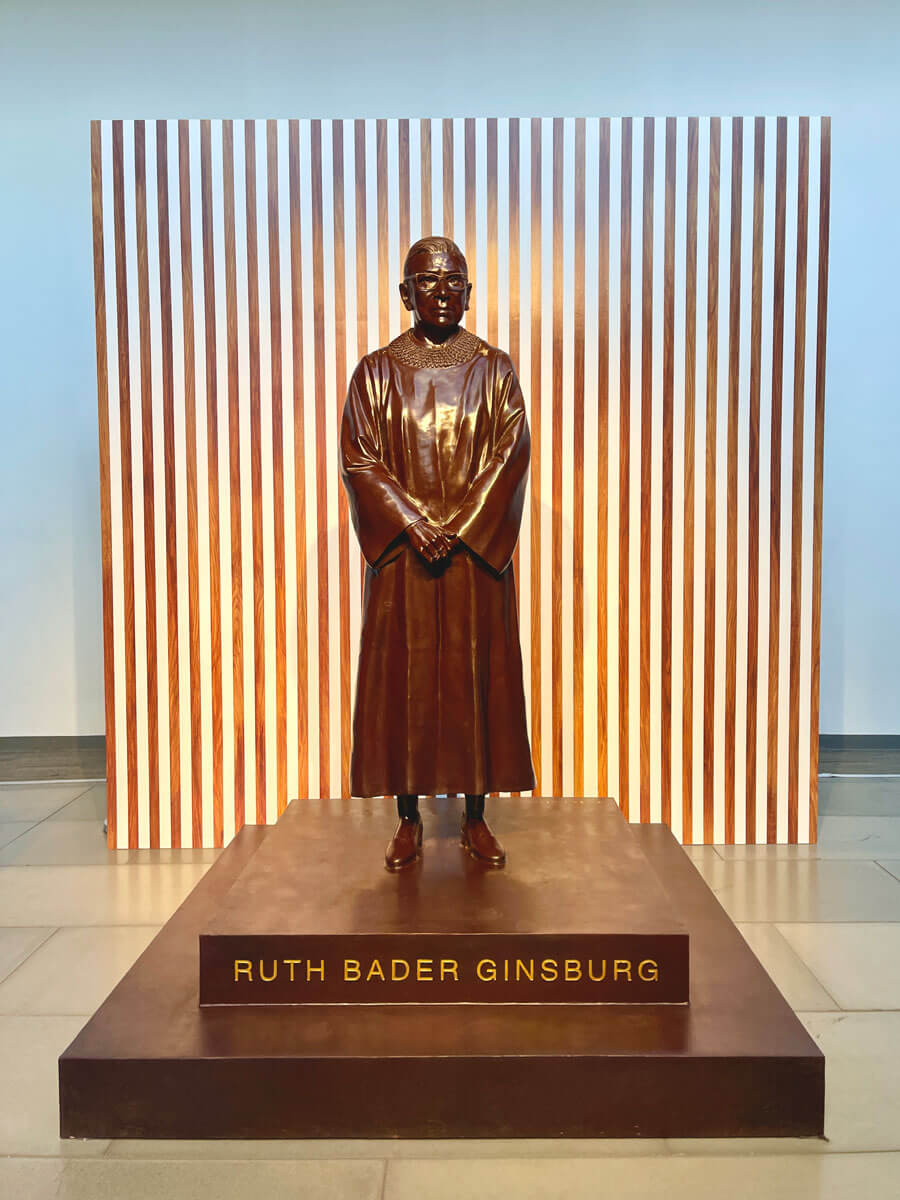 March is Women's History Month! While women's history should be celebrated all year round, here's a roundup of places that have some great spots to celebrate some historic women figures around the city.
Pay tribute to the late Supreme Court Justice, Ruth Bader Ginsburg (also a Brooklyn native) at City Point in Downtown Brooklyn outside at Albee Square. This bronze statue was unveiled in 2021 as a part of the Statues for Equality project and made by artists Gillie and Marc.
Speaking of the Notorious RBG, March 15th is officially Ruth Bader Ginsburg Day, not only during Women's History Month but also her birthday.
Another icon and one of the most famous statues in the city is the Fearless Girl by artist Kristen Visball. The Fearless Girl can be found facing the New York Stock Exchange, but did you know that Visball initially made the Fearless Girl sculpture and set it in front of the "Charging Bull?"
It was meant to be a statement to promote female empowerment in 2017 and encourage gender diversity in corporate America. But the artist who made Charging Bull was not too pleased and threw a big enough fit to get it moved to its permanent location in front of the NYSE.
In Central Park, you can visit the Women's Rights Pioneers Monument celebrates three New Yorkers who were pioneers in the Women's Suffrage movement depicting Sojourner Truth (speaking), Susan B. Anthony (organizing), and Elizabeth Cady Stanton (writing).
The monument was placed in 2020 to celebrate the 100th anniversary of the ratification of the 19th amendment, which granted the right to vote to women.
Celebrate more incredible women by checking out some of the best green spaces and parks in Brooklyn. Marsha P. Johnson State Park (formerly East River State Park) in Williamsburg was renamed to honor Johnson, a transgender woman of color who was a key instigator in the Stonewall Uprising and a revolutionary LGBTQ rights activist.
Located in Park Slope you can visit Lesbian Herstory Archives, a collection of records and memorabilia all around lesbian history and activism in the world. This museum and collection preserve the roots and path that led to the gay liberation movement all housed in a Park Slope townhouse serving as an independent history museum and archives.
Another legendary woman to celebrate, in Harlem you can find the Harriet Tubman Memorial also referred to as Swing Low. The memorial honors the famous abolitionist who helped Underground Railroad passengers escape slavery to freedom, there are actually several Underground Railroad sites in Brooklyn too.
Last but not least, one of the best things to do in NYC in March is check out the Women's Jazz Festival at the New York Public Library. This event centers around Black women of jazz and each year the curators of the festival highlight emerging female talent in jazz for a great series of concerts held at the Schomburg Center for Research in Black Culture in Harlem.
St. Patricks Day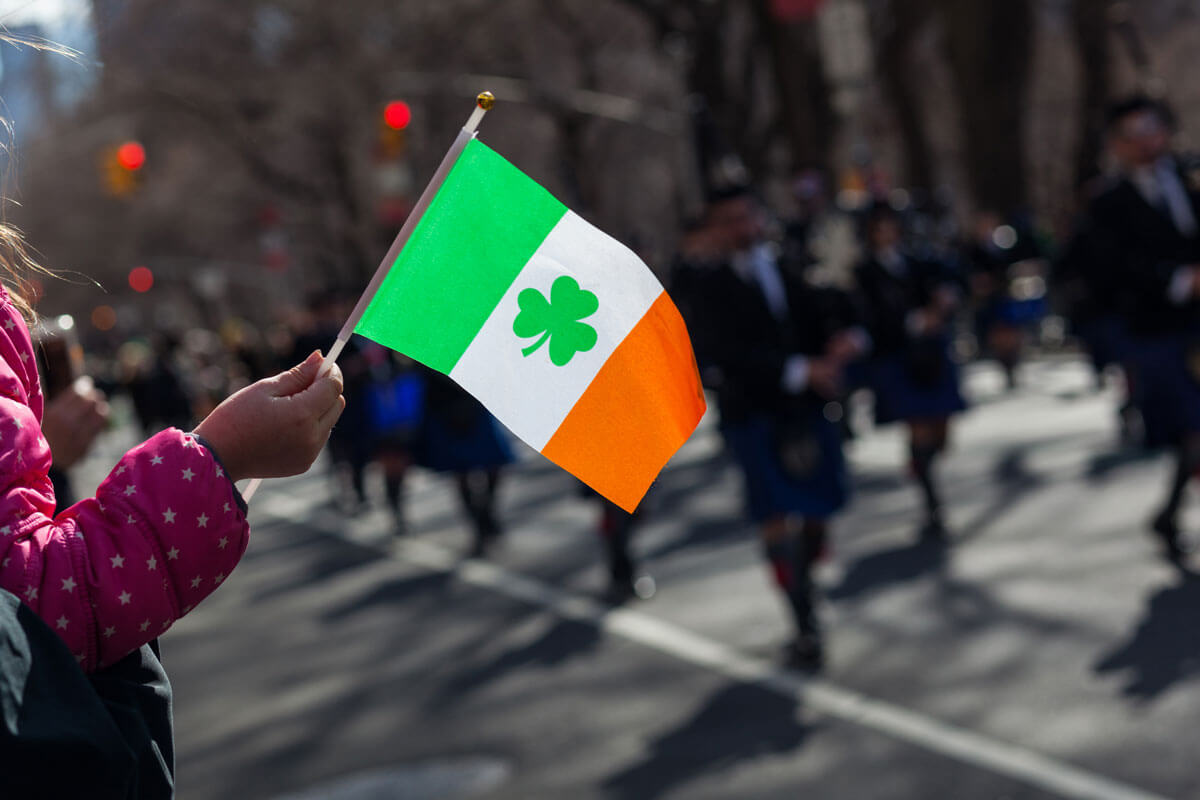 In case you didn't know St Patrick's Day is an Irish holiday that celebrates the patron saint of Ireland, Saint Patrick. And it's no secret that New York has the country's largest Irish-American population. This means that you'll find some of the best St.Patrick's Day celebrations on this side of the Atlantic Ocean right here in NYC in March.
For those looking to do a deeper dive into the Irish culture, the Irish Arts Centers has a full day of activities which is great for families.
The annual parade which dates back to 1762, is the oldest and largest St. Patricks Day Parade in the world with 150,000 marchers and over two million spectators beginning at East 44th Street and ending at East 79th street on 5th Avenue.
It's ALWAYS held on March 17th UNLESS the 17th is a Sunday. Then it's held the Saturday the 16th of March.
Rainy Day Activities for March in New York
Ok, so the saying goes that April showers bring May flowers – but we still get some rain in March. Here are a few fun ideas and things to do in NYC in March if you find yourself here on a rainy day. Read about more rainy day in NYC activities.
Museums & Art Galleries
Did you know there are over 80 museums in NYC? There are also over 1000 art galleries in the city! This is a destination that takes arts and culture seriously and honestly one of the best rainy day activities to to hit up any of the best museums in NYC.
Early in March is the best time to visit the most popular museums like the American Museum of Natural History and Metropolitan Museum of Art have significantly fewer people visiting off-season.
Don't just hang out in Manhattan for museums either, some of our favorite museums can be found in Brooklyn including the incredible Brooklyn Museum.
There are also several amazing art galleries around the city too. Don't miss gallery hopping in Chelsea – an area with a really high concentration of galleries and tons of great modern art on display from Warhol to Basquiat. And there are several awesome art galleries in Brooklyn to check out too.
Save Money on the City's Best Attractions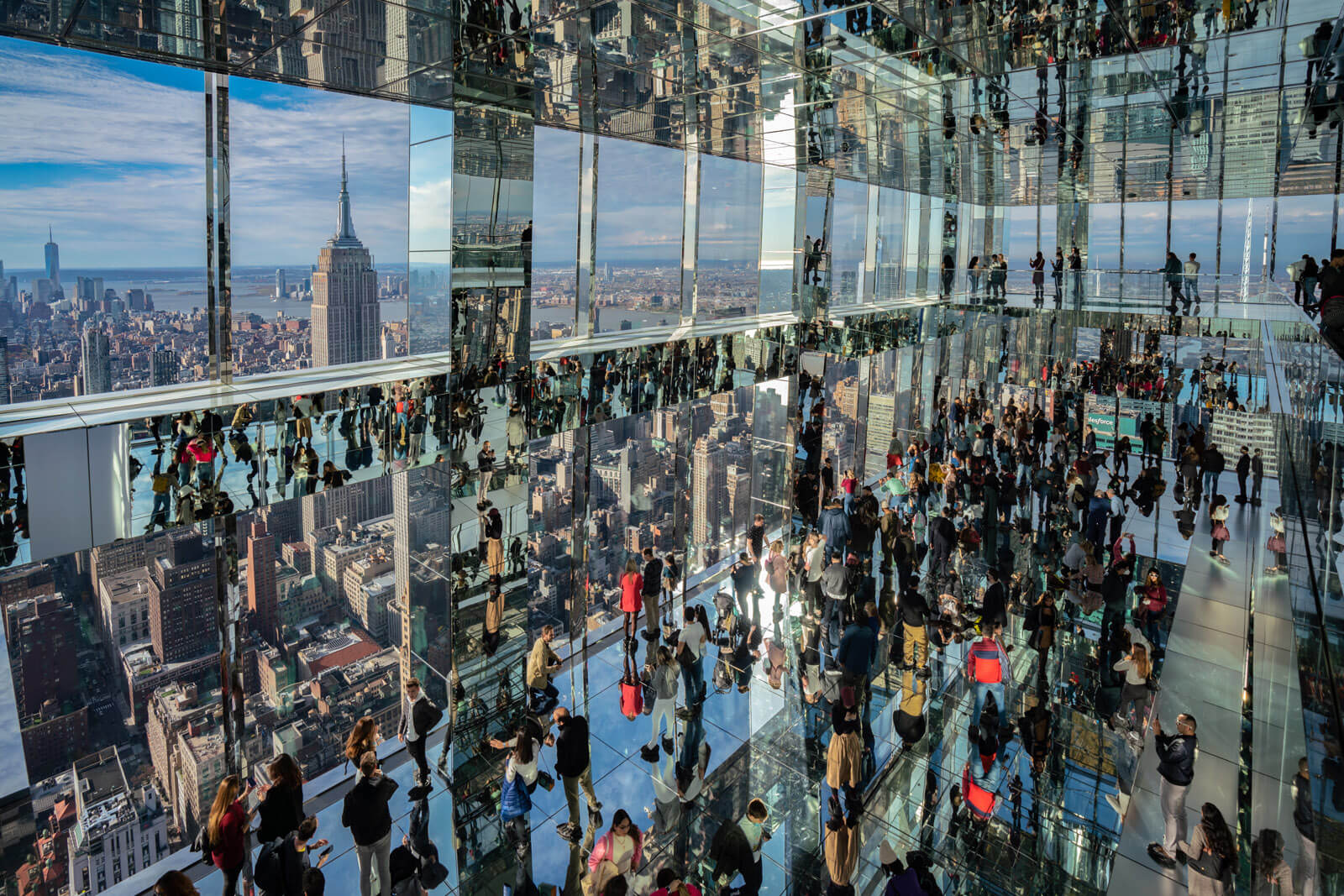 One of the best things to do in NYC in March is take advantage of the fewer crowds peak season brings in and check out some of the best NYC experiences and tours. Or if you get a great weather day, check out the best observation decks in NYC too to enjoy those before the crowds roll in with the better weather to come the following months.
We have a money-saving secret for you as these hot ticket items can ADD up and cost a fortune. If you're going to be visiting for a few days or just want to do some sightseeing in a few days consider the different money-saving attraction passes available in NYC. (PS these also work for many of the museums too).
These attraction passes are paid upfront for a one-time fee and on your trip they get you into multiple different attractions for free meaning that you save some serious money overall. By purchasing an attraction pass you can save anywhere from 35-45% on your attraction and saving you hundreds of dollars on your visit!
CityPASS offers a 3 attraction pass or a 6 attraction pass with over 12 city attractions to choose from including popular observatories like the Empire State Building, The Edge, Top of the Rock, 9/11 Memorial & Museum, Statue of Liberty & Ellis Island, the Guggenheim, and more!
Another great option is the New York Pass which you can purchase anywhere from a 1 Day Pass to a 10 Day Pass that gets you into over 100 attractions. YES! This one is better if you want MORE options. Once you purchase your New York Pass you download the Go City app and use that to get up to 45% savings on popular attractions as well as a few hidden gem attractions ranging from the Empire State Building to museums and MANY more.
See our full breakdown of the New York Pass and our breakdown of the New York CityPASS to see if it's worth it for your visit to save hundreds of dollars on multiple attractions!
Catch a Movie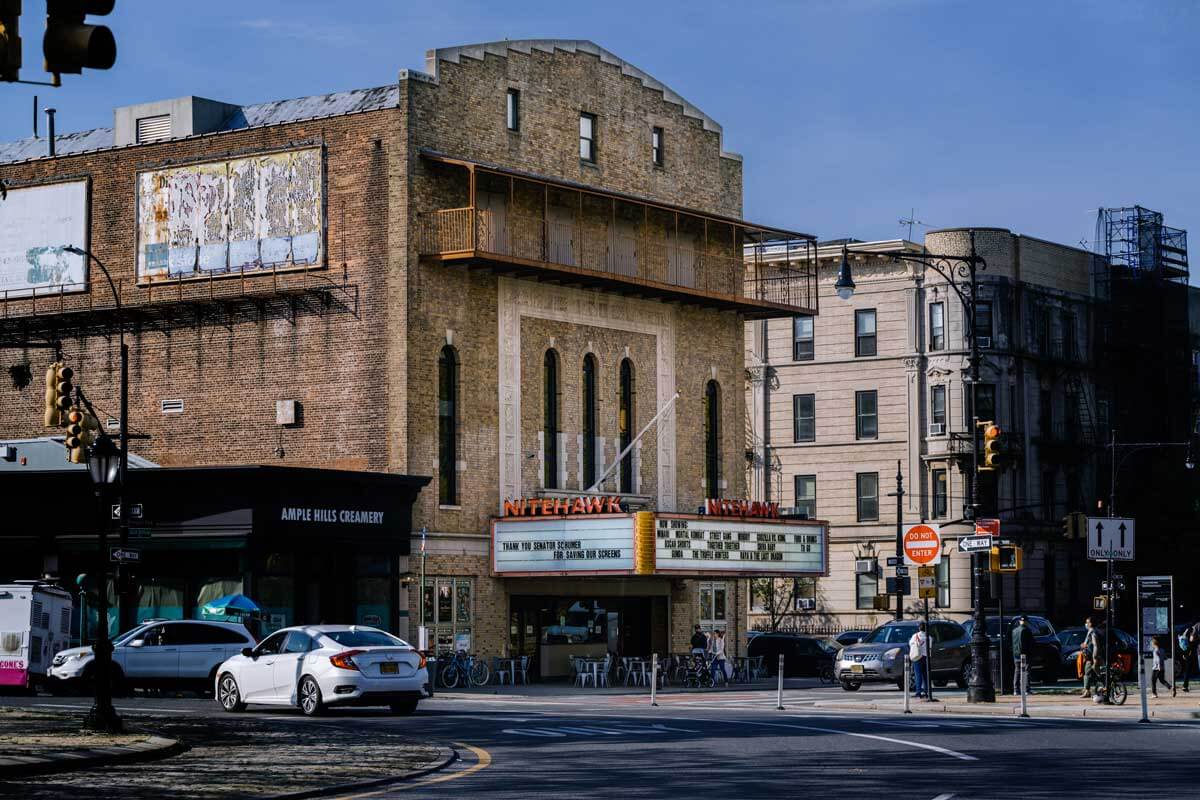 Nitehawk is the movie-going option of choice for most Brooklyners. Established in 2018 in Prospect Park, Nitehawk is housed in the oldest buildings in New York that have continuously housed a movie theater dating back to the Sanders Theater in 1928. The building is cool and the movie-watching experience is even better.
But what makes this place even better is the fact that they single-handedly changed the prohibition-era law and were able to get ALL movie theaters in NYC to sell alcohol.
For those who don't know, Nitehawk has its own preview films made specifically for each film, a great menu of food to choose from, and of course drinks.
The original location is 188 Prospect Park West, and there is also a location in Williamsburg. There are also a few other great movie theaters in Brooklyn to check out too!
Tours to Try in March
The first two weeks of March in NYC are the least crowded. So take advantage of that and do a tour. If you're visiting we find that doing food tours on the first day of our trip helps us determine some great spots to eat at the rest of our time in the city (especially if you find one in the area you're staying in).
These are also fun for locals too!
You learn all the good food spots and get history at the same time. Most food is just a sample so you can feel out where you wanna come back to.
The guide will know other things similar to what you like. So you can get expert advice on other restaurants to try that have a similar vibe or say hey I'm actually staying in this area and want Italian food what do you recommend.
If you're a tourist, this totally takes the guesswork out where to eat which let's be honest according to the article you are reading right now, choosing where to eat is the number one cause of fights, depression, and other ailments any trip ever.
Hell's Kitchen Food Tour – This 2-hour food tour takes you through and lets you taste some of the best bites around Hell's Kitchen all while learning about this neighborhood's deep history to modern-day, how it got its nickname, and other interesting facts along the way. You'll sample all kinds of global cuisines that are present here in NYC. Book here.
Greenwich Village Food Tour – this 2-hour tasting and walking tour takes you through one of the best foodie neighborhoods in the city. You'll find out all about the great nightlife scene here and the cool people who have inhabited this gorgeous cobbled street neighborhood while trying out some great food along the way. Book here.
Secret History & Food Tour – This 3-hour adventure is lead by a local guide who takes you to try some of the city's iconic dishes all while exploring the Village. You can expect to try those quintessential meals all while learning a bit of the secret history of the area, plus you might learn some local lingo too. Book here.
There are more than food tours in NYC too, check out a few popular tours like the Catacombs by Candlelight Tour at the Basilica of St Patricks Old Cathedral in Nolita where you will learn about the tensions that caused the 'Gangs of New York,' and at the end explore the catacombs beneath the oldest Irish cathedral in the city.
Enjoy a 2-hour cruise along the New York Harbor during the day or at night when the city lights up.
Walk the Brooklyn Bridge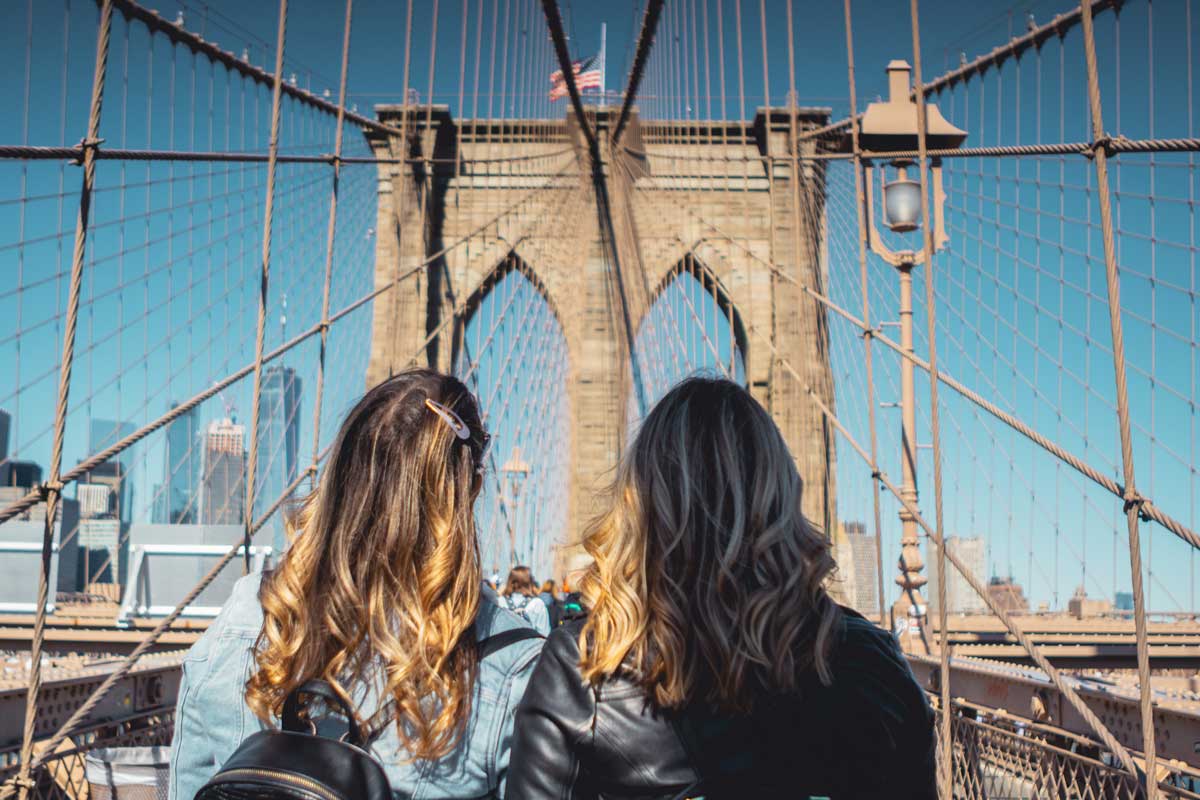 Sure, walking the Brooklyn Bridge might sound like a weird thing to recommend for one of the best things to do in NYC in March. But just the simple fact that there are fewer people makes this a joy. There is just something magical about walking the Brooklyn Bridge.
When we are crossing the bridge into Manhattan we love to walk to Fraunces Tavern for a drink and a meal – a historic watering hole and tavern that George Washington gave his farewell address at in the oldest settled area of the city.
And if you're making your way to Brooklyn, check out all the best things to do in DUMBO and if you need ideas for dining head to Time Out Market New York which has a lot of great NYC dining options all under one roof.
What is March weather in NYC?
March in NYC averages around 48 F (9 C) during the day and 36 F (2 C). So not terribly cold, but not warm either.  
How should I dress in New York in March?
You will want to wear layers and warm clothes in March. The first half of the month tends to be cooler temperatures where things start warming up the second half of March in NYC. There is even a chance for snow in March. It's also best to have waterproof shoes, raincoats, and umbrellas to keep you dry on wet days.

Also, bring a warm coat. The tall buildings can create wind tunnels in NYC and anywhere near the water, like along the Hudson River or walking the Brooklyn Bridge tends to be windier and colder.

Is March a good time to visit New York?
March is a great time to visit New York City as there are fewer visitors on average (that is until the second half of the month things start slowly picking back up as the weather warms up and we get closer to spring break) and there are exciting events happening and holidays like St. Patrick's Day.
We hope you enjoy all these amazing things to do in NYC in March. Let us know if we missed one of your favorite March in New York activities in the comments below.