Looking for the best things to do in NYC in May? We got you! May in NYC is one of the best months to get out and explore the city. It's like the beginning of summer, without the heat set to scorch.
For tourists, prices begin rising along with the weather. Go figure right? But don't let that deter you as there are still plenty of opportunities for free things to do in NYC, you just might not be getting a sweet hotel deal (but there are budget-friendly hotels too no matter the time of year).
If you had the good fortune to plan in advance you can still book hotels in advance while demand is low. Here's a great article for helping you plan New York City on a budget as you can find hotel deals and enjoy some of the best things to do in NYC from attractions, tours, and popular restaurants without the crowds. Especially if you plan in advance.
This guide will cover some of the best things to do in New York City in May. From great things to see in the spring to fun events taking place in the month like Harry Potter Day (yes, that's a thing), Cinco De Mayo, Mother's Day, enjoying all the rooftops the city has to offer, and other fun and exciting things going during the month of May in NYC.
New York in May Weather
New York in May is just the best. The parks are buzzing with life and in full vibrant color. The beaches are back and New Yorkers and tourists alike are ready to enjoy just about everything there is to do in New York in May because they've gotten over the back-and-forth weather patterns of April in NYC.
On average the NYC weather in May is in the 70s (22C) during the day and 55 (12C) at night. It can still rain, averaging 7-9 days of rain and 20 beautiful sunny days!
Packing for New York weather in May is a bit easier because you don't need to bring as many puffy jackets that take up a bulk of the space in your suitcase. Among the usuals, you need for any month in NYC, comfy shoes, layers, and a light jacket. You might want to bring some sunglasses and a small umbrella in case it does turn out to be one of those rainy days in May.
Things to do in NYC in May
Cinco De Mayo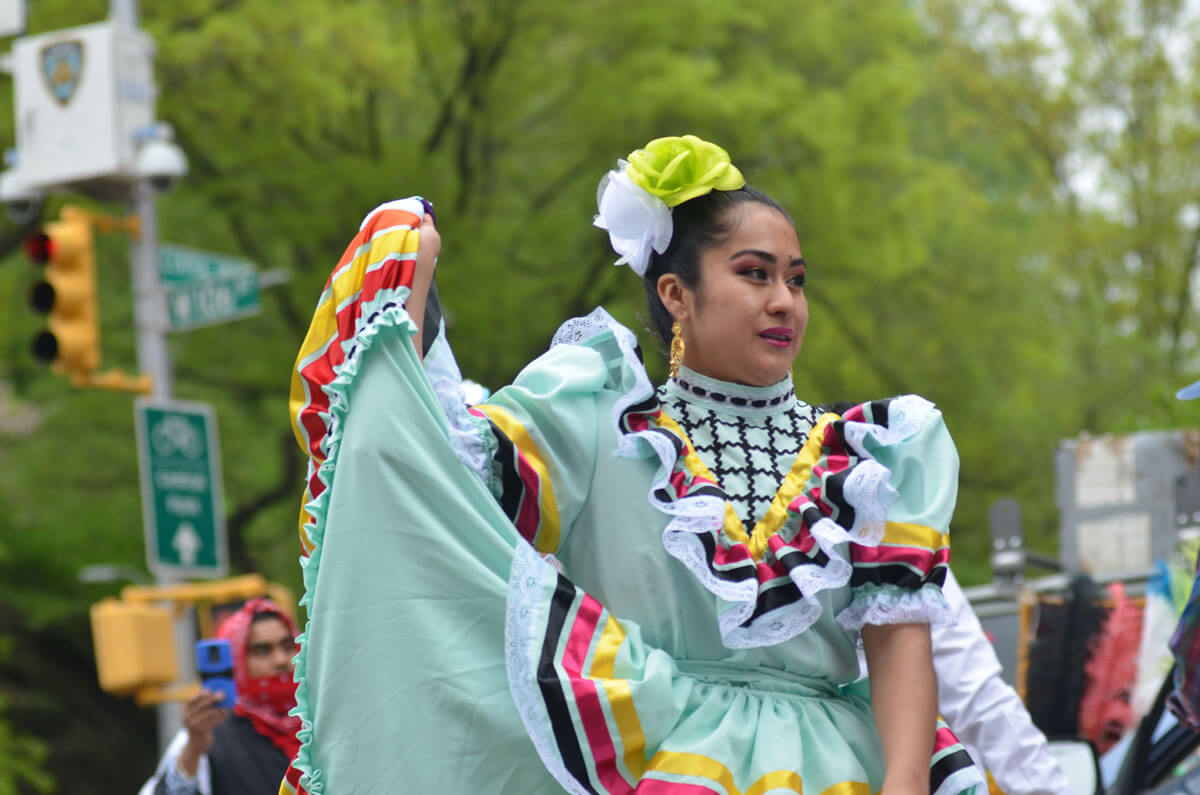 Did you know, Cinco de Mayo IS NOT Mexican Independence Day? Instead, it celebrates the day the Mexican army defeated the French in Puebla de Los Angeles, known as the Battle of Puebla. That happened because one of the most hated short dudes in history, Napoleon III, tried to take advantage of Mexico while the country was being forced to default on debt payments to Europe. He sent 6,000 troops to lay siege on a small town called Puebla. The president of Mexico at the time, Benito Juárez, rallied a ragtag group of 2,000 men and held them off. The win was symbolic and political pressure and with the number of casualties, the French had they withdrew.
We mention this because a lot of people really don't know what Cinco De Mayo is, always on the 5th of May, and use it as an excuse to appropriate Mexican culture. While this is a minor holiday in Mexico, there are a few celebrations of Mexican people and their culture here in New York City in May.
While you can find celebrations happening all over the city, one of the most famous celebrations in the annual Cinco De Mayo Parade in Sunset Park, Brooklyn which goes down 5th Avenue and you'll be able to see dancers, and musicians, and eat some really great food!
More options in Manhattan include the Cinco De Mayo Street Fair near Grand Central Terminal and the 116th Street Cinco De Mayo Festival which includes more live music and tons of food!
And if you want to use the holiday to support Mexican-owned eateries, head to the neighborhoods of Sunset Park, Flatbush, and Bushwick in Brooklyn, Elmhurst and Jackson Heights in Queens, or Spanish Harlem in Manhattan which have large populations of Mexican-Americans and no shortage of incredible locally-owned eateries to support!
Mother's Day in NYC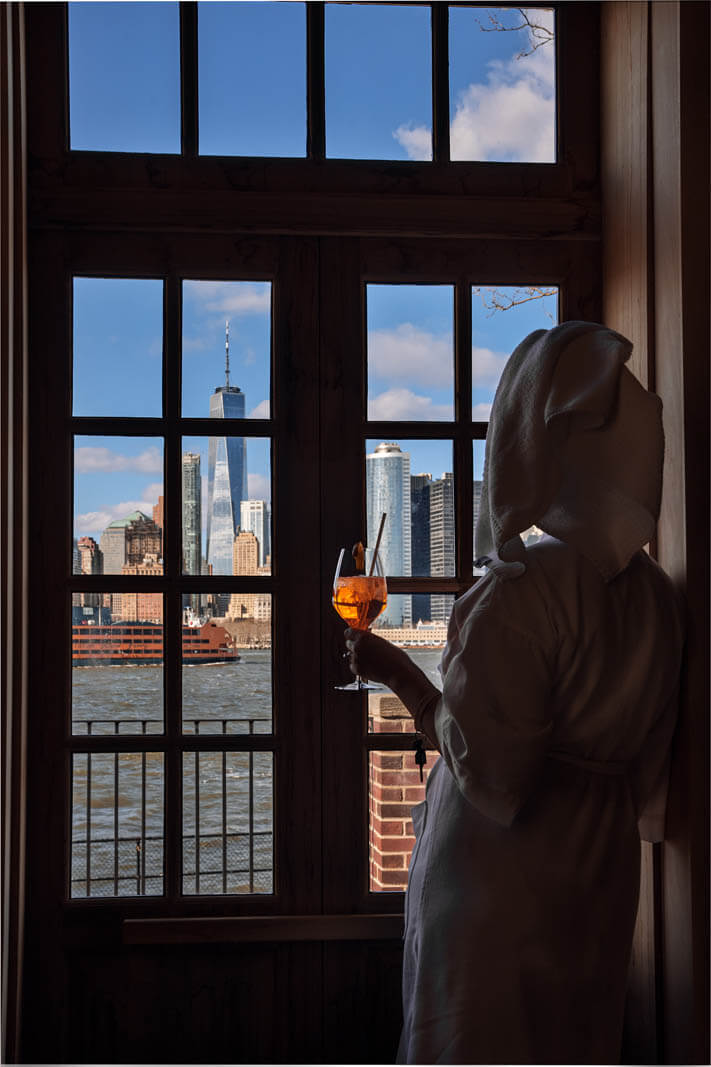 What better way to show your mom your appreciation than spending it somewhere in style in NYC? Literally, the world is your oyster just be sure to plan this one in advance. RESERVATIONS ARE A MUST. Most restaurants will go all out in decor and offer all kinds of discounts and fun unique things for the occasion.
Mother's Day in NYC is also a perfect excuse to go see that Broadway show you've wanted to see (or gift tickets to a future show) or enjoy a scenic dinner cruise and soak in the views from the water.
Or want to pamper mom? Send her to the incredible QC NY Day Spa on Governor's Island which has multiple themed saunas, steam baths, and relaxation rooms plus outdoor heated pools and dining all with skyline views of Lower Manhattan! We all know that moms deserve a little R&R and pampering!
MOTHER'S DAY FRIENDLY TOURS & EXPERIENCES TO TRY IN MAY
Mother's Day is always a great excuse to create a new memory with your Mom. So why not try something you've both never done before, but don't have to plan too much.
One World Observatory – Take Mom up to the tallest building in the Western Hemisphere and the 7th tallest building in the world! Not only do you get 360-views of NYC and its surrounding, you also have a chance to dine or enjoy a drink at the     Also, don't forget to make a reservation at ONE Dine, which is easily one of the most unique dining experiences in the city! You'll need a reservation though so don't forget that!
Try a Brunch, Lunch, or Dinner cruise as already mentioned above for Mom! Spend 2 or 3 hours, depending on the tour you choose, enjoying the sweeping views of the New York Harbor while dining in style aboard a classy European style dining vessel where you'll take in views of the Brooklyn Bridge, Statue of Liberty, and of course the skyline!
Little Italy Food Tour – Is mom a foodie? One of the most fun and interactive tours you can check out are food tours! Not only do you learn the history and ins and outs of the neighborhood you're exploring, which Little Italy has no shortage of culture, history, and great food – you'll also get to sample amazing food from the best eateries in the neighborhood! Come hungry and with good walking shoes!
Manhattanhenge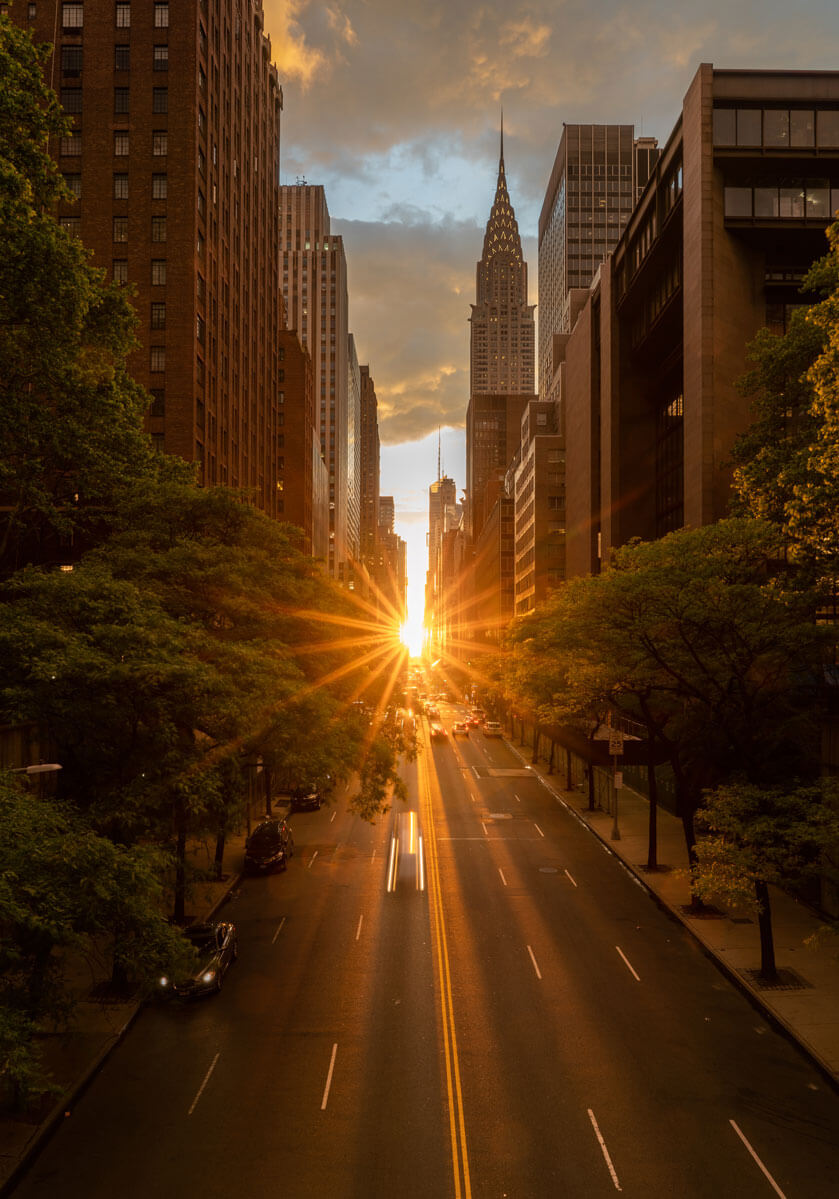 For some amazing reason, two times each year the sun sets in such a way that it perfectly aligns between the skyscrapers. It's amazing, and so many people show up to see the sunset event in May and again July, but it varies year after year. (The sunrise events usually happen in December and January).
This year you get a half sun on May 29th, and a full sun Manhattanhenge on May 30th at approximately 8:14 pm.
We owe this exciting event to John Randel Jr, who in 1811 proposed the streets of NYC be built in a perfect grid system which is the reason it lines up the way it does.
Best viewing spots of Manhattanhenge:
Because of NYC's awesome grid, thanks again John, there are 5 places that are perfect for viewing Manhattan Henge. They are:
14th Street
23rd Street
35th Street
42nd Street (our biased opinion is the Tudor city bridge on 42nd and United Nations Plaza is the absolute best of the best.
57th Street
Just know you need to get to any and all of these locations AT LEAST 30 minutes before the glorious event. You've been warned.
National Burger Day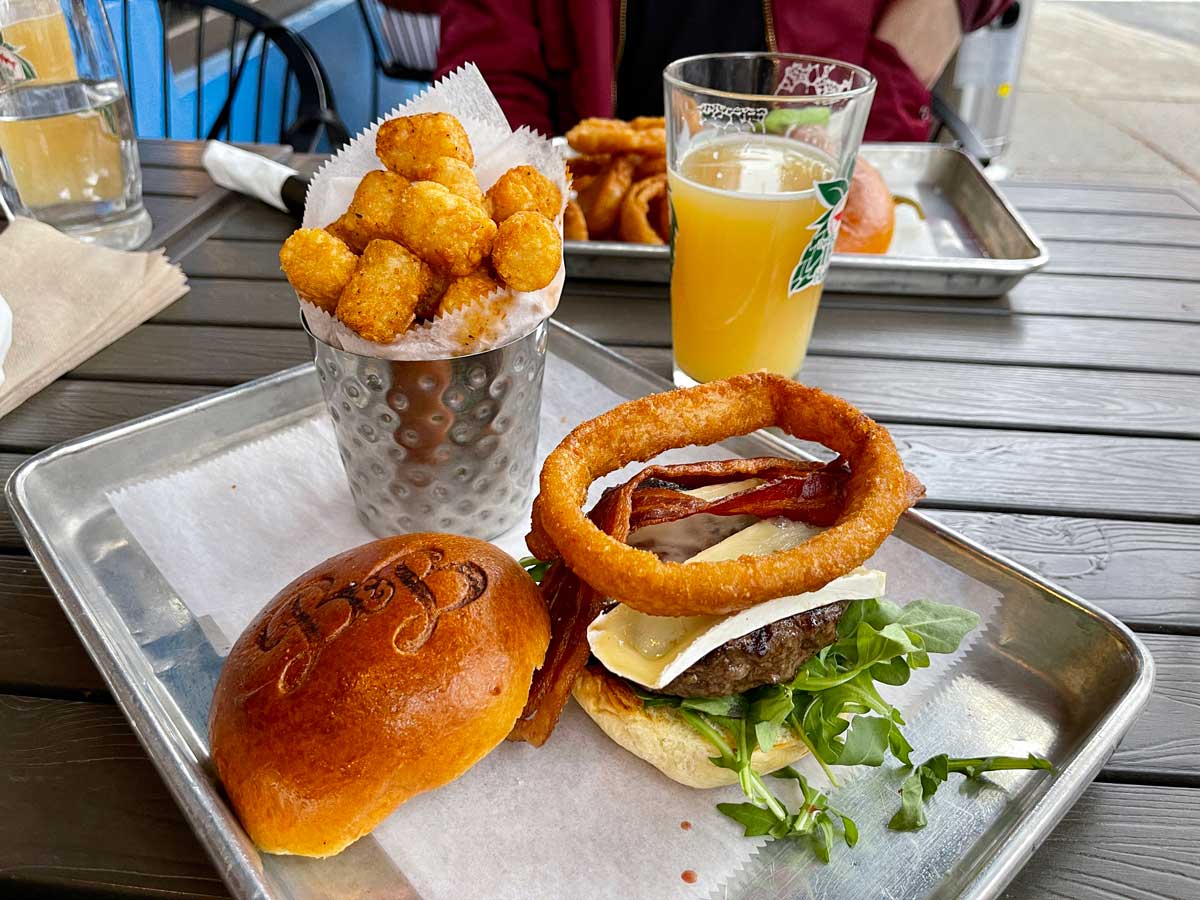 You might be asking yourself, why the h-e double hockey sticks is this a thing? Because why not is why. But most likely because hamburgers are an American staple linked to summertime cookouts and beach picnics!
Each year on May 28th you can use National Burger Day to cook out at parks with barbeques like Prospect Park in Brooklyn or hit up one of the insanely great burger spots in the city!
So why not join the fun and use it as an excuse to have a cookout and make your favorite burger during May in New York? Or go and get one because a lot of restaurants will have discounts and promos to get a slice of the action.
A few of the best spots to get a burger in the city include:
Minetta Tavern (113 MacDougal Street in Greenwich Village)
Emily (919 Fulton St in Clinton Hill, Brooklyn)
Peter Luger Steakhouse (178 Broadway in Williamsburg, Brooklyn)
Brooklyn Burgers & Beer (259 5th Ave in Park Slope, Brooklyn)
burger joint (119 W 56th St hidden in the Thompson Central Park New York Hotel)
Red Hook Tavern (329 Van Brunt Street in Red Hook, Brooklyn)
JG Melon (1291 3rd Ave in the Upper East Side)
Or you can just grab some fast burgers to go at Shake Shack!
Rooftop Films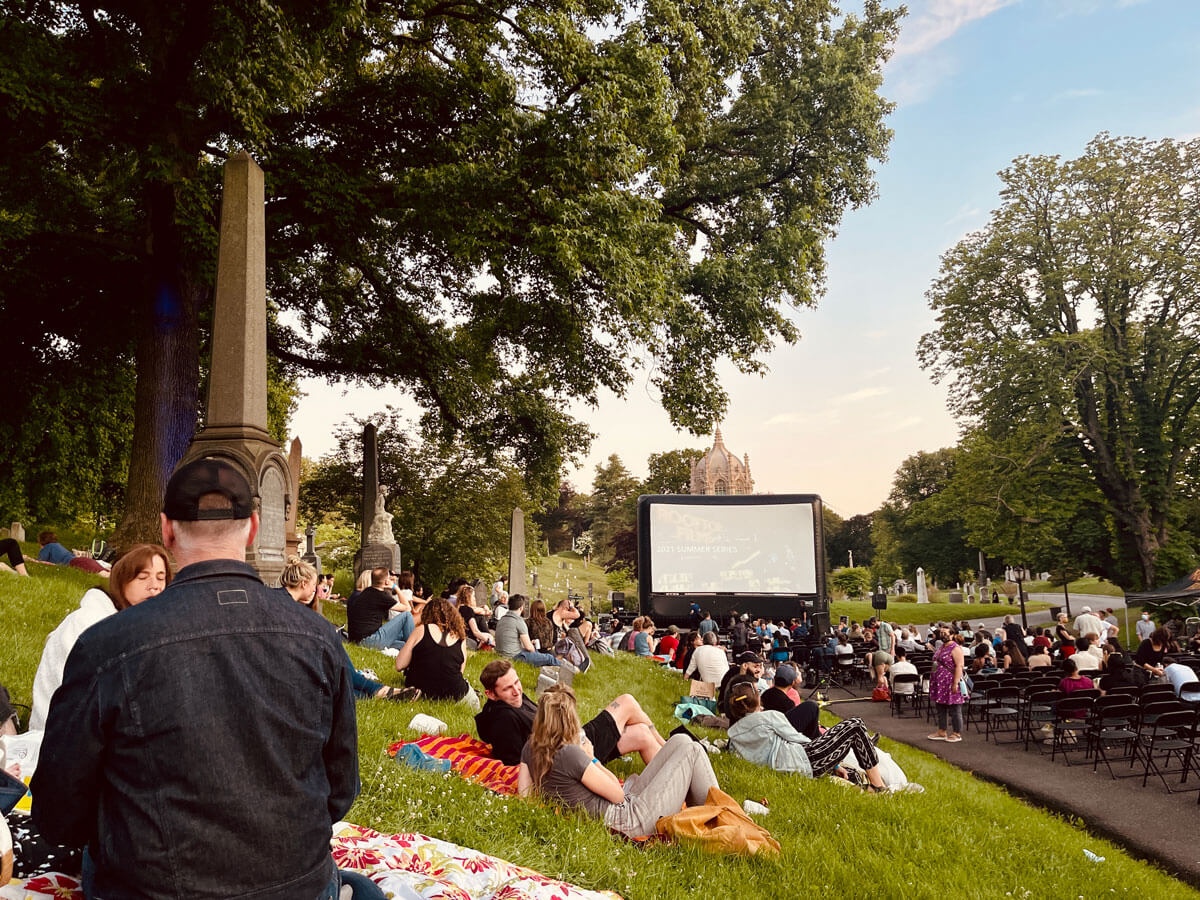 If you are anything like us you are so excited about the weather during May in NYC that you just can't wait to go visit as many rooftops as you can. One of our favorite ways to get those city views and share a fun memory is going to see a movie on a rooftop.
These aren't always on a roof but they do get scattered around the city which is really fun to see a new vantage point of the city. Check out Rooftop Films schedule.
Rooftop Films is known for showing independent films, often on their screening night with special guests! Our favorite location we've ever seen one of their films are when they premiere at Green-Wood Cemetery in Brooklyn!
All of their venues are pretty cool though, so be sure to check them out and don't miss that during your May in NYC (or all summer long!).
Pizza & Wine Movie Nights at Rooftop Reds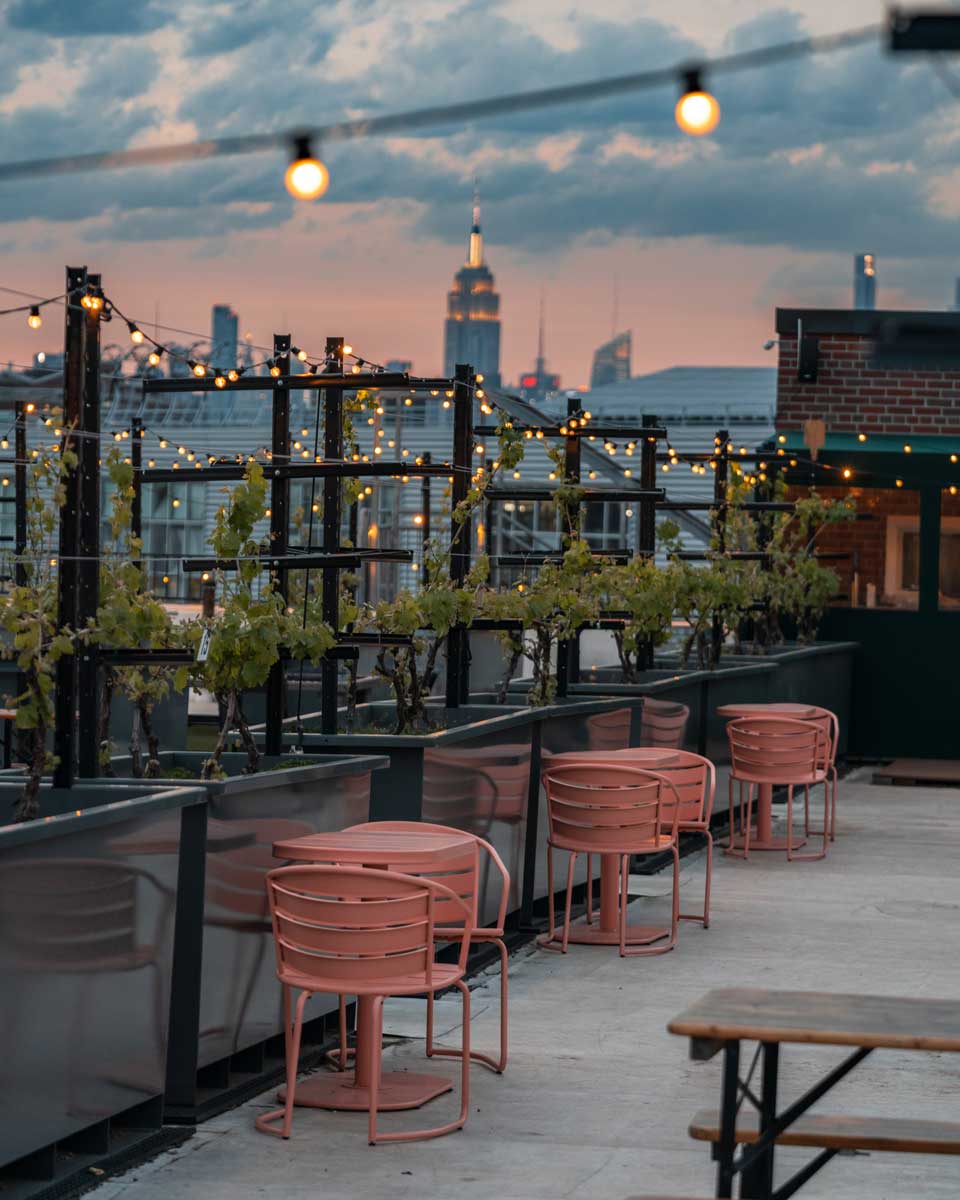 What's better than sharing some pizza, wine, and a movie with a loved one or friends? Doing it on a roof! Not to be confused with Rooftop Films, but Rooftop Reds, one of the best rooftop bars in Brooklyn, does a series during the late spring and summer in Navy Yard that offers some of our favorite views of the city along with a movie!
Kicking off in May, this is without a doubt one of the best things to do in NYC in May! Rooftop Reds is actually the city's only rooftop vineyard! This winery partners with a vineyard in Finger Lakes Wine Country in Upstate New York to bring wine country right here to the city.
So while you're enjoying a movie, you can also enjoy a wine tasting or carafe made right here in the good ol' state of New York!
The programming starts in May and continues all summer. Check out the schedule and get tickets here.
NYC Rooftop Hopping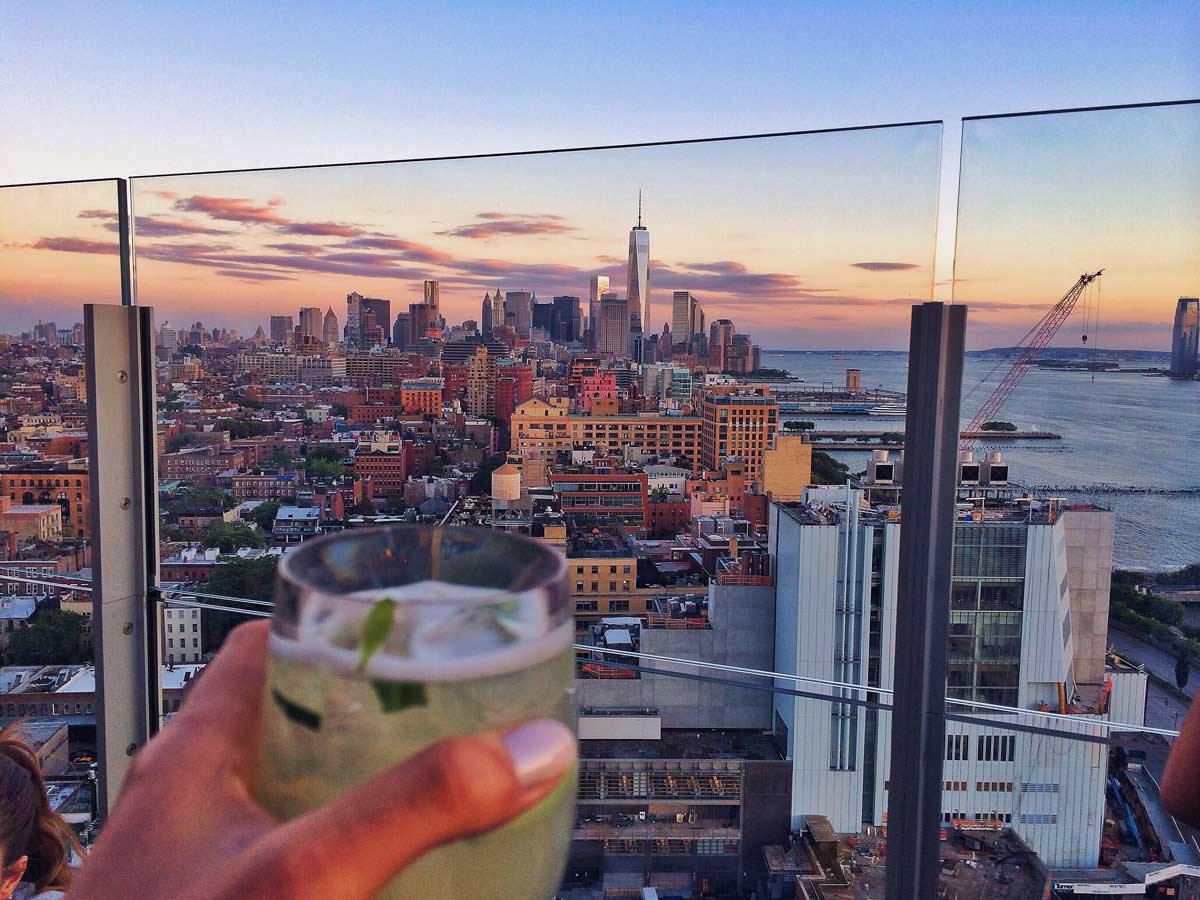 Like the idea of rooftops but don't want to commit to a movie? We get it. In those times we try to find a great rooftop to try and unwind and soak in some city views at eye level. With so many amazing rooftop bars in NYC, you can't go wrong with really any of them.
If it's your first time and you're looking for great skyline views, check out 230 Fifth Rooftop, Westlight at the William Vale, or the Refinery Rooftop.
Celebrate Harry Potter Day 
Whether you're a muggle, witch, wizard, or warlock you can celebrate the Potterverse on May 2nd, which is Harry Potter Day. In NYC there is no shortage of Harry Potter/Fantastic Beasts things to check out!
If you haven't already, consider visiting the official Harry Potter Store on Broadway to try butterbeer, buy a wand, clothes, or one of their many VR experiences. Be sure to enter the virtual line though so you're not standing around waiting to get in too long, and even if it doesn't look like there's a line, chances are there is.
If you don't feel like waiting in line (or dealing with any queues), try to make an appointment and learn from a craft potion maker and enjoy making your own cocktails at the Cauldron Co.
Of course, armchair wizards and witches can find out which house they'd belong in and use the day to binge-watch their favorite Movie series.
Catch a Playoff Basketball Game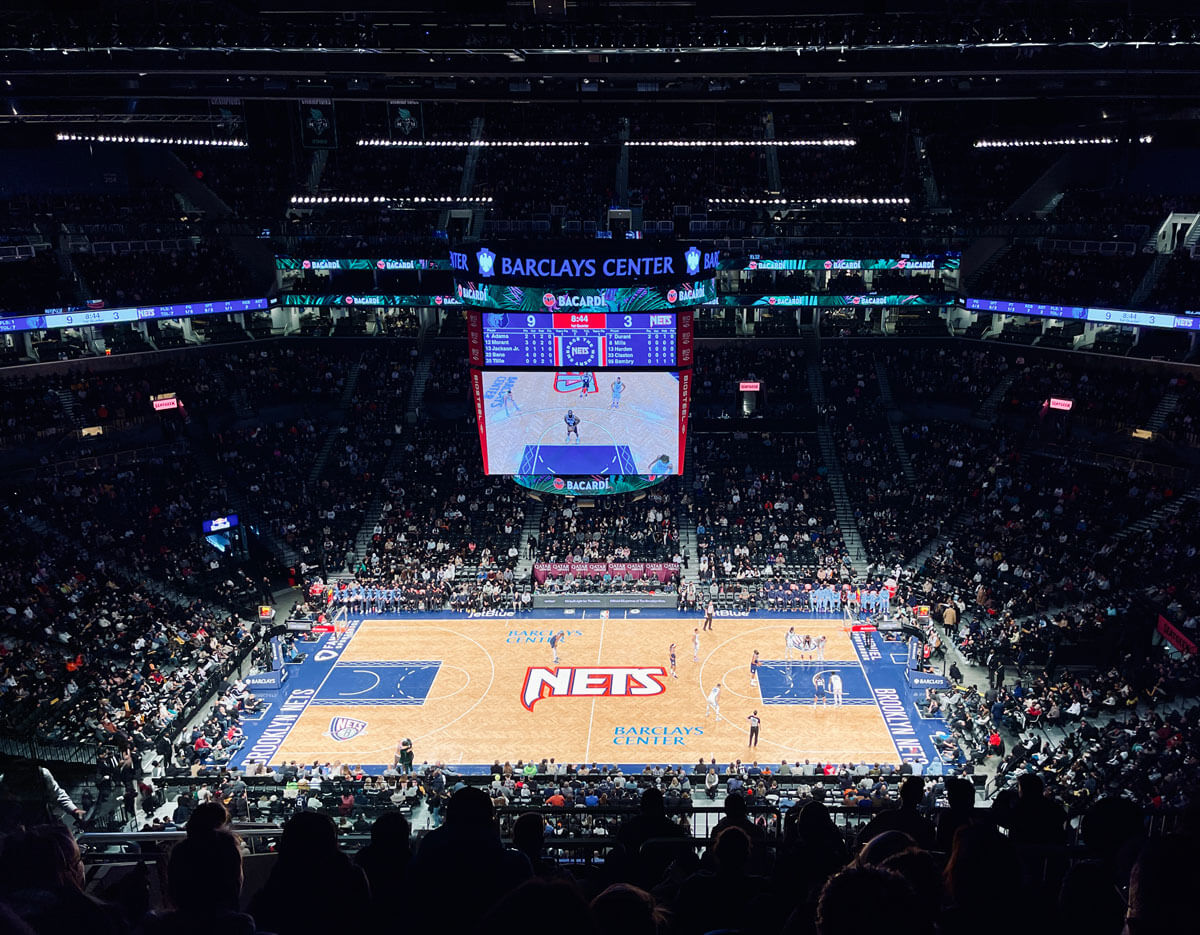 If you're a basketball fan then you're in luck, you have two great choices for basketball in NYC in May!
If the Knicks are in the playoffs, then it doesn't get any more iconic than a playoff game at Madison Square Garden. It's the mecca for the basketball experience.
If you're staying in Brooklyn or more a fan of the Nets. Then Barclays Center in Downtown Brooklyn is another great choice to catch the Nets as they are one of the best teams in the NBA, and our favorite team but we might be biased you are reading this at your BROOKLYN guide.
And plan your pre or post-event by checking out the best restaurants near Barclays Center just a short walk away! There are so many incredible food options, so take a local's recommendation from our guide.
---
SeatGeek is a popular ticket search engine that makes finding tickets to sporting events, concerts, and many other live events at Barclays Center quick and easy.
When you add our promo code BROOKLYNGUIDE to your SeatGeek account, you receive $20 off your first ticket purchase.
(We receive a small commission at no extra cost to you)
Save Money on the City's Best Attractions in May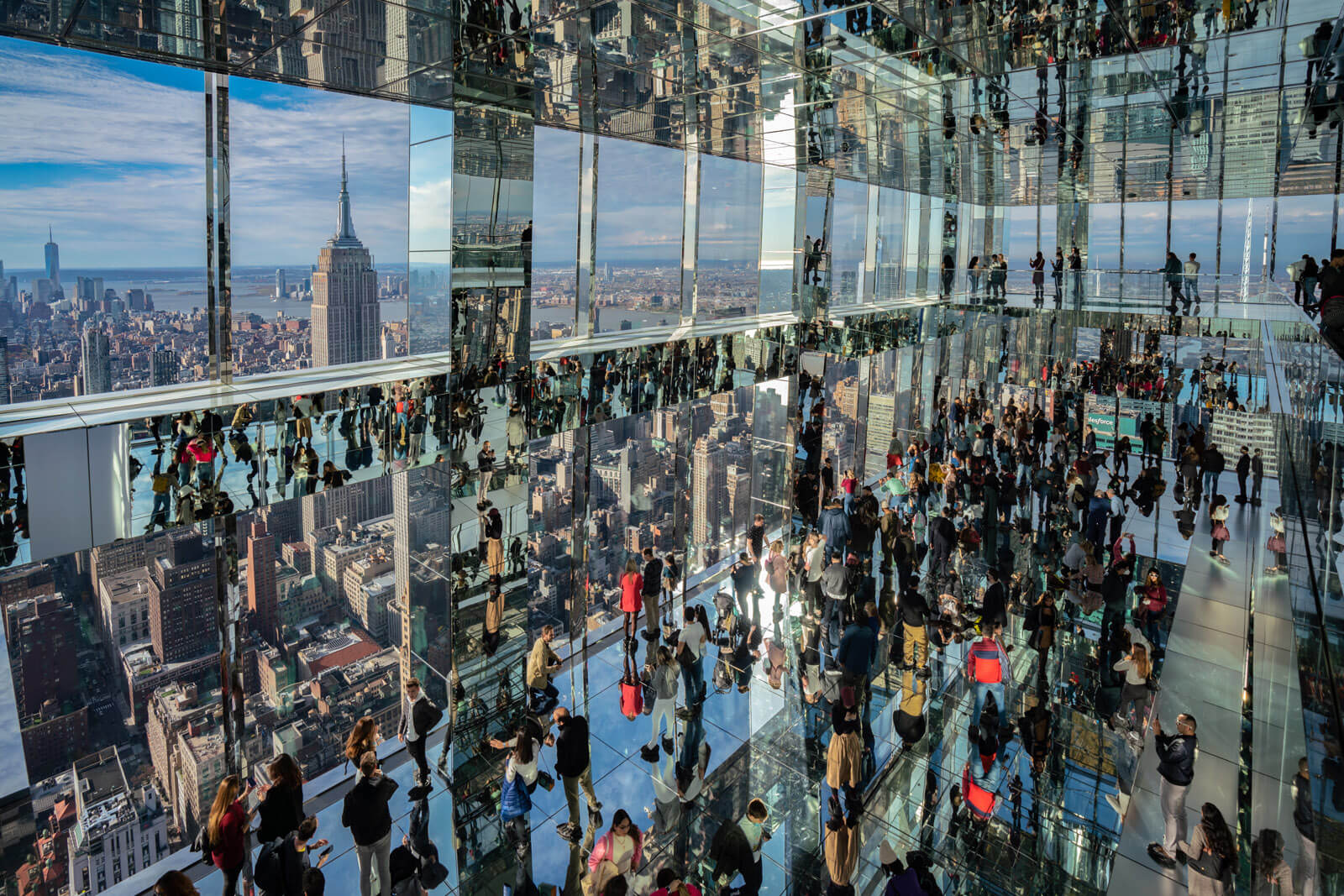 One of the best things to do in NYC in May is take advantage of the weather and check out some of the best NYC experiences and tours. Like the best observation decks in NYC to enjoy that perfect weather before it gets too hot to even dare get in crowded elevators with all those sweaty people.
We have a money-saving secret for you as these hot ticket items can ADD up and cost a fortune. If you're going to be visiting for a few days or just want to do some sightseeing in a few days consider the different money-saving attraction passes available in NYC. (PS these also work for many of the museums too).
These attraction passes are paid upfront for a one-time fee and on your trip they get you into multiple different attractions for free meaning that you save some serious money overall. By purchasing an attraction pass you can save anywhere from 35-45% on your attraction and saving you hundreds of dollars on your visit! 
CityPASS offers a 3 attraction pass or a 6 attraction pass with over 12 city attractions to choose from including popular observatories like the Empire State Building, The Edge, Top of the Rock, 9/11 Memorial & Museum, Statue of Liberty & Ellis Island, the Guggenheim, and more!
Another great option is the New York Pass which you can purchase anywhere from a 1 Day Pass to a 10 Day Pass that gets you into over 100 attractions. YES! This one is better if you want MORE options. Once you purchase your New York Pass you download the Go City app and use that to get up to 45% savings on popular attractions as well as a few hidden gem attractions ranging from the Empire State Building to museums and MANY more.
See our full breakdown of the New York Pass and our breakdown of the New York CityPASS to see if it's worth it for your visit to save hundreds of dollars on multiple attractions!
Check Out Fleet Week
Fleet Week is a week-long annual celebration that honors the U.S. Navy, Coast Guard, and Marine Corps by having parties, special events,  and military demonstrations that typically takes place during the last week of May in NYC. You can even visit some boats and talk with members of the U.S. Coast Guard.
It's located over a range of locations from Staten Island, all the way to Times Square and more. You can get more up-to-date information on their social media accounts including their Facebook page.
Free Admission to The Intrepid Sea, Air & Space Museum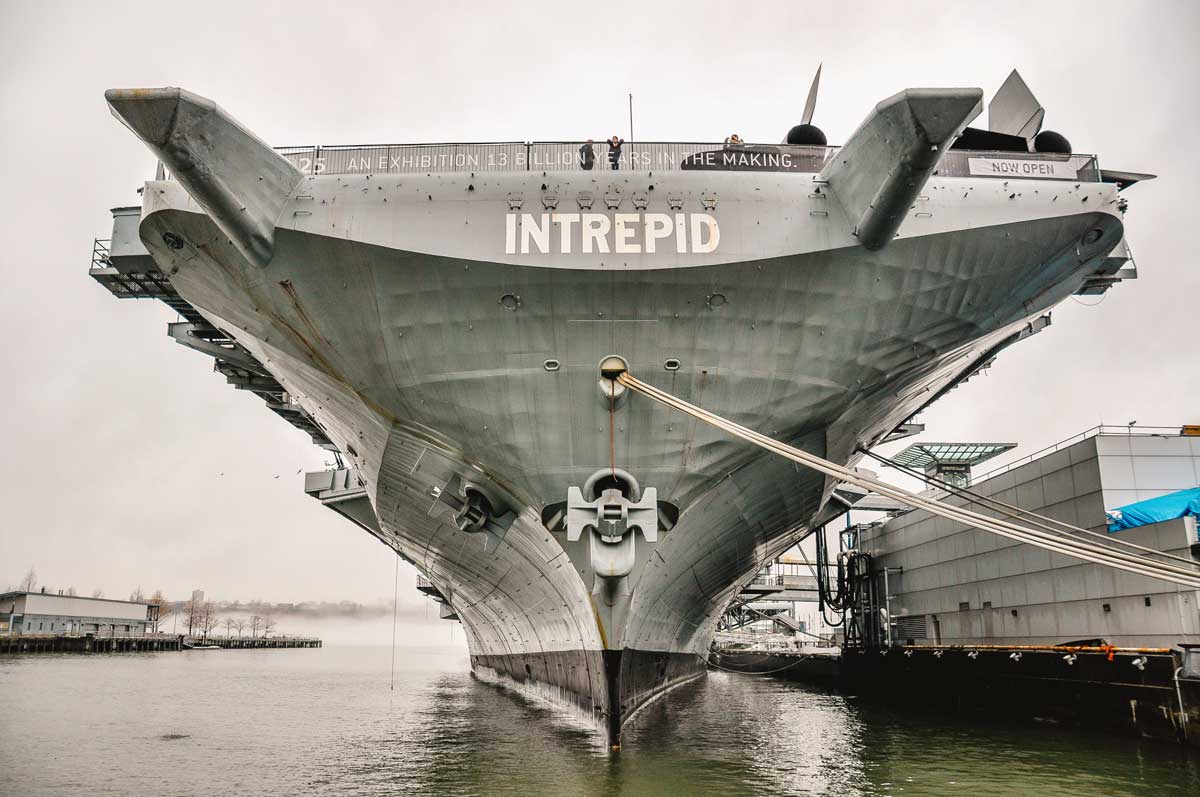 Piggybacking on the Fleet Week it only seems right to also let you know you know you can visit the Intrepid Sea, Air & Space Museum for free one Friday every month. The museum is dedicated to the interpretation of history, science, and servicemen and is on the National Historic Landmark aircraft carrier called Intrepid.
It's located at Pier 86 off West 46th Street on the Hudson River and you can find more info here to plan your visit.
Memorial Day
This one's a big one for things to do in NYC in May, every year on the last Monday of the month. New York loves to honor those who have served our country during our relatively short history as a nation. Doesn't matter where you are in the tri-state area. You'll know it's Memorial Day. 
But if you are trying to get in and see the parades, the biggest one is in Queens called the "Little Neck-Douglaston Parade.
Meanwhile, Brooklyn's Memorial Day Parade between 78th Street and 3rd Avenue is the oldest! Manhattan also has a smaller parade that goes from Dyckman Street to Broadway.
Memorial Day is a U.S. holiday that was created to honor those who lost their lives while serving in the armed forces. It was known as Decoration Day prior to the new name. Memorial Day became a federal holiday in 1971 and is always celebrated on the last Monday in May!
Celebrate Japanese Culture on Japan Day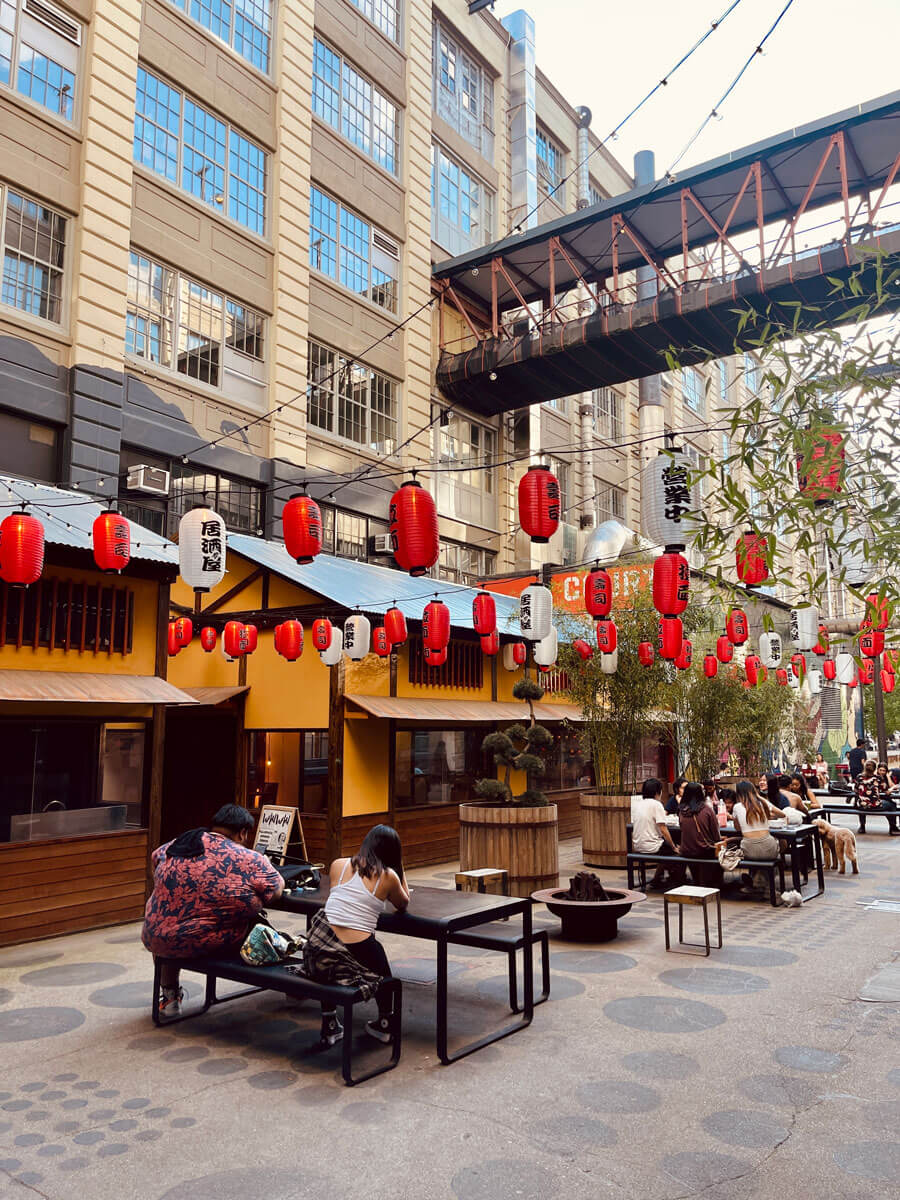 One of the newer events in New York and things to do in NYC in May is celebrating the official Japan Day by attending the Japan Day Parade along Central Park West (starting uptown between 81st and 67th Streets from 1 to 3:30 PM).
This cultural event in May was meant to kick off in 2020 to celebrate and commemorate the 160th anniversary of the first visit to the US by Japanese delegates. It also was originally going to coincide with the 2020 Tokto Olympic and Paralympic Games, but due to health and safety concerns amid the pandemic in 2020, it was canceled and the first parade finally took place in May of 2022.
After the parade head to West 72nd Street (between Columbus Avenue and Central Park West) for the Japan Street Fair where you'll find Japanese food vendors and other fun cultural activities like origami and fun photo spots.
To keep on celebrating Japanese culture you can also head to New York City's only Japan Village at Industry City in Brooklyn which not only has a Japanese market and food hall, but Japanese murals and shops that are located on the upper level.
---
We hope you enjoy all these amazing things to do in NYC in May. Let us know if we missed one of your favorite May in New York activities in the comments below.