Looking for the perfect New York City itinerary with kids? We got you! Everyone knows that New York City is an excellent place for adults, but New York with kids is also excellent as there are tons of fun things to do for all ages.
From the bright lights of Times Square to more tranquil spots like Central Park and the High Line, there are plenty of activities in NYC to keep kids entertained. To help you plan your trip, here's a complete NYC family vacation itinerary.
In one of the largest cities in the world, you can imagine there are tons of great things to do in NYC with kids as well as awesome things to do in Brooklyn with kids too! Feel free to adjust or customize your NYC family vacation with all of our suggestions and resources!
And be sure to also check out our guide to all the essential New York City travel tips you'll want to know before your visit too!
3 Day NYC Family Vacation Itinerary
Day 1 NYC Family Vacation – Midtown Manhattan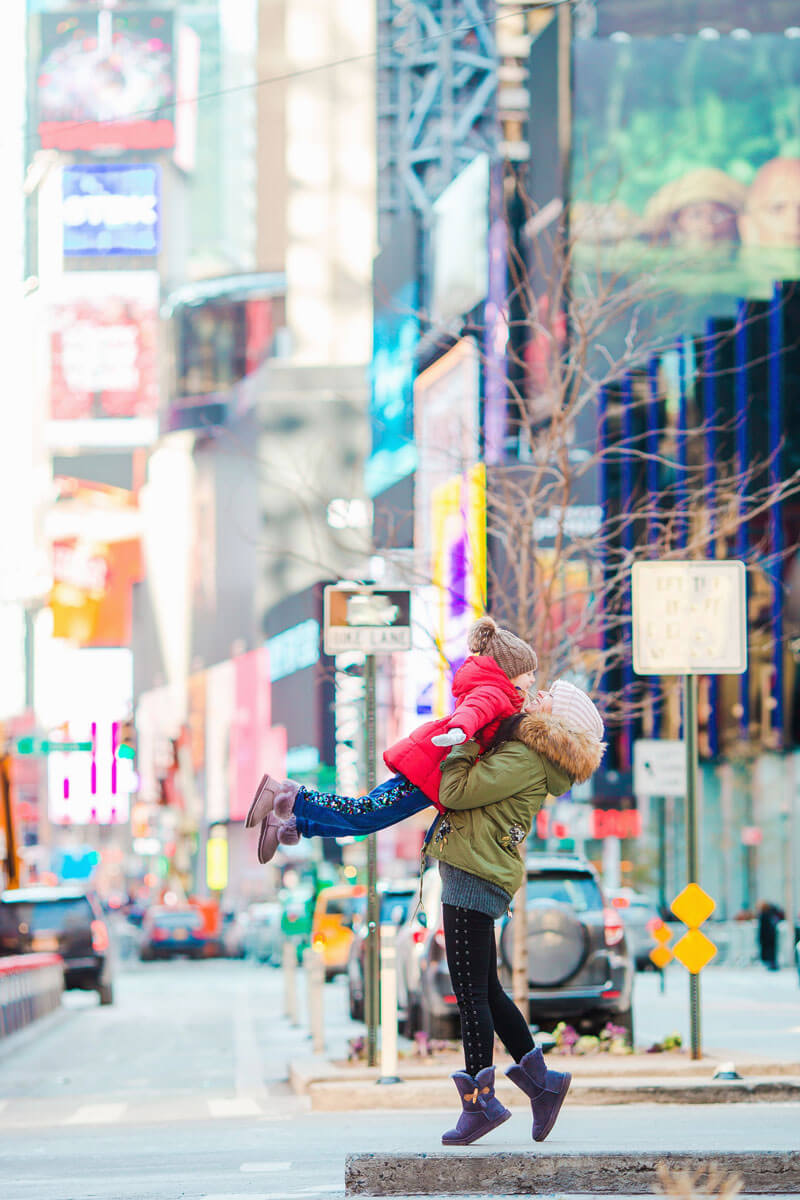 I like to start any New York City itinerary with kids off with Midtown Manhattan. This is where you'll find some of the most iconic sites in the city along with some of the most fun activities for kids in NYC.
Breakfast at Ellen's Stardust Diner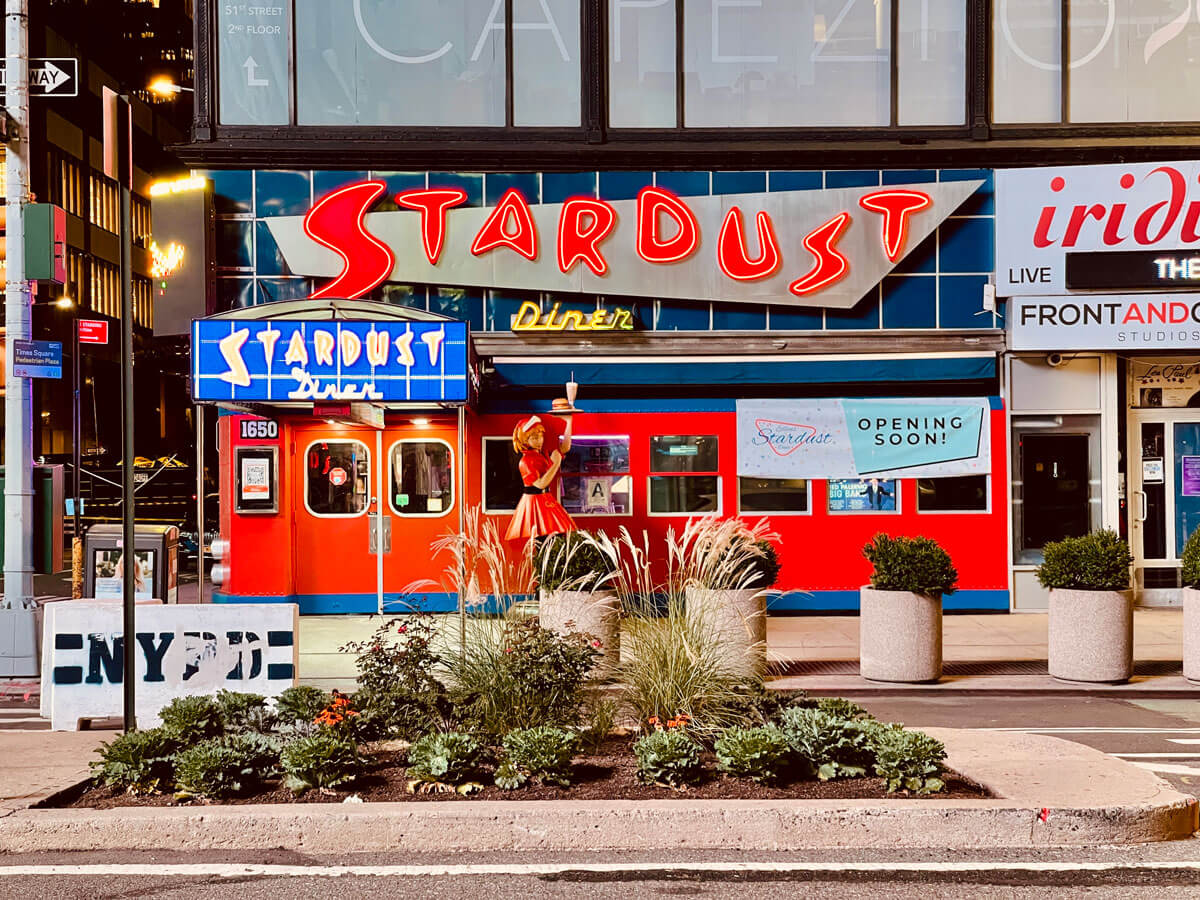 Start off your day with a healthy dose of sugar and song at Ellen's Stardust Diner, one of the best diners in New York City. Ellen's food is what you would expect from any mid-range city diner, but where this place really shines is its incredible service with a smile and a song.
The servers here are all broadway bound, ultra-talented singers who will serve you your pancakes and then blow you away with their amazing vocals. I recommend eating here for breakfast. They do a decent avocado toast and kids are always happy with a giant plate of chocolate chip pancakes. There will most likely be a line to get in, but it moves pretty quickly.
MOMA – Museum of Modern Art
If you have any art lovers in the family, stop by the MOMA, one of the best museums in New York City. They offer several family programs that you can sign up for. Be sure to point out Van Gogh's Starry Night.
The LEGO Store
The LEGO Store is a must-see for any lego loving kid or anyone traveling to New York with kids (or even adults that are kids at heart). In my case, I've got four of them. Legos transcend all ages. Even if you're not shopping, it's so fun to see all the displays there, which are constantly on rotation.
Radio City Music Hall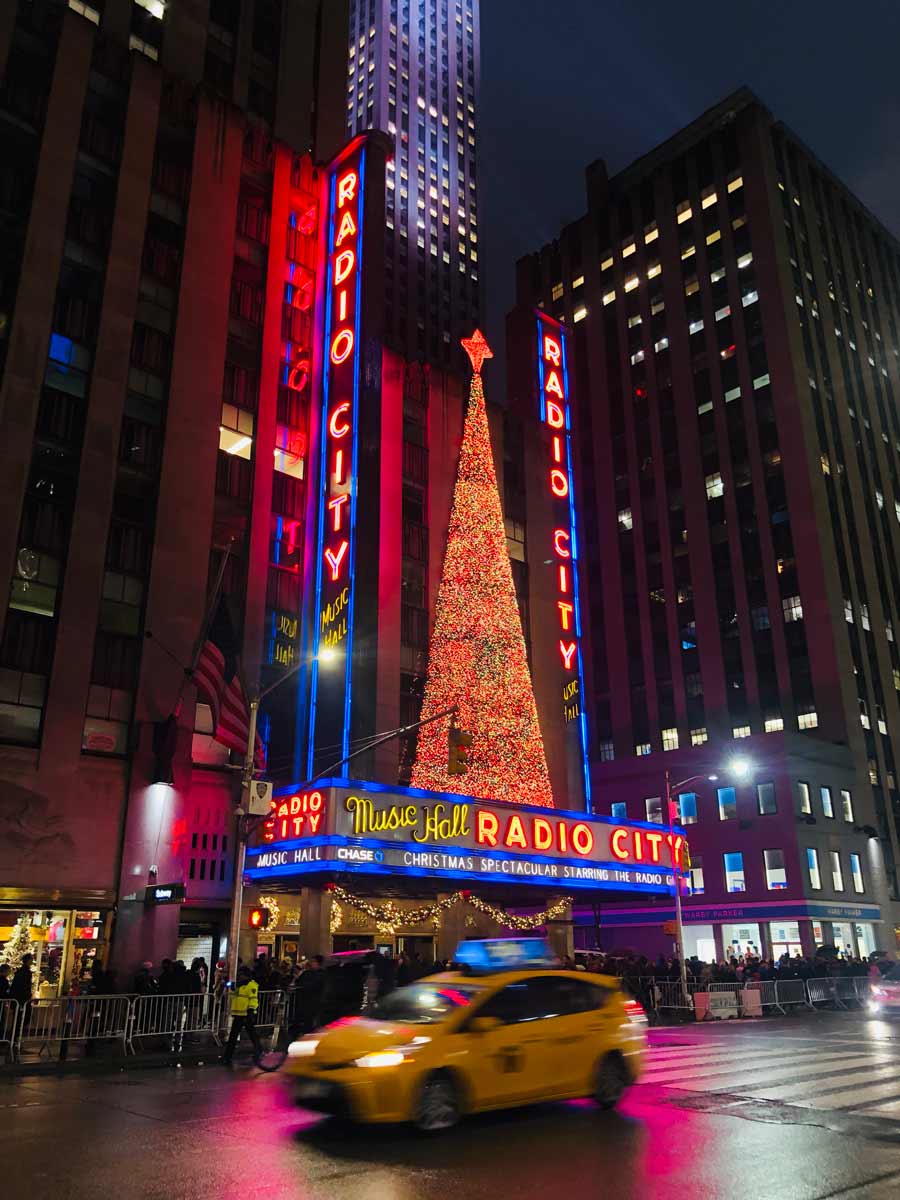 Radio City Music Hall is a New York City landmark theater built in 1932. It's home to the famous Rockettes. Catch a show if you can and are visiting NYC at Christmas time.
If you don't have time to see a show, but want to see the inside of the theater, you can take the Stage Door Tour, which is really fun. If you're in New York city with kids around the holidays, definitely catch their holiday show.
FAO Schwarz
Your kids will flip over this amazing wonderland. FAO Schwarz is the oldest toy store in the country. It first opened in Baltimore in 1862 and moved to New York City in 1870. It's moved locations a few times, but you can now find it in Rockafeller Plaza. The store was made even more famous by the movie BIG when Tom Hanks plays on the dance-on piano.
FDNY Fire Zone
The FDNY Fire Zone is New York City's state-of-the-art fire safety learning center. You can climb on a fire truck, try on bunker gear, meet a firefighter, and learn how to crawl through a smoke-filled hallway. The Fire Zone gives teaches visitors what to do in a fire emergency through hands-on exhibits and a simulated fire scene. It's educational and fun!
Bryant Park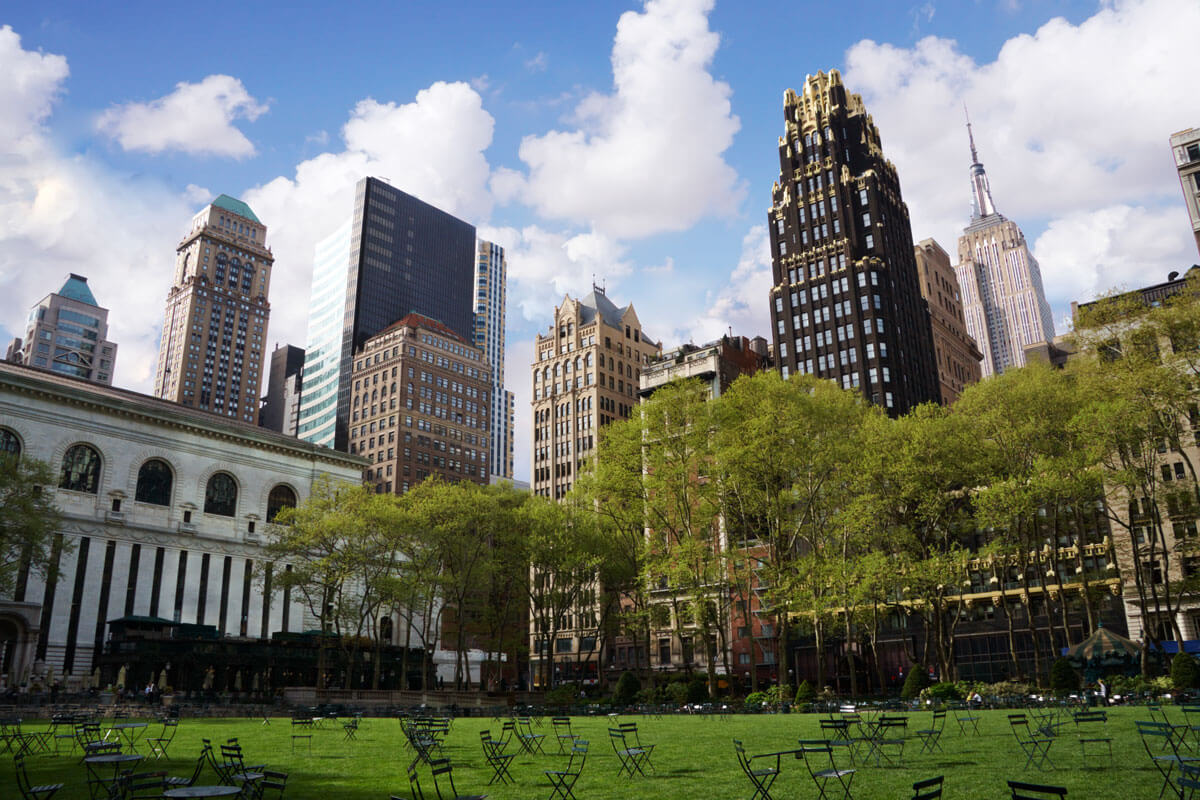 Just blocks from Times Square, Bryant park is a lively green space where you can find seasonal activities like ice skating in the winter (and the famous winter village) and movies in the park in the summer. There's always something going on here and it's always a good idea to take a break from the hustle and bustle in the city and enjoy some of the best outdoor activities in NYC.
New York Public Library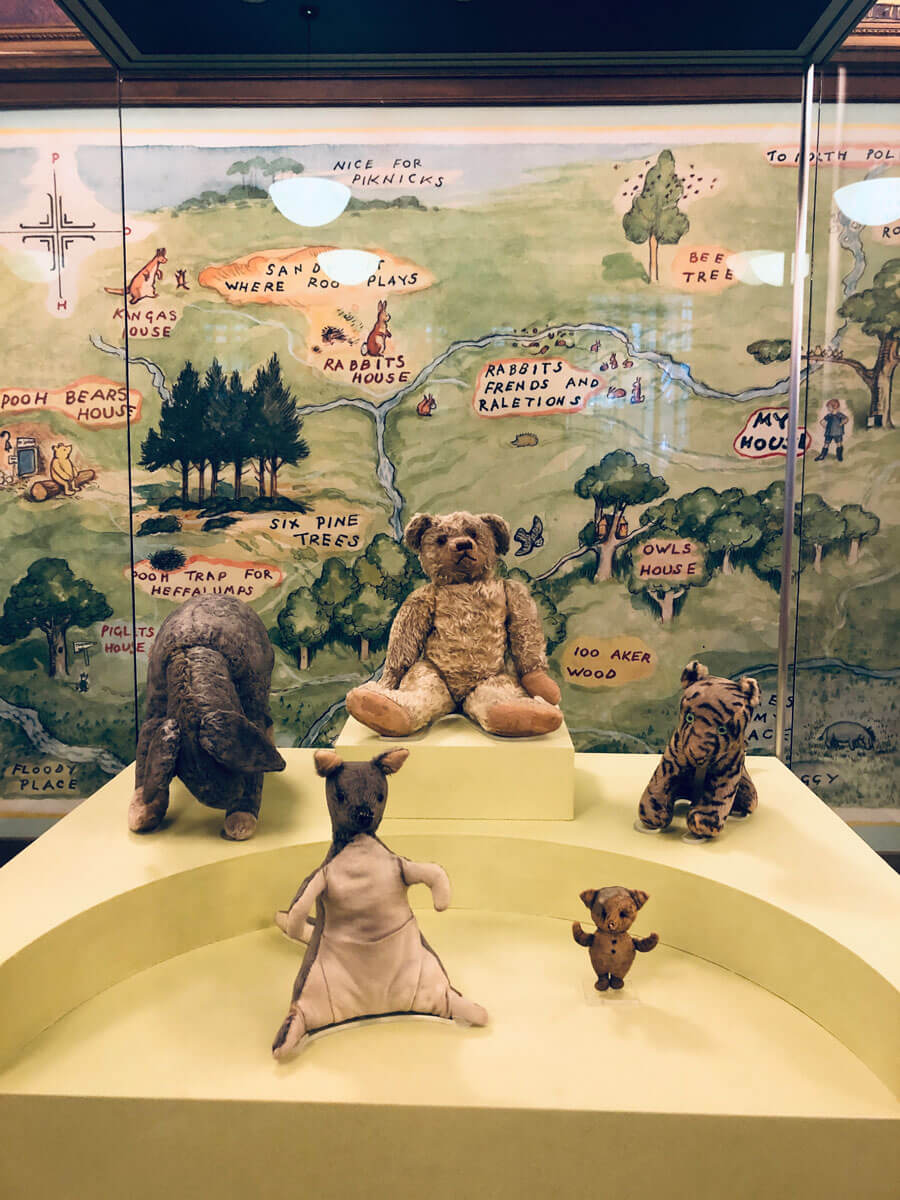 The second largest library in the US, second only to the Library of Congress is a beautiful respite from the heat or cold of New York City. Here, you can browse the 53 million items contained in its walls, stop by Amy's Bread Cafe for a snack and see the original stuffed animals that inspired A.A. Milne's Winnie the Pooh.
Also, anyone can get a New York City Library card! Be sure to check the giant marble lions outside to see if they come to life!
Also, don't miss the infamous lion statues, Patience and Fortitude when you enter!
Grand Central Terminal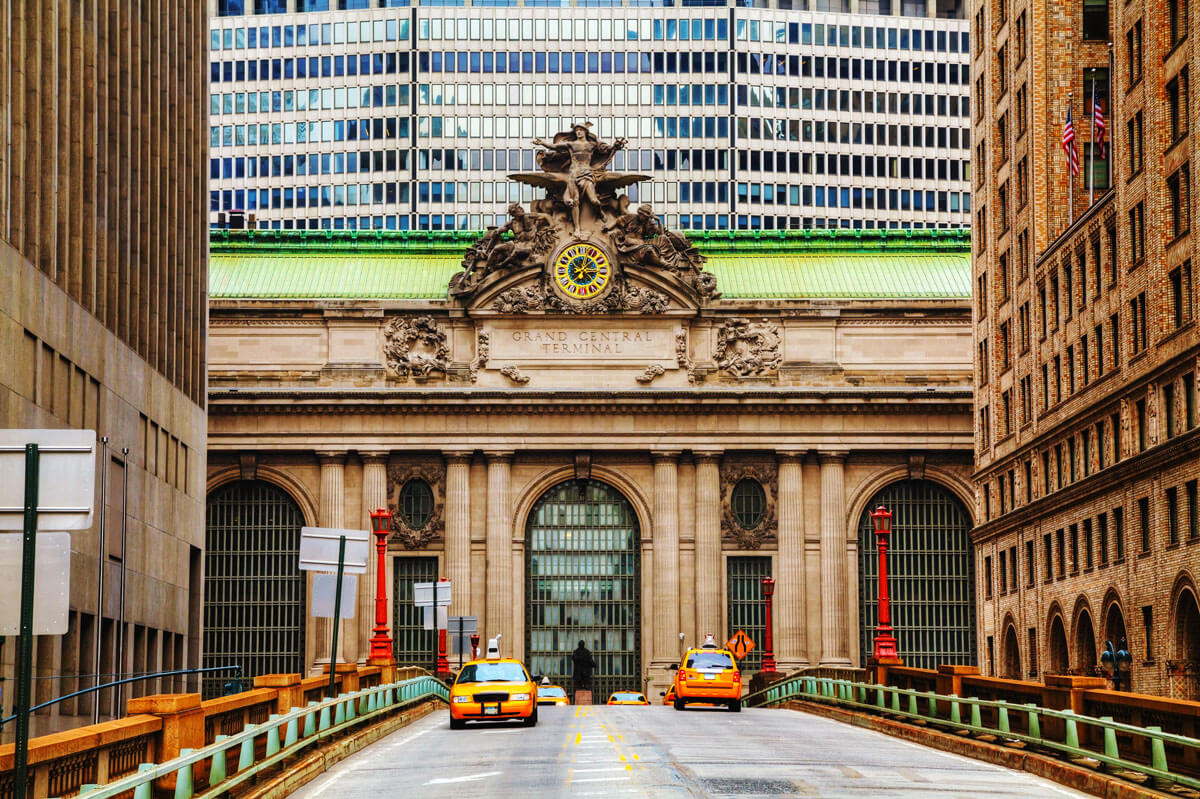 The great hub of transportation for the city, Grand Central is a sight to behold. Bustling with commuters and tourists day and night, you can wander around the beautiful architecture and people-watch. During the holidays, the ceiling is lit up with red and green and you can visit the holiday market.
There's also a great food court at the lower concourse and shops here too! This is also a great bathroom break too!
Macy's Department Store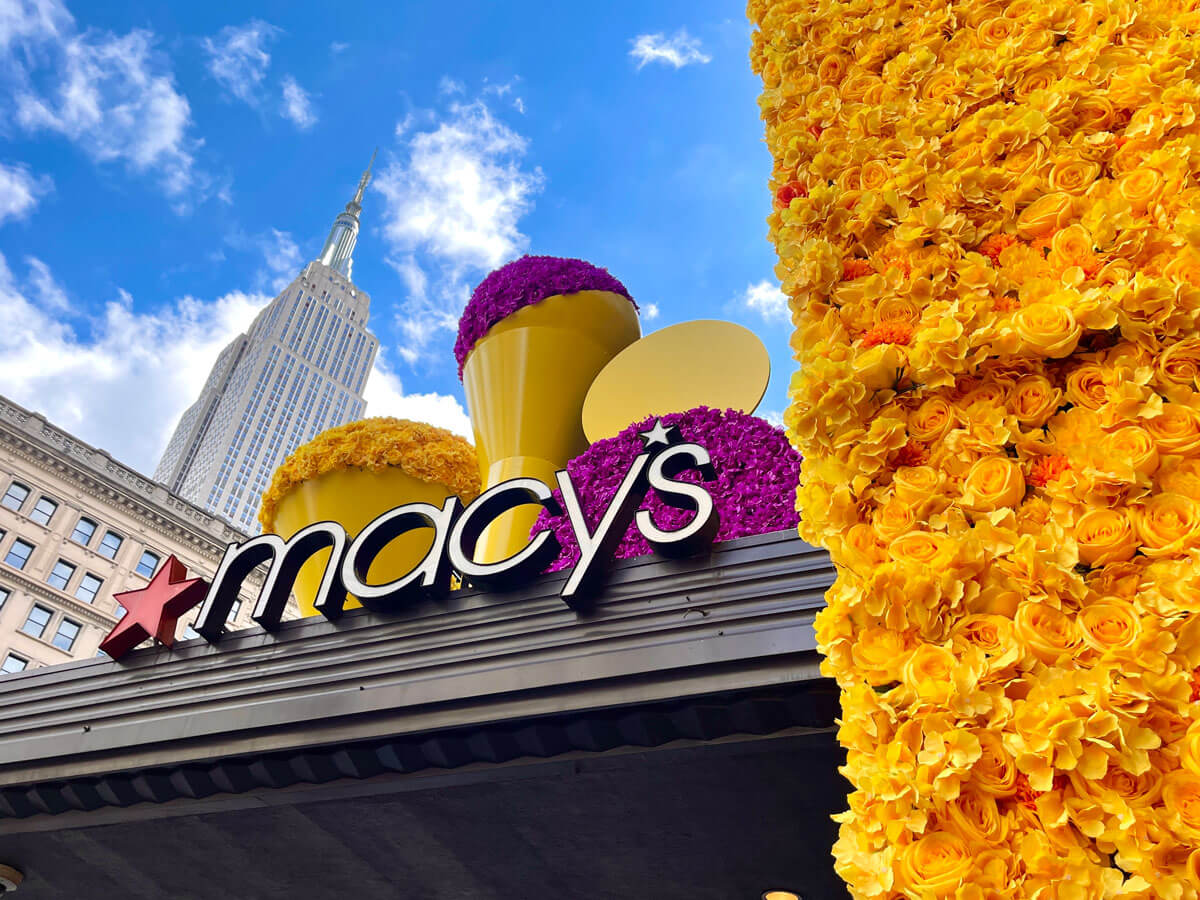 If you're in NYC during the winter holidays or the springtime I recommend stopping here to view the storefront windows. In winter you can visit Santaland and in the springtime, they have the flower show. The storefront displays are always beautiful around Christmas time.
The department store itself is a great stop, if you need a bathroom break this is perfect too. If you're up for a fun adventure, seek out one of the original wooden escalators that are still operating and take it for a ride!
Dinner at Black Tap
After a long day of walking and subway riding, you'll be ready for some calories. Black Tap is the perfect stop for an indulgent meal of burgers, fries, and over-the-top Instagram-worthy milkshakes! You may need to take a taxi or roll home after this dinner, but it's sure to be memorable!
Day 2 NYC Family Vacation – Central Park & Surrounding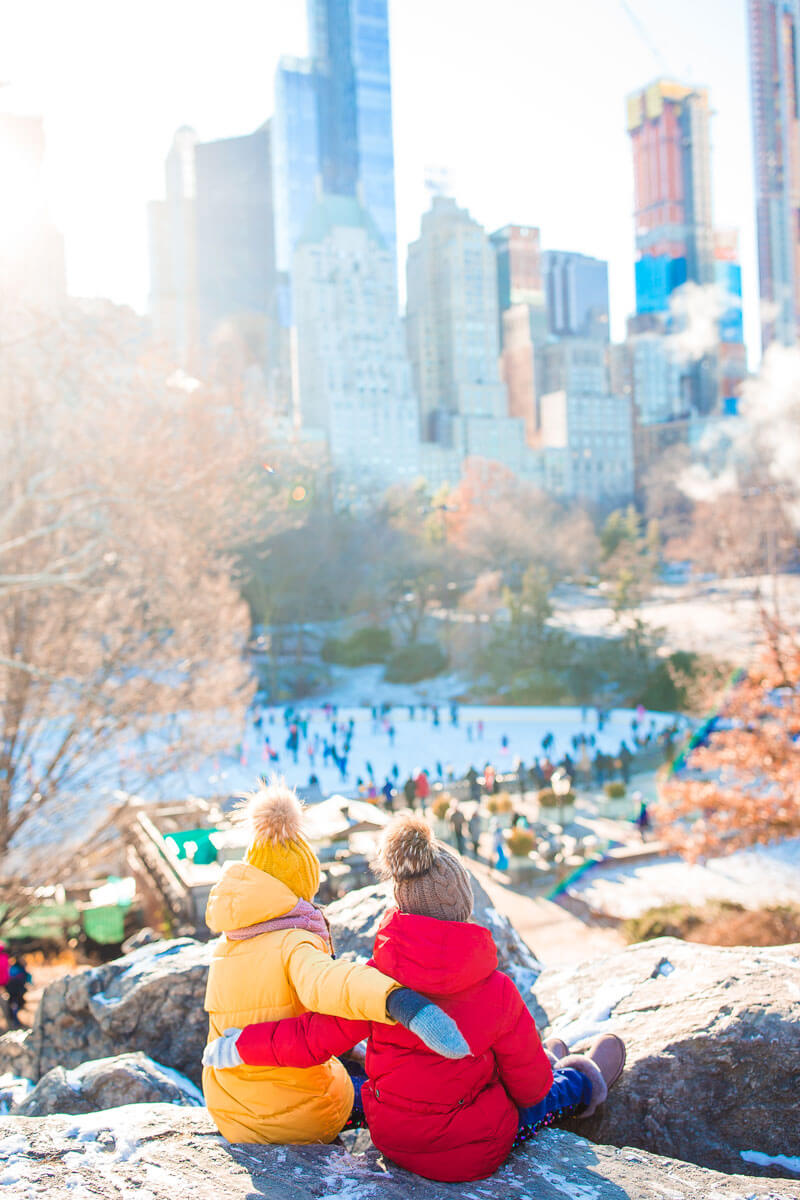 When visiting New York with kids, it's important to break up your time in the city with ample time in nature. This helps to keep things balanced and helps prevent kids from becoming overwhelmed and overstimulated from all there is to take in in the city.
Plus there are several cool things to do and hidden gems in Central Park to check out!
Breakfast at Sarabeth's
Begin your day at breakfast at Sarabeth's before venturing into Central Park. Kids will love the pastry baskets that make this place famous and adults will love everything else. Their food is delicious and we especially love the lemon ricotta pancakes and eggs benedict.
Rent Bikes in Central Park
If you have bike-riding kids, or kids that will happy go in a bike trailer, riding bikes in Central Park can be so much fun and an easy way to get around this massive park! Renting bikes at the northwest corner of the park can be a good choice if you think you'll only be able to go one way rather than doing a complete circle of the park. You can explore more rental options and locations here.
Some of the Best Stops in Central Park: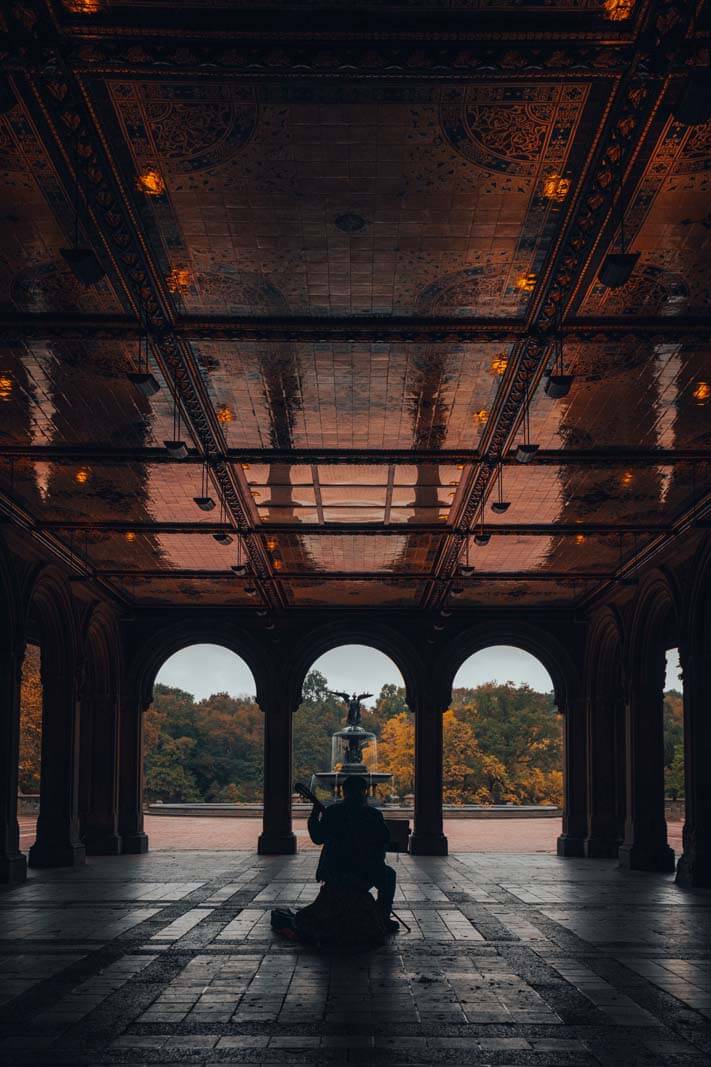 Jacqueline Kennedy Onasis Resevoir
There was a reservoir here before Central Park was built. It holds more than one billion gallons of water and at the time of construction was the world's largest man-made body of water. Stop here and take in this massive body of water in the center of the city.
Seneca Village
Before Central Park was created, this area was the site of Seneca Village, a community of predominantly African-Americans, one-third Irish immigrants, and a small number of individuals of German descent, many of whom owned property.
During the 1850s, the city began planning for Central Park and acquired the land, including Seneca Village, through eminent domain, the law that allows the government to take private land for public use. There were around 1600 people displaced. Although landowners were compensated, many argued that their land was undervalued. You can learn more about Seneca Village here.
The Great Lawn
This 55-acre lawn is at the exact center of Central Park. In good weather, you'll see families relaxing on the lawn.
Ancient Playground
Time to head into the park for some outdoor and nature time. This playground is located just next to the Egyptian Wing of the Met. Let the kids explore stone pyramids, tunnels, and treehouse-like wooden forts, tire swings, a sandbox, and a sundial. Check out the kid-activated waterfall! This is one of Central Park's newest playgrounds and it shouldn't be missed!
Cleopatra's Needle
This Obelisk was created around 1425 BCE in Heliopolis, Egypt, and was a gift from the Egyptian government to the United States. In commemoration of the opening of the Suez Canal. It was installed in 1881.
The Turtle Pond
This is a great outdoor area to hang out. Keep an eye on the water, there are five species of turtles in the pond including redeared sliders, snapping, painted, musk, and box turtles. Play a game and ssee how many different kinds of turtles you can spot.
Belvedere Castle
One of the most iconic features in Central Park, Belvedere Castle was built in 1872 for visitors to enjoy the view. Kids will love climbing up to the top and looking over the park they've just biked or walked around.
Swedish Cottage Marionette Theater
The Swedish Cottage is the only building in Central Park that was not originally created for the Park. It was built in Sweden and came to the United States in 1876 as part of the Philadelphia Centennial Exhibition. It's now a marionette theater where you can go to see a show. Check tickets here.
Bethesda Fountain & Terrace
Stop at the Bethesda Fountain and Terrace, one of the most well-known fountains in the world. The kids may recognize it from Enchanted, Elf, or Home Alone 2. There are also lots of turtles here!
Loeb Boathouse
From Bethesda Fountain, you can walk to the Loeb Boathouse and even rent a boat if you want. You'll also cross Bow Bridge, another iconic Central Park site.
Central Park Carousel
What kid doesn't love a carousel? They will love this ride on the south end of the park.
Wolman Ice Rink
If you're visiting New York City with kids in winter, be sure to book a skating session at the Wolman Ice Rink to experience the classic view of Central Park against the stunning NYC skyline. This is one of the best ice rinks in NYC too!
The Met Museum
When you're done in Central Park, head over to The Met, which you'll find over by the Ancient Playground. This is one of the best museums in NYC and in the world! The Metropolitan Museum of Art also fondly referred to as "the Met" is the largest art museum in the United States and well worth visiting.
Even kids will find something interesting here! You can move from tombs of ancient Egypt to thought-provoking modern art in a matter of minutes or days, depending on your pace. Go over some art pieces before you visit so your kids will be able to recognize some things they see.
Lunch Ideas Around Central Park
The Met
The Met offers several good options for dining including The Cantor Roof Garden Bar and The Met Cloisters which are open April through October since they are al fresco dining. The Eatery or the American Wing Cafe are other good options with an array of tasty items.
Alice's Tea Cup – Chapter II
This is an adorable little place for kids to enjoy an Alice in Wonderland-themed afternoon tea.
The Plaza Hotel Food Hall
The Plaza Hotel is an iconic hotel at the south end of Central Park. If you've ever read or watched Eloise, you'll recognize this as her home. The Plaza Hotel has a fun food hall and an adorable Eloise shop. You can also afternoon tea in the Palm Court.
Dinner Ideas
Ichiran Ramen
If you want a really unique dining experience, Ichiran Ramen is a great spot for dinner. Be prepared to wait in line for a while, but it is worth it for the quality of Japanese ramen and the experience as they are famous for their individual booths for solo eating – but don't worry, the partitions open so you and your family can all eat together too!
Joe's Home of Soup Dumplings
Kids will love the challenge of eating these delicious soup dumplings. This restaurant is owned by Joe's son of Joe's Shanghai located on the Lower East Side. This Times Square location is a little bigger and allows you to pay with a card unlike Joe's on the LES, but the soup dumplings are just as delicious.
See a Broadway Show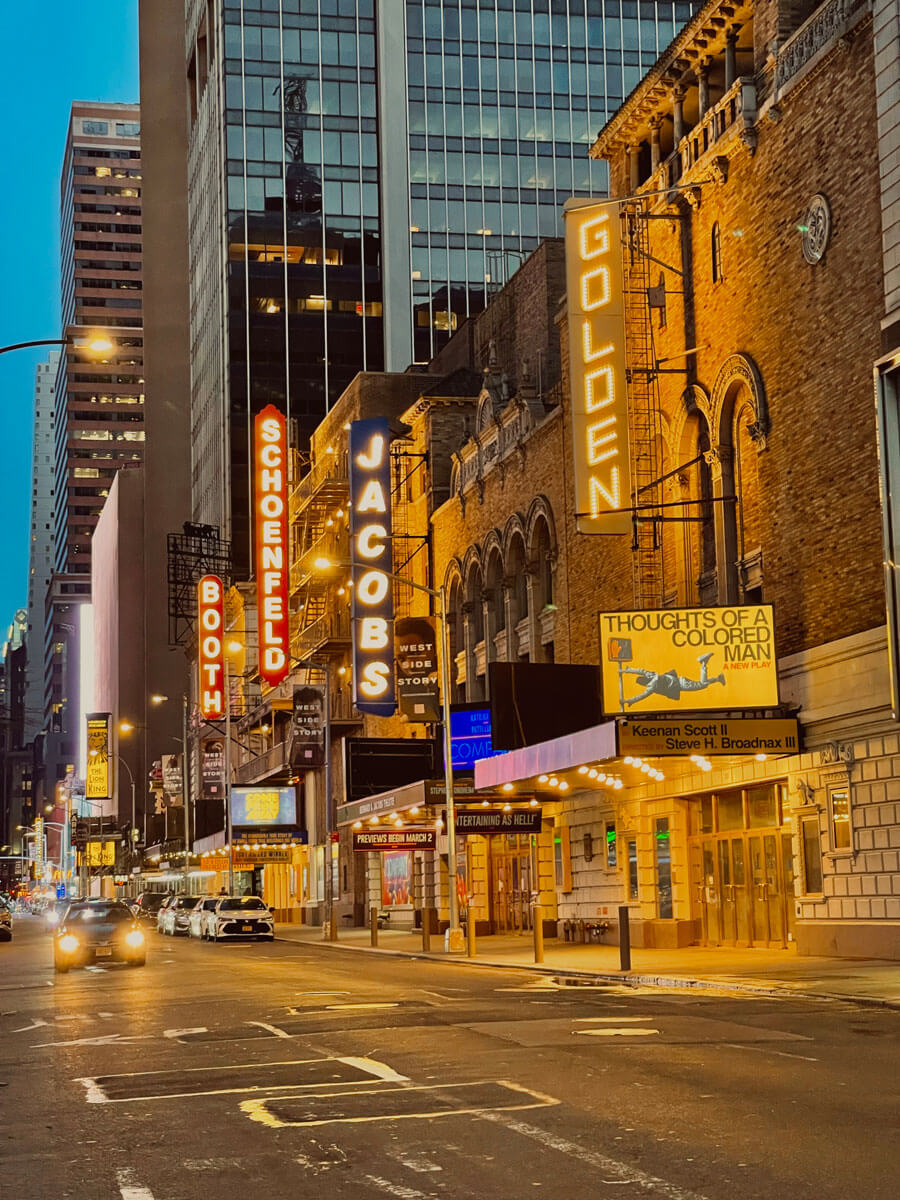 If your kids are old enough, mature enough, and interested, invest in seeing a Broadway or Off Broadway show. There are a surprisingly good amount of shows that are appropriate for kids. You can check here to see what's playing.
Some good options are Wicked, The Lion King, Harry Potter and the Cursed Child, and Aladdin. If you're new to all of this, see our full guide on how to see a show on Broadway plus money saving tips!
Times Square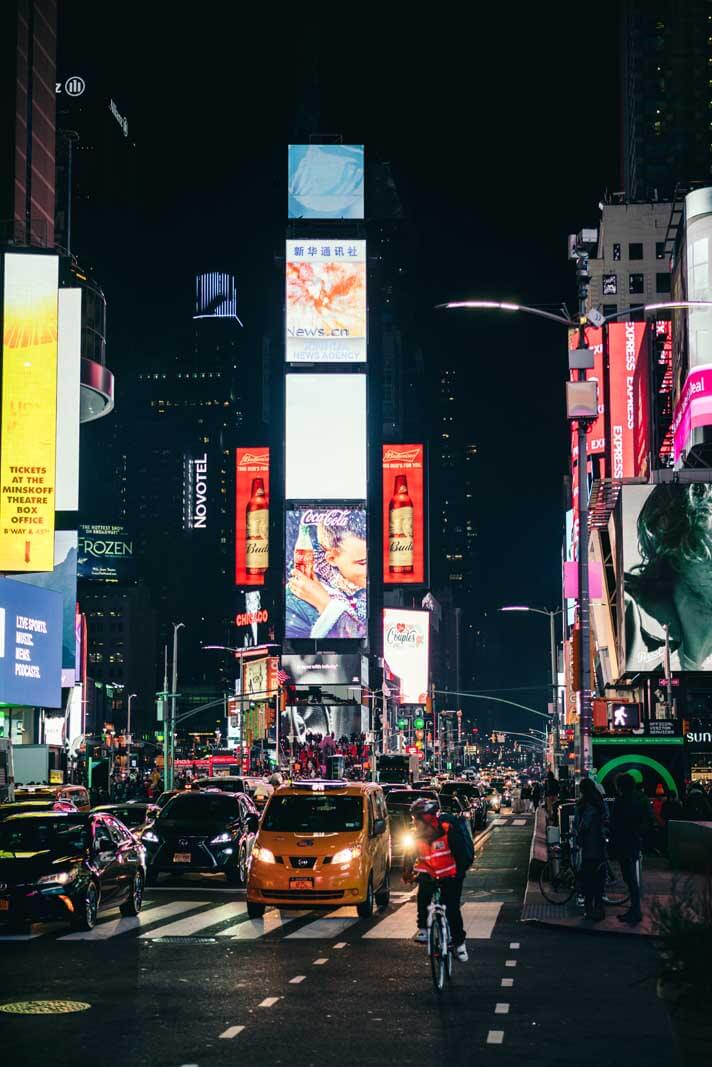 After your show, be sure to pop over to Times Square to see the lights and excitement! Be sure to check out all the cool things to do in Times Square too as there's so much more than the bright lights, advertisements, and characters here!
Day 3 NYC Family Vacation – Chelsea & Lower Manhattan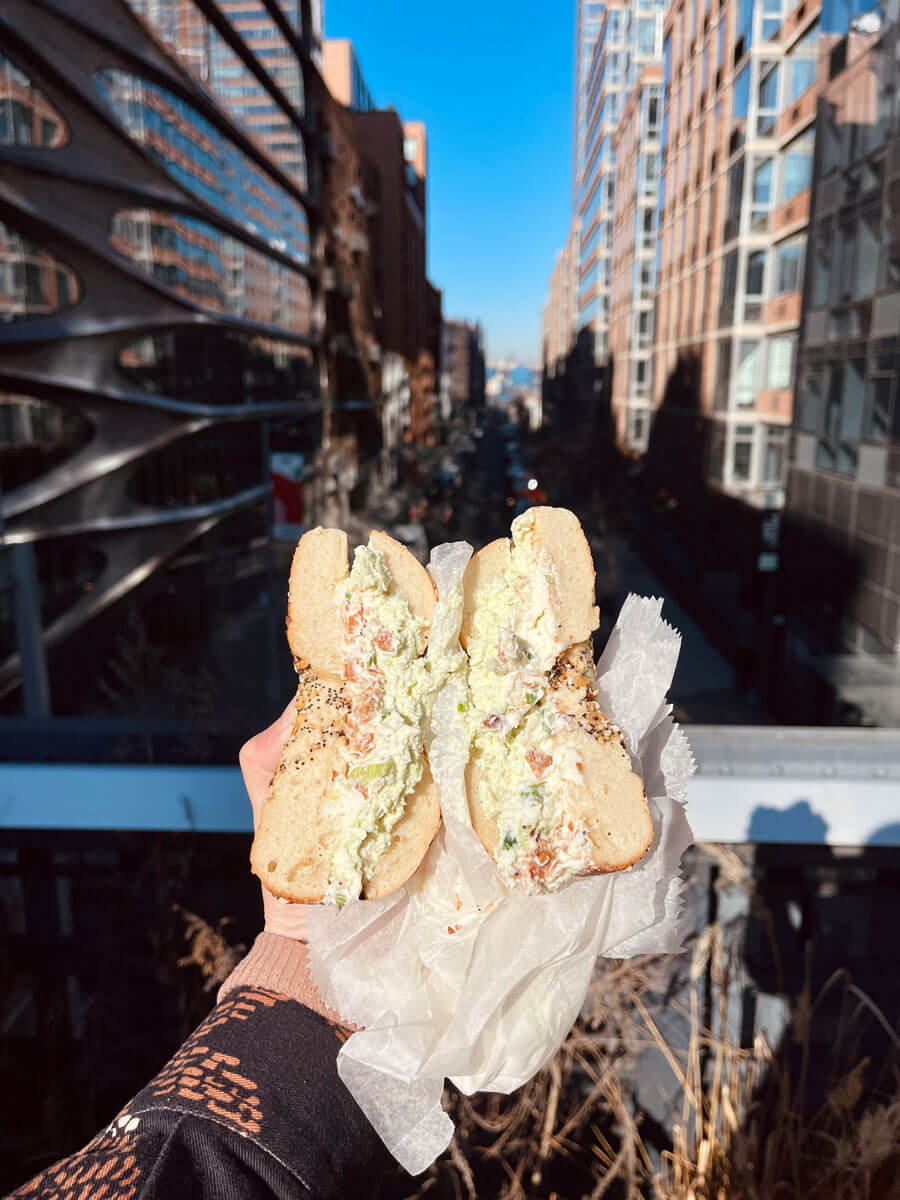 Start your day in New York City with kids in Hudson Yards and make your way down to Lower Manhattan for another exciting and action-packed day on your New York City itinerary with kids!
Breakfast at Brooklyn Bagel & Coffee Co.
You can't come to an NYC family vacation without having a proper New York City bagel! One of the best bagel spots in the city is Brooklyn Bagel & Coffee Company, which has a great location in Chelsea.
Try one of their flavored cream cheese bagels or get a sandwich, either way you can't go wrong!
The Vessel & Shops at Hudson Yards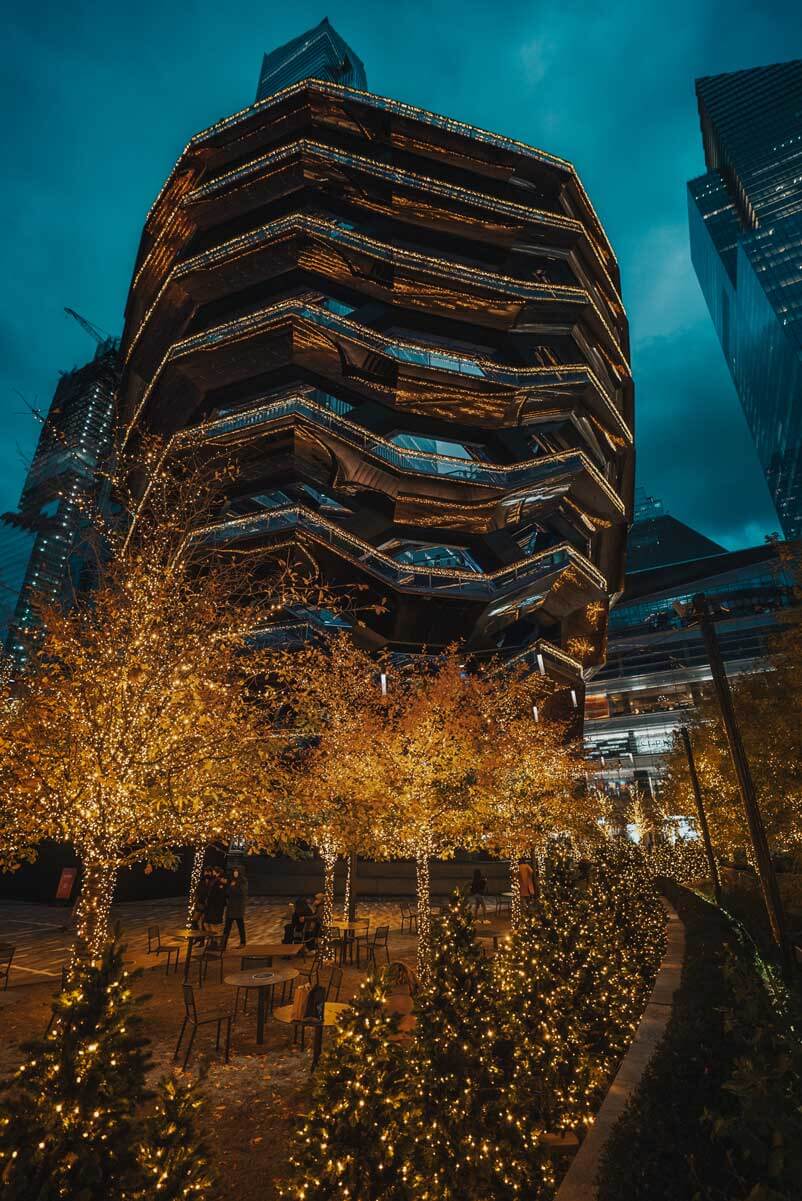 The Vessel is a new amazing piece of architecture that will blow your mind. This honeycomb-shaped structure used to be a unique observation deck, but currently is only available to look at from surrounding it on looking up to it from the ground floor.
This is a great place to snap a few family photos and if you need a restroom you can easily pop into the Shops at Hudson Yards here.
If you're already feeling snackish, head downstairs to the Spanish Market before starting your adventure on the High Line!
Walk the High Line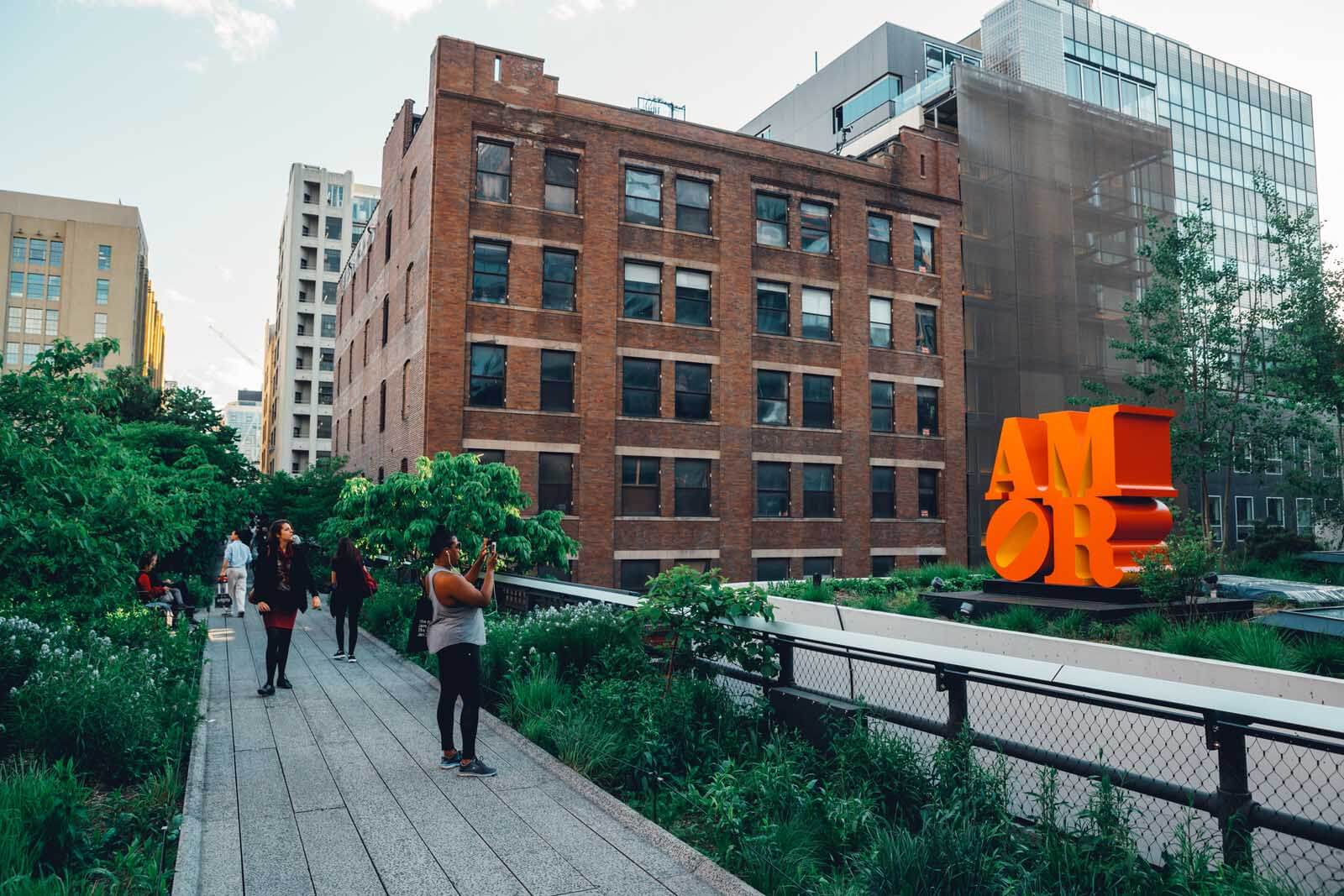 In the heart of the city, what was once an overhead freight railroad has been transformed into an elevated green space and one of the most unique parks in NYC. It's fun to walk along and see the old tracks and the new walkways and seating areas.
There are often changing art installations along the path, so keep an eye out. Plus there are great views from here!
Chelsea Market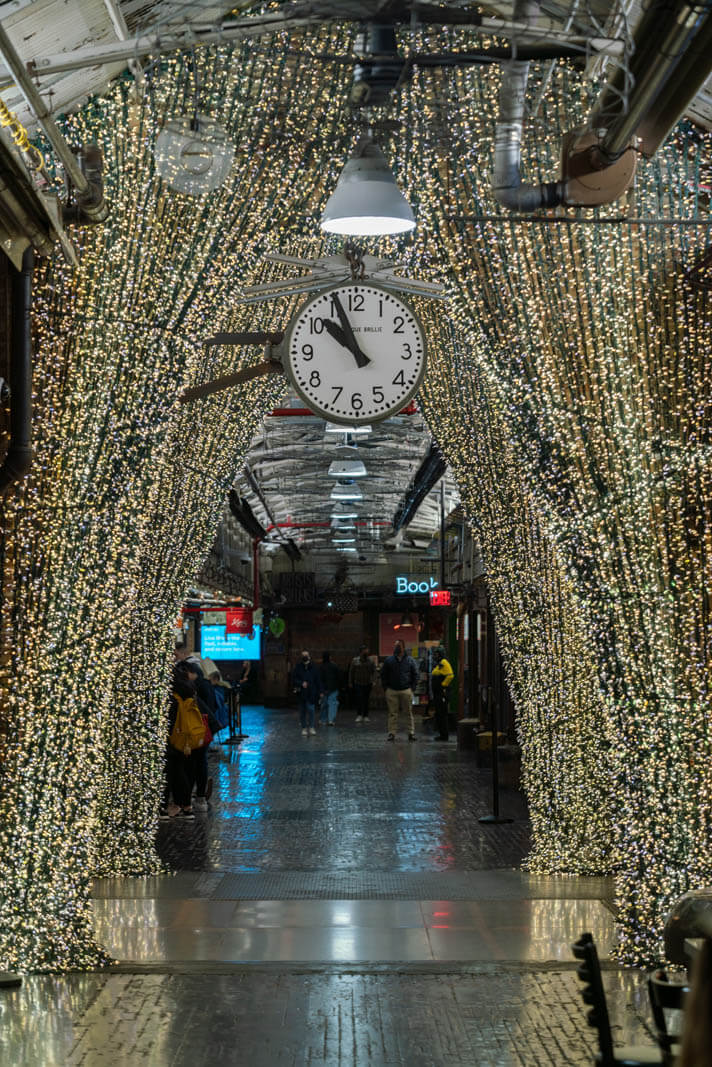 This old Nabisco Factory has been transformed into one of the city's best markets and shopping spots! Selling mostly gourmet food with some unique boutique shops, plus there are bathrooms here if you need a break!
From tacos to gelato, kids are sure to find something to eat here, so we recommend grabbing lunch or sampling some food from the vendors here!
Little Island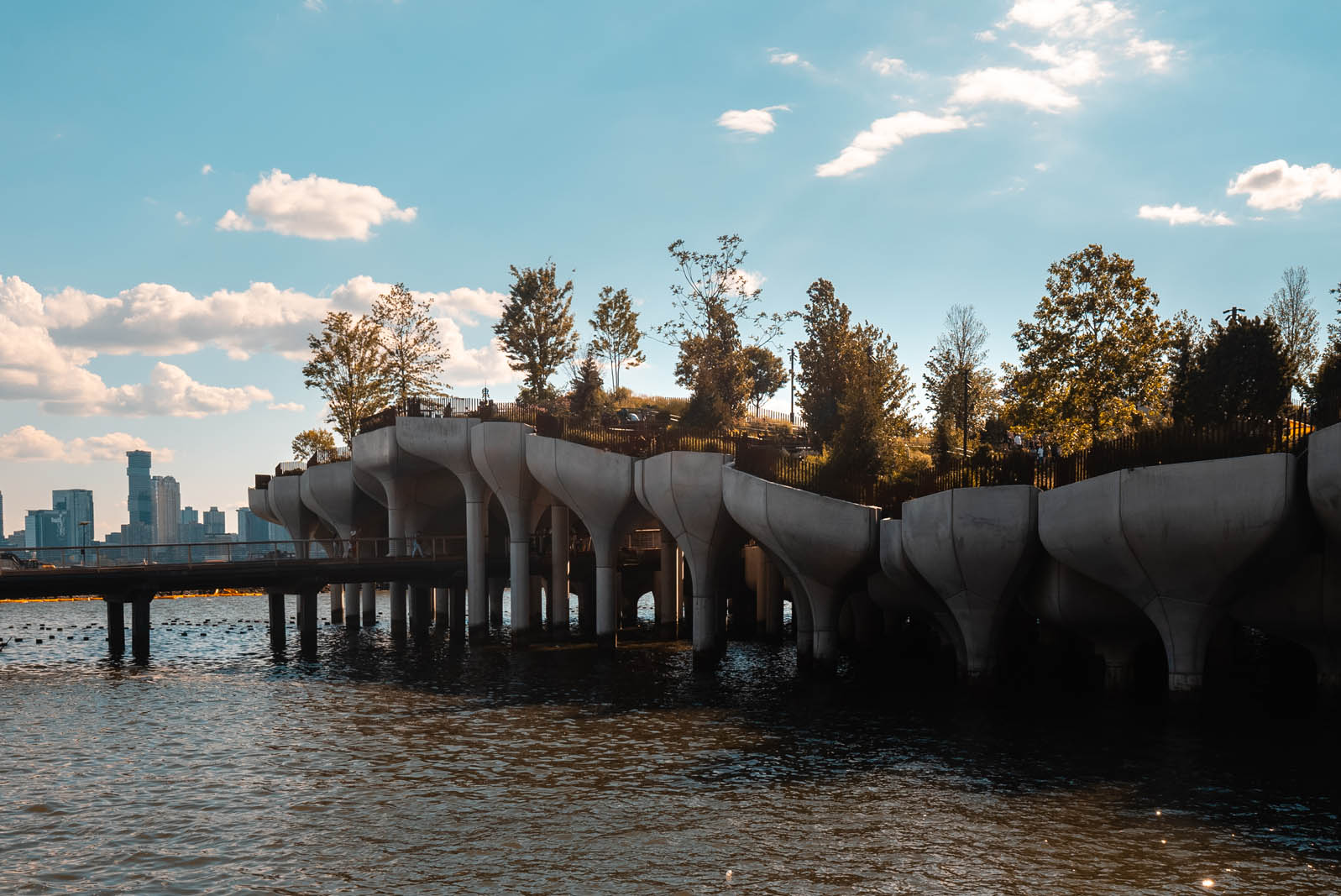 Little Island is a gorgeous new public park, located in Hudson River Park on a manmade island, where visitors can experience nature and art in a unique urban oasis. The park features a lush, seasonal, landscape with rolling hills, winding pathways, and great views.
You can even see the Statue of Liberty on a clear day. Spend some time playing and relaxing here before dipping back into the city.
The National September 11 Memorial and Museum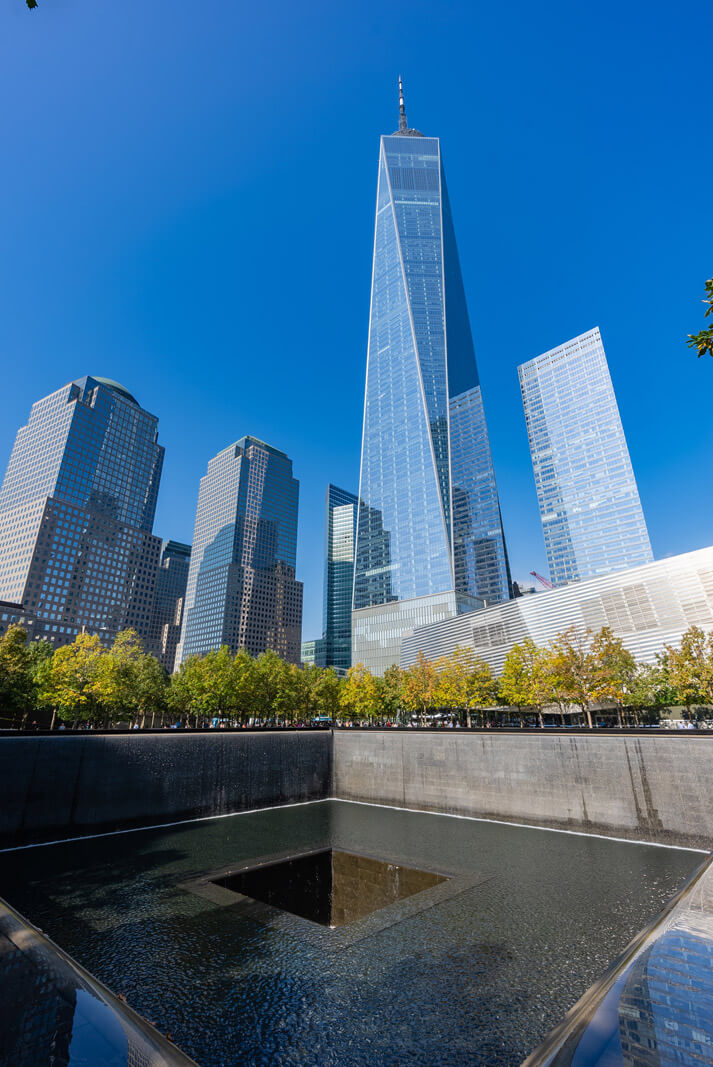 While of heavy subject matter, the memorial and museum are a good history lesson for children. Keep in mind that this is a place of quiet and reflection. If you feel your kids aren't ready for this, you may want to consider just taking them to the Memorial Pools, which are outdoor and free to visit.
The Oculus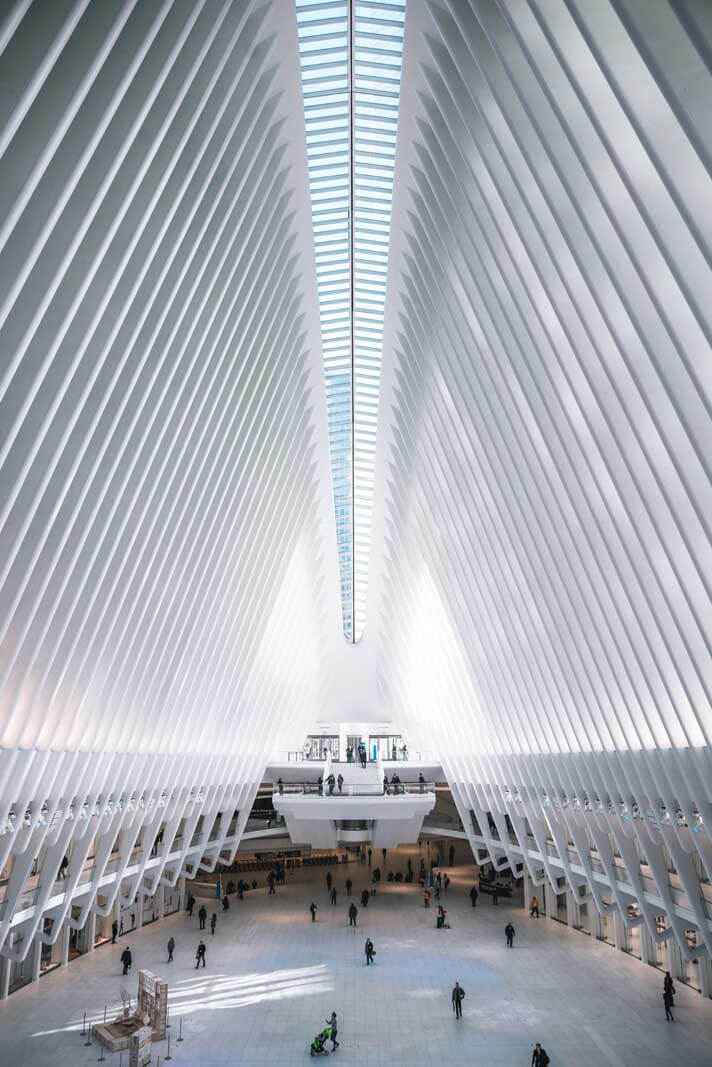 After your time at the Museum or Memorial, walk over to the Oculus, one of New York's stunning modern architectural gems. It's just a transportation hub with shops, but it's a beautiful building inside and out and worth a photo stop and a bathroom break if you need one.
Charging Bull & Fearless Girl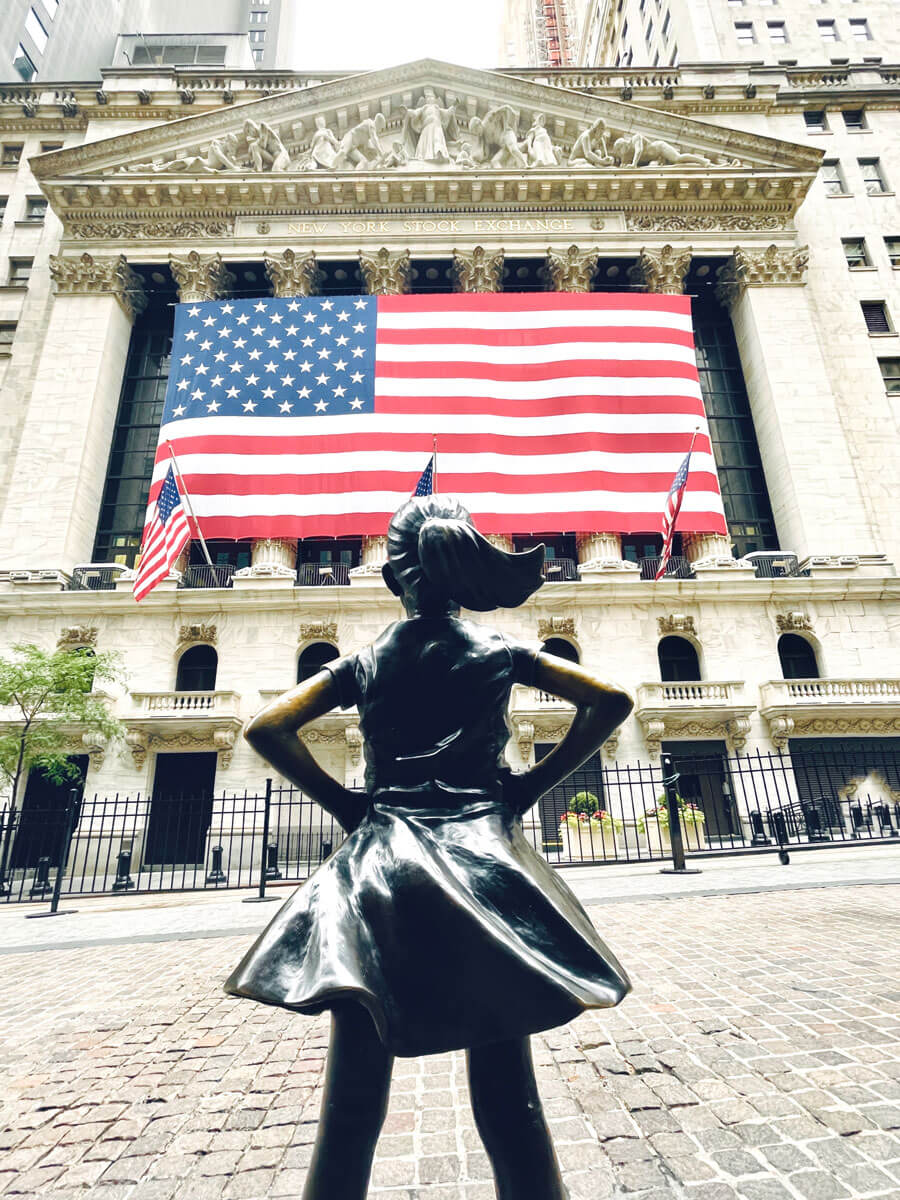 Stop and check out the Charging Bull, sometimes known as the Bull of Wall Street. This bronze statue is a symbol of aggressive financial optimism and prosperity. It was created by Italian artist Arturo di Modica in the wake of the Black Monday stock market crash and illegally dropped outside the New York Stock Exchange.
It was moved by the city to Bowling Green, where it still remains.
Be sure to head over to the New York Stock Exchange too where you can see the Fearless Girl statue bravely facing the NYSE! Originally the artist had the Fearless Girl facing the Charging Bull, but after artist Arturo di Modica said it changed the meaning of his artwork, she was repositioned here which is still quite a symbolic spot!
Battery Park & The Seaglass Carousel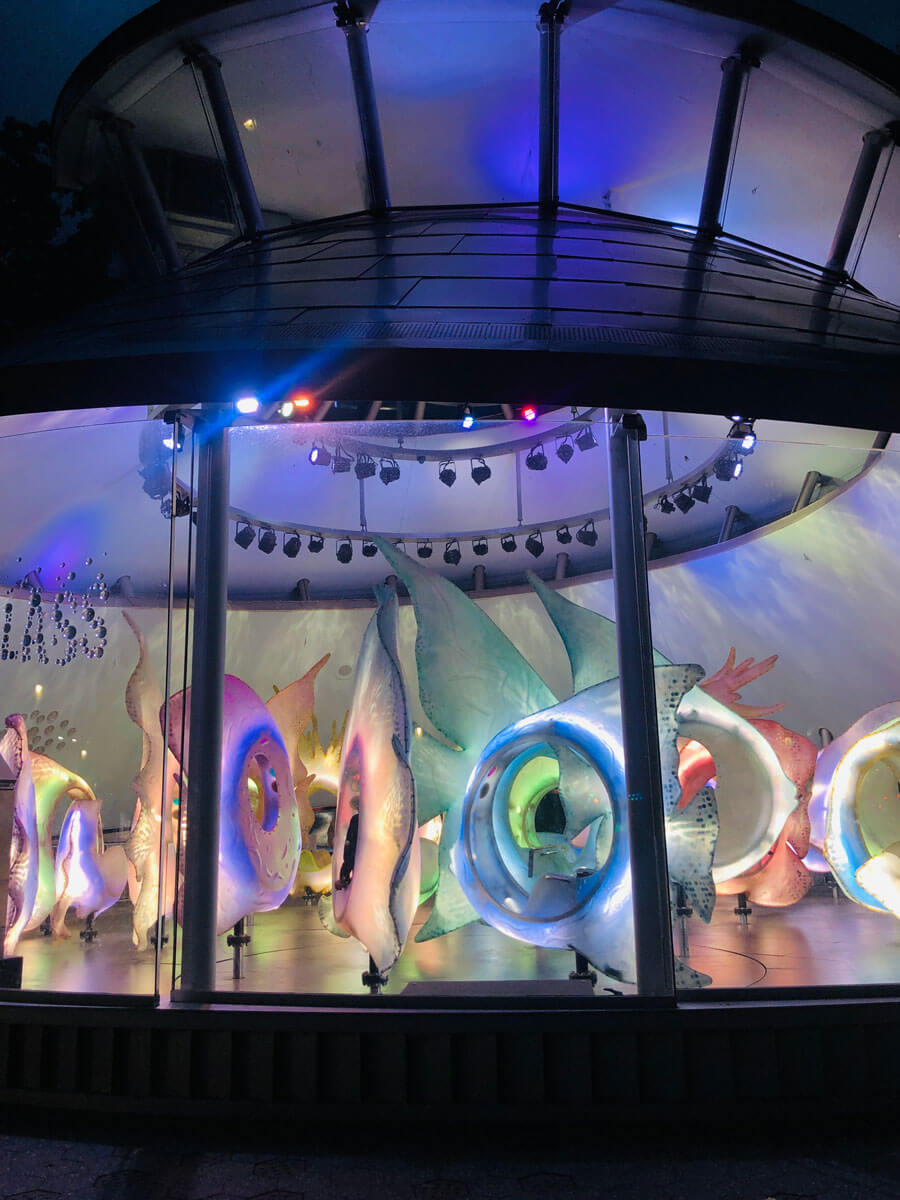 One of the best things to do in Lower Manhattan is check out the gorgeous SeaGlass Carousel. This unique carousel in Battery Park was created in homage to New York's first Aquarium, which used to be located here. It's a beautiful carousel with unique movements and fiberglass sea creatures. Battery Park also has a great playground for kids.
The Statue of Liberty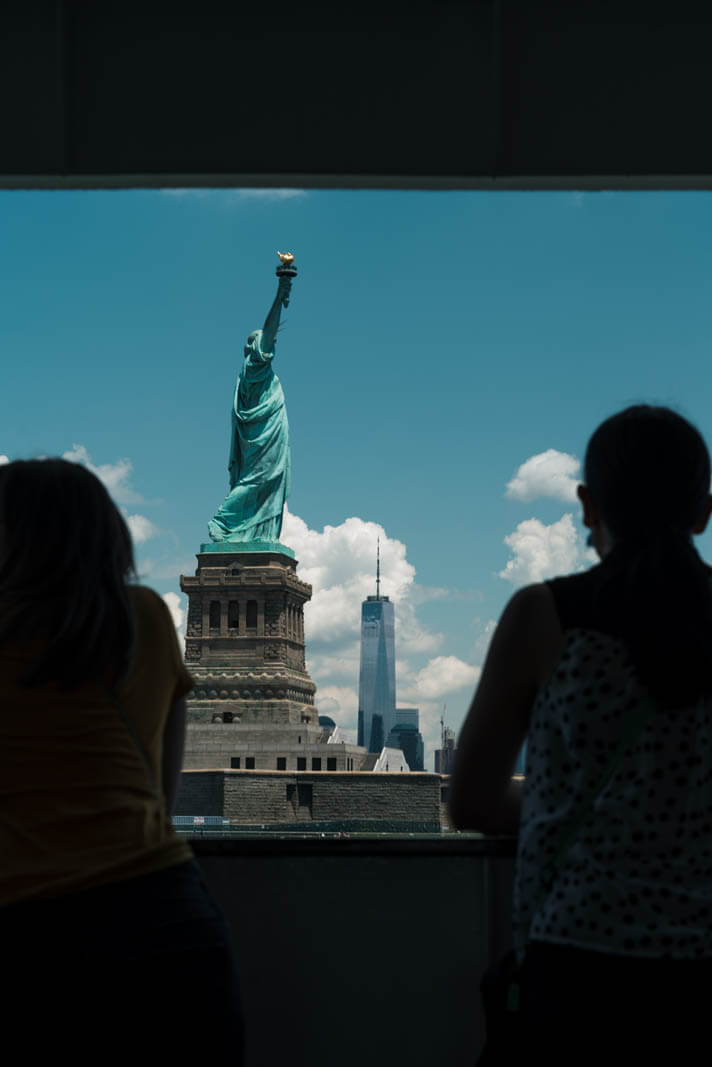 It's time to see Lady Liberty. The green copper statue of Libertas, the Roman goddess was a gift from France to the United States that stands at the entrance to New York as a symbol of immigration, acceptance, and freedom.
There are several options for seeing or visiting the Statue of Liberty. If you have time and you want to visit the pedestal you can take a tour, but you'll want to rearrange your NYC itinerary with kids to bump this up earlier in the day as this activity will take several hours including a visit to Ellis Island and you'll likely have to skip a few of the other suggestions here.
If you're short on time or money you can enjoy many of the free Statue of Liberty viewpoints including a great view from Battery Park City near the Seaglass Carousel.
Or take the free Staten Island Ferry at Whitehall Terminal which will take you right by Lady Liberty in about 10 minutes. Hop off on Staten Island and get back on the ferry back to Manhattan.
Dinner at Eataly Downtown
Walk over to Eataly, a big market full of everything Italian. You can sit down at the restaurant or do what I prefer, buy a slice of focaccia bread, then head straight to the gelato counter!
More Days in New York with Kids?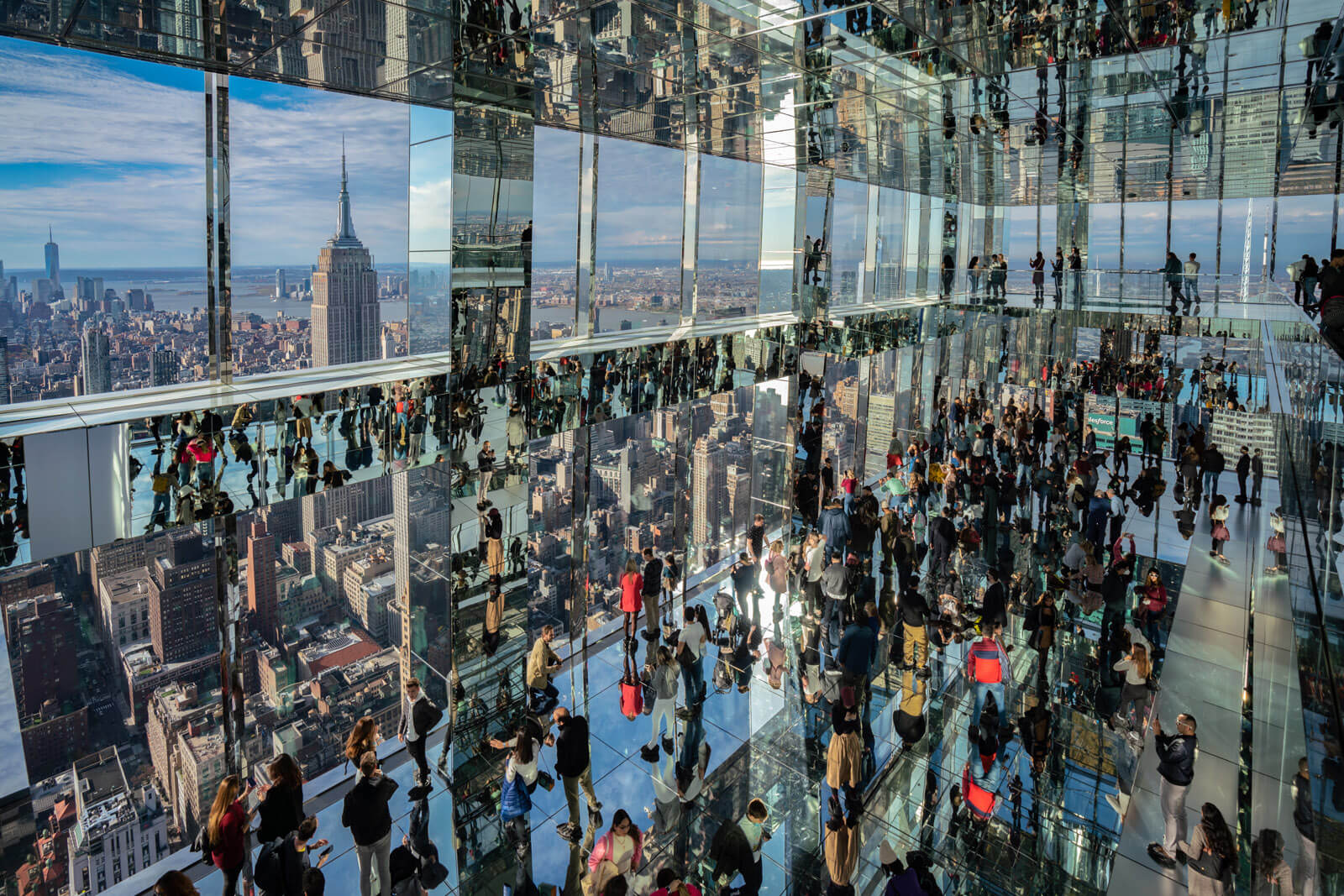 If you're spending more than 3 days in NYC with kids, consider this 7 Day NYC Kids Itinerary that will provide detailed day-by-day guides for a full week in the city.
Here are a few other suggestions too:
Be sure to check out one of the observation decks in the city including the Empire State Building, The Edge, One World Observatory, Summit One Vanderbilt, and Top of the Rock for an unforgettable view of the city with each of their immersive and unique experiences, check out this guide to the best observation decks in NYC to see which one might be best for your visit with their exhibits, views, and amenities!
Take a day trip to Governors Island, which has ferries operating from Whitehall Terminal in Lower Manhattan, Brooklyn Bridge Park (on the weekends), or you can use the NYC water taxi to check out all the awesome things to do on Governors Island like biking around, seeing the Statue of Liberty up close, seeing the sheep graze in the meadows, let the kids play in the kid zone, dine, and pay a visit to Slide Hill where you can find the longest slide in NYC!
Take a day trip up to the Bronx and visit the New York Botanical Garden or Bronx Zoo!
Spend a day in Brooklyn checking out cool spots like Prospect Park, and Brooklyn Botanic Garden, or take a day trip to Coney Island! Even if you're visiting outside of the summer season when all the amusement parks are open, you can still walk along the boardwalk and check out the New York Aquarium here too which is awesome!
And that's a wrap on this New York City itinerary with kids. Whatever you choose to do in New York with kids, the whole family is sure to have a great time. There are endless opportunities for fun, education, and memory-making in the Big Apple.
---
About The Author: Vanessa is a family travel writer at Wanderlust Crew focusing on fun and educational travel. She has four homeschooled kids ages 9 to 16 who she loves to drag all around the world and teach new things. When she's not traveling you can find her folding massive piles of laundry or reading a good book.