Post Overview: Insider & money-saving tips on how to enjoy New York City on a budget!
Yes, it's possible to plan an amazing trip to New York City on a budget! Believe it or not, we are here to help you plan your getaway to NYC on a budget and you won't even notice as there are several cheap things to do in New York (and free things too!) from dining to activities and attractions!
New York City is one of the most expensive cities in the world not only to live in but visit, that being said, you can easily plan a trip or vacation around visiting New York on a budget to spending money like you had Jeff Bezos credit card for a weekend.
This guide covers NYC hotels on a budget, cheap things to do in NYC, drinking on a budget, and dining on a budget. Before moving here I've done travel to the city like this myself and guess what? I had an AMAZING time!
So, take the pain out of planning a trip, and don't worry about breaking your bank account, here's how to enjoy the city so nice they named it twice while being savvy with your hard-earned dollars!
Don't miss how to spend your time in the city too with our curated itineraries to help make planning a breeze! All of our suggestions are different for each guide, feel free to use them all to customize your trip exploring all the best things to do in NYC!
Disclaimer: This post contains affiliate links.
NYC Hotels on a Budget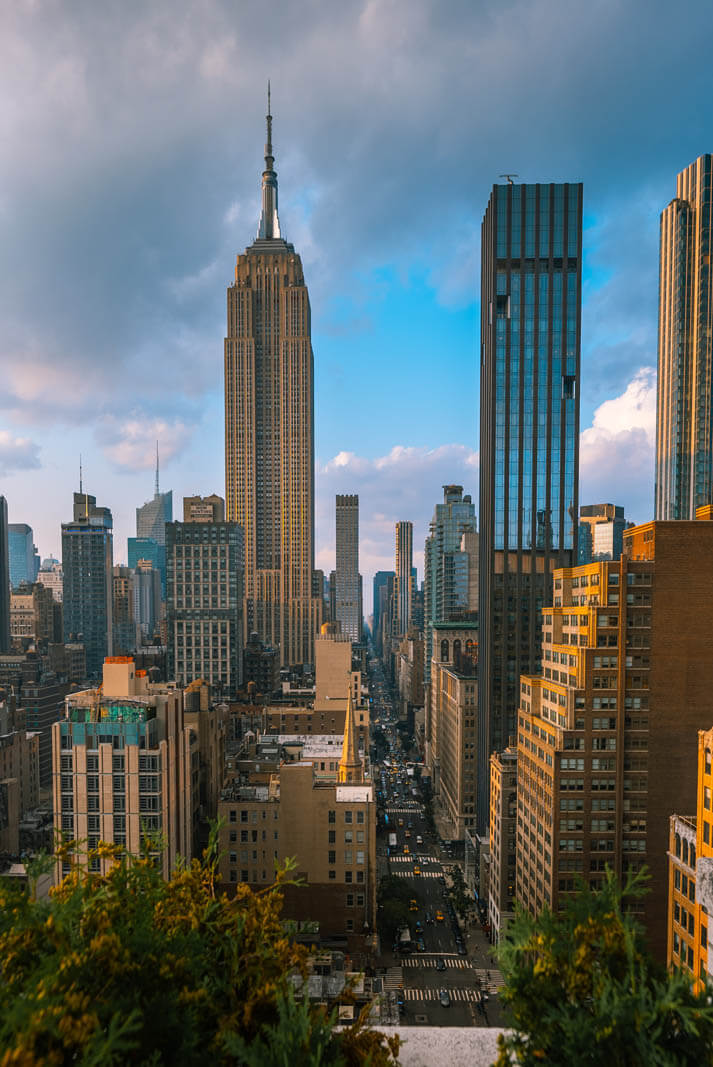 One of the best ways to save money and experience New York City on a budget is by cutting back on accommodation costs. There are many incredible and unique hotels in NYC, but spending a few hundred dollars a night can really add up and eat into your entire trip budget, that's why we have an entire guide to the best affordable NYC hotels and best affordable hotels in Brooklyn under $200 a night!
One of the best ways to secure more affordable accommodation is to book well in advance for your trip!
Another tip for saving money in NYC when it comes to accommodation consider looking to stay in the boroughs outside of Manhattan. We are a bit biased, but Brooklyn is one of the best areas to stay in the city when it comes to views of the city, less congested, and easy to get into the main attractions in Manhattan.
Consider checking out our full guide to where to stay in Brooklyn by neighborhood and budget. Plus there are tons of amazing things to do in Brooklyn too!
The Jane
Meatpacking District, Manhattan
The Jane is a breathtaking historical jewel that's not only one of the most unique hotels in NYC but also great if you're looking for a beautiful hotel that won't break the bank.
Located in the Meatpacking District with attractions like the Whitney Museum of Art, the High Line, Little Island, and Chelsea all nearby you can't beat this location as it's in one of the trendiest neighborhoods and easy to get around to the city's top attractions.
The interior here looks like something out of a Wes Anderson film complete with bellhops in traditional red uniforms, so you get bougie on a budget!
Choose from a Captain's Cabin, with an en suite bath, or one of The Standard Cabins and Bunk Bed Cabins with access to communal baths for a more casual experience. Book here.
Pod 51
Midtown East, Manhattan
NYC on a budget doesn't mean you have to stay at low-rated hotels! A 4-star yet affordable hotel in Midtown East is Pod 51. This bright & modern hotel offers a rooftop deck, coffee bar, and free WiFi. They also offer daily breakfast for a fee and a large outdoor garden.
Better yet you can enjoy budget-friendly and cheap things to do in NYC nearby including taking the Roosevelt Island tramway, visit Sutton Place Park – one of the best hidden parks in NYC, or walk a few blocks to all the famous shopping on 5th Avenue (especially if you're here during the holidays looking to do a DIY Christmas lights tour of NYC), and visit St. Patrick's Cathedral. Book here.
The Americana Inn
Midtown South, Manhattan
One of the best NYC hotels on a budget with a great location is The Americana Inn located in Midtown South. The Americana Inn is a popular budget spot just steps away from Bryant Park, New York Public Library, Grand Central, and a great location for visiting the Empire State Building.
This inn offers shared baths and kitchenettes on every floor as well as air conditioning and WiFi with traditional rooms. Book here.
Millennium Hotel Broadway
Times Square, Manhattan
Millennium Hotel Broadway is one of the most popular NYC hotels on a budget located in the heart of Times Square which is great for anyone visiting the city for a first time and wants to be in buzzing heartbeat of NYC tourist attractions.
This hotel offers great views, clean rooms, a 24-hour fitness center, and a central location that's close to Broadway and easy to get just about anywhere in the city from the subway stop here. Book here.
Hilton Garden Inn
The Hilton Garden Inn is an affordable hotel with multiple locations around the city that's great for anyone in New York City on a budget.
Some of the most popular locations are the locations in Midtown/Park Avenue, Chelsea, and the Financial District. If you're looking for contemporary NYC hotels on a budget with free WiFi and an onsite bar, Hilton Garden Inn is the place for you and all three of these locations are in prime spots walking distance to subways to connect you to other parts of the city as well as tourist attractions.
Book Hilton Garden Inn Midtown/Park Avenue here | Book Hilton Garden in Chelsea here | Book Hilton Garden Inn Financial District here
Eating in NYC on a Budget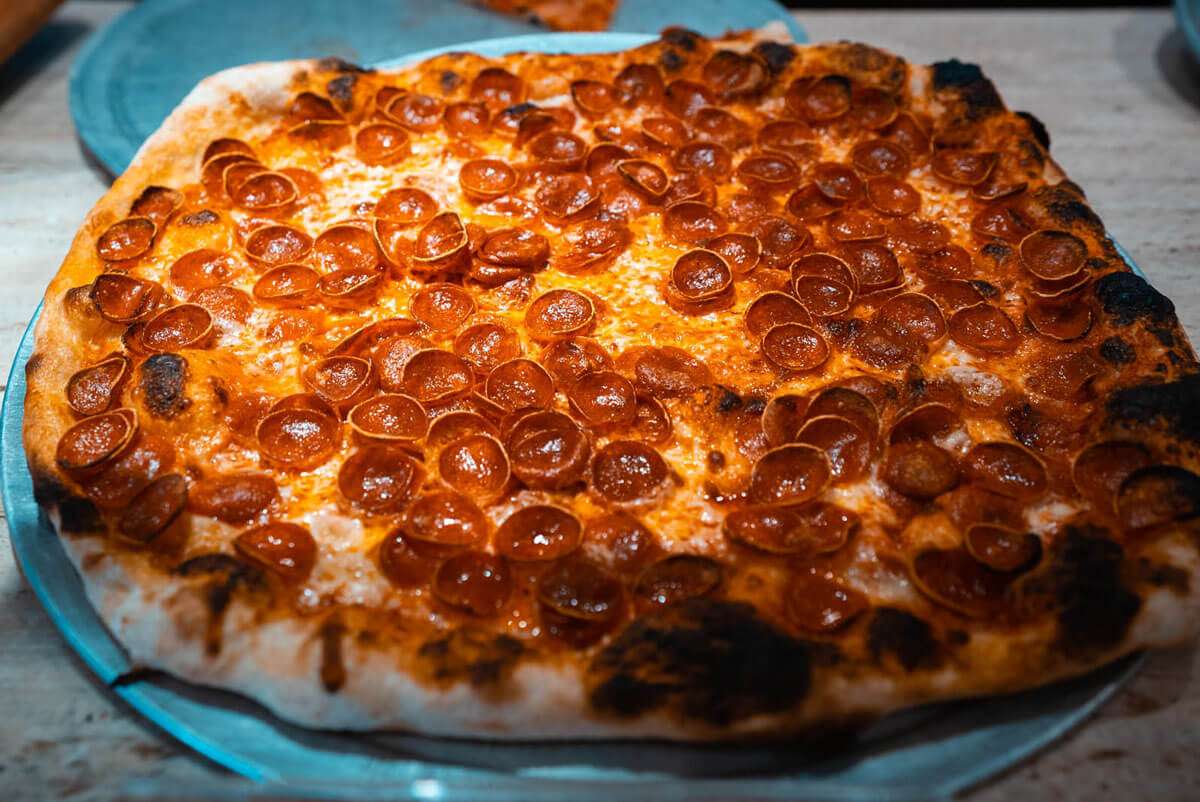 Another huge expense while traveling is eating out every meal. The food scene in the city is insanely good, and despite popular belief, you actually can find some great deals and eat meals in NYC on a budget!
If it's within your means, we recommend budgeting in a few nice sit-down meals but for the rest of the meals street vendors, pizza shops that sell by the slice, bagel shops, and diners are going to be your best friend.
Here are a few of our favorite cheap eats in NYC that won't break your bank and are New York City on a budget-friendly:
$1 Pizza Slices
One of the best cheap things to do in New York City on a budget is to try the famous $1 slice of New York pizza! You can find these stalls all over Manhattan, just keep an eye out for the signs. Many of these pizza joints offer $1 cheese slices of pizza or have combo specials of 2 slices plus a can of soda for just a few bucks.
A few of the popular spots have the affordable price in the name including $1 Pizza (832 6th Ave), Dollar Slice Pizza (1723 Broadway), $1 Pizza Slice (2060 Lexington Ave), Joey Pepperoni's Pizza (381 Broadway) to name a few of the MANY spots!
Seriously, just keep your eyes peeled and you'll spot the $1 slices all over the city! Although, many have recently increased their slice price, it's still a steal of a deal and close to a buck!
Joe's Pizza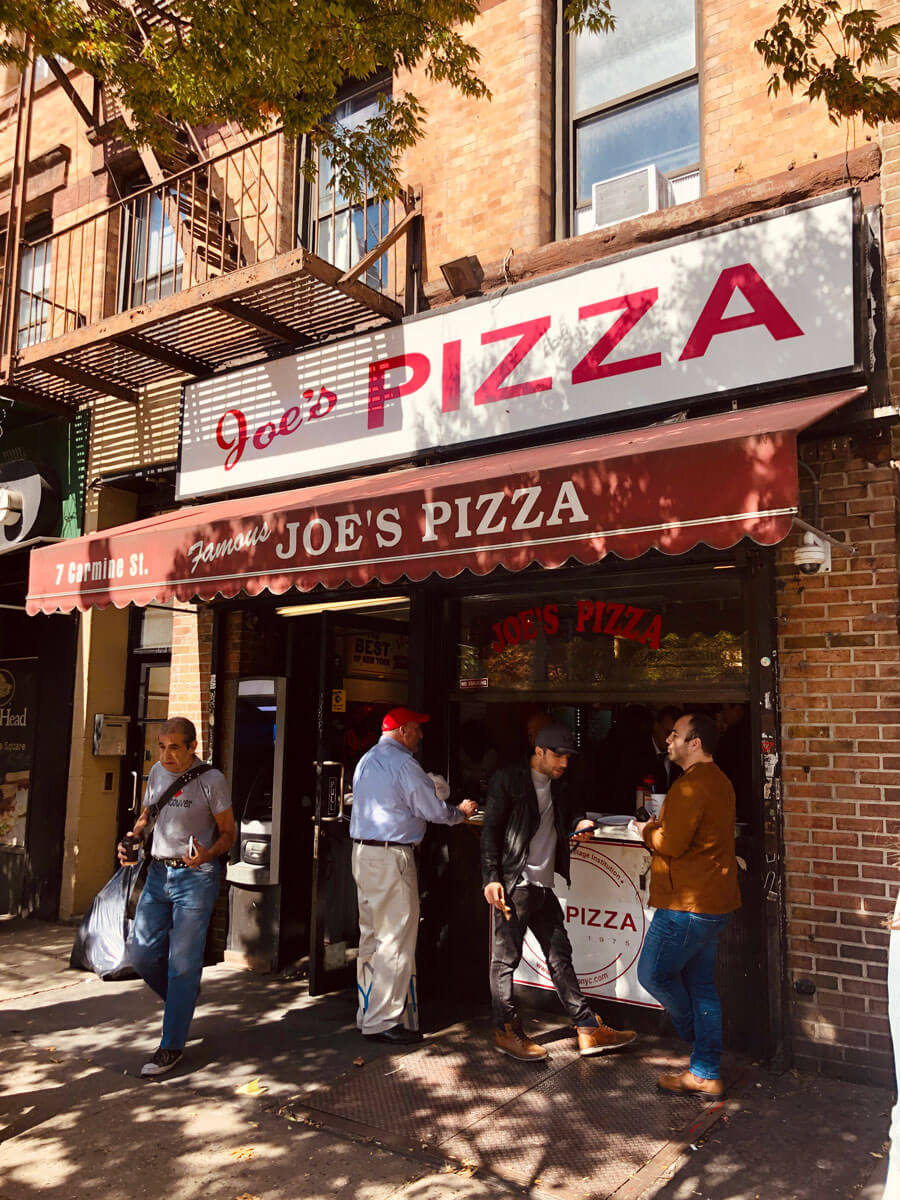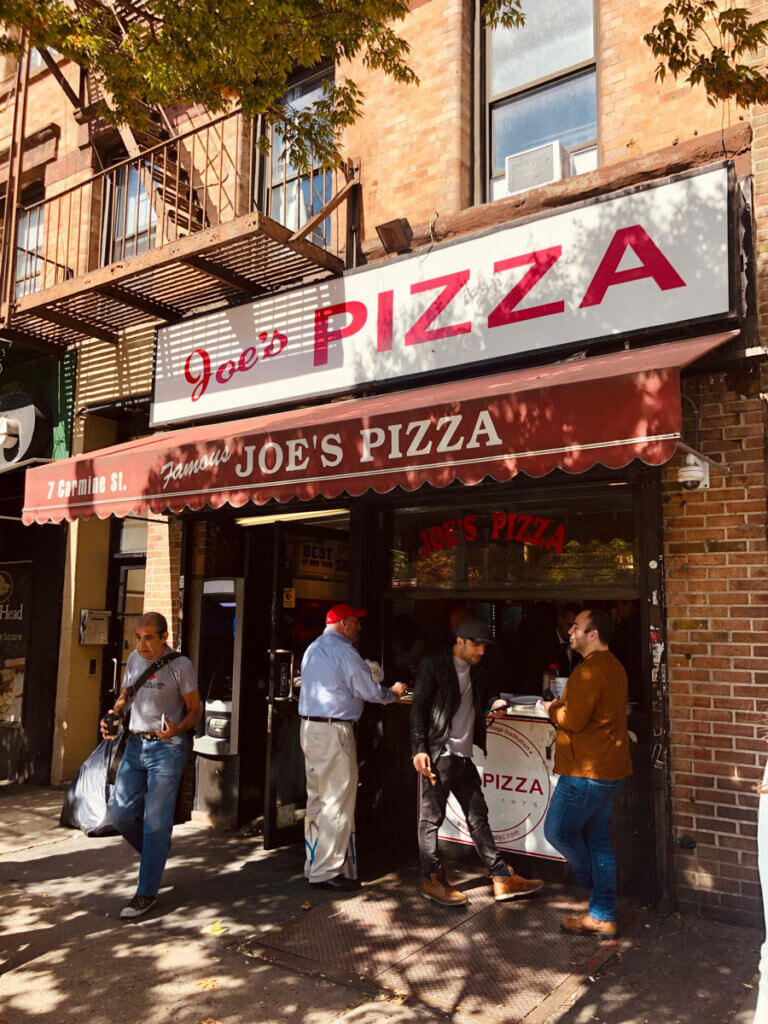 Joe's Pizza is a popular pizza spot that offers some of the best slices of pizza in NYC and has a few locations around the city including Midtown, Greenwich Village, and Williamsburg in Brooklyn to name a few, see their site for the rest of the locations.
They are known for their memorable celebrity visits who frequent their pizza shop including the likes of Brad Pitt and Leonardo DiCaprio to name a few. If you're curious about who else famous has had a slice here just look at the photos all over the wall.
While these aren't $1 slices, these are just a slightly higher price but still a very inexpensive dining option if you're traveling New York City on a budget. This is also a popular late-night spot as they are open late! This is one of my personal favorite slices in the city!
Halal Guys
The Halal Guys are legendary and have locations all around the city with one of their most popular locations right next to Radio City Music Hall at 75 W 53rd St, just look for the little cart that has the line! Don't worry it moves fast!
The Halal Guys serve up authentic American Halal platters and sandwiches on the street. They're mostly known for their gyros and falafel platters. If you're in New York on a budget and want larger portions at a reasonable price point, Halal Guys is a great option for takeout.
NY Dosas
NY Dosas is a popular food cart in Washington Square Park, one of the most popular parks in NYC that's worth a visit in Greenwich Village bustling with street entertainment and NYU college students.
Back to NYC on a budget though, this food cart offers tasty Indian takeaway food including dosas and snacks. This affordable street food cart is excellent for almost any meal and there are ample amounts of seating around the park so you can get a cheap dinner with a show (the show is whatever is happening at Washington Square Park that day!).
Los Tacos No. 1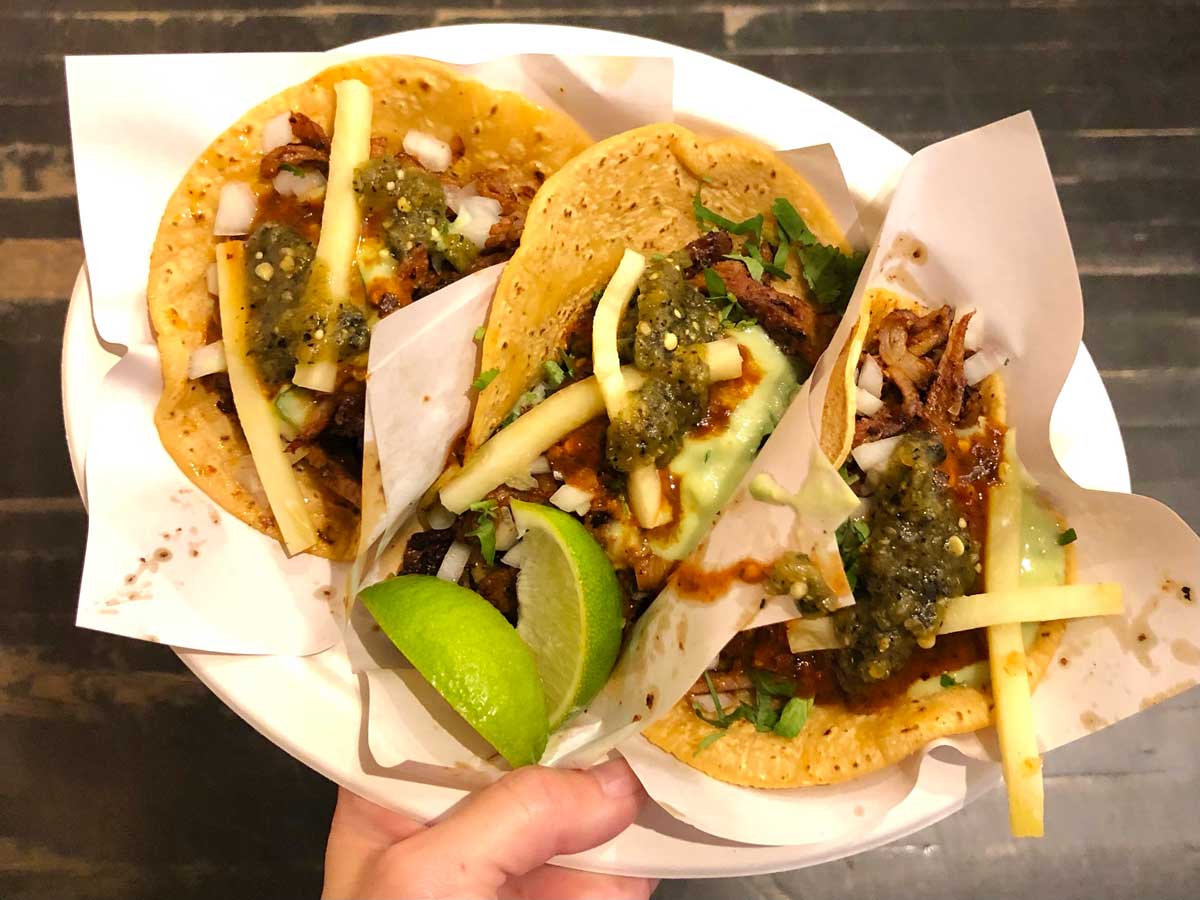 Ahh, one of my favorite taco spots in the city that are also some of the best tacos I've had in the US (I've spent ALOT of time in Mexico so I feel comfortable saying this).
Los Tacos No. 1 is a popular taqueria and fast food joint in the city. Although the most popular location is in Chelsea Market, there are now multiple locations all throughout Manhattan! This affordable spot is known for its authentic street tacos and delicious quesadillas that are great for anyone in New York City on a budget.
Alligator Lounge
Taking on NYC on a budget doesn't mean you have to skip out on going to the bars! Alligator Lounge (600 Metropolitan Ave) is a popular bar in Brooklyn and one of the best things to do in Williamsburg that gives you a free personal pizza each time you order a drink! This is a popular bar and a fun spot for nightlife, they even have pinball machines and arcade games!
Your free personal pizza is cheese, if you want any toppings they charge a small extra fee!
Another spot that offers the same deal nearby is The Charleston (174 Bedford Ave) which is also in Williamsburg.
While you're in the neighborhood head to Domino Park, another free thing to do where you can get one of the best views of Manhattan and the skyline from Brooklyn!
Pearl Diner
One of the best cheap things to do in New York City on a budget at any time of day is to visit a classic American diner. Pearl Diner (180 Water St) is an old-school diner in the Financial District that has been running for over 50 years and is one of the best diners in NYC!
This place is mainly known for its breakfast and burgers and the prices are reasonable!
Westway Diner
Speaking of diners, another great one and affordable dining option for enjoying New York on a budget is Westway Diner (614 9th Ave) in Hell's Kitchen/Midtown. This legendary diner has been open for over three decades and you will want to try their famous cheese blintzes with sour cream, the Challah French Toast, or if you're feeling savory, the Matzo Ball soup or Grilled Cheese with Turkey sandwich.
Plus there are free refills on coffee!
Shake Shack
Shake Shack is to New Yorkers what In N Out Burger is to California. What started out as a hot dog stand outside Madison Square Park became wildly popular and is one of the best meals to eat in NYC on a budget!
You can find locations all over the city, try their signature burgers and milkshakes! It's not unusual to see a line, but since it's fast food (but with higher quality ingredients than most fast-food chains) it goes quickly and is pretty darn good!
Joe's Shanghai
Just because you're traveling NYC on a budget doesn't mean you can't enjoy some of the best and most popular food in the city! Joe's Shanghai (46 Bowery) is a popular Chinatown eatery that now has more than one location around the city.
Joe's is most famous for their insanely addictive, savory soup dumplings, but they also have great fried rice, shredded beef, and many other affordable dishes in the $10 range.
Shu Jiao Fu Zhou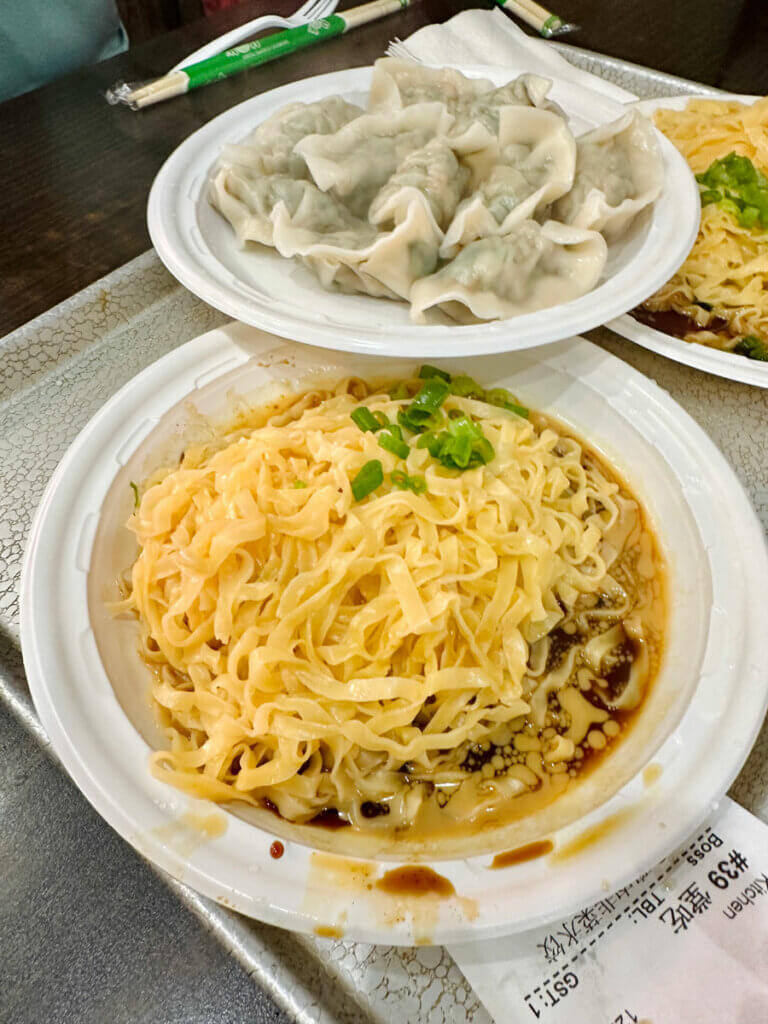 Shu Jiao Fu Zhou (295 Grand St) is a Chinese cafe that serves famous dumplings and noodle dishes. If you visit this restaurant, you'll be able to see them making your soup dumplings on the spot! Better yet, you can find plenty of menu items well under the $10 range so eating well on a budget isn't too shabby here!
Try a NYC Bagel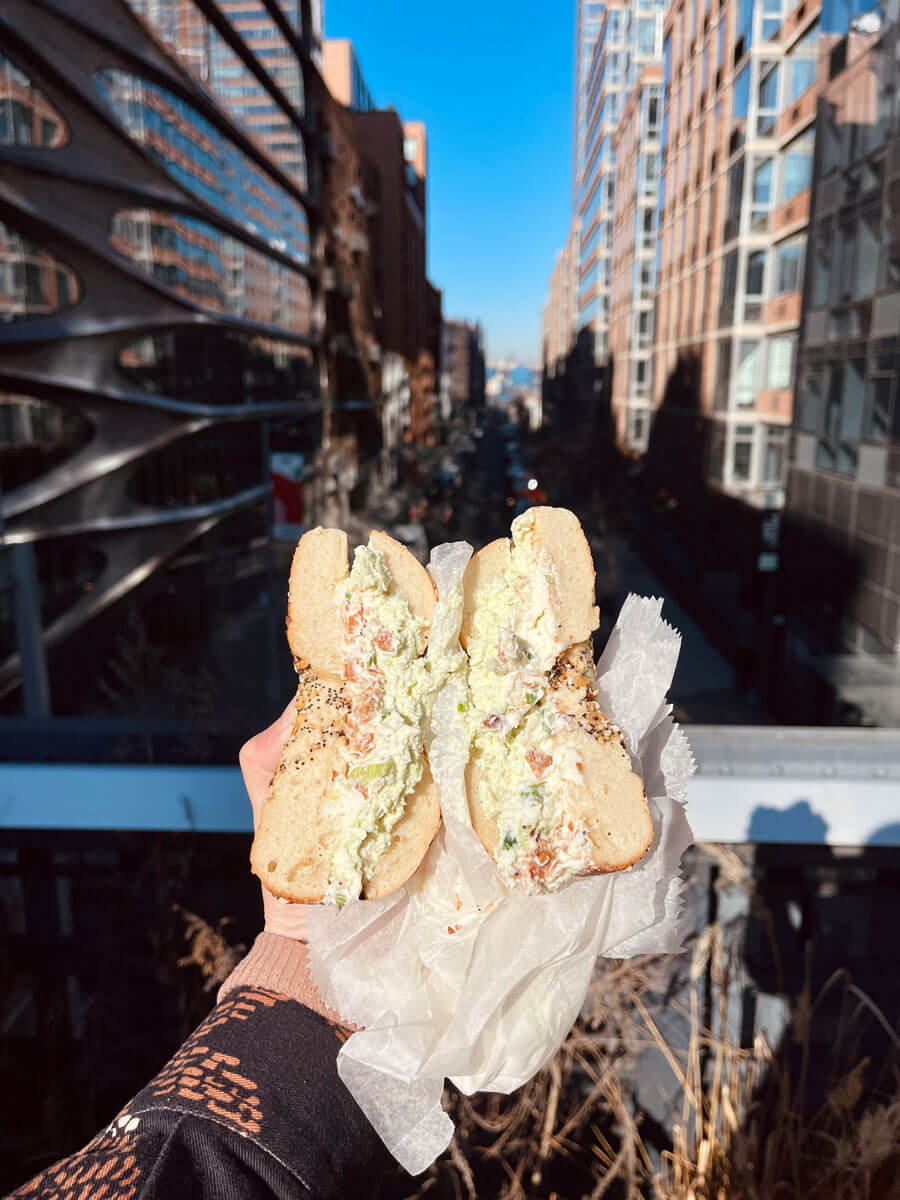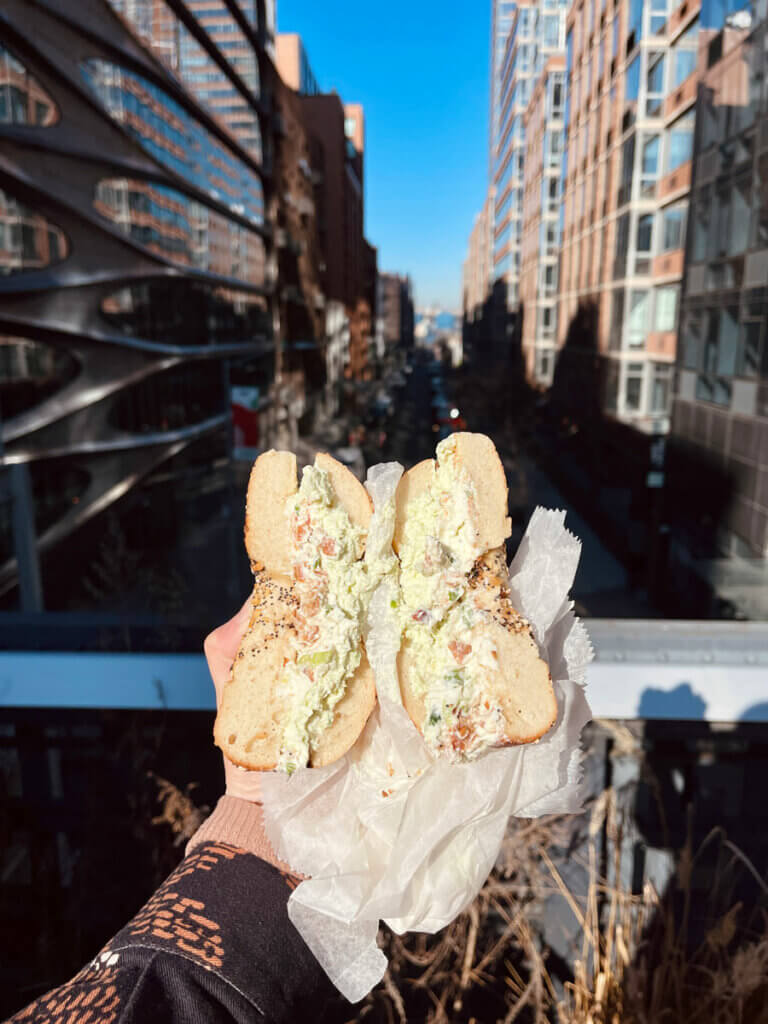 Another one of our favorite meals on the cheaper side are the insanely filling and delicious bagels in the city. See our full guide to the best bagels in NYC and best bagels in Brooklyn for our favorite stops, they are all pretty affordable and one of those iconic foods you have to try when you're here.
You can grab a bagel with cream cheese – most places have tons of flavors to choose from, my personal favorite flavors usually include bacon, cheese, and jalapeno which tend to be a little extra filling! If you want more bang for your buck though, go for the bagel breakfast sandwiches with meat, cheese, and egg on a fresh NY bagel.
Drinking in NYC on a Budget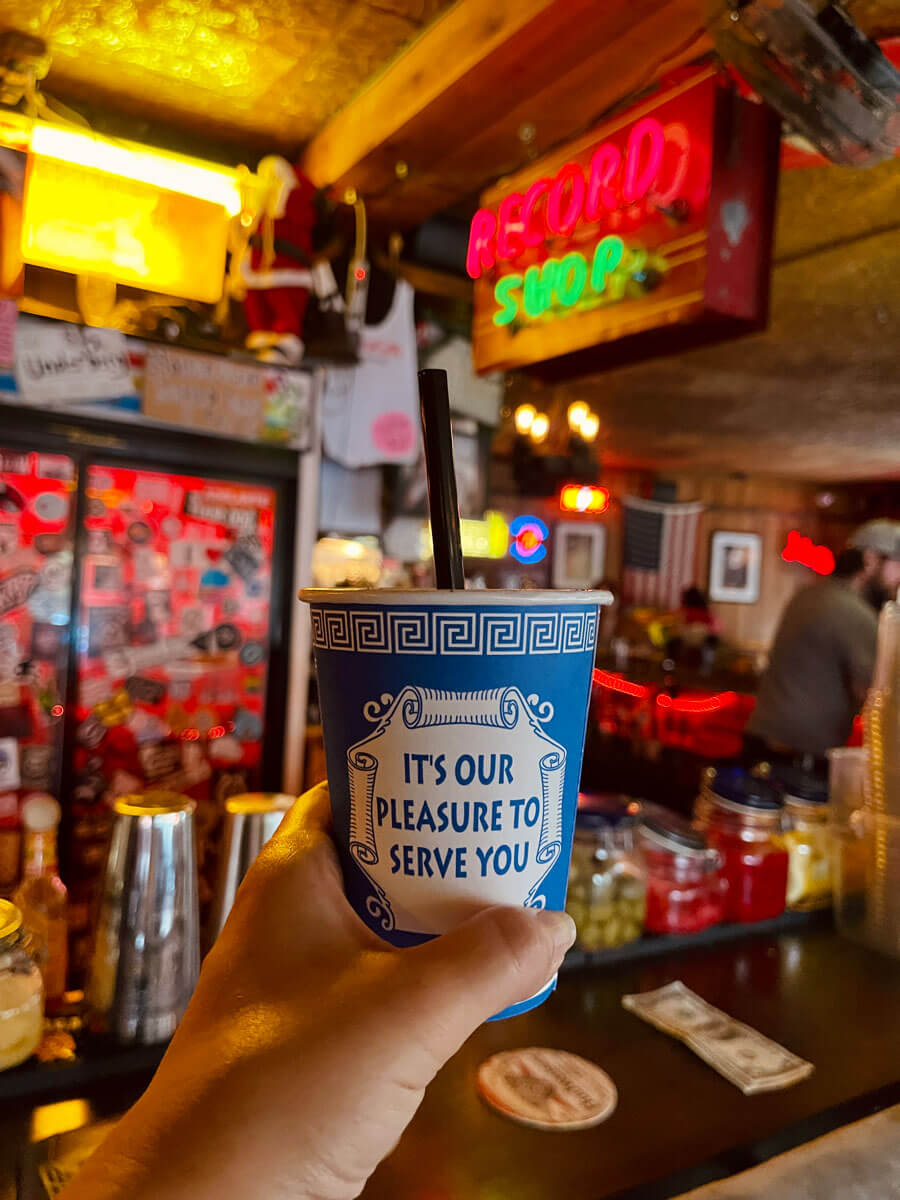 One way to accidentally spend alot of money in any city is on a bar tab, especially in New York City. If you're into nightlife and drinking, don't worry there are budget-friendly options still even in one of the most expensive cities in the world!
We recommend taking advantage of happy hour specials – which are more common on weekdays vs weekends or heading to a few of our recommended picks.
Alligator Lounge & The Charleston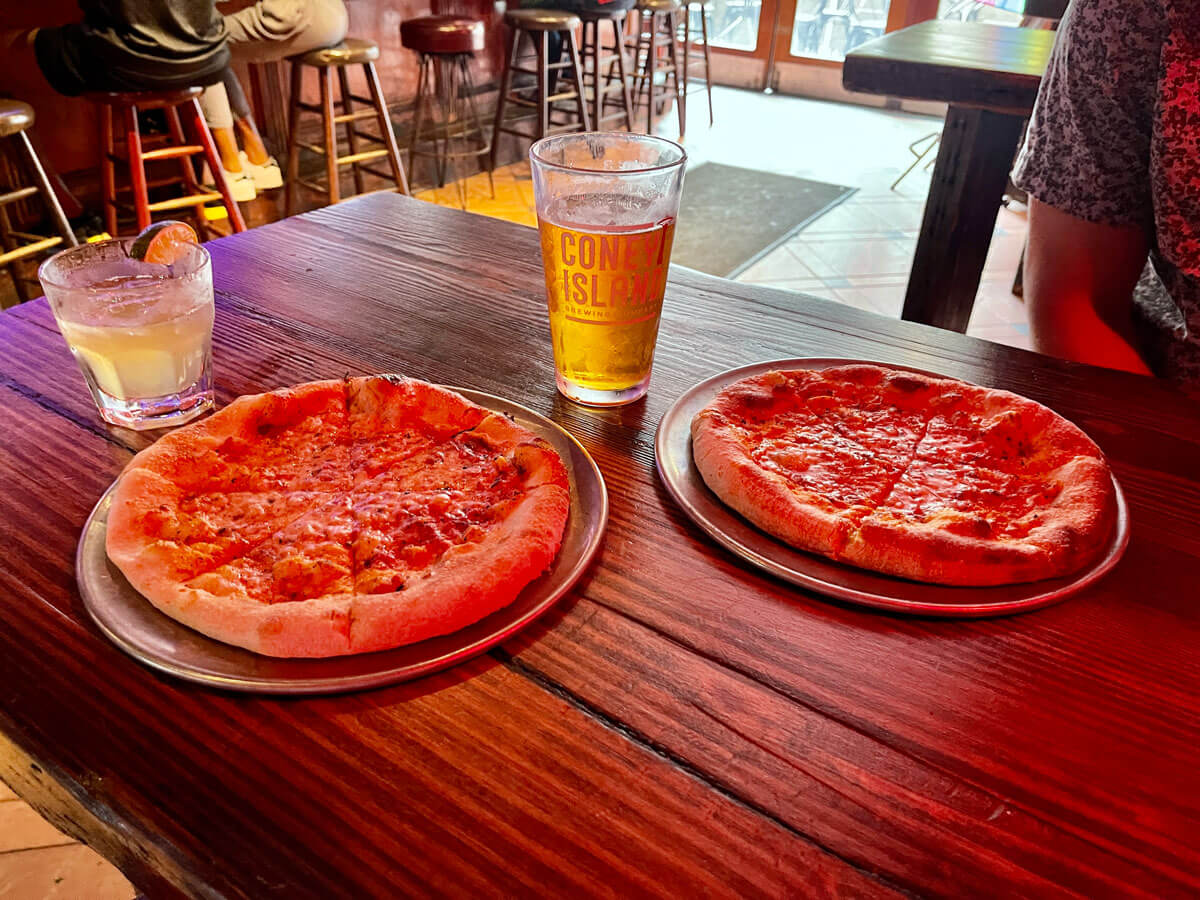 As mentioned earlier under cheap eats, The Alligator Lounge and The Charleston in Williamsburg, Brooklyn offer the best bang for your buck as each purchase of a drink comes with a personal-size cheese pizza!
Now you might think that they must really charge alot for their drinks, but they don't. Grab a bottle of beer and eat and drink on a budget in New York City.
Grand Central Terminal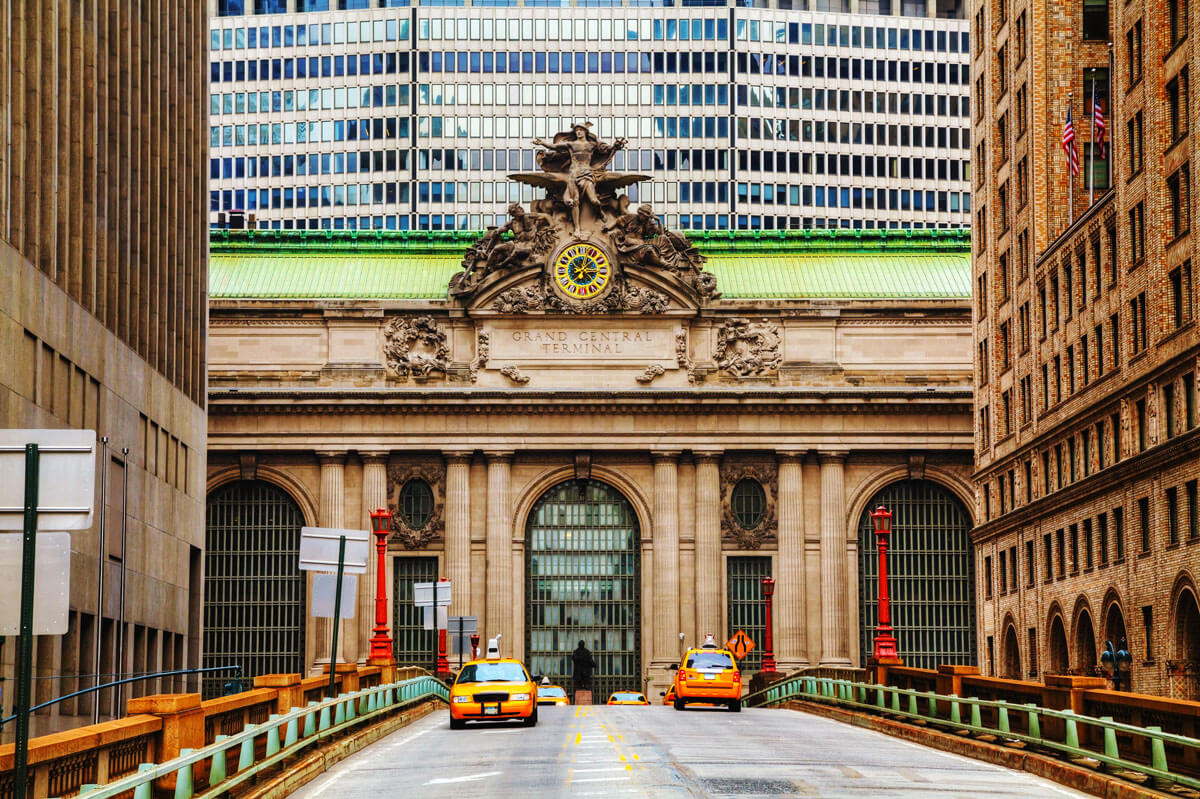 If you're looking for cheap things to do in New York City on a budget, you don't have to rule out going to the bars.
One of my favorite hidden gems in NYC is actually the food court at Grand Central Terminal located on the bottom floor. Not only should you see the beauty of Grand Central in person, but you can head to the lower level and head straight to the bar where they have a daily happy hour from 4 to 7 pm!
The drinks are cheap and you're not sacrificing quality either, they have a range of beers on draft, wine, and cocktail specials. If you find yourself needing to take a train here (not to be confused with the subway) they do offer 'to-go' drinks as they are permitted on the trains too!
Johnny's Bar
Johnny's Bar (90 Greenwich Ave) is a popular dive bar in the West Village, one of the best areas for nightlife in the city as this is where you can find all the most famous comedy clubs.
Johnny's has daily shot specials and overall reasonably priced drinks. This popular spot also has a jukebox, film-truck permits, and unique decor too making it just a fun hang-out spot.
Strangelove Bar
Strangelove (229 E 53rd St) is a punk-rock dive bar in Midtown East known for its affordable drinks and punk-rock vibe. This quirky, low-lit bar has lots of street art on the outside and has live music throughout the week!
Rudy's Bar & Grill
One of the best options for cheap drinks in NYC is the legendary Rudy's Bar & Grill (627 9th Ave) in Hell's Kitchen Not only has this tavern been around since 1933, but it also was a favorite NYC spot of Anthony Bourdain.
Not only can you get a cheap beer on draft here, but it comes with a free hot dog!
Save Money on NYC Transportation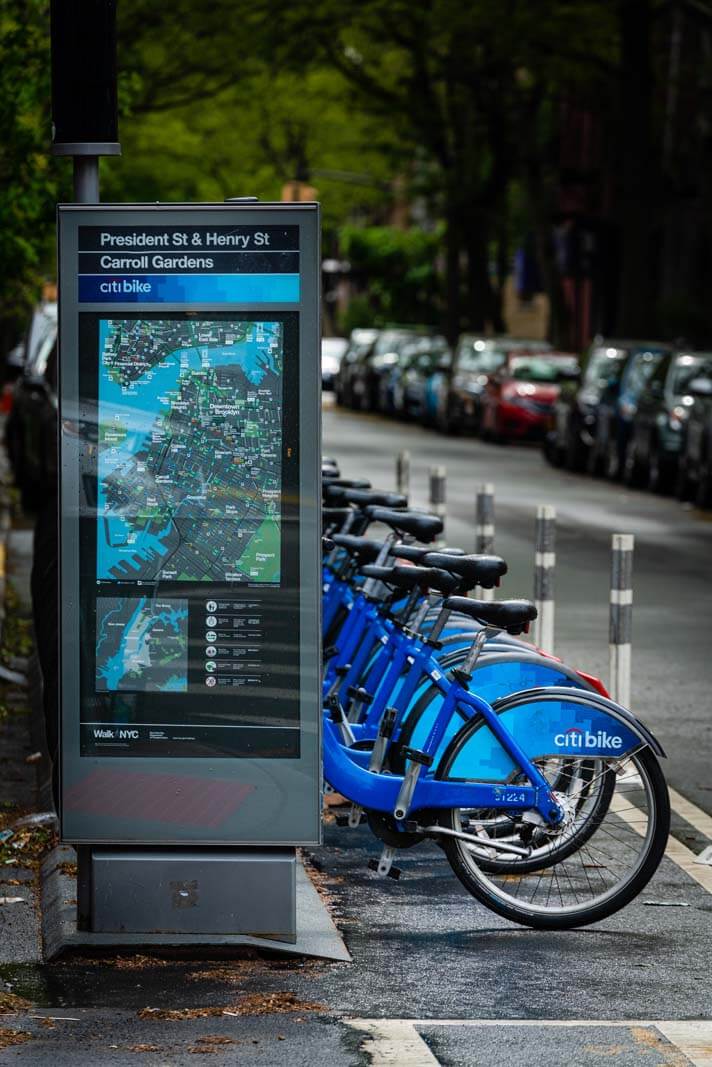 Exploring NYC on a budget means you don't want to spend unnecessary money getting around. One way your budget can get out of control is taking those famous yellow taxis or ride shares everywhere, they add up and you'll realize after that 10-minute ride that taking a car to get around can get out of hand real quick.
One of the most popular ways to get around in the city is to walk! If you have comfortable shoes and an umbrella, you'll be ready to go just about anywhere near you in the city. I'd plug in the directions on Google Maps though so you don't run into any surprises on how long your walk is, being on the streets is one of the best ways to also sightsee in the city and take in all those New York City moments.
Luckily, unlike other places in the US, New York City is very well connected by public transit and there are a few options.
Rent a CitiBike
One of the best ways to save money on NYC transportation is to use CitiBike instead of taking an Uber or taxi! A single ride is just $4.50 (for 30 minutes), and there are bikes all over the city!
Be sure to download the CitiBike app so that you can see where the nearest bikes are, view your ride history, and get special deals.
If you find yourself needing bikes more often, you can save money by getting a day pass for $19 instead of buying another single ride each time you dock your bike.
Also, pay attention as you need to dock your bike every 30 minutes, otherwise, you will be charged $4 for every extra 15 minutes which can add up. Luckily, most places are less than a 30-minute bike ride or you can just find a dock when you're getting close and decide whether to rent again or walk the rest of the way.
These rates are for classic bikes, now Citibike also offers electric bikes which are great if you don't want to work too hard or work up a sweat. Electric bikes can be a little competitive to find and they cost more ($.26 per minute) but they can cruise up to 18 MPH. These are really only cost-effective if you're a member as it's at a much lower rate at $0.19 per minute, which still adds up on longer rides!
Don't make the mistake of getting an e-bike without a membership if you're trying to save money in NYC! The prices are a bit outrageous on these without the membership.
Ride the MTA/Subway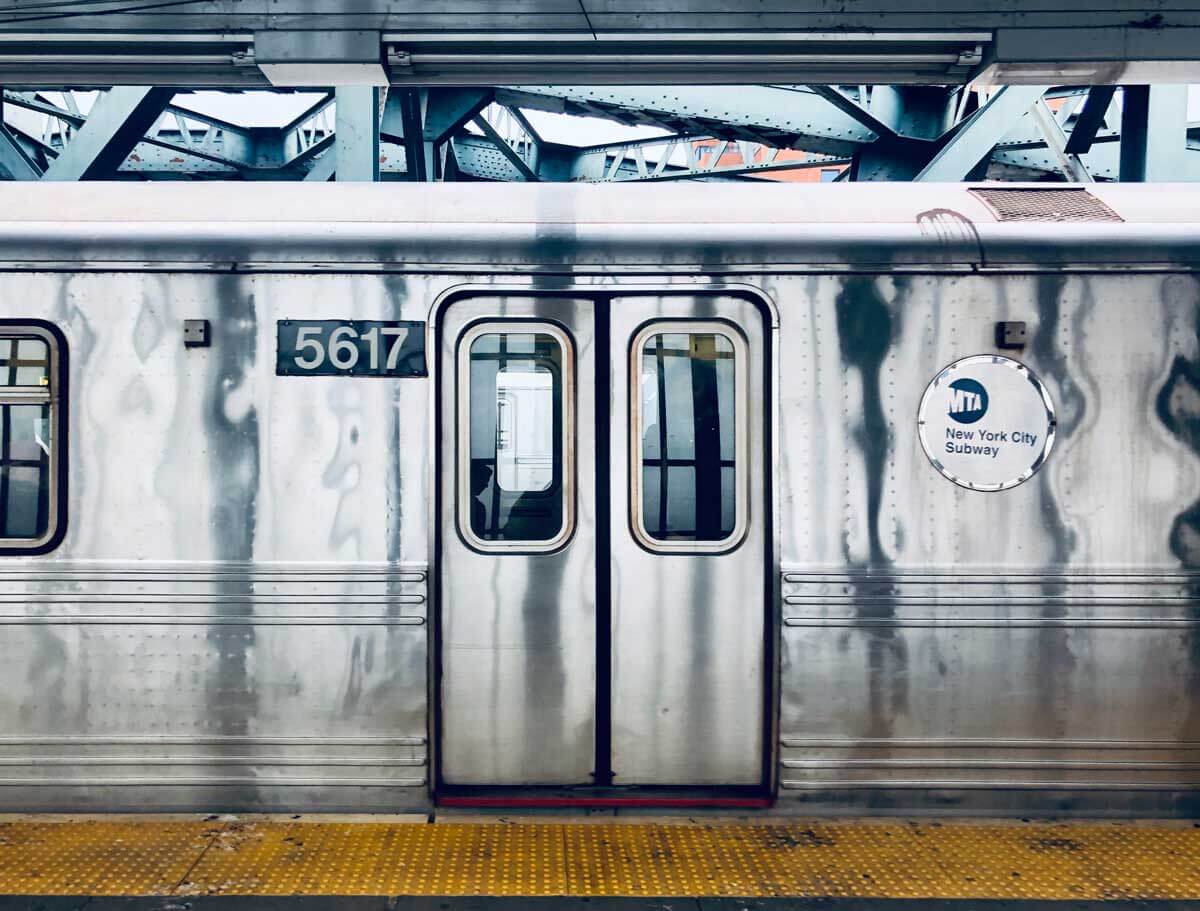 Another great way to avoid spending a load of money is using the NYC subway. This is probably the most efficient way too as you won't find yourself stuck in traffic and for the most part, the subway is really reliable.
One swipe through the subway is just $2.90, you can use your credit card to tap your way into the turnstile or buy a MetroCard and preload an amount of money.
Although the MetroCard will be done away with eventually, it's still an option at the moment. If you have tap payment on your credit card this is the easiest and most efficient way to pay for the subway.
You can also buy day or week-long passes which can save money if you find yourself taking multiple rides a day, which are great for visitors in the city as you'll most likely be sightseeing around the city.
Transportation from the Airport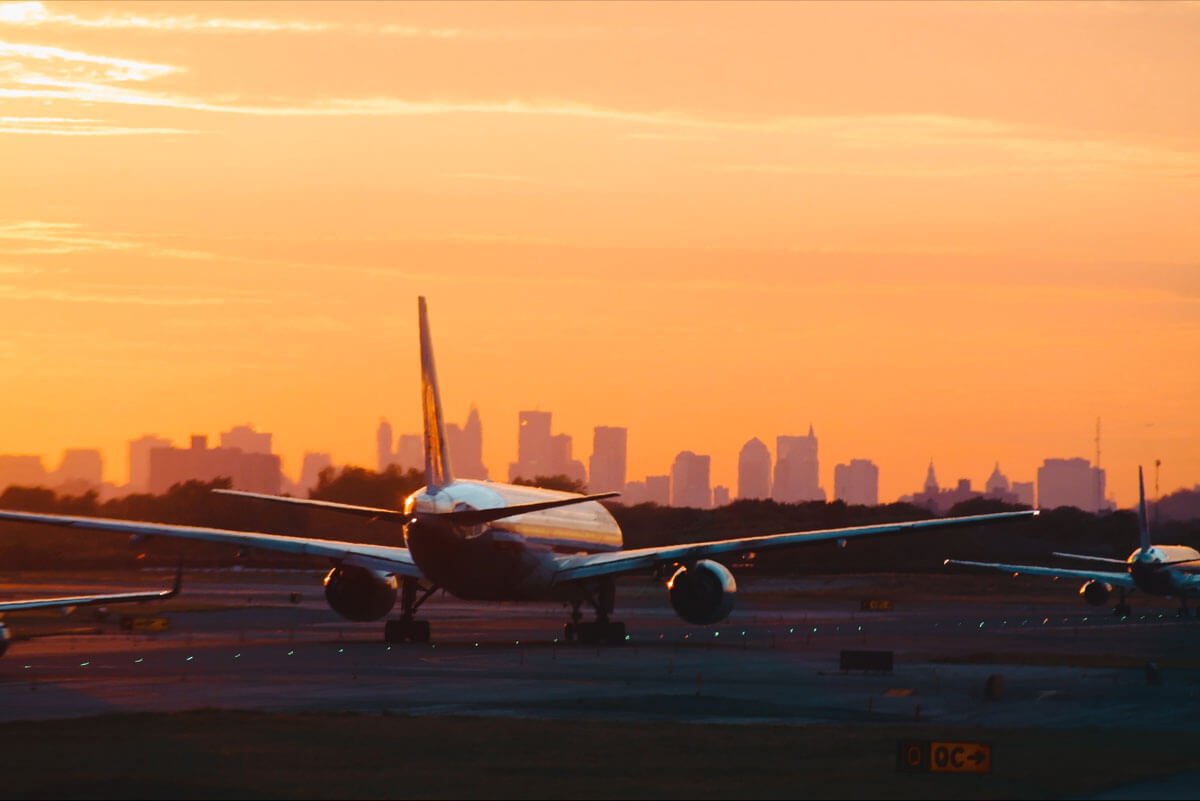 For anyone coming into the city via airport you may want to plan ahead so you're not surprised with any expensive bills eating into your NYC budget if you take a taxi or Uber from the airport.
As a local, I personally only take a car if it's so early in the morning or late at night I don't want to deal with the subway because I am too groggy or I don't want to haul my luggage up and down stairs.
Also, depending on the time of day you could just be sitting in gridlock traffic as the airports are located quite a ways away from all the tourist hotspots in Manhattan.
We recommend taking the subway for the most affordable and efficient way to get to and from the airport from where you're staying in the city.
Keep in mind if you fly into LaGuardia (LGA) you have to take a courtesy shuttle to the nearest subway, which is free.
From John F. Kennedy (JFK) to get to the subway you have to first take the AirTrain, this requires a MetroCard and is $8.25. The week passes for the subway do not work, it has to be a specific loaded amount. Then after you ride the AirTrain you will be on the regular subway and it only costs one swipe.
If you're traveling with multiple people that can fit in one car, factor the AirTrain + subway cost ($11.50 per person) as sometimes splitting a rideshare can be more convenient and not much more expensive per person in your group.
From Newark Airport (EWR) to Manhattan, you will have to take the NJ Transit from Newark Airport to Penn Station in Manhattan. You have to get a ticket at the NJ Transit ticket booth or on the app, it's $15.50 for adults and $11.50 for children one way directly to Penn Station in 30 minutes. If you're not staying near Penn Station, factor in another subway swipe at $2.90 per person.
Check out our in-depth guides to JFK Airport to NYC, LaGuardia Airport to NYC, and Newark International Airport in New Jersey to NYC.
Free & Cheap Things to do in NYC
So you can find an endless amount of things to do in the city, but some can come at a cost and admission to attractions can add up quickly (don't fear we have a money-saving hack for that too so you don't miss out on those bucket list attractions further on in this guide).
Luckily there are also TONS of amazing free and cheap things to do in NYC to enjoy too! Also, see our guide to the best free museums in NYC and free things to do in Brooklyn for more ideas! You can easily fill an entire NYC vacation with free activities in the city, that's one of the best parts of taking a trip here!
Brooklyn Museum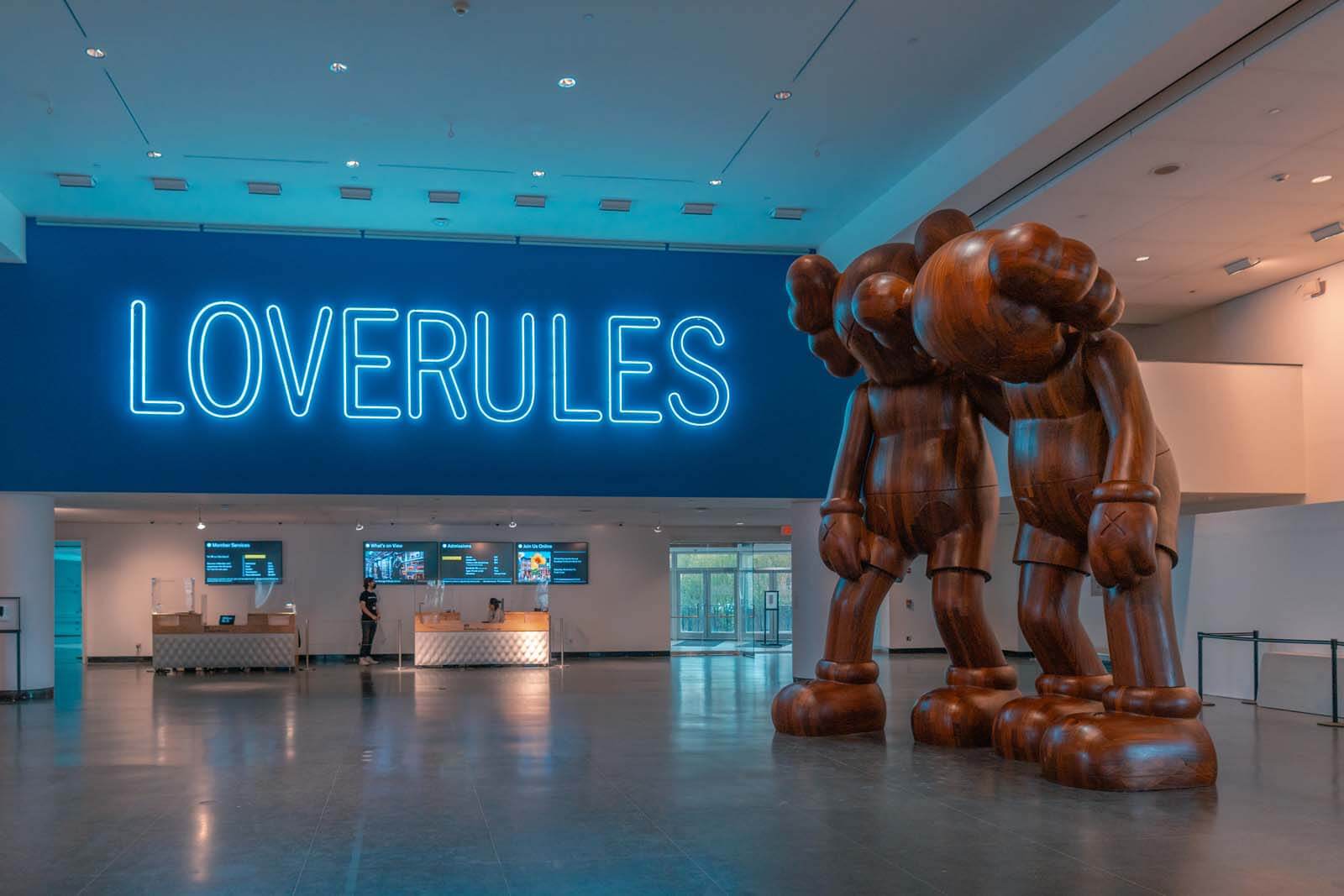 Visiting NYC on a budget doesn't mean you can't visit any of the most famous museums in town. The Brooklyn Museum is a popular spot in Brooklyn that has many free admission days!
Typically, these days are on the first Saturday of every month. However, if you miss a free admission day, their typical cost is pay-as-you-wish, making it a more affordable option than many other museums in the city!
Waterfront Museum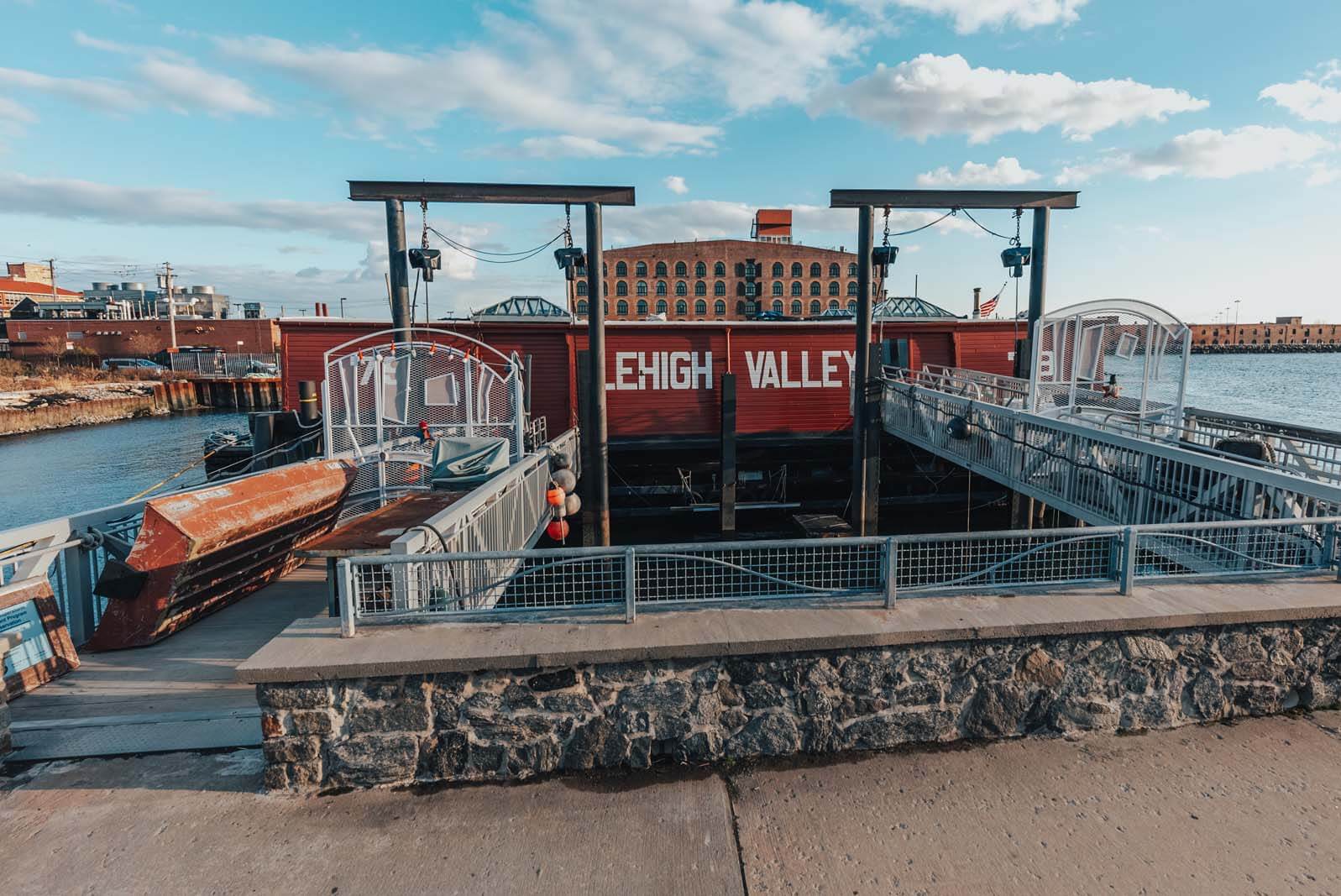 The Waterfront Museum is a maritime history museum located in Red Hook, Brooklyn. This museum is near many other waterfront spots and has excellent views of the Statue of Liberty!
On Saturdays from 1 PM to 5 PM, this museum is entirely free!
High Line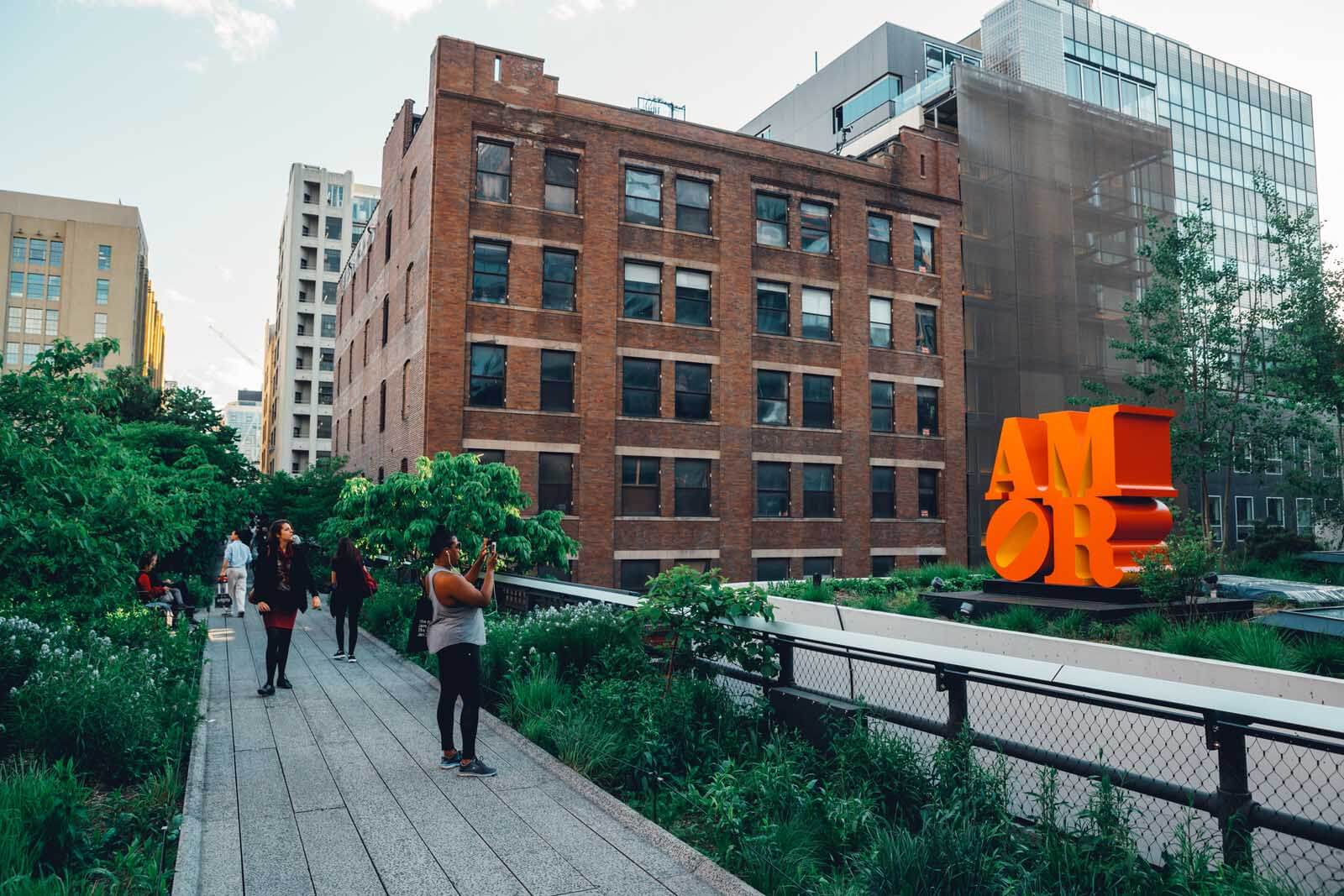 The High Line is an elevated linear park and greenway in Chelsea. Entrance onto the High Line is entirely free! Once you're up there, you can expect to see outstanding views of the Hudson River and the entire west side of the city.
After you can take a walk around Hudson Yards where the Vessel is, The Edge, and nearby is Chelsea Market where you can find the Los Tacos No. 1 location mentioned earlier as one of our cheap eats in the city!
Brooklyn Brewery
The Brooklyn Brewery is a microbrewery in Brooklyn that offers free tours! During these tours, you can expect to receive many great tastings and gain more insight into the brewing process.
If you're in New York on a budget, this tour will allow you to enjoy free beer and learn more about the brewery! Also, there are quite a few great breweries in Brooklyn which are fun to check out too!
American Museum of Natural History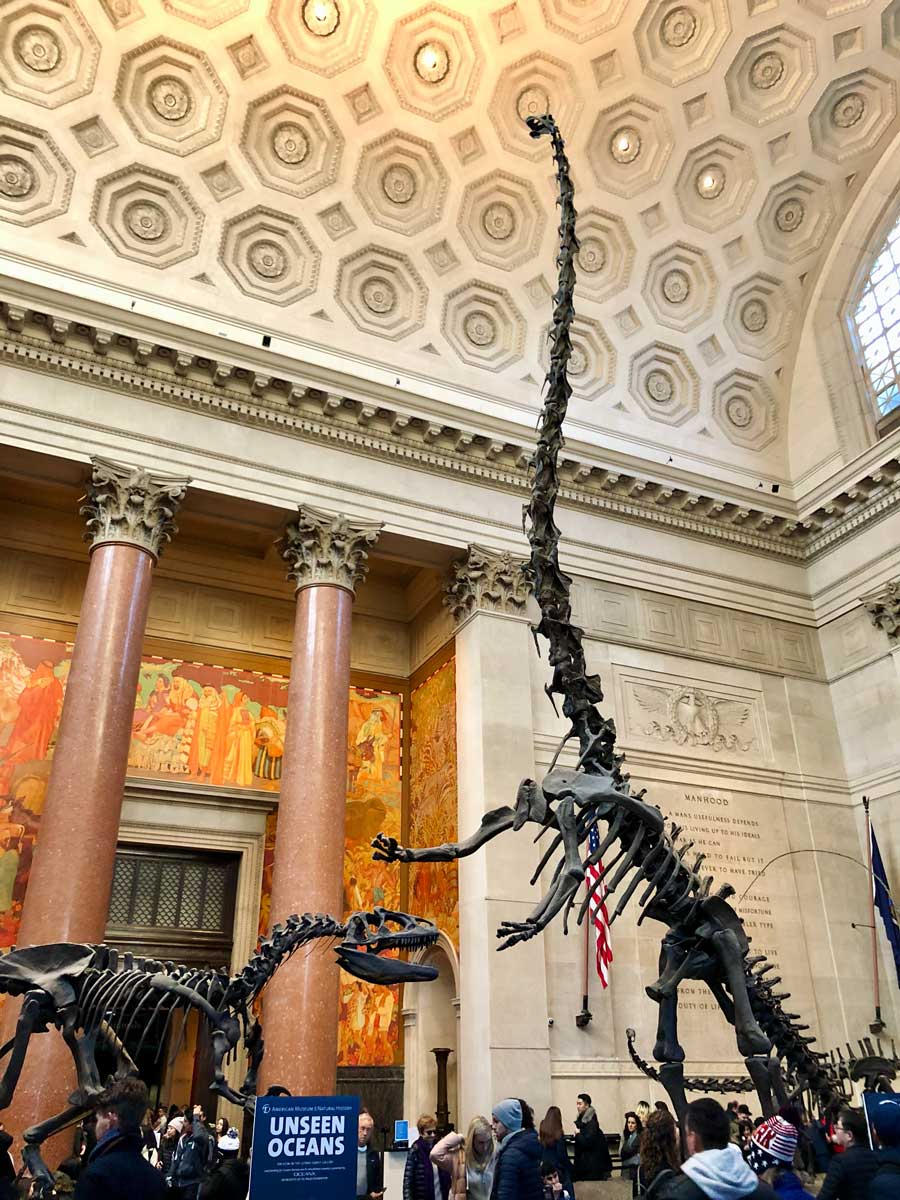 The American Museum of Natural History is a museum on the Upper West Side of Manhattan. This museum typically offers free admission on the first Tuesday of every month, making it an excellent option for anyone in NYC on a budget!
Little Island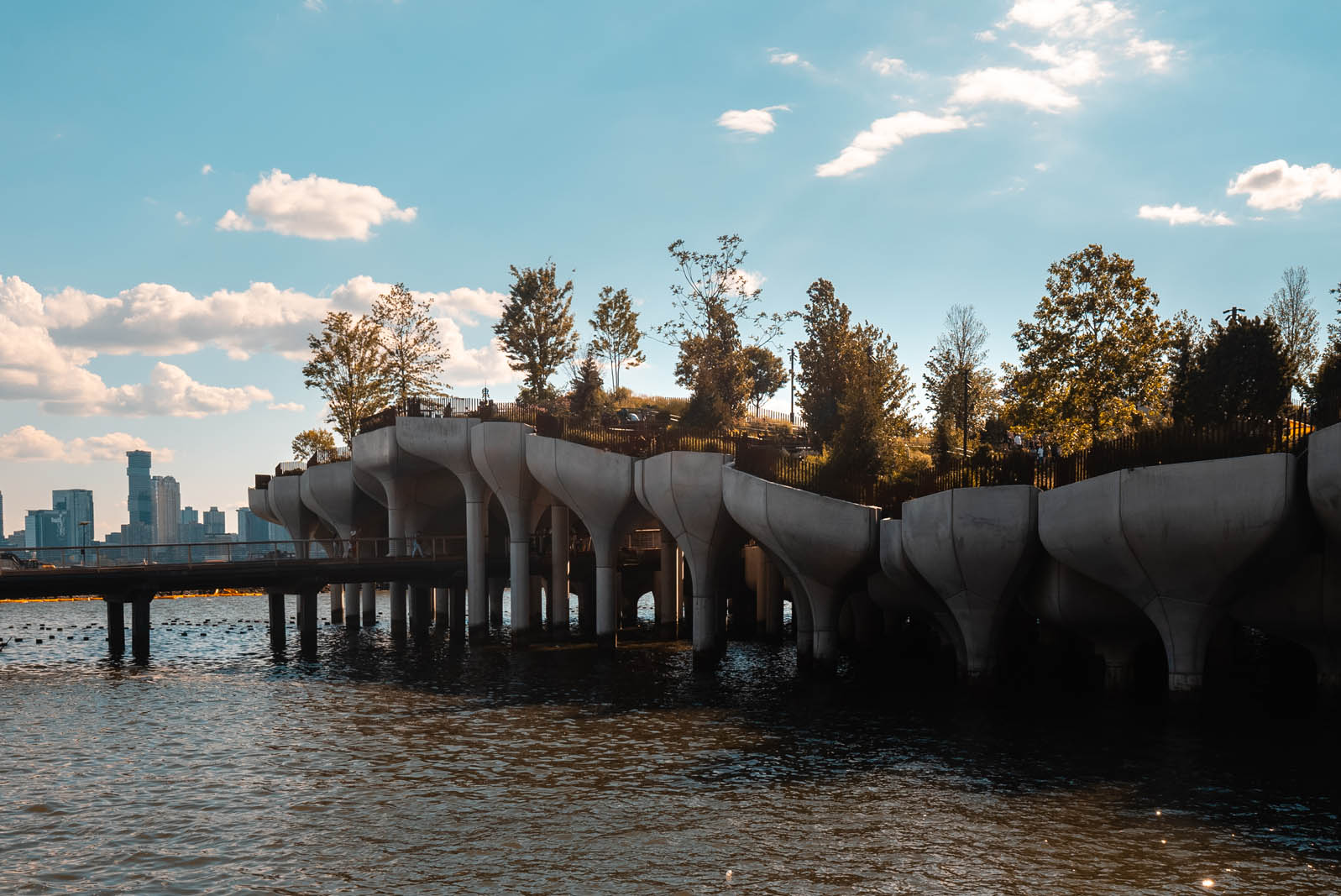 One of the best cheap things to do in New York is to visit Little Island! Little Island is a modern island park on the Hudson River Greenway with many food stands, a waterside amphitheater, and unique greenery.
Entrance into Little Island is free and most of the events, including concerts at the amphitheater, are entirely free!
Walk the Brooklyn Bridge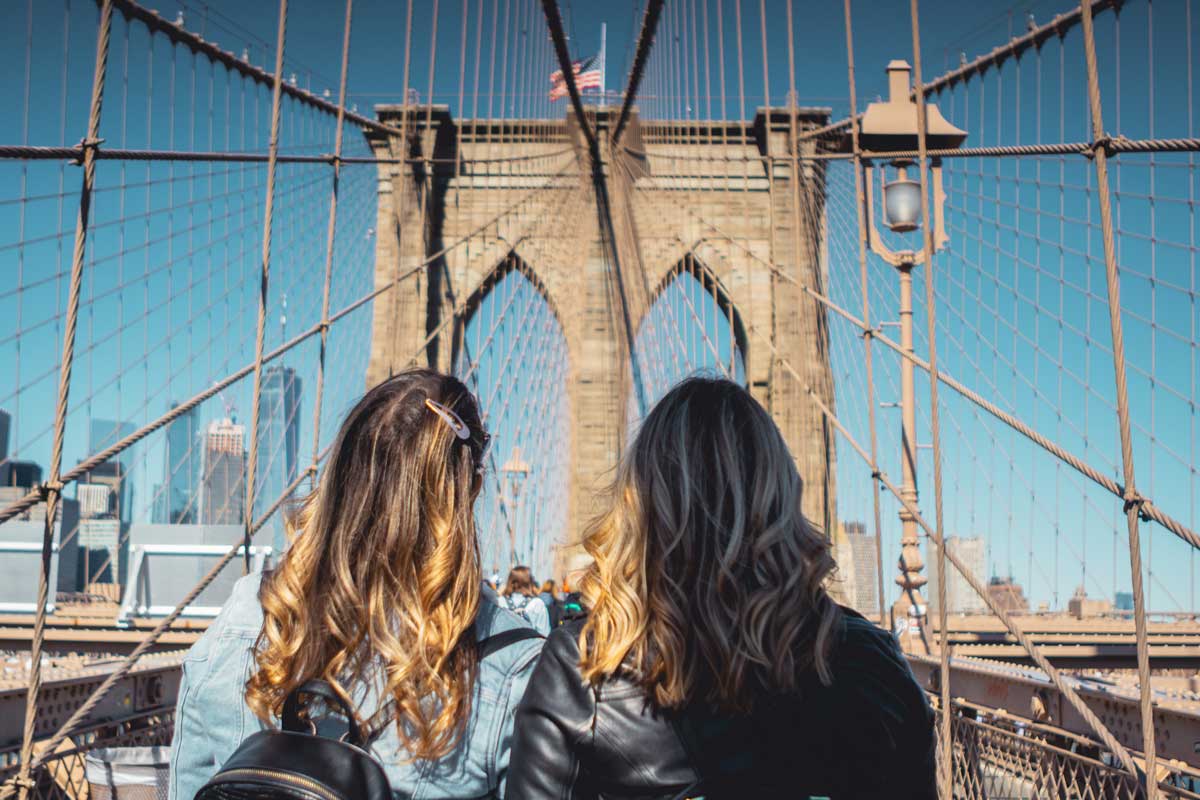 If you're in New York City on a budget, you can experience some of the best views in the city for free by walking the Brooklyn Bridge!
Although you can cross the bridge by driving, biking, or going under on a boat, walking is the best way to take your time and soak in all of the incredible views.
However, this bridge draws in at least 7,000 visitors a day, so be prepared for crowds if you're visiting around a holiday or the weekends! If you want to beat the crowds try coming early in the morning, on a rainy day, or in the middle of winter (bundle up!).
Also, another way to beat the crowds is to actually walk across the other cool bridges along the East River, check out the Manhattan Bridge walk and the Williamsburg Bridge walk!
Central Park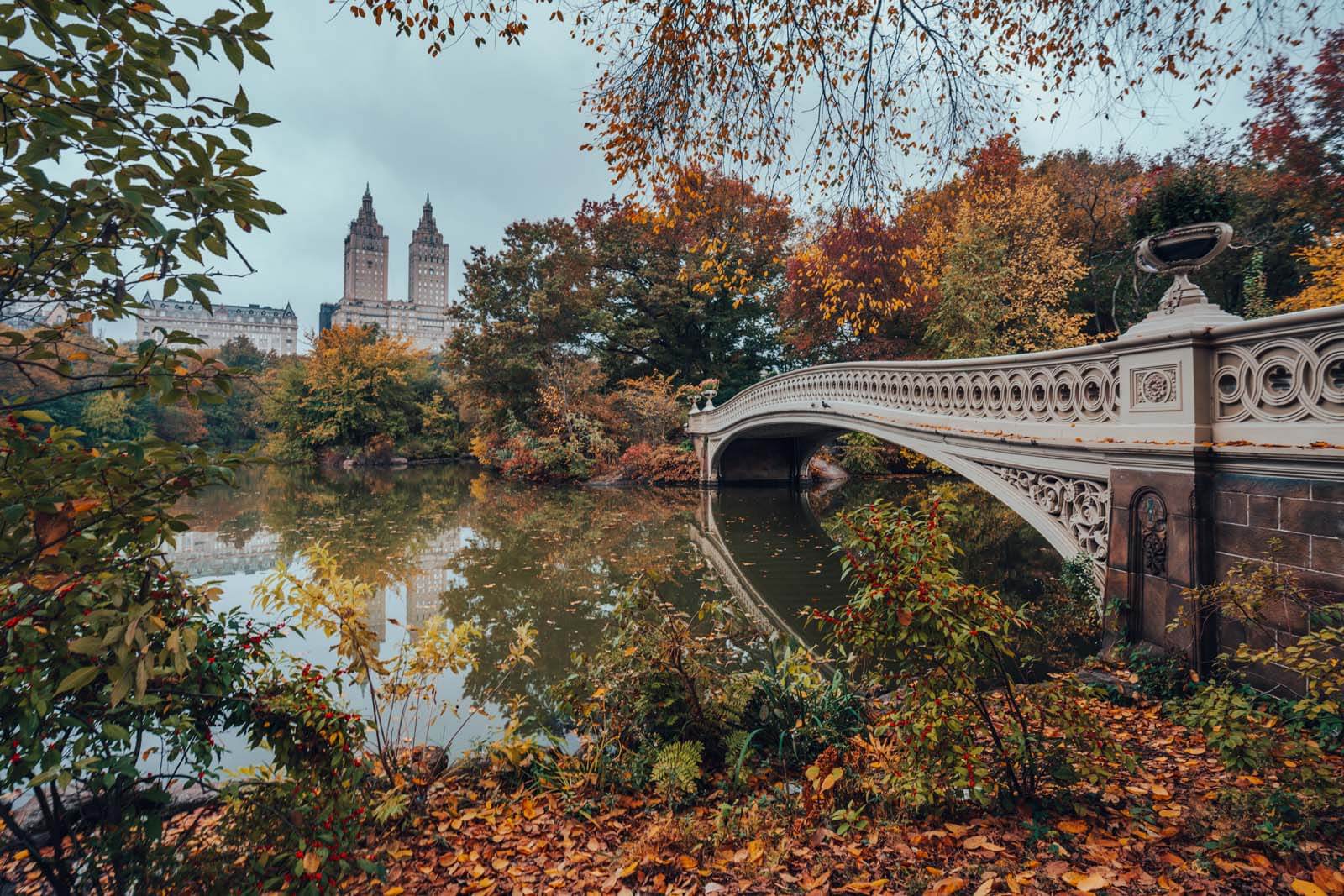 Central Park is an 843-acre park that stretches from the Upper West and the Upper East Side of Manhattan from Columbus Circle up to Harlem with plenty of different lawns, monuments, trails, and other hidden gems in Central Park to check out.
Going into Central Park is entirely free, and once you're there, there are many fun things to do in Central Park! Whether you want to watch a free concert (in the summer months), get food at a food cart, or bike through a trail (warning: there are some serious hills in here though surprisingly), Central Park is a great place to go if you're in New York on a budget!
Don't miss the Bethesda Terrace and Fountain either, this is my personal favorite spot for photos and there are usually buskers under the archway.
Staten Island Ferry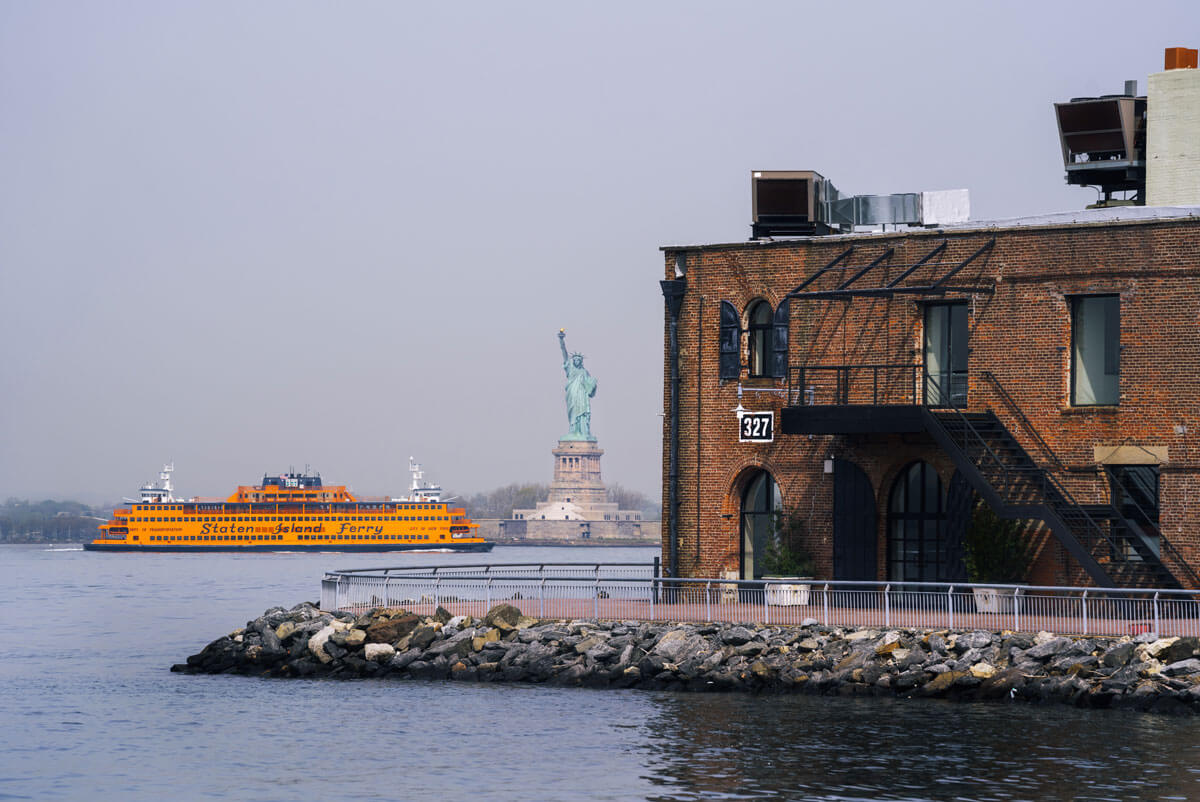 Another great way to get a great, free view of the city is to take the Staten Island Ferry! This ferry runs 24/7, and one trip typically takes around 25 minutes leaving from Lower Manhattan at Whitehall Terminal.
What makes the Staten Island Ferry one of the best free things to do? For starters you can BYOB, you can buy a drink at Whitehall Terminal and take it on or stop at a nearby mart.
The real showstopper is that you have a free sightseeing cruise right next to the Statue of Liberty for a beautiful up front view! Be sure to hang out on the outer deck for a great photo opportunity!
Bushwick Collective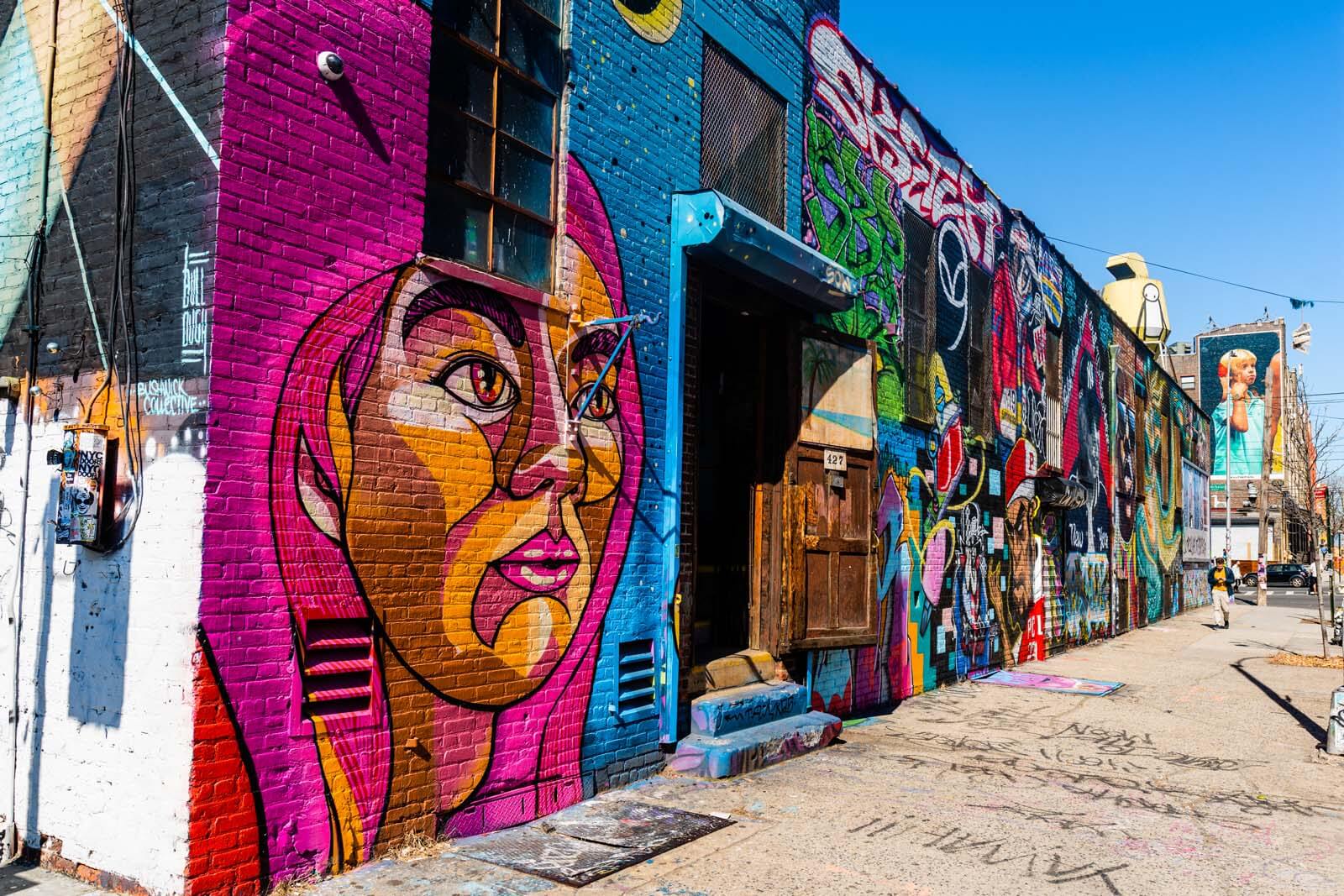 If you love murals and street art then you will be treated with some great murals all over the city, but truth be told the best street art is in Brooklyn!
One of the best spots is the Bushwick Collective, an entire neighborhood decked out with murals by artists all over the world making it a large, outdoor open-air museum and is totally free!
While you're here, be sure to explore the best things to do in Bushwick too!
Money-Saving Hacks in NYC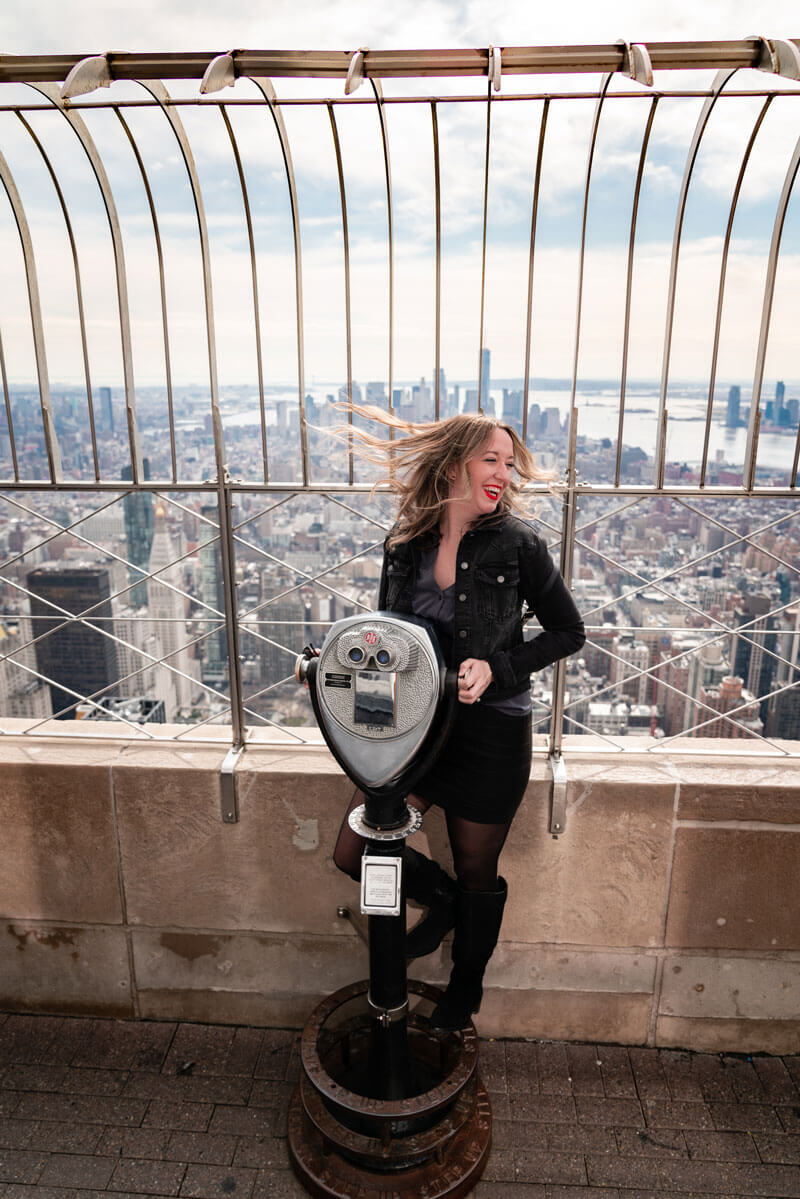 Now that we covered a few of the free and cheap things to do in NYC, we are going to cover the most popular attractions in the city like the Empire State Building observation deck (along with The Edge, World Trade Center, and Top of the Rock – all the best observation decks in NYC), plus other famous NYC experiences and tours in NYC not to be missed like visiting the Statue of Liberty.
These tickets can add up to hundreds of dollars fast if you want to see multiple attractions. But there's a way to save big time and we are going to share how!
Invest in an Attraction Pass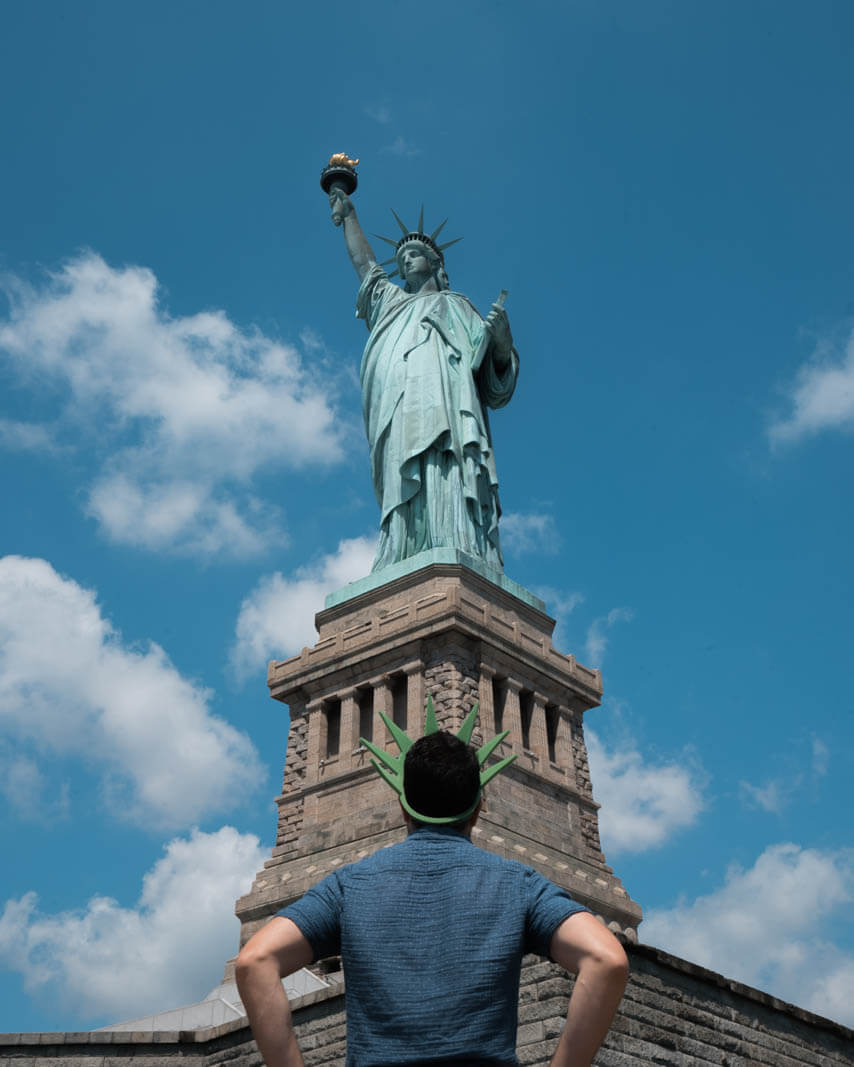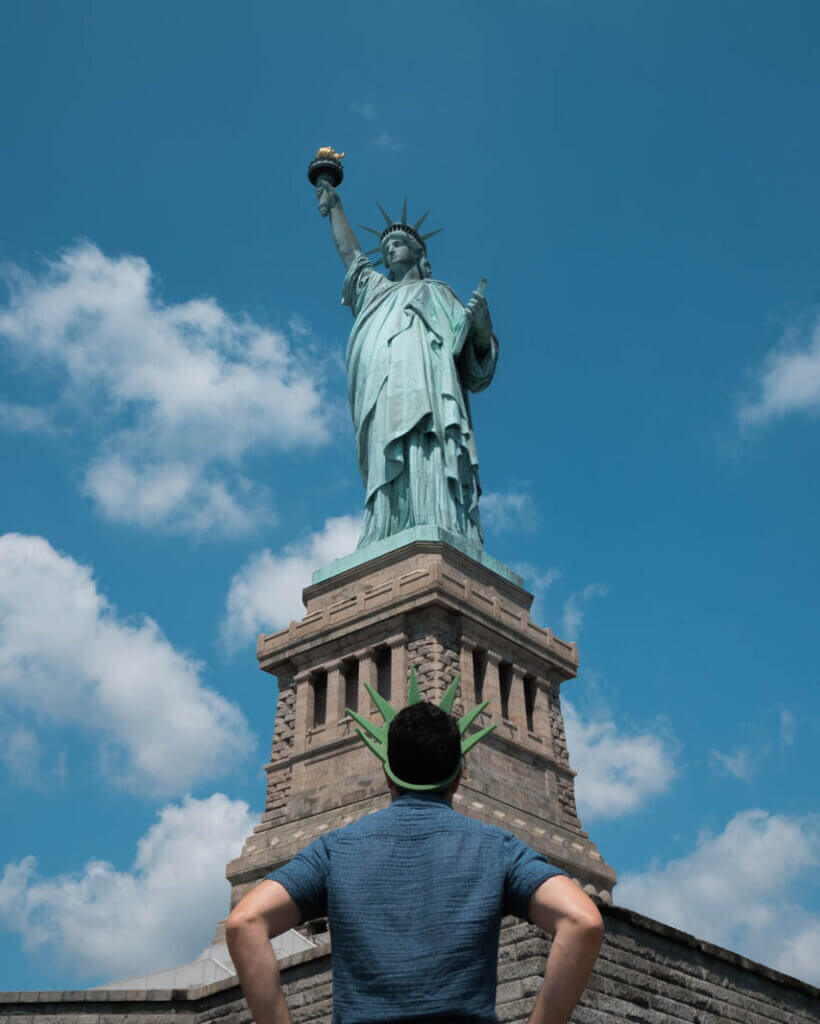 There are a few different money-saving attraction passes available in NYC that are WORTH every cent if you plan on seeing multiple famous attractions in the city and are perfect for those trying to enjoy NYC on a budget.
These attraction passes are paid upfront for a one-time fee and on your trip they get you into multiple different attractions for free meaning that you save some serious money overall. By purchasing an attraction pass you can save anywhere from 35-45% on your attraction passes and saving you hundreds of dollars on your visit!
CityPASS offers a 3 attraction pass or a 6 attraction pass with over 12 city attractions to choose from including popular observatories like the Empire State Building, The Edge, Top of the Rock, 9/11 Memorial & Museum, Statue of Liberty & Ellis Island, the Guggenheim, and more!
Another great option is the New York Pass which you can purchase anywhere from a 1 Day Pass to a 10 Day Pass that gets you into over 100 attractions. Once you purchase your New York Pass you download the Go City app and use that to get up to 45% savings on popular attractions as well as a few hidden gem attractions ranging from the Empire State Building to the Museum of Ice Cream and many of the NYC experiences mentioned in this guide!
See our full breakdown of the New York Pass and our breakdown of the New York CityPASS to see if it's worth it for your visit to save hundreds of dollars on multiple attractions!
Discount Broadway Tickets & Lottery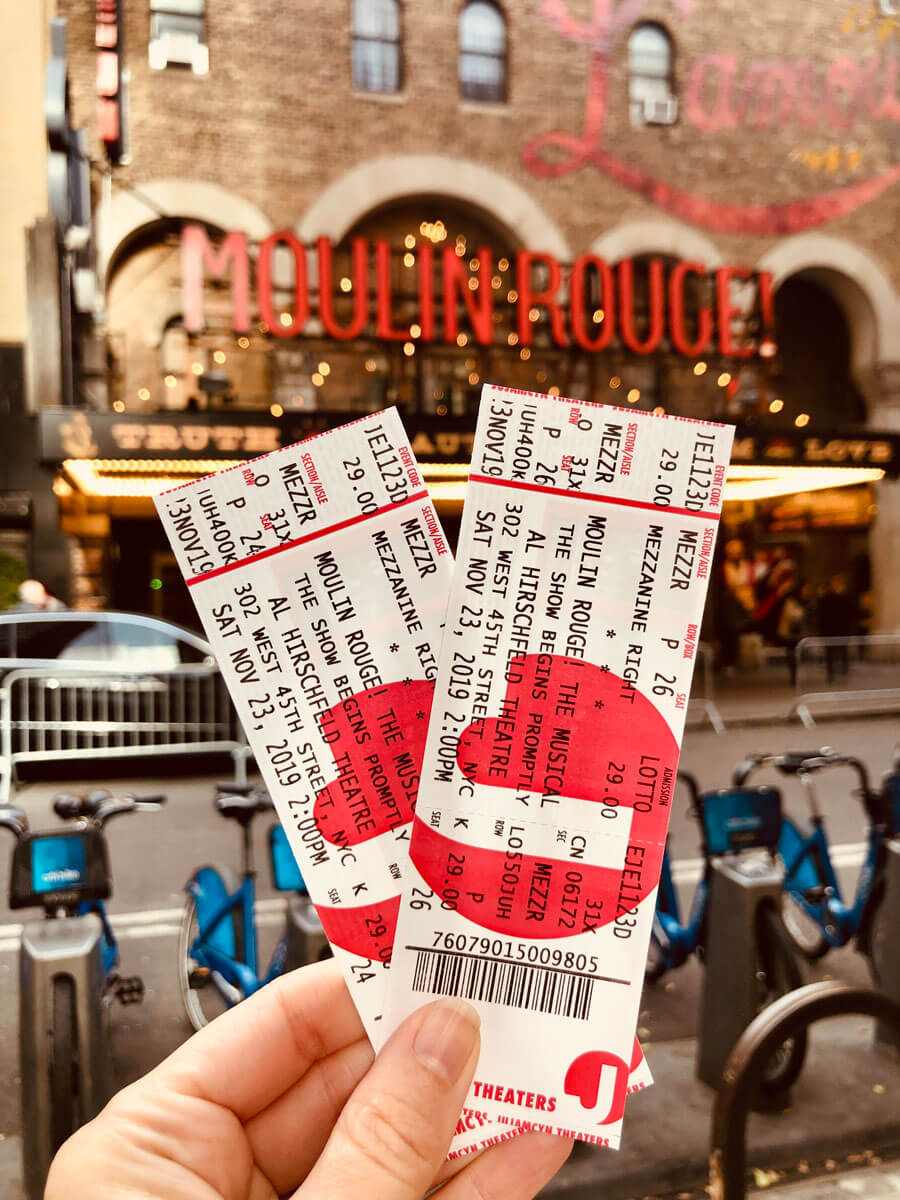 Undoubtedly one of the best experiences you can have in New York City is enjoying a show on Broadway, we're famous for it! Broadway tickets can be quite costly though. Luckily, there are ways that seeing Broadway can be accessed regardless of your budget.
There are a few ways to get discounted tickets including the lottery which means that you just need luck on your side!
The Broadway Lottery is a digital lottery for Broadway's hottest shows! Anyone can enter into these lotteries directly. If you win, you get two tickets for $10-40 each! Some of the most popular shows include Hamilton, The Lion King, Book of Mormon, Moulin Rouge, and many more.
The only caveat is that you will most likely be notified the day before and you can't give your tickets to anyone else, the person who wins has to be present to redeem the two tickets in person with an ID matching the name who won the tickets! I have won a few times personally and was able to score front-row seats to Hamilton this way!
If you don't want to risk it and want to secure show tickets, you can also purchase discount Broadway tickets.
One way is to go to the TKTS Booth under the red steps in Duffy Square at 47th Street and Broadway in person. Most tickets are sold here with up to 50% savings.
This often has lines though and you have to do this in person.
Another option that requires you to be in person is trying to score 'Rush Tickets' which are last-minute tickets for shows happening that day that can be as low as $20 a ticket!
You have to go to the theater's box office as soon as it opens the day of the show to try this.
Another option is the TodayTix app where you can find discounted tickets with just a few clicks on your phone and can be done up to a month before your trip so you can actually secure tickets!
More discounted ticket options include TheaterMania, GoldStar, and BroadwayBox.
Whatever you do, DO NOT buy tickets off of the street! Check out our guide to common NYC scams and how to avoid them so you don't fall for one of these money traps and savvy scams!
One other option is to actually see an Off-Broadway performance! Many shows start here and tickets are a bit more reasonable than the big hit Broadway shows.
If this is all overwhelming, don't worry you're not alone. That's why we have a foolproof easy-to-follow guide for how to see a show on Broadway in New York with easy-to-follow options and money-saving tips.
Other Great New York Budget Tips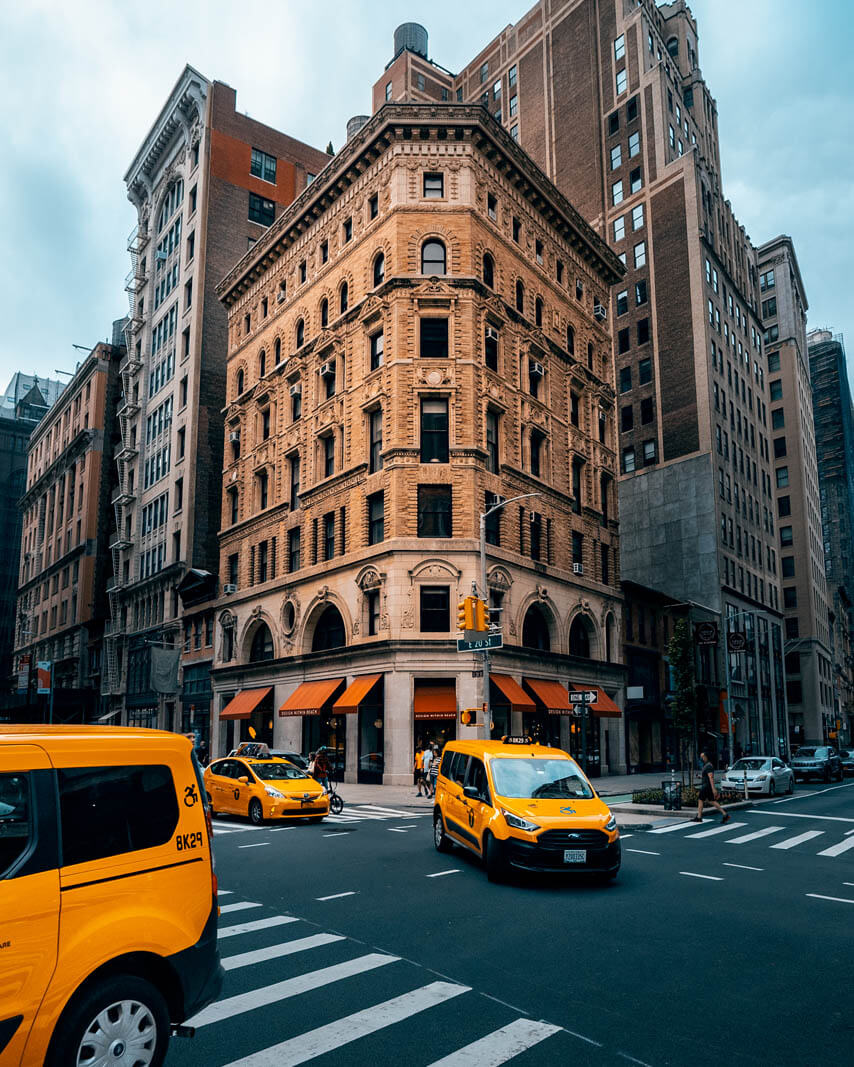 There are a few other ways to save money and enjoy New York on a budget!
Visit During Off-Season
One great way to save money and have an easier time enjoying New York City on a budget is to visit during the off-season! The most popular times to visit the city are the summer and right around the holidays.
From late December until the end of spring, many activities and places to stay in the city are much more affordable. There are also fewer tourists, making it easier to secure a spot and avoid long lines at excursions!
Take a Free Walking Tour
One of the most fun, cheap things to do in New York is to take a free walking tour!
The Flatiron & 23rd St. Partnership offers free walking tours of the historic neighborhood every Sunday! On this tour, you'll be able to see the MetLife Clock Tower, Madison Square Park, and much more.
Another great walking tour is the tour of the New York Public Library! Many free one-hour tours are offered every week from Monday to Saturday!
Also, check out Free Tours by Foot, they offer free walking tours all over the city!
Just keep in mind that you'll need to tip your tour guide even on a free tour, this is how they earn their living!
---
What is a reasonable daily budget for visiting NYC?
A reasonable daily budget for visiting NYC as a traveler is around $150 to $250, covering accommodation, meals, transportation, attractions, and incidental expenses. However, NYC can be done on less and way more depending on what you choose to do, where to eat, and where you stay on your visit plus time of year.
Is $100 a day enough for NYC?
With a little planning, you can easily visit NYC for $100 a day by eating a budget spots, visiting off-season and getting a hotel deal, and by using public transportation to get around.
Can NYC be done on a budget?
Yes, visiting NYC on a budget is possible by prioritizing free or low-cost attractions, utilizing public transportation, opting for budget accommodations, and seeking affordable dining options.
What are the best free things to do in New York City?
Some of the best free things to do in New York City include exploring Central Park, walking across the Brooklyn Bridge, visiting Times Square, admiring art in free museums or on free days, and enjoying free events like summer concerts and festivals.
What is the cheapest month to visit NYC?
January or February tend to be the cheapest months to visit NYC, as they are considered off-peak travel times due to colder weather and fewer tourists.
---
NYC on a Budget (Post Summary):
NYC Hotels on a Budget:
The Jane
Pod 51
The Americana Inn
Millennium Hotel Broadway
Hilton Garden Inn
Eating in NYC on a Budget:
$1 Pizza Slices
Joe's Pizza
Halal Guys
NY Dosas
Los Tacos No. 1
Alligator Lounge
Pearl Diner
Westway Diner
Shake Shack
Joe's Shanghai
Shu Jiao Fu Zhou
Try a NYC Bagel
Drinking in NYC on a Budget:
Alligator Lounge & The Charleston
Grand Central Terminal Happy Hour
Johnny's Bar
Strangelove Bar
Rudy's Bar & Grill
Save Money on Transportation:
Rent a Citibike
Ride the MTA/Subway
Cheapest Transportation from the Airport
Free & Cheap Things to do in NYC:
Brooklyn Museum
Waterfront Museum
High Line
Brooklyn Brewery
American Museum of Natural History
Little Island
Walk the Brooklyn Bridge
Central Park
Staten Island Ferry
Bushwick Collective
Money Saving Hacks in NYC:
Invest in an Attraction Pass for Sightseeing
Discount Broadway Tickets & Broadway Lottery
Visit During Off-Season
Take a Free Walking Tour
---
Enjoyed this guide to New York City on a budget or found it helpful? Bookmark for later or share the love below on Pinterest! Happy travels!!!