Calling all Biggie fans, we've got a complete guide to Notorious B.I.G. Brooklyn spots to check out! Musical icon and legend Christopher Wallace, or Notorious B.I.G. as many might know him, is just one of the many cultural contributions of Brooklyn throughout history.
It's no surprise that his music has had an international audience from when he was alive, and lives on today after his death, with hits like "Big Poppa", "Hypnotize", and of course, "Juicy".
You may also know him as Biggie Smalls, Biggie, or by the moniker that New York locals lovingly call him, The King of New York, offering some of the best songs about NYC and anthems that still are listened to and loved today.
He got his start by rapping on street corners around Brooklyn, when he caught the attention of rap icon Big Daddy Kane and local New York DJ Mister Cee, and skyrocketed to fame from there.
As one of the most well-known rappers in history, his life ended tragically on March 9, 1997, on a trip to LA in a drive-by shooting following the 11th Soul Train Awards afterparty. Over the years, several documentaries and biopics have been made about Notorious B.I.G., including the new Netflix special, I've Got a Story to Tell.
Whether you've just heard his music at parties or on the radio, or you're a die-hard fan, the following Notorious B.I.G. Brooklyn spots are interesting must-visits for any Biggie Smalls fans to understand his upbringing and how this influenced his music.
And if you're interested, check out our guide to more rappers from Brooklyn!
Brooklyn Notorious B.I.G. Landmarks
Corner of St James Place & Fulton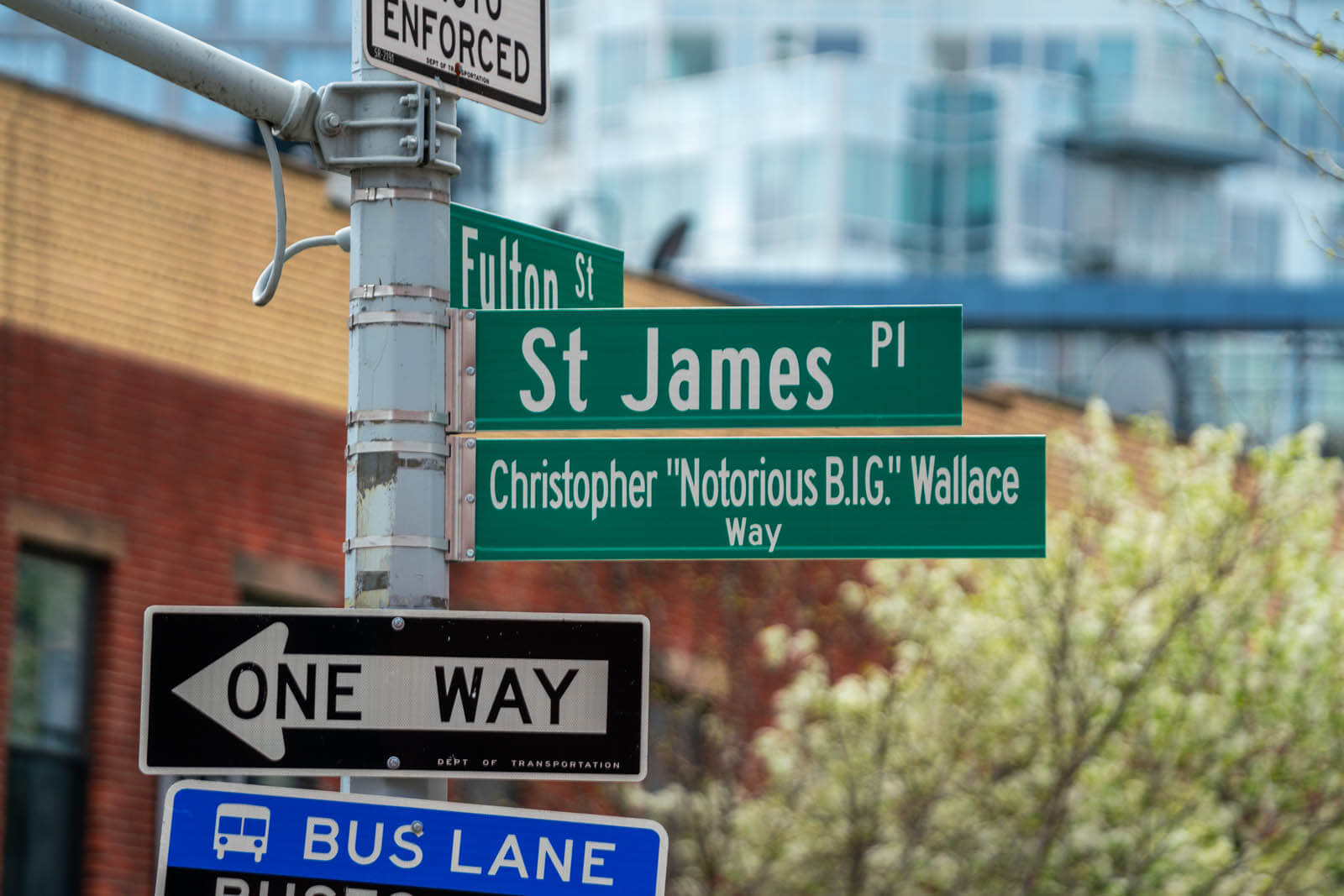 It seems fitting to kick off the list of Notorious BIG Brooklyn spots by mentioning the corner of Fulton & St. James Pl., otherwise known as Christopher "Notorious B.I.G." Wallace Way. His presence and lyrical impact reached worldwide audiences but is still hailed as a local legend of Brooklyn.
The Biggie Smalls Brooklyn corner was formally recognized in 2019 to honor his musical and cultural accomplishments. Council members, family members, and the Christopher Wallace Memorial Foundation gathered to rename this street corner in Clinton Hill, and it was finally approved on what would have been Notorious B.I.G's 47th birthday.
The renaming of this city street not only recognizes his music as historically significant but also shows the pride of Brooklyn's rich and expansive culture.
Biggie Smalls House in Brooklyn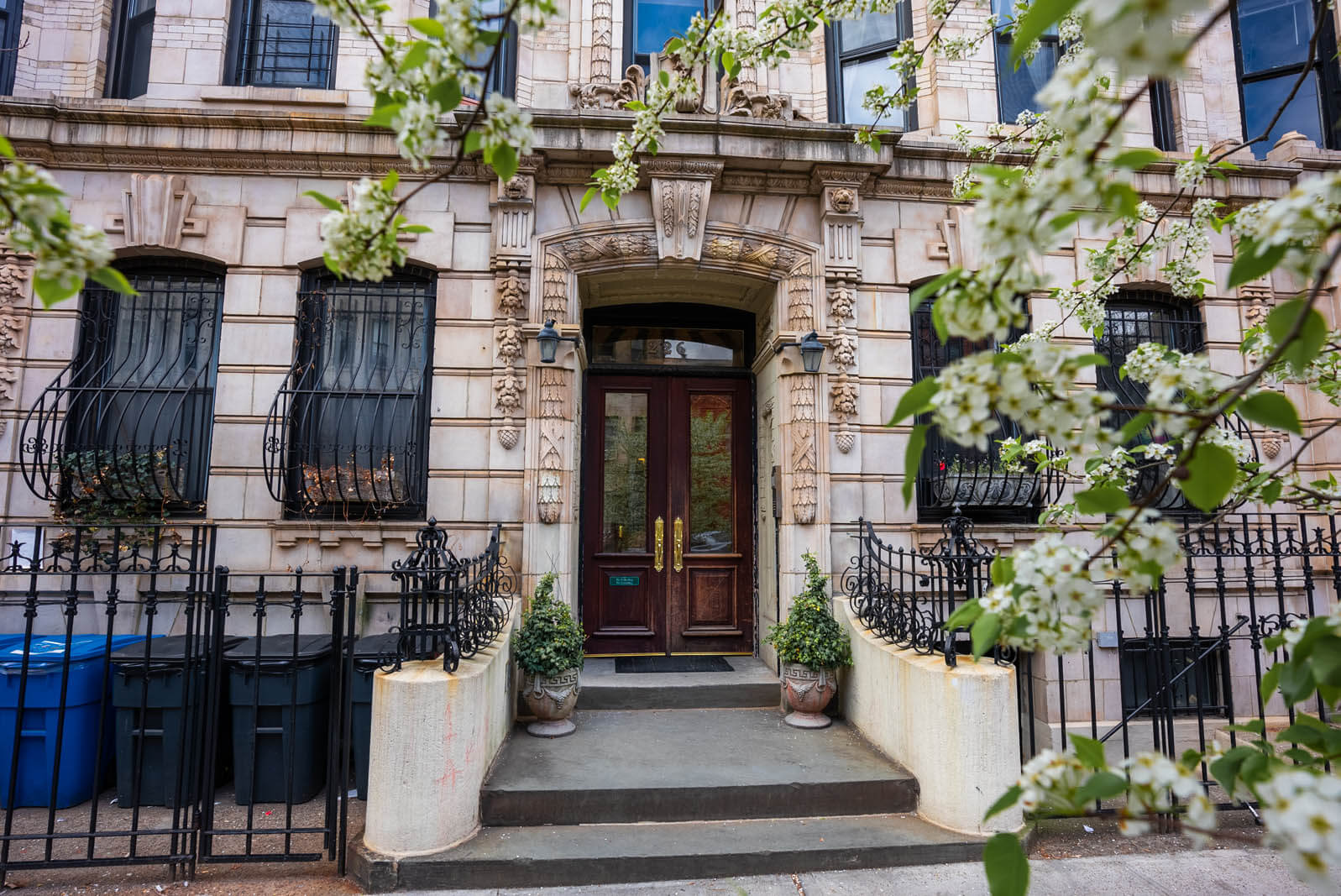 The next Biggie Smalls Brooklyn landmark is just down the street from the corner with his namesake, is the Notorious BIG house, which served as his childhood home and is the Biggie Smalls house in Brooklyn.
He grew up at 226 St James Place in a 1906 limestone building on the third floor with his mother, Voletta Wallace, until 1994 when he married singer Faith Evans.
The Notorious BIG house is referenced as the "one-room shack" in his most famous song "Juicy", but he often spent time hanging on the roof and keeping his life on the streets hidden from his mother (as best as he could).
Even though Biggie grew up in Clinton Hill, he's known for his presence in the neighboring Bed-Stuy area, where he would often freestyle on the streets as a teenager.
Here, he met members of the well-known Junior M.A.F.I.A. rap crew, who introduced him to dealing crack and the life of a street hustler in the 80's.
Biggie Smalls house in Brooklyn looks the same as it did when he lived there on the outside, but the inside is no longer the same "one-room shack" has since been completely renovated, and available to rent.
The neighborhood has also changed significantly from the time Biggie Smalls has been around, where he was known to have dealt drugs when he was a young teen, right on the very corner named after him. This iconic street is an essential Brooklyn Notorious BIG spot to visit to learn about his roots before fame.
Orient Temple on St James Place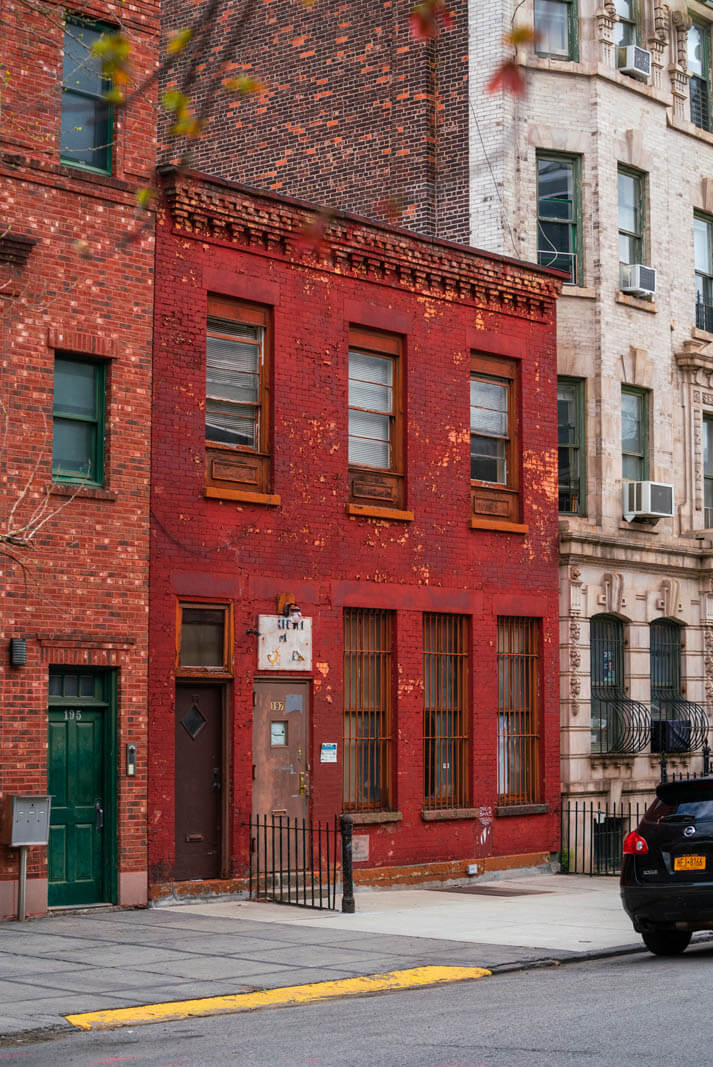 Located right across the street from Biggie Smalls' house in Brooklyn at 197 St. James Place is the Orient Temple, a seemingly plain building that can be easily overlooked, but still incredibly rich in history.
This next Notorious BIG Brooklyn spot was home to Biggie's first performances in his music career, where he earned the nickname "Mayor of St. James Place". The Orient Temple used to serve as a spot for underground parties, and where Biggie and members of Junior M.A.F.I.A. would first rap together.
The building's red brick exterior with a faded sign marking the Orient Temple still stands today, but its doors have been closed to the public in recent years.
Respect for Life Barber Shop
Head back over to the corner of Fulton and St. James Place to visit two more Brooklyn Notorious B.I.G. landmarks that he frequented growing up. The Respect for Life Barber Shop is just down the street from the Notorious B.I.G. house and is where Biggie came to have his hair clipped from when he was 10 up until his death in 1997.
Meet Chadler "Guess" Smith also mentioned in one of Biggie's songs as "Pop from the barbershop". Visitors who come for a haircut have sometimes been lucky enough to hear anecdotes about his experience knowing Biggie.
He even continues to cut hair for the remaining members of Junior M.A.F.I.A today.
Met Foods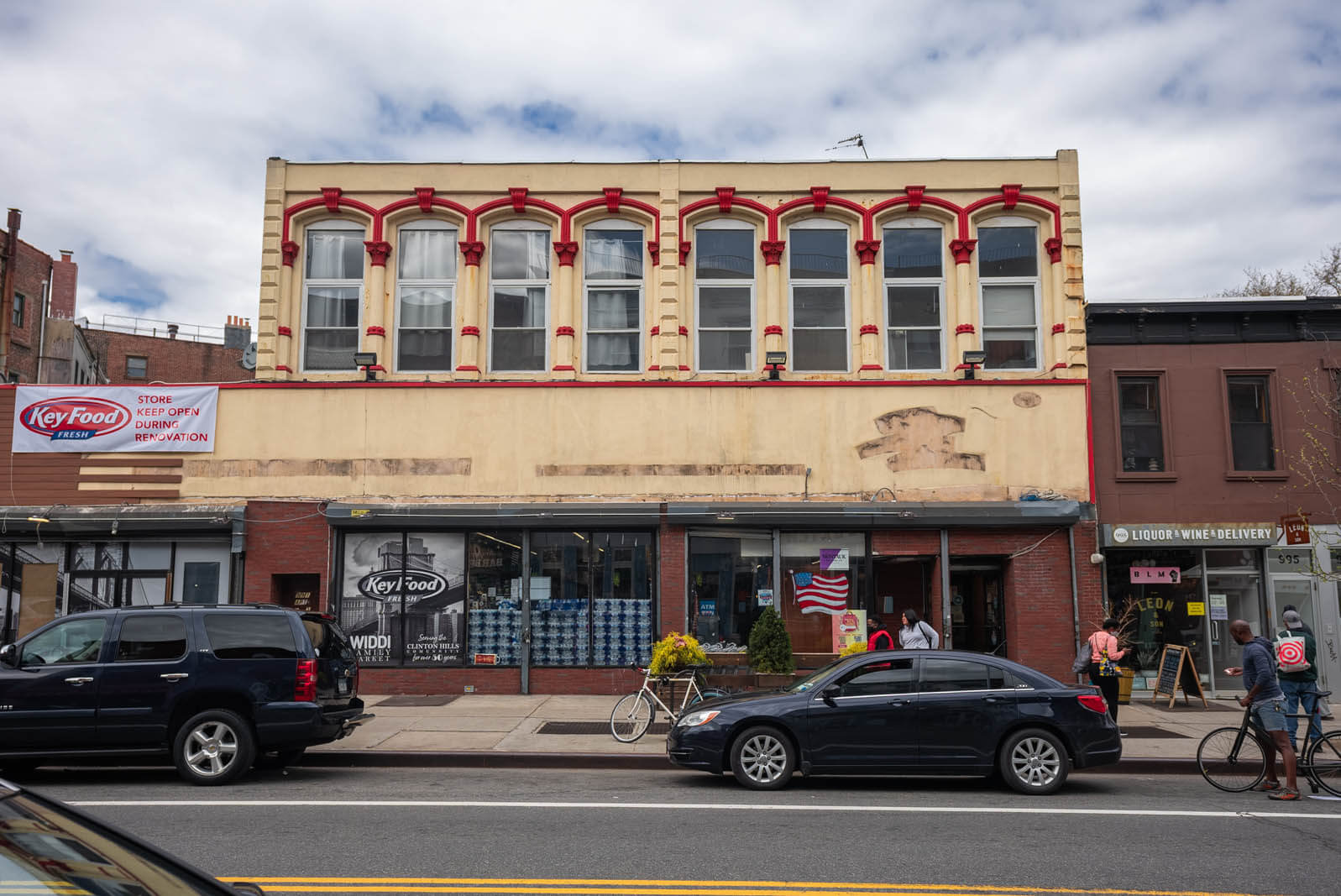 Directly across the street from the Respect for Life Barber Shop is the next Biggie Smalls Brooklyn landmark, which can be easily overlooked! The Key Food Supermarket on Fulton, formerly a Met Food is where a young Biggie worked as a grocery bagger to earn some extra cash.
The outside of the supermarket has a mosaic mural of Biggie on it to signify the memory of him working here. The supermarket's former owners knew him as a typical neighborhood kid, earning some extra cash. The current co-owner, Wakeem Widdi is the son of the owner at the time Biggie Smalls graced the grocery aisles.
The Key Food market has even honored the 20th anniversary of his death by coming out with limited edition bags with his face stenciled on them.
Crispus Attucks Playground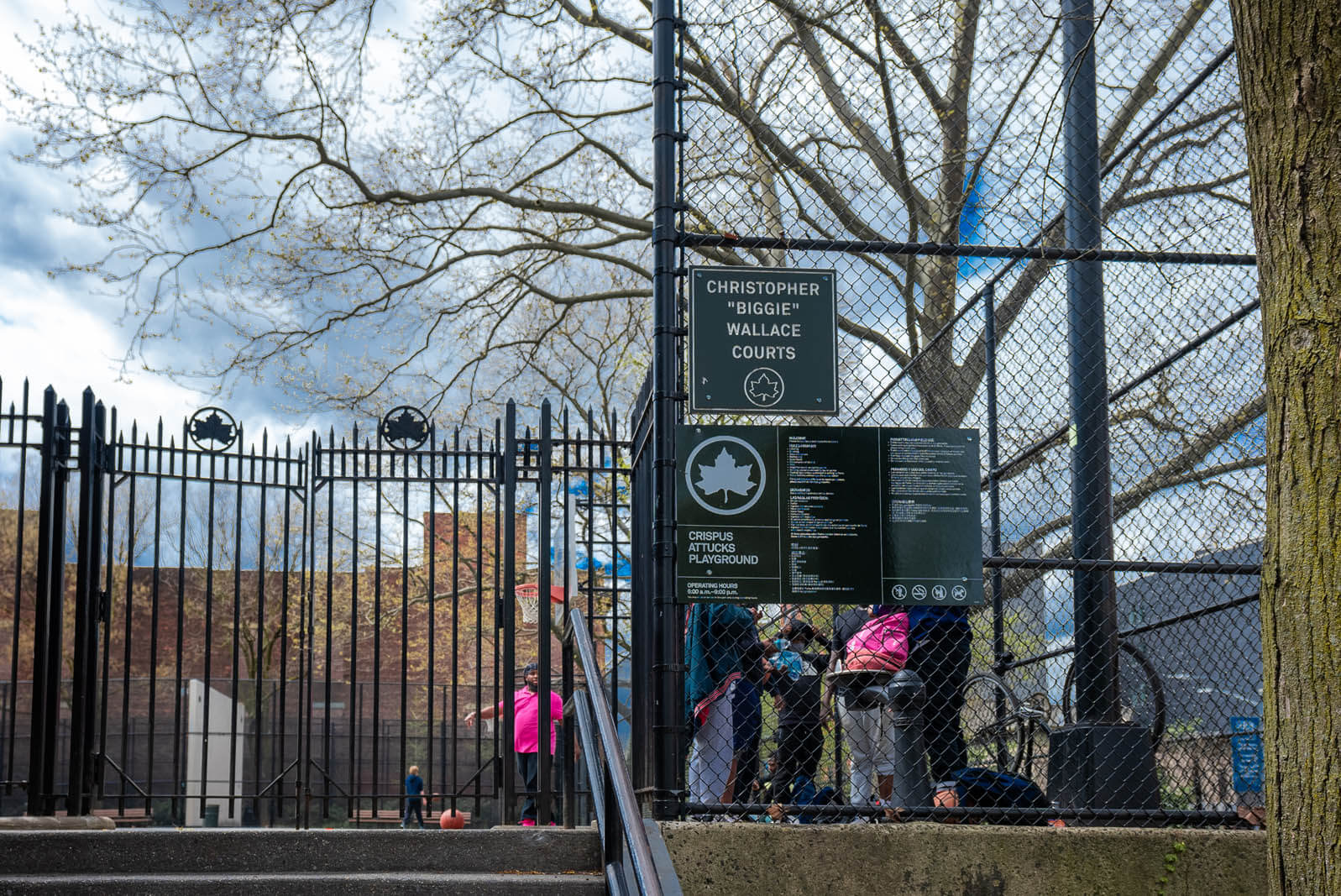 Near Biggie Smalls house in Brooklyn is the Crispus Attucks Playground, home to the Christopher "Biggie" Wallace Basketball Courts. The renaming of the Crispus Attucks basketball courts met controversy and debate when locals and fans were advocating for the dedication while critics deemed his lyrics to be too problematic to society to be recognized.
However, the Notorious B.I.G. Brooklyn loyalty and influence prevailed, and the playground was officially renamed in August 2017 20 years after his passing.
Biggie came to the basketball courts often in his youth, growing up just blocks away. As a child, Biggie played basketball here with Robert Cornegy, currently serving as a member of the local city council and who helped advocate for the name change.
One Hanson Place Clock Tower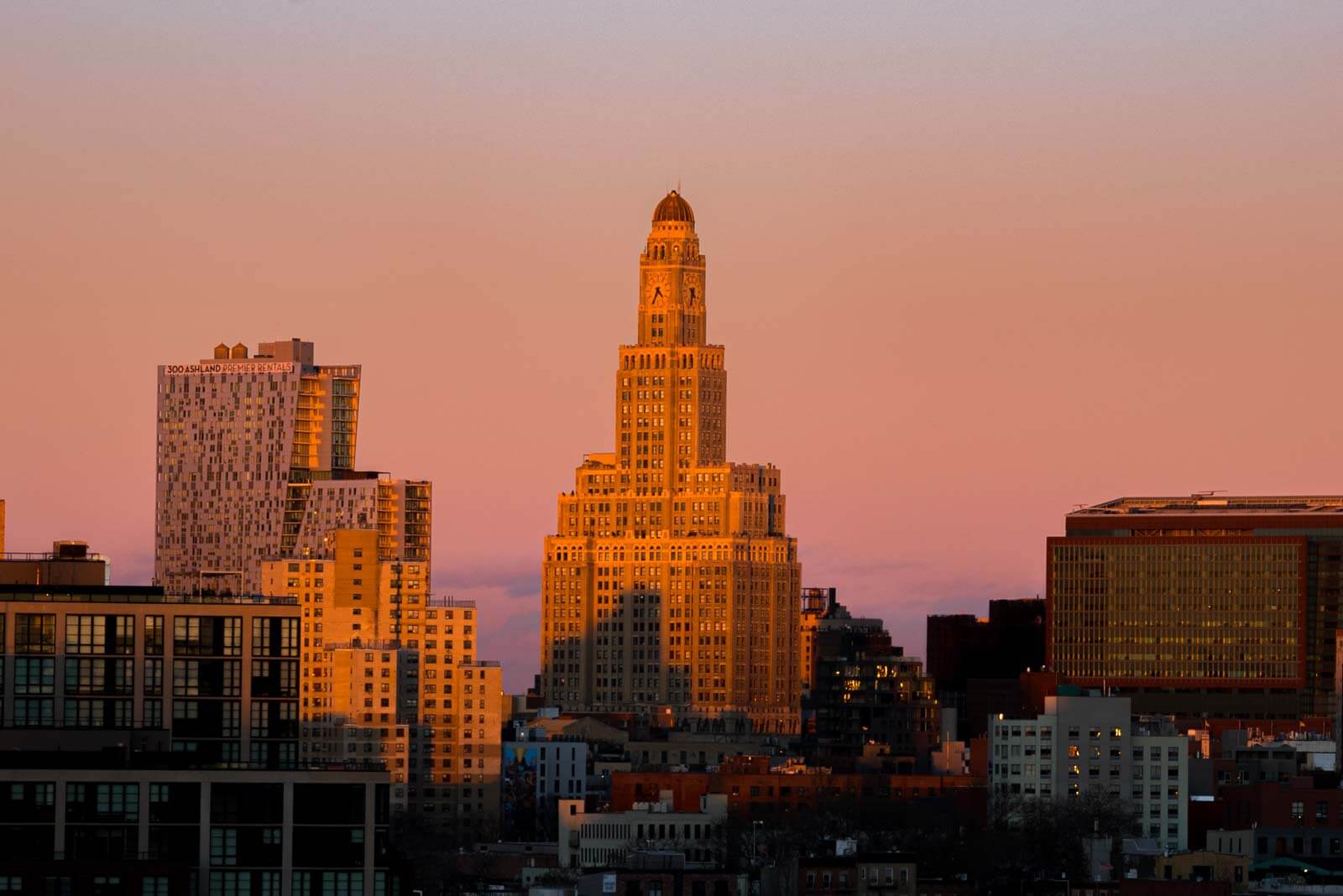 While this next Notorious B.I.G. Brooklyn point of interest isn't necessarily important to visit in person, it provides a well-rounded story of his life and adolescence.
As a teenage crack dealer on Fulton, Biggie and his friends would often stand around and wait to make money from people on the street unbeknownst to his mother who he lived with.
Single mother Voletta Wallace worked hard and tried to keep her son from dropping out of school and being involved in crime, but young Biggie Smalls saw no other option at the time.
Referenced in the Netflix documentary, "I've Got a Story to Tell", to hide his life from his mother, he would sell crack during the day in the neighborhood, and look towards the clock to know when his mother was almost home from work.
Country House Diner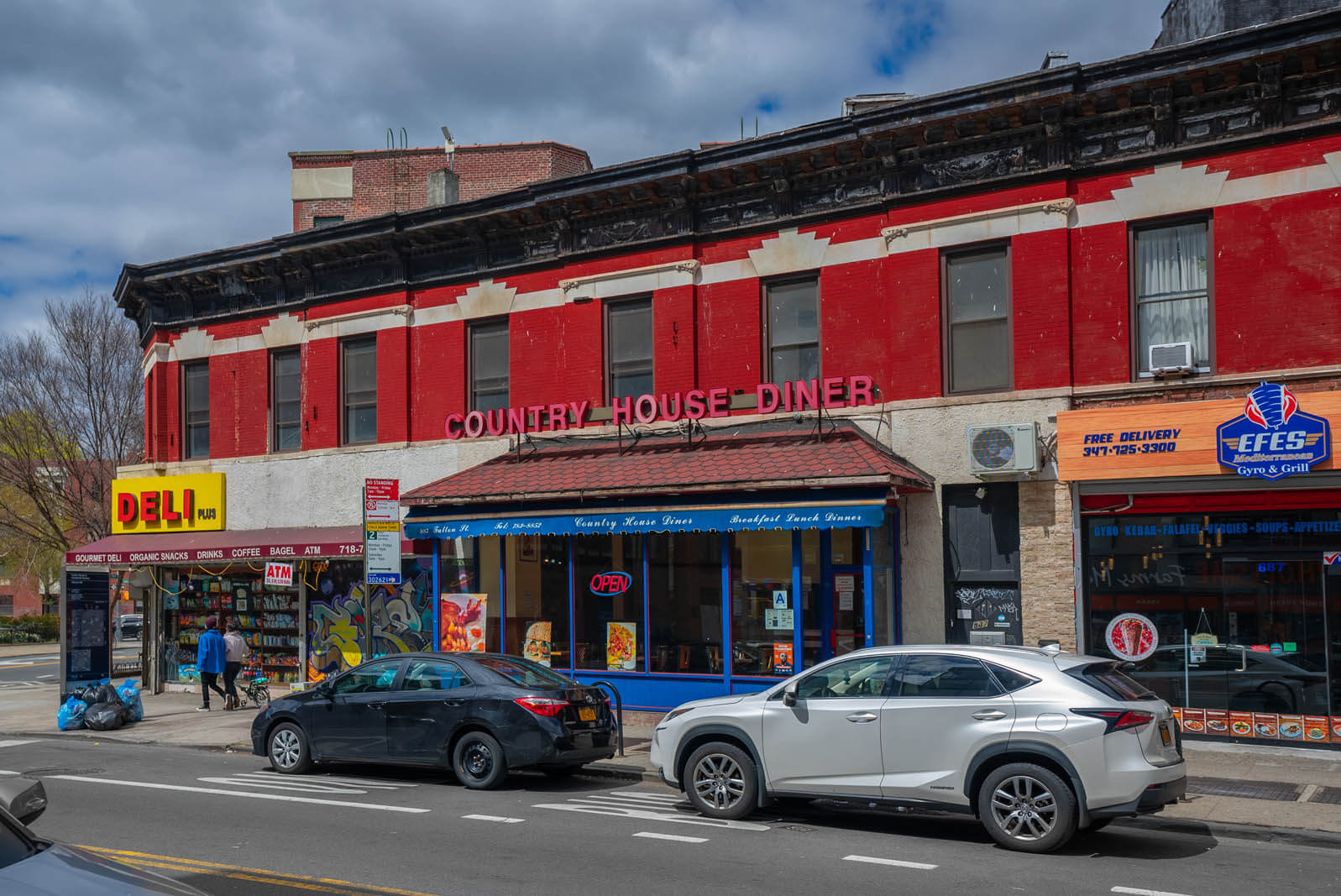 Head west down Fulton on a brief walk to find Country House Diner, the next Notorious B.I.G. Brooklyn landmark to visit on your tour of his life living in Clinton Hill.
This humble restaurant has been around for decades and is rumored to have been Biggie's favorite place to eat. This American restaurant that Biggie Smalls frequented serves up classic diner breakfasts, burgers, and sandwiches.
But it's best known for the famous "T-bone steak, cheese eggs and Welch's grape" meal, Biggie's meal of choice at Country House.
It's a bit unclear what he refers to as "Welch's grape" since it could be the jelly for his eggs, or the soda or juice. Either way, ordering his favorite meal at his local eatery is a unique way to pay tribute and visit on your Brooklyn Notorious B.I.G. tour.
Junior's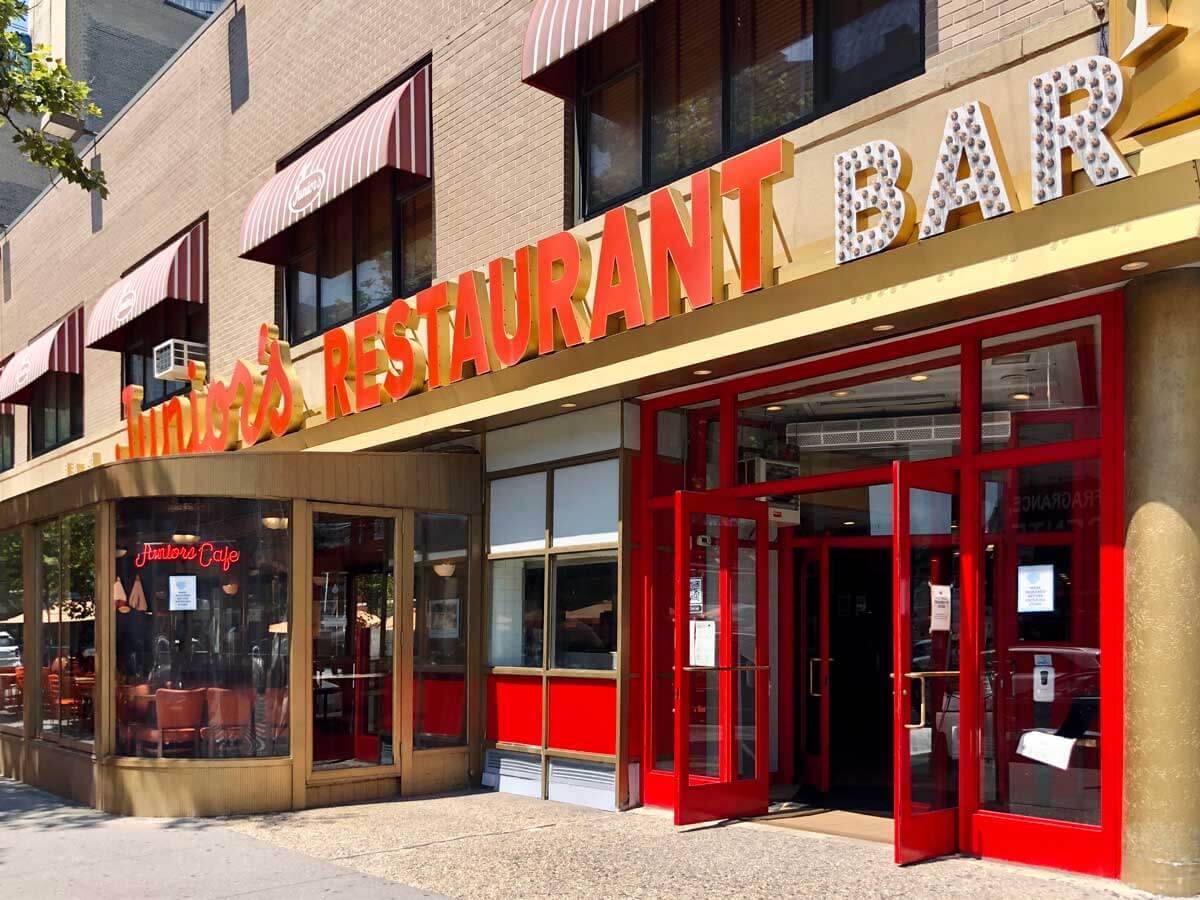 If you need any other reason to visit the famous Junior's Bakery and Restaurant aside from their world-renown cheesecake and being one of the best and legendary diners in Brooklyn, make it a point to stop here on your tour of Brooklyn Notorious B.I.G. landmarks.
While his favorite place to grab a bite was at Country House Diner, he would hit up Junior's for their famous dessert, more specifically, his go-to order would be the strawberry cheesecake and a coke.
A signed photo of him and P. Diddy is even proudly displayed on the wall. The Downtown Brooklyn restaurant is in between Biggie's home (20 minutes on foot away) and his high school, making it a fun and rewarding pitstop to visit on your way to the next Biggie Smalls Brooklyn location.
George Westinghouse High School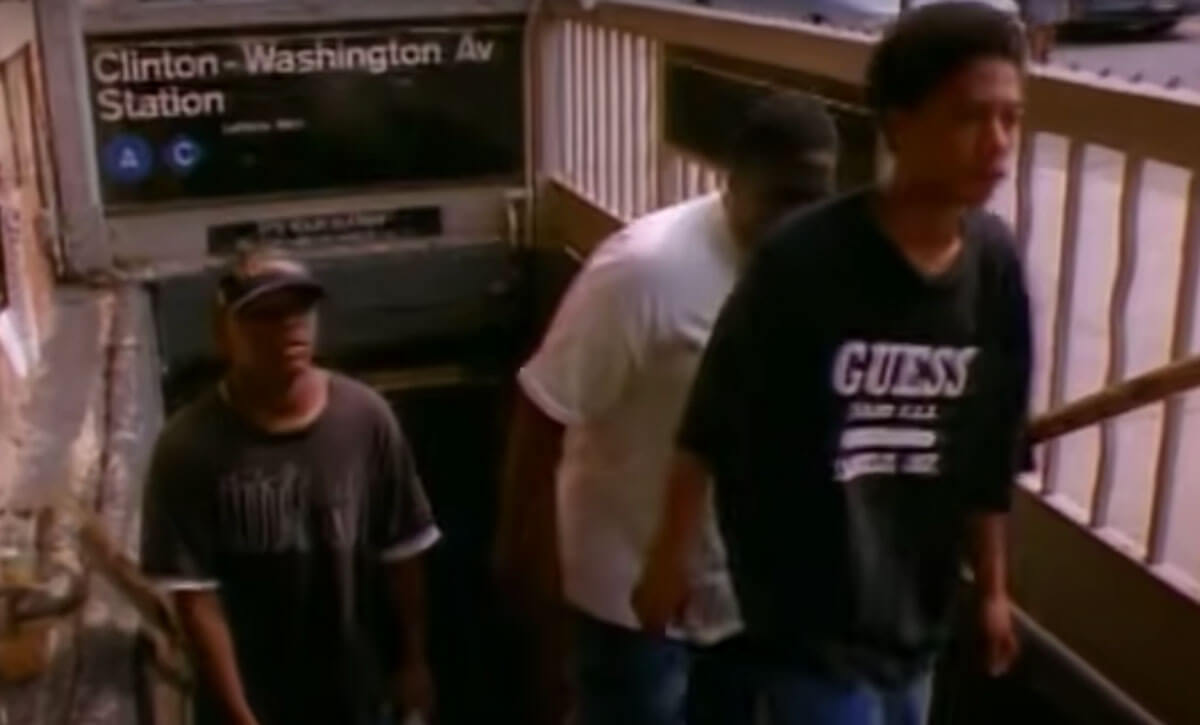 Walk for 30 minutes, or hop on the C train to the Downtown Brooklyn neighborhood to find the next Biggie Smalls Brooklyn stop, the George Westinghouse High School.
For an added bonus, and a fun Instagram story, enter the C train at the Clinton Hill stop, where he exits in his music video, "Juicy". The Biggie Smalls Brooklyn pilgrimage to Westinghouse brings you to the high school where he once attended alongside Busta Rhymes and Jay-Z simultaneously.
While he was supposedly a good student when he attended, Notorious BIG dropped out of high school in his junior year (also mentioned in his song "Juicy").
While Busta Rhymes and Jay-Z would have rap battles and perform during school, Busta Rhymes says he didn't know about Biggie's skills as an artist since he was often cutting class and more into his street life than school.
Read Next: Songs about Brooklyn
Notoriouss Clothing
View this post on Instagram
Perhaps one of the most special Brooklyn Notorious B.I.G. locations on our list is Notoriouss Clothing, a local company by Biggie's own daughter with singer Faith Evans, T'yanna Wallace.
Inspired by her dad's style, she took to a Brooklyn storefront and set up shop in Downtown Brooklyn–only blocks away from a mural of her father mentioned later on this list! While she was very young at the time of her father's death (4 years old), she wanted to dedicate something for her late father and keep his name alive.
Wallace has mentioned that the clothes are inspired by the culture of Brooklyn hip hop and New York streetwear. You'll often find stylish pieces with a tribute to Biggie, and on her father's birthday on March 9th, Wallace collaborates with artists to make special edition clothing each year.
Notoriouss launched in 2013 originally at 514 Atlantic Avenue but has since upgraded to a bigger storefront just across the street, at 503 Atlantic Avenue. Along with their brick and mortar shop, you can also check out their online store, and their Instagram for updates.
Biggie Murals in Brooklyn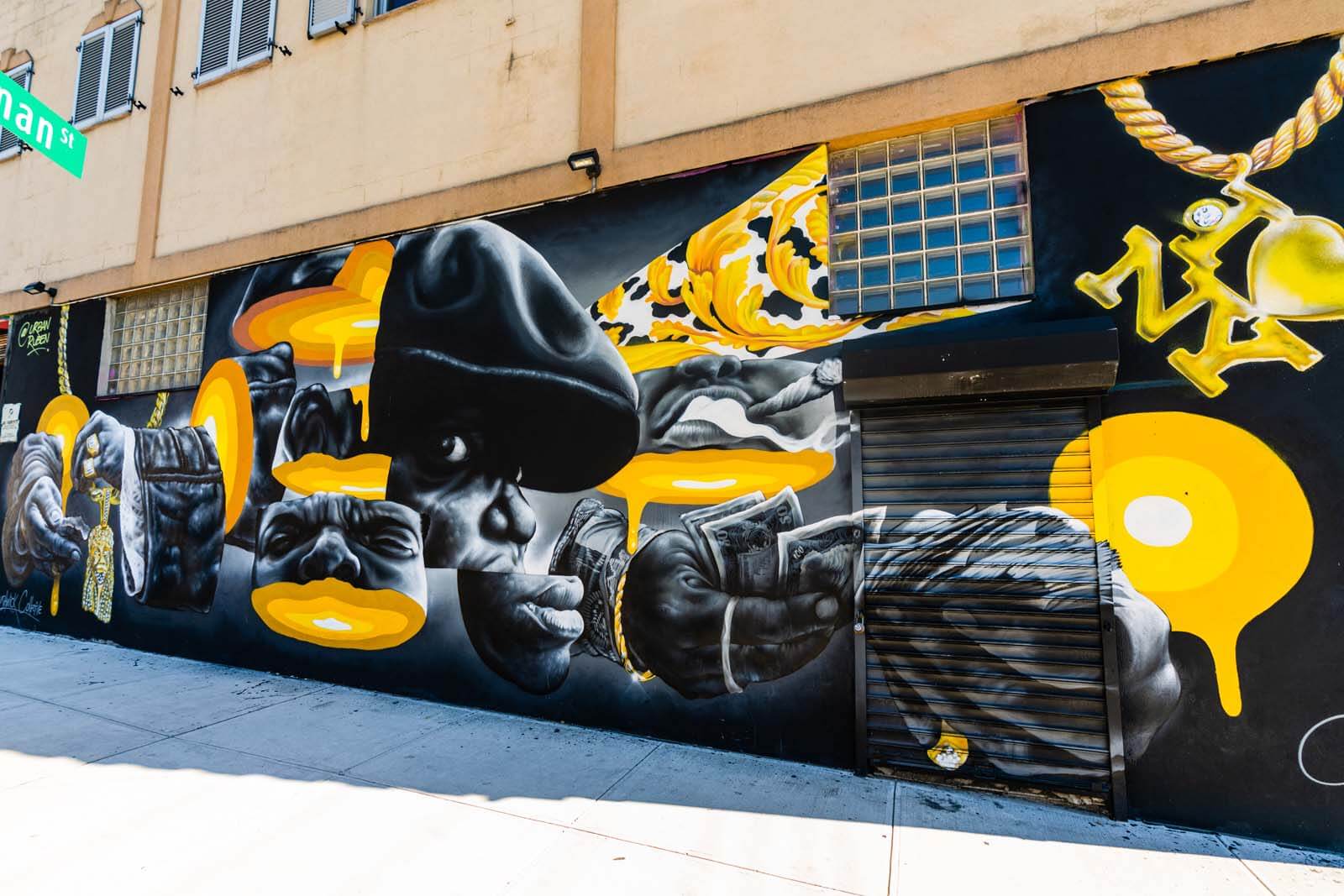 Along with other Notorious B.I.G. Brooklyn landmarks mentioned on this list, several Biggie murals in Brooklyn are scattered around with artists paying tribute to the East Coast rap icon.
He is depicted in these giant intricate murals, a symbol of how he is truly larger than life. On his birthday each year, on May 21, it's common to see people gathering and leaving flowers, and will even pour hennessy and cognac to honor the late Brooklyn legend.
It's a beautiful sight to witness, knowing his music has touched the lives of so many generations after his time. The following are some of the most well known and iconic Brooklyn Biggie murals to check out:
Biggie Mural at Respect for Life Barber Shop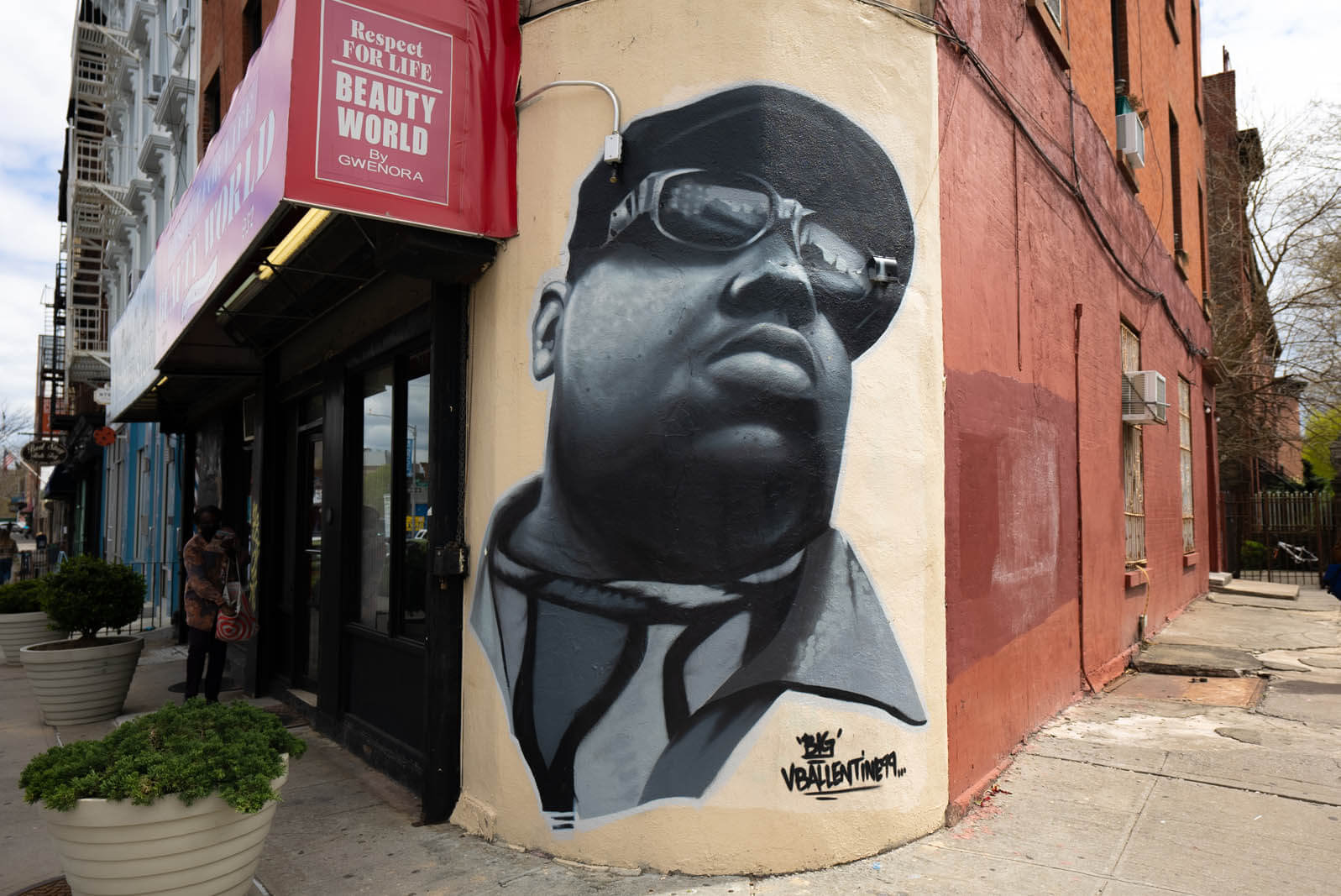 The first Biggie mural, and easiest to visit if you're hitting up these Notorious B.I.G. Brooklyn landmarks is located at the Respect For Life Barbershop on the corner of Fulton St and St James Pl.
This mural also makes it nice and easy to find the barbershop that Biggie once graced back in his time. The mural is signed 'Big' Vballentine99…, which is a local Brooklyn-based artist by the name of Vincent Ballentine.
Biggie Murals at Met Foods
You can spot two more Biggie-inspired artwork at the grocery store he used to work at as a kid bagging groceries. The first can be seen by looking up. Artist David Hollier painted a mural above the entrance of the grocery store that is supposed to be Christopher Wallace as a child, this one is easy to miss if you're not looking for it!
The other, seen from the sidewalk is a multi-color glass mosaic of Notorious B.I.G.'s face by artist Carlos Pinto.
King of New York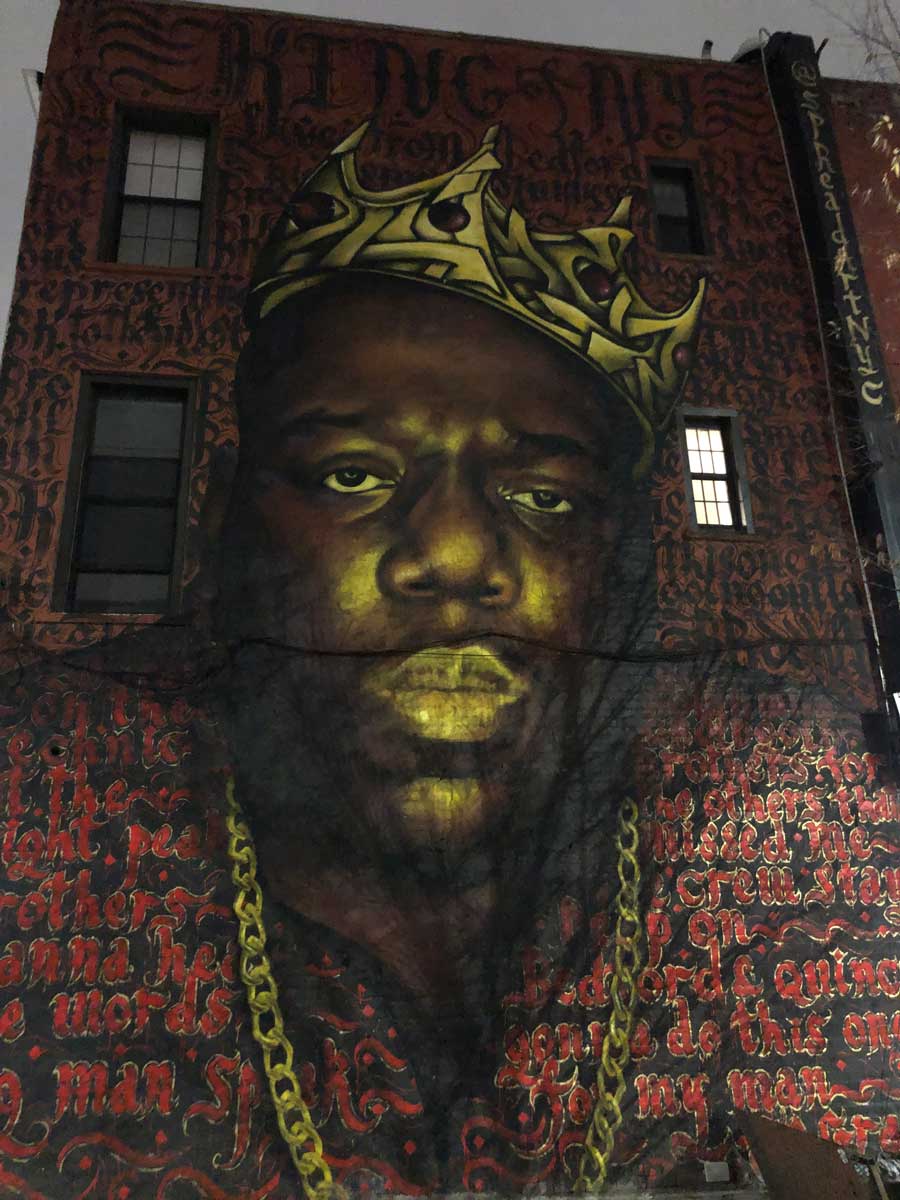 (Bedford and Quincy, Bed Stuy)
One of the most iconic Biggie murals in Brooklyn known as the "King of New York mural" is displayed proudly at Bedford and Quincy in Bed Stuy, only minutes away from the Notorious B.I.G. house.
This 38-foot high, 2 story artwork was created by artists Scoot "Zimer" Zimmerman and Naoufal "Rocko" Alaoui in 2015. Naoufal is the founder of the "Spread Art NYC" collective, which aims to empower local New York communities through engaging street art.
The mural was threatened to be destroyed in 2017 when the owner of the building wanted to renovate the property to keep up with the ongoing gentrification of the neighborhood and increasing property value. A petition to save the mural resulted in thousands of signatures, and the artwork was ultimately saved.
"Comandante Biggie"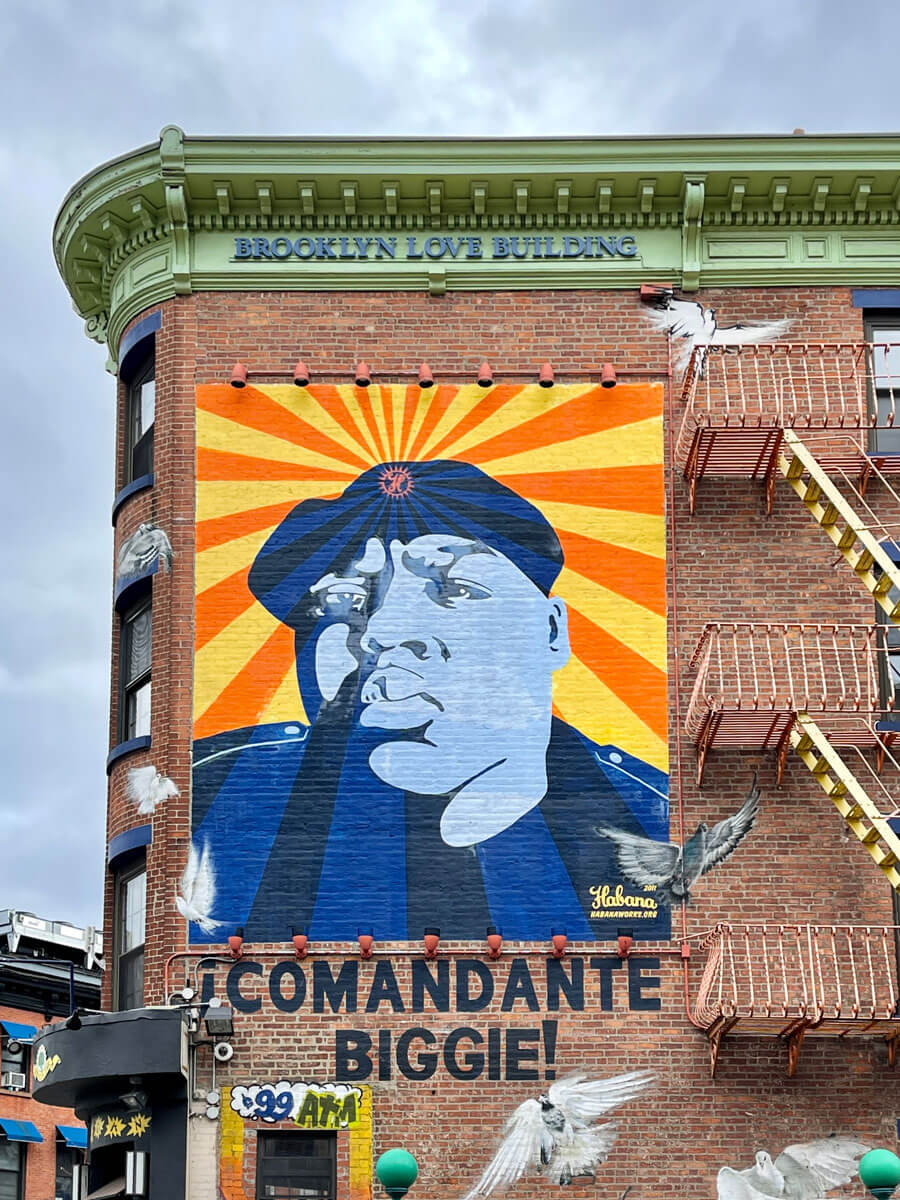 (Fulton and South Portland, Fort Greene)
One of the most recognizable Biggie murals in Brooklyn can be found at the intersection of Fulton and South Portland Street in Fort Greene.
Popping colors and the iconic face of Biggie looks down at the street from the three story mural with the words "Comandante Biggie" below it on one side, and "SPREAD LOVE IT'S THE BROOKLYN WAY" from his most recognized song, "Juicy" painted boldly on the other.
The artists who created the Comandante Biggie piece are Cern, Jorge Garcia, and Lee Quiñones.
The mural adornes the building known as the Brooklyn Love Building, at 690-694 Fulton Street. This building is an integral part of the neighborhood and community, and perfectly captures the charm and beauty of Brooklyn in one street corner. The building is also home to Habana To-Go, a colorful and local Mexican eatery on the corner, a perfect way to wrap up your tour of Biggie Smalls Brooklyn spots to see, see more of the best things to do in Fort Greene while you're here too.
Sipros Biggie At Bushwick Collective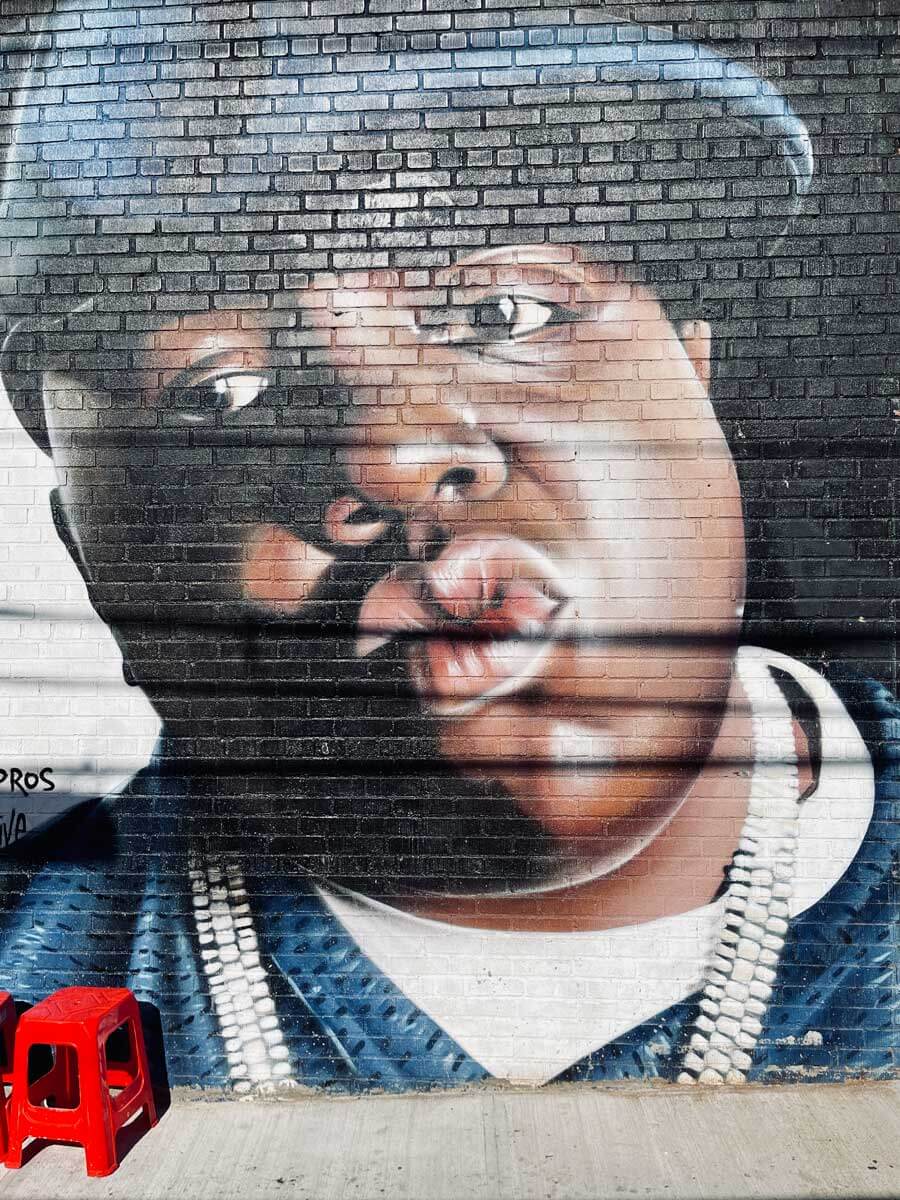 (Wyckoff Ave and Troutman Street, Bushwick)
Head to Bushwick just off the Jefferson L train for its plethora of bars, restaurants, and long stretches of beautiful graffiti lining the buildings and colorful murals of the Bushwick Collective.
Right at the corner of Wyckoff Ave and Troutman Street, Biggie's face is painted with gorgeous detail on the brick wall lining the sidewalk. The mural can be found right on the street where the Derek Food Truck is parked, a local Mexican takeout spot that's popular all throughout the week.
This piece was done by the artist who goes by Sipros, and can be seen alongside other various talented work just from the street.
His work is part of the Bushwick Collective, a group of talented local artists who is responsible for giving Bushwick the unique aesthetic and charm it has today. More of their growing number of artists can be found on their Instagram page.
Ruben Ubiera's "Deconstructed Biggie"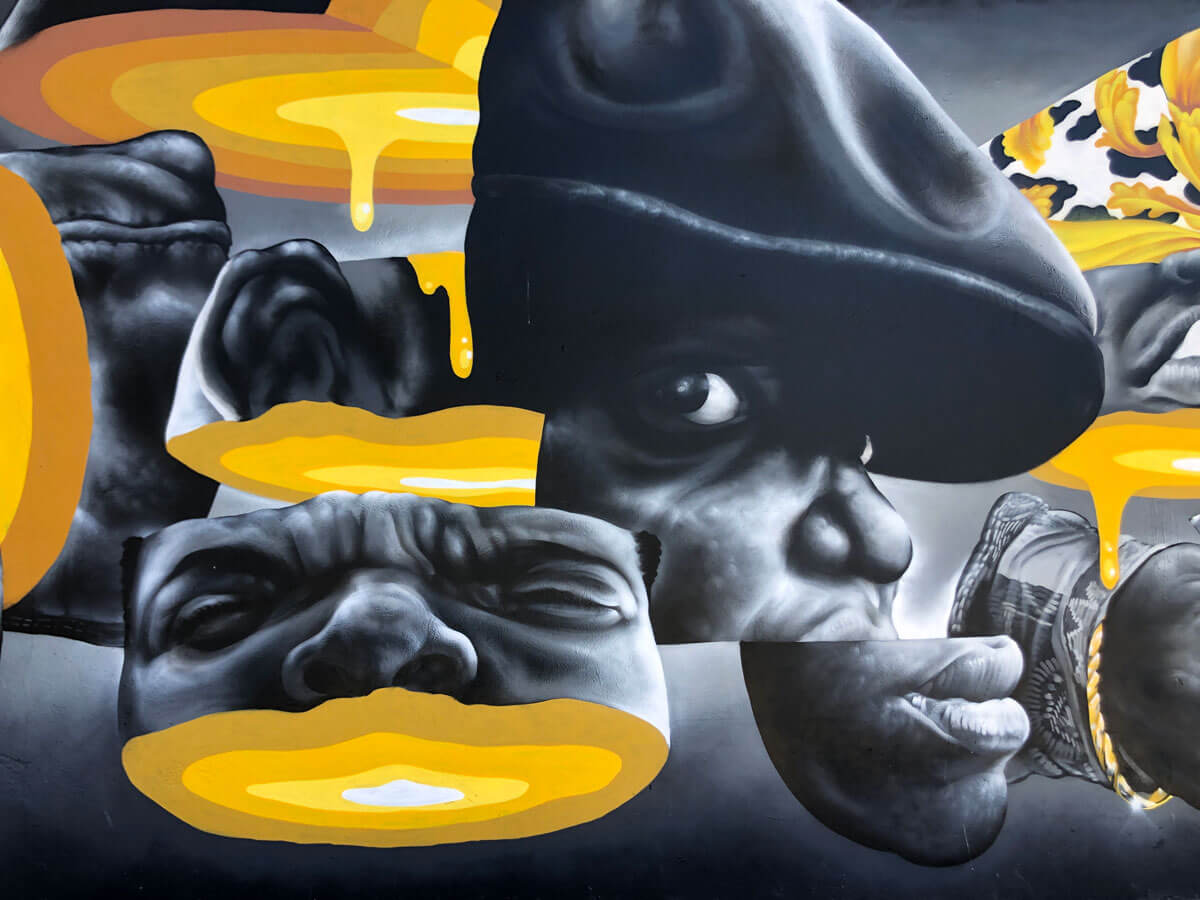 (Troutman St. and St. Nicholas Ave)
The next Brooklyn Biggie Mural to view can be found at the intersection of Troutman and St. Nicholas Avenue, also a part of the Bushwick Collective's local outdoor gallery crawl.
The artist Ruben Ubiera created this work in 2019, which he aptly named "Deconstructed Biggie". Ubiera is a Miami based contemporary artist who specializes in graffiti and large scale murals.
This modern take on the hip hop legend shows all the iconic features of Notorious B.I.G. in black, white, and gold spray paint scattered along this long stretch of wall.
This piece is definitely worth a visit to take in how Ubiera remarkably depicts the King of New York in a stylistic and contemporary perspective!
Danielle Mastrion Biggie at Bushwick Collective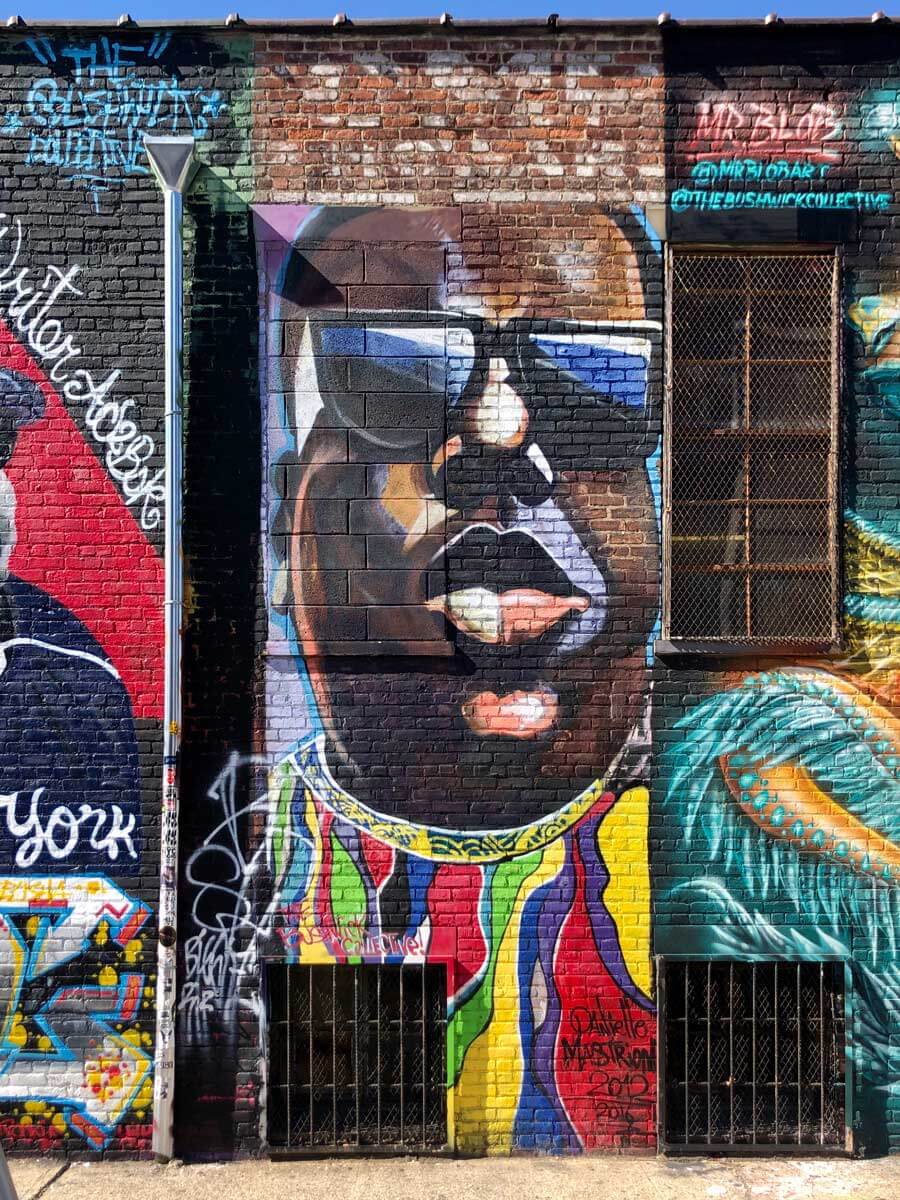 (St. Nicholas Ave and Troutman St.)
Another Biggie mural can be found just down the block from "Deconstructed Biggie", and is also part of the Bushwick Collective outdoor gallery. The vibrant piece of street art depicts Biggie's portrait with his signature Coogi sweater, and can be found on St. Nicholas Ave and Troutman St.
The iconic face paired with the flashy colors are bound to make for great pictures if you choose to stop by! Local artist Danielle Mastrion painted the mural close to 10 years ago, and her Biggie mural is one of the longest-running pieces of the Bushwick Collective today.
As a Brooklyn Native, Mastrion is a huge fan of Notorious B.I.G.'s work. She had an oil painting of the Biggie mural printed on her business card, and after giving it to the curator of Bushwick Collective, was asked to reproduce and enlarge the piece for public display.
Mastrion is a muralist and a painter, coming from a fine arts background. Her work focuses on social justice, doing so by bringing beautiful pieces to different communities around the world. More of her more recent work can be found through her Instagram.
Also, while you're exploring these Notorious B.I.G. Brooklyn murals around the Bushwick Collective, check out our other ideas and options for the best things to do in Bushwick.
25th Anniversary Tribute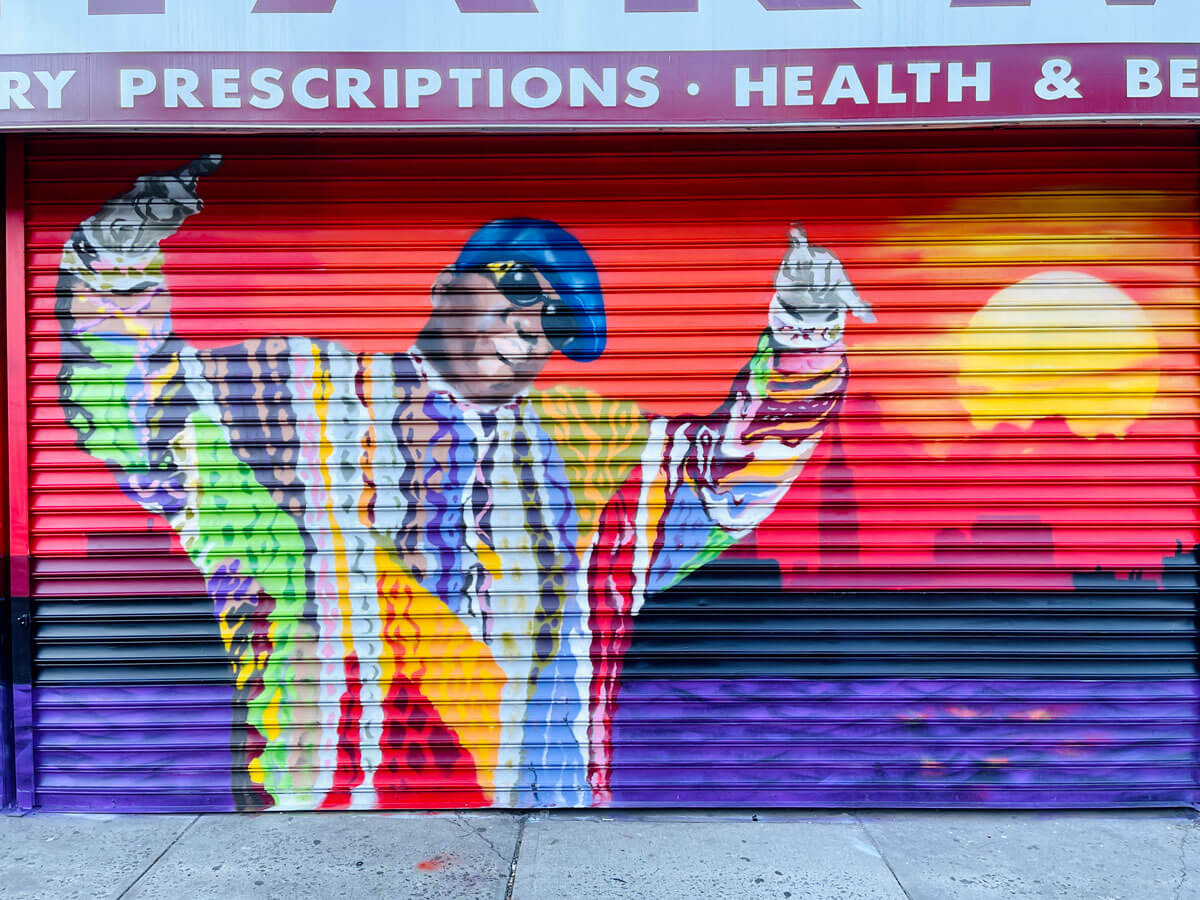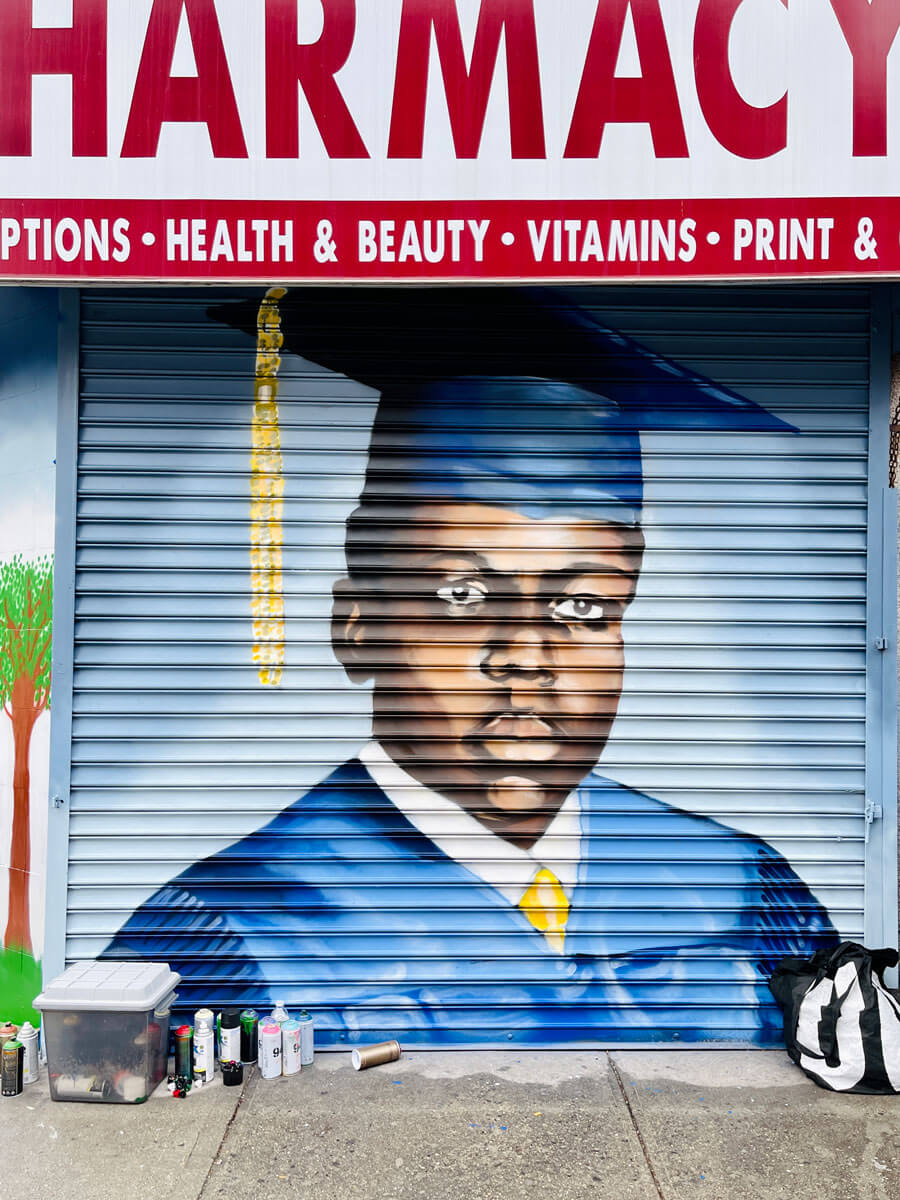 (Fine Care Pharmacy, 981 Fulton Street, St. James & Fulton, Christopher Wallace Way)
In recognition for the 25th anniversary of Biggie Smalls passing, new murals found at Fine Care Pharmacy on Fulton are dedicated to the King of New York.
These murals not only honor Biggie, but are meant to highlight the importance of the eradication of gun violence by mural artists Eli Salome-Diaz, Carlo Niece, Benny Guerra, and Tylan Deputy.
---
Enjoyed this Notorious B.I.G. Brooklyn guide including landmarks like Biggie Smalls house in Brooklyn and Biggie murals in Brooklyn? Bookmark for later or share the love below on Pinterest, and as Biggie always said, "spread love, it's the Brooklyn way."