NYC in December is arguably the most magical time of year to visit. Kicking off the holiday season in November, you can find that the city is fully decked out for all the winter holidays in NYC from Hannukah, Christmas, and Kwanzaa to name a few!
What makes this time of year so special? The transformation the city goes through to become a living snow globe. Stepping foot into the city in full holiday mode is like transporting your inner child and reconnecting with the magic of the holiday season, not to mention feeling like you're living out your favorite Christmas movies set in New York City!
From the endless amount of holiday markets, Christmas trees, and decorations in the city, to restaurants and bars that go above and beyond to be completely decked to the halls. This guide will be your jumping-off point to NYC in December so bookmark this page now before you forget so you are just a phone scroll away from the next best thing to do in December in NYC.
Also, if you're visiting NYC in December and wanting to do all of the holiday things, check out our full guide to the best things to do in NYC at Christmas and NYC Christmas itinerary to help you plan your trip – it has all the best stops on there and written by a local, so you know it's good recommendations!
If NYC is thought of as energy and hustle, then NYC in December is all of that but wrapped up in a beautiful package with a neat little bow tucked around every corner waiting for you to discover it. It's fun, it's cliche, sometimes tacky and crowded in spots, but always entertaining. That's what makes December in NYC one of the best months to plan your New York City trip and itinerary.
NYC in December Tips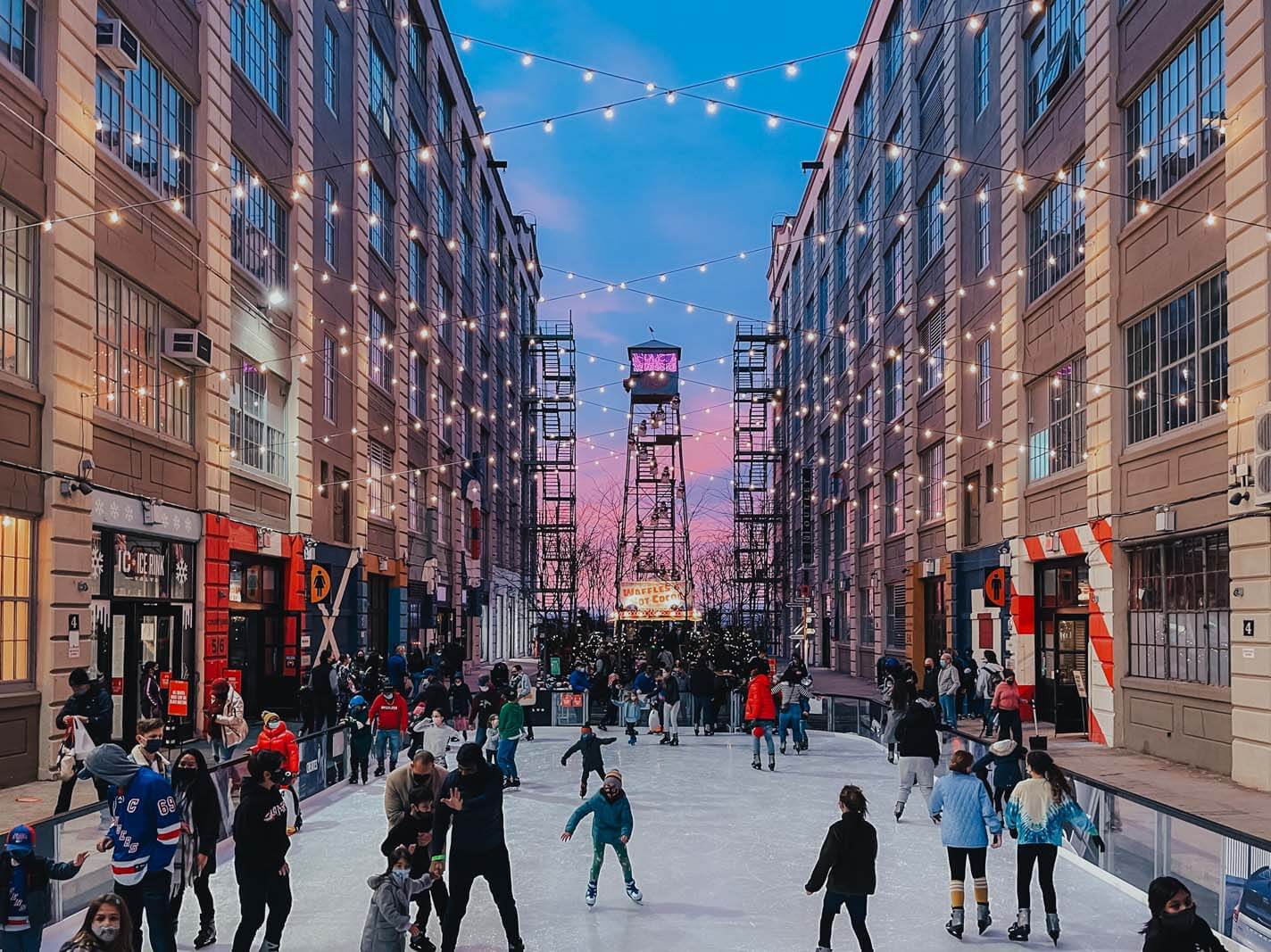 In the late 1800s, department stores all used the first-floor windows as advertisements. But in 1874, Macy's created a display with a theme. Putting together porcelain dolls posed in scenes from Harriet Beecher Stowe's Uncle Tom's Cabin. Which kicked off a tradition that has completely taken over the entire city and a lot of people's sanity and is now so famous that people make trips just to see the window displays because they are that intricate. From humble beginnings to what is now the busiest month in New York.
That being said, all of December in NYC is crowded with locals and tourists and just gets more and more crowded as it gets closer to Christmas Day and New Year's.
So keep that in mind, be patient, keep that holiday cheer, and just be prepared for crowds and lines. Prices for hotels and transportation will also be higher, it's really best to have these booked well in advance.
If you are seeing prices too high in Manhattan and can't find anything you can also stay in Brooklyn with really convenient travel options into Manhattan as well, especially if you look at the Williamsburg hotels as the L train connects to Manhattan in a snap, plus there are several options with skyline views.
With Christmas and the holidays involved, there are so many large events happening during December in NYC that things can book up pretty quickly so unless you planned in advance and can nab reservations, you might be waiting for everything.
If you have your heart set on any meal in the city, make a reservation or if they don't have reservations, plan your day so you get there right when they open to minimize your waiting times.
If you're wanting to see an event or attraction, make sure you have those tickets secured as those are also known to book up in advance!
There are plenty of opportunities for free things to do in NYC. Not to mention many of the best things to do in NYC in December are completely free to enjoy as well!
Here's a great article for helping you plan New York City on a budget as you can find hotel deals and enjoy some of the best things to do in NYC from attractions, tours, and iconic places to eat too!
This guide will cover some of the best things to do in New York City in December taking advantage of all the fun events, holiday-themed everything, ice skating, and holiday magic to make your trip to NYC in December the best!
NEW YORK IN DECEMBER WEATHER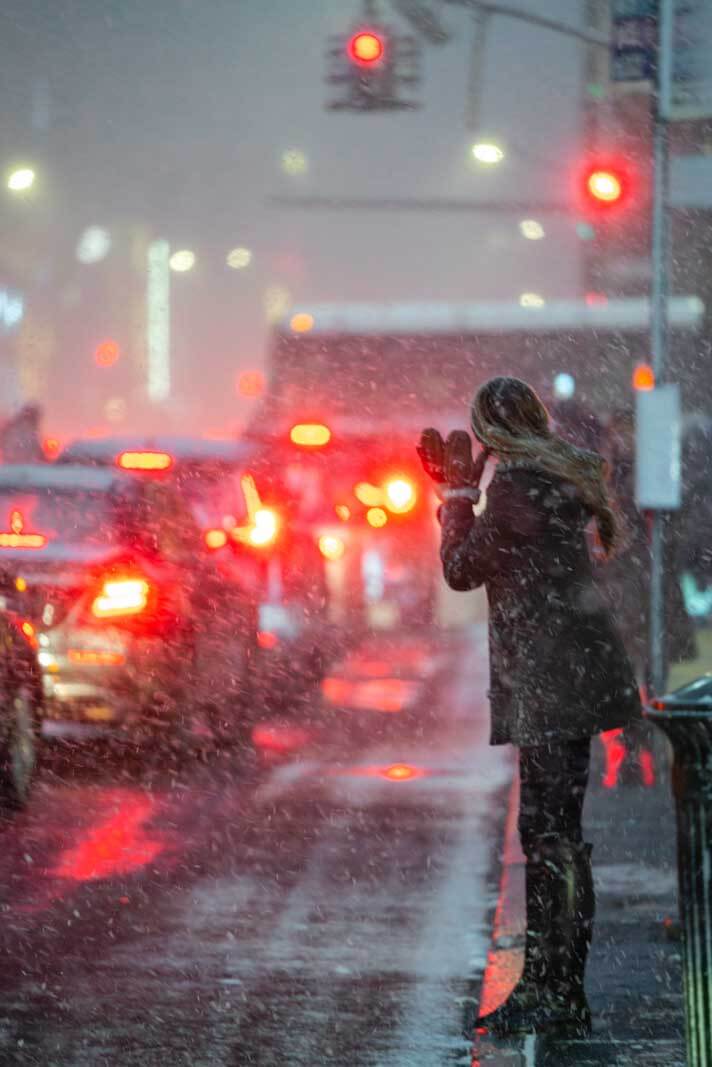 For the most part, NYC weather in December is cold. It's a wild month weather-wise as it can rain, be absolutely stunningly clear, but at the same time, if you're here on one of the days that it does snow (average 2 days a month in December), it can dump on you. All this to say prepare for the cold and bring layers.
We enjoyed the Top of the Rock observation deck around the holidays a few years ago on a clear, beautiful day. By the time we got down the elevator, we were in a squall that snowed two inches in an hour. Caught by surprise, we tried to buy a layer. then tried a drink. By then the squall had already passed but it was intense! Not common but it happens, the above photo is from that squall.
The lesson to take away is that check the weather, bring layers, and carry extra layers with you. You never know when you may get a squall, but you'll find walking around through the skyscrapers in Manhattan or by any waterfront that the wind around these areas can make you feel extra cold.
Planning on walking the Brooklyn Bridge? High Line? Visiting Hudson Yards? All of these places are colder because of the wind. Have layers ready to go!
Bring comfortable, water-resistant shoes. If it snows you'll want good snow boots, they will put salt on the roads and streets so keep that in mind as you'll want to rinse your shoes when you get home or back to the hotel so the salt doesn't ruin them. Also, if you have to walk through any slush, there's alot of salt in there so if you have a favorite pair of shoes or boots you're bringing – wipe those down when you get back to your hotel room to help preserve your footwear.
Brings gloves, hats, scarves and anything that will help you keep dry and warm.
Typically during December in NYC, the weather will be a mix. With 8 days with a chance of rain or snow (most likely rain, we average a White Christmas once in about every six years) the rest of the days on average are clear. You can expect it to be 44F (7C) during the day and 37F (3C) at night, although the closer to the end of December, the colder the temps get.
Things to do in New York in December
Rockefeller Center In December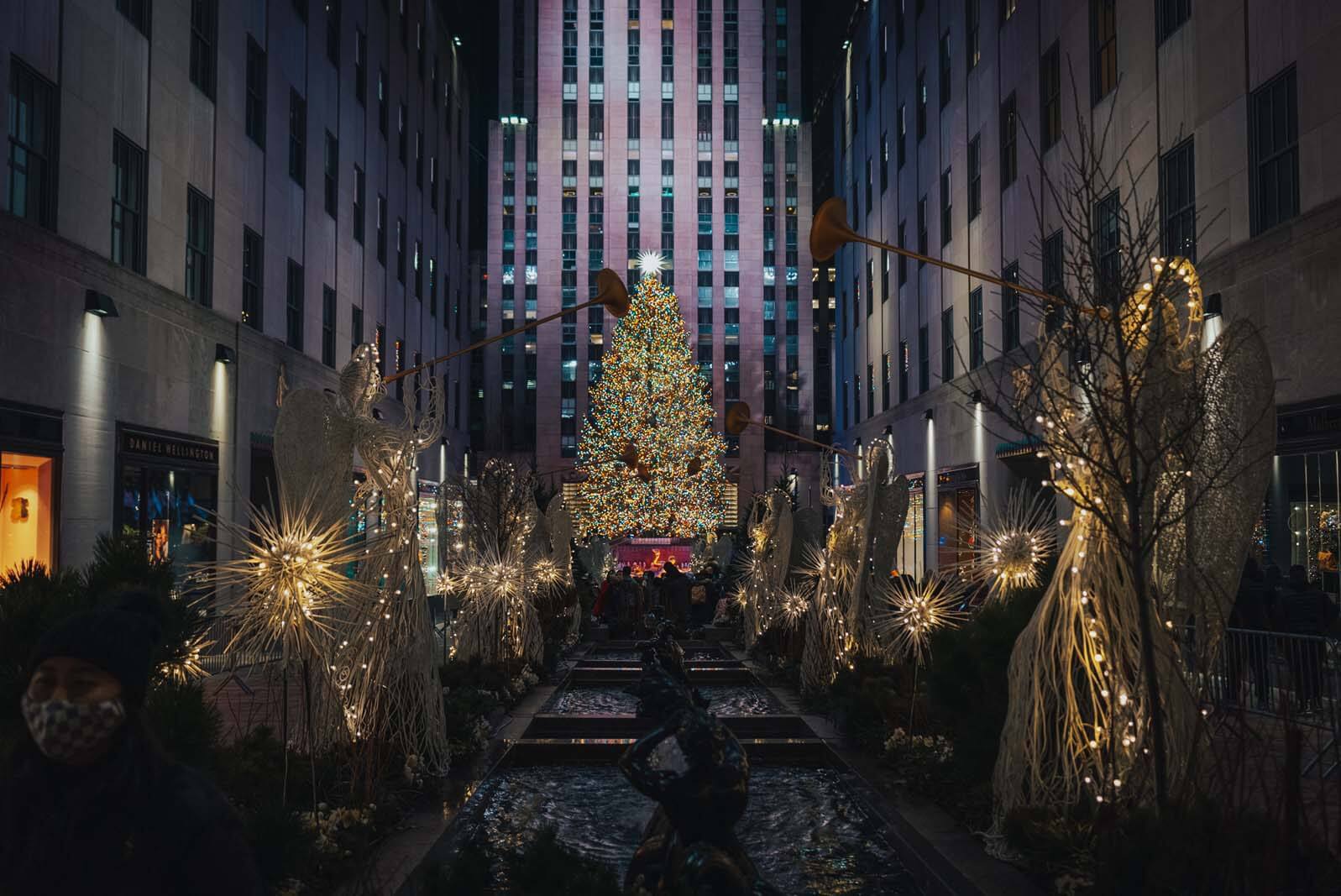 By far the most famous Christmas tree in the world! At Rockefeller Center, you can find the famous Rink at Rockefeller Plaza full of ice skaters with the iconic Rockefeller Tree towering over it.
Check out the famous Rockefeller Christmas Tree, one of the most cherished traditions during NYC in December, and be sure to check out the famous line of angels set up around this tree at the Channel Gardens that leads to the tree.
Also, if you're into hitting up famous locations from movies, this is one of the most famous filming locations for Home Alone 2: Lost in New York!
Expect Rockefeller Plaza to be crowded as this is one of the most popular and famous things to do in NYC in December. If you want to go ice skating at the rink, you can buy your tickets in advance to secure your time slot. And whether you're ice skating or just being a spectator, chances are you'll witness a proposal while you're here, they usually happen just about every hour during the holidays – another reason why NYC in December is one of the most magical and romantic times to visit.
To see the Rockefeller Christmas Tree with the lights on, you'll want to visit from 5:30 PM to 12 AM daily with the exception of Christmas Day which is lit 24 hours and Christmas Eve is lit from 6 AM to 9 PM.
The best thing about making a visit here is that you are just a few feet from the next stop!
Saks Fifth Avenue Holiday Lightshow
611 5th Ave
Each year at sundown, typically starting around 4:35 PM daily (& every 10 minutes until 11:35 PM), the flagship Saks Fifth Avenue Store puts on their annual light show projected on the entire side of their 5th Avenue side of the store.
The light show features classic holiday songs and choreographed lights and is just a dazzling display of creativity using LED lights. This is the perfect addition on your way to or from seeing the Rockefeller Christmas tree!
Not to mention, Saks Fifth Avenue also has some of the best holiday window displays in NYC too worth checking out!
Radio City Christmas Spectacular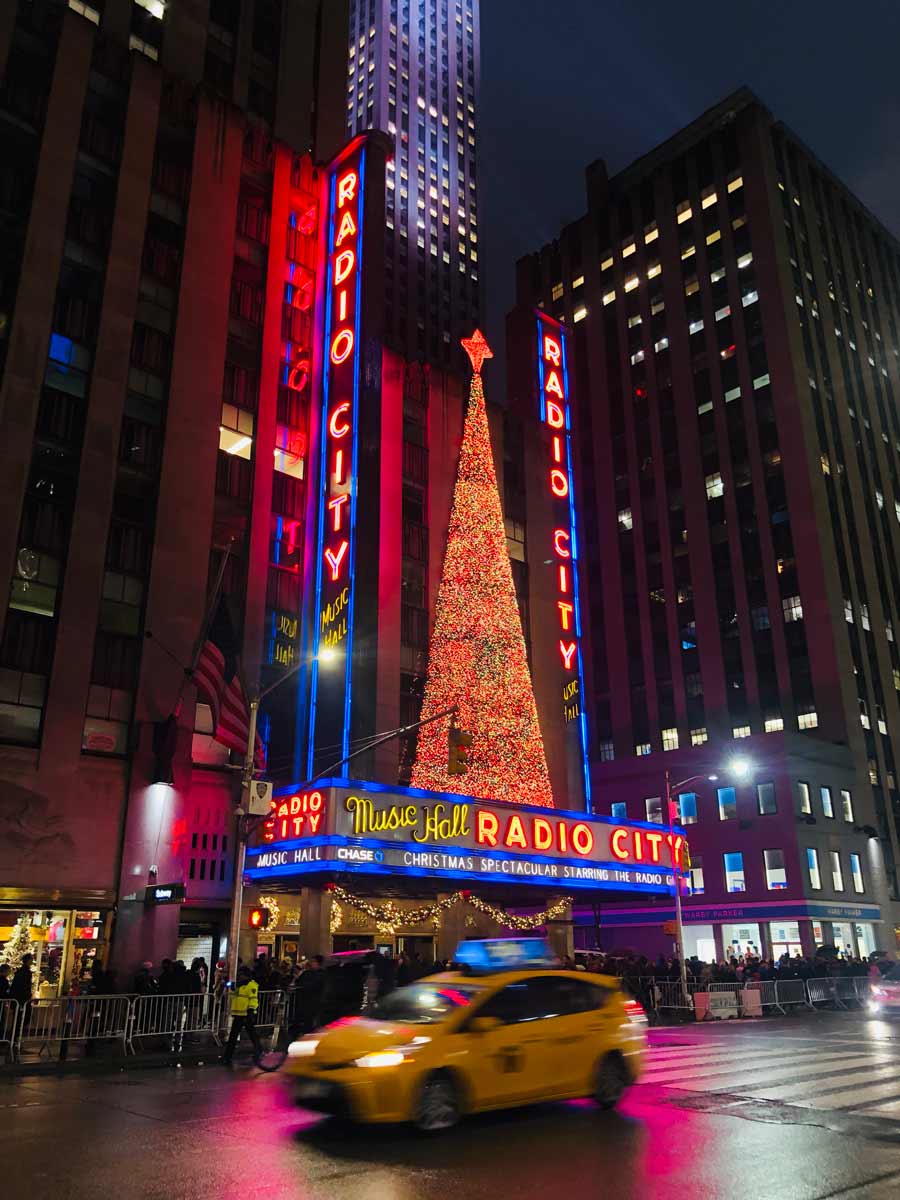 260 6th Ave
Each year during the holiday season and December in NYC, the world-famous Radio City Music Hall does two things that are worth checking out.
First, they put on their iconic holiday outfit which is absolutely stunning. Since you'll most likely be in the area exploring all the best Christmas lights in NYC and holiday displays, this is must add a spot for even just a photo. Grab a festive photo of the exterior of Radio City Music Hall, then cross 6th Avenue and check out the view from the other side of the large ornaments. It's so pretty!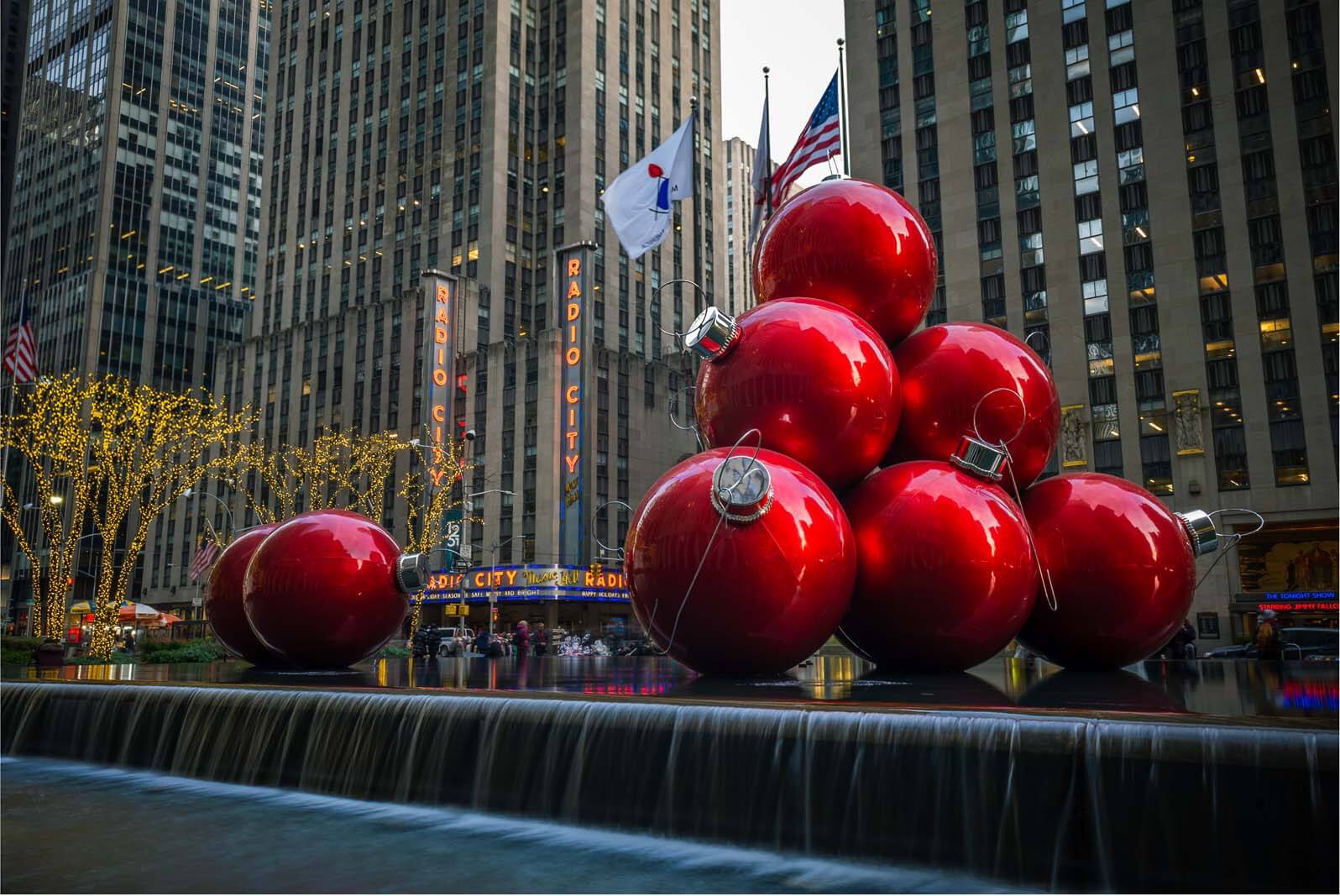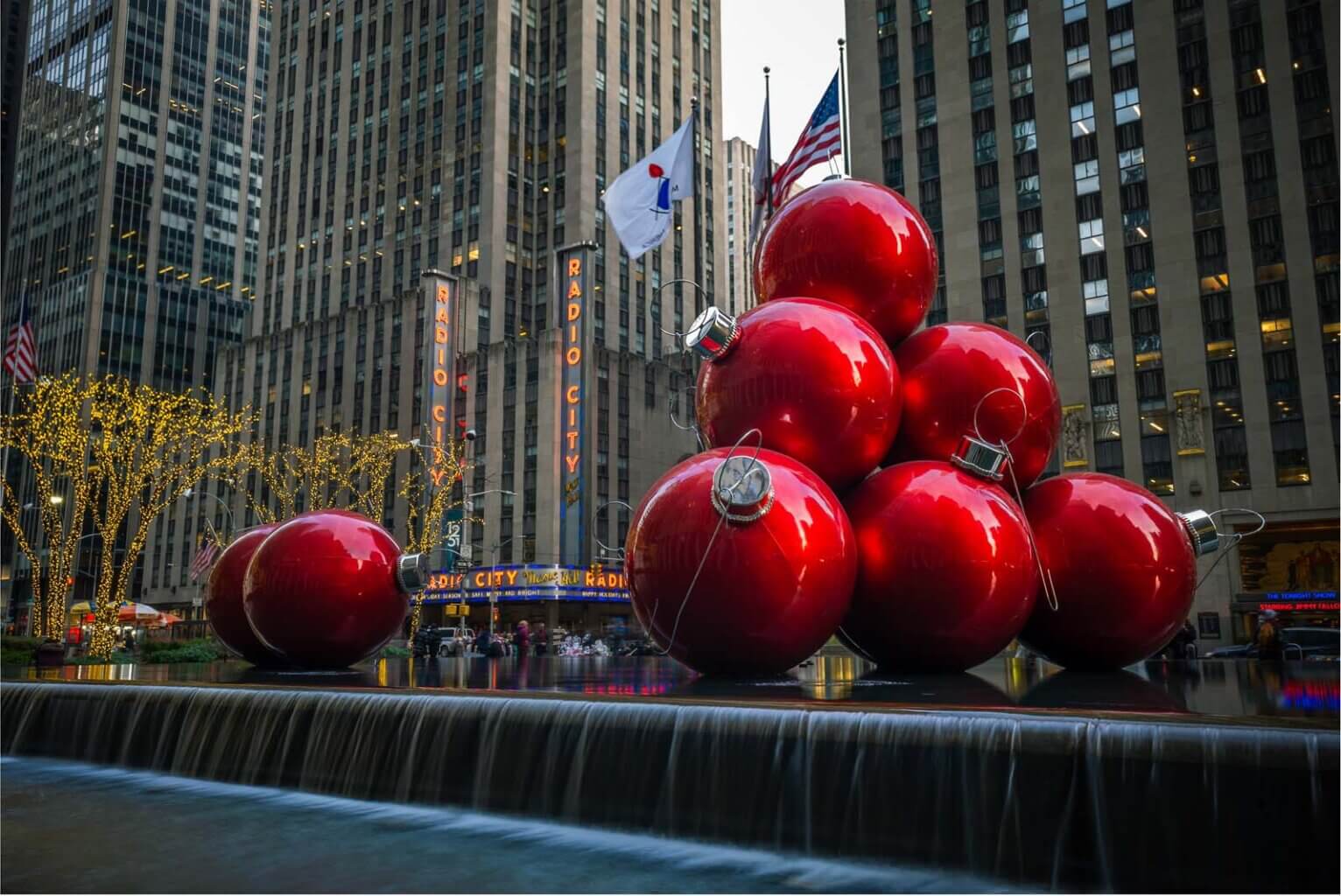 And now, the most famous show to see during the holidays and one of the best things to do in NYC in December is to see the Radio City Christmas Spectacular starring the Rockettes! A tradition since 1933, the Radio City Rockettes perform one of the most famous shows in the world featuring popular numbers like the Living Nativity (featuring live camels), The Parade of the Wooden Soldiers, and Santa even makes an appearance.
You can get tickets for the Radio City Christmas Spectacular on SeatGeek, and when you add our promo code BROOKLYNGUIDE to your SeatGeek account, you receive $20 off your first ticket purchase. (We receive a small commission at no extra cost to you)
Fun tip: The handlers for the live camels in the Living Nativity number of the show often take breaks and walks with the camels on 6th Avenue around Radio City, if you're lucky you might even see one of the celebrities from the Christmas Spectacular on the street!
The Nutcracker with the New York City Ballet
Another one of the most famous shows during the holidays and best things to do in NYC in December is the New York City Ballet's rendition of the Nutcracker. Each year the performances are held at Lincoln Center Plaza, one of the most famous performing arts centers on the globe and home to the Metropolitan Opera, New York City Ballet, Julliard School of Music, and the New York Philharmonic.
The Nutcracker is a joyful show (based on the story by E.T.A Hoffman) of a young girl and her favorite toy that comes to life, for the younger kids, it was the OG Toy Story. Beyond seeing some of the best ballet performers in the world, the show features beautiful costumes and sets featuring sugar plums, candy canes, and the Mouse King paired with a beautiful score.
The Nutcracker is an incredibly popular show to see in December in New York City, so you'll want to get your tickets in advance.
You can get tickets for the Nutcracker on SeatGeek, and when you add our promo code BROOKLYNGUIDE to your SeatGeek account, you receive $20 off your first ticket purchase. (We receive a small commission at no extra cost to you)
Bryant Park Winter Village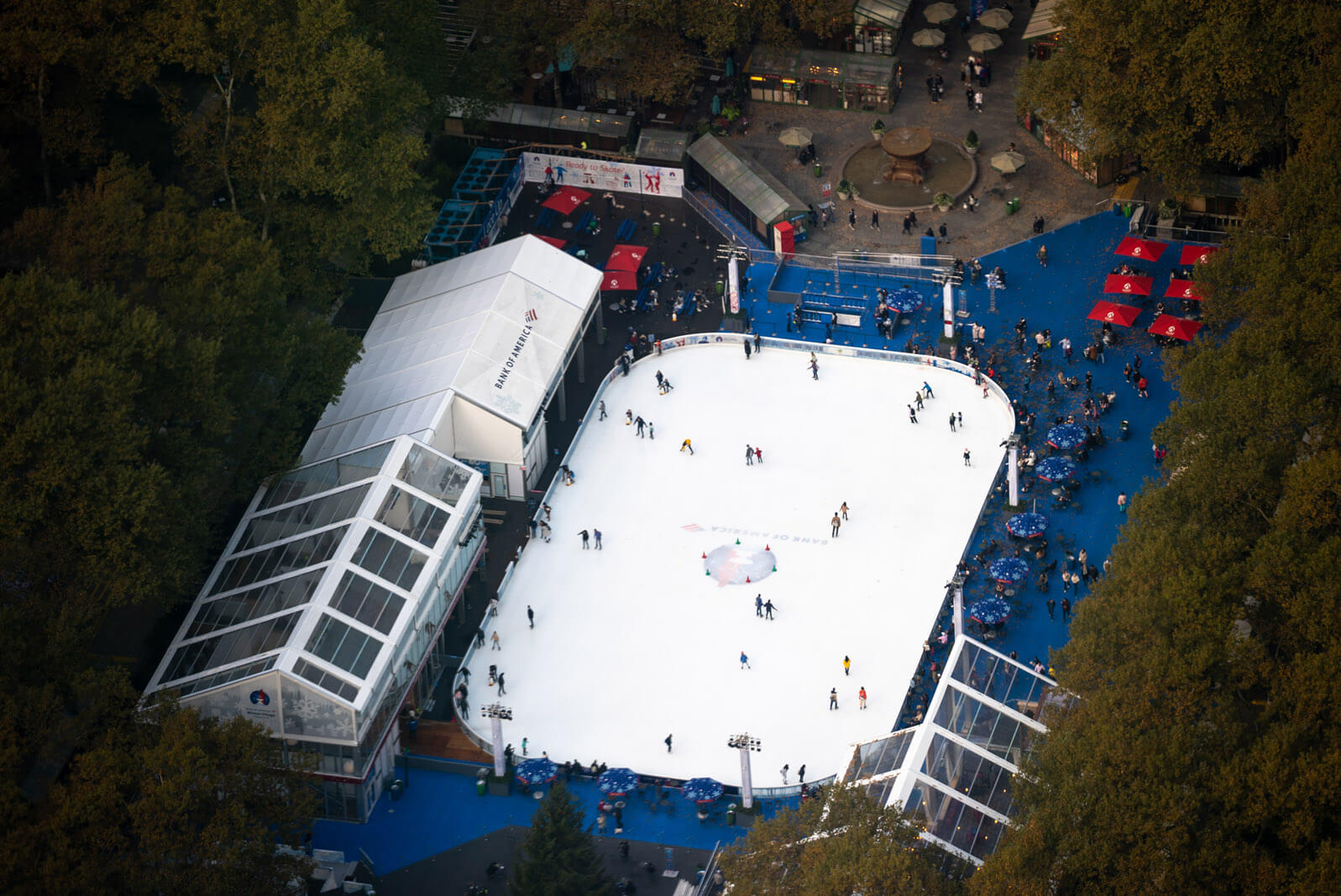 42nd Street and 6th Ave
Not only is Bryant Park one of the best parks in NYC, but in the winter, including December in NYC, it gets even better as the entire park is transformed into a charming winter village great for visiting both day and night.
Featuring an ice skating rink, an après-ski vibed lodge, winter igloo dining, and an adorable maze of kiosks selling all kinds of goodies making up its holiday market (we'd argue it's the best Christmas markets in NYC), Bryant Park is a must stop for December in New York City.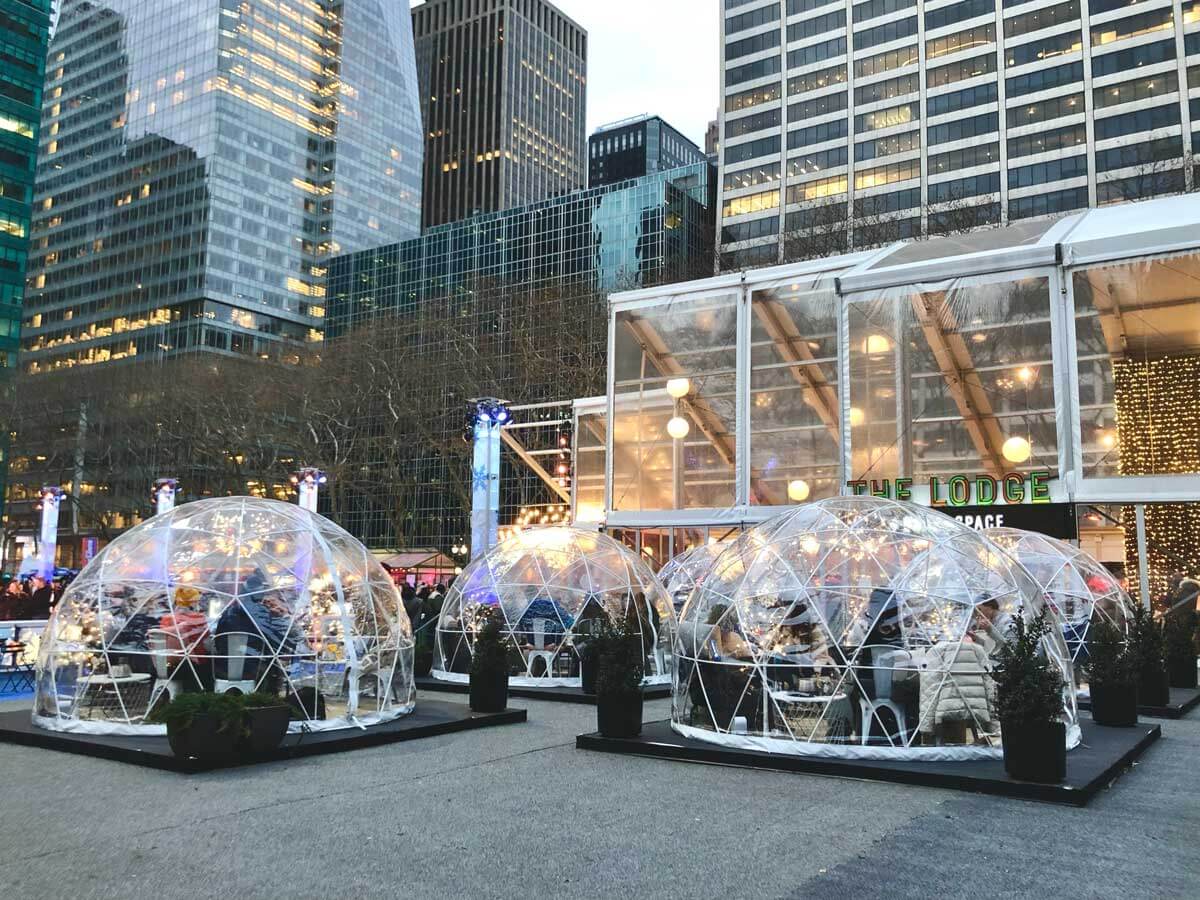 Better yet, the ice skating rink is FREE! Well, that's if you have your own skates. If not, no worries you can rent those for a small fee.
And for those looking for laughs and fun on the ice without skating, check out the ice bumper cars! You'll need to snag a reservation though as these are a semi-recent addition to Bryant Park Winter Village and popular, so they book up.
NYC Holiday Window Displays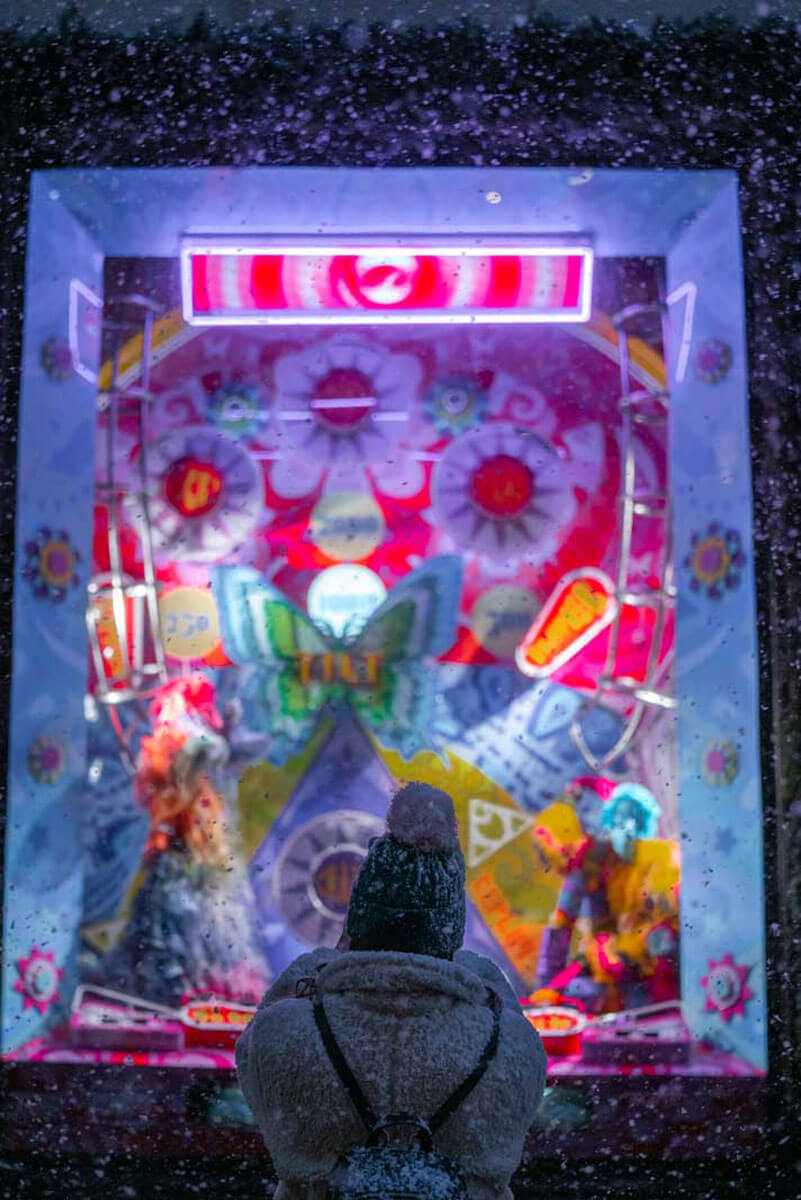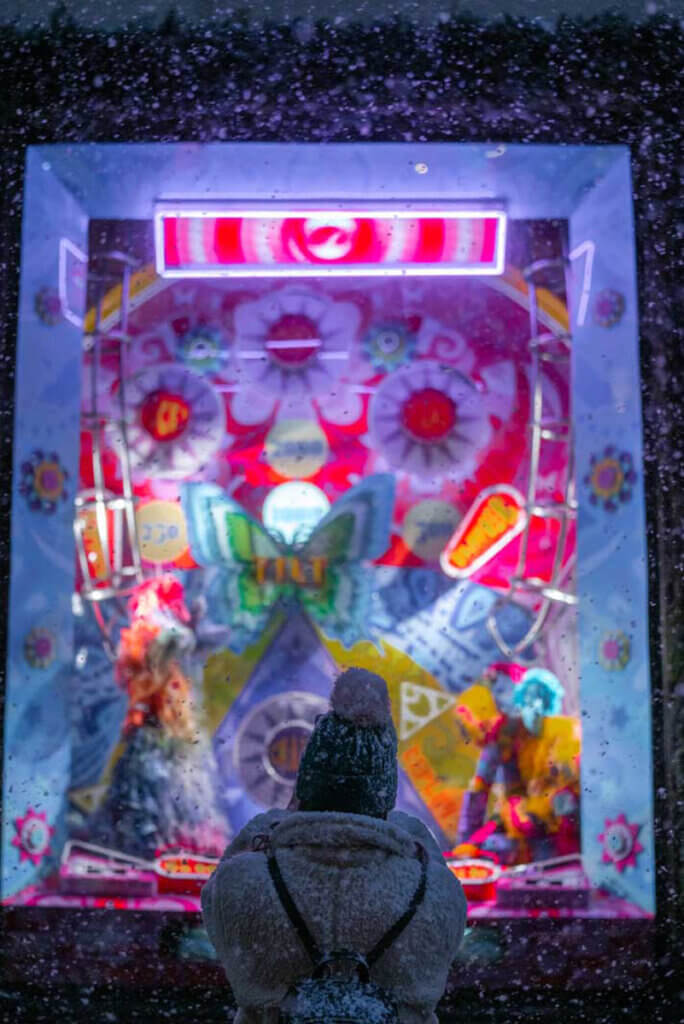 The snowball that started it all. As mentioned before, NYC in December, wouldn't be what it is today without holiday-themed window displays, a tradition started by Macy's at their original 14th Street location, and now at their flagship at 34th Street at Herald Square.
Macy's unveils their holiday windows right before the annual Macy's Thanksgiving Day Parade in November, where at the end of the parade Santa Claus would reveal the windows and be the 'official kickoff' of the holiday season.
The department stores are all usually decorated inside too, but the windows are where it's at. Macy's, in particular, is also known for its detailed Santaland, featuring Santa's magic forest, toy workshop, and of course get a photo with Santa, although reservations are required, but it is free admission!
Doesn't this sound like something from a movie? Elf comes to mind, and if you're a fan you might want to check out all the Elf filming locations around NYC too.
Ok, back to holiday window displays. There are several other places to window show and ooh and ahh at the intricate window displays, mostly down 5th Avenue. If you are looking to use your steps and time wisely we created a DIY walking tour of the holiday window displays so you can save and bookmark it when you are ready!
Our personal favorites are always the windows at Bergdorf Goodman!
Central Park
It goes without saying, Central Park is a must-see, must-visit park for locals and tourists alike. If you're lucky enough to catch one of the few days it 'could' snow in NYC in December, you'll want to witness that in Central Park. There's nothing more enchanting than seeing some of the park's highlights like Bethesda Terrace and Bow Bridge with a light dusting of snow to make you feel like you're in a New York City snow globe!
But even if it doesn't snow, some of the best spots for ice skating in New York City is here! You can visit the Lasker Rink or the more famous Wollman Rink for a winter wonderland and fun outdoor activity!
Or if you're looking for another magical way to spend time in Central Park during the holidays, make a reservation for a table at Tavern on the Green, a gorgeous restaurant in the park with one of the best Christmas trees in NYC as the centerpiece!
Dyker Heights Christmas Lights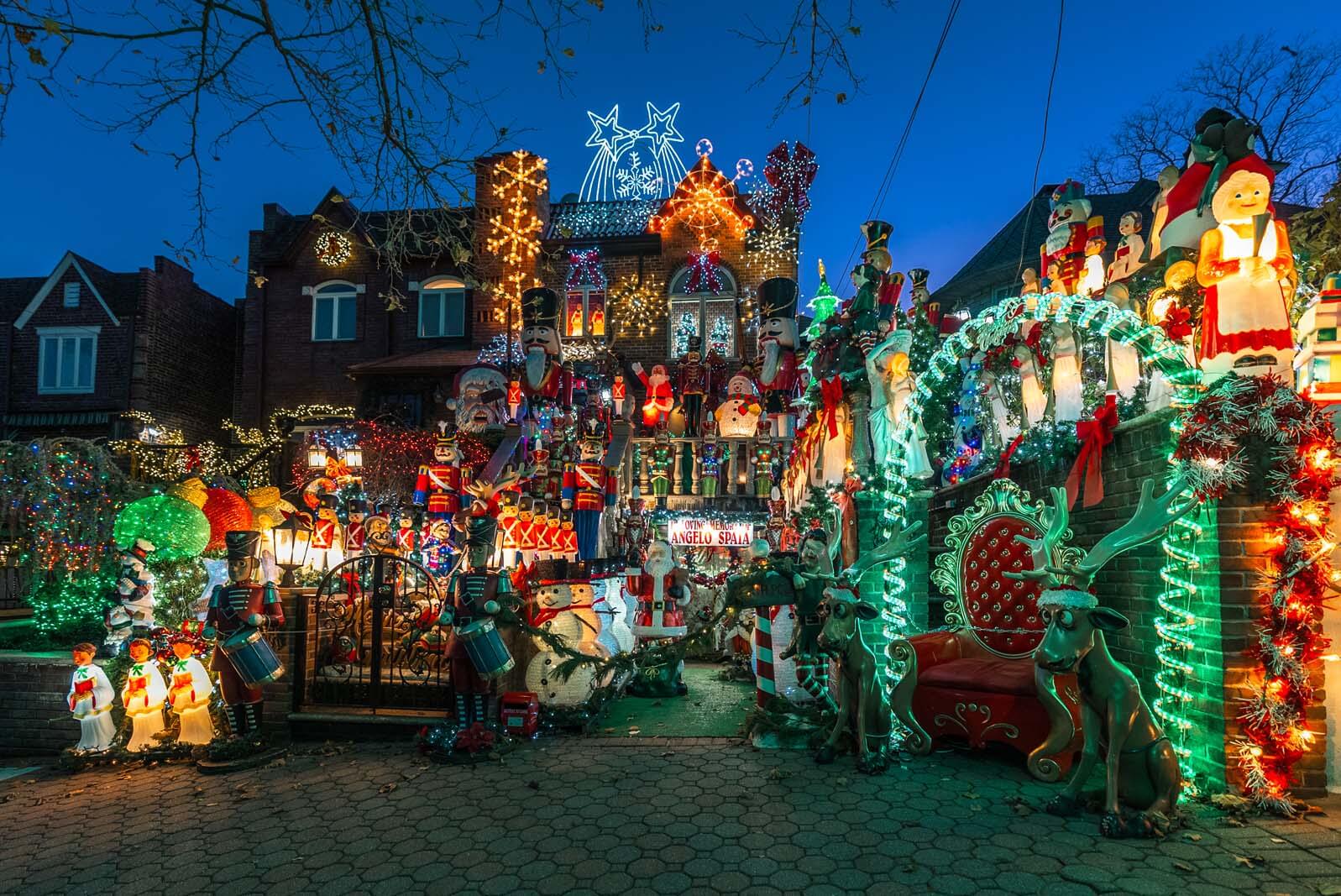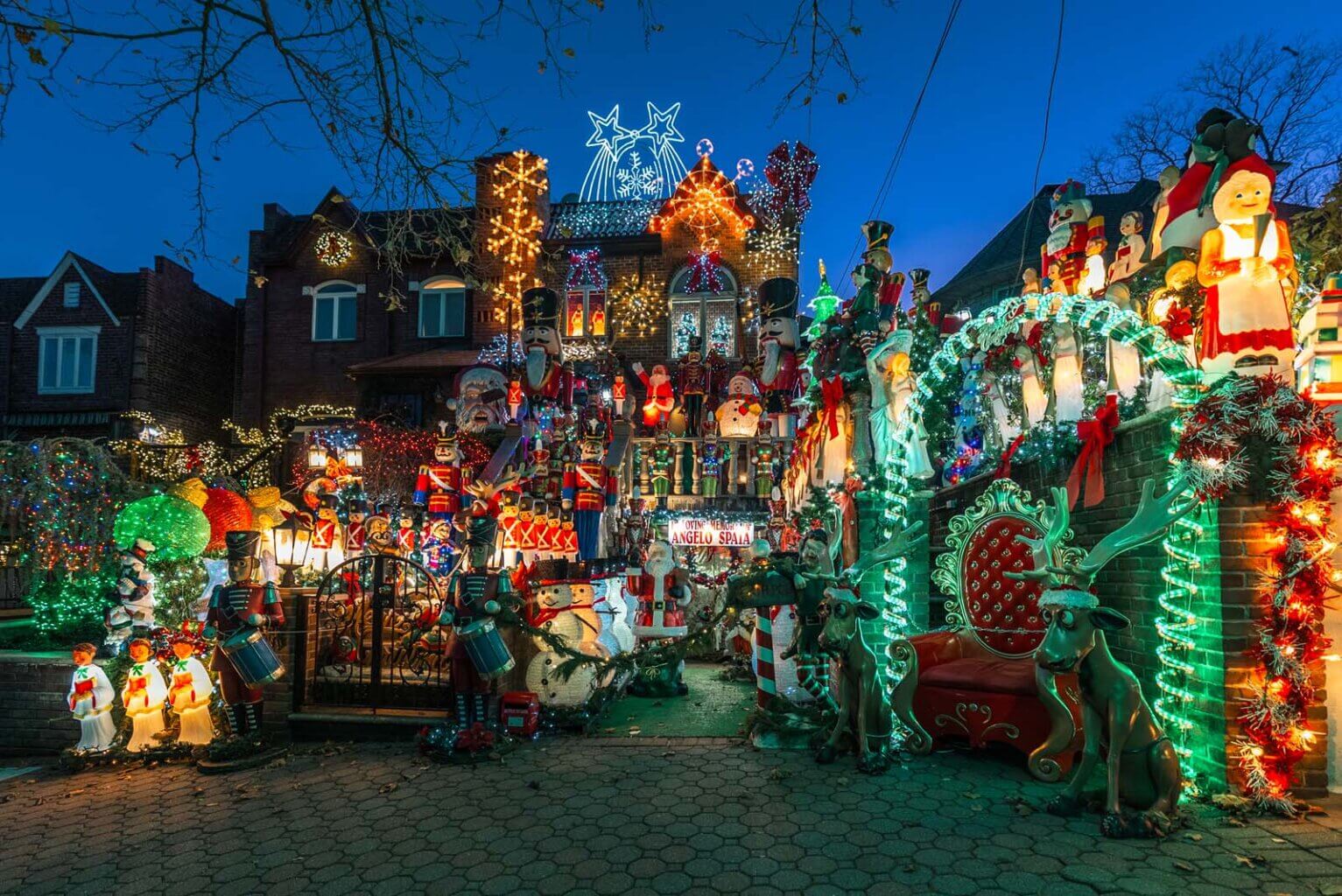 One of the best things to do in New York City in December is to make the journey deep into Brooklyn to the residential neighborhood of Dyker Heights. This feels more like the suburbs, with huge mansions, and less like Midtown NYC.
Each year, this neighborhood's residents deck out their mansions with over-the-top holiday displays and Christmas lights. Imagine Clark Griswold-level of holiday displays! And these elaborate displays attract visitors to see their stunning holiday masterpieces in their front lawns!
What originated as a few families who were in the Christmas light business has turned into a massive holiday event with blocks of Brooklyn completely trying to outdo each other.
You can easily take the subway here to the 86th Street Station (R train) or the 79th Street Station (D Train) which is a short walk. Make a stop at Twist Coffee (7824 12th Avenue) for a hot drink Tasty Pastry Shoppe (8216 13th Avenue) which has festive holiday cookies and classic Italian bakery desserts for a sweet treat!
If you're going to visit on your own, read our full guide to seeing the Dyker Heights Christmas Lights. You'll find most of the famous houses between 10th – 12th Avenues and 83rd – 86th Streets. But it's worth walking up and down any street you see lights! During December in New York City, the lights in Dyker Heights turn on starting at dusk and stay on until around 10 PM daily.
Got a car? Yea, we don't recommend driving as the roads are chaos and parking is worse.
If neither of those options sounds great, join a Dyker Heights Lights tour that includes transportation from Manhattan. Your driver will pick you up from Midtown and drop you off with your guide in Dyker Heights where you will check out all the festivities. Before you finish, this Dyker Heights Christmas Lights tour has a bonus stop at the Brooklyn Bridge so you can get a photo of the city skyline twinkling at night before ending your magical evening! Book your tickets here.
More Christmas Trees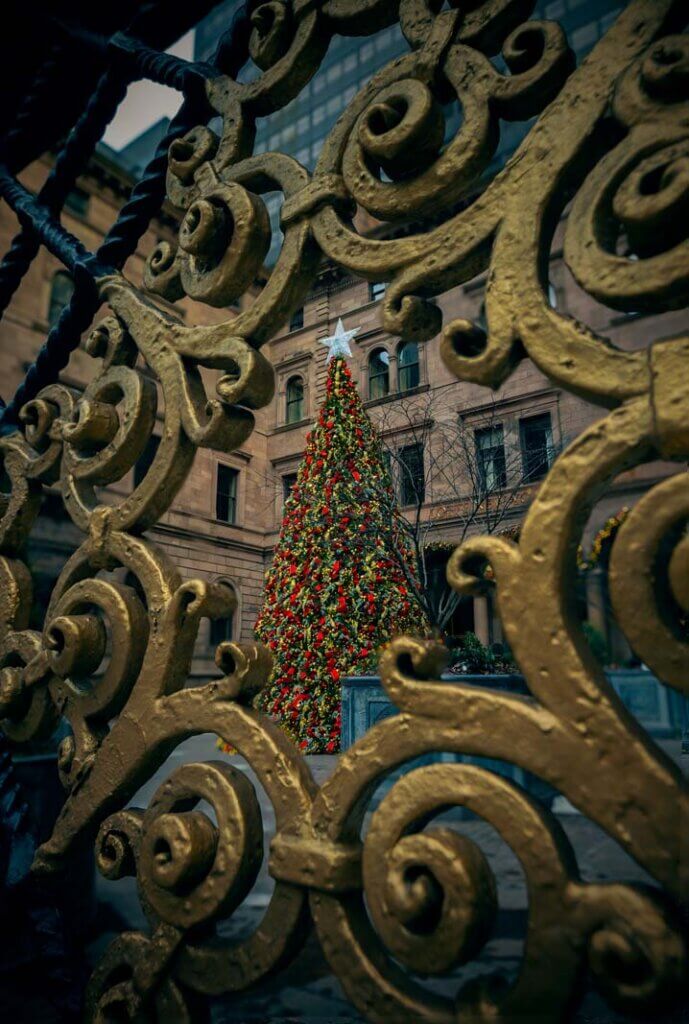 Did you know that there are MANY impressive Christmas trees in New York City to see, not just the Rockefeller Christmas Tree?
There are so many great trees to see including a few of our favorites like the Christmas Tree (and giant menorah) at Grand Army Plaza in Brooklyn, the treet at Bryant Park, the giant tree at the New York Stock Exchange (and a Kwanzaa Kinara), and Madison Square Park to name just a few!
Another cool place to see a beautiful holiday scene is at Lotte New York Palace. This luxury hotel gets in the holiday spirit by putting up one of the most beautiful Christmas tree decorations and turning its courtyard into an absolutely beautiful holiday display.
If you need a place to stay in December in NYC, booking your stay at Lotte New York Palace a great option as it's centrally located and incredibly romantic.
See a Show on Broadway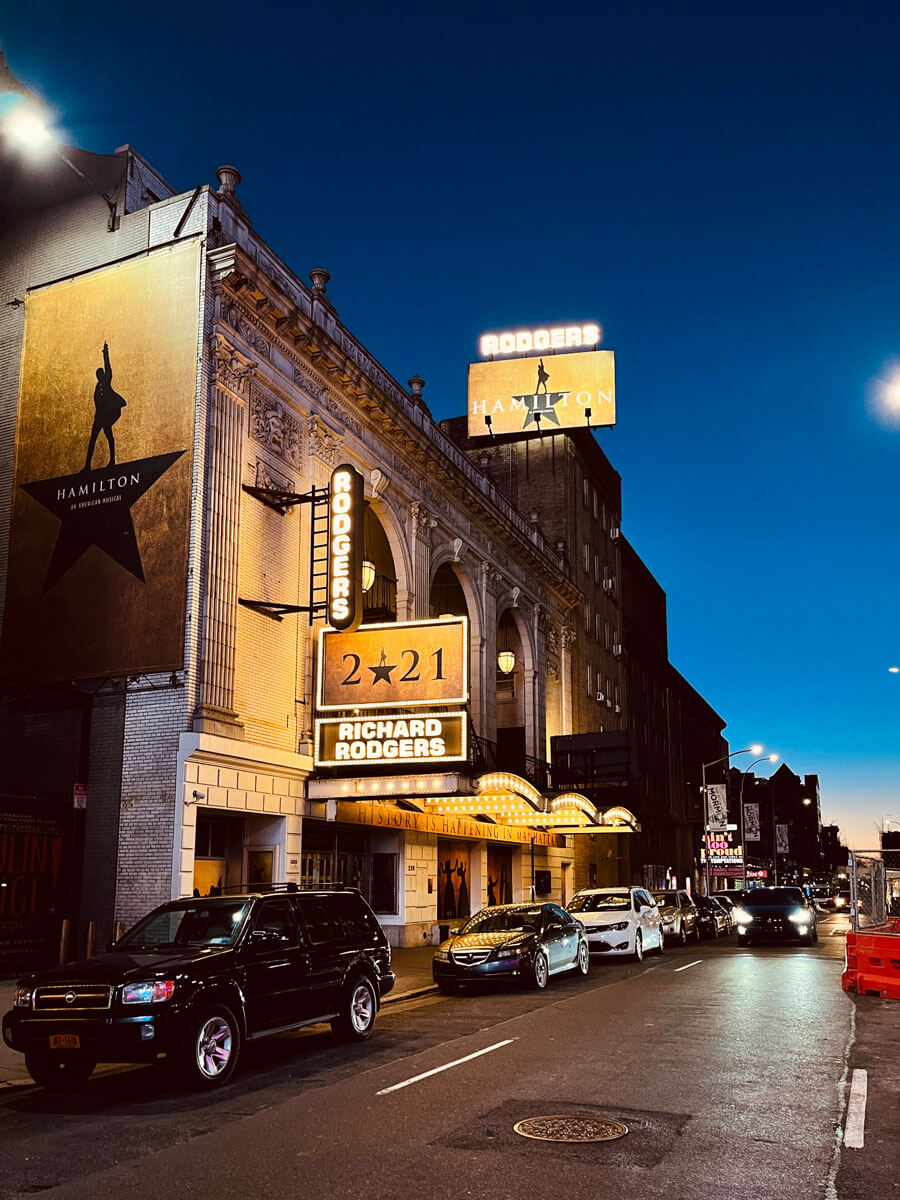 Whether you're looking for an excuse to see a show you've been aching to see, looking for a way to beat the cold, or looking for one of the best things to do in NYC at night, then you might want to consider seeing a show on Broadway during your NYC in December visit!
Better yet, if you're not a night owl, you can also catch a matinee showing too. The tough part will be deciding which show to see. If you have never seen a Broadway show ever, pick a classic and fan favorite like Hamilton. But honestly, you can't go wring with any show on Broadway as there's a reason why it made it to Broadway.
See our full guide on how to see a show on Broadway including tips for how to get discounted tickets, enter the lottery, and other helpful things to know and help you book your tickets. But because it's a busy time of year and one of the most popular things to do in New York City in December, if there's something your heart is set on, secure your tickets in advance.
Also, you can get your tickets for most Broadway shows on SeatGeek, a popular ticket search engine that makes finding tickets Broadway quick and easy! When you use our promo code BROOKLYNGUIDE to your SeatGeek account, you receive $20 off your first ticket purchase. (We receive a small commission at no extra cost to you)
Holiday Markets
Don't miss the famous holiday markets in NYC in December too! Honestly, there are tons of incredible Christmas markets in NYC and you could fill an entire trip just trying to visit them all!
If we only had to pick a few it's worth visiting the grand champion of all the holiday markets in the city, the Union Square Holiday Market. This market has a large variety of crafted gifts, limited edition NYC-themed merch, and specialty foods with over 100 vendors!
Grand Central Terminal, which is an absolute must-see during the holidays and one of the best things to do in NYC in December because of its decor (and being one of the most beautiful train stations) hosts the annual Grand Central Holiday Fair. Beyond the vendors, there are also other fun shops and you can enjoy a drink or the famous oysters at the Grand Central Oyster Bar and other options from the food hall on the lower level.
The Columbus Circle Holiday Market not only features vendors serving up some of the best food in the city from some of the most popular eateries, but they have shops and all kinds of goodies just a hop and skip away from Lincoln Center.
And of course, already mentioned above, you won't want to miss Bryant Park Winter Village, you can get a lot of holiday gift shopping done here as there are over 170 different vendors here and various bars!
Holiday Shopping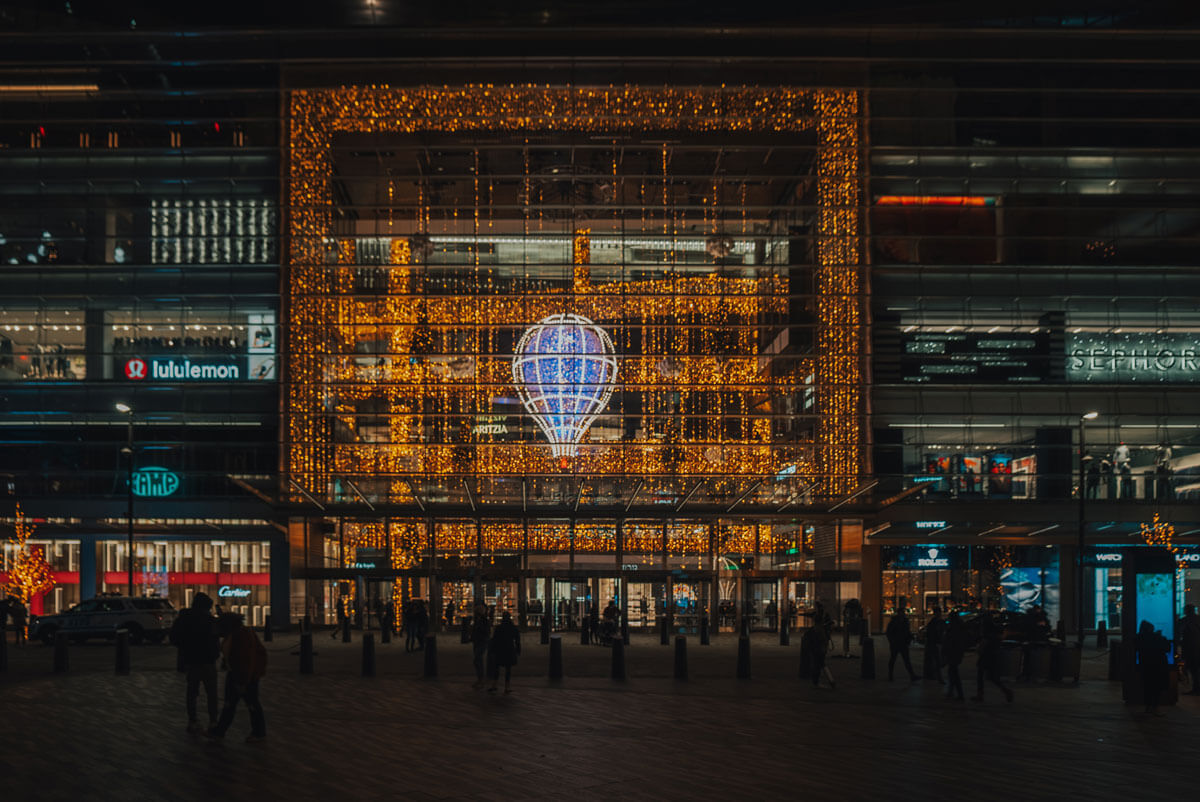 So it goes without saying that ALL of the holiday markets are great places for holiday shopping. But if you want to head indoors for more of a traditional mall and holiday shopping that are also decked out for the holidays, then there are several places you will want on your radar!
One of the best things to do in New York City in December and around the holidays are check out the 'Shine Bright' light displays at Hudson Yards. There are over a million shimmering lights in this beautifully designed light and music installation. The dazzling lights are synched to festive songs. Walk outside around the Vessel and the illuminated trees before heading inside and seeing the beautiful hot air balloon lights!
The Oculus at the World Trade Center is not only a shopping mall and a transportation hub, but they also host an annual holiday market. You can find plenty of your favorite stores and brands here plus cute gifts and souvenirs from the holiday market vendors. Not to mention the Oculus is also an artistic landmark that symbolizes the rebirth after the September 11th attacks, you can also visit the National September 11 Memorial & Museum while you're here.
Nearby in Battery Park City, Brookfield Place is a high-end luxury shopping mall that transforms during the holiday season with their annual luminaries installment synchronized to festive music. This is one of the best things to do in New York City in December if you need a break from the cold too as the winter luminaries are indoors. Walk under the hundreds of glowing lanterns in the atrium of the mall, the light show changes color and intensity to the music and is completely mesmerizing to witness while you do your holiday shopping!
Chelsea Market is also a great spot to not only do some holiday shopping at their shops inside but also check out their holiday decor and grab a bite to eat! Did you know the building that houses Chelsea Market was where the Oreo cookie was invented? Yep, Chelsea Market's location is inside the old Nabisco factory building! For more shopping, walk around the Meatpacking District for more boutique shops.
Last but not least, make a trip to Sunset Park, Brooklyn to Industry City for one of the best places to visit in NYC in December. A former industrial warehouse complex has been transformed into a hub where you can enjoy the city's only Japan Village featuring a food court, restaurant, and grocery store, tons of restaurants, multiple distilleries, sake tasting room, breweries, ice skating rink, another excellent food hall, entertainment, shops, and even a holiday Maker's Market featuring local artisans selling incredible gifts!
Lightscape at Brooklyn Botanic Garden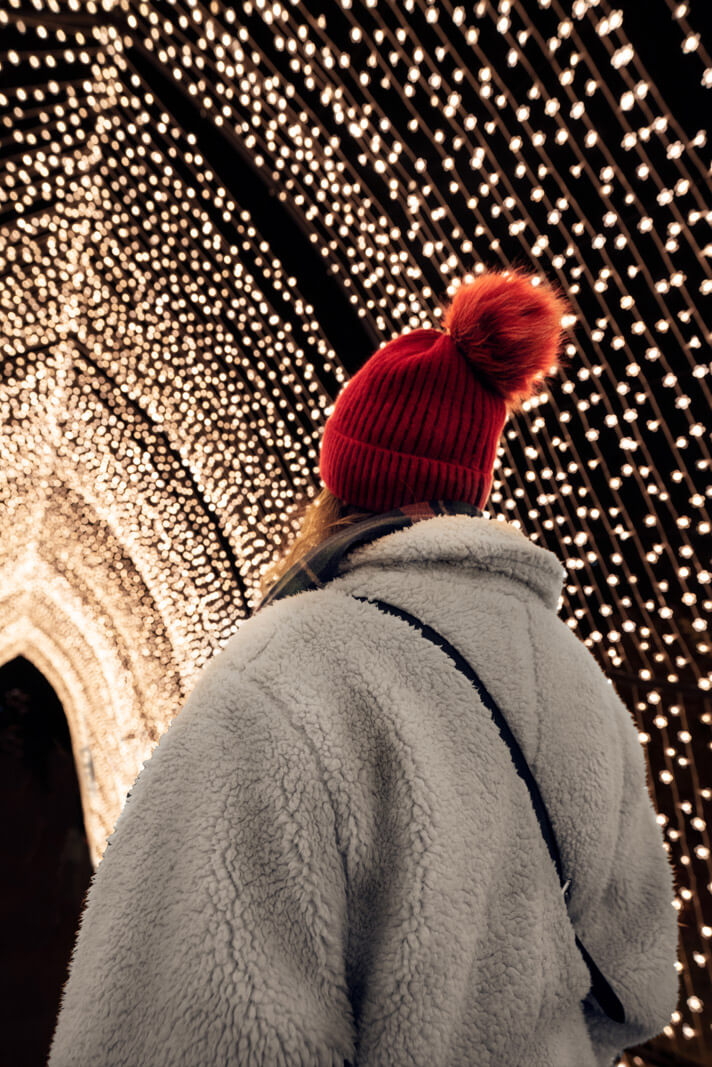 Another fun illuminated event to enjoy in NYC in December is Lightscape at Brooklyn Botanic Garden! Take a walk through the one-mile trail of illuminated art installations and exhibits on the grounds of the gardens including a mesmerizing light tunnel, poetry written in light, and different displays synchronized to music!
This is after dusk and a popular event, so be sure to book your tickets in advance.
Santacon
One of the most famous events and things to do in NYC in December is Santacon. This is so famous that New Yorkers have a love/hate relationship with this event (did I hear anyone say we have a Grinch??) But there's a reason why there's a bit of a hate relationship with this event because some people have TOO much fun – but it's for a charitable cause at least!
So what is Santacon? Typically on the second saturday of December, LOADS of people dress up in all kinds of Christmas and holiday cosplay. Think thousands of Santas, elves, reindeer, and anything holiday related you can think of, even just as simple as a Santa hat! All of these dressed-up folks do a boozy bar crawl and it becomes a night of drunken holiday debauchery. After you donate to their charitable cause of course!
Bars have been known to ban folks wearing costumes. That is, for those who are enjoying Santacon but venture off the official bar crawl map and hit up places on their own. If you plan on attending, you'll want to follow the official Santacon stops as these places are prepared for those who are participating.
Better yet, this is a non-profit charity drive too! So you can dress up and drink for a cause (& donate within your means). Check out their Facebook page for more updates including where to go and what stops are including in this year's Santacon.
Holiday Train Show at Botanical Garden
Another one of the most famous annual events and things to do in New York City in December is check out the Holiday Train Show at New York Botanical Garden in the Bronx. Featuring a scaled-down replica of New York City featuring adorable scenes, train stations, and trains – this is one of the most whimsical holiday displays to check out!
Plan your visit around late afternoon so you can also witness NYBG GLOW at dusk. This holiday light show covers a 1.5 mile pathway of illuminated and glowing gardens! They even have concessions so you can easily grab a hot chocolate for the route.
You'll need to secure tickets in advance, be sure to check out the NYBG website to plan ahead!
And while you're in the Bronx, make a trip to the Bronx Zoo for their holiday lights! The Holiday Light Show opens the same time as NYBG Glow and the Holiday Train Show, usually the third week of November. The zoo exhibits are accompanied by festive lights and hundreds of animal-themed lanterns! Get your tickets in advance here.
Christmas Themed Bars & Restaurants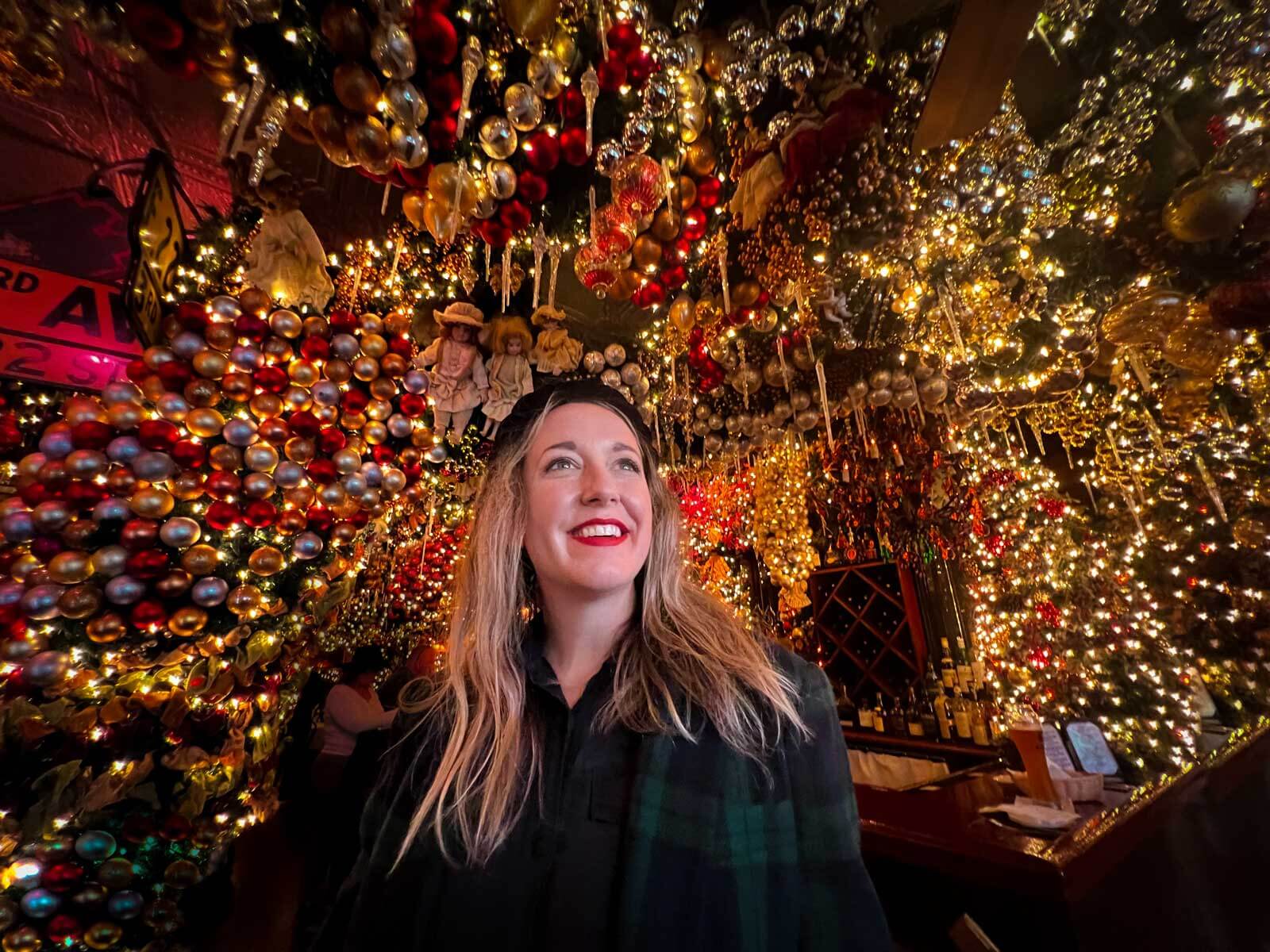 This is one of our FAVORITE things to do in NYC in December! Hit up all the festive holiday-themed bars and restaurants in New York City! Some of our restaurants and bars really know how to get folks in the holiday spirit and each year there seems to be more and more hopping on the wagon of fun. See our full guide to the best Christmas bars in NYC for more options than the ones we list below.
Some of the best establishments in the city deck the halls hard with their holiday decor from Rolf's German Restaurant to Victorian-themed restaurants like Oscar Wilde and both locations of Lillie's Victorian Establishment!
Rolf's is probably the most famous and dare I say, one of the first to really become famous for this. There are so many ornaments and decorations that the ceiling of the restaurant is actually feet lower than it really is because that's how decked out this place is! They take reservations but also have a bar area that is first come first served. Locals and tourists alike will get here right as it opens, and wait for a long time to get a seat here. We recommend their egg nog!
Other bars transform into a holiday pop-up bar like Miracle on 34th, the Pink Holiday Pop-Up at the Moxy Hotel, Holly Jolly Bar, or Snowday in Brooklyn (Sunday in Brooklyn, they have a fun play on words for the holidays) to name a few of the fun, festive places to grab a drink, bite to eat, and perfect photo op!
Also, Miracle on 9th has a 'Hanukkah Hideaway' section of their holiday bar decked out in blue and white!
And then you'll find places like Serra Alpina Rooftop at Eataly Flatiron and Fraunces Tavern in the Financial District are festive without being over the top. Serra by Birrera always does the most beautiful winter-themed decor in their covered, heated rooftop on top of the Eataly NYC Flatiron location. Fraunces Tavern, one of the most historic bars in New York City where the founding fathers would drink, has really beautiful garlands dripping with ornaments and lights all over the restaurant and bar for a more subtle, classy, festive ambiance.
New Year's Eve in NYC
Last but not least, the last thing to do in NYC in December is celebrate New Year's!!! Whether you're ambitious and set on seeing the ball drop in Times Square at midnight, hitting up the clubs, exclusive parties, sipping champagne at midnight on a yacht watching fireworks over the Statue of Liberty, or hitting up a NYE show!
There are so many cool ways to celebrate New Year's Eve in New York City, we wrote a whole guide.
First, if you want to see the ball drop in Times Square with one million other people (literally) you'll need to be dressed warmly and ready to stand around in the same spot (without going the bathroom) from the late afternoon all the way to midnight! Don't worry we go over everything you need to know in this guide. So read that if you're serious about this bucket list item!
Otherwise, you can catch a New Year's Eve jazz show at popular jazz clubs in the city like Birdland Jazz Club, Smoke Jazz & Supper Club, and Bill's Place in Harlem to name a few.
Or for something unique, check out this New Year's Eve Drinking and History tour from 6:30 PM to 12:30 AM and includes an open bar, appetizers, stops at three historic bars/speakeasies with drinks with VIP seating, and even exclusive viewing of the Times Square Ball Drop!
Join a New Year's Eve booze cruise with Circle Line Cruises from 10 PM to 1 AM to ring in the new year with the city skyline as your backdrop. Your ticket includes food, an open bar, a view of the fireworks at the Statue of Liberty, and live music.
Even two of the best observation decks in NYC offer a New Year's parties! Summit One Vanderbilt and The Edge both have ticketed events worthy of checking out!
---
Enjoyed this guide to all the best things to do in NYC in December? Bookmark for later and enjoy!