NYC in November is one of the more entertaining months to visit New York City. The month kicks off with the New York City Marathon, has the largest Thanksgiving Parade in the world, and at the tail end of November in NYC you start to see this transformation into one of the most holiday-themed cities in the world as this month kicks of the official Christmas season. Christmas displays that are mind-bendingly beautiful and it seems like the whole city gets in on the fun.
The beginning of November in NYC is less crowded with tourists and gets increasingly crowded towards the end. So if you are planning on trying to visit towards the end of November just be aware lines will be longer and prices will be a bit higher for hotels and transportation.
If you are seeing prices too high in Manhattan and can't find anything you can also stay in Brooklyn with really convenient travel options into Manhattan as well.
Since there are so big events happening during November in NYC that things can book up pretty quickly so unless you planned in advance and can nab reservations, you might be waiting for everything.
There are plenty of opportunities for free things to do in NYC. Not to mention many of the best things to do in NYC in November are completely free to enjoy as well.
Here's a great article for helping you plan New York City on a budget as you can find hotel deals and enjoy some of the best things to do in NYC from attractions, tours, and popular restaurants without the crowds.
This guide will cover some of the best things to do in New York City in November taking advantage of all the fun events, comfortable weather and outdoor activities, and more before it gets cold here!
NEW YORK IN NOVEMBER WEATHER
Speaking of cold, NYC weather in November is a month to bring layers. Even though October typically is when things get colder, November isn't quite cold enough all day so you might be really cold in the mornings. But then warm in the afternoon, and then cold again at night. So bring layers you can peel off in the event you're out all day.
Typically during November in NYC, the weather will be sunny or partly sunny. With 8 days with a chance of drizzle here or there but really only four days of rain during the month. You can expect it to be 55F (13C) during the day and 42F (6C) at night.
Of course, it goes without saying you'll do a lot of walking so bring some comfy shoes!
Things to do in New York in November
Cheer On or Run in the New York Marathon
One of the most famous marathons in the world with more than 50,000 runners participating each year. This is your chance to cheer them on, or participate in one of the most fun and treasured marathons.
Remember that the marathon is 26.2 miles and NYC isn't that big so you will be affected by the road closures in some way shape or form so expect things to take a bit longer than normal even if you don't want anything to do with the marathon itself.
The annual marathon begins in Staten Island, goes through Brooklyn, Queens, the Bronx, and ends at the southwest section of Central Park. You can find the route here.
Fall Foliage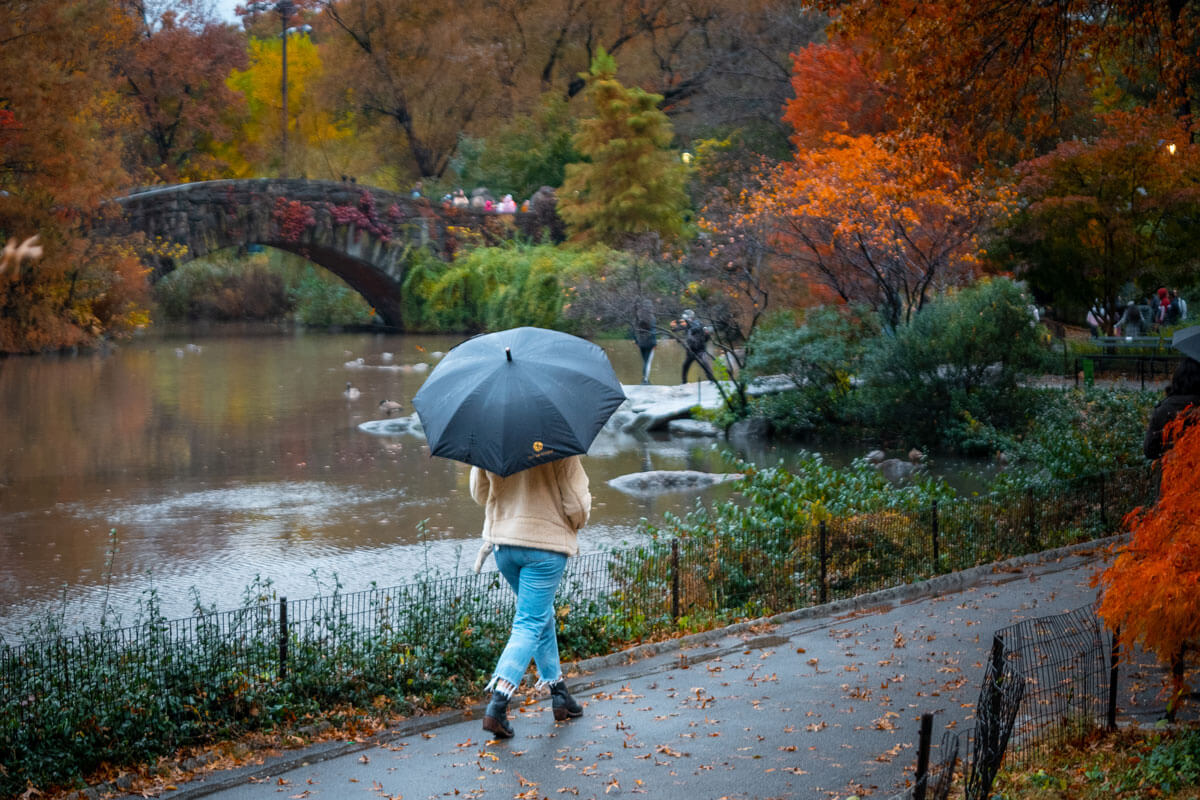 Did you know that New York City is the last area in the state and one of the last places along the Northeast Coast to have its fall foliage? Catch the dancing colors of red, yellow, orange, and browns across all the bucolic areas and parks in NYC!
There's nothing quite as magical as taking a stroll through the classic spots and hidden gems in Central Park during the fall like the Bethesda Terrace!
Or check out Prospect Park in Brooklyn including spots like Grand Army Plaza and the Prospect Park Boathouse for fall scenes that feel straight off of a postcard.
If you're looking for a bit of an adventure, head uptown to Fort Tryon Park for sweeping views of the Hudson River and New Jersey Palisades along with an array of fall hues in the trees. Be sure to also plan a visit to MET Cloisters while you're up here too.
And if you're looking for one of our absolute favorite places in NYC for fall foliage, head to Sunset Park in Brooklyn and take a walk around the gorgeous Victorian-era Green-Wood Cemetery which offers skyline views, a labyrinth of winding paths, and stunning architecture.
New York Comedy Festival
Who else loves a good laugh? One of the best things to do in NYC in November is enjoy a comedy show at one of the many venues around the city where the best names in show business perform during the annual New York Comedy Festival in the first half of November.
The week-long festival has hundreds of performers including stand up sets, improv shows, and headliners in over 100 shows at venues like Caroline's on Broadway, City Hall, and Madison Square Garden!
Check this year's lineup and get tickets at the New York Comedy Festival website.
Macy's Thanksgiving Day Parade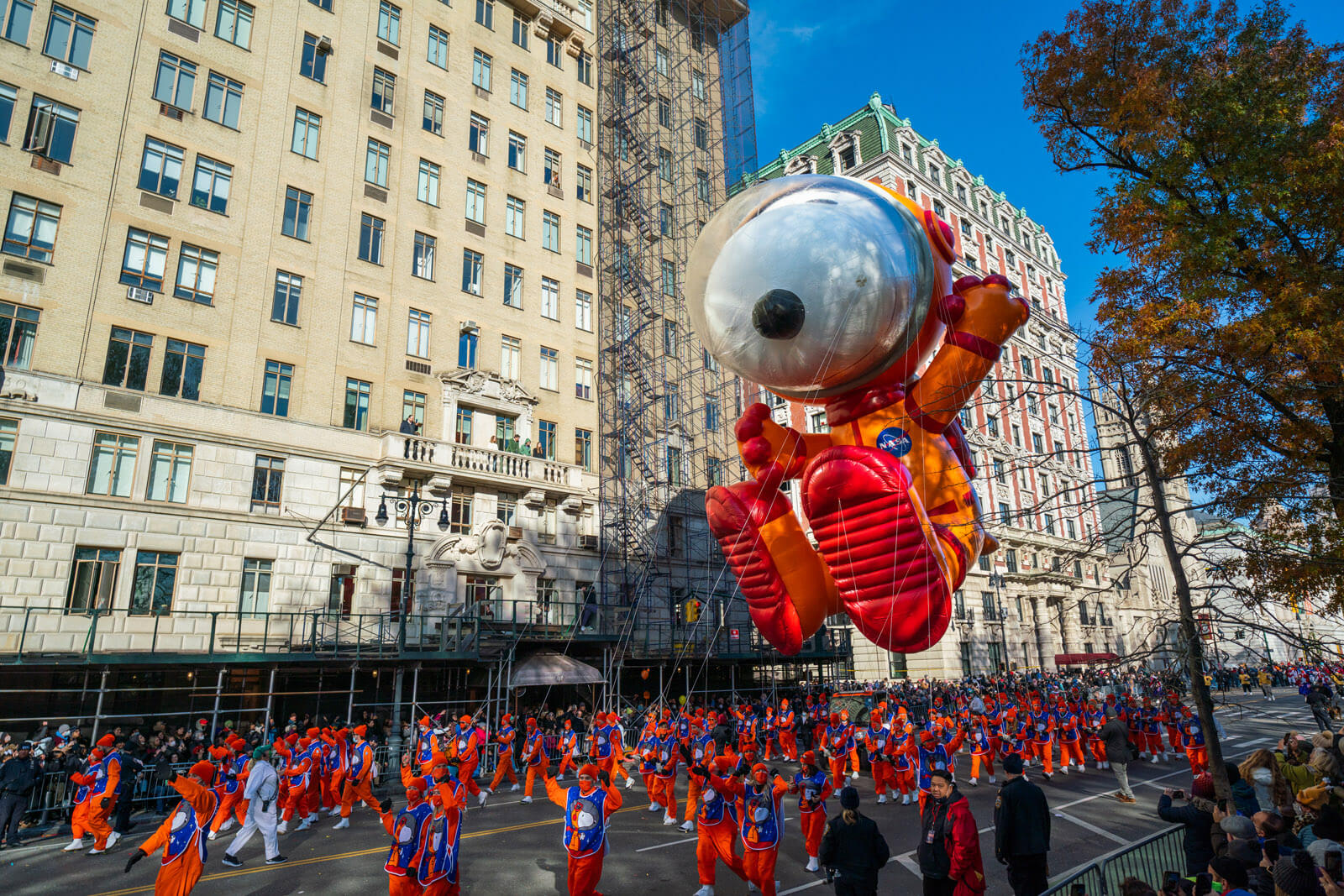 By far the biggest event of NYC in November. The highly anticipated and annual Macy's Thanksgiving Day Parade taking place in Manhattan and broadcast to TVs worldwide.
Featuring the famous larger than life character balloons, beautiful floats, celebrity performances, some of the most iconic and popular floats, and ending in front of none other than Macy's flagship store at Herald Square this is a chance to partake in the parade in person, or be an armchair spectator.
We went in person and LOVED it.
We went last year and had an absolute blast. It was a lot of fun to see the floats and performers up close and in person and experience a New York City Thanksgiving tradition since 1924!
Here are some general tips for attending the Thanksgiving Day Parade:
You'll want to dress warm! It will be much colder early in the morning when you get your spot and once you're there you won't be moving around much. Be sure to wear thick, warm socks, layers including a thick winter jacket, have gloves, and you may even want to bring a blanket to wrap up in as you won't be moving around a lot. Consider having a thermos of hot chocolate (or coffee, it's early!) and hand warmers are your friend!
Bring snacks and water. You'll be in one spot for hours. If you're with a group it will be easier to have one person leave and come back to your spot. We saw people leaving to grab hot coffee and hot cocoa for the group and take turns going to the bathroom.
Have a buddy or friend with you so one can hold your spot while the other finds a bathroom or goes on a hot cocoa run at a nearby cafe. Speaking of, you'll want to download the Lulu app ahead of time to help you find the nearest restroom or check out this website which has a map of NYC restrooms. Plan your snack/drinks around the bathroom visits and be patient as it may take a long time to get back to your spot.
To get a good viewing spot, you'll want to arrive around 6:00-6:30 AM along the edges of the parade route. The parade's duration will also depend on where you stand as if you're closer to the starting point, you'll see the final float with Santa Claus before the folks at Macy's at Herald Square.
For in-person spectators, the Macy's Thanksgiving Day Parade lasts 90-minutes from the first to last float. They stretch it out to three hours for the TV broadcasting to include all the musical and celebrity performances.
One of the best spots to view the parade in person is along Central Park West (between 61st and 72nd streets) and keep in mind that the crowds are much larger towards Macy's since that's where many of the performances happen.
Alternatively, if crowds and standing around in the cold are not for you, tune in on the live broadcast from the comfort of your home or if you're in the city spring for an NYC hotel with a view!
Learn more tips about attending in person and the history of Macy's Thanksgiving Day Parade.
Macy's Thanksgiving Day Parade Balloon Inflation
Did you know that the Thanksgiving Day Parade balloons must now be able to fold down into 12' x 8' boxes, in order to be transported through the Lincoln Tunnel from the Macy's Parade Studio in New Jersey to make its way to Central Park West on the Upper West Side for its starting point on Thanksgiving Day?
One of the best things to do in NYC in November is be a spectator the day before the Macy's Thanksgiving Day Parade when the balloons are being inflated and you can see them slowly come to life and prepare for the parade day festivities.
You can witness this on the Wednesday before Thanksgiving from 12 PM to 6 PM on the streets surrounding the Museum of Natural History on the Upper West Side (at Columbus Avenue at W 77th).
Visitors are welcome to take a peep at famous balloons inflate and how they are carefully held under nets with sandbags to weigh them down until the next morning.
Bryant Park Winter Village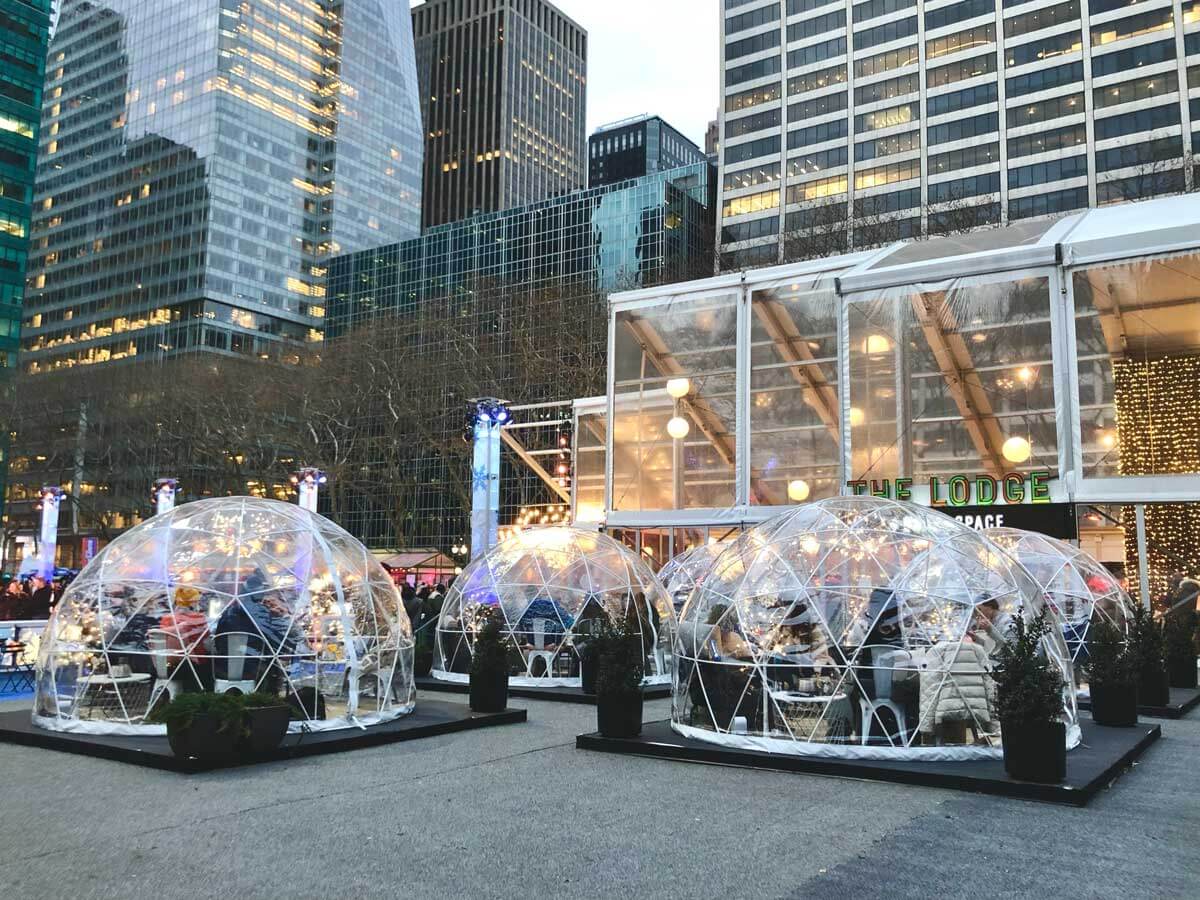 One of the best places to visit for locals and tourists alike starting early November in NYC is the transformation that happens at Bryant Park each year to prepare for the holiday festivities.
Bryant Park gets decked out for Christmas every year around before Halloween even starts so it's perfect to do early in November in NYC if you have the opportunity as the closer you get to Christmas day the more crowded it will be.
Even with the crowds, Bryant Park is magical. Featuring shopping at the adorable jewel box maze of kiosks selling goodies, lights, a pop-up rinkside food hall called The Lodge, and a 17,000 foot ice-skating rink that's completely free (if you BYO-skates, otherwise you can just pay to rent the skates!).
This is without a doubt one of the best holiday markets in NYC, and while you're here you can also visit the New York Public Library. Highlights include the Rose Reading Room and the original Winnie the Pooh characters are on display in the Treasures exhibit!
Ice Skating at ALL THE Rinks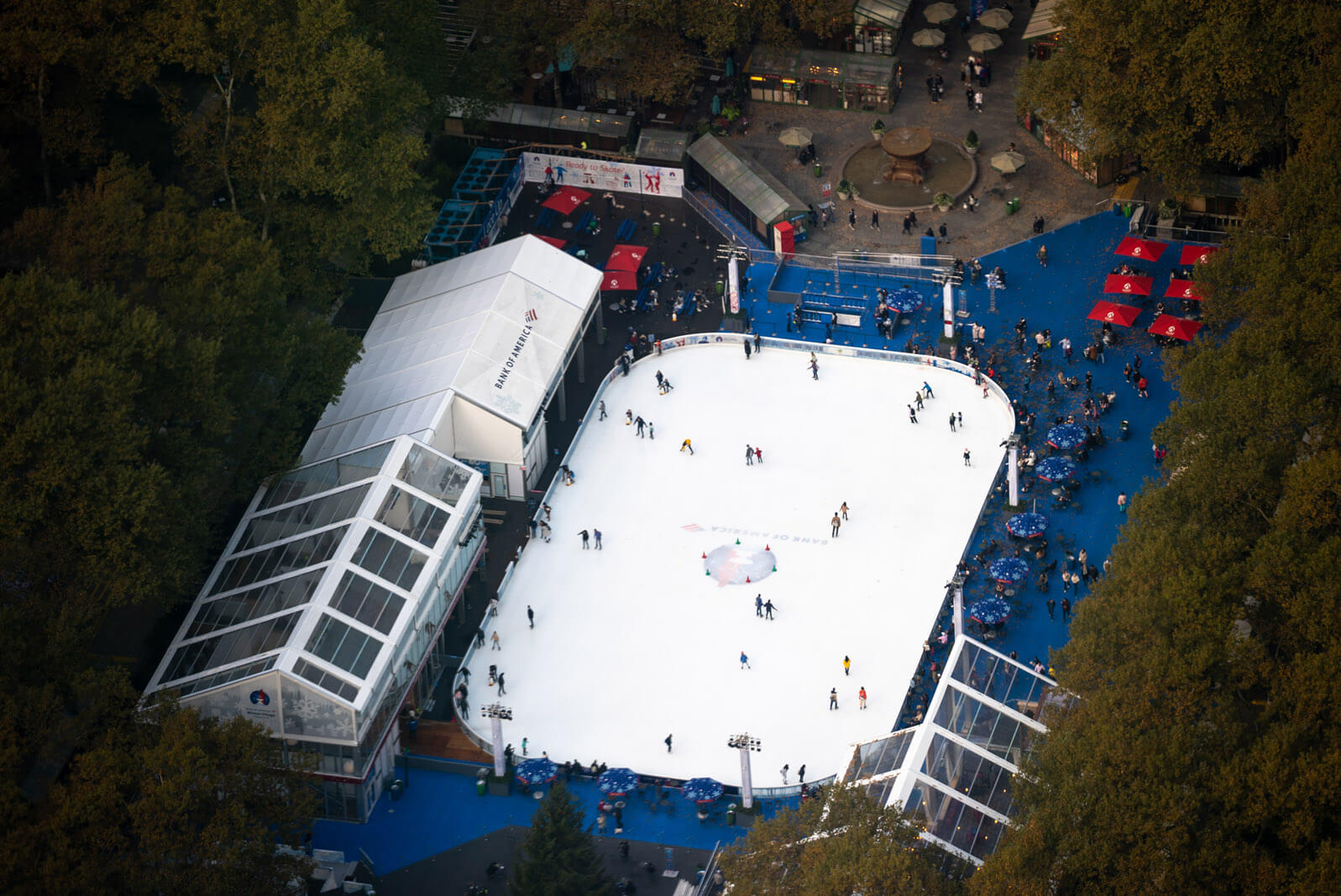 By the beginning of November in NYC many of the ice skating rinks in NYC will be open and ready for you to slip and glide around on the ice (or just be a spectator).
From the above-mentioned famous rink at Bryant Park which is open from 8 am – 10 pm daily to other famous rinks in the city like Wollman Rink in Central Park (a famous filming location for Home Alone 2: Lost in New York the holiday cult-classic).
Also, check out other iconic rinks like the rink at Rockefeller Center, which is always popping during the holidays and if you don't mind that the tree isn't there yet, it's a great time to get on the rink before the holiday rush and crowds.
For a more affordable and much larger ice skating rink, head to Prospect Park in Brooklyn for the ice rink at LeFrak Center rink (with no crowds in comparison) as well as the ONLY rooftop ice rink in NYC at the William Vale in Williamsburg.
Fall Photos at Seaport's Pumpkin Arch
Each fall through November in NYC, you can head to the gorgeous, waterfront South Seaport District along the East River in Lower Manhattan and take a photo with the Pumpkin Arch display. Located on the Heineken Riverdeck at Pier 17, this is a great way to get a memorable souvenir photo of your NYC trip! Not to mention you have a breathtaking view of the Brooklyn Bridge in the backdrop.
Nearby are lots of great restaurants so no matter what time of day you go you'll have something to do or eat close by, not to mention this is just one of the most aesthetically charming neighborhoods to walk through, which has gone under extensive restoration after devastating damage from Hurricane Sandy in 2012.
Enjoy a Festive Meal at Rolf's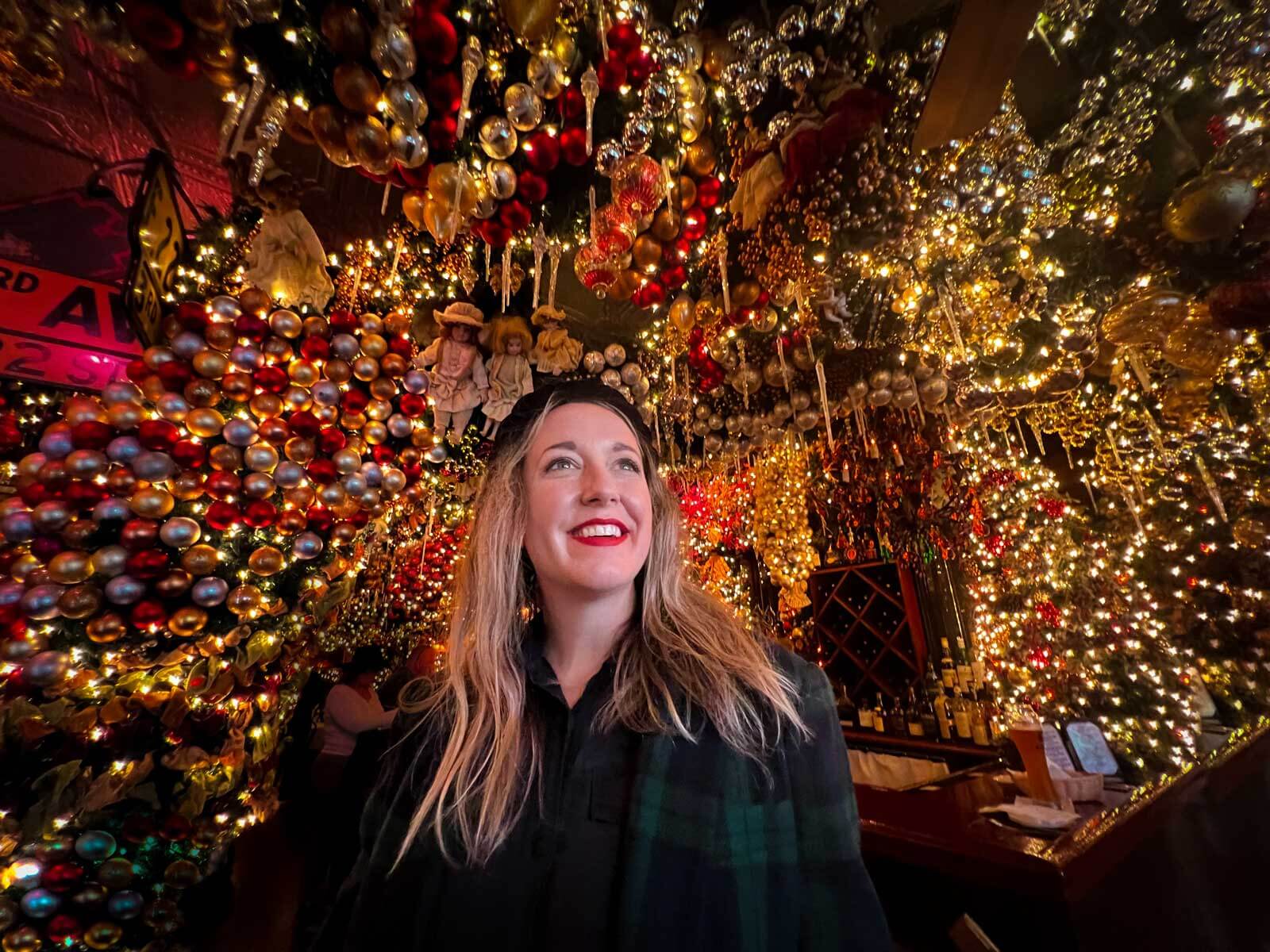 Located at 281 3rd Avenue is one of the BEST festive spots in the city and most famous Christmas-themed restaurants in New York! This Gramercy, Old-World German restaurant is well-known for it's transformation to a festive holiday winter wonderland!
Each year this restaurant covers their entire ceiling with a canopy of thousands of holiday ornaments, dolls, lights, and decor for their festive seasonal ambiance!
Come for a drink, lunch, or dinner and try their Central European specialties from the kitchen including schnitzel, pork chops, and beef stew. They also do a fantastic Thanksgiving Dinner!
This is truly one of the best things to do in NYC at Christmas and ways to kick off the holiday season during November in New York City!
If you can't get a reservation (it's by phone only and you're considered lucky if you're able to get in touch – they do everything here old-school – even the reservations are all done by pencil in a book), don't worry they do have a bar you may be able to get a seat at, but expect a wait. One way to avoid long queues is to come right when they open for lunch, the closer to Christmas the more busy it gets.
This is definitely one of the best things to do in NYC in November, so don't miss out, unless you're a holiday Grinch!
Visit an Observation Deck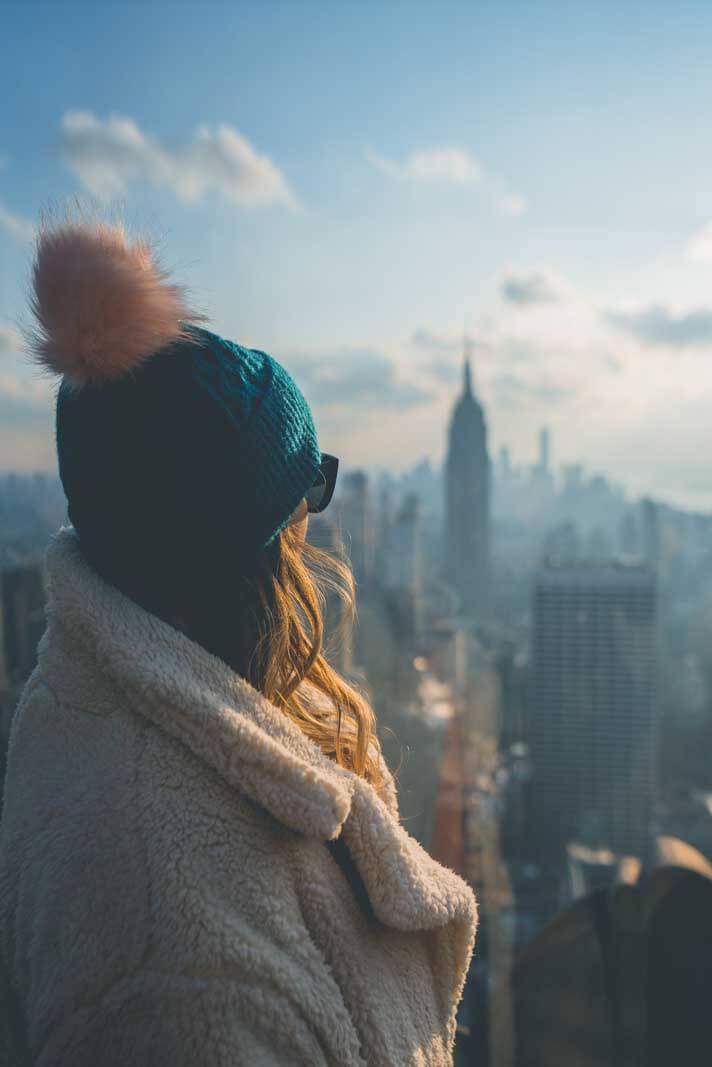 One of the best things to do in NYC in November check out some of the best NYC experiences and tours, like the best observation decks in NYC to enjoy the best views of the city from high in the sky!
Each of the observation decks are unique and different (we've done them all and love them all for different reasons!). And better yet, all are open on Thanksgiving Day too if you're looking for an activity to enjoy before your feast!
If it is extra chilly during your visit consider one of the indoor observation decks like One World Observatory, with views from the 7th tallest building in the world! This observation deck is indoors and we highly recommend grabbing a drink at the bar here or making a reservation at ONE Dine, the highest restaurant in the Western Hemisphere with unbelievable city views!
Another indoor option includes Summit One Vanderbilt, which has arguably the best view of the Empire State Building and Chrysler Building (even from the bathrooms!). This observation deck is not only for views, but the entire experience is also an art installation featuring mirrored floors, walls, and ceilings along with the skyscrapers not to mention immersive rooms including two installations designed by artist Yayoi Kusama. There's also an outdoor area too if it's not too chilly, but most of this is indoors.
If you're visiting on a nice day check out The Edge at Hudson Yards for the tallest open-air skydeck in the Western Hemisphere! There are especially cool photo spots here too as you feel like you're floating over the city.
For some of the timeless classics for observation decks, you can always visit the Empire State Building and Top of the Rock too!
SEE MORE & SAVE MONEY
We have a money-saving secret for you as these hot ticket items can ADD up and cost a fortune. If you're going to be visiting for a few days or just want to do some sightseeing in a few days consider the different money-saving attraction passes available in NYC. (PS these also work for many of the best museums in NYC too).
These attraction passes are paid upfront for a one-time fee and on your trip, they get you into multiple different attractions for free meaning that you save some serious money overall. By purchasing an attraction pass you can save anywhere from 35-45% on your attraction and saving you hundreds of dollars on your visit!
CityPASS offers a 3 attraction pass or a 6 attraction pass with over 12 city attractions to choose from including popular observatories like the Empire State Building, The Edge, Top of the Rock, 9/11 Memorial & Museum, Statue of Liberty & Ellis Island, the Guggenheim, and more!
Another great option is the New York Pass which you can purchase anywhere from a 1 Day Pass to a 10 Day Pass that gets you into over 100 attractions. YES! This one is better if you want MORE options. Once you purchase your New York Pass you download the Go City app and use that to get up to 45% savings on popular attractions as well as a few hidden gem attractions ranging from the Empire State Building to museums and MANY more.
See our full breakdown of the New York Pass and our breakdown of the New York CityPASS to see if it's worth it for your visit to save hundreds of dollars on multiple attractions!
Thanksgiving Dinner in NYC
If you're visiting on Turkey Day and want to eat out, you'll want to secure your reservations now. While there are plenty of places open on the holiday, many places are closed to let staff observe the holiday.
That being said, there are some legendary spots for Thanksgiving dinner (or lunch) in the city. Here are a few worth noting! But keep in mind, wherever you plan to eat, make sure you secure a reservation!
Tavern on the Green (W 67th Street in Central Park) this classic, Old-New York restaurant inside Central Park has been a gathering place of prominent New Yorkers for ages! They offer a 5-course dinner special on the holiday!
P.J. Clarkes (915 Third Avenue) is a NYC classic with a few locations throughout the city, although if I could only pick one, I'd always pick the original on Third Ave. On the holiday they are open from noon to 8 PM and offer a prix-fixe classic dinner option as well as their regular menu including their incredible burgers and raw bar.
Carmine's (200 W 44th St) an iconic Italian restaurant in Midtown right by Times Square. They offer a classic Thanksgiving feast 'family-style' with all the trimmings!
Keen's Steakhouse (72 W 36th St) is one of the best and most famous steakhouses in NYC. They offer a traditional American dinner complete with turkey and multiple courses on the holiday.
Bubby's (120 Hudson St) in TriBeCa in Lower Manhattan also has a traditional Thanksgiving Day Feast with locally sourced turkeys from Upstate.
Osprey (60 Furman St) at 1 Hotel Brooklyn Bridge offers a 4-course lunch and dinner special the day, and after you can take a scenic feast stroll at the Brooklyn Heights Promenade or Brooklyn Bridge Park and enjoy the best views the city has to offer.
One If By Land, Two If By Sea (17 Barrow St) is one of the coolest venues for a restaurant set on the (supposedly haunted) site of Aaron Burr's carriage house. Also, actor Steve McQueen once rented out the unit on the upper level. This is one of the most romantic and gorgeous restaurants and they are open on the holiday!
Fraunces Tavern (54 Pearl St) in the Financial District is one of the most famous historic bars in New York City (and the United States) that should be a must-visit on your New York City itinerary! This is one of the oldest taverns in the country, dating back to 1762 and where our country's Founding Fathers would gather. Better yet, they are open on the holiday!
Boucherie, a popular French brasserie with four locations in Manhattan offers lunch and dinner on the holiday.
Many restaurants in Chinatown are open on Thanksgiving too, there are too many good places to eat but if you need a starting point check out Joe's Shanghai (46 Bowery St) and Great N.Y. Noodletown (28 Bowery St).
Saks Fifth Avenue Holiday Lightshow
Starting the week of Thanksgiving you can enjoy one of the best holiday and Christmas lights in NYC at the Saks on 5th Ave, right across from Rockefeller Plaza. Every day from 4:35 PM to 11:35 PM (every 10 minutes) during the holiday season starting in November in NYC, passerbys can witness the mesmerizing LED light show on the 10 story high department store facade synched to whimsical holiday music!
This only takes a few minutes to watch and is completely worth it.
Rockefeller Center Christmas Tree Lighting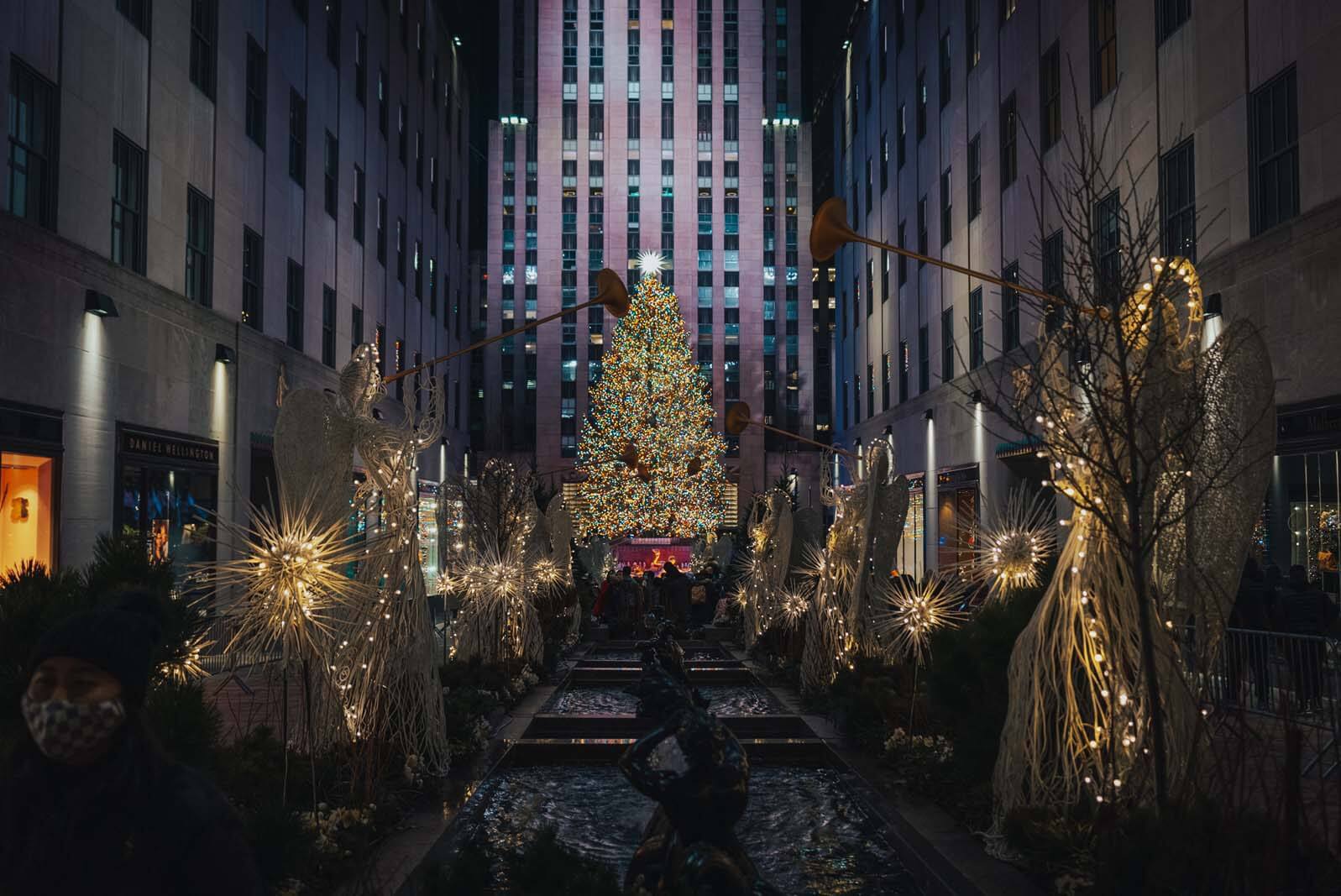 Usually a week after Thanksgiving on one of the final days of November in NYC you can attend one of the most cherished holiday traditions in the city, the tree lighting ceremony at Rockefeller Plaza, the most famous Christmas tree in the world!
This is not a ticketed event, it's a first come kind, first serve kind of event with hosts and live performances by big stars including the Radio City Rockettes typically starting at around 7 PM.
Since this is one of the most highly anticipated annual events and things to do in NYC in November, it's recommended to arrive around 3 PM if you want to secure a spot. The live performances will take place in front of the Prometheus Statue.
For where to try to get a spot to see the lighting of the tree we recommend getting a spot along Channel Gardens (where the angels line up towards the tree *Saks Fifth Avenue will be behind you), from 5th Avenue between 59th & 50th Streets, or between 48th & 51st and Fifth and Sixth Avenues (the areas that surround the ice skating rink) for best views.
If crowds aren't your thing, we get it. Instead, after the official lighting ceremony date you can see the tree lit daily from 5:30 PM to 12 AM, except for Christmas which it's lit for 24 hours and New Year's Eve it's on from 6 AM to 9 PM.
Holiday Train Show at New York Botanical Garden
Another awesome annual holiday event starting in November in NYC is visiting the Holiday Train Show at New York Botanical Garden. See a tiny size replica of famous NYC street scenes and train stations inside the Enid A. Haupt Conservatory, which transforms into a magical winter wonderland!
This tiny replica it definitely a part of the holiday magic and is especially great for any age!
Plan your visit around late afternoon so you can also witness NYBG GLOW at dusk. This holiday light show covers a 1.5 mile pathway of illuminated and glowing gardens! They even have concessions so you can easily grab a hot chocolate for the route.
You'll need to secure tickets in advance, be sure to check out the NYBG website to plan ahead!
And while you're in the Bronx, make a trip to the Bronx Zoo for their holiday lights! The Holiday Light Show opens the same time as NYBG Glow and the Holiday Train Show, usually the third week of November. The zoo exhibits are accompanied by festive lights and hundreds of animal-themed lanterns! Get your tickets in advance here.
Lightscape at Brooklyn Botanic Garden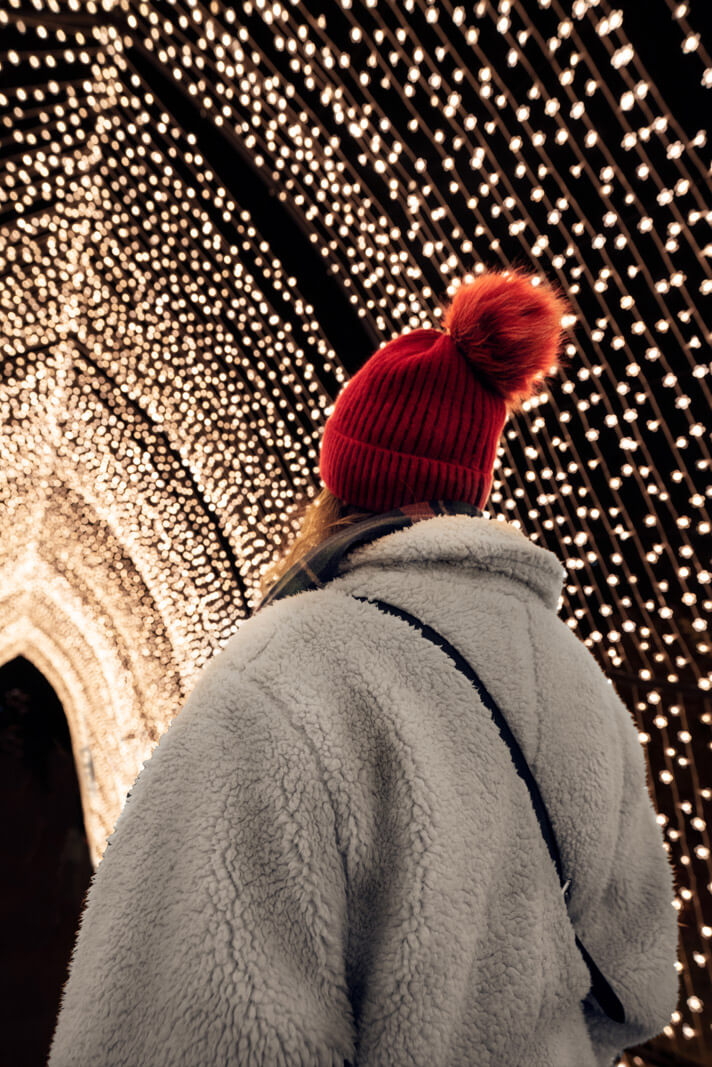 Another one of the best things to do in November in NYC is head to Brooklyn Botanic Garden on weekdays and weekends starting around mid-month for the annual Lightscape event!
Take a walk through the illuminated art installations and exhibits on the grounds of the Brooklyn Botanic Garden including a light tunnel, poetry written in light, and different displays synchronized to music!
This is after dusk, so be sure to book your tickets in advance
Dyker Heights Christmas Lights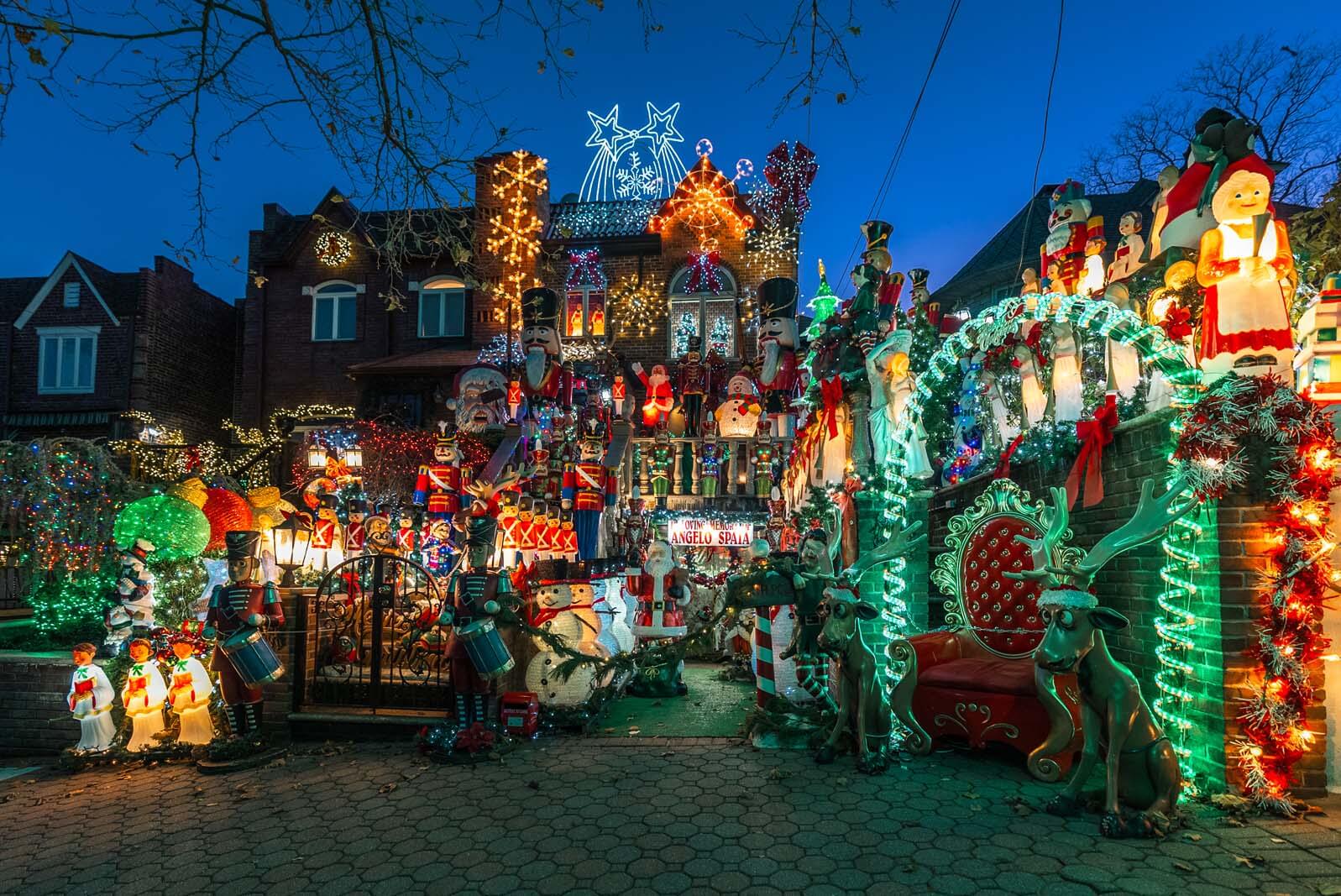 Speaking of holiday lights! You'll want to head to the neighborhood of Dyker Heights after Thanksgiving Day for one of the best neighborhood holiday light displays in the country!
The Dyker Heights Christmas Lights are world-famous and even have been featured on Christmas movies set in NYC (most recently the Netflix series Lily & Dash). This neighborhood does feel straight out of a holiday movie though, each year the entire neighborhood has a 'friendly/unofficial' competition of who can have the most elaborate holiday decor and light display at their home.
Most of the displays are between 10th – 12th Avenues and 83rd – 86th Streets starting at dusk (through around 10 PM) daily. You can easily take the subway here to the 86th Street Station (R train) or the 79th Street Station (D Train) which is a short walk from these stops.
We don't recommend driving as the roads are chaos and parking is worse. If neither of those options sound great, join a Dyker Heights Lights tour that includes transportation from Manhattan. Your driver will pick you up from Midtown and drop you off with your guide in Dyker Heights where you will check out all the festivities. Before you finish, this Dyker Heights Christmas Lights tour has a bonus stop at the Brooklyn Bridge so you can get a photo of the city skyline twinkling at night before ending your magical evening! Book your tickets here.
While you're here, you can stop at Twist Coffee (7824 12th Avenue) for a hot drink Tasty Pastry Shoppe (8216 13th Avenue) which has festive holiday cookies and classic Italian bakery desserts for a sweet treat!
What's even better is that the crowds aren't as crazy during November in New York City vs getting closer to Christmas Day and the month of December! So this is a great time to visit!
See a Show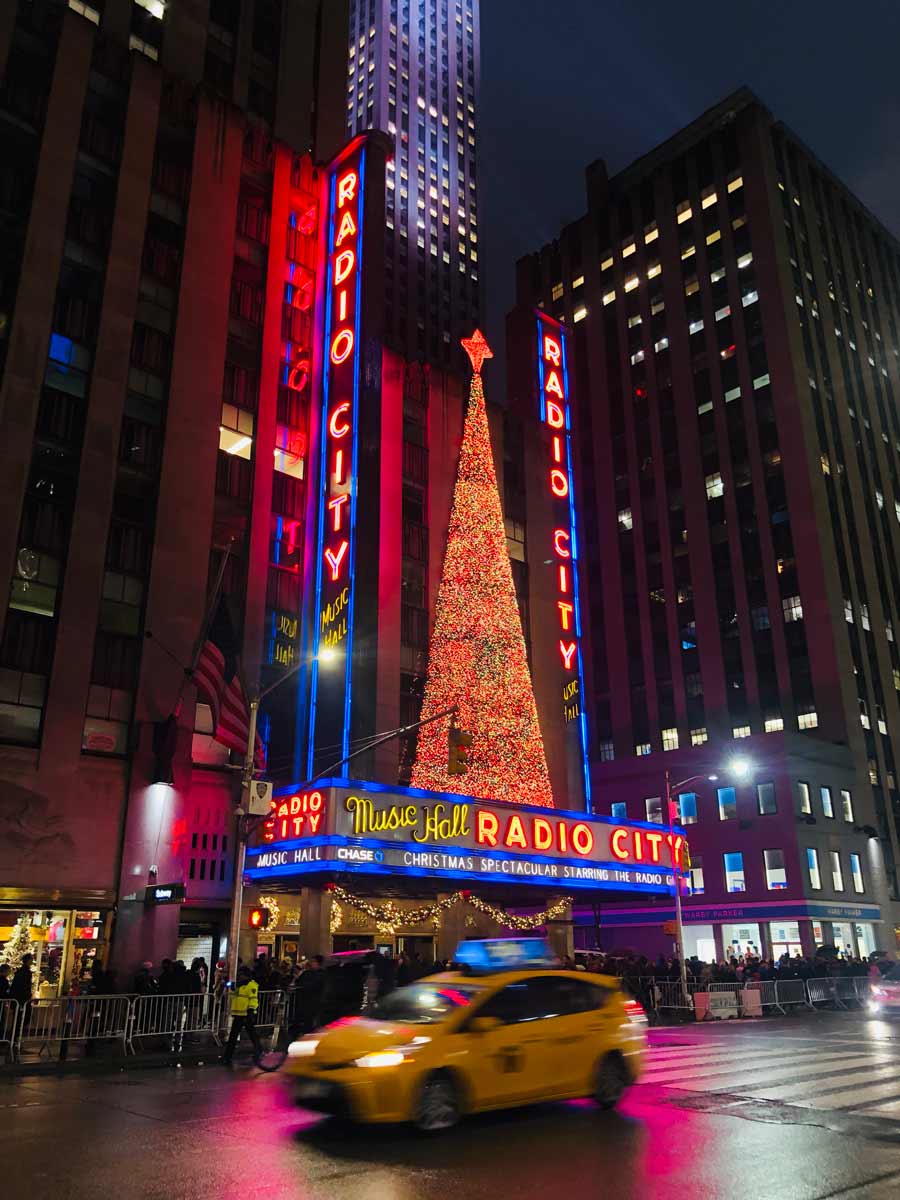 Two of the best holiday shows start in November in NYC including the Radio City Hall Christmas Spectacular featuring none other than the Rockettes and the New York City Ballet's rendition of The Nutcracker at the Lincoln Center!
The Nutcracker starts the day after Thanksgiving and continues through the holiday season, you can get tickets for the Nutcracker on SeatGeek, and when you add our promo code BROOKLYNGUIDE to your SeatGeek account, you receive $20 off your first ticket purchase. (We receive a small commission at no extra cost to you)
And the Rockettes' seasonal performance start around mid-way through November! Not only will you get to be able to see a performance inside this legendary venue, but you'll see some of the most talented females in show business perform this holiday tradition (since 1933) including famous numbers like "The Parade of the Wooden Soldiers" and the Living Nativity featuring live camels, not to mention Santa shows up too.
You can get tickets for the Radio City Christmas Spectacular on SeatGeek, and when you add our promo code BROOKLYNGUIDE to your SeatGeek account, you receive $20 off your first ticket purchase. (We receive a small commission at no extra cost to you)
Last but not least, one of the best things to do in November in NYC is also catch a show on Broadway. There are several shows to see and if you're new to buying show tickets, check out our full guide on how to see a show on Broadway including money-saving tips (like how to get cheap tickets).
You can get Broadway tickets for the many shows on SeatGeek, and when you add our promo code BROOKLYNGUIDE to your SeatGeek account, you receive $20 off your first ticket purchase.
---
Enjoyed this guide to all the best things to do in NYC in November? Bookmark for later and enjoy!