NYC in October might be one of the best months to visit the city. Why? Because the weather is comfortable, if the timing is right – the fall foliage is stunning, it's spooky Halloween season which is probably our favorite.
But the best part is, for travelers you can find better deals this time of year when it comes to hotels and flights. This is great for tourists and friends and family that are visiting.
Plus there are all the fun fall festivities happening plus spooky season like Halloween-themed bars and events. See our full guide to celebrating Halloween in NYC for all those fun activities!
The only con is there are so many big events happening during October in NYC that things can book up pretty quickly so unless you planned in advance and can nab reservations, you might be waiting for everything.
There are plenty of opportunities for free things to do in NYC. Not to mention many of the best things to do in NYC in October are completely free to enjoy as well.
Here's a great article for helping you plan New York City on a budget as you can find hotel deals and enjoy some of the best things to do in NYC from attractions, tours, and popular restaurants without the crowds.
This guide will cover some of the best things to do in New York City in October taking advantage of all the fun events, comfortable weather and outdoor activities, and more before it gets cold here!
NEW YORK IN OCTOBER WEATHER
Speaking of cold, NYC weather in October is T-shirt weather with a light jacket. You've missed all the hot and humid weather that comes with the summer and sometimes stays through September. While also avoiding those crowds.
Typically during October in NYC, the weather will be sunny or partly sunny. With 9 days typically a little overcast with a chance of drizzle here or there but really only three days of rain during the month. You can expect it to be 65F (18C) during the day and 46F (8C) at night.
When packing be sure to dress in layers in case you are out in the sun. You'll want at least one heavier coat in case it gets cold at night. Remember if you're by the water in Manhattan or Brooklyn it'll feel 10 degrees colder. Of course, it goes without saying you'll do a lot of walking so bring some comfy shoes!
Things to do in New York in October
Atlantic Antic (October 1)
For 48 years, Atlantic Avenue businesses and vendors from NYC and beyond have electrified the street with something for everyone including food, clothing, crafts, jewelry, and more. Attendees can stroll the avenue with friends and families to enjoy their favorite foods such as bbq, Asian buns, street corn, crepes, lemonade and fried ice cream!
Celebrate International Taco Day (October 4)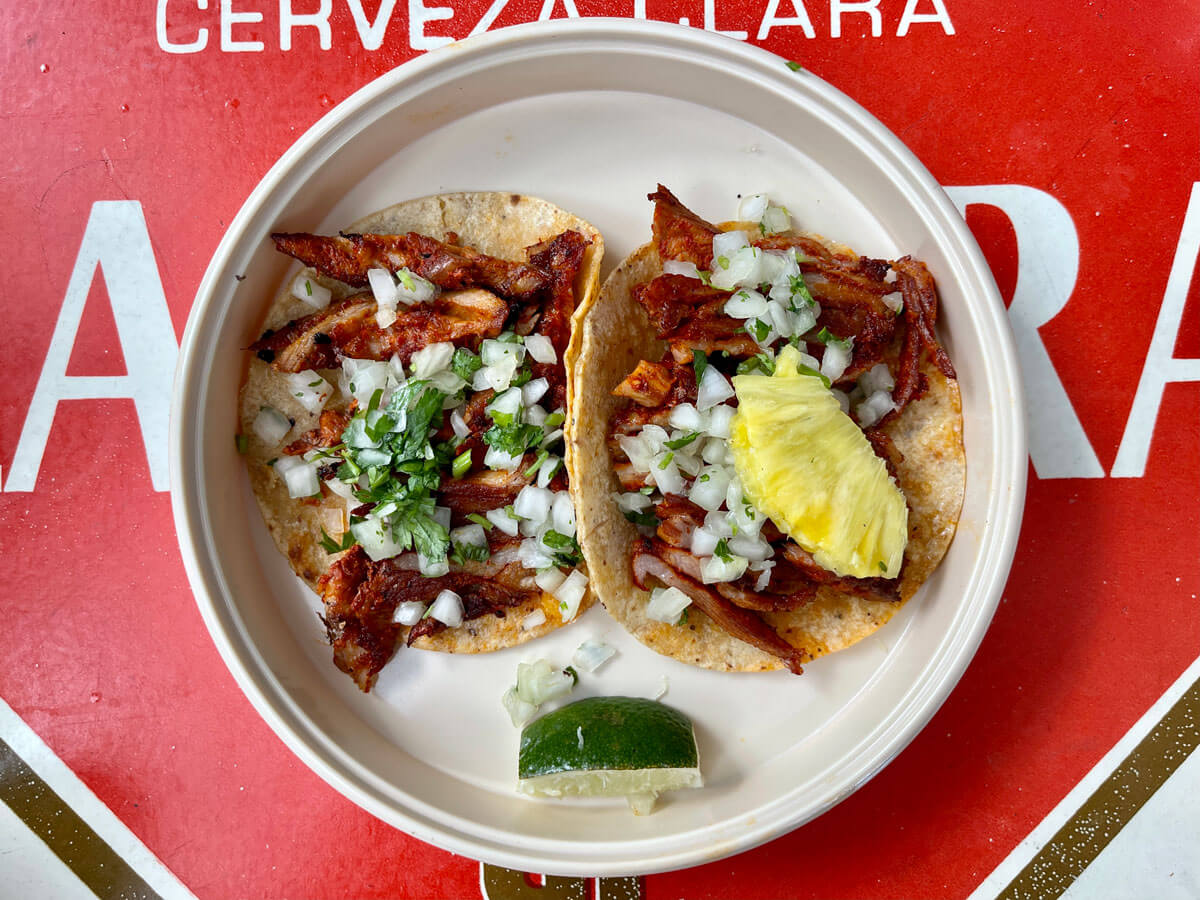 Tacos are one of the best creations on earth. It needs a day of worship and that is October 4th. Luckily there is no shortage of good taco spots in Brooklyn so no matter where you are you can join the festivities.
Here are a few fun facts if you need an excuse to eat a taco this October in NYC. Last year Americans ate over 4.5 billion tacos. Which are 490,000 miles of tacos. If you stacked them a long way you could climb the tacos to the moon and back! That's a lot of tacos!
A few recommendations if you're in Brooklyn include Tacos El Bronco (4324 4th Ave) in Sunset Park, Tortilleria Mexicana Los Hermanos (271 Starr Str) in Bushwick, Birria-Landia (491 Metropolitan Ave) taco truck in Williamsburg, and Homemade Taqueria (117 5th Ave) in Park Slope.
If you're in Manhattan be sure to check out any of the many locations of Los Tacos No. 1, these tacos are some of the best in the city hands down! The most famous location is in Chelsea Market, but you can find locations all over the city now.
Another great spot is Tacombi, which has several locations too and  WAITING FOR THE NAME OF THE PLACE WE WENT WITH MEL.
NYC Wine & Food Festival
The annual NYC wine and food festival is an event not to be missed. It's basically a four-day party featuring brunches, lunches, wine, champagne, parties, piers and so much more.
For more info and to purchase tickets visit the website here.
New York Comic Con 
New York Comic Con is the East Coast's largest annual pop culture convention. It takes place at the Javitz Center in Hell's Kitchen. Or as eventgoers refer to it from the Batman universe, Gotham City.
It's a four-day event where comic book, anime, and movie lovers get together and dress up as their favorite comics, get together to discuss ideas, connect with others, as well as have a chance to talk to their favorite writers, directors, and actors.
The event takes place usually closer to the first week of October in NYC, for tickets and information visit their website.
Taking place inside a haunted mansion, House of Spirits is an immersive theatrical cocktail soirée for adults. You get to freely roam around the haunted mansion while enjoying 4-5 themed mini cocktails. When you feel like it, you can sit down and enjoy a tarot reading, or try playing secret games, experience some macabre magic, and just genuinely have a spooky good time.
This two-hour show/experience is only available October 1st-31st, and Thursdays through Sundays (except Monday the 31st) for adults 21 and up. For more information or tickets click here.
Looking for spooky things to do in NYC in October? Check out the great Jack O'Lantern Blaze only available in the month of October! Located in a giant 200,000 square foot space, this Halloween Playground has everything from trick or treating to dance parties, games, rides, food, and drinks, and more!
The only thing is, you'll need a car or a friend with a car to get here! Located just an hour outside of the city in Holmdel, New Jersey.
The Great Jack O'Lantern Blaze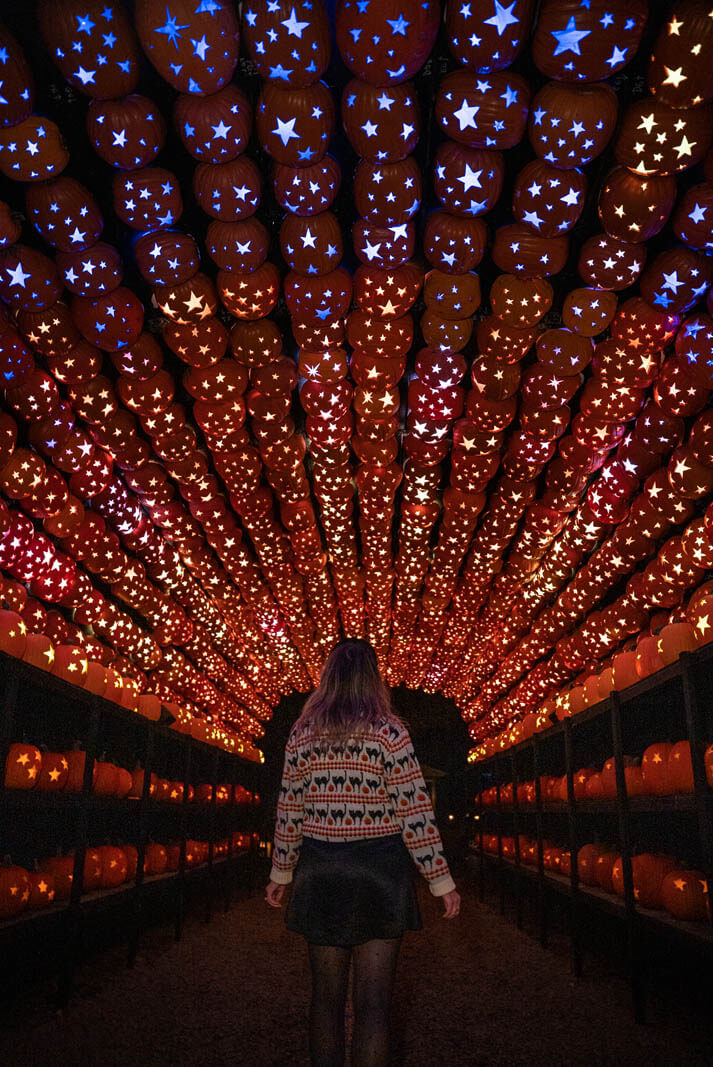 Don't have a car? Don't worry you can still enjoy a Jack O'Lantern Blaze outside of the city at the famous Blaze event in the Hudson Valley at the Van Cortlandt Manor in Croton-on-Hudson. Catch a train from either Penn Station or Grand Central Terminal north of the city for this popular event that attracts more than 2 million people annually!
Wander through the 18th-century manor's grounds while being surrounded by over 7,000 illuminated jack o'lanterns by different artists.
If you're feeling extra adventurous and spooky, stay the night and spend the morning and afternoon exploring Sleepy Hollow, the famed town where Washington Irving not only had an estate you can tour but where the legendary tale of the Headless Horseman is based off of!
Catacombs by Candlelight Tour at Old St. Patrick's Cathedral
For more spooky fun, be sure to join one of the guided tours through the Basilica of St. Patrick's Cathedral, also known as Old St. Patrick on Mulberry Street. Visitors can join the Catacombs by Candlelight tour where a historian and guide takes you through a 90-minute guided journey through the catacombs, the organ, and the cemetery – all of which are off-limits to the public.
This Gothic Revival cathedral is the oldest St. Patrick's Cathedral in New York City and held as the seat of the Roman Catholic Archdiocese of New York until the other, more famous St. Patrick's Cathedral on 5th Avenue opened in 1879.
The interior of the Basilica was also used in Martin Scorsese's film The Godfather, the famous baptism scene and if you've seen the movie, you know the scene!
The catacomb section of the tour is done by candlelight and you'll learn about some of the most famous New Yorkers who were interred here as well as secrets of the cathedral!
Historic Brooklyn with Madame Morbid's Trolley Tour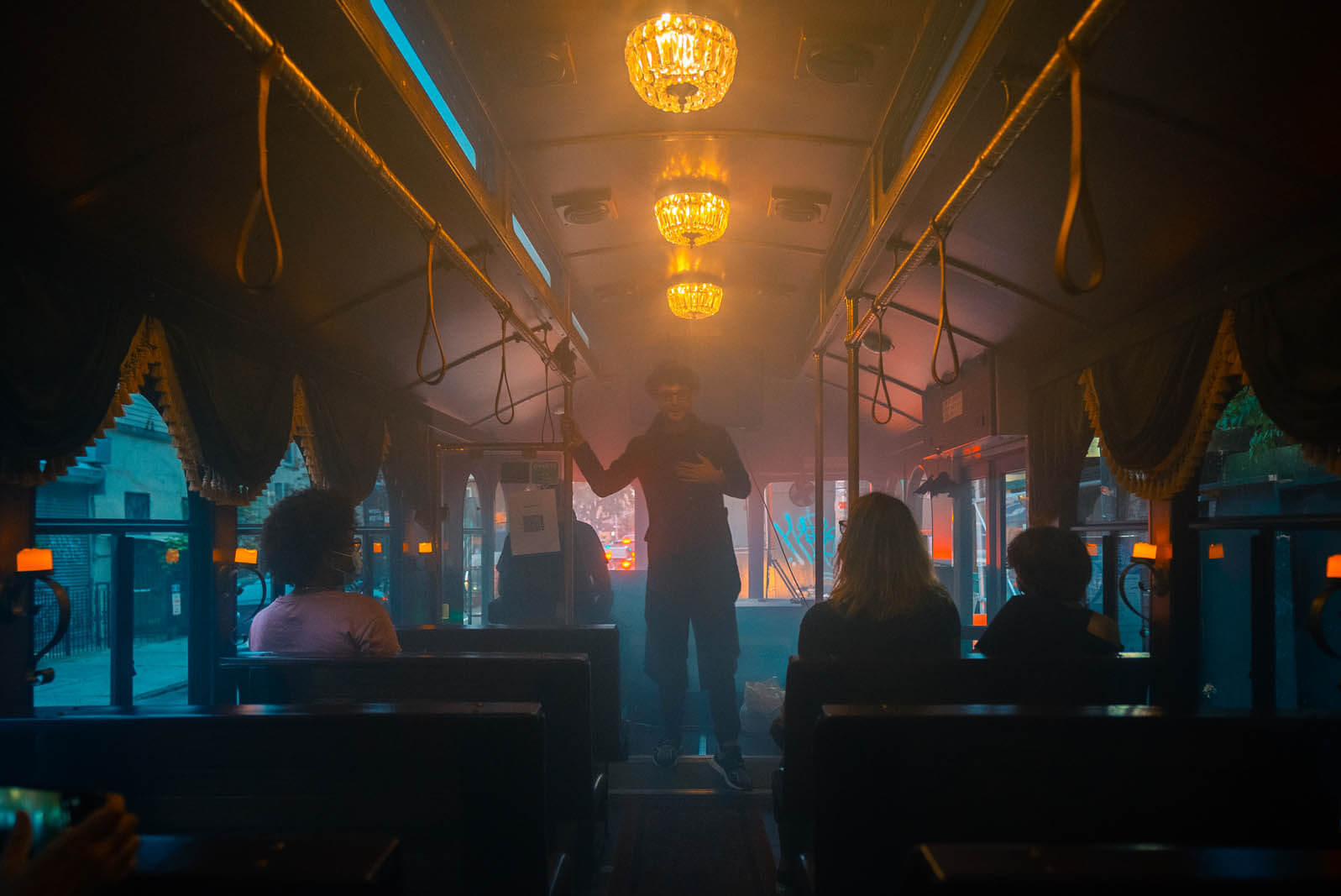 Want to learn about the dark past or spooky stories of the borough on this unique tour of Brooklyn? If you love haunted history, the supernatural, paranormal, etc. then this tour is just for you.
You'll travel through 400 years of history in this 90-minute vintage trolley tour that takes you through the history of the Revolutionary War battles that took place here, mob murders, alien abductions, crime, and more spooky things!
Not to be confused with a Brooklyn bus tour, you'll actually be riding on an antique trolley! Talk about riding in style!
Your guide will teach you all about Brooklyn's dark history and other surprising stories like the site of a plane crash in the middle of Brooklyn, brothels, and more historical moments that took place here on this really cool and unique tour in Brooklyn.
Visit Green-Wood Cemetery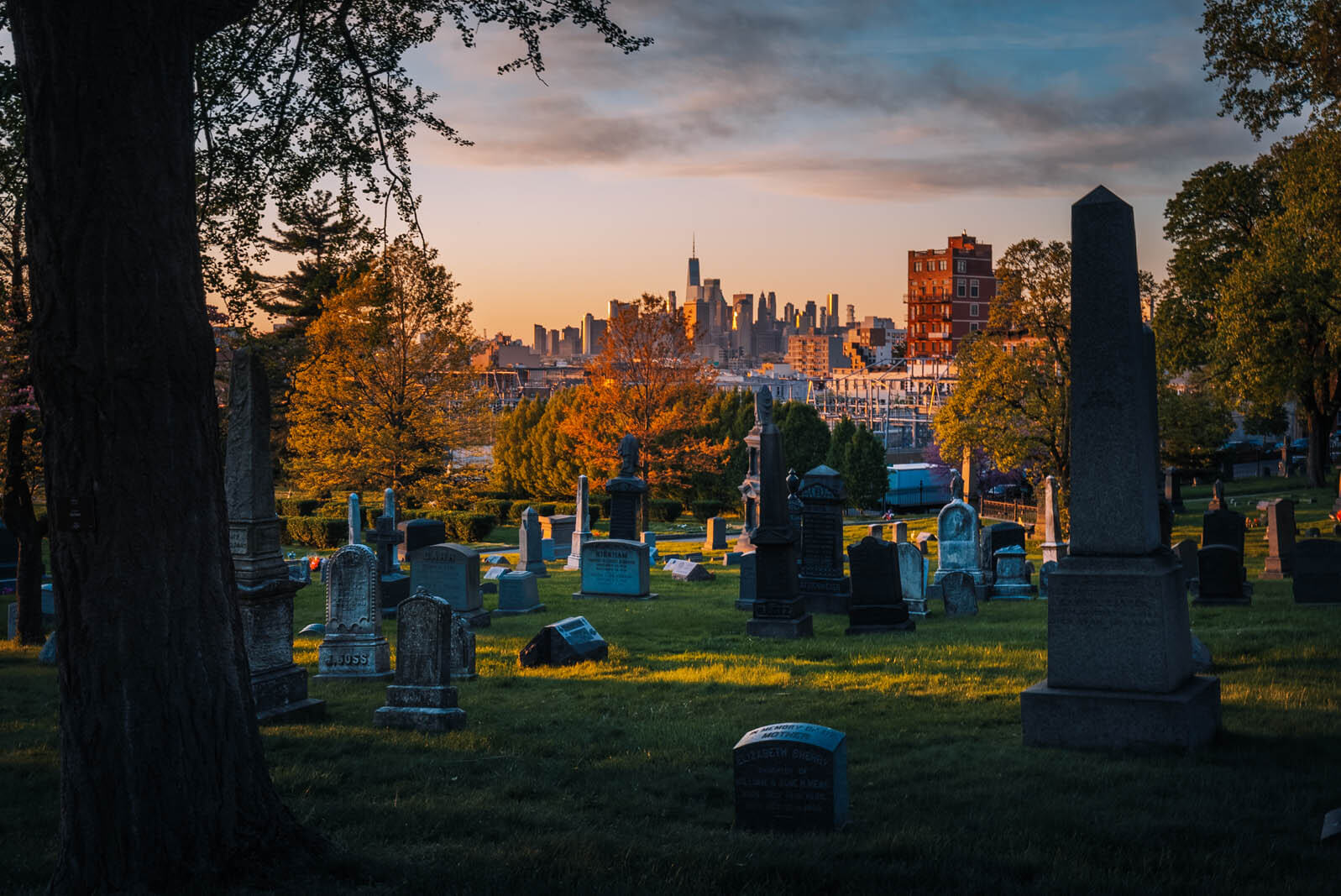 One of the best places to visit in NYC in October is without a doubt Green-Wood Cemetery. Whether you're looking for something a little macabre or you just are looking for a place to witness beautiful fall foliage, this is your spot!
The cemetery is also a class III arboretum making it a great place to stop and enjoy all the beautiful fall foliage.
Better yet, the cemetery hosts tours. You can check out their classic trolley tours or join one of their group tours where you can learn all about the stories of the permanent residents here as well as the history of the cemetery, which is quite fascinating.
Fall Foliage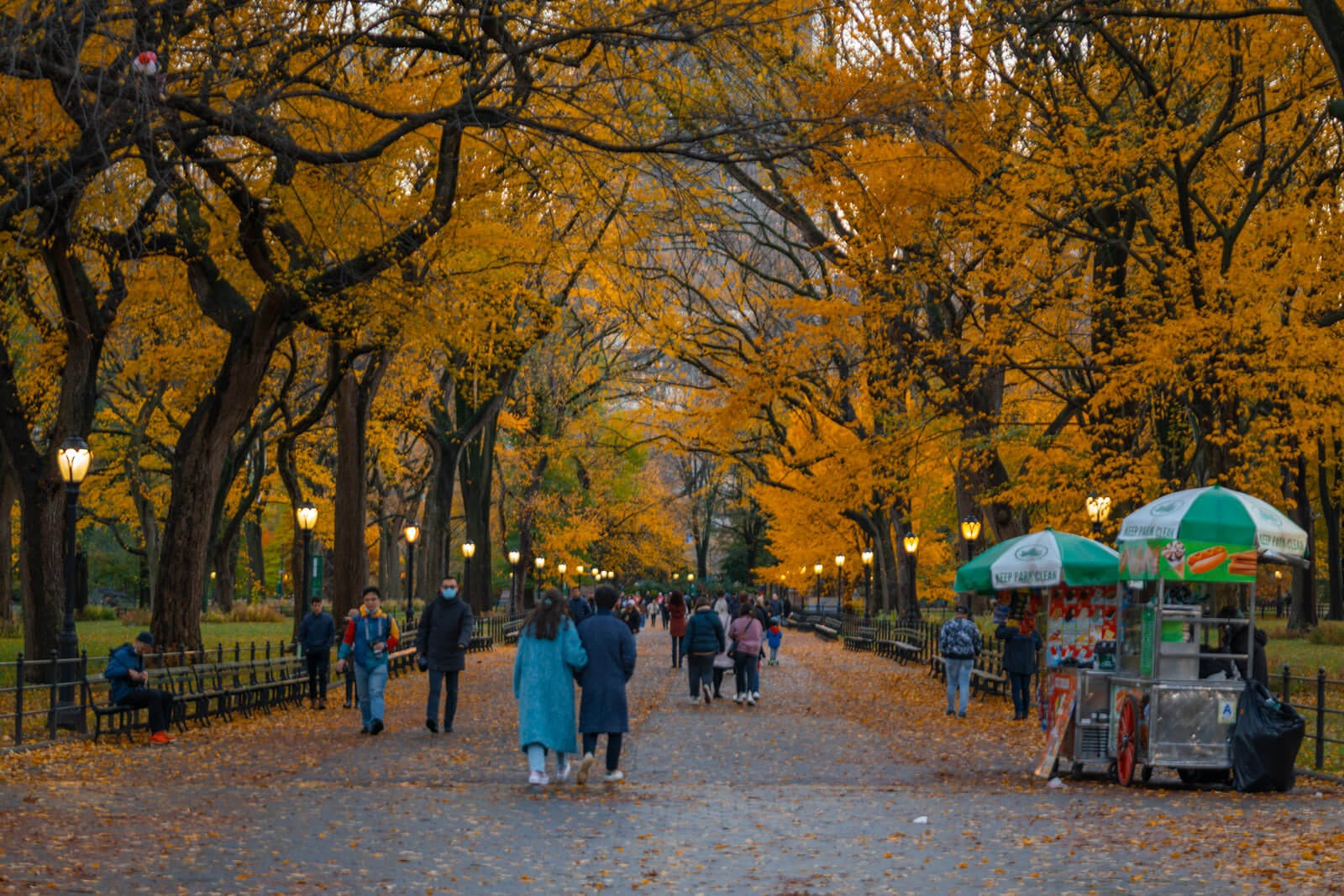 One of the best things about the season are the changing of the leaves! While New York City is behind the rest of the state when it comes to fall foliage, there's a small chance you could see the bright shades of orange, red, and yellow leaves at the end of the month!
There are several places to visit in NYC in October for fall foliage or just enjoying a picnic in the comfortable fall climate before the cold weather snaps.
Some of the most classic places to witness fall foliage in NYC include Central Park, Prospect Park, and the Met Cloisters at Fort Tryon Park. If you're looking for other places to witness the beautiful changing of the leaves consider spending an afternoon at Governor's Island or walk through leafy brownstone neighborhoods like Park Slope for gorgeous fall foliage!
For something a little more unique check out a Hudson River fall foliage yacht cruise for two and a half hours of beauty and relaxation on a historic yacht!
Check the I Love NY's fall foliage report to see the status of this season's fall leaves!
Also, if you're looking for an alternative view of the gorgeous fall foliage in the city, consider doing one of the amazing helicopter tours in NYC including open-door helicopter tours! Most of the tours fly over Central Park, so you'll get to witness the beauty of the leaves from a birds-eye view!
Queens County Farm Museum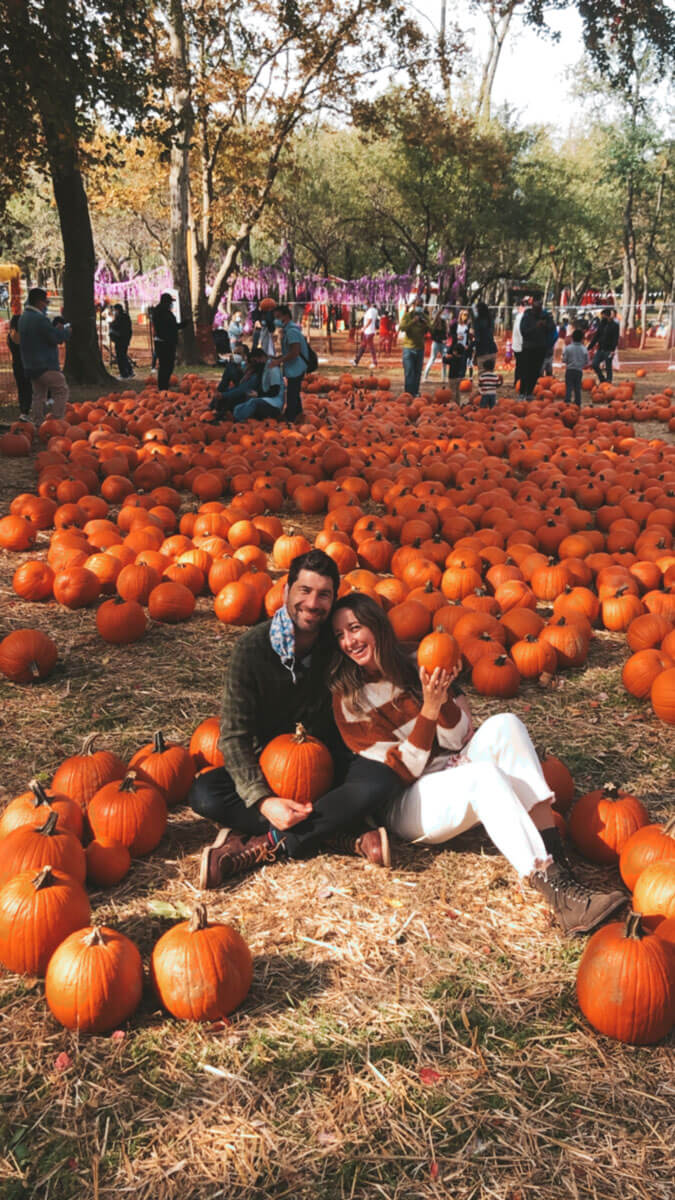 One of the best things to do in NYC in October is going pumpkin picking at one of the very few farms in NYC! Located in Queens, the Queens County Farm Museum offers pumpkin picking, hay rides, corn mazes, a petting zoo, food, drink, and so much more fall fun and festivities.
Without a doubt, this is one of the best things to do in NYC in the fall! This historic NYC farm also is a historic landmark with a farmhouse dating back to 1750 on-site! However, this land has been used for farming since the late 17th century.
Better yet, it's completely free to visit the farm but you do have to pay a small fee for attractions like the maize maze and hayrides. The Floral Escape is also located here too where you can pay admission to enjoy a colorful, curated experience that was built for Instagram. This is wildly popular though so be sure to buy your tickets in advance!
If you have a car, be sure to check out the other best pumpkin farms near NYC for more pumpkin picking options!
New York Film Festival
One of the most famous film festivals is still taking place during October in NYC! The New York Film Festival starts in late September and typically ends in the middle of October with screenings all over the city and star-studded events.
See the New York Film Festival website for all the events and information you need to know to attend!
Oktoberfest
You've probably heard of Oktoberfest before, the popular annual German beer festival that takes place every fall from September to October in Munich. Places all over the world celebrate Oktoberfest and NYC is no different, which comes to no surprise as NYC is full of residents with German heritage and roots! Not to mention, it's a great excuse to party and have a good time.
You can start celebrating by hitting up all the best breweries in Brooklyn (and the city). Brooklyn Brewery in Williamsburg goes all out and even has a special beer they brew just for Oktoberfest you won't want to miss.
One of the best places to celebrate Oktoberfest the whole month of September is at the Watermark at Pier 15 in Manhattan. Located overlooking the East River, this is NYC's official Oktoberfest celebrations! Come for a giant mug of German beer, the big Bavarian soft pretzels, plus great views of the Brooklyn Bridge from this location!
Our favorite thing to do though is do a DIY German beer crawl through the different German biergartens and beer halls in Brooklyn. From DSK in Fort Greene to Black Forest in Carroll Gardens (& Fort Greene) be sure to check out our favorite Brooklyn German biergartens to build your own day of fun!
Oh and we highly encourage you to dust off your lederhosen and dirndl if you have them for all of these Oktoberfest celebrations during October in NYC!
PIZZA & WINE MOVIE NIGHTS AT ROOFTOP REDS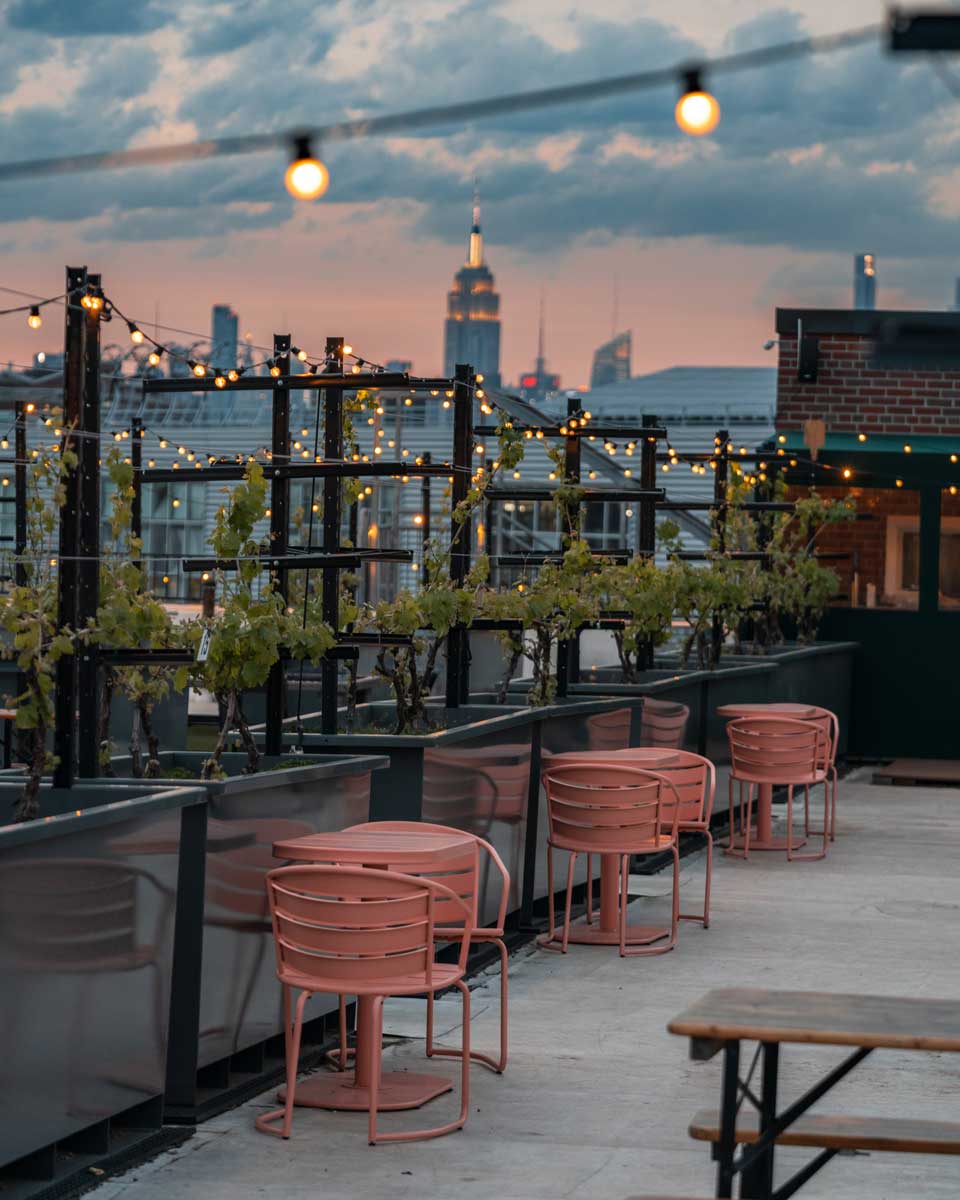 What's better than sharing some pizza, wine, and a movie with a loved one or friends? Doing it on a roof with skyline views! Not to be confused with Rooftop Films, but Rooftop Reds, one of the best rooftop bars in Brooklyn, does a series during the late spring through fall in Brooklyn Navy Yard that offers some of our favorite views of the city along with a movie! Typically in the fall they start showing Halloween flicks making this one of our favorite October in NYC activities.
Rooftop Reds is actually the city's only rooftop vineyard, but there are a few wineries in Brooklyn so if you're a wino, be sure to check those out too and hit up all the different tasting rooms and wine bars.
Rooftop Reds partners with a vineyard in the Finger Lakes region in Upstate New York to bring wine country right here to the city. So while you're enjoying a movie, you can also enjoy a wine tasting or carafe made right here in the good ol' state of New York!
The programming began in May and continues all through October. Check out the schedule and get tickets here.
Halloween Parade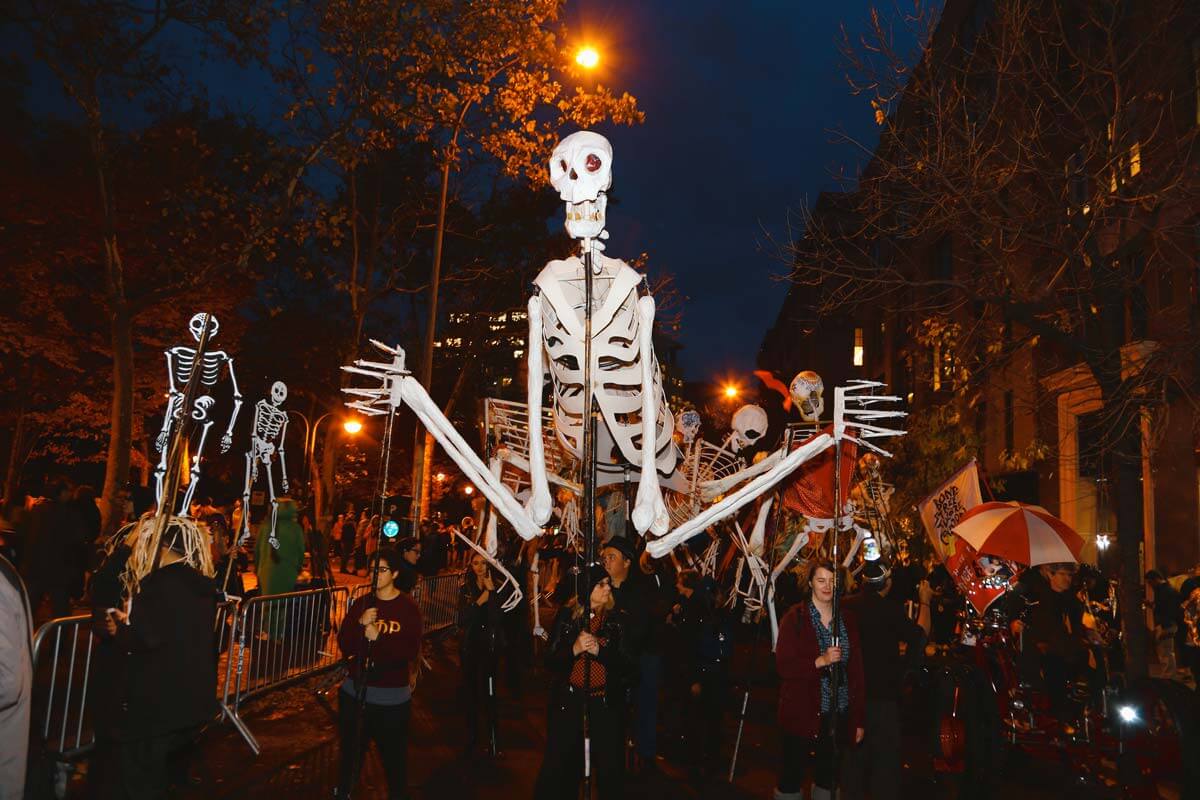 Without a doubt, one of the best things to do in NYC in October is to attend the annual Halloween parade and festivities! Each year in Greenwich Village on Halloween tens of thousands of Halloween-loving New Yorkers come out in their best goblin, ghoul, witchy, and fun Halloween costumes to fill the streets during the spookiest parade in the city!
The parade starts at Sixth Avenue from Canal Street and goes up to 15th Street, starting at 7 PM on Halloween night, October 31st. Each year there's typically a theme, although you're welcome to dress in any Halloween outfit or costume you come up with!
If you have a costume, you're welcome to march in the parade (for free!). But be warned, you cannot march if you don't dress up! If you plan on marching you'll want to arrive early to Sixth Avenue at Canal Street to join the beginning of the parade.
And if you want a good spot to watch the parade, it's best to arrive a little early and find a nice spot to watch!
Tompkins Square Halloween Dog Parade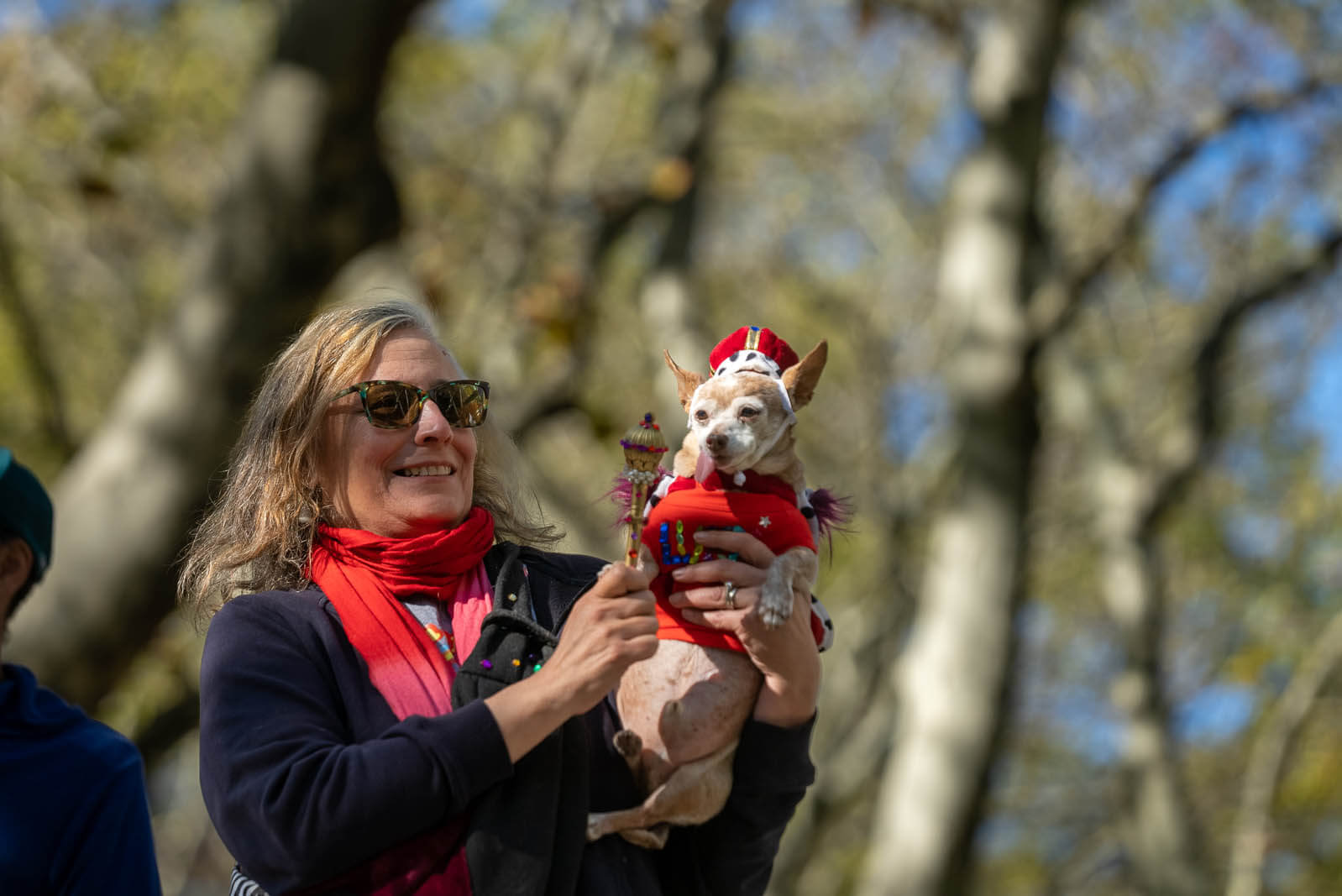 One of the cutest things to do in NYC in October is attend the annual dog run or parade at Tompkins Square Park. Whether you have a dog or just want to be a spectator, this event is one of the most highly anticipated events in NYC in October!
Dogs in their Halloween costumes compete to win prizes. There are hundreds of contestants and thousands of spectators who gather to see which pooch will take home the cup! The people and their pets are extremely creative, visit their site for exact event details.
Great PUPkin Dog Costume Contest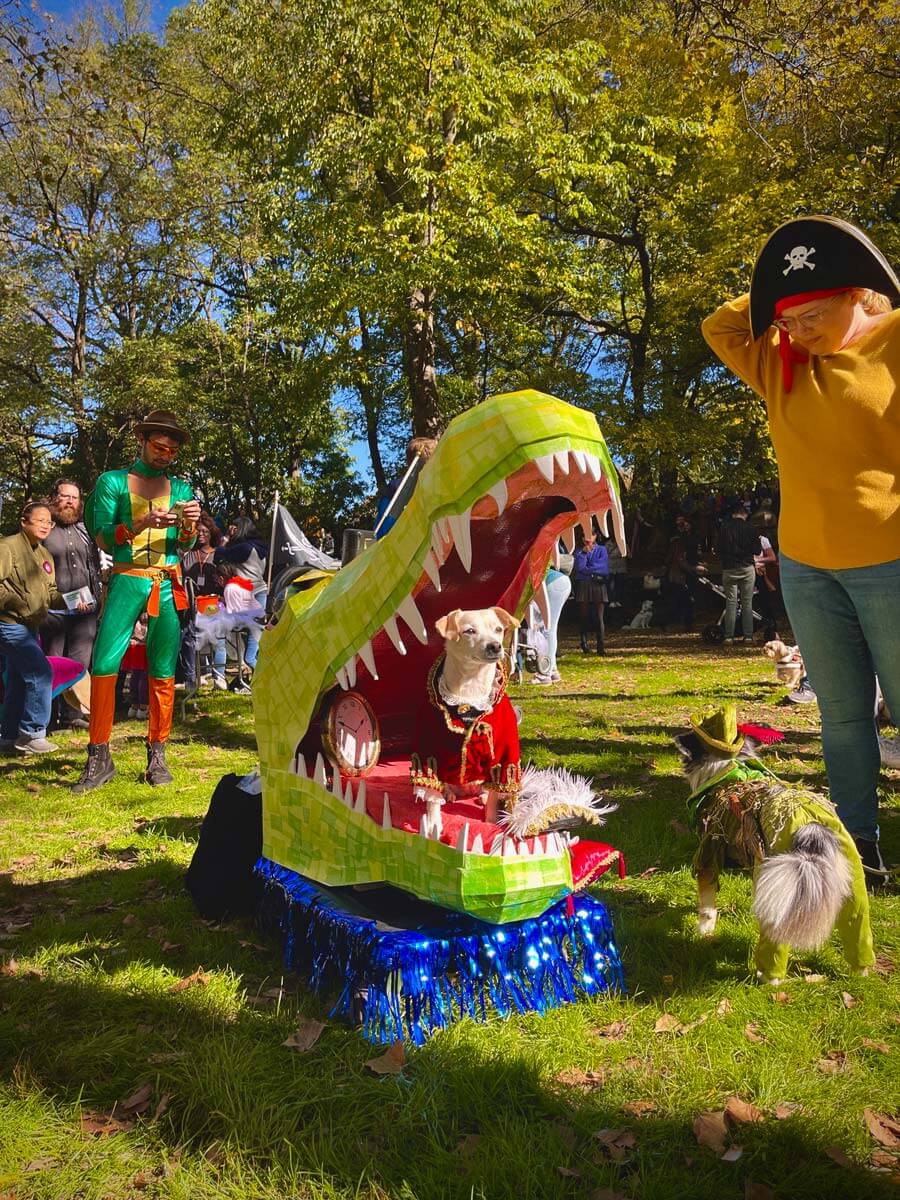 More for the dog lovers! Another annual Halloween tradition in NYC in October is the Great PUPkin Dog Costume Contest in Fort Greene Park in Brooklyn!
Whether you have a participating pooch or not, this is one of the most fun events to be a spectator at! Each year at the base of the Prison Ship Martyrs' Monument stairs a hundred dogs in their best costumes show up!
The event usually takes place on the Saturday of Halloween weekend by Fort Greene PUPS, check out their website for this year's details.
Try Pumpkin Flavored Goodies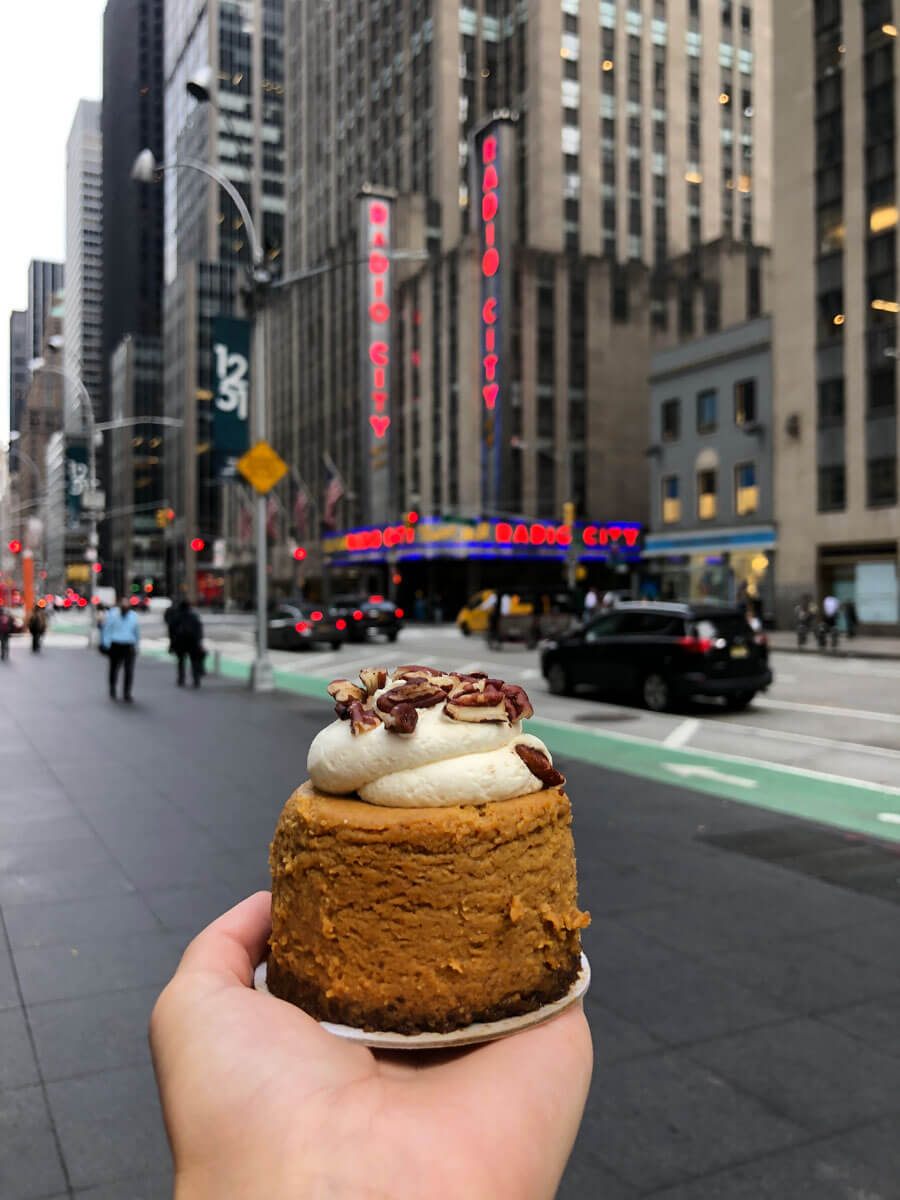 Ok, so not everyone is a fan of all things 'pumpkin' so if that's you, scroll on to the next section. Now for those who LOVE pumpkin-flavored goodies, NYC in October is when tons of places offer great pumpkin-flavored treats!
One you don't want to miss is the famous Magnolia Bakery well known for its banana pudding. During the month of October, they not only have pumpkin cheesecake but pumpkin spice pudding that is as heavenly as it sounds!
The Little Cupcake Bakeshop, known for its amazing cupcakes and cakes (whole or by the slice) have a pumpkin spice flavor in the fall that you won't want to miss!
For donut fans, The Doughnut Plant offers two types of pumpkin spice donuts including a cake donut and a regular yeast-based donut topped with a glaze and spiced pumpkin seeds or pepitas!
One Girl Cookies is well known for their sweet treats and for pumpkin spice lovers you have to try their signature pumpkin whoopie pies!
Chip City Cookies has a pumpkin spice latte cookie made with warm spices and oozing with espresso dulce de leche on the inside!
Pier 17 Pumpkin Arch
View this post on Instagram
One of the best things to do in NYC in October is head to the most photogenic fall spot in the city! With a backdrop of the gorgeous Brooklyn Bridge at Pier 17 you can pose next to the great pumpkin archway that's been an internet sensation every fall in the South Seaport District!
Whether you visit during the day or night, this spot is picture perfect!
For another great hidden gem similar to this, check out Industry City in Sunset Park, Brooklyn who always does cool holiday displays like this every season that are great for photos too!
Columbus Avenue Open Streets (Sundays)
New Yorkers love (well, many without cars do) when the streets close off to cars and are open to the people! Columbus Avenue transforms into a pedestrian-only zone on Sundays from 11 AM to 7 PM through the end of October (starting in May). Street vendors sell goodies, food, and there's even entertainment and events like swing dancing or live music taking place that make it fun for anyone of any age.
Head to Columbus Avenue between 68th and 77th Streets for all the fun.
Try a Ghost Tour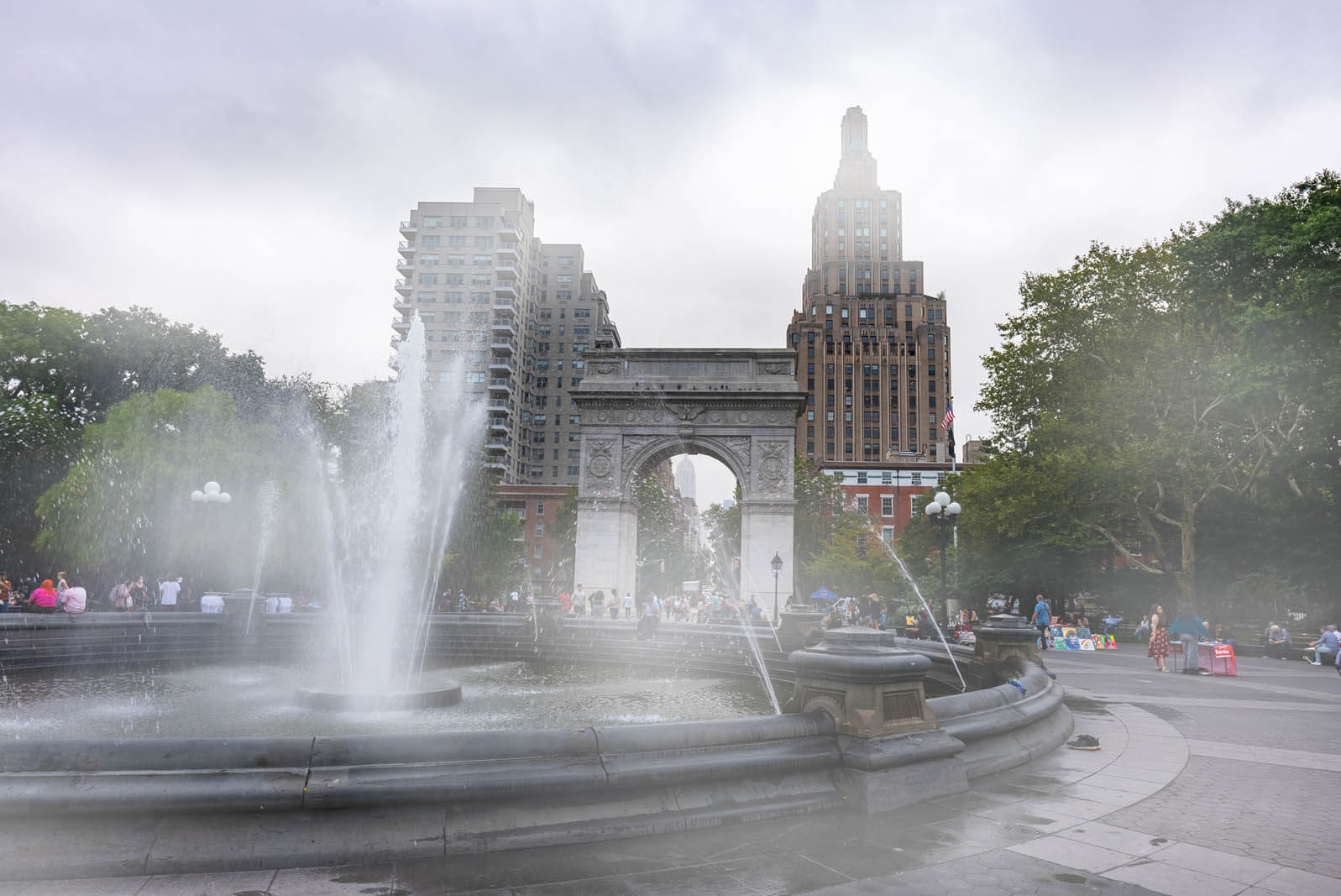 Things get pretty spooky in NYC in October! If you're a huge fan of the paranormal and the unknown, consider checking out one of the many ghost tours that take place in the city. With so much history here including battle sites during the largest wars in our nation's history, you can believe there are plenty of ghost stories and spooky tales to be told here!
We already mentioned Madame Morbid in Brooklyn, but here are a few other great ghost tours in New York to check out.
Check out the 2 hour Greenwich Village Ghost Tour where you'll explore this popular neighborhood's dark past including the spooky stories about Washington Square Park and visit historic tragic sites like the Triangle Shirtwaist Factory where it's believed that spirits of those who lost their lives in the fire and tragedy still linger today ending at Chumley's bar where you can grab a different kind of spirit.
If you require more liquid courage for ghost stories about the city, check out this Haunted and Historic Greenwich Village Pub Crawl! You'll not only get to have a few drinks along the way stopping at cool bars but you'll also learn about tales of ghosts and even werewolves! Plus you'll stop at prohibition-era bars too and learn a bit about the mobsters along the way.
Speaking of mobsters, the New York Gangsters and Ghosts tour takes you on a 2 hour journey uncovering the stories of the most prominent gangsters and ghosts of the city's past including stops at the infamous Five Points, Little Italy, and Greenwich Village. This is definitely right up the alley for anyone who is a true crime fan!
Dine at One if By Land, Two if By Sea
View this post on Instagram
Technically you can do this anytime of the year, but because of the 'haunted folklore' of this restaurant it's worth mentioning around Halloween time! One if By Land, Two if By Sea, is quite possibly the most interesting restaurant in the city, on account of its storied history–as well as its reputation for housing ghostly spirits and is one of the most haunted places in NYC.
The converted carriage house was built in 1767, and was owned by none other than Aaron Burr during the latter part of the 18th century. It has also been a brothel, a silent movie house, and an engine house for the firehouse that existed next door in the 19th century.
It came under its current ownership in 1973, but the ghosts of its past are quite real, according to countless accounts by staff and diners throughout its existence as One if By Land, Two if By Sea.
Many have said that invisible hands have pushed them up or down the stairs, and it has been reported that paintings and earrings alike often go missing.
The stone passageway that lies under the restaurant–likely used to smuggle in goods, revolutionary war soldiers, and almost definitely enslaved people along the underground railroad–leads to the former embankment of the Hudson River at Hudson Street, and is one of the most secret spots in NYC.
Perhaps the reason for the restaurant's haunted atmosphere echoes within the walls of this secret passageway–but to date, no one knows what exactly explains these paranormal perturbations.
Better yet, they offer a jazz brunch option in the fall on the weekends! Be sure to check the dates and book your tickets in advance!
New York City Wine and Food Festival
The largest food and wine festival in New York City takes place each year in October featuring all kinds of events and of course copious amounts of food and wine! The New York City Wine and Food Festival is four days long and has star-studded events including celebrity chefs!
There are also all kinds of parties, celebrity mixers, and plenty of options to eat and drink at epic locations like rooftop venues throughout the city!
You'll need a ticket, so check out their site to see which events are happening and try to decide which events you'll go to!