Ah, New York City in the summer, is one of the most exciting and best times of year to be in New York not to mention there are TONS of awesome things to do in NYC in summer that make this such a special time of year.
The streets are bustling with energy, there's a sense of excitement in the air, and there are plenty of free and special NYC summer events and activities that take place all over the city.
Whether you're a local or a seasoned or first-time visitor, there's no shortage of NYC summer activities. From outdoor concerts and festivals to rooftop bars and food markets, we've rounded up some of the best activities that will make your summer in NYC unforgettable.
So grab your sunscreen and get ready to explore all that this concrete jungle has to offer!
Disclaimer: This post contains commissionable links
New York City in the Summer Weather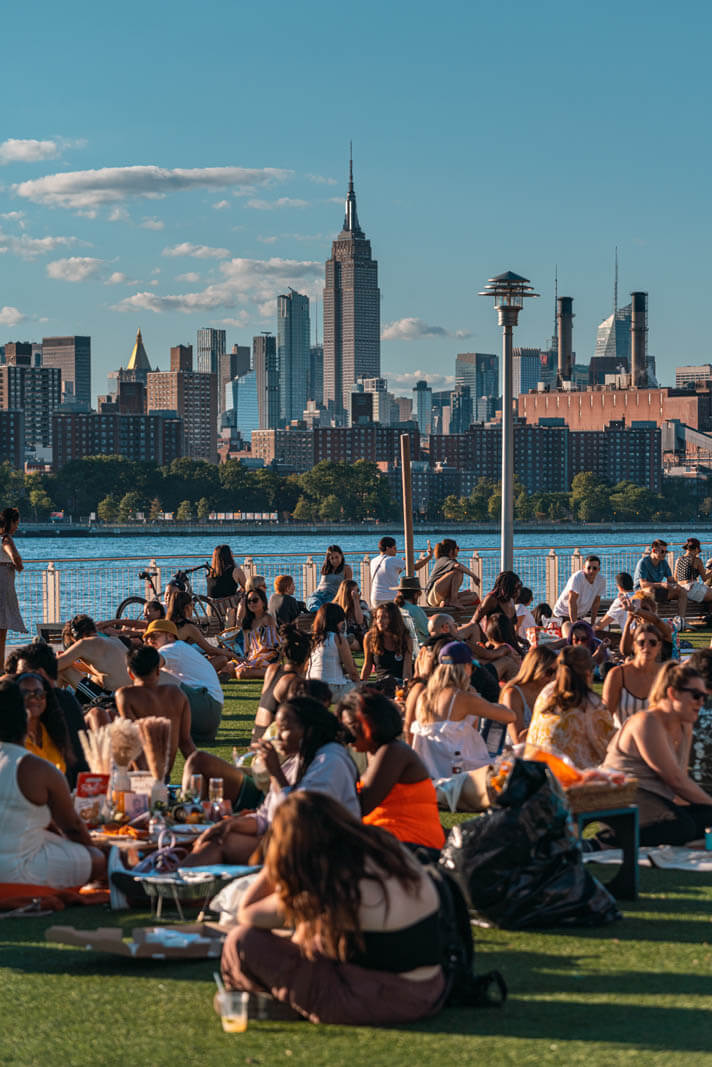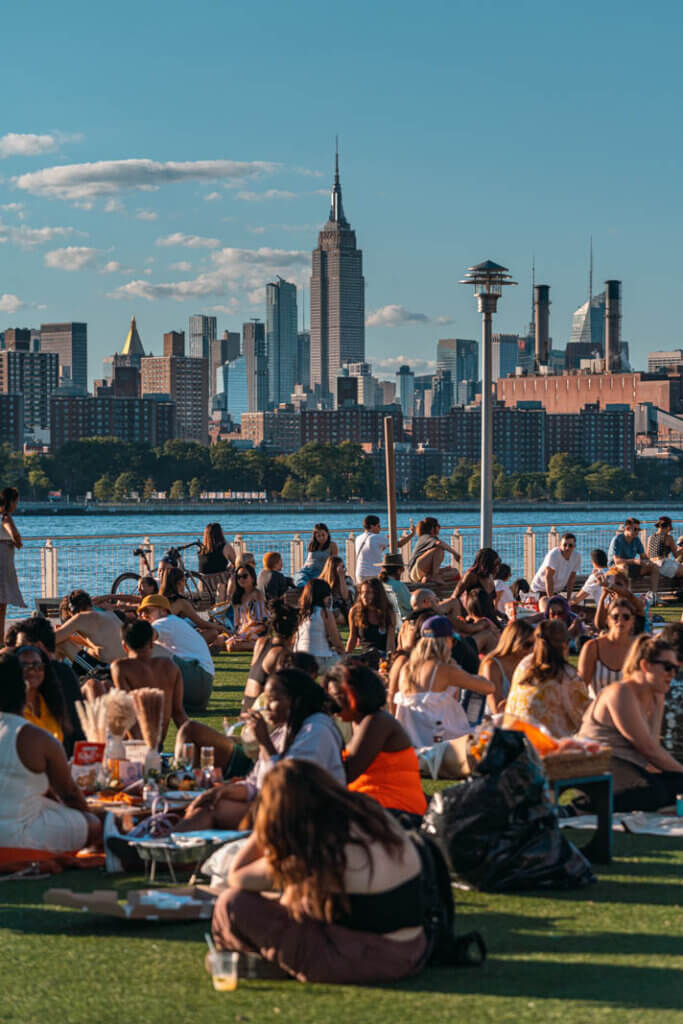 Temperatures generally range between lows of 65 and highs of 90 degrees Fahrenheit, with wildly varying degrees of humidity and precipitation. It gets HOT.
We recommend bringing layers to accommodate very warm temperatures outside and on the subway platforms (get hot and musty) in contrast to intense air conditioning in subway cars and inside most buildings.
Parks and areas near the water like the Hudson River or East River tend to have a nice breeze which helps cool you off on the hottest of summer days in the city.
Be sure to pack sun protection and wear comfortable shoes!
New York City Summer Activities Not to be Missed!
Governors Island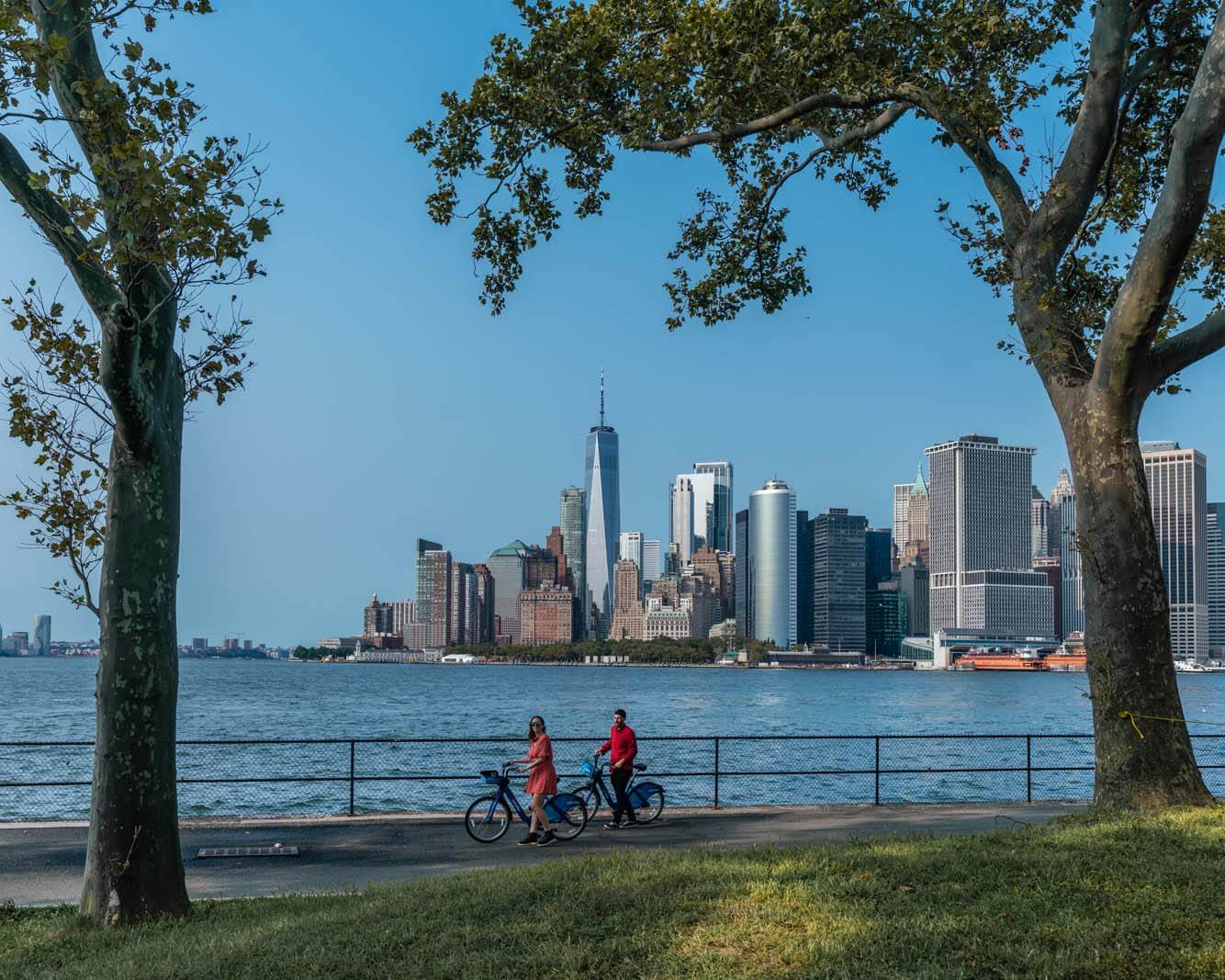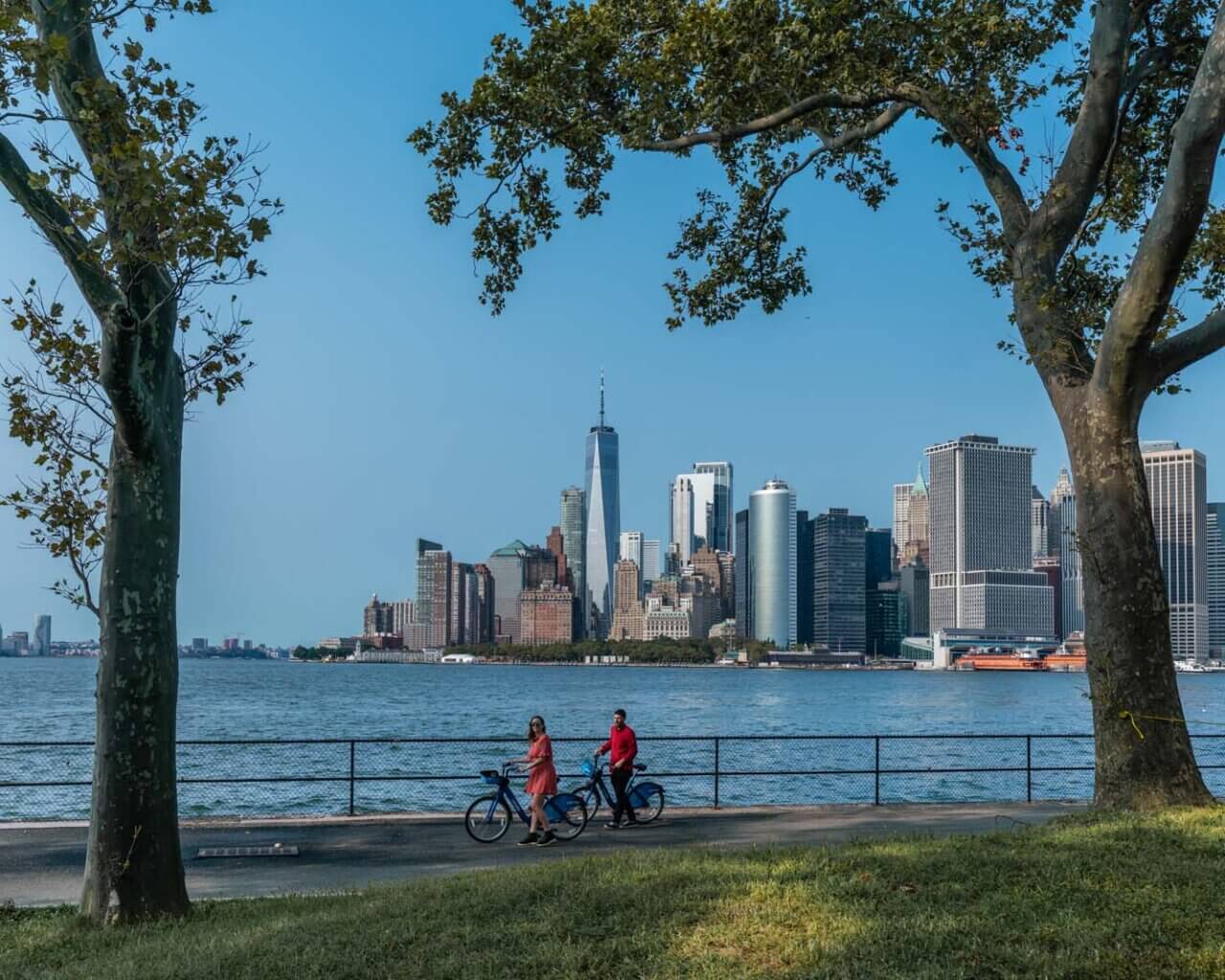 One of the top things to do in NYC in summer is exploring Governors Island. Now open year-round, Governors Island comes alive during the summer months and is known for its long list of NYC summer activities.
This car-free oasis is an ideal place to unwind and soak up the sun. You can rent bikes and cycle the paved paths that cover the island, enjoy a scenic picnic, or go kayaking. There are fun green spaces with play structures for all ages, like Slide Mountain, Hammock Grove, and The Yard. And summer is the perfect time to see the Lavender Fields in full bloom!
Governors Island is home to unique experiences like glamping at Collective Retreats (more on this a little later!) and the QCNY Spa. You can also take different guided and virtual tours of historic buildings and art installations across the island.
Not to mention Governors Island also has some of the best views of Lower Manhattan skyline and the Statue of Liberty.
Reserve grills to use at the park or check out one of the vendors scattered across the island during the warmer months. Ferries run every 30 minutes, 7 days a week to Governors Island from both lower Manhattan and Brooklyn.
Get Ice Cream!
No New York City summer is complete without stopping into a local shop for some ice cream! So, grab a cone or cup at one of our favorite ice cream shops and then head back onto the bustling streets to enjoy more summer fun.
The Social is perfect if you loved the now-defunct Ample Hills (womp womp) with its rich, gourmet ice cream and bubbly aesthetic, you'll love The Social (by the same founders). The 70s-inspired ice cream shop in Prospect Heights offers the same great ice cream, as well as sorbet, donuts, and other treats.
You'll find Van Leeuwen shops and trucks across Manhattan and Brooklyn, serving up the highest quality of ice cream with simple ingredients. They offer both traditional ice cream as well as yummy vegan options.
Chinatown Ice Cream Factory is a unique ice cream shop is a must if you're in the Bowery! You can order classic ice cream flavors like strawberry or vanilla, or exotic flavors like red bean or durian! And they have fun add-ons like mochi and fruit jelly.
Tipsy Scoop is rightly named, you can actually get tipsy by eating Tipsy Scoop ice cream! Try delicious flavors like Mango Margarita and Spike Hazelnut Coffee. Stop by their locations in Midtown and Williamsburg to sample multiple flavors in a flight! Just keep in mind, this is a 21+ over spot only since they only offer boozy ice cream!
And when you're craving a frozen treat inside the 5 boroughs, just listen for an ice cream truck! Once the weather hits the 60s and the days get longer, you're sure to hear them coming down the street.
They might be a Mister Softee, a Van Leeuwen, or even a Carvel truck outside a park or near a major NYC landmark. Keep some cash on you, get in line, and snag your favorite childhood treat.
Outdoor Movies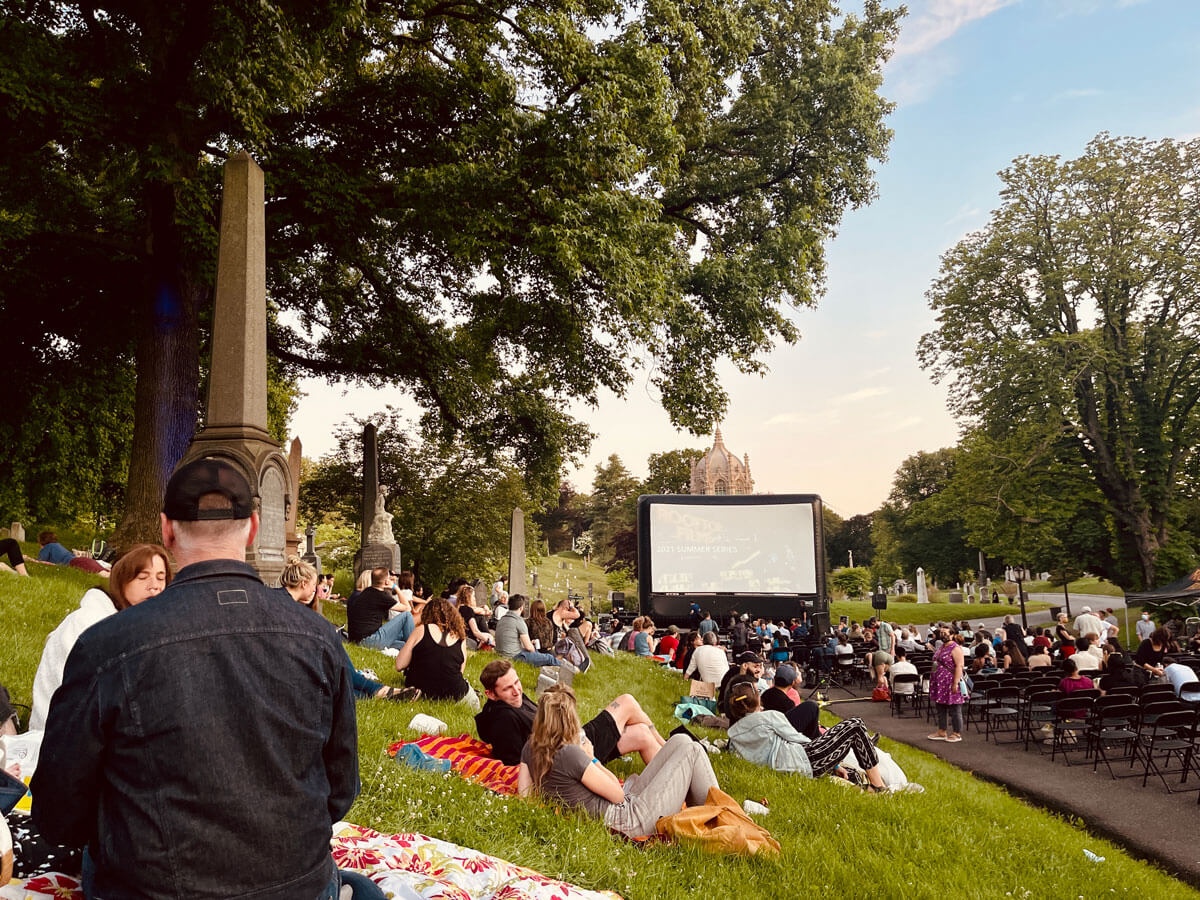 Another way to enjoy those balmy nights in the city is by going to an outdoor movie. This one is definitely high on our list of things to do in NYC in summer, with a variety of venues and programs offering different experiences across the 5 boroughs not to mention free summer movies in the parks all throughout the city!
Every summer, Rooftop Films works with outdoor venues across the 5 boroughs to host a collection of independent films, cult classics, short films, and more. You'll find movies at venues like the Courtyard at Industry City in Brooklyn, Green-Wood Cemetery screenings, the rooftop of an old factory in Gowanus, and many more. Seating is first come, first served and the events are ticketed!
For a more elevated outdoor movie experience, check out Rooftop Cinema Club Midtown! From early May through early July, Rooftop Cinema Club puts on a wide range of movies. Looking for a kid-free environment? After 4:30 PM, it's 18+ only! You'll enjoy a full bar as well as gourmet movie concessions. Tickets are for sale on their website and sell out fast!
And Skyline Drive-In in Greenpoint, Brooklyn puts on show box office hits Thursday through Sunday at 8:30 PM, rain or shine! You can drive in and park, but since this is NYC, there are plenty of loungers for those coming on foot or by bicycle. Just purchase tickets online in advance. And make sure to check out their concession stand at the back of the rooftop venue.
Go on a Hike!
Want to go hiking? You don't have to leave the city limits! One thing NYC does well is providing beautiful green spaces in the middle of the concrete jungle. Summer in New York City is the perfect time to enjoy the city's lush parks with a summer hike.
A great place to start is The Ravine in Central Park, situated at the northern end of the park. There are clearly defined paths, beautiful streams, lots of tree cover, and just enough privacy in the middle of the city to take a deep breath, not to mention this is one of the coolest things to do in Central Park that make you completely forget for a second that you're in the middle of one of the largest cities on earth!
Similarly, Prospect Park in Brooklyn is another getaway in the middle of the city. A loop around the Prospect Park Boathouse and Audubon Center features cobbled paths, ancient elms, stone archways, babbling brooks, and more.
The Bronx offers quite a few chances to get away from the hum of the city. Just north of the New York Botanical Garden, the Bronx River Forest is a lovely place to enjoy a nature walk along loop trails.
Or head to NYC's largest park, Pelham Bay Park, with over 2700 acres of forests, meadows, beaches, and islands. There are loop trails through the forests and scenic coastal trails.
And Van Cortlandt Park boasts trails through 3 different forests across the northern side of the park!
See more of the best parks in NYC that all include something special and unique and if you're wanting to venture out of the city you can check out the best hiking near New York City, some of which you're able to get to via train!
Visit the Met Cloisters
One of the most fascinating things to do in New York City is the Met Cloisters. An extension of the Metropolitan Museum of Art, the Cloisters is a stunning museum in the middle of Fort Tryon Park dedicated to European medieval art.
It's a lovely place to visit throughout the year, but if you're looking for unique things to do in NYC in the summer, look no further. From early April, 3 gardens at the Cloisters explode with all kinds of blooms. And these gardens have plants you won't find anywhere else in the country!
You see, they include a variety of medieval plants cultivated in Europe, including flowers, trees, grasses, and more. And flowers are chosen to bloom all spring and summer. Want more details? You take guided tours of the gardens beginning May 1, and they're free with admission to the Cloisters.
And while you're here, take a stroll around Fort Tryon Park too which offers stunning gardens and gorgeous views of the Palisades and Hudson River.
Rooftop Bars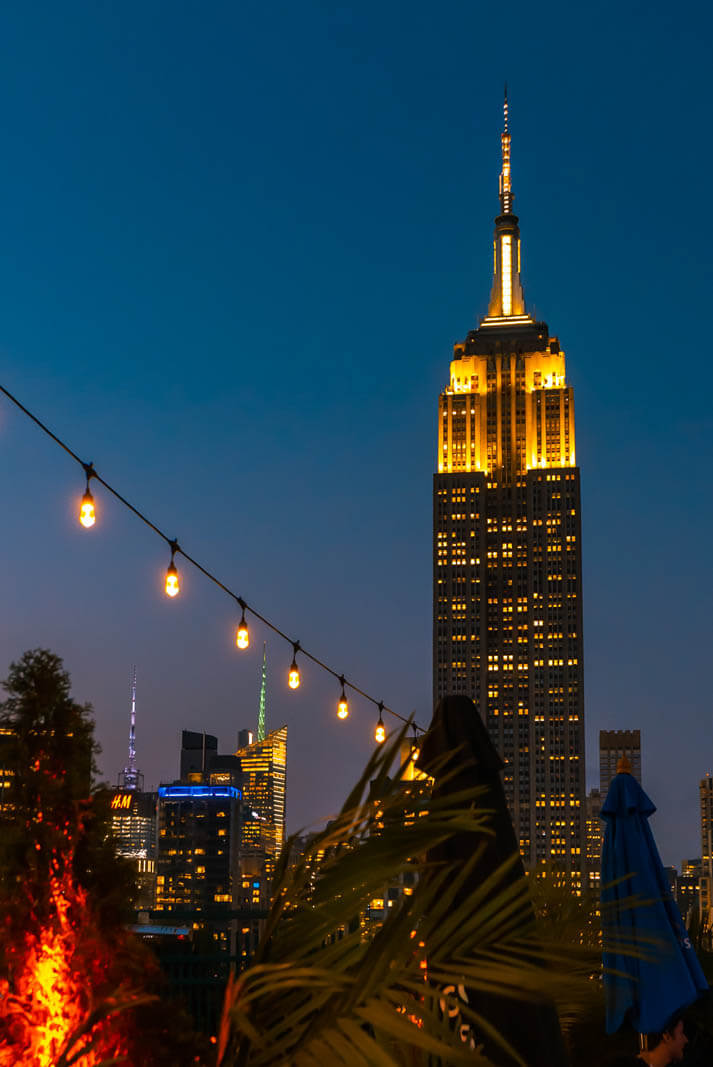 New York in the summer means rooftop bar season! Enjoy all those dreamy, starry nights at one of the many locations across the city. There's something for every taste.
Panorama Room at Graduate Hotel on Roosevelt Island is a cocktail and oyster bar with a chic, modern setting and sweeping views of Manhattan.
Or for a warm, laid-back atmosphere, check out Lost in Paradise Rooftop in Queens. They have a tropical-themed lounge with dancing and trapeze artists!
Westlight at the William Vale is a Williamsburg rooftop bar with stunning views and has great cocktails and a small plate menu featuring global street food. You can sit on the terrace for unbeatable sunset views or hang out in the cozy lounge that features floor-to-ceiling windows.
Nothing says ambiance like a rooftop bar with city views, and the elegant spaces at Midtown's Castell Rooftop Lounge are the perfect place to enjoy them.
Looking for a laid-back place for a drink and stunning interiors? Go to CloudM, the rooftop bar at chic citizenM hotels. You'll find 2 in NYC – one in the Bowery and one in Time Square.
See more of our favorite rooftop bars in NYC with stellar views to take advantage of this New York City summer season!
Hit Up a Pool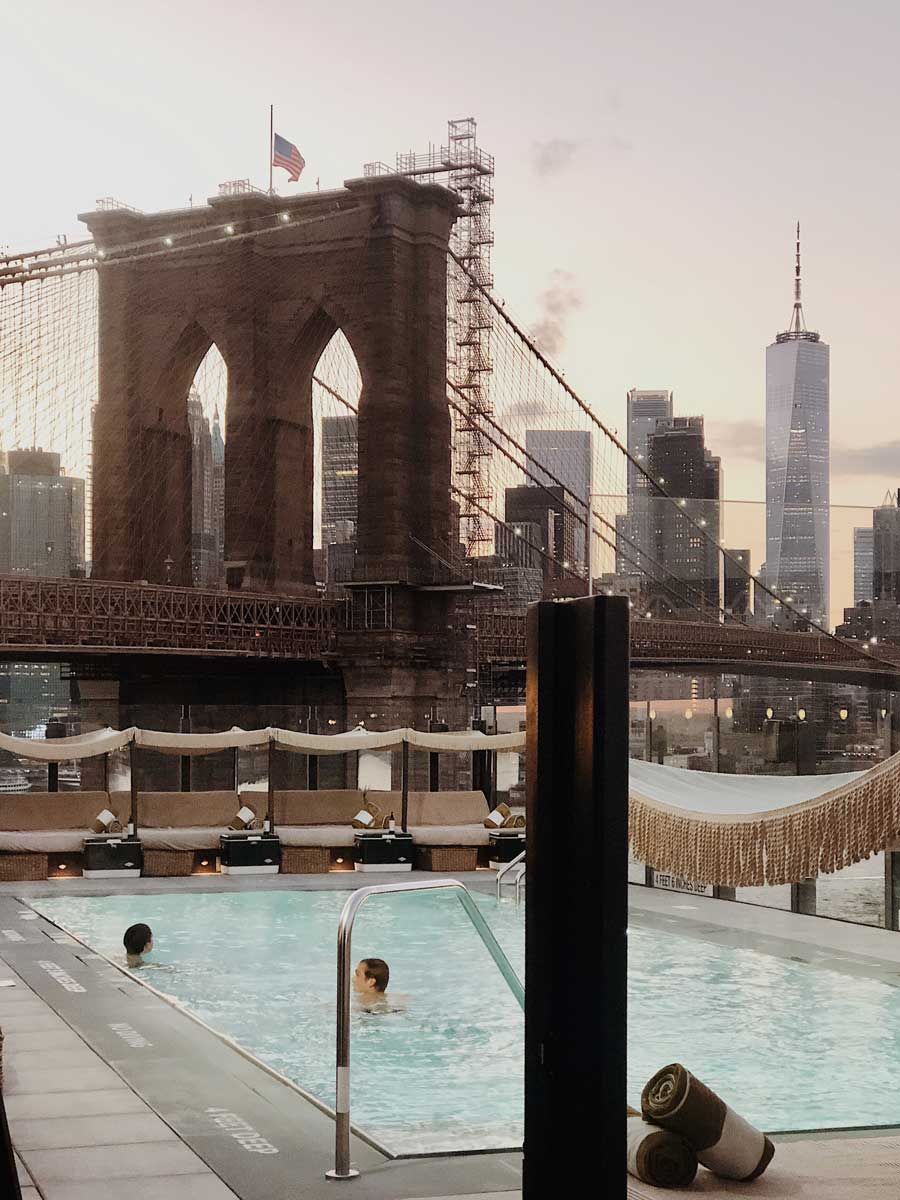 One of the best things to do in NYC in the summer to is head to a nearby pool. Across the city, you'll find a variety of options available to you.
There are free outdoor pools at parks across the 5 boroughs. These range from wading pools to Olympic-sized pools for swimming laps, like the ones at McCarren Park and Sunset Park in Brooklyn.
Outdoor pools are open to the public from the end of June through the beginning of September and generally open from 11 AM to 7 PM (closing for midday cleaning from 3 to 4 PM).
Not a fan of crowds? Consider one of the many New York hotels with outdoor pools instead. At many hotels, you can buy a day pass for pool use. Passes can cost upwards of $150, but it's all about the experience here, with live DJs, poolside cocktails, and private cabanas! A few Williamsburg hotels offer pool day passes, like the Vale Pool at the William Vale and the Williamsburg Hotel.
The Jimmy Hotel in SoHo opens its pool to non-guests in the afternoons. And the Beach at Dream Downtown features a heated glass-bottom pool and sand beach!
Or if you know anyone with a membership at SoHo House, you can enjoy their stunning rooftop pools (or you need a membership).
Coney Island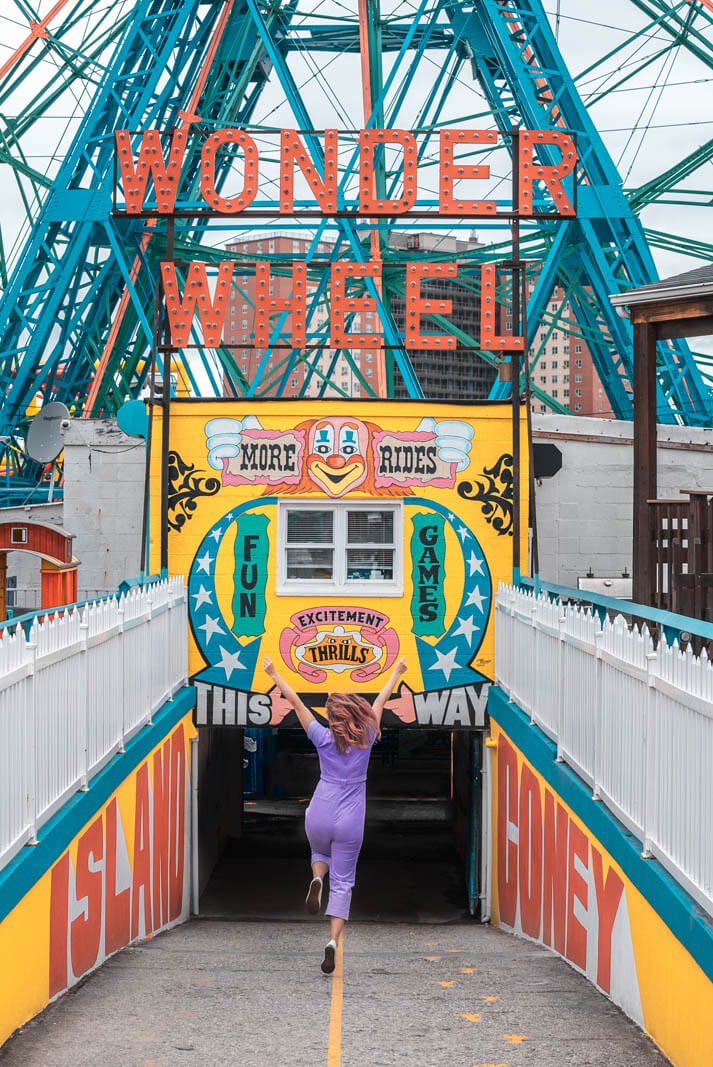 A visit to historic Coney Island in southern Brooklyn is a must during summer in New York City! One of the most classic things to do at Coney Island is visit Deno's Wonder Wheel Amusement Park. This is where you can ride the iconic Ferris wheel, which dates back to 1920!
Next door is Luna Park, where you can ride the wooden Cyclone roller coaster or enjoy old-school carnival games and rides.
For great views of the water and more things to do, head to Riegelmann Boardwalk. A 2-mile stretch is a popular place for a stroll and people watching. It features vendors where you can get beach gear or buy saltwater taffy and corn dogs.
And past the boardwalk is Coney Island Beach, which is popular for swimming, surfing, and fishing and one of the best beaches in Brooklyn.
Back along Surf Avenue, more great attractions include the original Nathan's Famous Hot Dogs and the Coney Island Museum. You can visit the New York Aquarium or see the Cyclones hit a home run at Maimonides Park next door.
During the summer, Coney Island is a great place to enjoy a variety of events. See a Summerstage concert at the Ford Amphitheater or see the Cyclones hit a home run at Maimonides Park.
One of our favorite events is the historic Mermaid Parade that happens every June. And Nathan's is the setting for the infamous hot dog eating contest on the 4th of July!
Hit up a New York City Beach!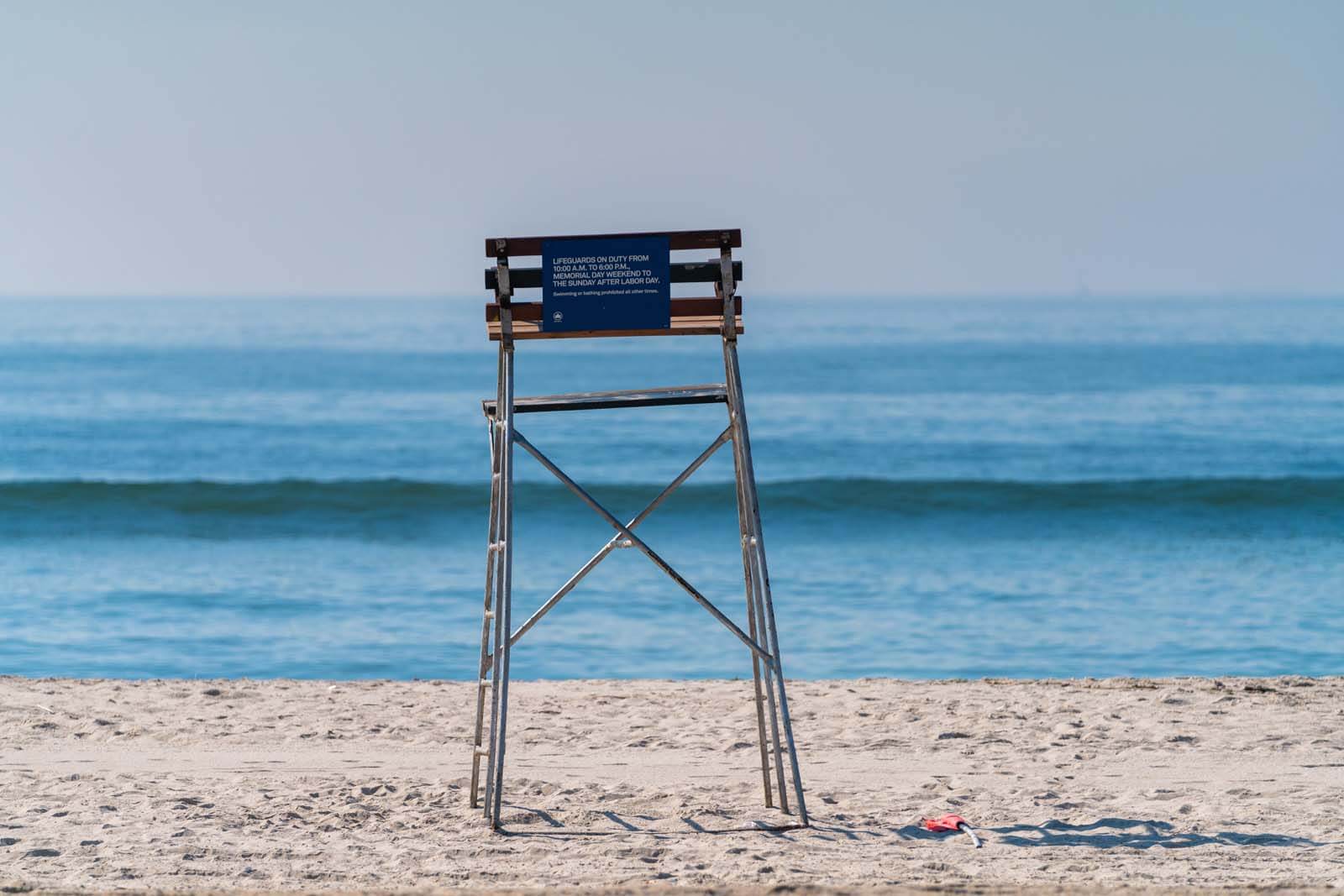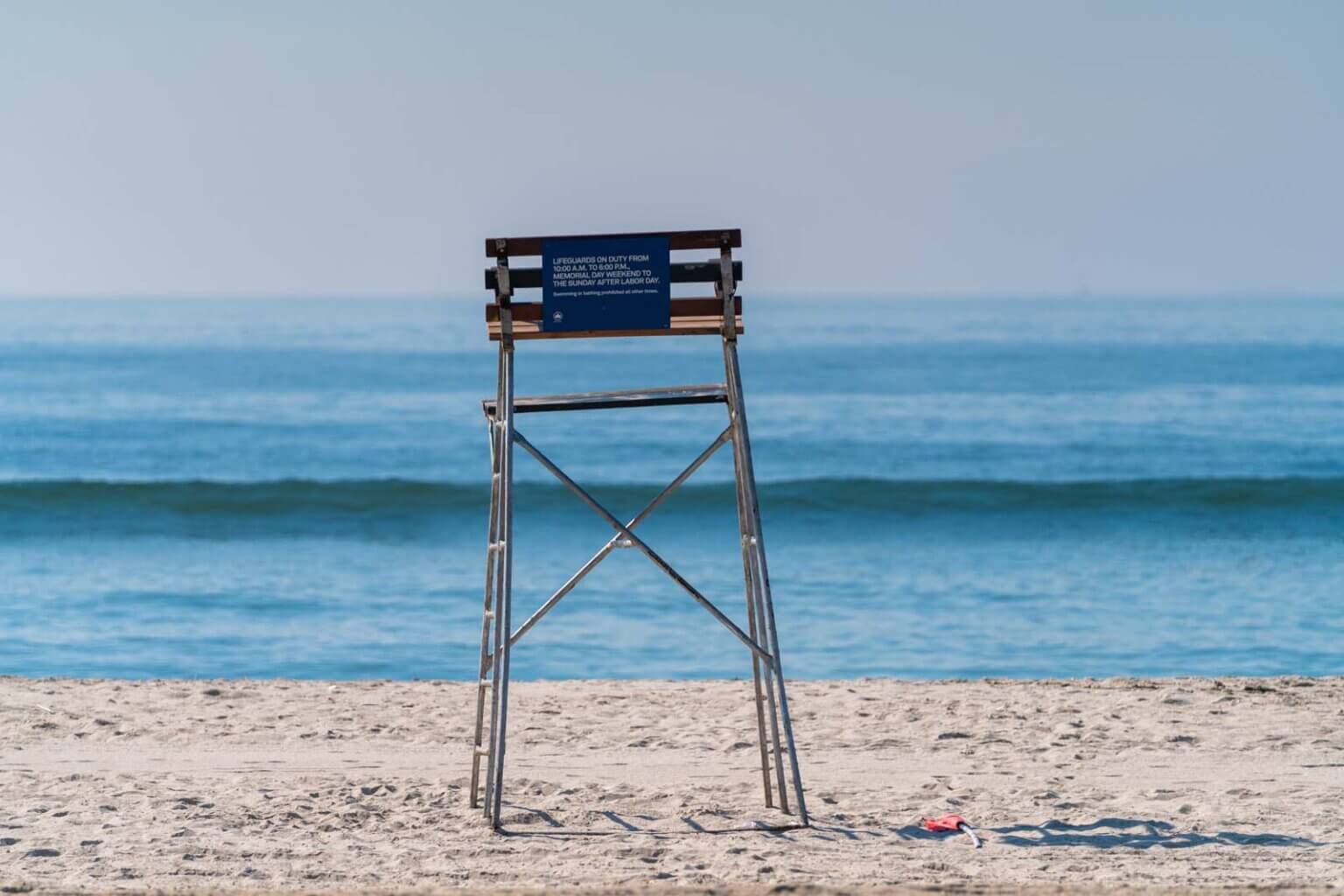 When you're looking for things to do in NYC in summer, you can't go wrong with a beach day. In addition to Coney Island Beach, you'll find other top-notch beaches in New York City spread across all 5 boroughs and Long Island. Another popular swimming beach in Brooklyn is Manhattan Beach.
There's Rockaway Beach in Queens, with miles of sandy shores and great surfing spots. The crescent-shaped shoreline of Orchard Beach in the Bronx makes it one of the most popular beaches in the city.
And Great Kills Park in Staten Island boasts serene beaches, coastal trails, and stunning views of the Verrazano-Narrows Bridge.
Beach season officially begins Memorial Day weekend and runs through Labor Day weekend. Most beaches will have lifeguards on duty between 10 AM and 6 PM 7 days a week, though you can be on the beach any time.
Dining on the Water
One of our favorite NYC summer activities is enjoying a meal at a waterfront restaurant. Looking for a romantic sunset dinner on a vintage boat? Go with Pilot at Brooklyn's Pier 6. They serve the best oysters and cocktails as well as offering more amazing local seafood.
For a more casual vibe, check out Brooklyn Barge. This floating barge in industrial Greenpoint serves up great American cuisine.
And in Manhattan, Watermark is another excellent hangout spot. It's located at Pier 15 with great views of the Brooklyn Bridge and a quality menu of burgers, fish and chips, beer, and more of the same.
You also have a few great choices on Governor's Island, like Island Oyster NYC. This seasonal restaurant on the northern shore serves fabulous oysters and a different view of Lower Manhattan! Or enjoy the absolute experience that is GITANO Island, a Mexican restaurant with lush palm tree-framed views of the water.
On the Hudson River, Grand Banks is a refined seafood bar on a historic fishing boat at Pier 25 off Hudson River Park. And La Barca Cantina is a fun taco bar on a luxury yacht at Pier 84 that takes trips up and down the river during dinner!
Kayaking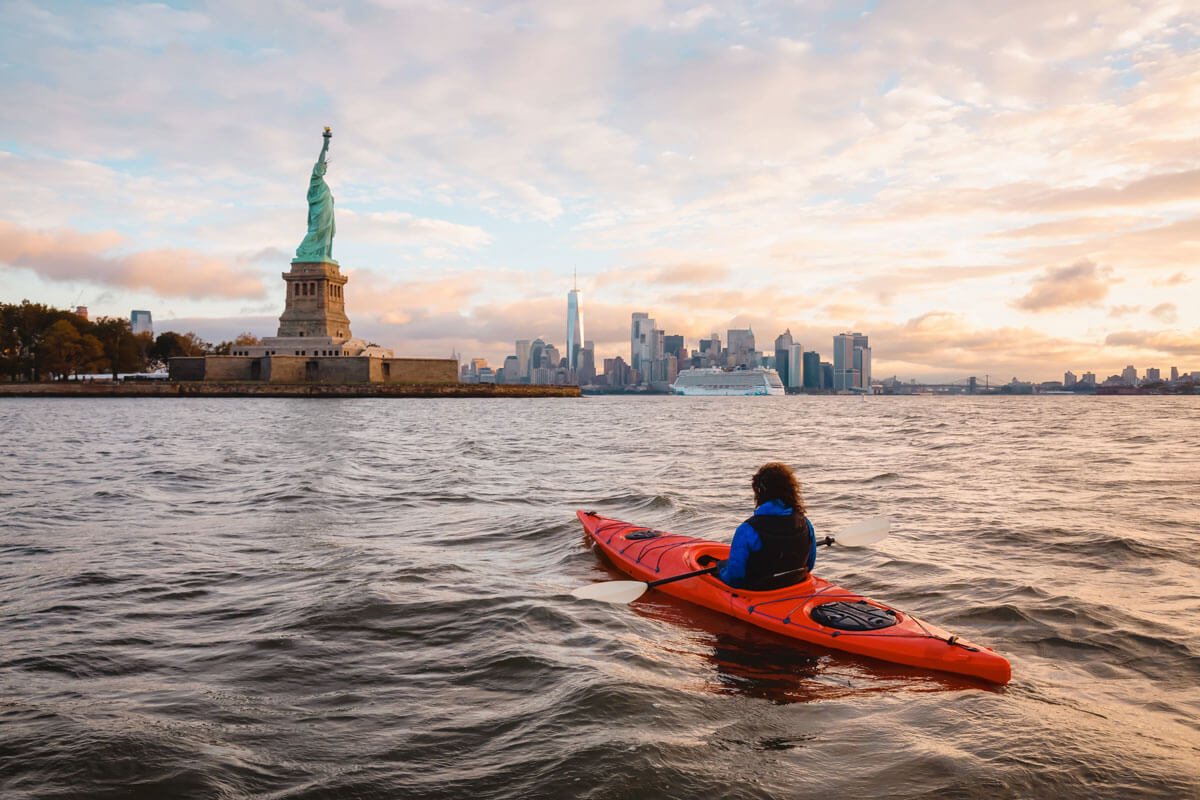 Did you know that you can go kayaking at a waterfront park in New York City in the summer? First, there's free kayaking offered at Brooklyn Bridge Park's Pier 2. You can book your 20-minute session at the Boathouse there.
Kayaking at Brooklyn Bridge Park is generally offered a few days a week from June through August. There are restrooms at the boathouse where you can change. Never kayaked before? Just let them know when you sign up and you'll get a quick lesson before your session!
Both single-person kayaks and doubles are available at Pier 2. And both children and adults can enjoy this free summer activity at Brooklyn Bridge Park. Or, if you have your own kayak, you can bring it and get in at Pier 4 Beach!
Another great option is the guided tours and classes offered by Manhattan Kayak at the Pier 84 Boathouse at Hudson River Park. They offer a variety of classes for everyone from novices to experienced outdoorsmen throughout the spring and summer.
Catch A Baseball Game
One of the best things to do in NYC in summer is catch a baseball game, and you have 2 iconic options: the New York Yankees and the New York Mets. Game nights are exciting with fans decked out in team colors, and extra trains running to and from the stadiums.
Yankee Stadium, located in the Bronx, is the home of the New York Yankees. With its rich history and passionate fan base, attending a Yankees game is a true New York sports experience. Make sure to arrive early to soak up the atmosphere and explore the stadium. You can visit Monument Park, a memorial honoring the park's most famous players.
And Citi Field, where the New York Mets play, is in Queens. The stadium provides a modern and fan-friendly environment. While you're there, make sure to walk across Shea Bridge, which honors the Mets' old stadium, the historic Shea Stadium!
You'll want to purchase tickets in advance, as games are popular and sell out quickly. And while you're there, don't forget to try some classic NYC stadium treats like hot dogs with hot mustard and sauerkraut!
---
SeatGeek is a popular ticket search engine that makes finding tickets to sporting events, concerts, and many other live events like New York Yankees and a New York Mets games.
When you add our promo code BROOKLYNGUIDE to your SeatGeek account, you receive $20 off your first ticket purchase.
(We receive a small commission at no extra cost to you)
Find Shade in Cool Parks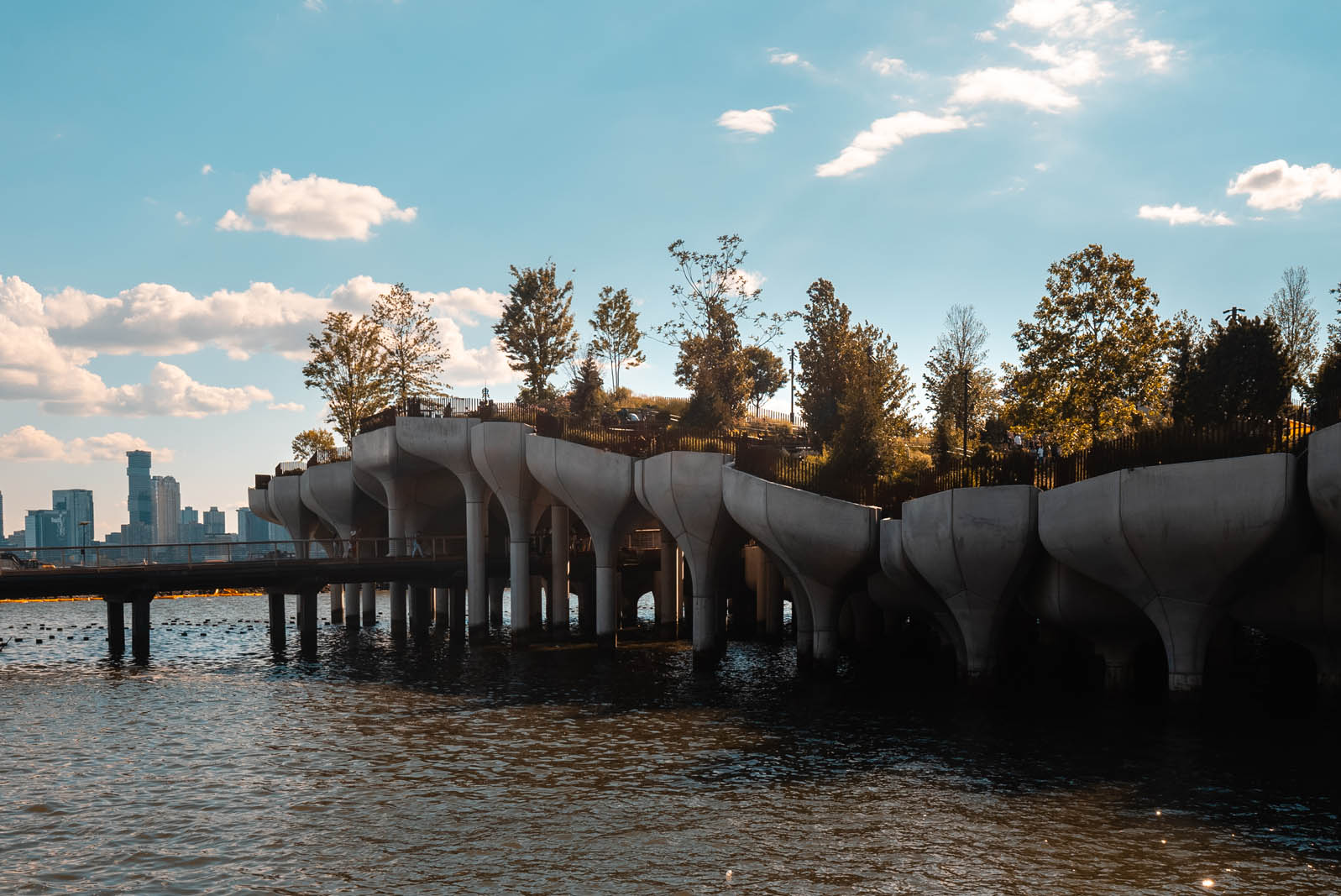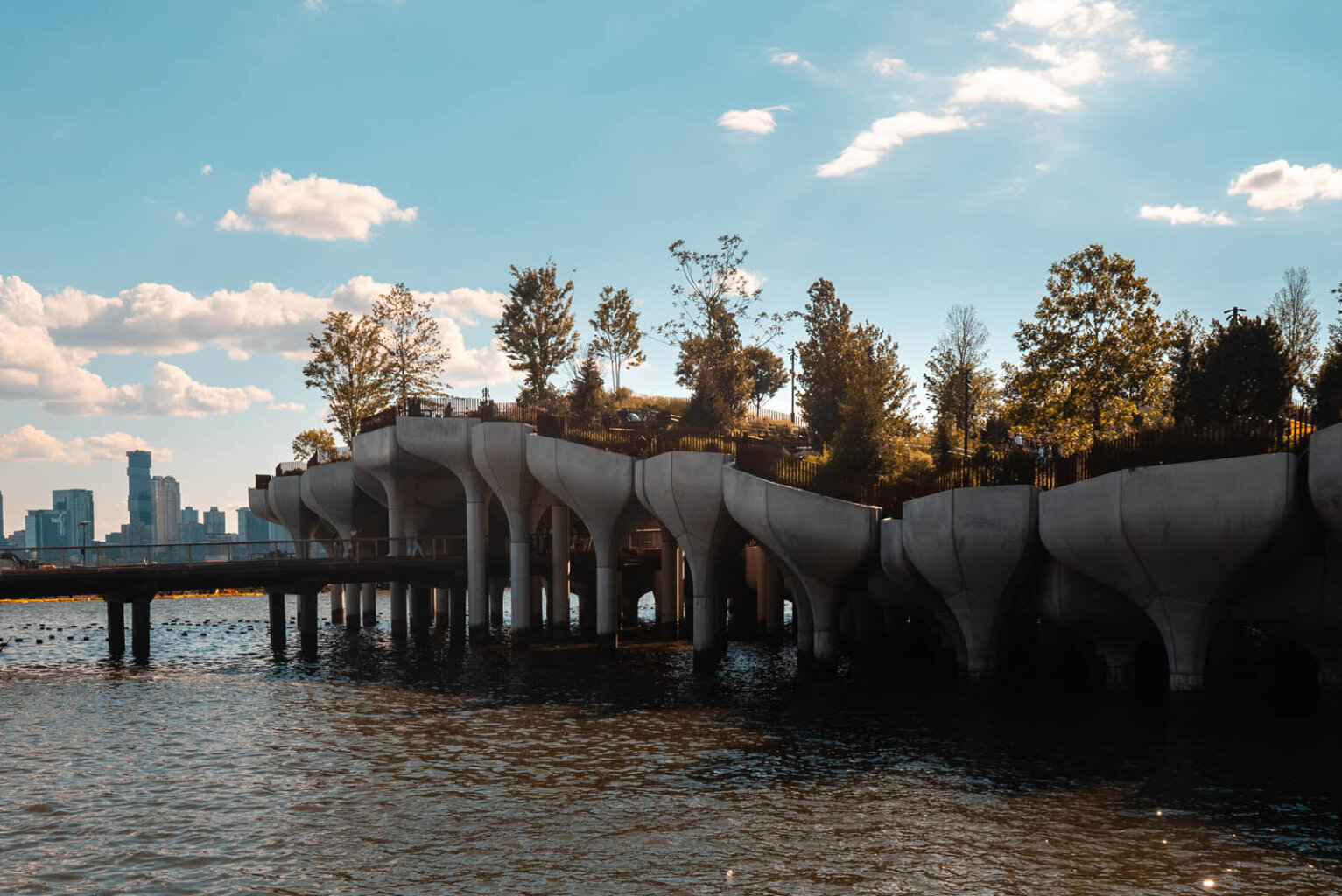 One of the best ways to soak up a New York City summer is by spending the day at one of the city's amazing parks! Throughout the 5 boroughs, you'll find everything from small gardens to massive green spaces featuring some of NYC's most iconic attractions. They're a great place to take a stroll under the trees, enjoy a cold treat in the shade, or get your feet wet.
One of the newest parks in NYC, Little Island is located on the Hudson River in Chelsea. This unique park features a cluster of artificial "islands" that are connected by pathways and elevated platforms. It offers beautiful gardens, sprawling lawns, interactive structures, an amphitheater, and breathtaking views of the city skyline.
Brooklyn Bridge Park is a waterfront green space spanning 85 acres. You can enjoy stunning views of Manhattan, the Brooklyn Bridge, and the Statue of Liberty. The park features 6 piers with lush lawns, shaded playgrounds, sports fields, picnic areas, a beach, and more. The park's Greenway is a popular spot for jogging and cycling. And in the summer, this is where you can see Movies with a View for free!
Located in Washington Heights, Fort Tryon Park is known for its unbeatable views of the Hudson River. The park is home to the Met Cloisters as well as the Heather Garden. At Fort Tryon, you can enjoy winding pathways, green meadows, and wooded areas perfect for leisurely walks and picnics.
And of course, there's Central Park. Spanning 843 acres, the park features green meadows, woodlands, and lakes. There are iconic landmarks you can visit and numerous opportunities for outdoor activities, including horseback riding. And Central Park is the main location in the summer for events like Shakespeare in the Park, the Global Citizen Festival, and Summerstage.
Day Trip to the Hamptons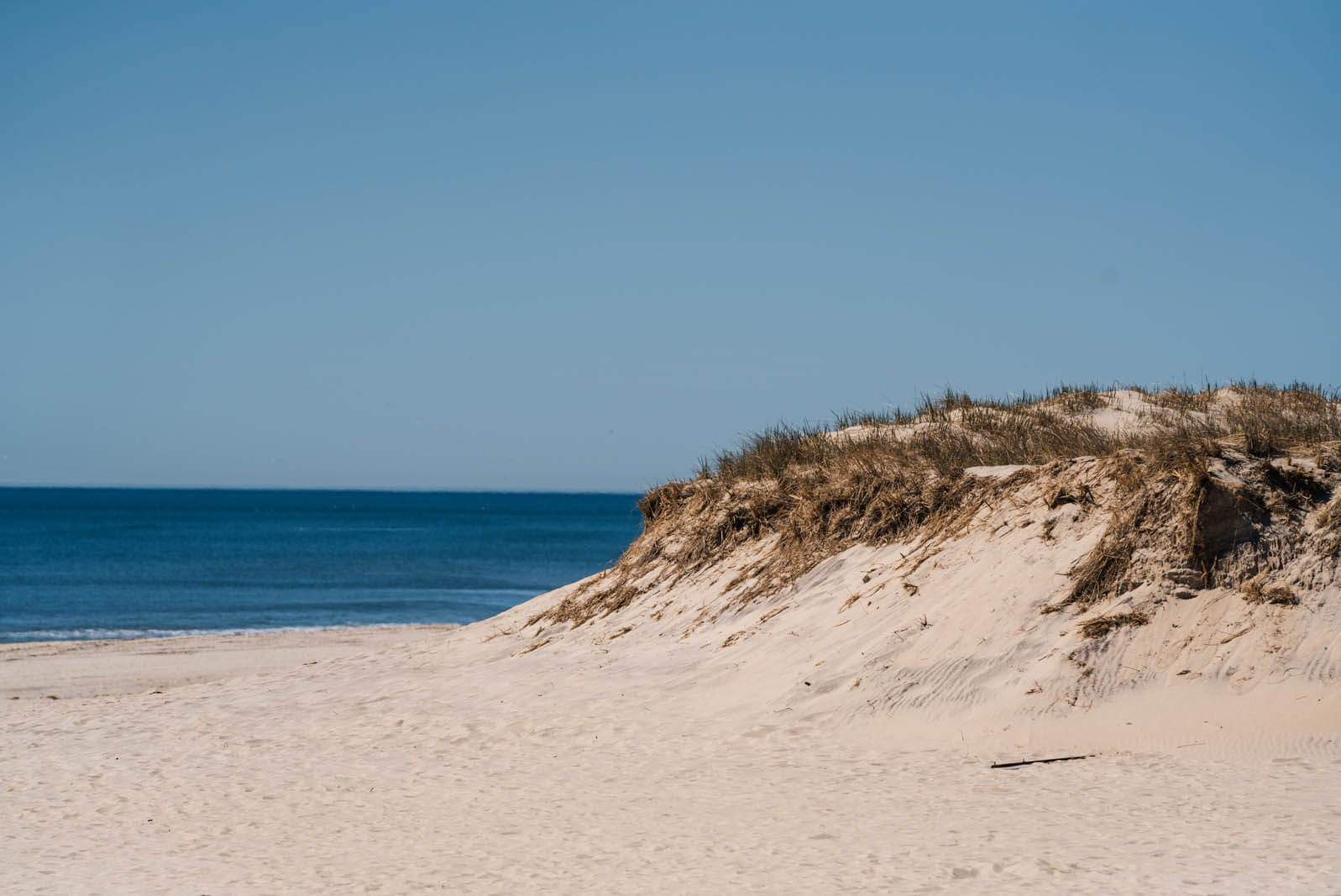 Located on the southern shore of Long Island, the Hamptons are a good idea for a day trip (or weekend trip) from New York City as there are so many incredible beaches in the Hamptons to enjoy!
Hampton Bays is ideal if you're looking for seafood restaurants and a day full of water sports on the beach. And East Hampton offers a mix of upscale shops, art galleries, historic sites, and more excellent beaches.
Sag Harbor exudes a quaint New England feel, with its picturesque harbor and historic whaling village. For nature lovers, Montauk is a must-visit, with its stunning coastline, lighthouses, and hiking trails. It's a bit further out, but many will find it worth the trip!
Don't have a car? It's easy to get to the Hamptons from NYC too with options like using the train or the Hampton Jitney, it makes this one of the best NYC summer getaways outside of the city.
The Hampton Jitney is also a popular way to get there with multiple departures from Manhattan. Whatever form of transportation you choose, make sure to check out all the details in our guide on the perfect day trip to the Hamptons!
Met Rooftop Garden
One of the hottest things to do in NYC in summer is visit the Iris and B. Gerald Cantor Roof Garden at the Met, after exploring the Met, of course! With uninterrupted views of Central Park, it offers a serene and vibrant escape from the bustling streets below.
Open during the warmer months, the rooftop garden showcases a rotating display of contemporary art installations. The garden also includes the Cantor Roof Garden Bar, which opens in early May. It serves refreshing cocktails and light snacks every day except Monday from 11 AM to 4 PM and also on Friday and Saturday nights from 5 to 8:30 PM. Find a bench for the perfect spot to relax and soak in the scenery!
In past summers, the Cantor Roof Garden has hosted live concert series on Friday and Saturday nights. Access to the garden, the garden bar, and events located there are generally free with museum admission.
Roller Skate!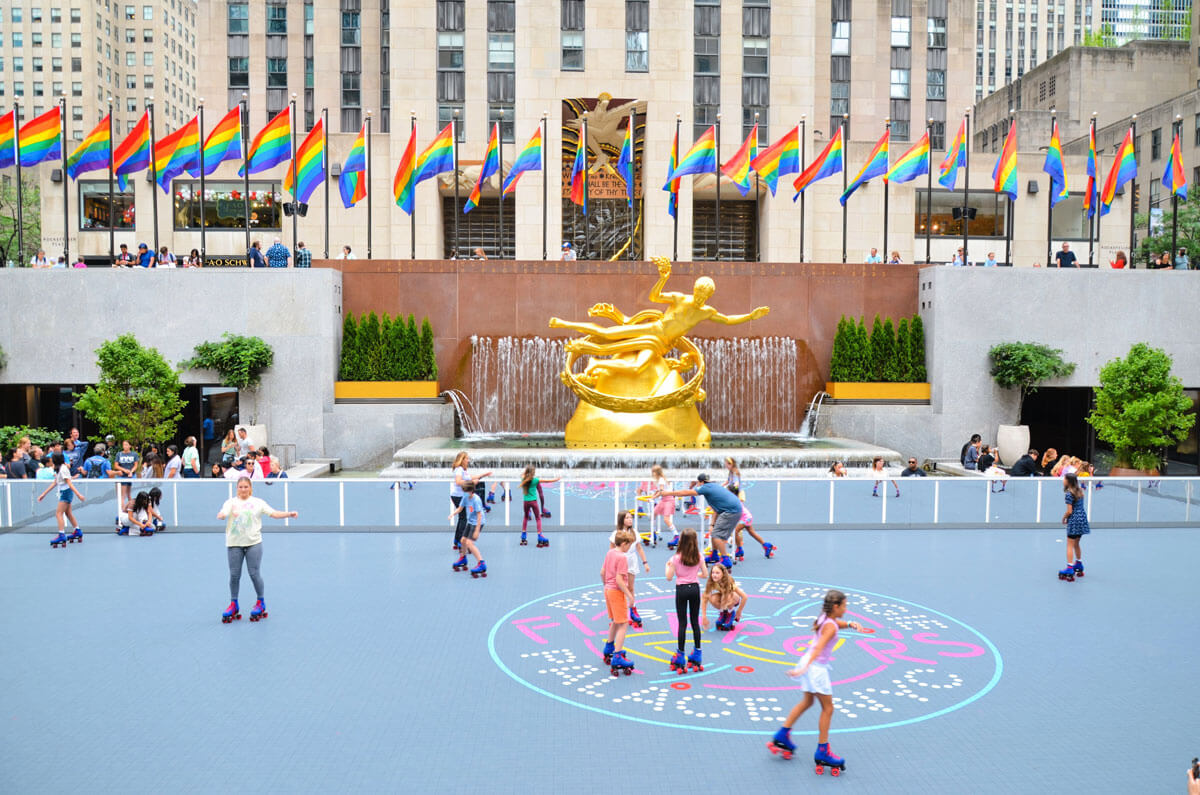 Many of New York City's ice rinks transform into exciting roller rinks during the summer months! These converted outdoor rinks offer a memorable way to enjoy your favorite pastime while taking in the urban backdrop of NYC.
The Rink at Rockefeller Center is one, turning into Flipper's Roller Boogie Palace beginning in April. This disco-themed roller rink hosts themed nights, live DJs, and more.
Another spot is the Riverbank State Park Roller Rink, situated along the Hudson River in Hamilton Heights. For a small fee, you can enjoy this massive, covered rink. And they offer skate rentals for all ages.
In Brooklyn, there's LeFrak Center at Lakeside Prospect Park. This is a great location for skaters of all ages. You can rent skates at the Bluestone Café & Bar and attend themed nights every Friday!
And Pier 2 at Brooklyn Bridge Park is a blast with public skate hours, a café, and skate and skate mate rentals. Most days include public skate hours and free skate hours, as well as themed nights with live DJs every weekend.
Mini Golf!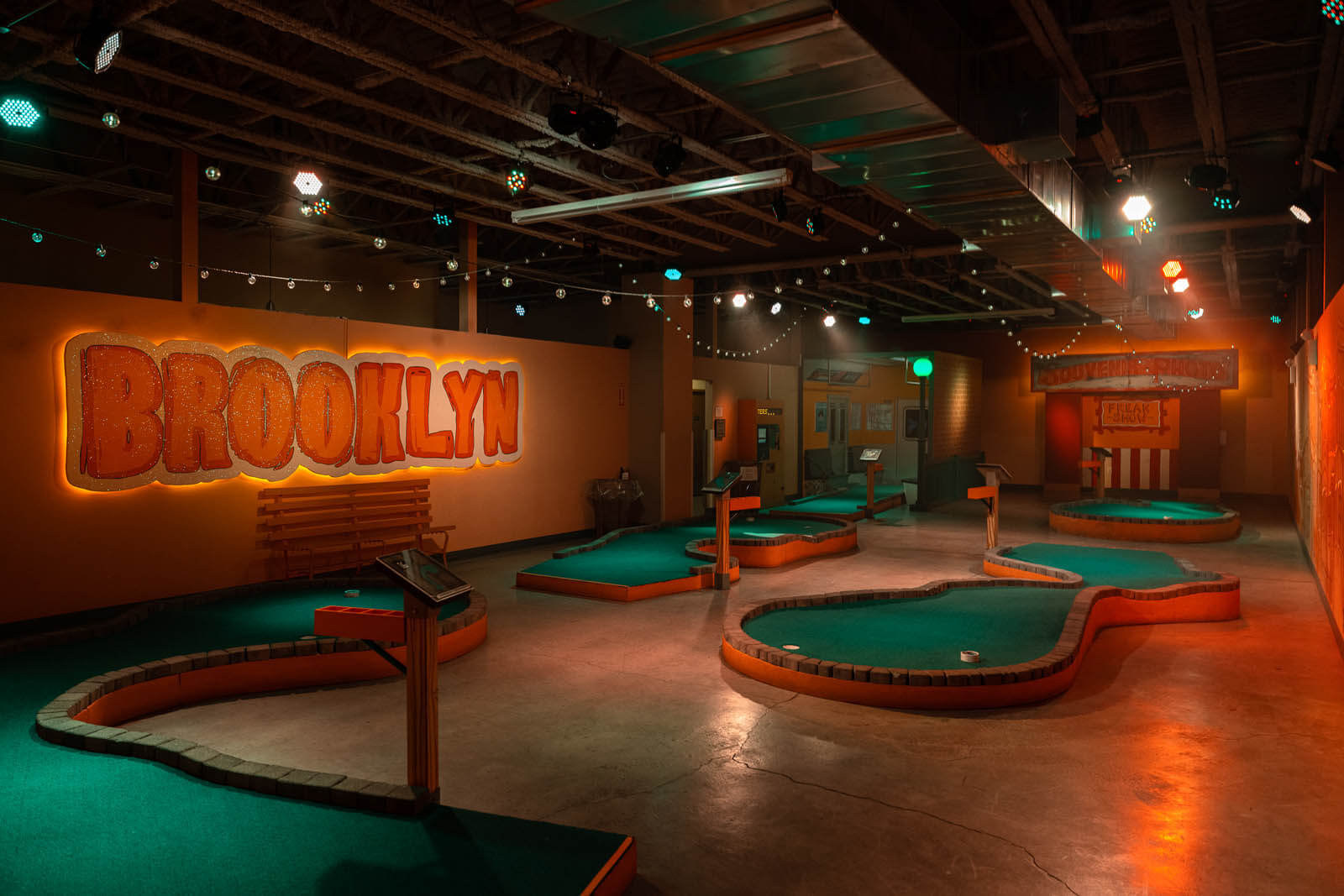 There are a variety of mini golf opportunities in NYC that offer a fun time on a sunny summer day. Whether you're seeking a classic seaside adventure, a pirate-themed escapade, a sophisticated night out, or a laid-back experience by the river, there's a mini golf destination in NYC for you.
Brooklyn Go Karts & Miniature Golf at Coney Island offers a classic mini golf experience with its no-frills 18-hole course. Located near the iconic boardwalk, it combines nostalgic charm with beachside fun, providing a delightful outing for families and friends.
Shipwrecked in Red Hook, Brooklyn is tons of fun with 4 different themed rooms. Navigate through 18 (indoor and air-conditioned) holes adorned with colorful decor and obstacles that are great for all ages.
Swingers NoMad in Midtown offers a stylish and upscale mini golf experience for adults 21 and up! The indoor course features beautifully designed holes and a chic atmosphere. Enjoy a blend of mini golf, cocktails, and delicious food for a memorable evening out.
Pier 25 Mini Golf & Volleyball is located in Hudson River Park in Tribeca, Pier 25 offers a scenic outdoor mini-golf experience. Play alongside the Hudson River, enjoying views of the water and the city skyline. The course offers a relaxed atmosphere, making it a great choice for a casual day of fun.
Glamping in NYC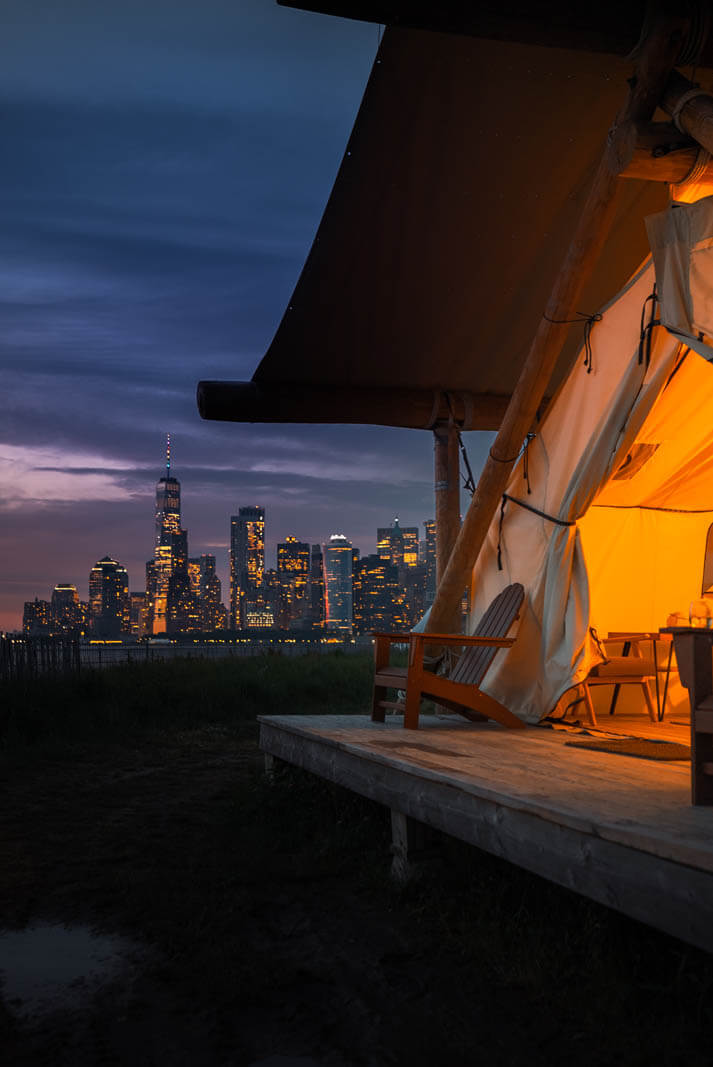 For more unique things to do in NYC in summer, consider glamping in the middle of the city! You have a few options to choose from. We adore Collective Retreats on Governors Island. It's the ultimate glamping experience with luxurious tents, curated activities, and gourmet dining, plus the perfect city views!
For a laid-back retreat, head out to the Rockaways, where you can book a safari-style tent at Camp Rockaway. June through early September, you can take it easy by the fire pit or enjoy all the great outdoor activities available to you at Fort Tilden and nearby Jacob Riis Park.
Or enjoy the ultimate urban glamping experience with NYC Glamping in Greenpoint. Choose from an upcycled shipping container cabin, a tent, or an Airstream! Guests enjoy scenic views of Manhattan, free admission to Skyline Drive-In, and access to nearby attractions.
Rent a Boat in an NYC Park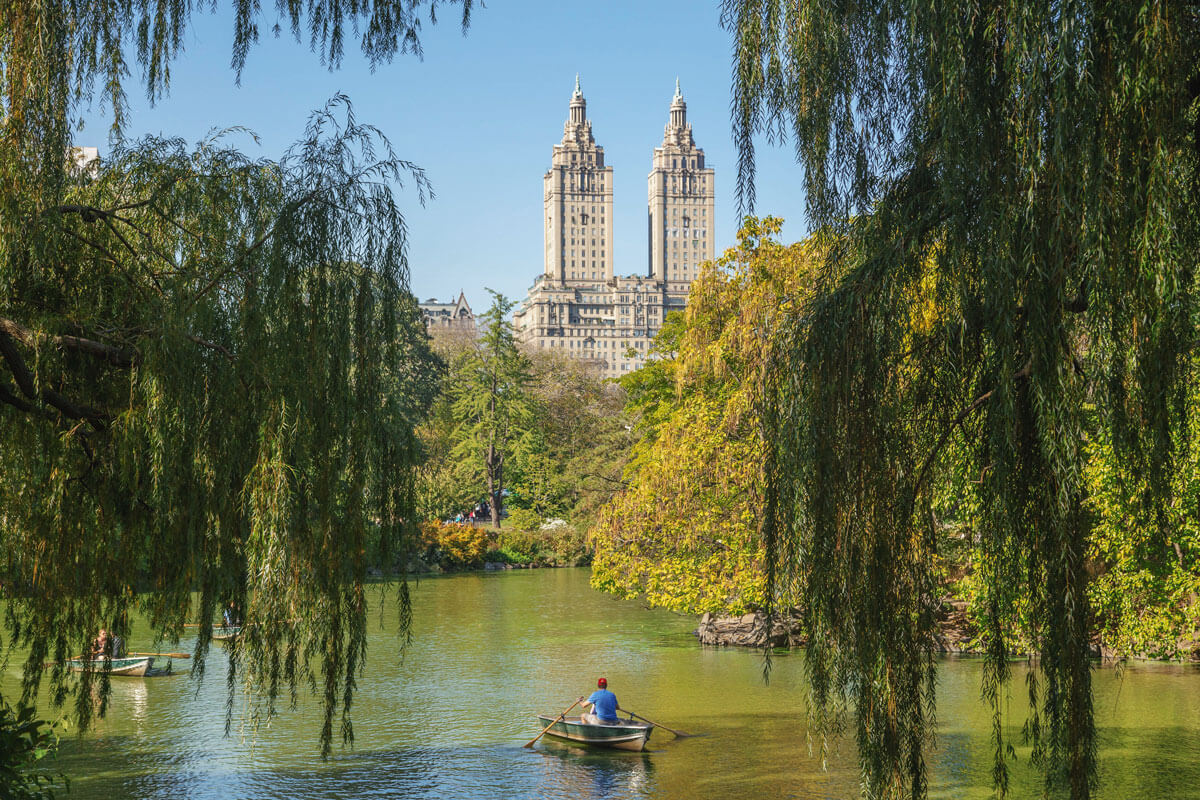 Enjoy nature while enjoying the city's iconic landscapes by going on a boat adventure in an NYC park! We suggest checking out either Prospect Park for a pedal boat or Central Park for a rowboat.
In Prospect Park, head to the LeFrak Center at Lakeside. Beginning in late April, you can rent single- or double-pedal boats and kayaks to take on Prospect Park Lake. Rentals are available on a first-come, first-served basis every day of the week.
And Central Park's iconic Loeb Boathouse offers rowboat rentals on the idyllic Central Park Lake. Enjoy the park's scenic beauty and famous landmarks when you rent a rowboat by the hour. Boats hold up to 4 guests and life vests are provided for you.
Sail Around the City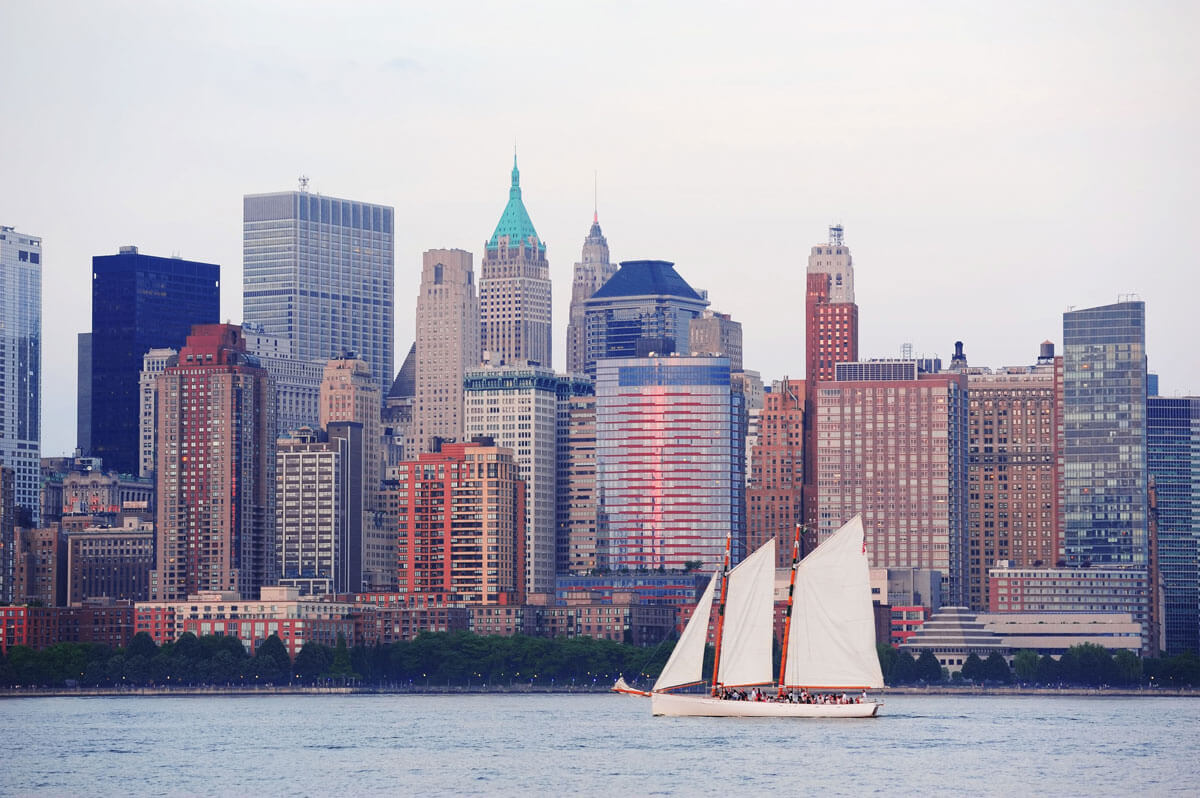 One of the best ways to see New York in the summer is from the water. We suggest booking a spot on a gorgeous sailboat through the Hudson or East Rivers. There's nothing like the sweeping views of Brooklyn Bridge or the Statue of Liberty you'll enjoy from a boat!
You could take an iconic sunset cruise on a schooner through New York Harbor. Sit back and enjoy the scenery while you sip on a complimentary alcoholic drink of your choice. The 2-hour cruise will take you around Battery Park at the southern end of Manhattan. You'll sail past historic Ellis Island and see the State of Liberty by sunset!
This 2-hour day cruise is the perfect way to enjoy a balmy summer day in the city. You'll board a stunning 105-foot sailboat at Chelsea Piers and glide through the Hudson River. Enjoy glimmering views of One World Trade Center, Battery Park, and the Statue of Liberty while you walk the spacious decks.
Or board NYC's largest sailboat at Pier 17 at Seaport for a 2-hour twilight sail. Enjoy stunning views of the Brooklyn Bridge, the NYC skyline at sunset, and the Statue of Liberty at night! You can enjoy music while you order drinks and snacks from the boat's full on-deck bar.
Visit the Botanic Gardens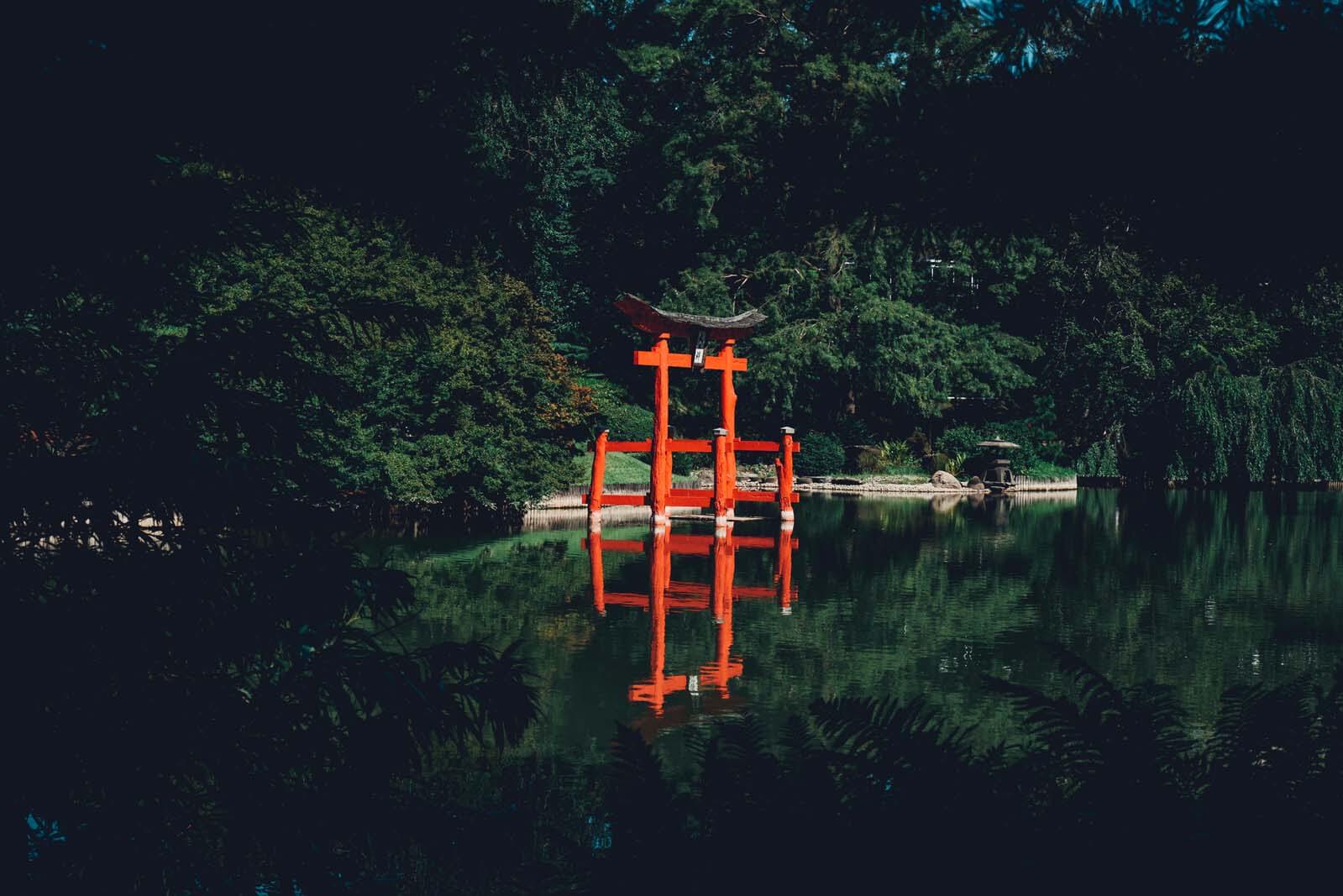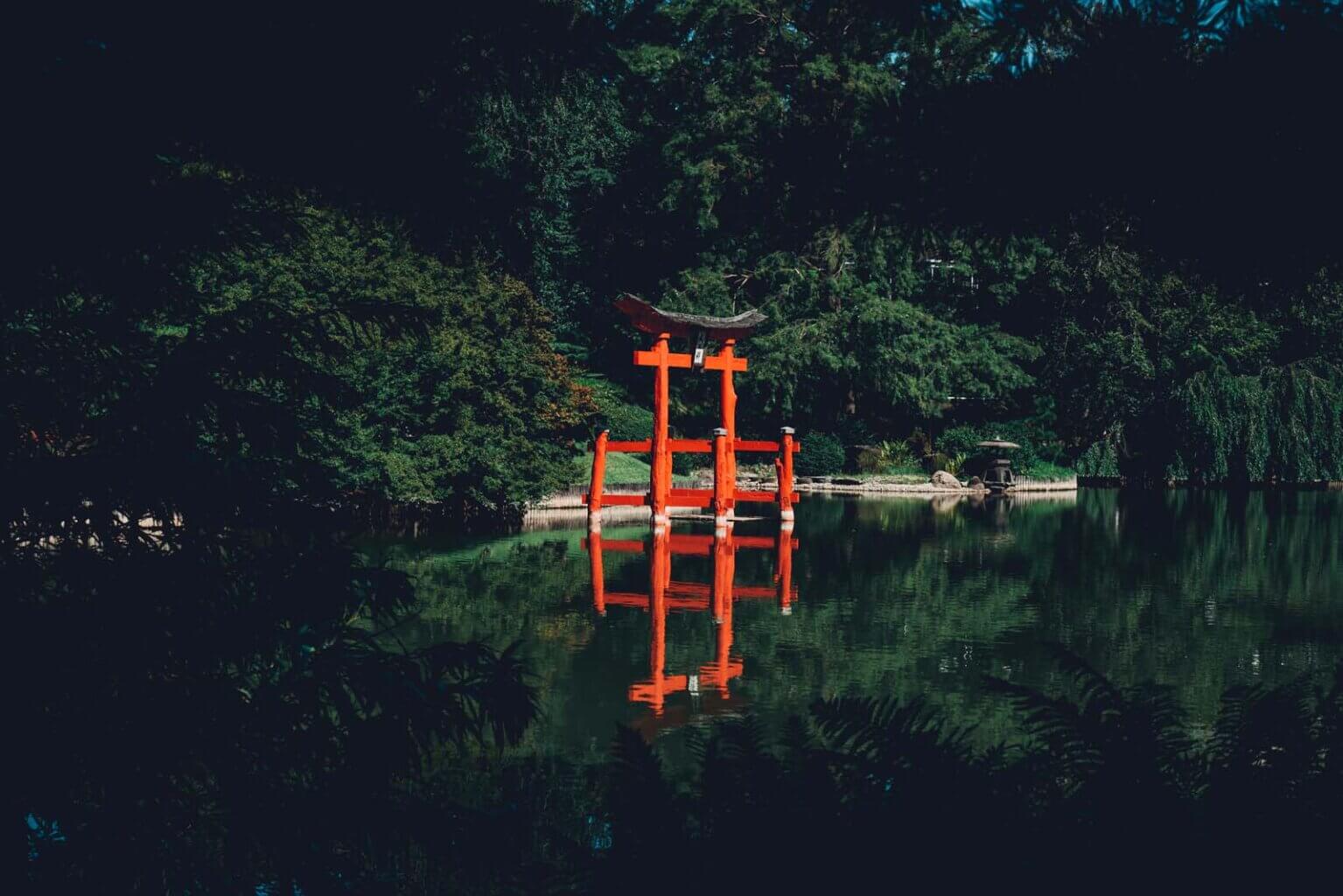 NYC botanical gardens are beautiful and serene places that showcase a wide variety of curated plants, flowers, and trees. And visiting one of the city's botanical gardens is indeed one of the best things to do in NYC in summer when everything is in full bloom.
Located in the Bronx, the New York Botanical Garden is one of the largest botanical gardens in the US. Spanning over 250 acres, it offers an extensive collection of plants from around the world. The garden boasts a variety of habitats, including a dramatic rock garden, a native forest, a serene waterfall, and an enchanting Victorian-style glasshouse conservatory. In summer, you can take tours or enjoy hiking trails covering the grounds.
The Brooklyn Botanic Garden is on the northern side of Brooklyn's Prospect Park. In the summer, visitors can enjoy vibrant displays of roses, lilies, and other seasonal flowers. The garden also features several themed areas like the Japanese Hill-and-Pond Garden, the Fragrance Garden, and the Cranford Rose Garden.
And Snug Harbor Cultural Center & Botanical Garden on Staten Island is a hidden gem! The garden is spread across 83 acres and features several different themed gardens, including the beautiful Chinese Scholar's Garden. Snug Harbor also hosts various attractions, including access to a working farm. You can visit the greater cultural center and gardens for free, but certain sites, like the Chinese Scholar's Garden, cost a small admission fee.
Shakespeare in the Park
Every year, Shakespeare in the Park is one of the biggest NYC summer events of the entire season! The highly anticipated production is held each summer at the beautiful open-air Delacorte Theater in Central Park.
You can see Shakespeare's most famous plays from early June through early August. Shows are held Monday through Saturday at 8 PM. It's free, but you need to reserve seats in advance. Ticket sales opening available at noon the day of the show.
Shakespeare in the Park is a beloved NYC tradition and tickets go fast! There are several ways to get tickets each year, announced here at the beginning of May. Usually, you can stand in line the morning of a show or add your name to a lottery to win tickets with 12 hours notice.
Shakespeare in the Park puts on absolutely beautiful productions and you never forget attending! Also, you can bring your own food and drinks or purchase items from vendors outside the theater.
More Things to do in NYC in Summer: NYC Summer Events
No New York City summer is complete without experiencing one of the many public events across the city. Whether you're interested in superb performance art, want to try some good food, or want a new experience under the stars, you're sure to find it here! Here are more things to do in New York in the summer that we love.
Summer Streets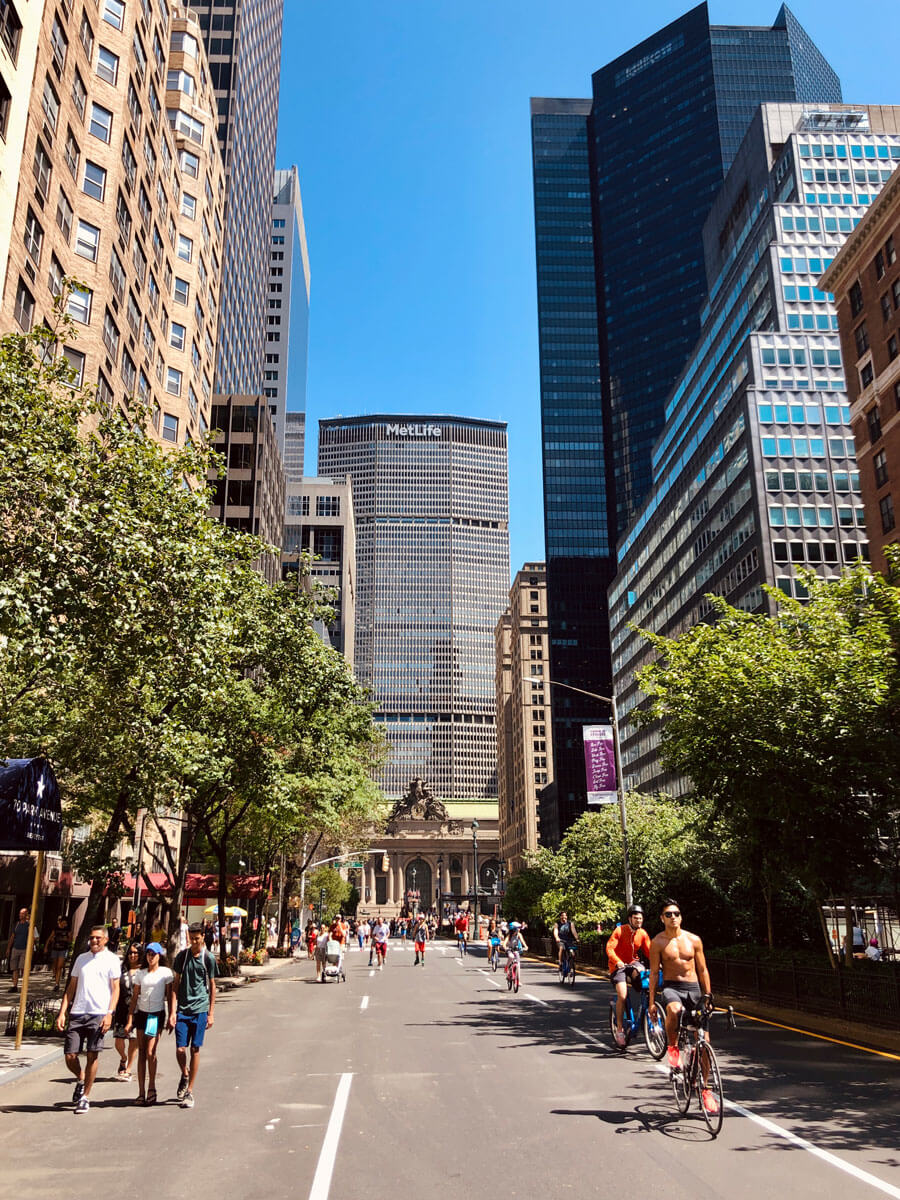 Imagine a block party but almost 10 miles long! Every Saturday in August, from 7 AM to 1 PM, that's what it's like. Now covering a route from the Brooklyn Bridge all the way to East Harlem, there's endless fun to be had, all car-free.
You can bike, skate, run, or take a stroll down Park Avenue. Check out Summer Street pop-up events for all ages, enjoy live music, and more! There are food trucks, retail vendors, and just a nice place to enjoy the atmosphere of NYC in the late summer sun.
4th of July Fireworks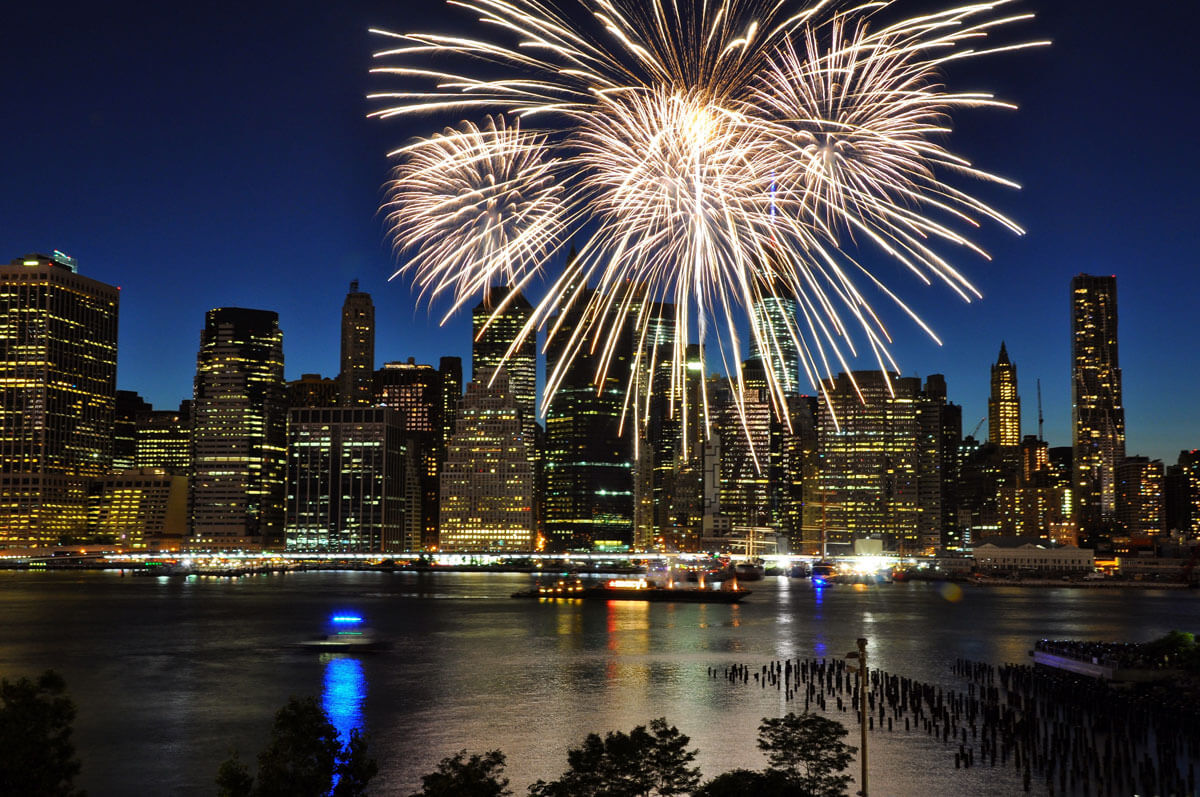 One of the most famous NYC summer events is Macy's annual 4th of July Fireworks Spectacular. The fireworks are launched a little after 9 PM, rain or shine, from multiple barges strategically positioned on the East River. This allows for great vantage points along the waterfront, in Manhattan, Brooklyn, and Queens.
Every year, people across the country tune in to watch live broadcasts of the fireworks. But you can find a great place to watch it, live! Make a night of it at a rooftop bar or a city park.
See our full guide to all the best 4th of July events in New York City for more!
Coney Island Mermaid Parade
The Coney Island Mermaid Parade is a unique annual event held in Brooklyn. With roots going back more than a century, the Mermaid Parade has become a beloved tradition in New York City. It showcases the vibrant culture of Coney Island, capturing the whimsical essence of the seaside neighborhood.
Held around the summer solstice, it celebrates the beginning of the summer season with a vibrant and colorful procession of mermaids and sea creatures! The parade features elaborate costumes, music, dancing, creative floats, local clubs, and more.
The Nathan's Hot Dog Eating Contest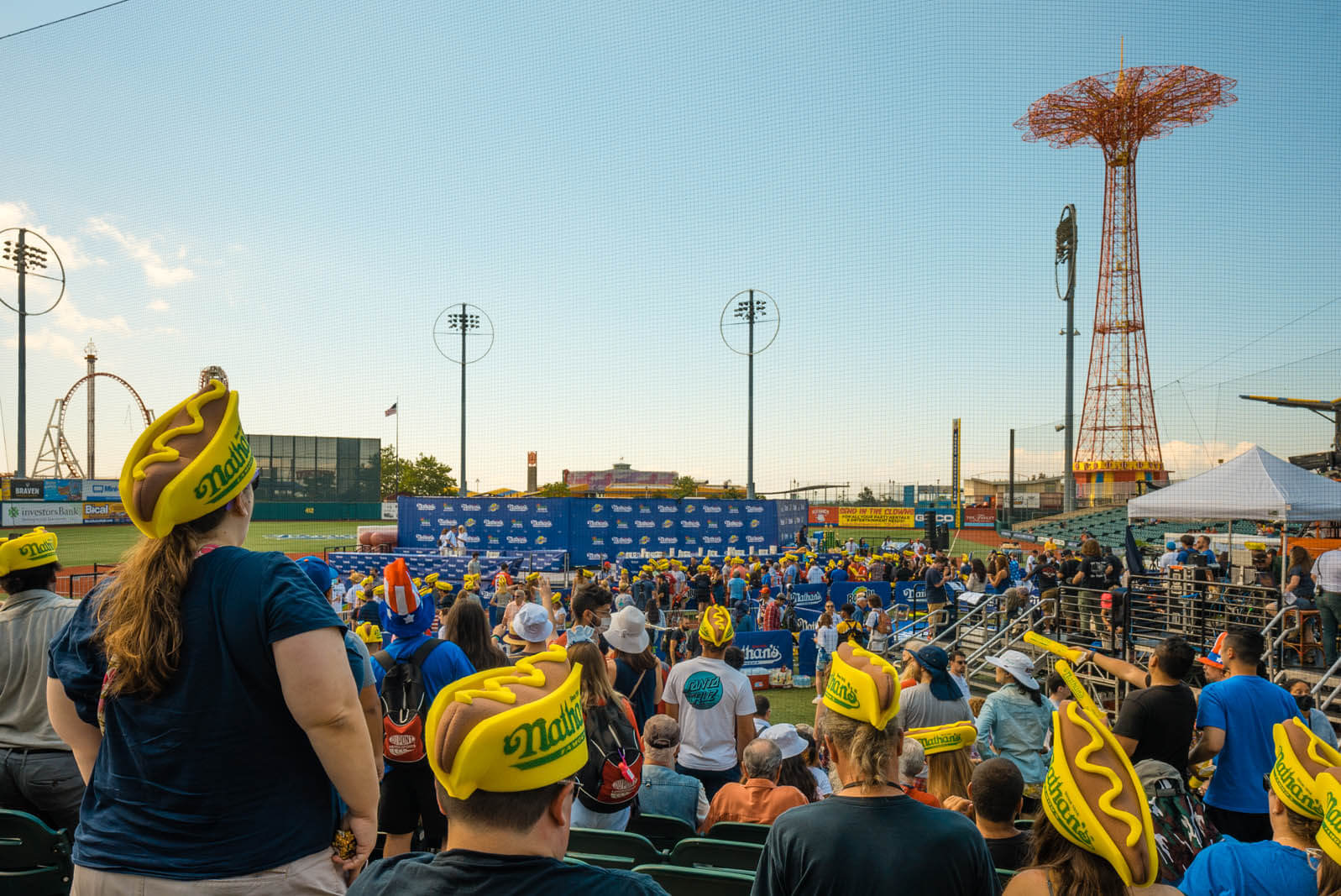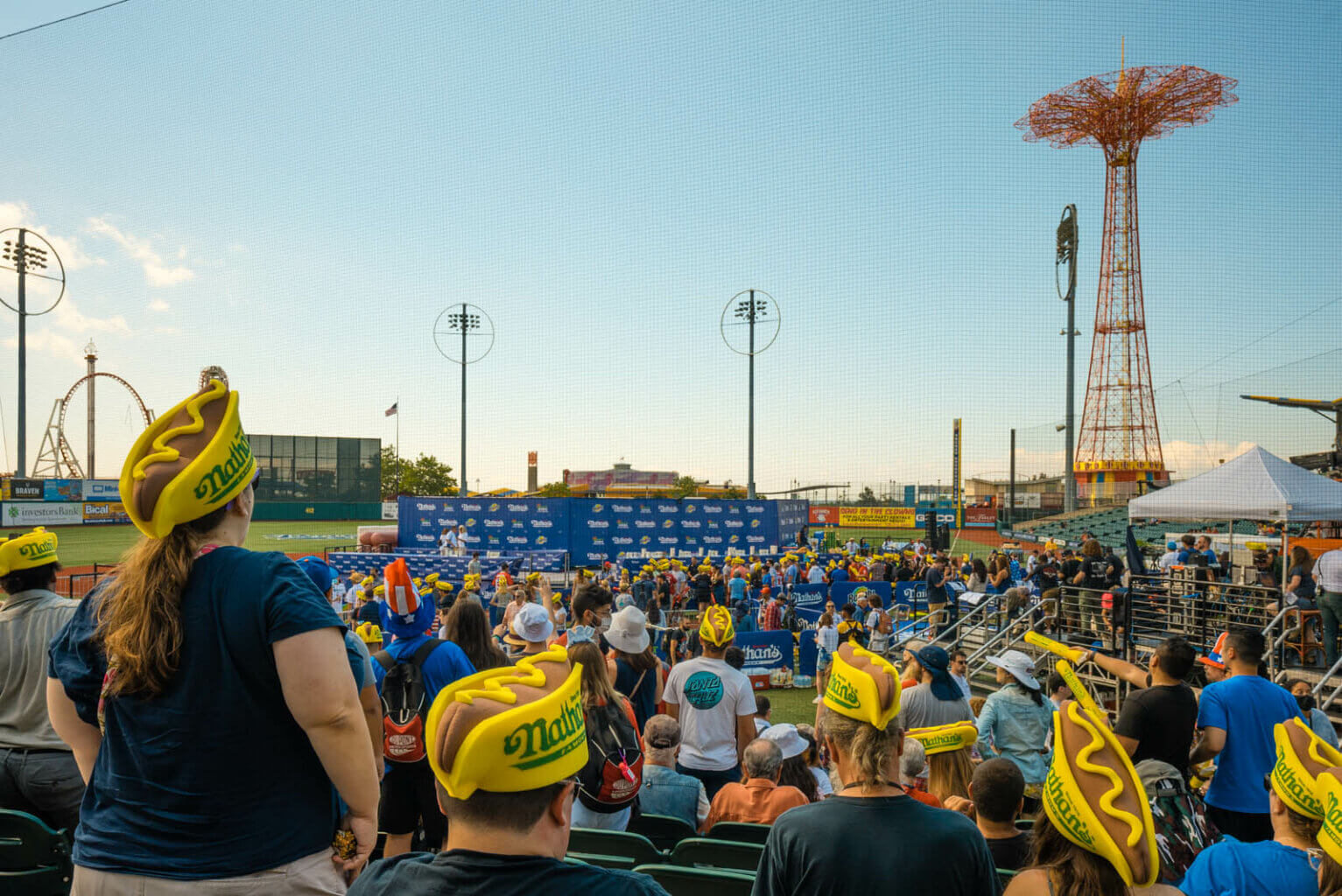 Even if you didn't know about the annual Nathan's Dog Eating Contest, you've probably heard of it! This infamous contest is an annual competitive eating event held on July 4th at Coney Island. Brave participants compete to see who can consume the largest number of hot dogs (buns and all) in the shortest amount of time.
The contest is organized by Nathan's Famous and has gained worldwide attention because of how over-the-top and fierce the competition gets! For many, it's become an Independence Day tradition, with everyone rooting for their favorite competitor.
Summerstage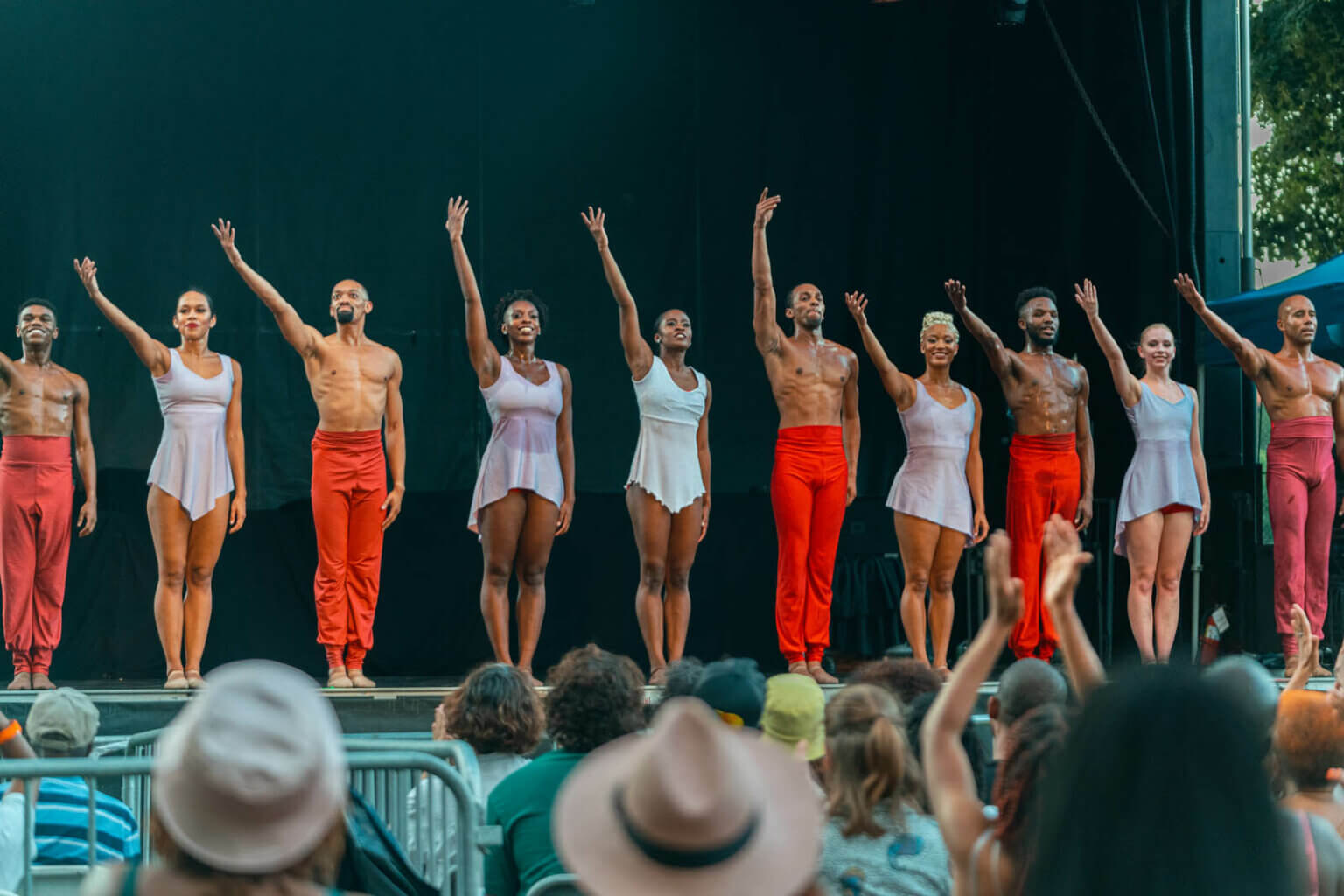 All summer in New York City, you can attend free and ticketed outdoor concerts, theater productions, film screenings, concerts, and more through Summerstage. This renowned outdoor performing arts festival starts in April and continues all summer long. Held in parks and outdoor venues throughout the city, SummerStage features both established and emerging artists from different genres.
Smorgasburg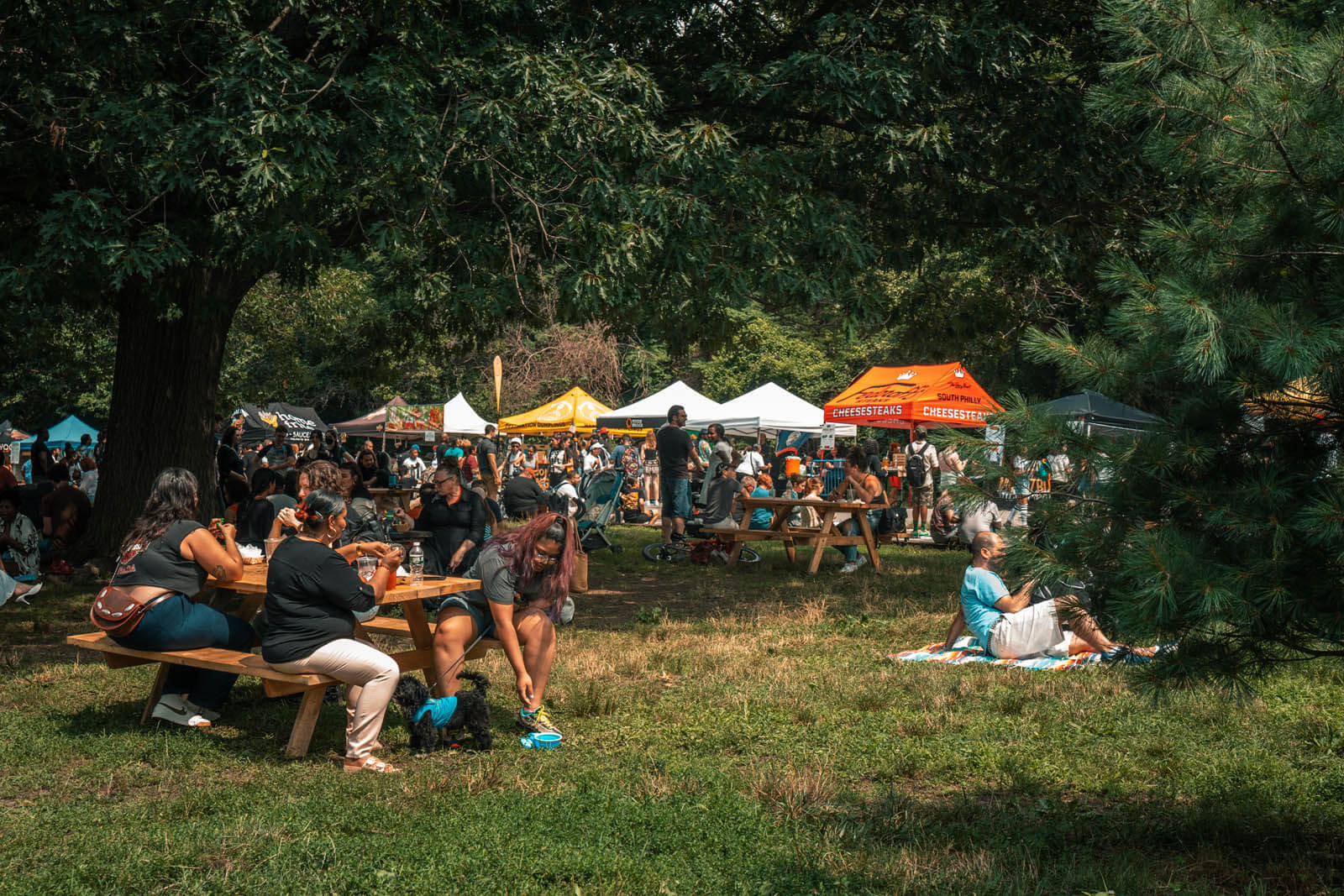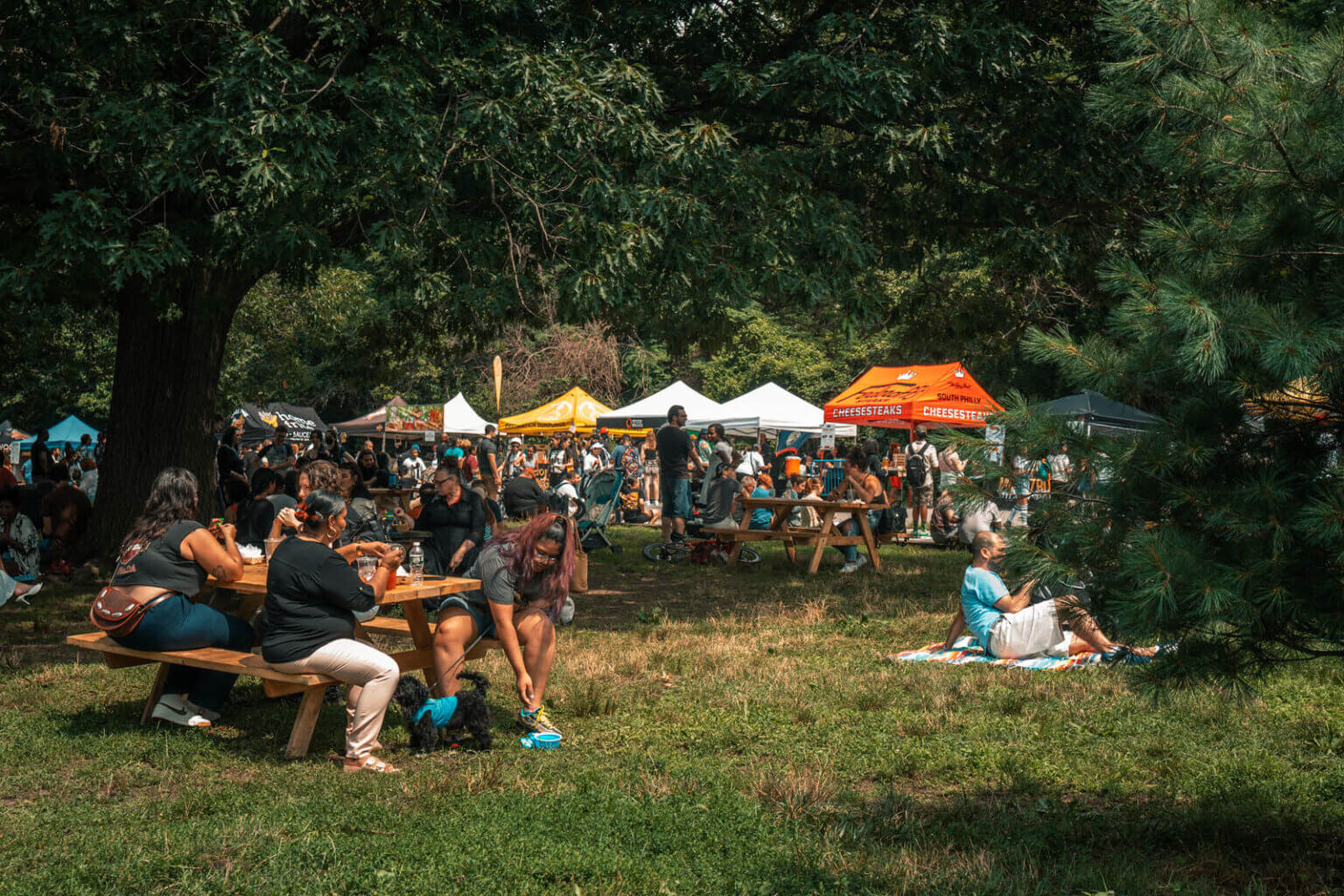 Smorgasburg NYC is a popular open-air food market offering a wide range of delicious eats from local vendors. It's a fun place to try international cuisine, trendy treats, and summer classics.
The event began at its main location on the Williamsburg waterfront and now includes established locations in Prospect Park and at the WTC Oculus Plaza. You can attend Smorgasburg weekends all summer.
NYC Restaurant Week
NYC Restaurant Week is a highly anticipated event that takes place twice a year, including during the summer months (usually mid-July through mid-August). Participating restaurants throughout New York City offer prix-fixe menus, giving you a chance for you to experience NYC's diverse dining scene at discounted prices!
Night Markets!
Queens Night Market and Bronx Night Market are super popular food festivals taking place during the summer in NYC. They showcase the diverse flavors of each borough.
Queens Night Market takes place every Saturday night in Flushing Meadows Corona Park. Bronx Night Market is held the last Saturday of every month beginning in May. It happens at 1 Fordham Plaza and also includes live music and local artisans.
Lincoln Center's Summer in the City
Lincoln Center Summer in the City is a great local program that brings free cultural events to New York City throughout the summer. You could attend outdoor concerts, dance performances, poetry readings, family-friendly activities, and more!
All the events are held at the iconic Lincoln Center for the Performing Arts from mid-June through mid-August. As part of it, the Josie Robertson Plaza turns into a giant outdoor dance floor where you can attend social dances and silent discos.
Bryant Park Film Festival
Looking for more free NYC summer activities? Movies in Bryant Park is a summer favorite with free showings on Monday evenings from mid-June through mid-August. You can arrive starting at 5 PM with a blanket (no chairs) to find your spot on the lawn for the 8 PM showing. There are food vendors in the park as well as a pop-up market to peruse!
Summer on the Hudson
Summer on the Hudson is a series of free outdoor events that take place along the Hudson River from May through Mid-September. You can enjoy beautiful waterfront locations like Riverside Park and Hudson River Park while you attend concerts, theatrical productions, yoga classes, children's activities, and more. The lineup includes both one-time and repeating events, including activities like stargazing and workshops on composting.
Museum Mile Festival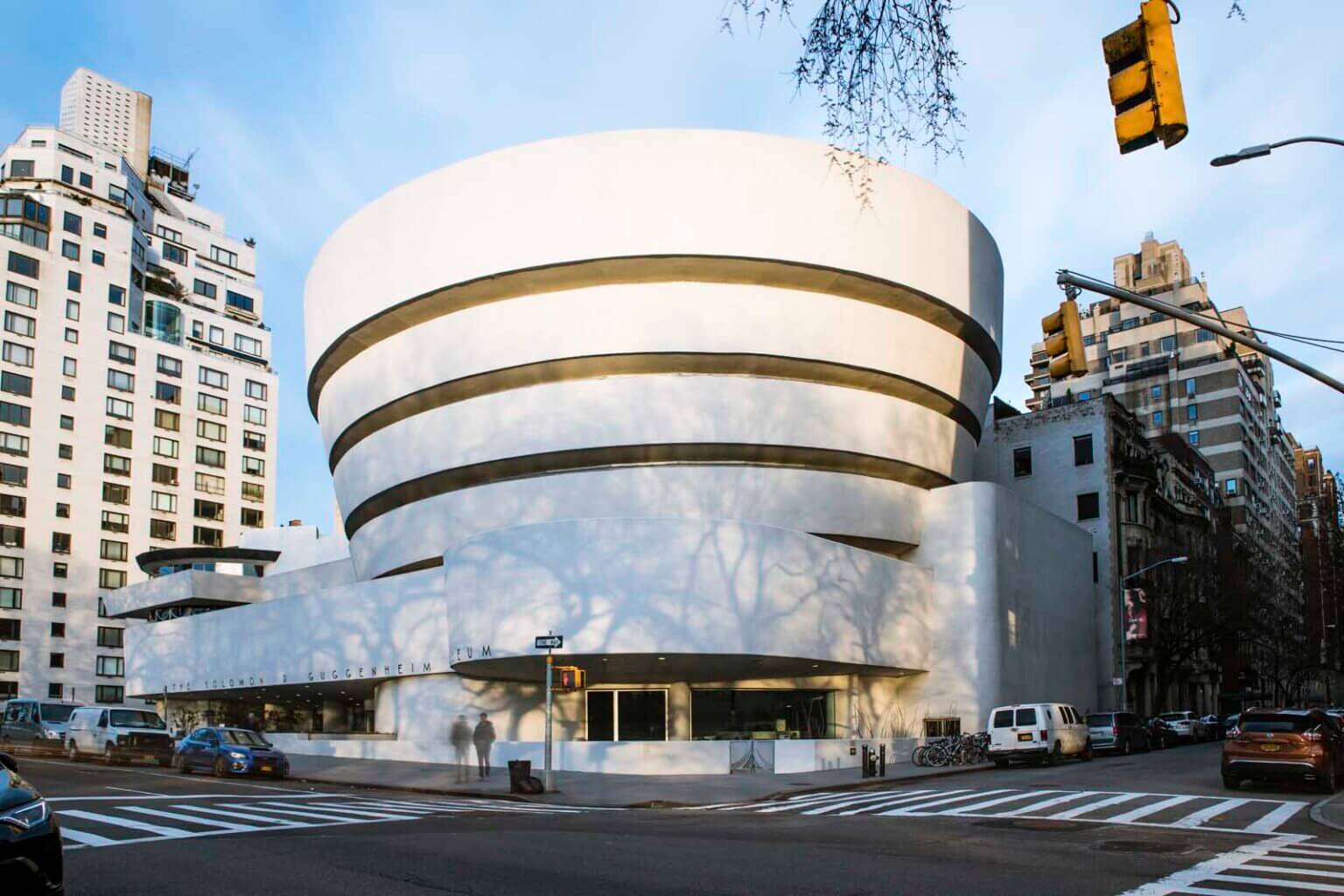 The Museum Mile Festival is a one-day event that takes place in Mid-June. All evening, 5th Avenue is closed off to become pedestrian-only and you get free access to some of the city's most renowned museums.
You can visit the Metropolitan Museum of Art, the Guggenheim Museum, and the Museum of the City of New York. But that's not all! The festival is like a mile-long block party with art exhibitions, live performances, family-friendly activities, food vendors, and more!
US Open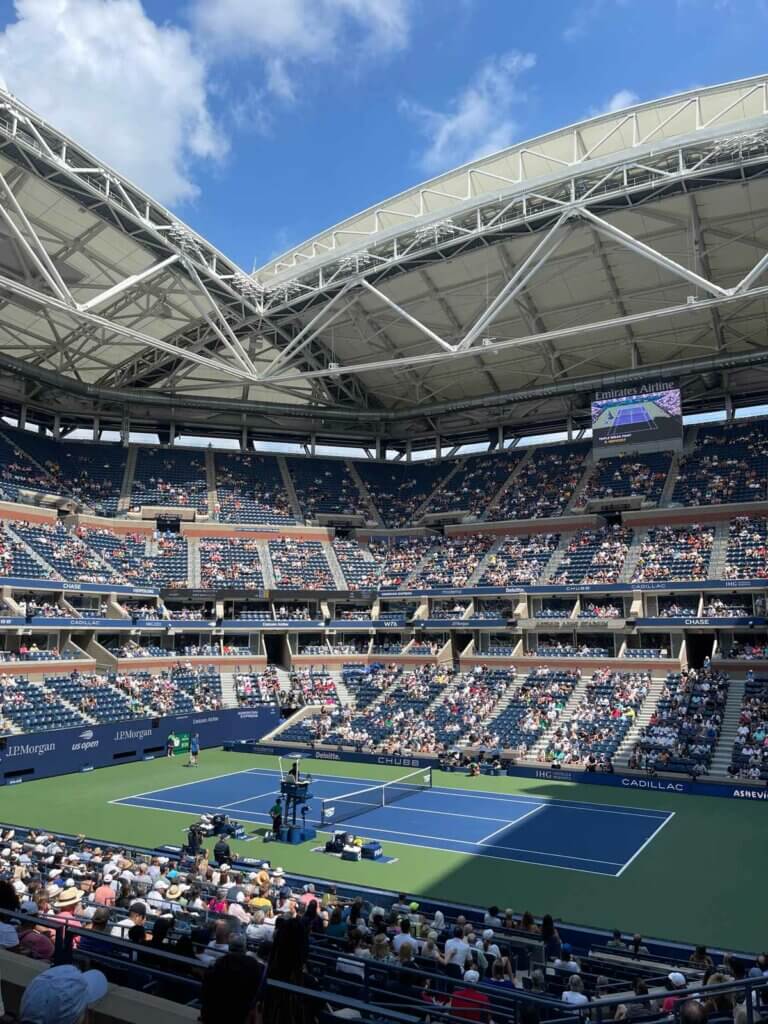 A great way to end the summer is by attending the US Open, which takes place in Queens at the end of August. One of the top things to do in NYC during the summer, you can watch the world's top tennis players in qualifying matches (for free). It's an exciting couple of days with good food and drink. Matches take place at the USTA Billie Jean King National Tennis Center in Queens.
---
Is New York worth visiting in the summer?
New York is absolutely worth visiting in the summer, some might argue this is the best time of year to come since there are so many fun summer events, many of which are free, outdoor activities, parks, and rooftops that are fun to enjoy when the weather is hot along with the incredible beaches!
What to do for free in NYC in summer?
There are many free things to do in NYC in summer like all the special programming including performances and free movies in New York City parks, picnicking in the parks, and even free kayaking!
What's the weather like in New York City in the summer?
The weather in New York City in summerrange between lows of 65 and highs of 90 degrees Fahrenheit, with wildly varying degrees of humidity and precipitation.
What is New York City like in the summer?
New York City in the summer is one of the most exciting times to be in the city with all types of special events and activities, the city and streets really come to life during the summer months for locals and visitors alike.
---
Best of Summer in New York City Summary:
Governors Island
Get Ice Cream
Outdoor Movies
Go on a Hike
Met Cloisters
Rooftop Bars
Hit up a Pool
Coney Island
New York City Beaches
Dining on the Water
Kayaking
Catch a Baseball Game
Find Shade in Cool Parks
Day Trip to the Hamptons
Met Rooftop Garden
Roller Skate
Mini Golf
Glamping
Rent a Boat in an NYC Park
Sail Around the City
Visit the Botanic Gardens
Shakespeare in the Park
Summer Streets
4th of July Fireworks
Coney Island Mermaid Parade
Nathan's Hot Dog Eating Contest
Summerstage
Smorgasburg
NYC Restaurant Week
Night Markets
Lincoln Center's Summer in the City
Bryant Park Film Festival
Summer on the Hudson
Museum Mile Festival
US Open
---
Enjoyed this guide to the best things to do in NYC in summer and NYC summer events? Bookmark for later!