You've booked your trip for New York City, packed your bags, and planned trips to Times Square and the Empire State Building. You're ready for a fun visit to the Big Apple, but before you get on that plane, check out our list of the most common scams in NYC to avoid. Then you'll be prepared for a fun-filled time making memories at the most popular tourist destinations.
The point of this article is not to scare anyone but to educate you on some common scams in NYC that you could come across and easily avoid. These scams are also prevalent all over the world in just about any major city or tourist hot spot, so consider this as just a piece to read up on not only scams in New York, but just anywhere to be aware of.
Don't run around scared and paranoid, all of these scams are easy to avoid if you even encounter any of these at all on your trip. If you ever feel you're in danger, be sure to call the authorities and police. However, most of these NYC scams are just common ways for people to rip off unsuspecting tourists of a few bucks and are pretty harmless other than to your wallet.
Read up on these scams in New York you may encounter and be ready for how to avoid them by following some of our tips.
Speaking of planning, check out our guides for how to spend 3 days in NYC and how to spend a weekend in Brooklyn for curated itineraries to help make planning a breeze!
Common Scams in New York to Watch Out For
Unofficial cabs at the Airport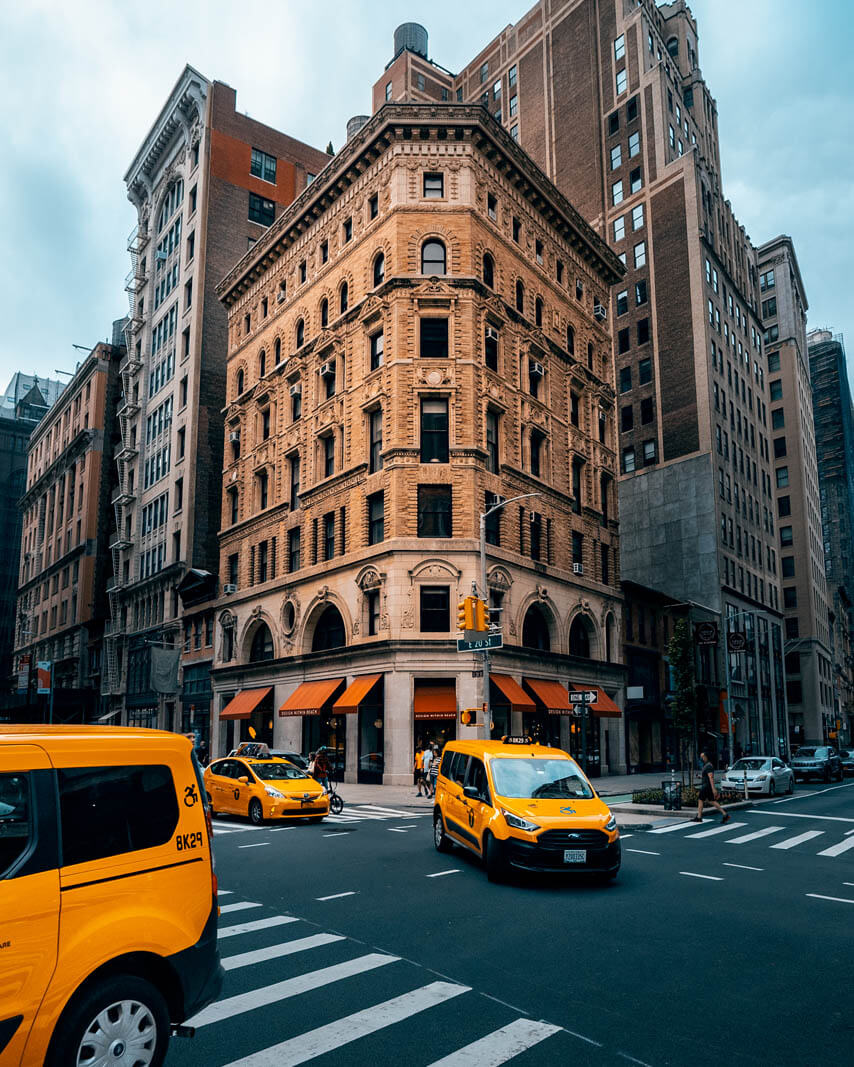 Welcome to NYC! At the airport, after your bags are collected and you've headed out of the airport to find a cab, be on the lookout for fake cab drivers. Here's how it works— a person running the scam will come up to you to take you back to their car. Sometimes you'll see them next to a black car with a meter inside looking pretty official. Don't fall for this trick.
Once you're at your destination, the scammer will overcharge you. They often take the "scenic route" to show you popular NYC sights, hiking up the meter, or charging you for tolls.
If they use a card reader, you might find out later that you were charged more than you agreed to. But even if you take a licensed cab, you could still get ripped off by this popular scam in New York City, because they expect travelers to be naïve.
These days, your best option is public transit, rideshare apps Uber or Lyft, or go to the official taxi cab area. With these options you will know the rate in advance, and they're generally cheaper.
But if you decide to take a taxi, look for the official taxi line that is available at all major New York airports. Wait in line, and when it's your turn, someone working the line will direct you to an official cab. These cabs will be licensed and charge a general rate, usually starting at around $40.
A few tips for how to not get overcharged by cabbies: know the quickest route to your destination and let them know which way you want to go before you get in.
Tell your driver if you want to avoid tolls but be aware that this may result in a longer route and higher fee. If you pay cash, have exact change. If you pay with your card, ask for a receipt. And always look for the license displayed in the passenger compartment (I recommend taking a picture of it).
Subway Scammers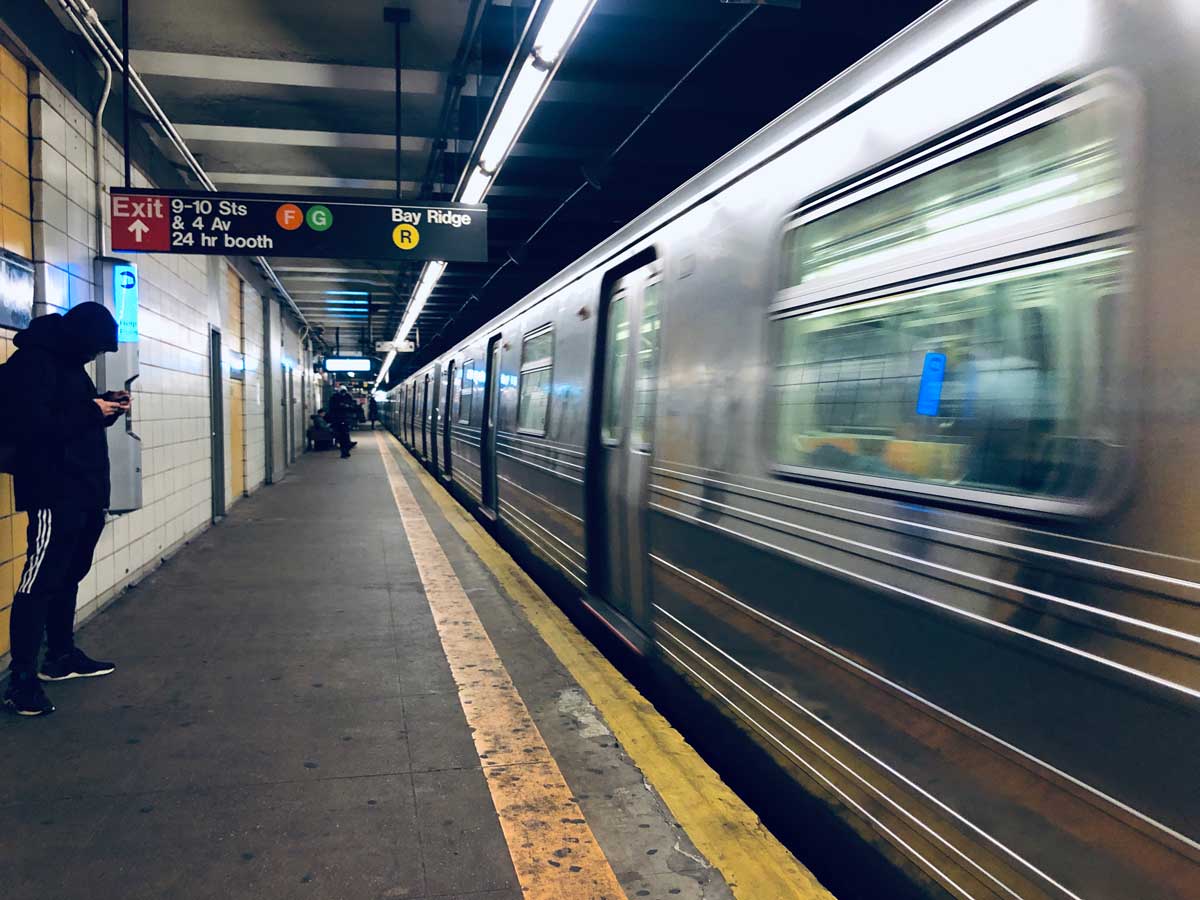 Once you're on the subway, you're in for the real New York experience! There are a just few famous NYC scams to watch out for so you can enjoy your trip.
Before you even get on the train, you want to buy a MetroCard. In the station, someone may offer to sell you a card with a certain number of swipes for a discounted rate, or try to say you're getting a bargain with "the first swipe free."
Free swipes are not a real thing. If you buy a card from these scammers, it might be empty or have fewer swipes on it than you paid for. They'll ask for cash, and there's always a chance being taken when exchanging bills with these professional scammers.
When in the subway, just don't interact with strangers. Everyone is going about their business and no one should be trying to get your attention.
Subway stations have designated tellers and machines that distribute MetroCards. Tellers can answer any questions you have about rates and deals, like free connections and single-ride cards. You may not even need a MetroCard— these days most stations have readers that allow you to just tap your credit card!
Pickpockets on the Subway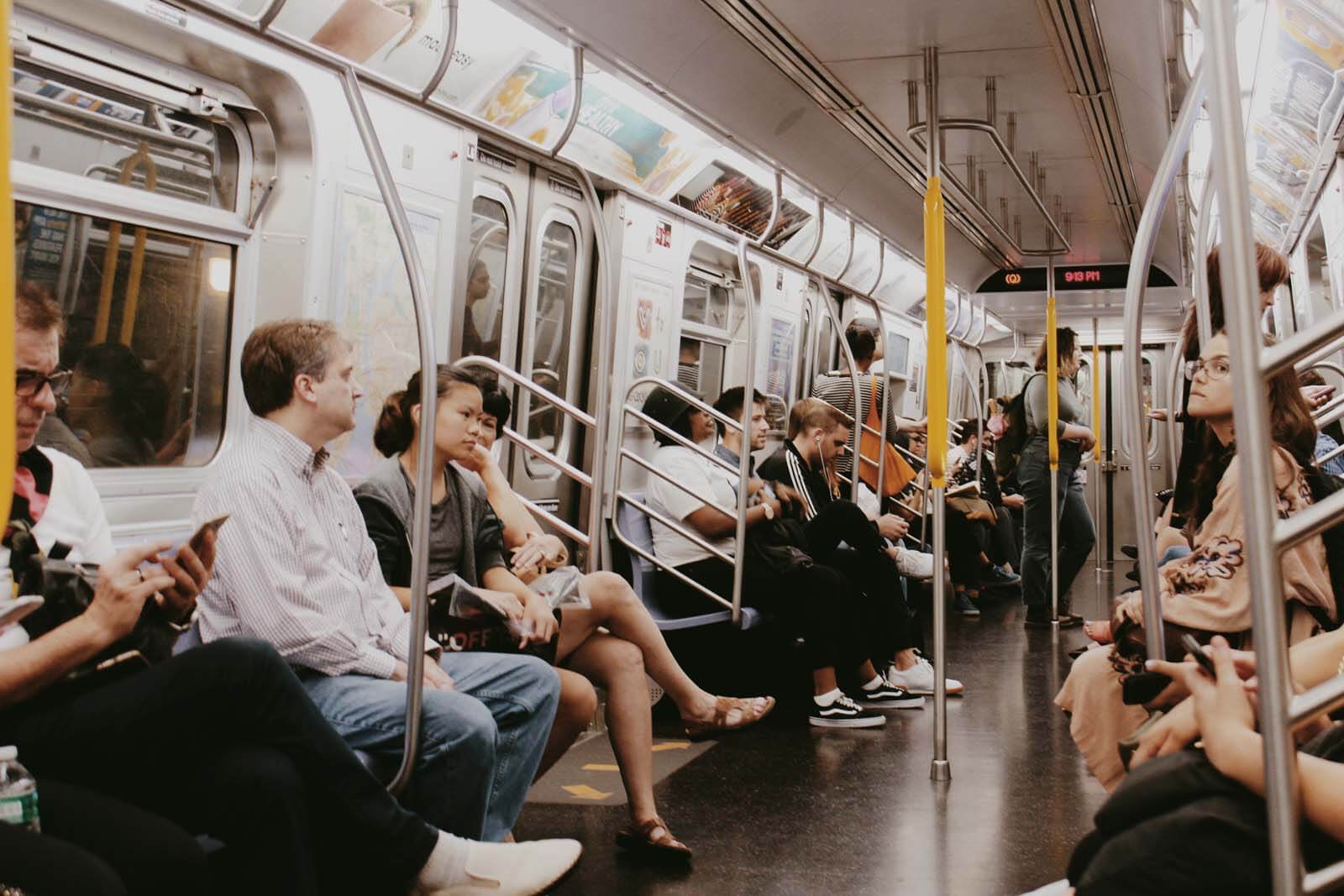 While pickpocketing isn't as prevalent these days, if you've ever been on the subway at rush hour, you understand the concern. When you're packed like sardines into a train car with a bunch of strangers, you get used to a stranger's arms touching you. It's not much of a reach to assume someone would go for a wallet in the front pocket of a backpack if it's right in front of their face.
The general rule of thumb here is to keep anything valuable out of reach. Purses with crossbody straps are best. Don't leave anything valuable in your back pocket or the front compartment of your backpack.
Consider leaving the Rolex in the hotel or at home. Don't mindlessly scroll on your phone where someone could snatch it from your hand, that doesn't mean you can't scroll, just be mindful of your surroundings.
And a wise piece of advice that's also just good subway etiquette— take off your backpack when you get on the train. It makes more room for everyone, and you won't have to worry about butterfingers in your pockets.
Broken Glasses Guy
There's actually a group of scams in New York that fall under the Broken Glasses Guy Scam. This is the basic idea— you're on a crowded street. A guy walks by and bumps into you, dropping whatever he's carrying, like sunglasses or a phone; there's even a common version where a homeless person will use a bag with glass bottles inside or a takeout container of food.
The guy will get upset and start yelling at you, demanding you pay him for the cost of what was dropped and broken. He'll be really loud, making a huge scene, not letting you walk away.
The Broken Glasses Guy can work alone or with an accomplice who makes it impossible to avoid bumping into him on a busy city street. The key to avoiding this scam is to not engage with him after he bumps into you. Just keep walking.
These scammers have been known to grab their victim's arm, in which case you should just yell for help. Making a lot of noise works especially well for women.
You want to draw attention to yourself, especially if you're alone. This scam works is because you feel bad for bumping into the guy. It's also really intimidating when he's yelling at you, blaming you for his broken glasses, but you did nothing wrong.
If nothing else works and he's still demanding payment, offer to involve the police, which is when these scammers drop the argument. This is an old NYC scam, and they know that police aren't going to let them get away with it.
Times Square Characters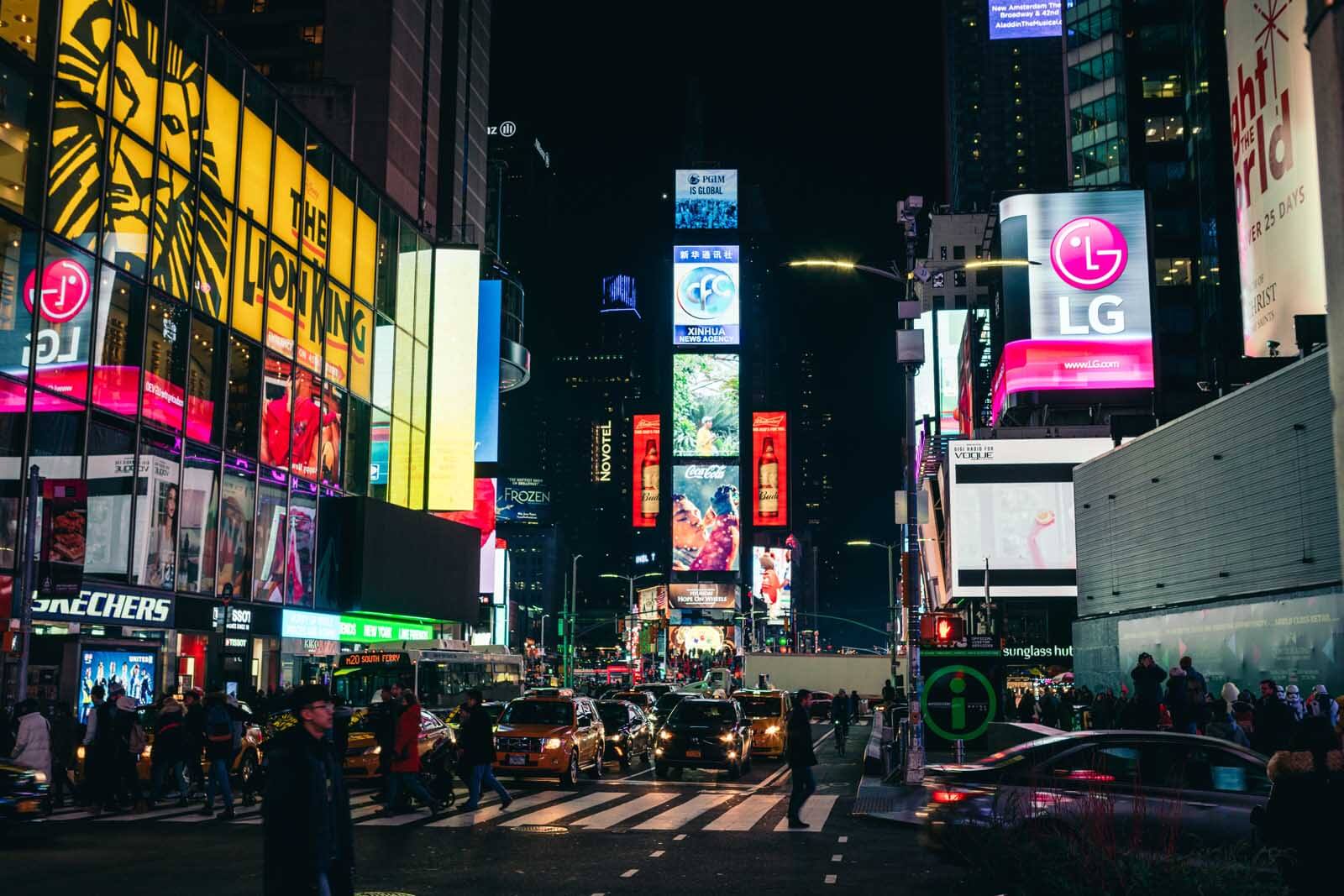 What a classic scene! You're in Times Square, taking in the sights around you. Everyone is moving quickly, lights are flashing, music is pumping. On the corner, you see Elmo, Buzz Lightyear, and the Naked Cowboy. Your mom will never believe this.
You ask for a picture with one of these characters, and after they are so kind to strike a pose, they ask for a tip. You decline and they grab your arm or follow you, demanding you tip them. In the hustle and bustle of New York City, this can feel really intimidating, so you give them a few bucks.
A couple of things to consider in this scenario. First, you are never required to tip the characters in Times Square, but you should be aware that if you allow them to pose for a picture with you, it's understood that you will give them something for their "work."
Think about whether you have the cash to spare before you agree to a photo. Also, some Times Square scammers carry card swipers now.
There are documented cases where a tourist thought they were paying a few dollars to one of these characters, and when they got home their bank account was in the red.
The best thing to do in this situation is to just enjoy the scenery around you. Take it all in, but don't interact with the characters of Times Square unless you plan on tipping them.
CD Guy Scam
When you visit Times Square, part of the charm is the many things offered to you for purchase. So many interesting personalities! Enjoy yourself but watch out for the pushy guy trying to put a CD in your hand.
That's right: a friendly gentleman will catch you off guard, offer you the CD he's putting out, and ask you your name as he talks you up. You naturally take the CD from him as you listen to him. He has your name, so he offers to sign the CD for you. He tells you it's only $10 to purchase (sometimes they even say it's free).
You say no thank you and try to hand the CD back to him, which is when he gets upset. He already signed the CD with your name on it, so he can't sell it now. He is so upset and pushy that you give him $10 or a tip and he disappears into the crowd.
The fear factor is key for these New York scams to work. The CD Guy can be intimidating and even try to keep you from walking away, but don't give in. Some are masters at making you feel terrible.
You are not obligated to take anything you didn't agree to. Don't let them try to tell you that you took the CD; you were holding it for them. State that you never agreed to buy the CD and try to walk away.
Worst case scenario, you need to call for help. There's a police station in Times Square. Once you threaten to involve the police, these guys will back down.
Comedy Show Tickets in Times Square
Don't let the NYC scammers scare you away from Times Square! It's hard to comprehend what it's like until you're standing in the middle of it, but it's an uplifting experience.
The key is to just have a little forethought to your day. For example, it's better to just purchase tickets for any show at the actual venue.
When you're walking around Times Square, you might see a guy with a crowd around him cracking jokes and selling tickets for a comedy show on the next block. Maybe he even tells you a famous comedian that everyone knows is headlining the show, and he has the tickets at a discounted rate for the 12'o'clock show only.
When you show up to the venue, you find out that the headliner is not who he said, and you've been significantly overcharged. You've been scammed.
The way to avoid this trick is to go directly to the venue of the comedy show. They'll have all the lineup and pricing information that you'll need.
The most famous comedy clubs are going to be in the Village, but if you want to hit up more of the local comedy club scene that's lesser-known for tourists and a fraction of the price, check out the best comedy shows in Brooklyn!
Pedicab/Horse Carriages in Central Park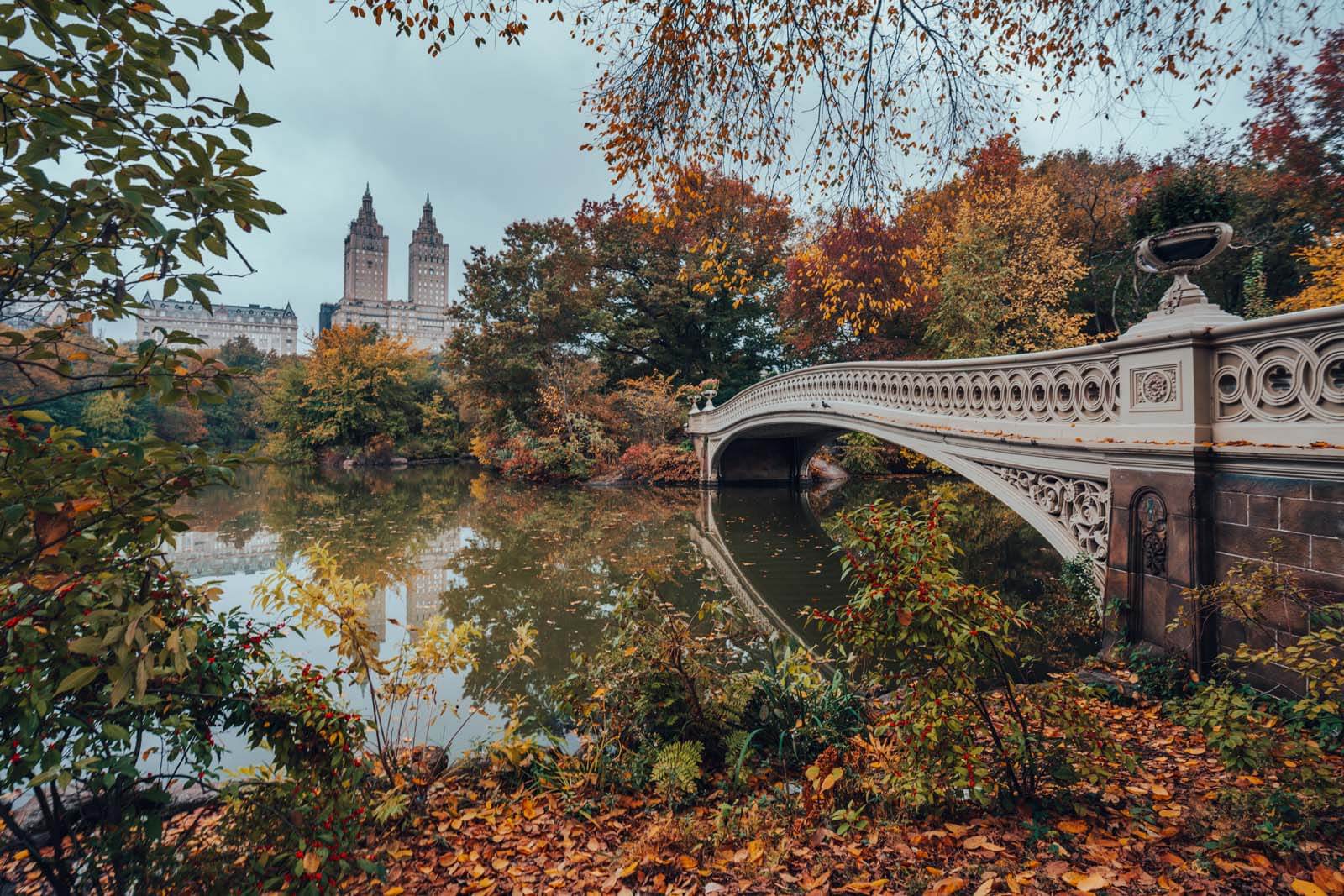 During your visit to New York City, you'll want to visit Central Park, the most famous park in NYC. What better way to see the entire park than a pedicab or horse carriage ride?
Once you enter the park, you find several waiting for riders. At the end of your ride, it's time to pay. How did you just pay $300 for a 20-minute ride? The driver may be insistent that you pay. Call for a police officer if this happens to you.
The best way to avoid this common scene and enjoy a real ride in Central Park is to know a few things:
All licensed pedicabs and horse carriages will have predetermined dollar-per-minute rates clearly labeled somewhere on their carriage, usually around $3-$5/minute.
Legal pedicab and carriage operators will have an official license that they will show you if you ask them for it.
Be prepared to discuss rates before you take a ride so you know ahead of time how long the ride will be and how much you will be paying.
Once you know how to handle your pedicab or horse carriage ride through Central Park, you'll be able to relax and have the best experience. Enjoy your ride!
Common Ticket Sale Scams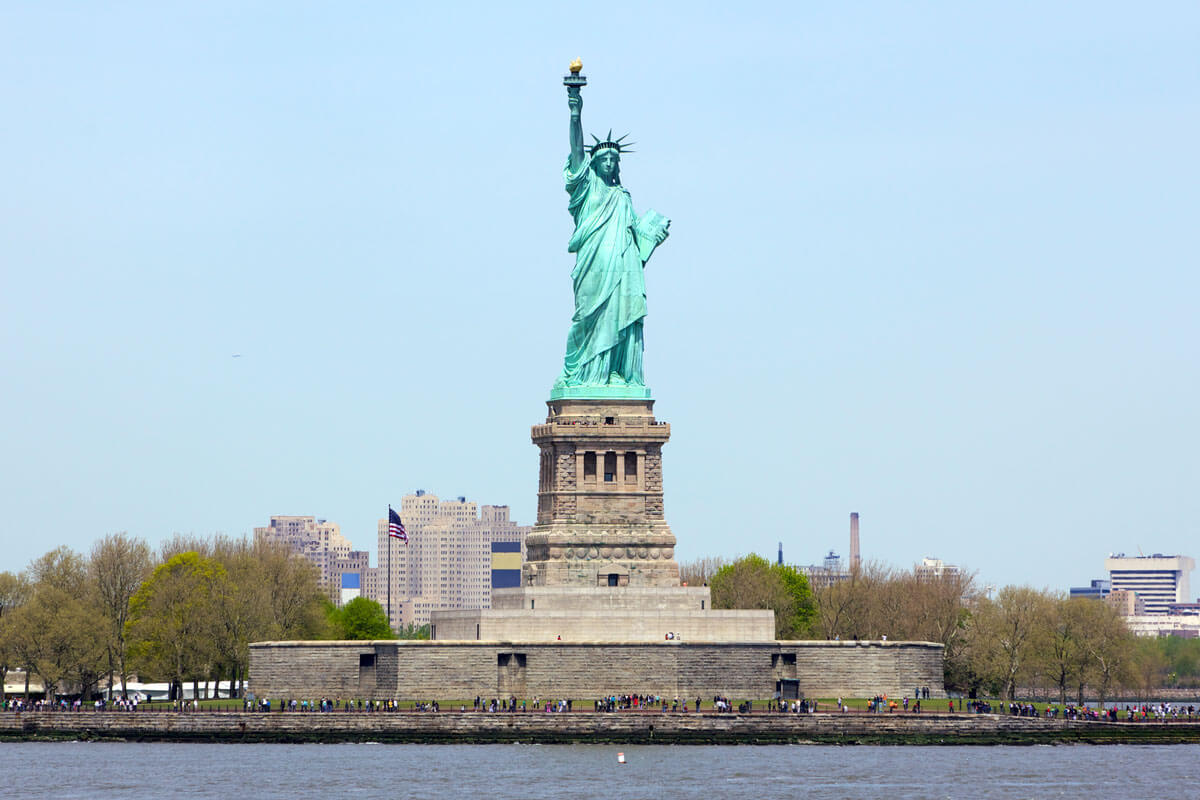 Depending on what you want to do while you're in New York, you'll want to prepare ahead of time to avoid common NYC scams involving ticket sales. Once you're in the know, you'll be free to enjoy your trip.
Tickets Outside of Event Venues
Perhaps you plan on going to a concert at the Barclays Center while you're here, so you head straight to the ticket counter from the subway. As you're walking, a friendly individual offers to sell you a couple of tickets he can't use anymore. The basic slip-up is that the tickets are very convincing these days. Don't be fooled, they will be fake, and you might be out of quite a bit of money.
Just say "no, thank you," to ticket hawkers, or avoid interacting with them at all. Always buy tickets ahead of time or at the venue box office itself, no matter how real the tickets may look.
SeatGeek, a popular ticket search engine makes finding tickets to sporting events, concerts, and many other live events in NYC like Broadway quick and easy.
When you add our promo code BROOKLYNGUIDE to your SeatGeek account, you receive $20 off your first ticket purchase.(We receive a small commission at no extra cost to you)
Fake Staten Island Ferry Tickets
A person in uniform may be standing outside the Staten Island Ferry entrance, near the Native American Indian museum, or in Battery Park, trying to flag you down to buy tickets for the ferry. If you decline them, they may try to convince you that they work for the ferry and that it's okay.
This is a huge scam because the ferry has been free for decades. Just go directly to the Staten Island Ferry Terminal and walk on the boat. You can even BYOB and this is one of the best free views of the Statue of Liberty!
Empire State Building Tickets
While the notorious NY Skyride is now forever closed after too many scam complaints, there are still scams to watch out for when visiting this famous monument. The most common one is any kind of uniformed person outside of the Empire State Building trying to sell you express tickets.
They will tell you these tickets will allow you to cut the queues, but once you're inside you'll stand in line like everyone else. You may also find that you have been overcharged.
Avoid these sellers completely. Either purchase your tickets inside or find all the pricing information, including for express skip the line tickets, on the Empire State Building website.
Alternatively, if you're planning on doing a ton of popular NYC experiences and tours, consider getting an official city attraction pass that will save you hundreds of dollars!
CityPASS offers a 3 attraction pass or a 6 attraction pass with over 12 city attractions to choose from including the Empire State Building and more!
Another great option is the New York Pass which you can purchase anywhere from a 1 Day Pass to a 10 Day Pass that gets you into over 100 attractions. Once you purchase your New York Pass you download the Go City app and use that get into attractions all over the city including visiting the Empire State Building!
See our full breakdown of the New York Pass and our breakdown of the New York CityPASS to see if it's worth it for your visit to save hundreds of dollars on multiple attractions!
Fake Statue of Liberty Tickets
Once again, a person in an official-looking uniform or jacket may try to tell you they work for the boat line that sells tickets to the Statue of Liberty.
Once you purchase tickets and show up for your tour, you might realize that you've overpaid for a private boat tour that takes you literally around the island, not on it. Most often, you'll be told you're purchasing tickets to the Crown when this is usually booked for months in advance.
Don't let these scammers intimidate you into thinking they are official. The only official seller of tickets for the Statue of Liberty and Ellis Island is Statue City Cruises, by going to their website or to their in-person location in Battery Park.
To help you, read our guide on how to visit the Statue of Liberty.
You can purchase a city attraction pass ahead of time that will save you hundreds of dollars and includes attractions like the Statue of Liberty and Ellis Island ferry tickets.
CityPASS offers a 3 attraction pass or a 6 attraction pass with over 12 city attractions to choose from including the Statue of Liberty and Ellis Island ferry tickets.
Another great option is the New York Pass which you can purchase anywhere from a 1 Day Pass to a 10 Day Pass that gets you into over 100 attractions. Once you purchase your New York Pass you download the Go City app and use that get into attractions all over the city including the Statue of Liberty and Ellis Island ferry tickets.
Fake Museum Tickets
Most scams involving NYC museum tickets depend on tourists not knowing how the museums work. Most of the museums have a day of the week that admission is free and some are just free NYC museums!
Also be aware that when you get to a museum ticket counter and there's a sign that says, "pay what you can," that means it's free as they operate on grants and other forms on funding to give the public access to art no matter how much income you have.
You are allowed to make a donation of your choice if you wish to do so. You may be asked how you would like to pay, but this is deceptive because you are not required to pay anything.
There may be separate limited-time exhibits inside the museum for an additional fee if you wish to attend them, but this isn't required.
Check ahead of time to see if the museum you want to visit has an admission-free day, and don't feel guilty about not making a donation if you don't want to— these institutions have high-price donors supporting their cause.
Scams in Chinatown/Little Italy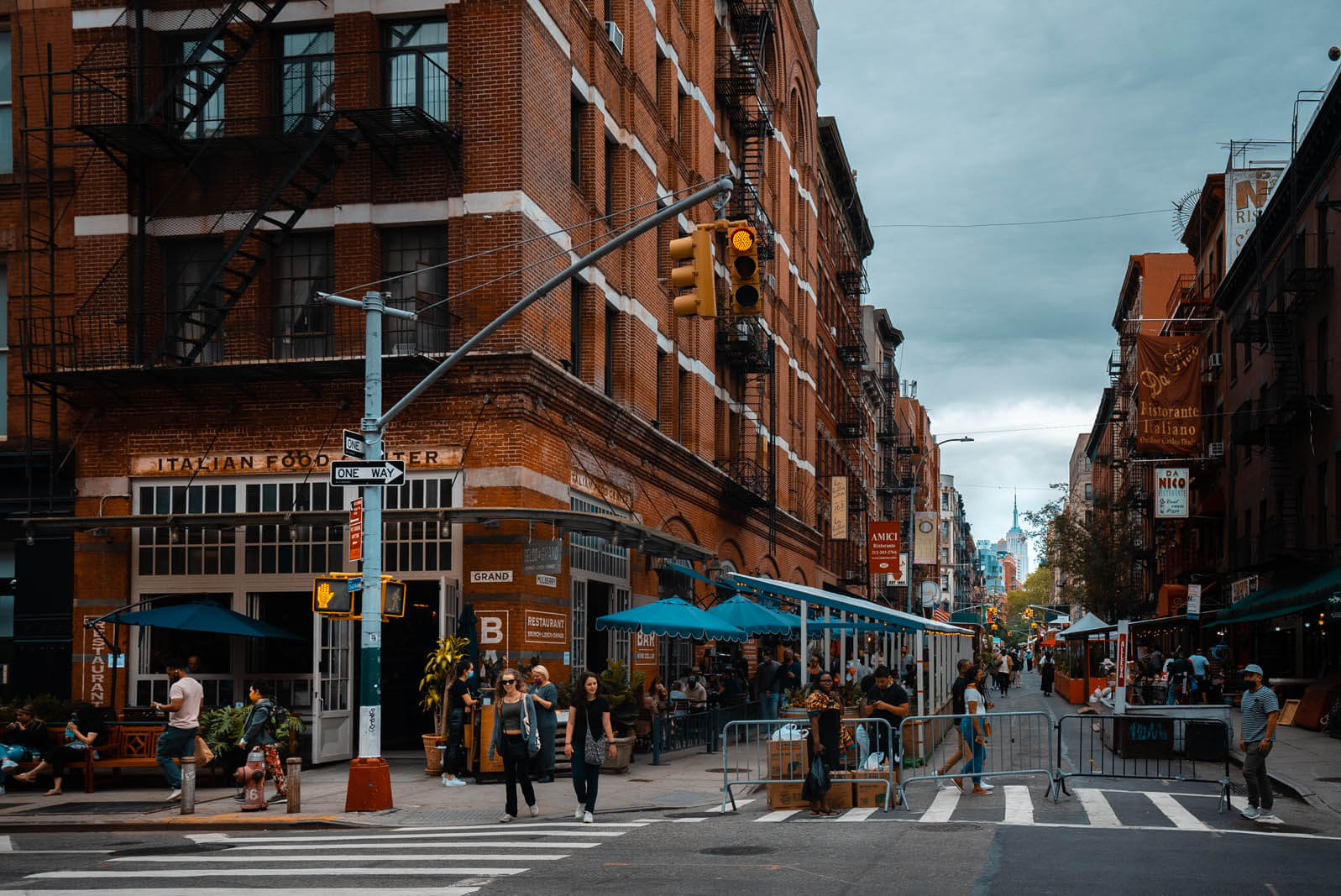 If you decide to venture down to Little Italy or Chinatown for a delicious meal, just remember that tourist hotspots look for unassuming tourists. Have a sharp eye and you'll enjoy your afternoon in this gem of a neighborhood!
Double Tips
After you've enjoyed a cannoli for the first time, you get your bill and write in a tip (or leave it on the table). After you leave, you might see on your receipt that tip was added to the price of the meal, so you essential double-tipped. Avoid this scam by checking the itemized receipt before tipping separately.
Menu Prices for Tourists
Maybe your family is sleepy after a big meal, so you just pay your ticket and leave, none the wiser. But be aware that some restaurants in areas that traffic tourists often scam a higher price out of one-time customers. Be aware of how much your meal costs, and ask for an itemized receipt if one is not offered to you.
Price Tags in Souvenir Shops
Chinatown and Little Italy shops have a general rule that tourists may not be aware of- you can barter for anything inside. That scarf you're eyeing for your sister? The shop owner is telling you it's $12, but if you play your cards right, you can get him down to $5. Don't be intimidated by the idea of bartering- it's part of the fun!
Fake Monks
The Fake Monk scam is similar to the CD Guy and I've actually experienced this in many US cities including San Francisco too. They'll try to hand you some kind of religious paraphernalia including placing a beaded bracelet on your hand but then ask for a donation in return.
If you try to hand the item back to them, they'll insist that you keep it, and at this point, most people fall for this unique New York scam because they are afraid of offending a religious figure.
Fake monks may use the pretext of not understanding English. Sometimes, the "monk" will be asking for donations and show you a list of names of people who donated to their cause. In reality, there is no cause, and they are keeping all the donations for themselves.
If a monk or any other religious person is gifting you a medallion or bracelet, they won't ask you for anything in return. If they ask for donations, they are fake. Don't fall for this trick. No matter how much they insist, give it back, or ask them if they are giving it to you for free. They'll probably take it back at that point.
Avoiding NYC Scams in General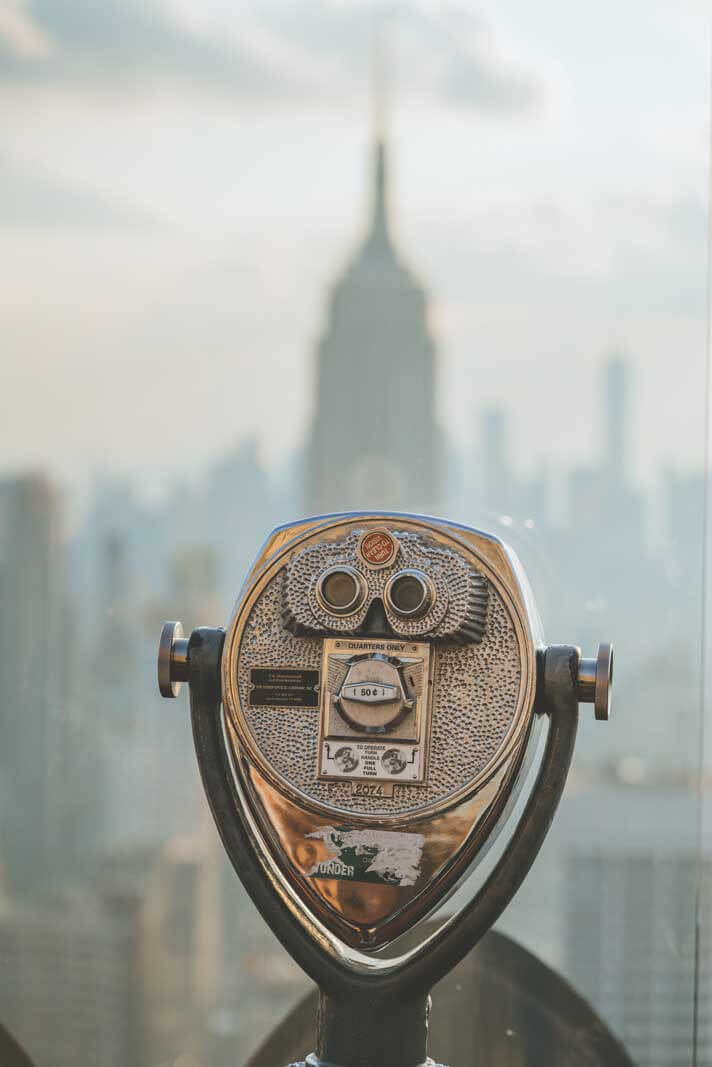 Any native New Yorker will tell you that once you know how to handle yourself, NYC is a tourist-friendly city. There are just a few things to keep in mind when you are planning your time out and about.
For the most part, everyone is busy getting from point A to point B, just like you as you tour the Concrete Jungle. You should be left alone. Just follow signs and pay attention to fine print. Most scams depend on you being too trusting.
Whether you're on the street or in the subway, no one should be approaching you. If they do, they probably have an unfavorable reason, like to ask you for money.
You can easily ignore these interactions or politely say, "No, thank you," and minimize further conversation. Or if you want to blend in like a real New Yorker, you just ignore random people on the street in general. If someone offers you something, don't take it, like with the CD Guy or the Fake Monk.
In the rare case that someone is demanding and doesn't take no for an answer, you can always offer to involve the police, in which case a scammer may get a little aggressive at first but will move on.
If there's really a problem, a genuine person will allow the authorities to work it out between you both. If someone tries to physically restrain you in any way, get loud and call for police. This will draw attention to your situation and being in public will be in your favor here.
Ultimately, you are in control. Do your research and plan your trip. New York City can be a beautiful, colorful experience for anyone who wants to visit. It's bursting with culture and history, and it's definitely a one-of-a-kind place.
Locals will tell you stories about the kindest strangers helping them out in times of trouble, about or running into a neighbor 100 blocks from home— there's almost a small-town feel.
Once you know what to look out for, you can easily avoid any scams in New York. Then you can take a deep breath, step into the crowds of Times Square, and take in all the excitement.
Keep Your Items Extra Safe: What to Pack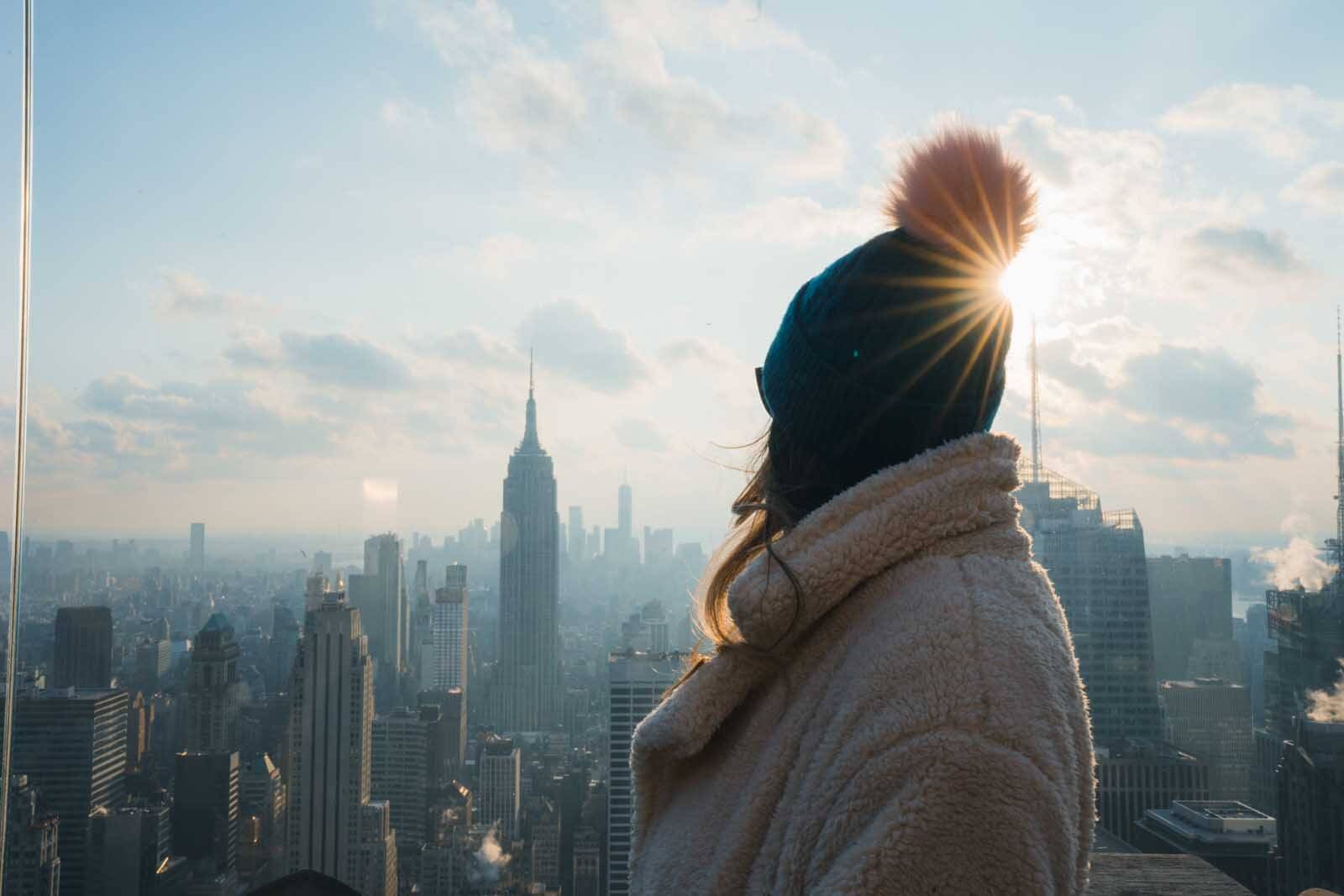 See our full what to pack for Brooklyn guide for more ideas!
This Pacsafe Shoulder Bag slings over your body and is the perfect size to carry your day essentials while exploring Brooklyn. This lightweight bag has anti-theft features so you can enjoy NYC with ease of mind with Pacsafe's anti-theft patent products whether you're in a crowded area or on the subway.
This Pacsafe Anti-theft Backpack is another essential for New York City or any city trip. This backpack has a patented anti-theft design with lockable zippers and slash-proof material in this sleek and comfortable designed backpack.
Avoid high tech thieves with this 15 pack of RFID blocking sleeves that doesn't require you to buy a special travel wallet, you can carry your favorite purse, wallet, or backpack by simply putting your credit cards and sensitive information in these RFID blocking sleeves.
Upgrade your wallet with this RFID Blocking Wallet by Pacsafe is the perfect pick. Always have your identification, bank cards, and credit cards protected from high tech thieves with this RFID blocking wallet in this sleek and slim design.
One of the best ways to keep valuables safe when you travel is this Portable Safe by Pacsafe. This is ideal when you're hotel has a safe that is too small for your belongings, with it's sleek and compact design so it doesn't take up much space in your luggage offering maximum security with its stainless steel wire mesh covered in a piece of cut-resistant canvas fabric. You simply lock this portable safe to a secure fixture in your hotel room when you leave.
This iPhone crossbody case is perfect for sightseeing as you can easily grab your phone for that perfect photo moment on the fly as well as keep your phone secured to your body and safe from pickpockets!
---
Found this guide to NYC scams and how to avoid them? Bookmark for later or share with others on Pinterest!