One day in New York? We got you. Sometimes, it's harder to plan a short New York vacation than a long one. If you only have a one-day layover, an extra day at the end of your business trip, or one day to show your hard-to-impress out-of-town relatives around town…where do you even start?!
Lucky for you, we've compiled a series of one day in New York mini-adventures: we've got everything from low-budget, high-reward hangs in the East Village to glamorous, glossy outings on the rooftops of DUMBO, and everything in between. Museum buff? Foodie? Shopaholic? Happy hour enthusiast? We've got you. 
And while yes, these certainly aren't the only options for exploring a particular neighborhood, we hope that this guide will be the perfect kickoff to visiting a new part of the city or rediscovering what you love about your own corner of the Big Apple. 
Also, want to hop around the city? That's totally possible too! Pick any of our morning, afternoon, and evening options to fully customize your one day in New York City!
And if you find that you have more time, check out our weekend in Brooklyn itinerary, 3 days in NYC itinerary, 4 days in NYC itinerary, 5 days in NYC itinerary, and week itinerary for NYC too! Or you can use these one day New York itinerary options to build out how ever long you have!
New York in One Day Itinerary Options
The Financial District (FiDi): One Day Itinerary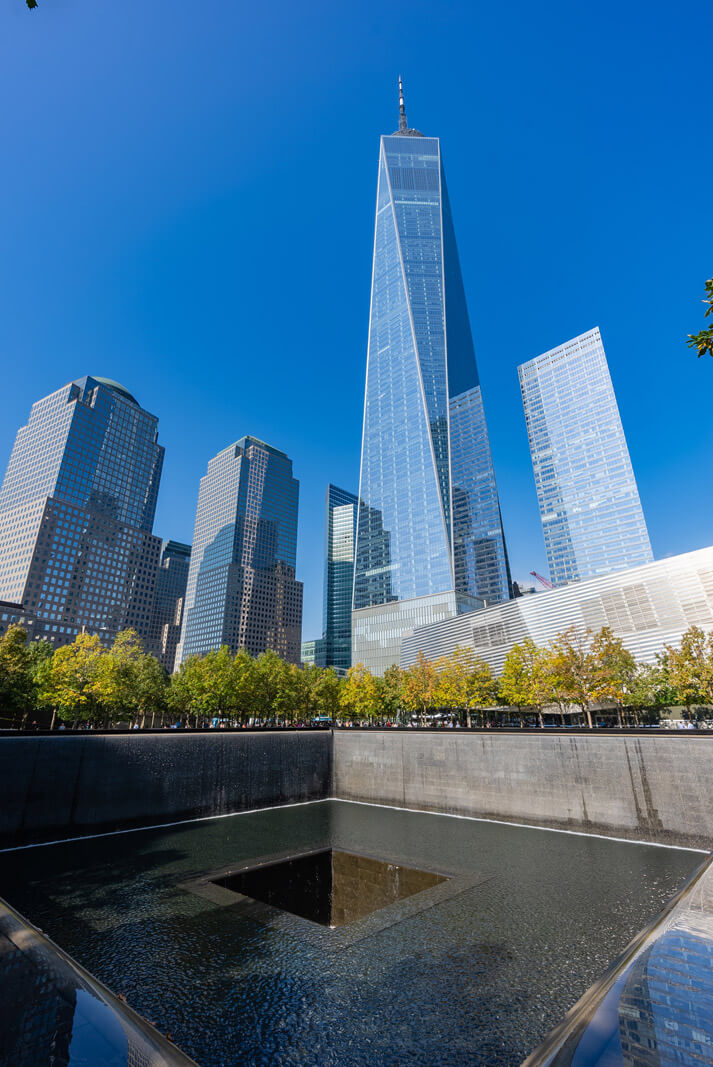 An easy way to see a lot in very little time, hitting up FiDi is a great way to spend one day in New York City. The downtown Manhattan neighborhood, known for its adjacency to the Statue of Liberty, Ellis Island, the World Trade Center Museum and Memorial, and Wall Street has plenty of historical landmarks and hidden treasures from the many centuries of the Big Apple. And if you're trying to check out New York in one day, visiting FiDi is an easy option — most of the city's train lines have stops in the neighborhood. 
Morning: Breakfast at Pearl Diner, 9/11 Museum and Memorial, One World Trade Center
Pearl Diner: 212 Pearl Street
National September 11th Museum and Memorial and One World Trade Center: 180 Greenwich Street
Start your one day in NYC itinerary off with a hearty breakfast at Pearl, featured in our guide to the best diners in New York City and a perfect encapsulation of the city's long tradition of top-tier diner culture. We recommend a classic Blueberry pancake and sausage combination or the Mediterranean Omelette, best enjoyed in Pearl's old-school diner setting that's been serving New Yorkers for half a century.
After breakfast, walk over to the National September 11th Museum and Memorial and One World Trade Center. Curated with care, the National September 11h Museum is a sobering, emotional, and educational exploration of the horrors of 9/11 and its long-lasting impact on New Yorkers and the world at large.
Please note that advance tickets are required to enter the museum, but the memorial fountain is publicly accessible without a ticket. 
Afternoon: Lunch at Fraunces Tavern and Staten Island Ferry or Statue of Liberty Ferry/Ellis Island Ferry
Fraunces Tavern: 54 Pearl Street
For the next part of your New York City in a day adventure, grab lunch at one of New York's most historic bars, Fraunces Tavern — which clocks in as the oldest tavern in New York, established in 1762 — well before the Declaration of Independence was signed! Known as the last place where both Alexander Hamilton and Aaron Burr were seen alive, order a classic Tavern burger or a Lobster Mac and Cheese and imagine what it would have been like to witness the pre-feud of the century!
After lunch, choose your own nautical adventure: if you'd like a slightly more comprehensive historical tour, purchase tickets for the Statue of Liberty and Ellis Island ferry, which grants you access to both the iconic New York landmark and the nation's 19th and 20th-century immigration hub, now a National Park and museum.
If you're looking to stay a bit more spontaneous on your New York in one day itinerary, try the totally free Staten Island Ferry, which gives you a prime view of the Statue of Liberty and the opportunity to additionally visit the nearby National Lighthouse Museum. 
Evening: Dinner at Harry's Bar and Grill and Drinks at One World Observatory
Harry's 1: Hanover Square
One World Trade Center: 117 West Street
Fuel up on your one day in NYC itinerary with dinner at the historic Harry's, a clubby, Old-School-New York favorite among Wall Street traders and visitors alike. Established in 1972, Harry's is known for their oysters on the half shell and shrimp cocktails, Beef Wellington, and Branzino, and in the intervening years have expanded to included gluten-free and vegetarian pasta options as well. Don't forget to order one of their signature cocktails like the whiskey-based Old Mr. Johnson or the French 75!
After dinner, head to One World Observatory to explore the tallest building in New York City (and the United States). One World Trade Center features a stunning observatory with 360-degree views of the five boroughs, East River and Hudson River. Top off your evening with drinks in the sky at ONE, the observatory's cocktail bar!
DUMBO: One Day Itinerary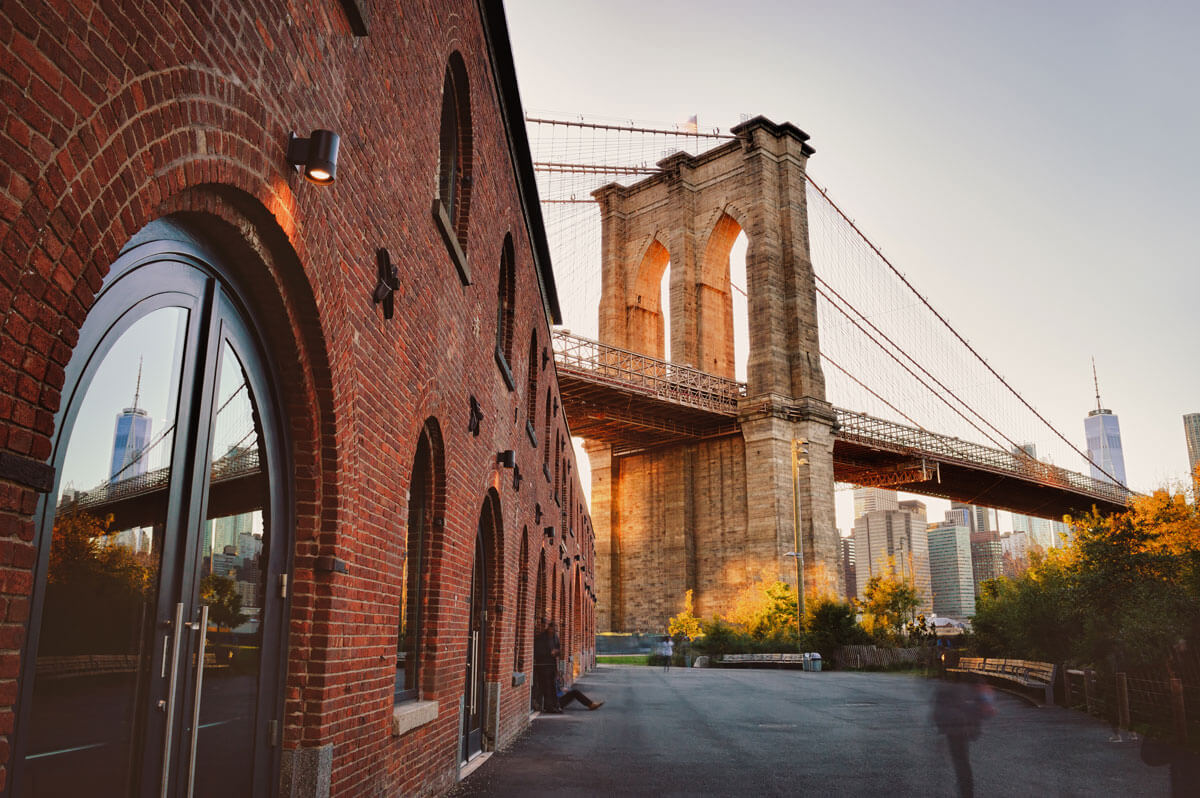 If you'd like to visit Brooklyn on your one day in New York City, DUMBO — or what DUMBO means, Down Under the Manhattan Bridge Overpass — is a great, waterfront choice for exploring the borough. Easily accessible by multiple subway lines, car, or by walking over the Brooklyn Bridge or Manhattan Bridge, DUMBO is an excellent neighborhood to visit in good weather, when you can walk its cobblestone blocks and sit by the East River in the sunshine.
Morning: Breakfast at La Bagel Delight Brooklyn Bridge Park and Jane's Carousel
La Bagel Delight: 104 Front Street
In our humble opinion, a day in NYC is always made better with bagels. Start your adventure with a trip to one of Brooklyn's best bagel spots, DUMBO's La Bagel Delight. Grab one of their hand-rolled bagels (we will always recommend an Everything flavor!!) and schmear and walk over to Brooklyn Bridge Park, DUMBO's East River shoreline with perfect views of the lower Manhattan skyline.
Filled with plenty of public art, playgrounds, pop-up events and recreational amenities (including seasonal kayaking, for the sporty!), Brooklyn Bridge Park is a low-key, scenic way to experience New York in one day in a distinctly urban setting. Don't forget to stop by the delicately restored Jane's Carousel for a photo-op worthy memento.
Afternoon: Lunch at Juliana's Pizza and Catch a Matinee at St Anne's Warehouse
Juliana's Pizza: 19 Old Fulton Street & St. Anne's Warehouse: 45 Water Street
Want a New York pizza insider secret??? The owners of beloved Grimaldi's pizza, a DUMBO institution for centuries, sold the business in the late 1990s. But fear not! The Grimaldis now operate Juliana's Pizza, directly across the street from the now-franchised Grimaldi's, and are still serving up the kind of pizza that you'd road trip to New York for one day to try.
Be sure to order a coal-fired Buffala mozzarella pie and thank us later. Another insider tip — Juliana's is very popular and does not take reservations, so be prepared to wait a bit at prime lunchtime. If it's nice out you can call and order for pick up then take your hot pizzas over to the picnic tables over by Jane's Carousel.
After lunch, head over to one of DUMBO's foremost cultural institutions, St. Anne's Warehouse. A tobacco warehouse turned church turned performance venue, St. Anne's is known for producing boundary-pushing work that is frequently on the cutting edge of the world's theater scene. Check out a performance here that may soon become the talk of the town, or at the very least, good cocktail hour discussion fodder on your one day in New York City. 
Evening: Drinks at Harriet's Rooftop and Dinner at the River Café
Harriet's Rooftop at the 1 Hotel: 60 Furman Street
River Café: 1 Water Street
If you're trying to experience New York City in a day, why not try the city's foremost social tradition — the cocktail hour. Head to Harriet's Rooftop (and lounge in the winter!) at the 1Hotel for incredible views and craft beverages (we recommend their signature Margarita) with excellent opportunities for people-watching. After drinks, head to the River Café for a romantic, Michelin-starred lobster dinner looking out over the East River at night.
Williamsburg: One Day Itinerary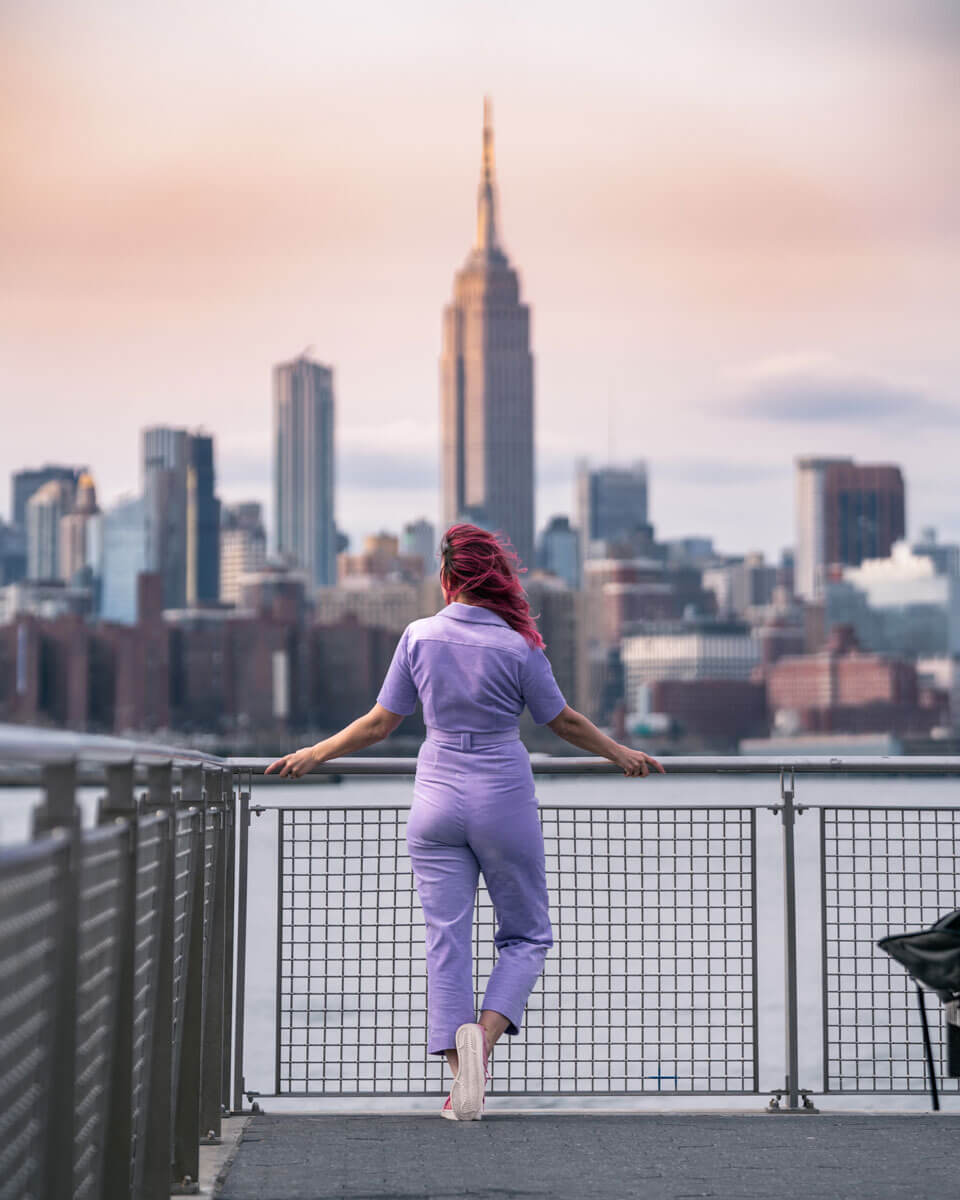 You have likely heard Williamsburg as associated with the term hipster, used pejoratively. And yes, while there are certainly parts of the popular nabe that have become overly commercialized, there are still plenty of scrappy, independent businesses to support in the crossroads of trendy and traditional.
Morning: Breakfast or Brunch at Sunday in Brooklyn and Quimby's Bookstore 
Sunday in Brooklyn: 348 Wythe Avenue & Quimby's Bookstore: 536 Metropolitan Avenue
Start your one day in NYC itinerary with breakfast or brunch at the much-loved Sunday in Brooklyn, which, luckily for you, is open every day of the week and one of the best spots for brunch in Brooklyn. Serving up mouth-watering hazelnut pancakes, egg scrambles, and homemade biscuits, Sunday is the comforting, convivial place to have a cozy breakfast (especially during the holidays, when it becomes one of the best Christmas-themed restaurants in the city!).
After breakfast, stroll over to Quimby's Bookstore, an independent bookseller selling titles across genre and eccentric trinkets in a funky, cat-friendly space.
Afternoon: Lunch at Gertie Thrifting on Driggs Avenue or jewelry shopping at Catbird
Gertie: 357 Grand Street & Buffalo Exchange: 504 Driggs Avenue, Mother of Junk: 567 Driggs Avenue, Monk Vintage: 500 Driggs Avenue, Catbird 108 N. 7th St
A day in New York is not complete without a little nosh and shopping — do yours right by snagging a sandwich (we recommend the Hammond Cheese or the Call the Lox-Smith) from Jewish-delicatessen-meets-LA-wellness-café Gertie before hitting up Driggs Avenue for some thrifted threads at Buffalo Exchange, Mother of Junk, and Monk Vintage. Some of the best thrift stores in NYC are in the neighborhood, so if you want to continue on this path, check out the best vintage shops in Williamsburg to add more to your day.
Looking for your next heirloom? Browse with caution at Catbird, Williamsburg's local fine jeweler where you'll want to buy…absolutely everything. 
Evening: Pasta MISI or Bamonte's & Listen to a Concert (and Bowl!) at Brooklyn Bowl
MISI: 329 Kent Ave or Bamonte's: 32 Withers St & Brooklyn Bowl: 61 Wythe Avenue 
I dream of the handmade pasta at MISI, one of Williamsburg's foremost Italian restaurants (my advice: book well in advance or make peace with an early or late dinner). Looking for a more old-school experience during your one day in New York City? Head to Bamonte's, one of New York's best old school red sauce Italian restaurants that's been in the borough since 1900.
After dinner, bowl off your pasta at Brooklyn Bowl, where you can hit the lanes and listen to live music or nightly DJ sets! If you want an even smaller venue, check out the Gutter Bar for more bowling in amore of a dive bar setting nearby or head to Barcade for vintage pinball machines while you drink!
The Lower East Side and Chinatown: One Day Itinerary
One of the city's largest centers of Asian American culture and history, Chinatown and the nearby Lower East Side are excellent places to stop on a day in NYC. From museums to markets to clubs, this vibrant area of downtown is often imitated and never replicated. 
Morning: Breakfast at Clinton Street Baking Company and The Tenement Museum
Clinton Street Baking: Company 4 Clinton St & The Tenement Museum: 103 Orchard St
Begin your one day in New York City itinerary with a hearty stack of pancakes (or, if you're a savory breakfast person, a Latke Eggs Benedict)  at the popular Clinton Street Baking Company before visiting the Tenement Museum, where you can take a tour of the typical apartment dwelling for the many immigrants who settled in the city's Lower East Side after arriving through Ellis Island. 
(Just book your tour in advance as this is very popular and day of tours/tickets are hard to come by even in the middle of winter!).
Afternoon: Lunch at Katz's Deli and Museum of Chinese in America 
Katz's Delicatessen: 205 E. Houston St & Museum of Chinese in America: 215 Centre St
Katz's Deli (yes, you've seen it in THAT scene in When Harry Met Sally), is a must-visit on any New York City in a day itinerary. Grab a ticket (and don't lose it or face the wrath of the Katz's team — trust us, this is all part of the gruff charm), order a piled-high Pastrami sandwich and a Dr. Brown's soda and experience true bliss.
After lunch, make a visit to the Museum of Chinese in America, exploring the past, present, and future of the country's Chinese immigrants and descendants and their impact on the city at large.
Evening: Joe's Shanghai and Bowery Ballroom
Joe's Shanghai: 46 Bowery  & Bowery Ballroom: 6 Delancey Street 
I'll admit it — I recommend Joe's Shanghai soup dumplings to everyone I know who will be within a mile of Chinatown. I stand by it! They are nonpareil. Go get them and then head to a concert at the Bowery Ballroom, a well-known downtown concert venue that was once named the Best Music Club in America by Rolling Stone!
Hudson Yards: One Day Itinerary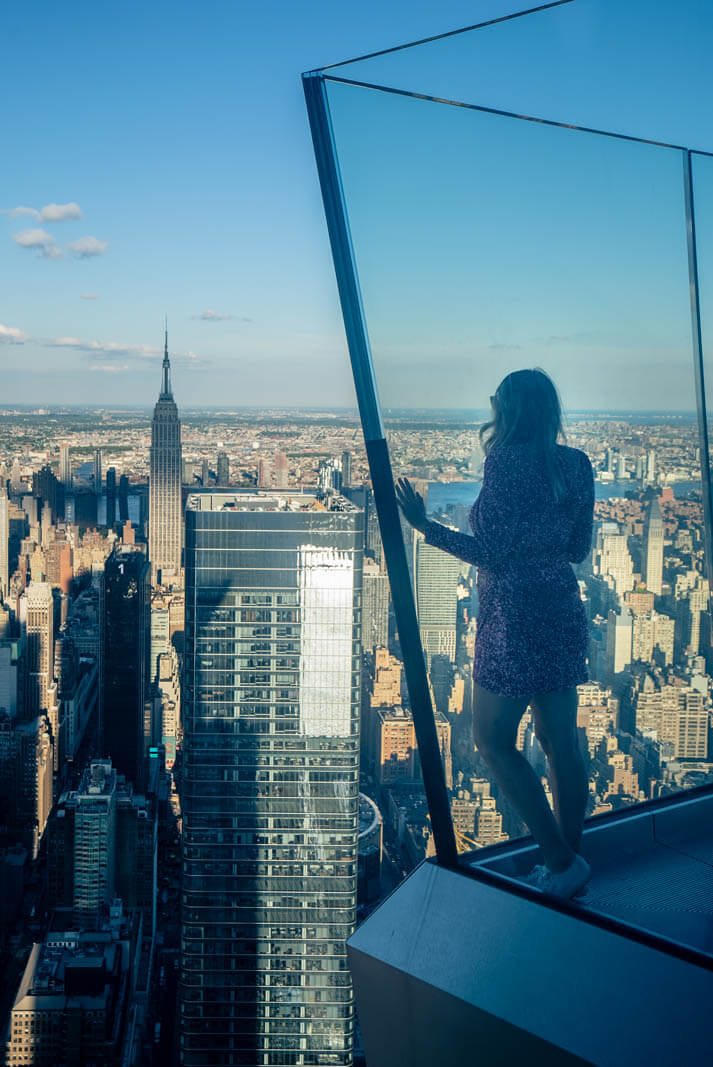 Glossy and glittering, Hudson Yards is a newly developed neighborhood that offers shopping, performance venues, and incredible Hudson River views. Head there during a day in NYC when you want to feel like you're in one giant glamorous resort.
Morning: Breakfast at Electric Lemon and Shopping at Hudson Yards stores 
Electric Lemon: 33 Hudson Yards & Shops at 20 Hudson Yards
First stop on your one day in New York City is breakfast at Electric Lemon, the health-forward restaurant in the new Equinox Hotel. Order a homemade pastry basket or flaxseed pancake and of course, a green juice to fuel up before shopping at the neighborhood's chic urban shopping mall — and while yes, many of the building's stores feature seriously high-budget buys, if you're not ready to throw down an Amex, there's nothing wrong with a little window shopping!! Or asking for free beauty product samples…
Afternoon: Go to the Edge and lunch at Peak 
The Edge and Peak Restaurant: 30 Hudson Yards
After you shop 'til you drop, check out the city from above at The Edge, a glass-bottomed (!) observatory deck that is the highest in the Western Hemisphere — this is where you'll get the best photos of the city from above! And if you're not eager to leave the clouds after your trip to the Edge, you don't have to — head one story up to Peak Restaurant and Bar for a scenic skyline lunch of kale salad and seared tuna.
Evening: Dinner and Drinks at Cedric's and a show at the Shed
Cedric's at The Shed: 545 W30th St & The Shed: 545 W30th St
One of the city's newest multi-disciplinary performance venues, The Shed is a must-visit on your one day in NYC itinerary. Before checking out a music, dance, theater or multi-genre performance, grab dinner and drinks at the retro-funky Cedric's, a 70s-style cocktail bar and restaurant that features lots of tasty tequila-based craft cocktails like the Breakfast at Bath (Hiatus Blanco Tequila, Galliano Espresso, Demerara, Arbol, Espresso) and rustic flatbreads.
SoHo: One Day Itinerary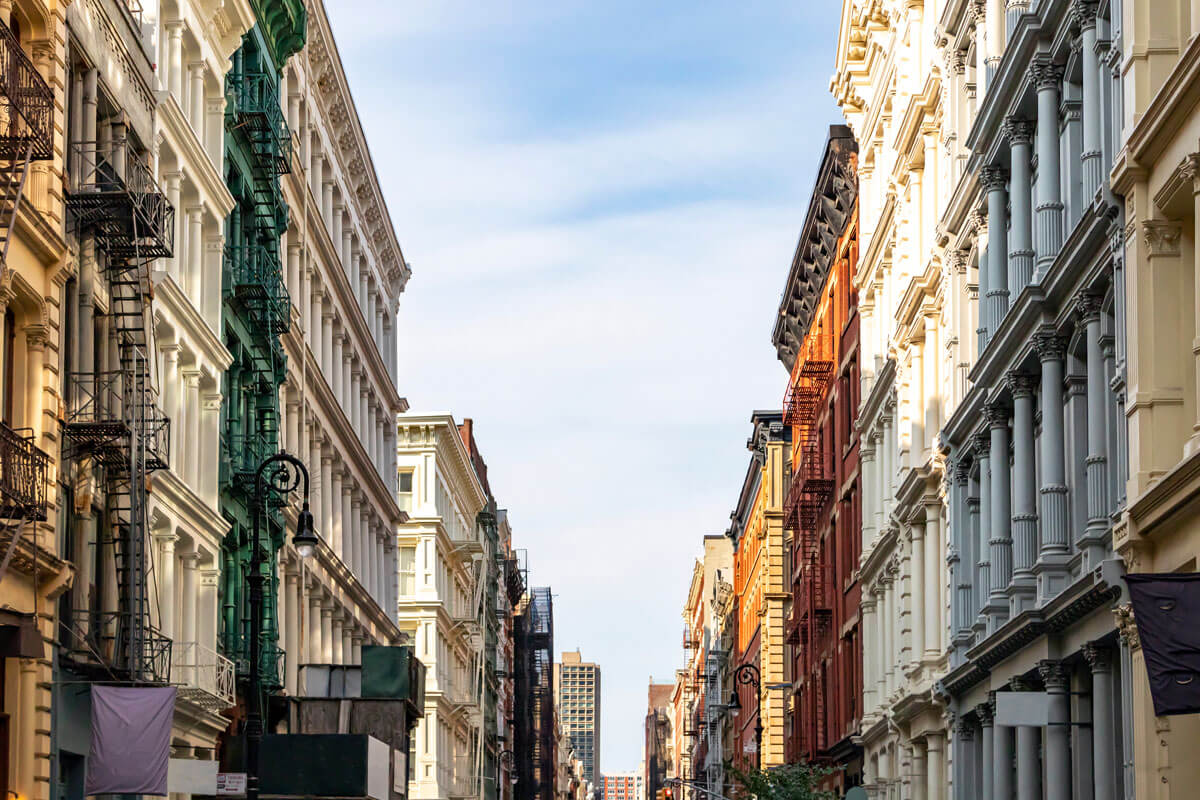 Morning: Breakfast at Sadelle's and shop on Broadway 
Sadelle's: 463 W Broadway
Begin your New York in one day adventure with bagels on stick at Sadelle's, the new school-old school Jewish delicatessen-style breakfast and brunch spot where you can order carbs and schmear to your heart's delight.
After you fuel up, walk along Broadway below Houston Street (peeling off here and there on the side streets to browse) at the city's foremost retail paradise. And while yes, many of the stores are nationally available brands (though they are often design-forward flagships with exclusive collaborations!), there's something very New York about hitting up Bloomingdale's (504 Broadway) multi-level mecca of makeup, shoes, and ready-to-wear clothes.
Afternoon: Lunch at Shuka and browse the Morrison Hotel Gallery 
Shuka: 38 MacDougal St & Morrison Hotel Gallery: 116 Prince Street
Recharge with a tasty Mediterranean lunch at Shuka (we recommend the fried halloumi and grilled shrimp kebab) before browsing the incredible musical photography at Morrison Hotel Gallery, the city's foremost showcase for one-of-a-kind, Almost Famous-esque insider looks into the music industry. And if you see the 1987 Beastie Boys at Stromboli Pizza still available…can you buy it for me?!
Evening: Dinner at Charlie Bird and Drinks at Sweet and Vicious 
Charlie Bird: 5 King St & Sweet and Vicious: 5 Spring St
Speaking of the Beastie Boys…make sure to stop at Charlie Bird for a downtown hip-hop inspired Italian restaurant with quality pasta, great drinks, and a lively atmosphere before you make new friends at Sweet and Vicious — the kind of New York bar that's fun, unpretentious, and full of people that want to party with strangers.
Chelsea: One Day Itinerary
Bridging the West Side between the West Village and Hudson Yards, Chelsea is a great neighborhood to visit when you've landed at Penn Station but…don't…want to sit next to the Penn Station Dunks for your day-long layover. Head slightly downtown for a full day of art, food, and immersive theater!!
Morning: Breakfast at Empire Diner and walk the High Line
Empire Diner: 210 10th Ave
Kick off your New York City in a day adventure with breakfast at the retro Empire Diner, a neighborhood favorite since 1976. We love their homemade granola or cacio e pepe eggs! Also, if you're a fan of filming locations, this has been spotted in several shows and movies including And Just Like That and a Home Alone 2: Lost in New York filming location where Kevin passes a Santa on stilts in front of Empire Diner!
After breakfast, take a stroll on the High Line (enter at 10th Avenue and 23rd Street), New York's elevated railway-turned city park that's a treasure trove of mini-gardens, art pop-ups, and views of the Hudson (and…some really nice apartments).
Afternoon: Lunch and shopping at Chelsea Market and FIT Museum 
Chelsea Market: 75 9th Avenue & The Museum at FIT: 227 W 27th St
Grab lunch at Chelsea Market, an eclectic mix of shops and restaurants taking up a full city block. While there are a ton of great spots to choose from, we like Los Tacos No. 1, Num Pang Kitchen, and Amy's Bread. As for shopping, pick up unique treasures at Neighborhood Goods and Posman Books before heading over to the Museum at the Fashion Institute of Technology, where you can see spectacular exhibitions on New York's past, present and future fashion.
Evening: Dinner and a show at the McKittrick Hotel 
McKittrick Hotel: 530 W 27th St
For a truly unique evening out on your New York City in a day extravaganza, meet for dinner and a show at Chelsea's moody, stylish McKittrick Hotel (which is not, in fact a hotel, but a film noir-esque performance venue and bar/restaurant multiplex).
First, have dinner and drinks at the rooftop Gallow Green, where you can sip on a craft cocktail and nibble Chicken Tinga tacos before heading to see the McKittrick's signature immersive show, the Hamlet-meets-haunted-hotel Sleep No More. We recommend ordering a cocktail of the same name to prepare yourself for this masked immersive theater experience!
West Village/Greenwich Village: One Day Itinerary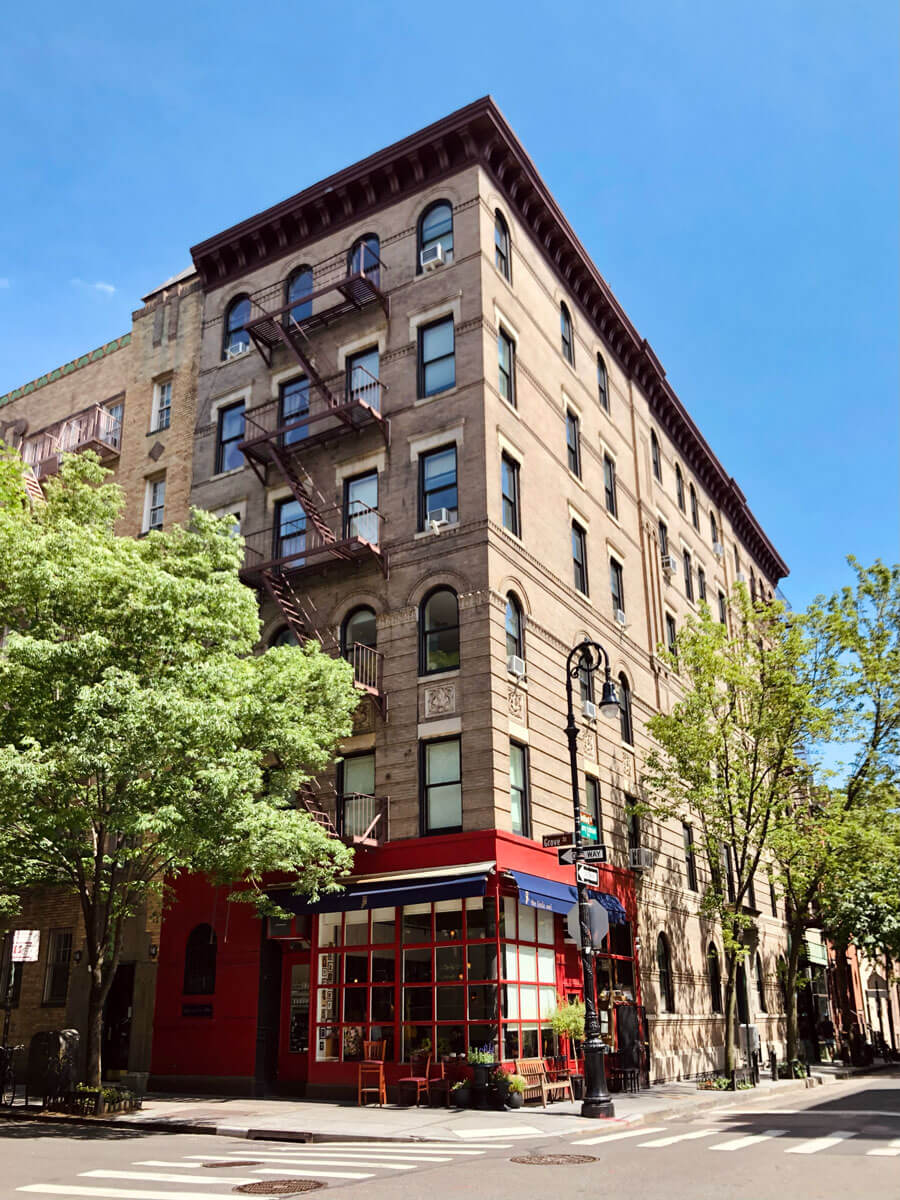 The West Village and Greenwich Village are two of Manhattan's most charming neighborhoods, filled with beautiful brownstones, picturesque storefronts, and landmarks like the Washington Square Park arch. We've recommended a few of our favorite stops but truly, there are endless ways to spend a day in NYC when you're below 14th Street.
Morning: Breakfast at Grey Dog and NYC Pride Tour
Grey Dog: 49 Carmine St & NYC Pride Walking Tour: Christopher Park 38-64 Christopher St
A local favorite for decades, Grey Dog serves up tasty comfort food in a homey, chill setting. Grab an iced coffee and a brioche french toast before meeting up for an NYC Pride Walking Tour of the area's important LGBTQ landmarks, including the Stonewall Inn, the original site of the Oscar Wilde Memorial bookshop, and historic bar Marie's Crisis (make sure to stop back at Marie's for a late-night show tunes sing-along!).
Afternoon: Lunch at Jack's Wife Freda and matinee at the IFC Center
Jack's Wife Freda: 50 Carmine St & IFC Center: 323 6th Ave
For a fresh, farm-to-table feel lunch, head to Jack's Wife Freda for Peri Peri Chicken and fried zucchini chips before you catch an indie matinee movie at the legendary IFC Center, known for playing the best in arthouse short and feature films.
Also, if you want to see some of the most iconic locations from NYC based shows, you can walk to the facade of the Friends apartment building (90 Bedford St) and Carrie Bradshaw's brownstone in SATC (66 Perry St).
Evening: Dinner at Corner Bistro and a show at The Duplex
Corner Bistro: 331 West 4th Street & The Duplex: 61 Christopher St
Order the iconic, no-frills burger at Corner Bistro — where the grill is older than most of us — before checking out a show at The Duplex, New York's longest-running cabaret and piano bar serving up the kind of indie theater the city is known for.
East Village: One Day Itinerary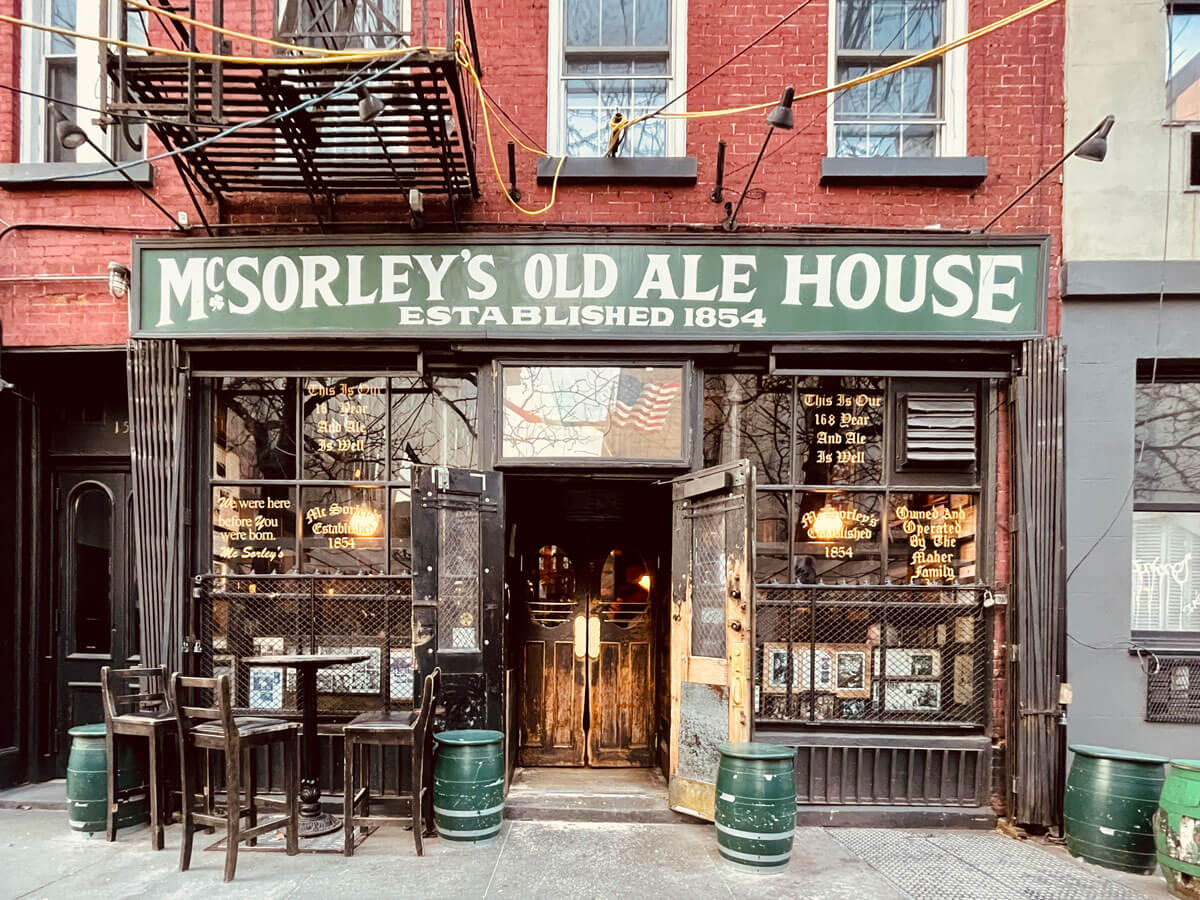 A longtime haven for artists and eccentrics, while the East Village has certainly gotten a bit more mainstream in the last 20 years, it still possesses a distinctly quirky charm. Stop by for endless unique storefronts, the funky ambiance of Tompkins Square Park, and great, dive-y bars.
Morning: Breakfast at SMØR Bakery and Book Club 
SMØR BAKERY: 437 E.12th Street & Book Club Bar: 197 E.3rd St 
Snag a pastry at the new SMØR BAKERY, where buzzy, Nordic-influenced carbs will tempt you to try everything. Order their signature cardamom bun to start your New York in one day journey!
After breakfast, head to Book Club Bar, a cozy independent bookstore with plenty of room to read and an in-store coffee bar (in case you need more caffeine!).
Afternoon: Lunch at Veselka and visit the Ukrainian Museum 
Veselka: 144 2nd Ave & Ukrainian Museum: 222 E 6th St
No day in the East Village is complete without a trip to the iconic Veselka, the Ukrainian diner serving grateful New Yorkers for decades. Order every single flavor of pierogies and thank us later. After Veselka, learn about the rich history of Ukrainian immigrants in the neighborhood at the Ukrainian Museum, showcasing everything from folk art to photography.
Evening: Dinner at Taqueria at St Marks Place and Dancing at Joyface
Taqueria St. Marks Place: 79 St Marks Pl & Joyface: 104  Avenue C
You can't beat the strong, tasty margaritas and affordable, delicious tacos at Taqueria St Marks — split one of everything before dancing your shoes off at the trendy Joyface, where you're nearly guaranteed to see an undercover celebrity.
Classic Midtown: One Day Itinerary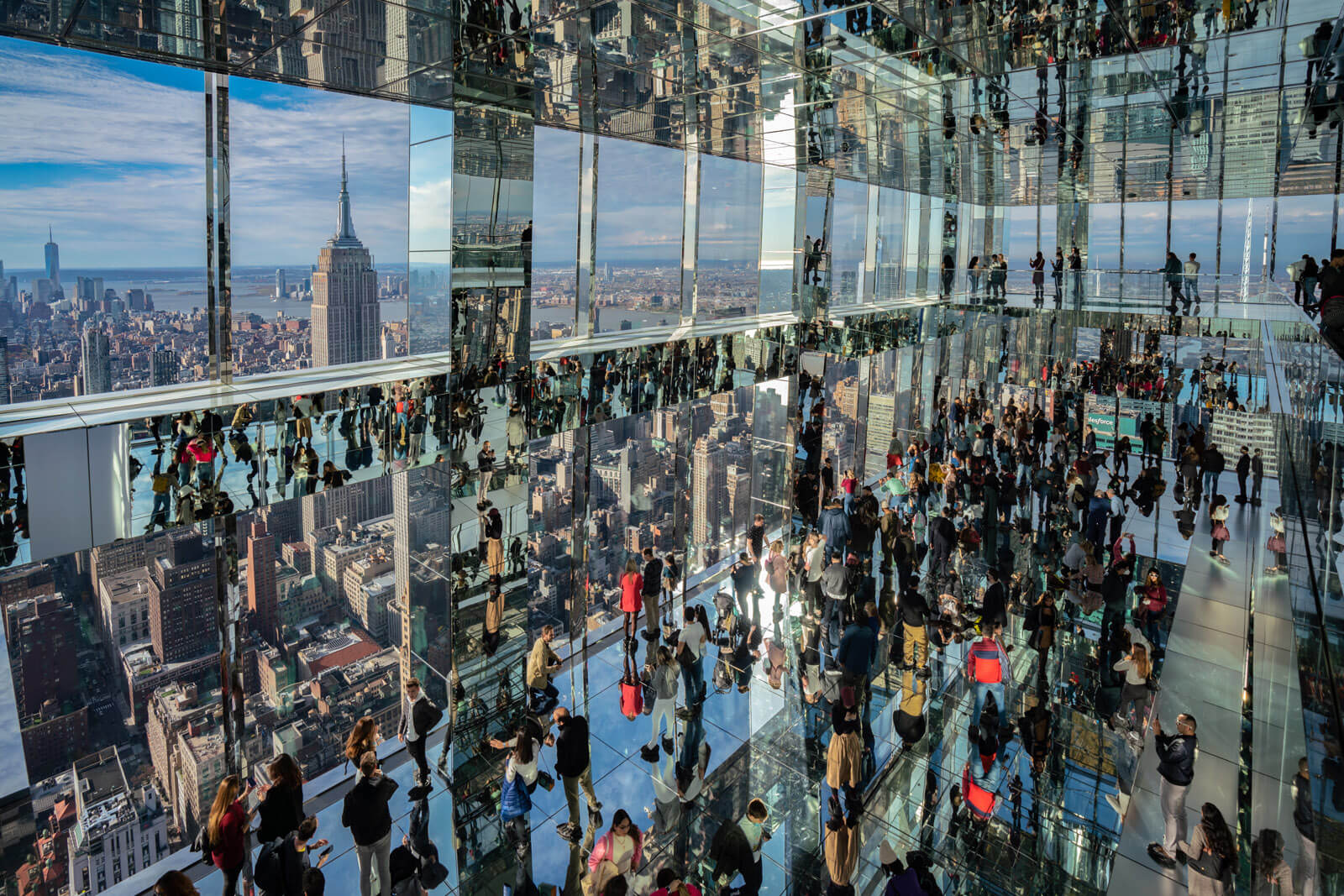 Your train just dropped you off in Grand Central — now what?! If you have one day in New York City and you can't roam far, there are still plenty of things to do in Midtown, including visiting some of the city's most iconic landmarks. If you want to see the New York City of the movies, this itinerary is for you! 
Morning: Breakfast at Pershing Square, the New York Public Library, and Summit One Vanderbilt 
Pershing Square: 90 E 42nd St, New York Public Library: 476 5th Ave, Summit One Vanderbilt: 45 E 42nd St
Kick off your one day in NYC itinerary with pancakes at Pershing Square, the delightful diner just across the street from Grand Central before touring the stacks of the New York Public Library Main Branch. Don't forget to check out the NYPL's Treasures exhibit, which features artifacts like the original Winnie the Pooh characters, one of the best things to do in NYC with kids or those who grew up with those characters in their childhood!
After the library, feel free to take a lap around Bryant Park before heading over the Summit One Vanderbilt observation deck for exclusive skyline views and the world's largest glass-bottomed elevator.
Afternoon: Lunch at Fresco Del Scotto Tour Rockefeller Plaza
Fresco by Scotto: 34 E 52nd St & Rockefeller Center: 45 Rockefeller Plaza
A longtime favorite of the NBC crowd, grab lunch at Tuscan classic eatery Fresco by Scotto (we recommend the Sunday Sauce Alla Picci or the Lobster Cobb Salad) before getting a tour of where the NBC crowd works — Rockefeller Center. Try to refrain from humming the 30 Rock theme song!!
Evening: Dinner Keens Steakhouse and the Empire State Building at night 
Keens Steakhouse: 72 W 36th St. & Empire State Building: 20 W 34th St.
One of the city's oldest New York steakhouses, Keens is a Big Apple institution. Come for the historic interior (filled with the restaurant's predecessor, the famous Lamb's Club's churchwarden pipes) and stay for perfect, USDA dry aged filets, a dry martini, and divine shrimp cocktail.
After dinner, visit the Empire State Building's evening observatory for stunning nighttime city lights and the romantic atmosphere that has inspired an untold number of proposals!
Under-the-Radar Midtown: Hell's Kitchen: One Day Itinerary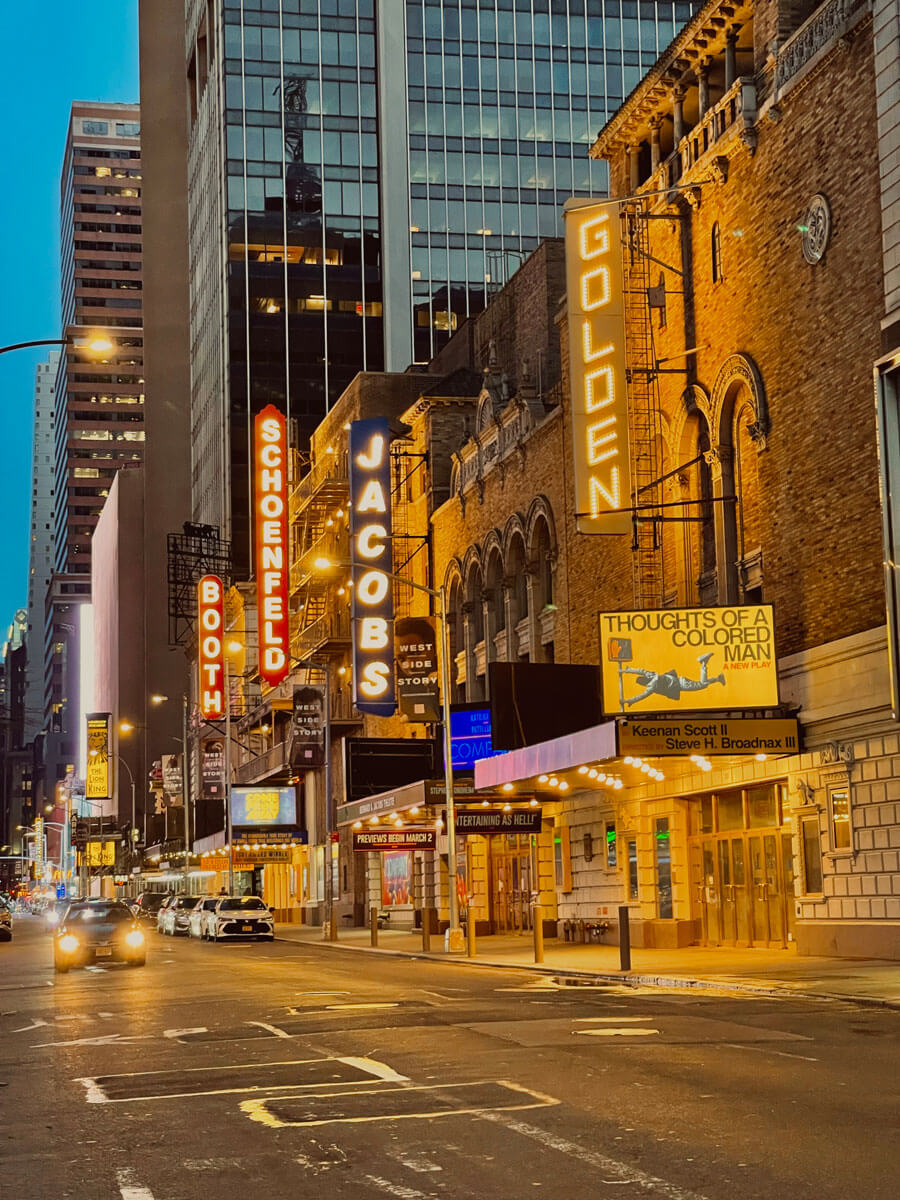 Just West of Times Square lies Hell's Kitchen, a veritable treasure trove of Midtown-adjacent indie shops, restaurants, and bars. Spend a day in Hell's Kitchen and you'll never find yourself at the Times Square Olive Garden again.
Morning: Breakfast at Amy's Bread and shop at Delphinium Home, Domus, and Fine and Dandy 
Amy's Bread: 672 9th Avenue , Delphinium Home: 353 West 47th St, Domus: 413 West 44th St, Fine and Dandy: 445 W 49th St
Start your day with a fresh, house-made pastry from Amy's bread, a West Side favorite for over three decades (we recommend the sourdough twist!) before a morning of shopping on the West Side's unique boutiques: Delphinium Home for eccentric housewares and gifts, Domus for globally-sourced clothing and décor, and dapper duds and vintage t-shirts at Fine and Dandy. 
Afternoon: Lunch & See A Show
Empanada Mama: 765 9th Avenue, Theatre Row: 410 W 42nd St, Playwrights Horizons: 416 W 42nd St, Signature Theater: 480 W 42nd St
Order all of the empanadas (though we personally love and recommend the Cuban flavor) at Empanada Mama before heading to an Off-Broadway matinee at one of the neighborhood's many landmark theaters, like Theatre Row, Playwrights Horizons, and the Signature Theatre, where original productions often become smash-hit Broadway transfers!
And if the lights of Broadway are calling to you, you can always check out production on the Main Stem right around the corner.
Evening: Dinner at Kashkaval Garden and a show at New World Stages 
Kashkaval Garden: 852 9th Ave
New World Stages: 340 W 50th St
Share Mediterranean tapas and good wine at Kashkaval Garden (don't forget to try the babaganoush!) before catching a show at the Off-Broadway New World Stages, where world-premiere works and revived classics play alike.
Upper East Side: One Day Itinerary 
Hello, Upper East Siders…Gossip Girl here. And do I have news for you: the stylish neighborhood is an ideal place for a day-date of museums, luncheonettes, and chic cocktail bars. Xoxo!
Morning: Breakfast at Sant Ambroeus and the Met
Sant Ambroeus: 1000 Madison Ave & The Metropolitan Museum of Art: 1000 5th Ave
We're really committing to the bougie, Gossip Girl theme here, y'all — start your New York City in a day adventure off right with a classy breakfast at the stylish Sant Ambroeus (we like the Uovo al Tegamino con Pancetta, or, eggs with pancetta) before walking the hallowed halls of the Metropolitan Museum of Art, enjoying at least a few of their millions of works before sitting on the steps like…you know who.
Afternoon: Lunch at Lexington Candy Shop and the City Museum
Lexington Candy Shop: 1226 Lexington Ave & City Museum of New York: 1220 5th Ave
Want to go a slightly more casual route? Have lunch at the old-school Lexington Candy shop, a delightfully traditional luncheonette with handwritten checks and perfect patty melts to match. After your refuel, visit the City Museum of New York for fascinating exhibits on the Big Apple itself (like a retrospective on the city's now-gone payphones, RIP!).
Evening: Dinner at the Polo Bar and Drinks at Café Carlyle 
The Polo Bar: 1 E 55th St & Café Carlyle: 35 E 76th St
Ok, we're back to bougie — grab shrimp cocktail, a martini, and a filet at Ralph Lauren's clubby Polo Bar (and don't forget the fries!!) before catching a cabaret at the swanky Café Carlyle, known for hosting jazz musicians and Broadway stars alike.
The Upper West Side: One Day Itinerary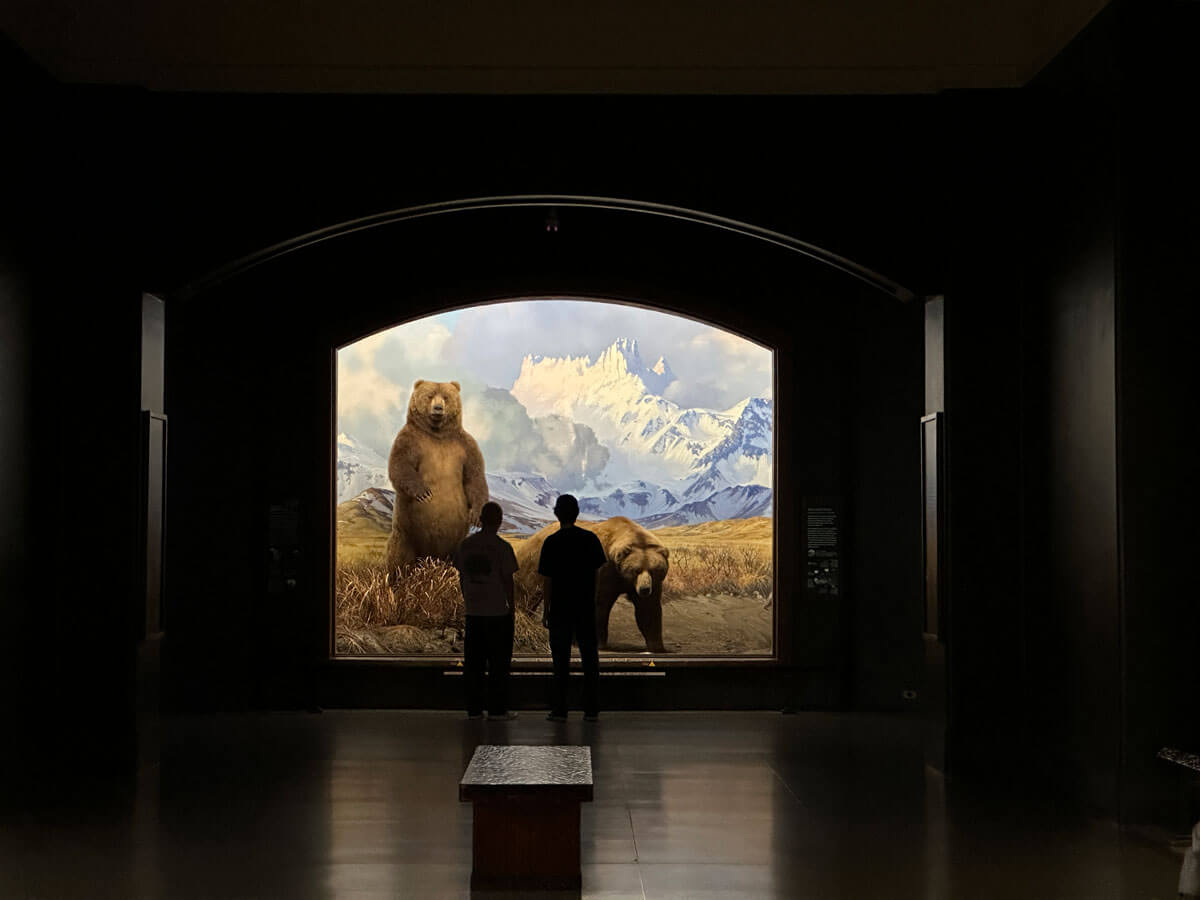 This is Nora Ephron territory, baby. Visit the storied land of cozy, indie shops, laid-back cafés, delis, and museums, and yes, the place where they filmed Only Murders in the Building (head to 86th and Broadway for a photo-op!). 
Morning: Breakfast at Barney Greengrass & The Museum of Natural History
Barney Greengrass: 541 Amsterdam Ave & American Museum of Natural History: 200 Central Park West
Grab a world-famous blintz, matzo brei, or french toast at Barney Greengrass — known for appearing in many a New York-based TV and movie like Revolutionary Road and Law & Order — before heading to a morning at the American Museum of Natural History, the ultimate New York place to see both dinosaur fossils and the planets, up close, courtesy of the world-famous Hayden Planetarium.
Afternoon: Lunch at Daily Provisions and Shopping at The Strand and Columbus Avenue boutiques 
Daily Provisions: 375 Amsterdam Ave & The Strand: 450 Columbus Ave
Order a seared salmon and a side combo, all-day breakfast sandwiches, or a perfect grilled cheese and tomato soup at Daily Provisions before strolling down Columbus Avenue's many boutiques — we personally love a long browsing session at The Strand bookstore and on the weekends, at the Grand Bazaar street fair of indie treasures!
Evening: Dinner at Han Dynasty  and Dessert at Cafe Lalo 
Han Dynasty: 215 W 85th St & Café Lalo: 201 W 83rd St
Han Dynasty is my platonic ideal for a New York Chinese restaurant. Plentiful portions of incredible Sichuan-style cuisine at affordable prices in a large, lively setting — it's the perfect place to meet friends on your one day in New York adventure! After dinner, head over to Cafe Lalo — yes, from You've Got Mail — for coconut cake and key lime pie.
Harlem/Hamilton Heights: One Day Itinerary
The cultural center of New York's Black community, Harlem and the nearby Hamilton Heights (named for founding father and now, musical superstar Alexander Hamilton) is chock-full of incredible historic institutions, restaurants, and performance venues. Make sure to include enough time to walk around the top of Central Park and the Harlem Meer, too!
Morning: Breakfast at Chipped Cup and visit Alexander Hamilton Homestead  
Chipped Cup: 3610 Broadway & Alexander Hamilton Homestead: 414 W 141st St
Chipped Cup describes itself as a "Victorian psychedelic coffee shop with a touch of Grandma's attic, and we'd have to agree — grab a latte and a pastry at this quirky uptown haunt that features a lovely backyard garden before you stop by the home of Hamilton himself, now a National Historic Landmark. And while you're in the area, be sure to wander the campus of City College of New York (CUNY), which has some of the borough's best academic architecture.
Afternoon: Lunch at Sylvia's and the National Jazz Museum in Harlem 
Sylvia's: 328 Malcolm X Blvd & National Jazz Museum in Harlem: 58 West 129th Street
Sylvia's is a New York institution. Known as the Queen of Soul Food, the eatery established by Sylvia Wood in 1962 carries on her legacy with nonpareil BBQ ribs, fried chicken, and collard greens.
After lunch head to the nearby National Jazz Museum in Harlem to learn about the history of the genre in the neighborhood, the artists who pioneered the style, and its enduring impact on New York and the world at large.
Evening: Dinner at Lido and a Show at the Apollo 
Lido: 2168 Frederick Douglass Blvd & The Apollo: 253 W 125th St 
Share a plate of perfect pasta at Italian favorite Lido (we recommend the gnocchi with truffle butter) before catching a show at the world-famous Apollo Theater, where stars are born and the audience gives instant, discerning reviews at their weekly Amateur Night.
Washington Heights: One Day Itinerary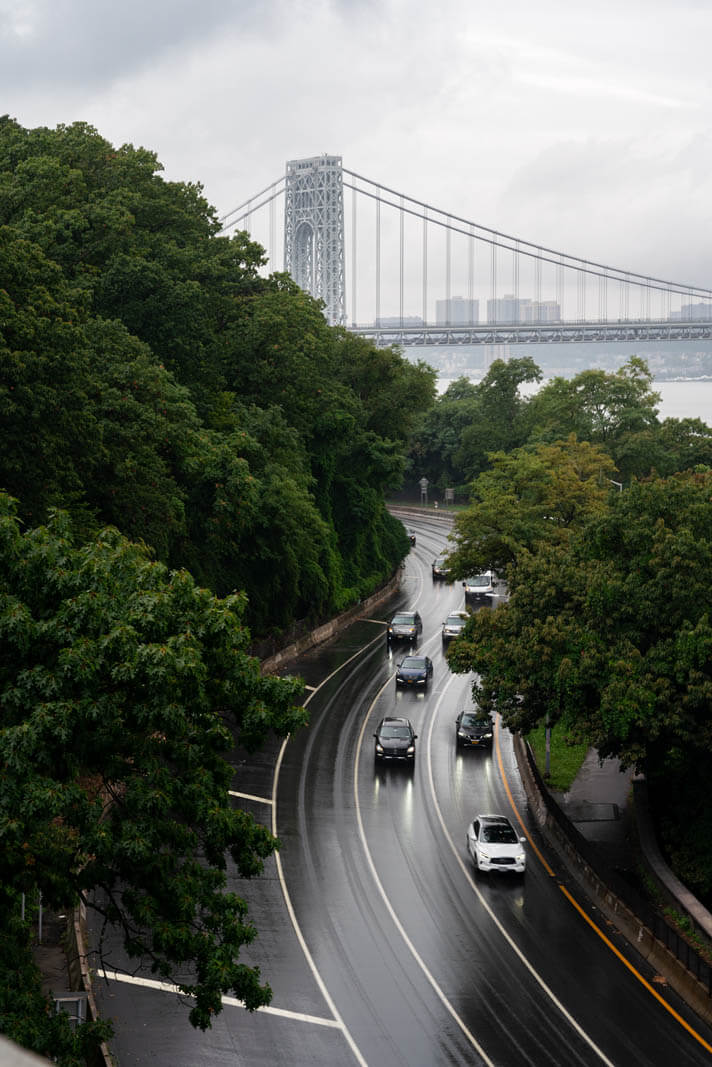 Affectionately known as Upstate Manhattan, Washington Heights is a vibrant, verdant part of the city full of incredible Dominican cuisine, Hudson River views, and even a semi-hidden museum!
Morning: Breakfast at Dutch Baby and Walk around Fort Tryon Park and the Cloisters
Dutch Baby: 813 W 187th St & The Cloisters: 99 Margaret Corbin Drive
Known for their house-made pastries, grab a coffee and a feta scallion biscuit from neighborhood favorite Dutch Baby before strolling up Cabrini Boulevard to gorgeous Fort Tryon Park, the floral, pastoral hidden gem of New York City's park system with lots of Hudson River vistas.
And hidden even further into the park is the neighborhood's very own Met museum — the Cloisters, where you can check out medieval-era art and treasures in a building constructed of salvaged European churches! And don't miss the unicorn tapestries on display here either!
Afternoon: Lunch at Malecon and visit Word Up Books
Malecon: 4141 Broadway & Word Up Bookstore Librería Comunitaria: 2113 Amsterdam Ave
Malecon is a neighborhood standby for excellent Dominican fare — head there for lunch and order the garlic half chicken and fried green plantains before browsing at beloved indie bookshop Word Up books, which features everything from YA to zines to new fiction and multilingual selections.
Evening: Drinks at Uptown Garrison and Dinner at Saggio 
Uptown Garrison: 821 W 181st St & Saggio: 827 W 181st St
Romantic lighting and strong, tasty drinks are the hallmark of Uptown Garrison, the cocktail bar and bistro that's perfect for a happy hour meetup. We recommend their Smokey Negroni! After drinks, walk just next door to Italian eatery Saggio, where you can enjoy handmade Lasagne Verde and Chicken Parmigiana and a truly transcendent Tiramisu.
---
Is it possible to go to New York in one day?
While it's challenging to experience all of New York City in one day, it's possible to enjoy highlights like Times Square, Central Park, and iconic landmarks with efficient planning and prioritizing.
Is $100 a day enough for New York City?
With careful budgeting, $100 a day can cover essential expenses like food, transportation, and some attractions in New York City, but it may not allow for extravagant dining or costly activities.
What is the most famous spot in New York City?
The most famous spot in New York City is arguably Times Square, known for its vibrant billboards, bustling crowds, and iconic status as the "Crossroads of the World."
How much time do you need for New York City?
To truly experience New York City, it's recommended to allocate at least a week or more. However, even a few days can provide a taste of the city's diverse attractions and vibrant energy and with careful planning you can enjoy one epic day in New York too.
There you have it! 15 incredible ways to spend one day in New York City with all the possibilities in the world to mix and match to create the perfect layover and/or one day in NYC itinerary!
---
About Guest Author
Sarah Beling is a playwright, New Yorker, and passionate food enthusiast who is always looking for her next meal. You can find her in an NYC park, enjoying a chopped cheese sandwich and reading about NYC's best new places to eat.