Looking for the best outdoor activities in NYC to enjoy? Lucky for you there are plenty of things to do outside in New York City! With tons of urban parks, places to have great NYC skyline views, outdoor events, monuments, and historic sites, to all kinds of fun and exciting things happening outdoors – we got you covered!
Whether it's nice out during your visit and you want to make the most of the comfortable weather, or you're just not looking to do anything indoors. We curated a list even locals approve of the best outdoor activities in New York City to enjoy!
And if you're wondering when the best time to visit NYC is, we got you covered because it's all year long! We break down all the fun seasonal things to do outside in NYC at all these awesome spots!
Best Things to do Outside in NYC
1. Central Park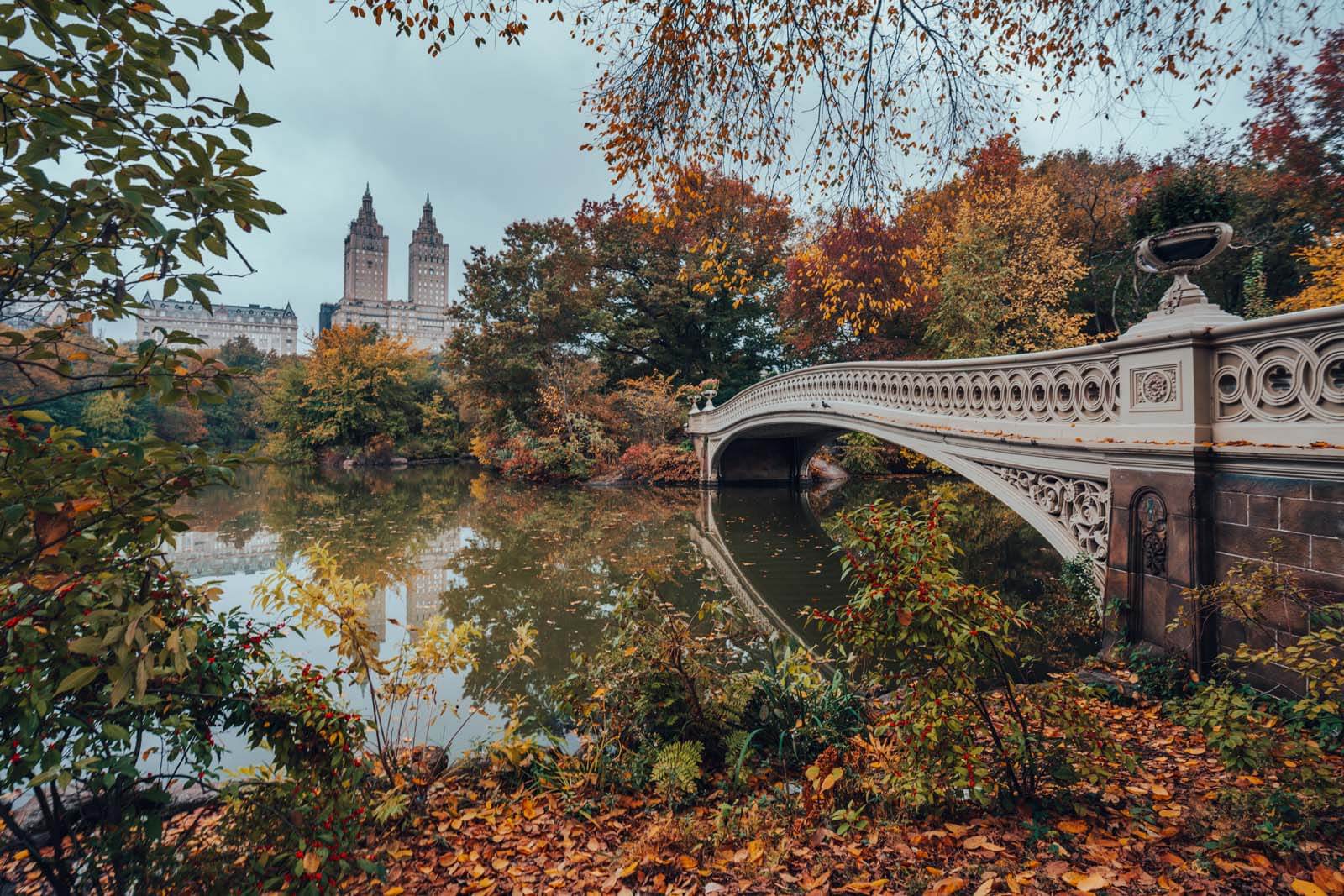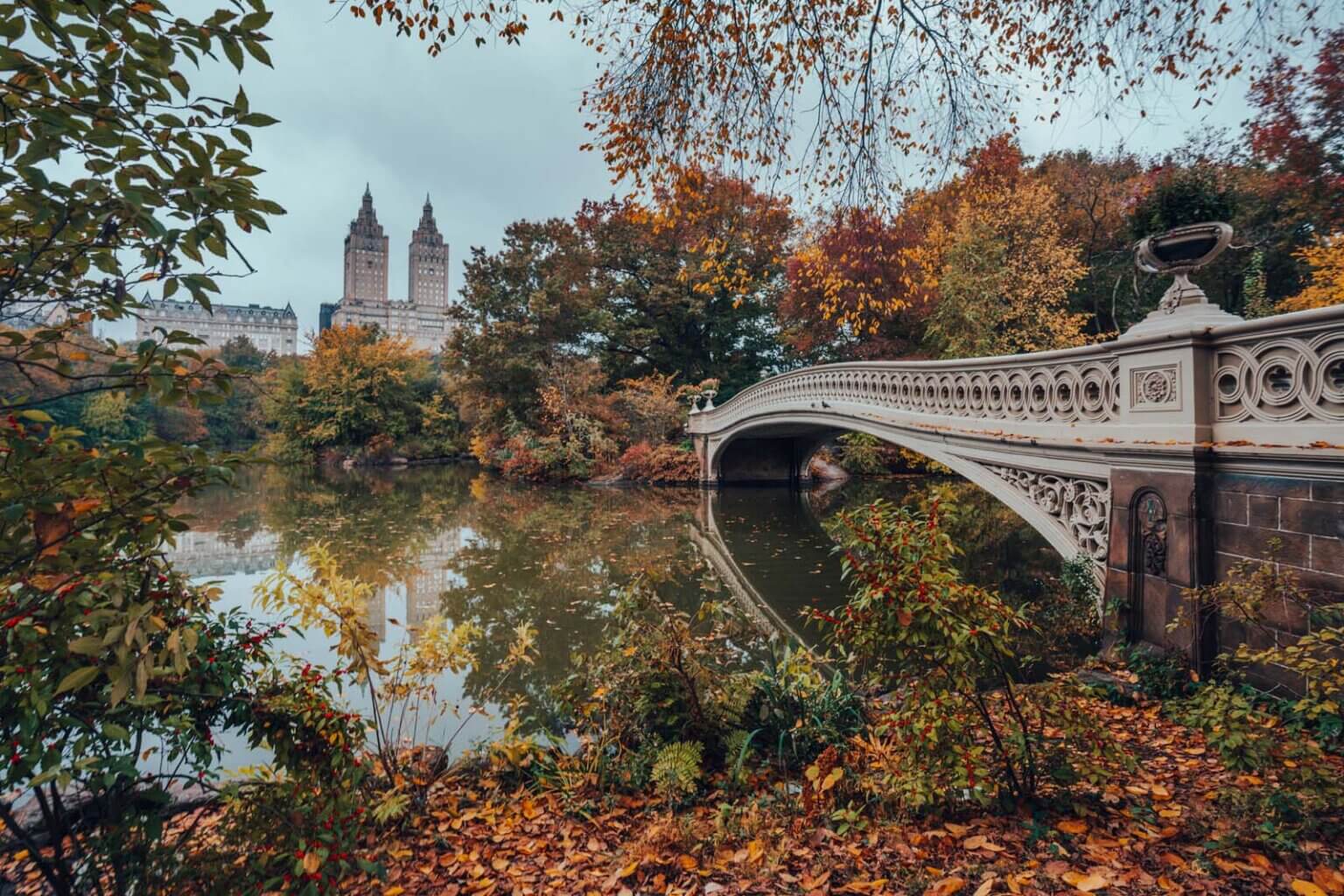 Of all the outdoor attractions in NYC, no place offers more seasonal variety than Central Park. Whether you're looking for iconic views, going for a run or walk, or heading to an outdoor concert or performance, Central Park is one of the best places to be outdoors in New York.
Spring is fleeting in New York City, but the season puts on a show in Central Park. It's a great time to enjoy a walk down the tree-covered Mall or see the flowers in the Conservatory Garden. The park is an especially beautiful place to see cherry blossoms in NYC too.
During the summer, take a walk under the shade of the tree-covered Mall or picnic like a local on the Great Lawn. Summer is also when tons of seasonal activities open up, including renting row boats at the Boathouse, free concerts in Central Park, and of course, Shakespeare in the Park performances which are free too – one of the best things to do in NYC in summer is also outdoors!
Some of the best places to see fall foliage in NYC are in Central Park too, we recommend walking around to Bethesda Fountain, Bow Bridge, and making your way to Belvedere Castle.
Winter in Central Park offers almost as much for those willing to brave the cold to visit, and it's worth it! Go sledding at Pilgrim Hill, attend a holiday run, or enjoy some of the best ice skating in New York City in Central Park at Wollman Rink.
It really doesn't matter what season it is, Central Park is beautiful any time of year. Other fun outdoor activities that can be found here year-round include visiting the Central Park Zoo, bird watching is EXTREMELY popular in Central Park (there are even a few celebrity birds that people get excited about on Twitter), and you can hike through The Ravine which is meant to resemble the Adirondack Mountain landscape here in the city.
Also, don't miss our favorite hidden gems in Central Park too!
2. Walk the High Line
For unique outdoor activities in NYC, look no further than The High Line. This urban park is not so secret as it's become one of the top things to do in NYC, and for good reasons! This elevated park is built on an old freight rail line and was transformed into one of the best parks in NYC in 2009. The park runs 1.45 miles long and offers great city views, gardens, art sculptures, cool architecture and runs along the neighborhoods of Greenwich Village, West Chelsea, and Hudson Yards.
Throughout the year, the High Line makes for a gorgeous walk above the streets of NYC. See what's being projected at the 14th Street Passage where you literally walk through a building! Or visit the Observation Deck, a glass-front amphitheater that crosses 10th Avenue, and watch traffic pass (this is a must-see after dark!).
In the spring, it's an experience to see the blooming flowers as you walk along. And summer is the perfect time to have a picnic at the 22nd Seating Steps. And all year long, you can find art installations along the length of the elevated park.
And you'll also be rewarded with art installations along the High Line including rotating art sculptures as well as what you'll see aroudn you. Like the Mother Teresa and Gandhi mural by artist Eduardo Kobra to impessive architecture like 520 W 28th Street luxury apartment building by the late Zaha Hadid.
3. Walk the Brooklyn Bridge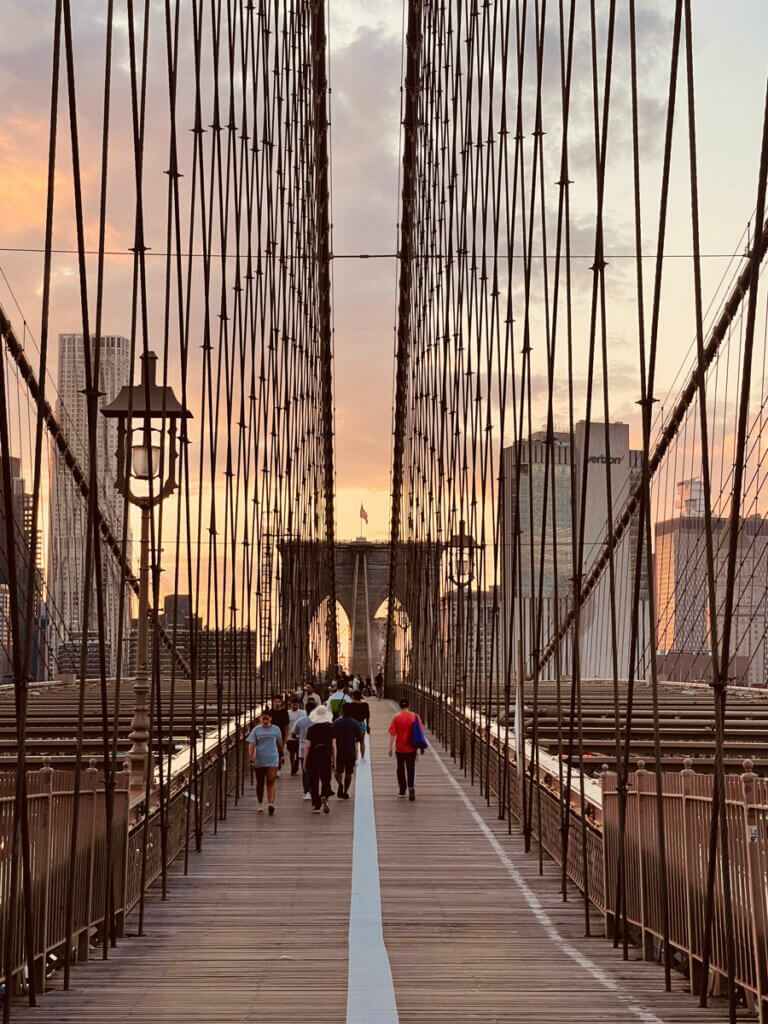 Everyone visiting NYC should take the time to walk the historic Brooklyn Bridge. Besides being one of the most iconic landmarks of the city, this is also one of the best things to do outdoors in New York City.
The Brooklyn Bridge is about 1.1 miles to walk and can take as little as 40 minutes up to an hour depending on how many photo stops you make! Trust us, there are plenty given that there are incredible views of the skyline (walking from Brooklyn to Manhattan), the Statue of Liberty, East River, along with views of Brooklyn.
Alternatively, you can bike across the Brooklyn Bridge too. The upper level is now only a pedestrian path and the lower level where the vehicles cross the bridge is where the protected bike lane now is. Which love it or hate it is way better than before when pedestirans and cyclists were both at the top!
There are a few entry points for the Brooklyn Bridge (for pedestrians).
If you're entering from Downtown Brooklyn, the walkway begins on Tillary Street and Boerum Place. On Google maps, this location is called "Brooklyn Bridge Walkway Starting Point." The second entrance on the Brooklyn side is a stairway in the underpass located beneath the underpass in DUMBO on Washington Street and Prospect Street. There is a stairway here (across from the hot dog stand) that takes you up to the bridge.
Walking across the Brooklyn Bridge from the Manhattan side, you can enter the Brooklyn Bridge Pedestrian Walkway at the northeast corner of City Hall Park along Centre Street.
The Brooklyn Bridge is always a little more congested at the entry points as some people just walk part way to get a photo and turn back. There are also find vendors selling souvenirs and bottles of water.
Visiting this outdoor activity in NYC you'll want to be prepared. Anytime you're by a body of water in NYC, there's more of a breeze, so in the colder months make sure you're dressed warm enough. Also, there's nothing to shade you from the sun so sunscreen is always a good idea. And don't forget comfortable walking shoes when you're enjoying any of these outdoor activities in New York City!
If you're interested in learning more about the places you're visiting, read our guide breaking down the fascinating history of the Brooklyn Bridge, the oldest suspension bridge in the United States and other fun facts about the Brooklyn Bridge.
4. Brooklyn Bridge Park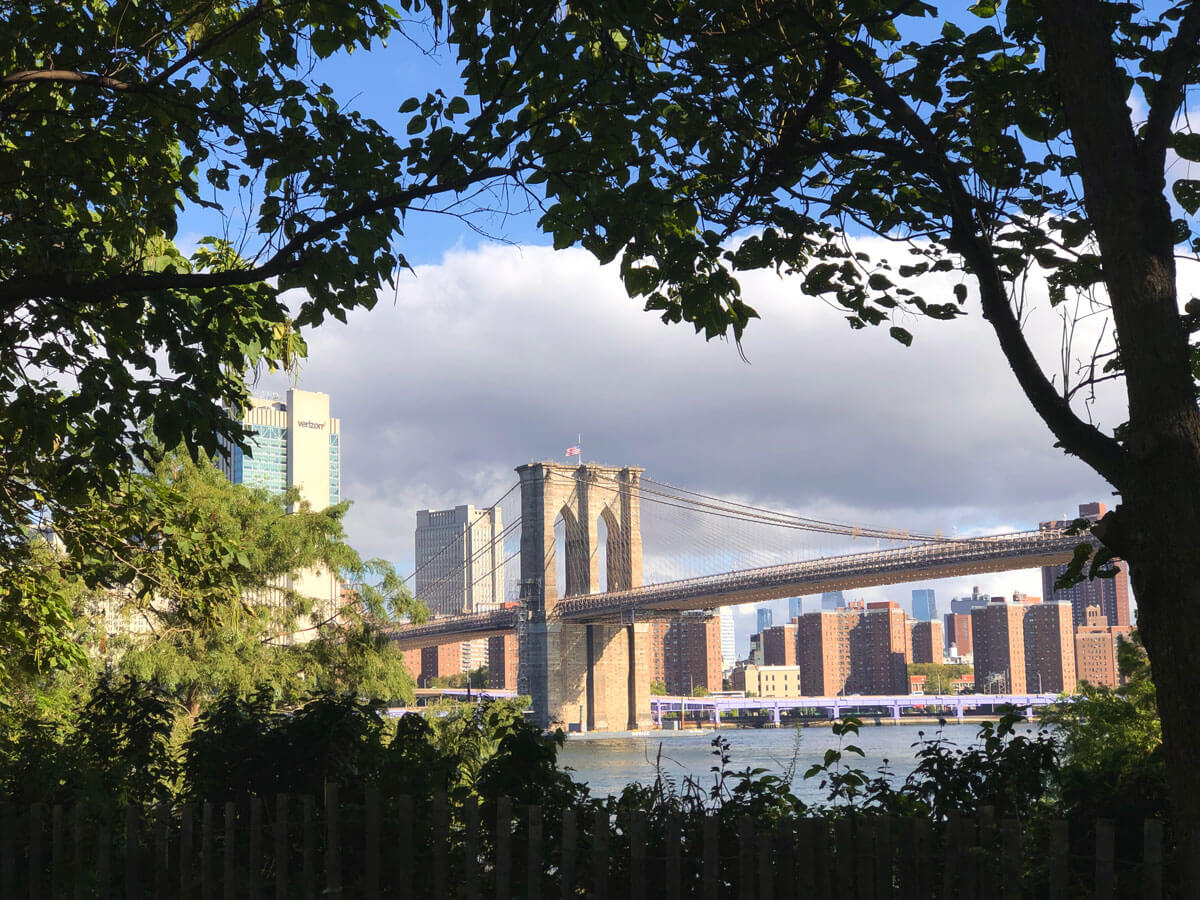 One of the best places and things to do outdoors in NYC in every season is Brooklyn Bridge Park. This Brooklyn park is 85-acres and runs from north of the Manhattan Bridge and curves around and down around the Brooklyn Bridge to Brooklyn Heights along the East River Waterfront.
The 1.3 miles of land is broken up into 7 sections, featuring hills to block sounds from the Brooklyn-Queens Expressway and ecological habitats where native plants have been reintroduced.
Here are a few of the top outdoor spaces and places to see in Brooklyn Bridge Park:
John Street Area, Main Street Area, & Empire Fulton Ferry – where you can find beautiful open lawns to picnic and play with stunning views, Pebble Beach, ride Jane's Carousel, and enjoy the tables at picnic grove (perfect for picking up a pizza from Juliana's or Grimaldi's at eating here)
Fulton Ferry Landing – The historic site of the first ferry service in NYC, outdoor dining from Luke's Lobster or High Tide, places to grab ice cream, and listen to live music on an open air boat at Bargemusic.
The Piers – There are 6 pier areas all offering something different in terms of outdoor things to do in New York City! From wetlands, marshes, lawns, running/walking paths, soccer fields, various courts for different sports, beaches, flower fields, and restaurants.
Squibb Park and Bridge – one of the most photogenic spots from an elevated walkway that leads you up to Brooklyn Heights and the Brooklyn Heights Promenade from the lower level of Brooklyn Bridge Park.
In every season, it's just a great place to retreat to nature while enjoying stunning views of the skyline, Brooklyn Bridge, Manhattan Bridge, and Statue of Liberty!
5. Visit the Statue of Liberty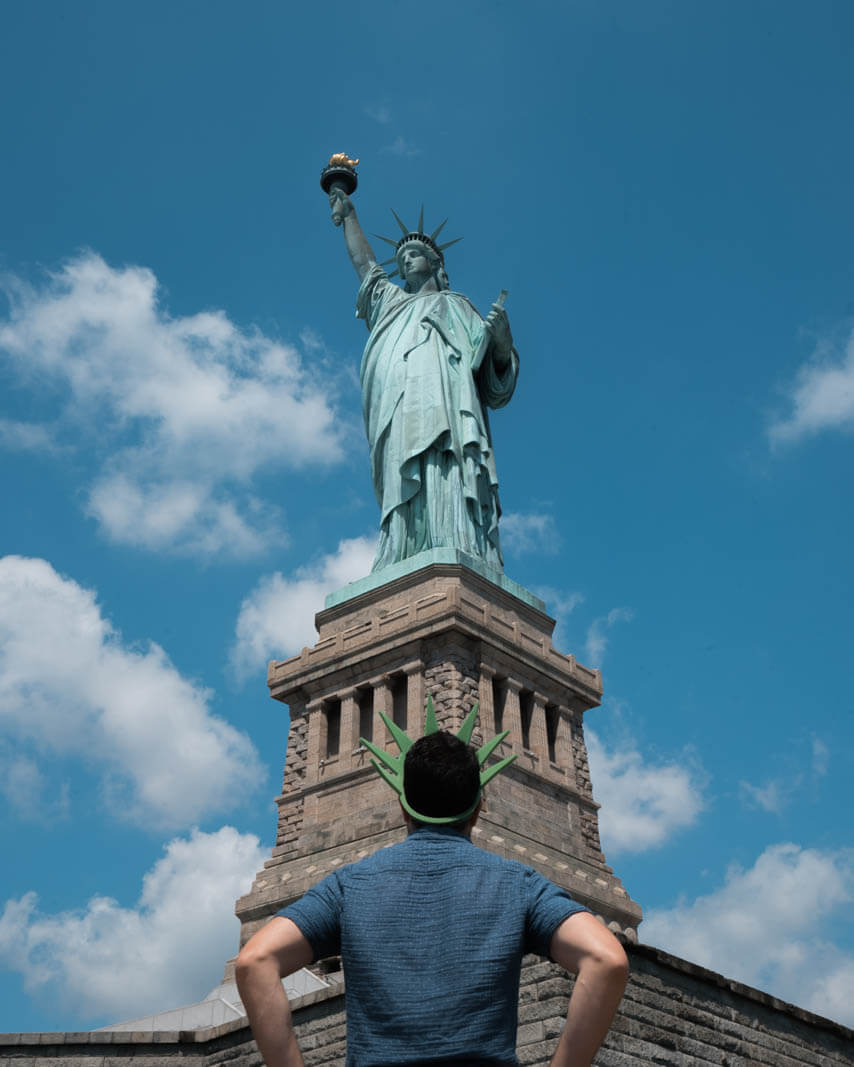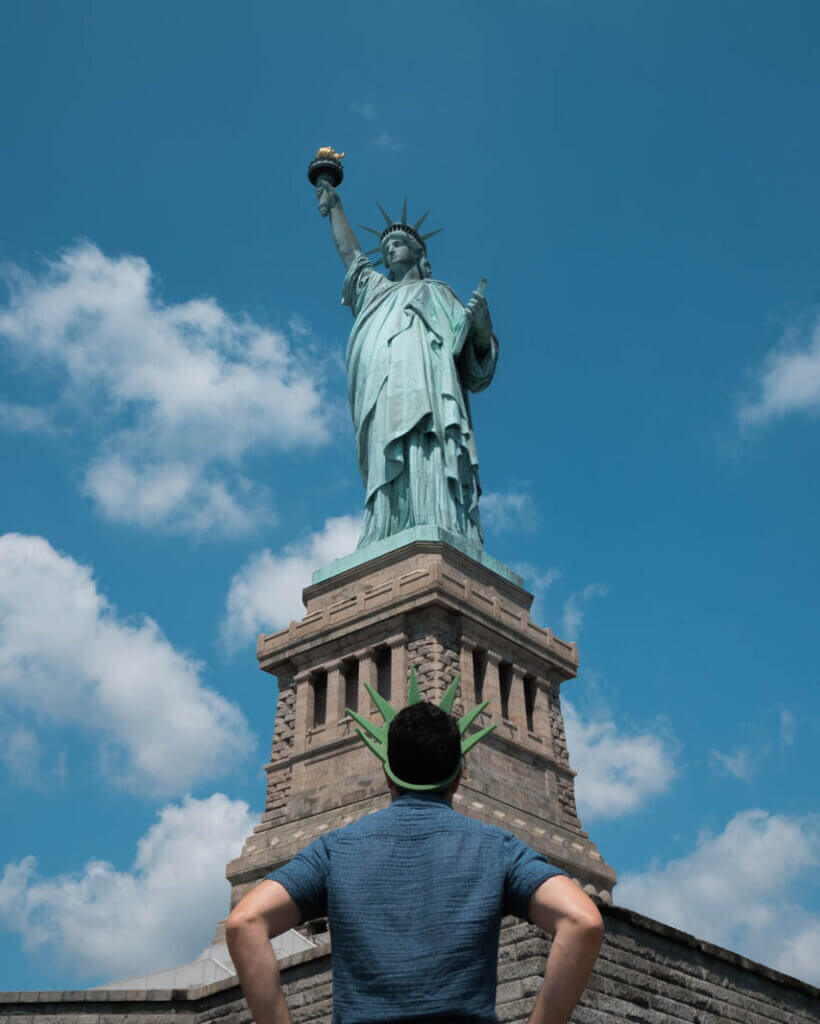 Did you know that there's more to do at the Statue of Liberty than just go inside the statue? Liberty Island is open all year for visitors, and admission to the island is the cost of the ferry ride from The Battery in Lower Manhattan.
It's advised to purchase your tickets to the Statue of Liberty ferry in advance and decide if you're going to do a tour or not!
Once you're on Liberty Island you can walk around the base of Lady Liberty taking in all the vantage points and if you need a snack there's a cafe here too as well as a museum if you're eager to learn more.
And better yet, your ticket also includes access to the historic Ellis Island too!
Keep in mind that if you want to go inside the Pedestal or the Crown, each of those is an additional fee and will require advanced booking.
As mentioned, it's best to purchase your tickets to the Statue of Liberty in advance because one of the most common scams in NYC are people who hang out in the Battery Park and Lower Manhattan area and try to sell fake tickets to the Statue of Liberty.
6. Governors Island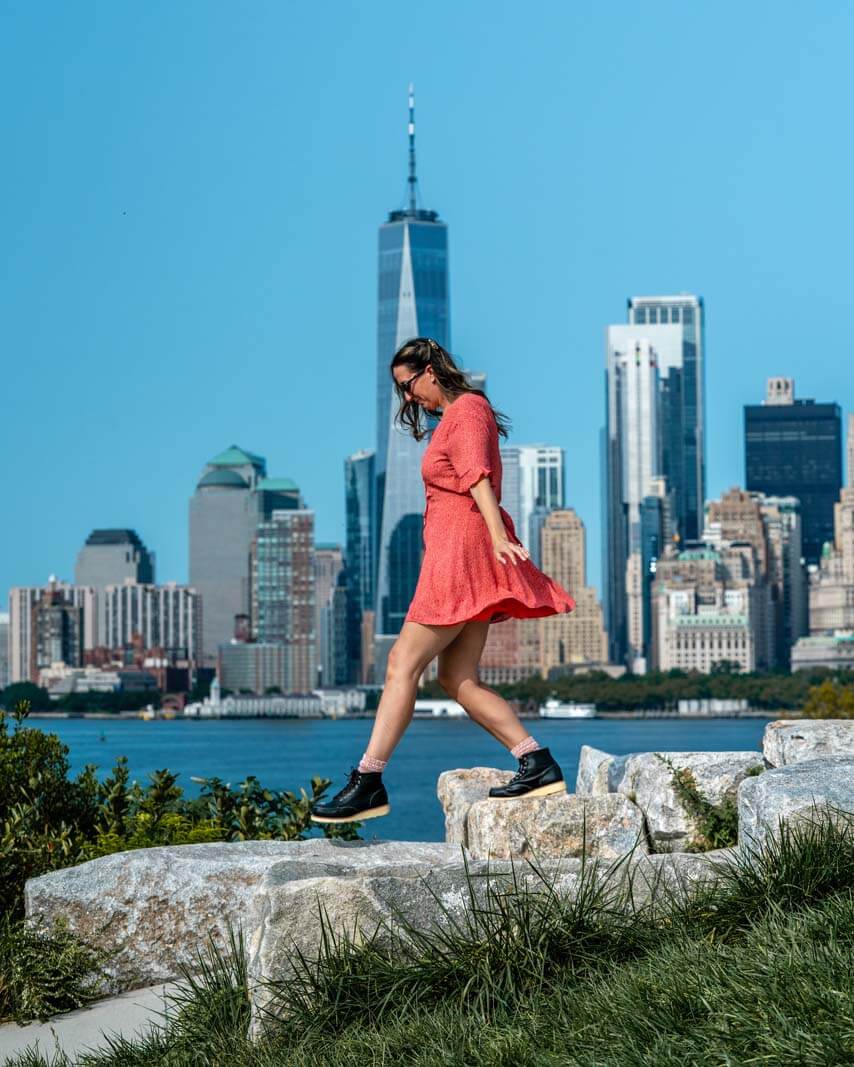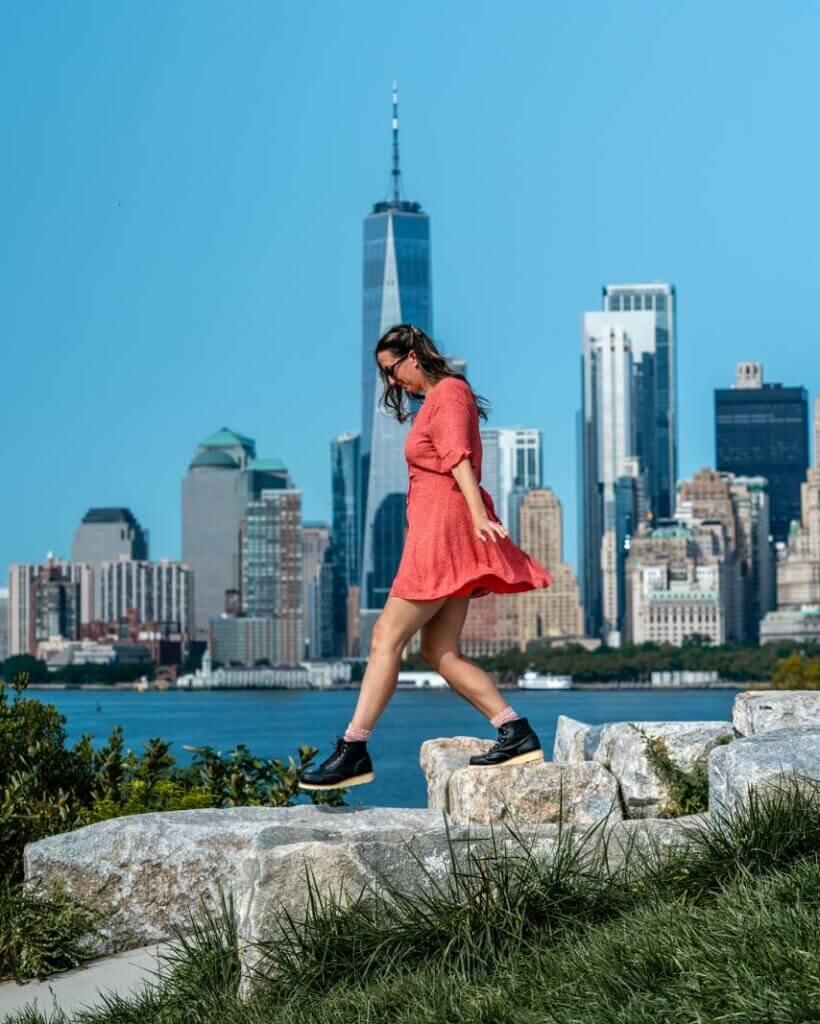 Not only is this one of my favorite places (and dare I say still hidden gem? at least for tourists it is) in the city and best things to do outdoors in NYC is take a day trip to Governors Island!
Governors Island is a former military base and island situated in the New York Harbor that's been turned into a public park that offer some of the the best views of Lower Manhattan, the best views of the Statue of Liberty, and loads of outdoor activities in NYC to enjoy all for the low price of a ferry ticket!
Governors Island is now open year-round and offers something special each season including a winter village and ice skating rink in winter, a pretty place for fall foliage and spring blossoms, a luxury glamping resort in the summer, and even a gorgeous spa with a heated outdoor pool overlooking the NYC skyline open all year!
Walk around the former military housing, which are rows of beautiful homes with a backdrop of One World Trade Center peeking out in the distance, picnic on the lawns, sway in the hammocks at Hammock Grove, find the sheep who graze the lawns, take a ride down the longest slide in the city at Slide Hill, and hike up to Outlook Hill for unbelievable views and a gentle breeze from the New York Harbor.
Better yet, you don't need to leave Governors Island when you get hungry or thirsty. There are several restaurants and food trucks, all with outdoor dining options if you want to stay on theme with outdoor activities in NYC!
There are also play areas for kids making it one of the best kid-friendly activities in New York City for families, art galleries inside some of the former military housing with regularly rotating artist residencies, art installations, and bicycle rentals.
And with the iconic views so close to Manhattan, one of our favorite experiences was glamping with Collective Retreats. They are open for the summer season and is as close to staying outdoors as you can in New York City! They also have a beautiful yurt restaurant with a nice outdoor deck if you just want to have a sunset dinner or cocktail here.
What's also nice about Governors Island is that you have all the views and it's really peaceful and quiet, surprisingly! I don't know that we've found a more quiet place in New York!
You can catch the Governors Island ferry every day from Whitehall Terminal, or from Red Hook on the weekends. You can also take the New York City water taxi here daily which also operates late.
7. Fort Tryon Park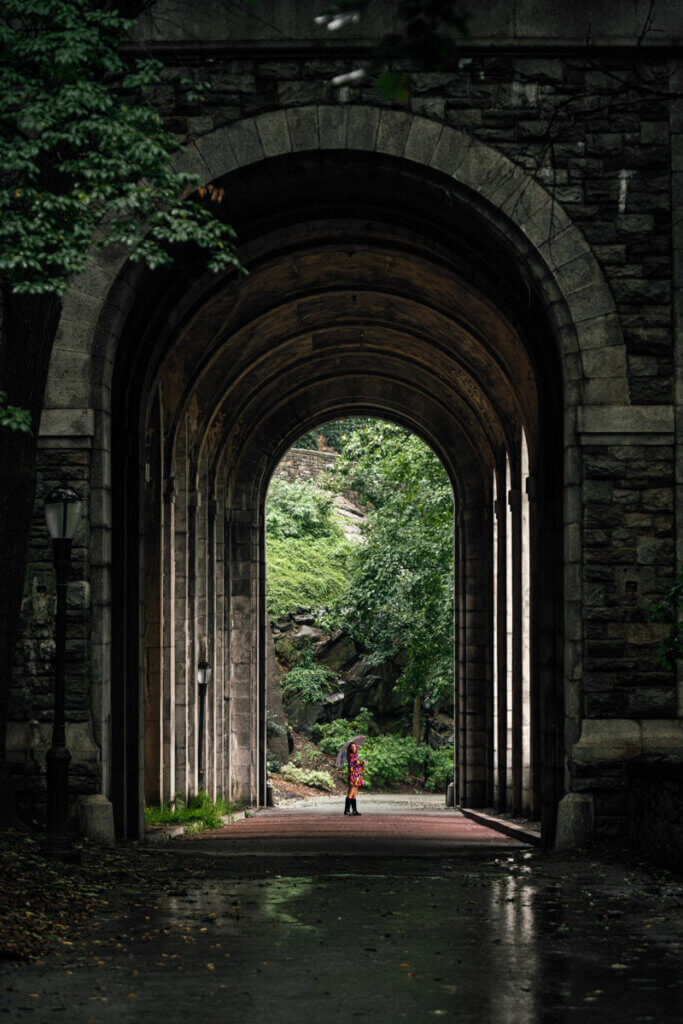 Another one of the most beautiful parks and outdoor activities in NYC is Fort Tryon Park. Head to Uptown Manhattan to Inwood along the Hudson River Parkway for one of the prettiest parks in the city situated on cliffs overlooking the Hudson River and George Washington Bridge.
Fort Tryon Park is a New York City gem, created by John. D. Rockefeller in the 1930s to include the medieval Cloisters. Everywhere you go in this urban space, you'll find lush greenery, paved paths, and majestic archways.
Fort Tryon Park's outdoor spaces in the park are wonderful, no matter the time of year. Dog lovers can enjoy the city's largest dog run here, complete with a pavilion, picnic tables, dog-friendly plants, and boulders to climb.
And make sure to visit Heather Garden in the spring when it's exploding with lavender, Queen Anne's Lace, anemones, roses, and more! Or go when it's covered in snow and just as beautiful. You can sun on the spacious, rolling lawns with views of the Hudson River, or stroll along walkways under shade of trees and archways. And don't miss the views from Inspiration Point!
8. Prospect Park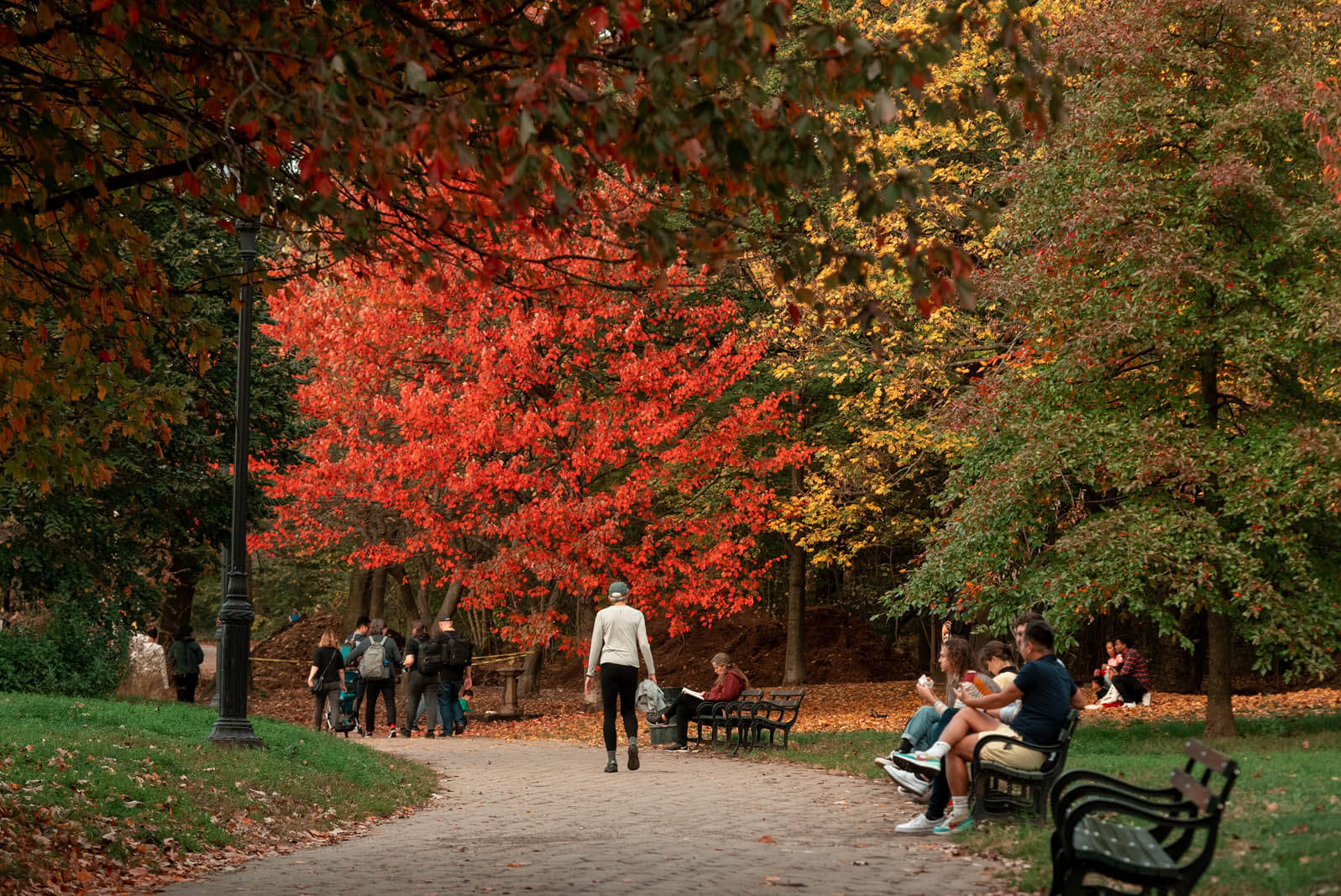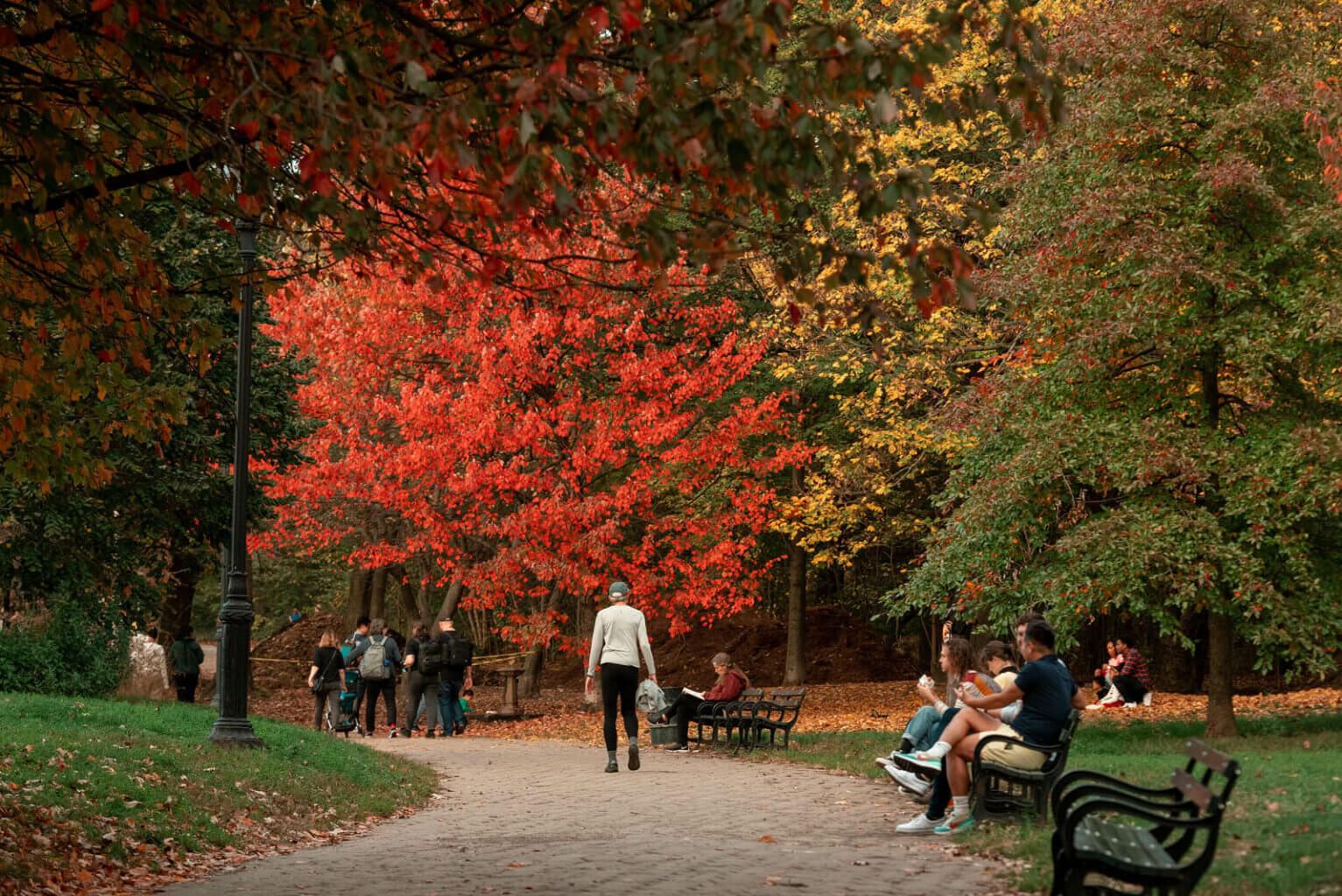 Central Park's Brooklyn sister is another one of the top things to do outdoors in NYC. It's hard to decide when Prospect Park shines best, whether in the spring, summer, fall, or winter!
In the spring, visit the Victorian-era garden, Vale of Cashmere or walk around by Grand Army Plaza and see the cherry blossoms blooming. And there's nothing like running along Park Drive with the smell of linden trees all around you.
In the summer, the park comes alive with kids cooling off at splash pads, weekends eating your way through at Smorgasburg, free summer concerts, and more.
And one of the best things to do in Prospect Park is to witness the fall foliage here! Which is especially beautiful around the Colonnade and the Prospect Park Boathouse.
And in the winter, try sledding on Long Meadow or ice skating at the LeFrak Center.
Seasonal outdoor activities in Prospect Park are endless, but so are year-round outdoor activities! Take a hike through the Ravine, there's even a waterfall trail you can enjoy, visit the Green Markets at Grand Army Plaza and Bartel-Pritchard Square.
Visit the historic Prospect Park Carousel, see the 18th century Lefferts Historic House museum, and check out Prospect Park Zoo.
If you're thinking that many of these NYC outdoor activities are similar to Central Park, you'd be right! The same designers and architects behind Central Park also designed Prospect Park.
9. 9/11 Memorial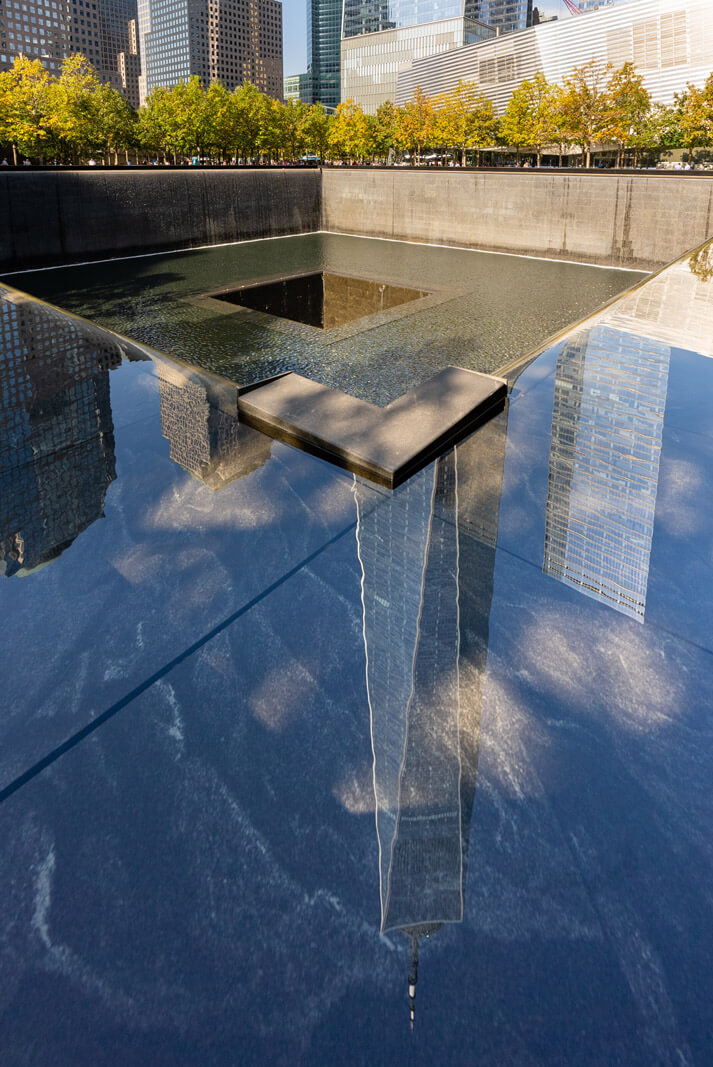 The 9/11 Memorial & Museum is a sobering and meaningful visit that everyone should take at least once. While the museum is open 6 days a week and costs the price of admission and indoors, the 9/11 Memorial is free and open every day all year long. Located outdoors far enough off the street with shady trees and there's a reverent, peaceful feel to the entire area.
The memorial itself is half of the original World Trade Center site, with two reflection pools and waterfalls, framed by the names of the 3,000 people who lost their lives that day. Inside the glade of trees, you can sit on benches, listen to the sound of the waterfalls, or see the "Survivor Tree" that remained standing even as the towers fell around it.
If you want to visit the 9/11 Memorial, it's an open park so you don't need a ticket.
10. Brooklyn Heights Promenade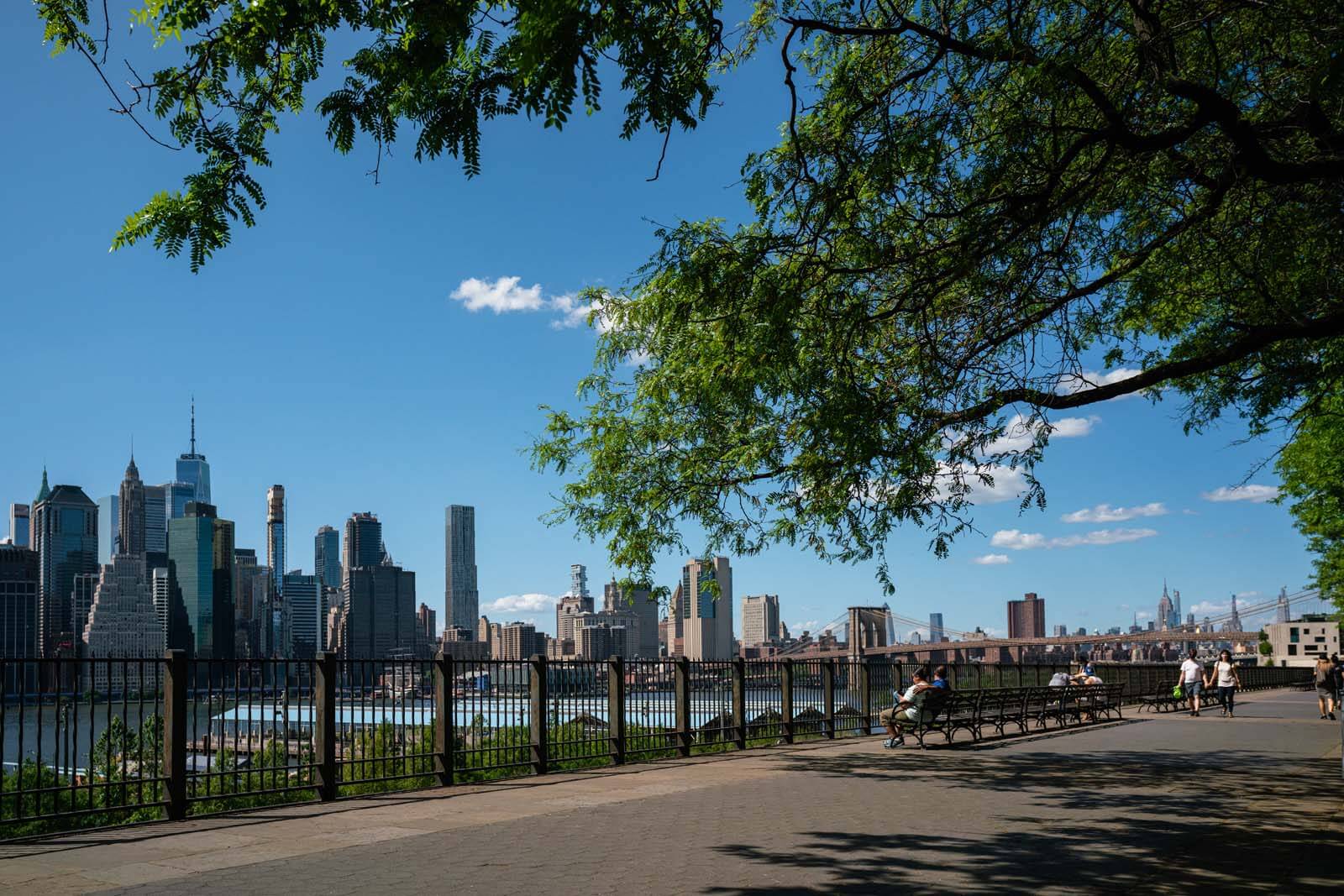 One of the best outdoor activities in NYC with views can be found in a quiet, residential Brooklyn neighborhood. Located in Brooklyn Heights, the Brooklyn Heights Promenade sits perched above Brooklyn Bridge Park and has jaw-dropping views of the Statue of Liberty, New York Harbor, NYC skyline, and Brooklyn Bridge.
You'll find the Brooklyn Heights Promenade between Pierrepont Place and Remsen Street in Brooklyn Heights. On one side you have gorgeous 19th-century mansions and the other opens up to the incredible views with an ample amount of park benches to take a break at.
You can keep walking the path first to Fort Sterling Park and then the pretty Fruit Street Sitting Area. It's just a nice place to stop any time of the year for a stroll with views.
It's easy to access more of our favorite things to do outdoors in NYC from here too, you can walk to Squibb Park to walk the Squibb Park Bridge down to Brooklyn Bridge Park from here too.
11 . Walk & Explore Brooklyn's Neighborhoods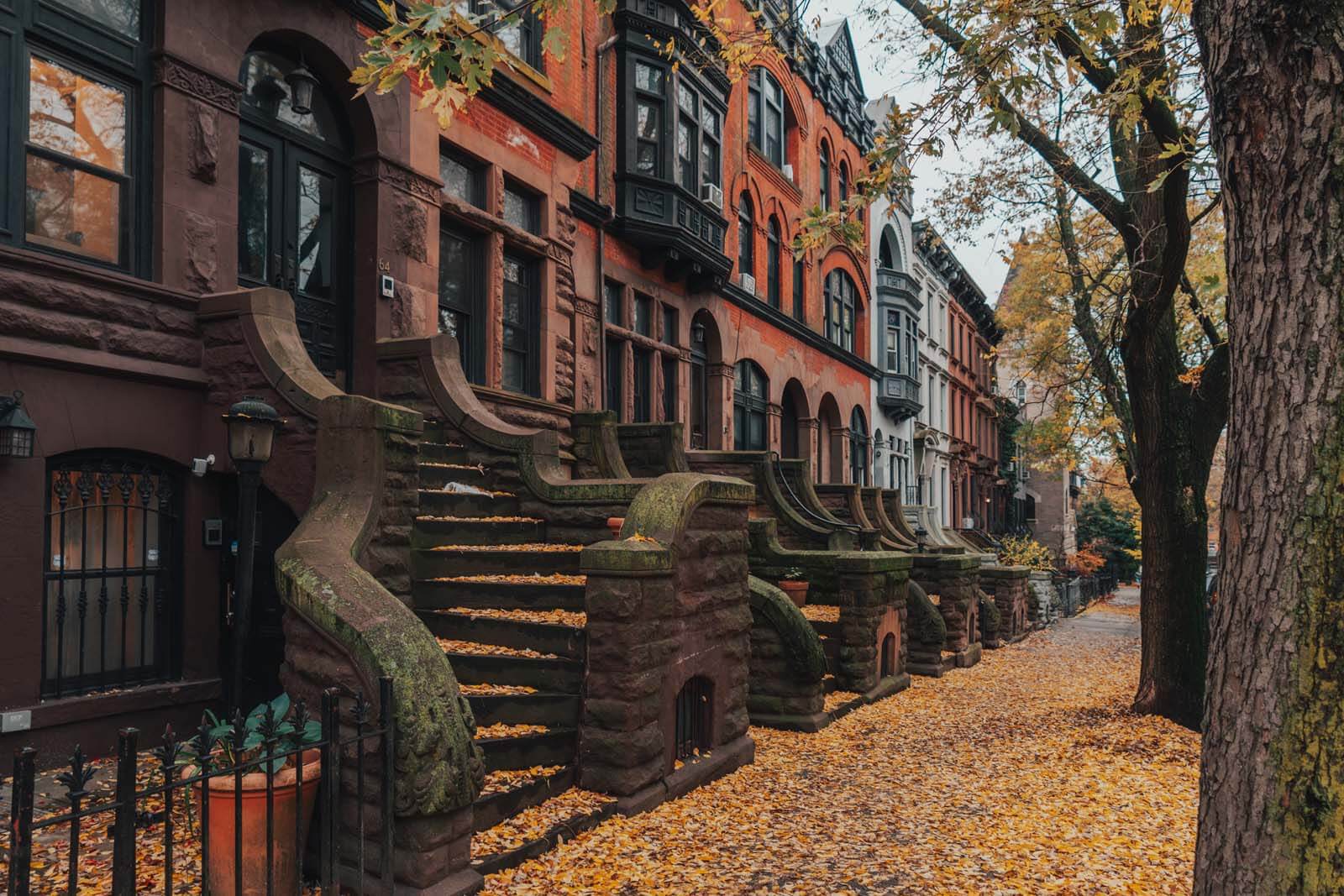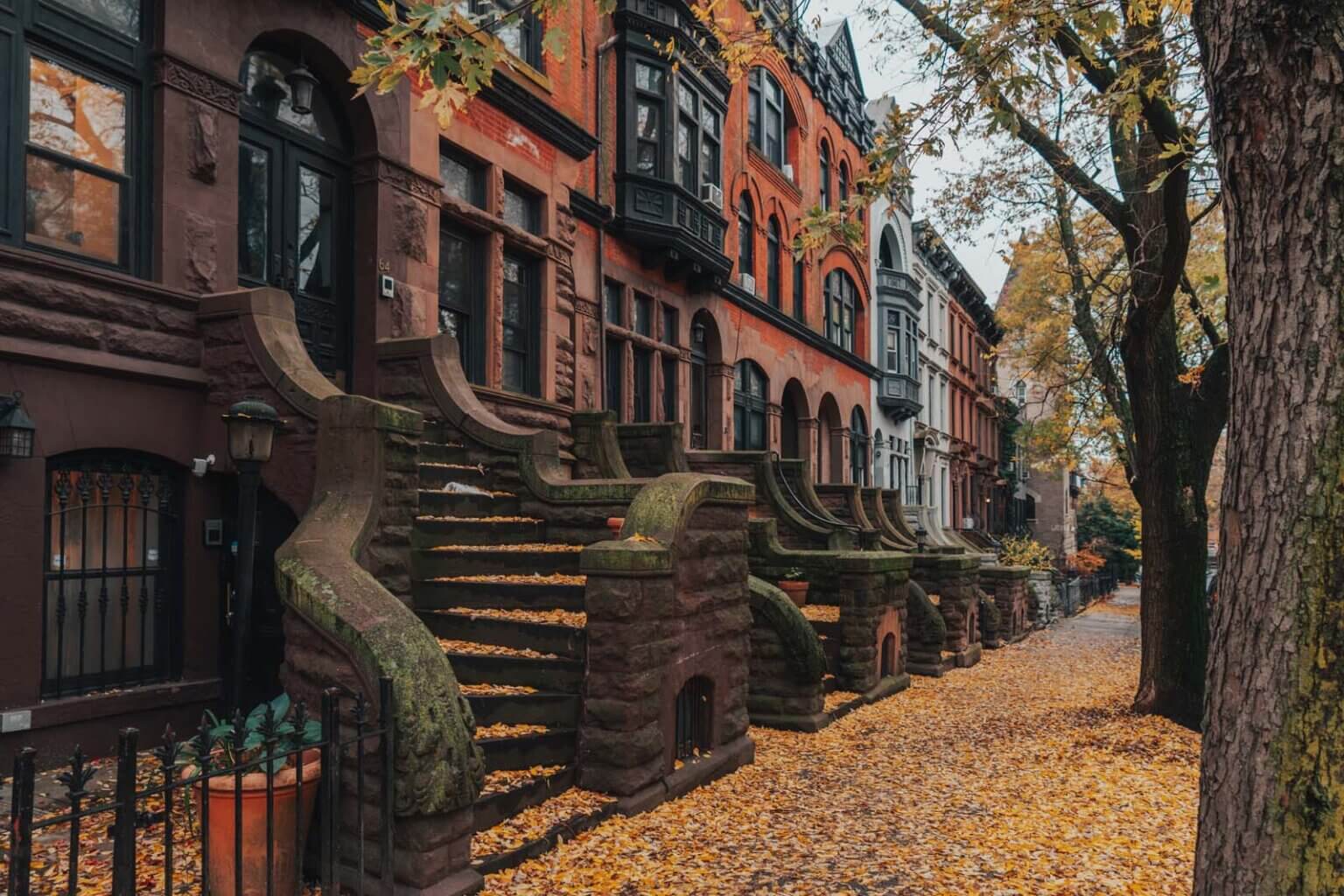 Each of New York City's neighborhoods has its own personality and attractions. One of the best outdoor activities in NYC is simply enjoying a scenic walk in a Brooklyn neighborhood. You can literally weave your way through streets, avenues, and smaller courts and alleys to find hidden treasures!
Brooklyn Heights and Park Slope are two of the most beautiful neighborhoods in Brooklyn to meander around when looking for outdoor activities in NYC to enjoy. Brooklyn Heights has gorgeous mansions and townhouses and is considered one of the most idyllic neighborhoods in the city that many celebrities call home. Park Slope is full of quintessential Brooklyn brownstones and tree-line streets, close to Prospect Park, and tons of great shops, cafes, restaurants, and bars on 5th and 7th Avenues.
Victorian Flatbush offers some of the most beautifully preserved historic homes in the city. They're especially beautiful in the spring when NYC's pink and white dogwood trees are in bloom! This neighborhood also is just steps away from Little Caribbean where you can find great restaurants when you've walked up an appetite.
There's Williamsburg with its glorious mishmash of historic structures, hip shops and restaurants, and great street art.
Or head to DUMBO to explore the old, winding streets under the Brooklyn Bridge. The industrial and harbor buildings have been redesigned with great eateries, boutiques, and homes. Everywhere you look at fascinating views of the bridge and the East River between the old buildings!
12. Bushwick Collective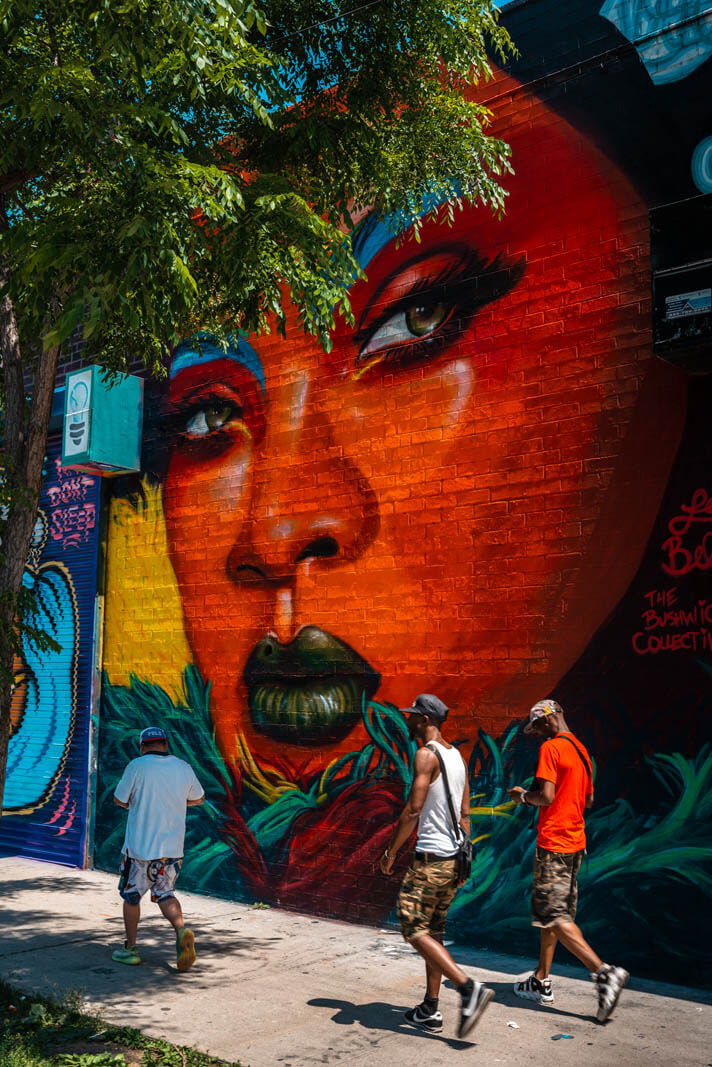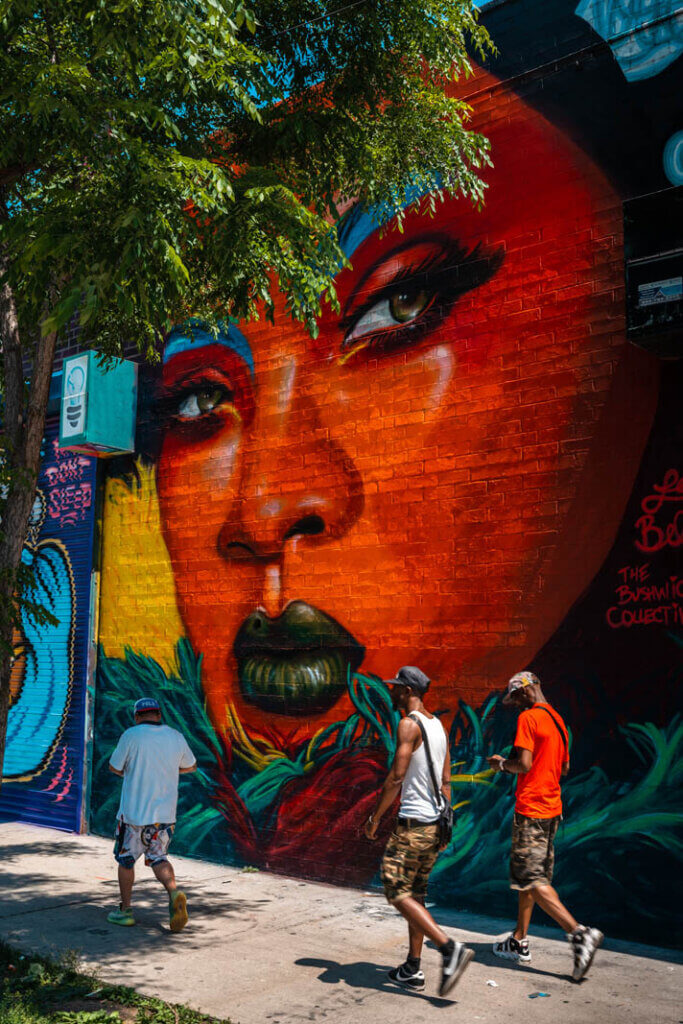 One of the best things to do outdoors in NYC for lovers of street art is visit to Bushwick. At one time, the neighborhood wasn't a safe place to take a walk, but a huge revitalization effort by residents has changed that. A long-time Bushwick resident, Joseph Ficalora, was personally affected by crime in the neighborhood when his father was shot there. To heal and honor his father, he created the Bushwick Collective in 2012, a huge open-air art gallery featuring murals and street art from artists all over the world.
Knowing the story behind this outdoor gallery makes it even more beautiful. You can visit all year round, but it's especially exciting to see the neighborhood in June when new murals are revealed by both local and big-name artists!
And in August, the Bushwick Collective Block Party brings the community together with music, vendors, and even more art.
To walk the murals, head to Troutman Street, especially between Cypress and Irving Avenues. But don't forget to check the side streets, too, with murals covering any available space. For more in-depth information visit our guide on the Bushwick Collective and navigating the neighborhood!
13. Green-Wood Cemetery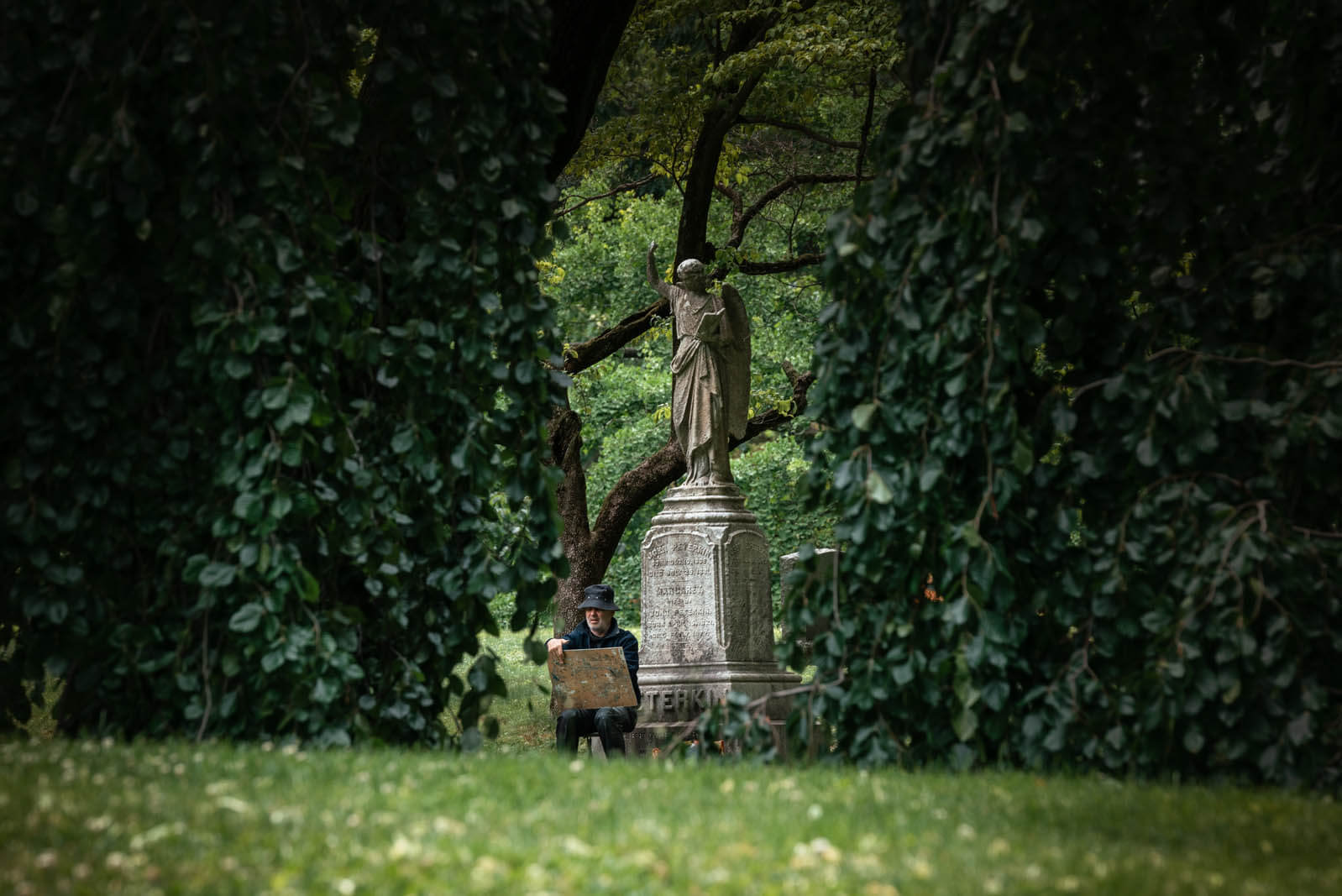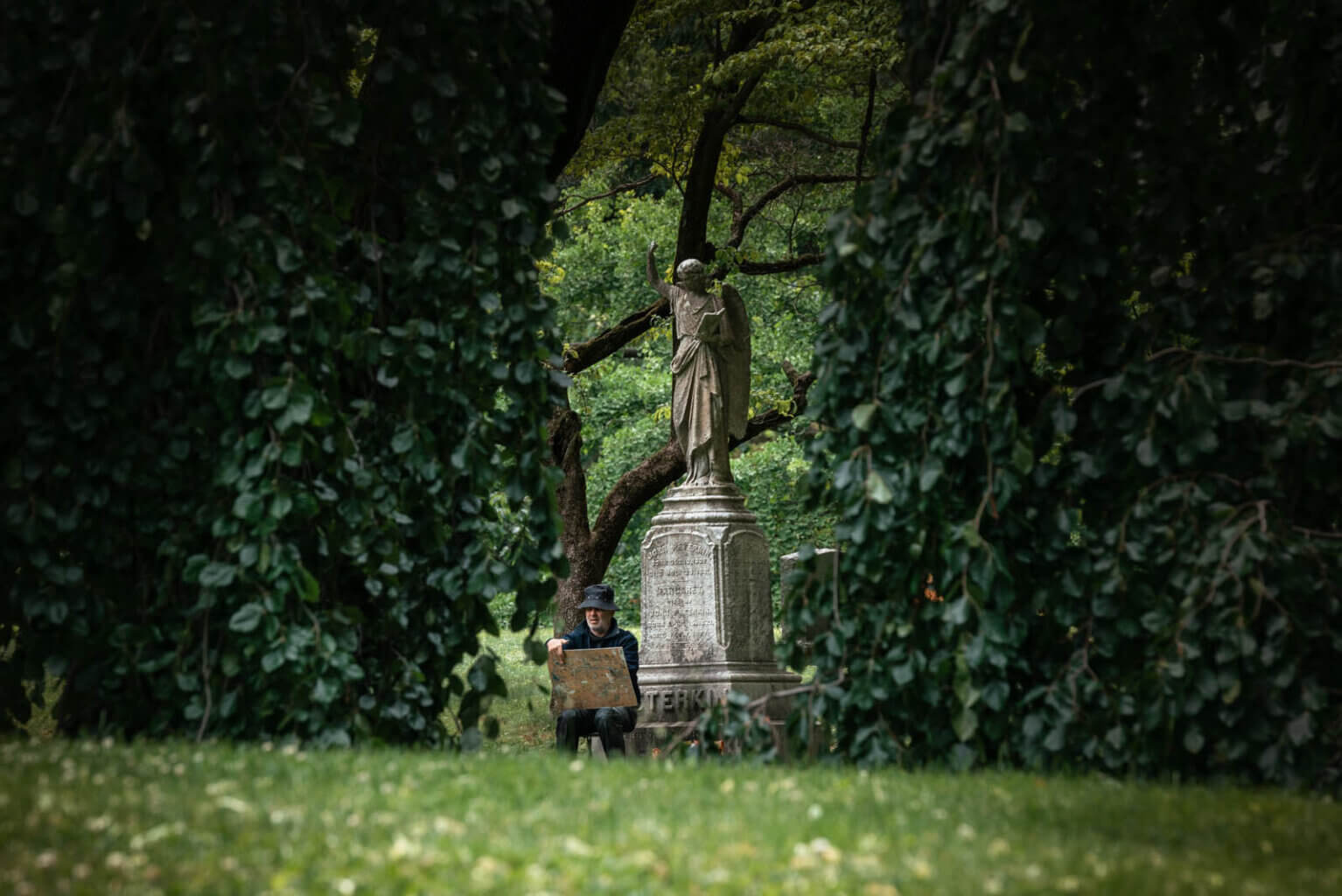 For an especially unique outdoor activity in NYC, head to the 19th-century Green-Wood Cemetery. Does it feel odd to visit a cemetery for a scenic stroll? See Green-Wood Cemetery for yourself and you'll understand why it's always been a popular outdoor space in NYC, so much in fact that in 1860 it was the second most visit tourist attraction in the country!
The cemetery covers a massive 478 acres of rolling hills and is dripping with history! In 1838, the cemetery was established to help with Manhattan's lack of space burial space. Roads and pathways weave and wind all throughout Green-Wood Cemetery, among beautiful stone and iron monuments, weathered headstones, and mausoleums in every style.
There are 4 gated entrances with the Main Gate on 5th Avenue and 25th Street being the most impressive with its Gothic-Revival architecture.
The cemetery was once called Brooklyn's first park and features ponds with koi fish and lily pads, gardens, and a wide range of trees you won't find anywhere else in NYC. In fact, it's a Level III Arbotoreum.
Every season offers a different personality to the cemetery, whether it's adorned with oranges and reds of fall, or blanketed in snow. And you'll find that the highest points in Green-Wood Cemetery provide excellent views of Lower Manhattan and even the Statue of Liberty from Battle Hill.
14. Visit the Coney Island Boardwalk
For a change of pace, head to the iconic Coney Island Boardwalk. A classic NYC outdoor attraction in South Brooklyn for over a century, Coney Island was once a rural destination for Manhattanites believe it or not! They would come to Luna Park to see the fantastical, enjoy carnival food, ride the Wonder Wheel at Luna Park, and enjoy a swim at the beach. Coney Island has such a fascinating history and today, you can do just that, and more.
Actually named the Riegelmann Boardwalk, it stretches almost 3 miles between both Coney Island Beach and Brighton Beach and is one of the most historic boardwalks in the country. This stretch of paved and wooden walkways is popular with pedestrians and cyclists. The entire length features parks, outdoor spaces, and attractions for everyone, like Maimonides Stadium where the Brooklyn Cyclones play, or the New York Aquarium.
There are benches for sitting and showers for rinsing off from the beach. The main drag is in front of Luna Park, where you can visit food stalls selling classic boardwalk fare. Keep walking down to Brighton Beach for art murals and a quieter side of the pathway.
All year, it's a peaceful place to walk and enjoy the sound of the waves while you check out the elaborate architecture of the old structures in one of America's oldest entertainment getaways. Be sure to check out all the other cool things to do in Coney Island too as there are more outdoor things to do in NYC off of the boardwalk too!
Also, don't miss the annual Mermaid Parade in June which is a bucketlist worthy event! And if you happen to be in NYC on New Year's you can join the annual Polar Plunge at Coney Island Beach!
15. Brooklyn Botanic Garden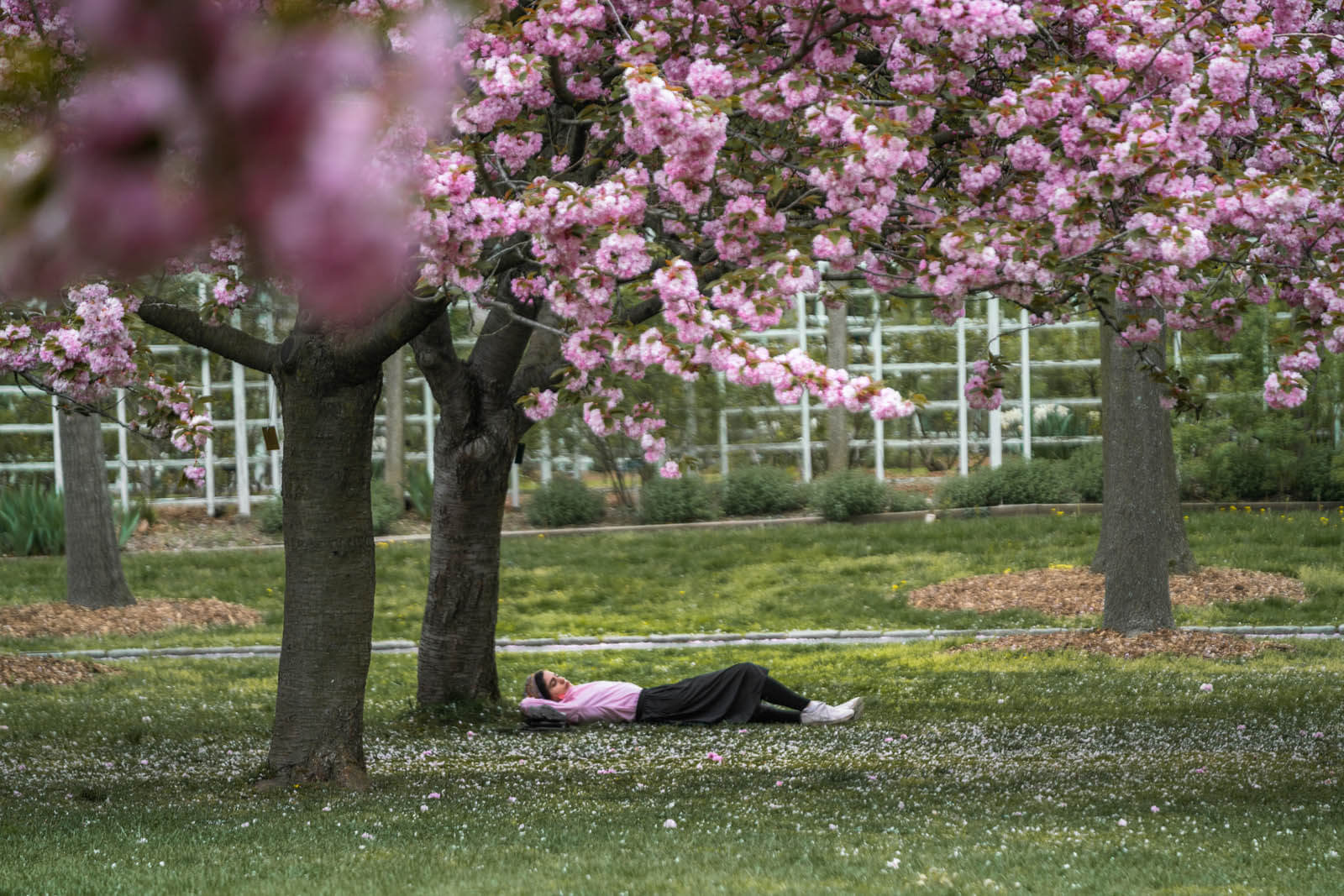 For more Brooklyn outdoor activities in NYC, plan a visit to the Brooklyn Botanic Garden. You'll find it tucked up against the Crown Heights side of Prospect Park, between Flatbush and Washington Avenue. It's open year-round with different events and blooms to see in every season.
You can visit differently themed gardens, including the Fragrance Garden, Shakespeare Garden, Rose Garden, and more. Walk through the Instagrammable Osborne Garden with pergolas covered in wisteria. And the Japanese Hill-and-Pond Garden is exciting all year long with the gorgeous tori gate in the pond here, but it is absolutely not to be missed when the cherry blossoms are in bloom at Brooklyn Botanic.
Speaking of, spring is the most popular time to visit the Brooklyn Botanic Garden when the cherry blossom trees bloom for a few weeks in April. In the fall, you can enjoy the Japanese maples turning vibrant red and gold. And in the winter there are the Lightscape installations where the gardens are illuminated at night.
Whether you're looking for a quiet spot to read a book, or wander gardens, Brooklyn Botanic Garden certainly offers respite from the city and is absolutely one of the best things to do in New York City in the outdoors.
16. New York Botanical Garden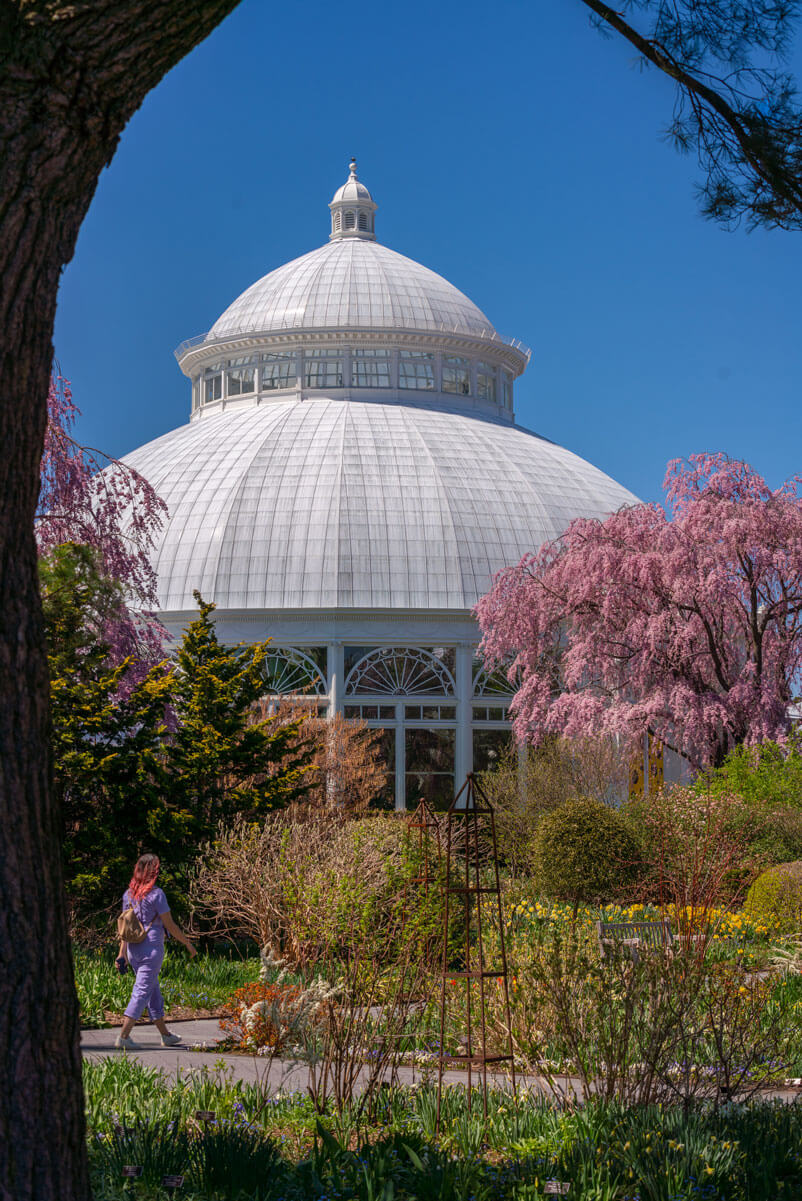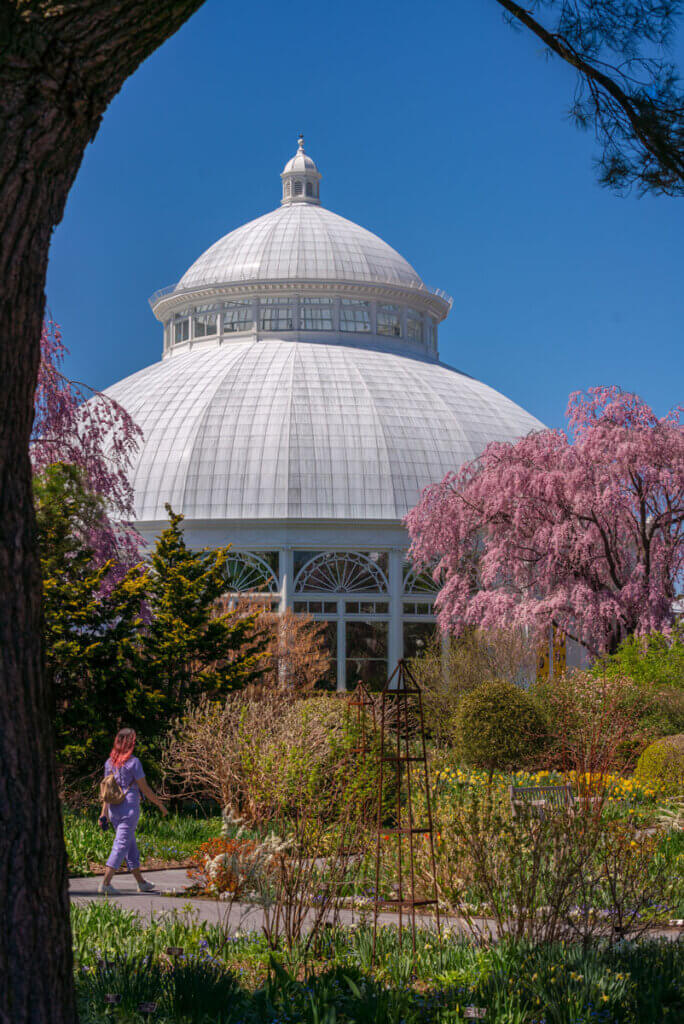 Head to the Bronx for another one of the best things to do outdoors in NYC, the New York Botanical Gardens. Created in 1891, the garden is a National Historic Landmark housing 50 different gardens, old-growth forests, and a gorgeous Victorian glass conservatory. All of this covers 250 acres, with tons of outdoor activities all year round.
You can walk trails through forests that existed before settlers came to the Bronx, and the Conifer Arboretum is especially beautiful during a snowy winter! A must-see is the rose garden in the summer with more than 650 varieties. And make time to walk through the conservatory greenhouses that are full of exotic flowers.
Better yet, the landscape of New York Botanical Garden are along the Bronx River and there are even trails you can enjoy that traverse past waterfalls.
It's easy to spend an entire morning or afternoon here as you'll find restaurants and cafes, as well as a gift shop. All guests to the gardens need a timed ticket, with a major discount for NYC residents. There are also events all year that you can purchase tickets for.
17. Domino Park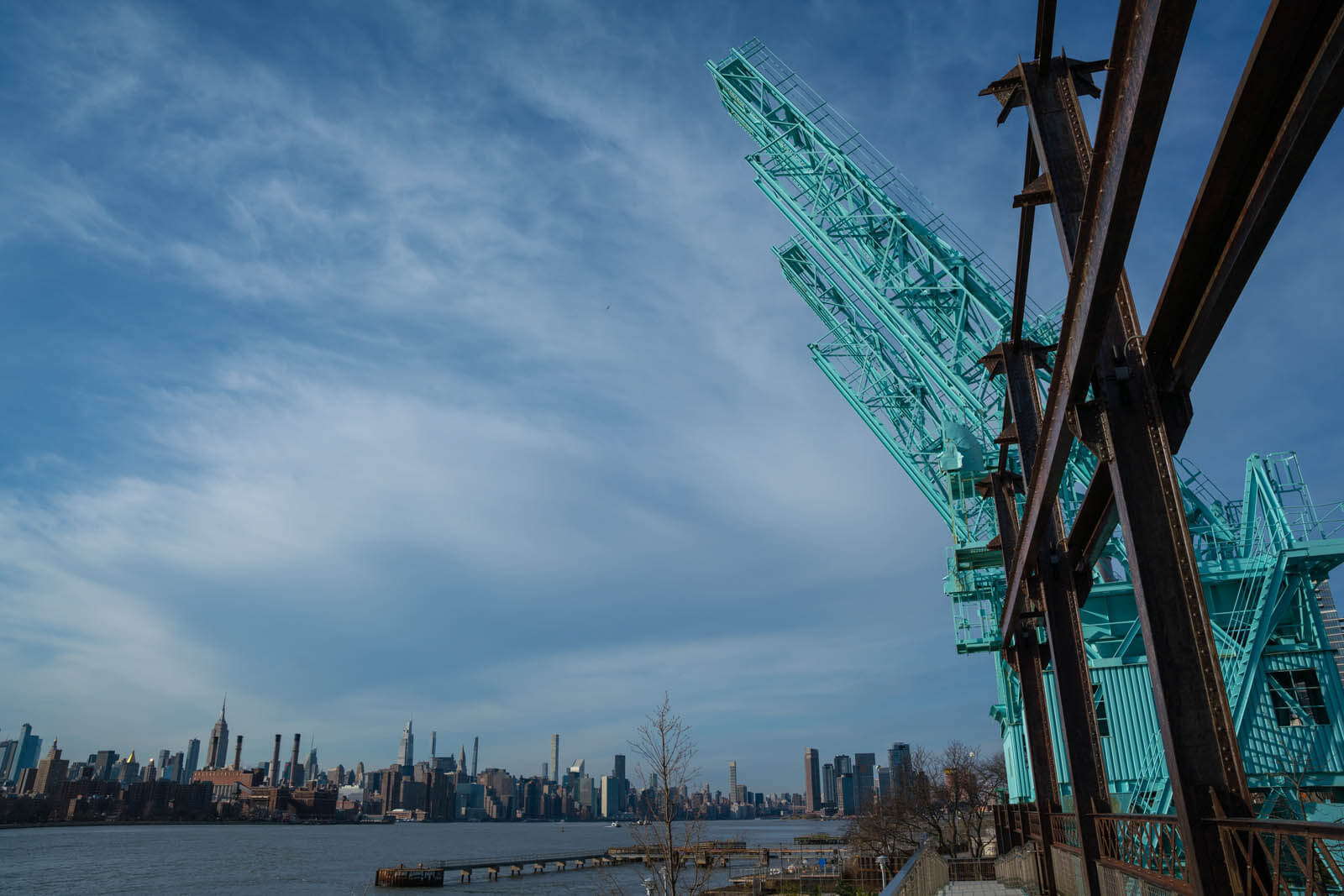 The Domino Sugar Refinery on the Williamsburg waterfront was the top producer of sugar in America from the late 1900s until 2004 when it shut down. Today, the old factory grounds have been turned into a 5-acre park covering 5 blocks of epic skyline views from the East River waterfront next to the Williamsburg Bridge in Brooklyn.
It's fascinating to see the way NYC reuses old urban structures. Domino Park features bits of its past, including towering Gantry cranes and giant syrup collection tanks from the factory! You can walk pathways along the very industrial-looking park and see reclaimed wood from the refinery, and machinery reused as art sculptures.
There's an elevated walkway built into the bones of the old building, a fun playground themed around sugar production, and seating steps that are perfect for sunning. All year long you can enjoy scenic waterfront views of the skyinle.
There are food options available in the park and just across from it, a dog run, and ball courts as well.
18. Outdoor Movies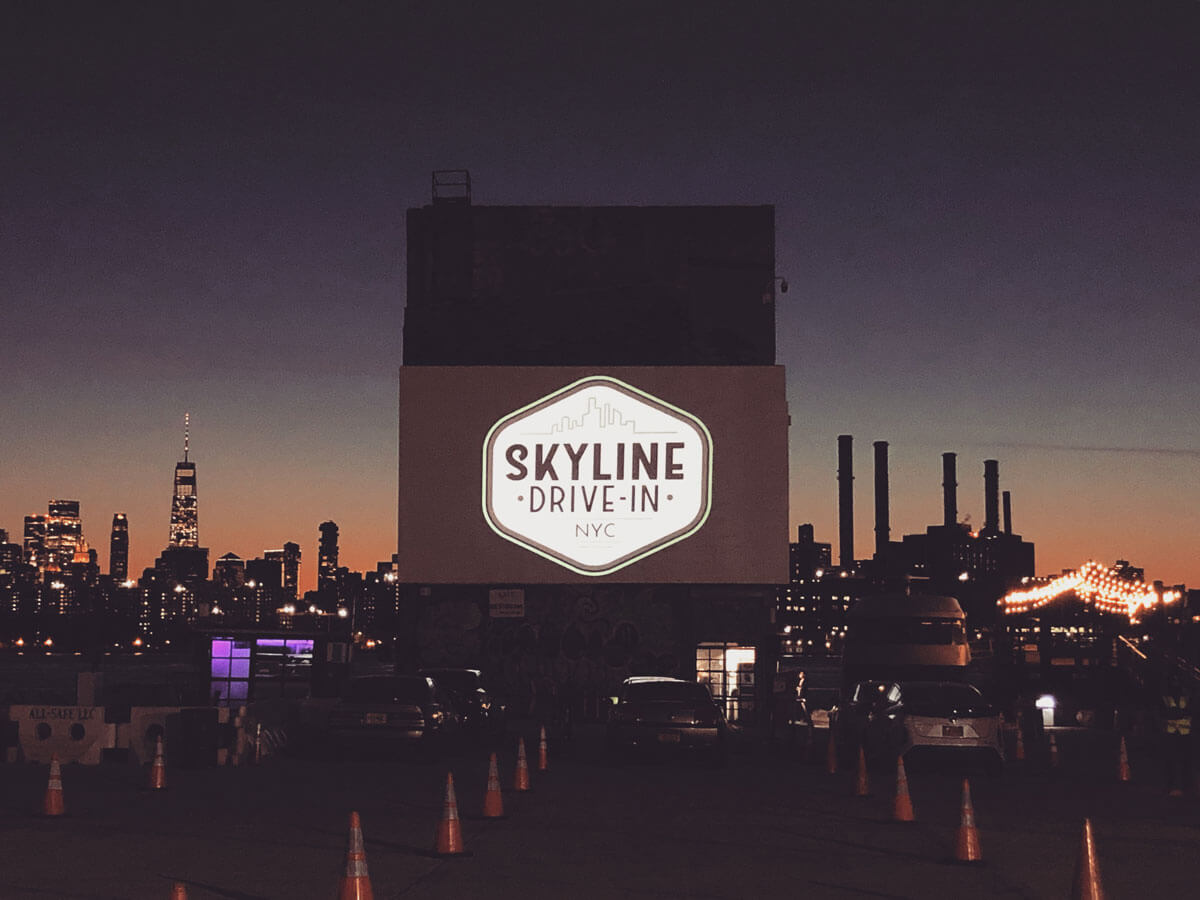 When the weather is comfortable, one of the best outdoor attractions in NYC is taking advantage of the outdoor movies that take place all over the city.
One of the best things to do outdoors in NYC, is Greenpoint's Skyline Drive-In has showings rain or shine. Come walk or drive in and enjoy a box office hit with views of the Manhattan skyline at sunset and the Empire State Building lit up behind your movie screen. Tickets are priced per car (or per seat for walk-ins), it's a dog-friendly drive-in, and there are concessions and washrooms.
Another outdoor alternative for movies is the seasonal Rooftop Films. For almost 30 years they've been hosting viewings of everything from original short films to cult classics. May through July there are events in parks and on rooftops across the 5 boroughs, and then things pick up again during the holiday season.
And May through August, you can enjoy NYC's Movies Under the Stars with free weekly shows at parks across Manhattan, Staten Island, Brooklyn, Queens, and the Bronx. You can enjoy some iconic scenery while you enjoy your movie, like the arch at Washington Square Park or the Green at Bryant Park. Bring a blanket and snacks, but you'll probably see vendors selling stuff nearby!
19. Smorgasburg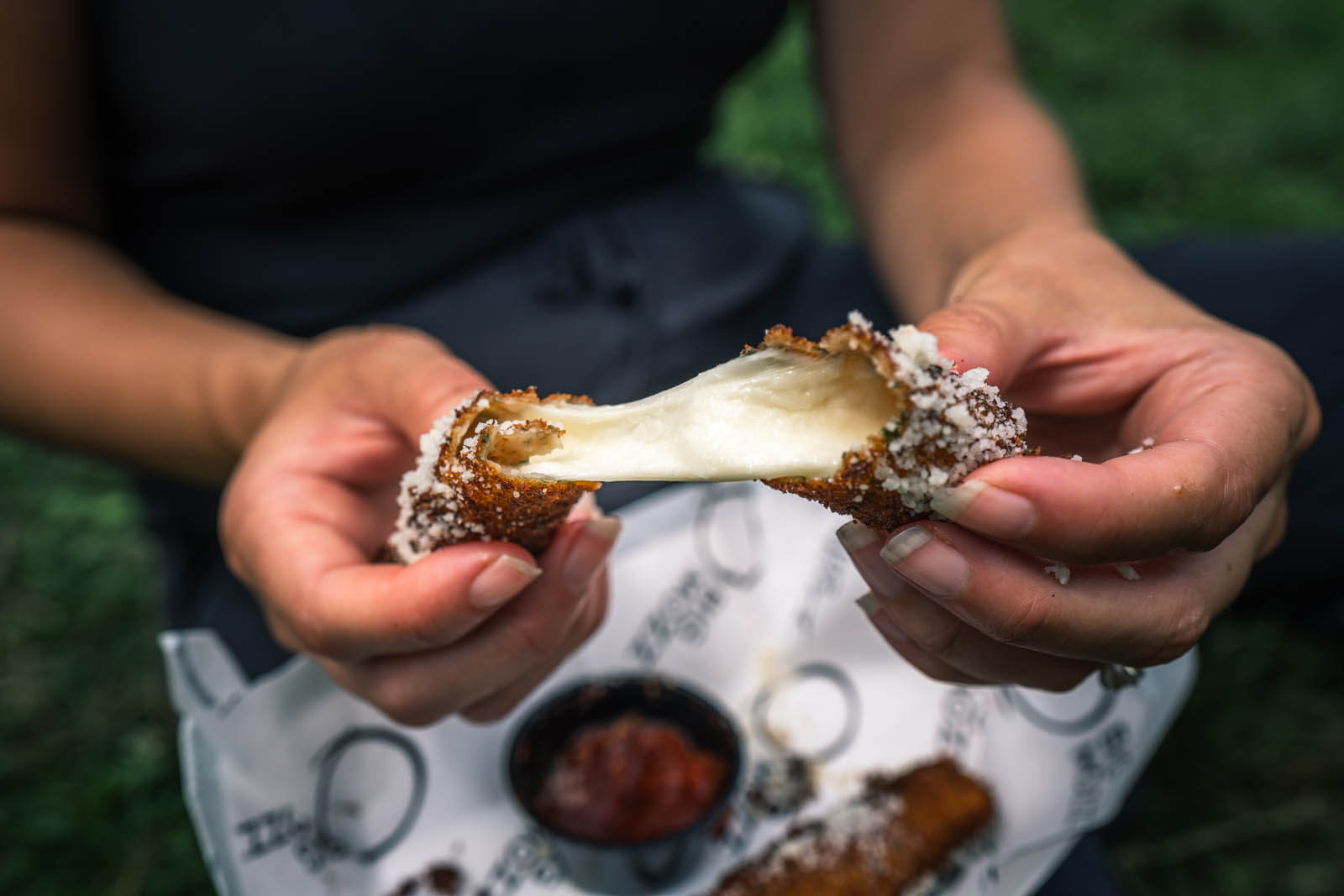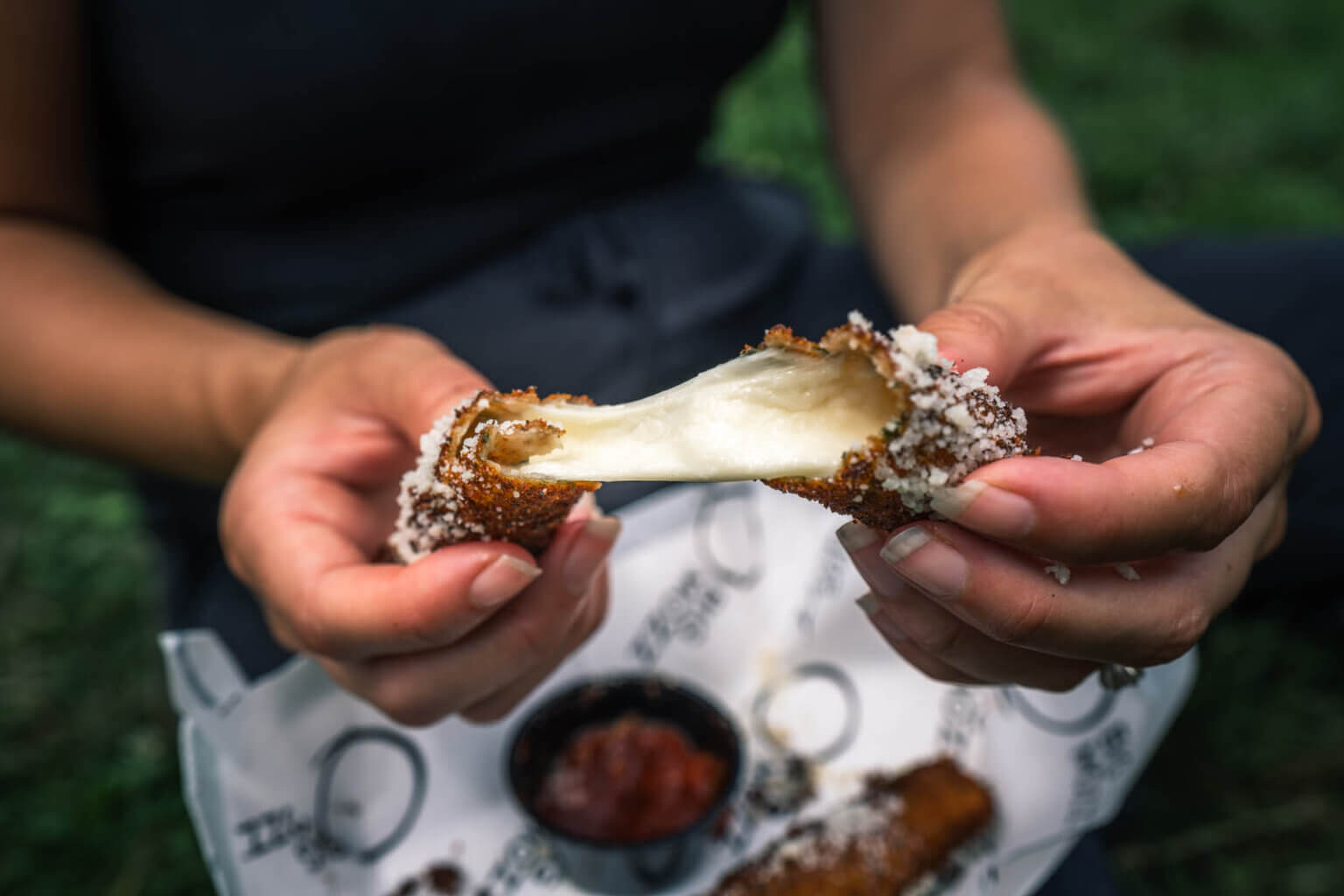 Smorgasburg has been a hit since it launched in Williamsburg a decade ago. It's become so popular that a dozen different locations have been added across the country! This includes 3 locations in Brooklyn and Manhattan (as well as one in Jersey City). On Saturdays from April through October, you can attend this awesome outdoor activity in NYC and food event.
What makes Smorgasburg one of the best outdoor activities in NYC is the sheer number of different food vendors. You have passion foodies selling everything from fresh squeezed lemonade and gourmet soda flavors to fried turkey legs and vegan sliders.
It's a fun place to hang out with friends if you don't want to be indoors. It's fun to see what kind of foods you can find, like the Instagram-famous pasta donuts!
The original Smorgasburg Williamsburg happens seasonally on Saturdays from 11 AM to 6 PM at Marsha P. Johnson State Park. The Prospect Park location has similar hours and can be found near the LeFrak Center. Or you can visit Smorgasburg WTC on Fridays from 11 AM to 7 PM on Fulton Street next to the Oculus.
20. Visit an Outdoor Observation Deck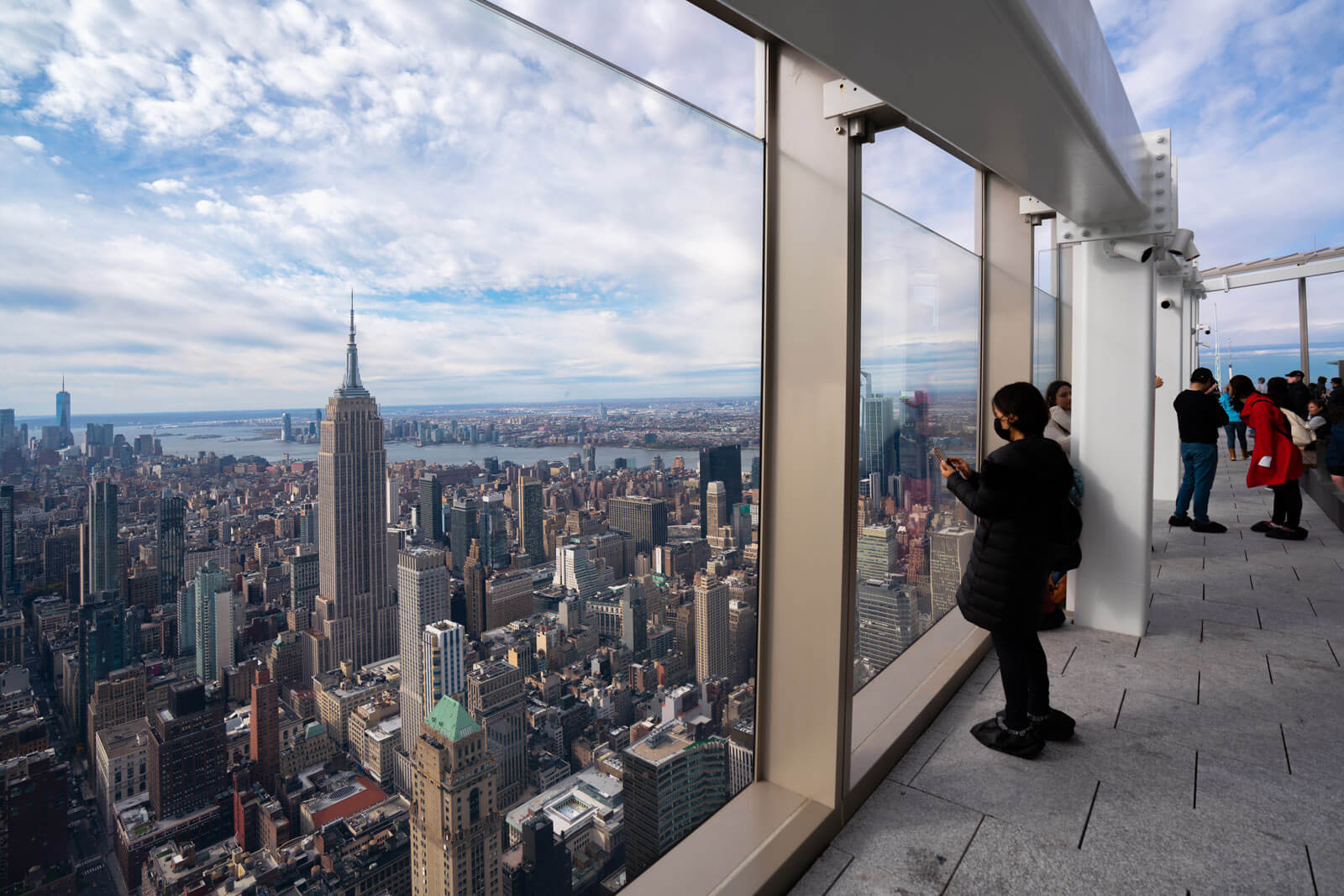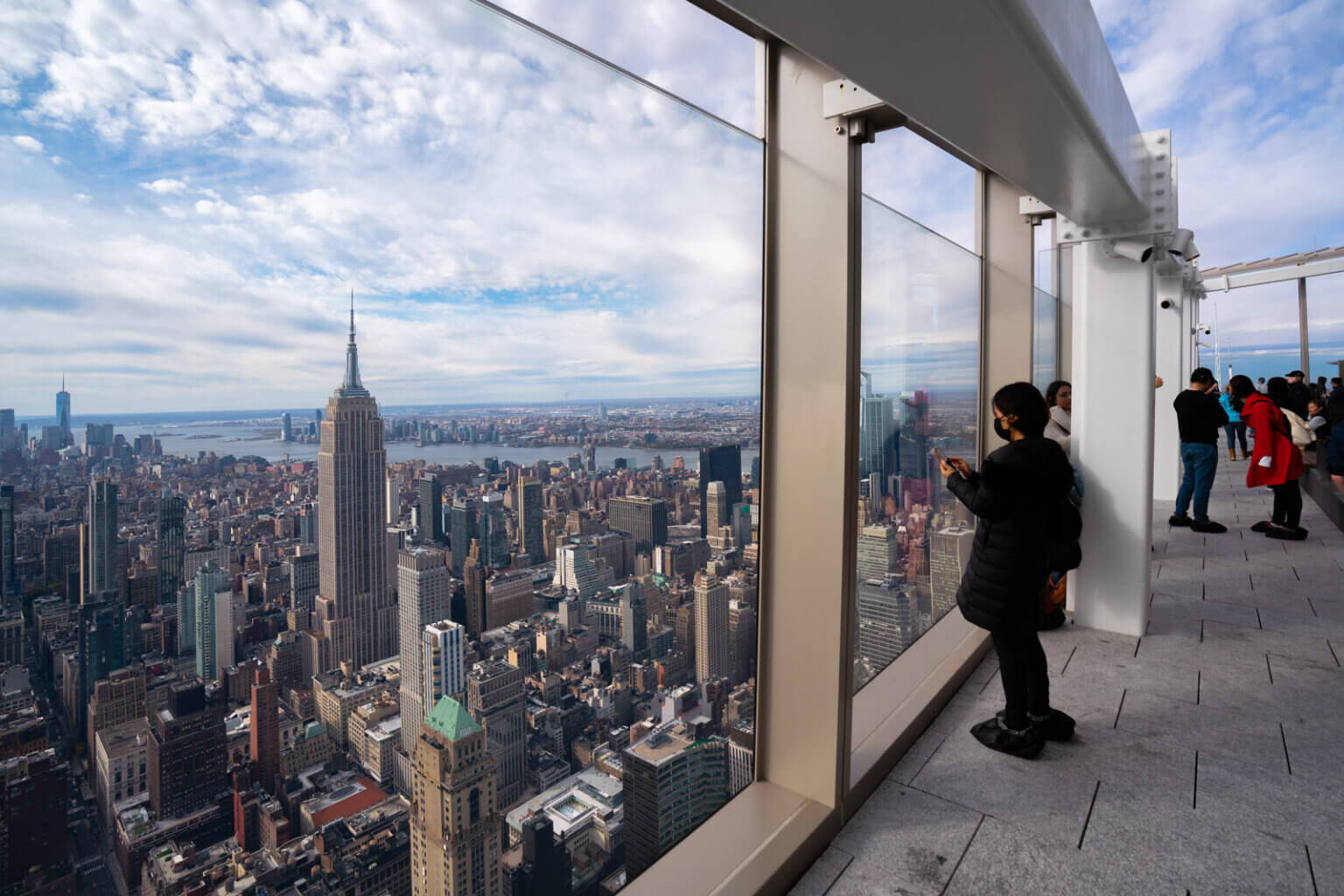 On a sunny day, there's no better outdoor attraction in NYC or place to be than above the hustle and bustle of busy streets with unbeatable skyline and bird's eye views. Visit one of the best outdoor observation decks in New York City for a unique perspective of the city!
It's thrilling to be on an open-air observation deck like the one on the Empire State Building. There are actually 2 decks here, but the 86th-floor deck is open-air and the 102nd-floor deck isn't.
And the Edge at Hudson Yards is a completely different experience, where you have 360-degree unobstructed views. The Edge's SkyDeck is also 100 stories up, making it the highest outdoor observation deck in North America!
Top of the Rock is another great option with a 3-tier deck (the bottom deck is enclosed but the top 2 decks are open-air). Here you can enjoy close-up views of Midtown and the Empire State Building.
Summit One Vanderbilt is without a doubt my favorite observation deck in the city. It's half art installation and half observation deck. Now technically 70% of this experience is indoors, but there is an outdoor observation deck with an opportunity to grab a glass of champagne and take in one of the best views the city has to offer.
21. Catch an Outdoor Show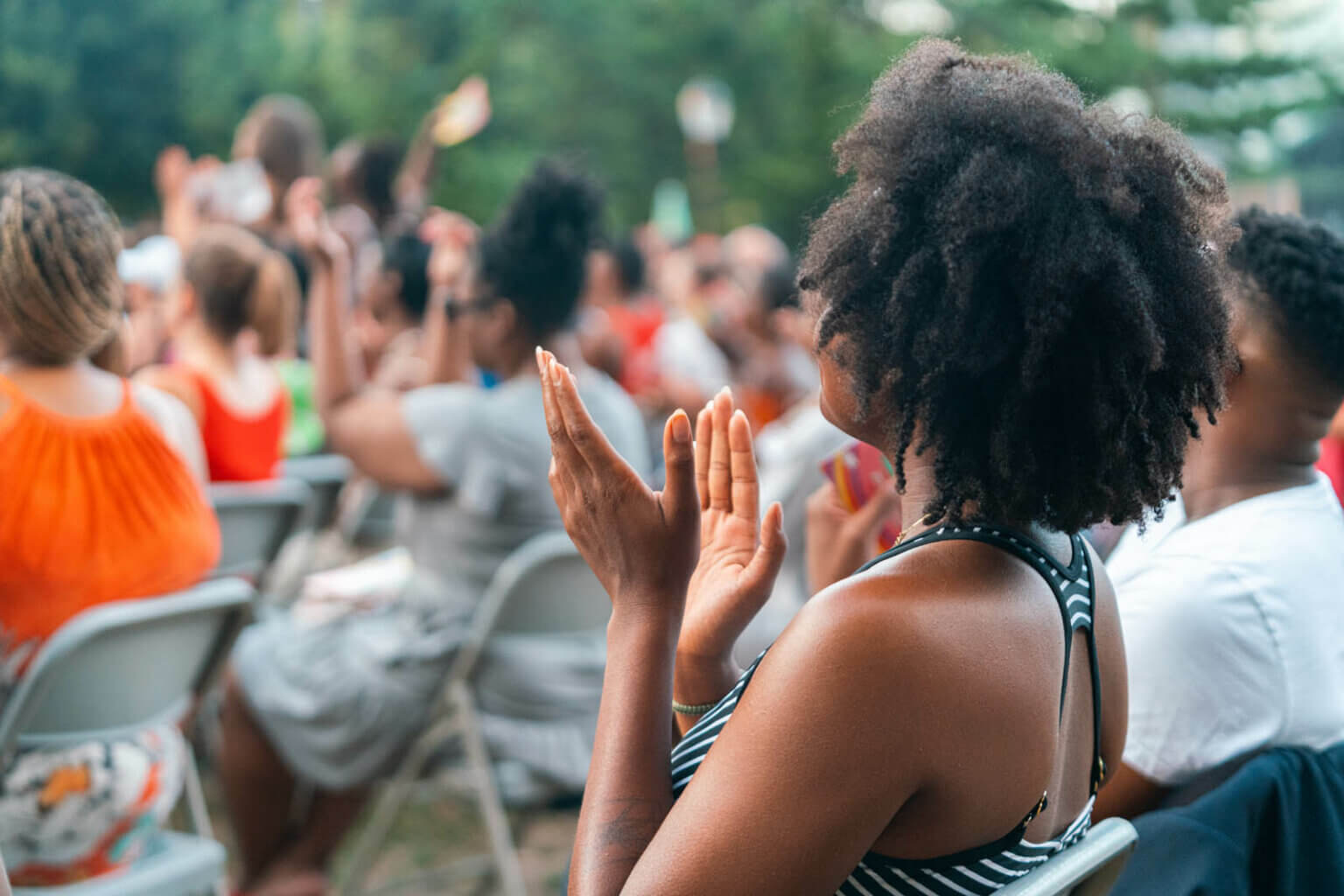 When the weather warms up, New York City comes alive with all kinds of wonderful public outdoor events you'll love. If you've never been to Shakespeare in the Park, it's a beautiful experience and a Central Park tradition at the park's Delacorte Theater since 1962. You can see Bard's classics for free, but you're encouraged to book seats in advance because this is such a popular event. They come out at noon on the day of the performance.
Summerstage launched a few years ago in Central Park and has since become another summer staple in the lineup of outdoor things to do in NYC that has multiple events a week all over the city! Every borough now hosts free movies, concerts, and other performance art shows through Summerstage. June through August, there's a suggested donation for general events and a fee for benefit events.
Even more local to each borough, NYC's Parks Department hosts hundreds of free Concerts in the Park events across the city from May through August each year. You might find the New York Philharmonic playing a concert on the Great Lawn on a Wednesday evening. Or you might come across a jazz concert at the bandshell in Prospect Park on a Saturday night.
22. Rooftop Bars & Restaurants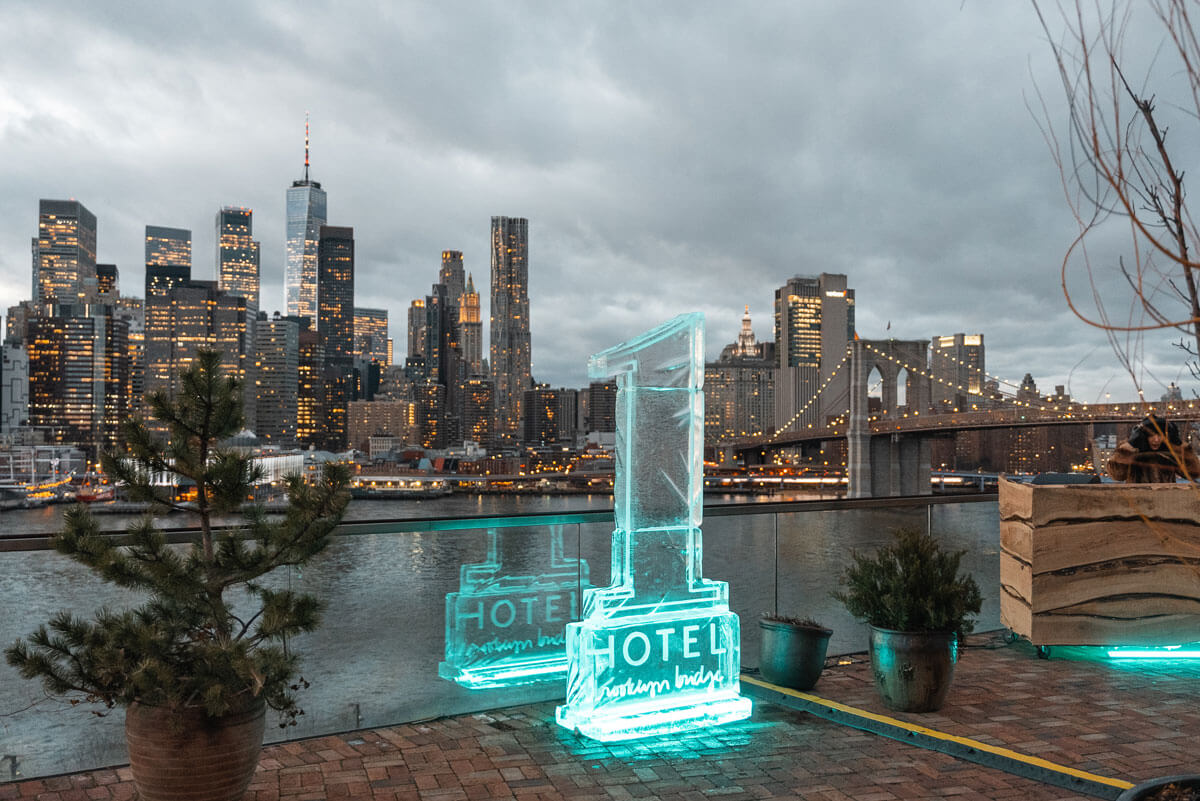 One of our favorite outdoor activities in NYC is checking out all the rooftop restaurants across the city. They're great for sunset views, a warm atmosphere, and glamorous settings. Some feel exclusive and have the best drinks while others are the perfect ambiance for a laid-back evening with friends over good food!
You can enjoy rooftop restaurants in NYC all year with covered seating and heater, but some are just better experienced seasonally when the weather is mild. The Greens at Pier 17 has tasty tapas and great views of the Brooklyn Bridge. And Dear Irving's Hudson location feels timelessly glamorous overlooking the Midtown skyline.
Time Out Market at Empire Fulton Ferry is the perfect casual rooftop with the prettiest view of Jane's Carousel, especially after dark along with the skyline arcross the East River.
Or for an exclusive feel, get reservations for Harriet's Rooftop & Lounge. It's an absolutely beautiful rooftop restaurant with a bar, gardens, and views of the East River and the Brooklyn Bridge.
23. Visit the Zoo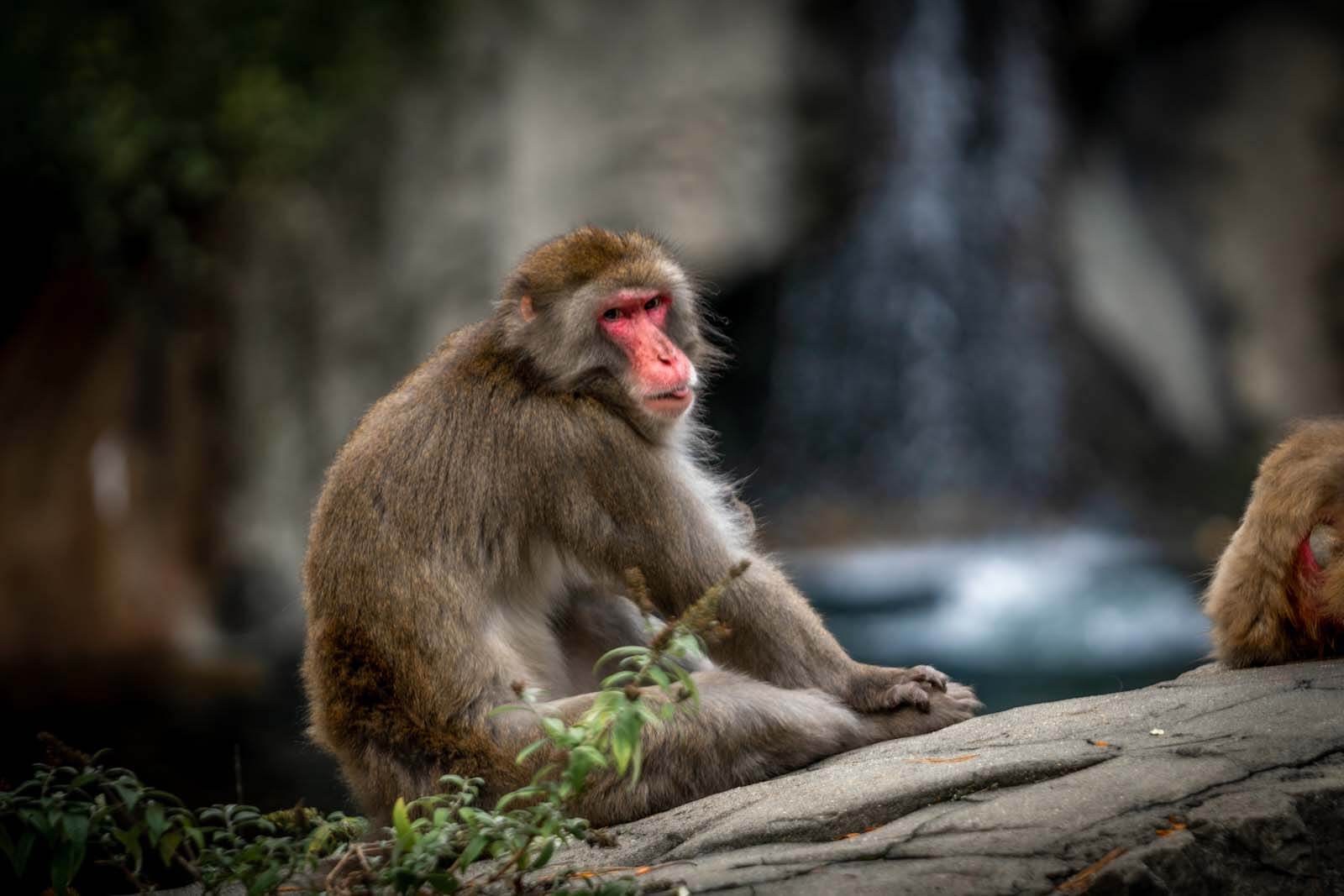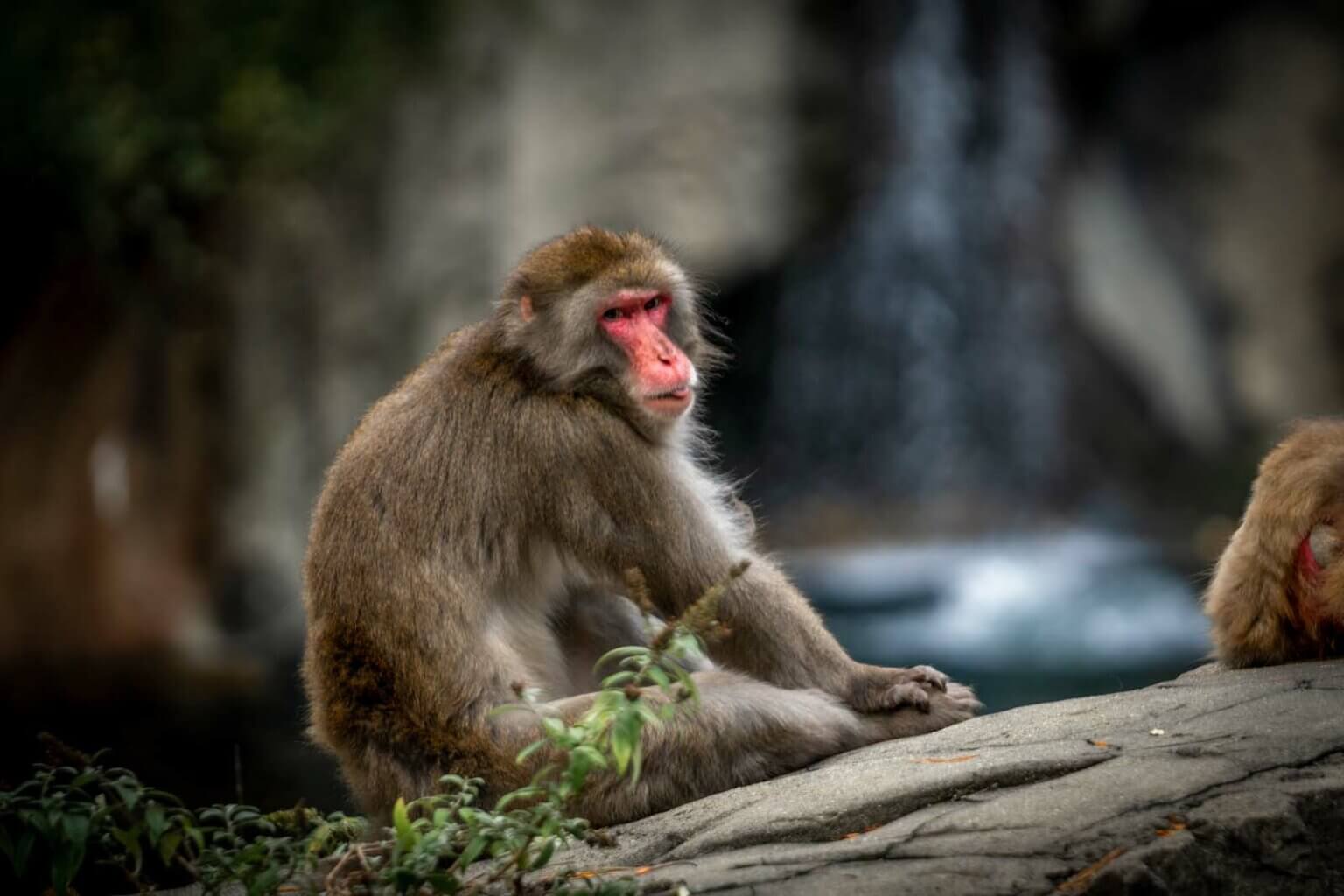 Want to go to the zoo? In New York City, there's a zoo for everyone, and they're open every day of the year making it one of the best family-friendly outdoor activities in NYC. The biggest and most famous zoo in NYC is the Bronx Zoo, with 265 acres of beautiful habitats. You can also do fun things like run a ropes course near the Bronx River or attend the holiday lights event in the winter.
Central Park Zoo on the east side of the park is much smaller and has a completely different feel. Keep an eye out for the beautiful iron sculptures around the park, including the Delacorte Clock and the Tisch Children's Zoo gate. And make sure to go through the Tropic Zone exhibit and the penguin habitat! And you'll want to go home and watch the movie Madagascar or the show the Penguins of Madagascar again!
There's also the tiny Prospect Park Zoo, which feels much more laid back and low-key. Wear comfortable shoes and enjoy walking natural paths. There's a petting zoo and it's fun to see the sea lion pool just inside the Flatbush Avenue entrance!
24. Ice Skating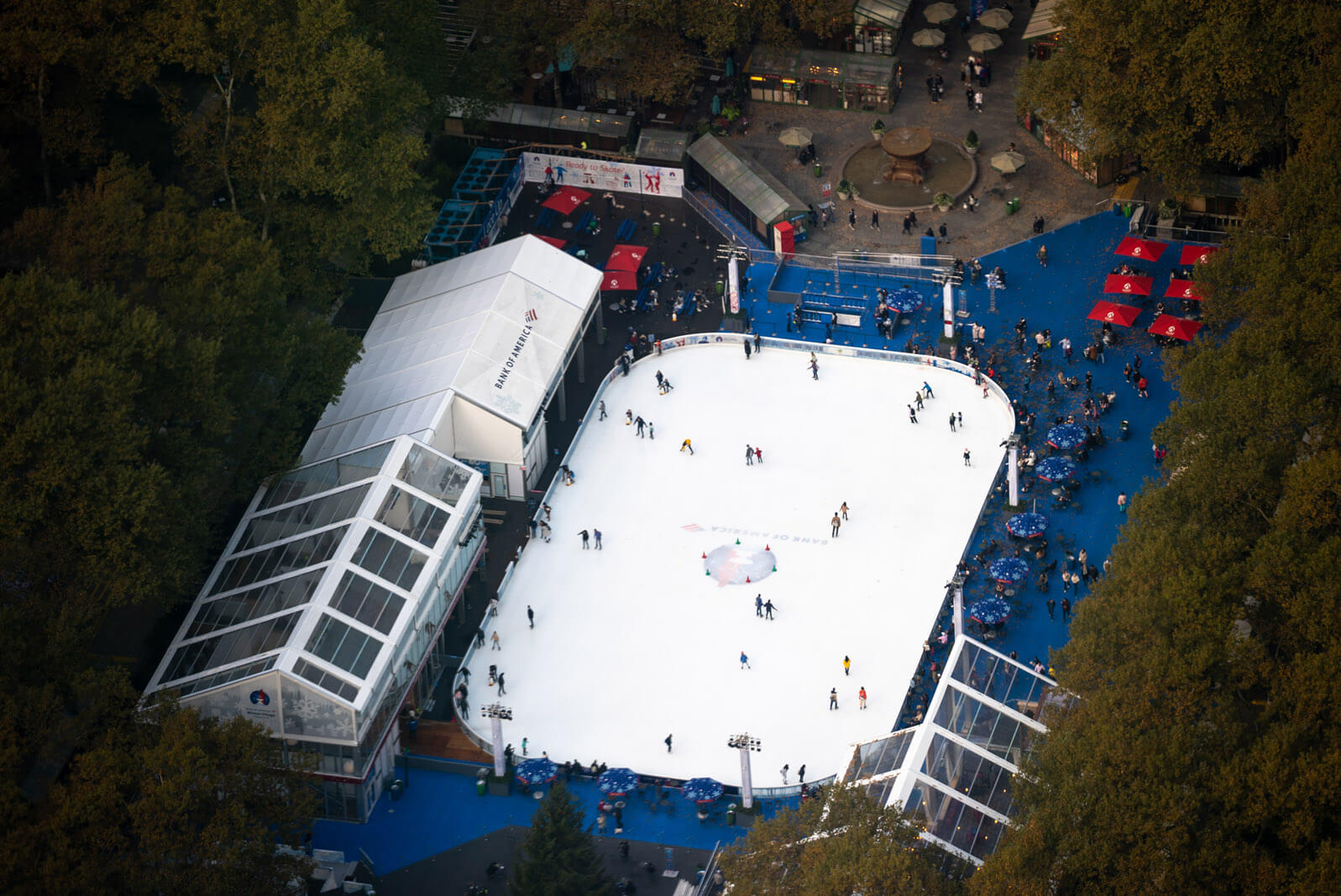 A classic NYC outdoor experience and one of the best things to do in the winter is skating at one of the outdoor rinks you'll find across the city. A seasonal activity, most rinks open mid-November and run through later March. Anyone can skate, and most rinks offer skates from toddler size 8 to a men's 12, as well as skate aids for kids.
For an iconic holiday experience, go ice skating at the Rink at Rockefeller Center, where you can enjoy the Christmas tree and decorations. The Rink at Brookfield Place offers a beautiful setting for skating all season.
Wollman Rink in Central Park has the most iconic views and RinkSide Igloos that you can reserve for an indulgent skating experience. And the new LeFrak Center at Prospect Park in Brooklyn has 2 outdoor rinks during the winter. You can also rent shoes here, as well as other skating gear (and food and drinks too). And during the warmer months, the space converts to a roller rink!
And one of the absolute best is the rink at Bryant Park Winter Village! Ice skating here is free if you have your own skates, if not it will only set you back the cost of a rental there are other fun outdoor activities in NYC here too like ice bumper cars, vendors, and a great Christmas market around the holidays!
25. Open Air Markets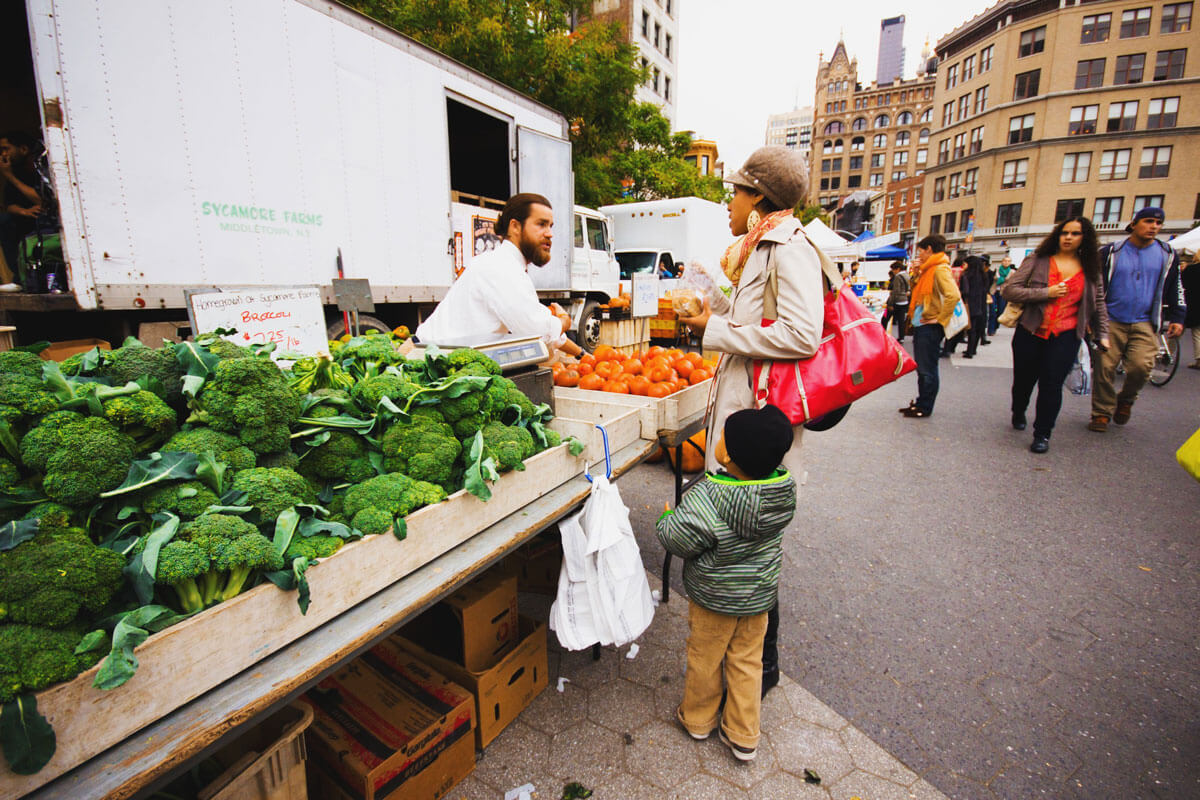 NYC's open-air markets offer some of the best outdoor activities in NYC with local produce, handmade products, local artwork, and often live music! In the winter, a holiday must-see is the beautiful pop-up holiday markets. And spring through fall (and many year-round), you can find dozens of farmers' markets across the city.
Bryant Park Winter Village and Columbus Circle Holiday Market are just 2 of our favorite Christmas markets in NYC. They're the perfect place to enjoy the holiday spirit, soak in the festive atmosphere, and make a dent on that gift list with thoughtful purchases from small businesses. Bryant Park has a lounge where you can warm up with a spiked hot chocolate or you can go ice skating, and both locations have quality food vendors, too.
Walk around NYC any day of the week and you'll come across a farmers market! The biggest ones are run by Green Market through Grow NYC. Though many of them are year-round, you'll find the best offerings during the warmer months. Besides fresh produce, you'll see vendors selling Long Island seafood, lavender, local honey, and much more.
More great farmers' markets and greenmarkets include Union Square Greenmarket (Wednesday, Friday, & Saturday 8 AM to 6 PM) and Grand Army Plaza Greenmarket in Brooklyn (Saturdays 8 AM – 3 PM).
26. Holiday Sightseeing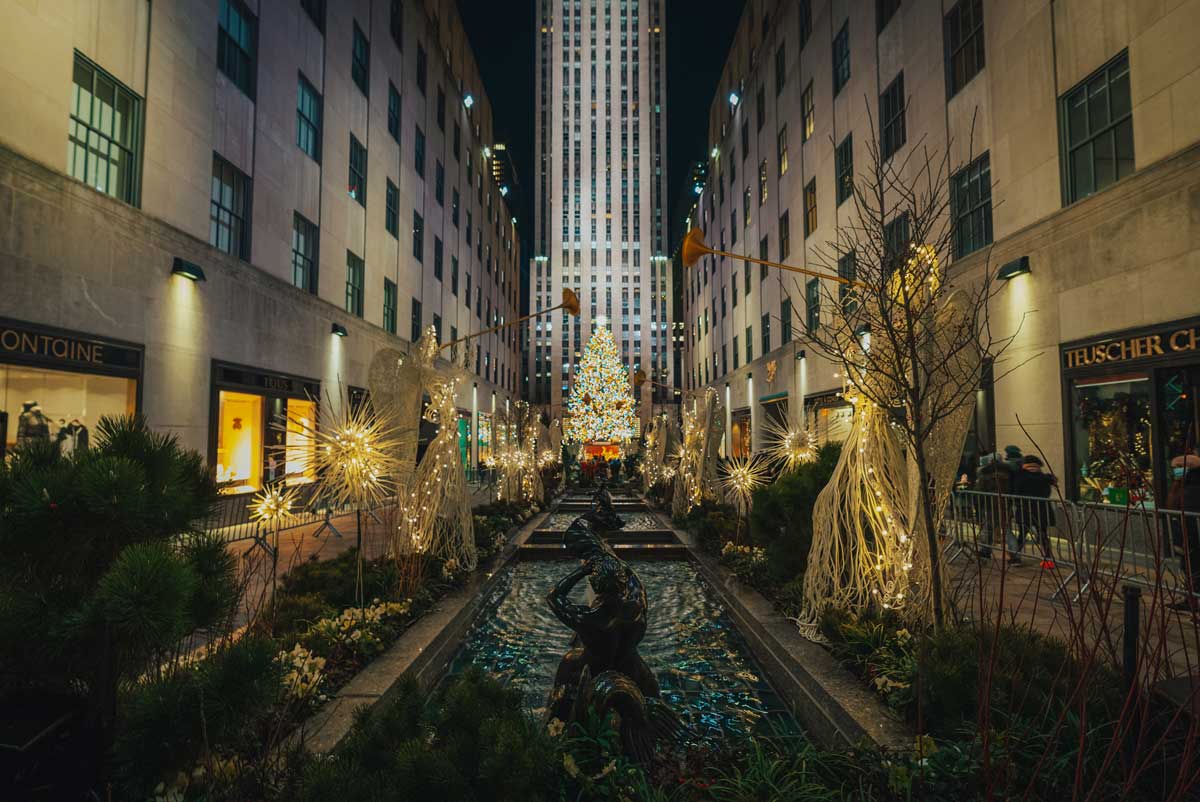 You can't help but get into the spirit of the season with all the holiday outdoor attractions in NYC. Take a Christmas lights tour of NYC that includes locations like Radio City Music Hall, Avenue of the Americas, and our favorite, Hudson Yards! And Brooklyn's Dyker Heights Christmas Lights is an event unto itself that you have to experience.
Or go on a hunt for the most beautiful and extravagant Christmas trees in NYC. We think some of the best are the trees at Washington Square Park and Rockefeller Center. But the New York Stock Exchange Christmas tree is a strong contender. And a must-do is walking the Christmas windows in Midtown. The classics are Macy's, Saks, and Bloomingdales, but you can find even more exciting windows on our best holiday windows walking tour guide.
There are so many cool things to do in NYC at Christmas time so be sure to bundle up and enjoy all these festive outdoor things to do in the city.
27. Staten Island Ferry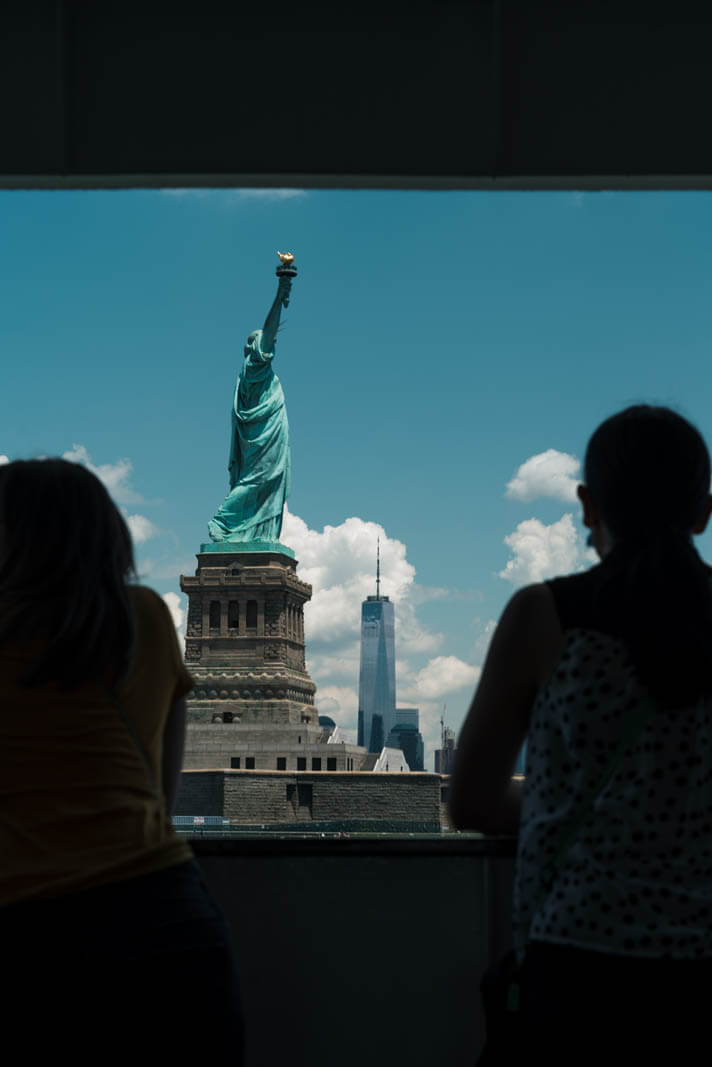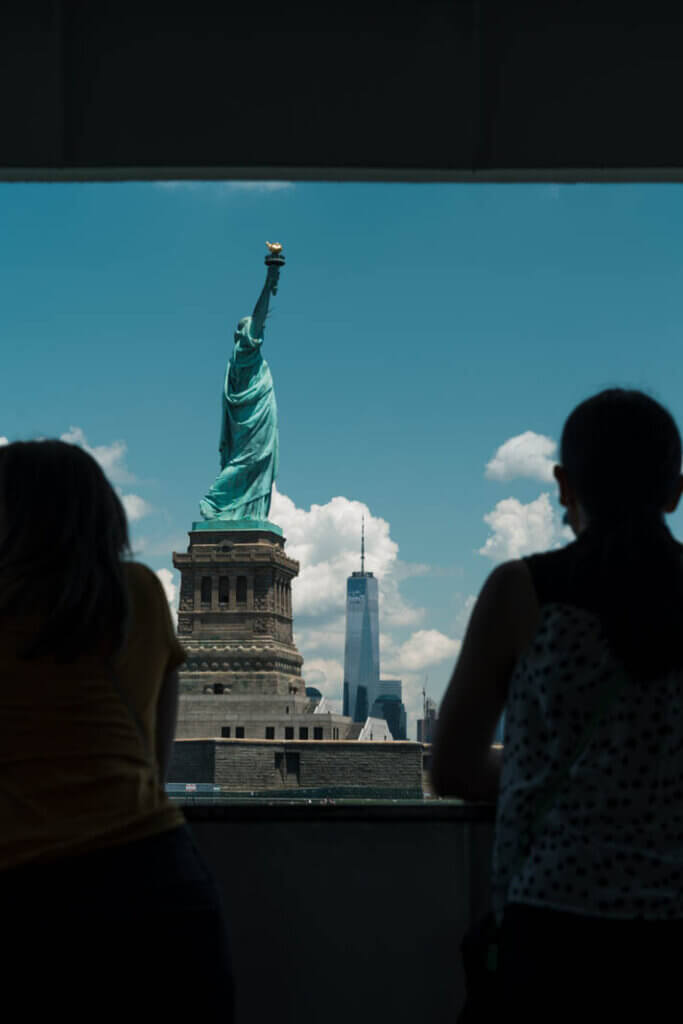 Another one of the most popular free things to do in NYC and outdoor activity is ride the Staten Island Ferry. This free ride also includes some of the best and free up-close views of the Statue of Liberty.
The Staten Island Ferry runs from Lower Manhattan at Whitehall Terminal to Staten Island at St. George's Terminal and you're welcome to BYOB onboard too! So why not grab a drink of choice at a bodega or at the terminal and get ready for some great views and toast Lady Liberty!
There is an indoor area to sit on the ferry, this is mostly for daily commuters. Head to the outdoor deck on the upper level and enjoy the great views of the Statue of Liberty and skyline views.
The Staten Island Ferry runs 24 hours with regularly operating ferries every 15-20 minutes. It takes about 25 minutes from point to point which means, you are able to hop on, ride over, and head back to Manhattan in under an hour.
If you want to do this in under an hour, you'll need to start heading to the unloading area of the ferry as you're docking at Staten Island and quickly get off and walk around to the next departing ferry. Otherwise, you'll likely have to wait for the next ferry.
Not in a rush? Walk (~13 minutes) to Postcards, a September 11th Memorial dedicated to the 274 Staten Island residents who lost their lives in the 2001 attacks as well as the 1993 World Trade Center attack.
28. South Street Seaport
One of the best things to do outdoors in NYC is walk around the charming waterfront neighborhood of South Street Seaport. This historic area in Lower Manhattan was heavily damaged by Hurricane Sandy in 2012. Since then, it's gone under serious restoration and has become one of the most vibrant places in the city to enjoy the outdoors.
Stroll through the cobblestone streets and stop by the cafes, shops, museums, and even outdoor restaurants in this charming historic district that features some of the oldest architecture in downtown Manhattan.
This neighborhood and historic district is definitely a juxtaposition of old and new. The architecture alone is worth visiting as there are several 19th-century storefronts and mercantile that house all the charming businesses here.
Another one of the best things to do in NYC outdoors located in South Street Seaport is visiting Pier 17. There are places to sit here along the East River to enjoy incredible views of the Brooklyn Bridge and skyline from across the East River.
Enjoy the outdoor seating at the Watermark Bar, which also hosts a fun Oktoberfest celebration in the fall that's outdoors.
And while you're here, be sure to walk around and enjoy the rest of the awesome things to do in Lower Manhattan too.
29. Wander Around the Financial District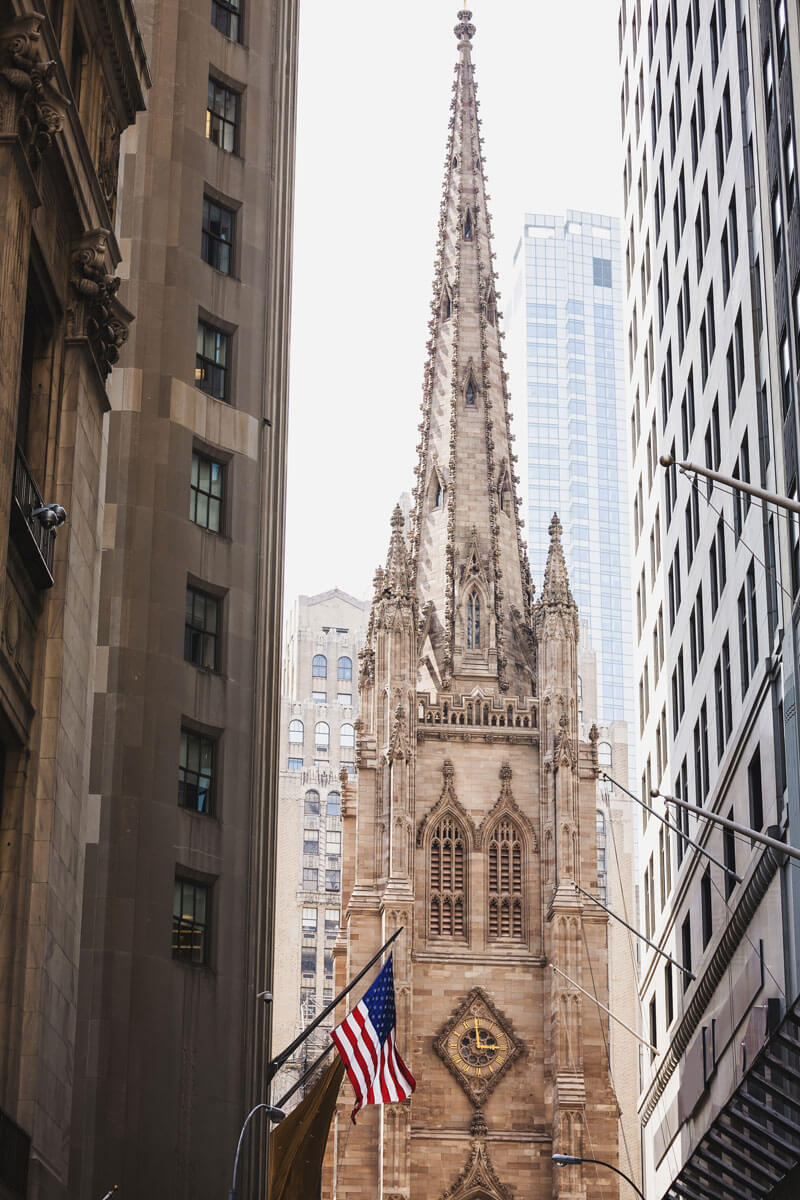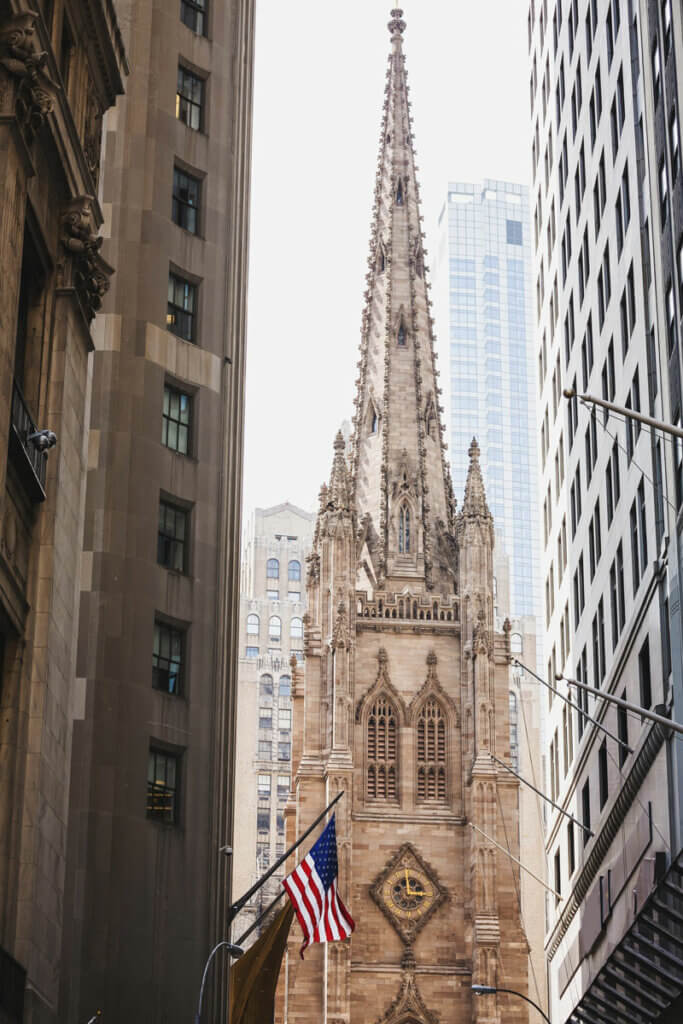 There are plenty of places to take a great walk in the city. One of the best places to enjoy a walk while also seeing some of the city's oldest landmarks and historic sites is in the Financial District in Lower Manhattan.
For outdoor activities in NYC that you don't want to miss, head to Battery Park for views of the Statue of Liberty. In the park, you can find the whimsical under-the-sea-themed carousel, the SeaGlass Carousel built on the first location of the New York Aquarium before being moved to Coney Island. Battery Park also has several memorials, including the East Coast Memorial, which serves as a reminder of the 4,601 missing American servicemen who lost their lives in combat in World War II in the Atlantic Ocean.
From here you can easily visit Bowling Green Park, the oldest park in the city or walk over to the historic Stone Street, an adorable cobbled lane with outdoor dining that happens to be one of the oldest streets int the city.
You can also visit one of the most iconic sculptures of the city by visiting The Charging Bull at Bowling Green, not sure it's worth the long line to get a photo but it's here nonetheless. Then make your way to the New York Stock Exchange and see the financial capital of the world and another famous, symbolic bronze statue of the Fearless Girl.
A walk over to Trinity Church is a must too, this is also where you can find the tombstones of famous historic figures like Alexander Hamilton along with his wife, Eliza Schuyler, and his son, Phillip.
The Story of Hamilton Walking Tour includes a visit to the Trinity Church and other nearby attractions; it's a great way to learn about the history from a professional guide all while being outdoors too!
Then walk over to the 9/11 Memorial, mentioned earlier in this guide for things to do outdoors in NYC. For another monument that's also outdoors, walk over to the African Burial Ground National Monument. This monument was a part of the African American Freedom Trail. Today, it serves to remind us of the contributions of the free and enslaved Africans in Manhattan in the 17th and 18th centuries.
30. Hudson River Greenway
Another one of the best outdoor activities in NYC is walking, running, or biking along the Hudson River Greenway, a 12.9-mile pathway that runs along the west side of Manhattan along the Hudson River.
There are multiple CitiBike stations along 11th and 12th Avenues where you can pick up or drop off a bike for portions of the greenway and enjoy it by bicycle.
There are several attractions and New York City monuments you'll pass along the way starting at the tip of Lower Manhattan and stretching 12.9 miles upward to Inwood Hill Park in the Bronx.
If you want to do the entire Hudson River Greenway you'll pass through parks like Riverside Park, Hudson River Park, and Battery Park. Also, you'll pass sites like the World Trade Center, the George Washington Bridge, Little Island, Chelsea Piers, Intrepid Air and Space Museum, and great views of the Statue of Liberty to name a few highlights.
---
Where can I hang out outside in New York City?
There are plenty of places to spend outside in New York City from the 1,700 urban parks in NYC to outdoor activities in NYC like walking through interesting neighborhoods, visiting historic landmarks, walking the Brooklyn Bridge, visiting outdoor food markets, and farmers markets, and in the warmer months enjoying free outdoor performances all over the city and outdoor movies to name a few.
How can I spend a sunny day in NYC?
Some of the best places to spend a sunny day in NYC include parks like Central Park, Prospect Park, or Brooklyn Bridge Park, enjoy outdoor dining around the city, take a day trip to Governors Island, cool off with a drink at a rooftop bar, or visit one of the many beaches in NYC.
What are popular outdoor activities in NYC?
Popular outdoor activities in NYC include biking, walking, or running along the many scenic trails in the parks of New York City, visiting outdoor attractions like Governors Island, walking the Brooklyn Bridge, and Coney Island, or in the summer months visiting one of the many beaches in New York City like Coney Island Beach, Rockaway Beach, Jacob Riis Park, and more.
---
Outdoor Activities in NYC Summary:
Central Park
Walk the High Line
Walk the Brooklyn Bridge
Brooklyn Bridge Park
Visit the Statue of Liberty
Governors Island
Fort Tryon Park
Prospect Park
9/11 Memorial
Brooklyn Heights Promenade
Walk & Explore Brooklyn's Neighborhoods
Bushwick Collective
Green-Wood Cemetery
Visit the Coney Island Boardwalk
Brooklyn Botanic Garden
New York Botanical Garden
Domino Park
Outdoor Movies
Smorgasburg
Visit an Outdoor Observation Deck
Catch an Outdoor Show
Rooftop bars & restaurants
Visit A Zoo
Ice Skating
Open Air Markets
Holiday Sightseeing
Staten Island Ferry
South Street Seaport
Wander Around the Financial District
Hudson River Greenway
---
Enjoyed this guide to the best outdoor activities in NYC? Be sure to bookmark or save this guide for later.