Who loves a good cup of coffee as much as we do? We've picked out the best Park Slope cafes and Park Slope coffee shops where you can get the best cup of coffee, espresso, latte or whatever you prefer in one of New York City's most desirable neighborhoods.
We've picked what we think are the coziest cafes along with our write up for what they specialize in as well as which Park Slope cafes are for take out, hang out, and working from.
New York City is home to some of the best coffee money can buy, be sure to check out our picks for best coffee shops in Brooklyn too for more ideas!
Read Next: 100+ Awesome Things to do in Brooklyn
Best Park Slope Coffee Shops
Velvette Brew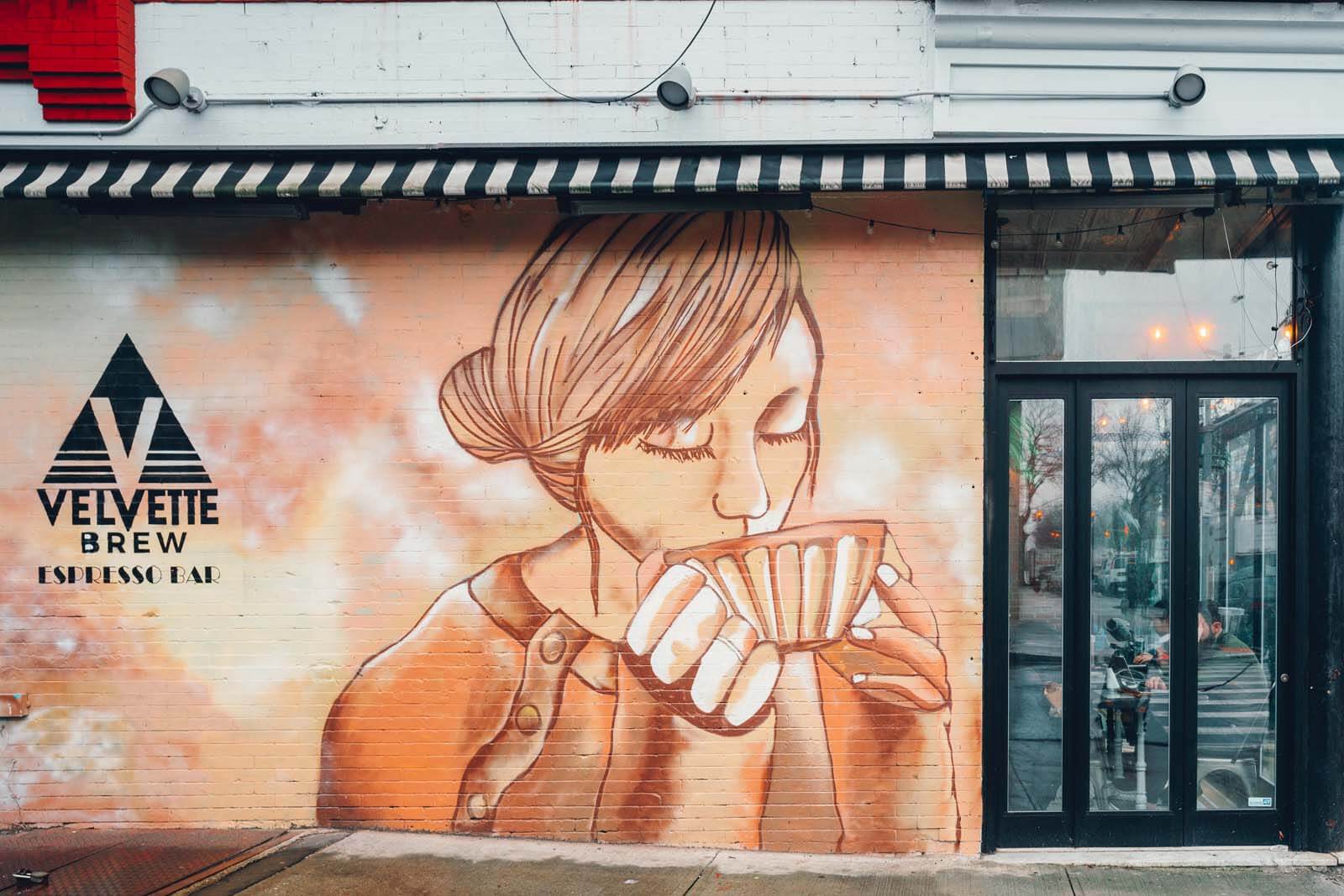 279 5th Ave
This beautiful Park Slope cafe is located on 5th Avenue with a gorgeous giant mural of a woman sipping on a cup of coffee. This is their second location in Brooklyn and they pride themselves on being an espresso bar.
This is a great Park Slope coffee shop to work from as there are plenty of tables, outlets, and it's pretty quiet and mellow inside.
They've got a great coffee selection and a great food menu featuring soups, salads, pastries, and other fun dishes like one of our favorites, shakshuka.
Daily 7:00 am – 6:00 pm
Read Next: Explore 5th Avenue in Park Slope Guide
Cafe Grumpy
View this post on Instagram
383 7th Ave
Cafe Grumpy is a popular Park Slope coffee shop among locals and critically acclaimed. This no fuss Park Slope cafe doesn't really have seating so you'll have to grab your cup of joe to go or you can stand at the bar while you sip on your espresso.
Cafe Grumpy in Park Slope boasts to be for the connoisseurs of coffee. This is one of those independently run companies you're happy to support. There are now 10 locations around the city, the first one being in Greenpoint with a focus on community, social responsibility, and sustainability through their business.
Cafe Grumpy prides itself on sourcing and roasting their coffee in house, serving up a quality coffee for their loyal patrons every cup meaning if you come in grumpy, you won't leave grumpy.
Try one of their classics or one of their stellar nitro cold brews.
M-F 7:00 am – 7:30 pm, Weekends 7:30 am- 7:30pm
Postmark Cafe
326 6th St
One of our favorite cozy neighborhood Park Slope coffee shops is Postmark Cafe off 5th Ave on 6th St. This comfortable cafe is a great place to bring your laptop and sip on a fresh brew and one of their bagel sandwiches, we personally love the pesto and mozzarella one.
Run by Church! of Park Slope, a community-run religious organization as a not for profit cafe. This adorable spot is popular among people who work remotely as the atmosphere here is non pretentious and inviting.
Besides offering up great coffee choices, there are also sweet treats and sandwiches on the menu. Also in addition to coffee, you can get Italian soda, hot cocoa, and tea.
All tips given to baristas here are donated to charity as well! Do you need anymore reason to love this Park Slope cafe?
M-Sa 7:00 am – 6:00 pm, Closed Sundays
Cafe Regular
View this post on Instagram
318 11th St & 158 Berkeley Place
Cafe Regular is another cute and cozy Park Slope cafe not to be missed with not one but two locations! There's definitely a European/French vibe going on here and you can pair your cup of coffee, or tea with one of the selections of pastries they sell served alongside their La Colombe coffee drinks.
This small Park Slope coffee shop literally loves it's regulars and even does a Cafe Regular spotlight along with their stories on their website. How cute is that?
The cafe is rather small, but there are a few small tables. This isn't the best place to bring a laptop to but a great place to sit and enjoy a cup of their classic coffees and teas with a friend or while reading the news.
Daily 7:00 am – 7:00 pm
Couleur Cafe
View this post on Instagram
435 7th Ave
This Park Slope cafe is alot more than a place to grab a great cup of coffee. Serving up classics like espressos, lattes, French press, and cortado to name a few of their several options this is a full-on restaurant as well and the perfect brunch spot – or lunch or dinner!
Couleur Cafe has a romantic feel to it and serves up amazing dishes from its French-inspired menu. The ambiance, presentation, and vibe in here is perfection.
Besides serving up coffee and tea drinks Couleur Cafe also has a cocktail menu and full bar with an impressive wine selection.
So next time you need a good date spot whether it be brunch or dinner, this is your spot!
Winter Hours: M-Th: 7:oo am – 9:00 pm, F 7:00 am – 10:00 pm, Sa 8:00 am – 10:00 pm, Su 8:00 am – 9:00 pm
Konditori
186 5th Ave
This rustic Park Slope coffee shop is run by Swedish Brooklynites who named their cafe after a Swedish word meaning a gathering place for warm drinks, or where to take a coffee break. Seems fitting!
This Park Slope cafe was their very first location, now they have a chain of a few more Konditori cafes around New York City.
The vibrant and bright decor and delicious coffee oozes the feeling of happiness. They serve up a fantastic coffee selection with Arabic beans from Central America serving everything from French press to espresso alongside some baked treats, both Swedish and American from bagels to coffee bread.
For anyone who has a gluten-free diet, Konditori has a selection of GF treats as well!
You can't help but enjoy this chill space decked out with vintage furniture and decor from old cool refrigerators from the 60s, copper counters, and wooden doors repurposed as tables.
Daily 6:30 am – 8:00 pm
Colson Patisserie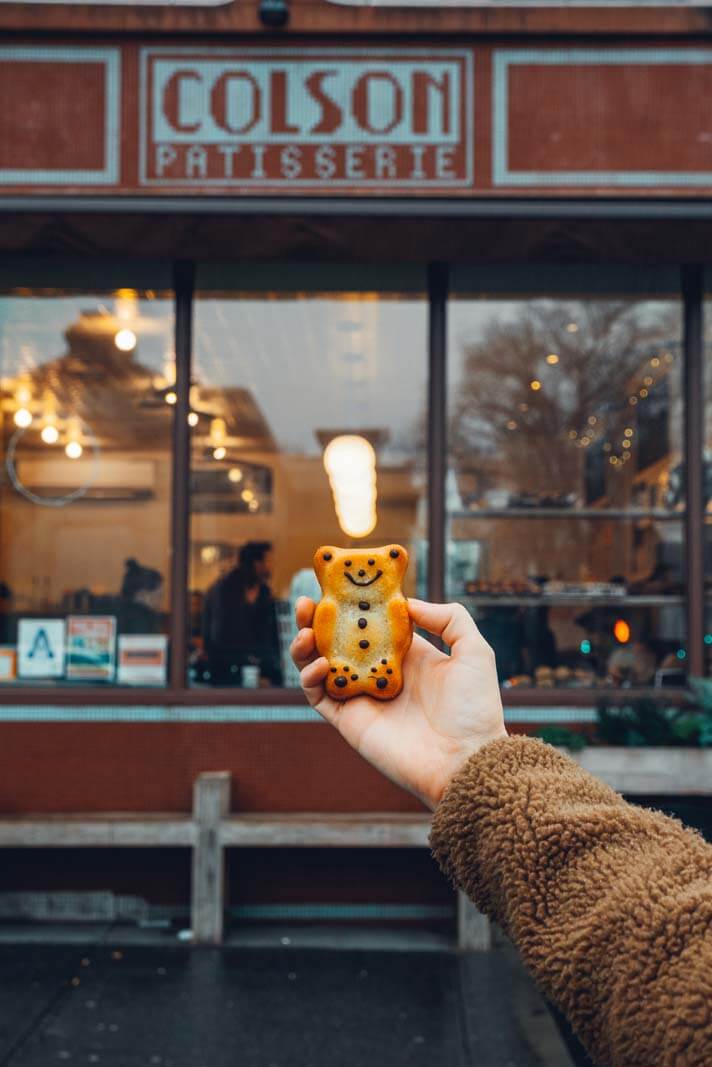 374 9th St
This favorite Park Slope cafe is actually more of a pastry shop specializing in French pastries, Belgian waffles, and other baked goods with a cult following. With a selection of pastries that change hourly, as they make them, sometimes you'll see lines out the door!
This Belgian and French pastry shop also serves the finest drip coffee, espresso, and cold brew from Brooklyn Roasting Company pairing perfectly with their mouthwatering pastries, sandwiches, and salads. Just note that breakfast is offered only until 1:00 pm and lunch is served only until 2:30 pm with only grab and go options available until closing time.
As they say, early bird gets the worm and that's the case for Colson Patisserie, we recommend going early to have the largest selection before items sell out. Don't stress too much as new things are being added by the hour as well.
If you're looking for something sweet they have those too, we personally love grabbing their fresh-baked baguettes to go as well.
They also have Gluten-Free and Vegan options available too.
Daily 7:00 am – 7:00 pm
Crumbs & Coffee
View this post on Instagram
423 5th Ave
Another quaint Park Slope coffee shop worth stopping at is Crumbs & Coffee on 5th Avenue. Seriously, what an adorable name.
Crumbs & Coffee is a full espresso bar serving up baked treats and sandwiches, the crumbs part of their name. Besides the regular baked goods and coffee drinks they also have health goods like smoothies on the menu.
They have some great drink options like golden milk lattes, turmeric lattes, cold brew and a variety of milk to put in your coffee from almond, macadamia, to oat milk.
This is another Park Slope cafe that's great for working from as well since they have great seating and wifi and a quiet ambiance.
Daily 7:30 am – 6:30 pm
Cafe Martin
View this post on Instagram
355 5th Ave
Another cozy Park Slope cafe on 5th Avenue is Cafe Martin. This classic Park Slope coffee shop has an inviting and relaxed vibe all while serving up delicious coffee. Unlike most cafes, Cafe Martin doesn't offer wifi to its customers, so don't come here planning to write your next novel as you sip on coffee all day. This is a more intimate coffee experience.
Don't let that deter you though, Cafe Martin is said to have the best espresso of all Park Slope coffee shops. You'll have to try and let us know.
We love the laidback vibe here, which the owners have done well both here and their other Park Slope cafe location, Cafe Regular which is also another cozy Park Slope coffee shop we recommend!
Try one of their classic coffees paired with their French pastry selection.
Daily 7:00 am – 6:00 pm
Read Next: The Best Park Slope Bars & Happy Hours
Blue Bottle Coffee
203 7th Ave
We couldn't be more excited about this Park Slope coffee shop as Blue Bottle Coffee has been one of our favorite places for a quality cup of coffee for years.
Inspired by a Turkish coffee shop in Vienna in the 1600s by the name of Blue Bottle, this Northern California cafe opened its doors and would soon spread as coffee lovers fell in love with their rich, smooth, roasted cups of perfection.
Blue Bottle strictly vowed to only serve coffee less than 48 hours out of the roaster so you know that you're getting a cup of freshly roasted coffee with peak flavors of the finest responsibly sourced coffee beans. Other types of coffee like blends and espressos are timed perfectly from roasting to sipping for peak flavors as well.
These guys have it down to a science and perfected the coffee experience. This Park Slope coffee shop has a natural ambiance to it and is the perfect place to grab a coffee to stay in or to take away along with one of their tasty treats.
We personally love the pour-over with one of their incredible cookies.
M 7:00 am – 6:00 pm, Tu-W 8:00 am – 5:00 pm, Th-F 7:00 am – 6:00 pm, Weekends 7:00 am – 6:30 pm
Hedgehog Coffee

240 7th Ave
This cute and quirky Park Slope cafe makes you feel like you're in a house rather than a cafe in the city. With kitschy little hedgehog accents around the cafe you can come here for a tasty pastry and a cup of freshly brewed coffee.
Their treat selection also offers Gluten-Free and Vegan options for our friends with dietary restrictions. Their prices are shockingly affordable for being a Park Slope coffee shop and it's a fun little hang out spot.
This is the perfect place to grab a cup of coffee, sit by the window, and watch the Park Slope scenes from 7th Avenue.
Daily 6:30 am – 6:00 pm
Southside Coffee
View this post on Instagram
654 6th Ave
This cute Park Slope coffee shop serves up tasty breakfast sandwiches, pastries, and of course coffee! This is a popular South Slope cafe as locals love the laidback vibe here.
Visitors rave about the breakfast sandwiches so this is a perfect low key breakfast or brunch spot. We personally love the relaxed environment here.
Southside Coffee serves George Howell small-batch, artisan coffee which only uses regional and single farm-sourced quality coffee.
This is a great Park Slope coffee shop for a quick bite and a cup of delicious coffee and after you can walk just a few blocks to Green-Wood Cemetery, one of our picks for best things to do in Park Slope.
M-F 7:30 am – 5:00 pm, Weekends 8:00 am – 4:00 pm
Roots Cafe
639 5th Ave
Another cozy Park Slope cafe that feels oh so Brooklyn displaying local artists, musicians, and poets work in their cool setting and ambiance whether it be on the walls or at their events like poetry nights.
Roots Cafe serves Forty Weight Coffee Roasters from Ithaca, New York and serve their coffee based on its peak freshness so you're having the best, rich flavors in a cup of coffee money can buy.
They source everything from small family businesses and farms where workers and owners benefit, which is a pretty cool philosophy.
They have a great snack and sandwich menu to choose from if you feel a bit peckish with a great selection for vegetarians and vegans.
M-Th 7:00 am – 5:00 pm, F 7:00 am – 8:00 pm, Weekends 8:00 am – 8:00 pm
Read Next: Best Brooklyn Instagram Spots
Kos Kaffe Roasting House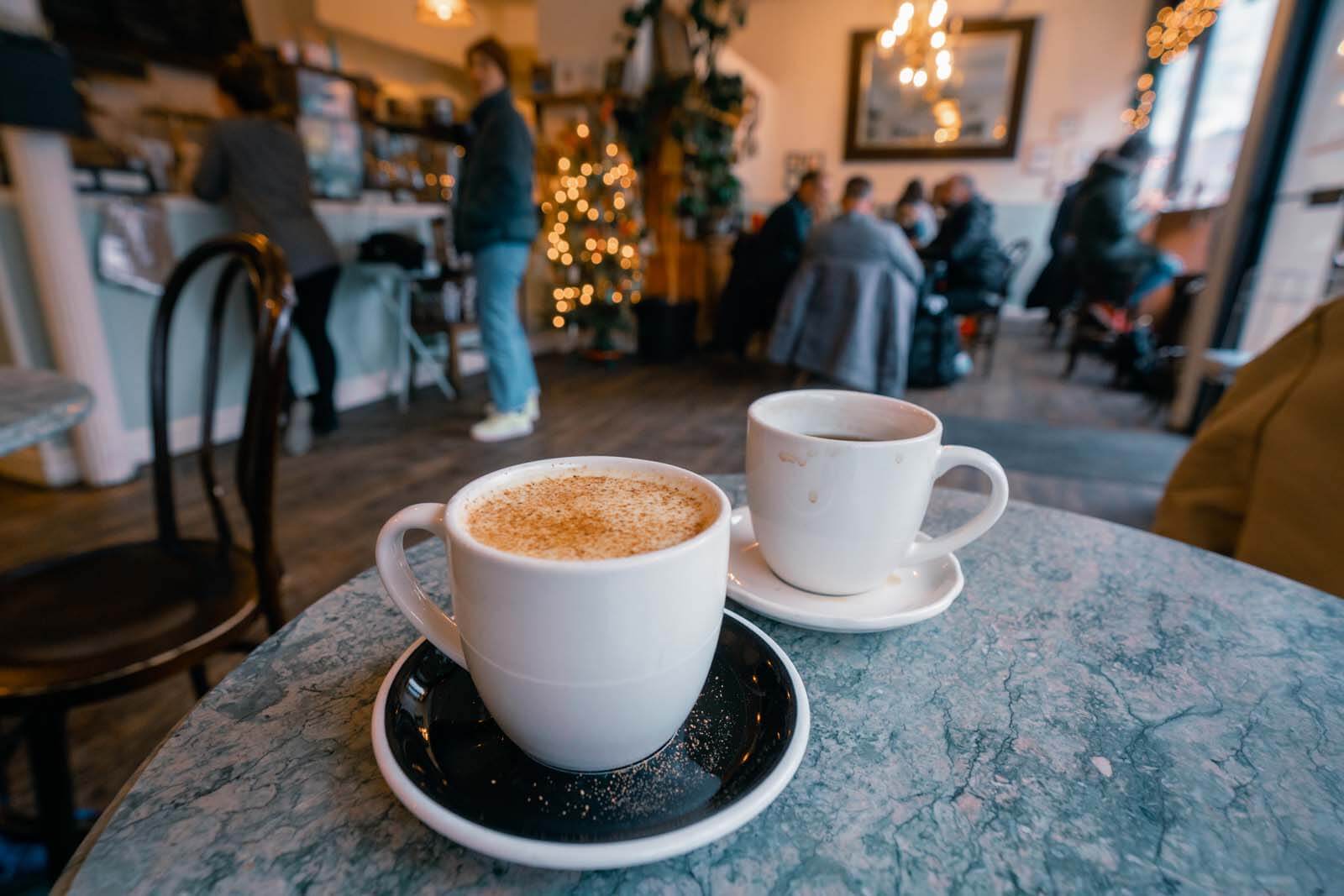 251 5th Ave
This Park Slope cafe is more than a coffee shop, Kos Kaffe Roasting House claims they provide the marriage food and coffee on their website. This family-run Park Slope cafe prides itself on a being an inviting place for their community and neighborhood.
We are obsessed with the atmosphere here as well as the gorgeous flower mural on the side of the cafe.
The husband and wife team are a dynamic duo as he has been into coffee roasting for over two decades and she has spent the same amount of time cooking at some of the best NYC restaurants and is an author of two cookbooks.
They serve up homemade food alongside their fresh and flavorful coffee menu, which you know is going to be good based on their backgrounds.
They even use local milk to accompany your cup of house-roasted joe made by their dedicated baristas. What we love about this Park Slope cafe is that they are completely cool with customers relaxing and staying a bit making it a nice spot to work from for a few hours while sipping on coffee and enjoying a tasty fresh cooked meal.
Be aware that there are sections of this Park Slope coffee shop that are for people who want to stay and work here and a section that is a laptop free zone. Don't worry though, there is alot of space for people who want to work here!
Daily from 7:00 am – 8:00 pm
Flying Hippo Bakery Cafe
383 5th Ave
This adorable Park Slope cafe and bakeshop is a light and airy space offering fine desserts, artisanal sweets, custom cakes, and other baked goods alongside their coffee drink menu featuring everything from cold brew, drip coffee, espresso, and lattes.
It will take some serious restraint to not order any of their delicious little cakes and goodies in their display case!
---
Liked this post on the best and cutest Park Slope cafes? Bookmark for later or share the love below on Pinterest.