Looking for the best Park Slope restaurants to try? Maybe you only have one meal while you're visiting the neighborhood or maybe you're a local just looking for your next brunch spot, date spot, or just switching up your usual go-to spots.
After living in Park Slope for a few years, I did my best to do as much research as possible to find the best food in Park Slope. An act that was purely selfless and just for you. Just kidding, well sort of. Let's just say I didn't dislike the opportunity to share my favorite places my husband and I ate at.
Jokes aside, I loved living in this neighborhood as there are SO many insanely good Park Slope restaurants and eateries along 5th Avenue, 7th Avenue, and even tucked away in brownstone-lined residential streets. So many infact, we take any opportunity we get to return to our former neighborhood to come and dine back at our favorite spots.
So without further ado, here are my (our, my husband agrees too) for best restaurants in Park Slope, Brooklyn. We hope this guide narrows down your search!
And apologies in advance for some of my photos (or lack thereof). When the food comes out I have my eye on the prize and I either completely forget to take a photo before that first bite, the lighting was dark, OR I am so rushed to get a photo so I can take my first bite that I don't realize until later how terrible of a job I did capturing the aesthetics of the food for our readers.
I know how important photography is to tell a story, but as a fellow food lover I bet you can understand how eager you can be to take that first bite while the meal is hot! Thanks and enjoy your food!
Best Food in Park Slope
Haenyeo
239 5th Ave
We have a special place in our hearts for Korean cuisine because we spent 2.5 years living in Seoul. Haeyneo, besides being awarded a Michelin Gourmand Bib Award, Haenyo has made its rounds among the foodies in the city as one of the best restaurants in Park Slope.
Named after the legendary free-diving women off the southern island off the coast of South Korea known as Jeju. Korean chef, Jenny Kwak brings a new twist on traditional Korean dishes like tteokbokki (delicious rice cakes) in her dokboki fundido dip featuring those squishy tasty rice cakes in a traditional spicy sauce plus Oaxaca cheese and chorizo.
This is undoubtedly the most popular dish on the menu. To offset the spice, be sure to order the makgeolli (my favorite Korean alcoholic beverage), a cloudy, milky rice wine.
Haenyeo is also known for its seafood dishes, but I particularly loved the deji bulgogi, thinly sliced pork served with veggies. Do yourself a favor and try this spot, it really is some of the best food in Park Slope.
Winner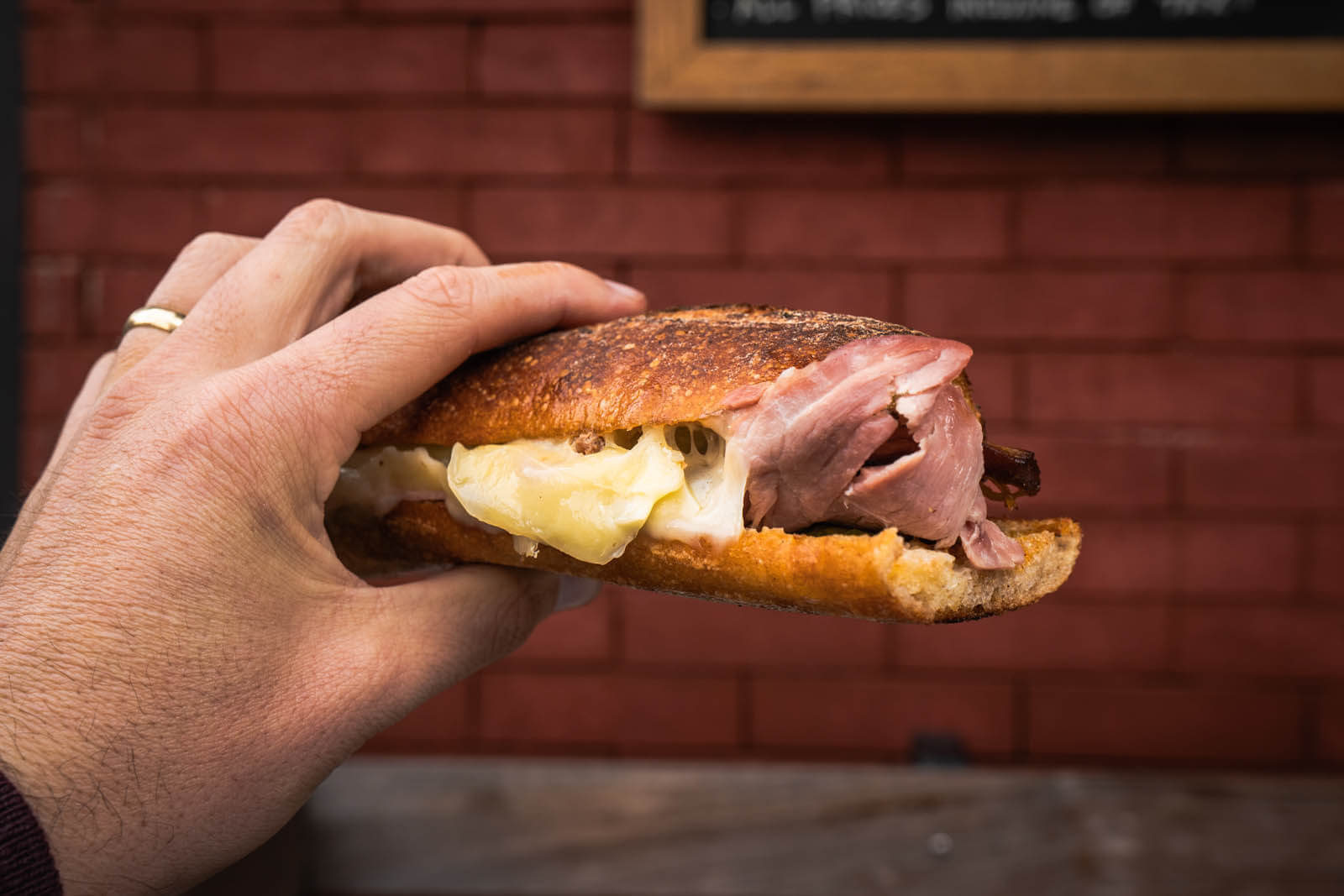 367 7th Avenue
Another go-to spot of mine serving up some of the best sandwiches in Brooklyn and another Park Slope restaurant that was awarded a Michelin Gourmand Bib award. This humble bakery and sandwich spot quickly gained a reputation for its insanely delicious fresh baguettes and sandwiches.
On the weekends you'll spot the line, so if you have a flexible schedule stop by on a weekday for lunch to avoid a long wait. But let's be honest, even if there is a wait, it's worth it as this is one of my top choices for best food in Park Slope.
If you're having a hard time choosing what to try, we don't blame you, their menu is simple and with a few items but they all are equally delicious.
Start with the cubano which is full of juicy braised pork shoulder, ham, swiss, pickles, dijon mustard, and mayo on a fresh baguette. This is my go-to and personal favorite.
Another stand out sandwich here is the fried chicken which is stuffed with mouthwatering panko fried chicken breast, fennel slaw, chile de arbol, and may served on a sourdough pullman.
You really can't go wrong here. Don't forget to grab a fresh baguette to take home with you too.
Pasta Louise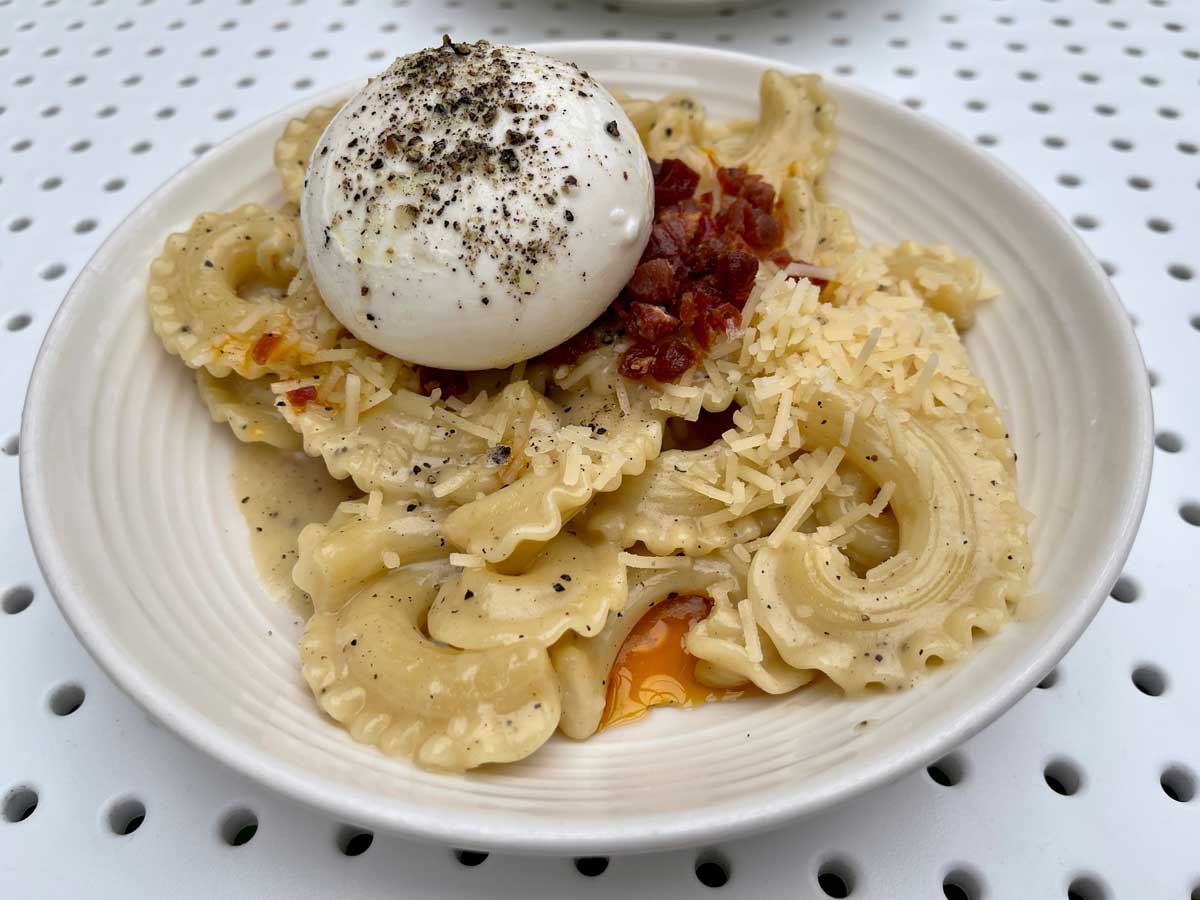 1114 8th Avenue
Located on f 8th Avenue (with another location just a few blocks away) is another stand-out Park Slope restaurant you're going to NEED to try. Not only does this buzzing corner spot serve up some of the best homemade pasta in the city topped off with your choice of add ons like fresh-made ricotta, a ball of burrata, or crispy prosciutto to name a few – this popular restaurant in Park Slope has a great pandemic success story.
Allison, the owner of Pasta Louise moved to Brooklyn from Oakland where she left behind her mac + cheese restaurant. She was slated to open Pasta Louise in 2020 and well, all the unforeseen events sort of interrupted those plans. She quickly adapted to the new times and sold fresh made pasta off her Park Slope stoop which gained popularity so quickly she sold out of in minutes.
Eventually, during these tumultuous times, she was able to open and it was one of the most booming restaurants in Park Slope, Brooklyn. No joke, I have never been (even on a weekday for lunch) when it hasn't been a full house.
Try anything on the menu, but I urge you to get one of the freshly made pasta dishes adding on a few savory toppings like breadcrumbs, crispy prosciutto, and of course cheese of your choice – mine is a big ol' helping of burrata.
You can see the pasta being made right inside and if you're also in love with Pasta Louise as much as I am, you'll grab one of the take-home pasta kits or some fresh pasta noodles so you can have some of the best food in Park Slope right at your house.
If you want to dine here, secure a reservation in advance as this has become one of the most popular restaurants in Brooklyn. As I said, this has become one of the most popular Park Slope restaurants so snagging a table without one can be tricky.
Katsuei
210 7th Avenue
Another deserving, wildly popular restaurant in Park Slope is Katuei Brooklyn (they also have a West Village location too). This high-end Japanese sushi spot serves up an affordable omakase menu.
This carefully curated nine-course menu showcases incredibly fresh sushi and sashimi specializing in the traditional Edo-mae style sushi from the Japanese-Edo Period hailing from Tokyo Bay. In fact, many of the fish cuts they serve here are imported from the famous Tsukiji Fish Market in Tokyo.
Each bite is carefully balanced and features a harmonious umami experience. If you're looking for the best sushi in the neighborhood, come here and treat yourself to the omakase experience. Don't forget to pair with some sake either.
Miriam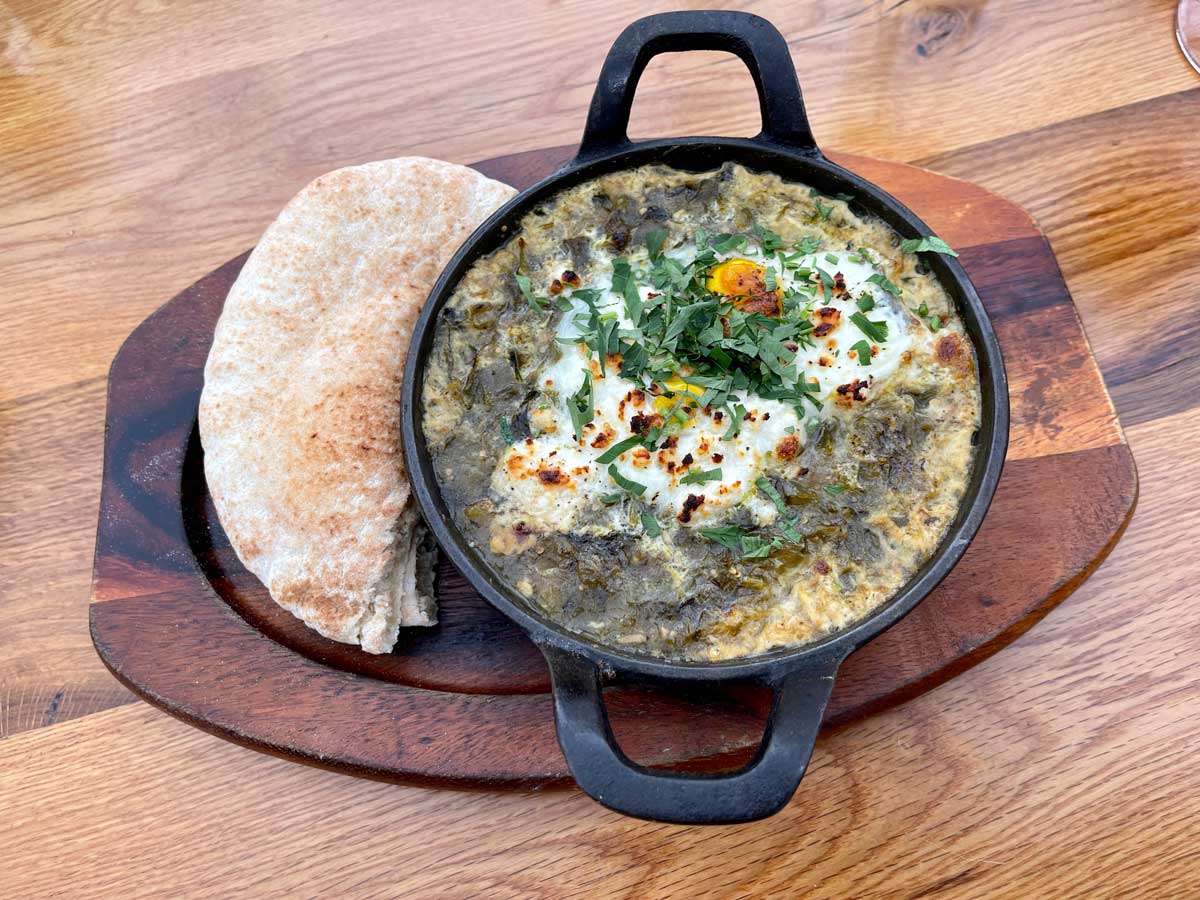 79 5th Ave
This insanely popular Park Slope brunch spot has lines on the weekends wrapping around the block. Yep, seriously. The flavors and dishes here are inspired by the Mediterranean coast of Tel Aviv, Israel.
For brunch, you can find everything from traditional egg dishes to some of our favorite cuisine you can get in Israel like shakshuka. There are also other dishes like salads, sandwiches, and fried halloumi. I recommend any of their shakshuka dishes, this is one of my favorites to cook at home in the kitchen too.
Even some of the ingredients they use are sourced directly from Israel. For those of you unfamiliar with Israeli cuisine, it's a beautiful blend of Mediterranian, Northern Africa, and Middle Eastern cuisine, so many mouthwatering flavors, and one of my favorite places in the world to eat.
Thanks to Miriam, you don't need to travel further than Park Slope to get these fresh flavors and ingredients. Of course, brunch is popular here but they do also serve up an impressive dinner menu including their grilled branzino. No matter what meal you try at this incredible Park Slope restaurant, be sure to order some of their smooth and freshly made hummus.
5 Spice
52 5th Ave
I'm not going to lie, it took me a while to try this Park Slope restaurant due to the fact that they are known for tacos and pho. Two things that aren't traditionally on the same menu and have been an international travel blogger for nearly the past decade trying cuisines all over the world, one indicator that you shouldn't eat at a restaurant is that they try to be too many things.
So, one day when I was desperately craving pho my husband and I stopped here and HOLY SMOKES their pho is the real deal. Their savory broth in this classic Vietnamese dish is slow simmered for 12 hours with 6 different options ranging from beef, pork, chicken, and veggie served with onions, scallions, cilantro, (on the side) basil, bean sprouts, jalapenos, lime.
5 Spice's pho portions are generous too. Since I was completely blown away by how incredible the flavors of their pho was, I am going to give those tacos a try.
Danbo Ramen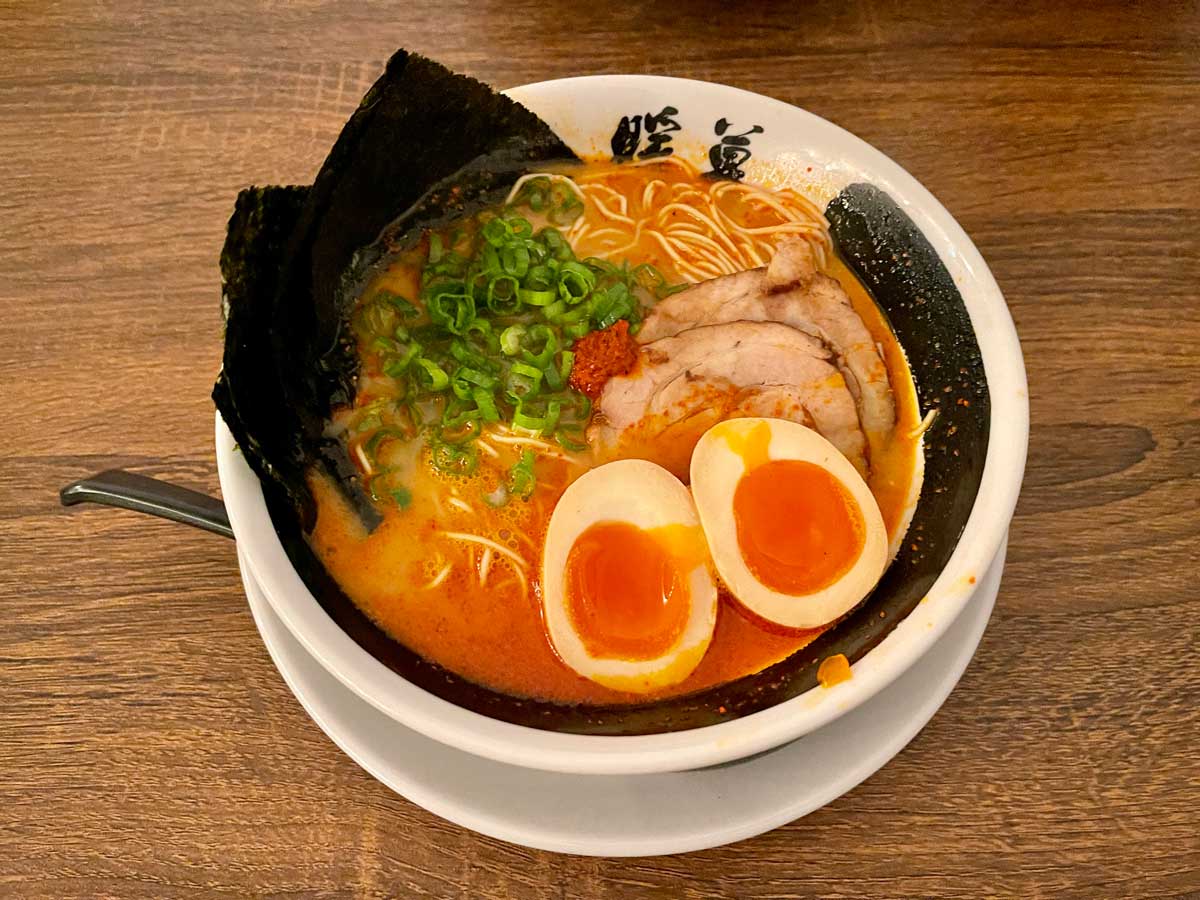 52 7th Ave
I am a bit of a ramen snob. Japan is one of my favorite countries in the world and my visits there I made sure to have ramen one meal a day with my favorite ramen ever coming from my trips and South Korea visa runs to Fukuoka, Japan for their famous Hakata style Tonkatsu ramen with that rich and flavorful tonkatsu broth.
When I discovered this Japanese chain had a semi-hidden location in the neighborhood I had to check it out and of course, it did not disappoint. I'm also a huge fan of other Japanese ramen houses in the city like Ippudo and Ichiran, as a matter of fact, I love them, but what's hard to swallow is the nearly $20 a bowl at either of those spots and Danbo wins for coming in at around $13 a bowl for the real deal Fukuoka style ramen.
This is absolute, hands down, one of my favorite restaurants in Park Slope, and I feel like somewhat of a hidden gem unless 'you know' as it's sort of in a quiet section of 7th avenue bordering another eatery and a brownstone.
I prefer the Classic Rekka Ramen, leaving enough broth for kae-dama (an extra serving of noodles at the end). The 'rekka' is an added Togarashi powder and Japanese ingredient that gives your bowl of savory ramen an additional spiciness. So if you're not a spicy fan like myself, stick to just the Classic bowl of ramen.
Customize your ramen here by picking your noodle thickness (I prefer thin noodles), noodle firmness (I stick with the standard, my husband goes for firm), the thickness of broth (I stick to standard), richness or amount of lard added to the broth (I like to go with a little extra if I am not planning on having extra noodles at the end), and last but not least karadare or the umami spice level (I stick with standard here).
Pick any additional toppings, I always split a soft-boiled egg with my husband and add seaweed, but there are others to choose from including ordering extra chashu pork meat.
I never have room for anything else, but this is hands down some of the best food in Park Slope especially for ramen lovers like myself.
Harlem Shake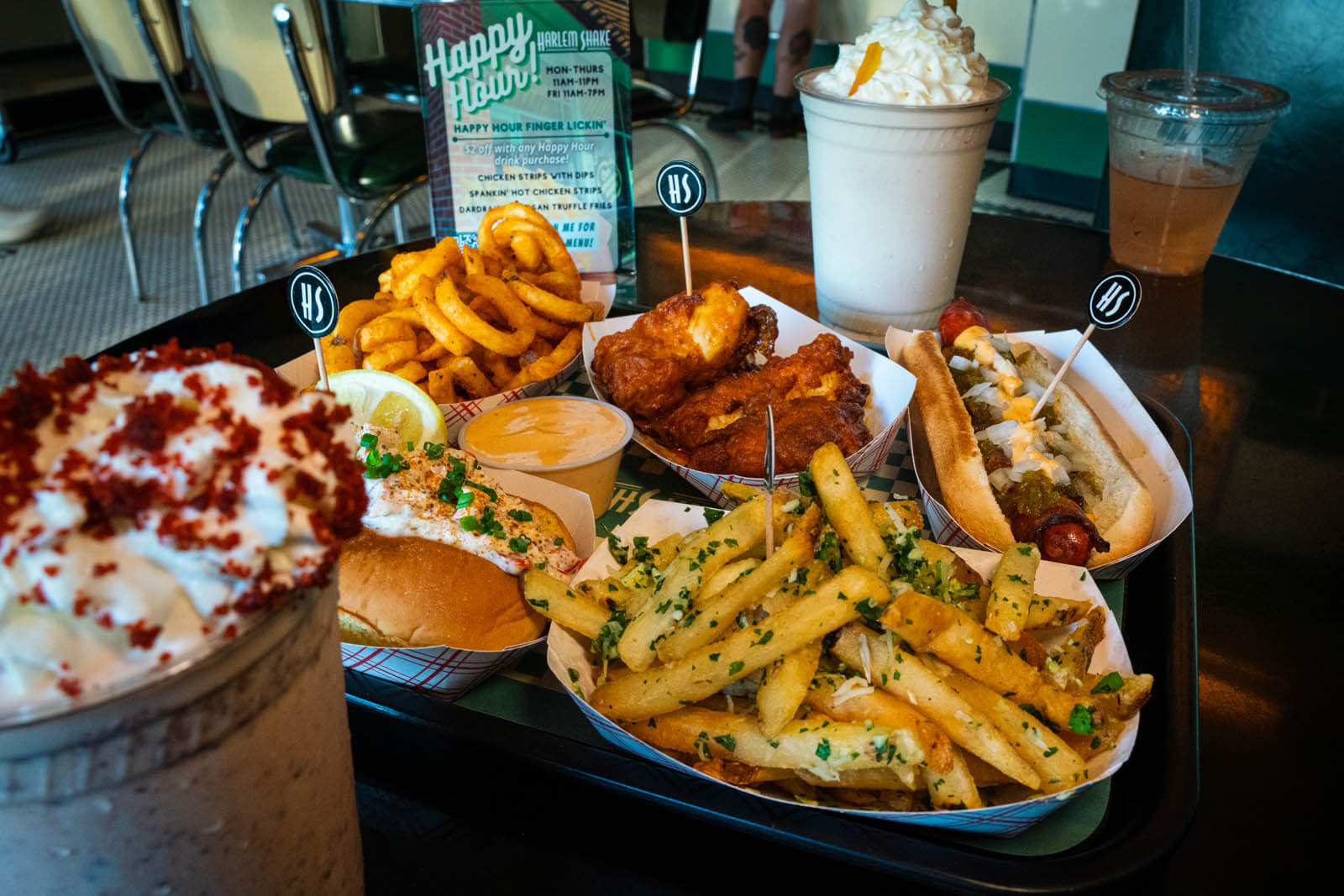 119 5th Avenue
If you're looking for something quick that won't break the bank, one of the best places to eat in Park Slope on 5th Avenue is Harlem Shake, the second location to this popular Uptown spot! Inside feels like a cool old-school diner complete with a menu full of American classics like burgers, milkshakes, fries, and other goodies that they introduce seasonally like their lobster roll in the summer.
The beef they use for their incredibly reasonably priced burgers is from Pat LaFrieda (so you know it's good) and they also have turkey burgers, impossible burgers, and veggie burgers. Be sure to order a round of truffle fries – they are seriously so good or the curly fries (or both). Ask for a side of their homemade ranch dressing too – you won't regret it.
Don't miss ordering a drink either (which you can easily do with a main and still spend less than $15 per person!). They have beer, frosé, wine, and of course, MILKSHAKES! They have a nice selection of flavors including a special seasonal flavor. Their signature, 'Harlem Shake' is red velvet (YUM) with actual red velvet cake bits in it which was oh so good.
Better yet? They are already pretty affordable (and as prices seem to keep rising just about everywhere you look and breathe at in NYC) with GREAT quality ingredients and homemade sauces that are good on everything, they also have VERY generous happy hours (Mondays through Thursdays 11 AM – 11 PM and Fridays 11 AM – 7 PM) for even more deals.
Miti Miti
View this post on Instagram
138 5th Ave
This Modern Mexican and Latin American Park Slope restaurant is an excellent choice for drinks and dinner located on 5th Avenue, one of the best places to eat near Barclays – so great for pre or post-event drinks/shareables/dinner.
Everything that I've tried here from the different flavored margaritas from their margarita bar to their tacos, hot queso, quesadillas, and starters have all been great. I especially am a fan of how they throw lobster in the mix, their lobster quesadilla is one of my favorite dishes I've tried here.
I will say, I don't like to say negative things but their brunch just didn't match the quality of their dinner. They have the perfect combination of things I love out of a boozy brunch spot but we were disappointed with the soggy chilaquiles and both dishes were served cold.
That being said, every dinner we've had here has been on par and we will be returning for more tacos, they've even made it to our guide to best tacos in Brooklyn – which I have had the pleasure to taste test around!
Palo Santo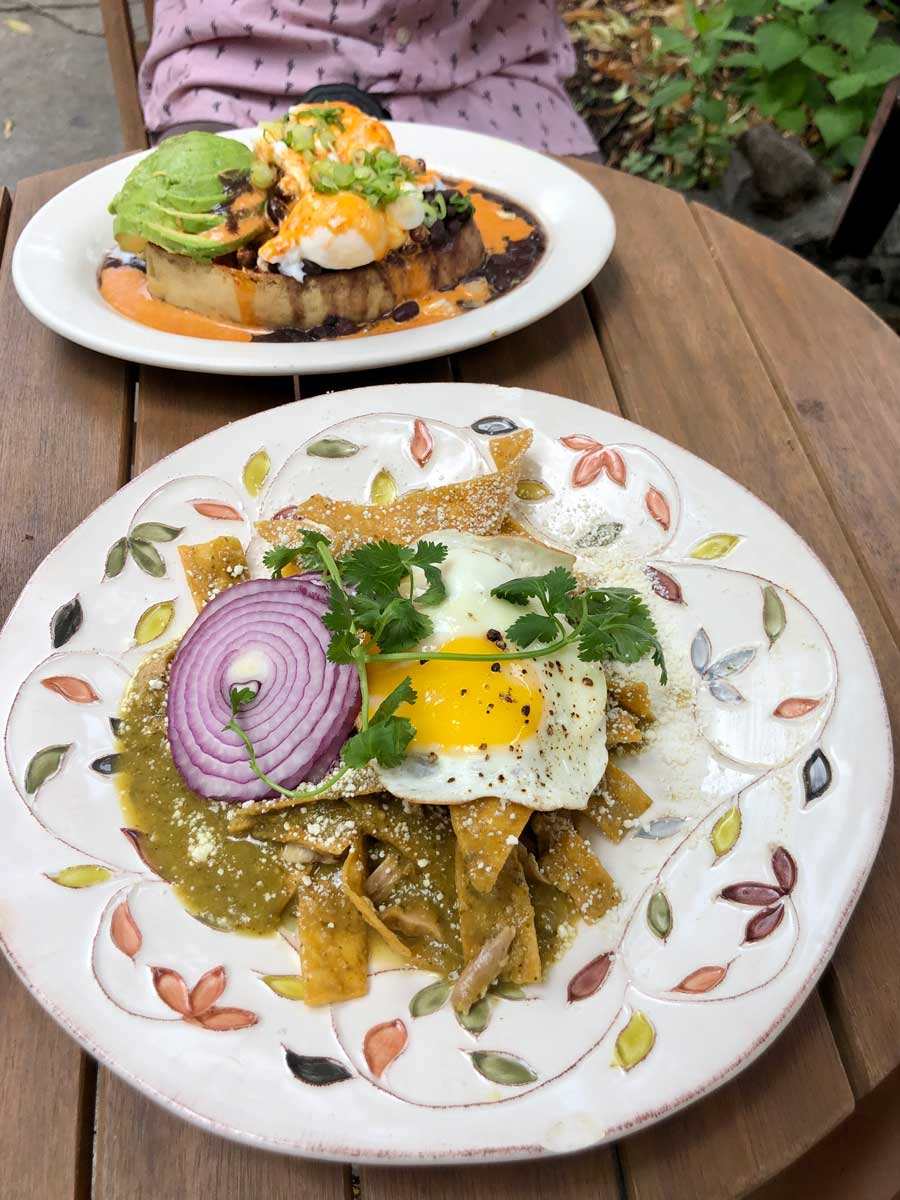 652 Union St
Hidden on a residential block of Union Street tucked away between a row of tree-lined Brooklyn brownstones is one of my absolute favorite brunch spots and restaurants in Park Slope.
This seasonal, Pan-Latin eatery serves up some of the best food in Park Slope featuring seasonal dishes by Chef Jacques Gautier who presents a fresh, daily menu to diners with flavors inspired by Latin America and the Caribbean.
No two visits are the same and Palo Santo prides itself on their quality ingredients including free-range or grass-fed meat to sourcing their produce locally from the Grand Army Plaza Greenmarket.
Besides being a fantastic, elevated brunch spot this is also a fantastic, intimate date spot for dinner.
Wangs
View this post on Instagram
671 Union St
Looking for some of the best comfort food in Park Slope? Grab take out from Wangs where you can find the beautiful combination of Southern comfort food combined with east Asian flavors.
I love KFC, not the Colonel Sanders kind, but Korean Fried Chicken. Living in Seoul for over 2 years we had our fair share of Korean fried chicken which is cooked with its savory crackly crust painted with a layer of sweet and spicy sticky sauce. Oh, and don't forget the side of pickled radishes to cleanse your palate between bites.
So back to Wangs, they've got the goods. This is a casual, take-out-only
restaurant (if you have nowhere to go take your food over to the J.J. Byrne Playground at the Old Stone House, there are a few tables and chairs in the quiet garden area perfect for dining).
When ordering, keep in mind one wing or "wang" here is actually a whole wing, they recommend around 3 wings per person. My husband and I split the 6 wing order typically. We go for the "wangs" because we like the tender meat right off the bone topped with their Wangs Hot Sauce for that sticky, spicy, and slightly sweet concoction that pairs perfectly with a beer.
There's so much to love about these wings, we haven't tried the other styles of chicken yet because we are addicted to the wangs with wang hot sauce. I am aching to try their fried chicken sandwich though and if you are craving a savory side, they've got everything from homemade cornbread to mac n cheese as well as Korean side dishes like kimchi.
Better yet, their ingredients are quality and their chicken is sourced locally from Paisanos on Smith Street.
Negril BK
View this post on Instagram

356 5th Ave
This is the best restaurant in Park Slope for Caribbean cuisine paired with breezy cocktails. This spot is always going off on the weekends and you can enjoy their signature, "Jerk, Rum, and Caribbean vibes."
The outdoor seating on 5th Avenue has became very popular the last few years for obvious reasons, but inside you have three different sections including a tropical-themed dining room, a private rum speakeasy, and an additional lounge.
If this is your first time, try their rotisserie jerk chicken! Other stand-out dishes include their braised oxtail and whole roasted fish. Don't forget to pair with one of their cocktails either!
Brooklyn Burgers & Beer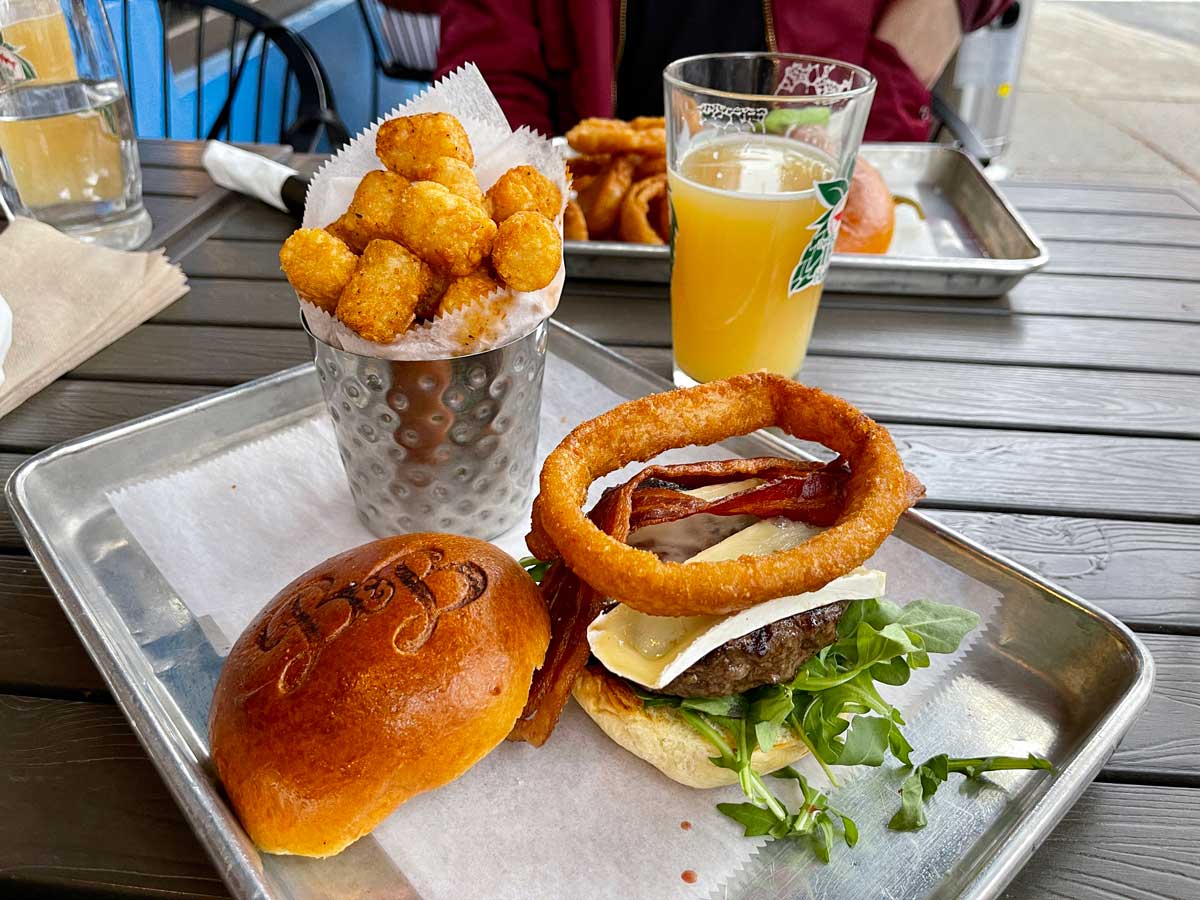 259 5th Ave
Ah, a classic, juicy burger. There's not much that beats it and one of the best restaurants in Park Slope for a meaty burger can be found on 5th Avenue at Brooklyn Burgers & Beer.
Their menu offers exactly what you'd expect, burgers and beer. You can expect some classic burgers, cooked to your liking, or you can build your own burger customizing your toppings and whatnot. Don't forget to pair that burger with one of their craft brews on draft either.
They prepare their burgers with quality, grass-fed and organic beef, they also have vegan options for our plant-based friends.
And if you're coming for lunch, they do offer lunch specials.
Hanco's
View this post on Instagram
350 7th Ave
It's not uncommon for this popular Vietnamese restaurant in Park Slope to show up on foodie round-ups around the city for their mi sandwiches, sometimes there's even a line of people waiting for their orders. If it's your first time you need to try a bahn mi featuring ground pork, ham, paté, mayo, chili peppers, pickled carrots, and daikon inside a fresh baguette.
If you're not in the mood for a sandwich or it's a cold/rainy day – their pho is also incredible and might actually be my favorite here, which is pretty awesome because you can have the best of both the bahn mi and pho worlds at this Vietnamese eatery. Oh, and if you're a bubble tea fan, you can get that here too!
You're just a few blocks from Prospect Park, so this is also a great sandwich to picnic with.
Chela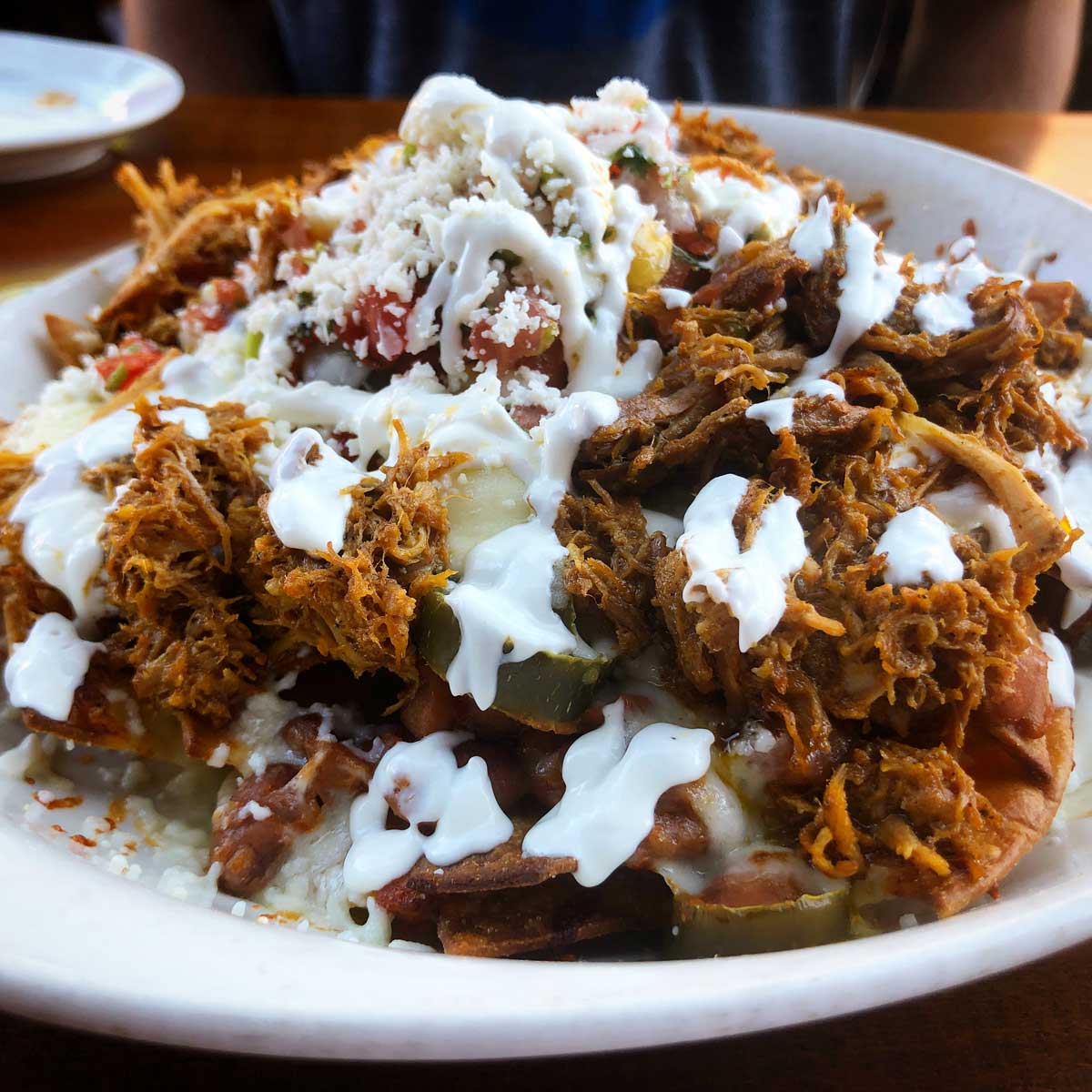 408 5th Ave
Another one of my favorite places to eat and picks for reliable restaurants in Park Slope is Chela, a Mexican eatery located on 5th Avenue.
You can count on great dishes across the menu (we lived near here so we ate here frequently) including appetizers like queso fundido, guacamole, and nachos – which I'd order to myself sometimes or split because their tortilla chips are divine.
You can't go wrong with their taco menu and selection – try the barbacoa! And don't miss other favorites like enchiladas, chilaquiles, and gorditas. They also have a nice selection of vegetarian dishes.
Fonda
View this post on Instagram
434 7th Ave
Another insanely popular Mexican restaurant in Park Slope is Fonda, located on 7th Avenue who also have a location in Chelsea.
Chef Roberto Santibañez (and cookbook author) brings a menu chocked full of contemporary Mexican cuisine that pair perfectly with their insanely good margaritas. The quality shows here as they hand-press their tortillas made to order and he brings the medley of incredible flavors from Oaxaca and Mexico City to all of his dishes here in NYC.
Some of their must try items include their enchiladas de mole negro Oaxaqueño, carnitas de Fonda, and an absolute must is the queso fundido con chorizo.
Homemade Taqueria Park Slope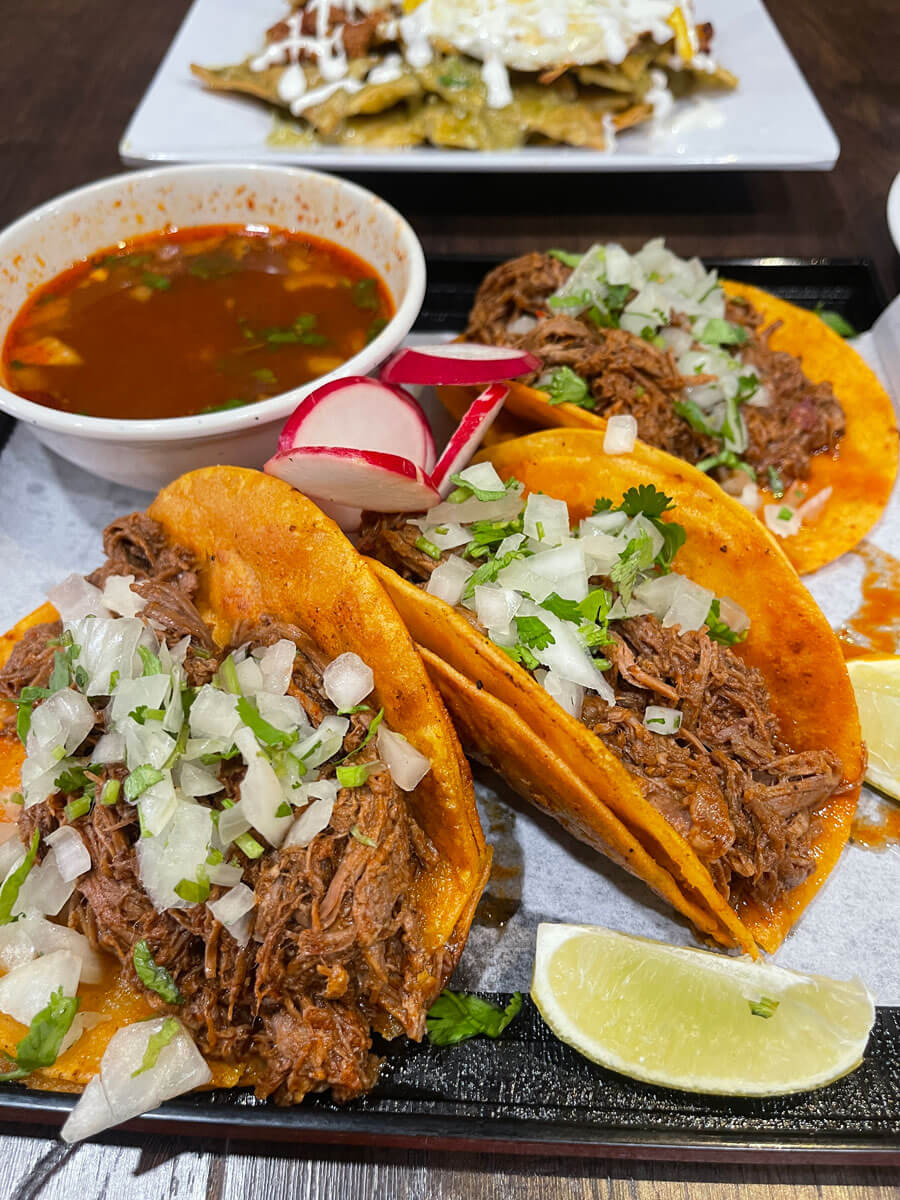 117 5th Ave
This family-run and operated Mexican chain started in Long Island and now has over a dozen locations around the city including here in Park Slope right on 5th Avenue.
With over a dozen different tacos to choose from like mouthwatering birria tacos served with a side of consome to various veggie tacos, fish tacos, chicken tacos, pork tacos, pastor tacos, and steak to name a few.
All of their tacos are served on freshly made, soft corn tortillas topped with white onions, cilantro, and served with a lime slice for that fresh citrus zest at the end. They also give you sides of their different homemade salsas and a side of sliced radish.
Their tacos were meaty and a little more generous than some other taco places we've visited – so come hungry! And if you're in the mood for brunch also give their chilaquiles a try! We are eager to go back to try some of their other dishes as well.
Luigi's Pizza
686 5th Avenue
Looking for the perfect slice of pizza? Located in South Slope, Luigi's serves up pizza by the slice that you won't soon forget. This neighborhood mainstay has been around since the 1970s and chances are when you're buying a slice (or a whole pie) the owner himself will be the one to serve it to you or right there in the kitchen.
This is one of those no-frills, family-owned and operated slice shops that's been in the family since the day it opened.
And for those who follow Bar Stool Sports one-bite pizza reviews, their slice got a 9.3 rating, which is a big deal in the pizza world.
Their crust is thin, but not flimsy, making it easy to fold and bite. Or you can go for a square slice for something a little more filling from one of Grandma's pies.
Luigi's prides itself on its quality ingredients from the olive oil they use to the toppings. Better yet, they believe slices shouldn't break the bank and keep them affordable, even though everywhere else in the city the food prices seem to keep going up – just another reason to come to Park Slope to try this pizza spot!
And for those thinking this spot looks a bit familiar, Luigi's was used as a filming location for Adam Sandler's movie Big Daddy.
Park Slope restaurants I haven't tried yet HIGH ON MY LIST
View this post on Instagram
So, as much as I ate around the neighborhood determined to find all the best food in Park Slope, there are still a few eateries I haven't made it to that are on my list to check out. I wanted to mention these because they are critically acclaimed and while I haven't tried it yet, it's on my list and I hope to provide updates to these guides as I taste my way around the borough!
(PS I am realizing I didn't eat enough Italian cuisine while living in Park Slope! Always a great excuse to go back!)
Convivium Osteria is another Michelin Gourmand Bib recipient and said to be one of the best eateries in the Slope. This Italian osteria is known for its Sardinian-inspired menu.
Sotto Voce is a cozy corner Italian restaurant located on 7th Avenue known for their al fresco dining, weekend brunching, and pasta dishes.
al di la Trattoria features Northern Italian cuisine and is the perfect intimate date night spot that's been a neighborhood mainstay since 1998. I've heard nothing but amazing things about their risotto and malfatti, but the menu changes frequently so it will be a pleasant surprise to see their daily offerings on your (and my) visit.
---
Did I miss your favorite restaurants in Park Slope? Let me know in the comments below, as you can see I plan on going back and eating more and love adding places to add to my radar!
If you're visiting Park Slope for the first time be sure to check out our guides to the best things to do in Park Slope, best bars in Park Slope, best cafes in Park Slope, and some of our favorite hidden gems in Park Slope for some exciting exploring!