Looking to do some Park Slope shopping? We've got you covered. This charming and popular neighborhood in Brooklyn has some incredible shopping including unique boutiques, thrift stores, and other fun independent shops that are worth exploring for those one of a kind treasures, gifts, or something new for you!
All the best Park Slope shopping can mostly be found along 5th Avenue and 7th Avenue, however, a few are in the side streets and in-between areas too.
We've got you covered with everything from the best clothing boutiques for men, women, and children, antiques and thrifting, gift shops, wine, chocolate, and more!
If you're really into shopping vintage, be sure to check out our Brooklyn guide to the best Park Slope thrift shops too!
Favorite Park Slope Shopping
Housing Works
266 5th Avenue
Some of our favorite Park Slope shopping involves finding great vintage finds for a cause with both House Works Park Slope, one of our favorite thrift shops in NYC.
Housing Works sells quality second-hand items from clothing, accessories, furniture, and other housewares as a non-profit organization who is heavily involved in social justice activism and helps some of the city's most neglected communities.
Their proceeds go towards helping others including fighting homelessness and AIDS through selling their vintage collection of merchandise.
They have multiple locations and we are lucky to have two here in Park Slope. Both locations are smaller featuring a high quality curated collection of second-hand items for great prices.
We love that you can shop for a cause here! Also, if you're looking to get rid of furniture or clothing you can dontate them to Housing Works to help their cause!
Brooklyn SuperHero Supply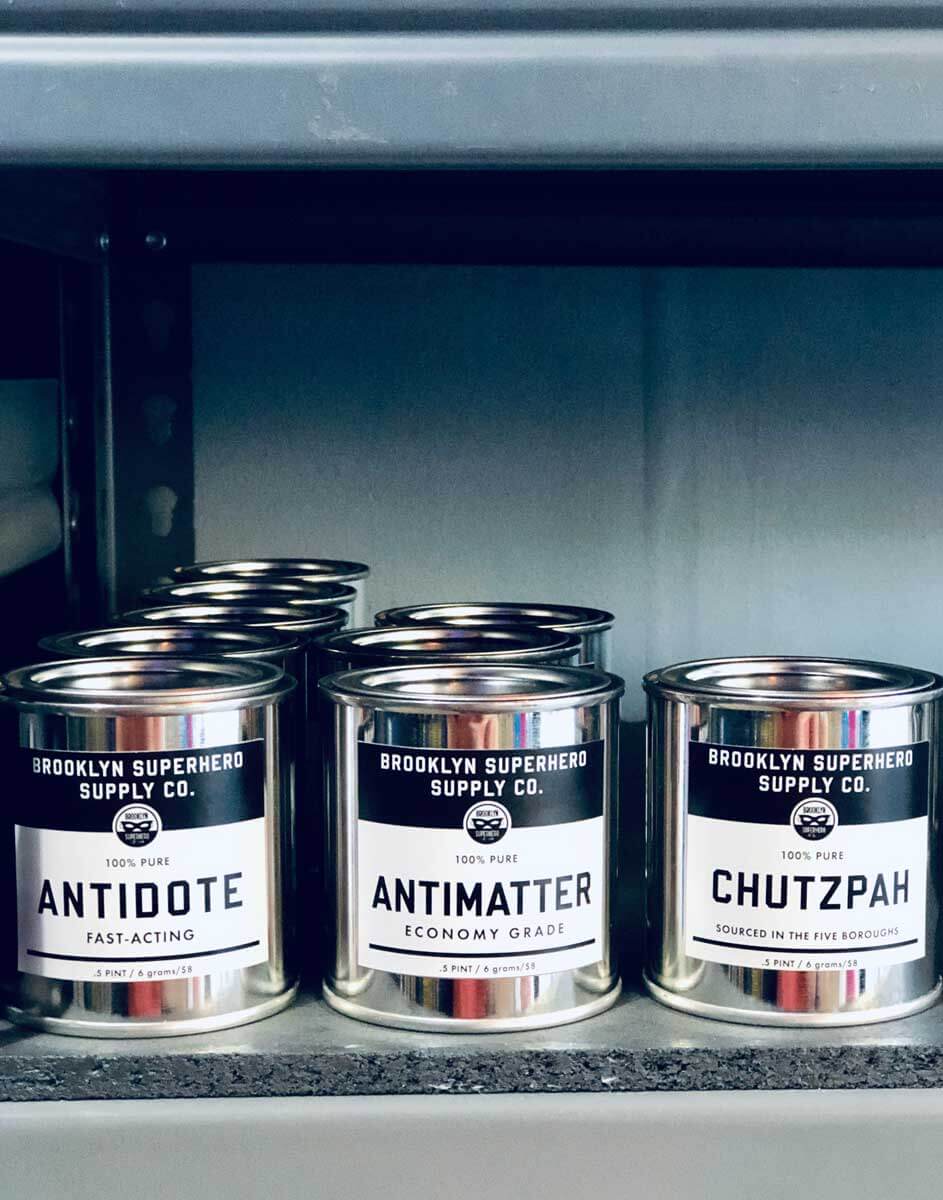 372 5th Ave
Calling all superheroes and people who have a sense of wonder, The Brooklyn Superhero Supply Store is a quirky place for Park Slope shopping selling superhero capes, masks, and supplies!
What kind of supplies you might be wondering? Cans full with the speed of light, jars of antimatter, and canisters of invisibility!
Unfortunately, these novelty items aren't real, if only they were though! They do however make a fun gift for that superhero of a person in your life who needs a little extra encouragement.
What makes this an even more special Park Slope shopping spot is that the Brooklyn Superhero Supply Store is actually a front for the 826NYC Foundation, a non-profit organization that provides after school tutoring and workshops for struggling students and youth.
From helping non-native speaking children learn English to tutoring on any subject.
So if you're looking for something unique for a coworker or friend who needs a little fun gift, you can make a purchase here to help fund this amazing organization.
Read Next: Explore 5th Avenue in Park Slope Guide
A Cheng
View this post on Instagram

466 Bergen Street
A cute boutique and great place for shopping in Park Slope for dressy, work-appropriate womenswear by designer Allison Cheng. You can find affordable, well-made, polished clothing and accessories here.
A Cheng has been a Park Slope shopping staple since 2013 after the brand had relocated from its East Village location.
Besides carrying the A Cheng house label, their boutique also sells 30 other labels. If you fall in love with Cheng's designs you can also find in stores like Barney's and Anthropologie.
This is a great place to find gorgeous, simple, and refined womenswear.
Read Next: 100+ Best Things to do in Brooklyn
St Hrouda
View this post on Instagram

227 5th Ave
Another one of our favorite spots for Park Slope shopping is the women's clothing and art boutique St Hrouda on 5th Avenue.
This gorgeous boutique offers not only women's contemporary clothing but also an art gallery celebrating and showcasing talented artists from all over.
We personally love their collection of stylish Brooklyn t-shirts, accessories, skincare, and home goods in addition to their clothing.
This really is a one of a kind boutique and worth checking out on your Park Slope shopping spree!
Beacon's Closet
View this post on Instagram

92 5th Avenue
A great pick for lovers of second-hand finds on our Park Slope shopping guide is our very own Beacon's Closet location in the neighborhood.
Beacon's Closet has multiple locations including this one on 5th Avenue. Beacon's Closet is a place where you can shop or sell your vintage or used items!
Beacon's Closet has a collection of new and vintage pieces that are all in great or new like condition. This is one of those places that you can usually always find something as they often carry current styles too.
We personally love their fun sock collection too, don't worry these weren't used.
Plus if you want to rotate out your closet or make some extra spending money you can sell or trade your clothing here.
Not Just Chocolate
537 5th Ave
Not all of our Park Slope shopping picks are clothing stores! Not Just Chocolate is a designer chocolate shop that sells edible pieces of art.
Their beautiful chocolate sculptures are fully edible even though they look like they are carved out of gold. With all kinds of animals and figures to choose from this makes the perfect gift or conversation piece at your next event.
Not Just Chocolate is a family-owned chocolatier who sources the best quality cacao beans for their edible works of art.
Read Next: Best Things to do in Park Slope
Life Boutique Thrift
View this post on Instagram

515 5th Avenue
One of the best places for Park Slope shopping for thrifters is Life Boutique Thrift. Explore this large collection of fun antiques, second hand, and other fun vintage items from housewares, men's clothing, women's clothing, shoes, books, and toys.
There are two floors, the ground floor and basement to explore for ceiling to floor of fun vintage and antique finds.
We love that they have a great collection of housewares and other antiques in addition to their impressive clothing selection. You can find just about anything in here and can easily spend over an hour sifting through their expansive collection.
A bonus would be that they always have specials and extra deals going on and everything in here is very reasonably priced. Their window displays are always changing and really fun to look at with great vintage finds.
Fifth Avenue Record Shop
View this post on Instagram

439 5th Ave
This next Park Slope shopping pick has been a staple of the community for decades! This record shop sells new and used vinyl as well as DVDs, tapes, CDs, and more!
You'll find a great collection of rock, jazz, blues, funk, soul, disco, hip hop, house, dance music and more.
You have to stop in during your Park Slope shopping spree as this is one of the few places you'll find that has been around and still doing well as long as it has. Plus this is a homerun for any vinyl collector!
Also, if you love vinyl, check out all the best record shops in Brooklyn!
Annie's Blue Ribbon General Store
View this post on Instagram

232 5th Ave
One of my all-time favorite places for Park Slope shopping whether it be for a gift or for me is Annie's Blue Ribbon General Store! Selling all kinds of great gifts and small finds for yourself or a friend, family member, or even pet!
They call themselves a modern general store selling all types of cool and unique gifts, home goods, stationery, jewelry, and any other little knick-knacks you can think of.
This is my favorite place to go when I need to find a gift for someone and I always end up walking out with something for myself too.
Lulu's Cuts & Toys
View this post on Instagram

48 5th Ave
This is one of the cutest places for Park Slope shopping if you have your young children with you! This kids toy store doubles as a kids hair parlor and barbershop!
We love how whimsical everything is in here and its the perfect place to pick up a gift for that cute little kid in your life or do a day out including a fun new hairstyle in their adorable kid's hair salon in the middle of the toy store!
And don't worry, if you're in love with the vibe here or want to get your haircut along with your kiddo you can! They do adult cuts too!
This is such Park Slope kind of place since this is one of the most family-friendly Park Slope shops in one of the most desirable neighborhoods in the city for families!
Read Next: Amazing Brooklyn Boutiques & Gift Stores in Brooklyn
Bhoomki
View this post on Instagram
158 5th Ave
Another amazing Brooklyn-based women's boutique to add to your Park Slope shopping day or spree! This awesome boutique features ethically-made fashion made of recycled, organic, or artisanal materials and fabrics.
Bhoomki has its own in-house label featuring all reduced carbon footprint and sustainable pieces.
You can find really unique, one of a kind pieces here to add to your wardrobe that celebrates and support artisans around the world who are making fashion ethically and sustainably.
Read Next: Cozy Park Slope Cafes
Zula Wine & Spirits
487 5th Ave
Our Park Slope shopping guide wouldn't be complete without Zula Wine & Spirits! This lovely small wine and spirits shop offers a curated collection of both wine and spirits!
We love their staff picks and browsing what they have to offer from all over the globe. What's even better is that they offer something for everyone's budget whether you have under $10 to spend up to the more steeper priced items.
We love browsing the store and taking a look at their staff picks as well. It's hard to leave here without at least 6 bottles.
Oh and Amy Poehler is one of the owners of this adorable neighborhood wine shop!
Brooklyn Industries
View this post on Instagram
328 7th Ave
THIS LOCATION IS CLOSED, but you can still visit them online!
This cool shop featuring men's, women's and kid's apparel offers unique Brooklyn souvenirs and cool clothing items featuring Brooklyn! This shop started over two decades ago made by artists living and working in Brooklyn.
From custom water bottles to sweatshirts and vintage t-shirts with Brooklyn on them and other brands of contemporary clothing, this is a great spot for Park Slope shopping to check out.
Something Else on Fifth
View this post on Instagram
187 5th Ave
One of our favorite Park Slope shopping locations for both men, kids, and women's fashions for the more casual, rugged style folks is Something Else on Fifth.
They carry some of the best independent and hard to find designers as well as brands like Patagonia, Herschel, Woolrich, Pendleton and more outdoorsy brands.
We personally love this style and so do locals. They also have a second location on Smith Avenue too.
Lucky Rubber Ducky
View this post on Instagram
196 7th Ave – THIS BUSINESS CLOSED IN 2020
Looking for the perfect gift or unique piece for your home? Lucky Rubber Ducky is actually an expansion to another one of our Park Slope shopping destinations, Tarzian West.
You can find all kinds of unique gifts, home decor, and unique well-designed housewares and office items.
I love their unique and artistic items in here whether you're looking for a gift or a way to snazz up your desk at work. They also have a nice selection of bath products too.
Tarzian West
View this post on Instagram
194 7th Ave
Looking for anything and everything you'd ever need for your kitchen? Tarzian West offers all sorts of home goods and kitchen accessories here whether you're upgrading your own kitchenware or looking for the perfect gift.
You'll find this store extremely well stocked with items from floor to ceiling including and impressive collection of high-end kitchen items from knives, mixers, to cast iron pots and pans.
Whether you're looking for a hard to find kitchen utensil, upgrade your current kitchenware, or a great housewarming gift you can find it here!
Our personal favorite is their cookie cutter collection!
Sterling Place
View this post on Instagram
352 7th Ave
Another place we absolutely adore for Park Slope shopping is Sterling Place on 7th Avenue. This gift shop is full of unique antique pieces and new items that make perfect gifts for others or yourself!
Their new and antique collection features everything from furniture, to antique watches, wallets, jewelry, and home furnishings. Plus they have a great selection of unique cards to buy along with your gift.
They pride themselves on having heirloom-quality products to add to your home collection.
Min-K
View this post on Instagram
360 7th Ave
One of the cutest boutiques for Park Slope shopping that offers unique clothing pieces and accessories for women and children.
Featuring locally sourced labels and products you can find your next one of a kind timeless piece here. We love how the store offers classic pieces with a solid collection of black and neutral pieces along with a collection of vibrant colored pieces and unique colorful prints and designs.
Min-K also carries one of our favorite brands, Nooworks who often collaborates with artists on bright, colorful prints.
---
Did we miss any other great places for Park Slope shopping? Share in the comments below! We are always looking for more fun shops to check out!