So you're wondering how to find parking in NYC? We got you covered in this comprehensive guide.
It takes supernatural levels of patience to brave parking in NYC. There are tons of rules, tons of people, and, let's face it, it can be really expensive. However, we understand that under certain circumstances you may need to park a car in New York City.
Manhattan is the WORST when it comes to parking, so let's just get that out of the way. It's the most popular borough, but other popular areas can be just as rough. Sometimes you *might* be able to find residential parking if you're visiting a family member deeper in a residential area of the 5 boroughs, but you have to remember there are 8.5 million people who live in NYC and very limited spaces to park in a congested city. That's why most New Yorkers don't have a car!
If you're considering driving in NYC, it's time for a serious talk with yourself. Think if you REALLY need to bring a car into the city. The tolls are $$$$ and it might even be better to pay for parking outside of the city in either New Jersey or Connecticut, rather than drive in. Plus, you'll literally spend HOURS looking for parking if you have a car. It will become your job.
You realize pretty fast just how much of a burden it is and suddenly the metro doesn't seem so bad! Not to mention, there are plenty of affordable public transit options that are often quicker than sitting in NYC traffic anyway.
But if you MUST drive, here's a helpful guide with everything you'll need to know on where to park in NYC.
Before we dive into how to find parking in NYC, we are going to first break down a few common questions for those unfamiliar as well as a few stats of what it's like having a car in New York City.
We get that sometimes you may NEED a car in the city, but there are some folks who may be considering it and just don't know what having a car in NYC is like, which is why we are trying to make this guide for parking in NYC as helpful as possible of what it's like as a local.
How Hard is it to Park in NYC?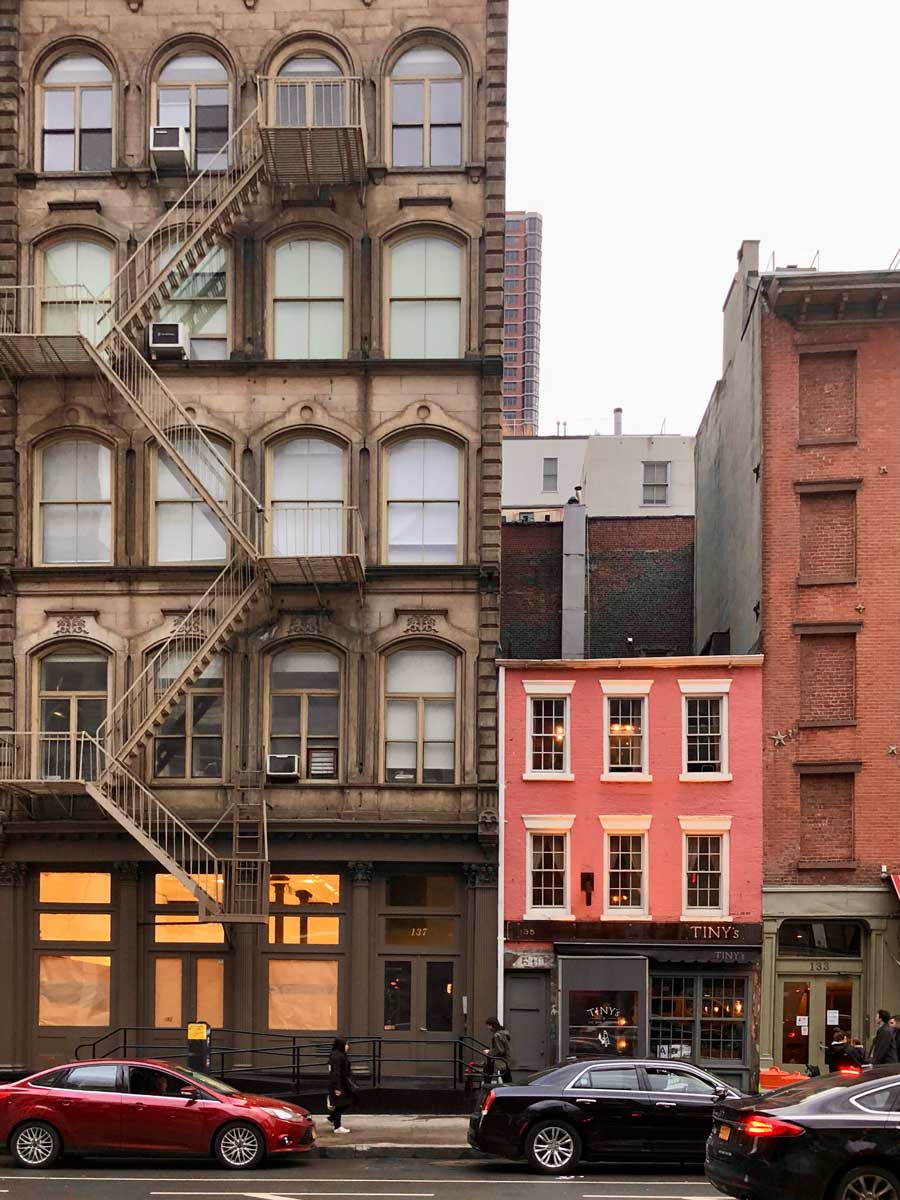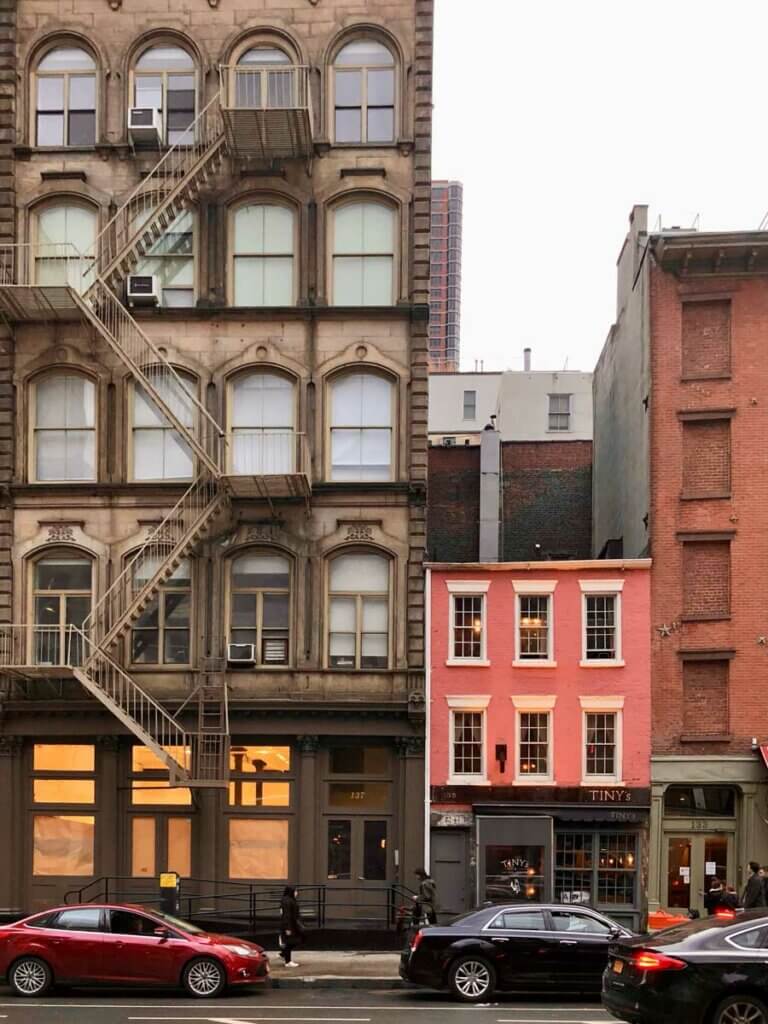 Do you want to go insane? Because you'll feel like you might. Sounds dramatic, but parking in NYC is a bee with an itch. This is why we highly encourage you NOT to bring a car into the city unless you have the patience of a saint or have plenty of time on your hands!
You might be visiting and even include parking in your trip budget, but then, are you willing to give up the time it takes to deal with parking in New York City?
Have you driven a car in NYC previously, and you're back for more? You just might be a glutton for punishment. Especially if you're visiting from out of town and not used to driving in the city. Oftentimes, it's quicker to take public transportation anyways because there always seems to be traffic.
The Hard Numbers on Driving in New York City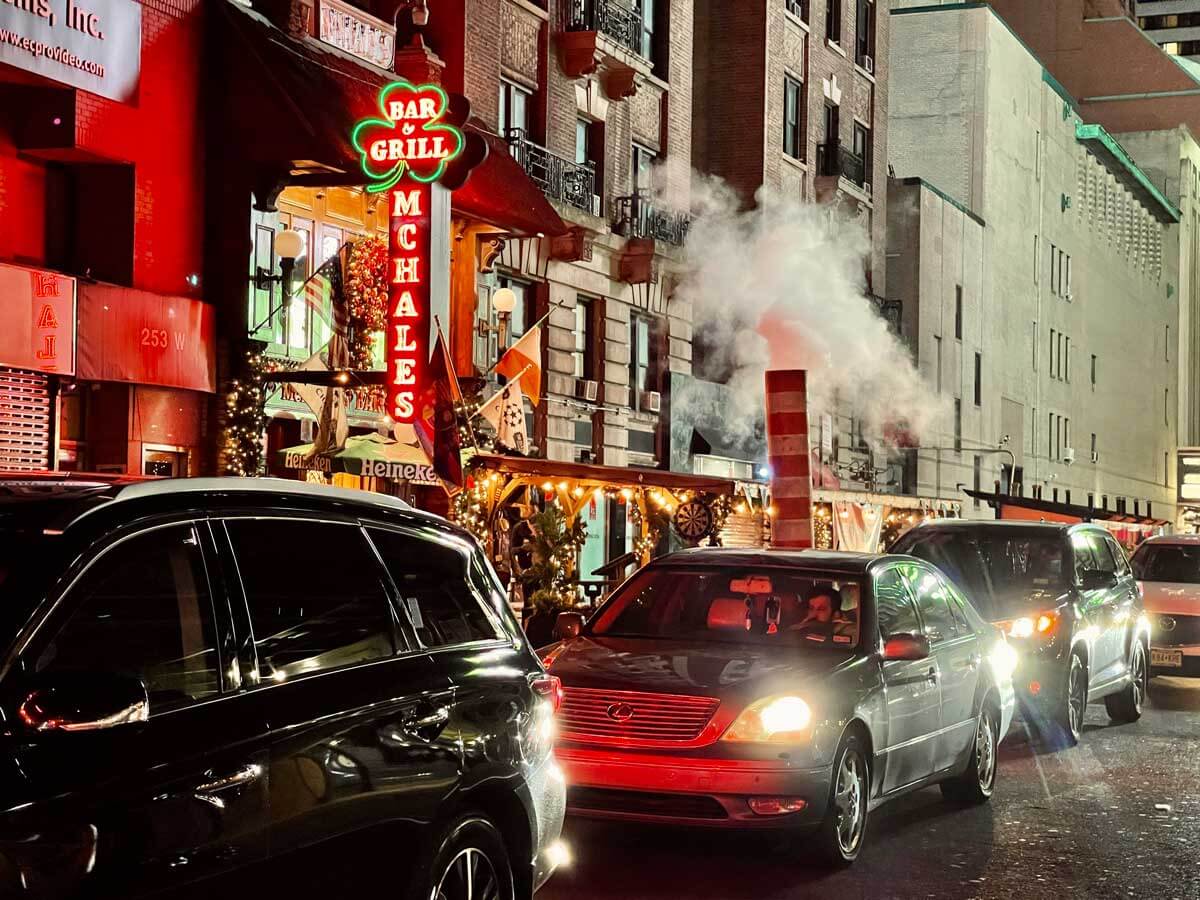 Ok, but seriously, here are some stats. There are 2 million cars in NYC by residents now. There are 8.5 million people who live in NYC, plus the countless visitors coming in daily. Also, there are only 189,000 on-street parking spots available in Manhattan with only 139,000 parking garage spots in Manhattan.
Take it from a couple of vetted New Yorkers, finding parking in NYC isn't easy. Free parking is nearly impossible to get. And if you do get it, good on you! Now go play the lottery. Most drivers will spend hours circling in stressful traffic and come up empty-handed.
You'll just use a parking garage, right? If they're available, they can be pricey and you may show up to only find it full if you don't plan ahead. Also, unlike most places, many hotels don't even have a parking option for guests. When they do, it usually comes at a high price tag, because spaces are very limited. Then you're left once again circling the block to find an open garage.
This can ruin your time and possibly your vacation. Keeping in mind, Manhattan will be the hardest place to find parking, especially during holidays and long weekends, when most people visit. You might have better luck in some residential neighborhoods in the outer boroughs, but don't you can't count on that.
So, we highly recommend NOT bringing a car into NYC. But we understand that for some, public transit may not be an option. If you must, this parking in NYC guide is for you.
Parking in NYC: Hotels
Let's say you've booked your visit to NYC and you're staying at a highly-rated Midtown hotel. Don't expect your hotel to have valet parking, or any kind of lot available at all. Very few New York City hotels have parking, and the ones that do charge high fees since the spaces are very limited.
If you're staying in a hotel and wonder how to find parking in NYC, book a hotel that offers parking in its list of amenities. We suggest looking for a hotel in Manhattan near the things you want to do.
That's because, even if you bring your car, you won't be using it! We'll explain…
Read the Fine Print
To begin with, it's a mistake to assume "parking onsite" means that it's actually onsite. That just means that they offer access to dependable parking within a convenient distance from your hotel. In pretty much all cases, hotels with parking are using third-party garages, which you'll find all over NYC.
However, that means that you'll have to carry any luggage to your hotel, even if it's just next door. Some luxury hotels offer valet service to an external garage nearby for an additional fee.
Also, don't assume that hotel parking is free. There should be a fee per night. This price is usually a discounted rate from what the garage offers to the public, or you get a discount with validation at concierge services.
We've found that this rate can range anywhere between $15 and $90 a night, depending on the hotel and its location! If you have an SUV, it usually costs you more because they can't fit in compact spaces.
It's important to note that garages usually don't include in/out privileges. This means you'll check in your car and leaving it there. This is super convenient for some, but others may be tempted to check out their car for the day. Don't, because garages fill up FAST every day.
Purchasing parking with your stay will hold your reservation for the day of your arrival, but if you remove your car, you're not guaranteed a slot coming back.
Finally, pay attention to when you check in and out. Most lots are on a 24-hour cycle. If your garage ticket says 10 AM, you'll want to check out by 9:59 AM the day you leave! The last thing you want to deal with after a dreamy trip to NYC is an annoying charge for an extra day of car storage. That can really add up!
New York City Hotels with Parking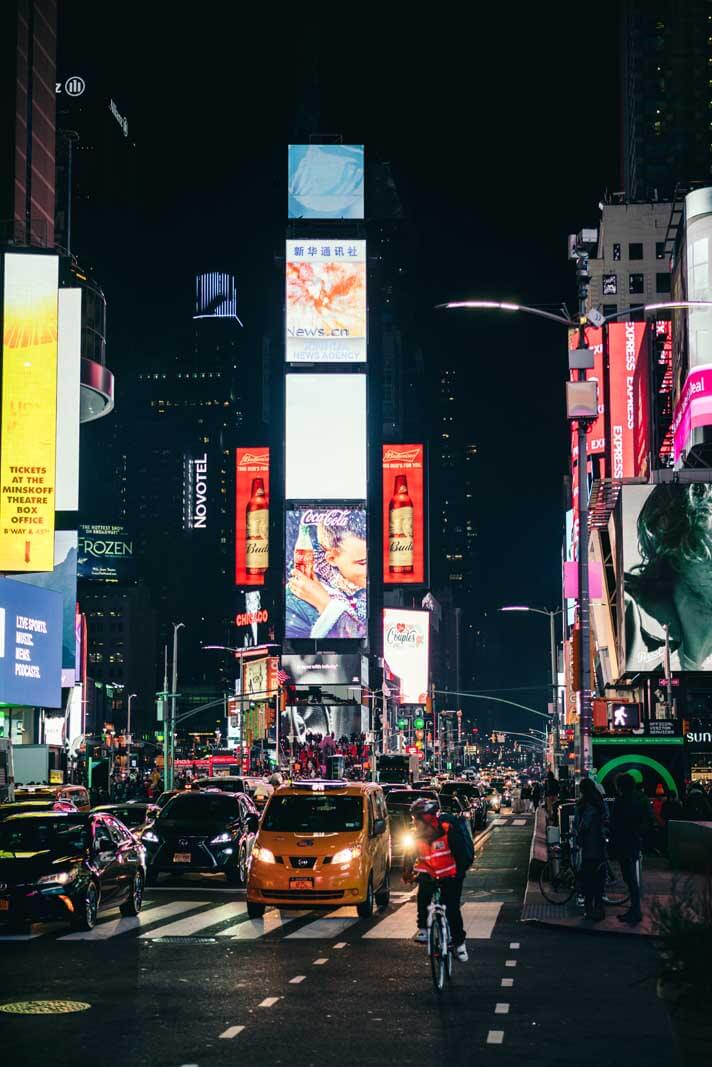 If all of this sounds reasonable to you, you're in luck! NYC has several hotels that work with garages to offer you overnight parking for your stay. Basically, you'll park your car in the garage and leave your information with the attendant at the desk near the entrance. As a guest of the hotel, you'll pay your combined nightly fees for parking along with the rest of your hotel bill.
Unless otherwise stated, each garage below only offers self-parking, and none offer in/out privileges.
Carnegie Hotel
If you want to be in Midtown near Central Park and across the street from Carnegie Hall, stay at Carnegie Hotel on W 56th Street, near 7th Avenue. The hotel works with a GMC Parking garage just next door, where you'll self-park. It's $62 per night and $77 for SUVs.
The Westin New York at Times Square
Book a room at the Westin New York to be close to the hustle and bustle of Times Square! Located on the corner of W 43rd Street and 8th Avenue, you're just a block from the iconic tourist hub and all the cool things to do in Times Square.
They offer self-parking for $50 a night, and $68 a night for valet parking. SUVs are $75 for both. The hotel uses an ICON parking garage across W 43rd Street, and The Westin New York Times Square will validate your ticket for a discounted rate.
Hilton Garden Inn New York
The Hilton Garden Inn on W 35th Street is steps away from 7th Avenue and Herald Square in Midtown South. You'll self-park at an ICON Parking garage around the block, behind the hotel on W 36th Street. It's $57 per night, plus $20 a night for SUVs.
Moxy NYC Chelsea
You'll find Moxy NYC Chelsea on W 28th Street between 6th and 7th Avenue in Chelsea. The trendy hotel only has valet parking for $75 a night and $85 for SUVs. Just hand over your keys in front of the hotel, send your luggage up ahead of you, and the attendant will drive your car to an iPark garage 2 blocks away on W 28th Street.
Holiday Inn Manhattan-Financial District
The Holiday Inn Manhattan-Financial District is on a quiet section of Rector Street between Washington Street and Greenwich Street, in the heart of the Financial District in Lower Manhattan. You'll pay $50 a night for self-parking, and the hotel offers validation for a discount. To guarantee a smooth trip for you, the Holiday Inn works with 2 offsite garages within a quarter of a mile of your hotel.
Hotel Le Jolie (Brooklyn)
If you're happy picking a hotel in Brooklyn, Hotel Le Jolie offers complimentary parking for guests in Williamsburg. What's great about this option for where to stay in NYC with parking is that Williamsburg is only a subway stop away from Manhattan on the L Train and this is a great affordable hotel in New York City too.
This boutique hotel has great rooms, and a complimentary continental breakfast, plus you're near all the cool things to do in Williamsburg including the excellent dining scene in this neighborhood.
Hotel Parking in NYC is Best For:
Go with hotel parking in New York City if you're driving in and plan on exploring the city without your car. You should also be comfortable with carrying your luggage to and from your hotel.
Just drop off your car and forget about it! Then you have the entire city to explore on foot, no worries about looking for parking spots all over the 5 boroughs.
But make sure to check your receipt at the end of your stay to make sure you were charged properly for parking.
Parking in NYC: Parking Garages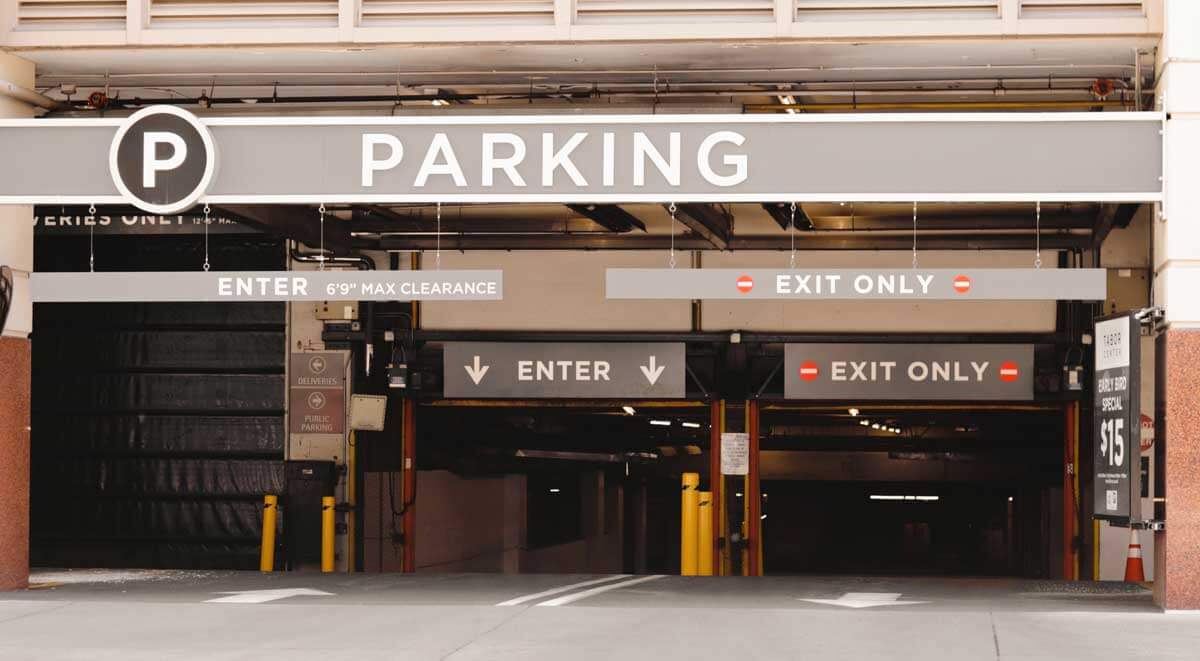 This is your BEST bet for where to park in NYC. Experienced New York City drivers understand this experience. Either you've been sitting in surprise traffic for way too long, or you've been circling the block for way too long, and now you're late.
This has taken up way too much of your time! This is truly when your car starts to feel like a weight pulling you down. So, what do you do? You cave and look for a garage.
There's one on practically every block in Manhattan (and in Williamsburg and Downtown Brooklyn). You might have to pay a mind-blowing hourly rate because you waited until last minute. BUT when you finally see a garage with a welcoming attendant and no FULL LOT sign out front, it feels oh, so sweet!
At this point, you're ready to hand over all your money. But there are definitely some pros and cons you need to know about when using a parking garage in NYC.
Pros and Cons of NYC Parking Garages
There are hundreds of lots across the city, and prices are very competitive. But most garages offer early bird specials, which will save you a lot of money (and are worth it).
For example, if you get to the garage before 10 AM and leave by 8 PM, you'll pay $20 to $40 for up to 12 hours. But that's so much nicer than arriving later and paying $20 for an hour!
Then again, you can literally drive up to a garage you've researched online and it will have a sign out front stating that the garage is full. It happens a lot. It's always going to be hard to find one that's not full if you don't plan ahead. For your peace of mind, download an app that books a garage reservation before your arrival.
Use an App to Park Your Car in NYC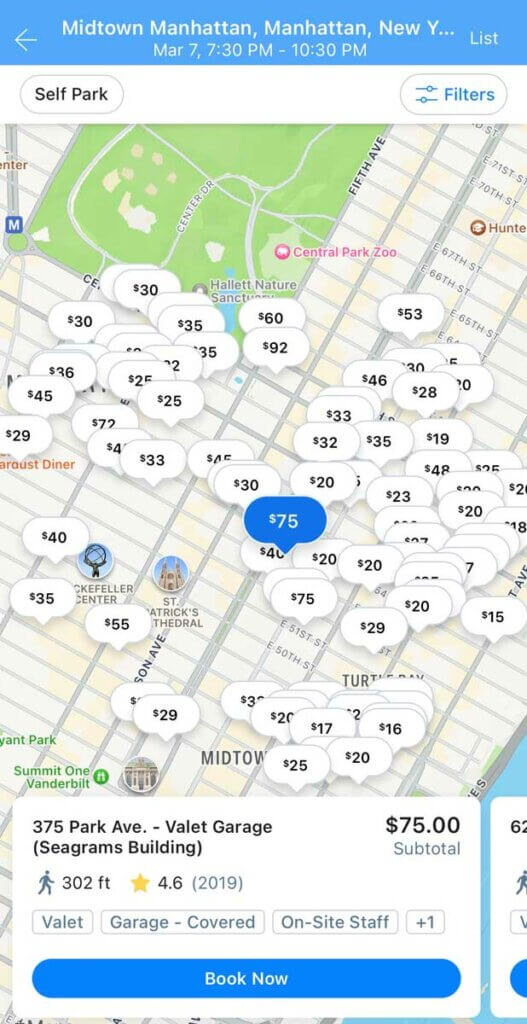 If you're willing to park in a garage, you have options. You can use an app to pay ahead of time and you'll be guaranteed a spot when you get there! These allow you to shop for the closest thing to discount parking in NYC.
The most popular apps are ones like Spot Hero and ParkWhiz which allow you to see the lowest prices at parking garages on a map and can sometimes be the cheapest parking in NYC. They're easy to use and you can find something in a decent hourly rate wherever you're heading. Some people use them last minute to find available spots around them, while others plan parking where they're going within 24 or 48 hours.
Specifically in New York, Icon Parking Systems and iPark have their own apps that work a lot like both Spot Hero and ParkWhiz. If you want to go with a trusted NYC brand, you can peruse a map with rates just for Icon Parking or iPark garages. Native New Yorkers also use these kinds of apps to find the best monthly rates.
Each garage should also include a picture of the location so you know what to look for. And you'll be able to read descriptions so you know if the garage can fit trucks and SUVs or if they're self-park or valet-only.
Here's how to use these apps: Open up the map and look at the area in NYC that you want to park. Compare the map of garages with info like prices, ratings, and garage descriptions. You can even compare with other parking apps to make sure you're getting the best rate. When you book your spot, make sure to read all the instructions. For example, don't arrive before your reservation or you'll probably end up paying more!
The biggest concern with new users is that you'll book and pay for your spot, show up, and the garage will say they never got your reservation! That's usually a problem with poorly rated garages, not the app itself.
And if that ever happens to you, the above apps are known for their great customer service and or help you out of a jam if this does happen helping you find a new place for where to park in NYC last minute if this happens.
NYC Attractions with Parking Garages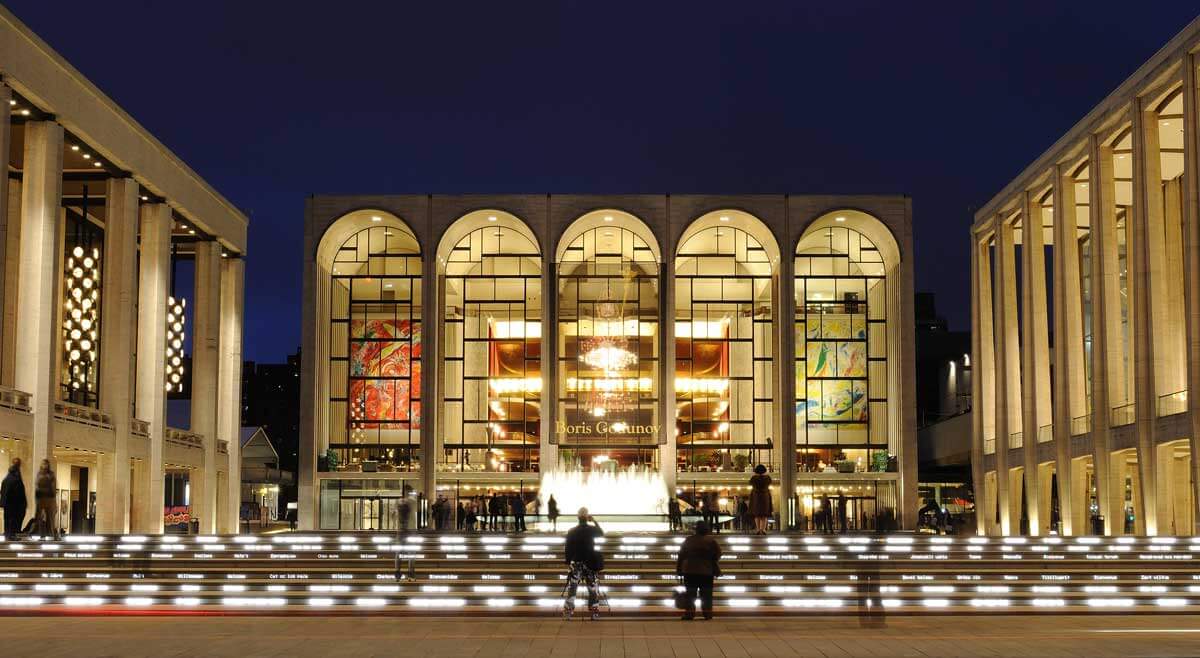 While parking spots at the most popular things to do in NYC and attractions are always limited, you might be pleasantly surprised to know that some of them have parking garages! And these garages are on the most popular apps. Just a few of the attractions can be found below:
The Lincoln Center, Manhattan
Museum of Natural History, Manhattan
Metropolitan Museum of Art, Manhattan
New York Botanical Garden, Bronx
Yankee Stadium, Bronx
You might find it's worth parking a block or 2 away from these major sites so you can get a cheaper rate, but some of them actually have pretty reasonable rates for NYC. Just keep in mind that some locations, like Lincoln Center and Yankee Stadium, usually increase rates for event nights.
Garage Parking in NYC is Best For:
Honestly, garage parking in NYC is best for anyone who doesn't want to end up crying in their car. It's truly your best chance at finding parking in NYC, especially in Manhattan! You'll have the best experience if you download an easy-to-use app. You have to be realistic about what you'll pay, but these apps are also your best chance to get a great discounted rate.
Parking in NYC: Street & City Parking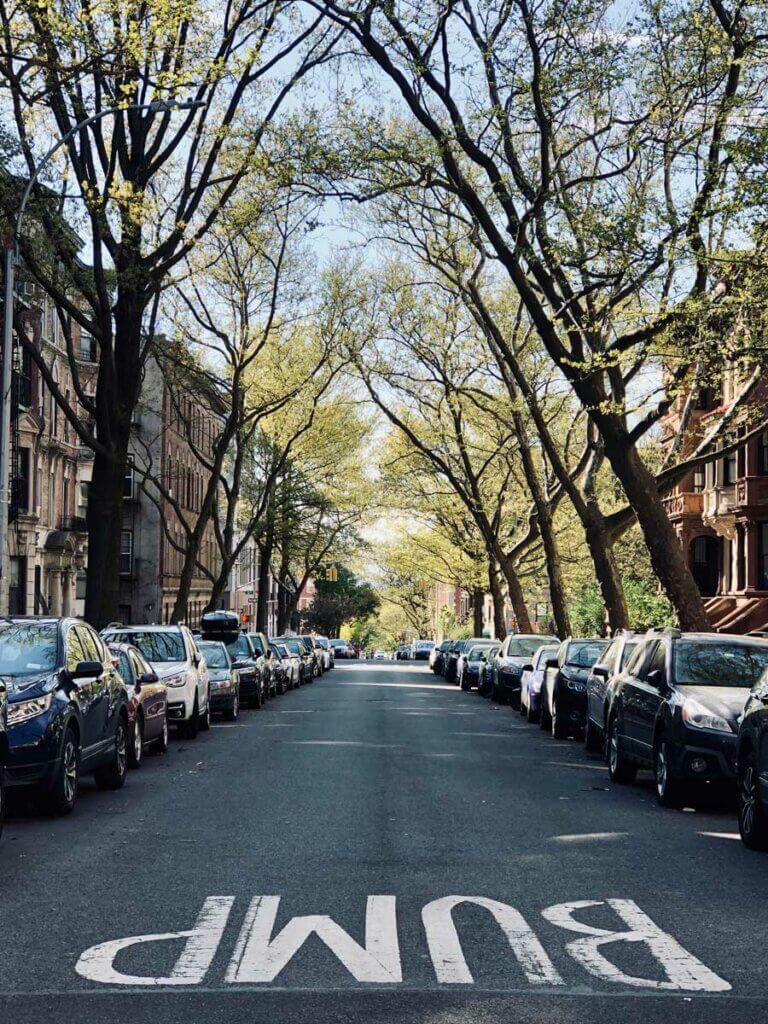 In New York City, people will literally fight over parking spots. They'll sit in their car every week during street sweeping to only move when the street sweeper goes by to NOT lose their spot! And did you know that residents will literally plan their week around alternate side parking? It's just something you have to do sometimes if you want to own a car in the city.
Yes, street parking is the best chance to get free parking, but you're little nuts if you want to try. There are lots of rules and even then, you may end up being one of the ones circling the block. But here are the tips if you must do this.
What is Alternate Side Parking?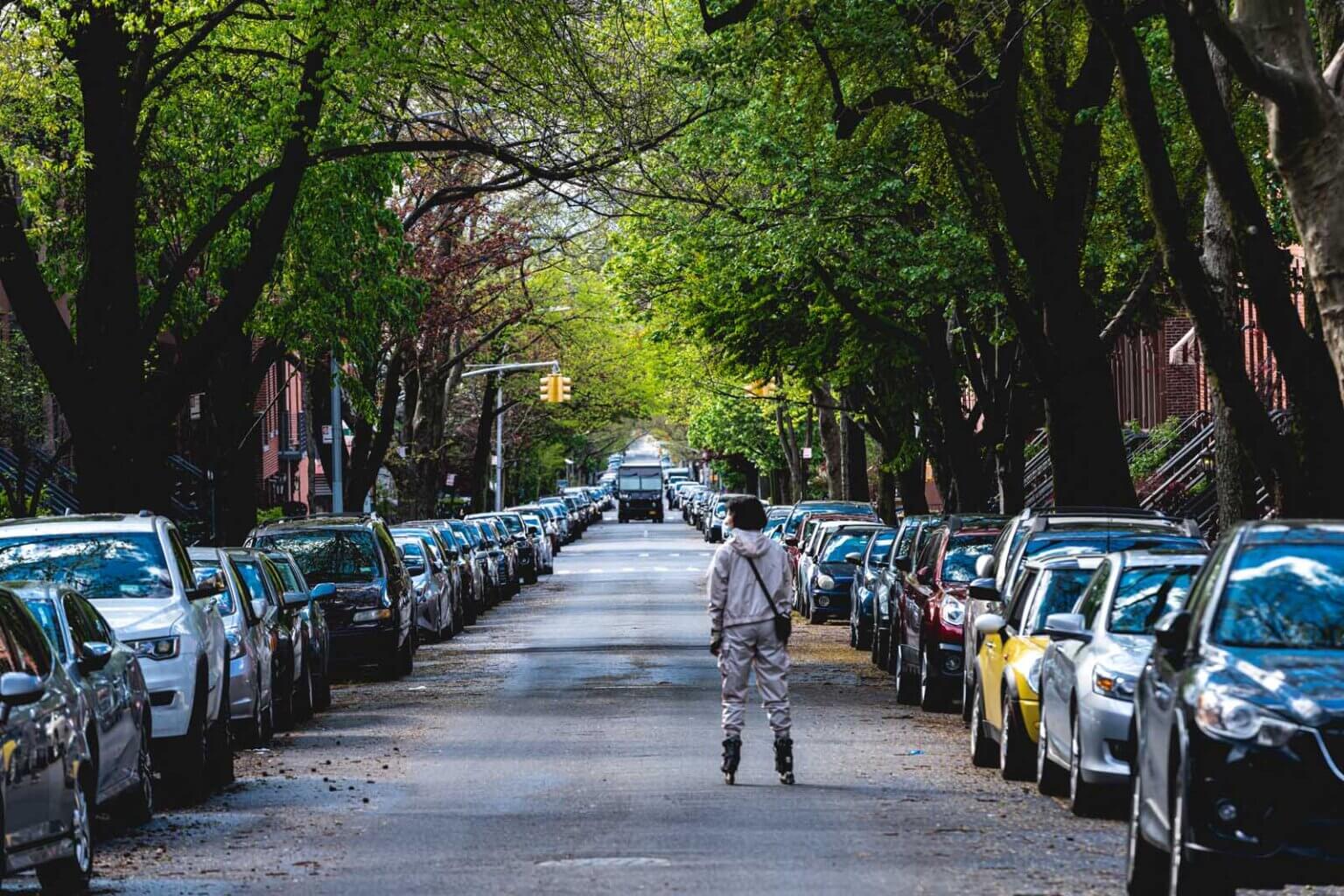 Alternate side parking is officially an NYC traffic law that dictates what side of the street you can park on each day of the week and at specific times during the day.
For most streets, these times primarily depend on street cleaning, and that's what most New Yorkers refer to when they say "alternate side parking." But other limitations under this law include commercial parking, bus stops zones, metered parking, and more. Read a bit about these signs below.
Street Cleaning Signs
The main thing to look out for are street cleaning signs, which will include the image of a broom over the letter 'P' for 'parking.' There will be different signs on each side of the street. Pay attention to the day and time noted, which is usually something like Wednesday, 8:30-10 AM. This is when you can't park there to allow for street cleaning vehicles to come through. If you do, you risk getting a parking ticket.
No Parking and No Standing Signs
You might a red and white sign that says "No Parking Anytime' or 'No Standing Anytime.' There's also a version with specific times and days that parking or standing isn't allowed. These signs are usually in high-traffic areas and it's not worth it to even stop your car on the curb. They're intended to help with the flow of traffic and are usually closely monitored by traffic patrols.
Bus Stop Signs
NYC commercial bus stop signs designate a large zone that you can't park, stand, or stop in without risking a ticket. A bus stop zone is where a bus pulls in to pick up passengers safely. It will include a pole with a round sign on top with an image of a bus, an arrow, and route information. Whichever direction the arrow points, the bus stop zone extends that direction until the next street parking sign.
Taxi Stand/Commercial Vehicle Signs
These signs include taxi stand signs and commercial vehicle-only signs. They usually include allotments of time that cover regular business hours when a private car can't park or stand there.
School Zone Signs
The general rule is that you can't park in a school zone on school days (or even on teacher training days). These red and white signs will include times that a school zone is active each day, as well as arrows. Whichever way the arrow points, the school zone continues until the next school zone sign with an arrow pointing the opposite direction. You can't park in a school zone during active hours.
Metered Parking in NYC
If you're looking for cheap parking in NYC, metered parking is a decent short-term option. But there are rules. And be aware that not all metered parking is the same. While you can find $.25 for 15 minutes in parts of Brooklyn, you might end up paying $5 for 15 minutes in much of Manhattan!
The key to understanding metered parking is that you pay in quarter-hour increments during certain times and days of the week. This is usually for 1- to 2-hour increments or even up to 12 hours in some areas. Metered parking zones are also subject to street cleaning or commercial parking zones, so look for those times too.
Metered parking signs will have times noted. So, if you see a 2 in the left-hand corner, you have 2 hours before you have to move your car or pay the meter more for parking.
The meter gives you a receipt and you leave it in a visible spot on your dashboard. Meters for parking in NYC are supposed to take coins, dollar bills, and credit cards. However, meters are often broken. Don't think this means you aren't responsible to pay you're your parking! In most cases, the easiest thing to do is use the new ParkNYC app.
Newer signs also have zone codes on them. This is for the app. You create an account and add money, then enter the zone you're in and pay in quarter-hour increments.
It's a lot like using the meter, but it's more convenient in many ways. You'll even get notifications when your time is almost up so you can buy more time if you wish. Just keep in mind that with the app, you'll pay a user fee.
Tips to Avoid Tickets
Here are a few general rules to avoid getting a headache in the form of a ticket or tow while visiting and trying to find where to park in NYC:
Double-check alternate side parking rules on your street, and then double-check for any additional signs
Make sure your metered parking receipt is in a visible spot on the driver's side of your dashboard
Never double-park, even if everyone else is doing it
Never park within 15 feet of a fire hydrant
Keep in mind that you can get towed anywhere in NYC for not parking legally, not just in front of fire hydrants
Think Ahead to Find Free Parking in NYC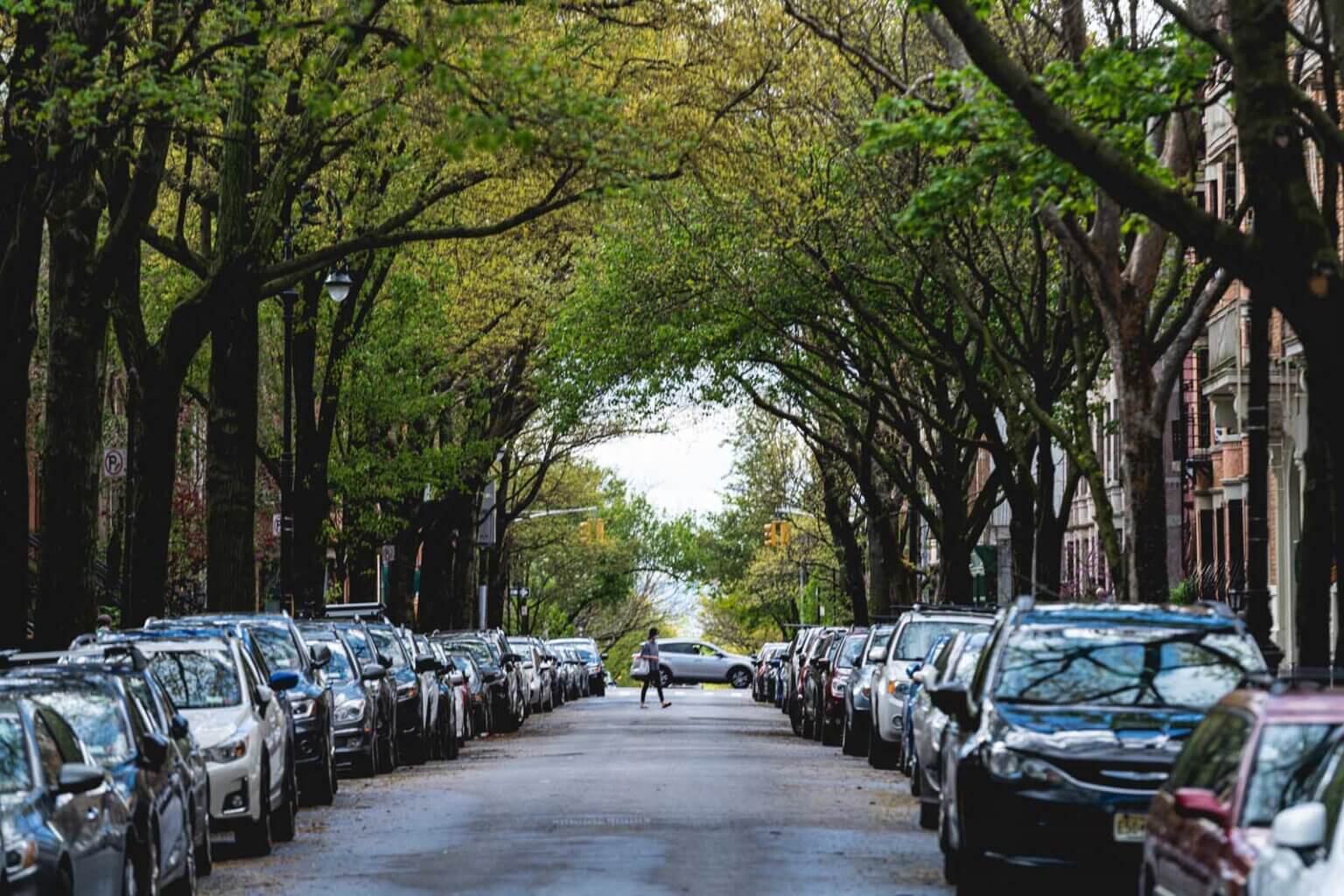 If you're wondering where to park in NYC for free, you probably like a good challenge. There's never going to be free parking all the time anywhere in NYC these days. But if you do a little strategic planning, you (and everyone and their uncle) can find free parking in NYC.
The easiest way to get a free parking spot is to park in a metered parking zone after hours, on Sundays, or on holidays. Unless there are other signs, commercial parking, and school zones are free after the hours noted on each sign. And there are a few ways to find a list of holidays when alternate parking rules are suspended:
By calling 311
Checking the NYC.gov Alternate Side Parking Calendar for holidays
You can also check out the interactive map at NYCDOT.gov, where you can check street by street to see live alternate-side parking signs and information. This website might be the best option for people interested in booking a vacation rental in NYC or who are driving in to stay with family in NYC.
Street Parking in NYC is Best For:
Flexible people with a lot of patience and awareness of their surroundings! If you aren't positive you know what a sign means for you, just don't park there. But if you're willing to move your car daily, or if you need overnight parking, street parking might work for you.
Parking in NYC: Park & Ride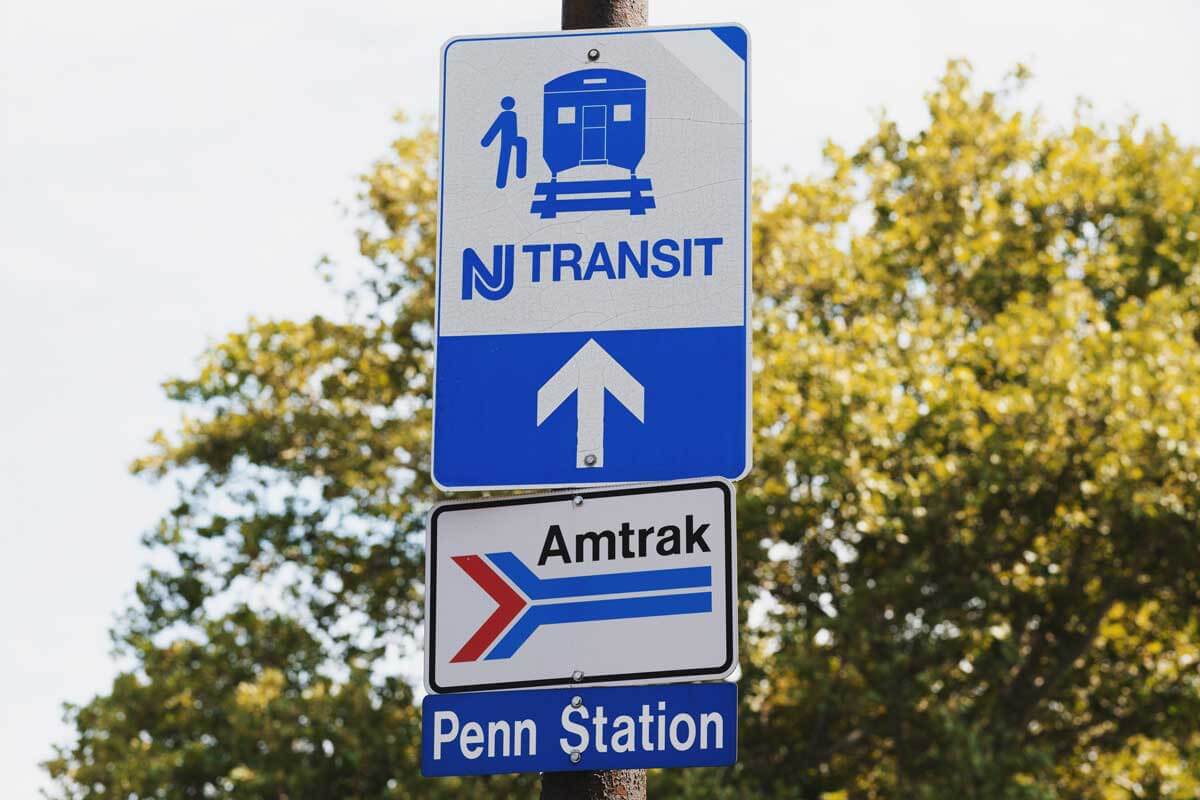 If you're coming into New York City via NJ Transit, Metro North, or Long Island Railroad (LIRR) and are looking for where to park in NYC, a Park & Ride location is a wonderful option. You can find them at most train stations in New Jersey, Connecticut, and Long Island. Then it's just an easy train ride into New York City for the day!
These parking lots are free! Most are covered, though many are open to the elements. Some offer overnight parking, while others only allow for day parking. They vary in size and are first-come, first served, but they maybe a great option if you're visiting for the day or the weekend.
Park & Ride is a great alternative to parking in NYC, which can be very hard to find. You can still drive close by, but don't have to worry about fighting for a spot with 8.5 million other people.
Just double-check your train schedule if you park at a day a parking-only lot. You don't want to get stuck overnight in the city!
Park & Ride is Best For:
Park & Ride is best for those visiting from around the tri-state area for a short time, like a day or a weekend. The New York Park & Ride website will have info for each lot or garage so you know if you can park overnight.
Where to Park in NYC Summary & FAQ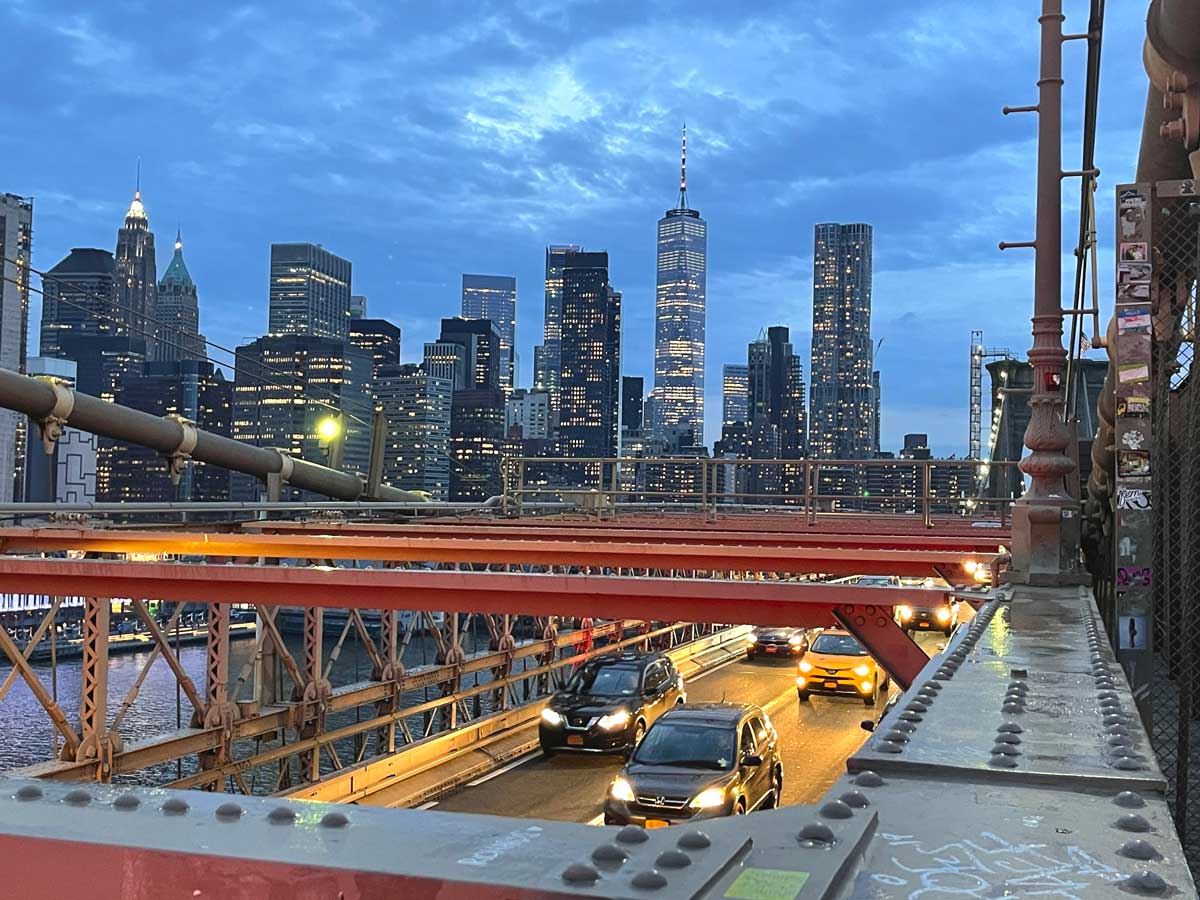 Where can I park a car in NYC?
There are many options for where to park a car in NYC including street parking, parking garages, parking meters by the hour, parking at famous NYC attractions, and Park & Ride options where you can park and take a train into the city.
Is there any free parking in NYC?
There are free parking spots in NYC if you are lucky enough to find parking on a residential street. These parking spots are very difficult to come by, especially in Manhattan. New York City meters are also free to park at on Sundays and certain holidays.
How much does it cost to park in NYC?
Parking costs in NYC vary depending on where you're parking. Meters charge by the hour and range from $1.25 to $8.00 an hour. Parking garages in NYC are also another option and can range from $20 – $90 a day or overnight.
How can I find cheap parking in NYC?
Cheap parking in NYC is likely found through discounts by using apps like SpotHero and ParkWhiz to help you find available parking spots at a lower rate or by booking in advance with a parking garage. Another option for cheap parking in NYC is to park your car at more affordable parking garages near places like Yankee Stadium in the Bronx and then take the subway to get to Midtown.