Looking for the best parks in Brooklyn? Just because you're in the urban jungle doesn't mean you can't find some incredible green spaces that make you feel like you've escaped the city for a natural oasis.
Check out the 22 best parks in Brooklyn, yes there are at least 22, which is sort of mind boggling if you ask us, where you can play, picnic, and enjoy some of the best views of New York City.
Best Parks in Brooklyn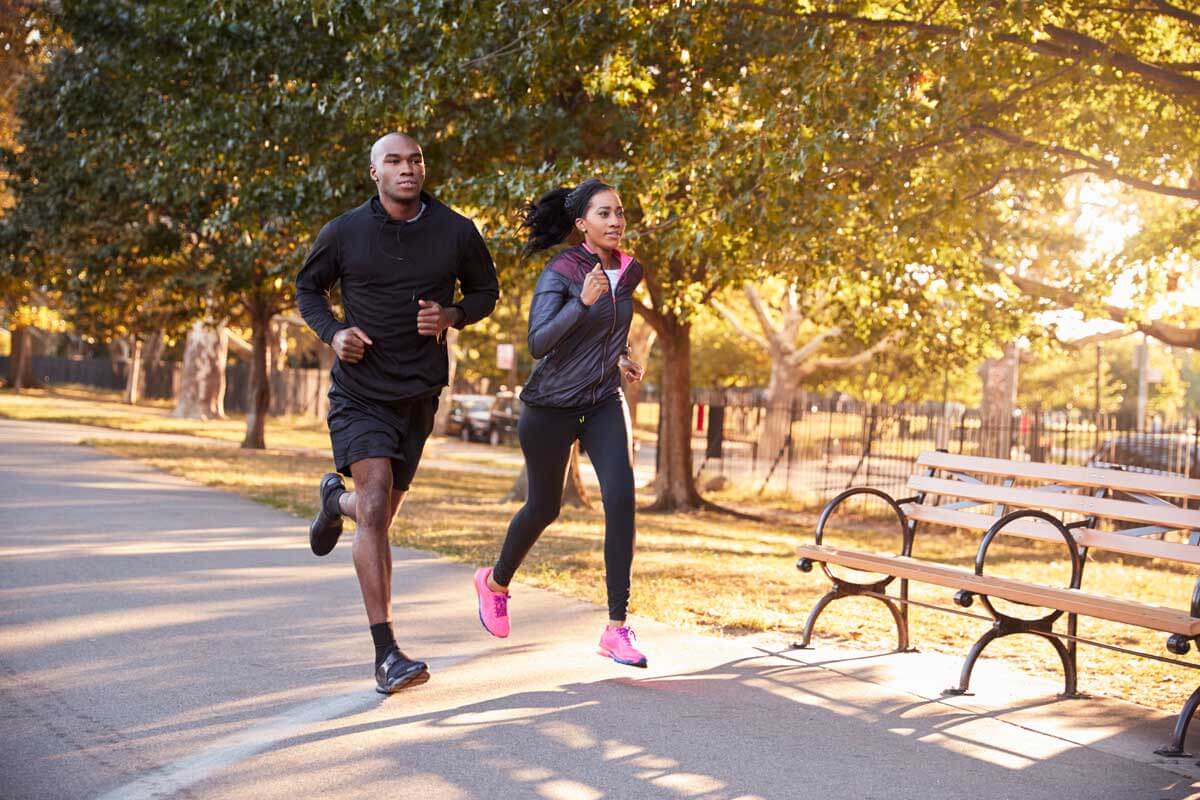 1. Prospect Park
For the person that feels like New York City is a concrete jungle, Prospect Park offers a green oasis. It was designed by the team that created Manhattan's Central Park and they have made Prospect Park a fantastic hangout spot for lovers of green spaces and an ideal place to go for a run or ride a bicycle or gather your friends as its one of the best picnic spots in Brooklyn as well as bathe in the sun after a meal.
The park is not only a recreational center but also hosts the Prospect Park Zoo, Brooklyn Botanic Garden, Grand Army Plaza, Brooklyn Museum, Litchfield Villa and the Boathouse to name a few. Believe it or not, Prospect Park isn't actually the biggest park in Brooklyn, it's the second-largest behind Marine Park.
See all the best Prospect Park activities in our full guide and where you can find some of the best walks in Brooklyn!
While you're here, don't miss the several NYC waterfalls located within the park! There's even a waterfall hiking trail that goes past several waterfalls right here in Prospect Park including the Ravine which was designed to mimic the landscape in the Adirondack Mountains in Upstate New York.
Also, the history of Prospect Park is also fascinating!
2. Brooklyn Bridge Park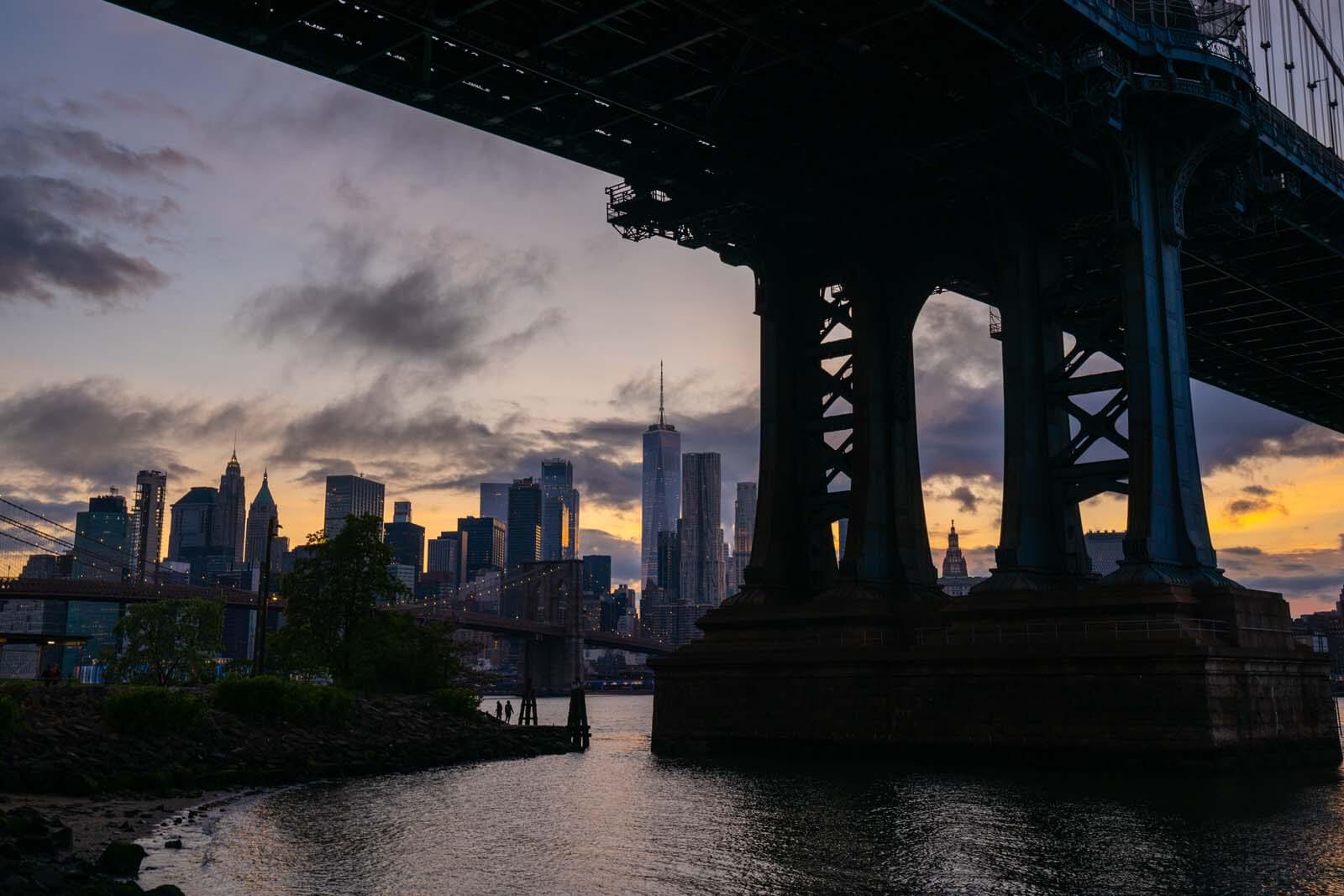 One of the most amazing and popular parks in Brooklyn is Brooklyn Bridge Park. Situated on the East River overlooking some of the best views of the Manhattan skyline.
Better yet, Brooklyn Bridge Park is also where you can catch some of the best-unobstructed views of not only the historic and iconic Brooklyn Bridge but also the Manhattan Bridge.
Rent or ride your own bike, walk along the paths, picnic, play ball with a friend on the courts on the piers, or just sit along the rocks along the water for some of the best free views the city has to offer.
Be sure to ride the historic Jane's Carousel here or if you get hungry stop at the Time Out Market New York and Empire Stores next to the park.
Also while you're here check out the Stained Glass House which was designed by a famous New York City sculptor named Tom Fruin, one of our top Instagram spots in Brooklyn to check out.
Read Next: Best Instagram Spots in DUMBO
3. Sunset Park
This gorgeous park in Brooklyn shares a name with Sunset Park, the neighborhood in which it is located, a little confusing, I know.
Children enjoy spending the day here as it has a large swimming pool, a playground, and a recreational center where there's no shortage of having fun. Another great reason to visit this park in Brooklyn is to marvel at the magnificent views of Manhattan harbor and the incredible views of the Statue of Liberty offered here.
If you are hungry after spending a day of fun in Sunset Park, head on over to Chinatown where you can get a delicious Chinese meal at a good price.
4. Domino Park

Situated along the East River on Williamsburg's waterfront, Domino Park is one of the newer parks in Brooklyn. The location of this park was where to old Domino Sugar Refinery was located and the park carries the name on in honor.
In fact, visitors to the park can still see some of the old factory equipment that has been left on display and used as a sort of urban jungle gym.
This is a dog-friendly park in Brooklyn and it even has a special area for Fido and friends. Domino Park also has a separate playground for children. If you are looking for fun you can play volleyball and bocce and if you get hungry you can get delicious tacos at the stand closeby.
The park was designed by the same mastermind behind the High-Line in Chelsea.
After you've enjoyed this park in Brooklyn you can walk across the Williamsburg Bridge for a unique vantage point and scenic journey over to Manhattan.
Read Next: Awesome Things to do in Williamsburg Guide
5. Green-Wood Cemetery

Located between Greenwood Heights, South Slope/Park Slope, Fort Hamilton, and Sunset Park lies Green-Wood Cemetery; an unusually popular space that has become one of the unofficial parks in Brooklyn.
Built in 1838, Green-Wood Cemetery started out as a rural cemetery but over the years had to take up more space to cater to the guests it was receiving. Since that time people have created beautiful spaces to bury their loved ones and the cemetery is visited by people from all over the city.
Green-Wood Cemetery is a National Historic Landmark and is listed in the National Register of Historic Places. Green-Wood Cemetery became popular quickly and was often called Brooklyn's first public park as Prospect Park wasn't created yet.
It became so popular that it inspired the creation to design Central Park, and then Prospect Park. Weave your way through the massive cemetery's winding pathways passing by gravestones of famous figures from war heroes to mobsters in this unconventional and unofficial park in Brooklyn.
6. McCarren Park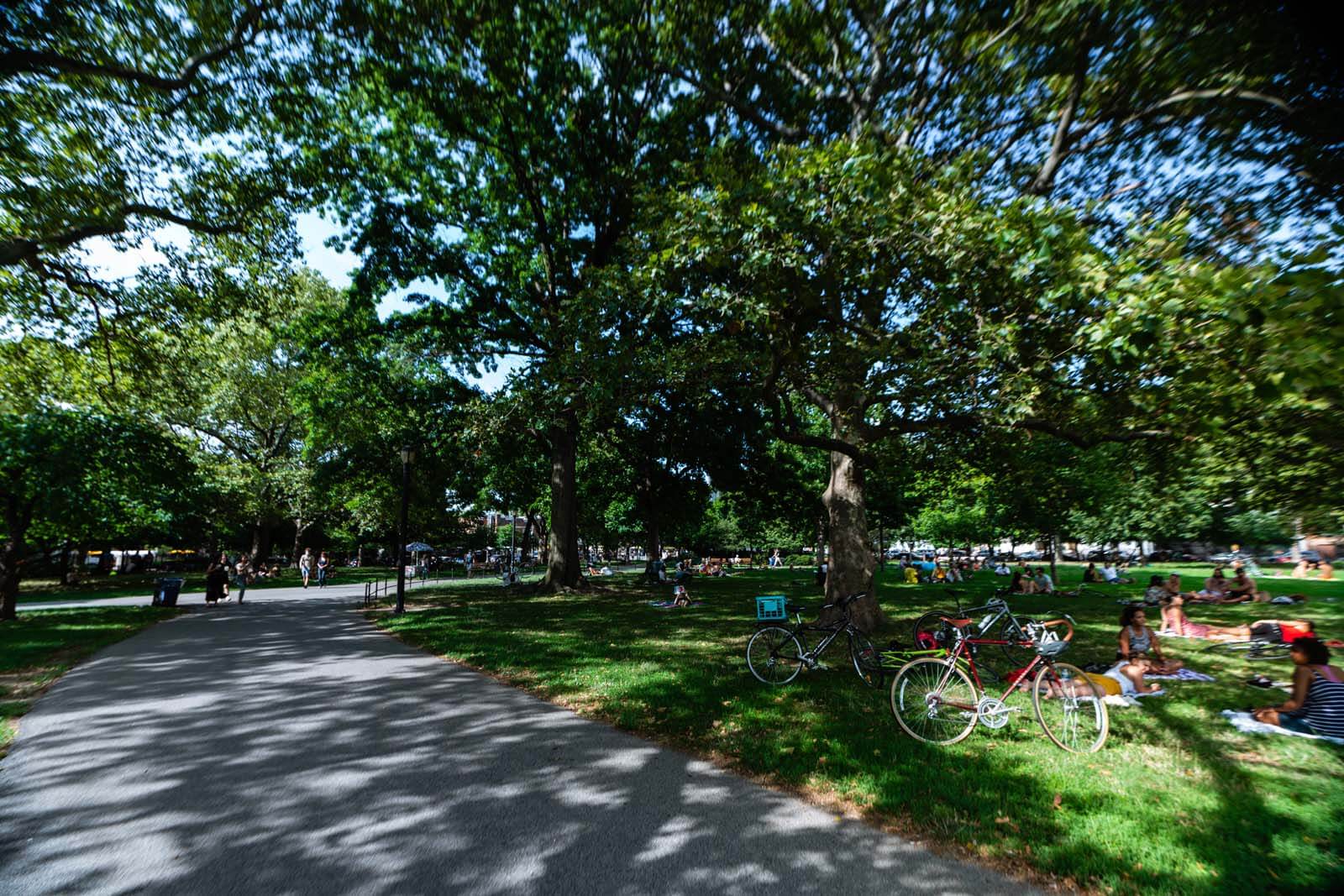 McCarren Park is one of the more popular parks in Brooklyn and can be found between Greenpoint and Williamsburg. The park is known to appeal to outdoor sports lovers and offers facilities for running, playing basketball and handball, softball, volleyball, soccer, and many other open spaces for games and sports.
It is also famous in Brooklyn for its historic swimming pool which was closed for almost 50 years and finally reopened in 2012. Besides being a place for sports, McCarren Park hosts special events like the Renegade Craft Fair, Movies Under The Stars, and Skill Acquisition classes.
7. Manhattan Beach Park
Manhattan Beach Park is a small and quiet beach that is situated near Coney Island, one of the best things to do in Brooklyn.
Although it is now a popular place to go in Brooklyn, Manhattan Beach Park was once one of the more upscale beach resorts and was relatively difficult to have access to. Because of this, the beach is usually less crowded than other beaches in Brooklyn, even in the summer months.
Although Manhattan Beach Park may be one of the best places to read a book and you bathe in the sun, lovers of activity can still have some fun playing outdoor games like basketball, tennis, and baseball.
Be sure to check out all our best picks for beaches in Brooklyn to visit!
8. WNYC Transmitter Park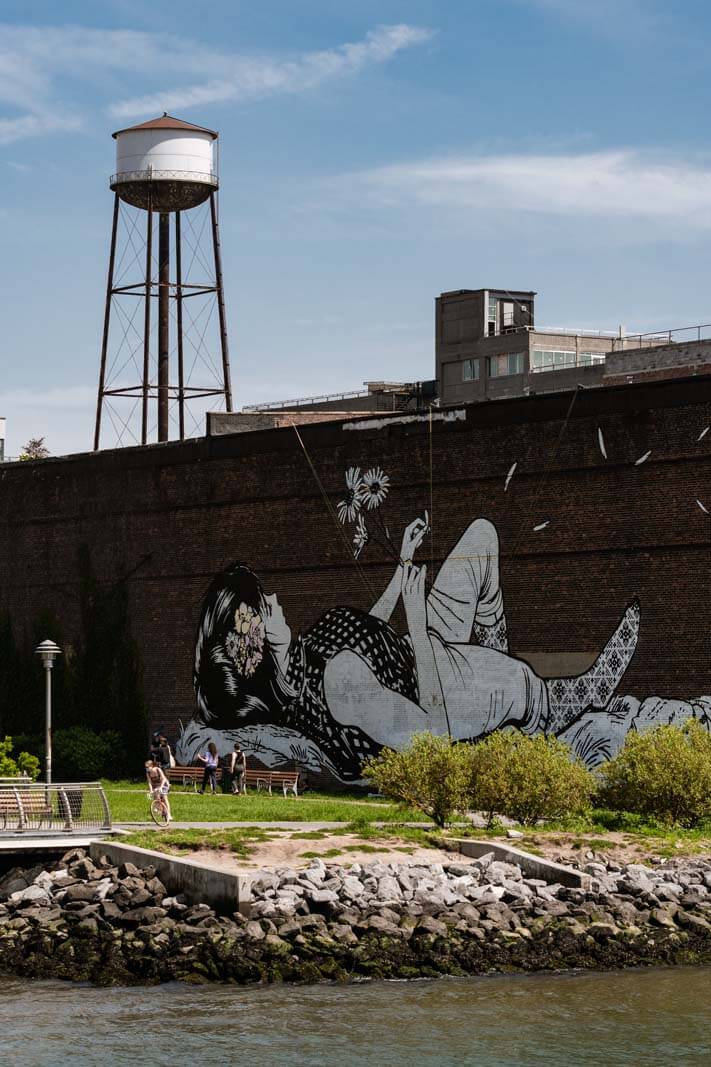 WNYC Transmitter Park is located in between Kent Street and Greenpoint Avenue and was the location of a former WNYC public radio broadcasting station. It was opened in 2012 to cater to the Greenpoint-Williamsburg communities.
Since that time, the park has grown to become a beautiful area where guests can find peace with a nice urban greenspace while also having the opportunity to engage in recreation activities. The park includes an open waterfront area, as well as a seating area for adults.
In the center of the park, children can play on the large, open lawn in a demarcated play space. Like many of the parks in Brooklyn located on the East River, WNYC Transmitter Park offers some of the most stunning views of the Manhattan skyline! There are also cool murals around here too!
Read Next: Best Things to do in Greenpoint
9. Bushwick Inlet Park
View this post on Instagram
Bushwick Inlet Park is another one of Williamsburg's great parks amazing parks in Brooklyn. This green space offers great outdoor options for residents of Brooklyn.
The property the park is built on has been through many changes over the last century; going from a factory to a sewage facility, before becoming a public park. In its pursuit of community activity, the park has numerous facilities like fields for soccer, football, and lacrosse, stands for spectators to sit and cheer players, and a community center that is powered using sustainable electricity and heating through solar panels, geothermal heating, and a green roof.
The park is located on the East River and is planned to expand. There are also amazing views of Manhattan's skyline from here as well.
10. Walt Whitman Park
Located in Downtown Brooklyn, this picturesque park was given its name in honor of one of the most influential writers and poets the country has ever had, who also happened to spend time right here in Brooklyn, Walt Whitman.
A place for quiet enjoyment of beauty, Walt Whitman Park is not furnished with lots of outdoor sports facilities like other parks in Brooklyn do but provide lots of benches on well-tended green space to sit and read, as well as trees to sit under for revelation.
Artists that come for inspiration can find it in the form of Whitman quotes, spread across the park, just one of the many Walt Whitman Brooklyn sites.
11. Brooklyn Botanic Garden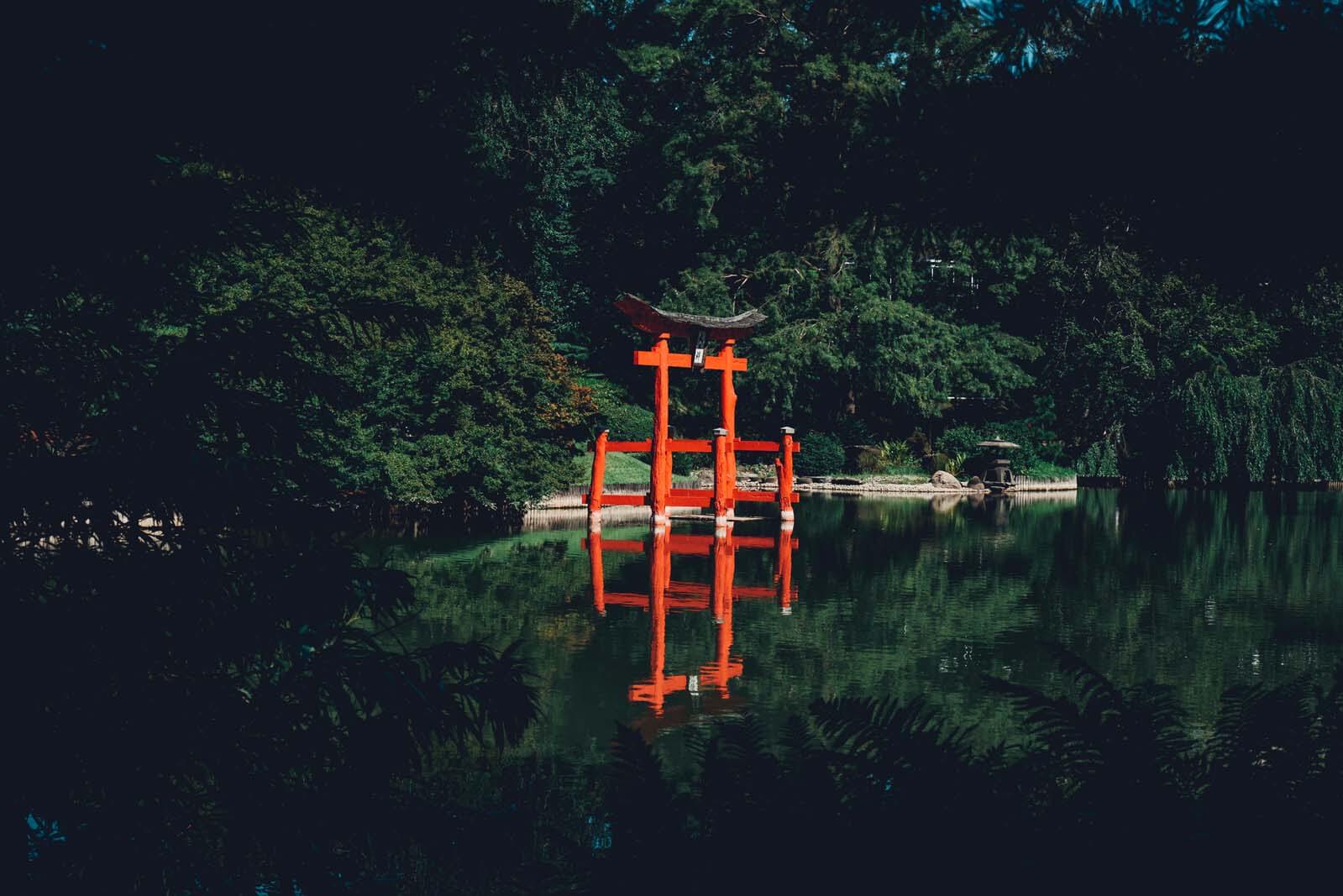 Located within Brooklyn's Prospect Park, and worth mentioning in its own right as one of the best parks in Brooklyn is Brooklyn Botanic Garden. Lovers of gardens, plants, and the outdoors can spend as much time as they want wandering through the many gardens and species of plants it houses.
There are said to be over 18,000 plant species here and three distinct plant buildings that simulate different climates from around the world.
There are also gardens outside the buildings where plants more likely to thrive in Brooklyn are kept. Some of the outdoor gardens include the Cranford Rose Garden, the Water Garden, the Japanese Hill-and-Pond Garden, and others. In the spring, the view of cherry blossom trees blooming is magnificent, see how to plan your visit for the cherry blossoms in Brooklyn!
Get tickets here for the Brooklyn Botanic Garden get the New York Pass which gets you access to 100+ attractions, including this one, for up to 10 days or up to 45% off savings on normal admission prices all with this mobile pass!
Admission is suggested but not mandatory, a $10 admission is suggested for adults. Closed Mondays & Tuesdays. On the first Saturday of every month there is free admission from 5-7 pm and special exhibitions.
12. Brooklyn Heights Promenade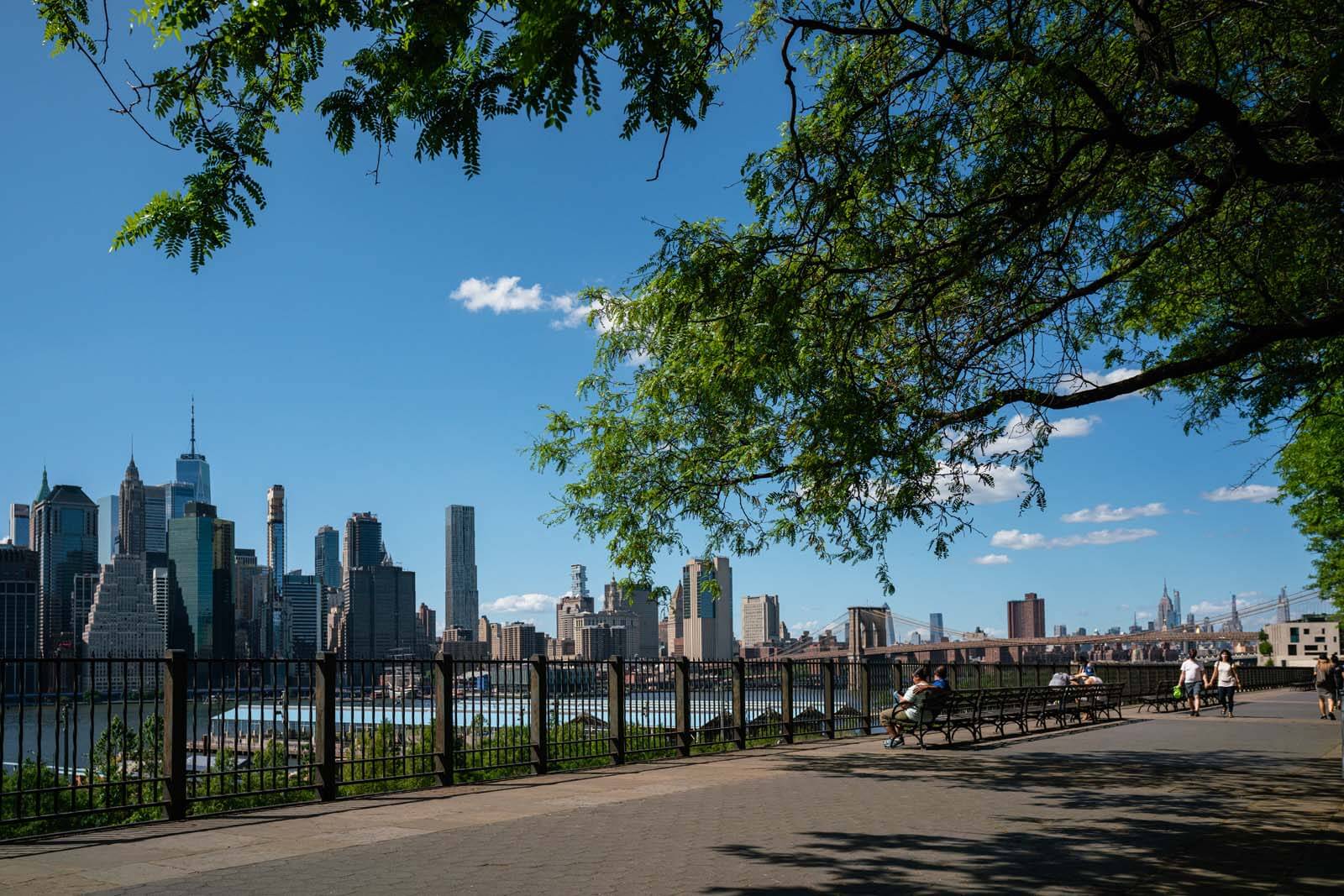 Another one of the best unofficial parks in Brooklyn worth mentioning is the Brooklyn Heights Promenade. The promenade is a large pedestrian walkway situated along the Brooklyn-Queens Expressway overlooking gorgeous waterfront views of New York Harbor and Lower Manhattan.
Also known as the Esplanade, this 1,826-foot platform is part of the first Historic Preservation District in Brooklyn. Its extensive length makes it a favored spot among rollerbladers, runners, and walkers. The Promenade is a quiet space and place that welcomes people that wish to sit and marvel at the view of the city.
13. Marsha P Johnson Park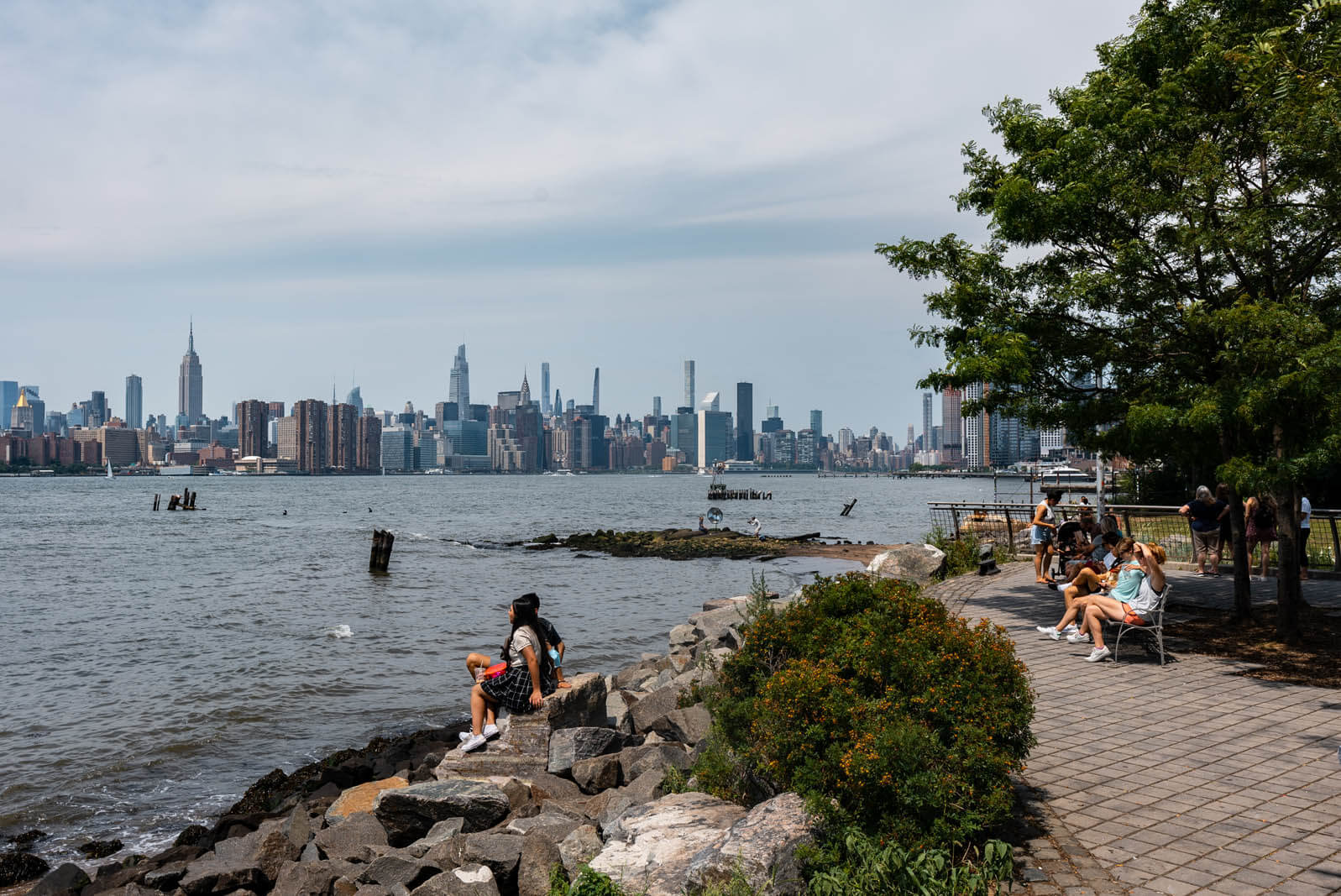 Marsha P Johnson Park, formerly known as East River State Park is another great park in Brooklyn in Williamsburg. Located right on the East River waterfront and named after Marsha P Johnson, a transgender woman of color who was a pioneer of the LGBTQ civil rights movement and a prominent figure in the Stonewall Uprising of 1969.
The location of this Brooklyn park was once used as a shipping dock and offers some of the most breathtaking views and vistas of Manhattan and the NYC city skyline as well as the Williamsburg Bridge.
Unlike other parks in Brooklyn, this park is not geared towards sports and riding bicycles as they are not permitted here. While the park is dog-friendly, visitors can only bring in two dogs at a time.
14. Fort Greene Park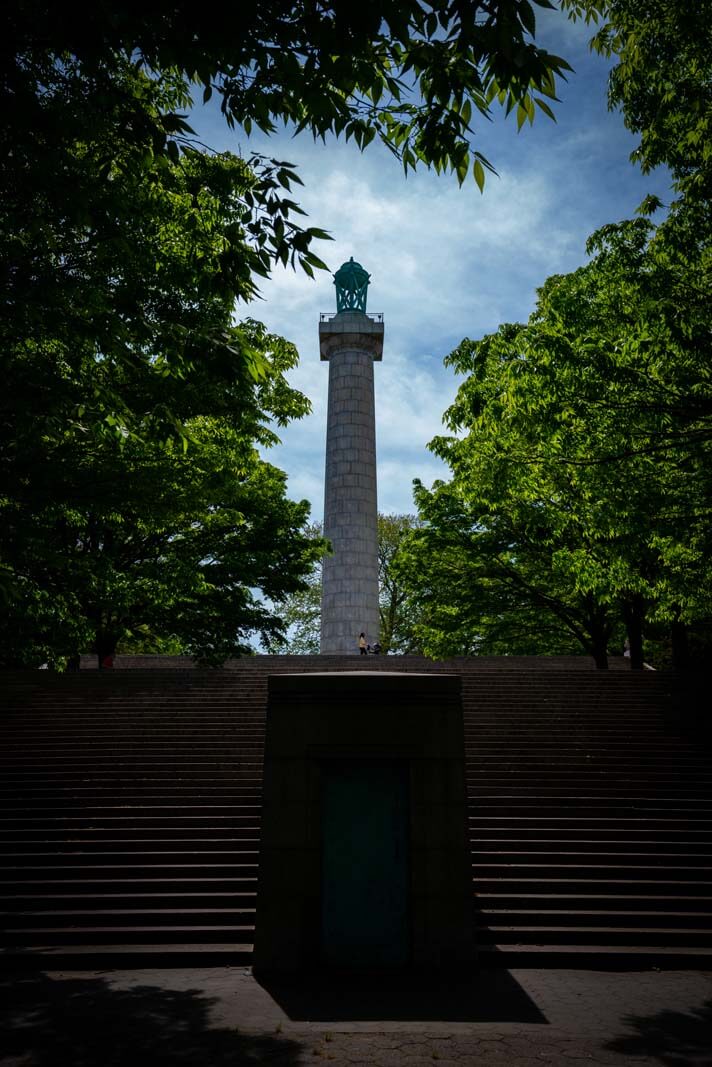 Fort Greene Park is one of America's lesser known treasured historical landmarks and great parks in Brooklyn. Built more than 150 years ago, this beloved park has been a haven for the people of Brooklyn.
It gets its name from the fort that was once located here named Fort Putnam, which was later named Fort Greene named after Revolutionary War hero Nathanael Greene.
The park has been a significant part of the lives of many notable Brooklyn heroes like Walt Whitman and Frederick Law Olmsted. Today, the park is frequented by children playing sports, members of the community attending common events, and visitors interested in its history.
Read Next: Things to do in Fort Greene in Brooklyn
15. Louis Valentino Jr. Park and Pier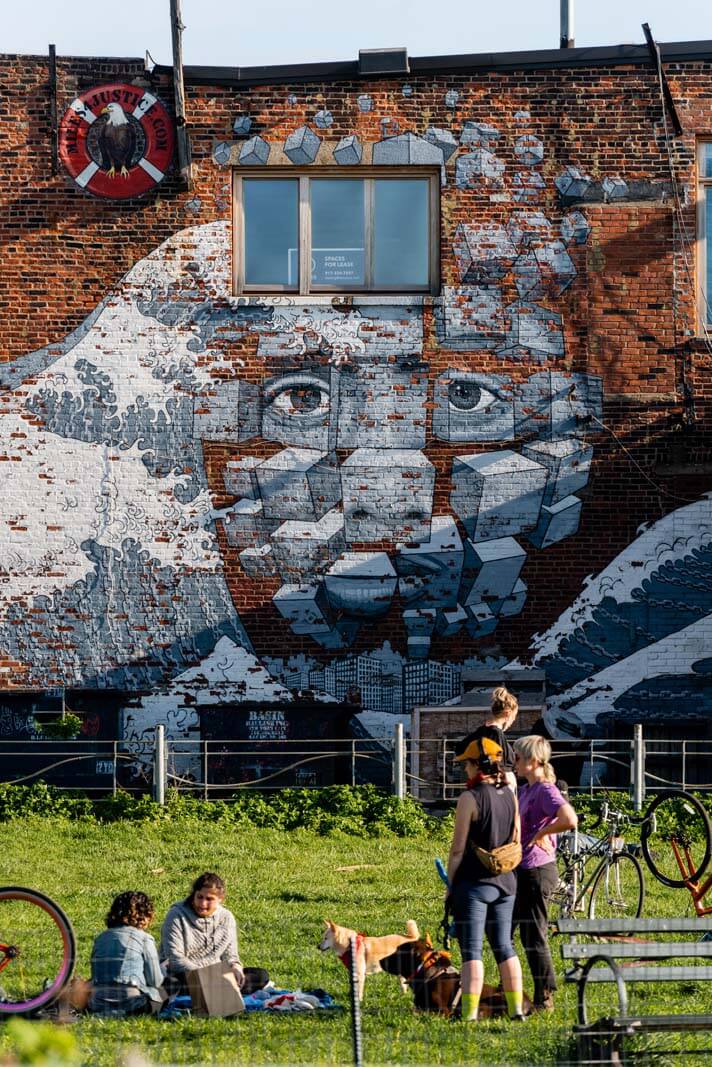 One of the best under the radar parks in Brooklyn with some of the best views of the Statue of Liberty is Louis Valentino Jr. Park and Pier in Red Hook.
Other than great views of the Statue of Liberty, this park gets some of the best views of the city's landmarks and famous scenes like the Governor's Island, Staten Island, and the Manhattan skyline.
Designated as a park in 1999, this beautiful place was named in honor of the brave firefighter, Louis Valentino Jr. Although most people come to this park for the expansive views, other attractions you might be interested in include the Waterfront Museum, Beard Street Pier, and the Red Hook Recreation Area.
While you're here also check out Erie Basin Park which is a waterfront walkway with benches and loungers to sit in and enjoy the view! Also, be sure to see our full guide for what to do in Red Hook to help you plan your visit.
16. Marine Park
View this post on Instagram
Did you know that the largest of all the parks in Brooklyn isn't even that well known? No, the largest park in Brooklyn is not Prospect Park, believe it or not, it's Marine Park located in the neighborhood of Marine Park.
Coming in at 530 acres in size, Marine Park is 4 acres larger than Prospect Park. It has been designated as a Forever Wild Preserve and protects 530 acres of salt marsh and grassland.
The park has a Salt Marsh Nature Center through which it arranges fun and educational activities to teach the community about the unique fauna and flora that grow in the park.
When you're here it's really hard to believe that you're still in New York City, there's no other park in Brooklyn like this!
Crossing over from education, the park has recreational facilities like cricket and baseball fields, a golf course, playgrounds, launching areas for canoes, and much more.
17. Shirley Chisholm State Park
View this post on Instagram
Shirley Chisholm State Park is a newer addition to the parks in Brooklyn. It was built in honor of Shirley Chisholm; a Brooklyn local who made her way to being the first African American congresswoman in US history from 1969 to 1983.
She also was the first black woman to seek a major party nomination for US President. The beautiful park is built on high ground covering two peninsulas south of the Belt Parkway, giving visitors spectacular views of some of New York's landmarks like the Empire State Building, the Verrazano-Narrows Bridge, and the New York Harbor.
The site on which the park was built was never available to the public as it was a former landfill, now members of the community can ride bicycles there, fish, have picnics, and more.
Don't miss the beautiful mural to honor Shirley Chisholm while you're here too.
18. Commodore Barry Park
Commodore Barry Park is the oldest of all the parks in Brooklyn. Spread over ten acres in Fort Greene neighborhood, this fantastic outdoor park offers multiple sporting facilities, including basketball, baseball, swimming, and football. Initially called City Park, the park was renamed in honor of Commodore Barry who helped found the Brooklyn Navy Yard which is right next to the public park.
Beyond sporting activities, the park is used to hold community concerts and events through which unknown stars can rise to popularity. One notable artist that performed there while on the rise was Janelle Monae.
19. Owl's Head Park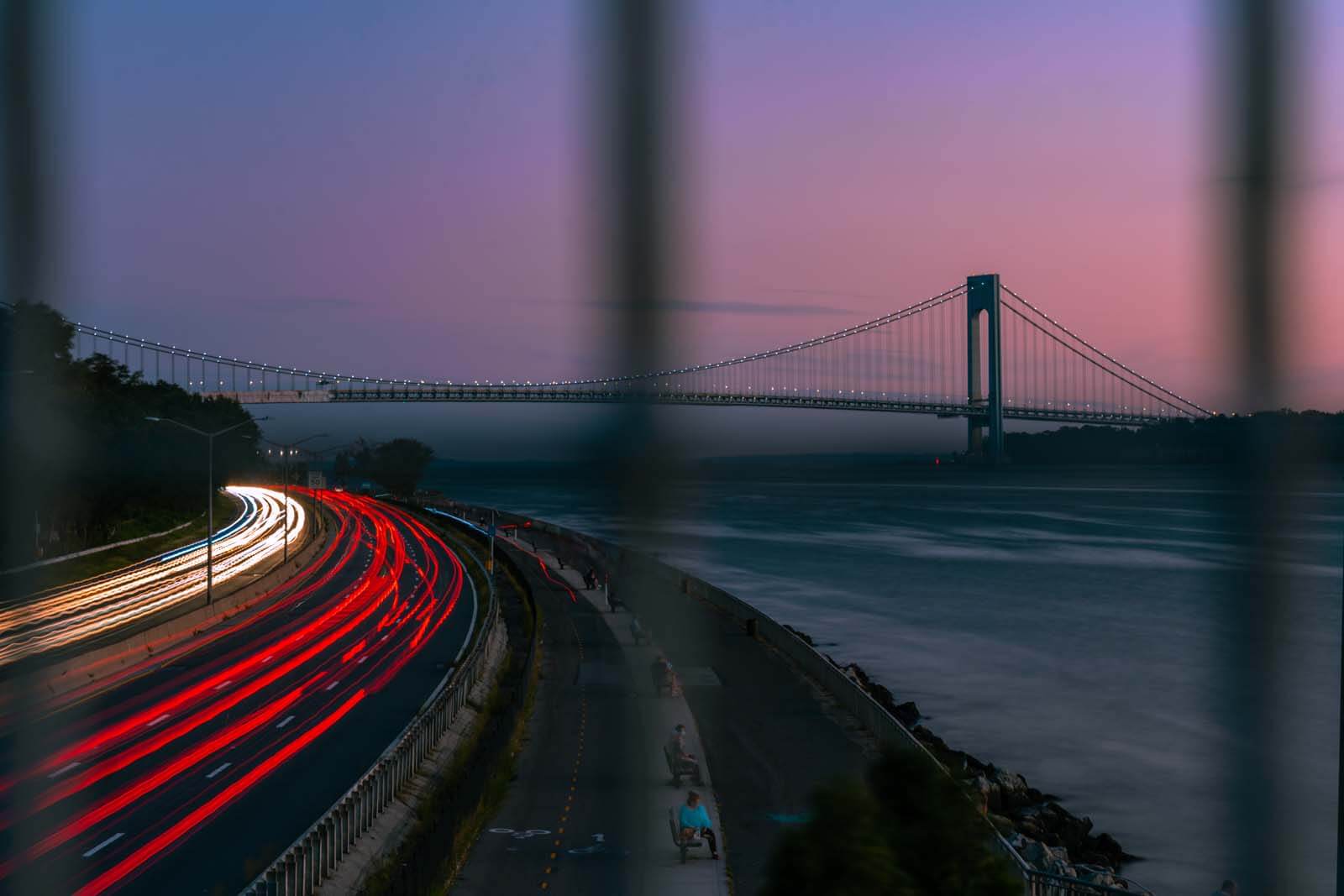 Located on Shore Road in Bay Ridge, Owl's Head Park is the perfect destination for the lover of the outdoors. This lovely park in Brooklyn contains the most attractive landscape with cascading hills and peaceful pathways that take gentle turns to give amazing views of the grand skyline of New York City and the Verrazano Bridge.
Visitors can take peaceful walks or have picnics by the water. For people that want to do more than just look around, the park is equipped with multiple basketball courts and playgrounds, skate park, a spray pool, and an impressive 150 foot dog run for owners of furry friends.
One of the more unique activities you can do here is the free family camping where you can borrow free tents and sleeping bags provided by the park and spend a fun night in the park.
While you're here also head over to the historic landmark and prime waterfront viewing spot for the Verazzano Bridge and Lower Manhattan from the Old Glory Lookout.
20. Calvert Vaux Park
Located in Gravesend, Brooklyn, Calvert Vaux Park, formerly known as Drier Offerman Park, is green space dating back to 1934 along the Belt Parkway. In 1998, the park was renamed after Calver Vaux, a famous architect and Brooklyn native who designed both Central Park and Prospect Park.
It's only fitting he has a park named after him! People looking for activities can find outdoor playgrounds, bocce courts, basketball courts, a play area for children, as well as a comfort station for when they need to relax. You can also find baseball, football, and soccer fields along the peninsula as well as a boat graveyard!
21. Jacob Riis Park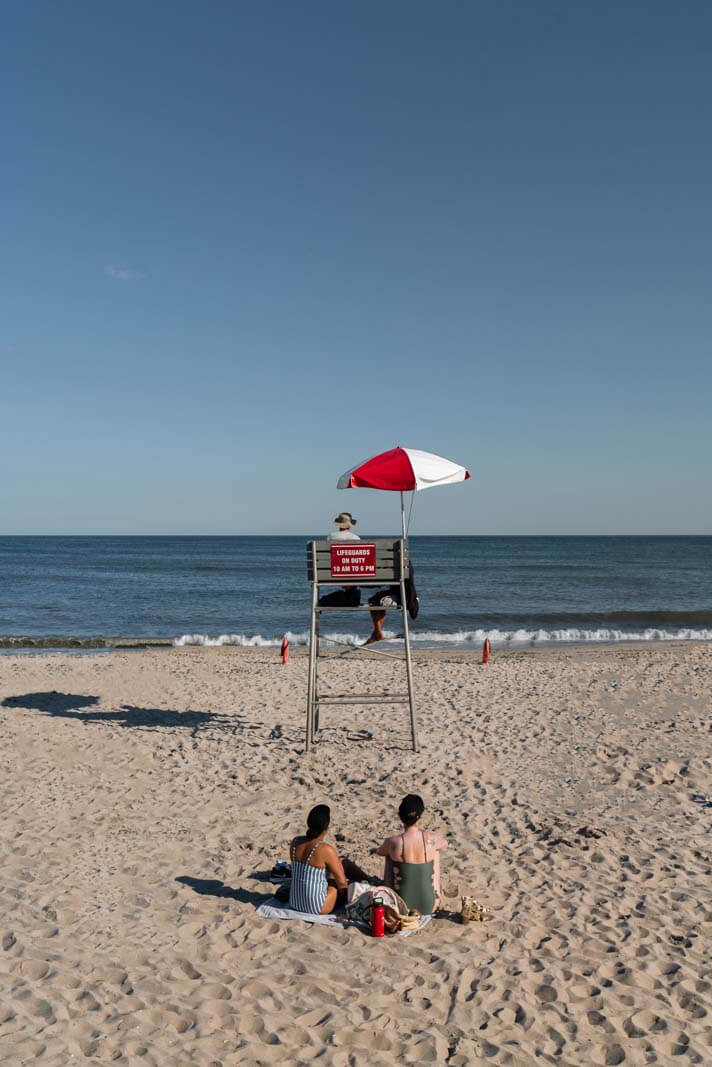 Technically not in Brooklyn, but so close we are including it is Jacob Riis Park and Beach. Located on Rockaway Beach Boulevard, Jacob Riis Park is a beautiful beach parks. It was opened in 1912 and called Seaside Beach, but was renamed after the famous Denmark journalist who migrated to Brooklyn, Jacob Riis who advocated for the creation of this very park.
This park is also a historic landmark dating back to World War I. The site of this park was used as a naval air station and it was one of the first of its kind in the US. The park is one of the most popular beaches in New York and welcomes people of all types, throughout the year.
Within the park, you can find courts for different ball sports, an art deco bathhouse that has been restored, a mini-golf course, soft sandy beach, and a mile of the accessible ocean for swimming.
22. Highland Park
Another one of the best parks in Brooklyn on the border of Queens is Highland Park. Built on a high plateau, giving visitors expansive views of the Rockaways, East New York, the ocean, and some cemeteries nearby.
The site on which the park is built was acquired in 1856 and over the century and a half since then, Highland Park has been shaped into an elegant landscape with arbors, roads, lakes, fountains, and many more pleasing aesthetics.
The park hosts multiple fun areas including playgrounds, ball fields, ball courts, as well as a children's farm garden.
---
Looking for more parks? Check out our guide to the best parks in NYC by borough to explore more of our urban oases!
Enjoyed this post on the best parks in Brooklyn? Bookmark for later or let us know what you're favorite park was!