Looking for the best picnic spots in NYC? We've got you covered in these awesome 15 picnic spots in NYC from the city's best parks to islands and gardens!
The only thing you will need to plan for is what to eat! This guide also recommends nearby attractions and if there are food options at these picnic spots, we mention those too!
Best Picnic Spots in NYC
Central Park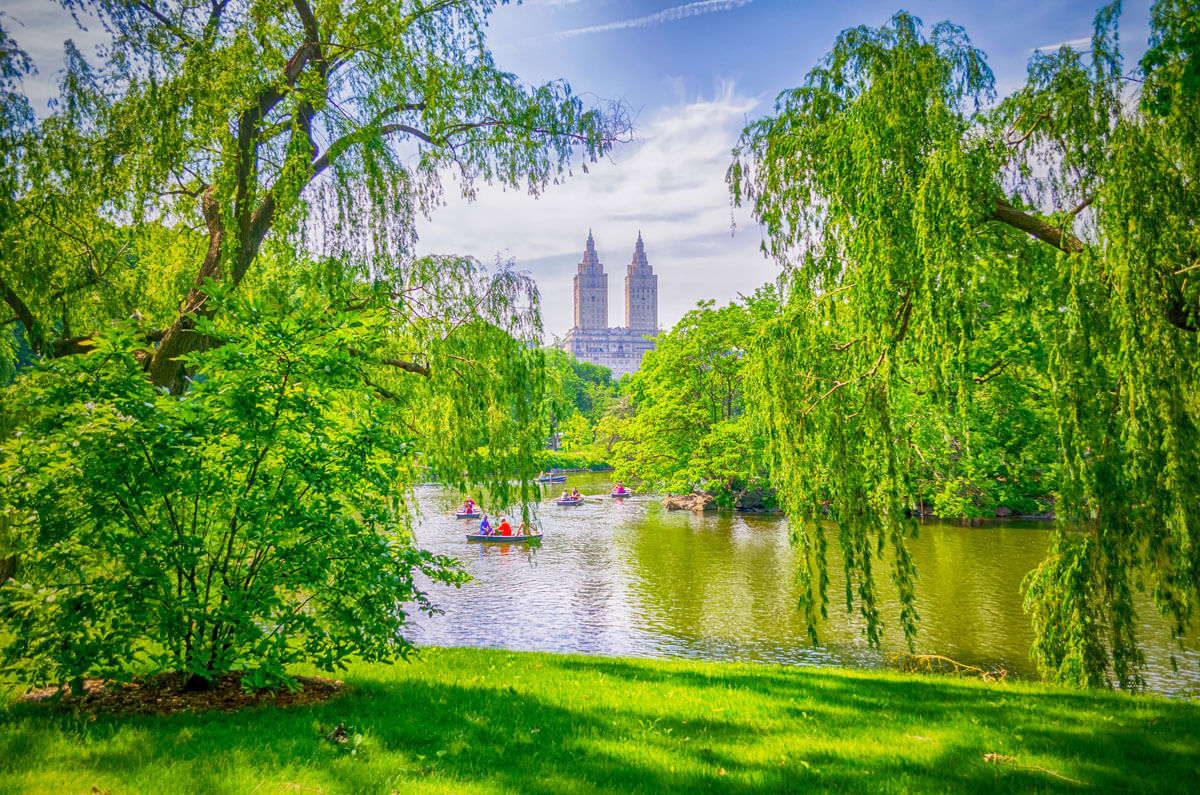 If you're craving a good old-fashioned picnic, Central Park is an obvious choice as they have some of the best picnic spots in NYC not to mention being the most famous park in NYC.
In the heart of Manhattan, you can expect unrivaled views of the landscape architecture with its mix of lush grasslands, soft hills, and rocky cliffs. This 843-acre park is packed with enough picnic-worthy seats to suit everyone's liking.
A great spot for a spread is outside Belvedere Castle, found atop Vista Rock. While the surrounding cityscape is astonishing, the best views are seen from the second-story terrace, accessible via a winding staircase.
North of the Belvedere Castle is the Great Lawn of Central Park. Take a stroll down the path of the Great Lawn Tree Walk before scoring a spot for some peaceful picnicking and people-watching. For those with a historical appetite, head to the west side of the park where you'll find Strawberry Fields, a living memorial to John Lennon.
But for the nature-loving fellows, try the Hallett Nature Sanctuary for a picnic, which can be found by entering at 6th Avenue and Central Park South. You're sure to hear a delightful choir of birds in this preserve.
But really, most of the park is a great picnic spot! If you're picnicking in the spring, Central Park is also one of the best places to see cherry blossoms in NYC too!
Check out some of these Central Park hidden gems too, there are plenty of picnic opportunities in the area and these spots have fascinating backstories and history behind them.
Brooklyn Bridge Park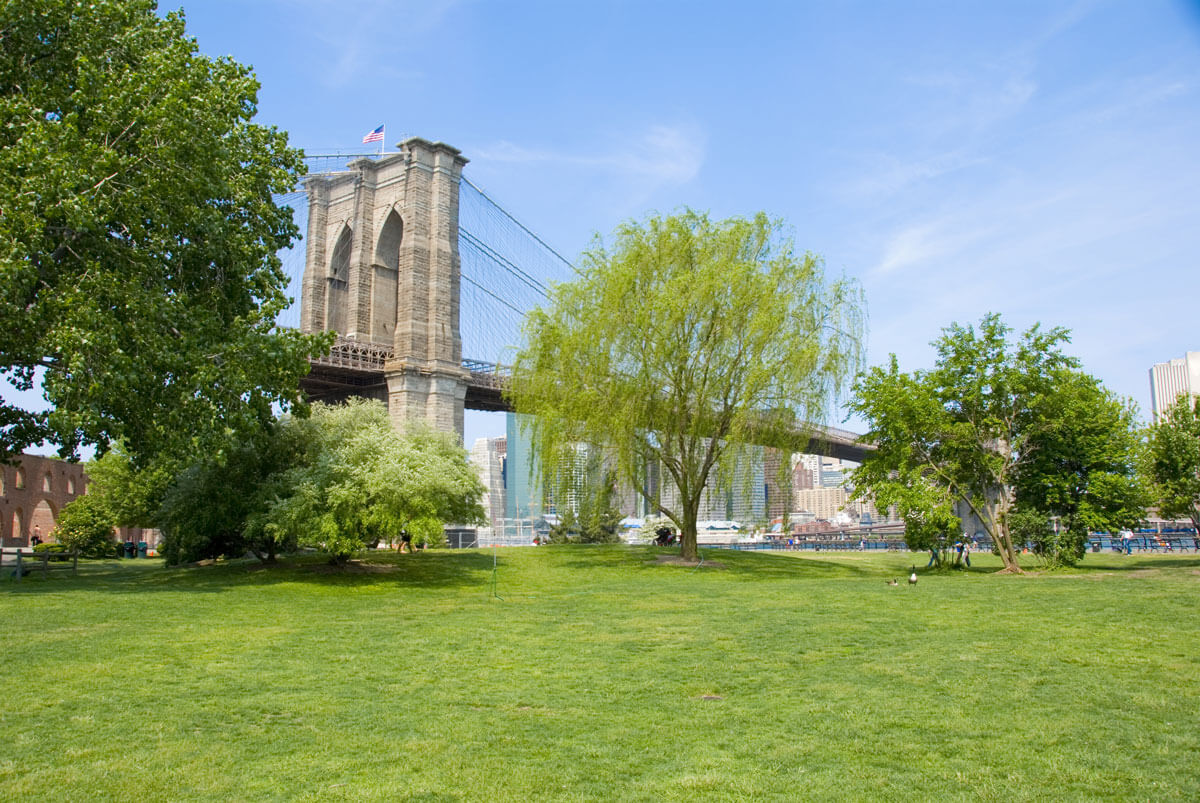 An absolute go-to picnic spot in NYC is none other than Brooklyn Bridge Park. This 85-acre park encompasses its own ecosystem of inner commons and recreational space, boasting a plethora of picnic-worthy sweet spots.
All free to access and supplied with Wi-Fi, Brooklyn Bridge Park is divided into 11 sections. Beginning with the most-north parkland, John Street features pedestrian-friendly bridges atop tidal marshes, creating a scenic runway for a pre-picnic warm up.
A mere 5-minute walk south will bring you to Main Street, an activity hub equipped with a playground, bouldering walls, an upgraded dog run, and waterfront views at the edge of Pebble Beach, perfect for a picnic and great views of Manhattan from Brooklyn.
Not too far down the waterline is the Fulton Ferry Landing where you can pick up some of the best ice cream in Brooklyn at Ample Hills. This was also historically known as the location of the first ferry service between Manhattan and Brooklyn.
If you continue to the area between the Brooklyn Bridge and Manhattan Bridge you can take a break and ride the historic Jane's Carousel. When it's time to eat, stop by the picnic grove for easy setup or sprawl on the lawn here between the two bridges as you get what we think are the best views in the city. Not only do you have views of two of the most famous bridges in NYC, but you also get one of the best-unobstructed views of the NYC skyline from across the East River.
The remaining waterfront strip and locations to explore are Piers 1-6, each competing with its own greenspace and recreational stimulation, which are some of the best piers in NYC. If you have to choose, opt for Pier 1 with its 300-piece step work called Granite Prospect, which mirrors the panoramic view. Or, head to Pier 6, where you can find a seat in the largest sandbox of the concrete jungle.
This is arguably the best picnic spot in Brooklyn due to all the waterfront real estate and views not to mention one of the best sunset spots in Brooklyn too!
If you're craving a walk post-picnic consider walking across the Brooklyn Bridge or to beat any crowds on a beautiful day, you can also alternatively walk across the Manhattan Bridge.
There are also a few restroom facilities here too, making it really ideal for a picnic.
Governor's Island
A perfect segue to another one of the best picnic spots in NYC is situated in the New York Harbor and known as Governor's Island. Visitors can take a quick ferry ride from Pier 6 of Brooklyn Bridge Park to this 172-acre island, which was once a former military base, or in Lower Manhattan.
There are many great things to do on Governor's Island that we recommend planning a day out of it. You can bring your own food and your own bike even, but if you don't want to do that you can rent a bicycle or use any of the 3 Citibike stations on the island. There are also multiple vendors and food pop-ups here including a beer garden.
Indoor restrooms can be found inside Building 101, and if you ever need assistance finding your way, feel free to check out the Welcome Center at Soissons Landing, or look for a Visitors Services team member dressed in blue. Various picnic tables are scattered throughout the island, but the most magnificent sight is achieved by visiting the Hills, a 10-acre park located at the southern tip of Governor's Island, which offers sweeping views of the Statue of Liberty, the New York Harbor, and great views of Lower Manhattan.
When it's time to lay the checked blanket, you can enjoy an unforgettable sight from the island and watch the boats pass by all while enjoying some of the best views in the city and one of the quietest, and tranquil picnic spots in NYC.
If you want to extend your picnic overnight and splurge on a luxurious and romantic stay, you can enjoy the glamping at Governors Island! Check out how to book Collective Retreats glamping on Governors Island.
The High Line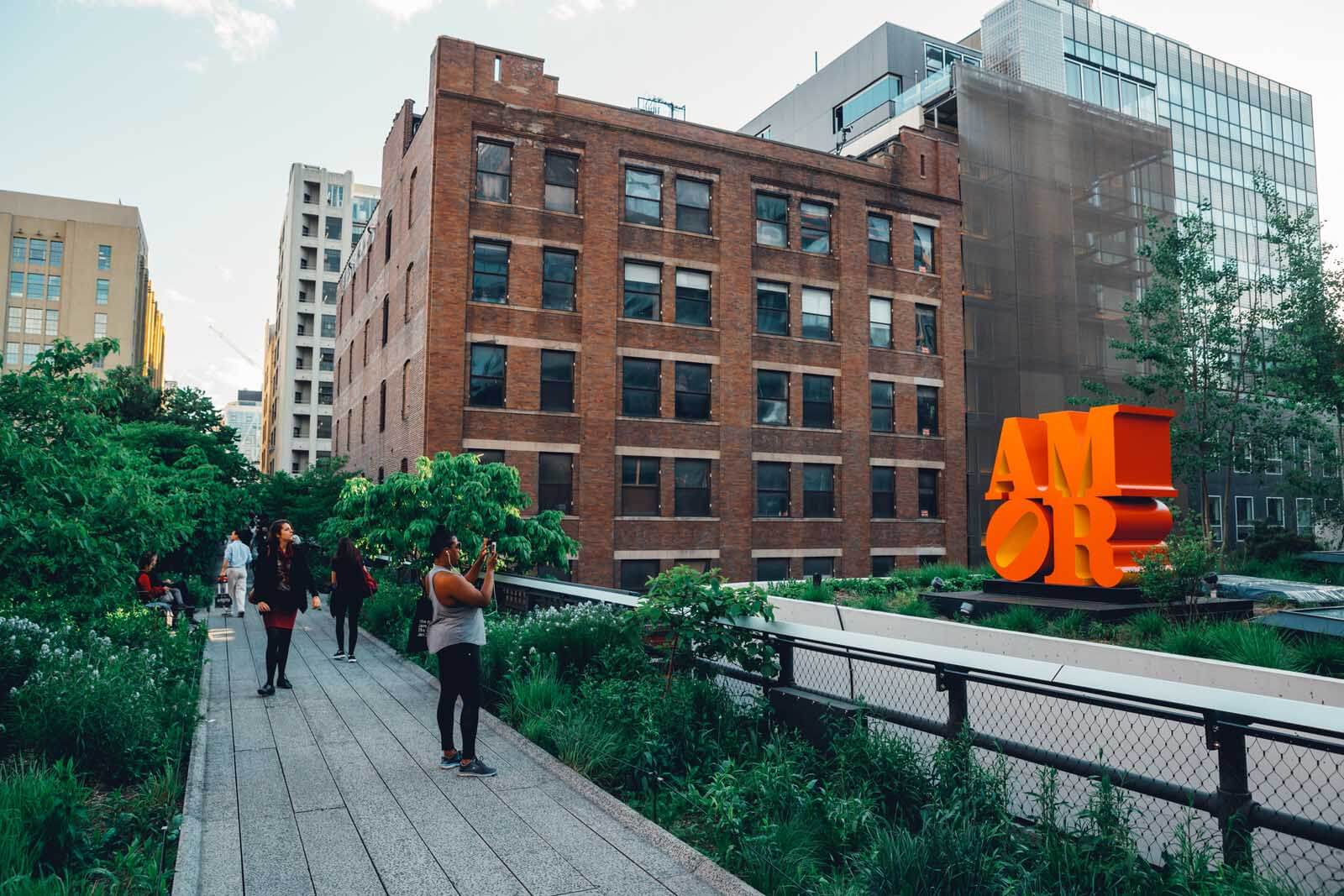 The High Line is not just an attraction site, but also home to some of the best picnic spots in NYC. With a selection of pop-up food stalls along this 1.45-mile-long linear park, this site makes for a great spontaneous picnic.
Whether you grab some fast food or pack your own meal, a pleasant spot to chow down is located at 23rd Street, where there is plenty of green space and steps to sit while critiquing nearby art installments.
Enter the park at either Gansevoort Street, 23rd Street, or 30th Street, and don't worry, this elevated path is wheelchair accessible by elevators at these locations.
Then, simply choose whether you want to move north or south and continue on your way to complete the walk, there are several benches along the way that you can also sit on and enjoy the view.
Keep in mind that while this park has free walk-ins Monday through Friday, free timed entries must be reserved in advance if visiting on a weekend due to popularity and crows.
Leave the sports equipment at home – bicycles, skateboards, skates, and scooters are not allowed on The High Line. Afterward, you can head over to Hudson Yards and look at the Vessel or grab food to take with you to eat on the High Line from the Spanish Market.
This is also one of the best hidden parks in NYC!
Prospect Park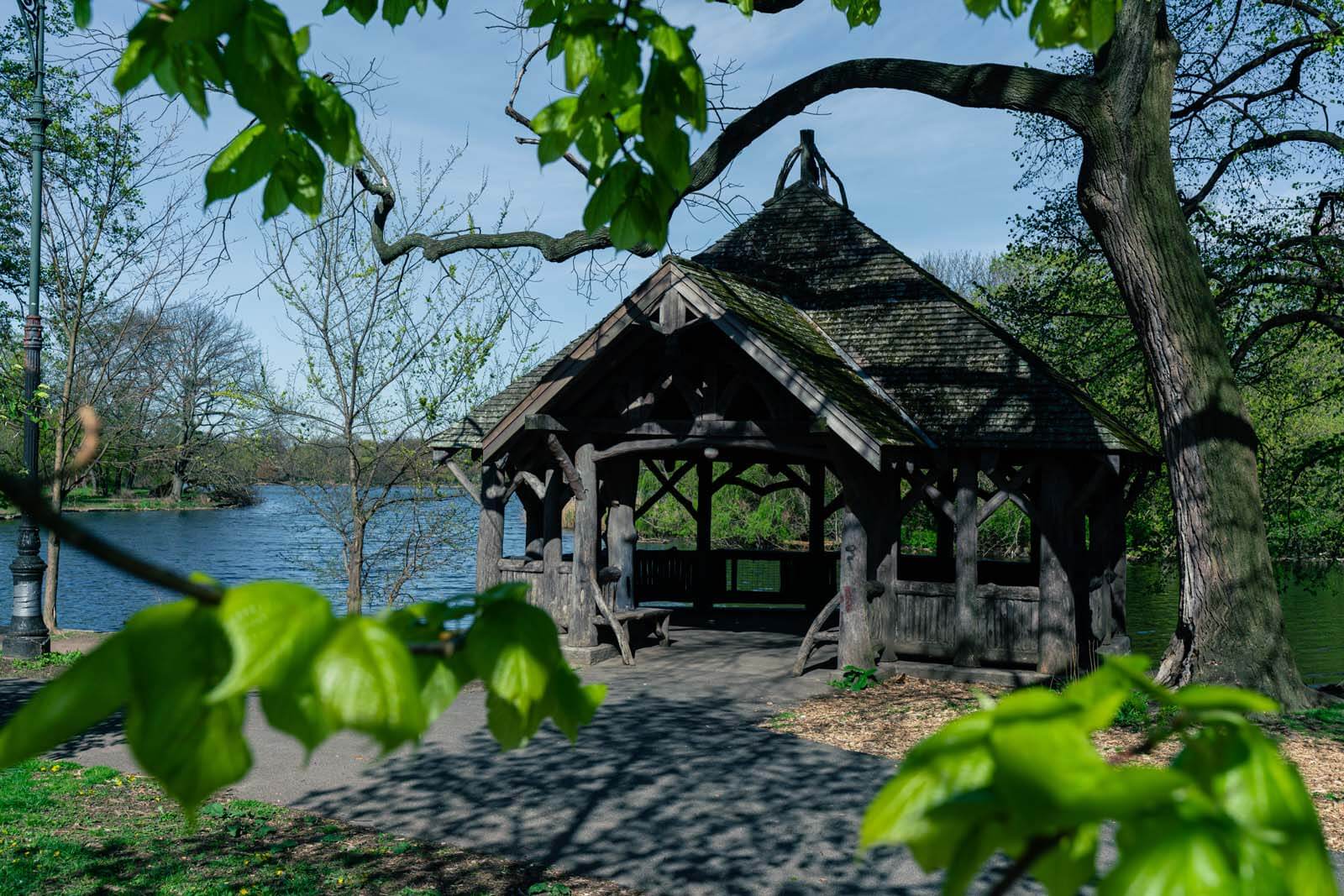 If an active picnic experience is what you seek, Prospect Park is the way to go. With quick access to various recreational sports such as baseball, basketball, tennis, biking, fishing, and more, you're sure to work up an appetite in no time.
Amidst all the adventure, Prospect Park also offers some of the most peaceful picnic spots in NYC. Find a seat on the 90-acre sweeping Long Meadow by one of the designated barbeques areas (charcoal only) and enjoy a fresh meal on a sunny day, or you can grab some food from the neighborhoods that surround the perimeter or the park including Prospect Heights, Park Slope, and Windsor Terrace for example.
Krupa Grocery in Windsor Terrace actually sells Prospect Park picnics!
One of the best picnic spots in NYC which holds its rank independent of weather is at the LeFrak Center at Lakeside in Prospect Park, in the winter there's ice skating here and there are several benches and places to sit around the lake including a pavilion.
During a nippy day in fall or winter, you can look forward to some post-picnic ice skating, figure skating, and hockey, while the warmer seasons bring roller skating, biking, and water activities. This southeast slice of Prospect Park is sure to pique your scenic and recreational interest.
There are also plenty of lawn space in the park as well. Another great spot is actually the lawn surrounding the Picnic House, the lawns by the Prospect Park Boathouse, and the Peristyle if you're looking for some shade.
Before or after your picnic, you can also hit up some of the attractions here including Prospect Park Zoo, the Brooklyn Museum, or the Brooklyn Botanic Garden.
Bryant Park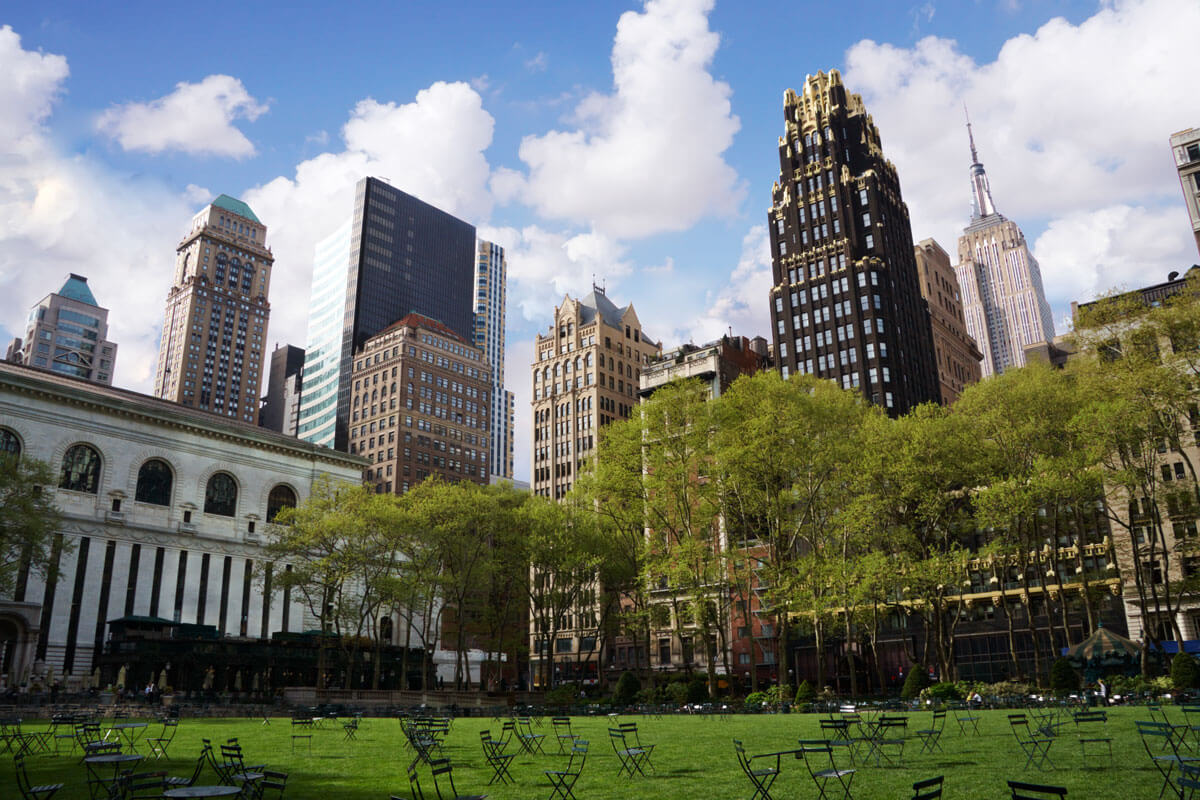 Another great host of picnic spots in NYC enjoyable year-round is Bryant Park. This mere 9.6-acre park boasts plenty of activities no matter the season.
Cooler months offer ice skating at Winter Village with food vendors and the summer promises movies on the lawn to picnickers.
Don't get off the ground just yet, Bryant Park is known for its Picnic Performances on the lawn. To view the performing arts is free of charge, and you'll be glad to find out there are no tickets or lines involved. Given that this is a programmed show, Bryant Park will actually provide blankets to audience members so that they can get cozy on the lawn, even if they left their blanket at home.
The best part about having your picnic here is that all of the activities come to you. Jugglers bounce around the lawn, and there is always a supersized game like giant Jenga nearby. With everything at your fingertips, this picnic spot is bound to please.
And if you're looking for something to do before or after you enjoy a meal at this picnic spot in NYC you can head to the New York Public Library for free! You won't want to miss the reading room or the original Winnie the Pooh stuffed animals that inspired the series of beloved characters in the children's section in the lower level.
Washington Square Park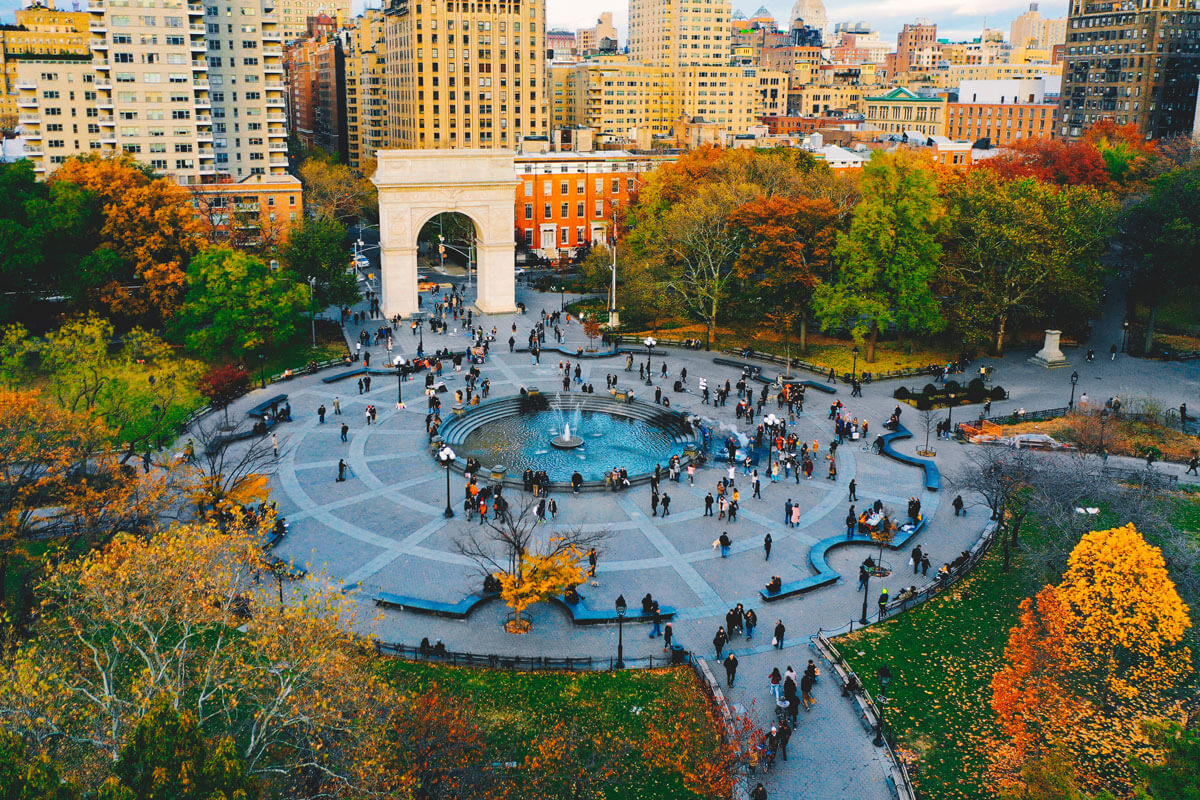 Another popular hang-out area among college students attending NYU and picnic spot in NYC is Washington Square Park. This 9.75-acre park packs a great deal of cultural significance within its perimeter. Washington Square Park is gatewayed by the iconic Washington Square Arch at the northern entrance and serves as a historical monument to commemorate the centennial of George Washington's presidential inauguration.
Have a seat near the Washington Square Fountain to soak up the history, culture, and creativity that this park has to offer while you munch on your favorite picnic finger foods.
Once you're full of grub, grab a buddy and venture west to Chess Plaza, where you can battle over the only slice of cake you remembered to pack.
Each table has its own checkerboard, so players are responsible for supplying their own playing set and clock. Even if you're no Magnus Carlsen, observing others as they engage in this longstanding tradition (while you continue to munch, of course) is an experience not to be missed.
There always seem to be street performers here too and in the summer when the fountain is going, its just an overall fun scene to be at.
Roosevelt Island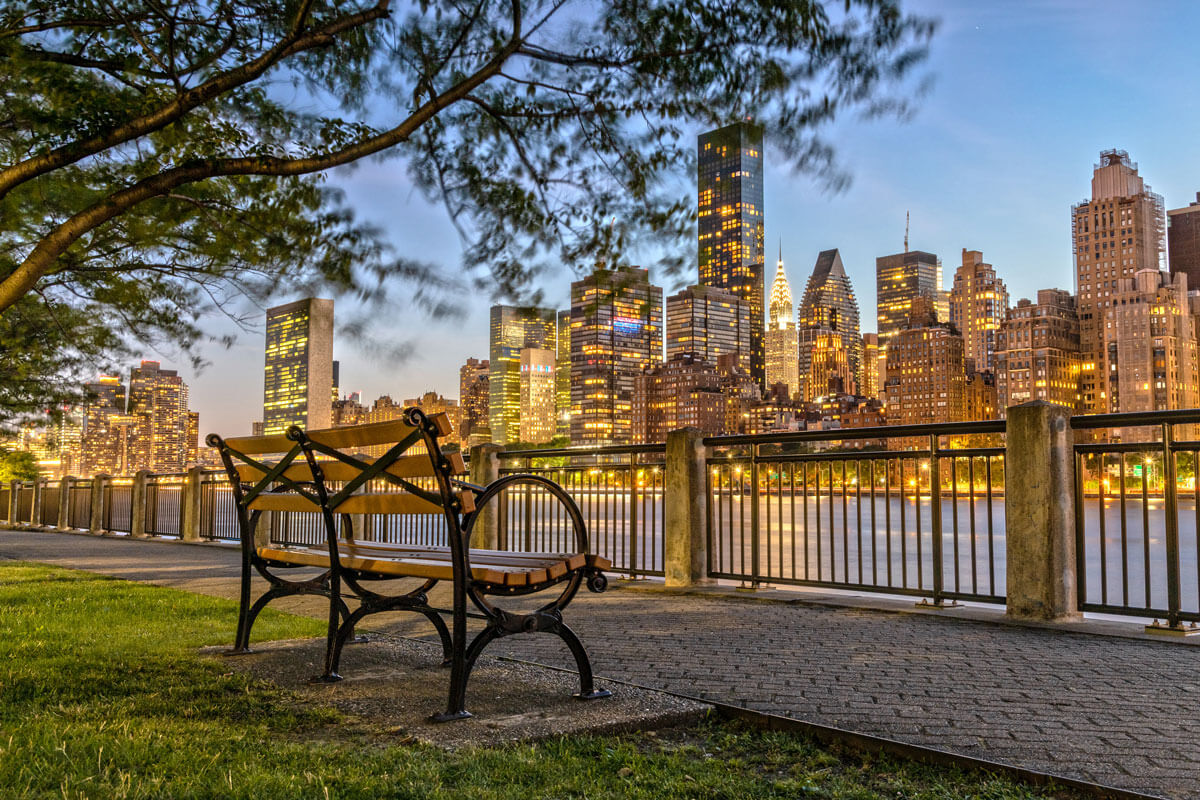 If you wish to have your picnic atop a living memorial, then take the Roosevelt Island Tramway over the East River and set up in remembrance of America's 26th president.
Roosevelt Island is a narrow island situated between Manhattan and Queens and is a historical hideaway for some great picnic spots in NYC.
Explore the 2-mile stretch and treat each monument as a checkpoint before laying a blanket on the lawn of the Franklin D. Roosevelt Four Freedoms State Park.
Take in the 360-degree scenic views from the southern tip any day, except for Tuesday. A bit more restricting, but important nonetheless, is that no pets nor recreational wheels like bicycles, scooters, etc. are allowed.
During your visit to the island, be sure to get a glimpse of the ruins of the Smallpox Hospital, the Northpoint Lighthouse, and the Octagon as each provide their own morsel of historical significance and picnic-worthy spots along the way.
Brooklyn Botanic Garden
The living museum of the Brooklyn Botanic Garden is a splendid place to receive nourishment in more than one way. Bring the little ones along for some educational fun as you learn about each of the different blooming plants in this stunning 52-acre garden.
As one of the best picnic spots in NYC, this garden features plush grasslands and ecological stimulation at every corner. The attraction is closed on Mondays, and while advanced ticket reservation is required, there are many ways to qualify for a reduced-priced ticket by checking the Brooklyn Botanic Garden's website.
However, if you do become a member, you'll not only gain free entry, but also exclusive access to picnic on their greenery, where basket and blankets are allowed in the Garden during Members' Sunset Picnic Nights. Just a heads up, if you choose to bring your picnic here, you must leave your furry friend at home and be sure to use one of the designated picnicking spots – Cherry Esplanade, Water Garden, or Lilly Pool Terrace.
Whether you bring your basket early to see the entire spectacle or come just for a Sunset Picnic Night, you'll feel an unparalleled connection with nature.
We recommend, if possible, to plan a visit in the spring around the cherry blossoms in Brooklyn which is beautiful, but so is every season here.
Note: The current rules now indicate that no outside food or beverage besides water is allowed in the Botanic Gardens. However, every time I visit I still see people picnicking on benches with outside food. Use your best judgment.
Riverside Park
Regarded as Manhattan's most spectacular waterfront park, you're bound to find some of the best picnic spots in NYC here at Riverside Park. This expansive greenspace gives you access to various facilities, from running tracks to skate parks and canoe launch sites.
If you're looking for a little less bustle, there are designated quiet areas located at Linda's Lawn, South Lawn, and Sakura Park.
In need of a grill? Travel to West 145th Street on the Hudson River for a convenient barbequing spot. Then, unwind beneath the elm tree groves and immerse yourself in the tranquil environment.
The stretching views of the Hudson River pairs well with any dish and can be quite soothing after a hearty meal. Aside from the beautiful scenery, picnickers can appreciate Riverside Park's featured tribute, Soldiers' and Sailors' Monument, that commemorates the brave souls who served during the Civil War.
Finish your picnic experience with an easy bike ride, as the entire park is actually one continuous bike lane. With 400 acres of beautiful parkland, there are picnic hideaways for every walk of life.
McCarren Park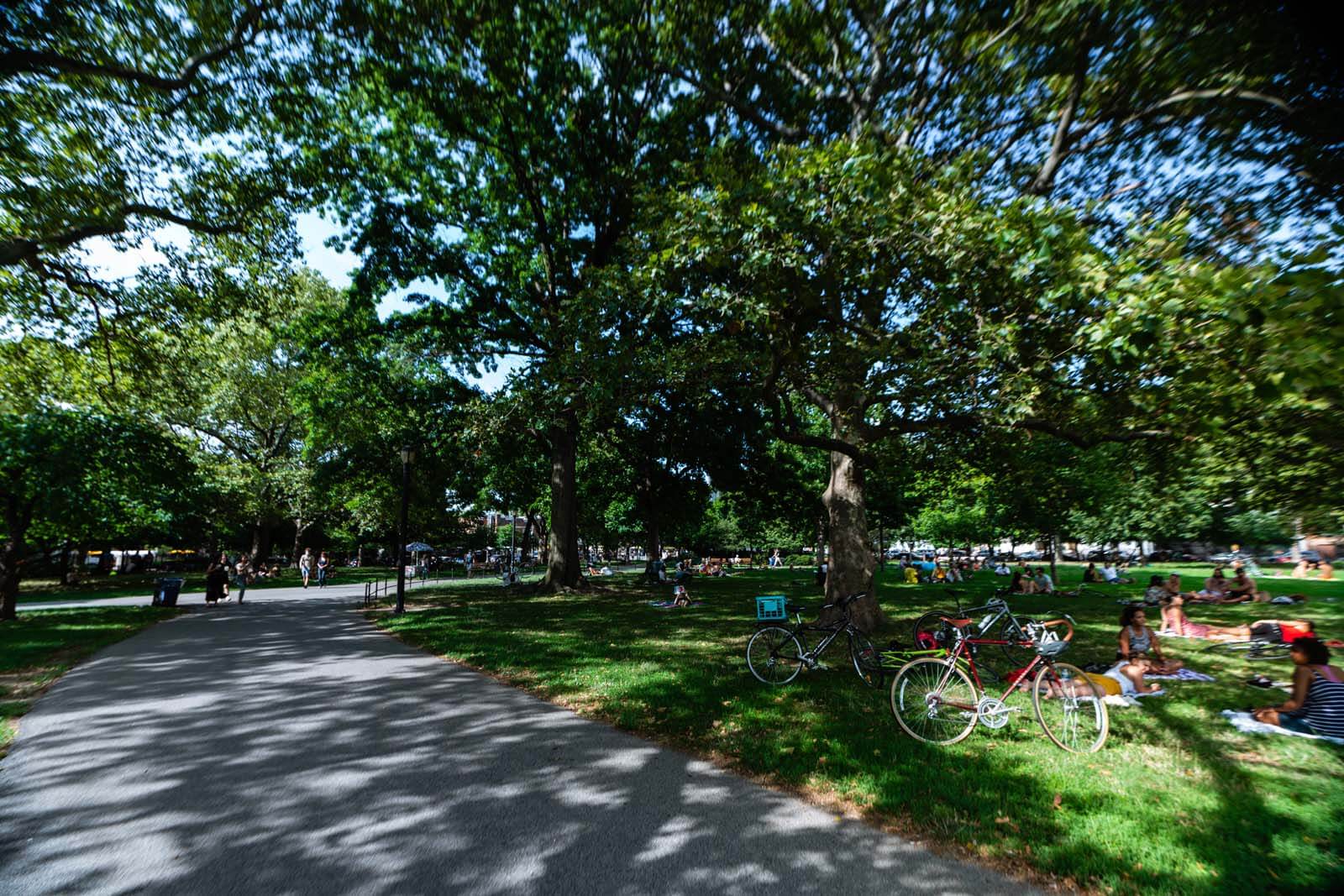 Dubbed as a summer hangout by neighborhood locals, McCarren Park is a great place for a picnic with the kids. With children scurrying across the lawn in various sports games and a playground nearby, there is enough activity in these 35 acres to wear out even the most rambunctious.
McCarren Park is a hidden gem in terms of picnic spots in NYC as most visitors come with the intent to swim at the McCarren Park Pool or you'll find locals hanging out on the green patches of lawn as this is one of the more popular parks in Brooklyn with those who live in Greenpoint and Williamsburg.
With free access to this public amenity, you can finish your picnic with a quick dip or deep dive. Allow the water to cool your face under the warm sun or challenge some friends to a game of Marco Polo. Keep in mind that although the pool hours operate from 11 am to 7 pm, there is a daily break for cleaning between 3 and 4 pm. Whatever water play tickles your fancy – be sure to wait 30 minutes after you eat, before splashing around in the pool.
There's also one of the best secret gardens in NYC hidden away in McCarren Park! The Green Dome Garden is a designated quiet zone, and the bloom-filled sanctuary is located on the southwest corner of North 12th Street.
See some of the best hidden gems in Williamsburg to see what else to do around here!
Pelham Bay Park
Coming in at 2,772 acres, Pelham Bay Park is easily the largest public park in New York City. To put this in perspective, it is actually more than three times the size of Central Park – and not one blade of grass goes to waste. Miles of hiking trails and nature walks are free to explore, with plenty of picnic spots along the way.
Take a trek through one the Kazimiroff Nature Trail loop paths where you'll be self-guided around the border of Hunter Island, and then through its forest, before arriving on the sandy shores of Orchard Beach, one of the best beaches in NYC.
Some of the most serene picnic spots in NYC are embedded along this journey. And once your toes touch the sand, you'll quickly realize that any stretch of the 13-mile shoreline makes for a romantic picnic spot at sunset.
For those who want to amplify their picnic adventure, take in the views on the back of a horse. But, if park trails just aren't your thing, don't be dismayed as there are plenty of athletic fields and courts to choose from that can help you burn your picnic calories.
Inwood Hill Park
If you want to rekindle that spark with nature, pack a picnic and head to Inwood Hill Park, home to the last natural forest in Manhattan. As a symbol of old New York, this 196-acre park has a significant amount of primordial land, full of beautiful deciduous trees that to this day have remained relatively untouched since the colonial days.
It's not difficult to see how explorers find some of the best picnic spots in NYC at this park. Etched into this natural playground are the remains of prehistoric history.
Once upon a previous time, glaciers shifted, giving rise to caves, valleys, and ridges, which have now become bucket list-worthy picnic spots. This nature-packed park is also one of the best places to spot a bald eagle, so be on the occasional look-out for this national emblem.
Not only is this park environmentally friendly in every sense of the language, but also tolerant of pets. So, feel free to relish in the natural beauty that this park has to offer with any friend or family member – even the furry ones.
Fort Tryon Park
A hidden gem of picnic spots in NYC can be found by visiting Fort Tryon Park in upper Manhattan. This park is such a beautiful outdoor piece of artwork and gives life to the city's largest garden, the Heather Garden – home to over 500 different plants, trees, and shrubs.
This is sure to pique anyone's horticultural interest. After picnicking among the botanical diversity, visitors can check out ancient artwork at the Cloisters, a branch of the Metropolitan Museum of Art.
Then, if you've brought your dog, you can treat your pup to Manhattan's largest dog run. While the canines frolic, owners have plenty of options for lounging and entertainment. Some of the amenities include gazebos, playgrounds, volleyball courts, and ping pong.
Frequent visitors of the park give hype to bountiful benches and their strategic placement around the park. Whether your feet need a pit stop or you want a moment to take in the scenery, there is always a seat nearby.
The Ford Foundation Atrium
When most people think of a picnic, they typically envision an outdoor afternoon, sprawled out on a lawn with a basket of assorted goodies. What if I told you there is an indoor glass atrium that could be your next picnic hideaway?
Located inside the Ford Foundation Center for Social Justice, the Ford Foundation Atrium is one of the best weather-withstanding picnic spots in NYC. Come enjoy a picnic on a rainy day, your clothes won't dampen while you're encased in this subtropical paradise.
The surrounding gardenias perfume the air, while hanging vines drape the building's beams. This treasure trove of picnic spots provides a peaceful place for reflection. After lunch, be sure to check out the Ford Foundation Gallery, a socially empowering art realm that prides itself in telling stories typically underrepresented in traditional art spaces. You're sure to feel a sense of inclusion and sincere collaboration during your visit.
---
If you're looking for additional activities to add to these best picnic spots in NYC be sure to check out our guide to the hidden waterfalls in NYC and some of the most scenic walks in Brooklyn to enjoy before or after your picnic! Also, be sure to check out all the best things to do in Brooklyn for more inspiration!
If you enjoyed this post on the best picnics in NYC be sure to bookmark for later or share the love below on Pinterest! Happy picnicking!