Looking for the best piers in New York City to check out? We've got you covered. It's easy to forget, but sometimes it's nice to be reminded that although Manhattan is part of a gigantic, sprawling city, it is, after all, an island—and the city as a whole is, after all, a harbor town.
Beaches in NYC may be hard to come by, especially as one draws closer to the epicenter of city life, but the remnants of old New York prevail in the form of piers and remind us that New Yorkers are, in fact, river-dwellers.
Rotted wooden stubs poke their necks out of the Hudson, representing a keepsake of the thriving shipping economy that has identified it through the centuries, but in more recent years, piers have been repurposed to accommodate a growing public looking for a sunny spot to relax, have fun, or get active. So, without further ado, the river calls!
Here are the best piers in New York City to visit whether you're looking for views, a place to picnic in NYC, or a place to take a stroll and get some good ol' fashion exercise from the Hudson River, East River, and New York Harbor piers.
Hudson River Piers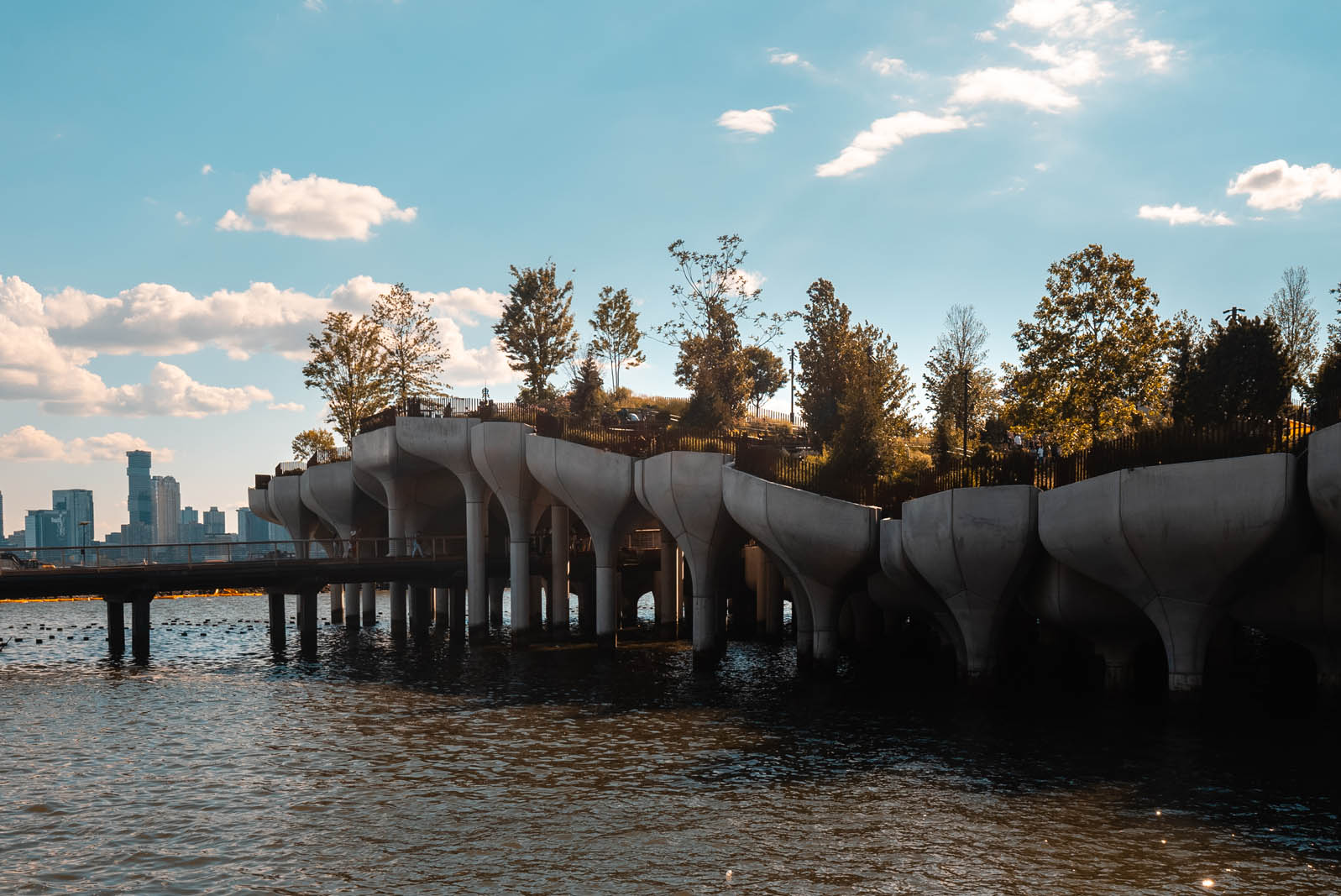 Pier 45
View this post on Instagram
Pier 45 sits at the western terminal of 10th street in the West Village, although it is most commonly referred to as the Christopher Street Pier due to its easiest access point one block south of 10th.
In the warmer months, Pier 45 is one of the most popular piers in New York City, attracting people for a variety of purposes. The main and central part of the pier is a grassy lawn that extends almost the entire length of it, providing city-dwellers and visitors alike with something akin to a sand-less beach within walking, running, bicycle, or subway distance.
Wrapped around the central lawn is a slatted wooden promenade, and at the end of the pier that extends furthest into the Hudson River is a large tent used for gatherings, small concerts, salsa dancing lessons, and almost any other fun outdoor activity you can think of!
So whether you're visiting to sunbathe, picnic, work out, dance, or simply take in the views of the Hudson River, Pier 45 is one of the best piers in New York City to visit, and will act as an oasis within the city grid to blow off some steam.
Pier 25
View this post on Instagram

One of the more developed Hudson River piers, Pier 25 is a wonderful spot to have some fun, and if you're looking to partake in some kind of athletic activity, you'll be hard-pressed to go without finding something to fit your fancy.
Starting from the base of the pier and moving towards the westernmost point, the attractions one can find here are as follows: a skate park, a waterpark and playground, a snack shack, an 18-hole mini-golf course, sand volleyball courts, an enclosed turf area, a seating area, and an oyster bar restaurant on a docked boat called Grand Banks.
Pier 25 is the longest of Hudson River Park's piers, which grants it enough space to house all of the many attractions available, and a lovely lookout point from just north of Battery Park City.
Pier 26
View this post on Instagram
The younger, northern neighbor of Pier 25 is Pier 26, which recently underwent a massive overhaul and opened to the public in 2020. If the activity and bustle of Pier 25 are not what you're looking for, this Hudson River pier offers scenic views, a myriad of spots to relax, and an opportunity to reconnect with the natural environment of lower Manhattan and the Hudson River.
There are five different native ecosystems represented on the pier's habitat walk, including woodland forest, coastal grassland, maritime scrub, rocky tidal zone, and the Hudson River.
This pathway offers serenity and seclusion whether you are walking along it or stopping to rest at one of the many uniquely designed seating areas.
Along the far edge of this New York City pier, there are wooden lounge chairs to take in the view from an elevated perspective—a must see experience!
I highly recommend going at sunset, although demand for one of these lounge chairs is high around that time. Perhaps try one of the four giant wooden swings set a little further back from the waterfront!
In addition to these modern viewpoints, this New York City pier also includes a restaurant (City Vineyard, under the same ownership as City Winery further north in Chelsea), an open-air but fenced-in recreation area (that can be reserved with a permit), a grassy lawn, a boathouse that offers free (yes, free!) kayaking, a built-in workspace with high-set, wooden, anchored "desk chairs" and a beautiful view to the north, and an ecological "tide deck" which is periodically open for free guided tours by park staff to showcase the natural environment of the Hudson River.
Tours are not ticketed, so it's best to show up early to get a spot because capacity is limited. Narrowing down all this pier in New York City has to offer is a futile task, and I could go on about each of its well-designed features—but I can only tell you what there is to experience, so go and see it for yourself!
Pier 40
Growing up in New York City may seem to be tough for any young athlete from afar, and often I get asked by non-New Yorkers, "where did you even play?" The answer, predominantly, is Pier 40!
Whereas other piers along the Hudson are great spots to relax and casually enjoy the views, Pier 40 has far less frills and its main purpose is purely for of recreational athletics. It houses two newly re-turfed full-size soccer fields, which are also used as baseball, softball, football, lacrosse, and rugby fields, by athletes of all ages and skill levels, ranging from organized competitions to pickup games.
For colder weather, there is an indoor baseball facility that is the home of Greenwich Village Little League, the New York Gothams, and ASA College baseball, as well as an indoor futsal pitch for recreational use.
However, Pier 40 is not without stunning views, despite the fact that the main athletic fields are surrounded by a multi-story parking facility. If you go through the door in the southeast corner of the promenade surrounding the ground level, you can walk up a staircase to the roof, where you will find another (smaller) soccer field enclosed by fencing and netting rather than concrete.
From here, one can see amazing panorama views of lower Manhattan, including Battery Park City, the Freedom Tower, and the Statue of Liberty in the distance. The view may very well be even better swinging from the adjacent trapeze though, which is home to Trapeze School New York.
The view is worth the trip, even if you don't end up kicking a soccer ball around, swinging a bat, or swinging through the sky!
Pier 66 aka The Frying Pan
The Lightship Frying Pan is more of a boat than a pier, but we'll count it in this list of the best piers in New York City on account of its permanent home at Pier 66 and relative function as an integral part of the Hudson River pier community.
Built in 1929, the Frying Pan was active for 30 years before being decommissioned and moved to Pier 66 at 26th street in 1989 where it has remained ever since.
Today, it is a happening happy hour watering hole that offers beer pitchers, cocktails, and a seafood-oriented menu for relatively affordable prices.
The Frying Pan is a seasonal establishment, open during the warmer months, usually from 11:30 am to 10:30 pm, weather permitting (since all restaurant and bar seating is outdoors). If you're looking for a casual, outdoor drinks spot with friends, coworkers, a date, or even the whole family, the Frying Pan is one of the best hidden gems in New York City, with a spectacular sunset view to boot.
Pier 55 aka Little Island
View this post on Instagram
Quick to become one of the most popular parks in New York, Little Island at Pier 55, next to Hudson River Park, is a newly opened artificial island park in the Hudson River west of Manhattan.
It is located near West Street and 13th Street in Manhattan's Meatpacking District and Chelsea districts and was designed by Heatherwick Studio.
The seemingly floating park is situated on Hudson River Pier 55 and is linked to Hudson River Park in Manhattan through footbridges at 13th and 14th Streets. This exciting and eco-friendly park is one of the newest and one of the coolest things to do in NYC that offers places to grab a bite to eat, drink, relax, art exhibits, and hosts events and festivals!
Pier 63
The Westside Highway and all its connected Hudson River piers offer a diverse array of activities and spaces—each pier with its own unique flair and amenities.
Pier 63 is no exception, and offers the largest contiguous open green space in all of Hudson River Park, making it one of the best piers in New York City to visit. The pier's "Lawn Bowl" features exaggerated rolling hills surrounded by luscious, native greenery that provides the perfect escape from city life.
In fact, if you couldn't see the very tip of Hudson Yards peeking over the treetops from this pier in New York City, it'd be easy to forget that you were only blocks away from Manhattan's concrete jungle.
Depending on your interests and the time of year, Pier 63 is bound to have something for you between the skate park, carousel, outdoor movies, sweeping views of the Hudson, gorgeous sculptural landscaping, and extreme proximity to Chelsea Piers.
So grab a Frisbee or blanket, sunscreen or tanning lotion, your favorite book or a speaker… and whatever else floats your boat to make a day out of a trip to Pier 63!
East River Piers
Pier 15
A small, yet relaxing pier to take a break at is Pier 15 along the East River. Enjoy the small patches of grass perfect for sunbathing or picnicking with a view on the bi-level recreation area known as the Pier 15 East River Esplanade.
Head to Watermark Bar for an unbelievable riverfront view for drinks and a bite to eat. And last but not least if you're looking to take a scenic cruise around the city, this is where you can find the location of sightseeing City Cruises.
Pier 15 is also the festive location for the annual NYC Oktoberfest each fall too!
Pier 17
View this post on Instagram
In the newly restored, historic cobbled and charming Seaport District in Manhattan, you can find one of the coolest piers in New York City to be seen at. From the Greens rooftop venue with unbelievable views of the Brooklyn Bridge, the Statue of Liberty, and East River plus year-round dining from winter igloos in the colder months and an ice rink to rooftop cinema and 'mini lawns' for rent in the summer months. (Which you'll need reservations for in advance)
You can also find a few trendy eateries and cocktail lounges on Pier 17 as well as ESPN Sports Studios.
Pier 35 & Pier 36
View this post on Instagram
These two New York City piers will be combined since they are next to one another. These East River piers offer sweeping views of the East River and the bridges that cross it and offers multiple options of entertainment from immersive exhibits like the Van Gogh Experience, waterfront swings perfect for taking in the view and give your dogs a rest, and regular events like outdoor exercise programs.
This pier is a part of the 2-mile stretch making up the East River Waterfront Esplanade, a redevelopment project adding outdoor urban greenspaces and exercise pathways for cyclists, walkers, and runners with sustainability in mind with its design.
Another not to be missed highlight of this New York City pier is Mussel Beach, a habitat restoration space for blue mussels that were once thriving in the waterways surrounding NYC.
Don't miss the installations here either, from the wall of vines to the illuminated light installations, this entire sustainable design is a masterpiece within itself let alone a great place to relax, exercise, or enjoy with a waterfront view.
Brooklyn Bridge Park Piers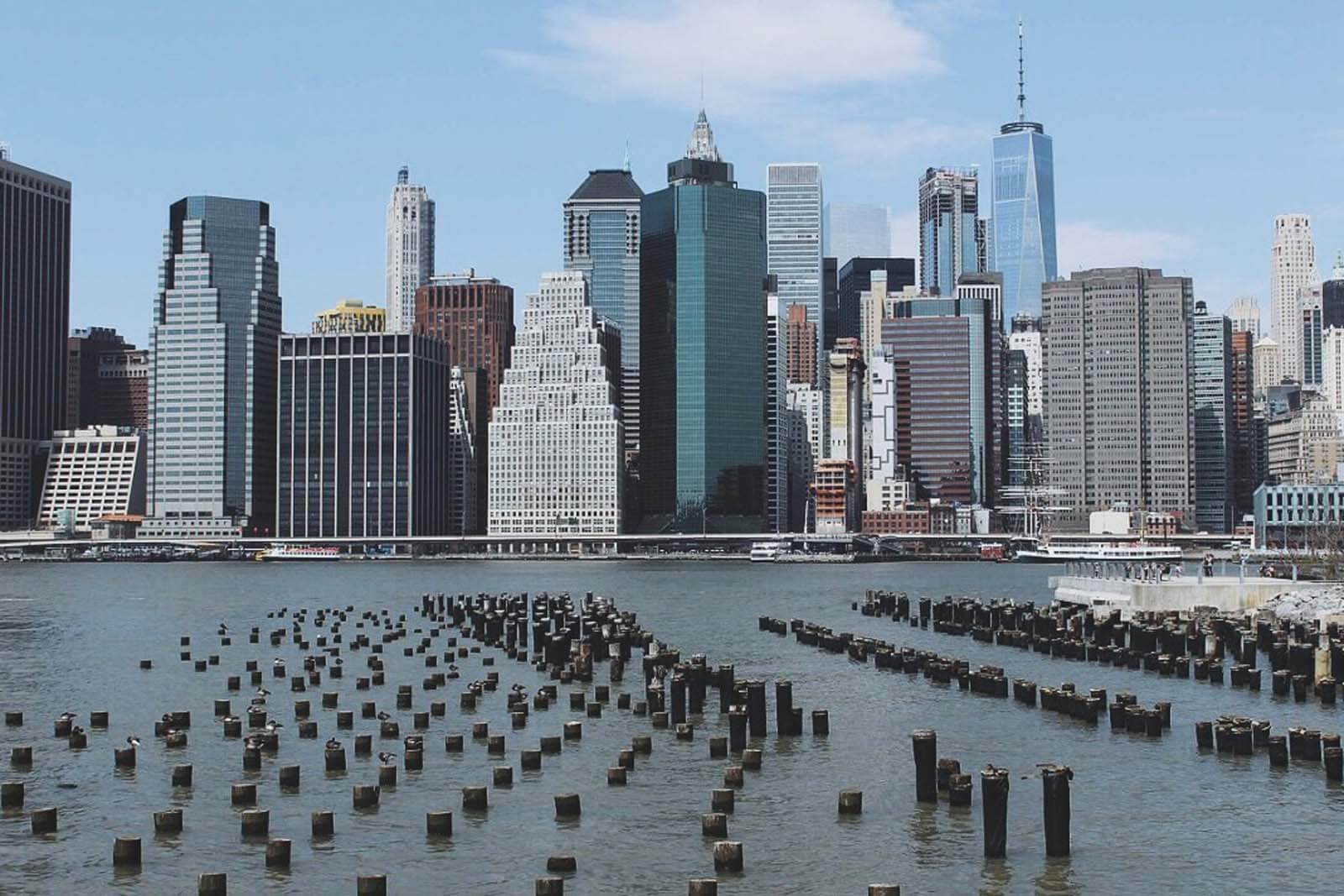 Pier 1
The largest of the Brooklyn Bridge Park piers, Pier 1 is a natural escape haven not only from the sounds of city life, but from Manhattan itself.
While Pier 1 rests in the East River at the waterfront, it is more of a coastal addition to the landmass of Brooklyn than a pier jutting out into the water. This Brooklyn pier is meant for strolling—through its luscious greenery that sometimes hides wanderers from the sun, and sometimes opens them up to breathtaking views of the East River, New York Harbor, the Brooklyn Bridge, and its terminal in lower Manhattan, where the skyline is crystal clear from the various lookout points at Pier 1.
This New York City pier has 3 different lawns, making it one of the best piers in New York City to visit for picnicking. It also boasts countless amenities both within and very close nearby in the surrounding DUMBO neighborhood—including Luke's Lobster, Ample Hills Creamery, Grimaldi's Pizza, Bargemusic, Jane's Carousel, Lizzmonade, the River Café, and much more.
Pier 1 (as well as the rest of Brooklyn Bridge Park) is easily accessible by the NYC ferry, which stops a short 1 to 2-minute walk from the northern entrance of Pier 1 at Fulton Street/Dumbo, takes less than 5 minutes to get to from the ferry stop at Wall St./Pier 11, and costs $4.
Pier 2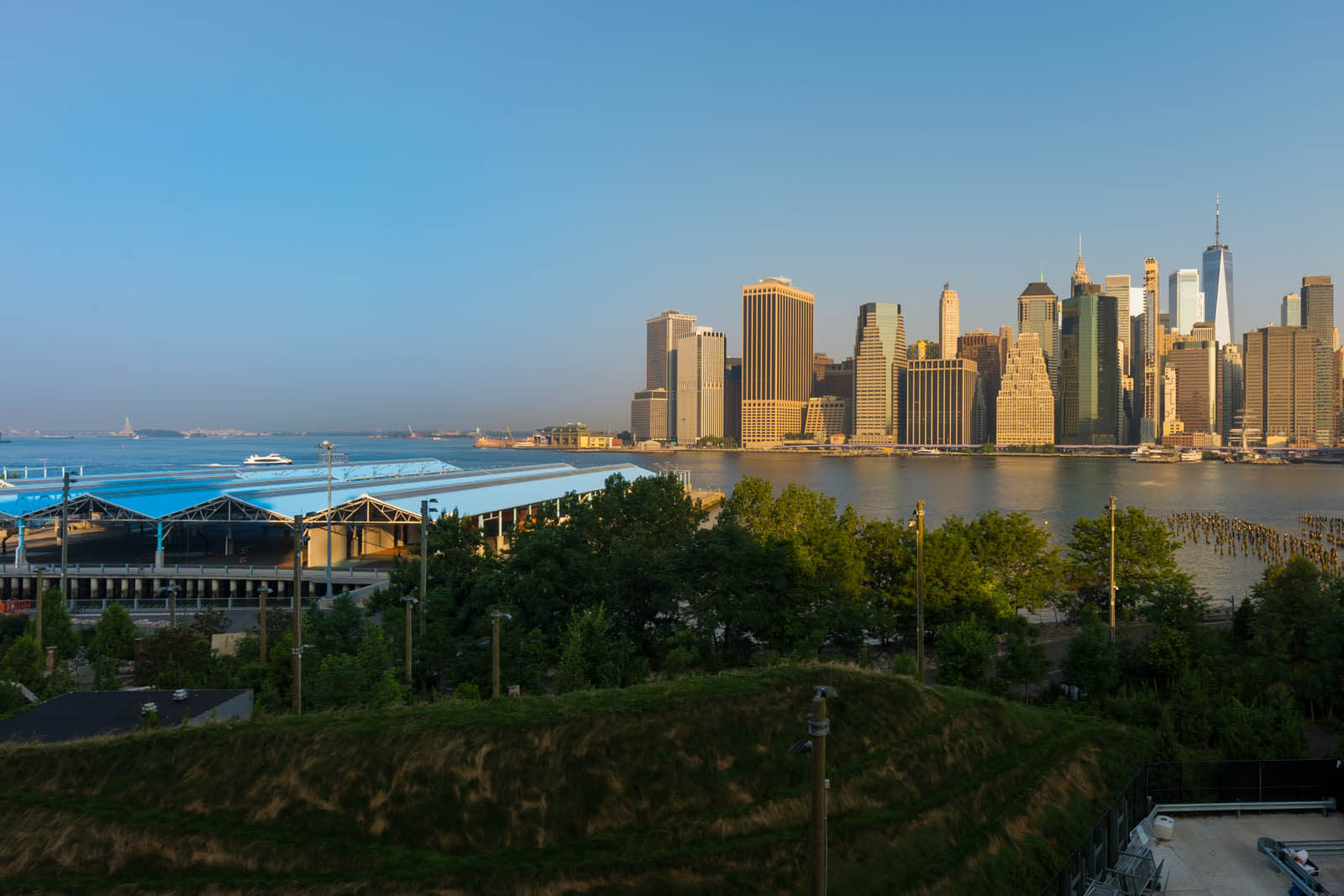 Decidedly the athletic pier of Brooklyn Bridge Park, this pier in New York City attracts active people from all over who come to make use of its new and well-kept facilities.
Whether your activity of choice is basketball, roller skating, running, working out, ping pong, handball, bocce, or kayaking, you will find a place to get moving at this Brooklyn pier. And if your sport of choice wasn't on that list, there is an ample turf area that can be used for any sport or activity you can think of that can be done on turf.
There's really no recreational facility like this New York City pier in all of the five boroughs, not only on account of its pristine condition but also on account of its priceless location at the edge of the East River, which offers uninhibited views of the New York harbor and Manhattan to the west.
Pier 3
To complement the activity of Pier 2, Pier 3 to the immediate south offers a quiet lawn for relaxation shielded almost entirely from the wind and sun by shrubs and trees on all surrounding sides.
However, there is also a promenade that wraps around the outside of the greenery, which opens up at the western edge to views of the harbor and Manhattan beyond. Pier 3 also includes an exploratory labyrinth, which contains interactive elements like mirrored games, historic pieces salvaged from other areas of the park, excavated railroad tracks, dance chimes, an echo game, reflectors, and more.
There are also picnic tables, Adirondack chairs, and grilling areas, which are available for use on a first-come first-serve basis for barbecue enthusiasts that want to make use of the incredible outdoor features of this pier in New York City.
Pier 4
View this post on Instagram
A beach! Pier 4 is home to the only beach in Brooklyn Bridge Park, albeit a very small one. Nevertheless, if you're itching to feel some sand in your toes without the hassle of trekking out to Rockaway or Long Island, the Pier 4 beach offers all the experience of the beach, just without the swimming.
Built with the remnants of a railroad float transfer bridge, this Brooklyn pier harbors marine life in its tidal pools made with ECOncrete, an eco-friendly material used to mimic natural tidal patterns of rocky shores. The beach is also a boat launching point for non-motorized small vessels, and is a lookout point for adjacent Bird Island, which is inaccessible to people but is home to all kinds of native birds. For nature enthusiasts, the Pier 4 beach is the place to be in Brooklyn Bridge Park!
Pier 5
View this post on Instagram
An ode to all things recreation and fun, Pier 5 is home to endless options for active park-goers who might not find their sport of choice at Pier 2. This Brooklyn pier hosts turf fields for soccer, lacrosse, rugby, flag football, and ultimate Frisbee.
For younger adventurers, don't miss some of the best playgrounds New York City piers have to offer!
For those seeking the outdoors without a desire to sweat, Pier 5 has options for you, too! Plan a relaxing picnic in the grass, go fishing off the west promenade, or take a walk through the beautifully manicured Pier 5 uplands.
All that this pier in New York City has to offer also comes with beautiful, sweeping views of lower Manhattan, Governor's Island, and the New York Harbor. And once you've worked up an appetite, get your grill on at one of the pier's hibachi-style barbeque stations, or stop by OddFellows Ice Cream Co. for post-meal sweets!
Pier 6
View this post on Instagram
Awaken your inner-child at Pier 6! Kids and adults alike can find something to explore at New York's "ultimate playground headquarters". Fly down a giant slide, bump-set-spike at the sand volleyball courts, splash through the fountains at the Water Lab, or frolic through the Flower Field… Pier 6 has endless options for fun.
And don't forget the Lawns, which offer wide open spaces perfect for lounging with a good book, or just soaking in the sun. If you're hungry, Fornino's Pizza is a great spot for a casual meal, while Pilot offers a sustainable seafood dining experience on a historic schooner built in 1924, docked at the north end of this Brooklyn pier. Governor's Island – another great day trip – can be accessed via the ferry dock along Pier 6's southern border, along with other NYC ferry stops throughout the boroughs.
New York Harbor Piers
Louis Valentino Jr. Park and Pier
This Brooklyn pier and park duo in Red Hook offers a beautiful, rustic location to take in views of Governor's Island, Manhattan, the Statue of Liberty, and more.
While today, a majority of this park's visitors may be attracted to it because of its expansive vistas (the closest view of the Statue of Liberty from anywhere in New York City, excluding Governor's Island and Ellis Island), recreational opportunities and street art, this pier in New York City has a much more important story to tell than what meets the eye.
Let's take a trip all the way back to the 1600s when a fledgling New York was only just settled by the Dutch. As the city grew, so did the shipping industry in Red Hook, and by the 1800s, "the Buttermilk Channel", where Valentino Park sits today, had transformed into one of the most prominent ports in the United States.
After the 1950s, the pier's importance to the shipping industry slowly diminished, and today you can kayak through the same waters that giant industrial ships did for centuries prior.
Valentino Park and Pier is named in memory of Louis Valentino, Jr. – a firefighter and lifeguard who was born and raised in New York City. Valentino was often cited for his experience, versatility, and bravery as a public servant.
In 1996, Louis Valentino, Jr. lost his life while trying to save wounded firefighters stuck in a three-alarm fire in Brooklyn. The park was built in the same year and named in his honor.
Gansevoort Peninsula
Future Addition!
Perhaps one of the most intriguing up-and-coming additions to Hudson River Park will be home to Manhattan's only public beach waterfront!
Rather than a pier, Gansevoort Peninsula will be built on solid ground and be home to a vast, green oasis at water level. The park is currently under construction and plans to utilize sustainable landscaping practices to provide river access for kayakers and a waterfront lounge for all New Yorkers.
A beautiful park complete with pathways, plenty of seating, and recreational fields will be abutted by native marshland on the northern end and the beach on the southern end. So mark your calendars for 2023, when the project is expected to be completed!
---
About the Author
Eli Kimbell is a born and raised New Yorker from Greenwich Village. He is currently pursuing a master's degree in liberal arts at the University of Richmond.