If you don't know by now, DUMBO has some of the best pizza in New York City and even in the entire country. We're sure you've heard about the pizza battle in Brooklyn between Grimaldi's and Juliana's if not be sure to read all about it in our guide to best things to do in Brooklyn guide or we touch on it a bit below!
While both of those famous pizzerias are where you can find the best DUMBO pizza and pizza near the Brooklyn Bridge, there are also a few other stand out pizza in DUMBO spots worth trying!
It won't be an easy decision to pick a favorite, but we promise you won't be complaining after dining in at any of the five hottest spots for pizza in DUMBO.
Also, check out the best restaurants in DUMBO guide for more fun eats in this amazing and iconic neighborhood! Also, looking for more pizza? Check out our guide to the best pizza in Brooklyn.
The Best DUMBO Brooklyn Pizza Guide
Grimaldi's
View this post on Instagram
Let's dive right into the best pizzas New York City has to offer and easily one of the most famous. Grimaldi's and Juliana's pizza are neck and neck in competition because of their long history as neighborhood rivals.
This DUMBO pizza spot was founded by Patsy Grimaldi who learned how to make pizza at the age of 10 in Harlem and his very own Brooklyn location opened in 1990 becoming the famous pizza near Brooklyn Bridge.
Later in the 90's, Grimaldi hung up his oven mitts to retire and sold the Grimaldi's name and pizzeria.
In 2011, the new owner wasn't able to renew the lease in the original location and moved the restaurant to the building next door, which was an abandoned bank.
In 2012, Patsy Grimaldi decided he wasn't done with pizza quite yet and came out of retirement and opened Juliana's right next door to Grimaldi's, which was in Grimaldi's original location!
Long story short, Grimaldi sold his place, missed the pizza biz, opened Juliana's and is selling pizza right next door to his namesake!
Now we've covered that, let's get into the good stuff. Build your own pizza, choose a traditional, or pick a chef's selection. Not too complicated, right?
Grimaldi's offers specialty pies like Margherita, Garden Pesto, and Prosciutto Arugula, and The Don, which is Italian sausage, meatballs, and pepperoni.
Some other options include:
Quattro Formaggi: Mozz, Asiago, Parmesan, Pecorino Romano, and Gorgonzola.
Brooklyn Bridge: Red Peppers, Ricotta cheese, Italian sausage, all on the traditional pizza.
White Pizza w/ Garlic
For your gluten-free pizza lovers, Grimaldi's has added a 12" gluten-free crust! Order traditional, pesto, or white!
Check out their menu that suggests the perfect glass of wine with each pie and keep in mind that this DUMBO pizza spot is cash only and doesn't sell by the slice, just by the pie!
You can also expect to join the line of hungry Brooklynites often waiting outside the doors of Grimaldi's in its famous location for pizza near the Brooklyn Bridge.
Grimaldi's is the perfect date spot and the best spot to take your friends to give them a real taste of that famous New York City pizza. Visiting Grimaldi's is one of the most iconic things to do during a visit to NYC and especially Brooklyn!
Find this DUMBO pizza restaurant at 1 Front Street, open Sunday-Thursday 11:30 AM-11 PM and Friday-Saturday 11:30 AM-12 PM.
On the occasion, you don't get the chance to dine in here at the OG location you do have the option to visit any of their franchise locations across the U.S.!
Juliana's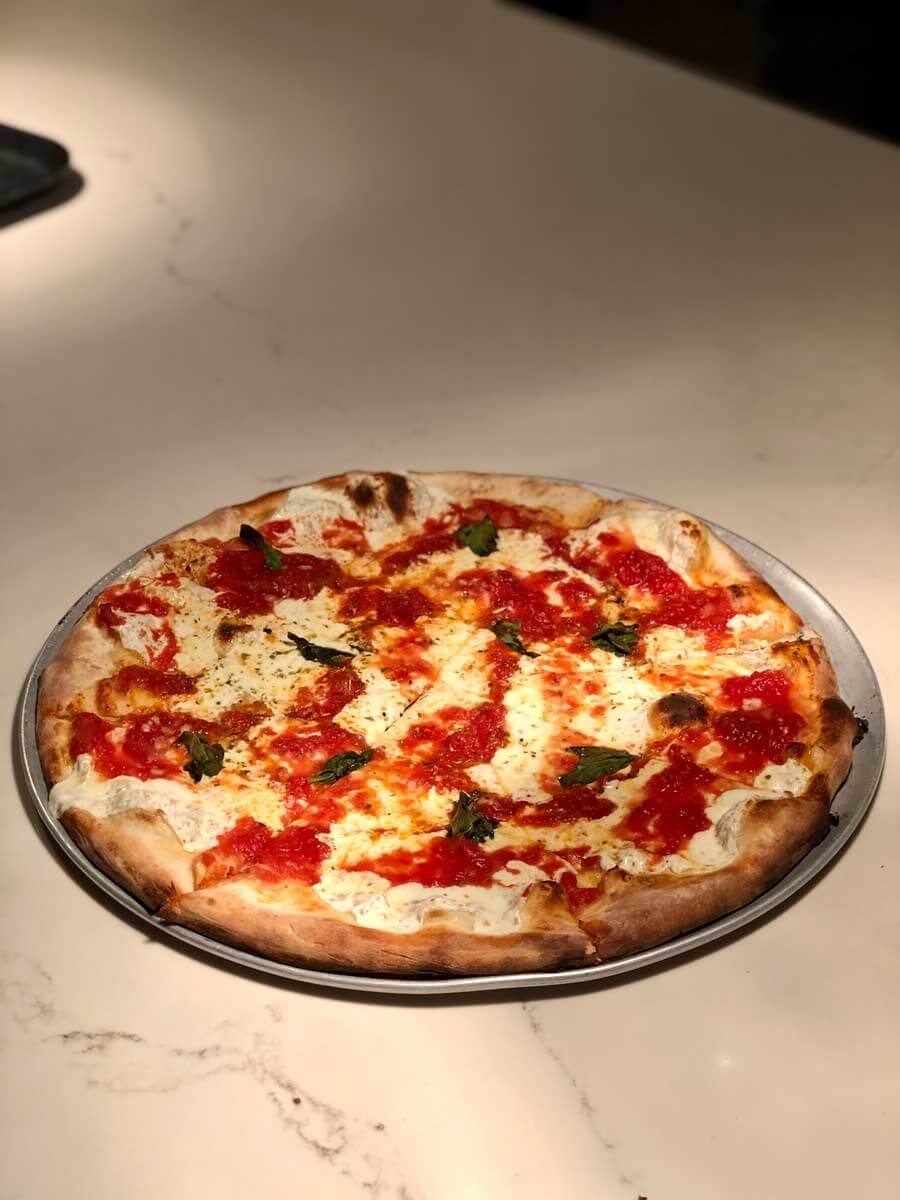 Ok, so now to Patsy Grimaldi's new pizza in DUMBO location, Juliana's in the original location of his old Grimaldi's pizzeria.
Now that we've given you the rundown, it's up to you to decide if you're team Grimaldi's or team Juliana's or maybe you want to try both so you can decide which is the best pizza in DUMBO. Some people don't have a preference and some people never cheat on their favorite.
You may think there's not much of a difference between the two, but here's all you need to know about eating at Juliana's.
If you're not very picky and like most of your meals exactly how it's listed, this is probably your place (if you're not it's okay, join the club).
This DUMBO pizza restaurant offers three classic pies, Margherita, Marina, and White and on each of these pies, customers can add two toppings of their choice.
Yes, I meant it when I said only two.
Make sure to choose wisely and don't spend too much time fighting about which ones you want with the rest of the group.
Outside the classics, Juliana's has six specialty pies. The one thing to keep in mind if you're ordering from the specials, there are no changes/substitutions.
If you're a changes/substitutions kind of person, pick your own toppings for a classic pie! No shame in that.
To give you some ideas on the specialty pies, check out a No. 2, with sliced cherry tomato, Bufala mozzarella, garlic, and sea salt. Maybe order a No. 6, with grilled chicken, mozzarella, Monterey Jack, white cheddar, guac, and cilantro.
If you're wondering what No. 1, 3, and 4 are (there is no No. 5):
1: mozz, scamorza affumicata, pancetta, scallions, white truffles in olive oil
3: mozz, sausage, broccoli rabe and garlic
4: tomato, mozz, arugula, prosciutto
Their most famous pie is the classic Margherita!
And if you're not a pizza lover, but being dragged along for the experience, try the spaghetti and meatballs.
Something to keep in mind about this DUMBO pizza spot is that there are no reservations, and it's common for there to be a line out the door for guests waiting to be seated.
Juliana's is located at 19 Old Fulton St open daily 11:30 AM-10 PM (closed for stoking 3:15 PM-4 PM).
Read Next: Best Things to do in DUMBO
Front Street Pizza
View this post on Instagram
Next up on the best pizza in DUMBO! Front Street Pizza is the one-stop-shop for all things that just hit the spot. Front Street is your best bet if you're looking to just get a couple slices to take on the go (this is what most New Yorkers look for).
Even though their menu has a lot more than just pizza, pizza is what we're here for. Right?
Try anything from their long list of specialty slices. Although most New Yorkers go for a plain slice, give something new a try at this DUMBO pizza spot.
Step outside your pizza comfort zone and order something like their taco slice, penne vodka sauce slice, buffalo chicken slice, or even a chicken and broccoli slice!
They also have specialty pies available. Many of the same options by the slice, but some are different! Check out the grilled chicken caesar salad pie!
Front Street also emphasizes its gluten-free options! You'll see it advertised outside the restaurant! Check out their gluten-free pies list!
Pizza in DUMBO doesn't get easier than Front Street, stop in and take a seat, or take a stroll with your delicious slices. Check it out at 80 Front St, open daily 11 AM-8 PM.
Ignazio's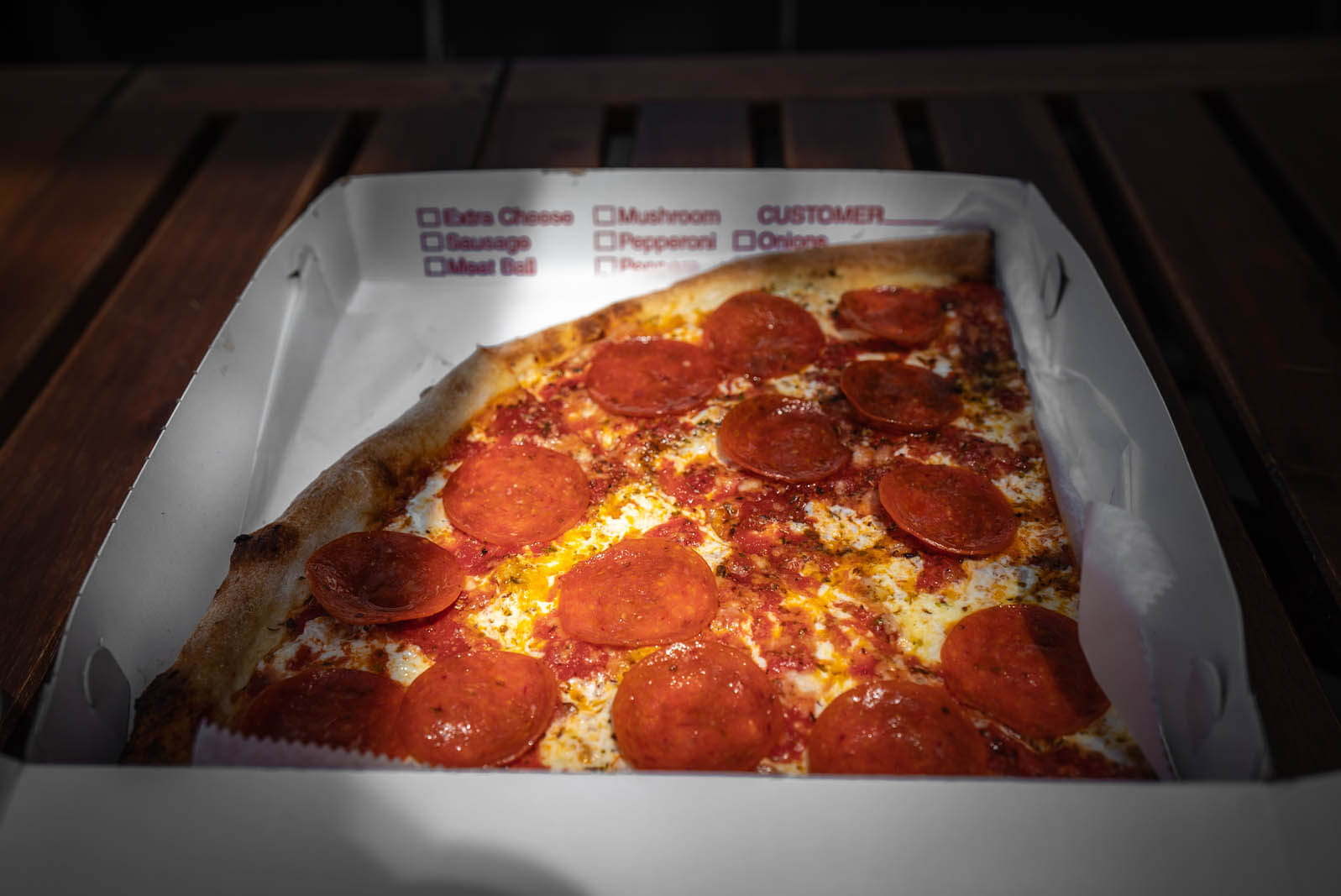 Just down the street from Juliana's and Grimaldi's is another great spot for pizza near Brooklyn Bridge. Check out Ignazio's one of my favorite DUMBO pizza spots and the best restaurants in DUMBO with a view!
Perfectly located under the Brooklyn Bridge, Ignazio's is a beautiful spot for a date night with some great pies.
Ignazio's offers many Italian options on their menu. Aside from pizza, they have meatballs, stuffed mushrooms, meatball heroes, salads, and much more. So if you're looking for more than just pizza, this might be your place!
When it comes to pizza, create your own from their long list of delicious toppings, or check out their specialty pies and calzones.
You can order anything from plain, which is called The pizza on their menu to a Tex-Mex pie, which is cheddar cheese, salsa, jalapeños, black olives, avocados, onions, cilantro, and a drizzled honey crust!
If that doesn't hit the spot, try their pineapple and ham, their bacon, avocado, and tomato pie, or the Siciliana. A Sicilian slice is square-shaped and thick, similar to a plain slice and crazy good!
Beyond these pies there is:
Veggie Pizza
White Pizza (my personal fav from Ignazio's!)
Shrimp Pizza
White Clam Pizza
Dine in for some of the best pizza in DUMBO at Ignazio's. Enjoy the location, views, and the can't miss meals all located at 4 Water St. Open Monday-Sunday 12 PM-9 PM.
If you're a fan of just a slice, check out our guide to best slice of pizza in NYC!
Read Next: Best DUMBO cafes to check out
Love & Dough
View this post on Instagram
How have we not talked about Love & Dough before?! Visit this excellent Italian pizzeria set up on the corner of Pearl St!
Pizza in DUMBO is unmatched with a menu like this one. You'll find their pizzas are divided by "Pizze Rosse" and "Pizze Bianche." Rosse means it's a tomato based pizza and bianche means it's tomato free!
Now that we got that covered, for the rosse, get a classic Margherita pie or maybe something a little more adventurous like the Surrpressata!!! which is tomato, hot soppressata (Italian salami), ricotta, cherries, mint. Sound too adventurous for you? Try the Rustic or Naughty pies.
Rustic— tomato, mozzarella, spicy soppressata, roasted pepper
Naughty— tomato, mozzarella, ham, mushrooms, artichokes
For the bianche, explore the variety! Something Green includes pesto, radicchio, gorgonzola, and mozzarella. Or even try the namesake! The Love & Dough pie is truffle cream, portobello, mozzarella, and prosciutto di parma.
For an additional fee, choose a few extra toppings!
All pies are available gluten-free for a $5 charge! Whole wheat and gluten-free pastas are available for an additional $3.
Love & Dough is about a lot more than just the dough. Try their pastas, calzones, big plates and even add a glass of wine to your delicious meal, making it more than just a place for pizza in DUMBO.
When it comes to restaurants in New York City, never judge a book by its cover. Love & Dough may look small from the outside but step inside for a simple yet beautiful restaurant with plenty of seating.
Check out the interesting photos and artwork along the wall that ties the whole place together.
Find this DUMBO pizza spot at 57 Pearl St. open daily 11:30 AM-11 PM.
Fornino at Pier 6
Another one of the best DUMBO pizza spots is located at Pier 6 in Brooklyn Bridge Park technically in Brooklyn Heights but close enough. Besides being an awesome pizza spot, they also offer a killer rooftop bar great for sunset views with drinks, dinner, or even lunch or brunch with views of the NYC city skyline and the Statue of Liberty while you eat your pizza.
The rooftop dining area is open daily, weather permitting for dining and drinking! Or you can just eat indoors.
Fornino is famous for its brick oven Neopolitan style pizza and has won several awards including the best Brick Oven Pizza in 2009 and the best pizza in the city in 2006.
They offer classic pizzas or a range of toppings from veggies like asparagus to white pizzas.
---
On your next trip to Brooklyn be sure to let us know what your pick for best pizza in DUMBO ends up being! Also, if you're looking for the perfect pizza caption or just love pizza quotes, we have a whole guide dedicated to them!