Looking for the best restaurants in Bed Stuy? You're at the right place. Bed Stuy or Bedford Stuyvesant is one of my favorite Brooklyn neighborhoods for coffee and food. The multicultural neighborhood itself has every type and style of cuisine you could want from Mexican to Cuban to Nigerian to casual hangs to sit down to upscale spots worthy of a special occasion or one of those just because you deserve to treat yourself moments.
Bed Stuy is home to my hands-down favorite bagel shop in the world, you better believe it's on the best bagels in Brooklyn round up too, with delicious coffee, and amazing parks. The neighborhood itself is huge and there is so much good food in this area, you definitely need to spend more than a day here.
Whether you are a Bed Stuy local or just visiting, this guide will provide you with all the best restaurants in Bed Stuy. And while you're here be sure to check out the best things to do in Bed Stuy.
Bed Stuy Restaurants Worth Checking Out
Pilar Cuban Eatery
Address: 397 Greene Ave
When I moved to the Bed Stuy neighborhood, I instantly became obsessed with Pilar Cuban Eatery as it was one of the first places I visited in my new neighborhood. It is seriously some of the best Cuban food around and they have great outdoor space, a good happy hour, and amazing service making it one of the best Bed Stuy restaurants.
Pilar is the perfect place for any occasion from dining out with friends, to grabbing a solo meal or just popping in for a casual date night.
I have loved everything I've tried but everytime I go, the cuban nachos, sweet fried plantains, and the cuban sandwich are a must order. Other classic dishes are also delicious like the ropa vieja, picadillo, and a few vegetarian plates that involve okra and sweet fried plantains. Also, the empanadas are also a stand out here as well!
Pilar also runs a bakery right next door where you can pick up amazing pastries, a cafe con leche, anything guava and delicious flan to go. You can also get a small version of the cuban sandwich (not sure why you would want to because it is delicious left over but it is an option here).
Pilar accepts reservations and is open for lunch and dinner during the week and brunch on the weekends, this is one of the best spots for brunch in Bed Stuy too. It is relatively affordable and has a good happy hour during the week and if I haven't made it clear enough above, this is a great spot to become a regular.
Golda Kitchen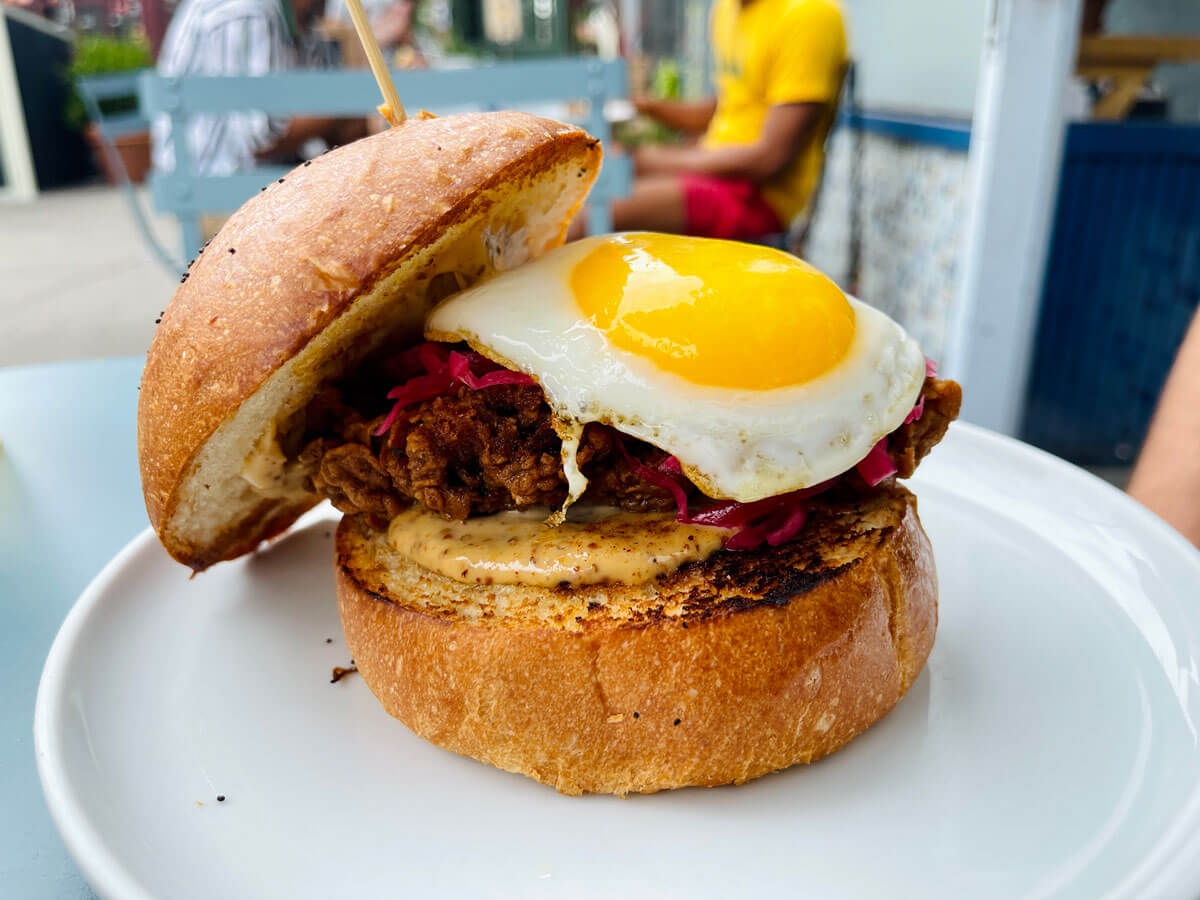 Address: 504 Franklin Avenue
Golda is a place that consistently ranks as one of my favorite breakfast sandwiches in all of New York and consistently ranks as one of the most aesthetically pleasing restaurants in all of New York. They also have amazing lunch sandwiches and delicious coffee. 
Located right off the Franklin Avenue C train stop, this is the perfect place to stop on your way to work or coming from work and is the perfect middle point between Clinton Hill, Crown Heights, and Bed Stuy.
Like I said, you come for their signature egg & cheese sandwich, which you can get any time of day. It is seriously delicious. You can add avocado and you truly have the best sandwich you will ever eat. If you're craving something more in the lunch sandwiches, the fried chicken sandwich is incredible as well as all of the mezze.
They accept reservations via phone and have a small space for indoor seating. They also have outdoor seating out front or you can take it to go, which you should, because this is one of the best restaurants in Bed Stuy.
For All Things Good
Address: 343 Franklin Avenue
For All Things Good opened and immediately became one of my favorite places to eat in Bed Stuy. It is unlike anything else in the neighborhood, and really unlike any style of cuisine in New York known for its meat-light menu. It is so good in fact that they just opened a second location in Williamsburg but I'm going to always stay partial to the Bed Stuy location because the original is always the best. 
The best thing on the menu food wise are the tetelas. All are beyond delicious but my favorite one is the chihuahua cheese and salsa verde. The salsa verde is so good so make sure you ask for an extra side.
You can also order all three (which I definitely recommend your first time here). The squash blossom and Oaxacan cheese quesadilla are also amazing. Really, nothing you order is not going to be one of the best things you've ever eaten.
For drinks, the mezcal is delicious and tastes so fresh so make sure you get a cocktail that incorporates it. For non-alcoholic drinks, their horchata is some of the best I've ever had. In fact, there was a while there where I went at least 3x a week just for that.
For All Things Good is one of the best restaurants in Bed Stuy and they serve breakfast, lunch and dinner every day but Monday. They have outdoor sidewalk dining which is lovely but they do not accept reservations. They also sell the tortillas, which I highly recommend purchasing to take some home with you. The tortillas are so good that they step up even your most basic cheese quesadilla game.
Saraghina Pizzeria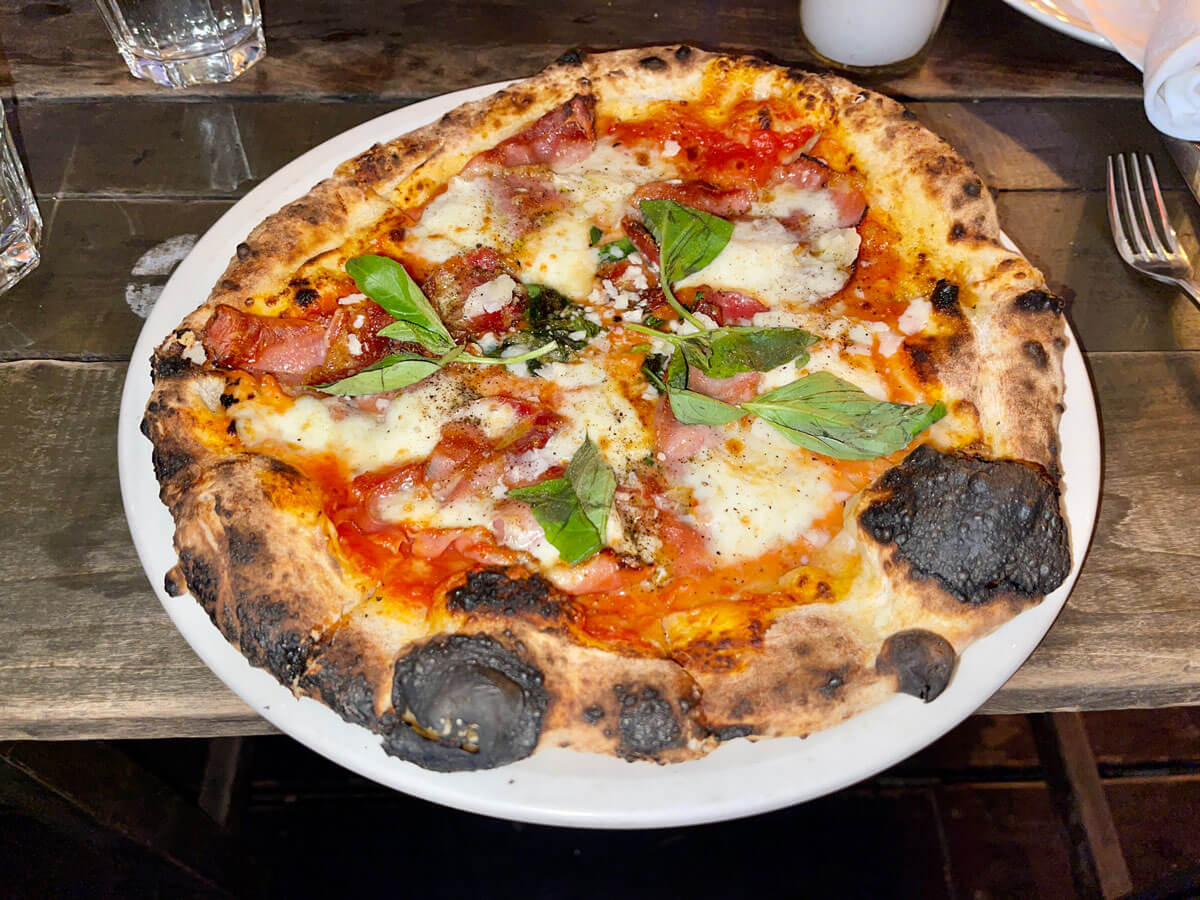 Address: 350 Lewis Avenue
Saraghina is deeper into Bed Stuy but it is worth the travel no matter where you're coming from. They also don't accept reservations but it is more than worth the wait. The food is Italian and have incredible Neapolitan-style pizzas and pastas. There are other things on the menu but the pizza is a must order as this is one of our favorite places for pizza in Brooklyn.
They have all the classic pizzas including margherita and bufula, both of which I highly recommend. I also always love their rotating pizza that changes with each season. For white pizza, the funghi & tartufo is also amazing. As far as appetizers go, make sure you order the fresh baked focaccia & whipped ricotta and a salad. For pastas, the cacio e pepe and ricotta stuffed raviolis are the best but like I said, you really can't go wrong with anything here.
Saraghina is by far one of the best restaurants in Bed Stuy and always the one place I can get my friends from Manhattan to travel to, so you know it has to be great. The indoor aesthetics are great but the best spot is in the backyard on the patio. Dinner gets busy quickly but if you can, I definitely recommend sitting outside. They do have cocktails you can order while you wait!
Chilo's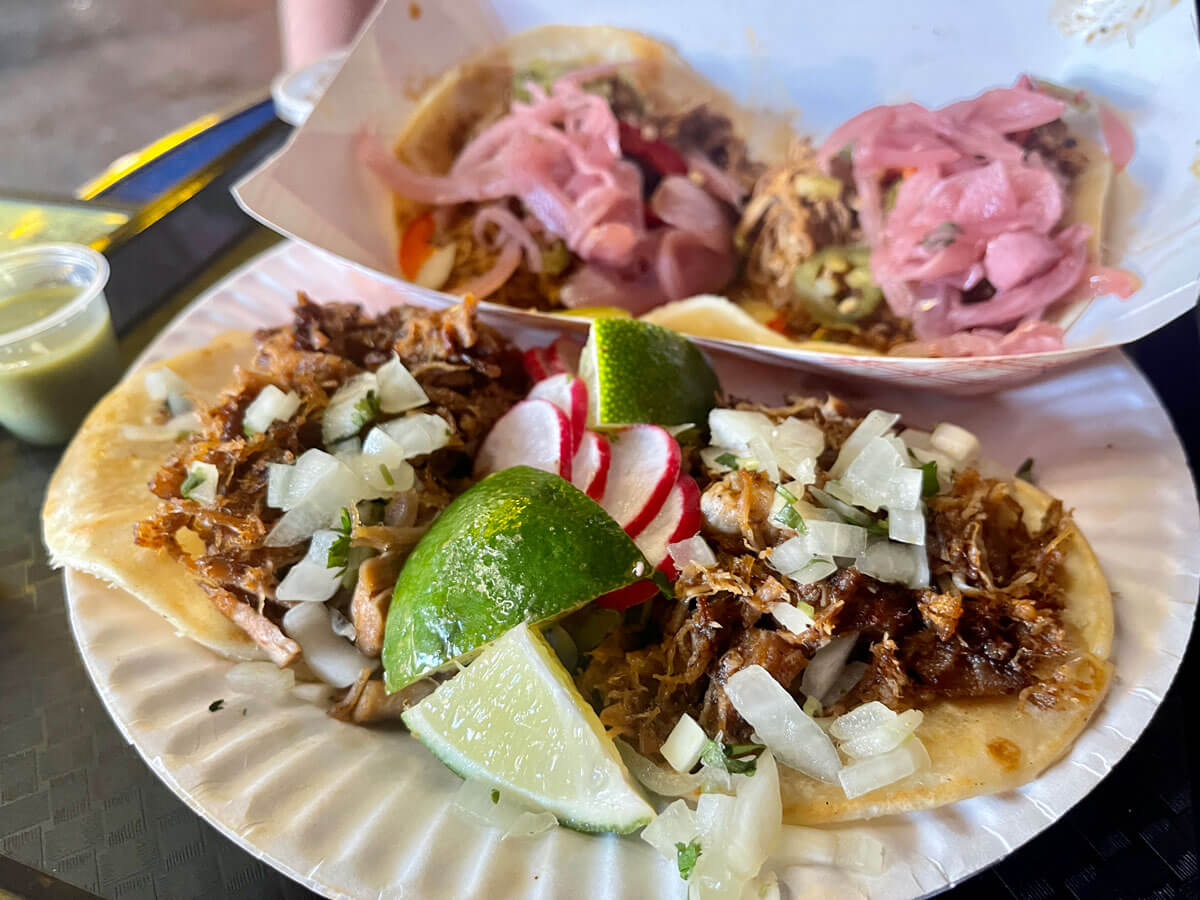 Address: 323 Franklin Avenue
Another one of the best restaurants in Bed Stuy is Chilo's, which is located on an unassuming corner lot on Franklin and Clifton Place. You order from the taco truck and then take a table outside where a server comes by and you can also order alcohol. The tacos are definitely a decent size but since you'll want them all, try to come with friends and share.
If you're dining solo, I usually can finish around 3 tacos (4 if I'm super hungry). They also have delicious tortas and tostadas though as well.
You can't go wrong with any taco but my favorites are the fish taco, the carnitas taco, pork belly taco and breakfast taco. The avocado tostado is also delicious and is completely vegetarian. For tortas, order the alambres torta. It is heavy and big but worth every bite. Finish off your meal with a margarita and you'll have finally found some of the best tacos in New York.
Toad Style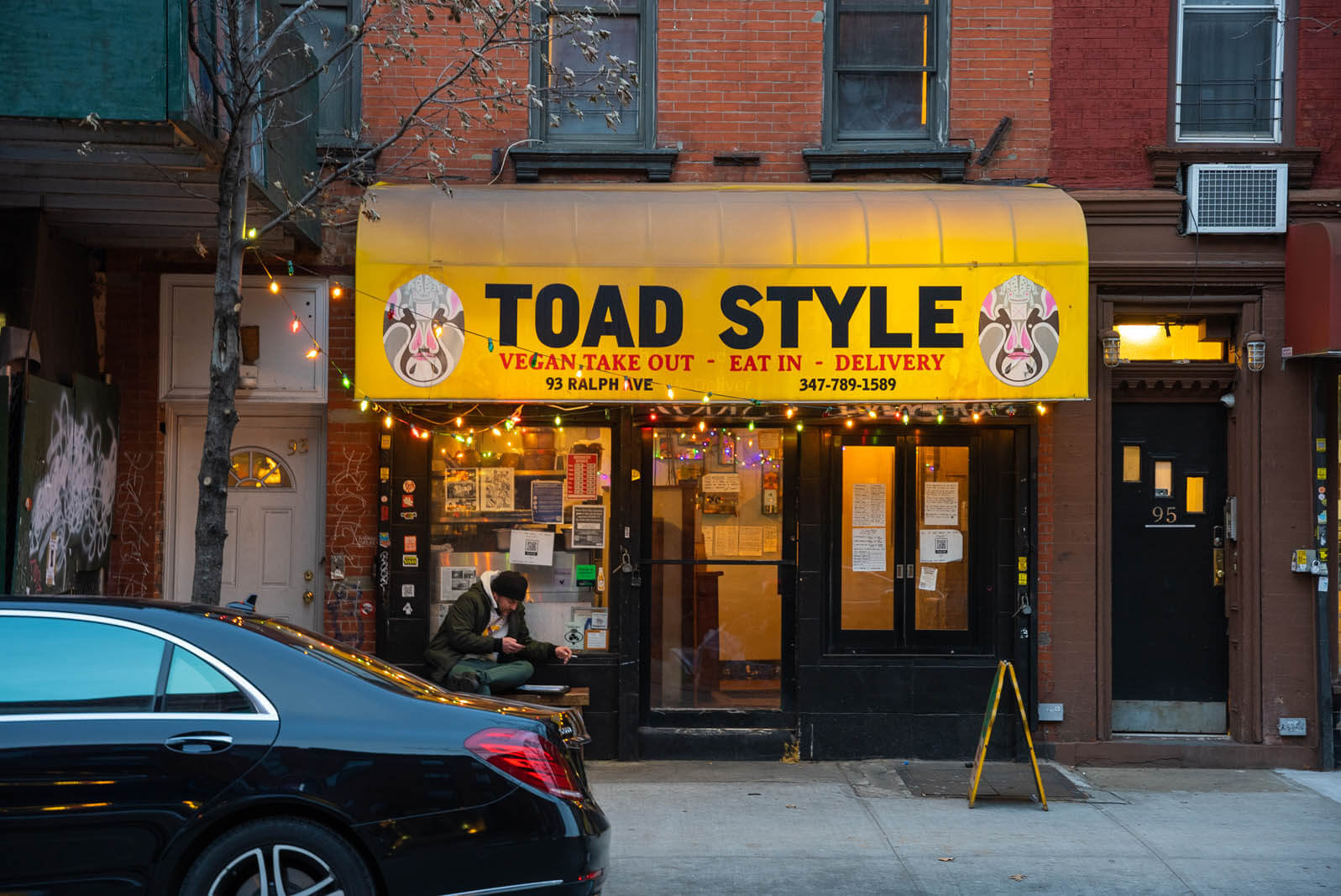 Address: 93 Ralph Avenue
Toad Style is 100% vegan but it is also soy-free and gluten-free. I will admit, as a meat-eater, I was a little hesitant because of all this (because those are all three things I love that they didn't have) but you don't even feel like you are eating vegan because it is so delicious. 
Toad Style is small but that is what makes it such a great restaurant in Bed Stuy. There are only 14 inside seats and no outside dining is offered but like so many places, you can grab your food to go and take it to enjoy at a park on a nice day.
The veggie hot dog and bahn mi are two of my favorite things on the menu but they also have delicious chili cheese fries, fried and buffalo cauliflower and a BBQ Jackfruit sandwich (gluten-free on tacos or as a salad, their buns are baked locally) with hickory-smoked jackfruit, coleslaw, and house-made pickles.
Toad Style is open late daily and the perfect place to order takeout or delivery. Also, if you're looking for more plant-based friendly spots check out the best vegan restaurants in Brooklyn and best vegan bakeries in Brooklyn!
David's Brisket House & Deli
Address: 533 Nostrand Avenue
There are so many incredible Jewish delis in all of New York that you have to know that one that has been around for over 70 years is definitely worth checking out. This is the case with David's Brisket House & Deli, one of the best restaurants in Bed Stuy and one of the best sandwiches in Brooklyn.
As the name suggests, the specialty here is brisket so make sure you are ordering that. They also have all the other classics including corned beef and pastrami but the best news is that you don't have to choose between the two. You can get a delightful sandwich with both their mouth-watering brisket and pastrami complete with your pickles on the side.
David's Brisket House & Deli has some casual indoor dining but also offers to take out and delivery.
Hart's
Address: 506 Franklin Avenue
Ah Hart's. One of my favorite restaurants and one of the best places to eat in Bed Stuy. The food is Mediterranean/American and the vibe is set in a perfect, minimalist, and small space complete with a few tables and a few seats at the bar. They also have some outdoor dining as well and are open for dinner daily. 
The menu doesn't change often but even if it does, the best things on the menu have always remained constant. That being said, there are a few must-order items including the clam toast with pancetta, the lamb burger, the milanese and the sourdough bread with olive oil. Yes, the clam toast comes on bread and yes the bread here is that good that one piece is not enough. They also have delicious cocktails and a good wine by the bottle and glass selection.
Hart's doesn't accept reservations so get here early, especially on the weekends. There are other places nearby to grab a drink while you wait and it is always worth the wait.
Valentine's Pizza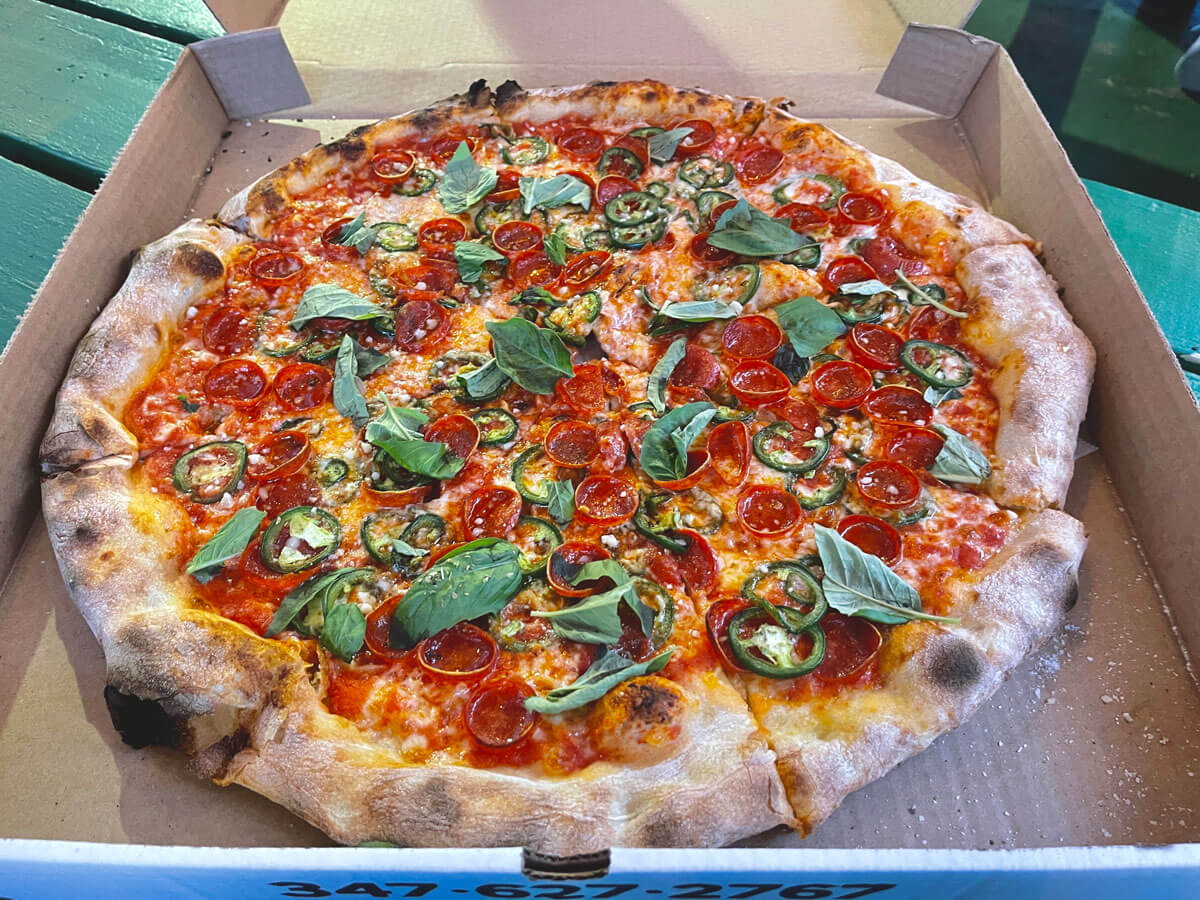 Address: 1063 Bedford Avenue
Originally called Frankie and Vali's, renamed Valentine's Pizza, which has quickly become one of my favorite slices in the city making it another one of the best restaurants in Bedford Stuyvesant. From the same owner behind the infamous Greenberg's Bagels (aka the best bagels in New York), this pizza shop does pizza simple but does pizza very well. 
The menu is simple but delicious. You can order full pies or have it by the slice. As always, you've got to start with the classic cheese. The pepperoni is also a must-order here. They also just recently added garlic knots to the menu, which are the perfect addition to pizza. Beer and wine are also available for you to enjoy.
Dining is available outside and reservations are not accepted. This is one of my favorite slices in Bed Stuy so make sure you make it a priority to visit!
Samurai Papa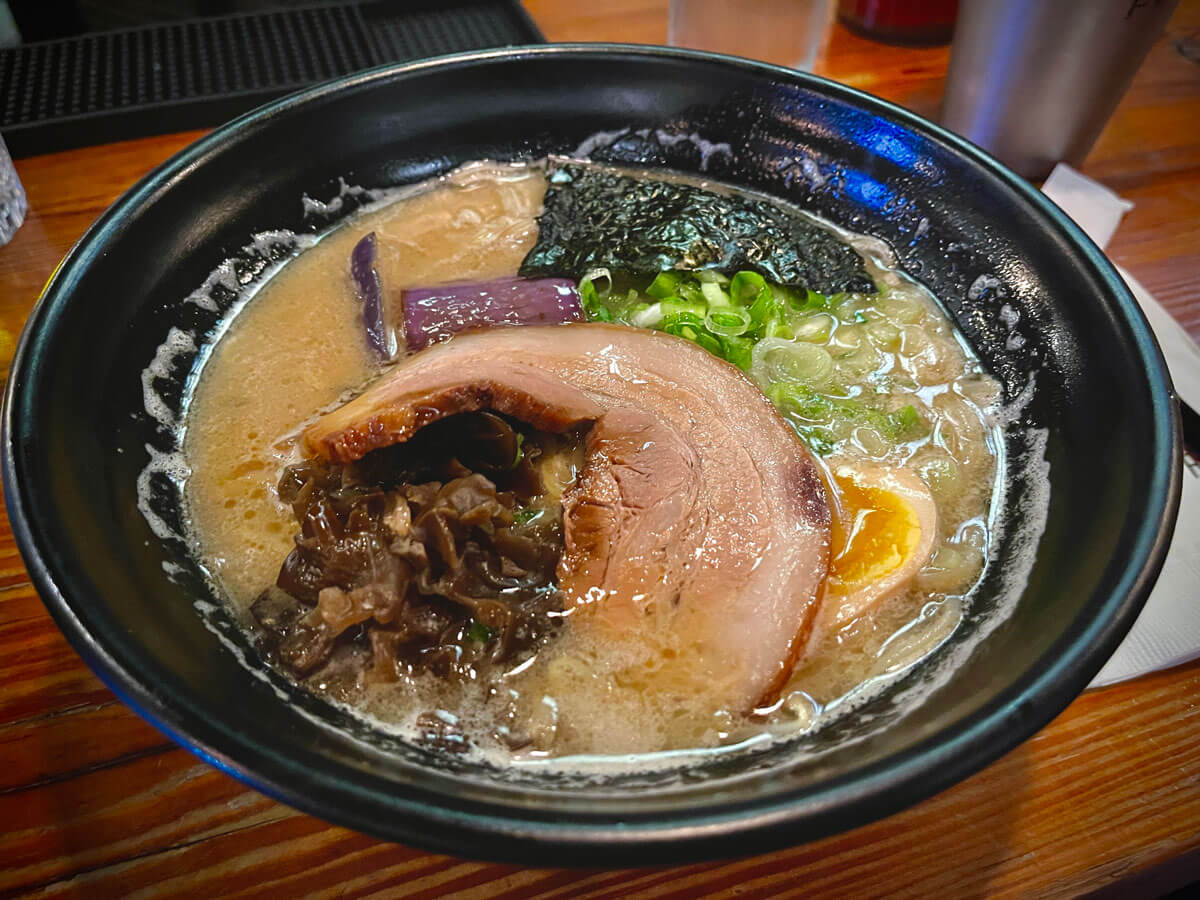 Address: 594 Lafayette Avenue
Samurai Papa is the perfect place for those cold winter nights when you really just want a good bowl of ramen but also don't feel like spending a fortune on said bowl of ramen. The menu is simple at Samurai Papa but simple menus at ramen shops always seem to make the best ramen, which is definitely the case here. 
My favorite ramen is the tonbara pork cloudy soup ramen but the tomato vegan ramen is also very delicious. They also have some great appetizers including classics like edamame and gyoza but their pork buns are some of the best I've had. If you're not feeling ramen, they also offer rice bowls and bento boxes but, in my opinion, ramen is non-negotiable here.
The space is very small but they do have some indoor seating. They also offer delivery and have a second location in Bushwick. They are open for dinner daily but reservations are not accepted so plan accordingly.
Swell Dive
Address: 1013 Bedford Avenue
Remember above where I mentioned how hard it is to find good tacos in New York? It's even more impossible to find white queso. But that impossible feat was conquered with Swell Dive. 
The minute you walk into Swell Dive, you get casual, laid back, beach vibes and the best part is that these vibes are in the middle of bustling Bedford Avenue. They offer both indoor and outdoor seating but the back patio is the best place to be. The servers are extremely accommodating and very pleasant to interact with and everything on the menu makes you want to come back again.
Obviously, you have to order the chips and queso. The chips and salsa is also great as well as literally every taco on the menu. My favorite is the breakfast migas taco but the chicken fried spam seems to be an overall fan favorite.
Swell Dive is open daily for dinner and brunch on the weekends. The space is small and while they don't accept reservations, you are usually able to find a seat but they also offer to go.
Maya Congee Cafe
Address: 563 Gates Avenue
I stumbled upon Maya Congee Cafe thanks to my hairdresser at a salon a few doors down who recommended I go midway through my very long hair appointment. It was a blessing that my hair takes so long because this has now become one of my favorite places to eat and one of the best restaurants in Bed Stuy. 
Maya Congee Cafe offers a selection of congee bowls, toasted sandwiches with a modern flair on international flavors. Just like everywhere on this list, there are so many incredible options but some of my favorites are the spicy crunch bowl, pork banh mi and the breakfast sandwich with avocado. They also offer a lot of vegetarian options!
They are open for breakfast and lunch and are definitely worth a visit, especially if you live in the area. They have outdoor seating and also have specialty grocery items within the shop that you can purchase.
Peaches HotHouse
Address: 415 Tompkins Avenue
Peaches HotHouse is Bed Stuy institution that has been around for years and is definitely one of the best restaurants in Bed Stuy. It's a no-thrills establishment but that is half the charm. 
The fried chicken is obviously a must-order. You can get it regular, hot or extra hot. The hot is hot but it's worth the heat. They also have a great wedge salad, catfish sandwich, and shrimp and grits but the main star of all the entrees is the fried chicken. Pair this with a few sides (they are seriously all delicious) and a cold beer in one of their outdoor sidewalk seating options and you will leave very happy (and very full).
Peaches Hot House has multiple locations in Brooklyn as well, including nearby in Clinton Hill. They offer both indoor and outdoor dining and they are open daily for lunch and dinner. They don't take reservations but it usually isn't too long of a wait for a table.
A&A Bake Doubles and Roti
Address: 1337 Fulton Street
You've probably seen A&A Bake Doubles and Roti on several lists of must eat places in New York and that is for very good reason. From the outside, it looks just like your everyday New York bodega but it is one of the best around and that is for their doubles.
The food is Trinidadian and while it used to be cash-only and only to go, they now accept cards and have a few seats. They're open for breakfast, lunch and dinner and serve incredible, no thrills, cheap eats.
They're known for their doubles and for good reason. They are fluffy and delicate and have the best-seasoned chana I've ever had. Pair that with a fry bake or a roti packed with potatoes and chunks of goat and you will leave very happy.
While there are a limited number of seats and to go is sometimes the only option, eat everything immediately for the best results.
L' Antagoniste
Address: 238 Malcolm X Blvd
L' Antagoniste has all the French vibes and if you've read any of my other articles you know how much I love anything that resembles a Parisian diner. The vibes are great where you feel like you're at a nice French dinner without the price and without being too stuffy and formal. They also partner with farmers and fishermen from the region to ensure the best quality ingredients and one of the best dining experiences. 
The menu is classic French and the flavors match. The cheese plate is always a great choice to start with as well as the steak tartare, oysters and mussels. In fact, the mussels are one of my favorite things on the menu. For entrees, their burger, "zhe french hamburger," is amazing as well as the classic steak frites.
Both indoor and outdoor dining is available and they accept reservations. The outdoor dining does have heaters and is in a nice, back, garden patio, so on nice days that is definitely where you should sit. They are open for dinner daily and have brunch on the weekends.
Joloff
Address: 1168 Bedford Ave
Another one of the best places to eat in Bed Stuy located on Bedford Ave is Joloff, a warm little spot serving up traditional Senegalese dishes. A local institution for a quarter-century, this family-owned shop is a neighborhood mainstay and you can taste the love that's put into every dish here.
Some of the best items to try is the yassa yapp or yassa gainer (grilled lamb chops or chicken marinated in a lemon and onion sauce) and iebou jeun (a baked fish dish served with carrots, cabbage and cassava in a tomato-based sauce with jollof rice). Don't miss their insatiable sides like sweet plantains and fried yucca too!
The menu features a great selection for vegan and vegetarian-friendly dishes as well.
---
Best Places to Eat in Bed Stuy (Post Summary):
Pilar Cuban Eatery
Golda Kitchen
For All Things Good
Saraghina Pizzeria
Chilo's
Toad Style
David's Brisket House & Deli
Valentine's Pizza
Samurai Papa
Swell Dive
Maya Congee Cafe
Peaches HotHouse
A&A Bake Doubles and Roti
L'Antagoniste
Joloff
---
About Our Guest Author
Molly Royce – Originally from Oklahoma, I moved to NYC for grad school and have had a hard time wanting to leave ever since. There really is no better borough than Brooklyn where I live with my boyfriend and our black lab, Frankie. There's no greater city in the world and I can't wait to share my love of the city, eating, and drinking with all of you.
---
Don't see your favorite Bed Stuy restaurant or foodie spot on here? Let us know in the comments below, we will check them out! Be sure to also check out our picks for the best coffee shops in Bed Stuy too.