Looking for the best restaurants in Bushwick, Brooklyn? We got you. Bushwick is a neighborhood that has so much character, some of the best street art in Brooklyn can be found here in addition to having a diverse group of people living in one neighborhood making this once again one of the best Brooklyn neighborhoods to check out. There are also some incredible restaurants in Bushwick and some of the best places to eat in Brooklyn! Especially since for nearly a half a century, Bushwick has been home to many Latino communities.
Whether you are a local living in Bushwick, visiting from another NYC neighborhood or just visiting, this guide will provide you with all the best restaurants in Bushwick! And before or after your meal, be sure to check out the best things to do in Bushwick including checking out the Bushwick Collective.
Or grab a post-meal drink at one of the best cafes in Bushwick or the best bars in Bushwick.
Best Food in Bushwick
Taqueria Al Pastor 
Address: 128 Wyckoff Avenue
A guide to the best food in Bushwick would not be complete without including some of the amazing Mexican fare that dominates the neighborhood, not to mention Bushwick is no stranger to serving up some of the best tacos in Brooklyn. There are so many options for incredible tacos but Taqueria Al Pastor reigns supreme as one of the best Bushwick restaurants. 
Obviously, you should order an al pastor taco. After all, that is their namesake. You should also order some carne asada tacos though because they really might be even better than the al pastor. Each taco is smothered with guacamole wrapped in a homemade corn tortilla. It makes the perfect meal and if you don't agree, pretty important you head over to this Bushwick restaurant to try for yourself.
They also have crispy tacos, or volcanoes, if that is more of what you prefer. In addition, they have all the other classics including quesadillas, tortas and rice plates. Really, you cannot go wrong with anything you order here.
The space is small on the inside but they have plenty of outdoor seating set up. The service is quick and very friendly. This Bushwick restaurant is open every day till midnight and until 11 pm on Sundays.
Ops 
Address: 346 Himrod Street
If you've read anything about the best pizza in New York, Ops is always on the list and for good reason. This is not only one of the best restaurants in Bushwick but one of the best pizza places outside of Italy. 
The interior plays off the classic pizza establishment with booths and old pasta sauce containers holding cutlery and napkins on each table. It also makes you feel like you're a local the minute you walk in the door.
The menu is small but mighty with some great salads and a cheese plate. Some of the other appetizers rotate regularly but are equally delicious. There is no wine list but they are all natural, rotating regularly, and bonus, they are all the same price.
As far as the best things to order, the pizza shines and you can't go wrong with any choice. They have a daily special and calzone as well. As always, I recommend starting with the classic margherita. For something special, go with the pops and the square pie.
Open every day for dinner but Monday and reservations are accepted. Ops is some of the best food in Bushwick and also has some of the best vibes around to celebrate any occasion whether that is a casual weekday dinner, hosting an out of town friend or a celebratory dinner so reservations are definitely recommended for this delicious Bushwick restaurant.
The Rookery Bar 
Address: 425 Troutman Street 
The list for restaurants in Bushwick is very long and therefore it is hard to narrow them down while The Rookery Bar might feel more like a bar when you arrive, you're going to want to sit down and have one of the best burgers in town. 
The bar itself is one of my favorite styles of bars with the horseshoe shape that is equally inviting with friends and having a solo drink at the bar. They also have high ceilings, hanging lights, and wooden stools. The bartenders are also some of my favorite in the city and not only make you feel like a local but also make some delicious cocktails and great conversation. 
As far as food goes, you must try the burger, either the Rookery or the Blues Burger. The egg sammy is also amazing any time a day and the mac and cheese should always accompany anything you order. You can also add cheese to anything, so cheese fries are more than welcome on your table.
Open every day for lunch until late and while reservations aren't accepted, there is usually available seating. They also have specials throughout the week and happy hour. This Bushwick restaurant offers both indoor and outdoor dining.
Falansai 
Address: 112 Harrison Place 
First of all, the vibes at this Bushwick restaurant are amazing. This Vietnamese eatery has wooden tables and walls covered with vinyl inside and an outdoors that looks like a true oasis with a koi pond in the middle of the patio with actual lily pads.
Not to mention, this is the perfect spot for groups, a solo dinner or a casual date night. It also has been run by a former Blue Hill at Stone Barns chef, making this one of the best restaurants in Bushwick.
The menu changes regularly for all items as well as their four-course or six-course tasting menu. But, if the duck confit is on the menu, it is a necessary order. Also, anything with "dad's" in front of it, should also be on your table as it pays homage to the chef's childhood eating.
Open every day but Monday for dinner and reservations are accepted. Falansai is one of those places that is perfect for any occasion and is some of the best food in Bushwick.
Sally Roots
Address: 195 Wyckoff Avenue 
The best part about Sally Roots is their patio. The second best thing about Sally Roots is that nothing costs over $20. The decor is kitschy inside and the outdoor is covered with plants and large umbrellas over many of the tables, making it the perfect place for sun or shade options.
The drinks are amazing here and make you feel like you're on a tropical vacation. The Caribbean-American food is some of the best food in Bushwick and all the traditional dishes that should not be missed including the pork and the tostones that come with a garlic cream sauce. The mac and cheese is actually also really good here and wouldn't suck if it ended up on your table.
Open every day for dinner and brunch on the weekends. They do not accept reservations but have both indoor and outdoor seating (and maybe one of the best patios in Brooklyn). Just make sure you order a rum-infused cocktail (the pina colada is my favorite) and enjoy one of the amazing restaurants in Bushwick.
Syndicated Bar Theater Kitchen
Address: 40 Bogart 
Not every day does a movie theater make a list for some of the best food in Bushwick but it's not every day that a movie theater actually has great food. Luckily, we have cool movie theaters in Brooklyn including independent film houses and other fun 'dinner and a show' dining experiences including Syndicated Bar Theater Kitchen.
The appetizers shine here and I recommend ordering a few before the movie starts to enjoy during the opening credits. You can add curry to the popcorn, which is actually great, or keep it traditional with butter and salt. They have great mozzarella sticks, cheese fries, chicken wings and empanadas.
For mains, the grilled cheese has an herb-honey butter so clearly, you should get this as your entree. If you want dessert, the cookies are actually amazing and the perfect way to end your movie date.
Syndicated is open every day and has both a sidewalk cinema and the traditional indoor cinema. Both options serve food and are a full service Bushwick restaurant.
Roberta's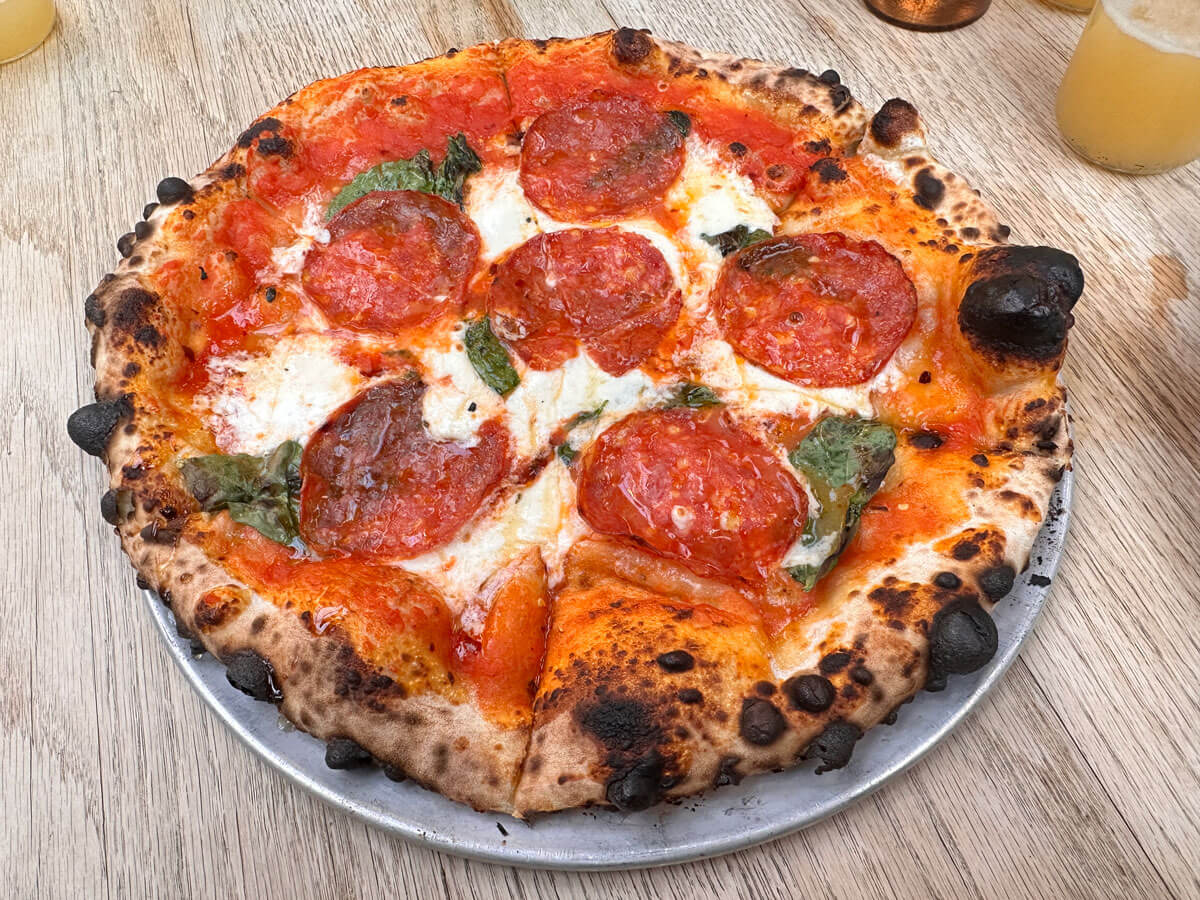 Address: 261 Moore Street 
Another place that tops all the lists of the best pizza places in NYC is Roberta's and for very, very good reason. Roberta's is definitely one of the best restaurants in Bushwick and like I said above, one of the best pizza places outside of Italy. 
The first time I tried this was during the days of the pandemic when restaurants weren't open and take away food was the highlight of the week. A few months later, I went back in person and haven't been able to stop going since. The outdoor dining is some of my favorite with long wooden tables and walls made out of shipping containers. The indoor is also nice if that is more your style.
For food, obviously, pizza is what you order and the bee sting is the best pizza on the menu second only to the classic margherita. If you want something with a white sauce, the white guy is also incredible. They also have delicious appetizers, pastas and salads and an amazing panna cotta dessert. 
Roberta's is open every day for lunch and dinner. They accept reservations and I definitely recommend grabbing one as this restaurant in Bushwick is always packed. They also offer take away and delivery, which is delicious but there is something special about eating some of the best food in Bushwick right out of the oven.
Tortilleria Mexicana Los Hermanos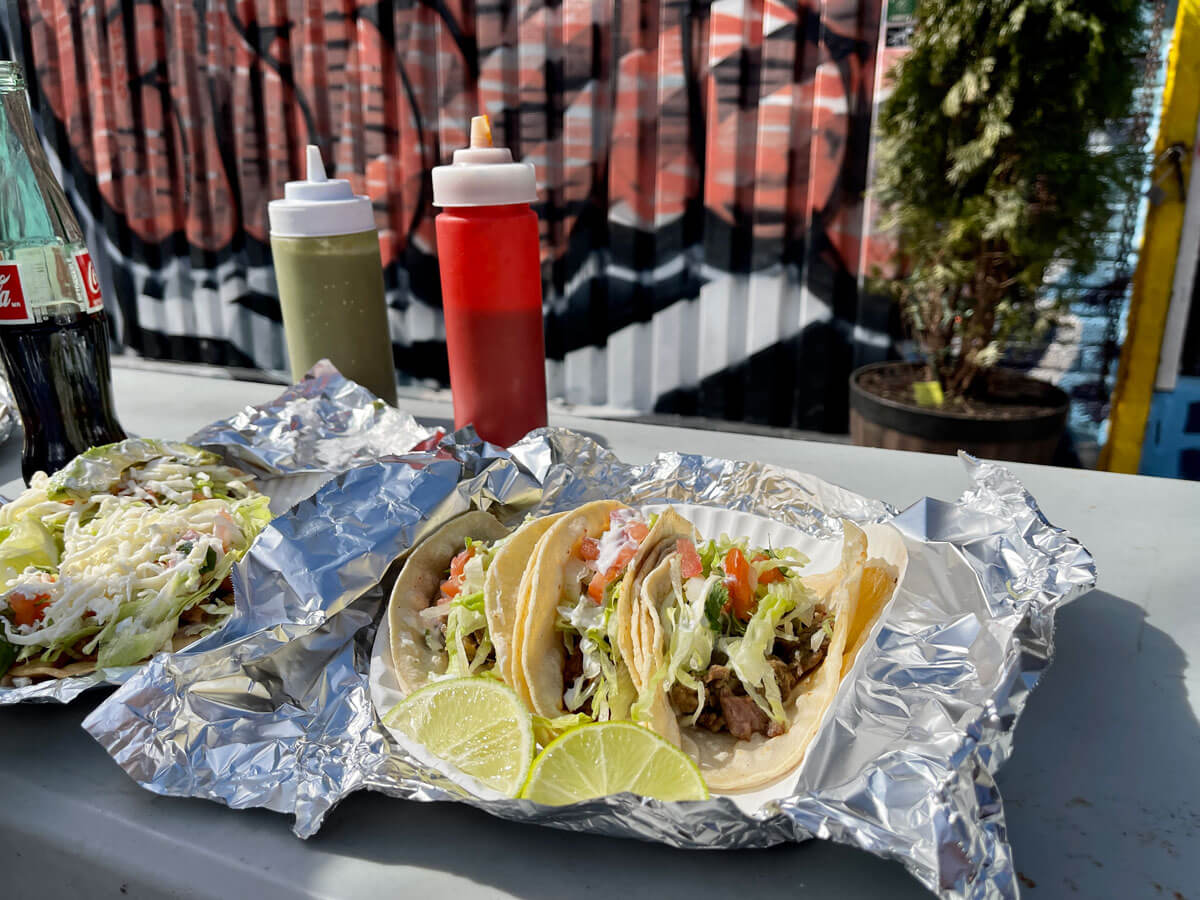 Address: 271 Starr Street 
Continuing down the road of delicious Mexican restaurants in Bushwick and you will arrive at Tortilleria Mexicana Los Hermanos, another one of the best restaurants in Brooklyn, and some of the best tacos you'll ever eat.
Housed in a tortilla factory, this is the kind of authentic tacos that you usually only see south of the border. All the tacos are served on paper plates with a lime on the side. The hot sauce is all homemade and is the perfect addition to whatever you order, so don't skip it.
Obviously, the tacos shine here and there really isn't a bad choice but I always love to stick with the classics and here that's the steak and the pork. They also have spicy pork and a vegetarian option for non-meat eaters!
For other great options, the taquitos, tostadas and tortas are some of my favorites in the city. They have all the same options as the tacos so, as always, I recommend mixing and matching.
Open every day for lunch and dinner. They have some indoor dining as well as an outdoor space. Reservations are not accepted and they are BYOB! Don't also forget to grab some fresh tortillas to take home too as this is one of the last fresh tortilla factories in Brooklyn!
Nene's Deli Taqueria 
Address: 14 Starr Street 
Birria tacos have definitely taken over New York City but Nene's Deli Taqueria has a claim on one of the best and originals with their quesabirra, a perfect combination of cheese, meat and consome. They also have traditional birria tacos as well as a new birria pizza. 
If birria isn't your thing, the traditional tacos at Nene's are also something to be desired. They also have quesadillas, burritos, nachos, tortas, sopes, mulitas and vampiro, all of which are equally delicious.
Nene's is open every day for lunch and dinner (open till midnight on the weekends). There is some outside dining available and counter seating inside but no reservations are accepted. Just like so many of the other Latinx and Hispanic-influenced dishes in the neighborhood, Nene's serves up some of the best food in Bushwick.
La Lupe Cantina 
Address: 9 Jefferson Street 
Another place with some of the best tacos and another one of the best restaurants in Bushwick is La Lupe Cantina. They also have actual places to sit, making them even more of a desirable Bushwick restaurant. 
Just like all other Mexican restaurants in Bushwick listed in this guide, the tacos are the star but you're going to be just as equally satisfied if you order anything on the menu. At La Lupe, that is the asada burrito, filled with rice, pinto beans, lettuce, corn, cream, pico de Gallo, and avocado sauce. They also have tortas, flautas, elote and chips and guacamole.
La Lupe is open every day for dinner and every day for lunch except Monday. They have a great happy hour every weekday with one of the best deals in town and while they do not accept reservations, they offer both indoor and outdoor dining options.
Ichiran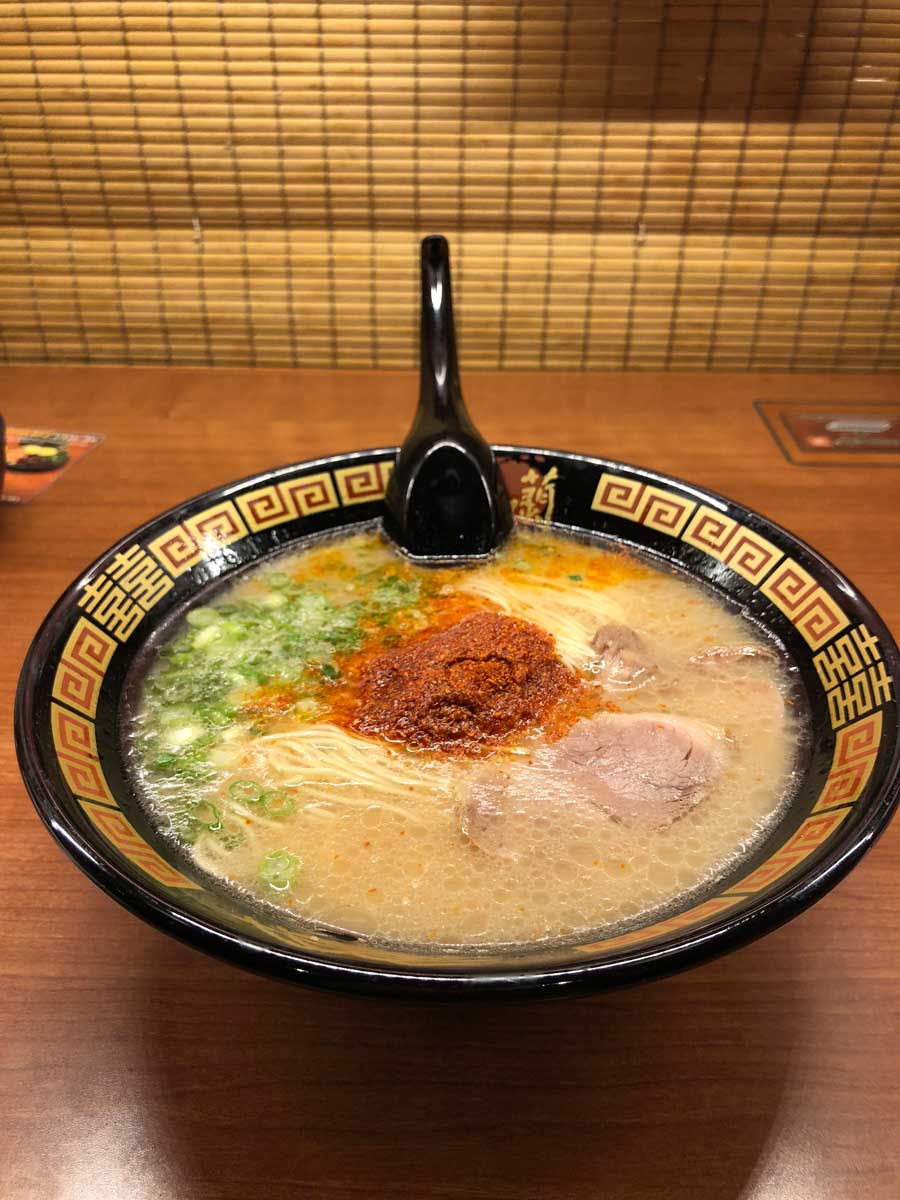 Address: 374 Johnson Avenue
Ichiran is different from any restaurant I've ever been to, let alone any restaurant in Bushwick, and it's not different because of the food. It's not only one of the best places to dine solo (one of my favorite things to do in the city), it is also one of the best places to go if you don't really feel like talking to anyone around you, including your server. 
You are set up in a "concentration booth" that resembles a voting stall with a stool and from there you pass your written order through a slit to a person on the other side. It's a cool concept when you don't want to talk to anyone or feel like being social and it helps that they have some of the best food in Bushwick.
Ramen is the name of the game here and it hails from this popular Japanese chain but don't let the word chain stop you from coming here because this was the first location in the US, and it's also one of the best ramen places in Japan and some consider it the best ramen in the world too.
The menu is simple and straightforward with tonkatsu (pork) based broth ramen. You basically fill out your order form where you can select how rich you want the broth to noodle firmness. If you find yourself always a little hungry after eating ramen, save some of your savory broth and order a round of kaedama, which is just an extra serving of ramen noodles you can add to your broth.
And don't worry, if you want to be social, your little concentration booth can open up to your neighbor!
They are open every day for lunch and dinner but reservations are not accepted. It gets busy quickly but the waitlist seems to go by pretty fast so don't be intimidated if you do have to wait. This restaurant in Bushwick only has indoor dining.
Farm to People
Address: 1100 Flushing Avenue
In addition to being one of the best places to eat in Bushwick, Farm to People also offers a delivery service that sources local foods from farms within 300 miles of New York City. This is also how they create their menu making Farm to People one of the best restaurants in Bushwick. 
The menu is a reflection of ingredients that are sourced from 150 farms that are also within 300 miles of New York City. The menu changes daily but all of the food remains equally delicious. They also have natural wine, local beer, seltzer and cider and their very own kombuchas.
Farm to People is open Thursday – Sunday with varying hours so make sure to check their website or call ahead before visiting. They have an ample (and very inviting) space for outdoor dining and offer some of the best food in Bushwick. Indoor dining is also available for the hotter and cooler days. Reservations are accepted and the patio is dog friendly!
Le Garage 
Address: 157 Suydam Street 
Le Garage gets his namesake from the location itself. Housed in a former garage, this Bushwick restaurant is owned by a mother-daughter team that serves up some delicious homestyle French food with a touch of Mediterranean. 
Just like so many other Bushwick restaurants, this space is something to be desired with a small wooden bar with metal stools and a mom and pop feel throughout the restaurant. It's the perfect place for dining solo or taking the family (especially if your mom is in town) for some delicious French food and some of the best food in Bushwick.
As far as the food goes, everything is amazing but I especially love their Wednesday night pre-fixe special where they offer either an appetizer and entree or an entree plus dessert for $30. Name another place where you can get incredible food for less than $30 for just the entree, let alone two. If pre-fixe isn't your thing, come for all you can eat mussels and duck fat potatoes plus a glass of wine on Thursday.
So you don't like specials? Stick with the bread and butter and a salad to start, the chicken for two and chocolate mousse for dessert. They also have an incredible brunch on the weekends with all the French classics.
Le Garage is open every day but Monday and Tuesday for dinner and open for brunch on Saturday and Sunday. They offer both indoor and outdoor dining, each one equally inviting, and reservations are accepted.
Bunna Cafe 
Address: 1084 Flushing Avenue 
No neighborhood guide is complete without a variety of cuisine choices and Bunna Cafe is not only one of the best restaurants in Bushwick but also one of the best restaurant experiences in Bushwick. It's also one of the best vegan restaurants in Brooklyn, which I think is the best kind of vegan that doesn't even taste like you're missing ingredients. It's also some of the best Ethiopian food around. 
The most important thing to know about eating at Bunna Cafe is to make sure you come ready to share and you do that by ordering the Feast. The Feast includes nine different things off the same plate, complete with your own side of injera, a flat, spongy sourdough flatbread that is great for scooping.
Bunna Cafe is open for lunch and dinner every day but Tuesday. They accept reservations and have both indoor and outdoor seating options available. The vibes are great in that neighborhood family room style and some of the best food in Bushwick.
The Turks Inn 
Address: 234 Starr Street 
This guide of restaurants in Bushwick just wouldn't be complete without including a classic and that said classic is The Turks Inn. Resembling something that you would see off a roadside highway from the outside (and the inside), the Turks Inn has an old school supper club charm that keeps everyone coming back for more. It also happens to have some of the best food in Bushwick. 
The menu is a mix of Mediterranean and Middle Eastern and has delicious things like a bread basket to start, shrimp cocktail, wedge salad, hummus and cheese curds. For entrees, stick with the kebabs.
The Turks Inn is open Wednesday – Sunday for dinner and they accept reservations. While there is some outdoor dining, I prefer the inside just because of the kitschiness and the feel like you really have stepped outside of New York.
---
Best Places to Eat in Bushwick (Post Summary):
Taqueria Al Pastor
Ops 
The Rookery Bar
Falansai
Sally Roots
Syndicated Bar Theater Kitchen
Roberta's
Tortilleria Mexicana Los Hermanos
Nene's Deli Taqueria
La Lupe Cantina
Ichiran
Farm to People
Le Garage
Bunna Cafe
The Turks Inn
---
About Our Guest Author 
Molly Royce – Originally from Oklahoma, I moved to NYC for grad school and have had a hard time wanting to leave ever since. There really is no better borough than Brooklyn where I live with my boyfriend and our black lab, Frankie. There's no greater city in the world and I can't wait to share my love of the city, eating, and drinking with all of you.
---
Did we miss your favorite restaurant in Bushwick? Let us know in the comments below and we will be sure to check is out.