Looking for the best restaurants in Carroll Gardens? We got you. Carroll Gardens always feels like it's separate from the rest of Brooklyn in the sense that it is very calming, offers plenty of things to do but not too much where you feel overwhelmed and it has some of the best restaurants in all of Brooklyn, many of which don't take reservations making it even more of an experience when you finally get to dine there.
Plus, it is very centrally located making it pretty simple to get to from most other Brooklyn neighborhoods. It also has some great parks and local boutiques and shops making this one of the best neighborhoods in Brooklyn to build up an appetite while you're exploring around.
Whether you are a Carroll Gardens local or just visiting, this guide will provide you with all the best restaurants (and all the tricks to get into said best restaurants) in Carroll Gardens.
While you're at it, check out this guide to the best things to do in Carroll Gardens too!
Carroll Gardens Restaurants You Need to Check Out
Lucali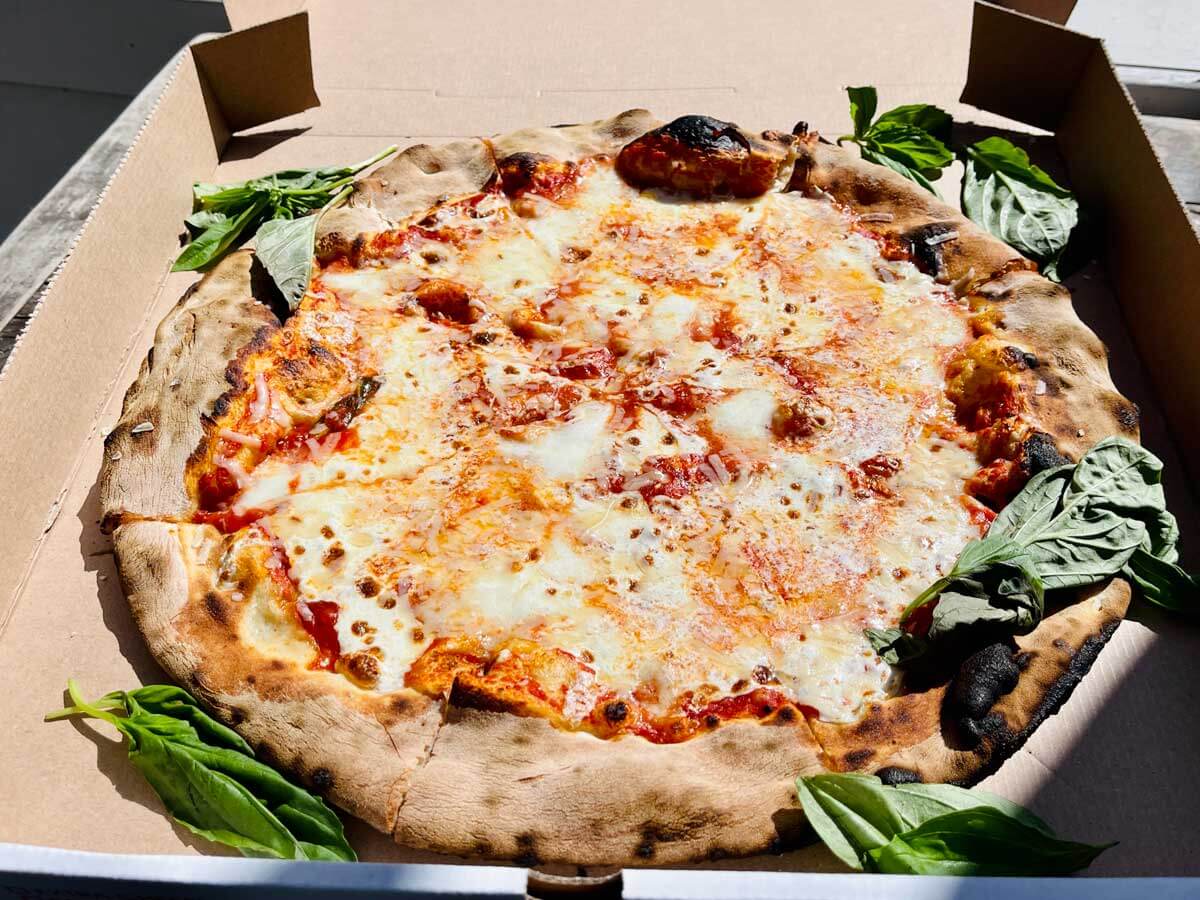 575 Henry Street
No Carroll Gardens restaurant list would be complete without beginning with Lucali. Lucali is by far one of the best restaurants in Carroll Gardens, in the city, and maybe even the world by famed chef Mark Iacono.
This restaurant has A list clientele and famously Jay-Z and Beyonce skipped going to the Grammy's eating at Lucali instead. If you're a fan of the Netflix series Ugly Delicious with David Chang, you might have recognized Lucali and Iacono featured in the pizza episode.
In fact, it is so good that there are only two things on the menu – pizza and calzone, both of which will be one of the most incredible pizzas and calzones you've ever eaten, if not the best.
The crust, the cheese, the sauce, and the fresh basil make the perfect pizza. The crust is perfectly crispy on the end and the rest is equal parts light, chewy and thin all while avoiding that Brooklyn flop. In fact, their classic cheese is so good, you really don't need to add toppings. Actually, please don't add toppings for your first time here. There is a reason why they keep things simple. When you come back again (or order your pizza and calzone to go), add on some hot peppers and pepperoni if you desire.
I'm sure this isn't the first time you've heard about Lucali and I'm sure you've heard what a pain it can be to get into. They don't accept reservations and most times the line is wrapped around the bodega on the corner. The trick? Get there at 4 PM (they open at 5 PM) and go during the week.
Each time I've been during the week, it is easy to walk right up, choose your time and then head to the nearby bar to have a drink while you wait for your allotted time frame. If you do go on the weekends, definitely get there by 4 PM at the latest because the line does get longer.
Lucali is BYOB and cash only. You have an hour for your table and when you sit down, be ready to order because there is no dilly dallying. They are open for dinner every day but Tuesday with the first seating at 5 PM. I said it earlier but I will say it again, Lucali is the best restaurant in Carroll Gardens and is worth every bit of the wait, it's not only one of the best places for pizza in Brooklyn but also best pizza in NYC!
Frankies 457 Spuntino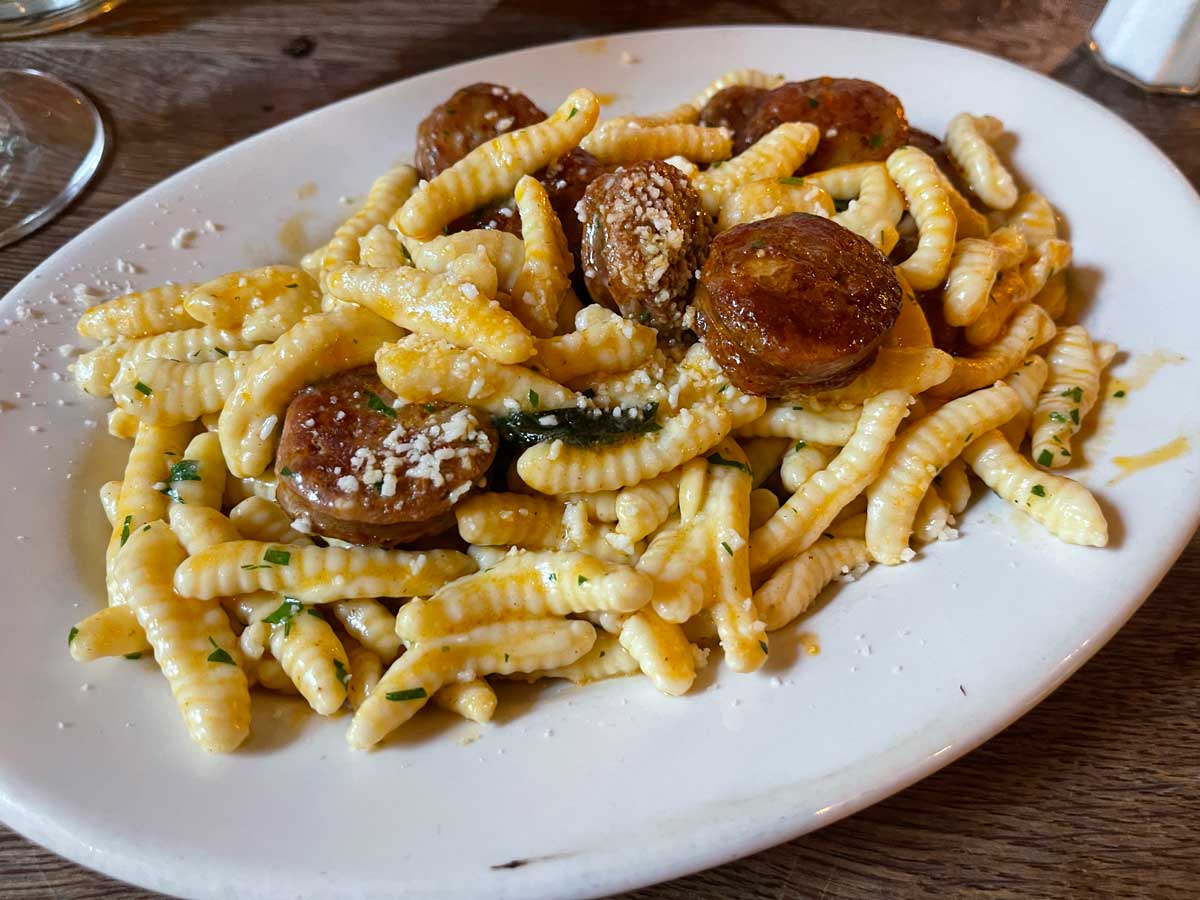 457 Court Street
Just like Lucali, Frankies 457 Spuntino is a Carroll Gardens classic and institution, one of the most highly celebrated and best restaurants in Carroll Gardens.
It is a tiny, cozy joint with simple Italian food, consistently delicious food and a great outdoor garden. They also have some outdoor street tables and have Frank's Wine Bar next door, where you can order off the Frankie's menu. They do accept reservations through Resy and have walk-in seating but I would recommend a reservation if possible.
There isn't a bad thing on the menu but the meatballs and the house-made cavatelli with hot sausage and browned sage butter are mandatory items for your table. Other stand-out items include the chicken parmesan, sweet potato and sage ravioli in parmesan broth and the mozzarella tasting.
They also have a great and very affordable wine list and some amazing desserts. They are open for lunch on Wednesday – Sunday and dinner every day of the week.
And if you're looking for a quick bite to eat, they also own F&F Pizzeria next door which also has great pizza by the slice or you can sit down and enjoy a whole pie.
Black Mountain Wine House
415 Union Street
Black Mountain Wine House is technically in that no man's land area between Carroll Gardens and Gowanus but this place is so great it has to be included on the list for best restaurants in Carroll Gardens.
From the street, this is a place that immediately catches your eye because it truly looks like a cabin in the middle of Brooklyn making it the perfect escape when you can't actually escape the city. Not only do they have an incredible wine list where you can order wine by the glass, they also have some of my favorite food in Carroll Gardens. The menu is small and more bite size but sometimes those make for the best meals.
They have some outdoor seating when the weather is nice but the indoor seating is the place to be with a fireplace and that cozy cabin feel. They don't take reservations and open during the week at 4 PM and weekends at 3 PM.
Poppy's
View this post on Instagram
243 Degraw Street
Another place that is on the line between Carroll Gardens and Cobble Hill but has to be included as one of the best restaurants in Carroll Gardens.
I originally wanted to visit Poppy's because that is what I called my grandfather but was so happy that the food was also some of the best. I was also so happy to hear that the namesake comes from the owner calling her grandfather Poppy as well!
Poppy's is a very cute, small cafe. They only have outdoor dining but there are plenty of places to sit. It's a good place to come for coffee and pastries in the morning or a delicious sandwich around lunchtime. They also have great, freshly brewed iced tea and the cutest merchandise and little general store inside with great gifts.
Catering is also an option and they always have amazing specials around the holidays for all your holiday food needs. I just recently read they opened a second location that is primarily going to be used as a space for corporate events, gatherings, and weddings and it looks incredible!
All of the pastries are some of the best in Brooklyn but my favorite is the buttermilk biscuit and lemon poppy semolina loaf. They also have a delicious chocolate cookie! As far as savory goes, the chicken cutlet sandwich and the vegetable frittata are must orders as well as the milk bread egg sandwich on the weekends.
Poppy's is open every day but Monday. They do not accept reservations but there are usually open seats outside or it is always good to go.
Ugly Baby
View this post on Instagram
307 Smith Street
Ugly Baby has the perfect aesthetics for great Thai Food. Unassuming, casual, small, and cozy. It's also gotten better every time I've visited and they now accept reservations, making it even better! They are only open for dinner Thursday – Sunday so plan accordingly so you can have the pleasure of trying one of the best Carroll Gardens restaurants.
You make reservations on Tock and do have to pre-order your meal but you have the option to choose from specific, curated set menus (which vary based on the size of your party) and have the ability to add on dishes. If you're three people or less, you go completely al la carte. My recommendation is to always trust the staff at Ugly Baby. They know what to order and the curated menus they created are top-notch.
With all this being said, the best way to dine at Ugly Baby is with a larger group so that you can try more things but do not come with picky eaters. There's a reason Ugly Baby is one of the best Thai restaurants in New York and that is because substitutions aren't encouraged and dishes are made the way they are for a reason.
With that being said, do not skip out on all the classics as well including the Laab Ped Udon, Khoong Muk Kai Kem, Kang Hoh, Khao Soi, and the Lon Pla Kem.
Gersi
View this post on Instagram
316 Court Street
Another staple Italian restaurant in the Carroll Garden neighborhood is Gersi. It is also some of the best red sauce Italian in Brooklyn at a very affordable price with most dishes costing less than $20 a pop. The only downside is that Gersi is cash only. They do accept reservations though and are open every night for dinner and one of the best places for brunch in Carroll Gardens on the weekends.
Gersi is your classic red spot restaurant and the vibe fits that old-school Italian style. The inside is one long wooden table and they have a great outdoor patio. The food is excellent, especially for the price, and they have a good wine and cocktail list.
The classic bruschetta is one of my favorite menu items to start with but make sure to get more than one because you won't want to share. I've always enjoyed their salads and they tend to rotate based on the season but the kale caesar is always a classic. For pasta, they do the classic reds best so stick to one of those and you won't be disappointed. If the red sauce isn't your thing, the spaghetti limone is delicious as well.
Buttermilk Channel
View this post on Instagram
524 Court Street
Let's be real here and say that the best thing at Buttermilk Channel is the fried chicken. I know what you're thinking, so many places do fried chicken well in New York but Buttermilk Channel is something special making this one of the best restaurants in Carroll Gardens.
Usually, I would always suggest to skip the trendy restaurants and head to the classics for fried chicken but Buttermilk Channel is an exception to the rule. The space is also super charming and feels like a true neighborhood spot. So what should you order?
Obviously the buttermilk fried chicken. The house-made pickles and biscuits are also a must order (if you're read my other articles, you know how much I love biscuits) as well as the cornbread, duck meatloaf, and a side of the mustard glazed grilled bacon. End that off with a root beer float, a simple and classic, yet extremely satisfying dessert. If you come for brunch, also order the buttermilk pancakes and then roll yourself out because you will be very full (but it is entirely worth it).
Buttermilk channel is open for lunch and dinner every day except Monday but the hours fluctuate. They do accept reservations and have both indoor and outdoor seating.
Court Street Grocers
485 Court Street
In my opinion, making a good sandwich makes you a truly phenomenal restaurant. Court Street Grocers is a truly phenomenal place to grab a bite to eat and home to some of the best sandwiches in Brooklyn. Open early morning to early evening, these are some of my favorite sandwiches in the country and one of the best restaurants in Carroll Gardens.
Court Street Grocers is a niche grocery store with specialty items but that is not the reason that you come. The deli is straight in the back but usually, the line is out the door so you won't have trouble finding it.
The sandwiches are very reasonably priced and they focus on two most important things for any sandwich – the bread and the meat. The bread comes from places all over the city, including Balthazar, and the meat is curated in house.
With all that being said, there really isn't a bad sandwich on the menu but some of my favorites include the breakfast sandwich, the patty melt, the turkish delight, the jawn, and the uncle chucky.
There are a couple tables out front but for the most part, grab your delicious sandwich to go and head to a nearby park to enjoy. So keep in mind this is more of a grab-n-go kind of place, there's St. Mary's Playground and skatepark less than a block away on Smith Street you can grab a bench and enjoy your food.
An insiders tip – if you know what you want order ahead for pick up to avoid the wait. Even when there's a short line, oftentimes there is a long wait still as this is a popular place to order for take out or delivery and you could wait awhile still! If you have the wherewithal to plan, call ahead and plan to pick it up!
Avlee Greek Kitchen
View this post on Instagram
349 Smith Street
The first time I went here was at the request of the 5 year old that I was babysitting who said "we come here all the time and it is sooooo good." Coming from a 5-year-old, that means a lot since most of the other little kids I know prefer Mcdonald's or Shake Shack. With that being said, this is still seriously delicious Greek food in a very casual setting and the perfect spot to come for a casual lunch or dinner. I'm impressed with the knowledge of Carroll Gardens restaurants from a 5 year old.
The vibe is minimalistic with white walls, small tables and hanging lights. It's small inside and they have some outdoor seating but it's never super crowded to where you have a hard time getting a table. It is also great to go.
They have all your traditional Greek fare and a very large menu so everyone will be pleased. You really can't go wrong with anything but I tend to stick to the classics including the greek salad, pita gyro, and baklava for dessert.
F&F Pizzeria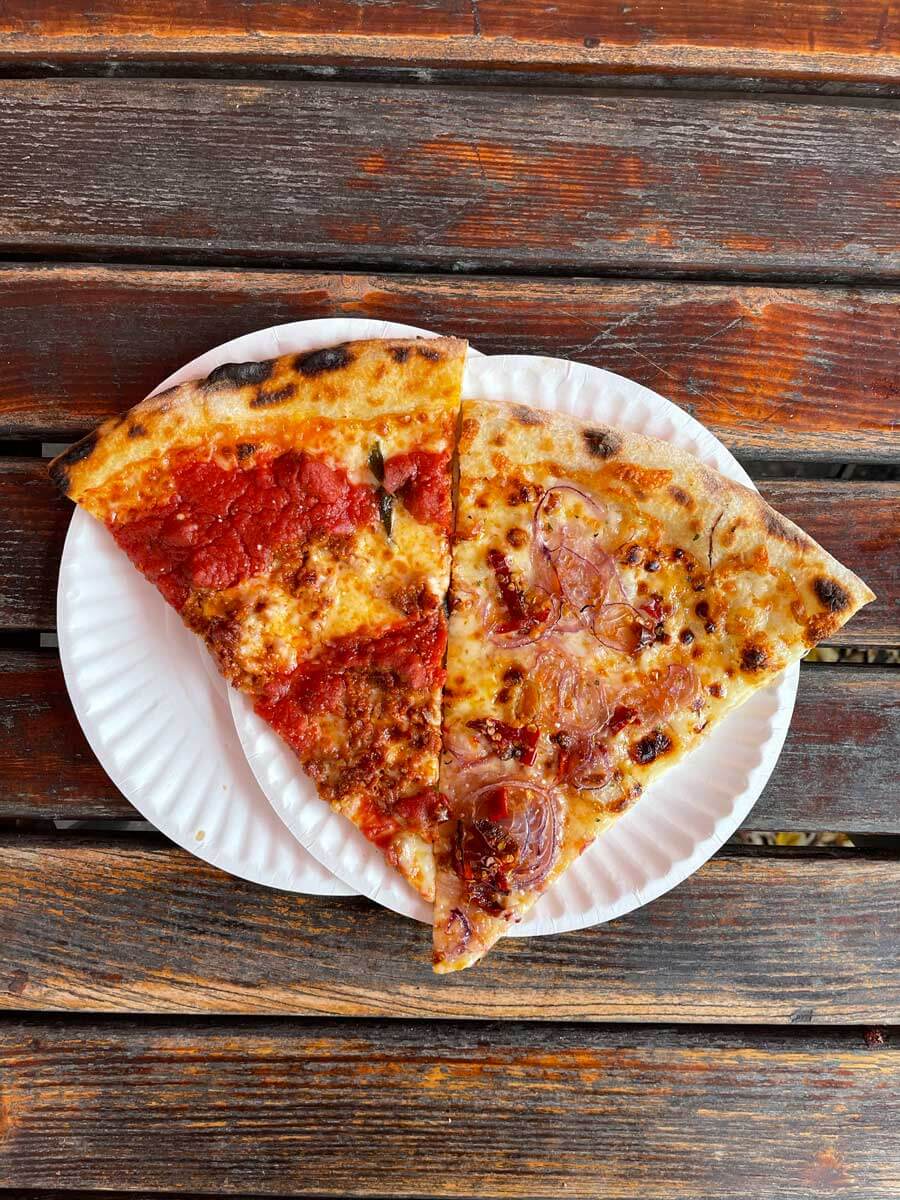 459 Court Street
F&F Pizzeria comes from the same owners as Franks so you already know it's going to be good and one of the best when it comes to Carroll Gardens restaurants. It is in a converted garage between Franks and Frank's Wine bar and has a rotating menu of pizzas either as slices or whole pies. Just like all the great pizza shops, the crust is amazing, the sauce is perfect, and the cheese is so perfectly creamy it makes you think it was straight from the farm.
You order from the window so there is no indoor dining but plenty of options outside. The classic cheese is always a great go to or you can mix it up and order the hot sausage and brown butter sage, which is basically the infamous pasta from Franks on pizza form. They also have a great pepperoni slice and a potato focaccia.
Popina
View this post on Instagram
127 Columbia Street
Popina is another one of those great, minimalist places that serves some of my favorite food in Carroll Gardens. You walk in and immediately feel at home and the food matches that aesthetic. They serve dinner 7 nights a week and have indoor and outdoor dining in the back.
Just like so many other places on this list, I haven't had a bad thing on the menu and I've visited a few times. The chef is amazing and offers a variety of food but you should definitely order the arancini, the hot chicken milanese, the orecchiette and whatever the fish on the menu is. Each time I've been there it has been the swordfish and it has been incredible.
Popina accepts reservations and also has space for private events. Add this to your list because it is definitely one of the best restaurants in Carroll Gardens.
Santo Brúklin
View this post on Instagram
548 Court Street
Santo Bruklin might have one of the best aesthetically pleasing vibes in Carroll Gardens if not all of New York. The food is Brazilian and the decor matches with colorful cocktails, tiled tables, and a long wooden table outdoors.
They accept reservations and have both indoor and outdoor seating. The outside is the best in the warm weather with the tiled tables and string lights but indoor also has a nice, airy vibe.
The food is some of my favorite Brazilian around but make sure you get at least one order of the pao de quiejo. It is amazing cheese bread that is served with a side of ground, spicy 'njudga and it is delicious. Some other outstanding items include the chicken and rice soup, Santa Coxinha, and the Moqueca with seafood.
Santo Bruklin is open for dinner every night and brunch on the weekends.
Ferdinando's Focacceria
View this post on Instagram
151 Union Street
Ferdinando's Focacceria is the real deal for old-school Italian joints, technically in Columbia Street Waterfront District, but on the edge so it deserves to be included on best Carroll Gardens restaurants IMO.
Deriving from Sicilian roots, this place has been around for decades and it still holds as one of the best Italian restaurants in Carroll Gardens. The vibes match the menu with old statues and faded photos on the walls. You will always see regulars dining here whenever you stop by, which you know means the Italian is great.
Just like any old-school red sauce joint, the best things on the menu are the classics. In Ferdinando's Focacceria, the best things to order include the spaghetti alla marinara and any of the parmesan options, although I tend to always lean towards the chicken parmesan wherever I go.
It's open for lunch and dinner every day and offers inside dining. Reservations are not accepted but usually the wait isn't horribly long.
Bar Bete
View this post on Instagram
263 Smith Street
Saving one of the best for last with Bar Bete. It has the best vibes and aesthetics from the marble tables to the string lights lining the patio to the wooden tables and the low-lit lighting throughout the restaurant. It also has incredible food and is a great place for a casual date night to a group dinner with friends or a place to take your parents when they are visiting.
The menu changes regularly but the best things continue to be the appetizers and desserts so make sure to prioritize lots of these. The melon and ham, meredith dairy feta (served with the most crispy and delicious bread on the side) and the crispy duck fat potatoes are my favorites and tend to be a staple on the menu. Although, the highlight of the menu is the yellow cake. Simple yet perfect. Do not skip out on this. It's covered in chocolate frosting and sea salt and is meant to be shared.
Bar Bete is open for dinner Monday – Saturday and accepts reservations for indoor dining. Outdoor dining is on a first come, first served basis.
Court Street Tavern
View this post on Instagram
449 Court St
Another awesome Carroll Gardens restaurant (and one of the best places for brunch in Carroll Gardens) located on Court Street is Court Street Tavern. This restaurant is housed in a historic building that once housed one of Brooklyn's oldest bars and has aesthetics worthy enough to snap a photo with an inviting and pretty floral exterior.
Before we get to the food, it's worth mentioning that in the winter the outdoor terrace area turns into an ice rink for the kiddos and during the warmer months you can dine outside and even catch the game on their outdoor flat screens.
They serve up classic cocktails and seasonal American fare including everything from a bacon clothesline to start with at the table or oysters to entrees like a smash burger, grilled branzino, half chicken, and don't miss out on their french onion soup.
Be sure to make a reservation if you're wanting to join for brunch! This is one hot spot on the weekends.
BONUS! Brooklyn Farmacy and Soda Fountain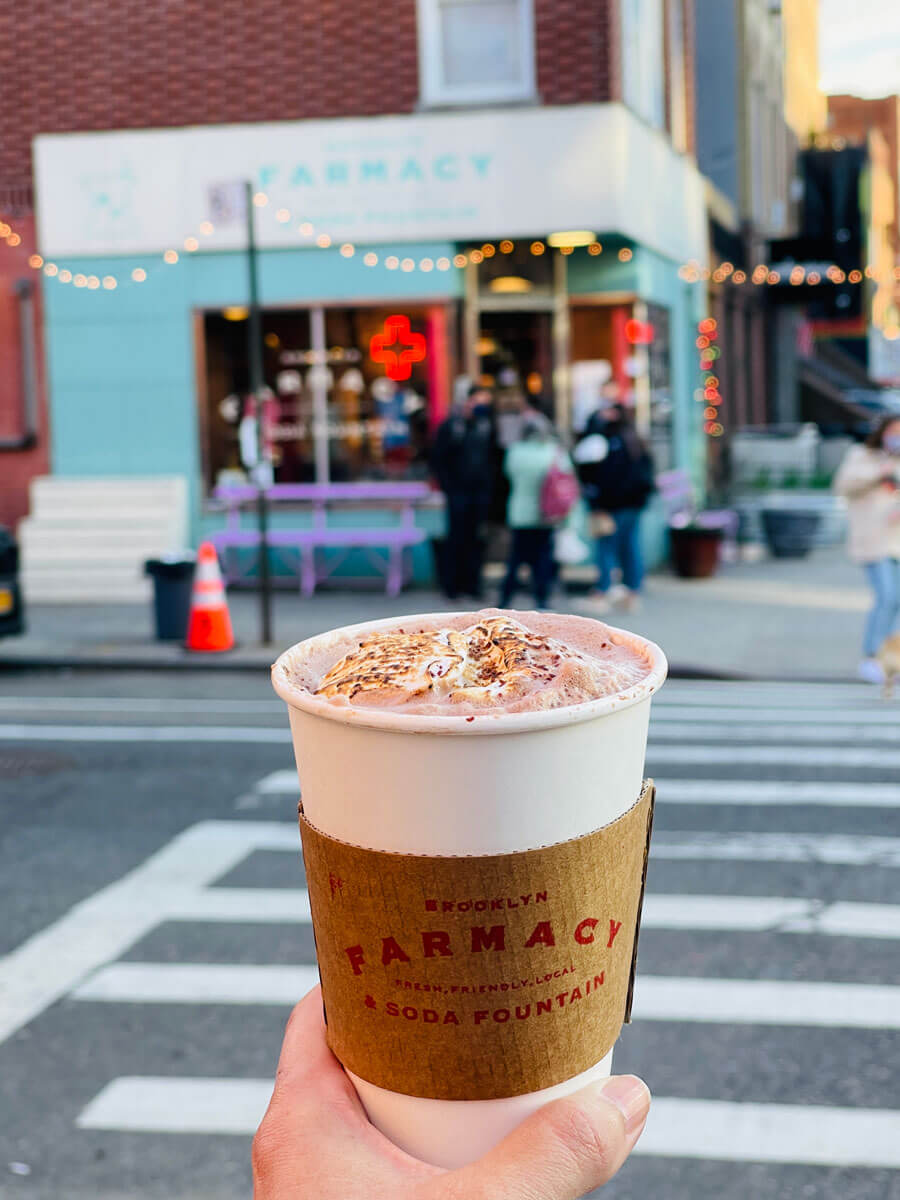 513 Henry Street
Okay so technically Brooklyn Farmacy and Soda Fountain is mostly desserts but they do have hot dogs and everyone knows that dessert is still considered one of the best parts of eating so they are going on the list as a bonus. Also, they make one of, if not the best, milkshakes in New York so they are one of the best restaurants in Carroll Gardens as far as I'm concerned.
Set in an old soda shop, you are transported back in time when you come here. There is a long counter that wraps around the front of the restaurant with stools and all the workers are in the old school dress that you think of when you think of a soda shop in the 1950s. The decor matches the vibe, making it very aesthetically pleasing as well. They offer both indoor and outdoor seating but try to grab a spot at the counter for the best experience.
The milkshakes are the star of the show at Brooklyn Farmacy and Soda Fountain but they also have incredible sundaes that you can customize to your liking and just about every ice cream float you can imagine. They also have frozen hot chocolate that rivals Serendipity and an amazing housemade ice cream sandwich. They also have hot dogs if you want food but with this place being down the block from Lucali, it makes for the perfect meal.
---
About Our Guest Author
Molly Royce – Originally from Oklahoma, I moved to NYC for grad school and have had a hard time wanting to leave ever since. There really is no better borough than Brooklyn where I live with my boyfriend and our black lab, Frankie. There's no greater city in the world and I can't wait to share my love of the city, eating, and drinking with all of you.
---
Don't see your favorite restaurants in Carroll Gardens on here? Let us know in the comments below!