Looking for the best restaurants in Clinton Hill or great places to eat in Clinton Hill? We got you.
Clinton Hill is one of the best Brooklyn neighborhoods to explore. It has so much charm and beauty and it is the perfect mix of young people, families, local shops, parks, and brownstones. Not to mention they have some of the best restaurants and bars in the city.
Whether you are a local or just visiting, Clinton Hill is a true foodie destination and this guide will provide you with all the best restaurants in Clinton Hill.
Amazing Places to Eat in Clinton Hill
Sisters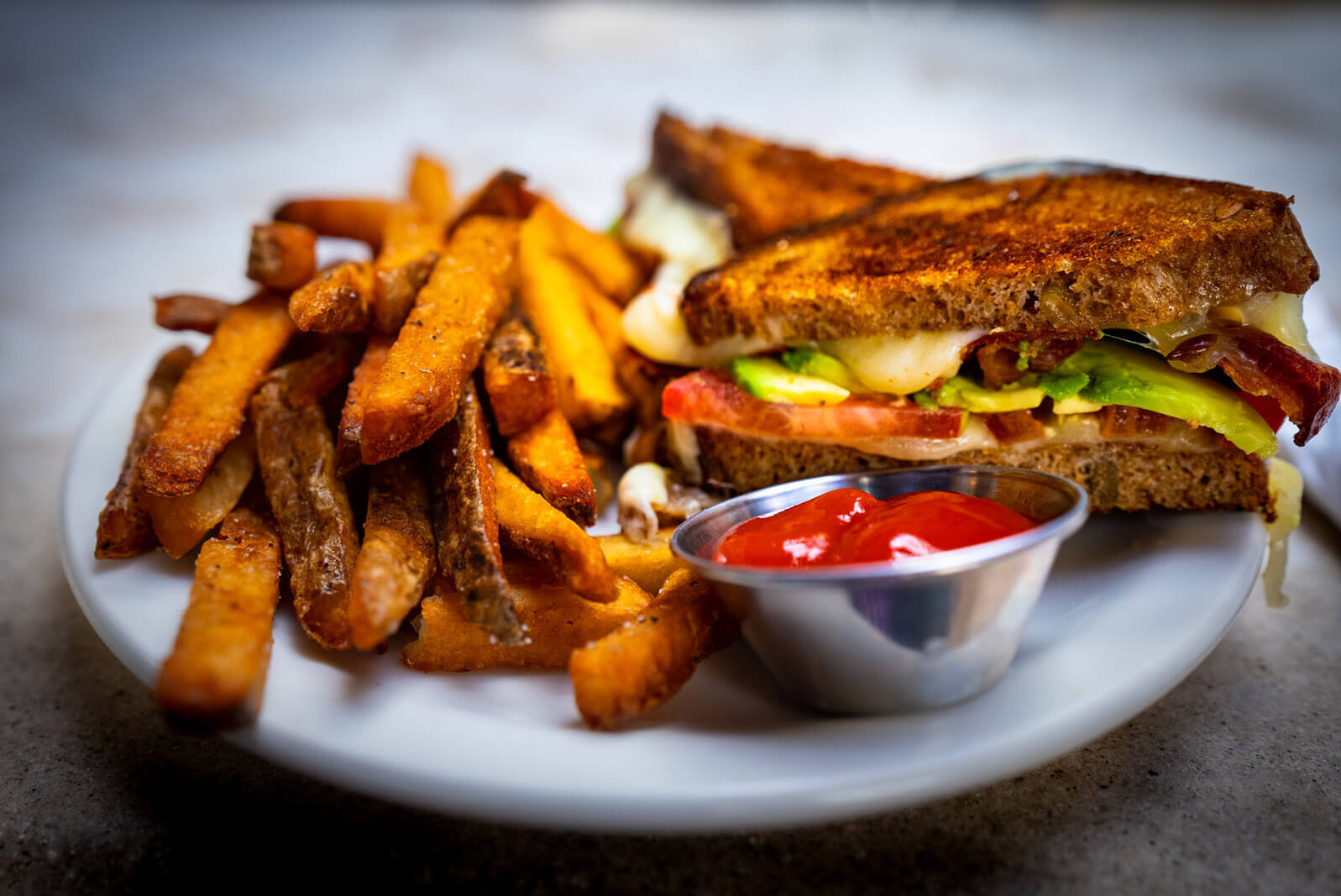 Address: 900 Fulton Street
Sisters is genuinely one of the most beautiful Clinton Hill restaurants (let alone, I've ever been to). Incredible natural light, plants, and the most aesthetically pleasing bar make this one of the best places to eat in Clinton Hill. Even the front of the building has had me stopping to take photos of the facade because it's just that beautiful. 
While the interior at Sisters can't be beaten, that is not even why I'm starting this list with Sisters. The food is superb and they are open for lunch and dinner 7 days a week.
There isn't a bad thing on the menu but my favorite time is weekday lunch or brunch on the weekends, it's actually one of the top Clinton Hill brunch spots!
The fried chicken sandwich is the best thing on the menu and you should definitely order it. The egg sandwich is another solid option if you're feeling more crunchy. Other standout items include the burger, fried pickles and kale caesar salad.
Reservations can be made for indoor and outdoor seating (sit inside) through Resy.
Aita
Address: 132 Greene Avenue
If you've read any of my other guides, you know I'm a sucker for Italian food. I'm even a bigger sucker for Italian restaurants placed on charming corners right in the middle of the neighborhood. Aita is one of those places, making this one of the best restaurants in Clinton Hill. 
The entire menu is delicious but pasta is a must. My favorites include the gnocchi, oxtail ravioli, and the mezzelune. If you're with friends, get them all and add in any of the delicious antipasto options and a lemon sole.
They also have a wide variety and great selection of desserts to complete any meal. As always, start with a delicious cocktail to make this one of your favorite meals in Brooklyn.
Aita has both indoor and outdoor dining, the outdoor dining being warm and cozy for any time of year. The indoor is small and charming with a long wooden communal table, lots of candles and a beautiful bar, so you really can't go wrong with either option. They accept reservations for both indoor and outdoor dining and have both weekend brunch and dinner every day.
Locanda Vini & Olii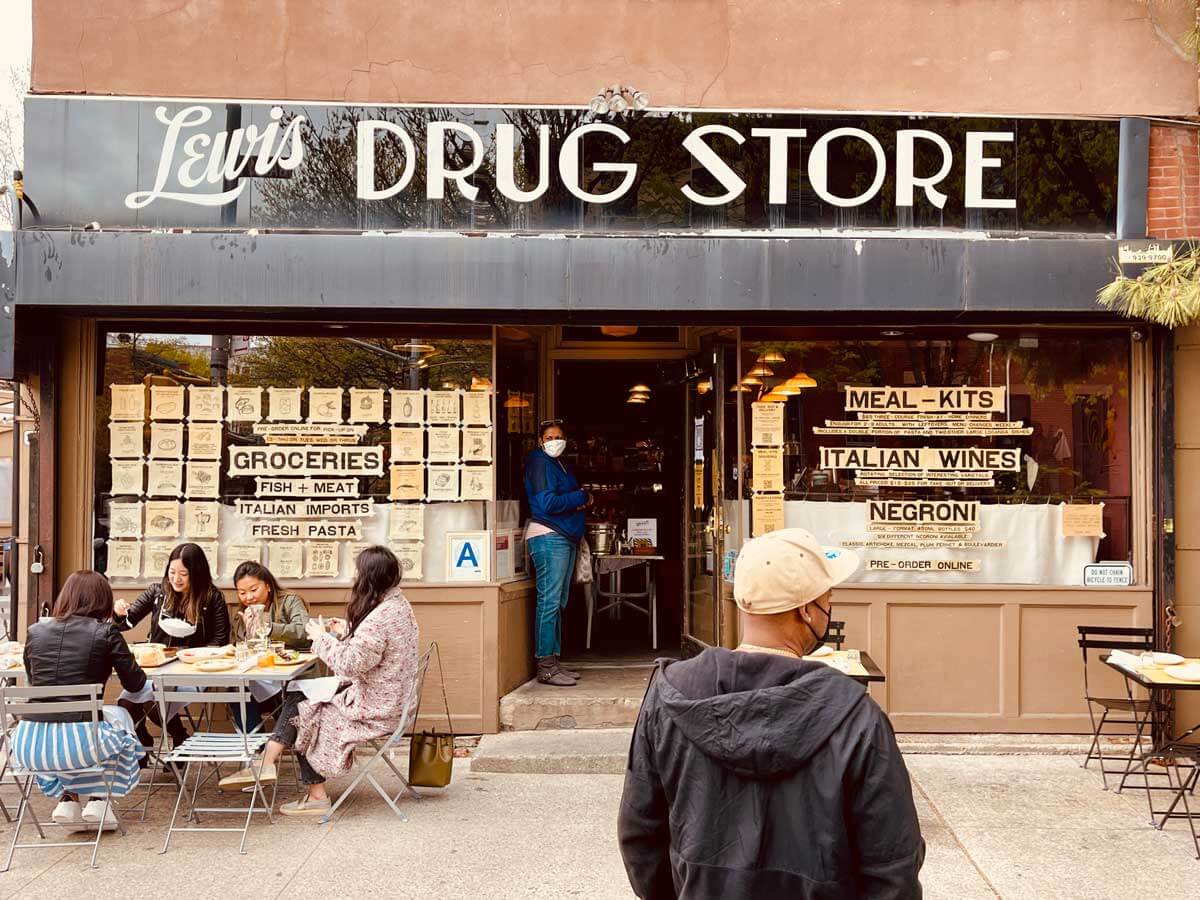 Address: 129 Gates Avenue
I was immediately drawn to Locanda Vini & Olii by the exterior of the restaurant. It is an old drug/pharmacy shop with the original sign still intact and the indoor resembles an old pharmacy shop. Just like other Italian restaurants in the Clinton Hill neighborhood, Locanda Vini & Olii has serious Northern Italian charm and seriously delicious food. 
Start with the complimentary bread and some orders of antipasto. The prosciutto di parma and the fig and gorgonzola salad are two of my favorites followed by the alla buttera and the black pepper pici.
If you're craving something other than pasta, the branzino is amazing. Another great option if you're dining with 4 or more is the family style cena toscana. Includes a 4-course family style meal and gives you a little taste of everything.
They offer dinner and accept reservations for both indoor and outdoor dining. Outdoor dining is perfect for those sunny Brooklyn days and Locanda Vini & Olii is a Clinton Hill restaurant you are going to want to keep visiting over and over.
Speedy Romeo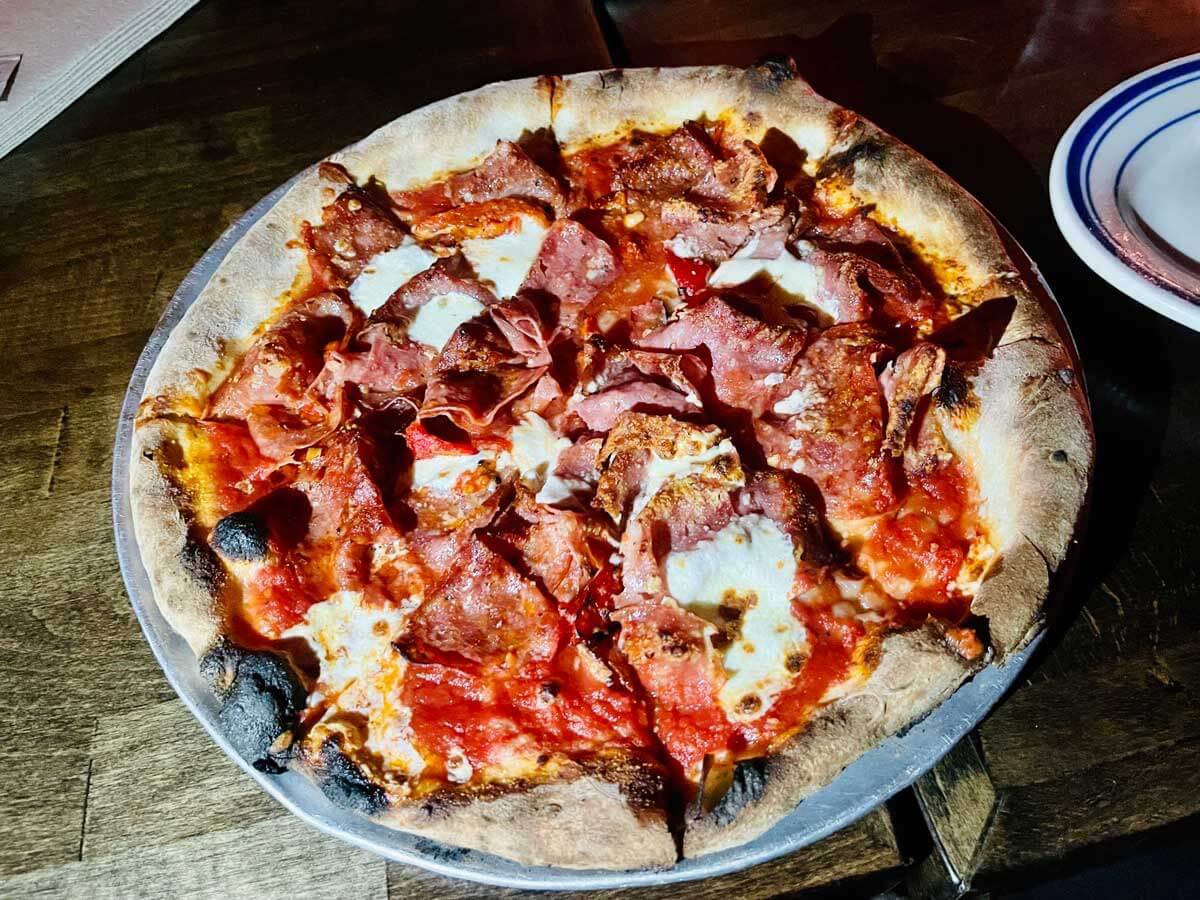 Address: 376 Classon Avenue
I used to live around the corner from Speedy Romeo which was both a blessing and a curse. A blessing because it is some of my favorite pizza in New York but a curse for my bank account.
Speedy Romeo is Neapolitan, St. Louis style pizzeria and it is seriously delicious. They also have one of the best caesar salads I have ever had as well as some amazing wings and an incredible burger.
There truly isn't a bad pizza on the menu (trust me, I've tried them all) but the Saint Louie is the best of the best. It gets its namesake from STL, substituting the typical mozzarella for provel cheese. Make sure to ask for an extra side of peppers for the pizza and just to have on your table.
Speedy Romeo offers both indoor and outdoor dining and they accept reservations. Move it to the top of your hit list, make a reservation, bring friends and order one of everything, there's a reason why it's in our guide to best pizza in Brooklyn!
Guevara's
Address: 39 Clifton Place
Guevara's is from the same people behind Mekelburg's and is a totally vegan restaurant that has some of the best breakfast sandwiches and pastries in Clinton Hill. It's so good that it just opened up a second location in Williamsburg.
Not to mention, they have one of the best and most colorful outdoor structures and the inside is filled with plants, homemade cards and what resembles a really fancy, upscale bodega.
The coffee and matcha are great, which is why it's also one of our favorite Clinton Hill cafes too. They also have a great vegan donut and other pastries that rotate daily but the best thing is the Cuban torta, which you've probably seen circling around Instagram because it is also one of the most beautiful-looking sandwiches I've ever seen. It's completely meatless topped with red cabbage, avocado, tomato, eggplant, and jalapeno.
Get here early because the line tends to get long anytime after 10 AM on the weekends, although it does move quickly.
For more plant-friendly options, check out our guide to best vegan restaurants in Brooklyn!
Mekelburg's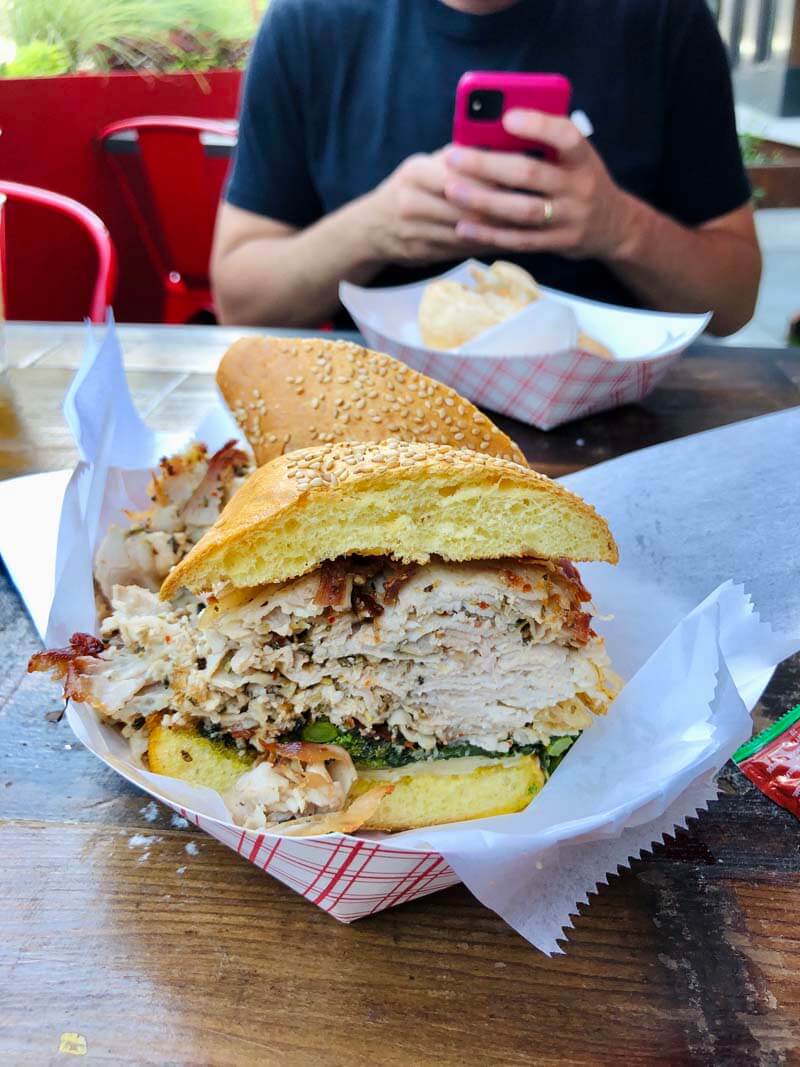 Address: 293 Grand Avenue
The first time I walked into Mekelburg's I knew I was going to be visiting again and often. They have a great lunch special, with a sandwich and soup combination, and one of the best happy hours in Brooklyn.
Plus, they have a great selection of wine, craft beer, cheese, crackers, and desserts to pick up after you have one of the best meals at one of the best restaurants in Clinton Hill.
Named one of Jimmy Kimmel's favorite sandwiches (for good reason), make sure you order the porchetta sandwich (it's also one of our favorite sandwiches in Brooklyn). Pair that with some french onion or potato leek soup and a draft beer and you have created the perfect lunch.
Mekelburg's also has a great weekday brunch, delicious salads, and wings.
There is a second location in Williamsburg but there is something really charming about the Clinton Hill location. They also have a great bar to enjoy a solo happy hour or participate in their weekly trivia night.
Peaches Grand
Address: 285 Grand Avenue
With multiple locations including Bed-Stuy, I was so happy to wander upon Peaches Grand in Clinton Hill. This is another of my favorite Clinton Hill restaurants, not only because the food is delicious but also because the staff that works there are some of the nicest people around, making it all the more of a reason to add this restaurant to your list immediately. 
The fried green tomatoes are a must-order. Probably more than one if you aren't eating alone. They also have a great wedge salad, chicken sandwich, and shrimp and grits but the main star of all the entrees is the fried chicken.
Pair this with a few sides and a cold beer in one of their outdoor sidewalk seating options and you will leave very happy (and very full).
Emily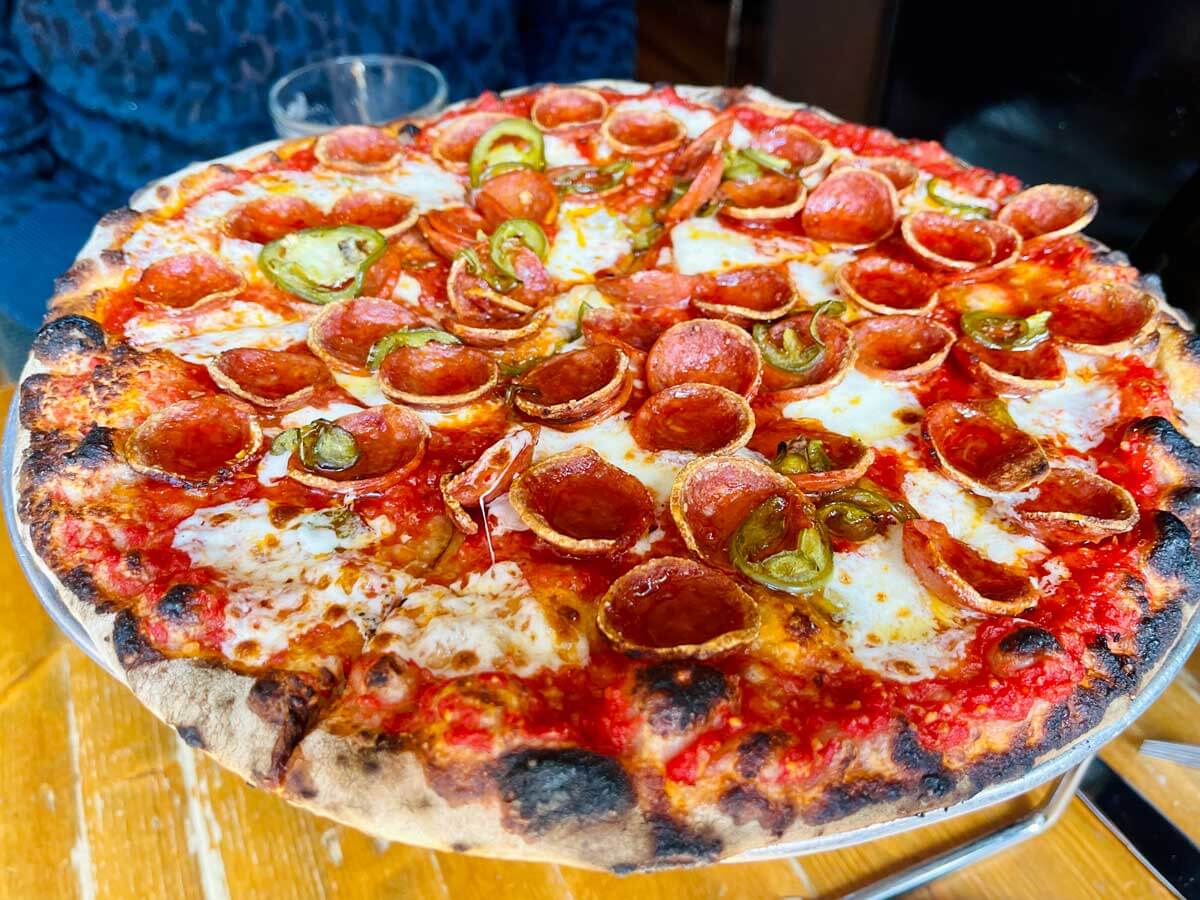 Address: 919 Fulton Street
Just like at Speedy Romeos, you go for the pizza but quickly discover that Emily can do so much more. The space is minimal, but in the best way and they accept reservations for both indoor and outdoor dining. 
The pizza is amazing with a variety of red sauce, white sauce and pink sauce pizzas. The colony is the best for red sauce (nothing better than honey on pizza), the Emily is the perfect combination of white sauce, honey and pistachios and for pink sauce pizzas, do not skip the famous original Dan's.
As mentioned above, Emily does more than pizza well. Enter the Emmy burger, one of the best burgers in the city. Still not sure what the emmy sauce consists of but with the combination of the caramelized onions, Grafton cheddar and pretzel bun, this burger seriously cannot be beat and they do not accept substitutions.
Bring friends and come hungry for one of the best places to eat in Clinton Hill splitting the best of the menu! Not to mention one of our all-time favorite spots for pizza in NYC.
Graziellas 
Address: 232 Vanderbilt Avenue 
I'm sure you're starting to see a trend in my favorite places and that trend tends to lean towards neighborhood Italian restaurants. Graziellas is just that, the place where you run into people you know in a quaint, no thrills, Italian joint with some of the best pizza and pastas around. 
The classic margarita pizza is the best thing on the menu followed closely by the cacio e pepe gnocchi. They also have a great eggplant and chicken parmesan and a gorgonzola and walnut salad to start. Don't forget to also save room for their homemade desserts, which are all on display the minute you walk in.
Graziellas has both indoor and outdoor dining. They don't accept reservations and tend to get very busy so I recommend coming either early or late. If you don't want to wait, you can also always order to go and walk down a few blocks to enjoy your pizza at Fort Greene Park, one of the best parks in Brooklyn!
Brooklyn Hero Shop
Address: 270 Vanderbilt Avenue
Every neighborhood needs a good sandwich shop and before Brooklyn Hero Shop, this was definitely missing from Clinton Hill (on the edge of Fort Greene). The interior gives all the best local deli vibes, with over 20 different sandwich options as well as a small market to grab whatever else you might need. They also have pastries and coffee options for the mornings. 
The chicken parmesan sandwich is incredible, with perfectly toasted bread, chicken cutlets, melted mozzarella and the perfect amount of red sauce. The eggplant parmesan sandwich, Nashville hot chicken and the hot turkey and cheese hero are also definitely worth trying.
They offer both indoor (very limited) and outdoor dining and is the perfect neighborhood sandwich shop, making this one of the best places to eat in Clinton Hill.
Mike's Coffee Shop 
Address: 328 Dekalb Avenue
Just like a sandwich shop, every neighborhood should also have a great diner. The minute you walk into Mike's Coffee Shop you feel like you are transported back to the 1950s. It has the typical diner feel complete with solo diners drinking endless cups of coffee and reading the New York Times cover to cover, along with delicious food, including the greasy pancakes and classic American egg plate.
The menu is full of your stereotypical diner food but also has delicious chicken and waffles and a corned beef hash. Everything is very affordable and the coffee is great (and your coffee cup is always full).
Reservations are not accepted and this place gets extremely busy during the weekend. They have some limited outdoor dining and are cash only and one of the best old school diners in Brooklyn to check out!
Dosa Royale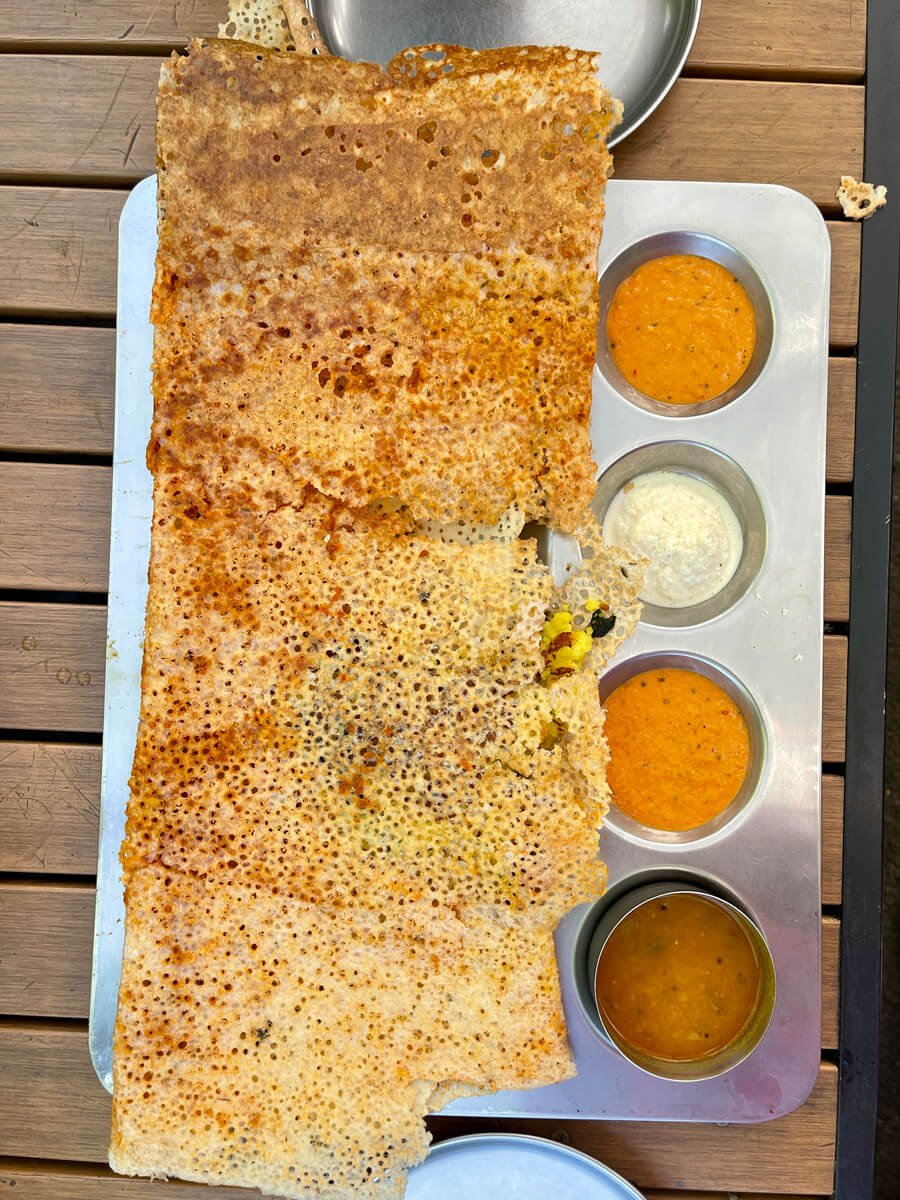 Address: 258 Dekalb Avenue
It took me a long time to find a good Indian restaurant in Brooklyn but it also took me a long time to find Dosa Royale. From the same owner as Dino, a delicious Italian spot down the street, this cash only spot is one of the best in Clinton Hill and in my humble opinion, probably one of the best in the city. 
The space is light and open with a few wooden tables indoors and outdoors. The menu is South Indian focused and is a great place to come for a casual date night or with a large group of friends.
Even though this is one of my most visited restaurants and I usually try to order new things when I revisit a place, every time I have visited Dosa Royale I have ordered the same items because it is just that delicious.
Start with the veggie samosas and the cauliflower lasuni. Follow that with the paneer butter masala and the vegetable korma. Get at least two orders of the paratha to soak up the masala and korma and get at least one dosa.
They also have plenty of gluten-free and vegan options available.
Luigi's Pizzeria 
Address: 326 Dekalb Avenue
Luigi's Pizzeria is definitely one of the best classic slice shops in the city. Unpretentious and in the center of Clinton Hill, this is the perfect place to stop and grab a slice, or two, for lunch, dinner or just a quick afternoon snack.
When ordering slices, I always say you have to go classic cheese or pepperoni. Luigi's does both of these well. The whole pies are delicious as well if you're wanting to take some home. Throw in some garlic knots and a calzone as well and on a nice day, stand outside at one of their outdoor tables or post up at the park around the block.
Chef Katsu Brooklyn 
Address: 143 Greene Avenue
Greene Avenue is one of my favorite streets in all of Brooklyn and a great spot for Clinton Hill restaurants. Each block has a delicious coffee shop, bar, restaurant or cute shop to browse in. Chef Katsu opened in 2021 and was only added to this long list of great places. 
Chef Katsu is a casual Japanese lunch and early dinner joint focusing on a great burger and rice bowl, both of which they do very well.
The menu has options but not too many that feels overwhelming and has both vegetarian and meat options. The salmon teriyaki burger is my favorite thing on the menu, followed closely by the pork katsu bowl.
They also have a delicious Iced Yuzu Mint Lemonade, chocolate eclair, and matcha ice cream donut for dessert.
Chef Katsu has indoor dining and to-go options. There are some benches out front but there is also a park down the block if you want to eat outside.
Brooklyn Public House
Address: 247 Dekalb Avenue
Brooklyn Public House has some of the coziest vibes and some of the best bar food. With a long wooden bar, super cozy window booths, multiple beers on tap, and one of the best happy hours in Clinton Hill, Brooklyn Public House is one of the best restaurants in the neighborhood for both locals and visitors alike. 
All of the appetizers are half-price during happy hour with the best being the nachos (that are seriously as big as your face), the jalapeno poppers, and the honey hot wings. The french onion soup and the chicken pot pie are the best entrees on the menu. They also have all the delicious English pub fare including fish and chips, bangers and mash, and shepherd's pie.
Just like all the other places in Clinton Hill, Brooklyn Public House gets busy quick, especially on Friday nights. They don't take reservations so try to get here early and if you're lucky, you'll even get that booth at the front of the restaurant. In addition to dinner, they also serve weekend brunch and weekday lunch.
The Fly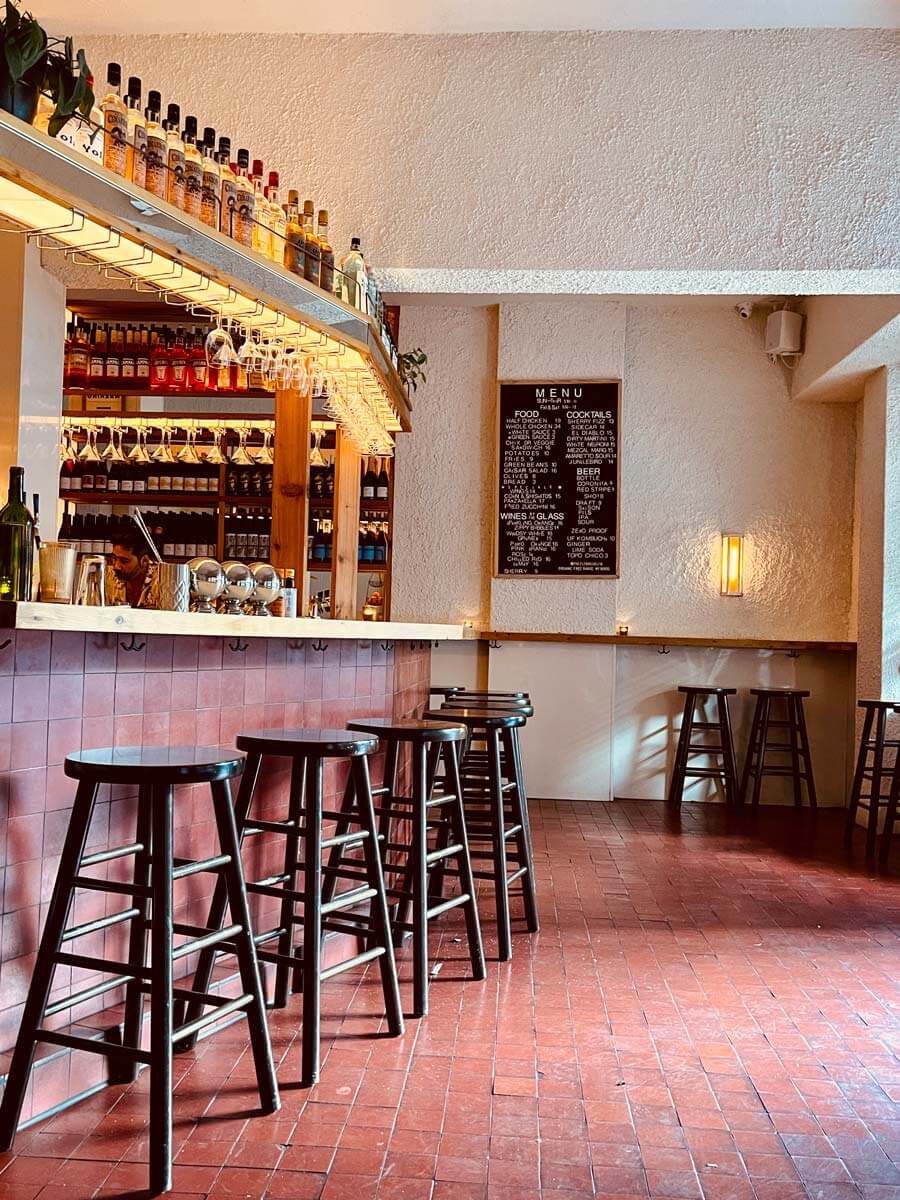 Address: 549 Classon Avenue
Everything about The Fly immediately makes this one of the best restaurants in Clinton Hill. Their tagline is "a chicken bar with wine, cocktails, and beer named after the most loved cocktail at Hart's," which if you've been to Hart's you know automatically this place is going to be special.
If you haven't been to Hart's, the tagline says it all. They have both indoor and outdoor seating and reservations are accepted for parties of 8 or more.
You go to certain restaurants for certain things. You go to the Fly for chicken. They do have one veggie sandwich on the menu (which is actually delicious) but the chicken is the standout.
While the chicken sandwiches are absolutely delicious, order the rotisserie chicken for two. Or come and sit at the bar and order the half chicken. Don't forget to also throw in some sides at this Clinton Hill restaurant (the fries, roasted potatoes and salad are great) and ask for some sour cream on the side to go with your perfect chicken. Trust me, you will not be disappointed.
Place Des Fêtes 
Address: 212 Greene Avenue
Easily one of the best new spots in Brooklyn, Place Des Fetes is easily one of the best restaurants in Clinton Hill. It also happens to be located on one of the greatest streets in Clinton Hill. The space is vibey in a reminiscent of an old warehouse mixed with a modern vibe, an incredible wine list and some delicious food. 
For starters, it is run by the chef of Oxalis, one of the best places to eat in Prospect Heights. The menu also changes frequently but you can always count on the small bites to be the star so make sure to come with friends and order a lot. The wine list is completely natural and leans towards the French variety but I have yet to find one I didn't absolutely love (and I tend to not love natural wines).
Place Des Fetes accepts reservations and offers indoor and bar dining. It gets busy so reservations are recommended when possible. They are open every day but Tuesday for dinner.
---
Best Places to Eat in Clinton Hill (Post Summary):
Sisters
Aita
Locanda Vini & Olii
Speedy Romeo
Guevara's
Mekelburg's
Peaches Grand
Emily
Graziellas
Brooklyn Hero Shop
Mike's Coffee Shop
Dosa Royale
Luigi's Pizzeria
Chef Katsu Brooklyn
Brooklyn Public House
The Fly
Place Des Fêtes
---
About Our Guest Author
Molly Royce – Originally from Oklahoma, I moved to NYC for grad school and have had a hard time wanting to leave ever since. There really is no better borough than Brooklyn where I live with my boyfriend and our black lab, Frankie. There's no greater city in the world and I can't wait to share my love of the city, eating, and drinking with all of you. 
---
Don't see your favorite Clinton Hill restaurant on here? Let us know in the comments below, we will check them out!