Looking for the best restaurants in Crown Heights, Brooklyn? You're at the right place! Crown Heights is consistently one of my favorite neighborhoods for great food in Brooklyn and one of my favorite neighborhoods for just a good time in general. I lived off Franklin Avenue and even since then, the neighborhood continues to add delicious options for food, drinks, local boutiques, and delicious coffee shops.
Not to mention the reason why Crown Heights food is some of the best is because they have all kinds of global cuisines in this neighborhood to try.
Crown Heights is also one of the most centrally located neighborhoods in Brooklyn and seems to be fairly easy to get to some of the best Brooklyn neighborhoods to explore (except unfortunately Williamsburg and Greenpoint) not to mention you're really close to Brooklyn Botanic Garden and the Brooklyn Museum if you're looking for a pre or post meal activity.
Whether you are a Crown Heights local or just visiting, this guide will provide you with all the best Crown Heights restaurants and best food in Crown Heights. Be sure to also check out our guide to the best cafes in Crown Heights too!
Best Crown Heights Restaurants to Check Out
Chavela's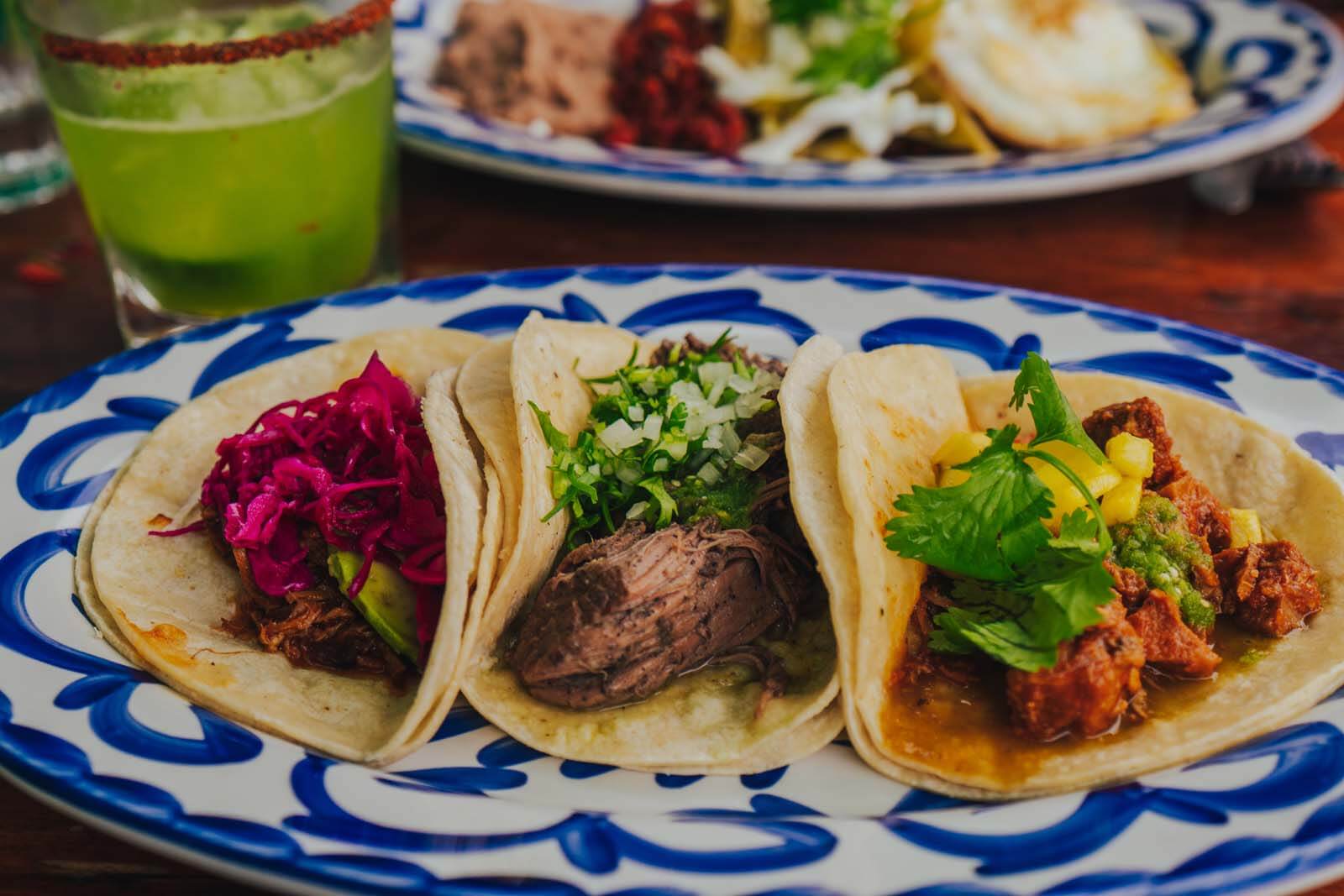 Address: 736 Franklin Avenue
Chavela's serves some very delicious Mexican food and also has a colorful, fun ambiance and atmosphere making this one of the best places in for food in Crown Heights. In fact, this place is so good that I will gladly walk the 40 minutes from my Park Slope apartment to eat there and if there is a wait, I will get it to go. 
The best thing on the menu is the guacamole and the cheese enchiladas with verde sauce. Seriously one of the best things I've ever had. The tacos are also outstanding as well as the queso fundido.
I grew up in the land of Tex-Mex so I don't think this is true queso but it is very delicious nonetheless. The chili relleno also should not be missed.
For brunch (seriously some of the best brunch in Crown Heights can be found here too), order the chilaquiles or the huevos rancheros but whatever meal you come for, bring friends, drink lots of margaritas (my favorite is the spicy marg) and plan on never wanting to leave.
Chavela's is walk-in only and gets especially busy around happy hour on nice days (they have a great happy hour during the week until 7 PM). They have both indoor and outdoor dining and the bar is the perfect place for solo dining. So note to self: get there early or expect to wait with a margarita in hand.
Rangoon
Address: 500 Prospect Place
One of the best parts about dining in this city is that you can find just about any global cuisine you're looking for. Rangoon serves some of the best Burmese food in NYC so obviously, this tops the list as one of the best Crown Heights restaurants to check out.
Rangoon is a very casual place with minimal, simple but great decor making it easy to stop by on your own or with a small group of people any day of the week.
You're going to love anything you order but my favorite dish is the braised pork village style curry made with slow-cooked pork shoulder, sweet potato, onion-ginger and garlic sauce. They also have several delicious starters including onion fritters and ginger-pork meatballs. There are also a couple of noodle dishes that are delightful and options for vegetarians.
Rangoon accepts reservations via Resy and has both indoor and outdoor seating. They are open daily for dinner and open on Saturday and Sunday for lunch.
Barboncino Pizza
Address: 781 Franklin Avenue
Hands down one of the best Neapolitan brick-oven pizza places in New York and some of the best Crown Heights food are the pizzas at Barboncino Pizza. It's been around for years as a Crown Heights food staple and there is a reason that they are always busy. Barboncino is open every day for lunch and dinner so you can always fulfill your pizza cravings. 
There truly isn't a bad thing on the menu (trust me, I've tried almost all of them) but my go to order is as follows: start with the fire roasted peppers and cheese (especially if there are a lot of you to share), followed by one red pizza and one white pizza, the kale cesar and end with any of the desserts. If you are feeling extra hungry, burrata is always a good choice to add as well.
As far as pizzas go, my favorite red sauce pizzas are the classic Margherita and the Soppressata Piccante, with Mike's Hot Honey added. For white sauce pizza, the Arugula, Four Cheese with Pepperoni and the Artichoke and Smoked Pancetta are the best. '
Even though this is one of the best Crown Heights restaurants, Barboncino does not take reservations but has both indoor and (heated) outdoor seating. The wait is generally pretty quick but there are plenty of bars around Franklin Avenue to kill time if you have to wait.
This also made it on our guide to the best pizza in Brooklyn too!
Puerto Viejo
Address: 564 Grand Avenue
Puerto Viejo is one of the best Dominican restaurants in all of New York and has some of the best food in Crown Heights. Puerto Viejo has an unpretentious vibe and a fun aesthetic with metal walls, luggage hanging from the ceiling and tables made from barrels.
Everytime I've been here, I'm always greeted by the friendliest of workers. It is also the perfect place to dine with friends or come by yourself for a solo meal.
I know I say this over and over but it's always true in that there is nothing bad on this menu. My favorites at this Crown Heights restaurant are the plantain chips and empanadas for starters. As far as entrees go, the classics are the best here and you should definitely not skip the mofongo with chicken or pork. Add a side of rice and beans and maybe some sweet plantains or tostones and you will leave very happy.
Puerto Viejo does not accept reservations. They have some outdoor dining and a decent amount of space indoors. They are open for breakfast, lunch and dinner and is by far one of my top picks for best restaurants in Crown Heights.
Gueros
Address: 605 Prospect Place
Remember how I mentioned not thinking that queso fundido was real queso above? I still believe that and that is because you can walk down the street and have some different Southern inspired, "authentic" Tex-Mex queso down the street at Gueros. Not to mention, you can also have some of the best tacos in Brooklyn. 
Gueros is small inside with limited dining as well as a couple tables outdoors. Reservations are not accepted but the food is just as delicious to go as it is to eat there. Order lots of tacos, obviously get the queso, guacamole, and salsa and if you have a lot of friends or just want some leftovers, the nachos are amazing.
There are several tacos to choose from but they aren't huge so you can try multiple. In my opinion, some of the best are carnitas, al pastor, fried chicken, and breakfast tacos. Brooklyn has a lot of great taco options and Gueros is not lacking so make sure you immediately come check out one of the best Crown Heights restaurants.
The Crabby Shack
Address: 613 Franklin Avenue
I don't even know where to begin with how much I love the Crabby Shack. It's got the classic beachside decor and some of the best seafood I've had, not just in Brooklyn. The menu is simple and sticks to the classics and they do the classics well. 
Obviously, you come here for crab and everything with crab in it is delightful from the crab mac and cheese to the crab roll but one of my favorite things is the "Clobster Roll" which's half crab and half lobster in a cornbread roll that is slathered with honey butter. You're welcome. 
They've also got delicious crab cakes, crab cake sliders, crab cake grilled cheese and all the classic sides to go with including corn on the cob, cole slaw, and honey butter cornbread. Needless to say, come hungry and bring friends or take home leftovers because you're going to want to order everything on the menu. 
The Crabby Shack has both indoor and outdoor dining and they do not accept reservations. They are open for lunch and dinner every day but Tuesday and they do offer take-out and delivery.
Joe and Sal's Pizza 
Address: 842 Franklin Avenue
We all know there is no shortage of incredible pizza in Brooklyn but Joe and Sal's Pizza is definitely some of the best and by far one of the best restaurants in Crown Heights. 
Known for their Brooklyn style pizza, this slice shop offers all the classics but also mixes it up with grandma style slices, burrata pies and a very unique, but actually delicious, crown chicken pie that combines chicken and jalapeno poppers. As always, start with the classic margherita and if you really want to spice it up, add in something different as well as some garlic knots (not to be missed).
Joe and Sal's Pizza is open every day for lunch and dinner. Reservations are not accepted. There is an additional location in Fort Greene as well.
Franklin Park
Address: 766 Franklin Avenue
Franklin Park is your classic childhood diner only better. They have the classic diner tables with black and white checkered floors and some seriously delicious food. 
Obviously the best are the staple diner items including hamburgers, hot dogs and shakes (that you can add alcohol too). You can basically add anything your heart desires to the burgers including bacon, aiolis, mushrooms, and blue cheese. Add a side of parmesan fries or a side of the classics and you will be very happy.
While this is a favorite Crown Heights restaurant, the best part is that it is Franklin Park is also one of the best bars in the Brooklyn. You can literally go out the back door and there it is so make sure to save room for a good cocktail and an even better time.
Dutch Boy Burger does not take reservations but the wait usually isn't horribly long, if there is a wait at all. They offer indoor dining.
Cent'Anni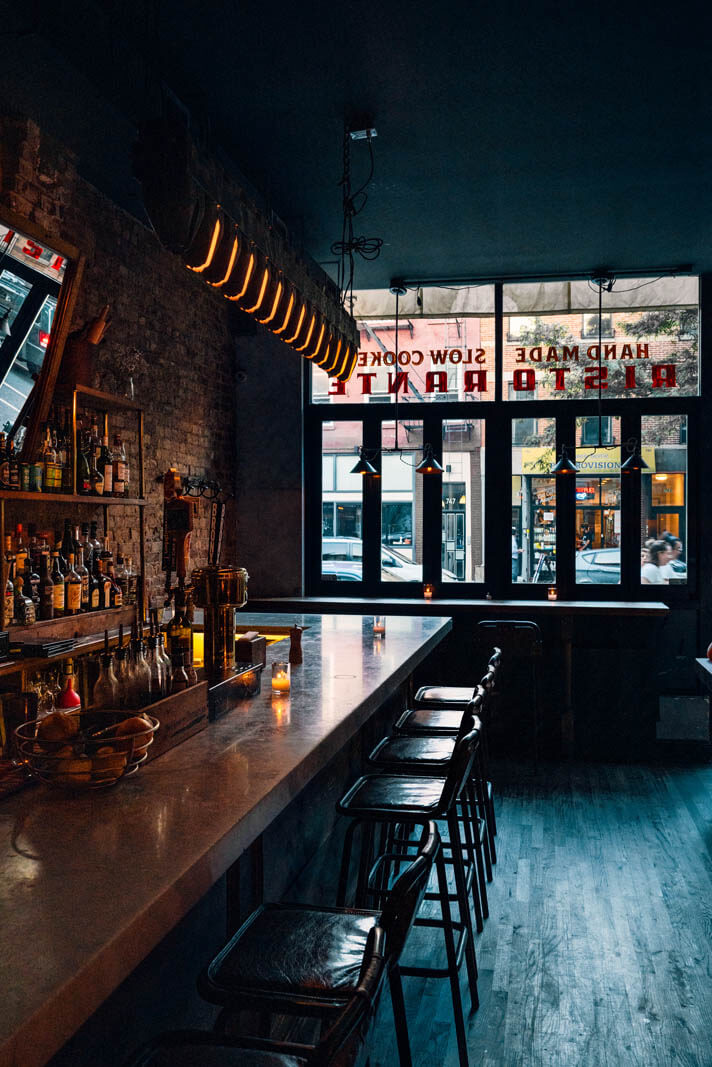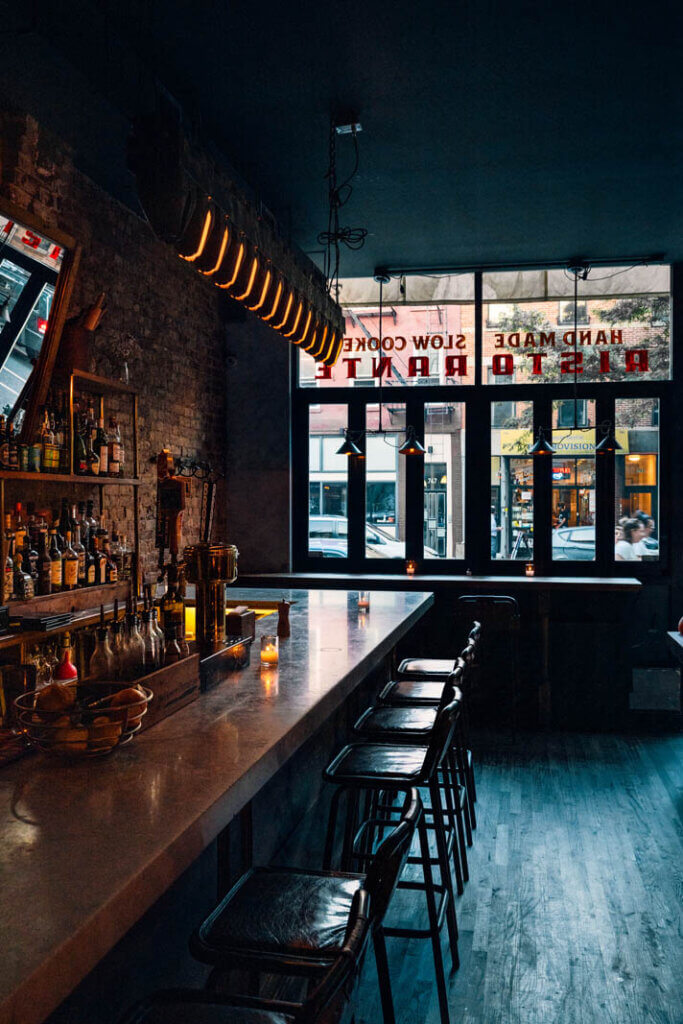 Address: 742 Franklin Avenue 
Cent'Anni at one point of time might have been one of my most visited restaurants and that is for very good reason. Just like every good Italian neighborhood joint, Cent'Anni is your classic New York Italian establishment with cozy decor and delicious homemade pasta. 
Start with the fried calamari or the steamed mussels (or both if you have a friend to split) and if you're looking for a salad, try the caprese mozzarella di buffala.
You're going to want to try the Rigatoni di Nonna complete with imported sausage ragu. But honestly, any of their pasta dishes are a homerun, from the Pappardelle all'Agnello (with braised lamb ragu) and Tagliatelle al Funghi. Another standout dish is their Tagliata Toscana skirt steak with balsamic paired with arugula and parmesan.
Cent'Anni accepts reservations and has both indoor and outdoor seating. The outdoor garden in the back is a very idyllic place to be in the warmer seasons and the indoor feels like someone's cozy living room so really you can't go wrong with either.
Peppa's Jerk Chicken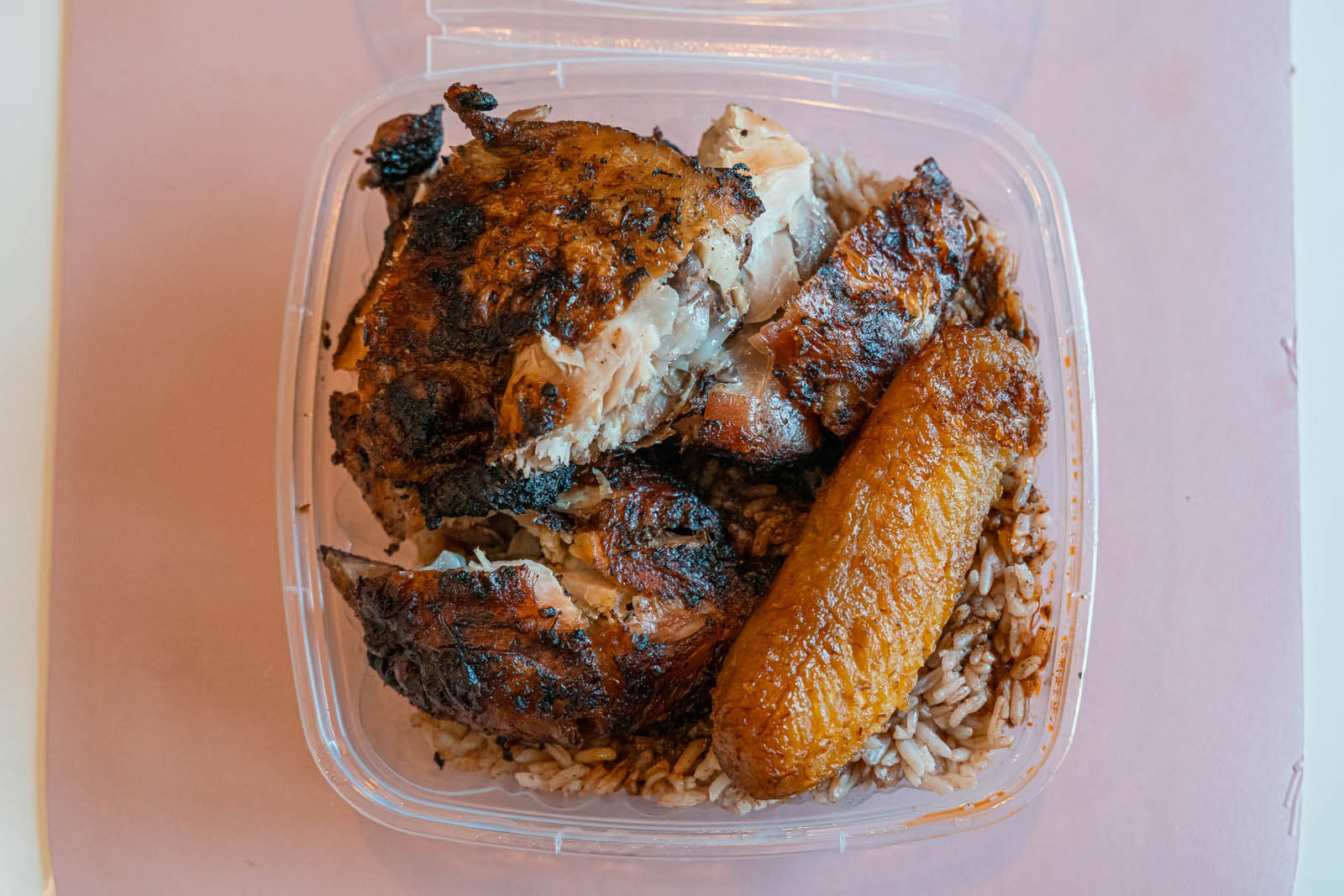 Address: 791 Prospect Place
Peppa's Jerk Chicken is one of the most affordable places to eat in Brooklyn and it is also one of the best Crown Heights restaurants to eat at. With the original location in Prospect Lefferts Garden, the Crown Heights location has a few different options but you come for the chicken. 
The menu is simple. You choose a meal (go with the jerk chicken) and then choose a few sides or festivals to go with it. The chicken is perfectly cooked and goes great with festivals, mac and cheese, and sweet plantains.
Peppa's has a couple of tables outside but is just as great to take to go.
Brooklyn Suya 
Address: 717 Franklin Avenue
I'm sure you've started to notice a trend that most of the best restaurants in Crown Heights live on Franklin Avenue. There are so many great ones in fact, it seems you could try a different one every day for weeks and still not get through them all. Brooklyn Suya is just another one that you need to add to your list immediately for some of the best food and best Nigerian in Crown Heights. 
The space is very tiny. So tiny in fact there are only a couple counter seats and really only room for one to two people to actually be working. They specialize in bowls where you can customize and add your own protein on top or go all vegetables or tofu. You then choose a rice or kale base, add your level of spices (I love spicy but this place is SPICY so beware) and then you can add on anything else you want to add. The plantains are a great addition as well as the avocado and eggplant.
You can also order the spices to take home, which I recommend because even though you can't create the deliciousness of the bowl at home, the spices are great on everything else.
Aita Trattoria 
Address: 798A Franklin Avenue
If you've read any of my other guides, you know I'm a sucker for Italian food. I'm even a bigger sucker for Italian restaurants placed on charming corners right in the middle of the neighborhood. Aita Trattoria is one of those places, making this one of the best restaurants in Clinton Hill. 
This is the sister restaurant to Aita, one of the best restaurants in Clinton Hill (another one of my favorite Italian restaurants), Aita Trattoria continues to be at the top of the list for the best Italian food in New York and one of the best places to eat in Crown Heights.
The entire menu is delicious but pasta is a must. My favorites include the gnocchi, oxtail ravioli, and the mezzelune. If you're with friends, get them all and add in any of the delicious antipasto options. They also have a wide variety and great selection of desserts to complete any meal. As always, start with a delicious cocktail to make this one of your favorite meals in Brooklyn.
Aita has both indoor and outdoor dining, the outdoor dining being warm and cozy for any time of year. The indoor is small and charming with wooden tables, lots of candles and a beautiful bar, so you really can't go wrong with either option. They accept reservations for both indoor and outdoor dining and have both weekend brunch and dinner every day.
Silver Rice 
Address: 638 Park Place
Looking for an affordable and delicious sushi place has been hard work in my many years in New York. I visited Silver Rice often when I lived in the neighborhood but moved out and still keep coming back because its quality sushi at an extremely reasonable price and one of the best restaurants in Crown Heights. 
Obviously, the sushi is great here and you can't go wrong with whatever your sushi preference may be. They have all the classics plus some spins on the classics as well as some delicious rice bowls but the most original and maybe the best thing they have to offer are their signature "cups" filled with sashimi and rice. So delicious and so easy to take to go.
Silver Rice has both indoor and outdoor seating
Cafe Rue Dix 
Address: 1451 Bedford Avenue
Cafe Rue Dix has always been one of my favorite restaurants in Crown Heights not just for the food but also because of the decor. The food is West African and the space is covered in West African Masks, geometric patterns are painted along the bar and you will always hear afrobeat music playing. Not to mention the food is some of the best in Brooklyn, making this a great restaurant in Crown Heights. 
All the food is delicious but I always start with the hummus vert served with warm pita and if I'm with friends, I always make sure we split the spring rolls and the empanadas as well. For the main course, the steak sandwich and the burger are two of my favorites as well as any of their fish entrees. They also have some delicious sides, including french fries, and some incredible desserts if you've saved room.
Cafe Rue Dix offers both indoor and outdoor seating and accepts reservations. They are open for lunch and dinner daily and brunch on the weekends. Once you finish eating, make sure you head next door to browse through the shop, grab a coffee and get your nails done.
Mayfield 
Address: 688 Franklin Avenue
Mayfield was one of the first places I went to when I first moved to Crown Heights many years ago and it was a place that I took friends every time they visited and insisted that my roommates and I go on a regular basis. While I no longer live with my roommates, we still make an effort to visit Mayfield often and it is still consistently one of the best restaurants in Crown Heights. 
I'm going to start backwards and tell you that you should order dessert so you don't get too full and skip it because their ricotta doughnuts with nutella are truly one of the best things you'll ever eat. For appetizers, the marinated cucumber salad is always a hit as well as oysters and the steak tartare. All of their sandwiches and burgers are delicious but my favorite is the burger or the Cuban. As for entrees, the steak frites and the mushroom ravioli are delightful.
Just like Cent'Anni, Mayfield also has very cozy cabin-like vibes and a great backyard garden. They are open for brunch on the weekends and dinner during the week. They accept reservations and have a great happy hour and just added a new menu addition with $2 oysters all day, every day.
MISC
Address: 758 Franklin Ave
If you're a fan of Southeast Asian cuisine from Vietnam and Thailand, plus throw in a bit of Japanese cuisine, you're going to like this Crown Heights restaurant. MISC has a miscellaneous Asian-fusion menu and has one of the best bowls of khao soi you can find, a specialty dish found in the city of Chiang Mai in Northern Thailand and some parts of Laos and Myanmar which is a coconut curry soup with thick noodles and a chicken leg – a medley of flavors that's just perfection.
You can't go wrong with anything you order here, check out their starters with options like papaya salad, pork buns, and dumplings to other mains from the Spicy Basil Fried Rice to Drunken Noodles, plus a selection of ramen options and other noodle dishes.
---
Best Places to Eat in Crown Heights (Post Summary):
Chavela's
Rangoon
Barboncino
Puerto Viejo
Gueros
The Crabby Shack
Joe and Sal's Pizza
Franklin Park
Cent'Anni
Peppa's Jerk Chicken
Brooklyn Suya
Aita Trattoria
Silver Rice
Cafe Rue Dix
Mayfield
MISC
---
About Our Guest Author 
Molly Royce – Originally from Oklahoma, I moved to NYC for grad school and have had a hard time wanting to leave ever since. There really is no better borough than Brooklyn where I live with my boyfriend and our black lab, Frankie. There's no greater city in the world and I can't wait to share my love of the city, eating, and drinking with all of you.
---
Share your favorite place for food in Crown Heights in the comments below! Consider bookmarking this guide for later!