Looking for the best restaurants in DUMBO? You're in luck! DUMBO is definitely one of the best neighborhoods in Brooklyn, mostly because it has some of the best views of Manhattan and is right on the water.
Not to mention, its close proximity to the Brooklyn Bridge, which walking the Brooklyn Bridge is without a doubt one of the best things to do in New York City and if you're making the trek from Lower Manhattan over to Dumbo, you'll likely work up an appetite.
Or maybe you're just coming over here for the views in one of the most desirable neighborhoods to explore (and live in) in the city!
Whether you are a local or just visiting, this guide will cover our local picks to the best restaurants in Dumbo. And if you want to know what do to after your meal, stick around and check out the best things to do in Dumbo!
Where to Eat in DUMBO
1. Cecconi's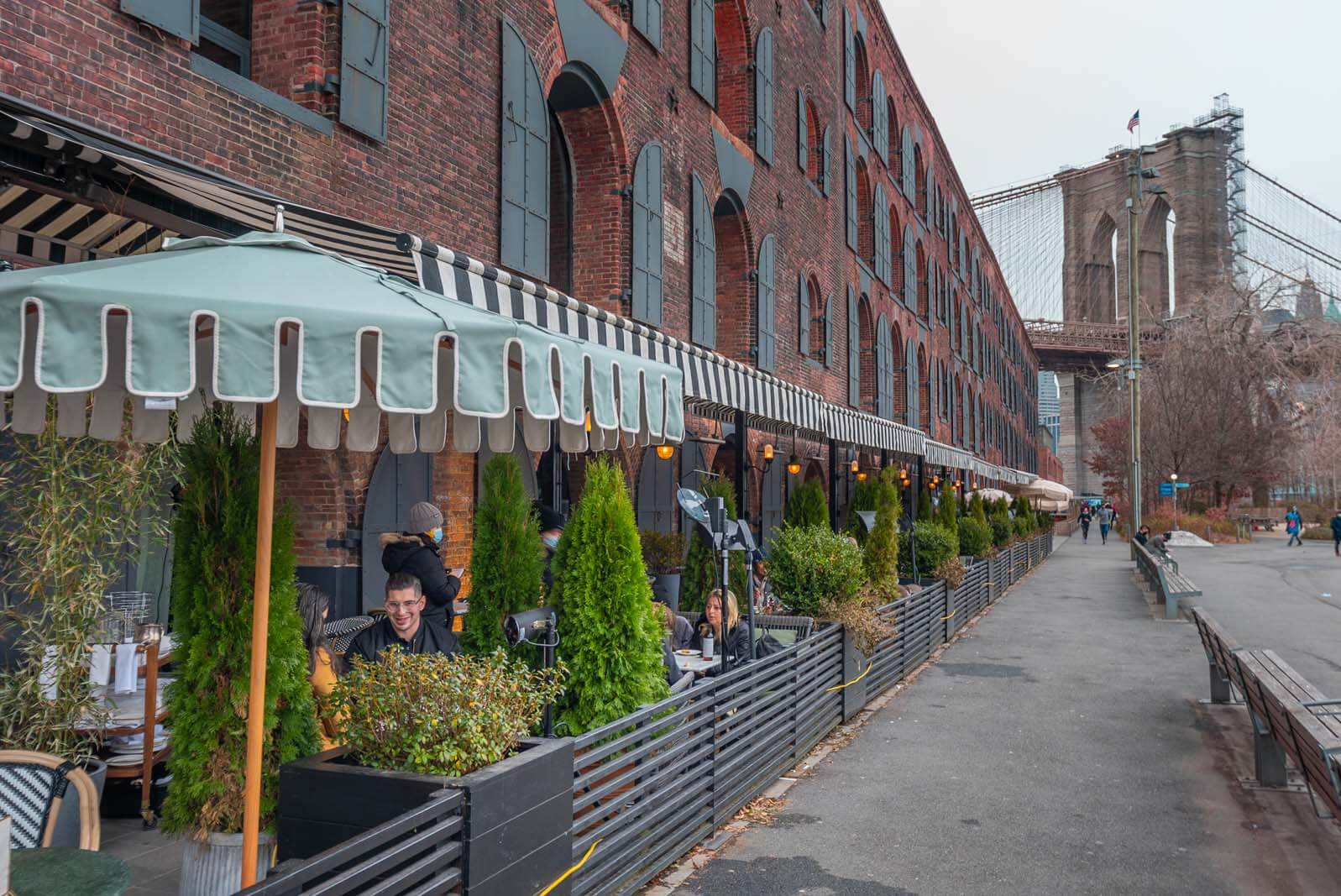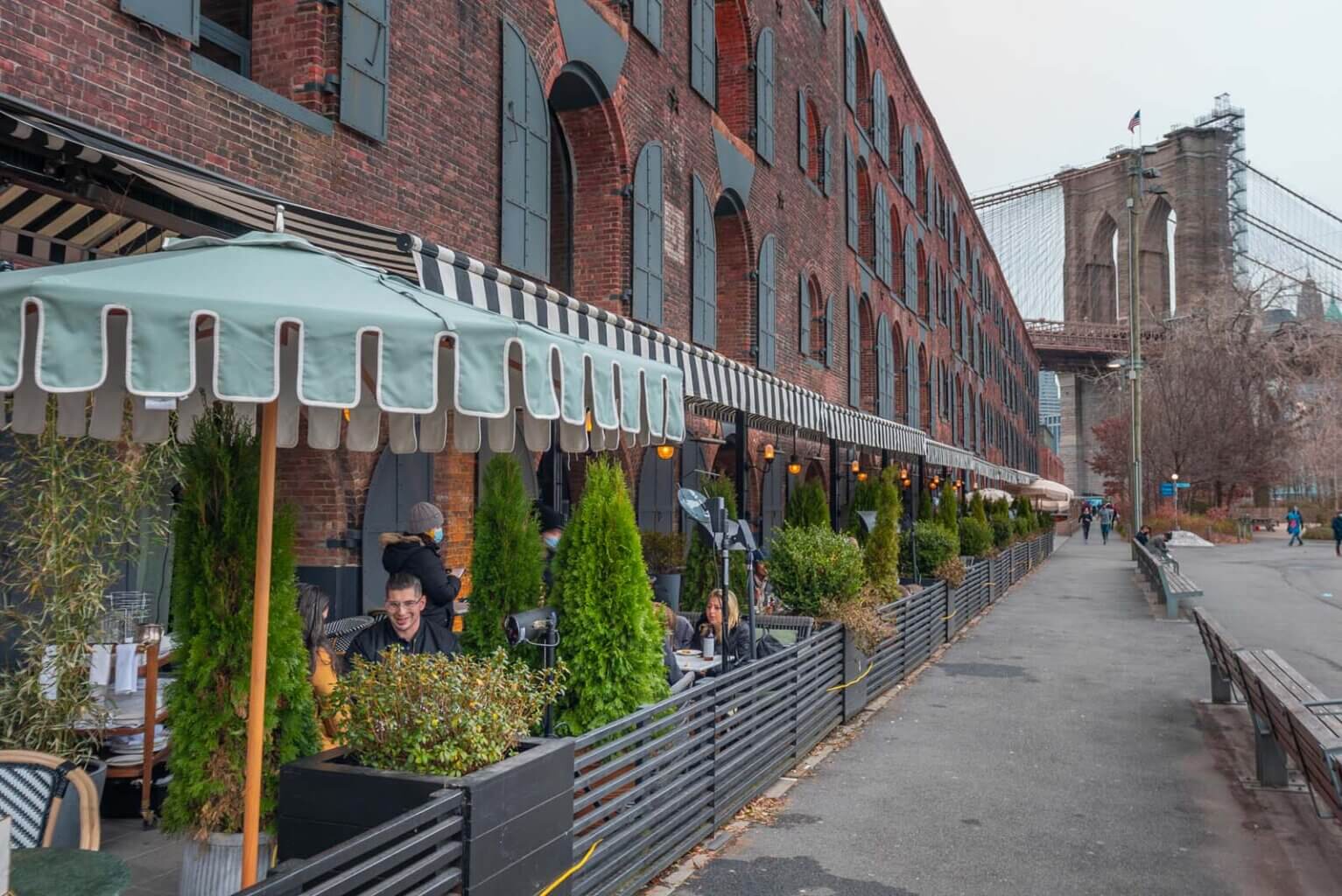 Address: 55 Water Street
Cecconi's definitely has the market on one of the best patios in New York and also happens to be one of the best Dumbo restaurants.
I initially came for the outdoor patio because it truly has the greatest views of the Brooklyn Bridge but it also has some incredible wood fired pizzas. During the warmer months, it is the perfect spot to enjoy pizza and a glass of wine or a negroni from their long list of amazing options.
In addition to the pizza, all of the starters are incredible and should definitely be included in your order. Although if you have to choose, choose the whipped ricotta and the gnocco fritto. All of the pizzas are incredible but my favorite is the buffalo mozzarella and the prosciutto with burrata. They also have pasta and larger dishes if that is more your style.
Cecconi's accepts reservations and offers both indoor and outdoor dining. They are open for lunch and dinner during the week and brunch and dinner on the weekends. Prioritize the outdoor views when the weather is nice but make sure you check out the beautiful bar before you leave one of the best restaurants in Dumbo.
2. The River Cafe
Address: 1 Water Street
Just like all the other Dumbo restaurants in this guide, The River Cafe is another restaurant in Dumbo that has one of the best views in New York. With a Michelin star and an upscale vibe, The River Cafe is the perfect place to celebrate anything and is one of the best romantic things to do in NYC if you're looking for an unbeatable dining experience.
The River Cafe still feels like the 90s (and in the best way possible, think the setting of a 90s rom-com fine dining experience) and the vibe is only enhanced more by the piano player each night. There are also several fresh flower arrangements throughout, something that sometimes feels like a thing of the past (not in the best way, at least in my opinion).
As far as food goes, the 40-year-old Dumbo restaurant has a classic American menu that changes with the seasons. The menu is pre-fixed but with several options to choose from. They even offer vegetarian choices!
Reservations are accepted for less than 5 on their website but for more than 5 people, you must call the restaurant directly. They are open for dinner Wednesday – Sunday nights. Make sure to check their website for the enforced dress code as well!
See more of our favorite DUMBO restaurants with a view too!
3. Celestine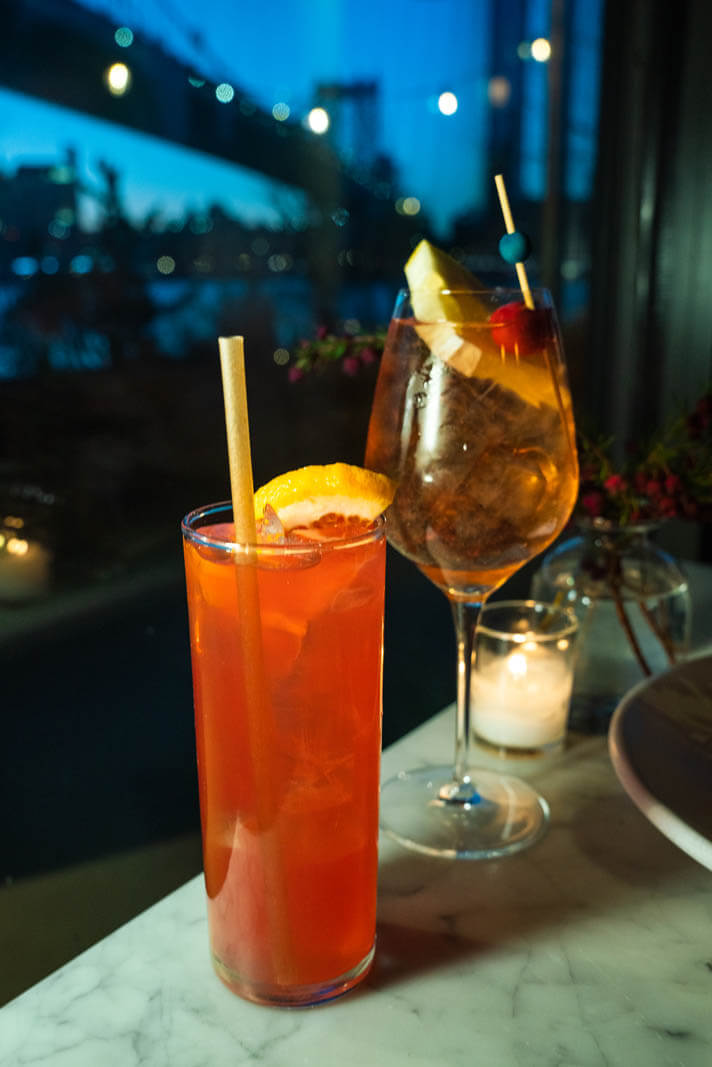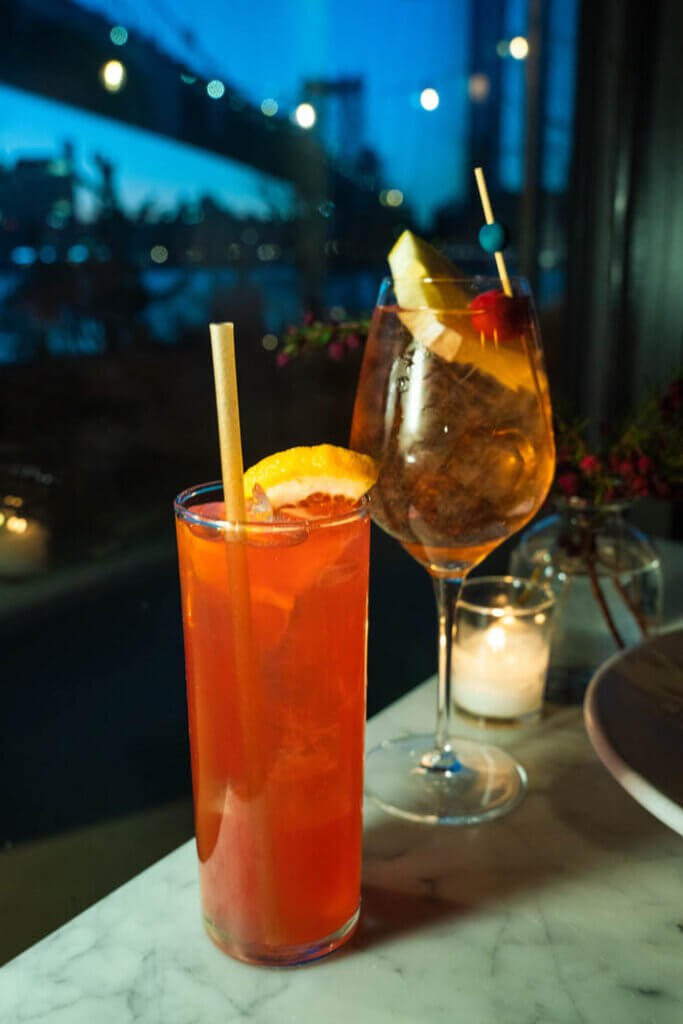 Address: 1 John Street
Yet another incredible Dumbo restaurant with even more incredible East River/Manhattan Bridge views that also has to have some of the best Mediterranean cuisines is Celestine.
The entire menu is filled with delicious Middle Eastern and Mediterranean fare, and they do these dishes very well. Don't skip out on the crudites and the mezze platter. Mezze platters are always delicious but Celestine has one of my all-time favorites. You can order them individually or get a sampling of all four, which is the best way to try.
For main dishes, if fish is a special, order that. If fish isn't your thing, the half roast chicken is pretty delicious. They also have some pretty incredible salads and side options, including fried brussel sprouts that you will not be disappointed with.
Celestine accepts reservations and is open daily for dinner and brunch on the weekends. They have both indoor and outdoor dining but as always, I recommend the outdoor dining, especially in the case of this incredible restaurant in Dumbo.
4. Gran Electrica
Address: 5 Front Street
Like I always say, Mexican food used to be something that was very hard to come by in New York and quite frankly, Gran Electrica debunks that statement. This Dumbo restaurant is also finally a place that offers Mexican food in its simplest form without all the over the top ideas that sometimes accompany those other said Mexican restaurants in NYC.
The menu consists of a lot of street style food including tacos, delicious chips and guacamole, quesadillas and ceviche. They also have a few options for larger plates but none feel super heavy, which is great to keep room for all the margaritas and mezcalitos you are going to want to enjoy.
Not to mention, this Dumbo restaurant has a great ambiance. Pay attention to the wallpaper when you're here, it it's a Brooklyn toile design and enjoy the dimly lit ambiance.
Gran Electrica accepts reservations and is open daily for dinner and brunch on Sundays. They have both indoor and outdoor dining. The outdoor dining is incredible with a large patio that sits right under the Brooklyn Bridge. Reservations are highly recommended as this restaurant in Dumbo can get very busy, especially during the nice weather.
5. Juliana's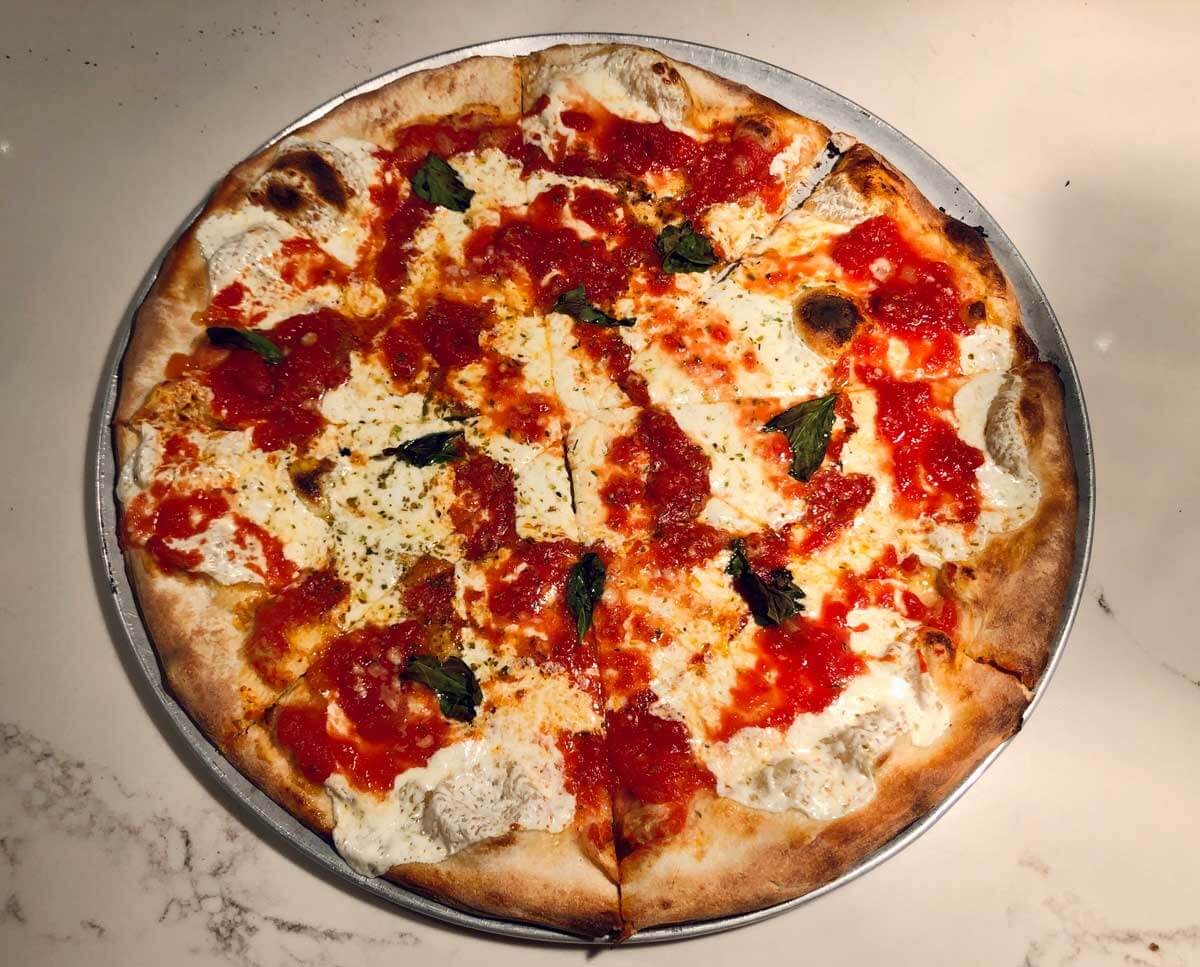 Address: 19 Old Fulton Street
The never-ending debate begins with Juliana's and its rival Gramaldi's over who has not only the best pizza in Dumbo (and who rules the waterfront) but also who has the best pizza in all of NYC (they both have long been considered contenders by NYC pizza critics).
The war began when the owner of the classic Grimaldi's, Patsy Grimaldi, sold his successful pizza shop in 1998 to Frank Ciolli. (To take it back even further, Patsy Grimaldi is of an NYC pizza dynasty being a relative of one of the oldest and best pizzerias in the city, Patsy's – so it's in his blood to make good pizza).
Not long after Grimaldi sold Grimaldi's to Ciolli, he decided he wasn't quite ready to fully retire from the NYC pizza biz.
Ciolli didn't get along great with the landlord of the original Grimaldi's pizzeria space and decided to move the shop next door, at which point Grimaldi said might as well open up another pizza shop in the original space!
Ciolli continually tried to block Grimaldi's return but Grimaldi won the war and named his new shop after his mother, Juliana. In 2015, Juliana's was named the #1 pizzeria in the United States by TripAdvisor.
As far as the war between the two today, people still have their favorites and it's hard to convince them otherwise. They're similar in their coal oven baking style but they offer different touches that differentiate them from one another.
Make sure you order the pizza. Get toppings if you desire but the classic Margherita is always the way to go. Which one has the best pizza? You'll have to visit to decide.
Juliana's is open every day for lunch and dinner but closes for a short break in the afternoon (make sure you check their website for details) and reopens shortly after. Reservations are not accepted and while there is always a line, you can always take your pizza to go and enjoy it in the Brooklyn Bridge Park or over on the waterfront by Jane's Carousel, there are picnic tables in a shaded space over here or pack a blanket and park up on the lawn and enjoy those unbelievable views!
6. Grimaldi's
Address: 1 Front Street
As mentioned above, Grimaldi's is continually debated as one of the best restaurants in Dumbo and is without a doubt one of the best spots for pizza in Brooklyn. It has now been around for over 100 years and continues to be a go to place for both tourists and locals alike.
Just like Juliana's (and any pizza place for that matter), order the Margherita pizza. They also have delicious calzones and some good salads if you want to start with something a little extra. They also have gluten free crust options too!
You can only order pizza by the pie here, just like Juliana's, and they make them in their coal brick oven, which is a bit of a lost art here in the city as those who have them had to be grandfathered in as the city rarely issues out permits for coal ovens for environmental reasons, the pizzerias who have them are either classic, old pizzerias who always have had them or a unicorn of a business who won the coal oven pizzeria lottery.
Grimaldi's is open every day for lunch and dinner. Reservations are not accepted and just like Juliana's the line can definitely get long. Indoor dining is available but it is also a great idea to take the pizza to go to a picnic table by Jane's Carousel or to enjoy in the grass on the Brooklyn waterfront.
But if you're with a pizza-loving group, it doesn't hurt to order take out from both pizzerias at the same time and do the official taste test yourself!
7. Time Out Market New York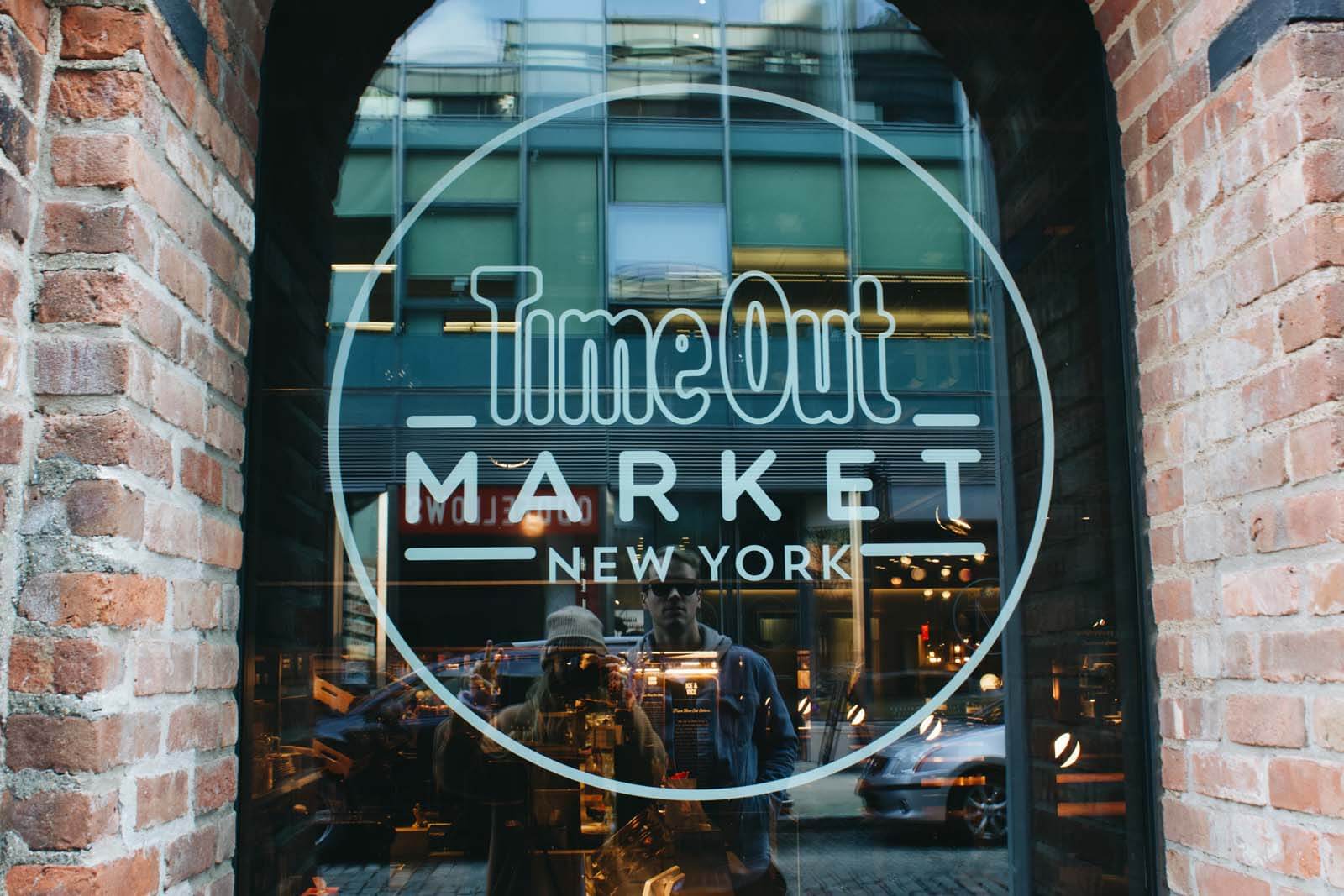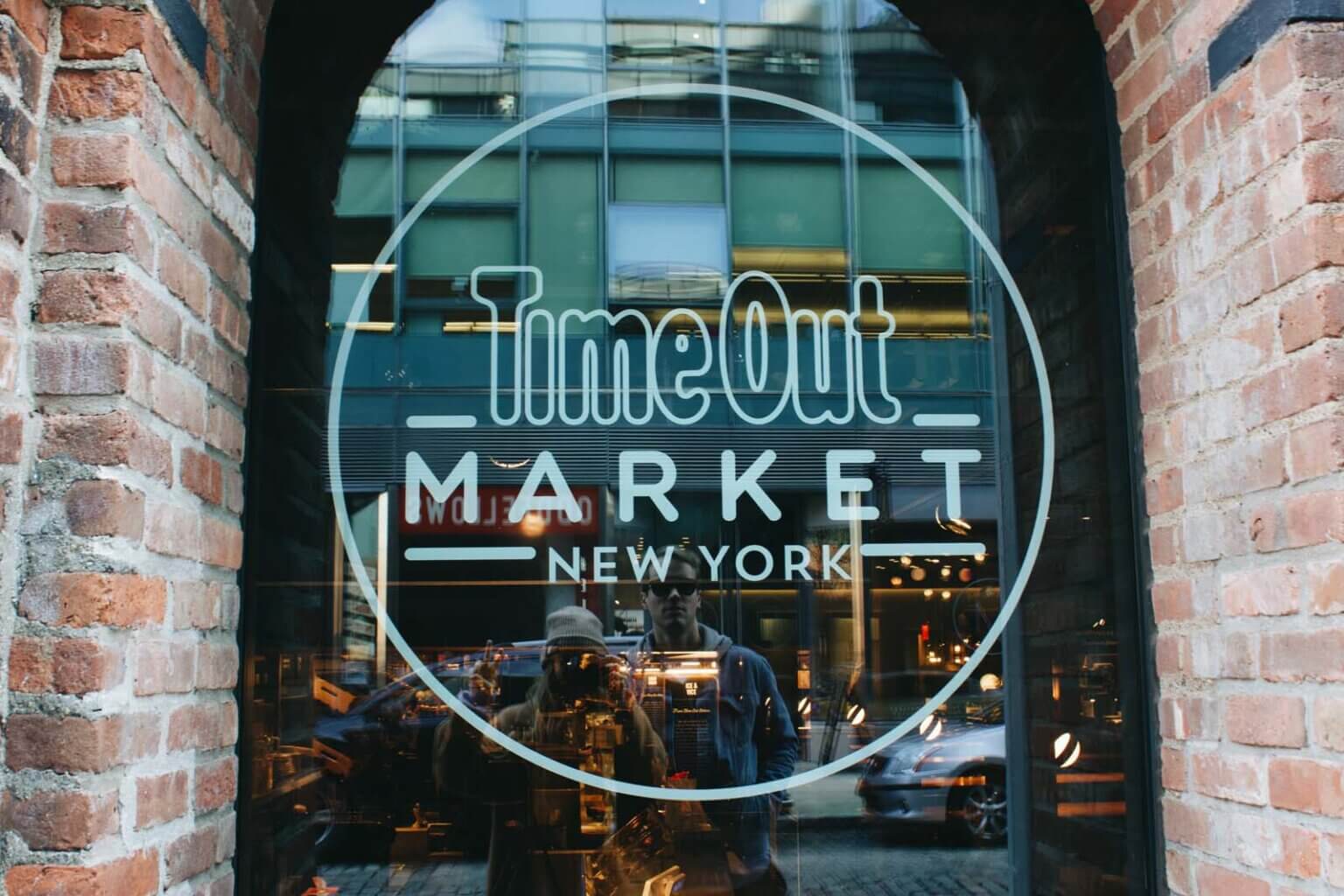 Address: 55 Water Street
Dumbo already has some of the best views of the Manhattan and Brooklyn Bridge but then you add in the rooftop at Time Out Market and a combination of some of the best New York restaurants and you have the perfect match.
There are several options for Dumbo food at Time Out Market New York but one of the most outstanding choices is Wayla. The original (and larger) location is one of my favorite places to eat on the LES and serves some of the best Thai food around.
Clinton St. Baking Company has some of the best pancakes in all of New York (and probably the world) so it only makes sense that this is included as a top choice for dumbo food. Whatever you do, don't leave without trying the perfectly fluffy blueberry pancakes and just as a disclaimer, pancakes can be eaten at any time of day.
For some of the best ramen around, check out Mr. Taka Ramen. Also with the original spot on the LES, they have an incredible miso ramen and vegan options if you desire.
You know no list of mine is complete without an Italian spot and Felice Pasta Bar is it at Time Out Market. The pasta is perfectly cooked (and homemade) and the sauces are incredible.
For delicious sandwiches, check out Pat Lafrieda Meat Purveyors. They have incredible burgers, hot dogs and a great cheesesteak.
Last but not least, Jacob's Pickles hits all the Southern classics with homestyle cooking of the best kind of comfort food. Don't leave without trying the pickle flight (obviously), Nashville hot chicken, mac and cheese and some of the best biscuits in town.
The pizza at Fornino is also awesome and located in their beautiful 4th-floor space that has a bar and panoramic views of the skyline across the East River.
Check the website for the open times for each restaurant within Time Out Market and also make sure you check out the rooftop for delicious drinks and incredible views.
The best part about Time Out Market is that you can try a little bit of everything so come with friends and come hungry for some of the best Dumbo food. Time Out Market has both indoor and outdoor dining. Reservations are not accepted.
This is a great place for groups of people who like different things as it's more food court style, so everyone can order what they want and then meet back up.
8. Seamore's
Address: 66 Water Street
While Seamore's has multiple locations across New York, this has to be the best location, which in turn clearly translates to being one of the best restaurants in Dumbo. Located along the water, this is another Dumbo restaurant with an incredible view that makes the oysters even better.
Obviously you come to Seamore's for the seafood so make sure to stock up on all of your favorites for your table. They also have really good french fries and there is nothing I love better than the oysters + french fries + dirty martini combo. Everything on the menu is good here with a focus on sustainable seafood.
Reservations are accepted and Seamore's is open every day for lunch and dinner. They offer both indoor and outdoor dining.
9. Tsuta Ramen
Address: 22 Old Fulton Street
One of the best restaurants in Dumbo also happens to be an outpost for the first Michelin-star ramen restaurant in the world hailing from Tokyo with now locations in Bangkok, Singapore, and Brooklyn!
The two must try bowls of ramen here are the Truffle Shoyu and Truffle Shio. The main difference being the Shoyu having a black truffle sauce and the Shio having a white truffle oil served with soba noodles and chashu.
Both bowls are sensational and we recommend going with someone who likes to share so you can try both.
Tsuta Ramen doesn't have reservations and opens daily at noon.
10. Thai Sidewalk
Address: Jay Street & Front Street
So technically Thai Sidewalk is not a sit down restaurant in Dumbo but is actually just a cart that is located on Front Street but that doesn't stop them from making some of the best food in Dumbo, and quite possibly, one of my favorite food carts in the city.
It's hard to narrow down what to order here because everything is incredible. They have Thai classics to lobster rolls, I recommend ordering your favorite. If you're not sure where to start, the Pad See Eew and Pad Thai are always a great choice. They also have some great Thai tea if you want something extra!
Thai Sidewalk is only open during the week for lunch and an early dinner. Make sure to check the hours before visiting. You can also order ahead, which is recommended during the busy lunch times.
11. Westville Dumbo
Address: 81 Washington Street
Another restaurant in Dumbo that has multiple locations throughout New York is Westville but it is just that good that it definitely deserves to be on the list of best restaurants in Dumbo (and have multiple locations around the city). Westville is the perfect combination of healthy but hearty and always has something for everyone to enjoy!
There really isn't a bad thing on the menu but my favorites include the buttermilk chicken sandwich, smoky mac and cheese and the grilled salmon. They also have amazing market vegetables to add to any entree (or you can create a plate as your meal) and offer several vegetarian and vegan options.
Westville accepts reservations and is open every day for lunch and dinner. They do take a short break in the day so make sure to check the hours before you visit. They also offer a delicious brunch on the weekends that is featured in the best brunch in Dumbo guide! Both indoor and outdoor seating is available.
12. Em Vietnamese Bistro
Address: 57 Front Street
Not only does Em Vietnamese Bistro offer some of the best Vietnamese food and is one of the best restaurants in Dumbo, but they also have my favorite interior style, minimalistic with soft tones and so much natural light.
Like any great Vietnamese joint, the pho is amazing. They also have a great vegan broth soup that you wouldn't even realize is vegan if it weren't in the title. The Bun Ga Nuong or Chicken Vermicelli, is also a standout entree. Make sure you get some starters to share (or eat for yourself) including the always delicious spring rolls.
Em's is open every day but Tuesday for lunch and dinner. Like many of these Dumbo restaurants, they take a break between lunch and dinner so make sure you check the hours before visiting. Reservations are accepted.
13. The Osprey
Address: 60 Furman Street
This incredible restaurant in Dumbo happens to be in one of the most beautiful hotels in the city, the 1 Hotel Brooklyn Bridge. Not only are the interiors incredible at this hotel restaurant, but The Osprey also has some of the best food in Dumbo.
For starters, make sure you order the caviar with all the fixings. They also have delicious oysters and an incredible pull apart roll that can be topped with caviar and salmon rillettes. The roasted beet salad is delicious and for entrees, you can't go wrong with the half roast chicken.
The Osprey is open every night but Monday and Tuesday for dinner and for brunch on the weekends. They accept reservations but are also a great place to go when you need a last minute reservation for a date or large group. They also offer drinks and light bites at the bar before dinner service begins!
14. Luke's Lobster – Brooklyn Bridge Park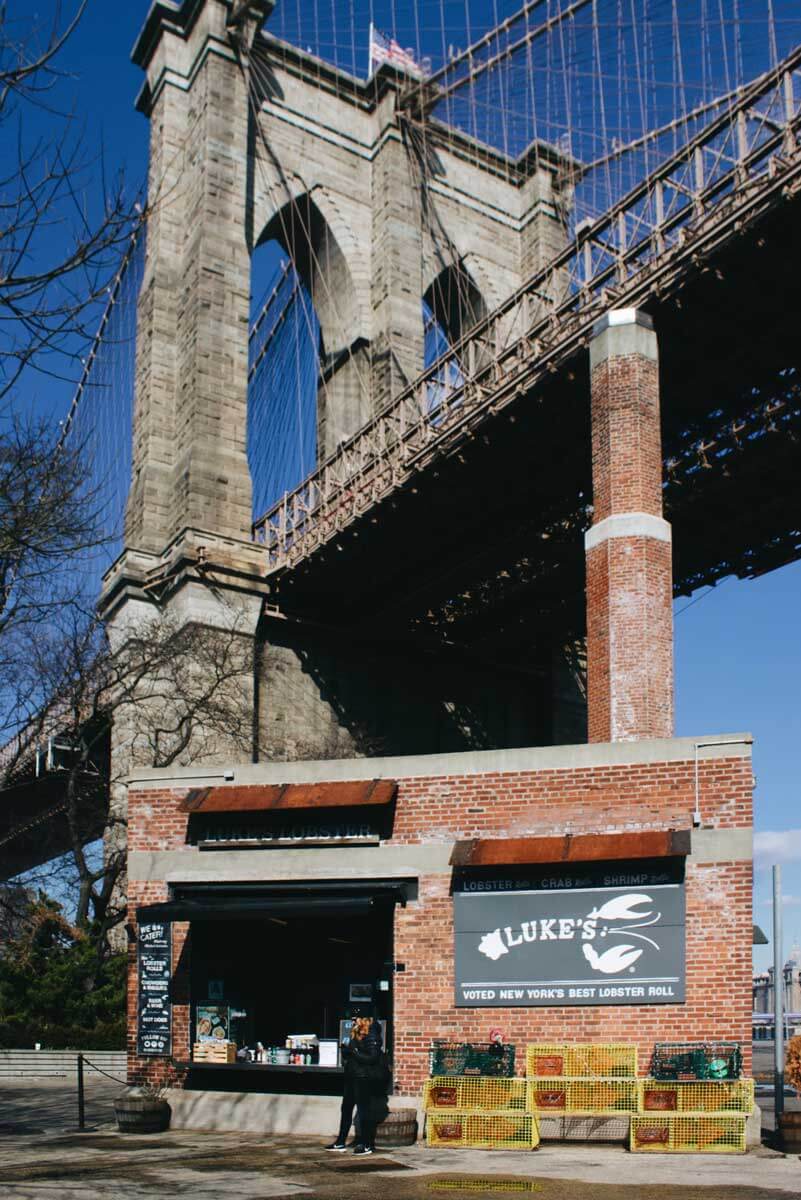 Address: 11 Water Street
Yet another Dumbo restaurant with multiple locations but this location reigns supreme is Luke's Lobster. Located right on the water in Brooklyn Bridge Park directly underneath the Brooklyn Bridge, Luke's is the perfect place to grab one of the best lobster rolls in the city to enjoy sitting and enjoying the best views of Manhattan.
The best thing on the menu is the lobster roll but they also have crab and shrimp as well. Want to try all three? That is an option at Luke's with the Luke's trio, a 2 oz sampling of all three. To make this place even better, they also offer a lobster roll flight of all their famous lobster rolls. The clam chowder soup is also the perfect starter and the poppyseed slaw is the addition you didn't know you needed with your lobster trio.
Luke's is open every day but Wednesday for lunch and dinner. They have a few picnic tables outside but the best place to enjoy your roll is in front of the East River and it's an easy meal to walk with!
15. AlMar
Address: 111 Front Street
The first time I ate at AlMar was by circumstance and just being a tourist and not planning my meals in advance. Usually I see this as a rookie mistake but in the case of AlMar, this was a blessing because it is one of the best restaurants in Dumbo.
The aesthetics are top notch here with a mix of wood tables and lots of plants. As for the food, it's hard to narrow down what to order so come with friends so you can try some of everything off of their Italian menu.
To start, the whipped ricotta crostini and east coast oysters. They also have some great carpaccio options if that is more your style. For mains, stick with any of the pasta choices and you will be happy and satisfied.
AlMar is open every day but Monday for lunch and daily for dinner. They also close for a few hours in between so check the hours before visiting. Reservations are also accepted at this incredible Dumbo restaurant.
16. Randolph Beer
Address: 82 Prospect Street
Another place that tops the list for an incredible restaurant in Dumbo is Randolph Beer. With a second location in Williamsburg, they offer one of the best seasonal rooftop bars in Dumbo, their indoor area has classic arcade games, tables perfect for groups, feather bowling, and shuffleboard!
In addition to all the wonderful things mentioned above, Randolph Beer also happens to have incredible food. The kitchen sink nachos are a great starter option and if you're there with friends, highly recommend ordering a few others including the waffle fries, tater tots, cuban nachos and of course, wings. For entrees, Randolph has some incredible sandwiches and several bowls that feel extra healthy at a brewery.
Randolph Beer is open daily for lunch and dinner and brunch but closed on Mondays. Hours vary so make sure to check the website before visiting! As noted above, Randolph has a great rooftop (seasonal) for outdoor dining and offers indoor options as well. Reservations are accepted.
---
Best Restaurants in Dumbo (Post Summary):
Cecconi's

The River Cafe
Celestine
Gran Eléctrica
Juliana's
Grimaldi's
Time Out Market New York
Seamore's
Tsuta Ramen
Thai Sidewalk
Westville Dumbo
Em Vietnamese Bistro
The Osprey
Luke's Lobster – Brooklyn Bridge Park
AlMar
Randolph Beer
---
There you have it! The best food in Dumbo to check out! If we missed your favorite, let us know in the comments below and if you end up deciding which pizza ranks supreme between Grimaldi's and Juliana's let us know in the comments below!
---
About the Author
Molly Royce – Originally from Oklahoma, I moved to NYC for grad school and have had a hard time wanting to leave ever since. There really is no better borough than Brooklyn where I live with my boyfriend and our black lab, Frankie. There's no greater city in the world and I can't wait to share my love of the city, eating, and drinking with all of you.