Post Overview: Best restaurants in DUMBO picked by a local!
When looking for a place to eat and all the amazing options for restaurants in DUMBO, the number of options can be overwhelming. As locals who know the some of the best bites in the city and all about the best DUMBO food to try we have you covered!
From casual to elegant and everything in between, we've created the perfect guide for your next meal or happy hour in DUMBO, Brooklyn. Check out our picks for the best restaurants in DUMBO right here from Your Brooklyn Guide.
Read Next: Best Things to do in DUMBO
Time Out Market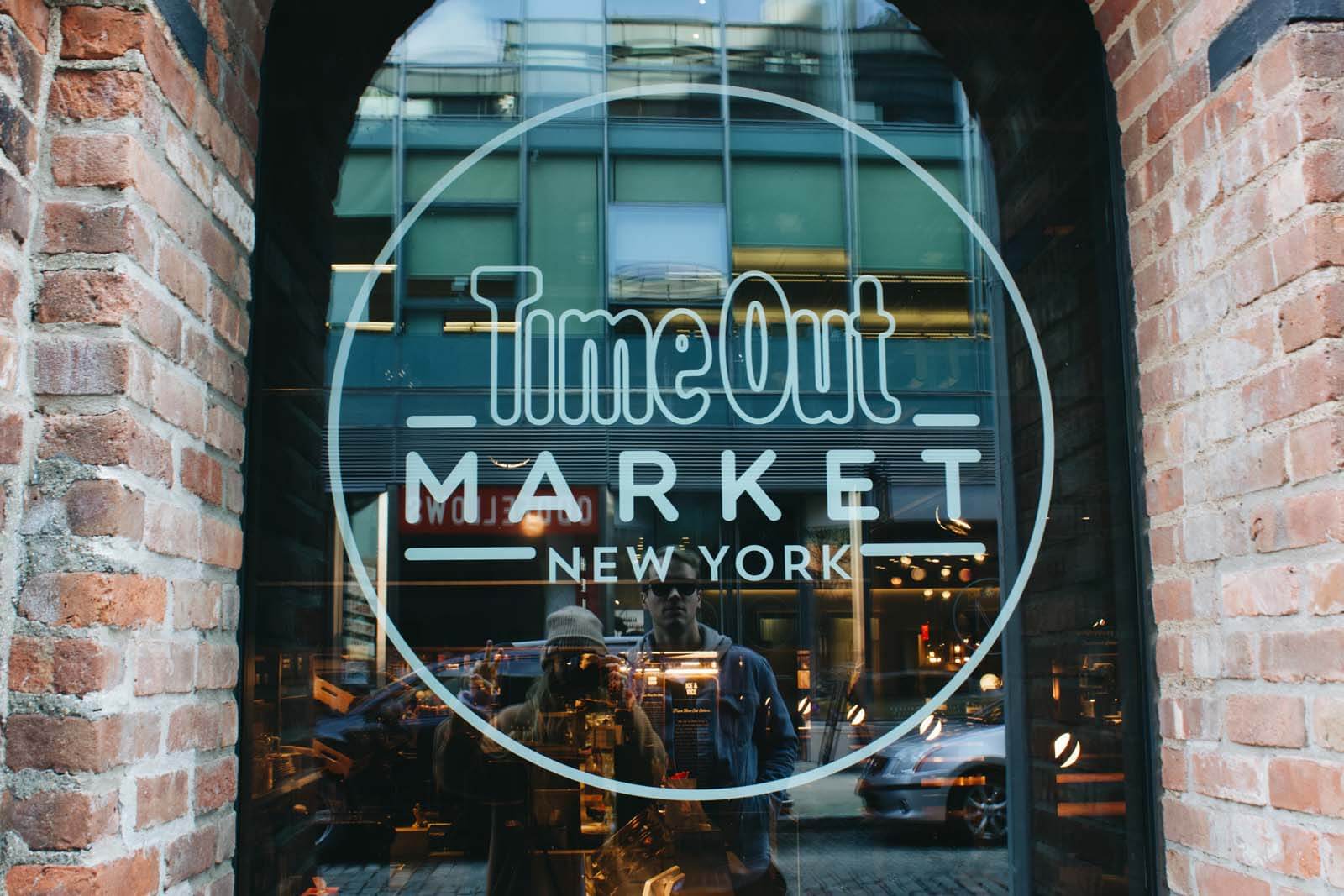 This has always been one of our favorite spots for DUMBO food options, and probably one of the best places if you're looking for something quick but delicious.
Time Out Market New York food hall is perfect for big groups or families traveling together.
There are 21 different restaurant options, guaranteed something for everyone highlighting some of the best of the NYC culinary scene under one roof which makes this one of the best places in DUMBO for food, as well as one of the best places to eat in Brooklyn.
Some of our favorite and top recommended DUMBO food stops in Time Out Market New York are:
Clinton St Baking— Famous for their brunch, Clinton St Baking offers breakfast for dinner! We've all had those days when we crave pancakes at all hours of the day. So if that's you, get to this DUMBO restaurant for some blueberry pancakes!
Mr. Taka— Ramen lovers won't want to miss Mr. Taka. This DUMBO food spot offers miso ramen and even a vegan bowl!
Avocaderia— Visit this avocado bar for some of the most famous avocado toast and other avo based dishes. They even offer a bun made of avocados! Check it out if you're looking for a healthy but delicious choice!
Felice Pasta Bar— If you're looking for real Italian, this is your stop. They have everything you're looking for in a pasta and more.
Little Ada— Famous for their delicious dips (such as sweet potato hummus and more), this Middle Eastern cuisine does more than satisfy. Don't skip their chicken shawarma beckons!
Pat Lafrieda Meat Purveyors— This is the stop for all meat lovers! Get your fix at the DUMBO location with a cheesesteak, a burger, or one of the world's greatest hotdogs!
An added bonus to this DUMBO restaurant is the views. Visit the fifth floor for indoor seating or the outdoor rooftop for beautiful waterfront views you can't get anywhere else.
Located in Empire Stores at 55 Water St, this spot is open Sunday-Thursday 8 AM-8 PM and Friday-Saturday 11 AM-10 PM. The fifth floor is open Sunday-Thursday 12 PM-8 PM and Friday-Saturday 12 PM-10 PM.
SUGARCANE raw bar grill
Kick back, eat well, stay awhile. SUGARCANE's mantra invites customers to come in and enjoy their delicious brasserie-style restaurant. Famous for more than just their raw bar sushi and an array of small plates, SUGARCANE's menu can't be beat.
Order their most famous dish! Try one of the 1,000,000+ duck & waffle dishes already served around the world!
SUGARCANE explains their restaurant layout is inspired by Cuban and Latin American architecture and design. They strive for a genuine and inclusive vibe for all customers.
This DUMBO restaurant is perfect for a romantic night out or a more upscale get together with friends.
Looking for restaurants in DUMBO with happy hour? SUGARCANE offers happy hour Monday-Friday 4 PM-7 PM and Sunday-Thursday 10 PM-close.
Also located at Empire Stores along the waterfront!
Cecconi's
View this post on Instagram
Another restaurant located on the Empire Stores waterfront, Cecconi's is an elegant Italian restaurant in DUMBO with much more than just beautiful views to offer.
Dine-in seven days a week to experience exquisite meals for lunch, cicchetti, dinner, and weekend brunch.
Choose from their handmade pastas, pizzas, and wood and charcoal cooked entrees. Pair your buffalo mozzarella pizza or New York strip steak with anything from their extensive wine list.
Cecconi's also offers plenty of vegan, vegetarian, and gluten free options!
This DUMBO restaurant is more upscale and romantic, definitely not the place for a cheap date. Perfect for a night out with your significant other!
Read Next: Best DUMBO Restaurants with a View
Grimaldi's Pizzeria
View this post on Instagram
One of the most famous and best DUMBO restaurants are the seriously good pies at Grimaldi's Pizzeria, one of the most famous spots for best pizza in NYC. This coal brick-oven pizzeria is located right under the Brooklyn Bridge and are two of the most popular foodie hangouts in the city.
Be prepared, as there is often a line for this famous and historic pizza spot and one of the best places for pizza in DUMBO.
When Patsy Grimaldi learned how to make pizza at the age of 10 in Harlem, he knew that he always wanted to own a pizza shop. Since coal-fired brick overs were made illegal in Manhattan, and he knew they made the best pizzas, he had to open his establishment, Grimaldi's Pizzeria in Brooklyn, which they claim is the pizzeria that made the Brooklyn Bridge famous.
That's a big claim but even Zagat has named Grimaldi's the number one pizzeria in the city, which is a huge deal. Don't come expecting to grab a famous New York slice though, they only sell pizzas by the pie here.
Note that Grimaldi's Pizzeria is a cash-only establishment, there is an ATM on site but come prepared if you don't want to get dinged with ATM fees!
Try any of these signature dishes from Grimaldi's:
Antipasto
Caprese
Bruschetta Trio
Lemon Arugula Salad
Pesto Pizza
White Pizza
Gluten-free crust available!
Afterward, walk off some of that tasty pizza by walking the Brooklyn Bridge!
Juliana's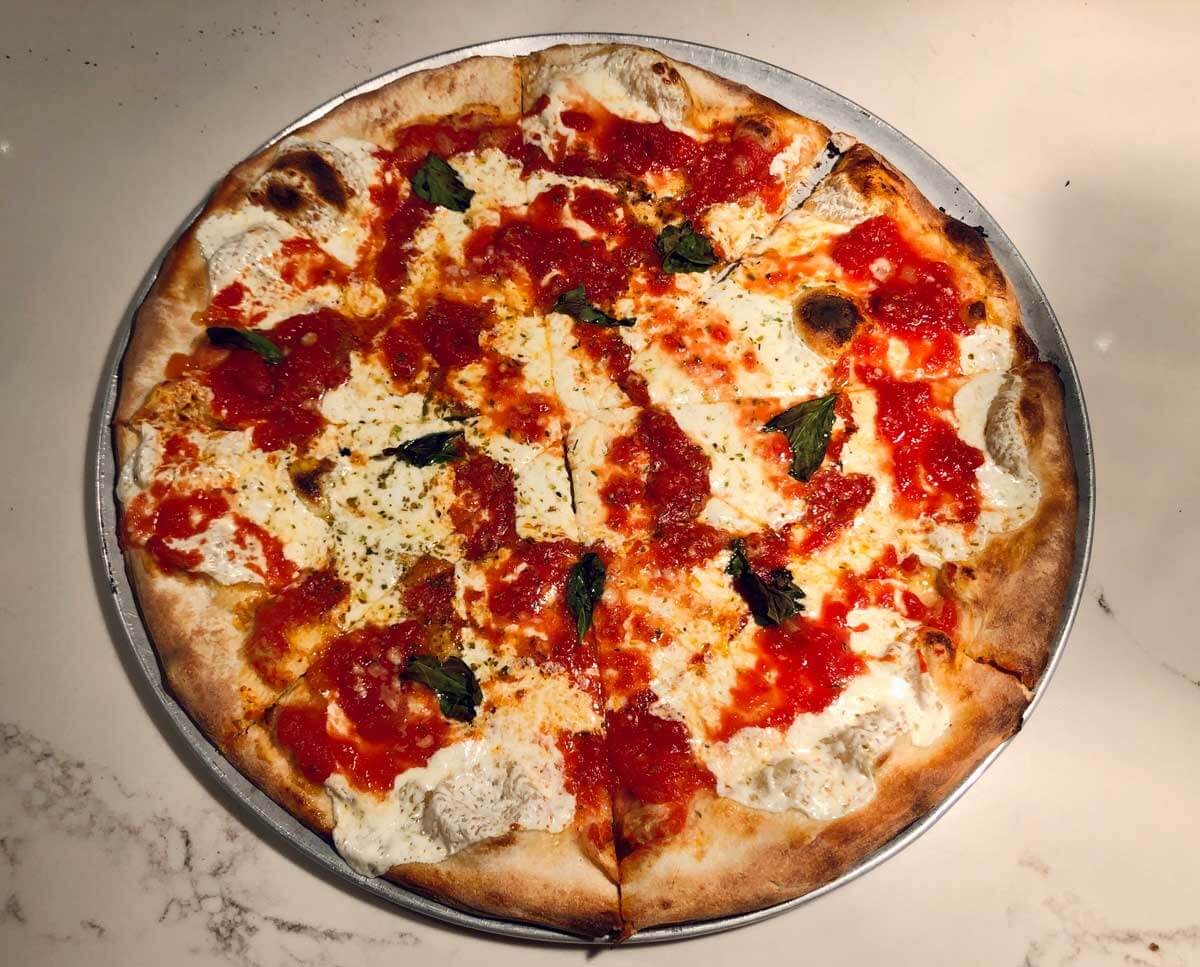 Get ready to learn about the pizza wars of Brooklyn at this next DUMBO restaurant! Another pizza place located right next to Grimaldi's is the other best pizza in the city, Juliana's.
Former owner of Grimaldi's Pizzeria, Patsy Grimaldi retired and sold his famous pizza spot which was franchised and taken over under new management. The original location is the one that is the DUMBO restaurant though.
Unfortunately, Grimaldi's wasn't able to maintain the exact original building location and had to move next door.
Patsy Grimaldi decided that he really wasn't ready to give up the pizza business and was able to snag the original location of his Grimaldi's Pizzeria and started a new brand and pizzeria named Juliana's Pizza which now has a rivalry with his former restaurant Grimaldi's Pizzeria. Is your head spinning yet?
So if you're looking for the 'original' pizza recipe that stole the hearts of New Yorkers made famous by the Patsy Grimaldi, you'll want to head to Juliana's which was named the best pizza in America in 2015!
Just like Grimaldi's you have to buy pizza by the pie, you can't buy by the slice. Juliana's is also a cashless restaurant making things even more confusing since Grimaldi's is cash only!
P.S. – They also have a location in the upstairs of Time Out New York Market, another pick for best restaurants in DUMBO!
Try any of these signature dishes from Juliana's:
Housemade soups
Variety of salads
Spaghetti and meatballs
Meatballs with tomato sauce
Margherita pizza
Calzone
Also, looking for more pizza? Check out our guide to the best pizza in Brooklyn.
The Osprey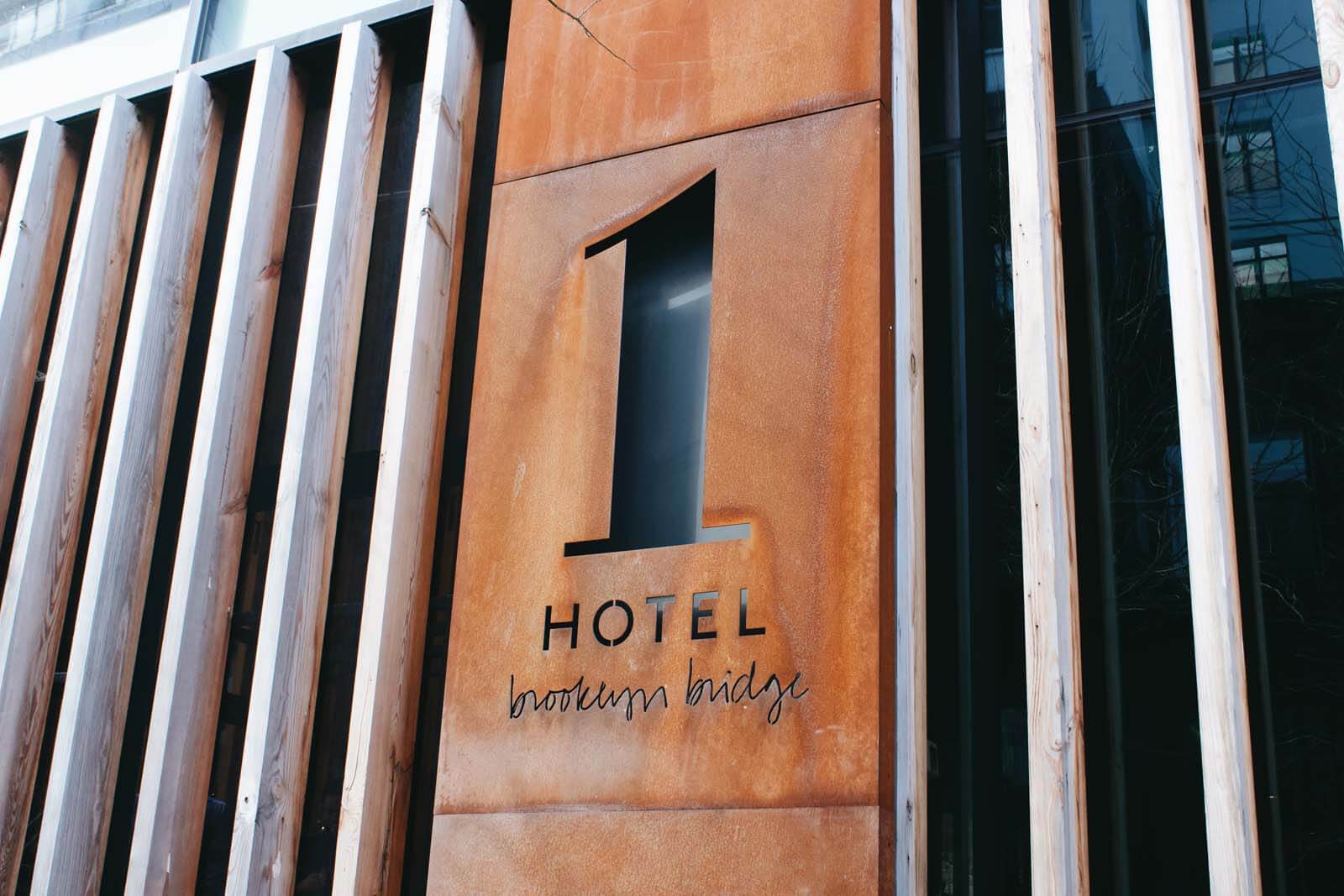 This DUMBO food spot is located inside the beautiful 1 Hotel Brooklyn Bridge. Visiting for dinner? The Osprey offers small, medium, and large-sized portions depending on how much you plan on eating.
Note that with each size increase the prices increase substantially.
This DUMBO restaurant has plenty of interesting choices on their menu. Try their Tuna Tartare, the Long Island Duck, or even the Dry Aged Tomahawk for a whopping $125 (28 oz. center cut, roasted garlic, beef jus).
Join The Osprey for Half-Off Wine Mondays. Every Monday get half-off a bottle or glass of wine.
This beautiful spot has comfortable seating, large windows for gorgeous views, and hanging greenery for the perfect aesthetic. Treat yourself to an elegant dinner or visit for a special occasion. Dining at the Osprey is always a good idea.
While you're here, make a reservation to enjoy a sunset cocktail at one of the best rooftop bars in DUMBO at Harriet's Rooftop Bar & Lounge located here too!
Gran Eléctrica
Having a hard time finding authentic Mexican food in New York? Look no further! Gran Eléctrica prides themselves on their hand-pressed tortillas, crema and queso fresco, and spicy chorizo all made in house.
This DUMBO restaurant is decorated with Mexican art and Day of the Dead wallpaper. In addition to their classic Mexican theme, they have outdoor seating. Nothing beats tacos and the Brooklyn Bridge, right?
For dinner, try any of their tacos! They offer veggie, beer-battered pollock, carnitas, and barbacoa.
They also serve flavor-packed quesadillas and other main dishes.
Hop in for happy hour Monday-Friday 5:30 PM-6:30 PM, available at the bar only!
This DUMBO food spot is definitely more casual and totally inviting. Meet up with friends or snag a drink and some tacos after work.
Vinegar Hill House
View this post on Instagram
As elegant as it sounds, Vinegar Hill House is a very relaxed restaurant in DUMBO with a tasty menu. When the weather is nice, they offer beautiful patio seating.
Pick anything from octopus to spaghetti at dinner, and don't be afraid to add one of their specialty cocktails. Vinegar Hill House uses the best ingredients and delivers delicious wood-fired meals straight to your table.
This cozy spot is the perfect place to meet up with a bestie or small group of friends. Or maybe on a nice day, soak in the sun and some cocktails with someone special in their patio area.
Don't forget this DUMBO food spot also serves some can't miss items for brunch!
The River Café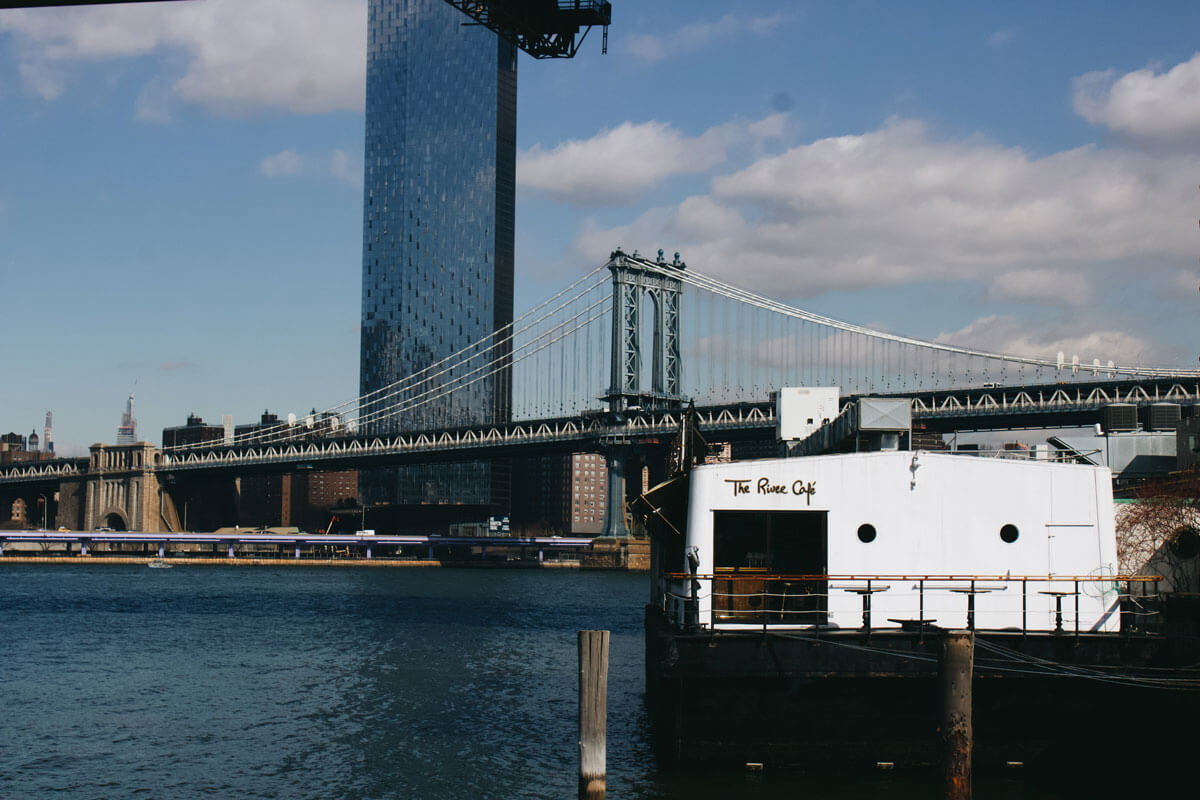 Looking for a great dinner spot? Have an elegant night out facing the Manhattan skyline and East River at one of the best restaurants in DUMBO where suit jackets are still required.
This DUMBO restaurant has a fixed dinner cost of $150 but for $30 more, you can do the Six Course Chef's Signature Tasting Menu.
The River Café offers chicken, lamb, steak, duck, and almost every other animal you could imagine (even rabbit).
This spot is definitely one of the most upscale and sophisticated DUMBO restaurants we've covered. Explore their numerous seafood apps including their caviar service ranging from $95-$180/ounce!
Find The River Café on the Ferry Fulton Landing. Dinner is served 5:30 PM-11 PM daily.
Read Next: Best Cafes in DUMBO
Celestine
View this post on Instagram
This DUMBO restaurant is all about the community. Although this restaurant is gorgeous and sleek on the inside, they invite everyone in for any occasion!
For dinner, give everything a taste! Celestine offers a three-course family-style dinner for $70 per person! This consists of two main courses of your choice, a mezze platter with a green veggie salad, flatbread, and even sides and desserts! You won't want to miss this!
If you're looking for something a little more casual, stop in for a small plate and some wine! Dinner is served at this DUMBO restaurant Sunday-Thursday 5:30 PM-10 PM, Friday-Saturday 5:30 PM-11 PM.
Celestine is perfectly located with the Manhattan Bridge front and center. The actual definition of dinner with a view.
Atrium
View this post on Instagram
Located on Main Street, find yourself at Atrium for a quality dinner in a central location to all things DUMBO.
Dine in at the modern, sleek, yet warm DUMBO restaurant. From comfortable seating to a lively green wall, Atrium provides a welcoming and aesthetically pleasing atmosphere. Perfect for all kinds of meet ups!
Small plates, sharable plates, and main courses. Create the perfect combo with a cheese plate and something like their Surf & Turf, NY Strip, or La Freida Black Angus Cheese Burger for your entree.
Dinner is served at this DUMBO food spot Wednesday, Thursday, Sunday 5:30 PM-10 PM and Friday-Saturday 5:30 PM-11 PM.
Who could forget about happy hour? Visit Atrium at their bar Monday-Friday from 5:30 PM-7 PM.
Also, for more happy hour specials be sure to check out our full guide to the best bars in DUMBO.
Seamore's
View this post on Instagram
If you're looking for a laid back night with some great seafood, Seamore's might be the place you're looking for.
This DUMBO food spot is definitely a place to double-date, hang with friends, or unwind on the weekend. Sit back and share some Tuna Poke, Maryland Crab Dip, or some guac.
For your main course, it seems like you have to try their Main Attraction, also known as The Reel Deal. Choose any protein: Shrimp Skewers, Steelhead Trout, Steelhead Burger, Skirt Steak, Seared Sesame Tuna, Montauk Scallops served with a sauce of your choice, seasonal veggies, warm couscous and kale, or garlic broccoli and mac and cheese!
Sit down and sip on a cocktail at happy hour weekdays 3 PM-6 PM at Seamore's. Enjoy house wines as little as $6 and select can beers for $5.
This DUMBO restaurant has a bright and welcoming vibe, come in and stay awhile.
Ignazio's
View this post on Instagram
Believe it or not, there are more pizza restaurants in DUMBO than just Juliana's and Grimaldi's. Just down the street from those two, dine in at Ignazio's right under the Brooklyn Bridge.
If you're looking for a little more than just pizza, they have that as well. Ignazio's serves other popular menu items like wings, more appetizers, salads, meatball heros, B.L.T wraps, and all the specialty pizzas you could imagine (try the white!)
This DUMBO restaurant definitely has a casual vibe, not ashamed to admit I've rolled in with sweatpants or leggings on in past visits.
This DUMBO food spot is right across from the Ferry Fulton Landing, conveniently near Ample Hills Creamery – one of the best things to do in Brooklyn, for a little dessert and a beautiful view of the skyline.
Mulberry & Vine
View this post on Instagram
Mulberry & Vine is the place to go if you have food sensitivities, dietary restrictions, or love a good healthy meal (Can't hurt to have one of those every once in a while, right?)
This DUMBO food spot serves their food on a plate or bowl basis. The only difference is the bowls are served over a bed of greens!
Choose any main such as roasted chicken, salmon, or vegan chickpea shakshuka and add two veg options! Those could be something like their turmeric cauliflower, thai chili noodles, or roasted sweet potatoes!
This DUMBO restaurant is not listed as a certified gluten-free restaurant, but they refer to themselves as, "accidentally mostly gluten-free." Regardless of any food limitation, you may have, Mulberry & Vine can put something delicious together for you.
M&V is clean, sleek, and beautiful inside, but don't be afraid to take your food to go! Sit in Brooklyn Bridge Park and enjoy.
This spot is located at 55 Prospect St. Keep in mind that this establishment is cash only and closed on the weekends!
Shake Shack
View this post on Instagram
Craving a burger? DUMBO is the place to be. Indulge in the classic American combo of burgers, fries, and a delicious shake from one of the best fast-food restaurants in DUMBO and favorites in all of NYC.
Shake Shack is a lot more than just burgers though. From hotdogs to chicken sandwiches, to chicken nuggets, you just can't go wrong. They also offer gluten-free buns and lettuce wraps for anyone with sensitivities.
If you're in a hurry or want to take your meal to the park, not a problem. Shake Shack is probably one of the best restaurants in DUMBO for a quick and quality meal.
See what the fuss and cult following are all about!
Westville DUMBO
View this post on Instagram
The possibilities at Westville seem endless. We covered Westville on our best brunch spots in DUMBO guide and here they are again.
Westville offers something for everyone on their dinner menu. Try any of their can't miss apps like chicken tenders, avocado tacos, or their smoky mac and cheese.
Dive right into your entree with a buttermilk fried chicken sandwich or a plate of grilled chicken breast or salmon served with two sides. They even have a vegan hotdog.
This DUMBO restaurant loves their veggies, don't we all? Maybe not, but if you do they have a long list of market vegetables for you green machines.
Make sure to check out this cozy yet modern DUMBO food spot. It's a great place with friends or a table for two.
Front Street Pizza
View this post on Instagram
As we said, there are more pizza restaurants in DUMBO than Juliana's and Grimaldi's. Well here's another amazing pizza place to prove it.
This is the DUMBO food spot to go if you're looking to get a classic slice of New York pizza (This is where I had my very first NY slice!)
Their menu seems to be miles long, but most importantly, they have some good New York pizza. They sell a variety of specialty pies, gluten-free pies, and amazing flavors by the slice.
Try their penne vodka sauce pie, a buffalo chicken pie, or even a taco pie! The possibilities are endless, but it's totally acceptable to get the New Yorker classic, a plain pie or slice.
If you're not in the mood for pizza, they have soup, salad, buffalo wings, chicken tenders, sandwiches and more at this DUMBO food spot!
Take a seat and enjoy your slice inside, or take it for a stroll. This DUMBO restaurant can be a quick refueling station as you spend your day exploring DUMBO!
Plum's
View this post on Instagram
We already know there's nothing better than dinner with a view, right? Dine-in at Plum's for a fabulous dinner, signature cocktails, wines, and the Brooklyn Bridge right across the street.
Dinner is served at this DUMBO restaurant Tuesday through Sunday 5 PM-10 PM. Stop in and try their shrimp pesto or any of their other exquisite pastas.
For a main, they have chicken pot pie, steak frites, Norwegian Salmon, a classic Plum's burger and more!
Top off your meal with a pound cake or a chocolate brownie pie from their dessert menu!
Keep in mind this DUMBO restaurant serves happy hour Tuesday through Friday 4 PM-7 PM. Beer on tap is $4, some wines for $5, and some cocktails for $6-7!
Plum's is a beautiful spot and located perfectly. We wouldn't say it's very elegant or upscale, but you can enjoy a night here with friends, family, or a significant other casually!
AlMar
View this post on Instagram
Dine in at AlMar for divine Italian. This DUMBO food spot is beautiful and inviting. AlMar has a rustic and modern look, tied together aesthetically with a few green plants. Another thing we love about this spot is the big open windows that fill the restaurant with natural lighting.
Begin your dinner with a salami & cheese plate or any of their starters, which could be their delicious meatballs or some tomato bruschette.
Pick one of their amazing pastas or something from the main courses, like roasted organic 1/2 chicken, roasted grass-fed ribeye steak, or a pan-fried pork chop!
Happy hour at this DUMBO restaurant is Monday-Friday 4 PM-6 PM. Try any of their AlMar classics or something from the beer and wine menus!
---
Enjoyed this guide to the best restaurants in DUMBO? Bookmark for later or share the love on Pinterest below!