Looking for the best restaurants in Fort Greene? We got you covered. Fort Greene is easily one of my favorite Brooklyn neighborhoods from Fort Greene Park, to the beautiful brownstones lining each street to some of the most amazing restaurants in all of the city.
Not to mention the foodie scene here is pretty solid, Fort Greene restaurants are truly some of the best in the borough. Whether you are a neighborhood local or just visiting, this guide will provide you with all the best restaurants in Fort Greene.
Hey, and in between eating if you need a pick me up, check out the best cafes in Fort Greene too!
Fort Greene Restaurants to Try
La Rina Pastificio & Vino 
Address: 387 Myrtle Avenue
Italian is consistently rated as one of the best cuisines and New York has no shortage of incredible Italian restaurants. In fact, I have made it my personal mission to try all the top Italian spots in the city and La Rina Pastifico & Vino ranks right up there as one of the greatest Italian Fort Greene restaurants but in all of New York. 
The ambiance gives all the secret garden vibes with an amazing back patio covered in ivy and vines and even the sidewalk dining is aesthetically pleasing. The inside is also great, which slightly resembles a log cabin but with a Tuscan vibe.
Reservations are accepted and they serve dinner and brunch on the weekends. The pastas and antipasti are the winners here and they even have a small shop that you can wander in to buy handmade pasta, bread, cheese, and olive oils. Needless to say, next time you're wandering around Fort Greene Park and want some consistently delicious pasta, stop here. 
Walter's
Address: 166 Dekalb Avenue
Another one of the best restaurants in Fort Greene (along with being one of the best Fort Greene brunch spots) is Walter's. It has that white, crisp, clean feeling the minute you walk in and is a great place for a solo meal at the bar or a casual weeknight dinner with friends.
The cuisine at Walter's is American and they offer brunch, lunch and dinner. Added bonus is they have a ton of outdoor seating and accept reservations. 
For brunch, there is nothing better than a classic bacon, egg and cheese and Walter's has such a great one. The sandwiches are also not to be missed and they have an amazing raw bar. They also have great cocktails and a good wine menu, which make that solo bar spot even more appealing.
Karasu 
Address: 166 Dekalb Avenue
Karasu is a Japanese "speakeasy" that is located in the back of Walter's. Karasu isn't your typical speakeasy but it is hidden, which makes it all the more appealing. It is heavily cocktail-focused and because of that, they do cocktails very well. The best part? Unlike most of these secret, cool speakeasy types in New York, Karasu takes reservations. 
While you could come for just the cocktails and be extremely satisfied, do not skip out on the food. The Sayoko's Karaage is the thing to order at Karasau. It is fried chicken with a ponzu sauce and it is delicious. The prime ribeye is also amazing and the perfect complement to the handcrafted cocktails, making this one of the best restaurants in Fort Greene.
Saraghina Caffe 
Address: 195 Dekalb Avenue
The blocks that stretch from Vanderbilt to Elliott Place on Dekalb are some of my favorite blocks in New York City and that is in large part to the countless number of amazing restaurants in Fort Greene, many of which are included in this guide. Saraghina Caffe is no exception to this and has some of the best food in Fort Greene. 
Hailing as an offshoot from Saraghina in Bed-Stuy (check them out for some of the best pizza in Brooklyn), this all day caffe has not only has some of the most aesthetically pleasing decor in the city but it also immediately transports you to Italy for a little Italian aperitivo. 
Any meal here is going to be amazing but it is also a great place to bring a book, sit at the bar and have a solo date with yourself. If pizza is on the menu, get it. If a chocolate croissant is available, get it. If arancini is on the menu, get it. They also have amazing spritzes and espresso martinis.
Saraghina Caffe is open every day from early till late with a small break in between lunch and dinner so make sure you check the hours before visiting. They offer both indoor and outdoor dining and reservations are available. You will not be disappointed in the vibes or the food at Saraghina Caffe so make sure you add this to your list of best restaurants in Fort Greene.
Dinner Party 
Address: 86 S Portland Avenue
Dinner Party is truly the definition of a dinner party. It feels like you're dining in your eclectic friend's apartment with frames all over the walls, mismatched tables and furniture, and a variety of great people all in one room. 
The menu changes regularly and is pre-fixed. It is also BYOB. It is also less than $50 for a four-course meal and it has been one of my favorite meals and experiences in New York. I think that's all you need to know to immediately add Dinner Party to a place you need to visit. 
Dinner Party is open for brunch/lunch on the weekends (including Friday!) and dinner every night but Monday. There is only one seating per night starting at 7:30 pm. Reservations are required for dinner and not available for lunch (walk-in only). While the dining is all indoors, there is a great glass patio that gives all the indoor/outdoor vibes at this incredible place to eat in Fort Greene.
Dino
Address: 222 Dekalb Avenue
Dino is a place I have visited over and over again and each time I am equally as impressed. It is your go-to neighborhood, casual but not too casual, Italian restaurant. They have weekend brunch and lunch and dinner during the week and each one is just as special. Their back patio is an oasis, covered in trees and white tables. You feel like you're in someone's (very affordable) backyard. 
The best thing on the menu is pasta, for brunch, lunch, or dinner but do not skip out on the ricotta pancakes on the brunch menu if you find yourself here on a weekend morning or afternoon.
I have no regrets starting with ricotta pancakes and ordering a chicken parmesan sandwich for brunch because neither can be topped at any other restaurant in New York. Other standout menu items include the spaghetti limone, spinach gnocchi pomodoro, and the spaghetti carbonara. They also have a delicious cheese plate, great salads, and a very affordable wine list.
This Fort Greene restaurant accepts reservations and have a great weekly happy hour and I will say the worst part about moving out of this neighborhood is not being able to go here once a week.
Olea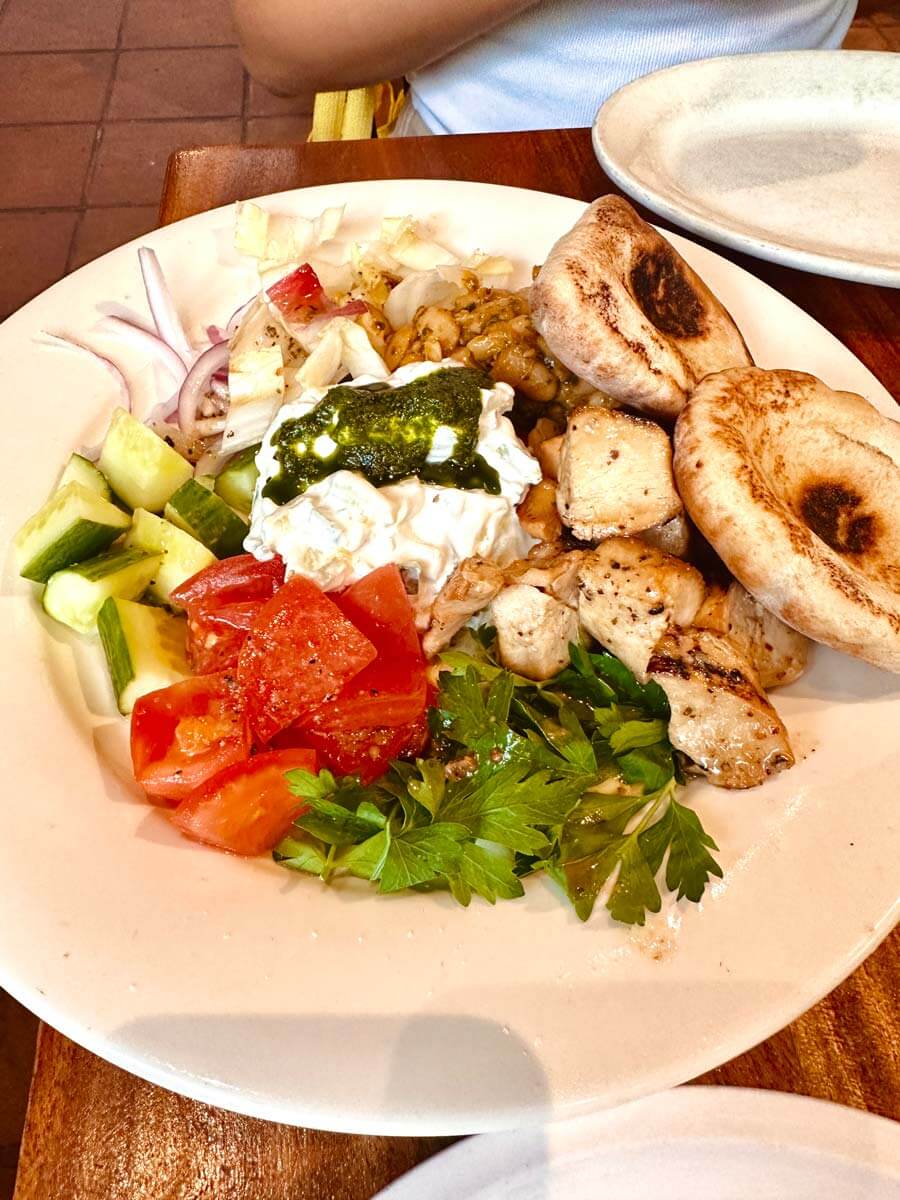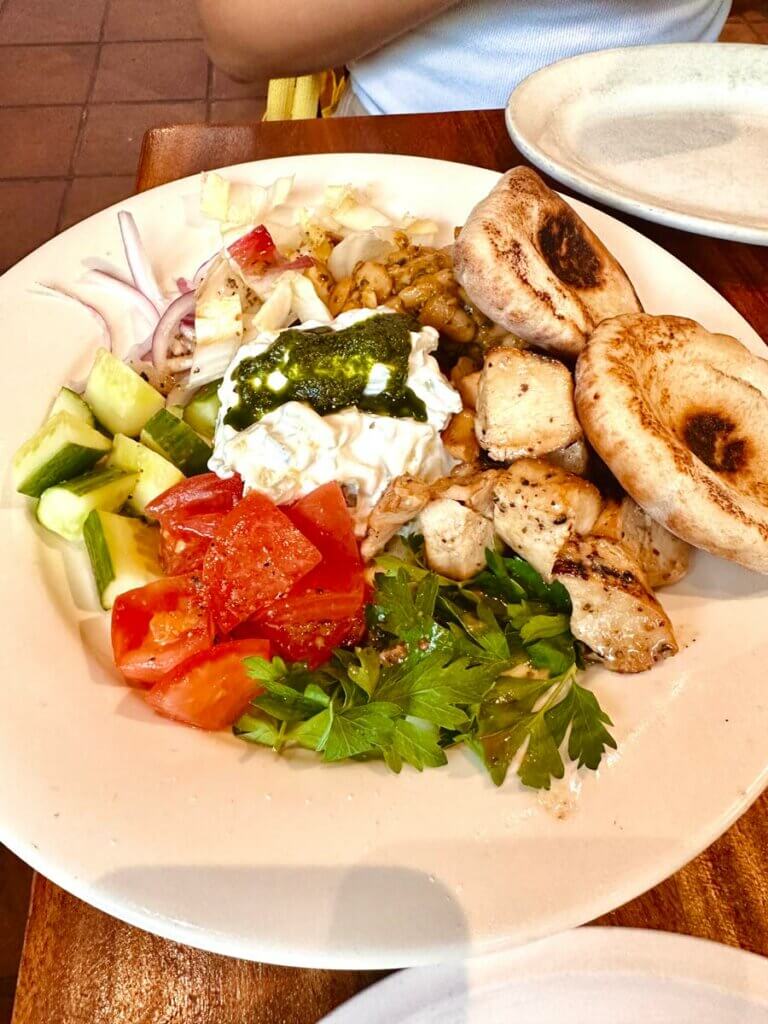 Address: 171 Lafayette Avenue
Olea is another neighborhood restaurant staple in Fort Greene that really is set in the middle of the neighborhood, sandwiched in between brownstones on Lafayette. The menu is Mediterranean-focused and it is the type of place that is truly good for any occasion or time of year.
They have a great patio for warm spring days but the inside is also cozy enough that it is the place you want to visit during a snowy winter day.
Really anything you order is going to be delicious and the serving sizes are perfect to share with friends. The tapas are all amazing and you should definitely order several (or all) of the dips to start. If you want something larger, the Greek chicken platter is great as well as the paella.
They just recently started taking a limited number of reservations, which is recommended because it does get very busy during happy hour and weekend brunch. Olea is one of those restaurants where everyone can find something they like, even your picky friend who is constantly on a diet.
Miss Ada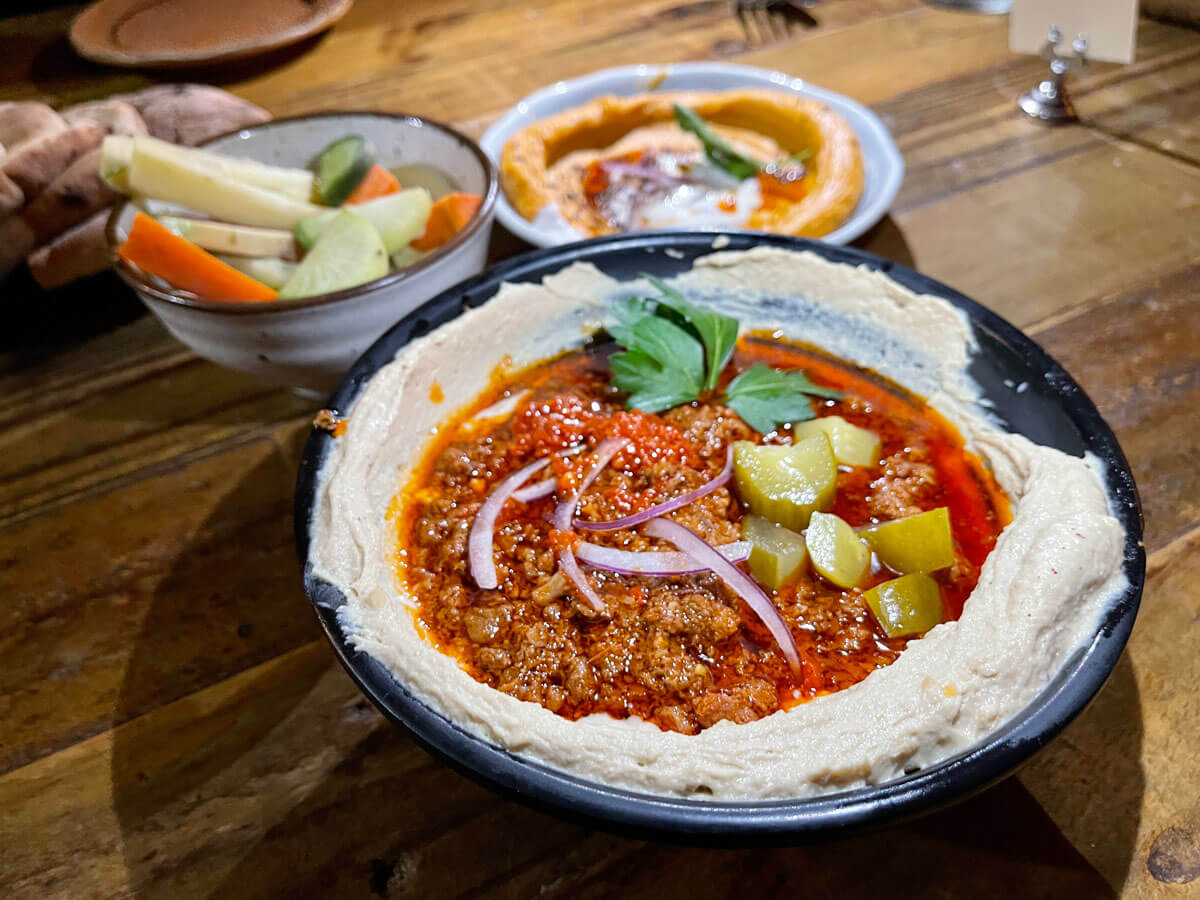 Address: 184 Dekalb Avenue
Another incredible Mediterranean-focused restaurant in Fort Greene is Miss Ada. Go ahead and set your Resy notify now because this is one of those places where you have to be quick to get a reservation. Just like so many Fort Greene restaurants listed above, Miss Ada has a charming, cozy and ivy covered back patio, which is covered making it available in all seasons and hands down one of the best restaurants in Brooklyn.
The food and cocktails here are incredible and so unique they are unlike any others in the city. Start with the dips, all of them, but really don't skip out on the hummus, beets and whipped ricotta. I have tried to replicate the whipped ricotta at home and it is just so good it cannot be done.
For main dishes, the falafel is great, as well as the skewers, za'atar-crusted salmon and the shakshuka. For cocktails, just keep your waiter reordering the veridian because it is maybe one of the most refreshing drinks I've ever had and you're going to want more than one. 
Colonia Verde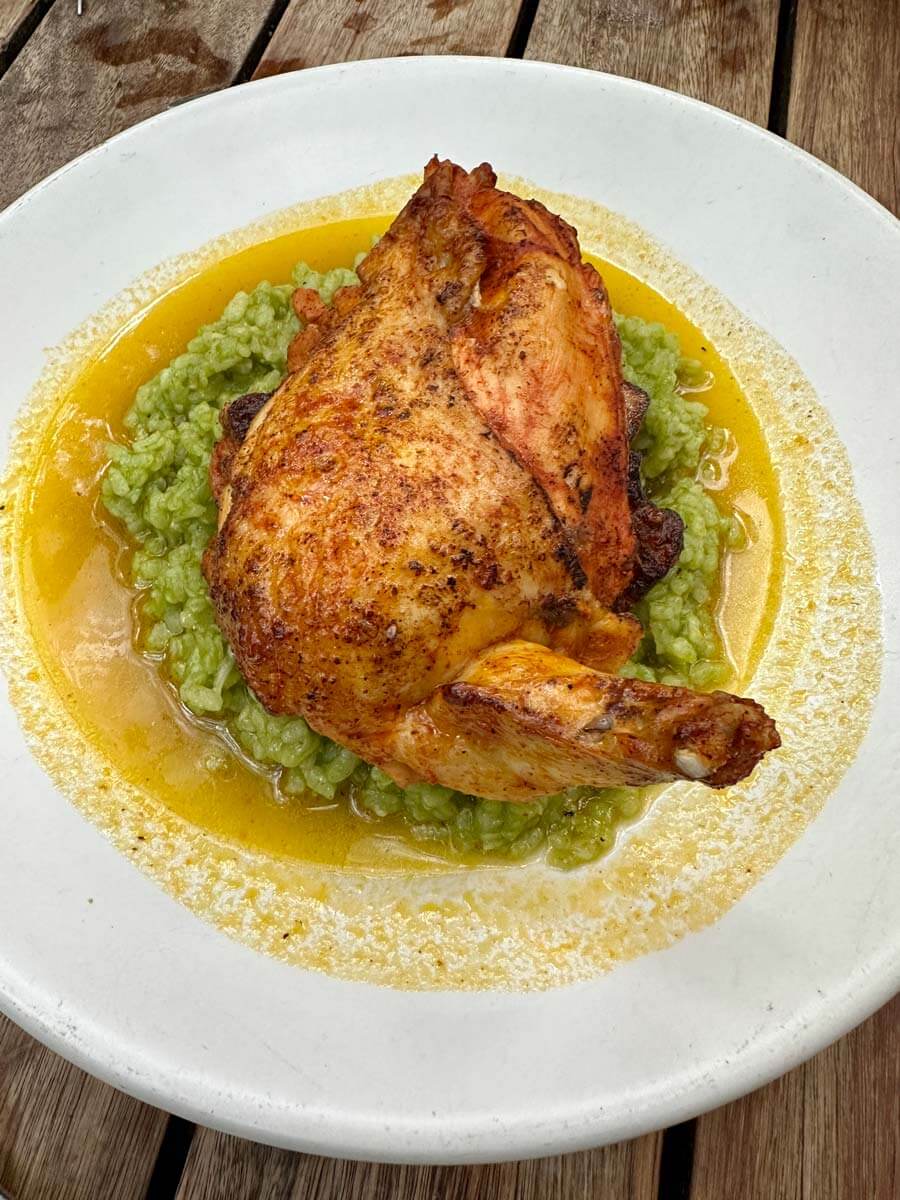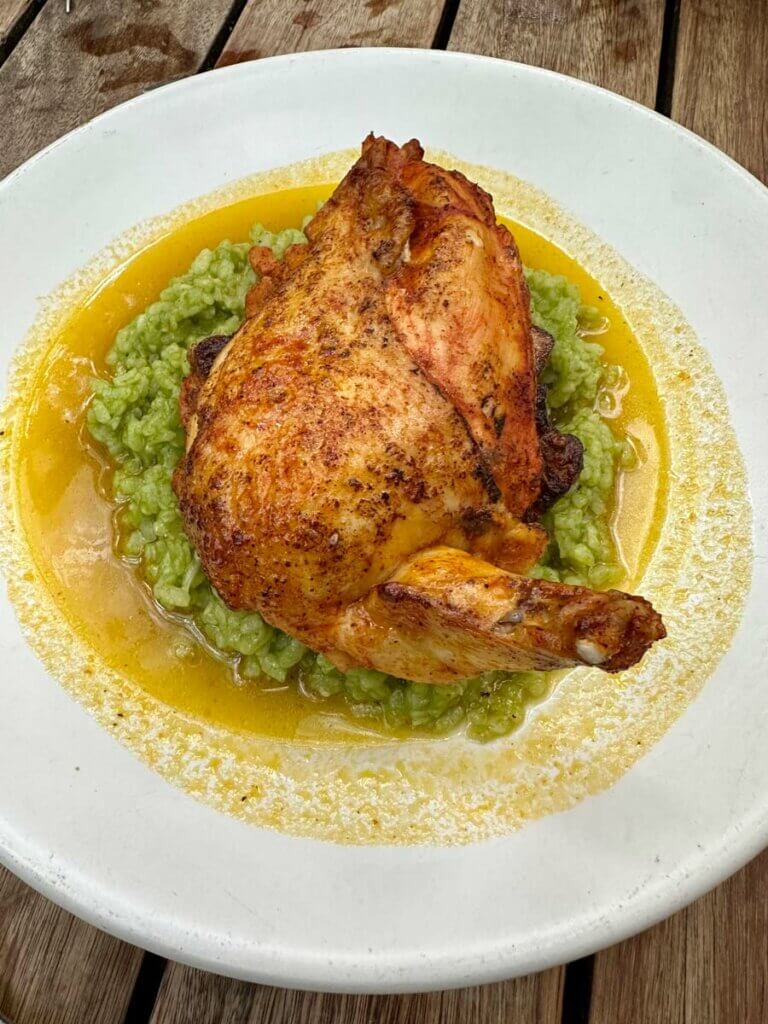 Address: 219 Dekalb Avenue
Colonia Verde is Latin American food, with, you guessed it, another amazing outdoor space. The more I write this, the more I forget just how perfect Fort Greene is in the spring and summertime for outdoor dining. 
Run by a husband and wife team, this Fort Greene restaurant combines all my favorite things in one: great food, great space and great cocktails. They accept reservations and have both indoor and outdoor seating.
They are open for weekend brunch and lunch and dinner during the week, and while I've only been for their lunch and dinner, I'm sure their brunch is not something to be missed.
Start with the crispy pork belly for the table, the carnitas tacos and the trout ceviche tostadas and round off your meal with literally any of the main courses because they are all that good.
Evelina
Address: 211 Dekalb Avenue
Another one of the best restaurants in Fort Greene is Evelina. It is also Mediterranean/Italian focused but in a more intimate, dimly lit setting. It is perfect for an afternoon lunch (they also have outdoor seating) with friends or a date night. They do take reservations, which is handy because I've tried to come without one and the wait is over 2 hours long. 
The menu rotates weekly but the pastas remain consistently delicious, and as you've probably guessed from reading this, my go to at every restaurant.
They also have great starters including the rosemary bread, squash tempura, pinsa bianca (whipped ricotta), and a unique take on a baby gem salad. If you're not a pasta person, the whole fish and chicken are always great menu choices.
Roman's 
Address: 243 Dekalb Avenue
Roman's is owned by the same team as Marlow and Sons and Diner (two of the best restaurants in Williamsburg) so I already had high expectations the first time I visited and they were very easily exceeded. It is a great casual, neighborhood Fort Greene restaurant to either meet up with friends, have a date, or dine solo at the bar. 
The bread is the best thing on the menu and should not be missed. Other than that, the menu changes daily but I have loved everything I have tried here. Staples on the menu include vegetables and pasta dishes and they usually have a great olive oil cake for dessert.
Reservations are accepted and they have both indoor and outdoor dining.
Cafe Paulette 
Address: 1 South Elliott Place
Cafe Paulette is located right across from Fort Greene Park and the sidewalk and interior dining immediately makes you feel like you are transported to a cafe in Paris. They accept reservations and have both indoor and outdoor dining, as well as a smaller bistro next door, Petite Paulette. 
Breakfast, lunch and dinner are available and on each of those menus, you will find all the French classics from croque monsieurs, French onion soup and lots and lots of wine.
Cafe Paulette is one of those incredible restaurants in Fort Greene where you can just sit on the sidewalk for hours drinking espresso and wine, people watching and sunbathing, while simultaneously transporting yourself to Paris, making this one of the best restaurants in Fort Greene.
Baba Cool Cafe
Address: 64 Lafayette Avenue, Suite B
Baba Cool Cafe is seriously delicious food that is set up as an all-day cafe with bowls, toasts, salads, sandwiches, coffee, wine, and delicious cocktails.
Conveniently located right by the G and C train, this is a great place to grab a quick bite to or from work or a great space if you just need to get out of your apartment for a little bit. They offer both indoor and outdoor seating and their outdoor seating is especially inviting with string lights and white tables.
You really can't go wrong with any of their menu options but my go-to is always one of their salads and bowls. They also have a side of just about anything you can imagine that you can add to your meal and have great pastries and desserts, which you feel less guilty about indulging in because you just ate such a healthy meal!
Fradei Bistro
Address: 99 South Portland Avenue
Fradei Bistro is the perfect addition to the Fort Greene neighborhood as a spot that offers an amazing five-course tasting menu (for only $90 per person) and pairs that with delicious wines. They change the menu every few weeks based on sourced ingredients so you never know what you're going to eat for sure but I can promise, it will be amazing. 
The only thing they have here other than wine is a single Italian beer, which I'm sure is great, but come here for the food and wine pairings.
You must have a reservation for dinner but they do offer first-come, first-come seating for wine on the patio. Reservations book quick so I recommend booking one now through Resy.
Endswell 
Address: 773 Fulton Street
Endswell really has it all. Great cocktails, good wine list, delicious food and great ambiance all the criteria to make it one of the best restaurants in Fort Greene. They accept reservations and have weekend brunch and daily dinner but each vibe is different, in the best way. 
If you're going for dinner, make sure you order the burger. It is different than other burgers in the city, which makes it stand out even more. For brunch, make sure you are making a reservation or preparing to wait because the brunch crowd is strong at Endswell. They have both indoor and outdoor seating but, as always, I recommend outdoors when the weather is nice.
Black Forest Brooklyn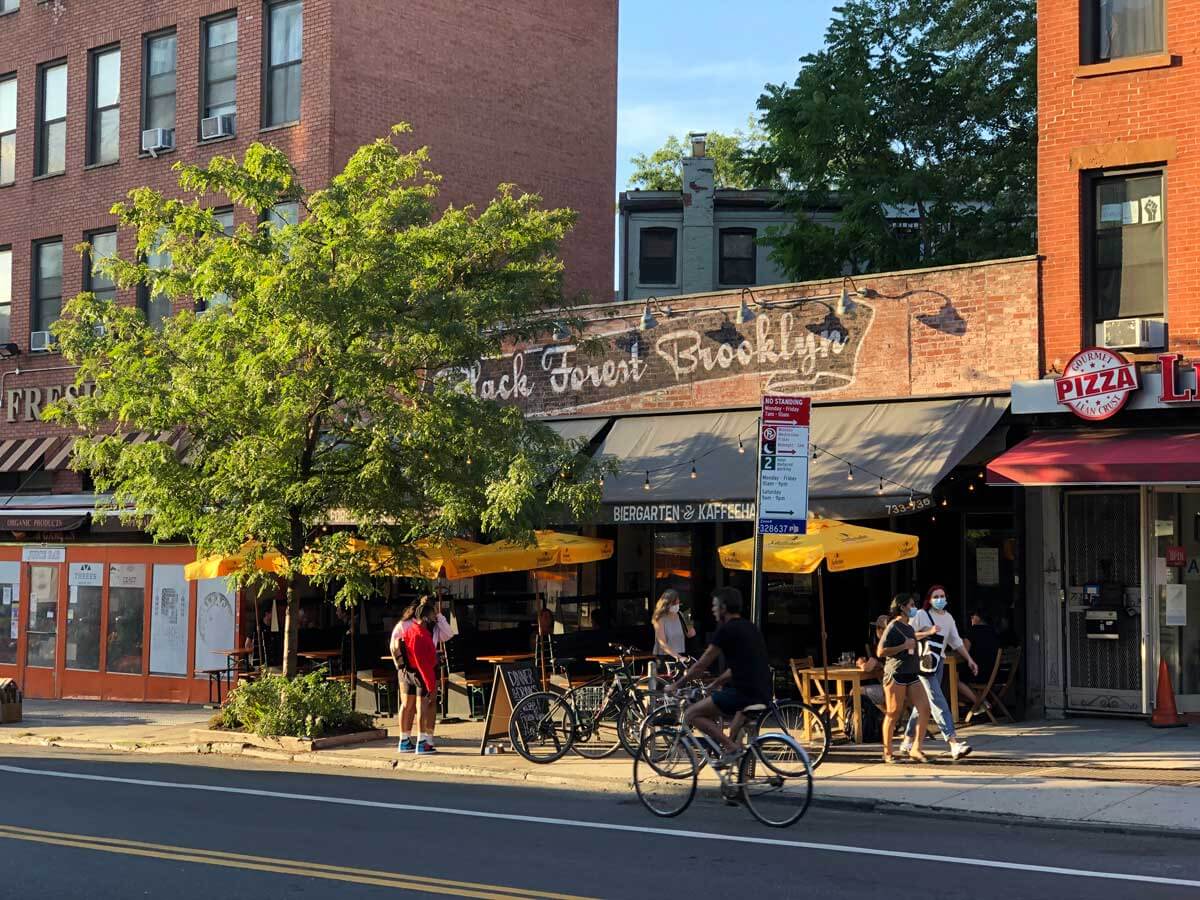 Address: 733 Fulton Street
I'm usually not the biggest fan of German food but I do love going to one of the best Brooklyn German beer gardens. The good news is that Black Forest Brooklyn does both things well. There is also another location in Cobble Hill. Both locations have outdoor and indoor dining and accept reservations for larger parties. 
As with any German beer garden, the beer is the star of the show and Black Forest makes you feel like you are in Germany at a traditional German beer garden. They have all the standard German food and really you can't go wrong with anything you order, especially the soft pretzel.
---
Best Places to Eat in Fort Greene (Post Summary):
La Rina Pastificio & Vino
Walter's
Karasu
Saraghina Caffe
Dinner Party
Dino
Olea
Miss Ada
Colonia Verde
Evalina
Roman's
Cafe Paulette
Baba Cool Cafe
Fradei Bistro
Endswell
Black Forest Brooklyn
---
About Our Guest Author
Molly Royce – Originally from Oklahoma, I moved to NYC for grad school and have had a hard time wanting to leave ever since. There really is no better borough than Brooklyn where I live with my boyfriend and our black lab, Frankie. There's no greater city in the world and I can't wait to share my love of the city, eating, and drinking with all of you. 
---
Don't see your favorite Fort Greene restaurant on here? Let us know in the comments below, we will check them out!