Looking for the best restaurants in Gowanus? You've come to the right place. Gowanus was once considered more of the "no-man's land in Brooklyn" but over the last few years, it has quickly developed into one of the coolest neighborhoods to explore.
This gritty neighborhood has the perfect combination of grunge, outdoor space, and nice restaurants. It also has a canal running through it and while I don't recommend swimming or even standing near the canal, seeing the EPA dredging this highly polluted site adds to that *charm* of the neighborhood.
All jokes aside, there is quite the selection of cool things to do in Gowanus from art galleries, home to some of the best breweries in Brooklyn, great entertainment, and a stellar dining scene. Gowanus is cool, and there really are some great places to eat here.
So without further ado, whether you are a local or just looking for a nice guide to Gowanus restaurants, this guide should cover all the best restaurants in Gowanus!
Best Places to Eat in Gowanus
Littleneck
288 3rd Avenue
What first interested me in Littleneck was the facade. It's simple yet reminds you of a place you'd stumble upon in Cape Cod. The inside is built to match with buoys and rope knots hanging from the walls and the perfect small space that makes you feel like you would fit right in as a local making this Gowanus restaurant one of the best around.
You definitely come for the oysters and drink specials during happy hour but you stay for the mussels that are served in a coconut curry broth with Thai basil, cilantro and baguette. They also have other delicious seafood options and a burger if seafood is not your thing! Going for brunch? They have lemon ricotta pancakes, which should always be on your table no matter where you are.
Littleneck is definitely one of the best restaurants in Brooklyn. They are closed on Mondays but offer dinner every other day of the week and brunch on Sundays, accept reservations and have both indoor and outdoor dining available.
Dinosaur Bar-B-Que
View this post on Instagram
604 Union Street
I've always doubted BBQ anywhere outside of the South (because the South doesn't do a lot of things right but it does BBQ well) but Dinosaur Bar-B-Que is one of the few BBQ places in Brooklyn that really lives up to the hype of what good BBQ should be. It's also the perfect space for any sort of gathering from a friend's birthday to a casual dinner out to meeting your friends with kids for dinner.
With the original location in Harlem, this Gowanus restaurant has plenty of space, plenty of pitchers of beer and plenty of BBQ. Start with some brisket, pork ribs (sweet like St. Louis, Missouri style) and a big a$$ pork plate complete with hand-pulled pork shoulder, piled high with house-cured pickles.
Obviously add some slides (my favorites are all the classics – mac and cheese, french fries, baked beans, cole slaw and potato salad) and finish it off with some of the best chocolate cake, that honestly tastes more like pudding, and you will feel like you're having some authentic Southern BBQ at one of the best restaurants in Gowanus.
Dinosaur Bar-B-Que has both indoor and outdoor seating and takes reservations. They also have a few vegetarian options and a couple things that aren't smoked or BBQ. Open every day for lunch except Mondays and every night for dinner.
Claro
View this post on Instagram
284 3rd Avenue
There's always something to be said about places that have a good ambiance. Does it initially convince you to eat there? Maybe but there is nothing better than when not only is the ambiance amazing but they also have delicious food. Enter Claro, one of the best Gowanus restaurants.
New Yorkers love summer and Claro matches that love with their back patio. Covered in string lines, blue chairs and tables and surrounded by trees, this is the perfect place to have Mexican food and mezcal flights. The best seats are by the outdoor kitchen where you can watch the tortillas being made right in front of you.
Obviously, anything with tortillas is a must but in addition to that, the tostada and the tlayudas are incredible. You also should definitely have something with mole in your order. If you want to go a more curated route, you can opt for the 4-course tasting menu. They also have a mezcal tasting flight, which I also highly recommend. End the meal with dessert. While they rotate often, each time I've been they have never disappointed.
Claro has both indoor and outdoor seating and they accept reservations. They are open daily for dinner and serve delicious brunch in Gowanus on the weekends. They are also open for drinks and snacks daily in the mid-afternoon! There's a reason this Gowanus restaurant is so popular so make sure to get your reservations in advance for brunch or dinner!
Table 87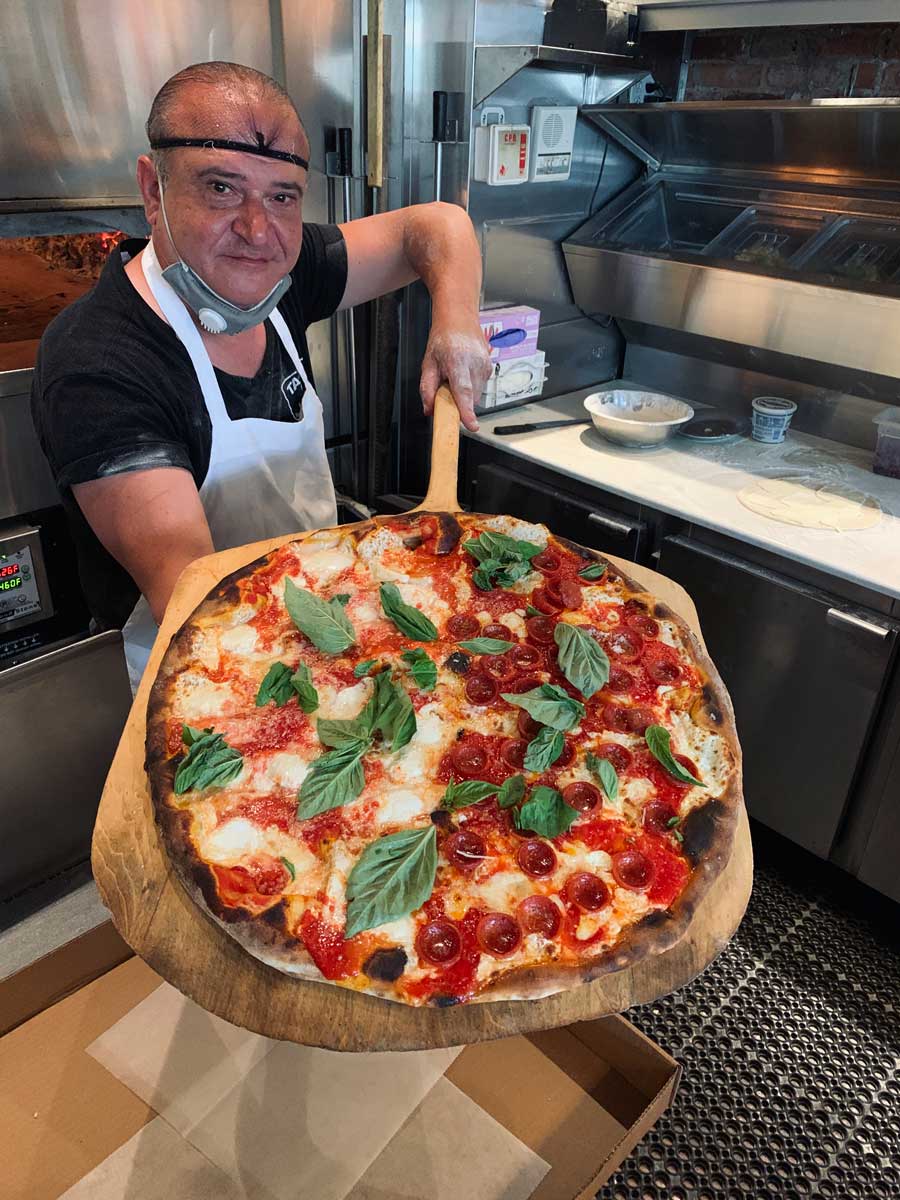 473 3rd Avenue
There are definitely no shortage of amazing pizza places in New York and one of the best things about New York pizza is that every place is different from the classic slice to coal oven to their own take on Detroit or Chicago style. Table 87 is one of those places that do coal oven pizza very well and for that reason alone, one of my favorite restaurants in Gowanus.
Fun fact, it's actually quite difficult to find coal-oven pizza in NYC, especially outside of Brooklyn as environmental regulations were put in place that only allowed places that already had coal ovens to continue making coal oven pizzas.
You can't go to a new pizza place and not start with the classic, margarita. But honestly, any pizza is good here. This is always how you judge if the pizza is good or not (this is a proven fact). They also have a great cheese calzone. If you're not feeling pizza, paninis and pasta are also on the menu.
First timer? Definitely dine in so you get the full experience complete with jars of the signature homemade condiments: garlic and hot red chilis in oil. Put these on your pizza after that first bite.
Table 87 has multiple Brooklyn locations but this Gowanus restaurant is my favorite. They have both indoor and outdoor locations and proudly proclaims it is the only pizzeria offering coal-oven slices in Brooklyn, and they really are where you can find some of the best pizza in Brooklyn. They are open daily for lunch and dinner.
And if you're planning on eating here in the warmer months, check out what movies they are playing on Wednesdays! Make a reservation for their sidewalk cinema where they project a film on the side of the subway platform.
Monte's
View this post on Instagram
451 Carroll Street
No neighborhood guide is complete without some great Italian and Monte's is at the top of that list for Gowanus restaurants. They have the classic old-school Italian in Brooklyn vibe with all the classic old-school Italian entrees, clearly bumping this to the top of my favorite restaurants in Gowanus.
Not only do they do pasta great, they also have a great selection of seafood. You should start your meal with shrimp cocktail and oysters followed by fried calamari. As far as main entrees go, I would definitely go with some sort of pasta but my favorite is either the ravioli or cavatelli. They also have a great selection of pizzas, all of which are also very delicious.
Monte's offers both indoor and outdoor seating but you should definitely prioritize sitting in their backyard garden. They are open every day but Monday for dinner and have brunch on the weekends. They also accept reservations through Resy.
Baba's Pierogies
View this post on Instagram
295 3rd Avenue
You've probably heard of Veselka as one of the best places for pierogis in New York and that is definitely not a lie but Baba's Pierogies is definitely a rival of the New York classic. Originally the owners served their handmade pierogis from their apartment, this little shop has now transformed into a bright, all-wood space with a perfectly curated playlist and a menu that shows you how to order the pierogis by the register and is easily one of the best restaurants in Gowanus.
Baba's is all build-your-own pierogis, unique in itself and lets you try multiple flavors multiple ways. Choose your type (boiled or fried), your filling and your toppings. My favorites are the classic potato and cheese with a side of sour cream and caramelized onions.
Definitely save room for dessert because they have some of the best pierogi desserts around including blueberry and crunchy chocolate.
This Gowanus restaurant is a small space but they do have indoor and some outdoor dining. They also offer takeout and delivery and are open every day for lunch and dinner.
Pig Beach
View this post on Instagram
480 Union Street – PERMANENTLY CLOSED 🙁
Pig Beach really does have something for everyone. On any given day you'll see middle-aged couples to people celebrating a 21st birthday to a Saturday playdate and for some reason, that all works well here. Not to mention, they truly have some of my favorite BBQ around (see what I mean about the multiple options in Brooklyn mentioned above) and is a truly great restaurant in Gowanus.
You really can't go wrong with anything on the menu but my go to is always the pulled pork sandwich. If you're with friends, make sure you order the sampler platter. The sides are where it's at. Pig Beach serves maybe some of my favorite mac and cheese around. Also order the baked beans, cole slaw, french fries and extra sides of cornbread.
The space is huge and while they don't take reservations, it's usually pretty easy to find a table. Saturdays in the summer are packed so be ready to wait in line. Everything is self-service (your order at different areas of the restaurant and then they call your name/number) and there is no waitress so also be prepared to wait in a couple different lines for beer and food but trust me, it's definitely worth it. Pig Beach is open every day but Monday for dinner and open on Saturday and Sundays for lunch.
My Cuban Spot
View this post on Instagram
488 Carroll Street – PERMANENTLY CLOSED
There are three Cuban sandwiches that I've had in my life that have made me truly say "this is the best Cuban sandwich I've ever had." One from Pilar in Bed-Stuy, one from a roadside food truck in Miami and this one from my Cuban Spot in Gowanus.
I've even been to Cuba and they don't compare to the Cuban sandwiches at My Cuban Spot so if that doesn't convince you, keep reading so you can be convinced to go to this top Gowanus restaurant.
Obviously, you order the Cuban sandwich but other than that the options here mostly consist of rice bowls topped with beans and various meats and spices and empanadas. The empanadas are a great addition to your Cuban sandwich as well as some sweet plantains, yuca fries and rice and beans. Yes, it is a lot of food, but yes it is great for leftovers.
My Cuban Spot is basically a takeout window so there is no indoor dining. They do have a couple tables outdoor but this is the type of place that you can walk down the street eating your Cuban and you won't even care if people are judging. They are open every day but Monday for lunch and dinner but they do close for an hour-ish in between.
Four and Twenty Blackbirds
439 3rd Avenue
Whoever said that dessert wasn't considered a food group is sorely mistaken. Combine it with some delicious coffee or tea and you have breakfast. Four and Twenty Blackbirds serves some of the best pie around and is one of the best restaurants in Gowanus.
You come here for the pie and the most difficult decision you're going to have to make is to decide which pie you want to order. For that reason alone, bring friends so you can try more options or take some home. The space is also large enough that there is ample room to sit and enjoy pie there with a coffee that is actually good.
There really is no wrong choice so I'm just going to leave it at that you should keep coming back to this Gowanus restaurant until you've tried all the pies. You'll understand why at first bite. Four and Twenty Blackbirds is open every day every day for breakfast, lunch and an early dinner.
Public Display of Affection
View this post on Instagram
669 Union Street
The chef and owner of Public Display of Affection or, more affectionately known as PDA, reigns from time spent at Jean George, Speedy Romeo and Robertas so you already know this is going to be really good pizza and one of the best places restaurants in Gowanus.
In addition to the pizza, PDA also has some amazing vegetables, salads and other sides including arancini, shishitos, meatballs and cheese bread. As far as pizzas go, go with one red and one white sauce and you will be very satisfied and happy. They also have vegan options, including pizza.
PDA is open every day for lunch and dinner as well as brunch on the weekends. They also have breakfast every day of the week with an incredible breakfast burrito, so be sure to save this awesome spot for brunch in Gowanus!
Public Records
View this post on Instagram
233 Butler Street
Public Records is the perfect space for basically anything. They have a cafe, a restaurant that serves brunch and dinner, a shop and a great outdoor space that hosts live events including DJs and other musical events. This Gowanus restaurant also has some of the best vegan food around and some even better cocktails.
The space is definitely what initially draws you into this great restaurant in Gowanus with high ceilings, a huge skylight and records lining the ceiling, giving it all the best vibes and aesthetics. Their cocktail list is carefully crafted and curated and their food menu (completely vegan) changes regularly.
I haven't tried a bad thing on the menu and since the menu changes regularly with the seasons, you're just going to have to come try for yourself. Bring friends and sit in the back patio or the huge indoor space or come by yourself and have a great drink and meal at the bar. Public Records accepts reservations and offers both indoor and outdoor seating. They do tend to fill up pretty quickly so I recommend a reservation if possible at this very aesthetically pleasing Gowanus restaurant.
Ample Hills Creamery
305 Nevins Street – TEMPORARILY CLOSED
Going back to what I said above about dessert being considered a major food group only means that Ample Hills Creamery has to be included on the list. It really is the best ice cream in Brooklyn, clearly making it one of the top places for a sweet treat in Gowanus (and around the city as this is home to some of the best ice cream in Brooklyn).
The ice cream here is made in Red Hook and is fresh as can be. They tend to run out early of the best flavors so plan accordingly. First time? Definitely try the "ice cream flight," where you can choose 6 different flavors to try. I haven't had a flavor I didn't like but my favorites include trying their seasonal flavors, like Summer of Love, Baked Unbaked, Coffee Toffee Coffee, Munchies, and Peppermint Patty (great in a milkshake).
They have cones, milkshakes, floats and sundaes. They also have "Taco Tuesday" where your cone is in the shape of a taco. While there are multiple locations around the city, this Gowanus restaurant has a second story rooftop where you can take in the views and enjoy delicious ice cream. They also have sidewalk and indoor seating if you prefer.
Insa
View this post on Instagram
328 Douglass Street
Just like so many other Gowanus restaurants on this list, Insa is another place that is great for big groups. Specializing in Korean BBQ, this is the perfect place to gather for any occasion. They also offer karaoke, which is part of the reason that you come here anyway.
As far as food goes, all of their Korean BBQ selection is great and honestly fun to eat. They also have great bibimbap and several great starters including the fried chicken, vegetable and kimchi dumplings and spicy rice cakes. Word to the wise though – if you do want Korean BBQ, you have to make a reservation for indoors at one of their BBQ tables.
Insa offers both indoor and outdoor dining and accepts reservations for both. They do have a separate patio menu and really the best experience is around the big table grilling BBQ before heading to do karaoke. They are closed on Mondays and Tuesdays but open for dinner every other night of the week.
Surfish Bistro
View this post on Instagram
550 3rd Avenue
Surfish Bistro is known for their ceviche and it is also some of the best Peruvian ceviche I've found, making this one of my favorite Gowanus restaurants.
There are over 10 different types of ceviche on the menu and I recommend trying them all but if it's your first time here and you want to get the best, order the mixed seafood one that comes with fish, shrimp, mussels, and octopus covered in citrus and red onion. It is delightful, refreshing, and equally filling.
All of their salads are a great addition as well and you can't go wrong with their tapas. They also have bigger entree options such as roast chicken if you want something not seafood.
Surfish is open every day for lunch and dinner. They offer both indoor and outdoor dining and is the perfect space for a low-key date, casual weeknight dinner or solo dining at the bar.
---
Did we miss your favorite Gowanus restaurant? Let us know in the comments below.
---
About Our Guest Author
Molly Royce – Originally from Oklahoma, I moved to NYC for grad school and have had a hard time wanting to leave ever since. There really is no better borough than Brooklyn where I live with my boyfriend and our black lab, Frankie. There's no greater city in the world and I can't wait to share my love of the city, eating, and drinking with all of you.