Looking for the best restaurants to try in Prospect Heights? Just like a lot of Brooklyn, Prospect Heights has some great options for places to eat. Vanderbilt Avenue is filled with so many great small bookstores, coffee shops, bars and restaurants that you could literally spend several weeks there and not hit them all.
Be sure to stick around pre or post-meal to check out all the best things to do in Prospect Heights too. Not to mention, Prospect Heights is very close to Prospect Park, one of the best parks in NYC hands down and the spots in this neighborhood are some of the best places to eat near Prospect Park!
Whether you are a neighborhood local or just visiting, this guide will provide you with all the best restaurants in Prospect Heights – foodie approved!
Amazing Prospect Heights Restaurants to Try
Alta Calidad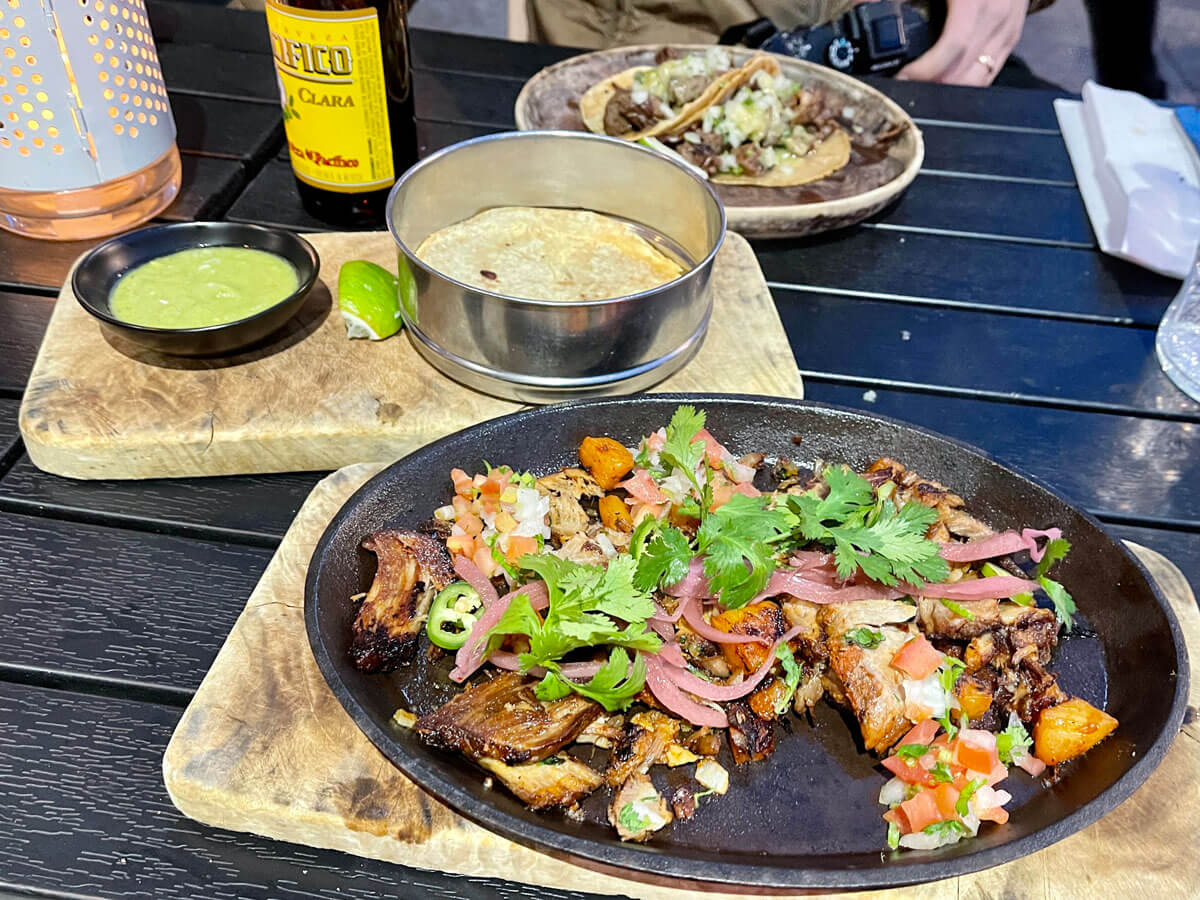 Address: 552 Vanderbilt Avenue
Alta Calidad is one of the best restaurants in Prospect Heights – hands down. With its minimalistic, cool, and calming space it already stands out in the aesthetics department but it also has some of the best Mexican fare in the city. 
Brunch is by far its busiest time, where the restaurant is often overflowing with people waiting for chilaquiles and the hour bottomless drink options (one of the best margaritas around). The Mexican street corn and sourdough pancakes as your appetizer are also a must for the table.
For dinner, stick with the taco plate and you will not be disappointed. You cannot go wrong with any of them so order the taco platter and try a variety! The Berkshire pork shoulder is one of the best stand out dishes on the menu too served with salsa and fresh corn tortillas. Don't forget to start with chips and guac and include a side of Mexican street corn.
Don't miss out on their margaritas either!
Alta Calidad offers both indoor and outdoor seating. Both are small spaces so reservations are highly recommended, especially around brunch time. This Prospect Heights restaurant is open every day for lunch/brunch and dinner.
LaLou
Address:581 Vanderbilt Avenue
As I mentioned above, Vanderbilt Avenue is crawling with great spots to eat, sometimes making it tough competition. LaLou withstands that competition as a Prospect Heights restaurant and there is a reason it was just ranked one of the top 20 wine bars in the US (not to mention one of the top wine bars in Brooklyn).
LaLou's food menu is small but mighty. The wine list is also small and mighty but has some of my favorite natural wines in the city. Also, the minute you walk into the space and see the beautifully decorated bar and the amazing garden patio out back, you are never going to want to leave.
As far as food goes, the portions are small so I recommend getting some plates to share. All of them go great with your natural wine selection but my favorites include the cheese plate, any of the pastas and the greens salad, which tends to be switched up based on the season. Their daily specials are also always great, so be sure to ask about those.
LaLou is open daily for dinner and has lunch Friday – Sunday. It is a great spot for either. They offer both indoor and outdoor dining and offer reservations through Resy.
Olmsted 
Address: 659 Vanderbilt Avenue
I don't even know where to begin with my love for Olmsted and all of the restaurants by Greg Braxtrom, a chef who spent time in the kitchens of Blue Hill at Stone Barns, Alinea, and Per Se, among others. Olmsted was on my list for literal years and my biggest regret is how long it took me to make a reservation and go enjoy some of the best food in Brooklyn and one of my favorite restaurants in Prospect Heights. 
Olmsted immediately makes you feel at home the minute you walk in. The bar is a lovely place to sit during the winter months but I definitely recommend the backyard when it is warm (or really even when it's cold because they have nice heaters). The menu changes regularly but each time I've been, everything I've eaten has been phenomenal.
If there is bread on the menu, order the bread. The first time I went we almost skipped it and that would have been one of the biggest regrets to date. The butter melts in your mouth and the bread is so warm it truly feels (and tastes) like it just came out of the oven. If you're there for brunch, do not skip out on the BEC egg rolls, which are also one of the best things you'll ever eat.
Olmsted accepts reservations and is open daily for dinner and lunch on the weekends. Everything is very reasonably priced and feels like a true neighborhood establishment, clearly making Olmsted a great Prospect Heights restaurant and one of the best in NYC. Also, this is one of the best spots for brunch in Prospect Heights too!
Petit Patate 
Address: 626 Vanderbilt Avenue
Greg Baxtrom is at it again (you're probably seeing a trend in this guide). This is the replacement for Maison Yaki (RIP) but Petit Patate offers an incredible experience for French cuisine. 
Like all of Baxtrom's restaurants, there is a nice family feel to the space but also feels like a nice place to go with your friends or on a date night. As always, the food is incredible and it is hard to narrow down what to order but I recommend sticking with the classic French cuisine including steak frites, mussels a la bouillabaisse with frites, fried cornichon and pate and escargots if that is your thing.
Petit Patate is open every day except Sunday and Monday for dinner and opens for brunch on Saturdays. Both indoor and limited outdoor seating are available and reservations are accepted for one of the best restaurants in Prospect Heights.
Note: If you're in Manhattan, make sure to check out Five Acres. It has an interesting vibe (located in what feels like a mall in Midtown) but the food is amazing and maybe one of my top restaurants from Baxtrom.
Mitchell's Soul Food
Address: 617 Vanderbilt Avenue
No neighborhood list is complete without some soul food included and Mitchell's Soul Food has some of the best in the city, let alone as a restaurant in Prospect Heights. This no-frills spot that showcases some of the best flavors of the South offers my top three places for fried chicken in the city and probably my absolute favorite for mac and cheese. 
The interior feels like an old-school diner in the South and the portions are large and the prices are small. In fact, you can eat (and be very full) for less than $15.00, a steal even for Brooklyn these days.
The fried chicken is clearly a must as well as the mac and cheese, collard greens, cornbread (and butter of course) and red velvet cake for dessert. I'm not even a red velvet cake fan but it's top notch. If you're more of a sweet potato fan, they have one of the best sweet potato pies around.
Reservations are not accepted and Mitchell's is cash only. The space is small but people tend to eat quick and be on their way so I've never had to wait for long, if at all. Another gem on Vanderbilt Avenue and one of the best restaurants in Prospect Heights so make sure this is added to your ever-growing list of Prospect Heights restaurants.
The Nuaa Table 
Address: 683 Bergen Street
Just like soul food, a good Thai spot is also an essential for me in every neighborhood. The Nuaa Table is the Thai spot in the neighborhood and one of the best restaurants in Prospect Heights.
Again, I sound like a broken record but I do love everything I've had on the menu but since I know I need to narrow it down, start with the papaya salad, indulge in the chicken green curry as your main and an extra side of jasmine rice to go with it. Any of the other street dishes are classic and also very delicious if curry isn't your thing.
The Nuaa Table is open for lunch on the weekends and dinner daily. They have a few outdoor tables located on green turf and indoor dining. Reservations are not accepted but don't let that deter you from eating at this amazing Prospect Heights restaurant.
Lowerline
Address: 764 Washington Avenue
Lowerline is another unexpected but yet delicious Prospect Heights restaurant. Cajun for me can be very hit or miss, especially after visiting New Orleans, but Lowerline does Cajun very well. So well in fact that friends from New Orleans consider it one of the best po-boys they've ever had. 
Lowerline has all the Cajun classics so start with their daily selection of oysters, have half a po-boy (the shrimp is my favorite) and half a muffuletta. Sure, this sounds like a lot but that's what leftovers are for. If you're not in the mood for a sandwich, the catfish etouffee is always a great choice. The best part? They bring out a shot glass of complimentary panna cotta at the end of your meal. They make it with Cafe Du Monde coffee so it's one of the best reminders to book your flight to New Orleans immediately.
While they do not accept reservations, the couple of times I have been it hasn't been super hard to get in. If it is, there are plenty of bars around to have a beer while you wait for your table at one of the best restaurants in Prospect Heights.
Zaytoons 
Address: 594 Vanderbilt Avenue
I stumbled on Zaytoons out of pure luck during one of the many scrolls through Uber Eats during the height of the "P" and I've continued to order there ever since. I still haven't set food in the restaurant but Zaytoons has some of the best Mediterranean food around and is definitely a great restaurant in Prospect Heights. 
Obviously, start with mezze. They are all something to be desired but my favorites are the hummus, tabbouleh, labneh, baba ghanoush, and the falafel. Upgrade to a combo plate and you get all five plus pita.
For entrees, I can't say no to a falafel sandwich and Zaytoon's does a delicious falafel pita. They also have platters if you're pitaed out (but in my opinion no such thing as too much bread, especially pita).
Zaytoons does not accept reservations but like almost every Prospect Heights restaurant, they offer both indoor and some outdoor dining. They are also located on Vanderbilt Avenue so if you do run into a wait, you know there are plenty of bars nearby to grab a drink while you wait for your table.
Ciao, Gloria 
Address: 550 Vanderbilt Avenue
My list for the best sandwiches in New York continues to grow with Ciao, Gloria coming close to the top of the list. I was originally drawn to the space by the aesthetics (seems to be a common trend for my restaurant choices) but finally made it over to check it out once I saw them listed on multiple articles for delicious sandwiches.
There is a reason why they are listed over and over, these are some of the best sandwiches in New York making Ciao, Gloria a top Prospect Heights restaurant.
They've got breakfast options all day and even though I'm not the biggest breakfast person per say (aside from bagel or breakfast sandwiches of any kind), I always appreciate places that make it available at any time. Somehow, I was able to resist the urge to order a breakfast sandwich though, and order the bella ciao, one of my favorite sandwiches to date.
I don't know if it's the prosciutto/focaccia combination or the red wine vinaigrette/pesto combination but something about this sandwich works really really well. For vegetarians, the capri-za is also incredible with eggplant and fresh mozzarella.
Ciao, Gloria is located towards the end of Vanderbilt Avenue, making it very easy to get to from all the neighboring boroughs. They do not have reservations but have an ample amount of indoor and outdoor dining and should be at the top of your list of Prospect Heights restaurants.
Sushi Lin 
Address: 335 Flatbush Avenue
I've only recently gotten on board with the sushi omakase experience but I'm so glad I've jumped on that train. I used to never get the obsession with sushi but I think this was also because I wasn't eating at the right sushi places. Sushi Lin is one of those great places to eat sushi and one of the best restaurants in Prospect Heights.
The best part about Sushi Lin is that the sushi omakase experience is incredible. It is also so reasonably priced that you feel like you're missing something. Sushi is flown in daily from Tokyo, the bar seating is ideal and while I still don't know what I'm eating at times, it is some of my favorite sushi in town, let alone of the top restaurants in Prospect Heights.
You can add on to your omakase experience, which I now always recommend, so don't leave without trying the salmon nigiri topped with sautéed tomato, or the bluefin tuna with mushroom.
Sushi Lin accepts reservations. They have some outdoor dining but the ideal spot is a seat at the sushi bar. They are open daily for dinner except Mondays.
Patti Ann's 
Address: 570 Vanderbilt Avenue
Just a few doors down from Petit Patate is another new venture by Greg Baxtrom that focuses on his Midwestern roots and home-style cooking. The inside is colorful and fun and it is also very adult and kid friendly. There is a long bar at the front, which is a great spot for a solo date night with yourself. 
As far as the food goes, it was hard for me to narrow down what I wanted to eat because everything sounded amazing. Luckily the first time I went I was with a friend so I was able to order more and do a lot of shared plates. For this guide alone, I'll focus on dinner but check out the best places for brunch in Prospect Heights for their delicious breakfast/brunch options.
To start, make sure you order the chips and goop. It is Baxtrom's take on french onion dip and it is amazing. In addition, order the mozzarella stick (amazing) and the blooming onion. For entrees, the smash burger is amazing as well as any and all of the pizzas, which seem smaller somehow because it is cut in small quarters. If the meatloaf is on the menu, it must be on your table.
Save room for dessert and get the banana split or root beer float. If you still have room, take home a lemon bar for later.
Patti Ann's is open every day for breakfast and lunch and dinner every day but Monday and Tuesday. Reservations are accepted and both indoor and outdoor dining are available. If you're from the Midwest and feeling a little homesick, make Patti Ann's, one of the best places to eat in Prospect Heights, a top choice.
Chuko Ramen
Address: 565 Vanderbilt Avenue
Chuko Ramen is my favorite little ramen shop around, making it one of the best restaurants in Prospect Heights. It has similar vibes of Momofuku and Ivan Ramen, is always buzzing and has some of the best ramen in New York City. It is also super close to Barclays Center, making it the perfect place to stop before a game or concert.
While the menu is limited at this restaurant in Prospect Heights, they do everything well. Start with the spicy pickles and a steam bun to share but definitely skip out on the kale salad. It is one of the best around. As far as ramen goes, I tend to stick to the classics but Chuko's kimchi ramen with ground pork is one of the best things I've ever tried.
Chuko Ramen accepts reservations and has both indoor and outdoor dining. They are open daily for dinner and serve lunch on the weekends.
Tiny's Cantina
Address: 229 Flatbush Avenue
Remember when Taco Bell was known for the best Mexican pizza and then they decided they weren't going to sell it anymore? (and then brought it back) Well, Tiny's Cantina brought back the Mexican pizza and they (obviously) do it far better than Taco Bell.
While I find myself to be especially particular about Mexican food in New York City, Tiny's Cantina lives up to the hype and is one of my favorite restaurants in Prospect Heights.
Run by the former staff at Morgan's Barbeque, another former staple restaurant in Prospect Heights, Tiny's Cantina takes on flavors from the Puebla and Oaxaca regions in Mexico, which really, is some of my favorite new region of Mexican cuisine. They also have a very large variety of tequila and mezcal, resulting in some of the best margaritas around.
Obviously, you have to order the Mexican pizza but the tacos are also delicious – especially the birria tacos with bone marrow consome. As per the rules at any Mexican dining establishment, start with salsas and chips and guacamole. I'm also partial to the burrito bowl. As you've probably figured out, I'm a big fan of desserts and their churros are some of the best around.
Tiny's Cantina accepts reservations and is open daily for dinner and lunch on the weekends. They have indoor dining and a few tables outside when the weather is nice. It is also close to Barclays Center, making this one of the best restaurants near Barclays and the perfect spot before or after an event and one of the best restaurants in Prospect Heights.
Faun
Address: 606 Vanderbilt Avenue
Another Vanderbilt Avenue gem, Faun is no exception to the delicious restaurants in Prospect Heights that line up on this foodie avenue. From the former chef of Vinegar Hill House, another exceptional restaurant in Brooklyn's Vinegar Hill, Faun is incredible Italian food that feels like your classic neighborhood Italian spot. 
As with every place on this list of restaurants in Prospect Heights, there really aren't bad items on the menu but with Faun, stick to the pasta. For starters, order the focaccia and add whipped ricotta to make great even better. All of their salads are also a great choice as well as the steamed mussels. As for pastas, all are worth trying at least once in your life but my favorite is the pappardelle. I haven't tried any of their entrees but they always look delicious and seem to rotate with season.
Faun is open daily for dinner except Tuesdays and brunch/lunch on the weekends. They accept reservations and have both indoor and outdoor dining. The outdoor dining is similar to so many restaurants in Prospect Heights with the perfect backyard complete with small trees and string lights, so prioritize this in the warmer months. With some of the best Italian food in Brooklyn, make sure that you immediately visit one of the best restaurants in Prospect Heights.
El Gran Castillo De Jagua
Address: 355 Flatbush Avenue
The Dominican food at El Gran Castillo de Jagua rivals the stuff you'll find in Washington Heights and Inwood yet somehow this place continues to feel underrated. The space is laid-back and family-oriented but is truly one of the best restaurants in Prospect Heights. So good that I'm still shocked even in the middle of Flatbush Avenue, people walk past it without ever thinking twice. 
The traditional Dominican food shines here and while the menu is large, I always trust my server to order for me, which often results in me not being able to remember what I ordered. With that being said, I haven't had a bad thing on the menu and I will once again never understand why more people don't know about this delicious restaurant in Prospect Heights.
El Gran Castillo De Jagua is open for breakfast, lunch and dinner daily. They do not accept reservations and offer indoor dining.
---
Best Places to Eat in Prospect Heights (Post Summary):
Alta Calidad
LaLou
Olmsted
Petit Patate
Michell's Soul Food
The Nuaa Table
Lowerline
Zaytoons
Ciao, Gloria
Sushi Lin
Patti Ann's
Chuko Ramen
Tiny's Cantina
Faun
El Gran Castillo De Jagua
---
Did we miss your favorite Prospect Heights restaurant? Let us know in the comments below.
---
About Our Guest Author
Molly Royce – Originally from Oklahoma, I moved to NYC for grad school and have had a hard time wanting to leave ever since. There really is no better borough than Brooklyn where I live with my boyfriend and our black lab, Frankie. There's no greater city in the world and I can't wait to share my love of the city, eating, and drinking with all of you.