Looking for the best restaurants near Barclays Center in Downtown Brooklyn? We've got you covered as we've curated a list of the top places to eat near Barclays within a 10-15 minute walk (or less) to enjoy a pre or post-event meal, drink, or meet up spot whether you're going to see the Brooklyn Nets or New York Liberty play or see a concert in this popular NYC event arena!
From bars to bistros and quick or fast food near Barclays Center – we've got them here.
---
SeatGeek, a popular ticket search engine that makes finding tickets to sporting events, concerts, and many other live events at Barclays Center quick and easy.
When you add our promo code BROOKLYNGUIDE to your SeatGeek account, you receive $20 off your first ticket purchase.
(We receive a small commission at no extra cost to you)
---
Amazing Places to Eat Near Barclays
Harlem Shake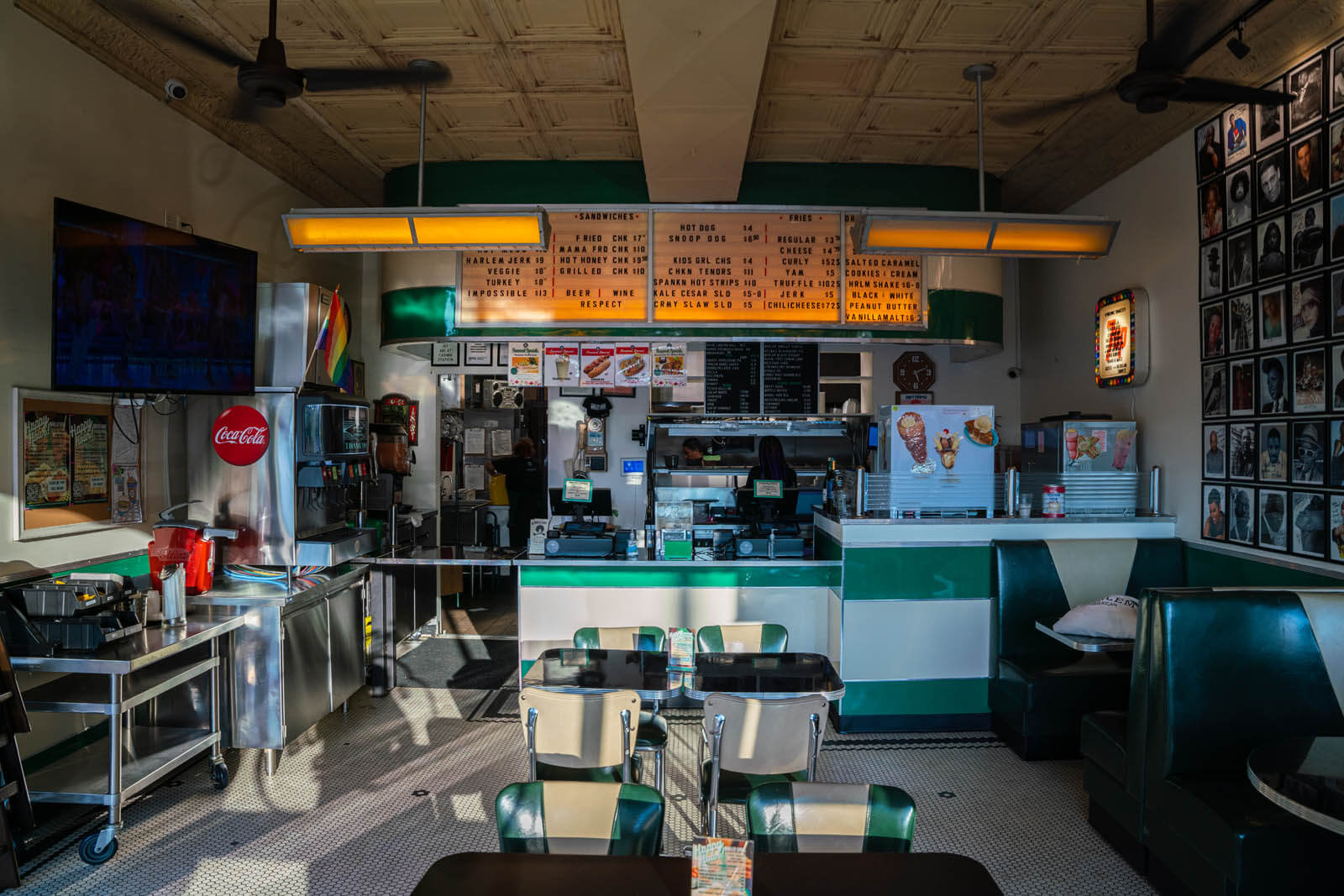 119 5th Ave
Just over a 5-minute walk away is one of THE best restaurants or places to eat near Barclays Center in Brooklyn! On the bustling 5th Avenue in Park Slope is the second location of Harlem Shake, an old school diner serving up seriously good milkshakes, burgers, and other fine foods that are quick, convenient, pretty darn affordable, AND incredibly delicious.
They do seasonal specials, so be sure to check those out. If you can get anything with their homemade ranch, you won't regret it. Their truffle fries and curly fries are a must for sides and for your main? Go with one of their juicy burgers, which they use Pat LaFrieda beef (so you know it's good) or if you want an impossible burger, turkey burger, or veggie burgers.
They have different beer, frosé, and of course milk shakes. Try the 'Harlem Shake' if you want to be blown away! This signature flavor is red velvet with actual red velvet cake bits in it!
For having incredible quality ingredients, quick service, a cool vibe, and is incredibly affordable? You can't beat this spot which we can confidently say is one of the best restaurants near Barclays pre or post event!
PSST they do generous happy hours too! Mondays through Thursdays from 11 AM to 11 PM and Fridays from 11 AM to 7 PM!
Pasty's Pizzeria
View this post on Instagram
450 Dean St
Located right in front of Barclays Center (about a minute walk), this pizzeria chain has been serving New Yorkers since 1933 and continues to spoil us with their signature thin-crusted coal oven pizzas, which due to environmental regulations, are harder to find in the city unless the pizzeria had them before regulations were put in place.
Pasty's Park Slope location is best known for its unbeatable location and serving up some of the best pizza in Brooklyn. And as far as restaurants near Barclays go, this one has one of the easiest commutes. If you're interested in a quintessential Brooklyn pizzeria experience—this is the place to go!
Mokbar BK
View this post on Instagram
212 Flatbush Ave
One of the best restaurants near Barclays Center (literally steps away) is Mokbar BK. Specializing in Korean cuisine with locations around the city, this spot for food near Barclays is not to be missed if you're craving dishes like Korean fried chicken, bulgogi, and Korean-style ramen with ingredients like kimchi.
5 Spice Tacos & Bahn Mi
52 5th Ave
Just a 2-minute walk from Barclays, this Park Slope restaurant takes an unconventional approach with their cuisine by serving both tacos and Vietnamese cuisine like pho, two types of cuisines that aren't normally associated together—but don't let it throw you off.
5 Spice's pho is top notch and some of the best in the city! The broth they use is simmered for 12 hours with your choice of meat (beef, chicken, or pork). Their lemongrass chicken in particular, is highly recommended, although the beef is always a solid choice. If you want some authentic Vietnamese food near Barclays Center, 5 Spice is an absolute must.
Shake Shack
View this post on Instagram
170 Flatbush Ave
This fast-food franchise is not only a classic with a local cult-like following (think the In N Out Burger of the East Coast) but one of the best places to eat near Barclays as they have a location planted right in front of the Center.
Shake Shack is known for their well-done burgers, fries, and shakes but their vegan and vegetarian are also worth noting—such as their Shroom burger and veggie shake!
Because this popular Park Slope location is one of the closest restaurants near Barclays Center, it's almost always busy—but the wait will most certainly feel worth it once you get your hands on one of their famous burgers and shake combos! Not to mention the wait is typically pretty quick and even quicker if you order online for pick up.
If you're looking for good burger restaurants around Barclays Center or something a little more quick, this is first place to check out.
Alchemy
View this post on Instagram
56 5th Ave
Located on 5th Ave, just under a 2-minute walk from Barclays Center, this Park Slope eatery is fashioned like a pub and serves wine, cocktails (like their Strawberry Jalapeño Margarita)—but offers four-course dinners as well.
This spot offers great cuisine while still being one of the more laid-back restaurants near Barclays in Park Slope. The excellent food selection combined with the restaurant's cozy and chill atmosphere along with cocktails and their full bar makes Alchemy one of the best places to eat near Barclays if you're looking for a nice pre-event dinner plus a drink kind of place.
Black Iron Burger
View this post on Instagram
234 Flatbush Ave
This Park Slope burger joint is only a 3-minute walk away from Barclays Center and offers some of the best and most eccentric burgers in Brooklyn featuring burgers on their menu with items you won't find at any regular burger joint like bratwurst patties in addition to their all beef burger options with great toppings on their specialty items.
They also have a great selection of fries and loaded fries to pair your juicy burgers with.
As a matter of fact, both Zagat and TripAdvisor voted them as the number one burger in the city and besides their Park Slope restaurant near Barclays Center, they have another Midtown West location as well.
While this option for good food near Barclays is known for its burgers, it's also known for being a great place to have a drink. But the burgers are still the star of the show. Their Truffle Mushroom Burger is a good choice if you're a mushroom fan or the Iberico Burger has great toppings like manchego cheese and a fried egg.
Rucola
View this post on Instagram
190 Dean St
This Italian restaurant is one of the best places to eat near Barclays in Boerum Hill (an 11-minute walk from Barclay Center) and while there's no shortage of Italian food near Barclays Center—Rucola is far from typical.
This Northern Italian eatery continues to dazzle customers with their freshly made dishes (like their housemade pastas including shells and rigatoni) and overall ambiance. This is also one of the more affordable restaurants near Barclays Center, which is surprising given its quality.
Whether you're looking for a rich authentic Italian meal or just a great restaurant to sit down and rest your feet, Rucola is the place to go. And if you're looking for something light pre-event, this is one of the best places to eat near Barclays as they have cheese and meat charcuterie options too for lite bites.
Wasan Brooklyn
View this post on Instagram
440 Bergen St
Just two blocks away, this is another option for best food near Barclays Center. especially if you are in the mood for Japanese cuisine.
Located in Park Slope, this restaurant near Barclays Center specializes in dishes like Japanese buns, sushi, ramen, and tempura.
Also, its bigger than average portion sizes offer customers plenty bang for their buck. And even if you're not a meat-eater, don't worry—Wasan's menu has good options for those of a vegan and vegetarian persuasion as well (vegetable tempura, and tofu teriyaki).
Great for lunch and dinner alike, Wasan Brooklyn is one of the best go-to restaurants around Barclays Center and an absolute hidden gem among Park Slope eateries!
Haenyeo
239 5th Ave
Haeyneo, besides being awarded a Michelin Gourmand Bib Award, Haenyo has made its rounds among the foodies in the city and is only a 12-minute walk to Barclays Center making it one of the best restaurants around Barclays Center if you're looking for elevated dining.
Korean chef, Jenny Kwak brings a new twist on traditional Korean dishes like tteokbokki (delicious rice cakes) in her dokboki fundido dip featuring those squishy tasty rice cakes in a traditional spicy sauce plus Oaxaca cheese and chorizo.
To offset the spice, be sure to order the makgeolli (a Korean alcoholic beverage), a cloudy, milky rice wine.
Haenyeo is also known for its seafood dishes and other menu favorites like deji bulgogi, thinly sliced pork served with veggies.
Tiny's Cantina
View this post on Instagram
229 Flatbush Ave
Just around the corner of Barclays Center is an awesome Mexican restaurant called Tiny's Cantina. This underrated Prospect Heights gem not only offers great margaritas (with over 75 different Mexican tequila and mezcal options) but an excellent choice of different tacos (fish, brisket, shrimp, and birria to name a few) as well.
While there are many restaurants to get Mexican food near Barclays Center, few are able to match Tiny's hospitality and customer service. And as far as the quality goes, all the ingredients taste fresh and the food presentation is impeccable. Don't forget to save room for freshly made churros for dessert either.
Tiny's Cantina makes for a great dining experience and nice place to give a try when looking for good Mexican food near Barclays Center!
The Simpson
View this post on Instagram
673 Atlantic Ave
Right across the street from Barclays Center (on Atlantic Ave), this Clinton Hill restaurant successfully blends Caribbean and southern styles of cooking to create a truly unique dining experience.
And not only do they offer an excellent selection of Jamaican food—they also have a nice cocktail menu to boot.
The atmosphere is perfect as well, one of the best restaurants near Barclays for a festive dinner with friends and loved ones. Great music. Great food. Great drinks. The Simpson is one the most recommendable places to eat near Barlcays.
Bar Basic
View this post on Instagram
71 7th Ave
About an 11-minute walk (or 8-minute train ride), this chill and ambient restaurant is far from basic. Even though this Park Slope gem is relatively new to the scene, it has developed a strong following thanks to its reliably tasty burgers, sandwiches, and tacos on its diverse menu of New American fare.
Shrimp Po Boy sandwich is a standout! They also serve dishes for those who are pescetarian, vegetarian and vegan as well.
They also have a fun cocktail selection and full bar perfect for those pre-event drinks.
If you're looking for restaurants near Barclays Center and need a good spot for brunch, be sure to check out Bar Basic!
Miti Miti
View this post on Instagram
138 5th Ave
This Modern Mexican and Latin American restaurant near Barclays is an excellent choice for drinks and dinner located on 5th Avenue (a 5-minute walk) great for pre or post-event drinks/shareables/dinner.
From the different flavored margaritas from their margarita bar to their tacos, hot queso, quesadillas, and starters all are great.
Besides serving up great food near Barclays Center, this spot is especially popular with the late-night crowd for drinks too, so don't miss your post-event drink here either!
Flatbush Counter
View this post on Instagram
295 Flatbush Ave
Just a brisk and easy 5-minute walk from Barclays, Flatbush Counter is another great option for food near Barclays featuring a fast farm-to-table menu. This Prospect Heights restaurant is known for its fresh ingredients—all of which are sourced locally.
One of the more reasonably priced restaurants around Barclays Center, Flatbush Counter is a great option for those looking for some affordably delicious and quality sandwiches and grain bowls to grab quickly in this casual eatery.
Miriam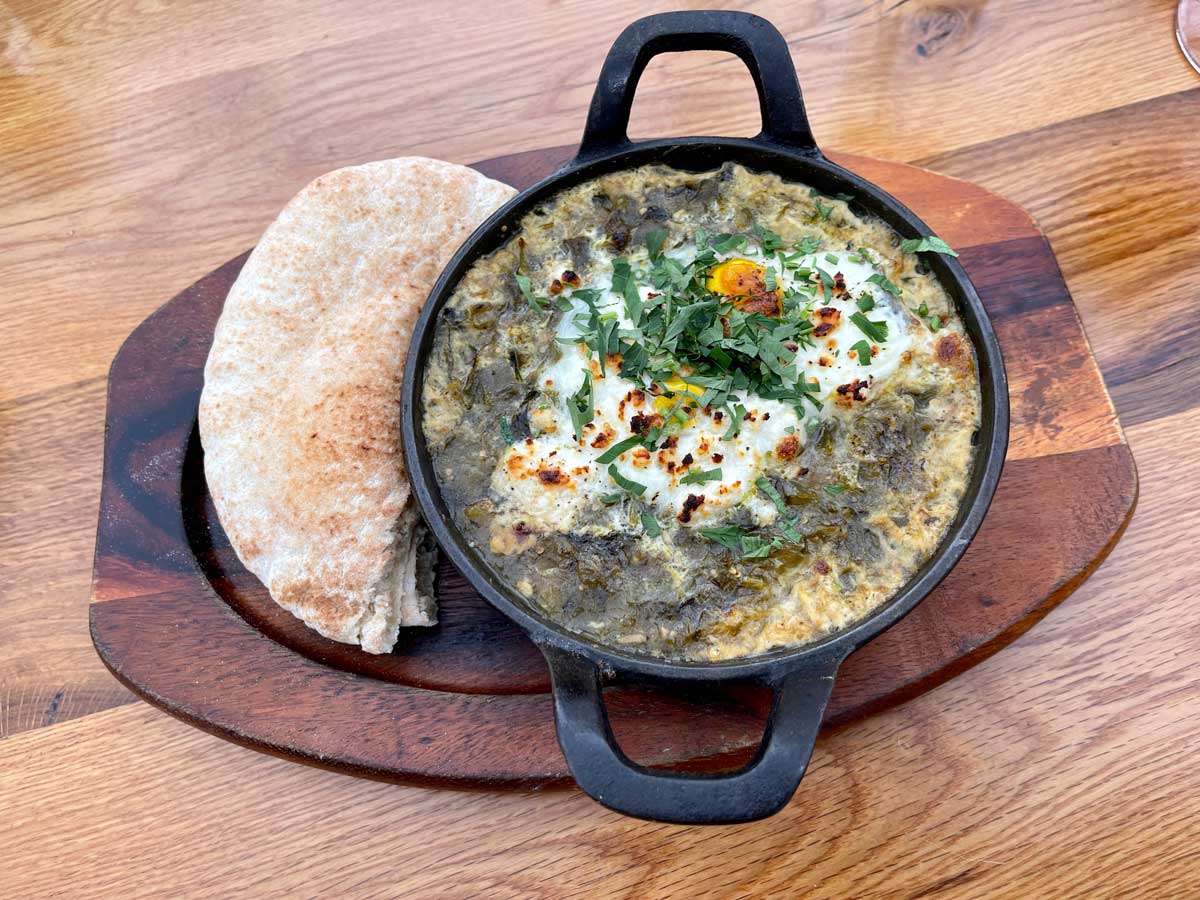 79 5th Ave
This insanely popular Park Slope brunch spot has lines on the weekends wrapping around the block, but the dinner here is just as good and you might be able to avoid the lines by eating dinner here pre-event!
This restaurant around Barclays Center (only a 4-minute walk away) on 5th Avenue serves up a deliciously fresh menu with dishes inspired by the flavors of the Mediterranean coast of Tel Aviv, Israel.
Even some of the ingredients they use are sourced directly from Israel. For those of you unfamiliar with Israeli cuisine, it's a beautiful blend of Mediterranian, Northern Africa, and Middle Eastern cuisine, so many mouthwatering flavors.
Their dinner menu starts at 4:00 pm daily and offers dishes like shwarma plates and sides of freshly made hummus.
El Zason
491 Atlantic Ave
El Zason is a family-run Mexican eatery in Boerum Hill and is just a 7-minute walk from Barclays. Easily one of the best taco restaurants around Barclays Center, customers are in store for some delicious dishes such as their al pastor and steak quesadilla when coming here.
Although this place is well known for their tacos and enchiladas—their pork soup is an absolute fan favorite that continues to get rave reviews! They also have a heaping serving of nachos perfect to share pre-event.
Featuring some of the best tacos in the city, Zason is one of the most authentic Mexican restaurants near Barclays and should be experienced by everyone in the area!
Endswell
View this post on Instagram
773 Fulton St
Part cocktail bar, part bistro, Endswell is located in Fort Greene (About a 7-minute walk from Barclay Center).
This bistro and restaurant near Barclays Center is known for serving up some unforgettably delicious spicy French dishes (like their French Onion soup). Don't miss their specialty craft cocktails either, which are worthy of a visit on their own.
The venue itself is dimly lit, making it perfect for a first date (or any date for that matter). An excellent choice whether you're looking for an intimate dining spot pre or post-event.
Trying to pick one restaurant from the many different places to eat near Barclays can seem like an exhausting journey in and of itself, but all's well that Endswell!
---
About the Author
Eric Garner is a Brooklyn-based writer who was raised down South who loves talking about film, TV, hip-hop, and fashion.
---
Enjoyed this guide to all the best places to eat near Barclays Center? Bookmark for later!