Looking for some romantic date ideas in NYC for you and your boo? We have you covered in this guide fun date night ideas in NYC covering everything from quiet picnics in the park, museums, historic fun dates in NYC, and other amazing couple activities in NYC that will impress your lover!
And if you're dating on a budget, be sure to check out our guide to fun and cheap date ideas in NYC!
Romantic Things to do in New York
Romantic Dinner with a View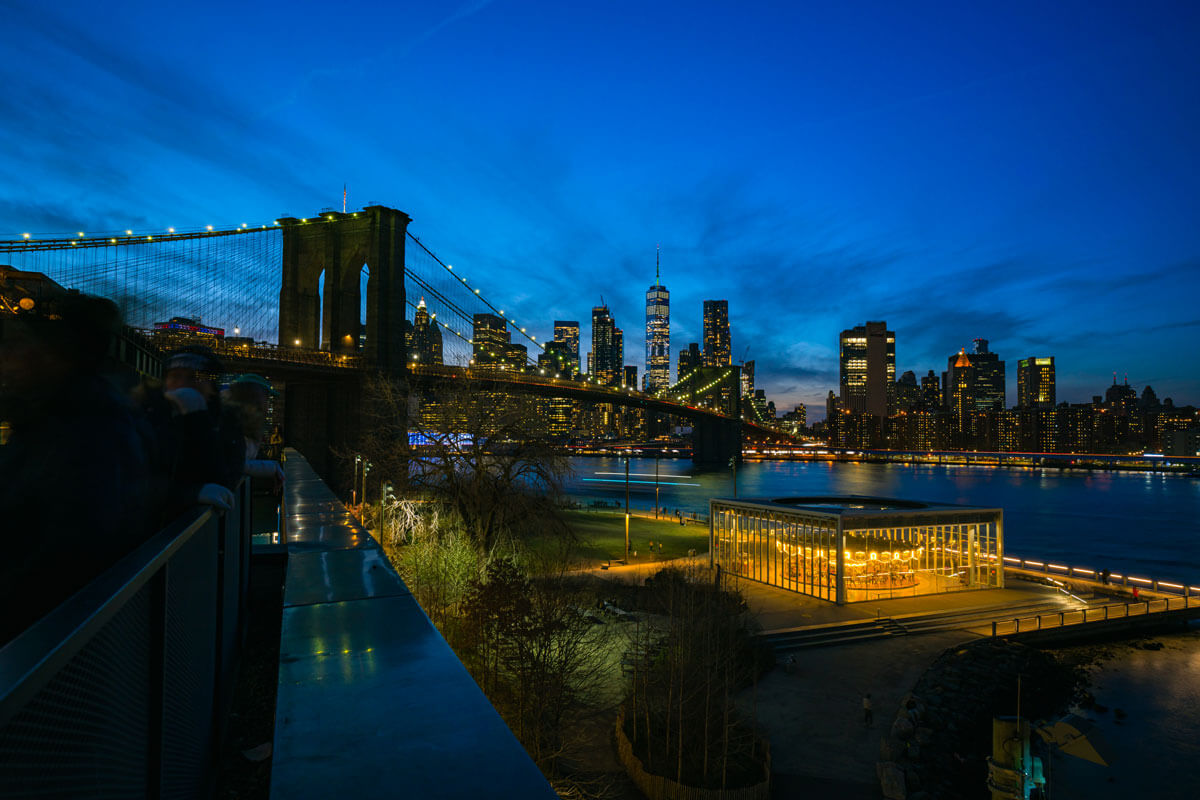 One of the most romantic things to do in New York City is to enjoy a delicious dinner with a gorgeous view of the city's skyline! Plan a night of delectable food and sweeping views for a fun date idea in NYC! Here are a few spots with good eats and even better views.
Time Out Market in DUMBO is the perfect place to grab a meal and take in views of New York, not to mention their rooftop is one of the best Brooklyn sunset views. Plus, they offer a wide array of cuisines to choose from. The hardest part of this date will be deciding between the 20+ scrumptious options!
For a sky-high dinner date with a view of Manhattan, check out ONE Dine at the One World Observatory with a gourmet menu and amazing views, you and your date will feel on top of the world! You'll need to make a reservation and a ticket for the observatory, but you get a discount on your meal and it's worth it!
Read our full guide for how to visit One World Observatory including money-saving tips and tricks for your visit!
Not all scenic meals in the city have to take place at the top of a skyscraper. Visit The Modern at the Museum of Modern Art for lush garden views.
Dating in the winter? No worries, see our full guide to heated outdoor dining in Brooklyn for TONS of options.
Rooftop Drinks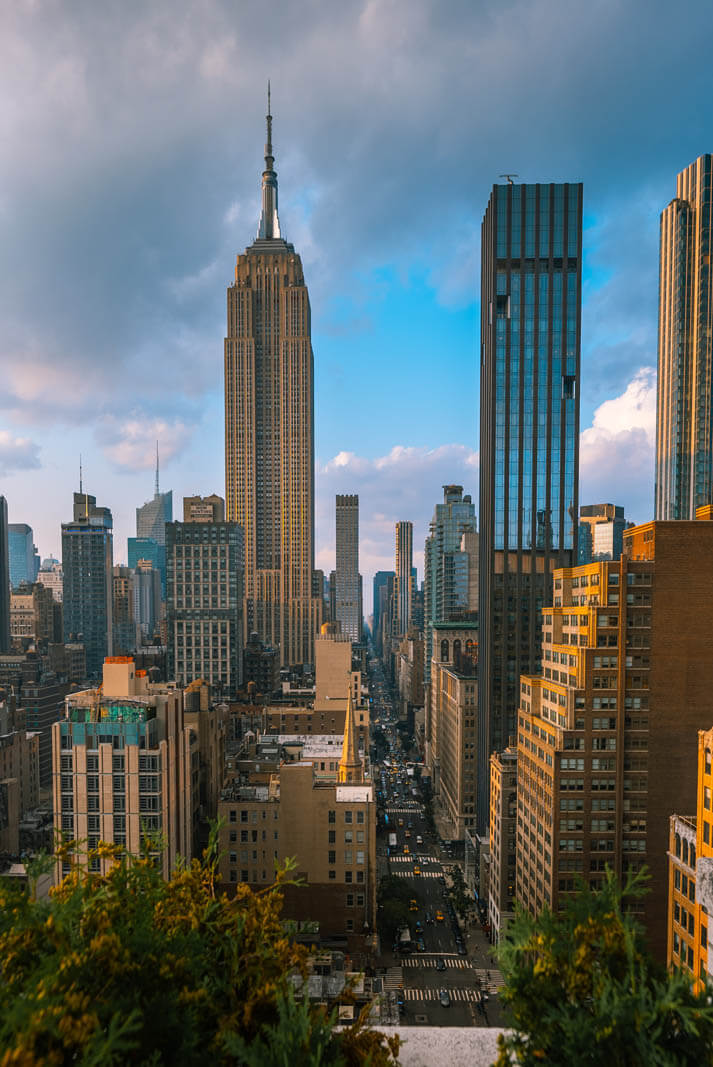 If you're looking for romantic date ideas in NYC, but don't want to necessarily commit to a full dinner, consider grabbing some rooftop drinks at one of the best rooftop bars in NYC or best rooftop bars in Brooklyn! There is no shortage of great bars with stunning views in NYC!
For a fun date filled with cocktails and city lights, check out the Westlight at the William Vale in Williamsburg! Sip on craft cocktails while taking in views of the NYC skyline. There are also more rooftop bars in Williamsburg worth checking out!
Another fun couples activity in NYC is to attend a wine tasting! The only thing better than a wine tasting is a wine tasting with a view. Train your palate while spending quality time with your date at Rooftop Reds in Brooklyn Navy Yard!
For more views that are worthy of a fun date night idea in NYC check out these rooftop bars in DUMBO.
Want to explore beyond Brooklyn? Check out the best rooftop restaurants and bars in NYC.
Picnic or Stroll at the Park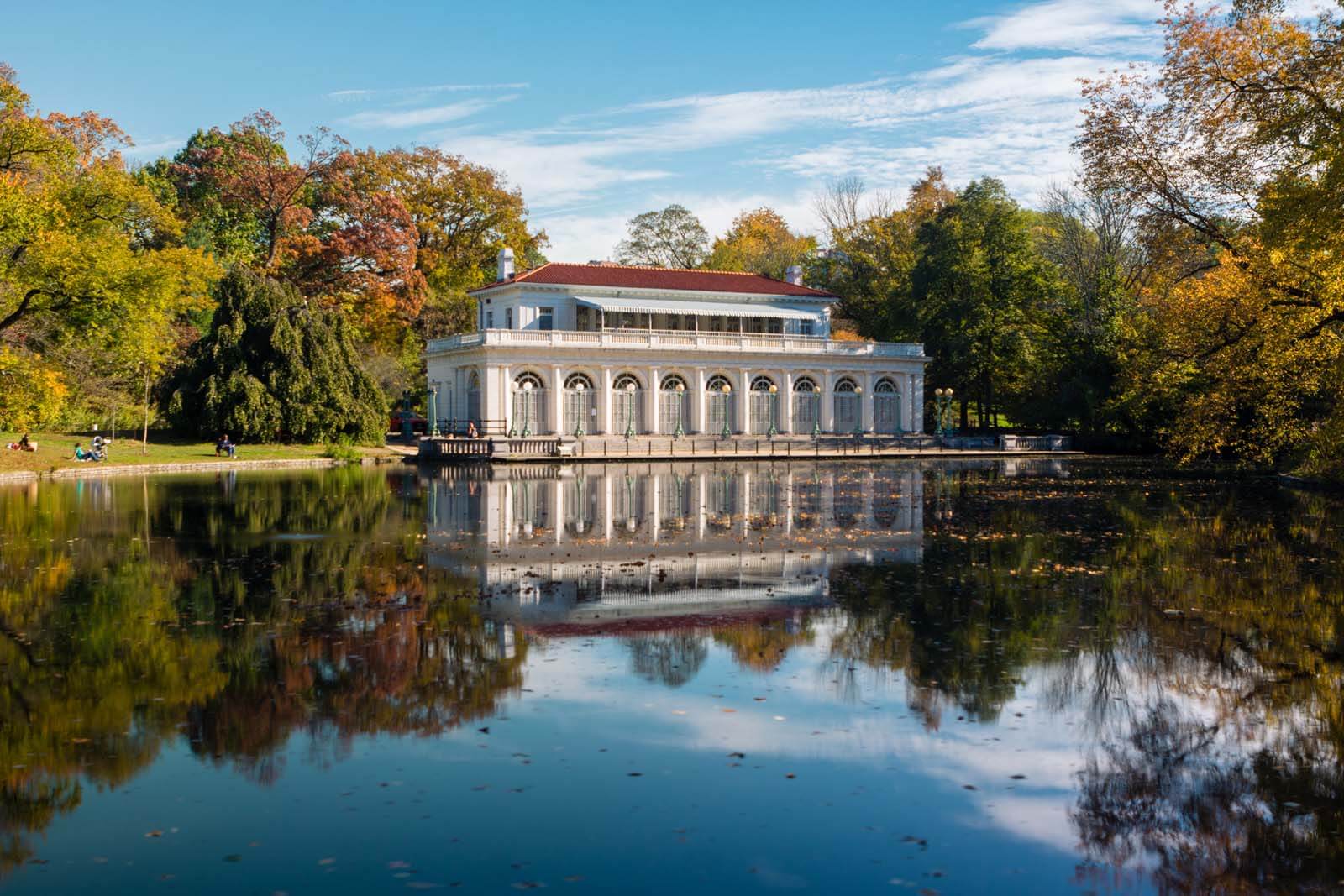 One of the best things about NYC are the beautiful parks nestled into the bustling city. Consider a picnic or a leisurely stroll through the park for an easy, yet romantic date!
Stroll through Brooklyn Bridge Park for a great view of the Manhattan Skyline. Snap some photos and watch the river flow by. Or, pick up some take-out from one of Brooklyn's many wonderful eateries and picnic in Prospect Park.
If you're looking for fun dates in Manhattan, what better way to spend a day than wandering through Central Park! Pack a picnic and eat with a view of the Belvedere Castle. Stroll through the gorgeous Bethesda Arcade, grab a hot dog from a food cart, and enjoy a romantic fountain-side picnic filled with the echoes of buskers' music.
There are truly few things more romantic than a day spent in one of NYC's charming parks, check out all the best parks in Brooklyn and the best picnic spots in Brooklyn too for more ideas!
If you're looking for more great date ideas on a budget, consider checking our guide to the best free things to do in Brooklyn for more ideas!
Take A Day Trip to Governors Island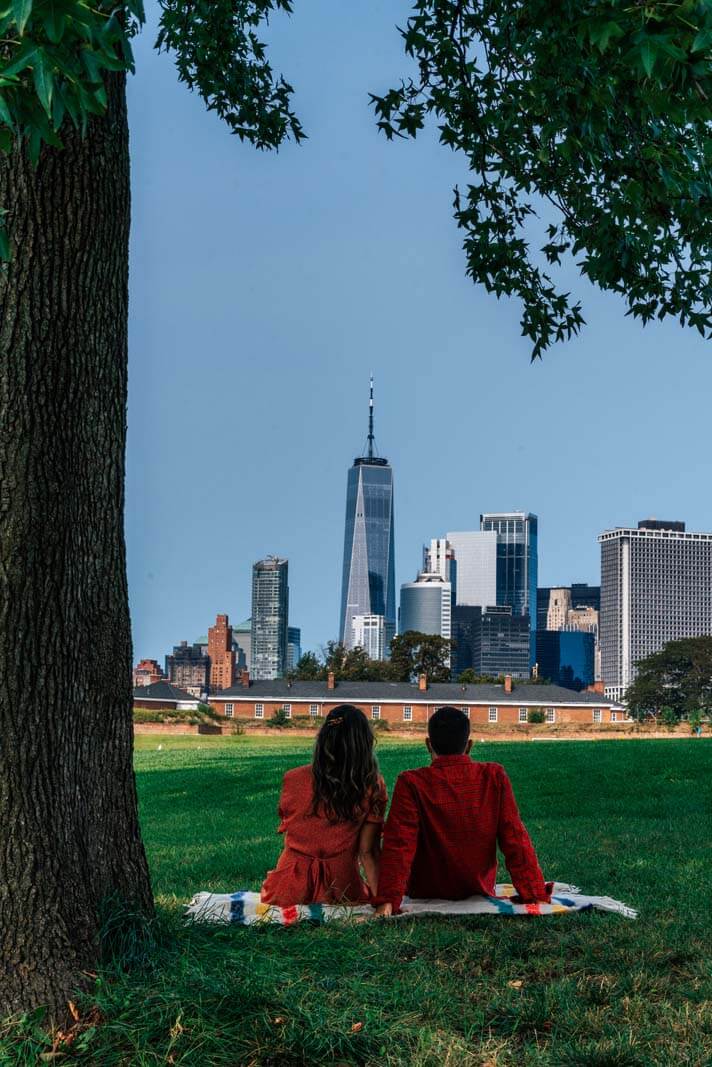 A fun date idea in NYC that will get you and your sweetheart out of the city for a bit is a day trip to Governors Island. Although Governors Island is only open to visitors from year-round now which it makes for an exciting couples activity while the weather is nice and even a fun snow date!
While you're on Governors Island, grab a gourmet dinner or a sip on a glass of wine at Collective Retreats' glamping resort! You don't have to stay overnight to attend the restaurant or bar, both of which offer spectacular views of the Statue of Liberty and Lower Manhattan (although what better ending to a romantic date than a night of luxurious camping?)!
I also think this is one of the best picnic spots in NYC! I mean just look at that view!
Check out our experience glamping on Governors Island and you can book your stay here.
See a Movie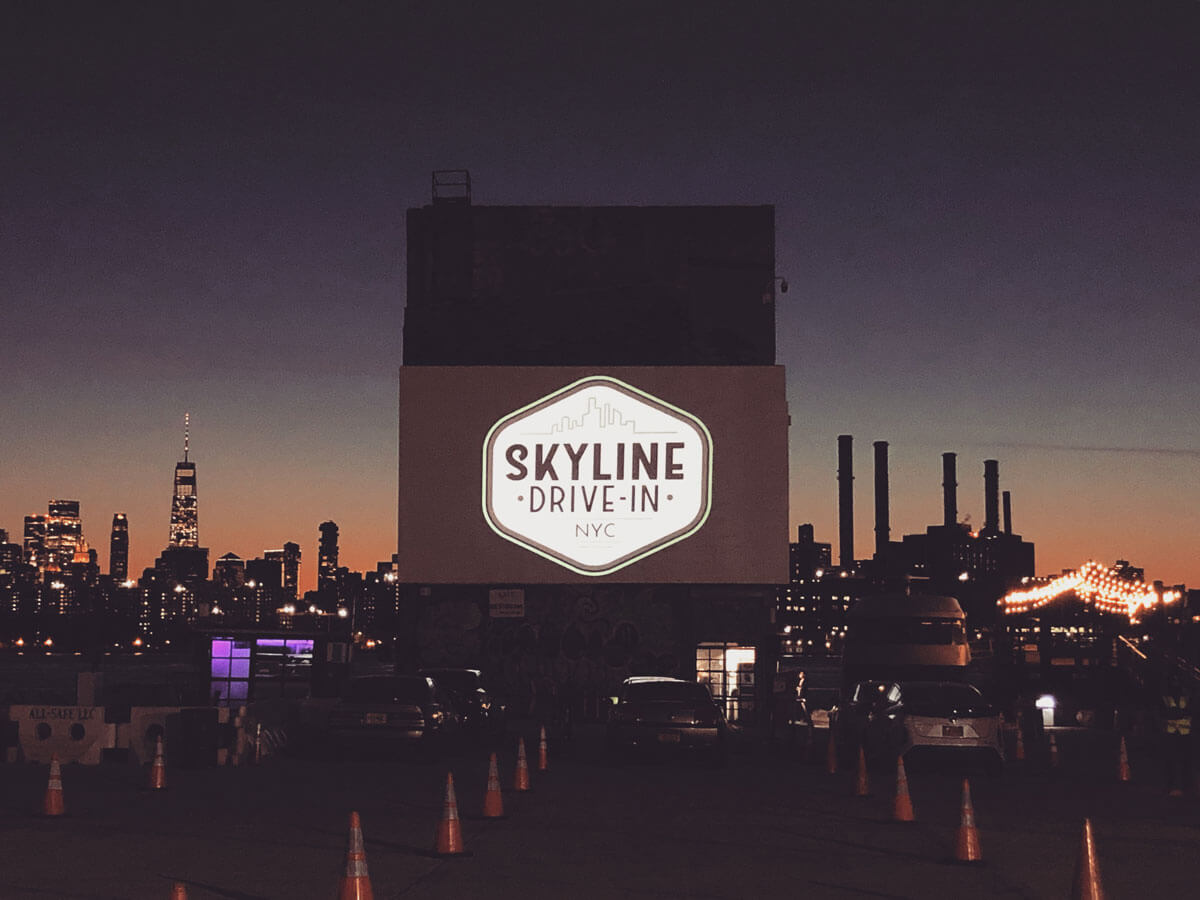 There are very few romantic date ideas in NYC that are more classic than catching a movie! Here are some unique ways to cuddle up and catch a flick.
Check out the Skyline Drive-In in Greenpoint for a fun date idea in NYC! See a movie from the comfort of your car. This spot sits right on the East River, offering amazing views of the Manhattan skyline. If you don't happen to have a car, don't worry – they also offer outdoor seating.
Nighthawk Cinema is a great place to enjoy a gourmet meal and craft drinks while seeing a screening of a great film! With locations in Williamsburg and Prospect Park, this is a great idea for date night in Brooklyn.
Syndicated Theater in Bushwick is a great place for a laid-back date! Catch a recent classic on the big screen while enjoying table service.
For a fun drive-in experience, check out Rooftop Films. With locations in Brooklyn and Queens, this is a great place to view amazing independent and foreign films. For more information, check out their website here!
Brooklyn Botanic Garden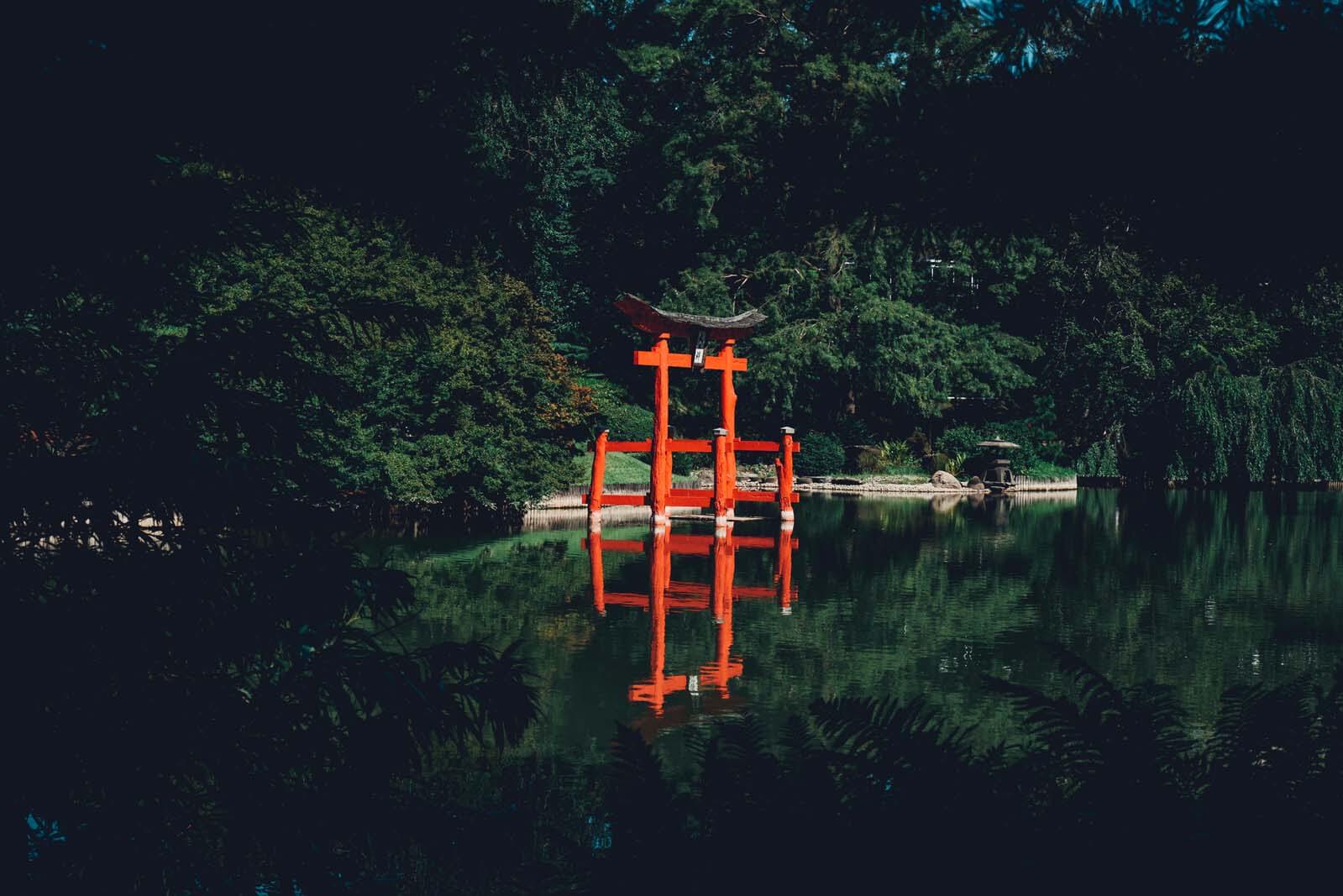 For a romantic date surrounded by luscious foliage and beautiful filtered light, visit the Brooklyn Botanic Garden! Visiting the 52-acre gardens flourishing with over 14,000 different kinds of plants is a fresh and different date idea in NYC, and makes for the perfect romantic day!
Since the Brooklyn Botanic Garden is open year-round, make it a seasonal date destination to see how the blooms and blossoms change throughout the year!
Visit A Museum
It's no secret that New York City is positively bursting with history and culture. So naturally, one of the best couple activities in NYC is visiting one of the city's many marvelous museums!
If you're looking for something romantic to do in Manhattan, you can of course explore the expansive collection of the Metropolitan Museum of Art on Fifth Avenue.
However, for a quieter experience, you can visit the Met Cloisters farther uptown. If you're looking for a collection that is more under-the-radar, visit the Whitney Museum of American Art located in Chelsea!
For a fun date across the river in Brooklyn, check out the Brooklyn Museum and peruse their fantastic art collection. For a historical museum, check out the New York Transit Museum!
Be sure to check out more of the best museums in Brooklyn for more date night ideas in NYC!
Visit the Top of Skyscrapers
These are some of the most popular NYC experiences! What better way to enjoy a romantic date in NYC than to venture to the top of one of the city's world-famous skyscrapers?
For a fun date idea, consider visiting the One World Observatory located in the One World Trade Center. If you are visiting around sunset, stick around for dinner with a view at One Dine!
For a thrilling couple activity, visit the highest outdoor sky deck in the Western Hemisphere at the Edge Observation Deck!
You and your date can enjoy a famous view from one of the Empire State Building observatories. You can catch a little privacy and see the city's lights twinkle by visiting after 10pm!
Another famous spot to check out for a romantic date night is the Top of the Rock Observation Deck!
See a Comedy Show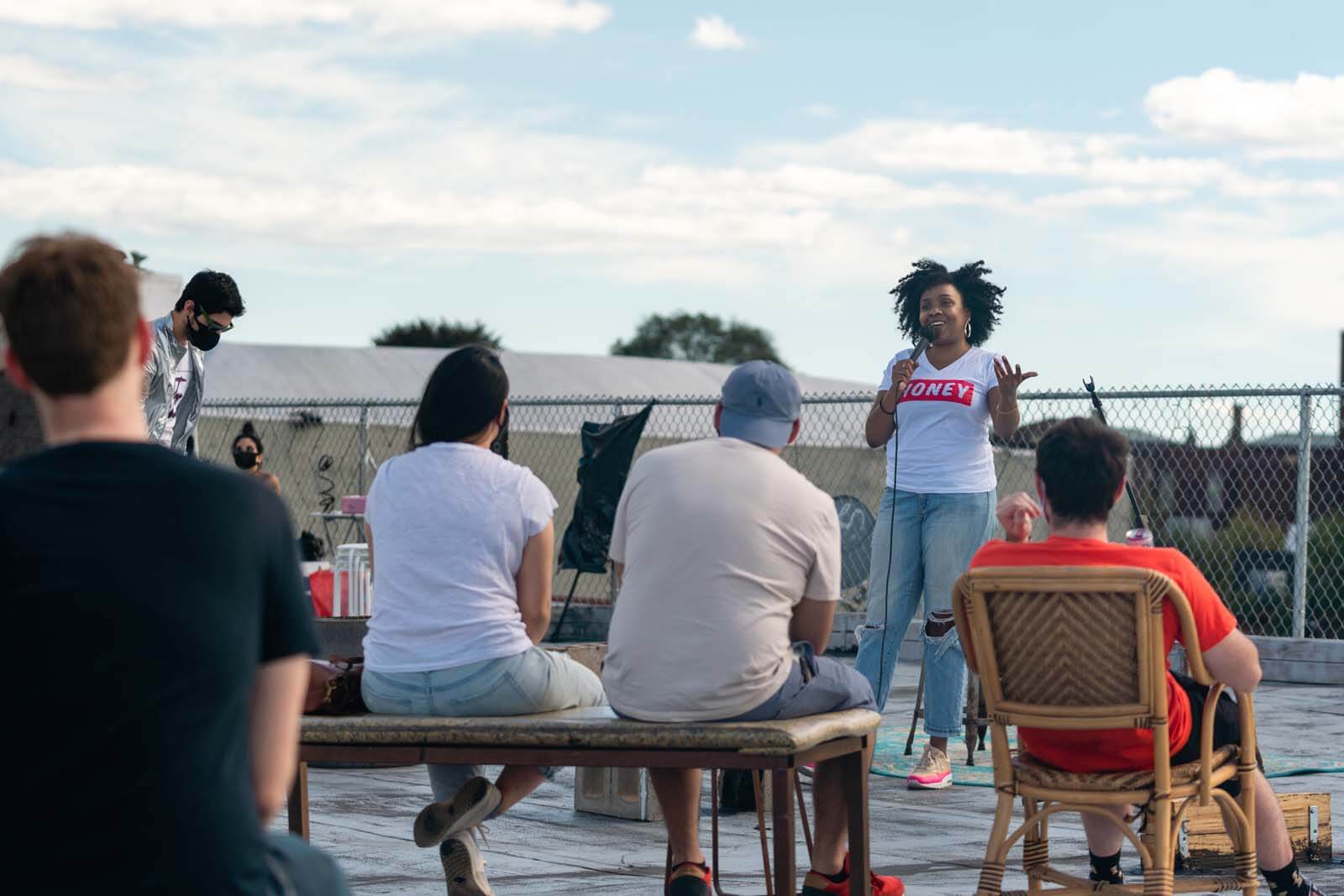 For a fun date night, head to one of New York's many comedy clubs. Laughing with a new flame or an old love is one of the best ways to spend an evening.
Spend some time at the Comedy Cellar in the Village, considered by some to be the best comedy club in the country!
Laugh the night away at an intimate rooftop show at the Tiny Cupboard in Bushwick, and see some of the city's best veteran and up-and-coming comics perform!
Be sure to check out more comedy shows happening in Brooklyn!
Catch Some Live Music
Another fun date idea in NYC is to check out the city's live music scene! Cozy up with some great music and even better ambiance at one of these venues.
Bill's Place in Harlem is a swinging jazz club that is BYOB and perfect for date night. Or, swing the night away at Minton's Playhouse in Harlem, a legendary jazz club!
For an exciting night out in Brooklyn, check out Brooklyn Bowl – a lively bowling alley that also hosts live music shows! For a more intimate live music experience in Brooklyn, you can visit LunAtico in Stuyvesant Heights.
A Night Under the Stars at the Planetarium
For a romantic date night spent under the dazzling of the stars, head to the West Side! The Hayden Planetarium, located in the American Museum of Natural History, is a fun and romantic date night idea. Spending date night at the planetarium is a great way to increase your astrophysical knowledge and connect with your beloved at the same time!
Walk the Brooklyn Bridge
Take your boo on a walk across the Brooklyn Bridge, for a fun date idea that will get your heart rate up! Stroll across the beautiful bridge, taking in views of both Manhattan and Brooklyn.
If you're walking from Brooklyn to Manhattan, you can finish off your bridge crossing by settling down for a drink at the Beekman Hotel, check out the World Trade Center, or grab some amazing noodles in Chinatown.
If you're starting in Manhattan and ending your stroll in DUMBO, gaze at the NYC skyline from the Brooklyn Bridge Park, grab a bite at the Time Out Market, or continue your walk along the Brooklyn Heights Promenade!
No matter what you decide to do on the other side, a walk across the Brooklyn Bridge makes for the perfect romantic date night at one of the most famous NYC bridges.
And if you love a good love story, brush up on the history of the Brooklyn Bridge before!
See the City By Water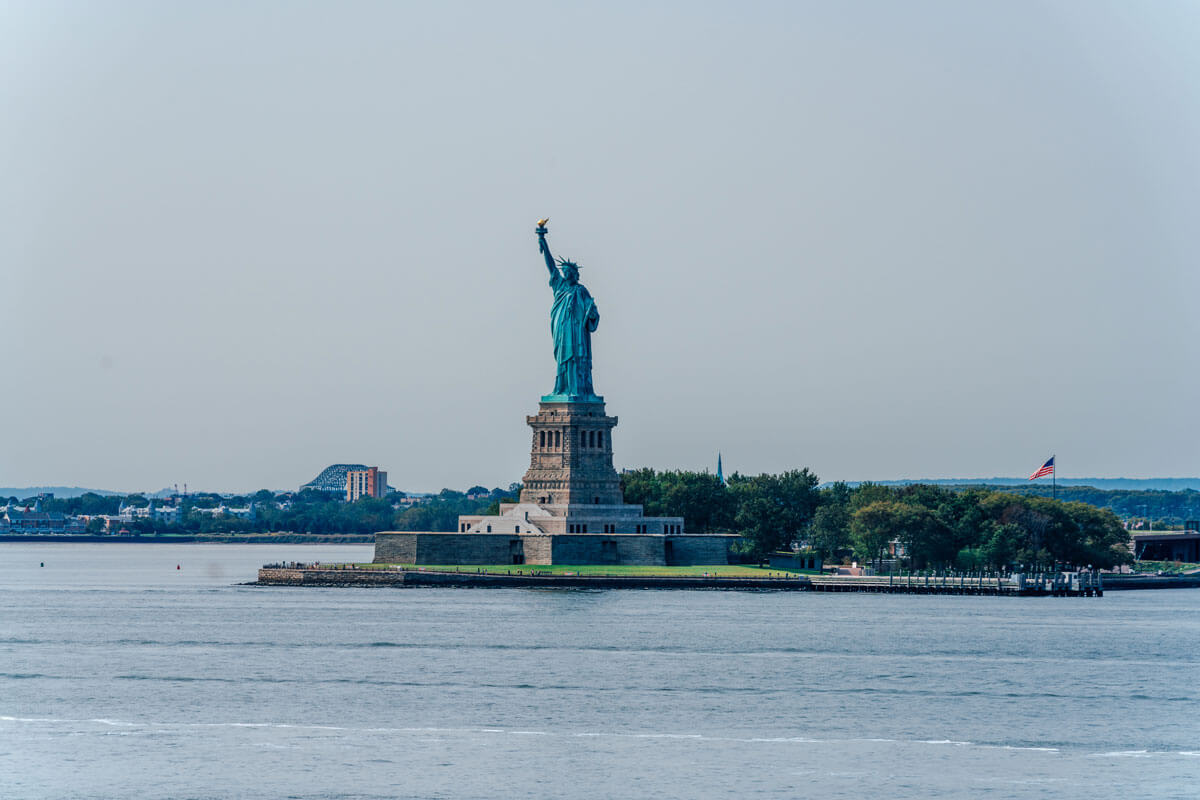 What could be a more romantic date idea in a city surrounded by water than to take a boat ride? For an equally fun and romantic NYC date, consider taking advantage of one of these opportunities to see the city by water!
There are lots of options for taking sunset cruises, themed rides complete with music, food, and drink, and after-dark voyages to see the glorious lights of the city. To see all of the options for a date night on the water, click here!
If you're looking for an inexpensive date idea, consider hitching a ride on the Staten Island Ferry! It's free to ride and offers amazing views of the Statue of Liberty and Manhattan. Plus, you can BYOB and enjoy a drink as you cruise!
Try some fun games!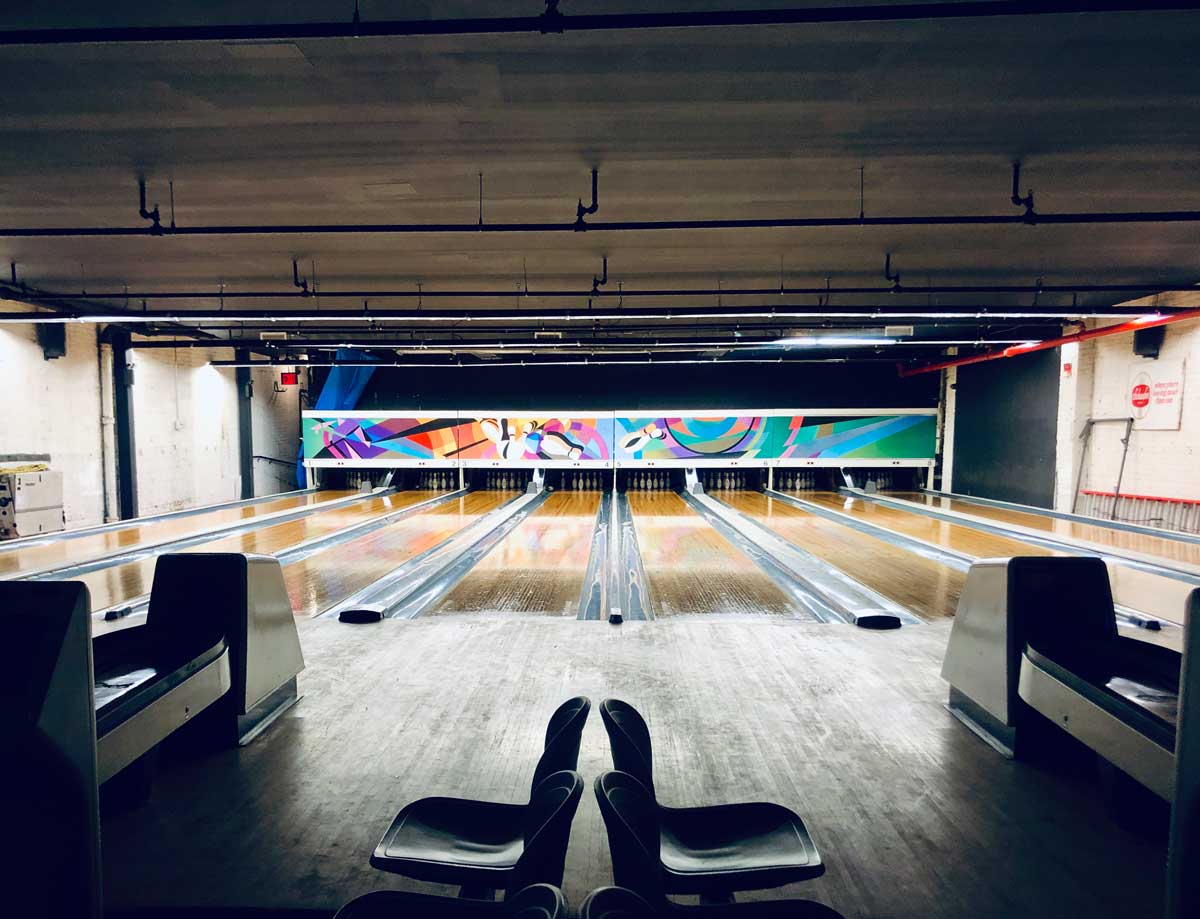 One of the most fun date ideas is to check out one of these exciting spots! A little friendly competition can make for an amazing and memorable date.
See if you can bowl a strike at Brooklyn Bowl & Gutter Bar! Play a few frames, grab a drink, and listen to live music at this fun Brooklyn locale.
For an exhilarating date night, try your hand at ax throwing! Kick Axe Throwing in Gowanus is a great place to plan a date and see what the ax throwing craze is all about!
Check out Barcade, with wall-to-wall vintage arcade games and a great selection of beers, this is a great place for a laid-back date! You can visit Barcade at either their Manhattan or Brooklyn locations.
If you're nostalgic for the thrill of mini-golf, bring your date to Shipwrecked mini-golf in Brooklyn. They offer mini-golf, arcade games, and mini escape rooms! In Manhattan, head to Pier 25 at Hudson River Park for 18 holes of mini-golf!
If you and your date are more serious about golf, visit one of Five Iron Golf's Manhattan locations to spend date night playing on one of their indoor golf simulators!
Relax Together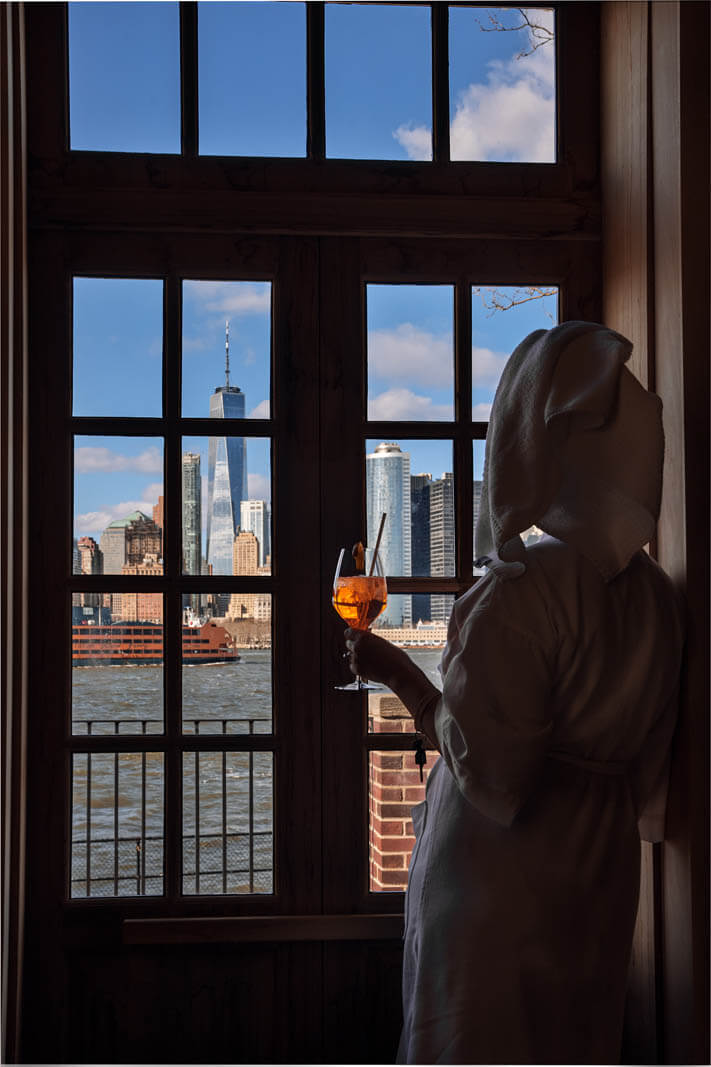 One of the most romantic things to do in NYC is to unwind with a day of pampering and relaxation. With so many spas and bathhouses to visit, there is bound to be the perfect spot for every couple!
Go to Governors Island to spend a day relaxing in the themed steam rooms and saunas at QCNY Spa. Take in the views of Lower Manhattan or soak away together in the outdoor pools overlooking the skyline!
Head down to TriBeCa and visit the AIRE Ancient Baths. This bathhouse offers baths of varying temperatures to transport couples to the ancient worlds of Roman, Greek, and Ottoman tradition.
For a luxurious spa experience, visit Premier57 in Midtown. This Korean spa offers many different packages and services, so there is surely something to soothe everyone.
CityWell in Brooklyn is a boutique bathhouse that brings natural healing elements and ancient bathing rituals to Gowanus for a truly lavish date!
For a traditional, relaxing experience, visit one of Brooklyn's Russian bathhouses at Brooklyn Banya, Mermaid Spa, or the Russian Bath of New York!
Coney Island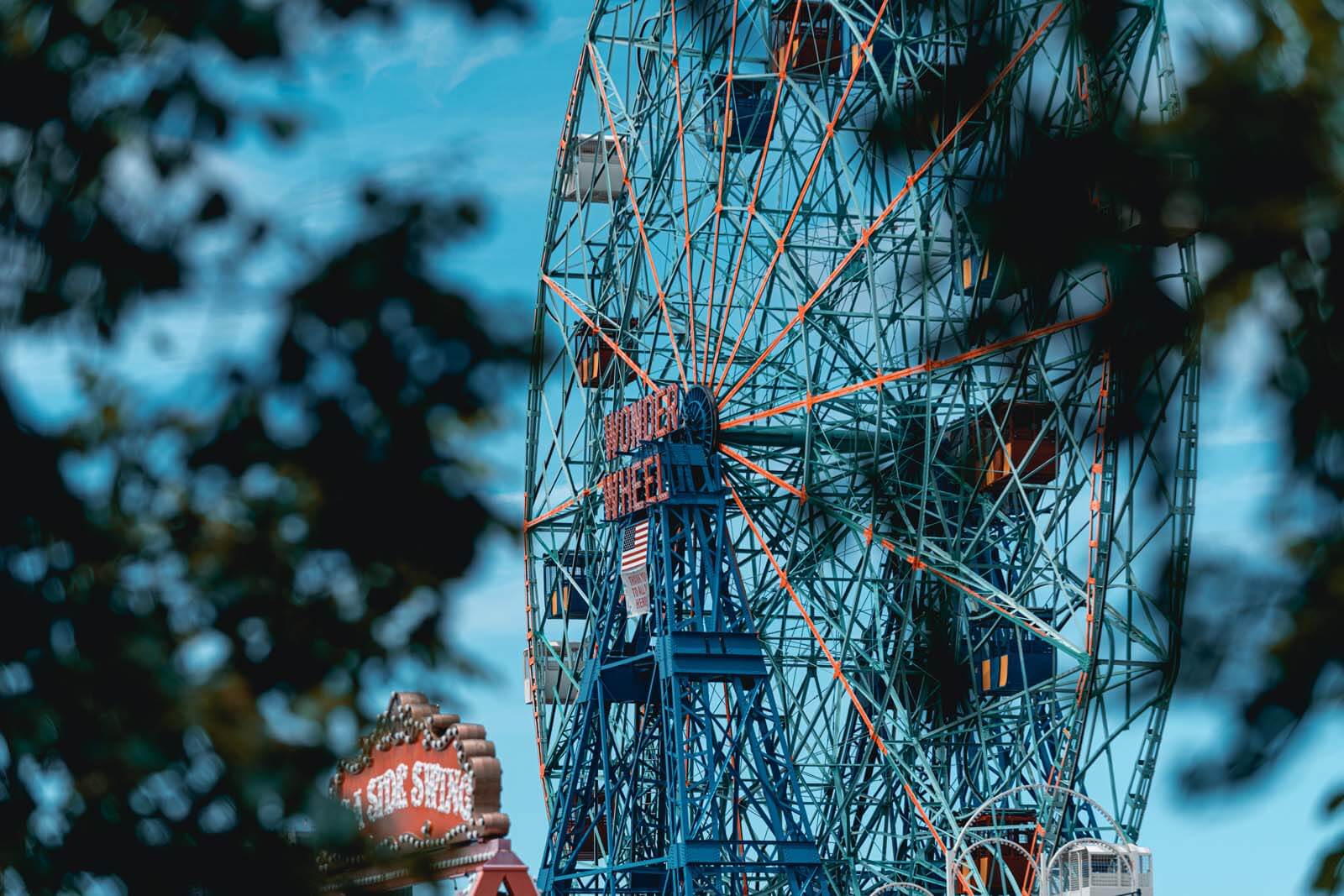 One of the best fun dates in NYC is easily the historic and famous Coney Island boardwalk and amusement park! From spring to fall you and your date can really enjoy one of the most nostalgic romantic date ideas in NYC for over a century!
Be sure to take a scenic stroll down the boardwalk, spend some time on the beach, get some candy from William's Candy, and of course grab an intimate car for two on the iconic Wonder Wheel and other amusement rides!
If you're looking for more activities and things to do in Coney Island you can also check out the New York Aquarium together here, the oldest continuously operating aquarium in the United States!
Ice Skating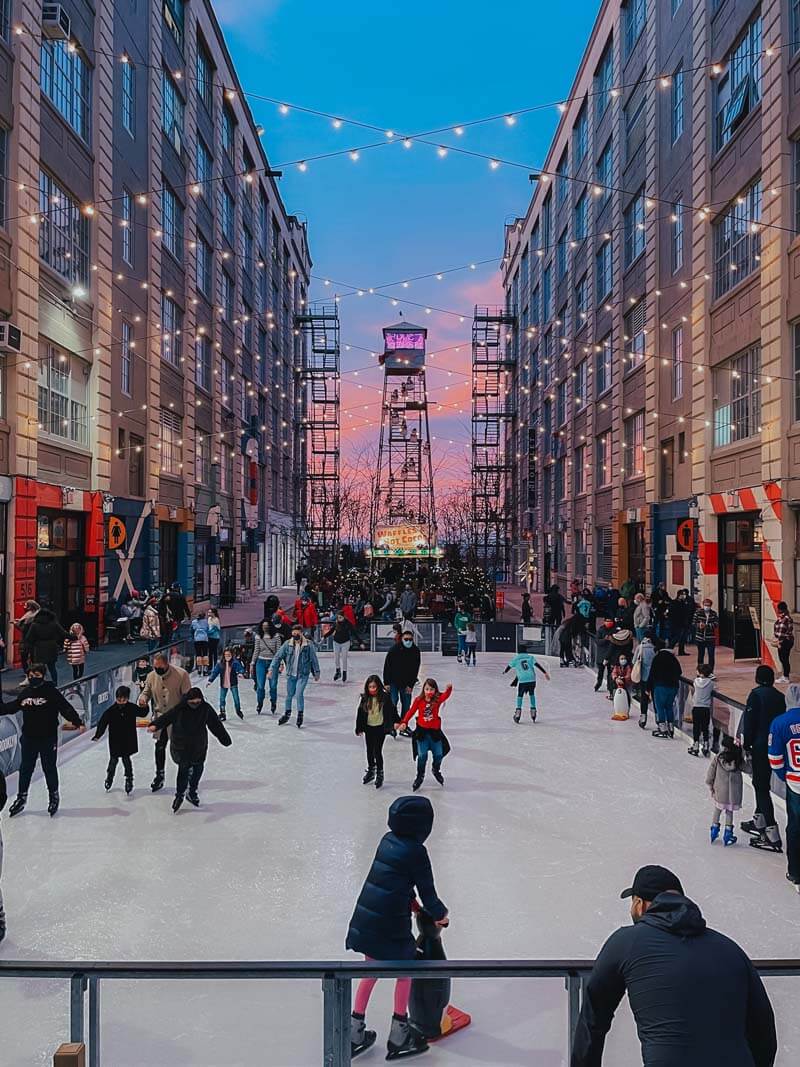 Are you looking for some wintery romantic things to do in New York? Don't miss ice skating in the city during the winter season which makes for one of the greatest romantic date ideas in NYC!
There are famous ice skating rinks like the one at Rockefeller Plaza in Midtown that oozes romance as there's usually at least a few romantic marriage proposals a night here!
There are other amazing ice skating rinks like at Bryant Park in their Winter Village as well as Central Park.
Moving over to Brooklyn there's no shortage of ice skating either! You have ice skating in Prospect Park, Industry City, and even atop a skyscraper to name a few of the best ice skating in Brooklyn!
And for more fun ideas, check out our guide to winter in Brooklyn! Just because it's cold out doesn't mean there aren't many amazing fun date ideas in NYC!
Hit Up a Secret Bar
A fun date idea for NYC is to check out any of the best speakeasies in NYC or best 'hidden' bars available in the city for not only a unique experience but for an elevated drinking experience together!
Most speakeasy or hidden bars have stellar drink options and a cozy, intimate setting to sit back and relax together in not to mention that some are even an adventure to figure out how to get into!
Check out Please Don't Tell or Patent Pending for speakeasies that have a 'fun' entrance!
---
Don't skimp on your romantic time in the city with your room either! Check out our full guide to the best hotels in NYC with a view from your bed or your own personal bath! How romantic is that?
---
Enjoyed this guide to some of the most romantic date night ideas in NYC and romantic things to do in New York? Bookmark for later or share the love below on Pinterest! Did we miss one of your favorite fun date ideas in NYC? Let us know in the comments below!