Looking for romantic winter date ideas in NYC? We've got you covered. Don't let the cooler temps in the winter months keep you from planning an exciting and romantic date!
After all, the winter is one of the most romantic seasons of the year with Valentine's Day in February (see our guide to our local gifting guide for Valentine's Day) and the perfect time of year to cozy up with one another.
So whether you're looking for some of the most romantic things to do in NYC from wine tasting, personalized experiences together, or a unique activity to do together, we have put together this guide for NYC winter date ideas to help give you the little inspiration you need to do something special this winter season!
Date Ideas in NYC During Winter
1. Spend the Day at Governor's Island
Now open to visitors year-round, Governor's Island is a great place to go if you're in need of winter date ideas in NYC!
There are tons of incredible things to do at Governors Island year-round but what makes this even more special is that they just opened the island to visitors during the winter, previously visitors could only come between the months of May through October.
When there's a fresh dusting of snow you can enjoy the beauty of this historic island and former military base and its activities including some of the best views of the Statue of Liberty and sweeping views of the Lower Manhattan skyline including the World Trade Center.
And we also can't forget about the Governor's Island Winter Village, a fun ice skating rink that's open Friday through Sunday and makes for a great activity for any couple to enjoy!
And if there's snow don't forget your sled! There are great sledding hills with skyline views here!
2. Go Ice Skating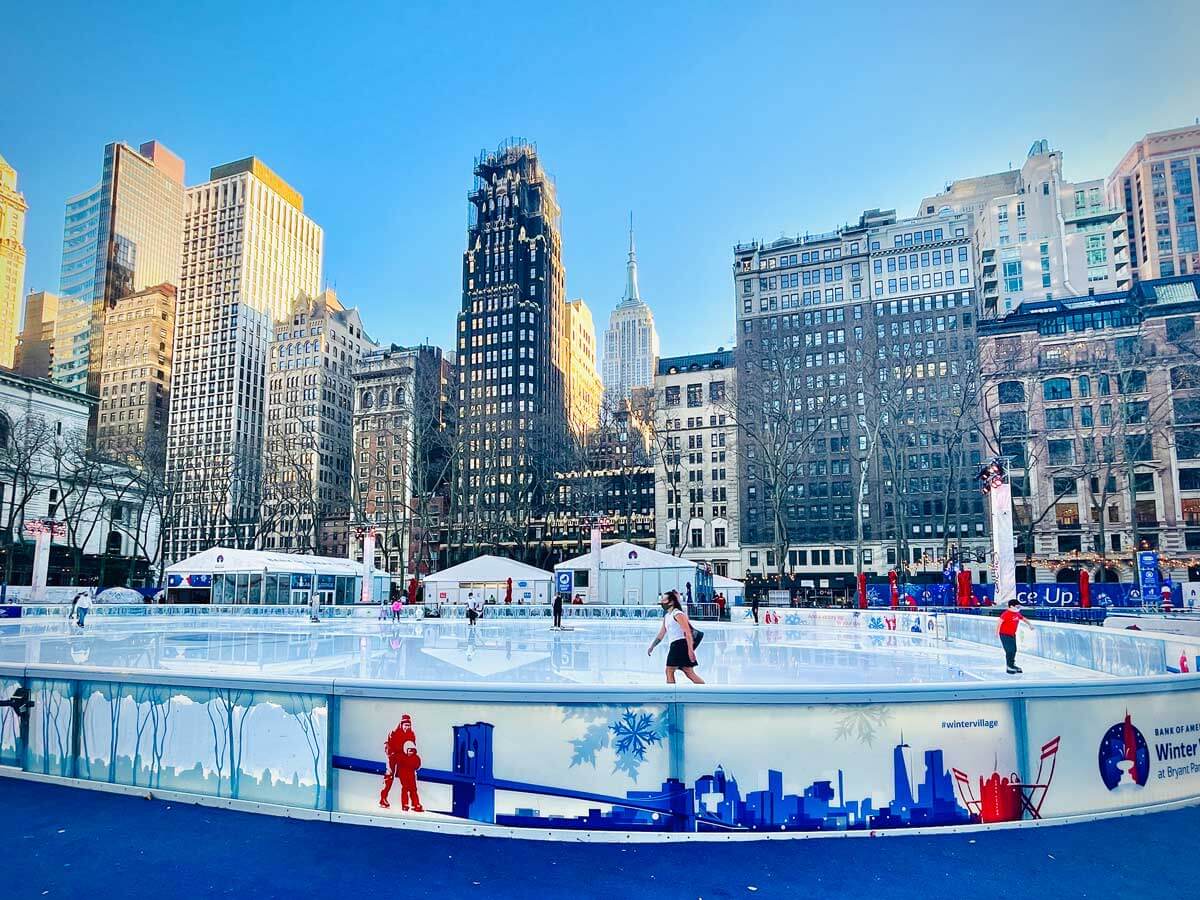 Speaking of ice skating, there are plenty of other rinks worth a visit to those couples looking for NYC winter date ideas!
A few of the most popular ice skating rinks in NYC are The Rink at Rockefeller Plaza known for having many famous movie scenes filmed at (including being a filming location for Elf, one of the best holiday movies of all time) and The Rink at Bryant Park which stands as the only rink in the city that's free admission.
Some other great rinks include Wollman Rink and Lasker Rink both located in Central Park, The Sky Rink at Chelsea Piers (which is open all year round), as well as ice skating at Prospect Park at the LeFrak Center at Lakeside.
And if you're wanting to escape the tourists and crowds, check out the best ice skating rinks in Brooklyn!
3. Go on a Speakeasy Date
If you're tired of the cold and are looking for date ideas in NYC during the winter where you can warm up, there's nothing better than finding a nice speakeasy or hidden bar where you can enjoy a toasty romantic evening with your partner.
For something more chill and laid back you can go to Fig. 19 (131 Chrystie Street) and check out their amazing cocktail selection. For intimate atmosphere, it gets no better than Lower East Side's Attaboy (134 Eldridge Street). And if those two don't do it for you, Angel's Share (8 Stuyvesant St) has some of the best Japanese cocktails around.
For more hidden gems that you and your lover can explore, be sure to check out more speakeasies and hidden bars in NYC.
4. Have Dinner & A Movie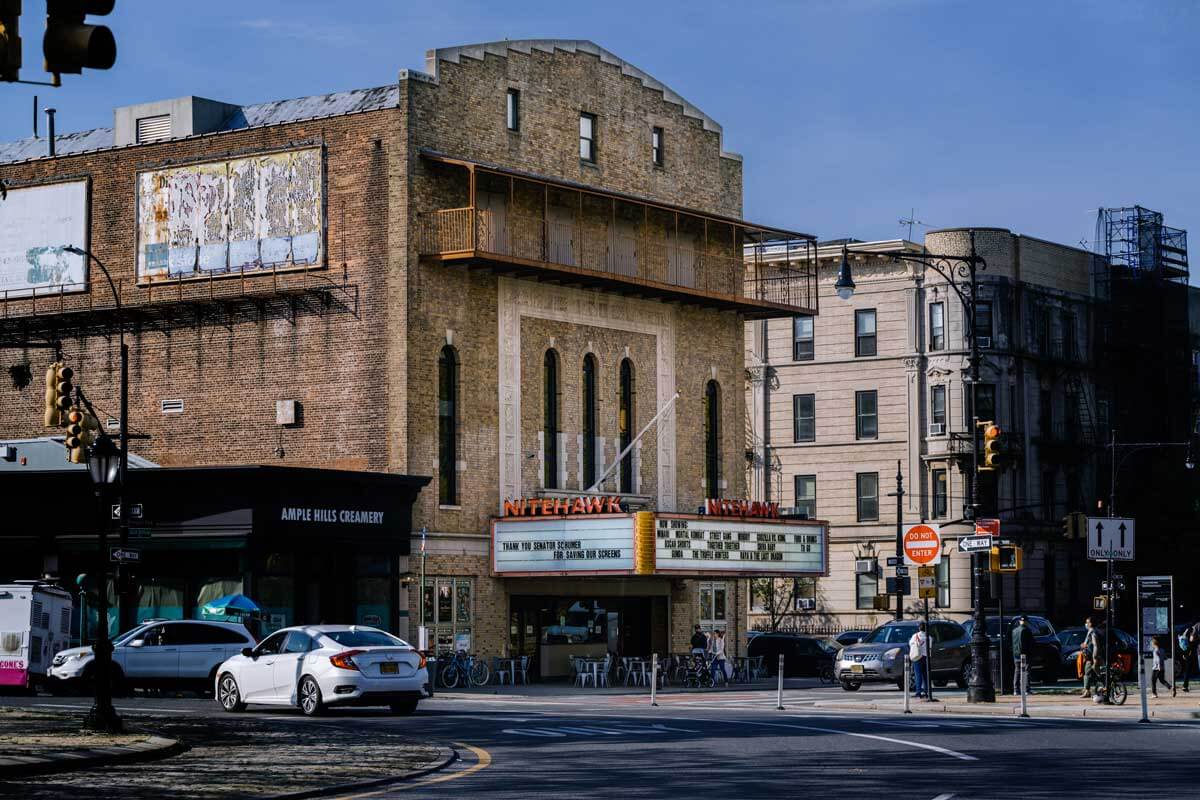 While dinner and a movie seem like a very simple premise for NYC winter date ideas, that doesn't mean it should be dismissed. With the great plethora of dine-in movie theaters in the city—we now have the easy option to do two things we love at the same time – eat and enjoy cinema.
We are a little biased, we think Brooklyn has the best movie theaters for a winter date idea in NYC, here are a few of our suggestions below.
Nitehawk Cinema (locations Williamsburg and Prospect Park) is a relatively small theater but the drinks, food, and ambiance are very date friendly.
Alamo Draft House (445 Albee Square W 4th floor) located in downtown Brooklyn, is a favorite for many New Yorkers for their great food, friendly staff, and their famous wax museum.
A couple more theaters worth your time would include Cobble Hill Cinemas (265 Court St) which is known for showcasing more indie and foreign films in an old-school movie theater that will bring flashbacks from your childhood and Bushwick's Syndicated Bar Theater Kitchen (40 Bogart St) another contender for best food served in a movie theater that's more of an intimate and unique experience.
Speaking of indie flicks, another great theater to check out in Greenwich Village is the IFC Center (323 6th Ave) arthouse film house.
Another great option that's a little more intimate, if you have a car, is Skyline Drive in NYC (1 Oak St) which makes for a very fun (and romantic) experience thanks to its beautiful view of the city skyline from across the East River in Greenpoint all from the comfort and warmth of your car.
5. Go to the Aquarium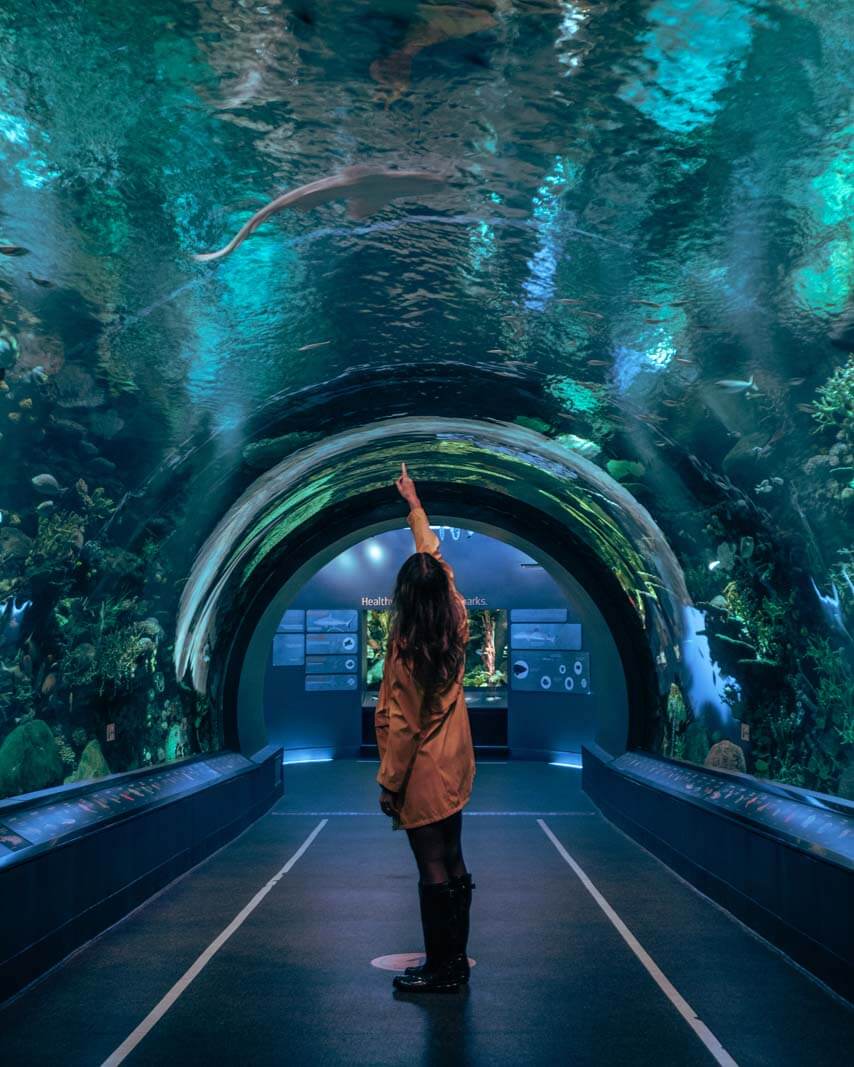 Another fun winter date idea in NYC is taking a trip to Coney Island in winter to enjoy the off-season activities without the summer crowds including the New York Aquarium, which is open year-round and a really great aquarium to check out!
The aquarium made headlines over Valentine's Day before because actor Michael B. Jordan surprised his girlfriend Lori Harvey by privately renting out the aquarium for an intimate dinner. While not everyone can do this, visiting the aquarium during normal visitor hours is still a really fun date idea in NYC during winter!
The New York Aquarium is the oldest consecutively operating aquarium in the United States, and one of the many historic landmarks at Coney Island.
The most popular exhibit here is the Ocean Wonders: Sharks! tank that gets visitors inches away from just under 20 different species of sharks. There are MANY more things to see here. Afterward, you can grab candy from Williams Candy Shop or a classic hot dog from Nathan's and a winter stroll along the historic boardwalk.
6. Check out a Museum
Another underrated gem among NYC winter date ideas is exploring culture and history by visiting one of the city's many museums. It's the perfect activity on a cold day or evening, especially since all of the NYC museums and cultural institutions always have something going on like special exhibits or events happening.
Brooklyn alone has plenty to offer museum enthusiasts and couples in search of some winter date ideas in NYC. Brooklyn Museum (200 Eastern Pkwy) is famous for its well-done temporary exhibits alongside its permanent collection.
Besides the Brooklyn Museum, there are several other museums in Brooklyn to check out as well as some great art galleries in Brooklyn to check out too!
If you're looking for museums in Manhattan, Tenement Museum (103 Orchard St) allows you to explore immigrant history through one of the country's most famous immigrant neighborhoods.
If you're looking for more art vs. history, check out the Museum of Modern Art (MOMA 11 W 53rd St). This museum and cultural institution has been going strong for almost a century and stands as one of the most influential museums to ever hit the modern art world!
If the chill in the air invigorates you, or if the city is covered in a glistening layering fresh snow, visit the Met Cloisters in Washington Heights. The beautiful Medieval art and architecture of the Cloisters are the perfect backdrop for a slow, winter day. Plus if you visit the Metropolitan Museum of Art, your admission is already included to visit the Met Cloisters!
7. Winter Igloo Dining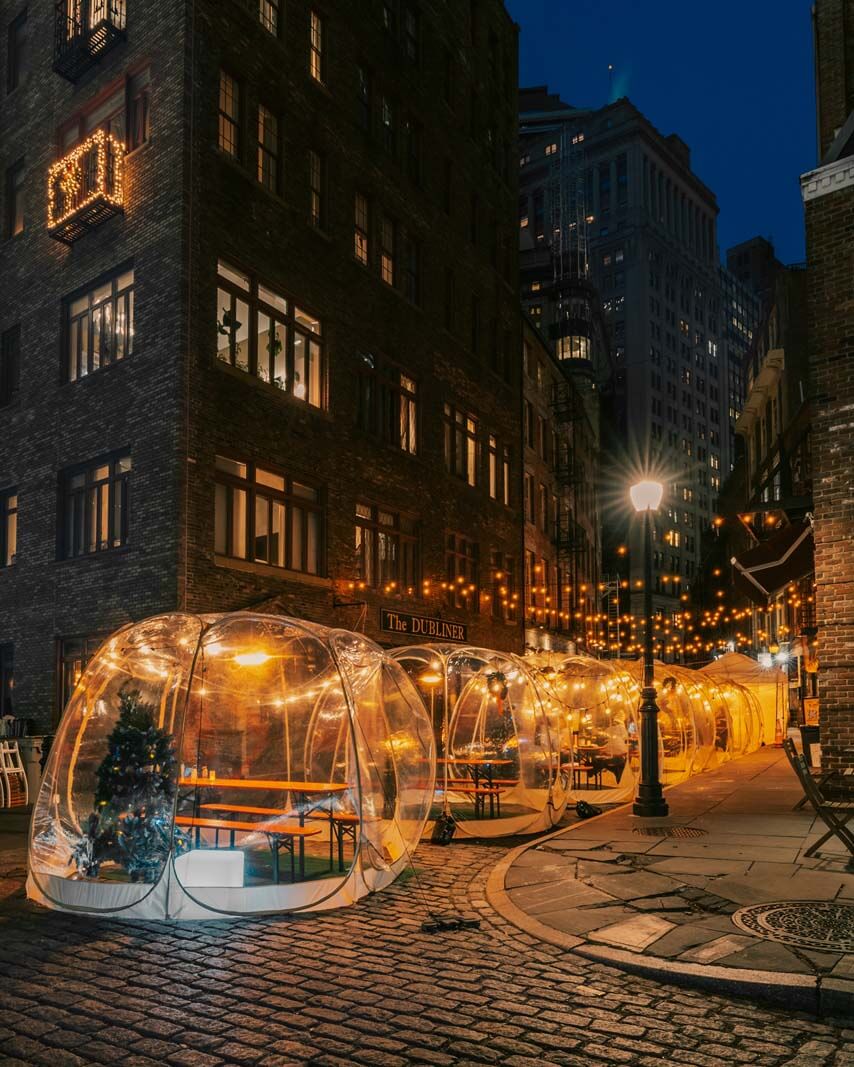 Finding good date ideas in NYC during the winter can be a pain if you're addicted to the outdoors, but hate the cold. But that's where igloo dining comes in!
230 Fifth (230 Fifth Ave) features some of the best rooftop restaurants in NYC while The Greens, located at The Rooftop of Pier 17 (89 South St), gives lucky couples a warm and cozy view of the skyline. Both of these options require a reservation and a fee.
Another fun option located on one of the oldest streets in the city is Route 66 Smokehouse (46 Stone Street) for some beautiful ground-level winter igloos for you and your partner to enjoy!
8. See a Comedy Show
Looking for something to do to make you laugh? No NYC winter date ideas list would be complete without comedy shows. New York City is pretty much the capital of stand-up comedy (with L.A. being the only real competition).
Why not take advantage of it by taking your date (or significant other) out to see some New York-style comedy?
The Comedy Cellar (117 MacDougal St) is one of the most popular and widely known comedy clubs in America and it is known for having world-famous comedians doing surprise drop-ins at this New York comedy institution.
If you're looking for more up and coming talents and rising stars of the comedy community look no further than The Tiny Cupboard (10 Cooper St) which is located right in Bushwick, which is also known for its stellar nightlife.
If you're looking for lesser-known places to catch a comedy show in the city, check out the best comedy shows in Brooklyn which are all great winter date ideas in NYC including comedy shows with free ice cream at Ample Hills. It doesn't get much sweeter than that!
9. Listen to Some Live Jazz Music
When it comes to winter date ideas in NYC, there's something really romantic about seeing live music. And when it comes to experiencing live music, no genre sets the mood quite like jazz. And New York City is pretty well-known for its jazz scene.
Legendary jazz clubs like Bill's Place (148 W 133rd St) gives off a very speakeasy vibe and feature some of the best jazz performances in the city. Bill's also allows you to bring your own drinks as an added bonus.
Another Harlem favorite would have to be Minton's Playhouse (206 W 118th St) a historical club whose food is equally as good as its music!
And if Harlem is a little too far north for you and the rest of your date activities, Greenwich Village has Blue Note Jazz Club (131 W 3rd St)—a tighter and more intimate space, but no less legendary!
10. Wine Tasting
Another direction to go as far finding date ideas in NYC during the winter, that's sure to shake things up, is wine tasting.
One exceptional spot for wine tasting is Red Hook Winery (175 Van Dyke Street Pier 41). Their selection will have you bringing plenty of bottles back home with you and the great vibe and atmosphere makes you feel like you're in wine country for a moment, but with a view of the Statue of Liberty and New York Harbor.
Plus you can go grab some Steve's Authentic Key Lime Pie after to bring back home with you for dessert!
Believe it or not, there are more wineries in the city, but some are seasonal. Check out some of the best wine bars in Brooklyn too which have a great ambiance and are a great winter date idea in NYC.
Check out King Mother (1205 Cortelyou Rd) which has delicious wine and great food to match and take a romantic stroll around the gorgeous homes of Victorian Flatbush after you're all warmed up.
Woodhul Wine Bar (644 Driggs Ave) is not only another intimate winter date spot but alongside their wine list they also offer a stand-out whiskey list.
Tambour (652 5th Ave) in Park Slope also has an intimate setting that serves as the perfect backdrop for a romantic night out as they often have blues or jazz live music performances at their wine bar and bistro making it a great spot for dinner, drinks, and a show.
11. See the City from Above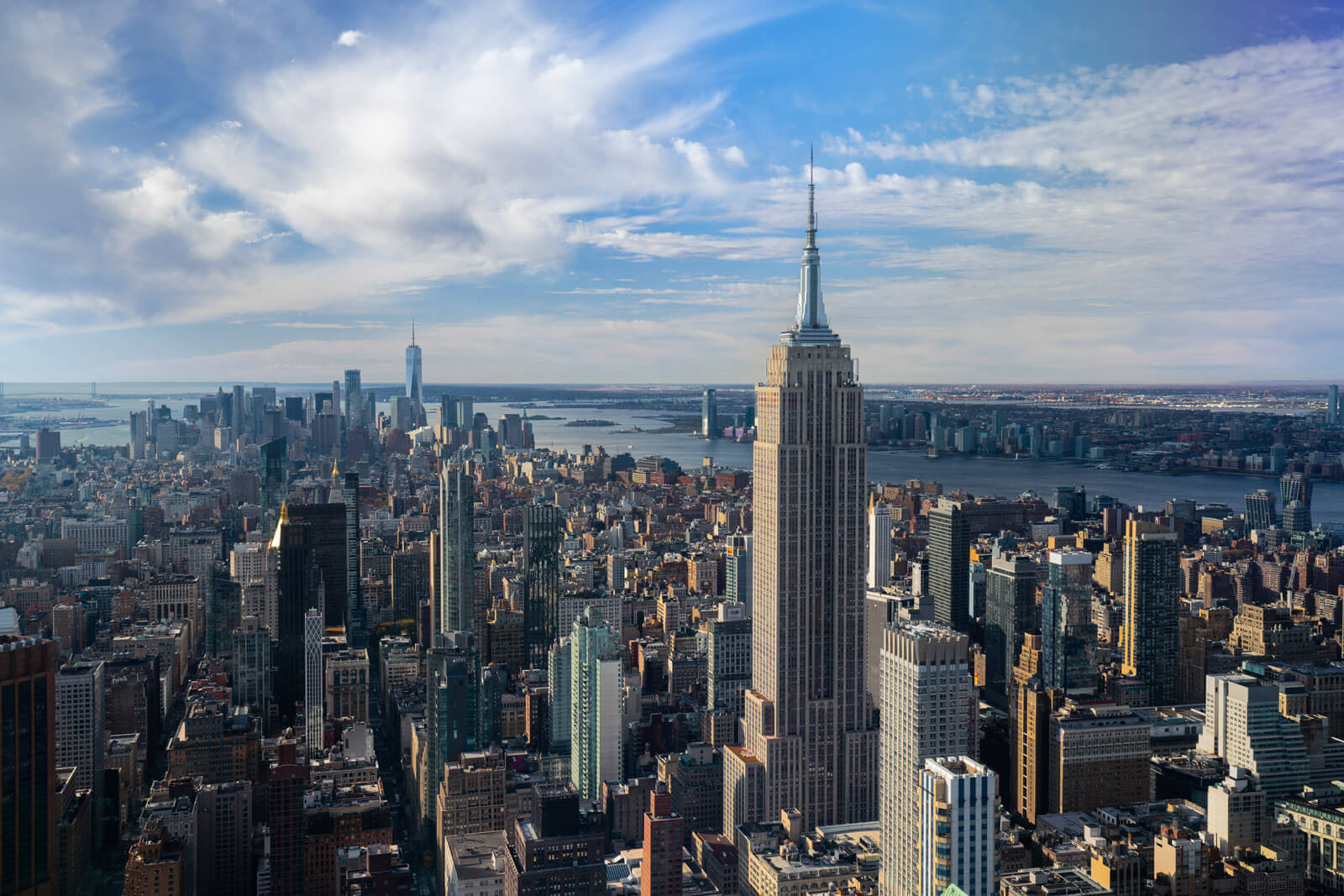 If you're looking for a date that will give you the razzle and dazzle of the city from above, check out some options that include visiting some of the best observation decks in NYC or an intimate helicopter ride above the city (be sure to see our picks for best helicopter tours above NYC where we breakdown the pros and cons of each plus helpful information to help you choose which one is best for you!)
While you might think that the observation decks might be a bit touristy they do offer excellent views and are much less crowded during the winter months which gives you a chance for the views everyone loves without the crowds which is why this is one of our top date ideas in NYC during the winter.
One World Observatory (117 West St), located on floors 100-102 of One World Trade Center, offers visitors a 360-degree view of the city, a restaurant called ONE Dine (highly recommended and you'll need a reservation) at the top of the world – or NYC that is. Not to mention, the elevator ride to the top is also an experience.
With the One World Trade Center being the tallest building in the city and the only observation in Lower Manhattan you can expect great views of the Statue of Liberty and New York Harbor below, views of Brooklyn, and it's quite cool to see the other skyscrapers that make the NYC skyline so special from this vantage point.
If you're looking more for a scenic walk, head over to the High Line Observation Deck (456 High Line) and walk along the elevated park located on the former railway. You can stop at Chelsea Market in Chelsea or Mercado Little Spain at Hudson Yards for a bite to eat or a drink along the way.
And if you're feeling like you want to get higher, head up to The Edge (30 Hudson Yards) at Hudson Yards for an unforgettable view from the sky deck that overlooks the city!
And if you and your significant other are feeling really adventurous and looking for an unbelievable birds-eye view of the city, consider a helicopter tour.
There are a few options like this 30-minute helicopter tour for small groups or this private 30-45 minute two-person helicopter ride over the city.
12. Go on a Scavenger Hunt
Scavenger hunts are one of the most unique NYC winter date ideas because there's something about riddles, mysteries, and problem-solving that helps bond people together. And better yet, you can even DIY one to personalize it for your S.O.
Or if you're not into coming up with ideas on your own or need a little inspiration before doing so, try a scavenger hunt experience! New York City: Central Park Scavenger Hunt gives you hints and clues to uncover secrets of Central Park all on your smartphone.
Or if you do want to take a try at it yourself, create your own scavenger hunt using our guide to hidden gems in Central Park for a few interesting landmarks you can give clues to, and if you prep ahead of time you can even hide a few notes along the way for a fun surprise!
Another option would to go geocaching too! There are sites all around New York City and it's always a fun way to put your minds together to try and find the caches near you!
13. Check Out Unique Entertainment Options NYC Has To Offer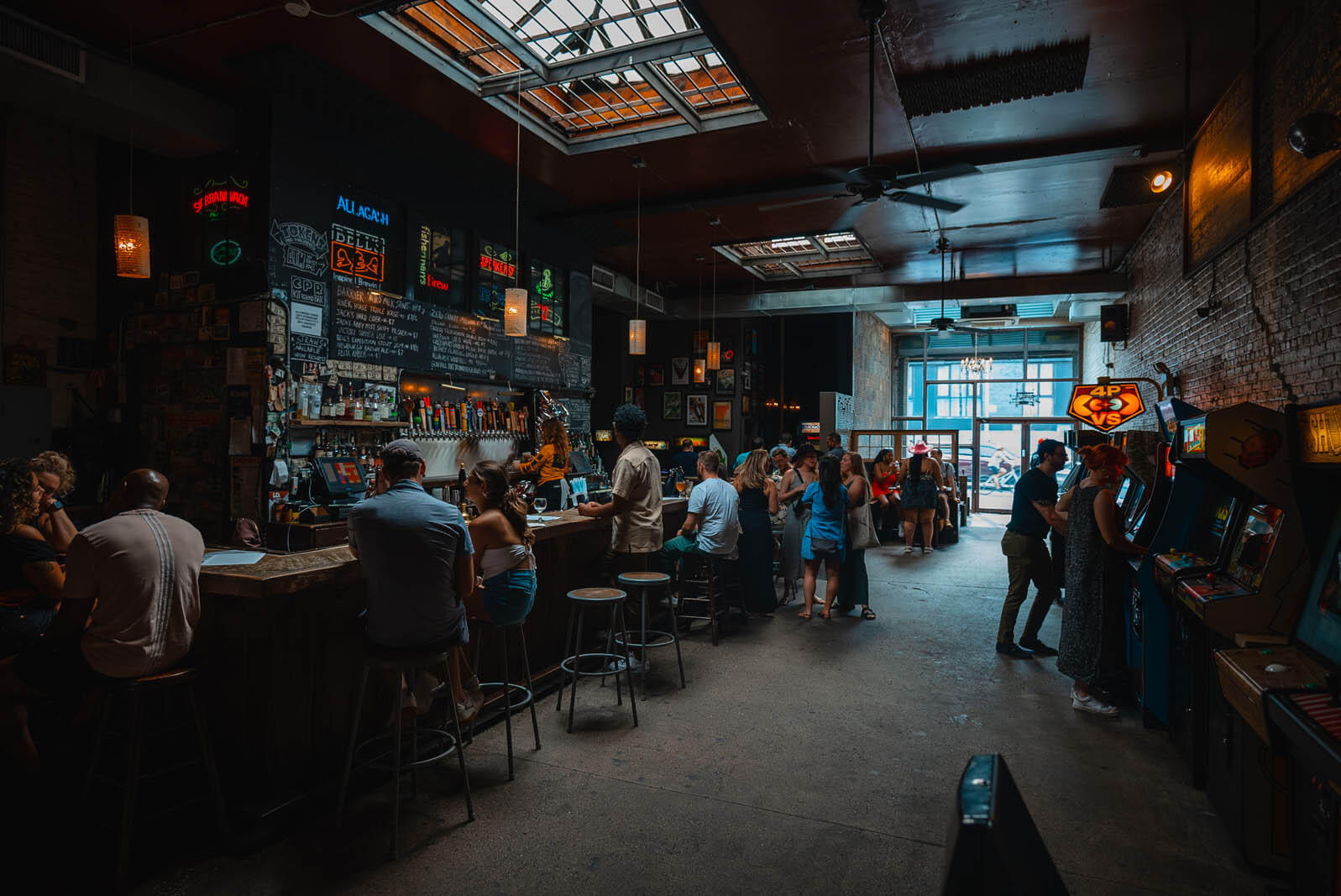 While working together can definitely be fun, a little friendly competition can be even more so! And there are plenty of spots in the city where you and your partner can play against each other in a variety of different games.
Barcade, located in both Chelsea (148 W 24th St) and Williamsburg (388 Union Ave) offers visitors a nice combination of good drinks and fun arcade games that is sure to create a memorable time.
Full Circle Bar (318 Grand St), a skeeball bar in Williamsburg that has a laid-back bar with an uncommonly affordable drink and is a perfect spot to make fond memories plus unlimited skeeball!
Bowling alleys are another great example of underrated winter date ideas in NYC and Brooklyn Bowl (61 Wythe Ave) and the Gutter Bar (three locations in Williamsburg, Lower East Side, and Long Island City), which serves as both a bowling alley and a live music venue, are great options a little more elevated than your hometown bowling alley. Nowhere else are you able to bowl, grab a drink, and then proceed to hit the dance floor soon after.
If you've never been ax throwing, you're definitely missing out. Live Axe (96 Lafayette St), in Lower Manhattan, is an excellent place for you and your date to grab some appetizers and learn how to throw axes.
Also, Kick Axe (622 Degraw St) in Gowanus is an especially perfect winter date idea in NYC thanks to its chill laid back vibe.
14. Spa Day
If you're looking for date ideas in NYC during the winter that involves relaxing and getting off your feet, going to a spa or retreat for a day is the way to go! There are many incredible spas in NYC ranging from relaxing day spas to world-class massages and treatments at some of the most luxurious wellness facilities in the city.
SoHo's Aire Ancient Baths (88 Franklin St) is an immersive spa that makes it feel as if you're leaving New York and entering a new dimension altogether with its ambient atmosphere, calming pool and bathes, and phenomenal body massages.
CityWell (496 President St) is another Brooklyn gem that continues to blow customers away with their consistent hospitality as well as having what many believe to be the best massages in the city!
If you're looking for a nice detox this winter, William Vale Winter Spa (111 N. 12th Street, 4th Floor) is the experience for you. Their sauna and hot tubs will have you feeling recharged and good as new!
15. Go Sledding Together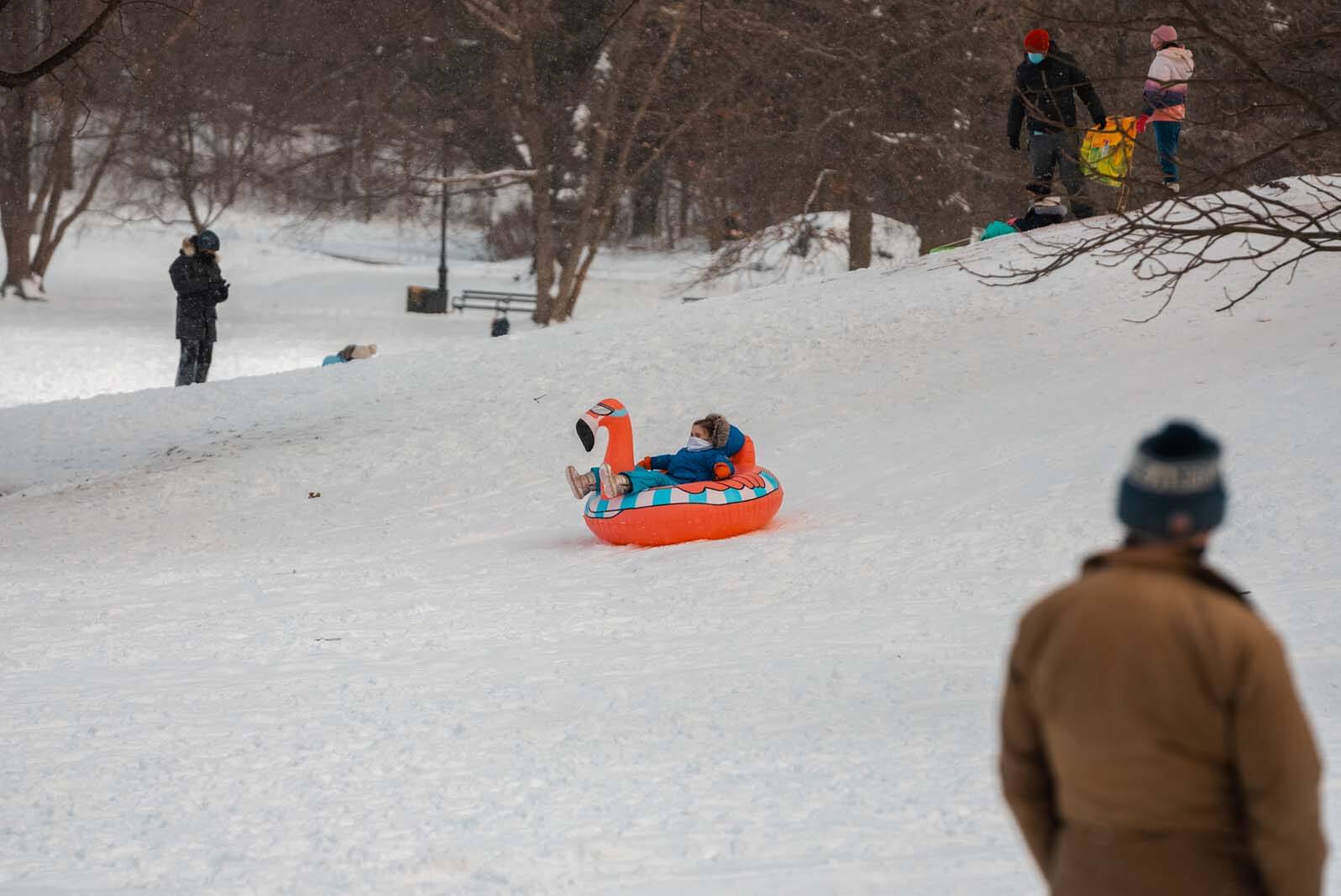 Although snow can be an inconvenience to some, to couples it can be a total blessing. What better way to bond with your significant other than by grabbing a couple of sleds and heading to your local NYC hill?
It's fun. It's engaging. And most importantly—it's not going to break the bank. And the great thing about living in NYC is that there's not only plenty of snow, but plenty of hills to go sledding on as well.
Central Park's Pilgrim Hill is one the most popular choices among New Yorkers, but there are also hills at Prospect Park (there's one located at the entrance of 9th St and Prospect Park West), Sunset Park (located between 42nd and 43rd St), Fort Greene Park, and Tear Drop Park (located at Warren St in Battery Park City).
Basically, New Yorkers get creative when it comes to snowplay in the city. Even the hill on the overpass in DUMBO attracts snow enthusiasts for a little winter play!
This is arguably one of the easiest of NYC winter date ideas. Afterward plan to warm up together by stopping by a bar, enjoy some winter dining, or use it as the perfect excuse to go cozy up somewhere else when you need a break from the cold!
---
About the Author
Eric Garner is a Brooklyn-based writer who was raised down south who loves talking about film, TV, hip-hop, and fashion.
Have any other NYC winter date ideas? Let us know in the comments below!
And if you're looking for more ideas for how to spend the winter season in the city check out our guides to things to do during winter in Brooklyn and things to do during winter in NYC for more ideas.