Looking for the best rooftop bars in Brooklyn? We've got you covered in this guide to the best rooftops in Brooklyn for dining and drinking with incredible views to catch a sunset with the NYC skyline, your next romantic date night at an intimate bistro with a garden rooftop, or the best party rooftops with live music sets!
The best part about Brooklyn rooftop bars and rooftop restaurants in Brooklyn is that across from the East River are some of the best views of the skyline, not to mention there are also vantage points of the Statue of Liberty, the Brooklyn Bridge, the Manhattan Bridge, and Williamsburg Bridge depending on where you're at in the borough.
Our guide to the best rooftop restaurants in Brooklyn breaks down what each rooftop is known for plus what kind of view or atmosphere you'll get at each!
Not coming in the warm, sunny months? No worries, a few of these rooftop restaurants in Brooklyn have winter options with views too! Be sure to also check out the best rooftop bars in NYC and the most fun bars in Brooklyn for more ideas.
Note: some are only open seasonally and require reservations, be sure to check ahead of your visit!
Rooftop Restaurants in Brooklyn with Views
Westlight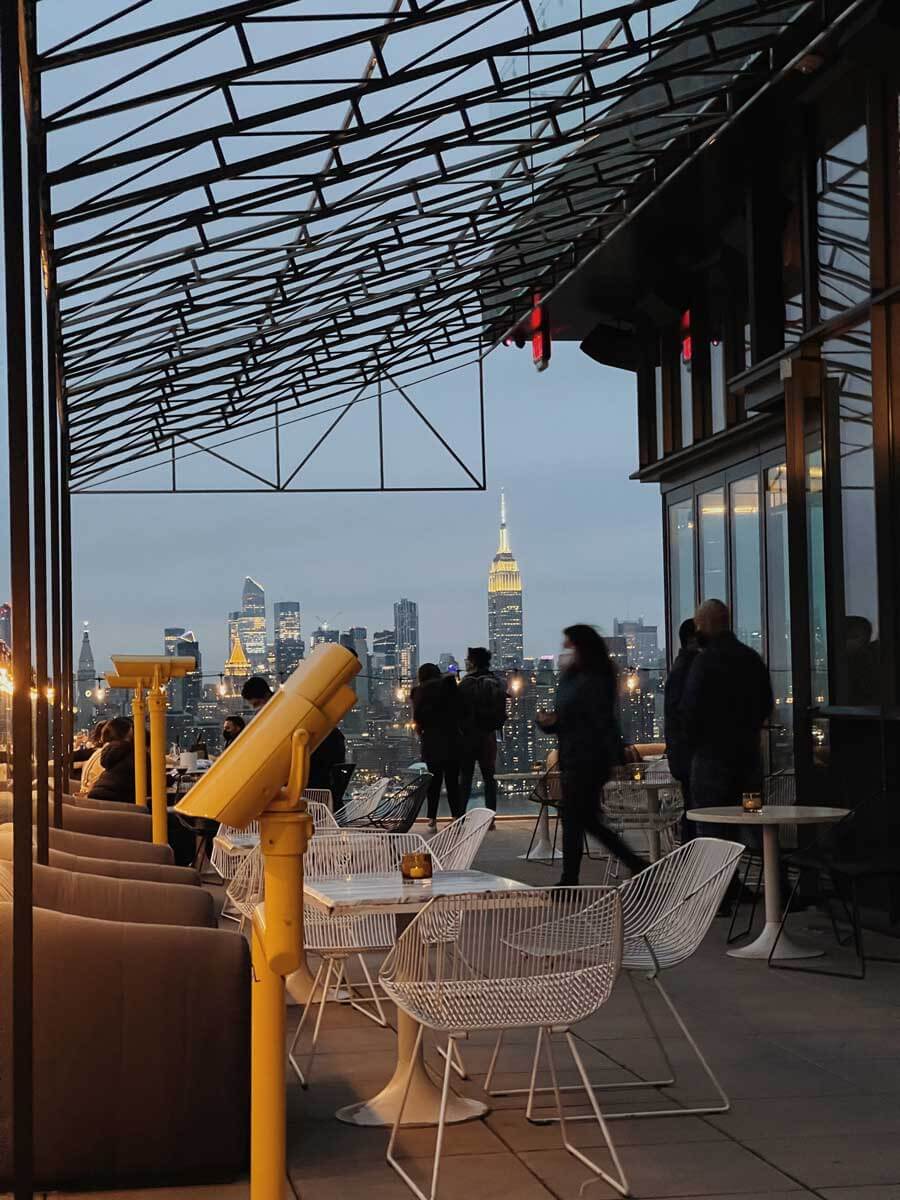 111 N 12th St, Williamsburg
This is a popular Brooklyn rooftop bar and one of the best rooftop views in the city. Westlight provides a stunning view of the Manhattan city skyline over the East River as well as views of Brooklyn.
Located on the 22nd floor of the sophisticated William Vale hotel you can find this luxe cocktail bar with bar snacks and pairing menus all while offering sweeping 360 views of the city.
The Westlight was also listed on the "Best Winter Rooftop Bars in NYC" and "10 Best Outdoor Bars in NYC for Summer Drinking." Westlight was also selected as one of our picks for best bars in Williamsburg too.
What's awesome about this spot is that in the winter you can still enjoy the view because there is an indoor area on the 22nd floor as well with skyline views, making it one of our favorite things to do in Williamsburg.
We recommend grabbing a few of their tapas paired with wine from their extensive list, cocktails, or draft beer.
Just be prepared for lines for the elevator, then expect another line. This is a popular rooftop and a Brooklyn bucket list item, what can we say! It's best to get a reservation if you want to guarantee a spot at this swanky rooftop restaurant in Brooklyn.
El Nico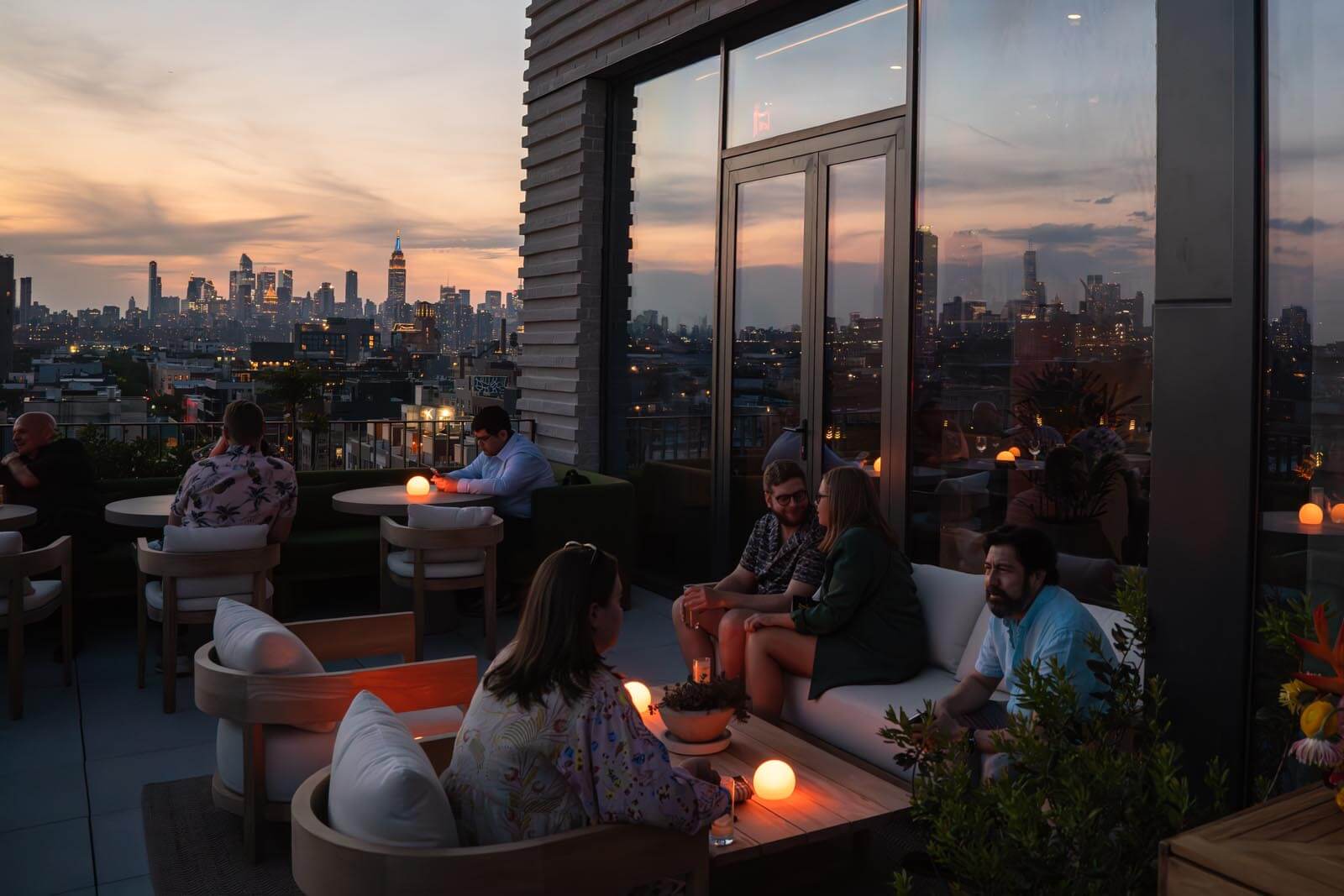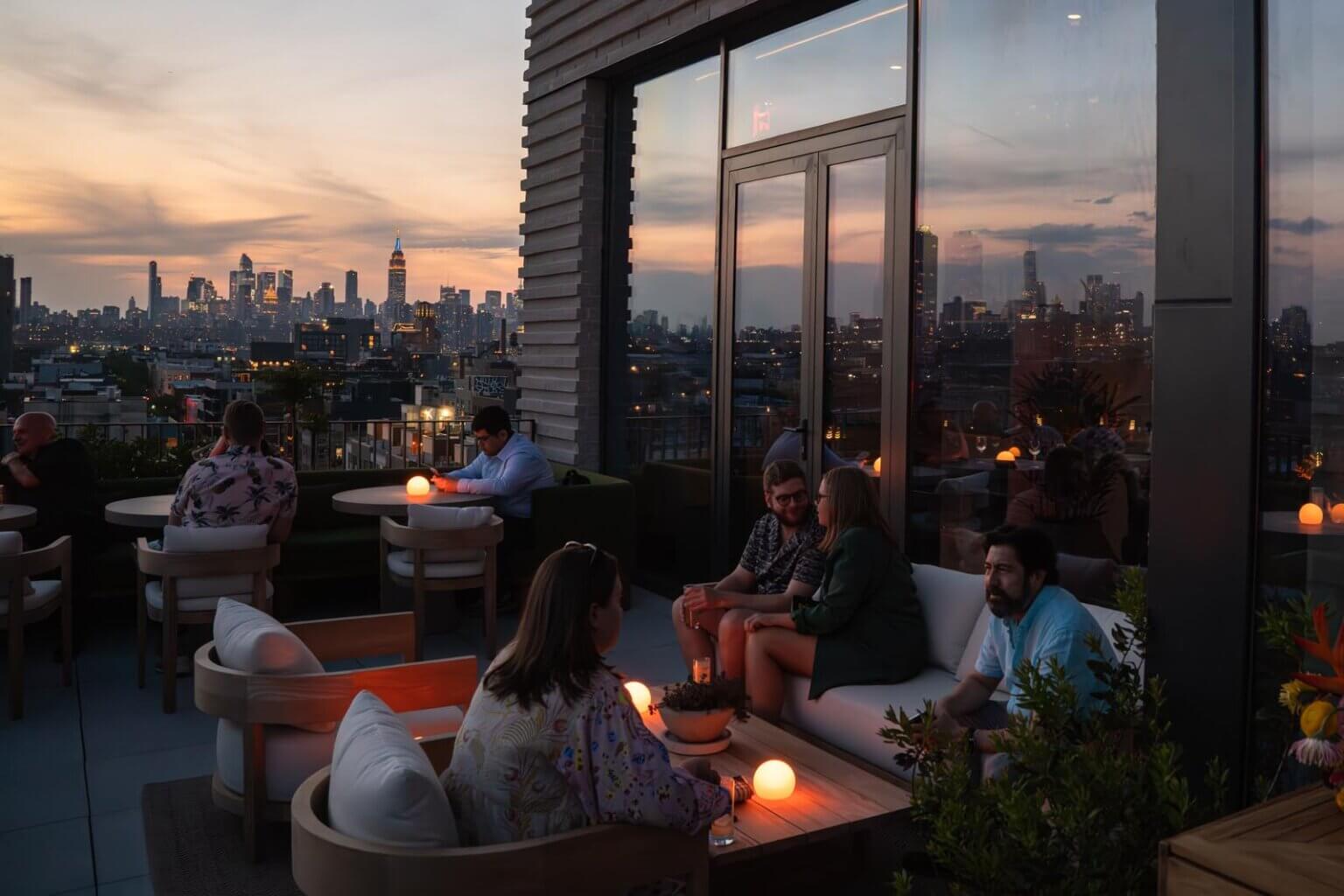 288 N 8th Street, Williamsburg
One of the newest and already one of the best rooftop bars in Brooklyn can be found on the rooftop of the art-forward Penny Hotel in Williamsburg.
The rooftop bar, El Nico means "victory of the people," and pays homage to Brooklyn's Latinx community with a curated menu backed by James Beard Award Winning author and mixologist, Leo Robitschek, a Venezuelan native who's work with NoMad and Eleven Madison Park along with Executive Chef Fer Serrano who is from Mexico City and worked with Pujol, and Cosme.
So now that you know the food and drink selection here is seriously good, let's talk about the views! El Nico offers panoramic views of the Manhattan skyline including the World Trade Center, Brooklyn Bridge, and Empire State Building is by far one of the best rooftop bars in Brooklyn to find yourself at sunset!
There's both an outdoor area and indoor area, making this idea no matter what the weather is up to.
Rooftop Reds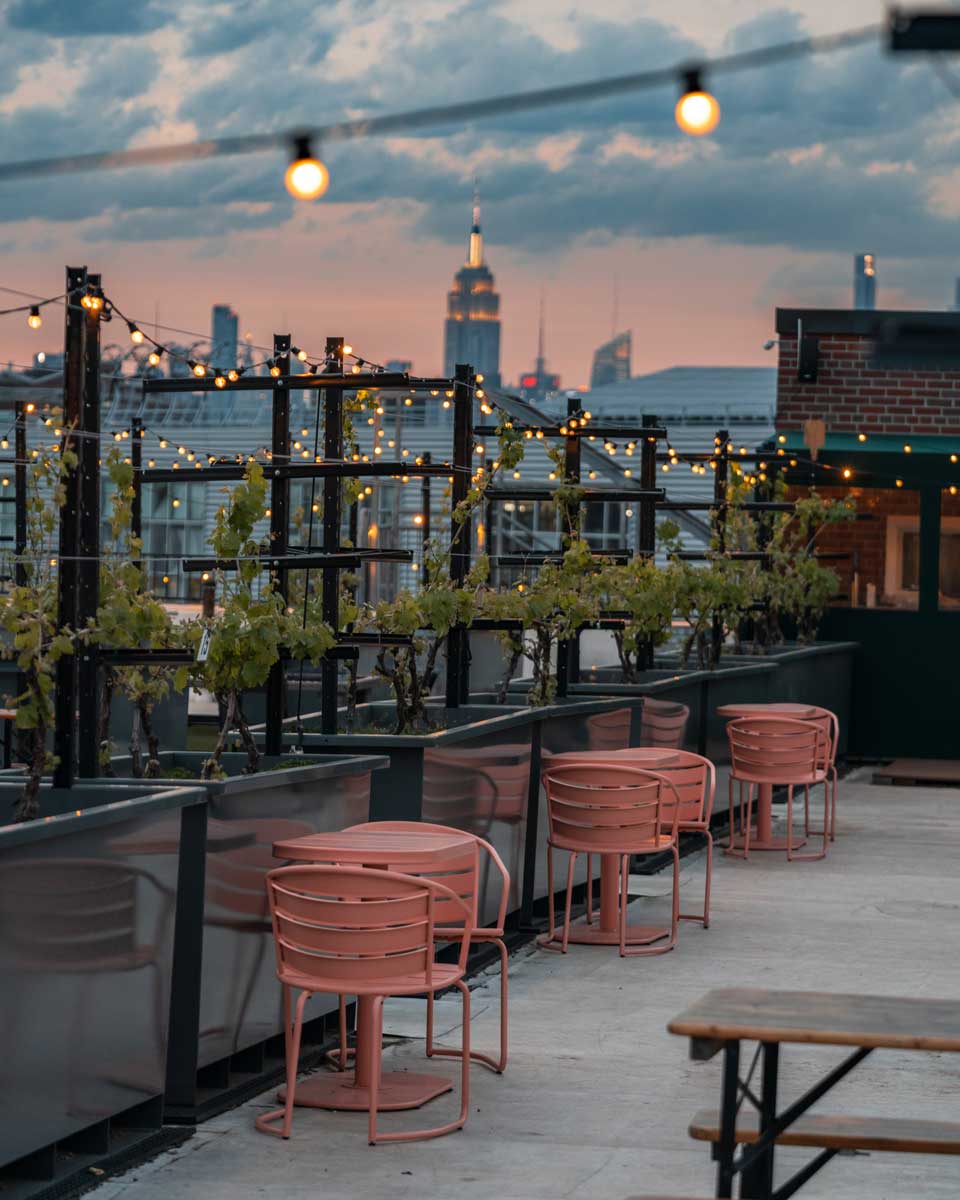 299 Sands St., Building 275 Suite 202, Navy Yard
One of my personal favorite picks for best rooftop bars in Brooklyn is located in a tucked-away lot of the film studios in Navy Yard. Rooftop Reds is the world's first commercial urban rooftop vineyard and one of the only wineries/wine rooms available on a rooftop and is an actual winery in Brooklyn!
Enjoy a tasting flight of wine or grab a carafe to share with friends at this elevated urban vineyard experience with views of the Empire State Building under the dangling strings of lights that make this spot so atmospheric.
Rooftop Reds partners with the Finger Lakes wine region in Upstate New York and Cornell University wine experts from Ithaca, they have developed an urban vineyard planter system that can thrive right here in Brooklyn! The grapes are grown right here, around the area you'll be sitting, and then processed at Point of the Bluff Vineyards in Hammondsport off of Keuka Lake in the Finger Lakes.
You can only visit this one-of-a-kind outdoor vineyard and wine rooftop lounge in Brooklyn with a reservation. Be sure to pay close attention to their directions and instructions to get in once you make that reservation, it's a bit tricky for first-timers since you're going through a studio lot.
Also, be sure to check out their events, they do occasionally have a rooftop cinema where they offer movies outdoors at their outdoor space making it a romantic date idea for NYC!
Laser Wolf at The Hoxton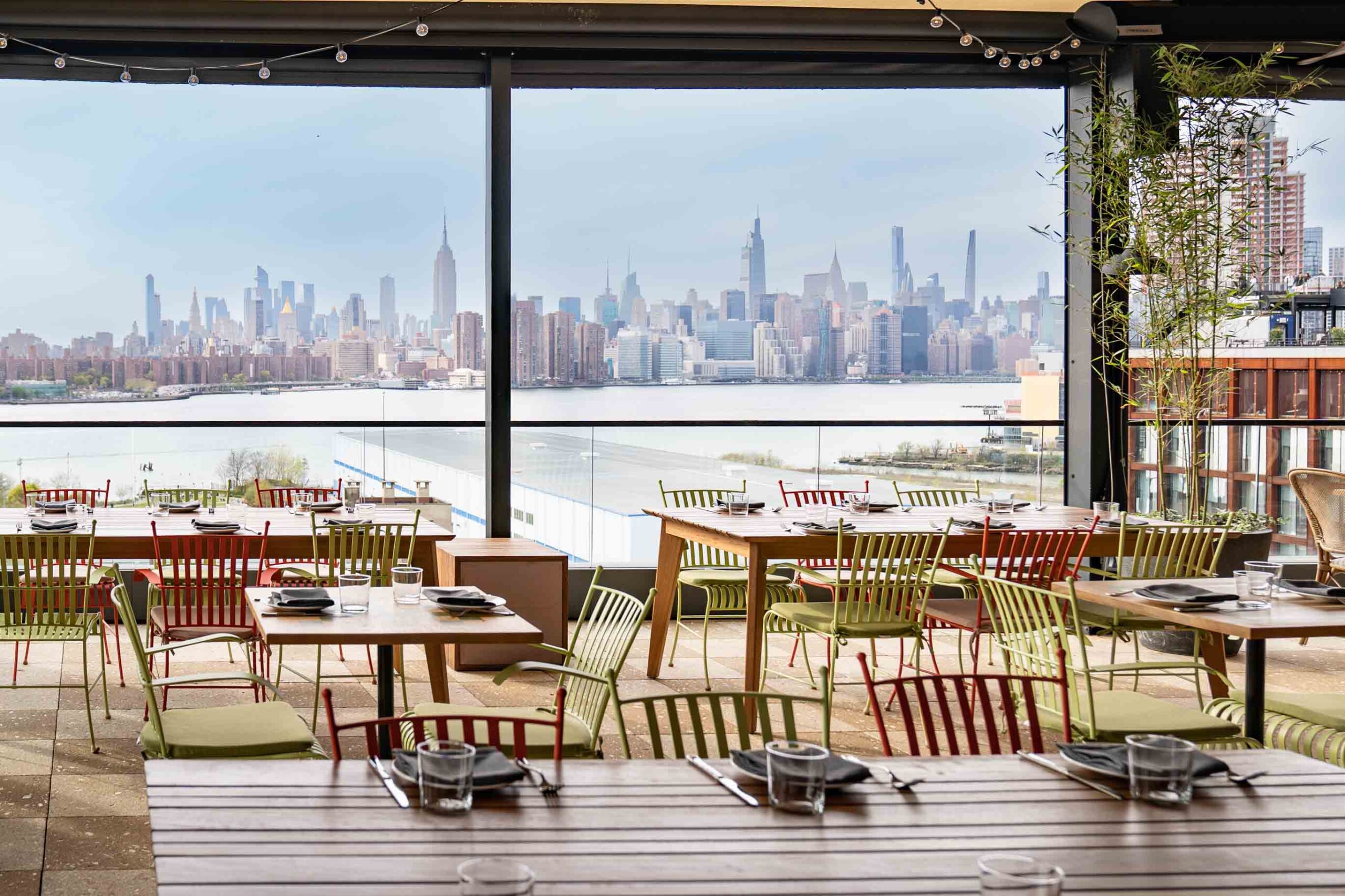 97 Wythe Ave, Williamsburg
One of the best rooftop restaurants in Brooklyn can be found at one of the most beautiful picks for where to stay in Brooklyn, and one of the most trendy and stylish hotels, The Hoxton in Williamsburg.
Laser Wolf offers sweeping views from this rooftop bar in Brooklyn and offers incredible Israeli cuisine at their 'Israeli shipudiya' or skewer house with classics like freshly made hummus alongside their menu of drinks including cocktails, mocktails, beer, and wine.
Lounge on their rooftop couches or a table with panoramic views of the city including sweeping skyline views of Manhattan. Don't miss trying one of their amazing cocktails and be sure to soak in one of the best views of the city.
This is also the perfect romantic date night spot with that special someone or a brunching with the pals on the weekend spot!
Trust us and be sure to snag a reservation before trying to visit as this is one of the most popular Williamsburg rooftop bars and restaurants.
Harriet's Rooftop & Lounge at 1 Hotel Brooklyn Bridge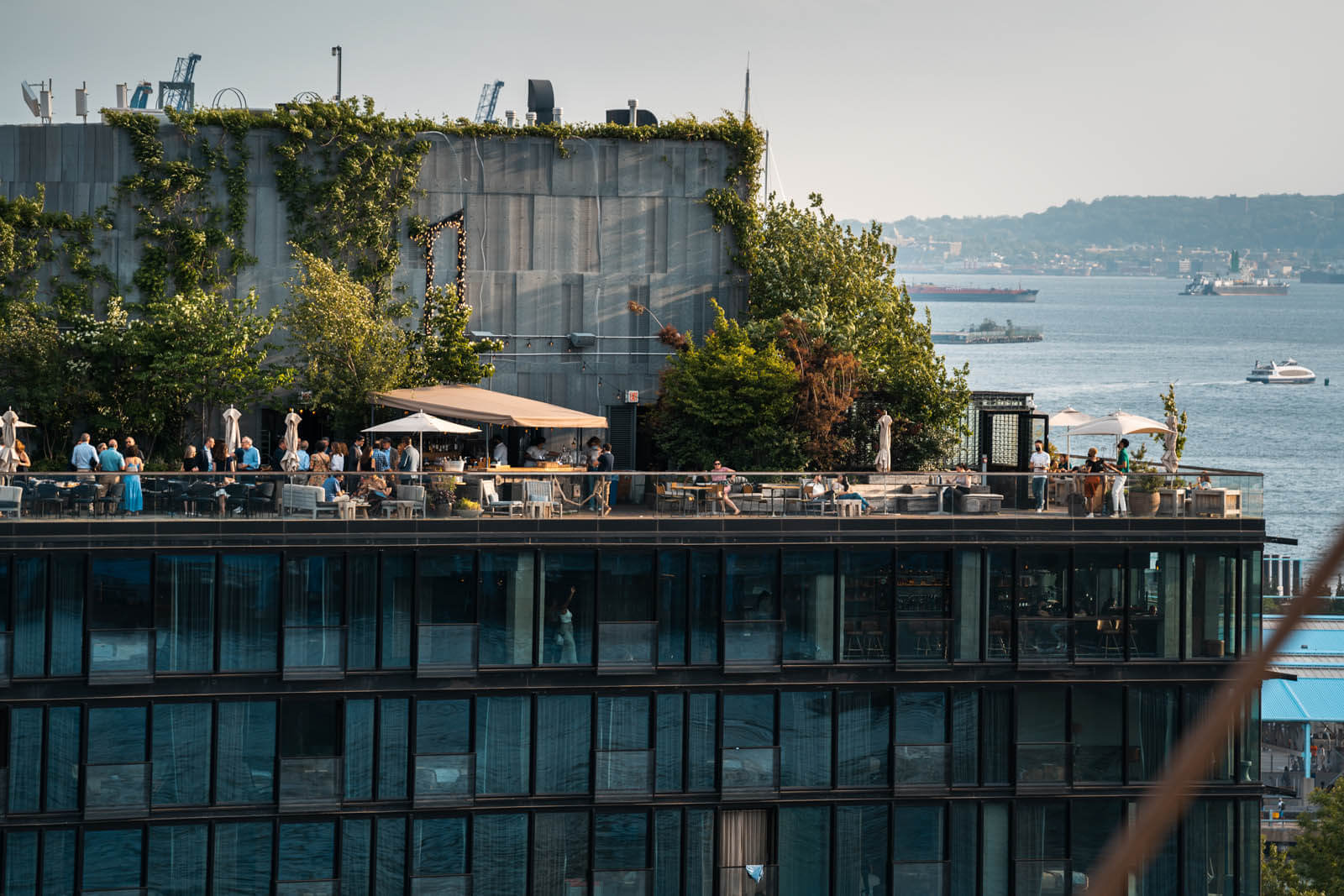 60 Furman St., Brooklyn Heights
One of the best rooftops in Brooklyn, scratch that, one of the best rooftops in the entire city can be found on the top floor of the 1 Hotel Brooklyn Bridge in Brooklyn Heights offering panoramic views of the NYC city skyline and those famous bridges like the Brooklyn Bridge and Manhattan Bridge.
This luxury hotel is also a great place to stay and one of the best things to do in DUMBO, you will definitely need a reservation to enjoy the views and dine here, so be sure to plan that in advance as this is one of the hottest places in town to hang out with views.
Harriet's also includes an indoor lounge and an outdoor rooftop to enjoy on a beautiful Brooklyn day no matter the season. Choose from an extensive list of wine, beer, cocktails, or bottle service, and some delicious appetizers to pair it with.
Feel sophisticated and classy with your signature cocktail and spectacular views, but let loose with the live DJ who plays sets to really set the ambiance from the 10th floor of this incredible rooftop bar in Brooklyn. Also, their bathrooms are a destination of their own with stellar city and skyline views!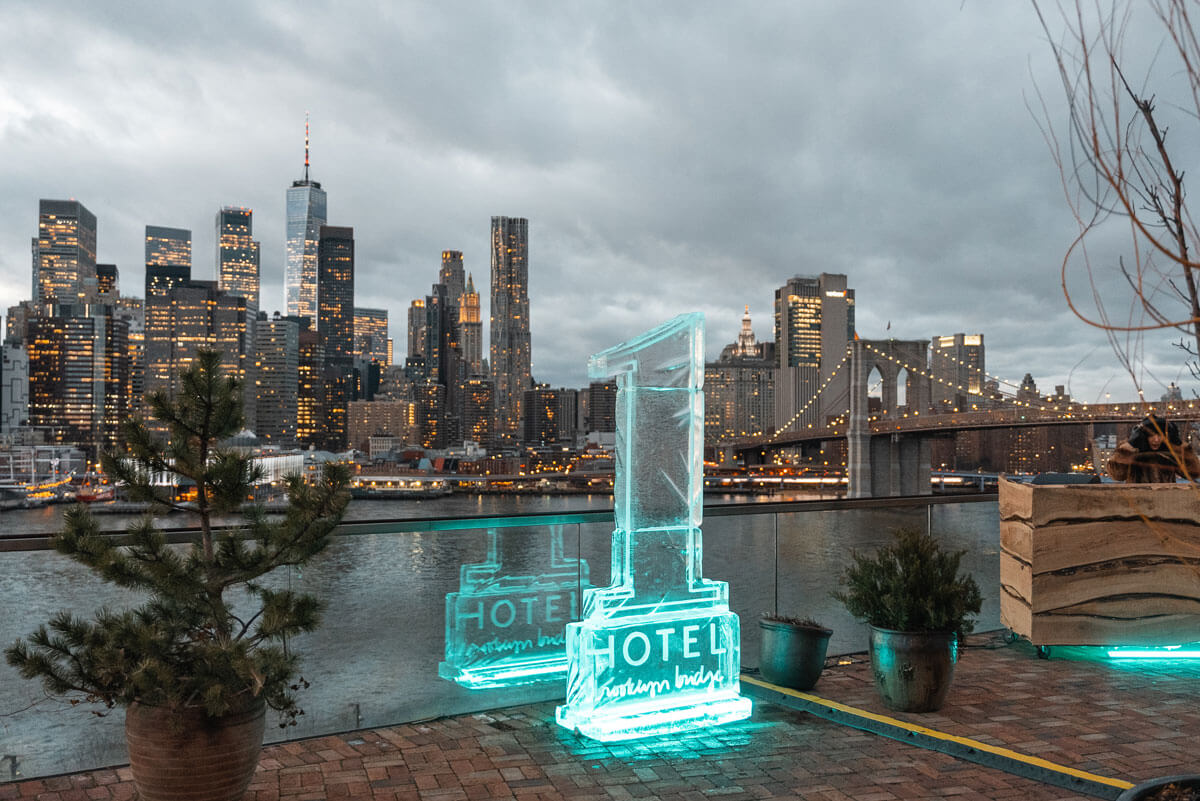 In the winter, be sure to check out their Polar Lounge winter pop-up where the rooftop transforms into a winter wonderland full of ice sculptures and drinks served in frozen ice cups!
This is also one of the best stays for hotels with a view in NYC if you're looking to plan an unforgettable stay during your NYC trip!
Creatures of All Kind at CODA Hotel
160 N. 12th Street, Williamsburg
Creatures of All Kind at CODA Hotel is another Brooklyn rooftop bar located in one of Williamsburg's most trendy and newer hotels.
This boho-chic rooftop bar in Brooklyn offers sweeping skyline views of the NYC city skyline and opposite are views of McCarren Park alongside designer craft cocktails and a Balinese-inspired menu.
This rooftop bar in Williamsburg also has a great line up of DJs regularly making this the perfect nightlife spot in the warmer months.
Williamsburg Hotel Rooftop Bar & Pool
96 Wythe Ave., Williamsburg
The most unique and one of the best rooftop restaurants in Brooklyn is located at The Williamsburg Hotel. This is one of the best rooftops in Brooklyn overlooking the hotel's amazing rooftop pool and bird's eye view of the NYC skyline.
The Water Tower Bar serves up cocktails in a floating, glass structure designed around the historic water tanks you see on the top of buildings all over the city.
You can also visit the rooftop pool here, which also has panoramic views of the city. In fact, this is one of the best rooftop pools at an NYC hotel money can buy access to!
Guests of the hotel or non-guests can make a reservation at the pool and enjoy poolside bites and drinks with skyline views of the city.
Just keep in mind, if you're booking a reservation here you will have a minimum spend. Non-Guests of the hotel can book their reservations at ResortPass.
Timeout Market New York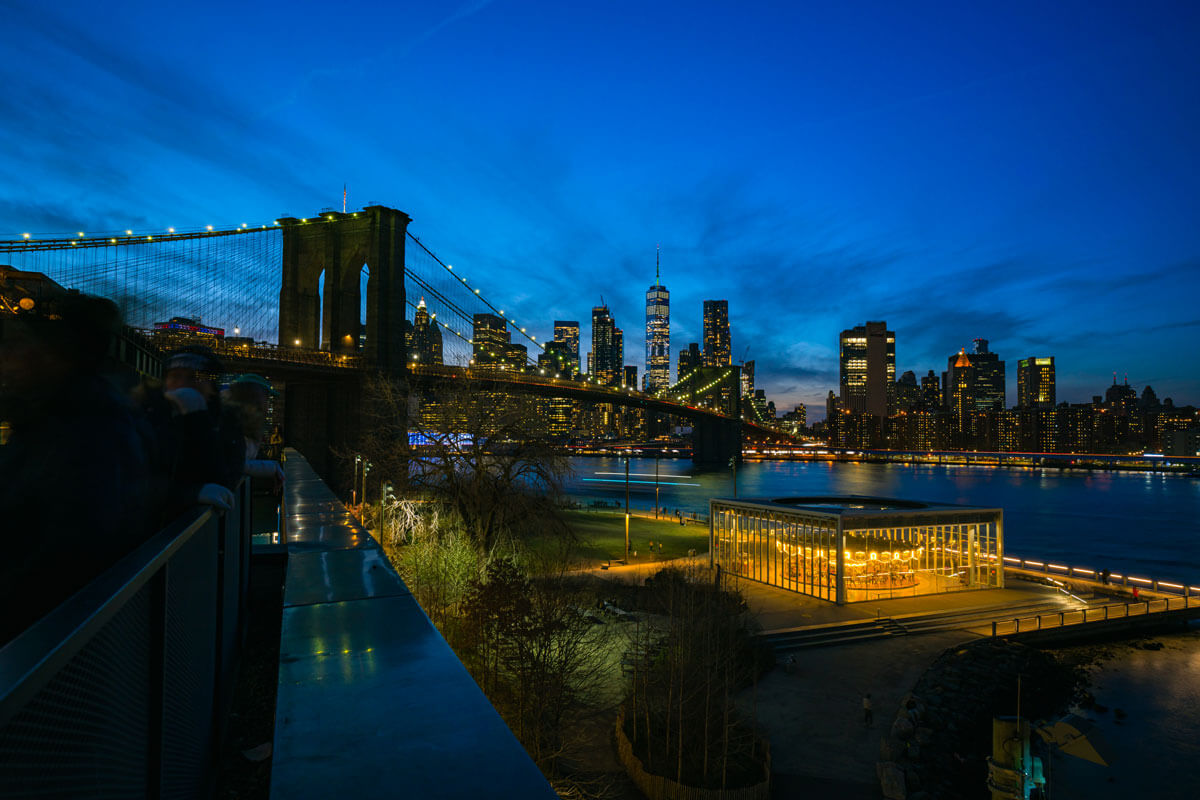 55 Water Street, DUMBO
One of the best rooftop bars in Brooklyn is located in DUMBO on the edge of Brooklyn Bridge Park with the best-unobstructed views of the East River, NYC skyline, and both the Brooklyn Bridge and Manhattan Bridge!
TimeOut Market New York is located in the Empire Stores building, a former warehouse that is just aesthetically dreamy. They truly have some of the best real estate in the city and offer tons of dining options on their lower level, or head up to their rooftop location via the elevator or stairs outside to their epic Brooklyn rooftop bar location with a few extra dining options.
No reservations are required, you can grab food from any of the amazing food vendors and eateries inside and head up to the TimeOut Market rooftop for gorgeous views of Manhattan and NYC.
Even after hours, you can walk up the outdoor staircase to the rooftop for late-night or early am views. To find this staircase, walk up the stairs at the main entrance to Empire Stores instead of entering at the ground floor of TimeOut New York. Follow the stairs up and you will be able to enter the 5th-floor rooftop bar in DUMBO area where Time Out is or you can continue to an area where you can just take some breathtaking photos of the panoramic views from here!
See more of our favorite DUMBO rooftop bars while you're at it and DUMBO restaurants with a view!
Berry Park
4 Berry St., Williamsburg
This is one of the best rooftops in Brooklyn because it's sort of a hidden gem and most people don't realize that this Williamsburg hang out spot also has skyline views! This rooftop restaurant in Brooklyn doesn't seem like it would have views as it's only two stories high, but it does!
Known for their public viewings of soccer games on their giant screens known for having a decent beer list and often considered a beer garden/rooftop/soccer bar. Not a beer drinker? No worries they have a decent cocktail menu and wine list as well along with a great brunch and regular dining menu with a German influence.
This rooftop bar in Brooklyn is pretty laid back during the daylight hours and by night it turns into a nightlife spot with a different energy.
Randolph Beer DUMBO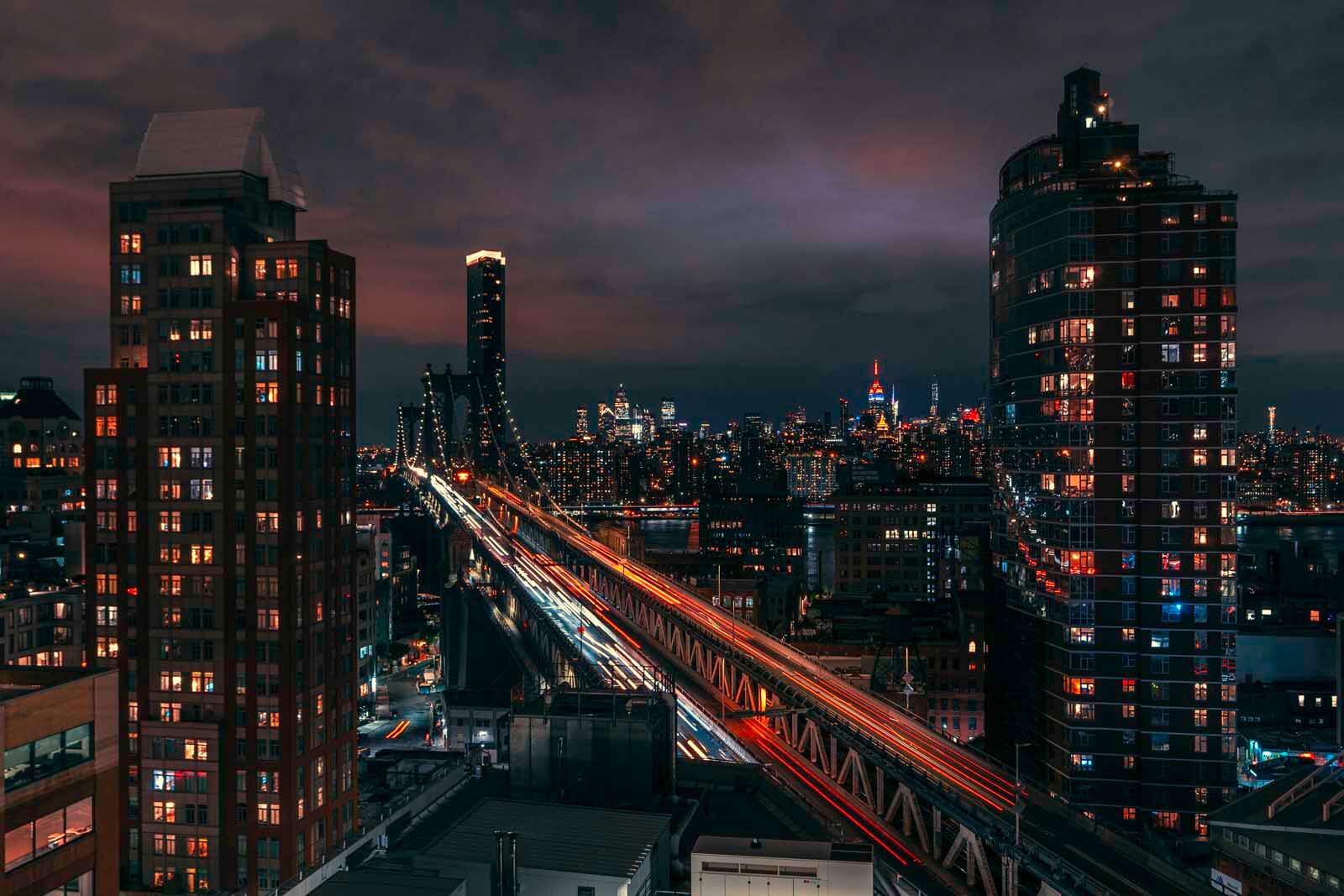 82 Prospect St., DUMBO
One of our favorite places for cold craft beer and breweries in Brooklyn is also one of our top picks for best rooftop bars in Brooklyn! Randolph Beer offers a laidback outdoor seating and bar with dining on the rooftop of their location on Prospect St and really close to the York Street subway station making it super convenient for getting around.
Their lower-level bar and restaurant also has a fun atmosphere with games and a spacious set up for grabbing a drink and meal with friends, but you can't beat their stunning rooftop bar in Brooklyn overlooking the Manhattan Bridge and skyline views.
This rooftop restaurant in Brooklyn is by reservation only and seasonal, so be sure to snag one so you can enjoy those views with one of their craft brews and delicious grub.
Alma
187 Columbia St., Columbia Street Waterfront District
This popular Mexican restaurant and cantina offer breathtaking views of Manhattan and the skyline from their rooftop restaurant in Brooklyn located in the quaint Columbia Street Waterfront District neighborhood.
Alma serves up some great Mexican cuisine and offers a rooftop terrace for dining and drinking! You will need a reservation if you want to enjoy this rooftop bar and restaurant and you will want to make sure you plan to reserve yourself a spot before the day you plan on visiting.
We recommend taking a stroll around the neighborhood before or after, be sure to check out our favorite walks in Brooklyn for ideas of what routes to take!
Kimoto Rooftop Restaurant & Garden Lounge
228 Duffield St., Downtown Brooklyn
Located in the heart of Downtown Brooklyn above the Sheraton, you can find this garden rooftop lounge in Brooklyn with panoramic views of the city including the Manhattan skyline in the distance and Brooklyn!
Pair your views from this rooftop restaurant in Brooklyn with their izayaka Japanese cuisine and menu.
We recommend making a reservation for this rooftop restaurant and be sure to let them know on your reservation which type of table you prefer, especially if you want outdoor dining as this area is first come first serve.
This is one of the best rooftop restaurants in Brooklyn because it's open all year and every season because they have a heated outdoor terrace. At night though, this is more of a nightclub though!
Fornino at Pier 6
Pier 6, Brooklyn Bridge Park
Located in Brooklyn Bridge Park on Pier 6 is this stellar rooftop restaurant in Brooklyn. This spot is great for sunset drinks and dinner, lunch, or brunch with unobstructed skyline views of Lower Manhattan and the Statue of Liberty.
The rooftop dining area is open daily, weather permitting for dining and drinking! Besides being one of the best rooftop bars in Brooklyn, Fornino also serves up some of the city's best brick oven pizza in the city winning the BEST Brick Oven Pizza in 2009 and the best pizza in the city in 2006.
And also at Pier 6, if you're visiting in the summer check out Pilot, a historic and seasonal oyster bar that serves, "nautically inspired cocktails" on a floating bar on the water with more amazing views of NYC open seasonally.
Top of the Box NYC
77 Box St., Greenpoint
Located at The Box House Hotel in Greenpoint is one of the best rooftops in Brooklyn offering tropical vibes, cocktails, and gorgeous unobstructed views of Manhattan and that famous NYC city skyline.
Their rooftop space is fully retractable and spacious 10,000 square feet making it one of the best rooftop bars all seasons, rain or shine.
This rooftop lounge in Brooklyn used to be solely reserved for events and as a wedding venue, but as of 2020, they opened it up to the public and we couldn't be more excited. Enjoy a cocktail in this cool hang out spot and check their events as sometimes they host events like rooftop yoga.
Greenpoint Beer & Ale Co.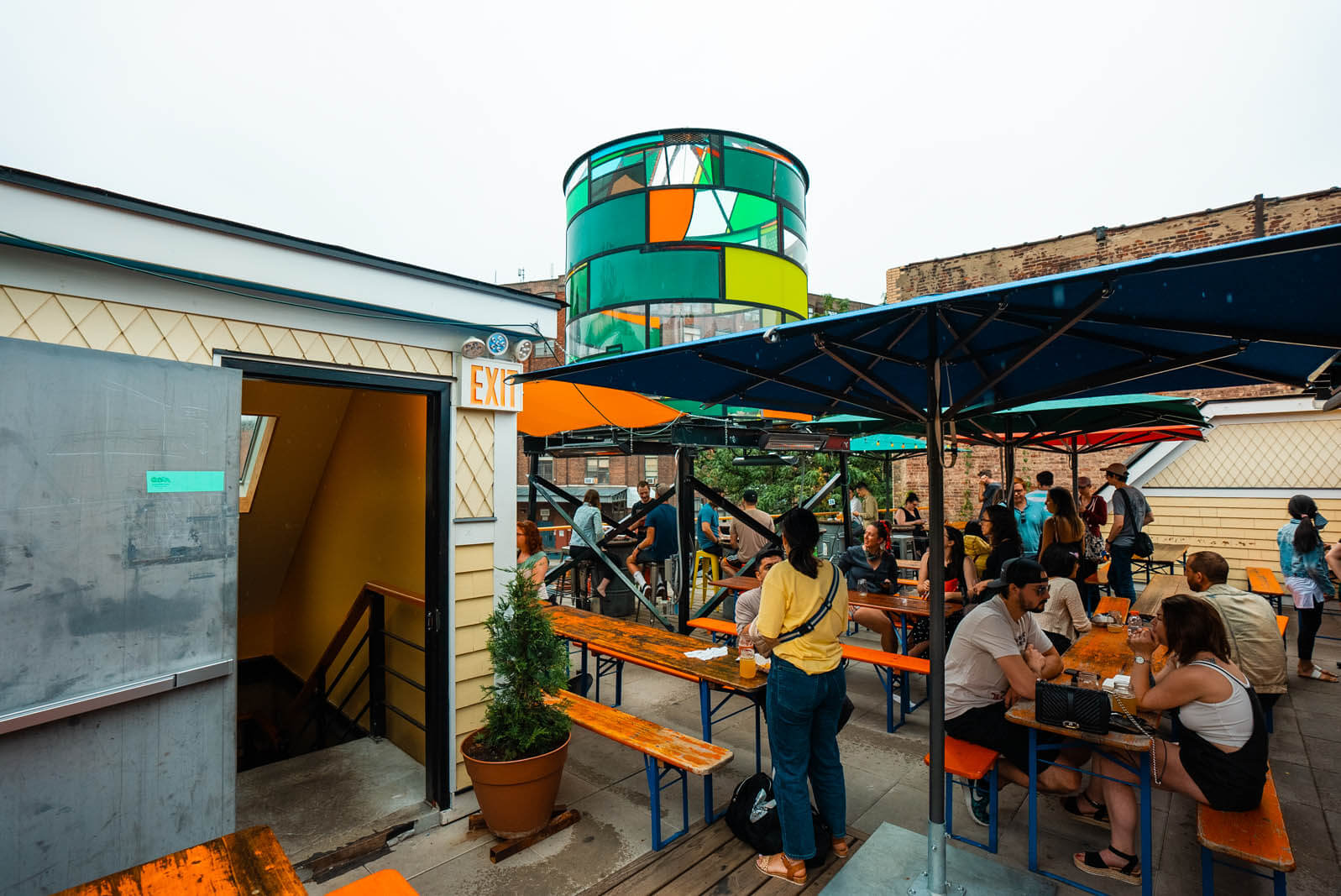 1150 Manhattan Ave., Greenpoint
Calling all beer lovers, this rooftop bar in Brooklyn is located at one of the city's coolest breweries! Enjoy some craft, small-batch brews paired along with some German-inspired fare like a big salty Bavarian pretzel from their rooftop space.
If you want to enjoy a meal indoors or sample some brews first before heading up to their outdoor space, you can do that in their Beer Market. After, head up to the rooftop or just go straight there to enjoy more of all that goodness on their cool rooftop space with their green glass water tower installation.
Check their social media or events calendar as sometimes they do comedy shows, live DJ sets with dancing, and other fun happenings.
Also, this spot is one of the best Greenpoint bars too!
Ainslie
76 Ainslie St., Williamsburg
This trendy spot also offers an atmospheric rooftop restaurant in Brooklyn! Located inside an old warehouse you can find everything at Ainslie from a menu full of Italian fare including wood-fired pizzas, an extensive wine list, and a beer garden, not to mention their stellar Brooklyn rooftop bar!
Ainslie has multiple floors and is known to be a great place with groups of friends as there are DJ sets, two bars, outdoor patio, and of course the rooftop deck.
This is the perfect stop for dinner, drinks with a view, and the nightlife that follows when the live music starts.
Our Wicked Lady
153 Morgan Ave., Bushwick
One of the coolest Brooklyn rooftop bars and event space/venue is Our Wicked Lady popular for its nightlife scene and dance parties.
Set in a former warehouse, this giant space was turned into a famous bar with its amazing rooftop terrace year-round making it one of the most unique venues in the city where they host rooftop dance parties, private events, live shows and performances, and just a dynamite rooftop bar in Brooklyn.
In the summer months, you can enjoy the open-air rooftop, in the winter they have it fully 'winterized' so you can enjoy this fun spot all year long.
Bia
67 S. 6th St., Williamsburg
A fun, laid-back hangout spot with mouthwatering Northern Vietnamese food is Bia, a low-key and lesser known rooftop lounge in Brooklyn right next to the Williamsburg Bridge.
This is one of those great stops if you happen to do to the Williamsburg Bridge walk and want a place to get a drink or some Vietnamese grub. This is an unpretentious spot, cash only, and we recommend eating your food, grabbing a drink then heading to the rooftop, better yet if you do it when there's live music.
Because of the location, you can get good views of the pedestrian walkway of the Williamsburg Bridge, and they get views of you too. We recommend trying their signature cocktails, a Vietnamese iced coffee with whiskey!
Juliette
135 N. 5th St., Williamsburg
One of the most stylish restaurants and places to eat in Williamsburg with a cute rooftop set up is Juliette. Enjoy their romantic indoor garden dining, or make your way to their rooftop restaurant set up at this stylish French bistro.
This seasonal rooftop restaurant in Brooklyn feels like a little oasis and if you fall in love with it, let's be honest you will, you even have the option for renting out rooftop space here for a private event. While many come to eat in the leafy indoor dining, we absolutely love the outdoor space.
This is an awesome spot to brunch, and probably one of the most well-known in Brooklyn. While the rooftop and outdoor dining area is located on just a one-story building you can't expect any crazy skyline views, but you can admire the charming atmosphere.
Slate Rooftop
247 Metropolitan Ave, Williamsburg
Another great rooftop bar in Brooklyn in Williamsburg is Slate Rooftop located on the 5th floor of the Pod Brooklyn Hotel, which also happens to be one of the best affordable hotels in Brooklyn without sacrificing quality or location!
But more on the rooftop. Pod Brooklyn also shares the same block as Clinton Hall, a popular Williamsburg food hall serving up all kinds of tasty bites. Slate Rooftop serves shareable bites from Clinton Hall alongside their signature cocktail menu, full bar, and beers on draft.
This open-air hang out space is perfect for gathering with friends, there are couches to lounge on, tables, and tons of games to play. Since this is sort of a younger accommodation spot too – this is great for meeting new people as well!
Night of Joy
667 Lorimer St., Greenpoint
Another laid-back rooftop bar in Brooklyn is this funky spot with the interior being decked out with old furniture and dim lighting, and the outdoor rooftop patio is low-key and a great place to enjoy a drink with some friends.
Their Brooklyn rooftop bar is seasonal basically being open from spring through fall and closing in the winter. So if you're planning a visit on a shoulder season, just call to double-check that their rooftop bar is open during your visit.
Come for the live music sets, cocktails, and a relaxed environment to hang out in.
LoHi Roof Bar
314 Scholes St., Bushwick
This is one of the best chill/party rooftop bars in Brooklyn located in Bushwick, or East Williamsburg depending on who ya ask. Enjoy incredible cocktails, draft brews, wine, and a menu of bites with distant views from their giant rooftop on a warehouse building.
Elsewhere
599 Johnson Ave., Bushwick
Another one of the best rooftop event spaces in Brooklyn for partying and dancing the night away can be found at Elsewhere in Bushwick. This rooftop warehouse location often has DJs playing live sets while guests drink and dance the night away.
If dancing and partying aren't your scene, don't worry, there are more mellow nights at this Brooklyn rooftop bar like outdoor movie nights and even drawing nights with drinks.
You can get food here too by ordering from Claudia's, a Guatemalan restaurant located next door that they've partnered with.
Be sure to check their upcoming events and reservations are encouraged, but they do allow some walk-ins, but this is limited. If you want to ensure you can get in, secure a spot by making a reservation in advance!
They are open Thursdays through Sundays, and if you can't make it to a set that you were hoping to catch, they do stream their events on Twitch!
---
Best Rooftop Restaurants & Bars in Brooklyn Summary:
Westlight
El Nico
Rooftop Reds
Laser Wolf
Harriet's
Creatures of All Kind
Williamsburg Hotel Rooftop Pool & Bar
Timeout Market New York
Berry Park
Randolph Beer DUMBO
Alma
Kimoto Rooftop
Fornino at Pier 6
Top of the Box
Greenpoint Beer & Ale Co.
Ainslie
Our Wicked Lady
Bia
Juliette
Slate Rooftop
Night of Joy
LoHi Roof Bar
Elsewhere
---
Enjoyed this guide to the best rooftop restaurants and best Brooklyn rooftop bars? Bookmark for later or share the love below on Pinterest!
Oh, and if you love nightlife check out our curated picks for best things to do in Brooklyn at night!