Did you know that DUMBO rooftop bars offer some of the best views in the entire city? Rooftop bars are undoubtedly one of the most popular things to do in the warmer weather months in the city and out of all of Brooklyn, DUMBO has some of the best views in the city of Manhattan and the most famous NYC skyscrapers from across the East River, so why not enjoy some of these DUMBO rooftop restaurants to enjoy one of the most prime locations in the city to catch a view.
Besides stunning views, we have some rooftop bars in DUMBO, Brooklyn that are more of an outdoor, urban garden to hang out or laid-back venue with performances, live sets, dance parties, and so on. Many of these rooftop bars in DUMBO also have a great restaurant menu as well and are awesome brunch spots.
Not to mention, a few of these rooftop bars even are open year-round or some have indoor options in the winter that are still location on the roof with views. So enjoy one of the best things to do in Brooklyn if you're looking for drinks, food, fun, and some of the best Brooklyn sunset spots!
We recommend making a reservation for all of these locations to secure a seat! Some of these rooftop bars in DUMBO won't even seat you without a reservation, so double check before your visit and RSVP!
DUMBO Rooftop Restaurants & Bars
Time Out Market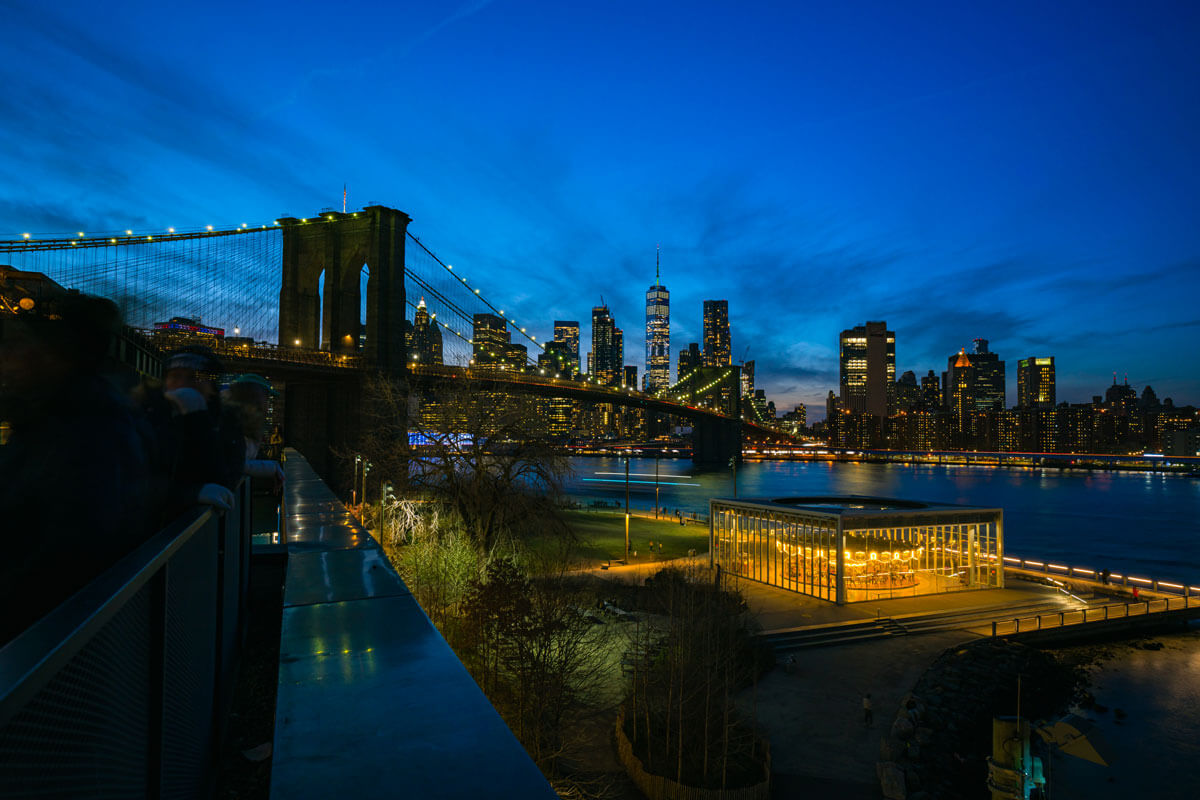 One of the best rooftop bars in DUMBO and most accessible DUMBO rooftop restaurants for all budgets is at Time Out Market located right at the base of Brooklyn Bridge Park between both the Brooklyn Bridge and Manhattan Bridge for one of the best PRIME real estate and locations in the entire city!
No reservations are required, you can grab food from any of the amazing food vendors and eateries inside and head up to the Time Out Market rooftop for gorgeous views of Manhattan and NYC from the 5th floor.
In the winter there are igloo bubbles where you can grab a drink from the bar inside and bring to your personal igloo to protect you from the chilly air or the bar inside also offers incredible views for those colder or pesky weather days.
For some extra views and photo-worthy views from this rooftop in DUMBO, walk up the stairs at the main entrance to Empire Stores instead of entering at the ground floor of Time Out New York. Follow the stairs up and you will be able to enter the 5th-floor rooftop bar in DUMBO area where Time Out is or you can continue to an area where you can just take some breathtaking photos of the panoramic views from here!
This DUMBO rooftop restaurant and bar is open all year round!
DUMBO House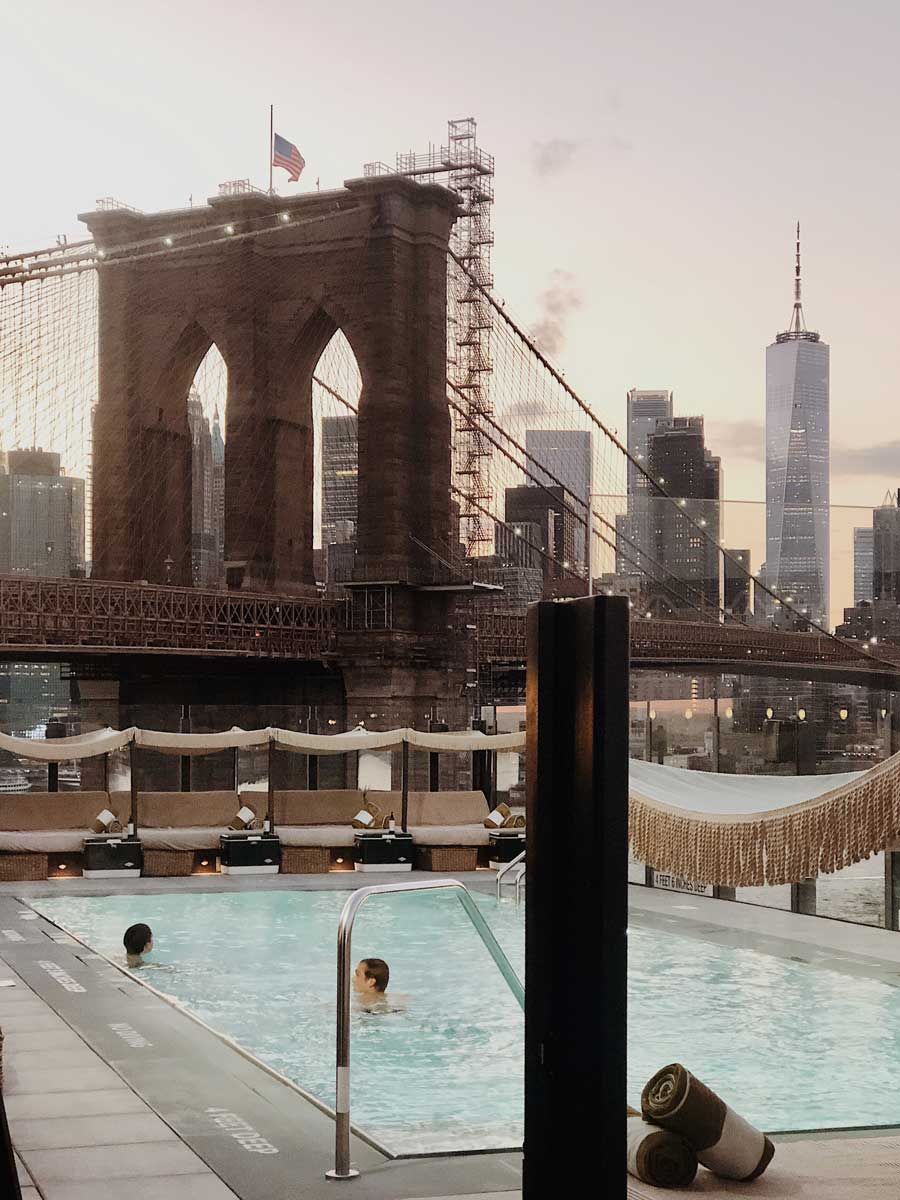 One of the most exclusive rooftop bars in DUMBO is DUMBO House which you can only access by membership to SoHo House for yourself or if you have a friend who has a membership they can escort you to this luxe DUMBO rooftop restaurant, bar, and cool hang out and work place.
There is both an indoor and outdoor area, the outdoor area complete with a pool for those summer months offering more incredible views of Brooklyn Bridge Park below, the Brooklyn Bridge, Manhattan Bridge, and the NYC city skyline across the East River.
This amazing DUMBO rooftop restaurant and bar is equipped with a sun deck and 40-foot long pool, an all-day dining room, a quiet and comfortable meeting room/workspace, a club bar, and a gorgeous outdoor terrace making it great all seasons for views.
If you want to be a member you'll most likely get put on a waiting list and you'll need to pay up the hefty fees that come along with this exclusive membership but this is where you pull close strings if you don't already have a membership because you can simply know someone who has one who could get you in.
If for some reason, you don't find yourself at the DUMBO House, you can get a similar view from the Timeout Market rooftop as they are in the same building with barely a difference in the view!
Rooftop Reds
View this post on Instagram
Technically in Brooklyn Navy Yard, but worth mentioning as a great DUMBO rooftop bar is Rooftop Reds, home to the world's first commercial urban rooftop vineyard and one of the only wineries/wine rooms available on a rooftop here just steps away from DUMBO and with epic views.
Partnered with the Finger Lakes wine region in Upstate New York and Cornell University wine experts from Ithaca, they have developed an urban vineyard planter system that can thrive right here in Brooklyn!
Sip on wine, enjoy the view and vineyards at this unique rooftop bar in DUMBO. Also, be sure to check out their events, they do occasionally have a rooftop cinema where they offer movies outdoors at their outdoor space making it a romantic date idea for NYC!
You can only enjoy this rooftop bar in DUMBO by reservation! Make sure you plan before your visit.
Closed on Mondays & Tuesdays, open seasonally
Harriet's Rooftop & Lounge
View this post on Instagram
Another great DUMBO rooftop restaurant and bar and a pick for the most amazing things to do in DUMBO, Harriet's Rooftop & Lounge is a spot you won't want to miss for the unrivaled views atop this luxury hotel property at 1 Hotel Brooklyn Bridge offering stunning views of the cityscape and bridges.
Harriet's also includes an indoor lounge and an outdoor rooftop to enjoy on a beautiful Brooklyn day no matter the season. Choose from a long list of wine, beer, cocktails, or bottle service, and some delicious appetizers to pair it with.
Feel sophisticated and classy with your signature cocktail and spectacular views, but let loose with the live DJ who plays sets to really set the ambiance from the 10th floor of this incredible rooftop bar in DUMBO location.
You will need to make a reservation to enjoy this DUMBO rooftop restaurant and bar!
Because there are indoor/outdoor options you can enjoy this rooftop bar in DUMBO year-round.
This is also one of our picks for the best DUMBO restaurants with a view because they do have light bites available for purchase to accompany your drinks!
Kimoto Rooftop Restaurant & Garden Lounge
View this post on Instagram
While this rooftop bar in DUMBO pick isn't quite in DUMBO, it's VERY close in Downtown Brooklyn and worth mentioning! Located on the rooftop of the Sheraton Hotel in Downtown Brooklyn, one of our picks for where to stay in Brooklyn during your trip, you can enjoy the stunning panoramic views of the city!
This bar and restaurant is a prime rooftop location on a hi-rise offering amazing views of the Manhattan skyline as well as Downtown Brooklyn and even the Statue of Liberty. Pair your views with the izayaka Japanese cuisine and menu.
We recommend making a reservation for this rooftop bar in DUMBO pick! Be sure to let them know on your reservation which type of table you prefer, especially if you want outdoor dining as this area is first come first serve.
Closed on Mondays & Tuesdays, this rooftop bar is open year-round with a heated outdoor terrace!
DUMBO Rooftop at Randolph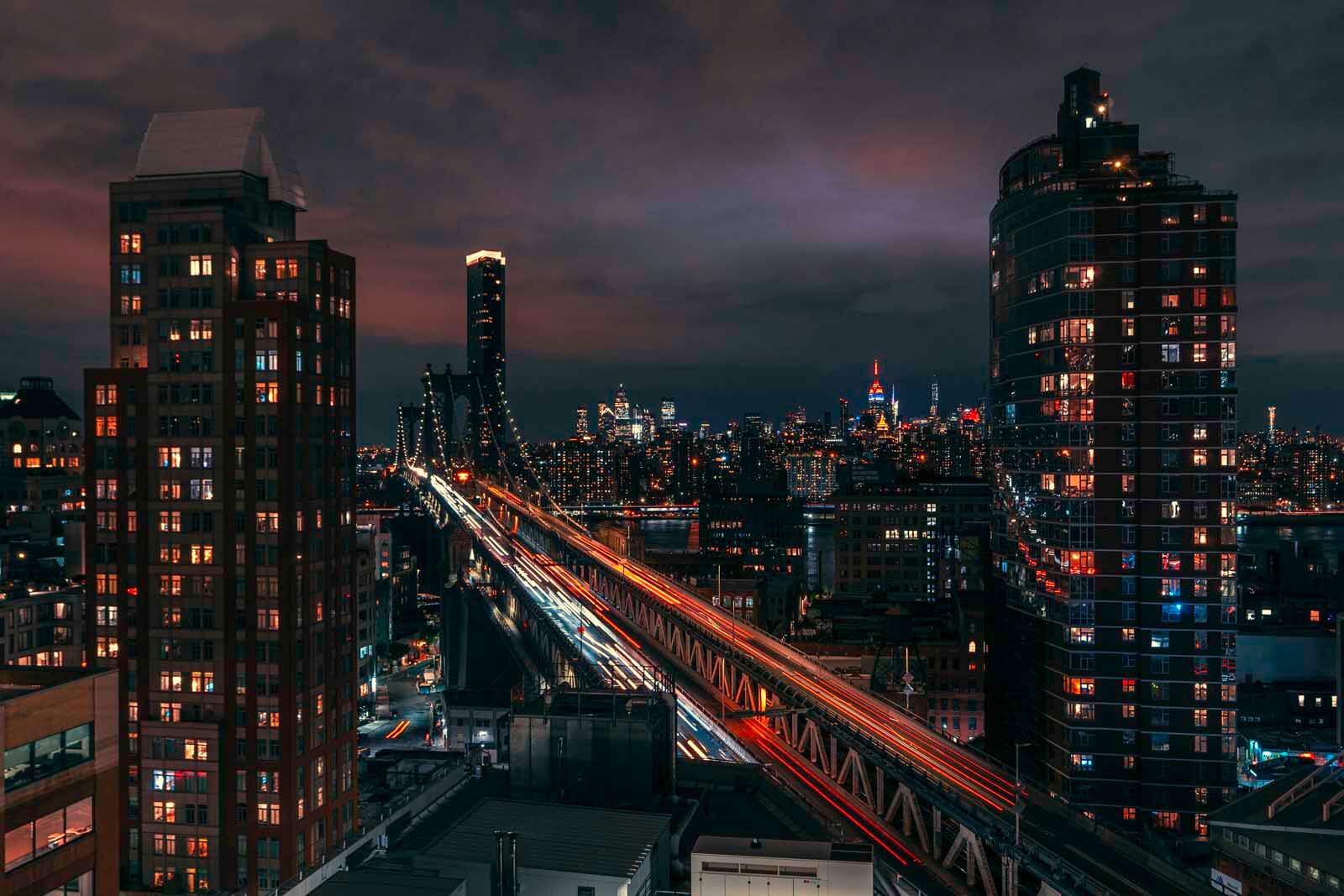 One of our favorite places for a beer and breweries in Brooklyn is also one of our top picks for best rooftop bars in DUMBO! Randolph Beer now has a rooftop at their DUMBO location for some of the best views of the city.
The indoor area is large and perfect for hosting events or gatherings of friends with activities like skeeball, shuffleboard, and great eats for dinner and some of the best brunch in DUMBO!
The rooftop bar in DUMBO and space offers an open-air terrace with bench and table style seating offering great views of the NYC city skyline and surrounding buildings.
You'll want to secure a reservation or call ahead to ensure you can get a seat! Trust us, you don't want to miss the views!
Closed Mondays & Tuesdays
Fornino at Pier 6
View this post on Instagram
Another one of the best DUMBO rooftop restaurants and bars is located at Pier 6 in Brooklyn Bridge Park. This rooftop is great for sunset views with drinks, dinner, or even lunch or brunch with views of the NYC city skyline and the Statue of Liberty!
The rooftop dining area is open daily, weather permitting for dining and drinking! Besides being one of the best rooftop bars in DUMBO, Fornino also serves up some of the city's best brick oven pizza in the city winning the BEST Brick Oven Pizza in 2009 and the best pizza in the city in 2006.
And also at Pier 6, if you're visiting in the summer check out Pilot, a historic and seasonal oyster bar that serves, "nautically inspired cocktails" on a floating bar on the water with more amazing views of NYC open seasonally.
Alma in Cobble Hill
View this post on Instagram
Not a rooftop bar in DUMBO, but REALLY close is Alma in Cobble Hill, just near the edge of Brooklyn Bridge Park in Brooklyn Heights that's an easy walk from DUMBO. It's so close that we decided to include it!
Alma serves up some great Mexican cuisine and offers a rooftop terrace for dining and drinking! You will need a reservation if you want to enjoy this rooftop bar and restaurant and you will want to make sure you plan to reserve yourself a spot before the day you plan on visiting.
The incredible panoramic views include breathtaking views of Lower Manhattan. We recommend taking a stroll around the neighborhood before or after your reservation to enjoy the gorgeous brownstone-lined streets and views from the Brooklyn Heights Promenade too!
Closed Mondays & Tuesdays. Rooftop open seasonally.
---
Enjoyed all the rooftop bars in DUMBO? Bookmark for later or share the love below on Pinterest! Know of any DUMBO rooftop restaurants we missed? Let us know, we love discovering new gems in the city!