September in NYC is a great time to enjoy the city because it's cooling down, school is back in session, and it's just after the peak summer season.
For tourists, prices creep up for hotels around the big events happening during September in NYC unless you planned well in advance. If you spent a lot of your budget on accommodation, don't worry. There are plenty of opportunities for free things to do in NYC not to mention many of the best things to do in NYC in September are completely free to enjoy too as you'll learn further on in this guide.
Here's a great article for helping you plan New York City on a budget as you can find hotel deals and enjoy some of the best things to do in NYC from attractions, tours, and popular restaurants without the crowds.
This guide will cover some of the best things to do in New York City in September including some of the best outdoor activities in NYC to enjoy this beautiful time of year. From events and festivals like the U.S. Open, Labor Day weekend yacht parties, music festivals, and all of our personal favorite thing to do this beautiful September in New York – enjoy outdoor movies!
NEW YORK IN SEPTEMBER WEATHER
NYC weather in September is mild! Averaging 77F (25C). This is great news, the only catch is all the locals who summer in the Hamptons are back (typically after Labor Day) and trying to enjoy the mild weather as well.
There are usually only 7-9 days of rain on average during the month, with only two being actual showers. The others are typically scattered. But you still might want to pack a small umbrella.
Other things you might wanna bring are a light sweater or jacket for the evenings, and of course, it is New York, you'll probably walk more than you do usually so bring comfy shoes.
THINGS TO DO IN NYC IN SEPTEMBER
Labor Day Weekend Activities in NYC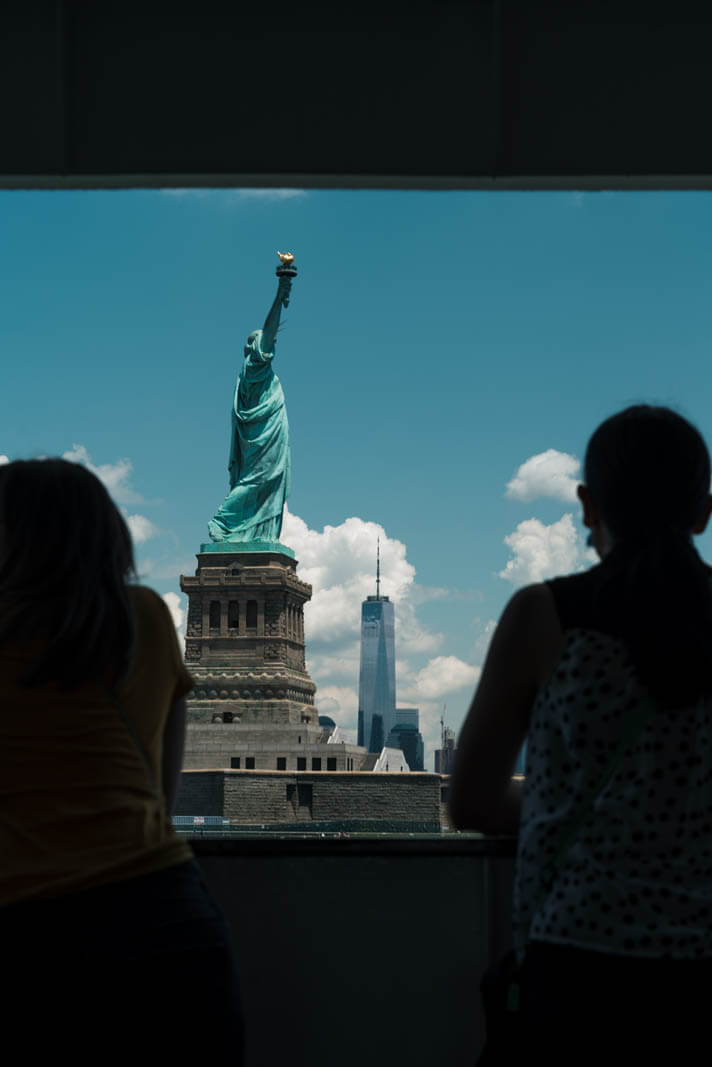 Labor Day is usually the indicator that 'summer is coming to an end' taking place each year on the first Monday in September. This is one of most eventful weeks of celebrations for September and there's a whole week-long of fun activities to check out.
Labor Day Parade
For over the past century, New York City has hosted an annual Labor Day Parade (typically held on the Saturday after the Labor Day holiday) that has been a tradition that continues to carry on.
The parade route starts from 5th Avenue and 44th Street and runs all the way up to around 64th Street typically starting at 10 AM.
Electric Zoo Festival
Electric Zoo Festival is the annual 3 day electronic music festival at Randalls Island Park in New York in September always held over Labor Day weekend.
You can get tickets for the Electric Zoo Festival on SeatGeek, a popular ticket search engine that makes finding tickets to sporting events, concerts, and many other live events in NYC quick and easy.
When you add our promo code BROOKLYNGUIDE to your SeatGeek account, you receive $20 off your first ticket purchase.
(We receive a small commission at no extra cost to you)
Yacht it Up
There are a lot of options for Labor Day week/weekend activities in NYC including hanging living like the 1% partying on a yacht at any of the many yacht activities that take place from white yacht parties, hip hop and R&B themed yacht parties, to yacht parties with huge musical guests like Bad Bunny or Daddy Yankee!
Check out the different yacht parties and secure your tickets for your fun over Labor Day!
Labor Day Weekend at Time Out Market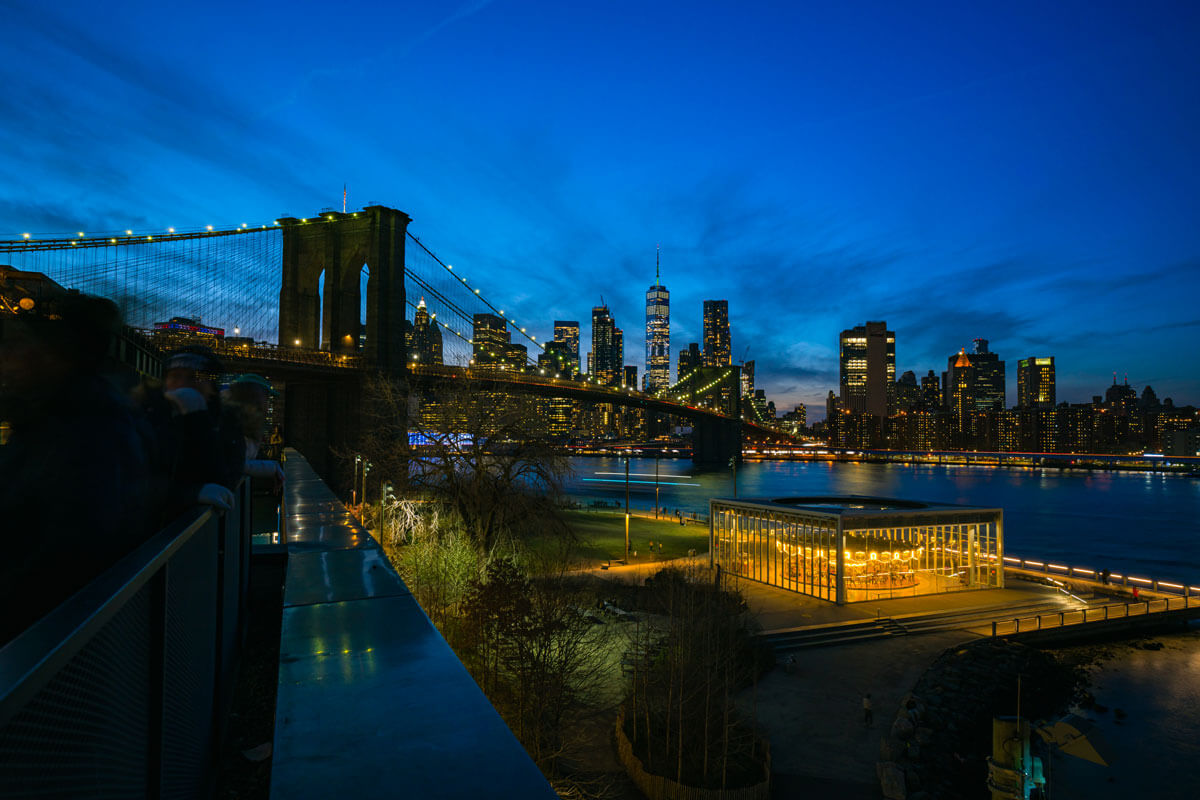 Visiting Time Out Market New York in DUMBO, Brooklyn is always a good idea. They have tons of great food options (all under one roof), a rooftop terrace with sweeping skyline and Manhattan views, and just overall have a great location in one of the best neighborhoods in Brooklyn to check out.
Better yet, during Labor Day in September in NYC, Time Out New York hosts an annual rooftop terrace party featuring food and drink specials plus live music all weekend. Better yet, no tickets are necessary, you can just come and enjoy the fun even if you didn't plan ahead.
West Indian Day Parade
Held annually in Crown Heights, Brooklyn, and boasting up to 2-3 million people in attendance is this day-long march and Carnival celebration that is filled with must-see costumes, nonstop music, and let's not forget Caribbean food! I think that's a pretty good recipe for a good time if I say so myself.
The parade starts at Schenectady Avenue and marches to Grand Army Plaza typically starting around 11 AM. However, the celebrations start much earlier as it's a full blown Carnival celebration with anything and everything from calypso bands and street parties celebrating Caribbean culture.
U.S. OPEN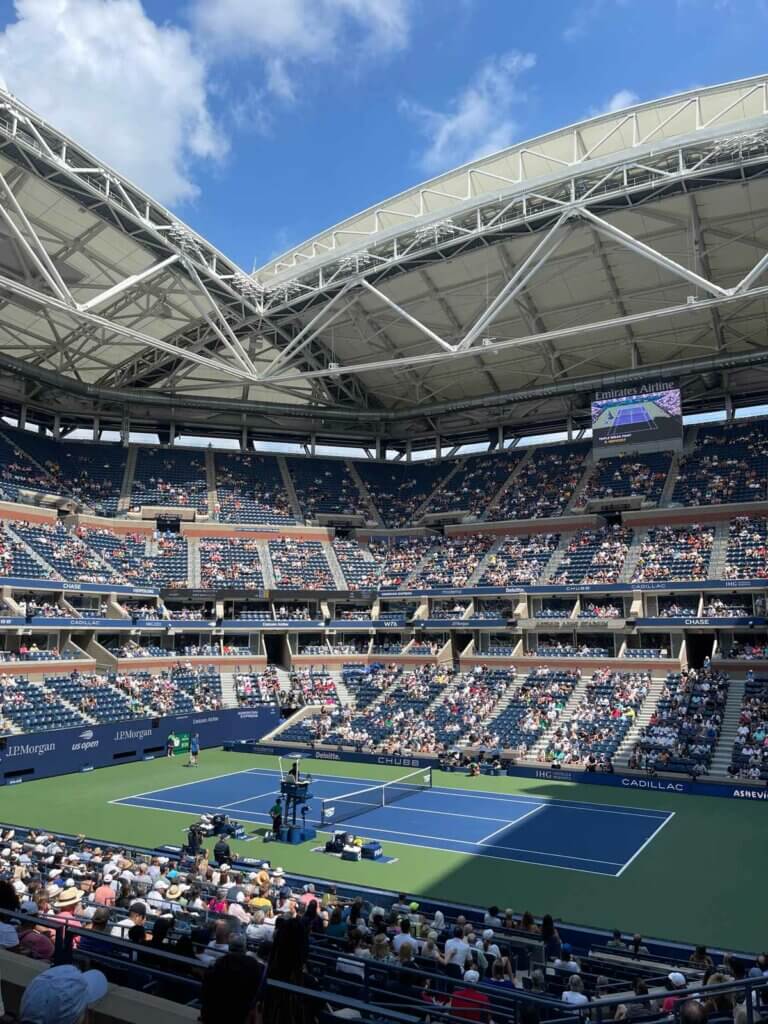 The U.S. Open is the biggest annual tennis sporting event in the United States and the final Grand Slam of the year starting at the very tail end of August through September.
Each year it takes place at the Billie Jean King National Tennis Center stadium in Queens. Bringing the best tennis players from around the world here to NYC for one of the most anticipated events for the sport of tennis each year.
You can get tickets for the U.S. Open on SeatGeek, a popular ticket search engine that makes finding tickets to sporting events, concerts, and many other live events in NYC quick and easy.
When you add our promo code BROOKLYNGUIDE to your SeatGeek account, you receive $20 off your first ticket purchase.
(We receive a small commission at no extra cost to you)
9/11 Museum and Memorial Sites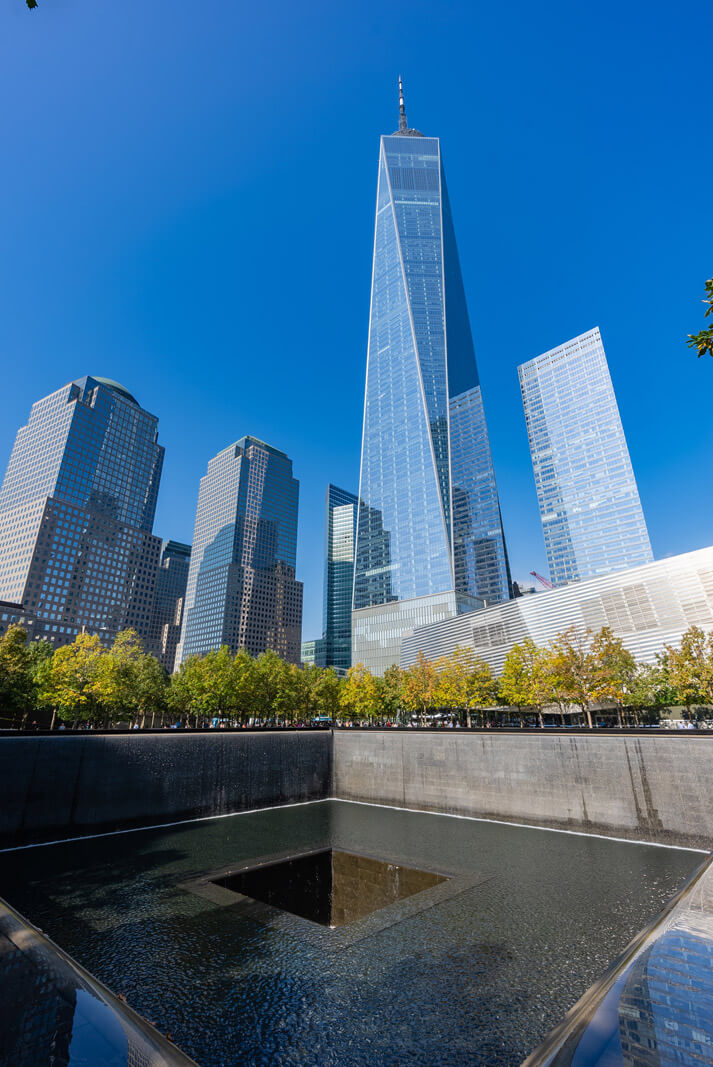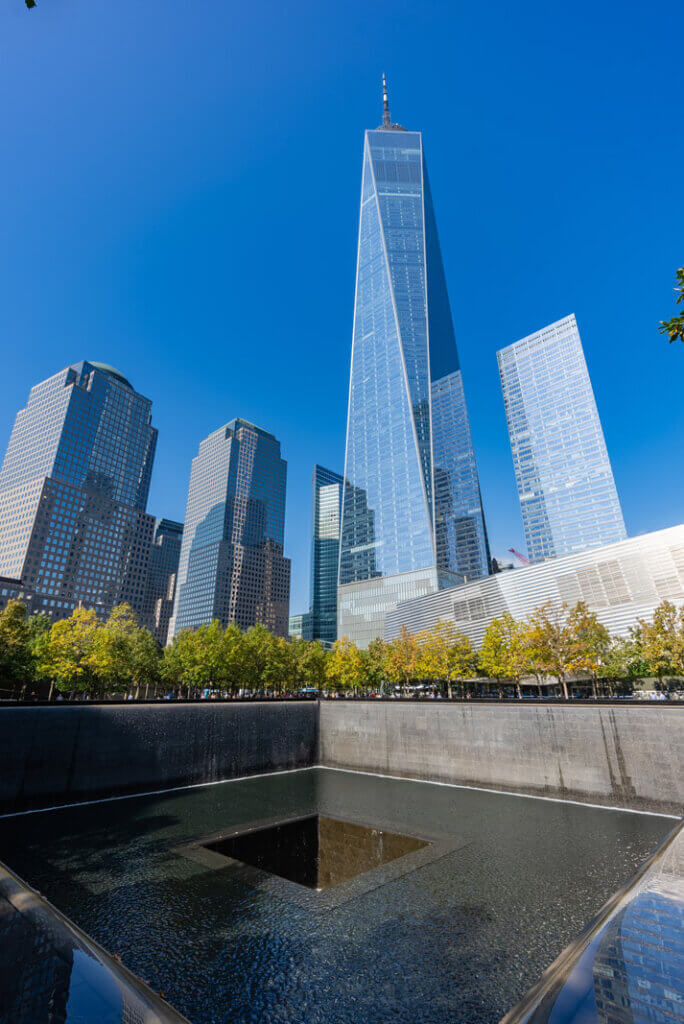 One of the most significant days during September in NYC is the 11th. This is a day that New Yorkers and the entire country of the United States takes a moment to remember those who passed during the terrorist attack and tragic events that took place in 2001.
There are several memorials, tributes, and events that typically happen around the city to remember this day. One of the most visual tributes is the "Tribute in Light" where two towering beam of lights shine from where the Twin Towers both stood in Lower Manhattan and can be seen up to a 60-mile radius from city.
They usually begin testing out the lights the week before September 11th, so you might catch the beams of light at night the week leading up to 9/11.
You can also visit the 9/11 Memorial, which is always free to visit located at the base of the World Trade Center at Vesey Street. This outdoor exhibit commemorates and is a tribute of remembrance of the 2,977 who passed in the 9/11 attacks and is made up of various waterfalls and carved-in names of victims who were lost at the terror attacks of that day including the victims of the World Trade Center site, Pentagon, and Shanksville, Pennsylvania site.
This is also a great time to visit the 9/11 Memorial Museum too which you'll need to purchase tickets in advance.
If you're curious about other memorials you can visit, consider taking the Staten Island Ferry from Whitehall Terminal in Lower Manhattan to Staten Island. The ferry is free and you'll get a great, upclose view of the Statue of Liberty as you pass by before arriving to St. George Terminal in Staten Island.
From here you can walk about 10 minutes to Postcards, a September 11th Memorial dedicated to the 274 Staten Island residents who lost their lives in the 2001 attacks as well as the 1993 World Trade Center bombing.
Oktoberfest
You've probably heard of Oktoberfest before, the popular annual German beer festival that takes place every fall from September to October in Munich. Places all over the world celebrate Oktoberfest and NYC is no different, which comes to no surprise as NYC is full of residents with German heritage and roots! Not to mention, it's a great excuse to party and have a good time.
While the name Oktoberfest implies that the festival takes place in the month of October, it actually starts in September! There are also several ways you can celebrate during September in NYC too!
You can start by hitting up all the best breweries in Brooklyn (and the city). Brooklyn Brewery in Williamsburg goes all out and even has a special beer they brew just for Oktoberfest you won't want to miss.
One of the best places to celebrate Oktoberfest the whole month of September is at the Watermark at Pier 15 in Manhattan. Located overlooking the East River, this is NYC's official Oktoberfest celebrations! Come for a giant mug of German beer, the big Bavarian soft pretzels, plus great views of the Brooklyn Bridge from this location!
Our favorite thing to do though is do a DIY German beer crawl through the different German biergartens and beer halls in Brooklyn. From DSK in Fort Greene to Black Forest in Carroll Gardens (& Fort Greene) be sure to check out our favorite Brooklyn German biergartens to build your own day of fun!
Oh and we highly encourage you to dust off your lederhosen and dirndl if you have them for all of these Oktoberfest celebrations during September in NYC!
Museum Day
Not only one of the best things to do in NYC in September, but something that can be enjoyed nationwide annually on a single ay in September is Museum Day!
This annual event, organized by Smithsonian Magazine, offers free admission to participating museums all over the country! You can search Museum Day's official website for participating museums and to get your tickets!
A few of the notable museums in NYC participating including The Museum of Jewish Heritage, Asia Society Museum, Cooper Hewitt Smithsonian Design Museum, and The Jewish Museum to name a few.
The Feast of San Gennaro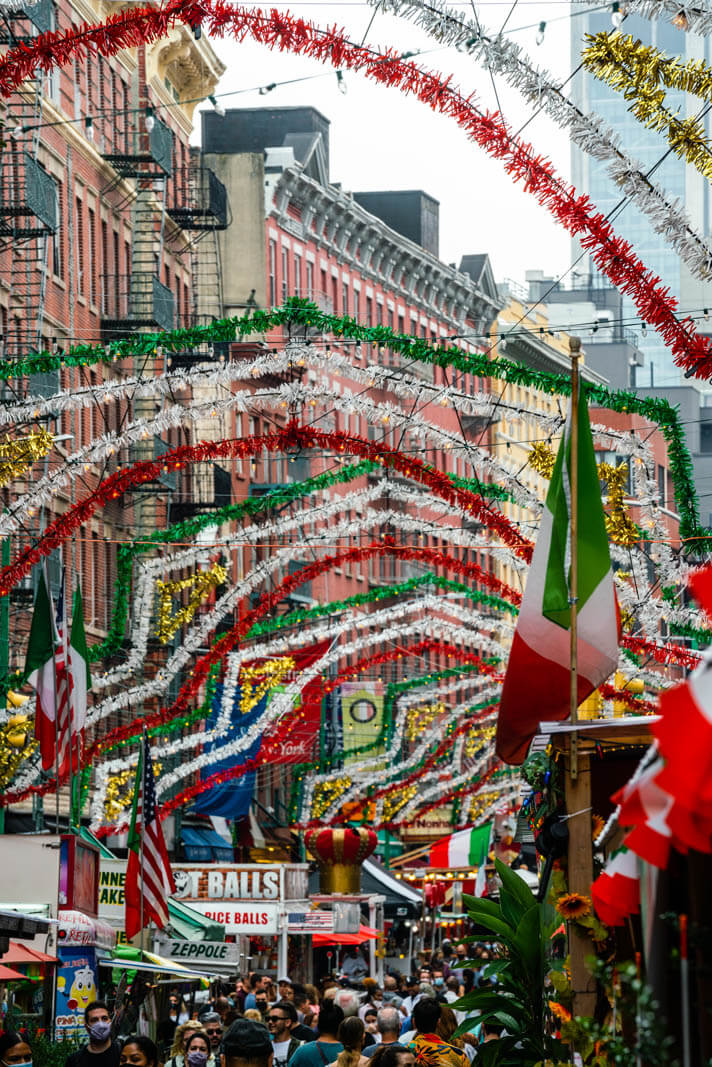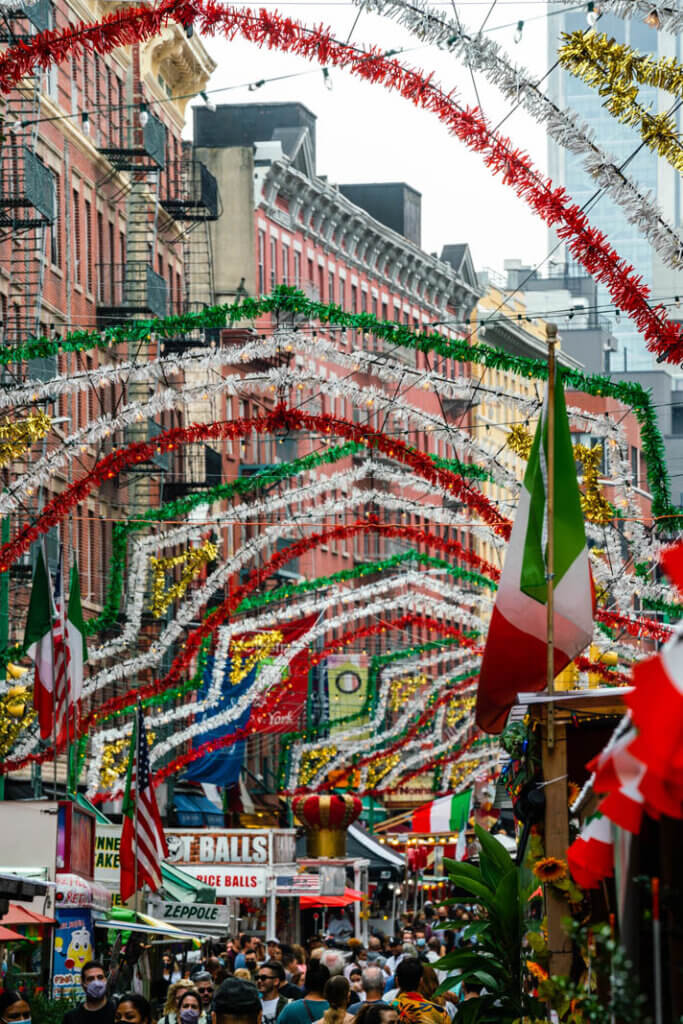 One of the best things to do in NYC in September is attend the Feast of San Gennaro festivities! The Feast of San Gennaro is a huge annual Italian-American celebration that's been happening in NYC since 1926!
The streets of Little Italy are transformed into an 11 day festival full of fun from Italian eateries and vendors, carnival games, rides, live performances, and multiple eating competitions featuring Italian favorites like canolli, zeppole, pizza, meatballs, and more!
Hint: come hungry! The festival itself honors the patron Saint of Naples and is the most famous and celebrated Italian-American festival in the city.
Brooklyn Bagel Fest
One of the best things to do in NYC in September is celebrate one of the most iconic foods of the city – BAGELS! This annual festival that takes place annually mid September at CityPoint in Downtown Brooklyn allows you to sample the best of the best when it comes to bagels in the city.
Beyond sampling all types of bagels and bagel-related food and drinks there are bagel-themed events, games, and even discussions! After sampling your way around the best bagels of NYC you can cast your vote and help determine who wins the best bagel of the year award!
Get your tickets to Bagel Fest and use promo code BROOKLYNGUIDE for 10% off your purchase!
Rockaway Beach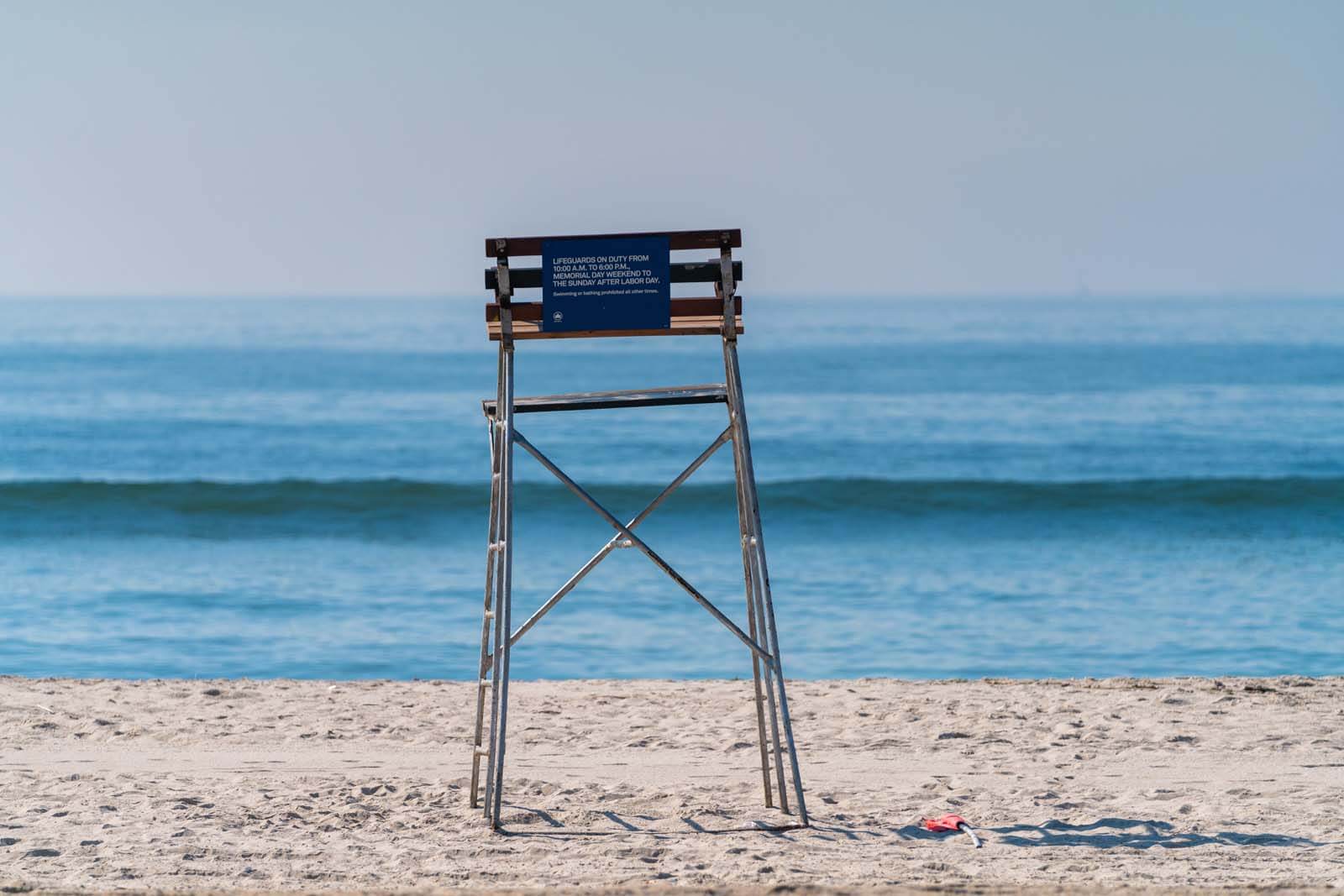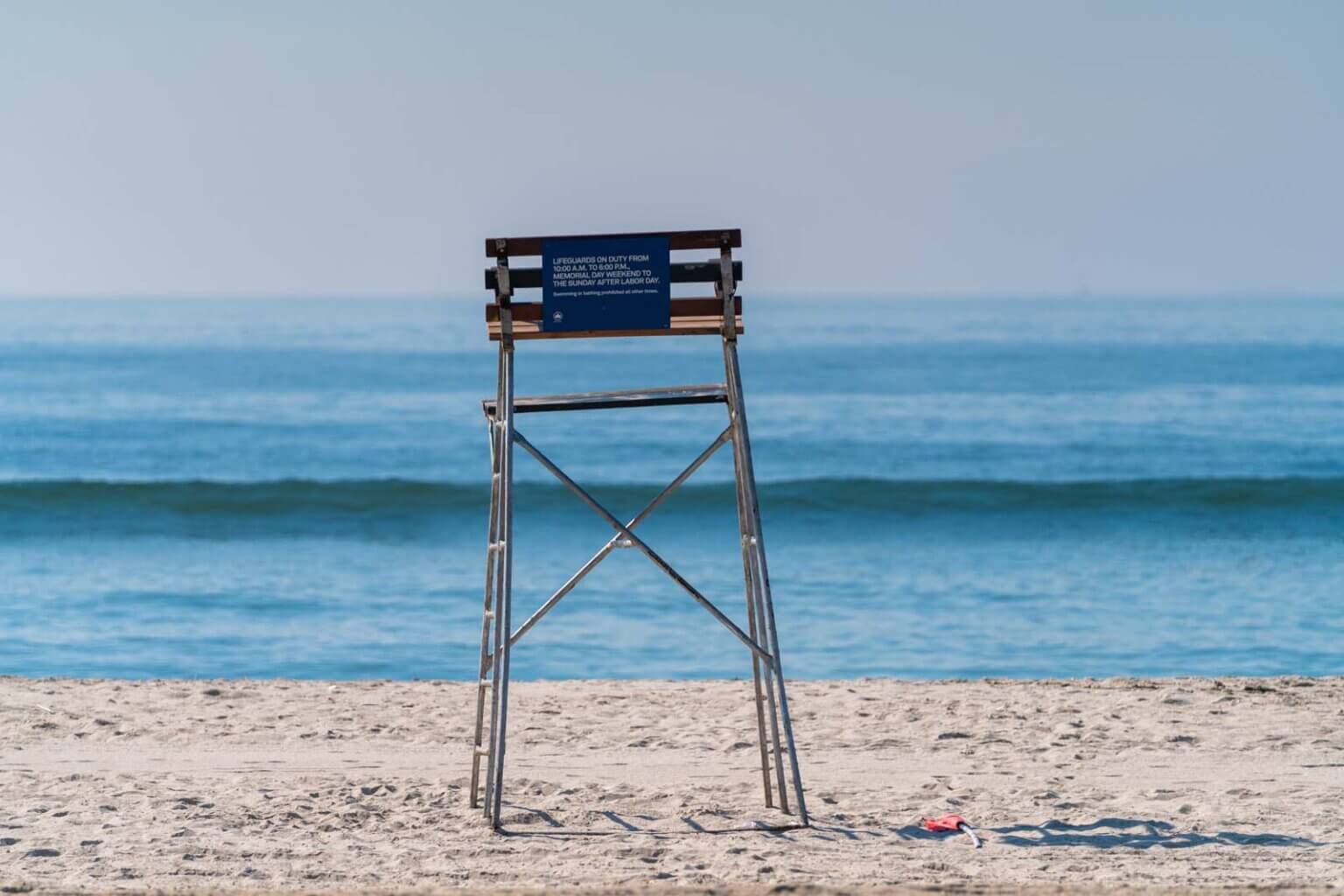 September in NYC is a great time to get a last-minute beach trip in before it starts getting too cold. You'll compete with fewer crowds because school is back, and with the NYC ferry service to the Rockaways makes it easier than ever to get there without a car (you can also take the subway too).
This is one of the best beaches in NYC becasue not only are there good food options here, but the beach stretches 150 New York blocks so there's lot of sandy real estate to comfortably maneuver or find a spot to park yourself all day and soak in the sun in the sand.
Swimming is only allowed while lifeguards are on duty from 10 AM – 6 PM.
Governors Island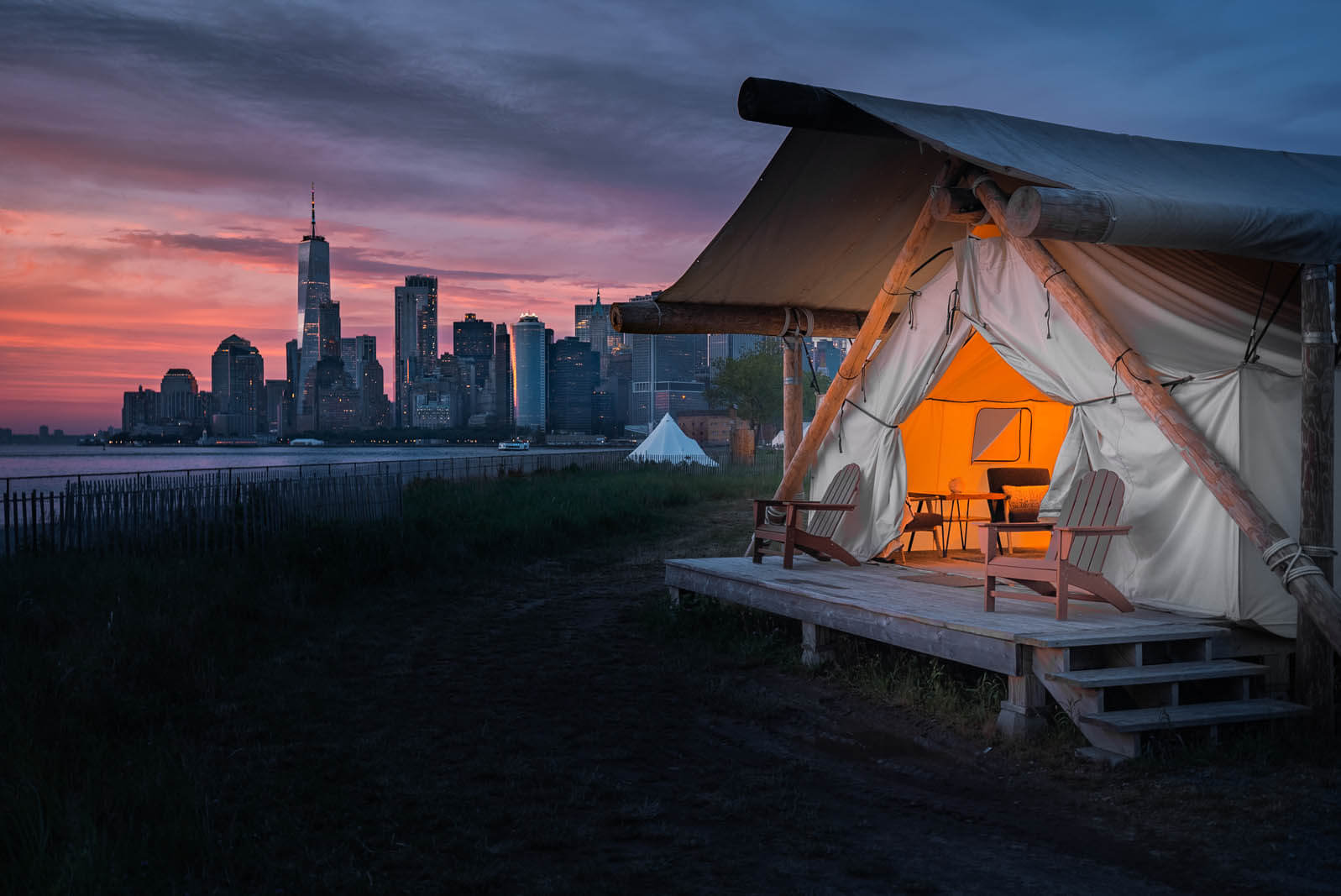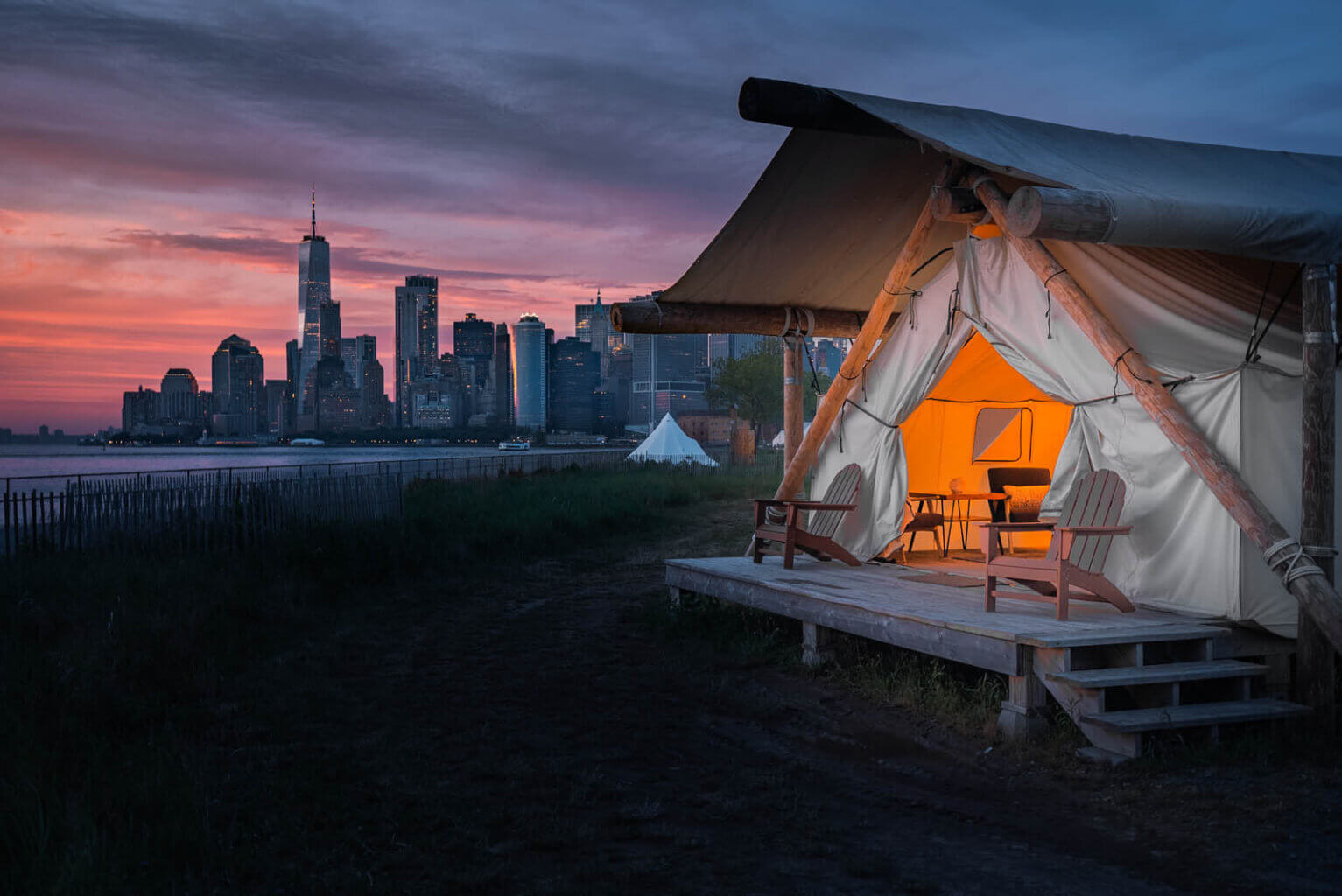 One of the best places to visit in NYC is Governors Island. This former military base located in New York Harbor not only as a ton of things to do, places to eat, a spa with and outdoor pool with skyline views, tons of picnic spots, and some of the best views of the Statue of Liberty and Lower Manhattan skyline – but it's completely free to get to on the weekends before noon!
Even when it's not free, a round trip ferry ticket is only $4.
Also, if you're looking for one of the most unique hotels in NYC, be sure to try out the glamping on Governors Island! Since it's nearing the end of 'glamping' season it's a great time to spend the night! You'll even get to toast marshmallows over an open fire with the backdrop of the night skyline featuring the World Trade Center and Statue of Liberty around you!
It's pretty magical if you ask us!
New York Fashion Week
Every September in NYC is Fashion Week! Get ready to spot celebrities, fashion designers, and get in on the action of all the fashionable events that take place.
Unless you're an elite guest with a special invite, you won't be able to get tickets to the 'big name shows' as those events aren't open to the general public.
There are events happening all over the city and there are events available to the public with a ticket. You can check out a few of the upcoming events for the public, and if you can't make one of the shows be sure to just keep your eye out during Fashion Week for the biggest names in the biz. You never know who you might see!
Catch an NFL Game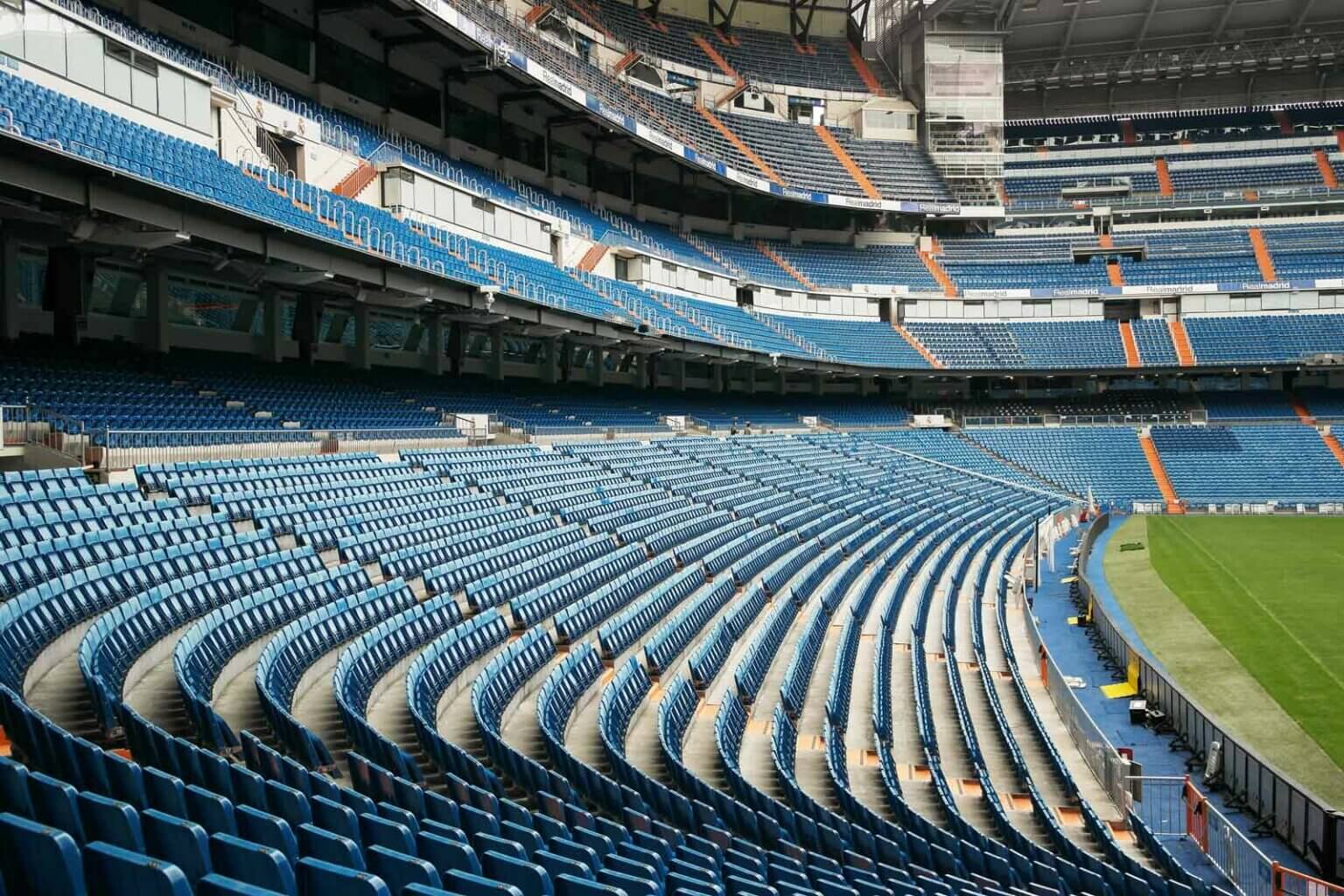 If you are visiting NYC in September that means you get to catch the beginning of the NFL season! Both the NY Giants as well as the NY Jets play at MetLife Stadium in New Jersey.
While both teams are trying to be relevant this year, it's a great way to cheer for your favorite team. If you're a transplant, it's a great way to see your favorite team here vs a New York team and possibly at a steep discount.
For an even better discount, you can get tickets for the New York Giants or Jets on SeatGeek, a popular ticket search engine that makes finding tickets to sporting events, concerts, and many other live events in NYC quick and easy.
When you add our promo code BROOKLYNGUIDE to your SeatGeek account, you receive $20 off your first ticket purchase.
(We receive a small commission at no extra cost to you)
Fluffy Cloud Experience (September 24 ONLY)
View this post on Instagram
If you're looking for a truly unique thing to do in NYC in September check out the one-time-only event, the Fluffy Cloud Experience, on September 24th. This immersive exhibit is a 3 story sound and light exhibit.
Dubbed as MORE THAN A CONCERT, this is for the people who are interested in 360 immersive experiences featuring light shows, electronic dance artists, special effects, live music, games food and drinks. This will only be a one-time thing in a 3 story building featuring 33,000 LED lights.
You need to book your tickets in advance. The location of the event is Under the 'K' Bridge Park in Greenpoint. Be sure to check out the best Greenpoint bars and best Greenpoint restaurants before or after this immersive experience!
SUMMER STAGE
One of the best things to do in NYC in September is attend all the free programming from Summer Stage. This free concert and entertainment series provided by the City Parks Foundation in all five boroughs from August to October.
Each year they transform the neighborhood parks of each borough into dynamic, vibrant centers of urban life through sports, arts, and community-building programs for all New Yorkers. They have everything from legendary jazz performers, indie bans, and other musicians, dancers, performances, and even movie screenings.
It's located in over a dozen parks around the city so there is guaranteed to be one near you, for a complete lineup and which park is having which performer read the full schedule here.
CATCH A BASEBALL GAME

If you're a baseball fan then you're in luck, you have two great choices for America's favorite pastime this September in NYC as the season continues!
Baseball's most famous franchise, the Yankees, play at Yankees Stadium in the Bronx. Which is super accessible from anywhere in the city by subway as Yankee Stadium is an easy three-minute walk from the subway.
But for those who are into the Mets or also just like experiencing the different stadiums, you can also catch a game in Queens at the Citi Field Stadium.
And if you really love baseball and want to check out a minor league team, consider catching a Brooklyn Cyclones game in Coney Island!
You can get tickets for the Yankees or Mets on SeatGeek, a popular ticket search engine that makes finding tickets to sporting events, concerts, and many other live events in NYC quick and easy.
When you add our promo code BROOKLYNGUIDE to your SeatGeek account, you receive $20 off your first ticket purchase.
(We receive a small commission at no extra cost to you)
Shakespeare in the Park
View this post on Instagram
One of the best free things to do in NYC in September (that's free) is Shakespeare in the Park which takes place in none other than Central Park at the open-air Delacorte Theater. This theatrical program offers free productions of Shakespearean plays produced by the Public Theater.
And yes, it is completely free and tickets are available the day of the performance running from June through September. Although, getting tickets will require some planning – this guide by TimeOut tells you all the different ways you can get tickets!
Save Money on the City's Best Attractions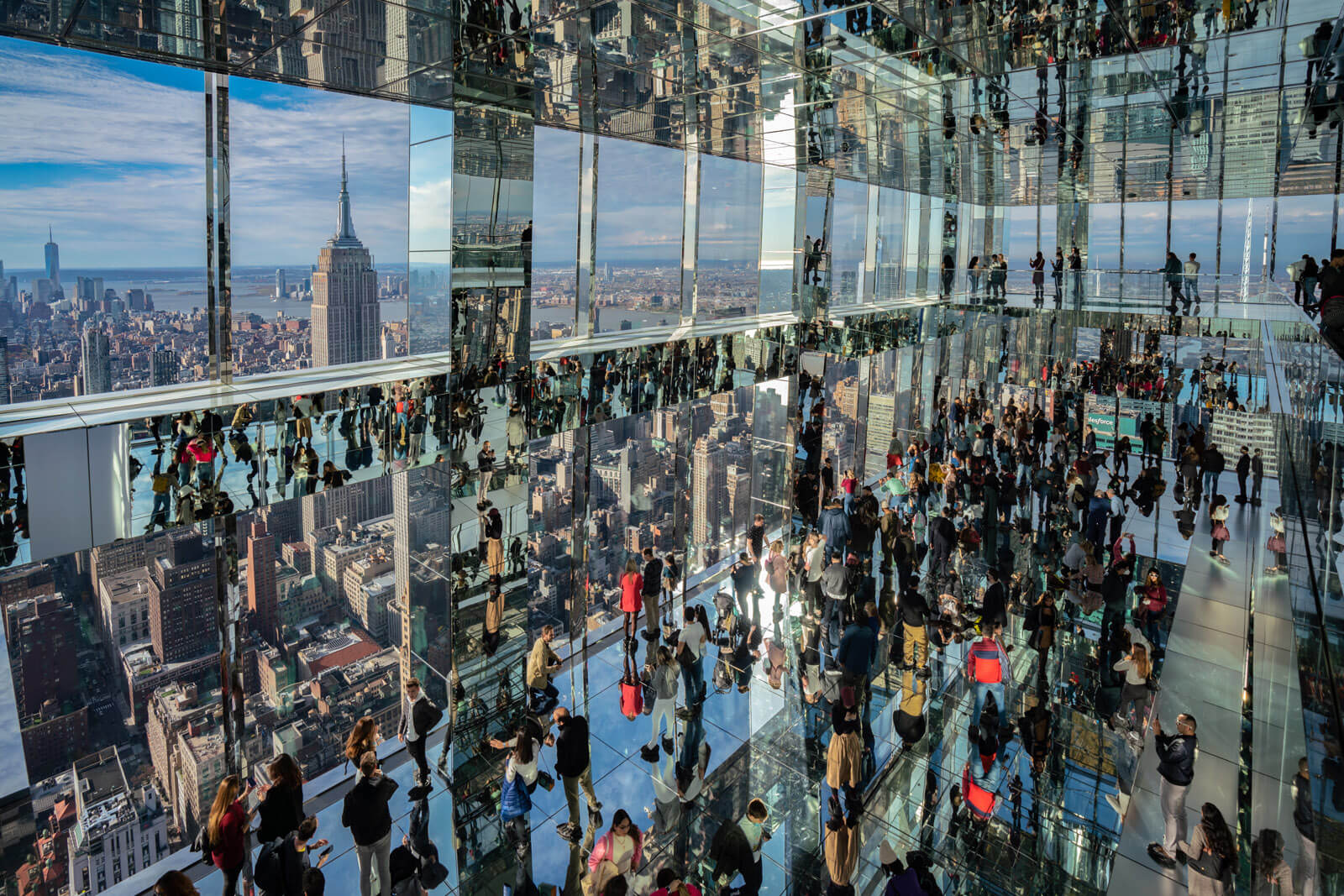 One of the best things to do in NYC in September is take advantage of the tail end of those longer summer days and check out some of the best NYC experiences and tours. Like the best observation decks in NYC to enjoy some of the best views in the city.
We have a money-saving secret for you as these hot ticket items can ADD up and cost a fortune. If you're going to be visiting for a few days or just want to do some sightseeing in a few days consider the different money-saving attraction passes available in NYC. (PS these also work for many of the best museums in NYC too).
These attraction passes are paid upfront for a one-time fee and on your trip, they get you into multiple different attractions for free meaning that you save some serious money overall. By purchasing an attraction pass you can save anywhere from 35-45% on your attraction and saving you hundreds of dollars on your visit!
CityPASS offers a 3 attraction pass or a 6 attraction pass with over 12 city attractions to choose from including popular observatories like the Empire State Building, The Edge, Top of the Rock, 9/11 Memorial & Museum, Statue of Liberty & Ellis Island, the Guggenheim, and more!
Another great option is the New York Pass which you can purchase anywhere from a 1 Day Pass to a 10 Day Pass that gets you into over 100 attractions. YES! This one is better if you want MORE options. Once you purchase your New York Pass you download the Go City app and use that to get up to 45% savings on popular attractions as well as a few hidden gem attractions ranging from the Empire State Building to museums and MANY more.
See our full breakdown of the New York Pass and our breakdown of the New York CityPASS to see if it's worth it for your visit to save hundreds of dollars on multiple attractions!
PIZZA & WINE MOVIE NIGHTS AT ROOFTOP REDS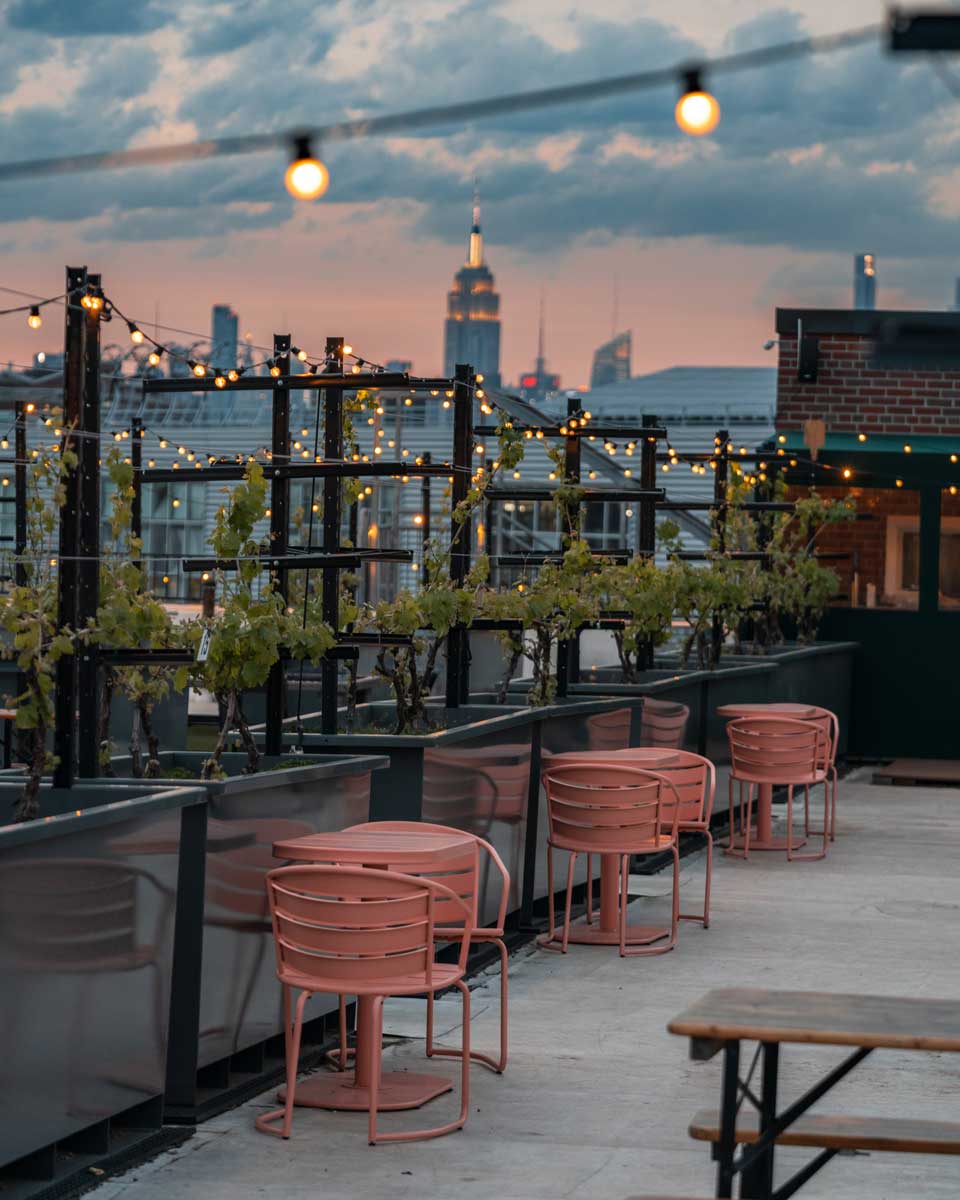 What's better than sharing some pizza, wine, and a movie with a loved one or friends? Doing it on a roof with skyline views! Not to be confused with Rooftop Films, but Rooftop Reds, one of the best rooftop bars in Brooklyn, does a series during the late spring through fall in Brooklyn Navy Yard that offers some of our favorite views of the city along with a movie! Making this one of our favorite September in NYC activities.
Rooftop Reds is actually the city's only rooftop vineyard, but there are a few wineries in Brooklyn so if you're a wino, be sure to check those out too and hit up all the different tasting rooms and wine bars.
Rooftop Reds partners with a vineyard in the Finger Lakes region in Upstate New York to bring wine country right here to the city. So while you're enjoying a movie, you can also enjoy a wine tasting or carafe made right here in the good ol' state of New York!
The programming began in May and continues all through October.
CONEY ISLAND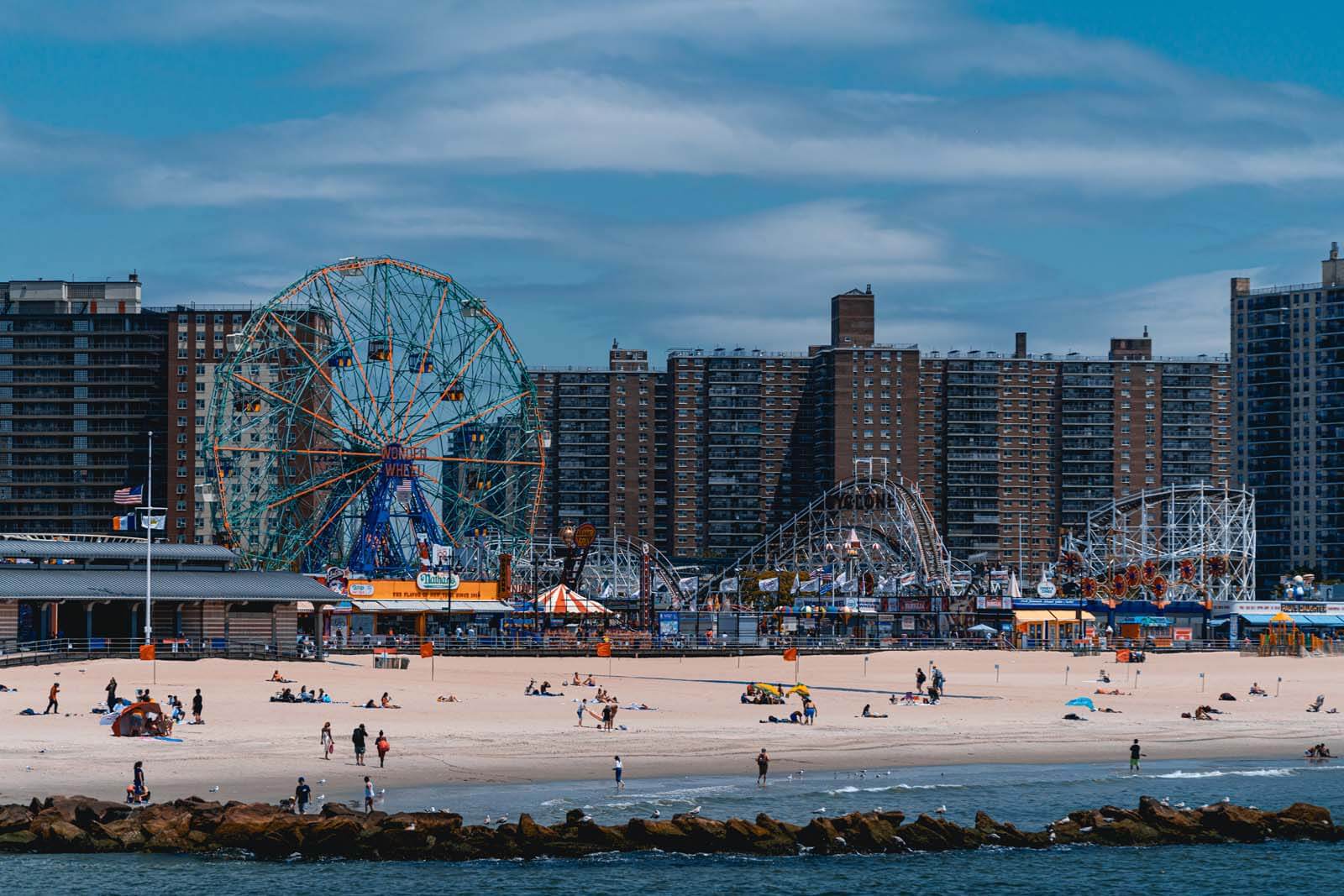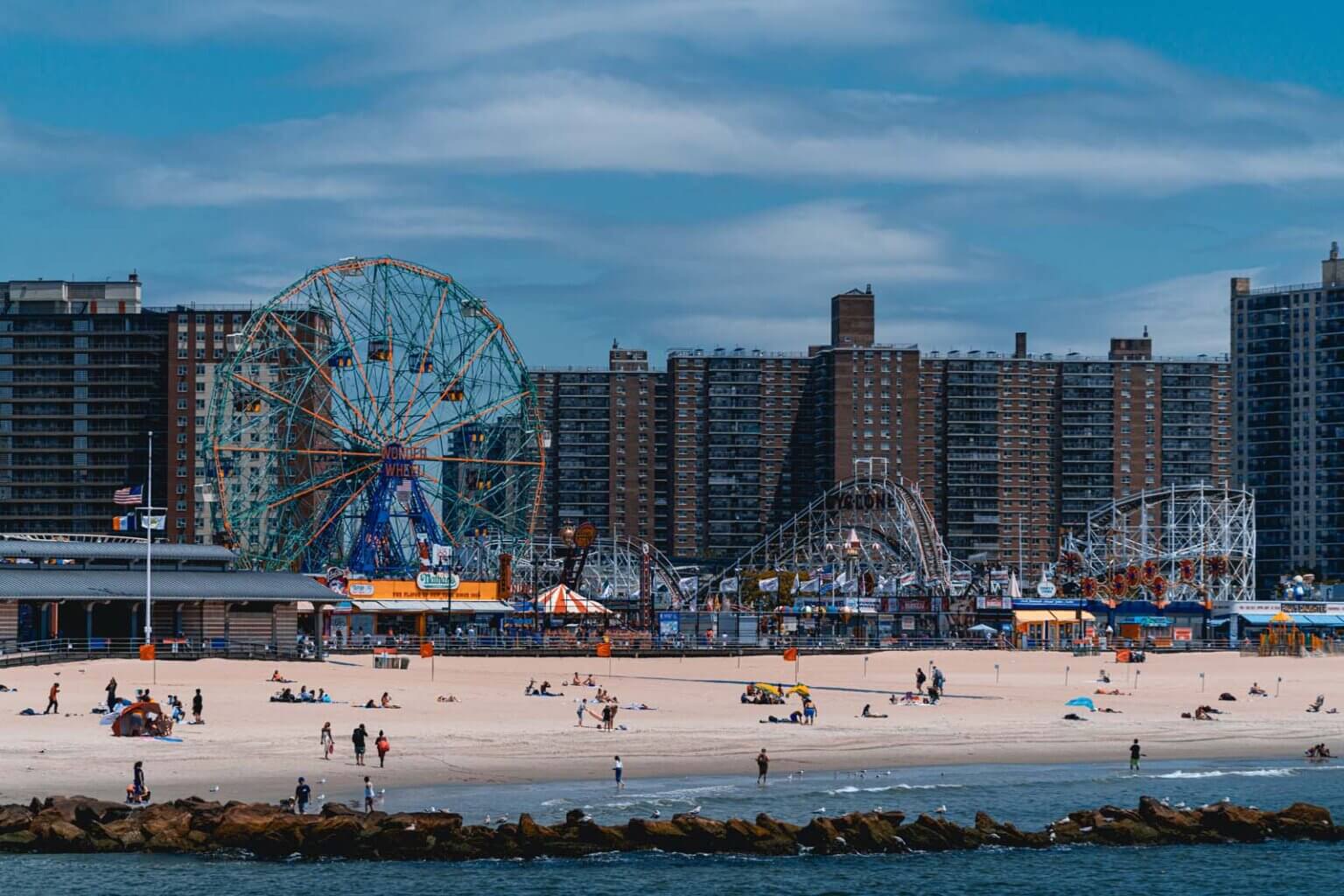 One of the best things to do in September in NYC is to spend a day at Coney Island, one of the most beloved and historic amusement parks in the country. Whether you're going for the beach or amusement parks, or both this is a great place to check out in NYC.
There are so many cool things to do at Coney Island like riding the Wonder Wheel (which is over a century old), walk the famous Riegelman Boardwalk, eating a Nathan's hot dog, visiting the New York Aquarium, catch a Side Show (if you're a cat lover you will also want to keep an eye out for the Sideshow Cat here too), or just lounge at one of the best beaches in NYC.
Rooftop Bars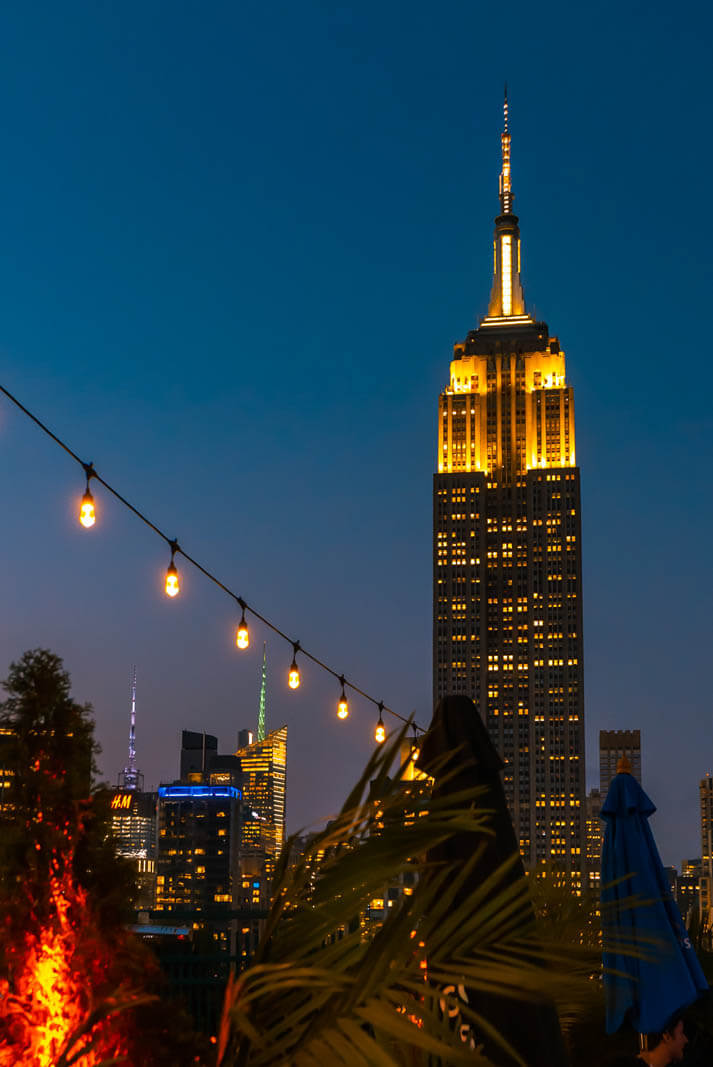 September in NYC is the perfect time to enjoy the more comfortable temps (the summer can be brutally hot here) and enjoy one of the many amazing rooftop bars in NYC! Whether you want to do day drinks with friends, sunset on a rooftop, or enjoy one of the best spots in NYC at night taking in the twinkling city lights – there are so many amazing spots to choose from here.
In Brooklyn, check out Westlight in Williamsburg at the top of the William Vale where you'll find one of the best rooftop bars in Brooklyn with an incredible skyline view of Midtown and the Empire State Building, reservations are recommended!
Tucked away between Brooklyn Heights and DUMBO, check out Harriet's Rooftop & Lounge for more insanely beautiful views (even from the bathroom too).
Manhattan has so many options, be sure to check out Magic Hour at the Moxy Times Square. This is a better night spot as it lights up as bright pink with an open roof with direct views of the Empire State Building!
Head to NoMad and you'll land at one of the most well-known NYC rooftop bars at 230 Fifth. Or head to Daintree, a swanky cocktail bar is high above the Manhattan skyline and shows off some of the best views of NYC as well as some of the best cocktails!
---
We hope you enjoy all these amazing things to do in NYC in September. Let us know if we missed one of your favorite September in New York activities in the comments below.