Are you celebrating St. Patrick's Day in NYC? Or looking to head to the famous NYC St. Patrick's Day parade? If so, we got you covered. After all, Irish Americans make up one of the largest groups of the city's population with immigration dating back to the country's earliest days.
It's really no wonder why Irish Americans are a huge part of the fabric and history of the city as well as Irish establishments including some of the oldest and most historic bars in the city, historic landmarks, and St. Patrick's Day celebrations.
For seasonal events and festivities, celebrating St. Patrick's Day in New York is one of the best things to do in NYC!
Background of St. Patrick's Day in New York
It's an understatement to say that the NYC St. Patrick's Day Parade is a really big deal. The annual parade goes way back to 1762, over a decade before the Declaration of Independence was signed! Through wars, riots, and national crises, the parade has been a mainstay of St. Patrick's Day in NYC.
St. Patrick's Day was originally celebrated as a Catholic holiday in Ireland that honored the patron saint of Ireland, but over the years it became a way to celebrate Irish culture.
In the 1700s, Irish immigrants brought to the continent by the Potato Famine and Irish soldiers in the British army homesick for Ireland used the holiday to celebrate their culture. They wore green, played bagpipes, and spoke Irish (which was banned in Ireland at the time). New York City was even hosting a St. Patrick's Day Parade before Ireland was!
The 1762 NYC St. Patrick's Day Parade was put on by military groups, but eventually, volunteer groups took over the planning. But the marchers have always been the star of the event. No floats or vehicles are allowed. Instead, 150,000 marchers lead the procession each year, representing the military, unions, Irish bands and other cultural groups, schools, and more.
According to the US Census Bureau, New York City has the largest population of Irish American residents (though Boston beats us with the highest percentage of the population). It's no surprise that the parade remains an important part of NYC culture, being celebrated by those with Irish roots and everyone else!
Things to do Around St Patrick's Day in New York
1. St. Patrick's Day Parade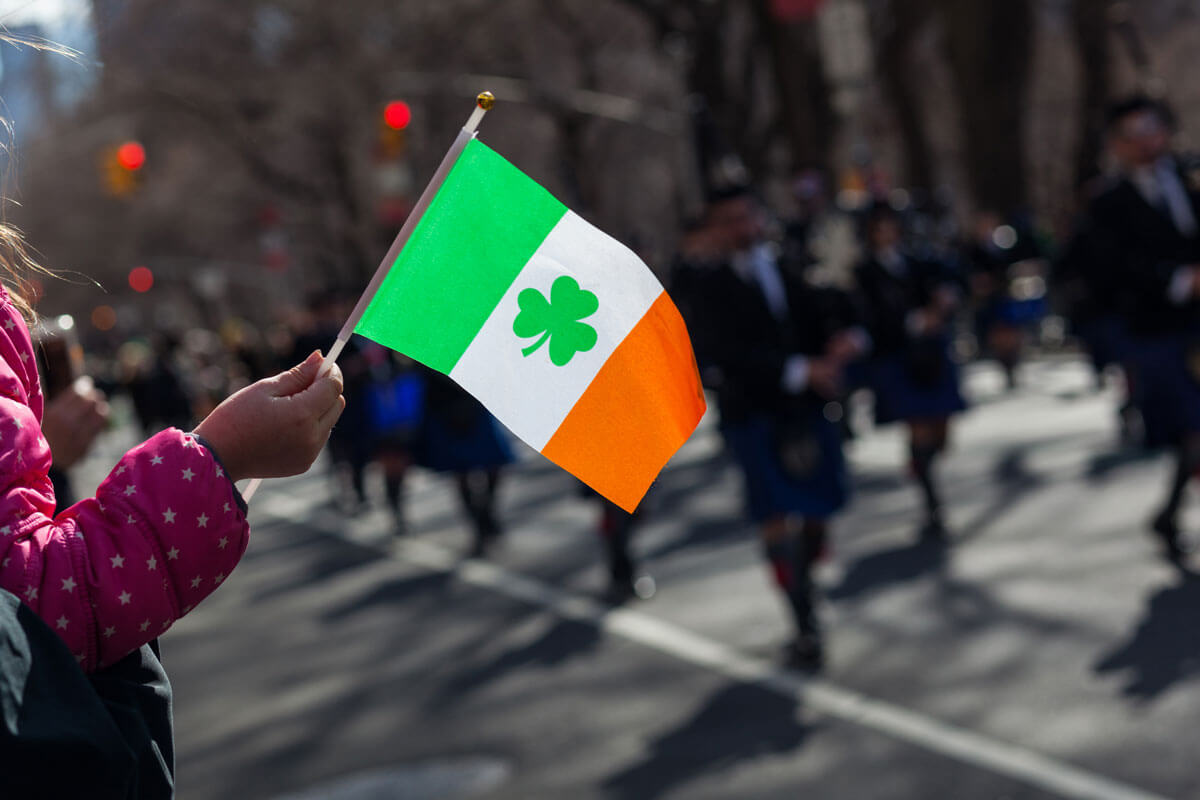 If you're looking for things to do in March in NYC, you'll find tons of things to do around St. Patrick's Day. We'll get to all the great cultural events and Irish pubs you can patronize, but the St. Patrick's Day Parade is the main NYC event, held on March 17th every year.
This is a parade where you should come ready for a good time. There's Irish music, dancing, and general jolliness. A lot of people like to dress up, and it's festive to wear Kelly green, in honor of the Irish flag. Orange, white, and green make up the Irish flag colors, but we don't suggest wearing orange, which signifies loyalty to Great Britain!
Don't expect to see a line of floats like during Macy's Thanksgiving Day Parade or the Christmas Parade. The NYC St. Patrick's Day Parade doesn't allow any floats, cars, or other vehicles. This parade is all about the people, with 150,000 to 200,000 marchers each year!
Every year, a different Grand Marshal leads the procession. In the past, Grand Marshals have included famous authors, union leaders, political figures, and important Irish American leaders. For over 150 years, the 69th New York Infantry Regiment has led the parade up 5th Avenue.
It's a lot of fun to see the Irish dance groups, bagpipe bands, drum groups, and more. All 32 counties of Ireland are represented in the NYC St. Patrick's Day Parade, as well as the NYPD, FDNY, multiple workers' unions, and Irish and Gaelic societies. And you'll see many marchers wearing traditional Irish attire and playing traditional Irish instruments.
The parade is held the same day every year, on March 17th (unless the 17th is a Sunday, then it's held on the 16th). Things kick off at 11 AM on the dot and go until 3 or 4 PM.
Tips for Seeing the NYC St. Patrick's Day Parade
If you want to be part of the 2 million onlookers that watch the parade in person, come early to get a good seat along 5th Avenue! You can come as early as you want the day of, and the parade has never been canceled due to bad weather. You just might need to bring a raincoat for spring showers in the forecast.
The parade starts on 5th Avenue at E 44th Street and follows the Avenue up to 79th Street. For thinner crowds, look at the beginning and end of the parade route. For great views, head to the area between E 50th and 51st Street, where St. Patrick's Cathedral is located. It's a popular spot and it's going to be crowded here. It's where the grandstands are as well as VIPs and commentators.
If you want grandstand seats, you have to write a letter to the NYC St. Patrick's Parade Office! They're first come, first served, and you have to get your letters in by March 1 to be considered.
For amazing views from above, there are a handful of hotels along 5th Avenue with rooms that face the avenue! Also, you can watch the parade being broadcast live in its entirety on a few local channels and online.
Accessibility at the parade is limited and you'll have to plan ahead to get around. First, there are a TON Of road closings on East Side along the parade route. They're mainly between Park Avenue and 6th Avenue from the 40s into the 80s. All routes will be detoured around closures. Also, grandstand seats aren't accessibility friendly, and there are no portable restrooms along the parade route.
Finally, our best tip for attending the NYC St. Patrick's Day Parade is to bring cash, water, and dress up! You'll find restaurants open on side streets, and vendor carts will be selling food and drinks on 5th Avenue. And drug stores and costume stores will have green, Irish-themed items you can deck yourself out with. So, have fun!
2. St Patrick's Cathedral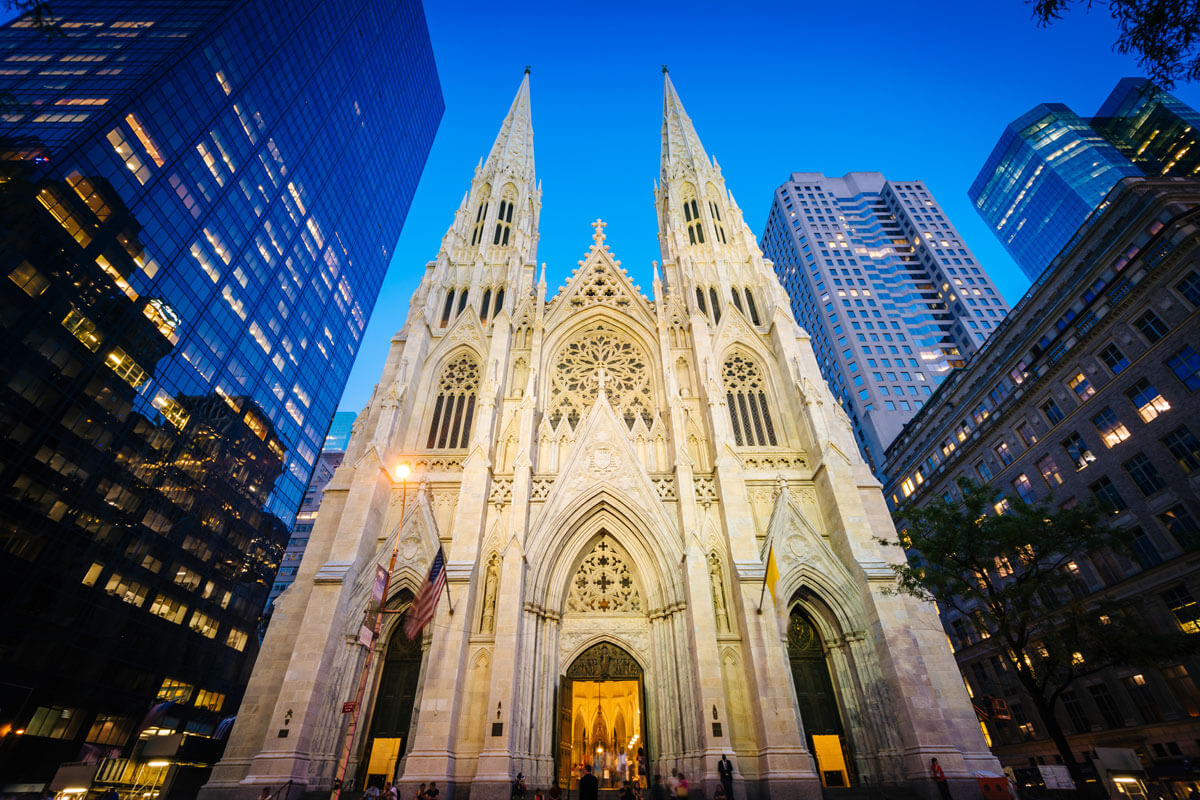 You can visit the St. Patrick's Cathedral on 5th Avenue and 50th Street on St. Patrick's Day in NYC or any other day. The church is open for visitors from 6:30 AM to 8:45 PM daily.
Throughout the week, around scheduled events, you can take guided group tours, private tours, or self-guided tours. If you want to skip the tour, you can come to see the stunning Gothic-Revival-style cathedral. It's the largest of its kind in North America and opened its doors back in 1879.
Come for Mass or for special concerts and events. On St. Patrick's Day evening, there's usually a visiting choir, and there's a special service on the Sunday of St. Patrick's Day. A few years ago, St. Patrick's Cathedral also began the annual tradition of the Day of Giving on the 17th, where you can give to support the church and its local parish.
3. Basilica of St. Patrick's Old Cathedral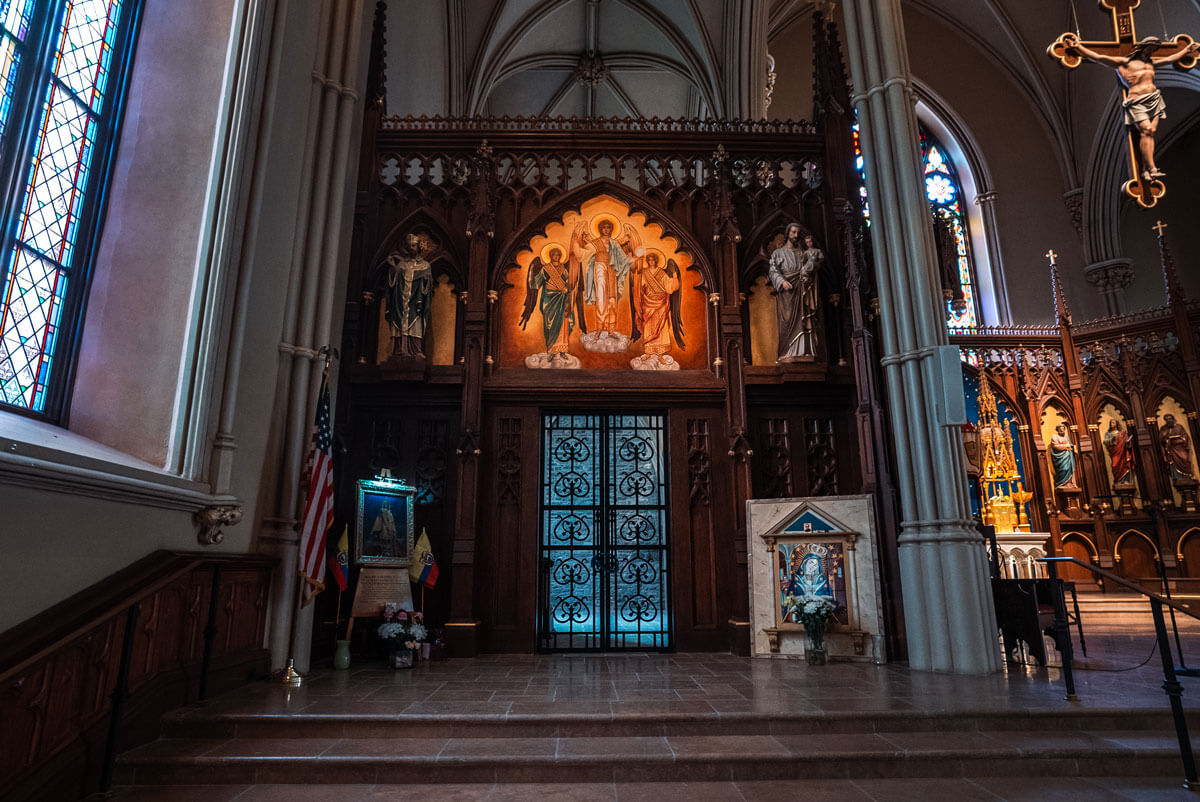 For some true Irish-New York history, head to The Basilica of Saint Patrick's Old Cathedral in Nolita. Built-in 1815, this was the original Irish-Catholic cathedral before the new church on 5th Avenue opened more than 60 years later.
Until 1830, the Old St. Patrick's was the ending point of the NYC St. Patrick's Day Parade. During the early 1800s, the church saw some dark times, located in an area tense with fighting between Protestants and Catholics, as well as Irish gangs. The church was looted, shot at, defended from rioters, and almost burnt to the ground!
The beloved church was defended and remains today an important part of the Nolita neighborhood. It's home to a multi-ethnic parish made up of 2 churches that host services in 3 different languages. Plus, the church was a filming location for a few movies and TV shows. It was the site of that unforgettable baptism scene from The Godfather!
Underneath the Old St. Patrick's are catacombs with crypts and vaults that hold many important figures from NYC history, as well as 2 individuals being considered for sainthood. They're fascinating to see and you book a 90-minute tour of the catacombs to learn more about old New York City.
4. Irish Arts Center
Maybe you're curious about Irish culture, looking for something to do with kids, or just want to support a good cause around St. Patrick's Day in NYC. The Irish Arts Center is a great place to visit for a few hours. You'll find the community arts center at 726 11th Avenue in Hell's Kitchen.
Around St. Patrick's Day in NYC, the Irish Arts Center hosts different events to support inclusive cultural education around the city. In the past, this has included benefit concerts, book fairs, and more. They hand out free Irish literature books on St Patrick's Day too! But they're best known for their annual St. Patrick's Open Day.
The Annual St. Patrick's Open Day is geared towards families, but you can attend without children. It's a free 4-hour open house with cultural performances, hands-on activities, food tastings, and more. You can take the opportunity to sample classes held throughout the year at the Irish Arts Center, including classes teaching the Irish language and playing Irish instruments.
5. Watch the Brooklyn Irish Dance Company
Experience the beauty of Irish Dance with a performance of Brooklyn Irish Dance Company's annual production of the original Celtic Odyssey. The performance group has a wonderful cast of performers with impressive accolades. This includes training through An Coimisiún Le Rincí Gaelacha and stints with companies like Lord of the Dance.
The Brooklyn Irish Dance Company puts on a few different productions during the year at locations across the 5 boroughs. Around St. Patrick's Day, they host their original dance theater production, Celtic Odyssey, in the Theater District of Manhattan.
6. Hit Up Irish Bars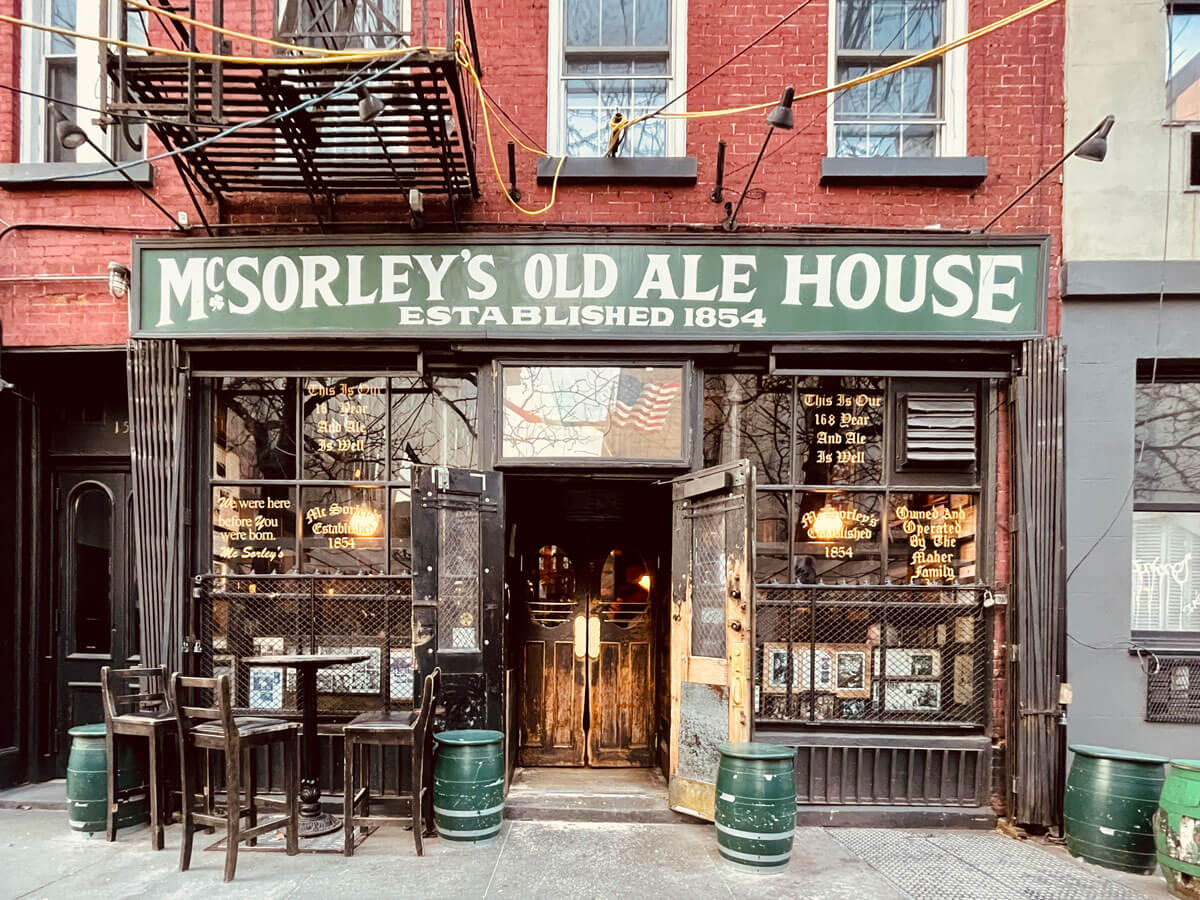 When the NYC St. Patrick's Day Parade ends at 4 PM, you know the party is just getting started! Continue the revelry with a visit to one of the many great Irish bars across the city, which many also happen to be some of the most historic bars in New York City too! There are well over 100 of them, but here are a few of the best ones.
McSorley's – Located in the East Village, McSorley's is a must-see bit of NYC history that dates back to 1854! Service is simple: you order either light or dark beer and there are only a handful of food items on the menu. McSorely's is cash-only.
The Dead Rabbit – voted the top bar in the WORLD, The Dead Rabbit serves up amazing Irish culture on Water Street in Manhattan. The Irish saloon was opened 10 years ago but has really set the mood in the 200-year-old building. Come for the atmosphere!
An Béal Bocht' – head to the Bronx for this hidden gem of Riverdale. An Béal Bocht' is known as a local gathering space with nightly performance art and authentic Irish dishes.
Donovan's Pub – Donovan's Pub in Woodside, Queens is what you think when you imagine a classic Irish pub. It's been a neighborhood joint since 1966 with warm interiors, a wood-burning fireplace, and good beer prices. On Saturdays, come for live music.
The Wicked Monk – Found on 3rd Avenue in one of Brooklyn's oldest Irish neighborhoods, Bay Ridge, The Wicked Monk is a fun place to enjoy good Irish food. The interiors are decorated with authentic pieces from a Gothic monastery in Ireland!
Peter McManus – a family-owned Irish pub, Peter McManus has been serving the neighborhood of Chelsea since 1936. Come by this NYC-style Irish bar for classic pub food and good beer in a laid-back setting.
Connolly's Pub – you know Connolly's Pub will be hopping on St Patrick's Day weekend in New York! Both locations (one on W 47th Street and one near Times Square) have a warm atmosphere and live music. Their beer list is impressive with hard-to-find Irish favorites!
PJ Clarke's – The original PJ Clarke's is on 3rd Avenue and 55th Street, where it opened in 1884. Today, all 3 locations in NYC keep to PJ Clarke's roots as a saloon for Irish immigrant laborers by keeping Guinness on tap.
7. Seek Out Great Irish Whiskey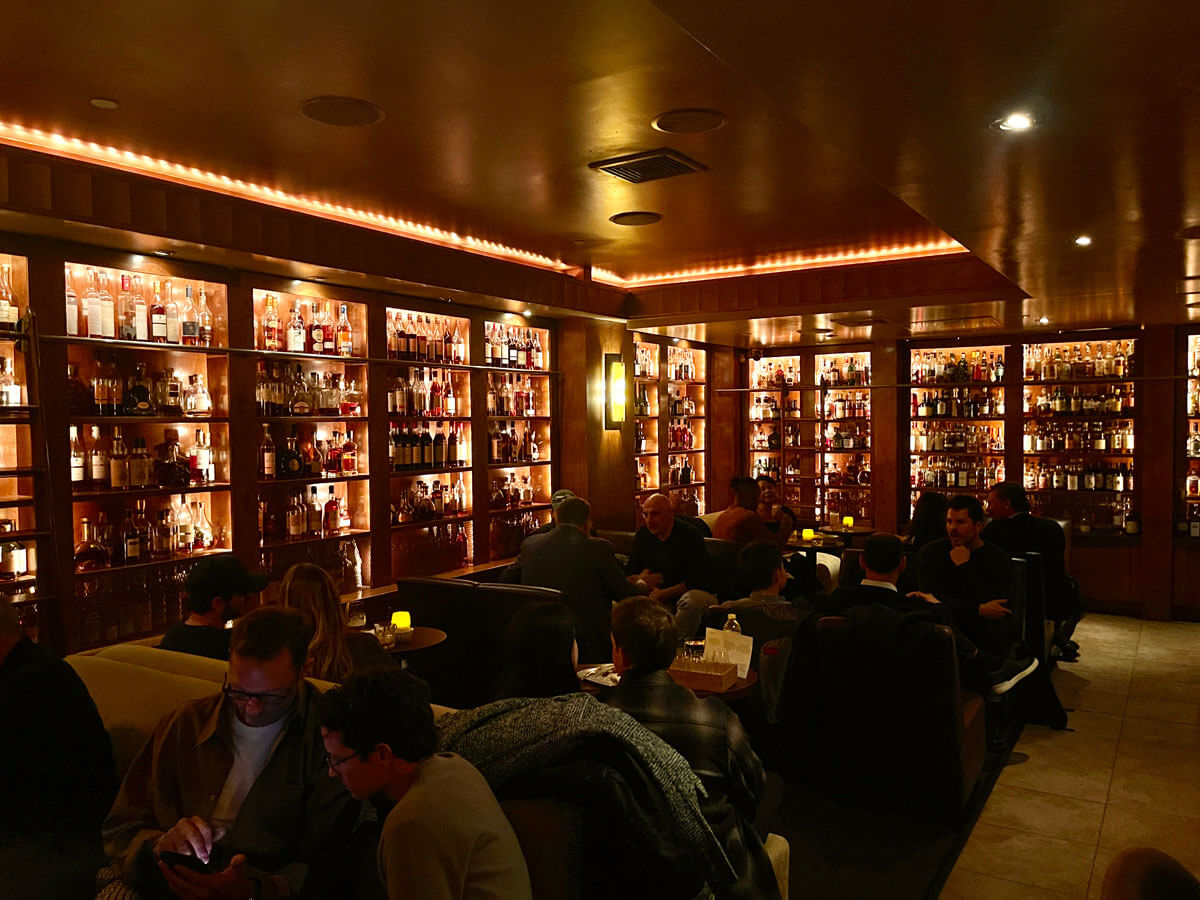 There's a big debate on whether American whiskey or Irish whiskey is the best, though it comes down to taste. American whiskey has a stronger, smoky-sweet flavor. Irish whiskey comes malted or unmalted, with a smooth and mild (but distinct) flavor.
Even if you love American whiskey, there's no better time to enjoy a truly great Irish whiskey than on St. Patrick's Day in New York. This is your chance to decide for yourself who the winner here is! We have a few suggestions for where to find a glass.
You'll love the glorious leather booths and romantic setting of the Brandy Library in TriBeCa. Sommeliers work with you while you're waited on by the white-linen staff. There's a wide selection of whiskeys for you to try, as well as scotches, cognacs, and more. They also serve small plates.
The Flatiron Room in Midtown has a retro setting, live jazz music, and a massive whiskey list! You could even take the opportunity to compare Irish, Scottish, American, Japanese, and Canadian whiskeys, or stick with the dozens of Irish options. They also serve elevated American cuisine.
You won't want to leave The Craic in Williamsburg. They have cozy interiors with plush chairs and sofas or find a seat at a table or at the bar. The homey Scottish/Irish bar is the perfect place to spend a chilly March day trying a few of their authentic Irish whiskeys.
8. Join the Official NYC St. Patrick's Day Pub Crawl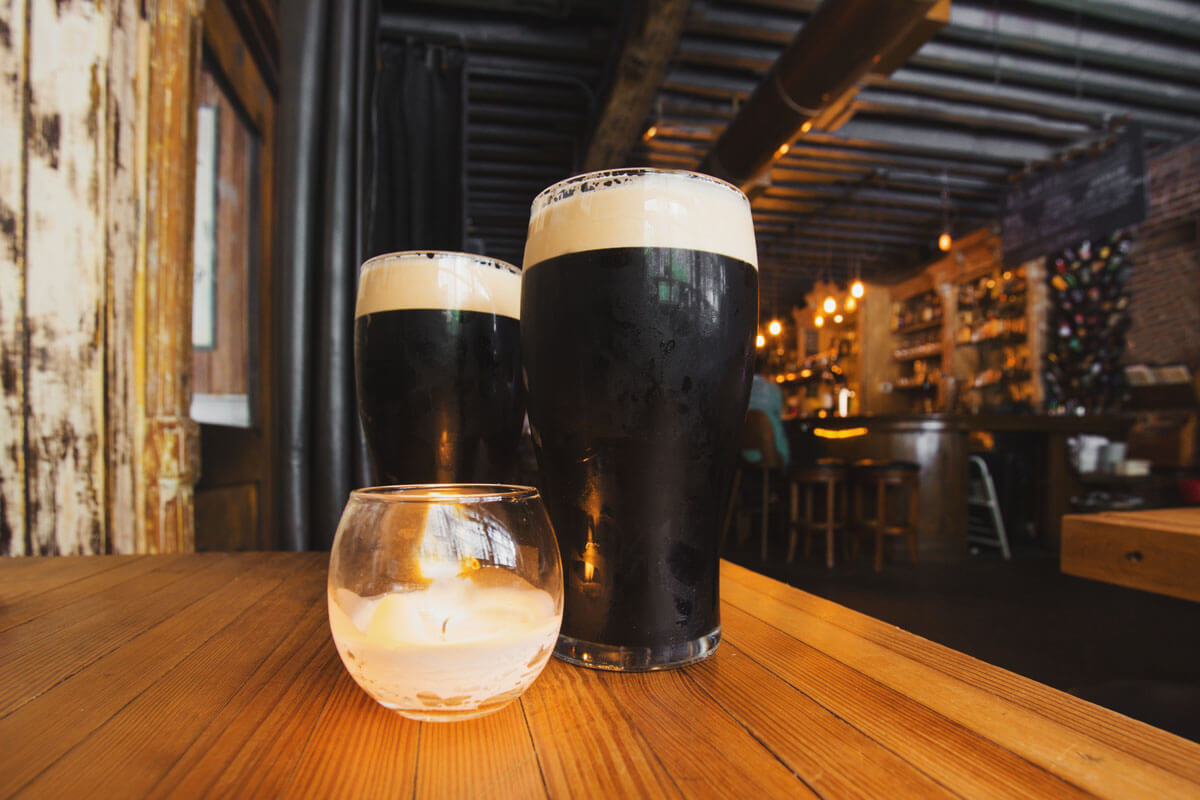 After Thanksgiving, St. Patrick's Day in NYC is the biggest drinking day of the year across the city! The St. Patrick's Day Weekend Pub Crawl has become a massive official event with thousands of participants. This is a really fun way to spend your evening after the NYC St. Patrick's Day Parade, and you'll have plenty of company!
The way it works is you sign up for the event. You'll be sent a wristband, which will get you into the dozens of pubs across the city that participate in the pub crawl. The wristband will guarantee you entry with no cover, as well as deals and specials.
9. Sober NYC St. Patrick's Day Celebration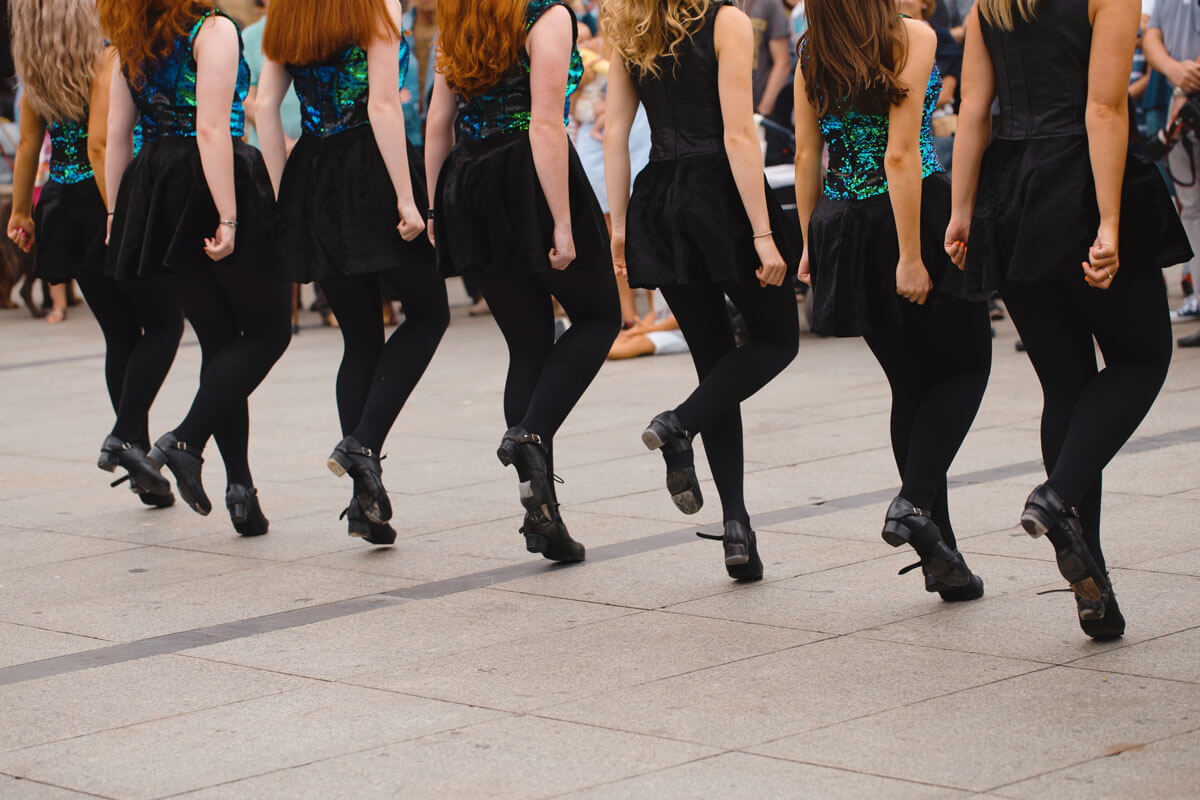 For those who are sober, you don't have to avoid celebrating the parts of Irish culture that you love! There are so many parts of St. Patrick's Day that you can still participate in, and in an environment that you feel safe in.
Hosted by Church of Our Saviour Undercroft at 59 Park Avenue, Sober St. Patrick's Day offers a special event after the parade from 4 to 6:30 PM on March 17. Come by to see Irish dance, musical performances, Irish storytelling, and more. This is a family-friendly event, but you can come on your own and have a wonderful time.
For those who are interested, there's also a pre-parade event at the church from 11 AM to 1 PM. Come by to pick up free Irish literature, find out about recovery support, eat some food, and attend a noon mass.
10. Enjoy Irish Cuisine
After a long day at the NYC St. Patrick's Day Parade, nourish your body with some hardy Irish cuisine. One of the best ways to experience any culture is through its food, and that includes Ireland. A country with a distinct agriculture whose food was shaped by political and historical events, Irish food is an experience.
Some common dishes include shepherd's pie, bangers and mash, fish 'n' chips, and corned beef and cabbage, to name a few staples. The key is to sample them at an authentic Irish eatery. Thankfully, New York City has so many good ones!
We already included Connolly's Pub and Restaurant on our list of Irish pubs, but it bears repeating for the amazing food! You'll be impressed with the solid classics, including the shepherd's pie, which is top-notch here.
And you can't get more authentic than the dining room at Finnegan's Wake. Try very-Irish dishes like beef and kidney pie.
Take a stroll through Midtown on St. Patrick's Day in NYC and end up at P.J. Carney's Pub on 7th Avenue. Enjoy this genuine century-old Irish bar while you try the classic pairing of fish 'n' chips and a pint of Guinness.
Or head to the Landmark Tavern, opened in 1868 by an Irish-American family in today's Midtown West.
11. St. Patrick's Day Party Cruise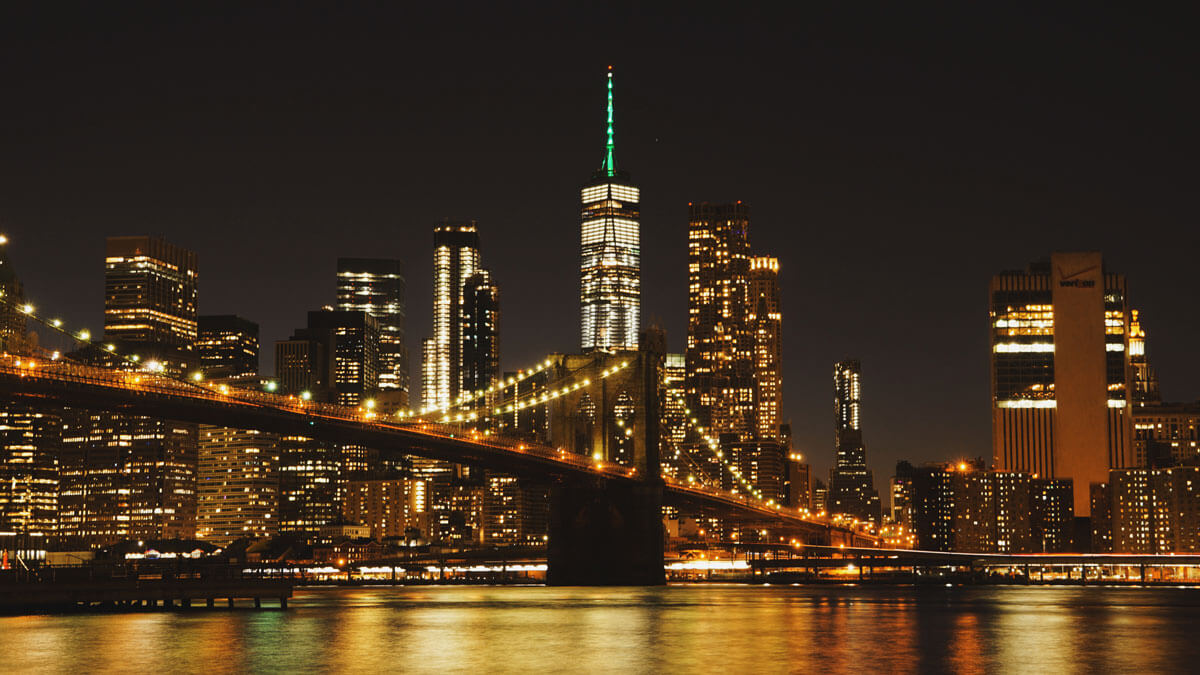 Top off your St. Patrick's Day in NYC with the I'm Feelin' Lucky St Patrick's Day Party Cruise that launches from the SkyPort Marina at 6 PM. You'll float on the East River on a 2-level Avalon Yacht for 4 hours with stunning skyline views of New York City dark.
DJs will play holiday-appropriate hits and dance classics so you can dance the night away! You'll have access to 2 full bars and a menu of a-la-carte Irish dishes. Relax with friends or spend time getting to know your fellow travelers.
12. Visit the Tenement Museum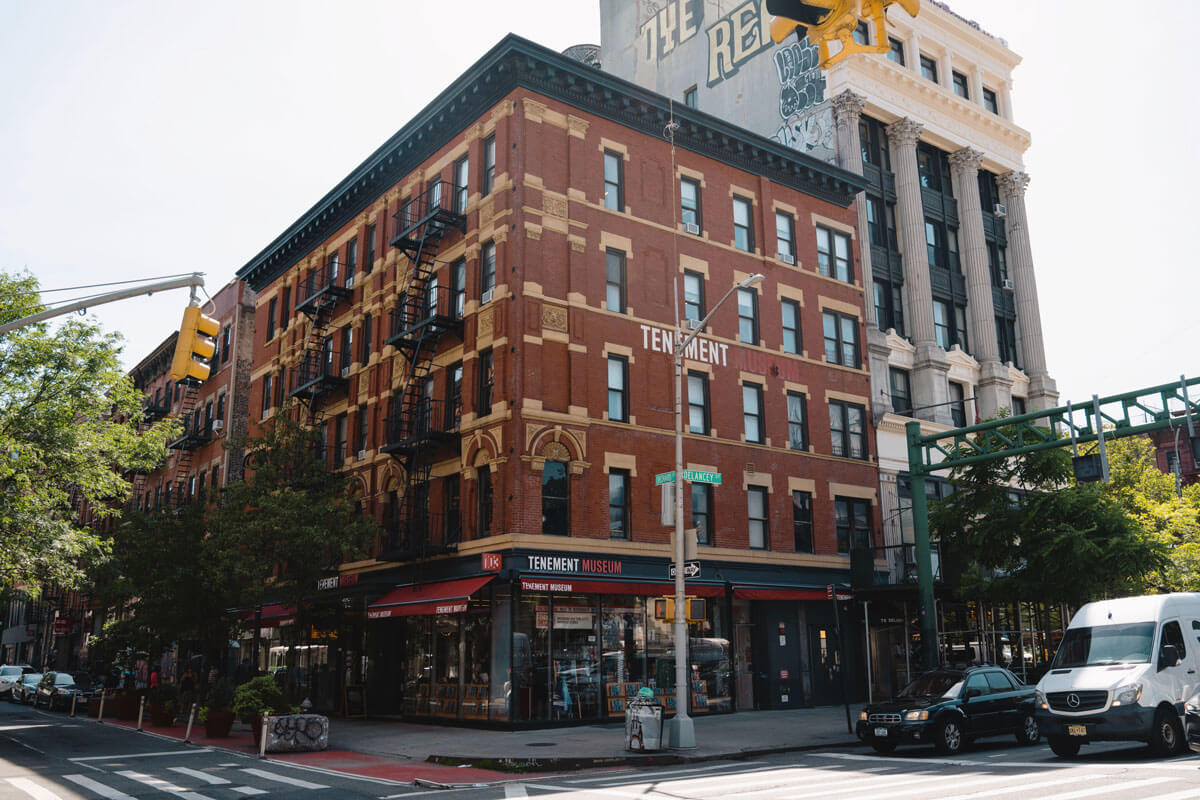 You can learn a bit of history on the Irish on St Patrick's Day Weekend in New York by visiting the Tenement Museum on the Lower East Side. Many of the buildings you see in this part of NYC are renovated apartment buildings used to house immigrants during the 19th and 20th centuries. Specifically, these were poor travelers escaping their homeland in search of a better life.
The largest population of Irish immigrants came to NYC in the decades following the devastating Irish Potato Famine that started in 1845. Those seeking refuge weren't accepted for many terrible reasons. They found themselves part of a large group of immigrants from many different nations who had to build up their own community to make it in a new country.
Today, Irish culture is strong in the city despite these hardships. At the Tenement Museum, you can learn about the hardships and past of Irish families in the mid-19th century, as well as the stories of families from other immigrant communities. You can reserve tickets with a time slot for your museum tour or find out about neighborhood walks and virtual tours as well.
13. Visit the Irish Hunger Memorial
Another historic and educational stop on St. Patrick's Day in NYC is the Irish Hunger Memorial, next to Rockefeller Park near Battery Park. This is a quick stop, but one that you won't forget! This memorial feels like one-part cemetery, one-part art installation, and one-part Irish countryside.
The overarching purpose of the Irish Hunger Memorial is to bring attention to world hunger events across the globe. It does this by honoring the victims of the Irish Potato Famine of 1845. The small park leads you through a recreation of the Irish countryside, complete with the ruins of a stone cottage transplanted from Ireland.
Then you'll walk through a modern memorial visually and audibly recounting hunger crises across the world. When you exit the memorial, the harsh juxtaposition of the rugged structure of the memorial against the glass buildings of Battery City feels striking. Like it doesn't belong. Perhaps the way famine survivors felt after leaving their homeland for a strange new world.
14. Look up at the Empire State Building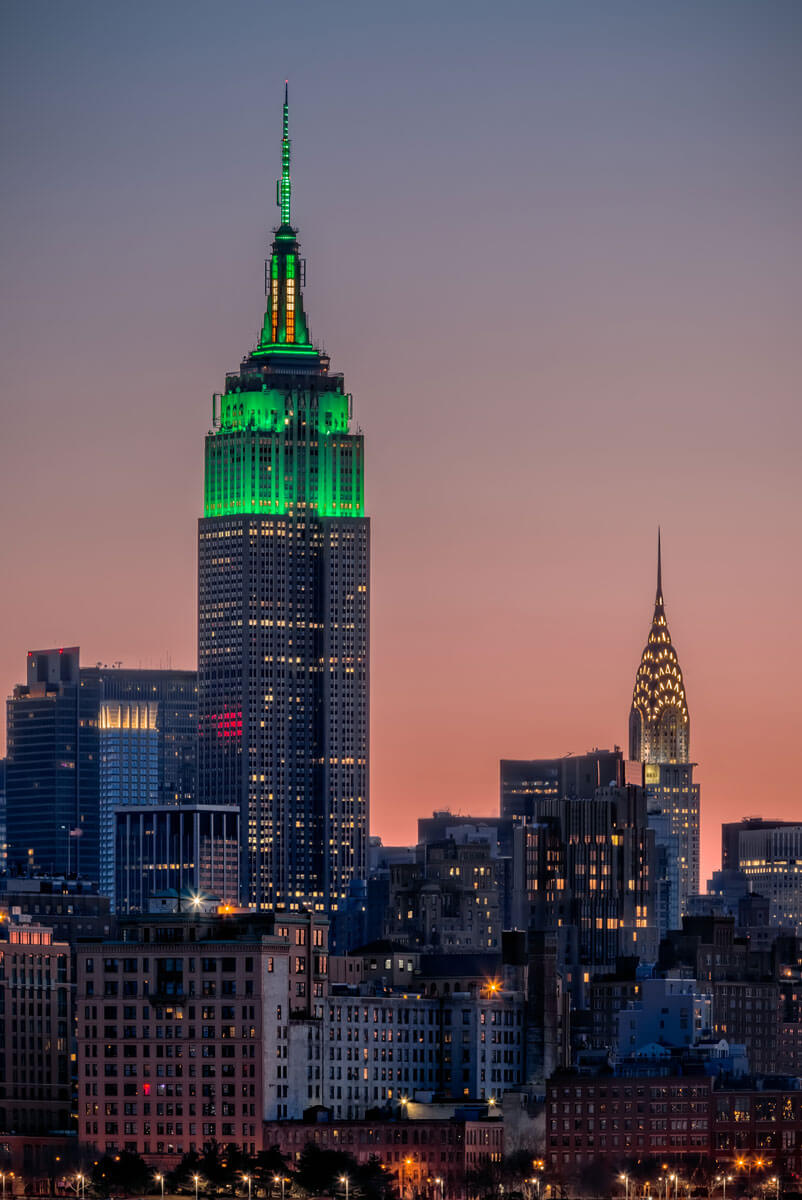 While you're reveling in all that is St. Patrick's Day in New York, look up after the sun sets! The Empire State Building is always lit up just for the holiday. It's usually a stunning emerald green all over the top. However, in the past, it's also been a combo of white, orange, and green, for the Irish flag!
Every year they try to make it a little different, so keep an eye out. And did you know that St. Paddy's Day isn't the only day that the Empire State Building is lit up? You can check the tower lights calendar to find out what holiday or event is being recognized. Many times, during the year you'll find that it's a different color every day of the week!
Always lit for St. Patrick's Day!
When is St. Patrick's Day in NYC?
Every year on March 17th.
When is the St. Patrick's Day Parade in NYC?
11 AM EST on March 17th.
What is there to do in NYC on St. Patrick's Day?
There are plenty of things to do in NYC on St. Patrick's Day like attend the St. Patrick's Day parade, several cultural Irish events throughout the city at organizations like the Brooklyn Irish Dance Company and the Irish Arts Center, along with celebrations at many of the historic Irish establishments around NYC.
Why do Americans celebrate St. Patrick's Day even though it's an Irish holiday?
St. Patrick's Day was originally celebrated as a Catholic holiday in Ireland, but since it's become a celebration of Irish culture. In the large wave of Irish immigrants to the US in the 18th century, Irish Americans celebrated their culture on this holiday.

In 1762, the first NYC St. Patrick's Day parade was held, which kicked off the tradition of the annual parade and actually is older than the parade in Ireland. New York City has the largest population of Irish Americans which is why it's become such an important cultural event annually.


Celebrating St. Patrick's Day in NYC Post Round Up
NYC St. Patrick's Day Parade
St. Patrick's Cathedral
Basilica of Old St. Patrick's Cathedral
Irish Arts Center
Watch the Brooklyn Irish Dance Company
Visit NYC's Irish Bars
Drink Irish Whiskey
Join the official NYC's Irish Pub Crawl on St. Patrick's Day
Join the Sober NYC St. Patrick's Day Celebration
Eat Irish Cuisine
St. Patrick's Day Party Cruise
Visit the Tenement Museum
Visit and Pay Respect at the Irish Hunger Memorial
See the colors of St. Patrick's Day illuminated on the Empire State Building