Check out all of these Statue of Liberty viewpoints in NYC, many of which are a great way for how to see the Statue of Liberty for free too! From Brooklyn to Manhattan, we have got you covered for the best Statue of Liberty views the city has to offer!
The Statue of Liberty evokes a sense of American patriotism and perseverance like nothing else, bar the flag itself. But where exactly does one go to experience the best Statue of Liberty views the northern seaboard offers?
Before we share the best sites for capturing the Mother of Exiles in all her 305-foot glory, enjoy these lesser-known facts about the Statue of Liberty:
America almost didn't have her. The government was unable to raise the $300,000 needed to purchase the statue's pedestal. The then NY governor vetoed additional funding, so a publisher obtained the funds by collecting public donations through advertising in his newspaper.

She wasn't always green. Before natural chemical reactions transformed her color in the early 1900s, the Statue of Liberty was a matte copper—just like an old penny. The government felt the sea-green tones softened the statue's appearance and intentionally opted not to clean it.

She's not just standing — she's walking. The statue's designer depicted her stepping away from broken shackles to depict a nation rising from British oppression and progressing towards true freedom. This imagery is also thought to signify the end of American slavery, as the French activist pushing for the statue's bestowal to America was a staunch abolitionist & supporter of Lincoln's Emancipation Proclamation.
Also, be sure to read our full guide on how to visit the Statue of Liberty too in case you are trying to do as many Lady Liberty sightseeing options you can fit in your city itinerary or trip! You'll want to be sure to read up on the best way to visit to avoid common NYC scams targeting popular tourist attractions!
Where to See the Statue of Liberty
Brooklyn Bridge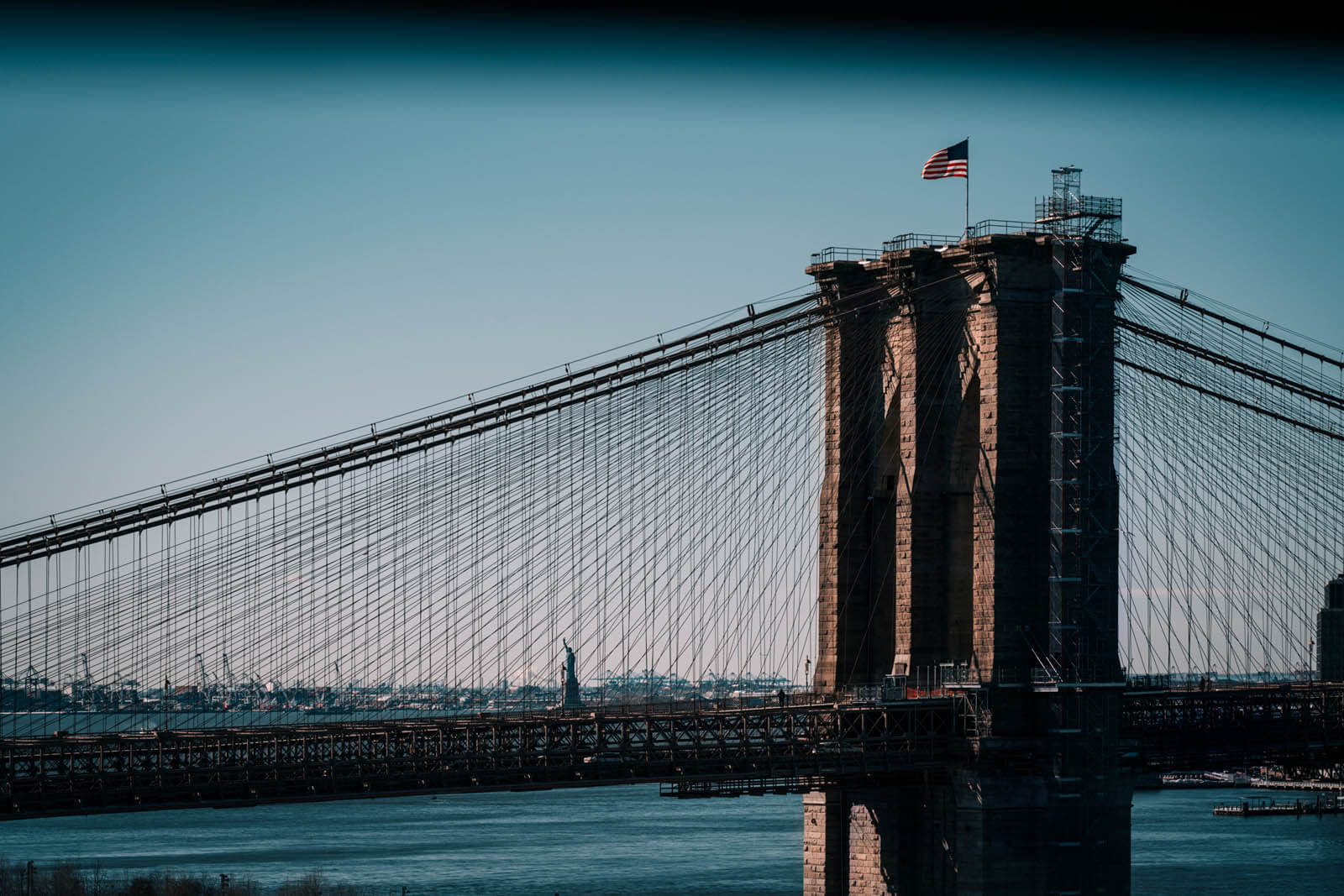 Taking a walk across the Brooklyn Bridge is a popular Brooklyn bucket list activity for both New York natives and adventurous visitors.
From on the Brooklyn Bridge pedestrian walkway, you are rewarded with some of the most breathtaking city skyline views, and if you're curious about how to see the Statue of Liberty for free, this bridge provides a simple option.
The entire length of the bridge can be traveled in just 30 minutes, (though you'll encounter so many photoshoot-worthy spots that this afternoon jaunt may take closer to an hour to complete).
Though the bridge is accessible by foot at all hours, strolling across the bridge during dawn and dusk when there are less people is always more enjoyable.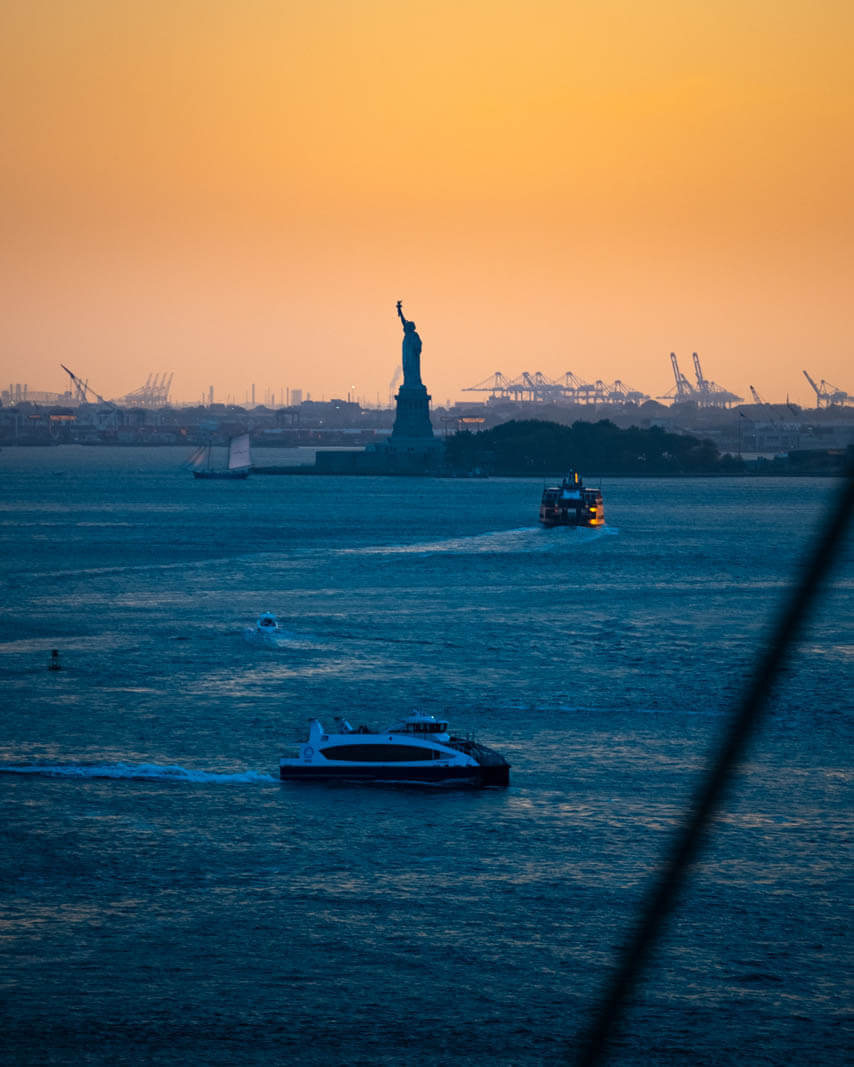 These points of the day allow enough sunlight for soaking in the city's incredible architecture while providing magical views of the sun ambling across the sky before the moon takes her place among the evening clouds.
Before or after, on the Brooklyn side you can enjoy a bite to eat at any of the DUMBO restaurants with a view, food from the vendors at Time Out Market New York, or if you're on the Manhattan side check out the beautiful Seaport District for food options.
Battery Park City Esplanade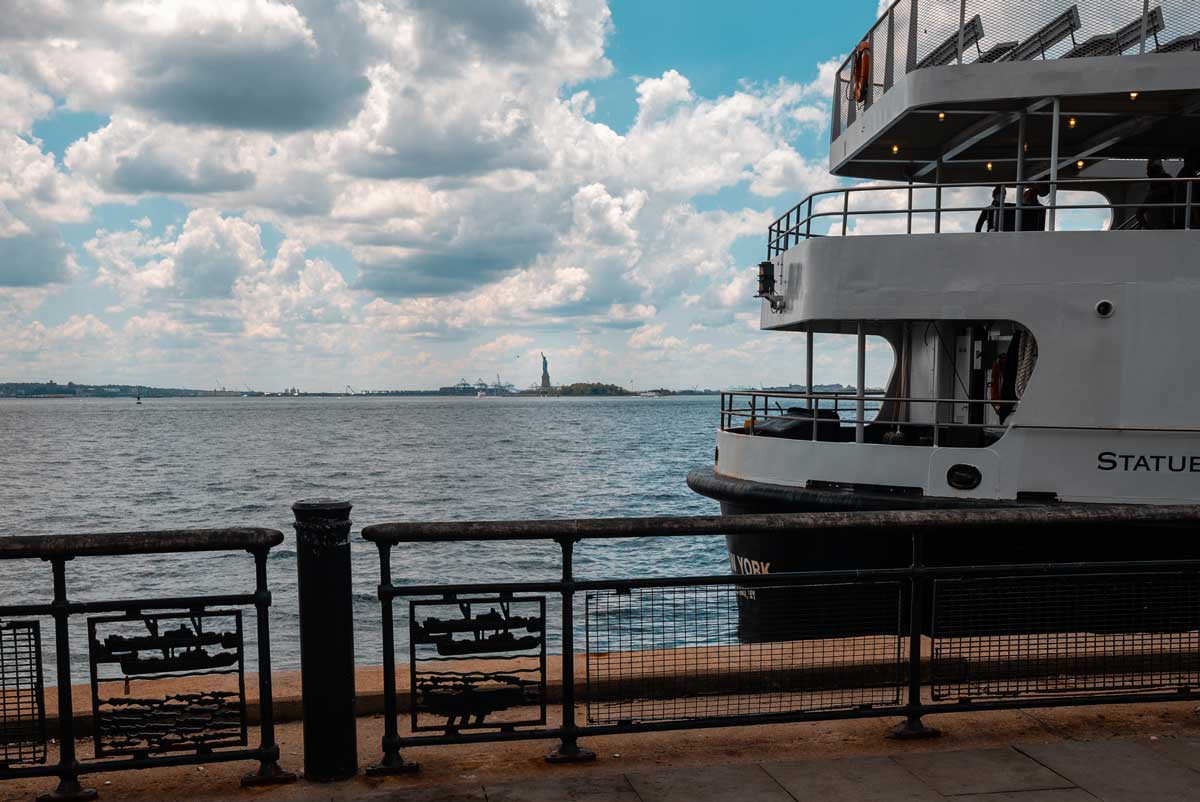 One of the best views of the Statue of Liberty from Lower Manhattan is from Battery Park. Walking down this long stretch of seaside sidewalk is like stepping into an old movie. Hair scattering about in the wind, salty air, choppy waves trekking along the coast, and one of the best Statue of Liberty viewpoints the city has to offer—these factors merge to make this esplanade a can't-miss sightseeing spot.
This public space contains a 1.2-mile trail loved by joggers, cyclists, and anyone eager to pull away from the city bustle and discover an internal stillness in the constant motion of the sea.
In addition to allowing you to see the Statue of Liberty, you'll also catch glimpses of Ellis Island and the Hudson River Jersey City skyline.
Benches and unique artwork sit along the boardwalk, so after you've gotten all your Statue of Liberty views, rest your legs and relax while observing impressive pieces by local eminent talent.
Better yet, this is another option for how to see the Statue of Liberty for free. While you're here, check out the beautiful Seaglass Carousel that's aquatic-themed and looks straight out of the Little Mermaid and if you're hungry walk over to one of my personal favorite spots in the city, Fraunces Tavern which played a role in the American Revolution, was George Washington's headquarters, and one of the oldest bars in the US dating back to 1762. Check out our guide for more historic bars in NYC!
One World Observatory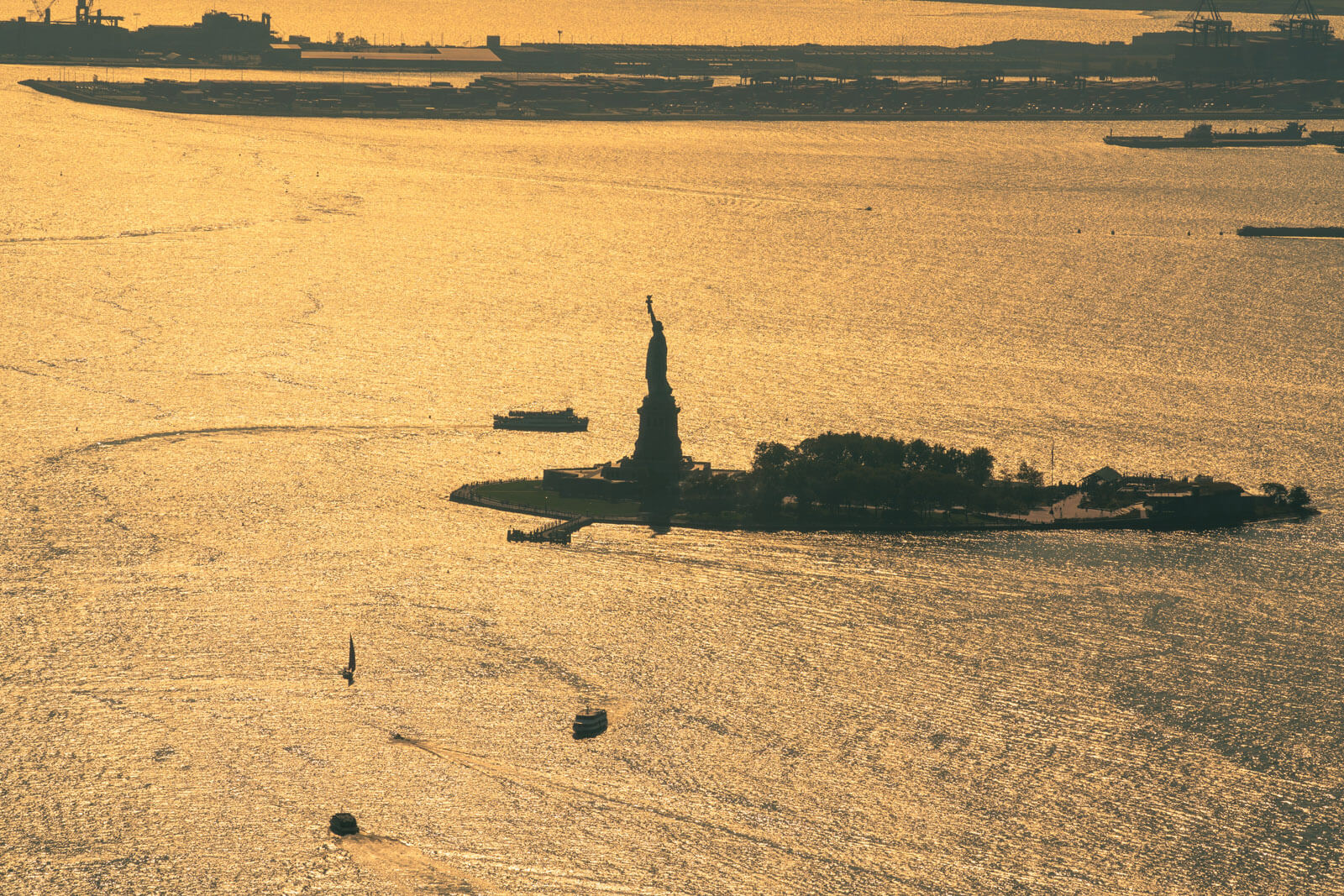 Located in Lower Manhattan on the 100-102 floors of the World Trade Center is one of the best views of the Statue of Liberty and all of New York City from One World Observatory.
If you paid attention to anything at all during your grade school American History course, you know the United States declared independence in 1776. And if you somehow managed to do life without encountering that ubiquitous fact, Hamilton surely filled you in a few years back during that collective national frenzy.
In honor of this historical detail, the One World Observatory stands at 1,776 feet, a convenient height offering the best view of the Statue of Liberty in Lower Manhattan.
For a $43.00 general admission ticket, (get your Skip the Line tickets for One World Observatory in advance here) you'll gain access to all 3 observatory levels to discover some of the best Statue of Liberty viewpoints from high above in the sky and captivating experiences like the Sky Portal. (The Sky Portal is a 14-foot glass installment inviting brave visitors to peer through the floor into the city bustle below their feet. You'll want to skip this one if you're acrophobic.)
Don't leave without experiencing the Voices exhibit on your way out—a narrative of perseverance and art told through heartfelt interviews with the men and women who rebuilt the One World Trade Center after the 9/11 attacks on the Twin Towers.
Green-Wood Cemetery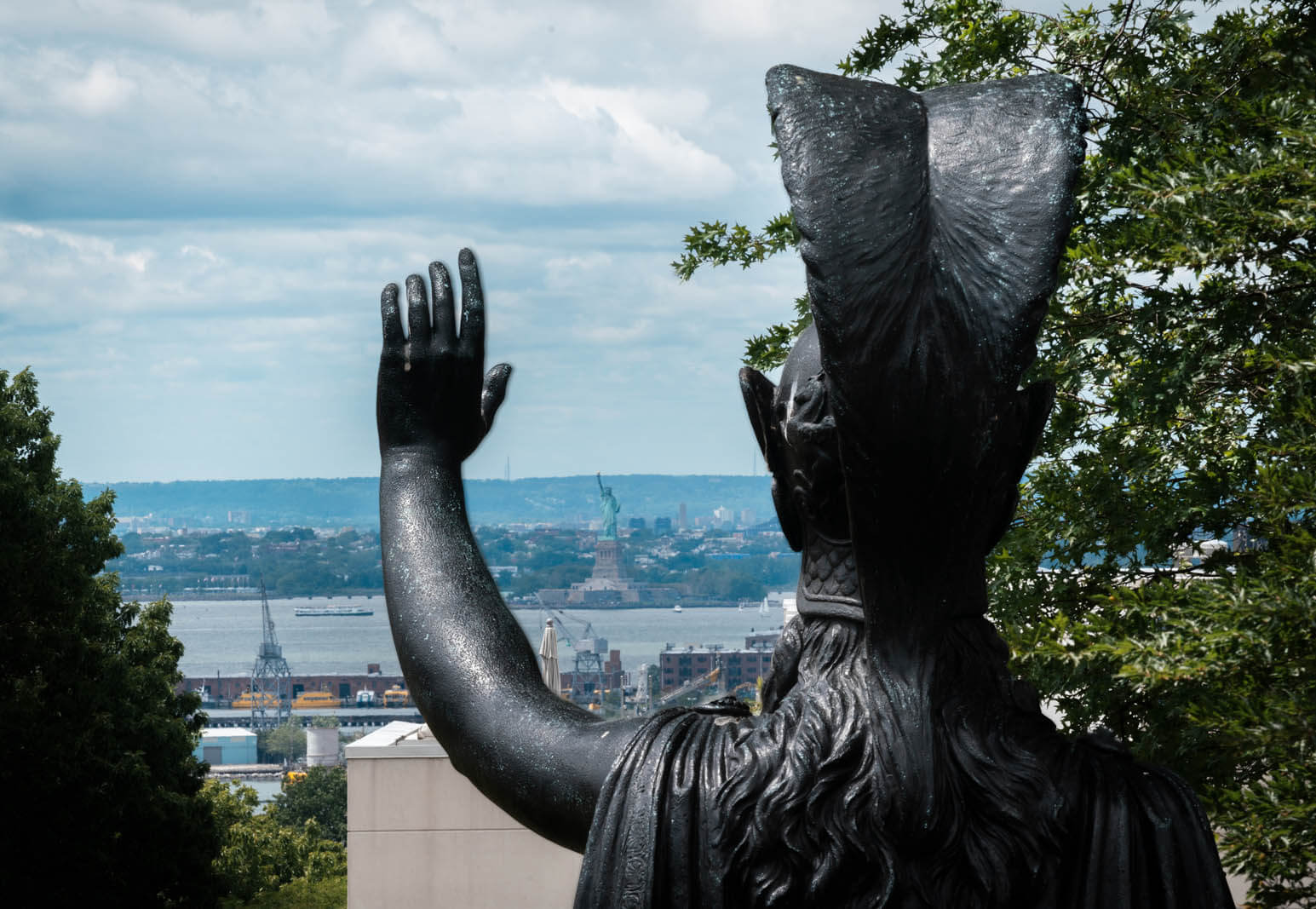 Located in Sunset Park in Brooklyn is one of the most unassuming Statue of Liberty views, from the historic Green-Wood Cemetery, which is hauntingly beautiful in its own right.
Is it a conservation space to connect with the natural world and appreciate the birds and the trees? Is it a historical site memorializing a long bloody battle of the American Revolution? Is it a serene place where one might venture to visit the gravesites of prominent figures like Horace Greeley and renowned artist, Jean-Michel Basquiat? Or maybe it's just a beautiful site for a stroll filled with thoughtful glances towards the Statue of Liberty.
Well, Green-Wood Cemetery is all of these things.
This cemetery was deliberately designed as a place for visitors across the globe to find peace along its twisting cobblestone pathways. It might come as a surprise that a haven for the dead boasts the best view of the Statue of Liberty from Brooklyn, but being of high altitude and only a couple of blocks from the South Brooklyn Marine Terminal, the coast-facing end of this cemetery offers some of the clearest views of the harbor.
Hike towards the cemetery's northwest corner and you'll stumble upon the lithe and graceful bronze effigy of the Roman goddess of wisdom and war: Minerva. Commissioned by local history buff and ink manufacturer Charles Higgins, this bronze beauty commemorates the Battle of Brooklyn and stands near the Higgins family tomb.
One might say this silent woman has the best view of the Statue of Liberty—as all day and night she stands with her left-hand high, eternally saluting her friend across the harbor. Find her and you too can enjoy this unobstructed Statue of Liberty viewpoint.
Louis Valentino Jr. Park & Pier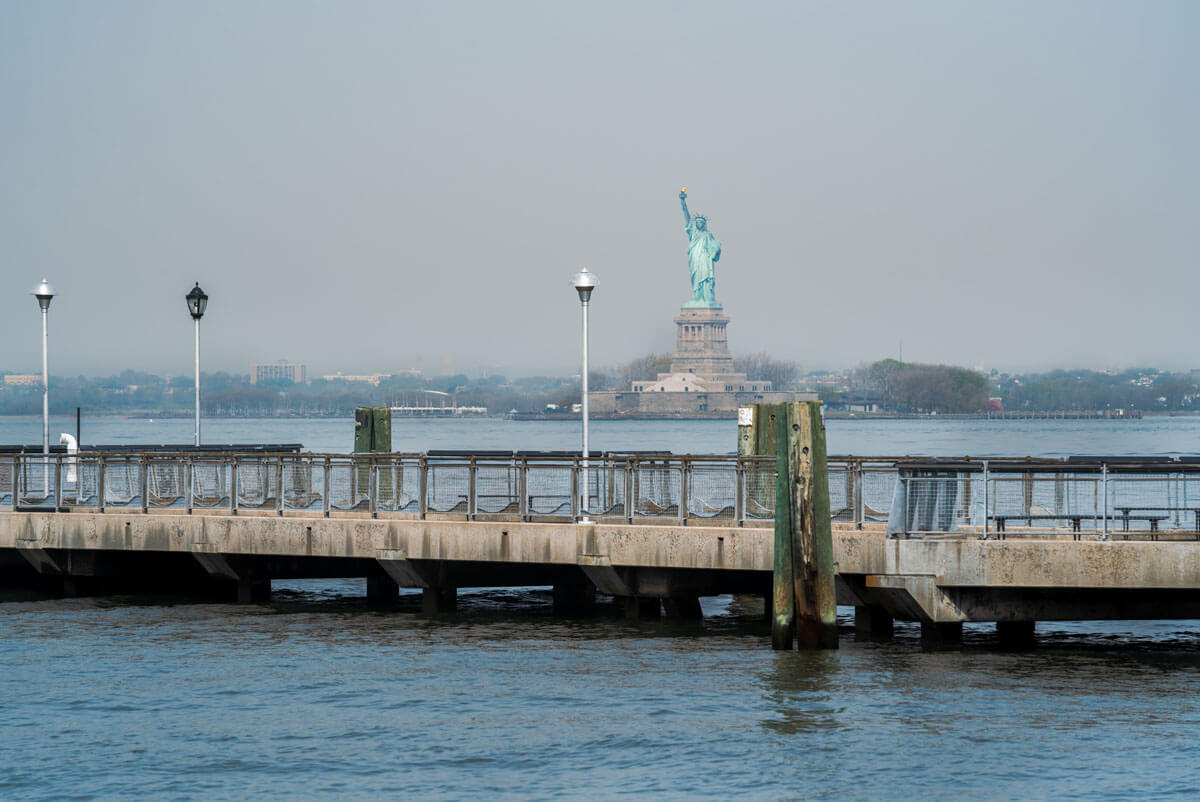 Located on the waterfront of the industrious Brooklyn neighborhood of Red Hook is another free of charge Statue of Liberty viewpoint on this list, this gorgeous city park offers astounding views of not only the harbor's iconic green symbol of American freedom, but also stunning views of the skyline, Governor's Island, Staten Island, and of course, the New York Harbor's azure waters.
The park hosts a well-manicured green space to sit with daytime reveries, enjoy picnics with loved ones, lose yourself in a novel, or frolic about with pets on the small pier while enjoying unobstructed Statue of Liberty views.
To see the Statue of Liberty from an optimal vantage point in Louis Valentino Jr. Park, wander down the end of the pier to soak in the sun and sites. And After you're done enjoying the best view of the Statue of Liberty in Red Hook, be sure to take a brief detour to Steve's Authentic Key Lime Pie for a Food Network-endorsed carnival for your tastebuds.
Or check out all the other best things to do in Red Hook as this is one of my favorite neighborhoods to get seafood and explore Brooklyn art galleries!
Museum of Jewish Heritage
This lesser-known and surprising location for serene Statue of Liberty views sits at the southern tip of Manhattan in Battery Park from the tall windows of the Museum of Jewish Heritage that offer views of America's leading lady.
The Museum, primarily devoted to Holocaust remembrance and honoring Jewish identity through art, record testimonials, and various rotating public exhibitions, is an ideal destination for all interested in cultivating an understanding around Jewish faith and learning more about one of the darkest periods in contemporary history.
It's also a brief 5-minute walk away from the Staten Island Ferry, a transportation option offering free Statue of Liberty views.
Staten Island Ferry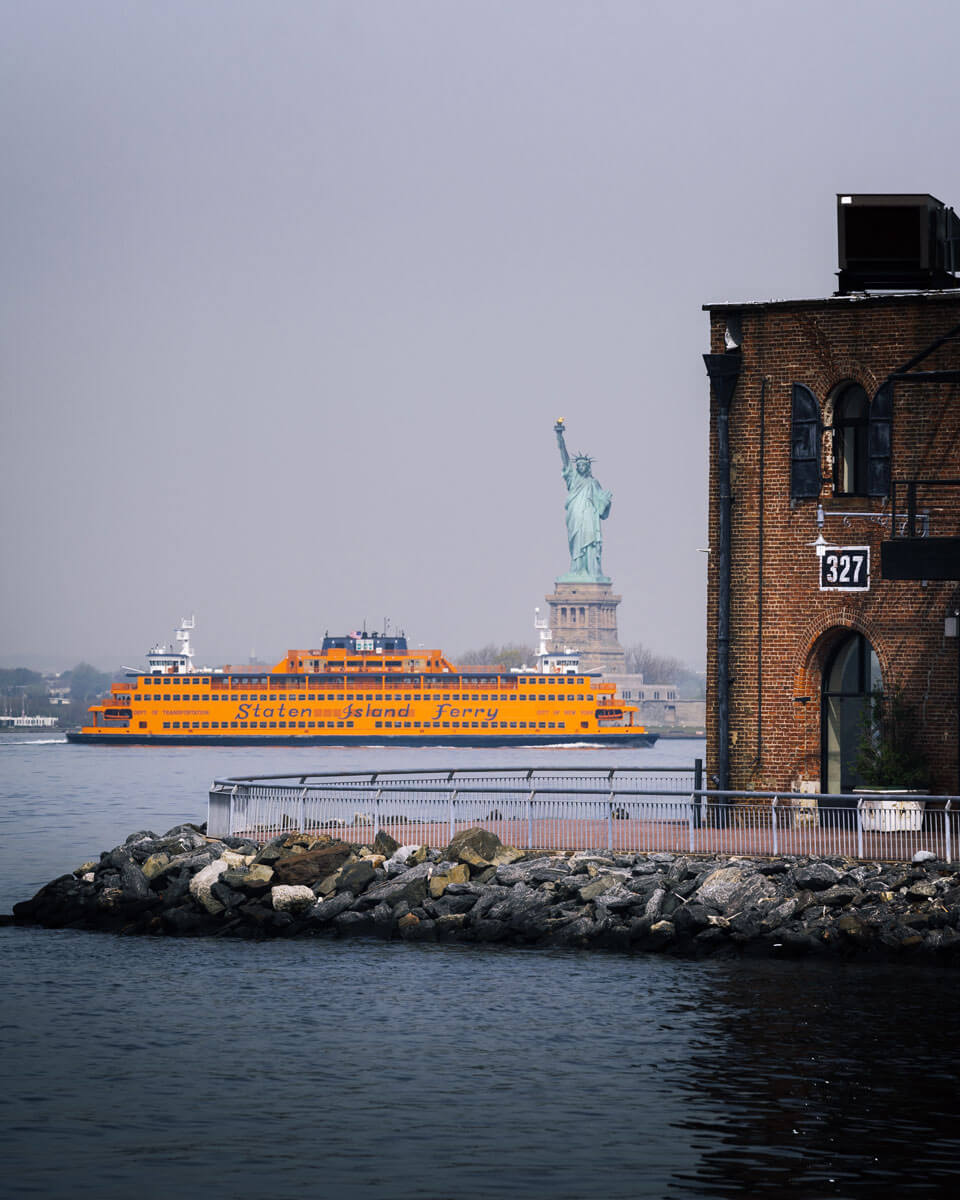 Here's how to see the Statue of Liberty for free: travel between Manhattan and Staten Island the scenic way on the commuter ferry! Not to be confused with other NYC Ferry Service routes departing from southern Manhattan, this boat has been awarding wary NYC commuters with relaxing Statue of Liberty views during their travels for over 200 years.
Ask any New York native where you might find the best view of the Statue of Liberty, and there's a high chance they'll advise you to float across the harbor and enjoy the ferry's 5-mile breezy voyage. It's a 25-minute journey that feels like a leading attraction in and of itself, especially for the public transportation nerds out there. It also provides amazing views of the city skyline.
And boarding the ferry costs exactly $0 dollars. Yep, it's completely free of charge for NYC residents and guests alike. This trip costs only the price of an optional cold lager or snack, which are sold aboard every boat to quiet the munchies you'll likely get in the middle of your city explorations.
Feel free to bring your own beer as well. It's perfectly legal to drink it during your windy excursion and the ferry staff doesn't mind, you'll see many people doing it!
But be sure to stand outside for the best views! On your return trip, try sitting on the opposite side of the ferry for a new perspective and varied city scenes.
When you arrive to Staten Island, try to quickly get off the boat to catch the returning ferry so you don't have to wait at the Staten Island ferry terminal for another boat. Once you're about to dock, start heading to the deboarding area so you can quickly maneuver and catch the other loading ferry!
Governor's Island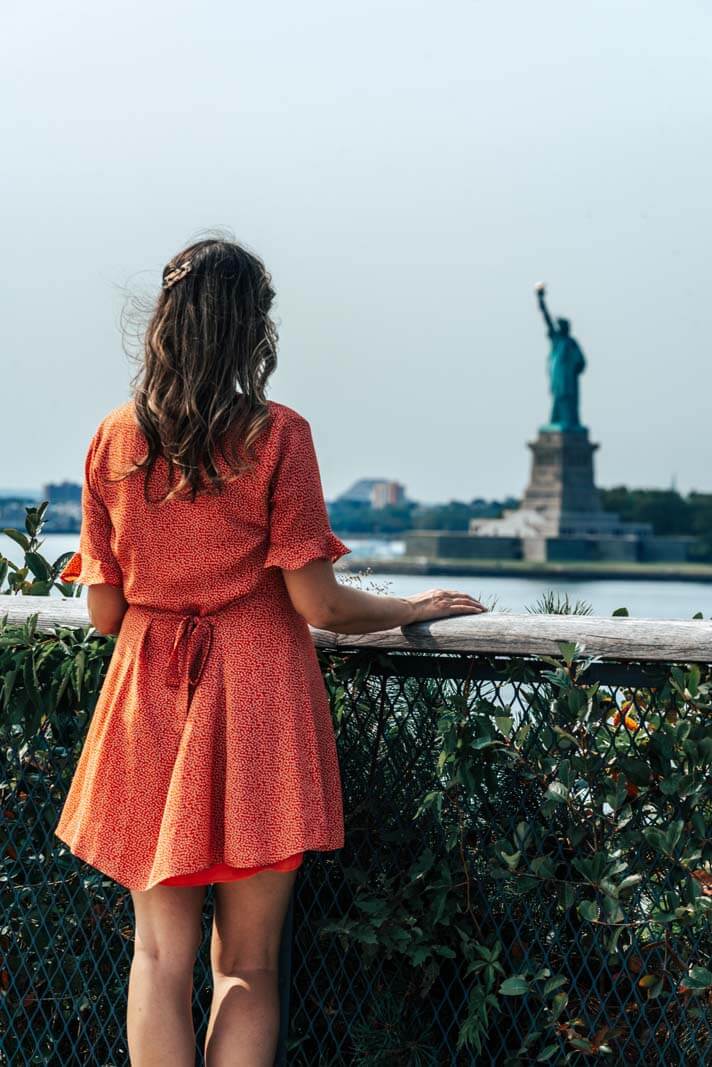 Ahh, another amazing Statue of Liberty viewpoint from one of my favorite places in the city, Governor's Island in the New York Harbor.
Grab a $3.00 ticket and hop on over to the island to see the Statue of Liberty and be sure to check out all the best things to do at Governor's Island while you're at it.
Head to the Hills of Governor's Island, where you can find a nice trail leading up, a rocky pathway, and a series of slides to come back down. From the top you have rewarding views of Lower Manhattan and one of the city's best Statue of Liberty views.
You also find ample amounts of Statue of Liberty viewpoints from most of the island, there are bicycle rentals and Citibike stations on the island so you can get around quickly, but Governor's Island is very walkable. Along the paved roads, you'll spot benches and many vantage points for the Statue of Liberty.
Guests are invited to bring food, though it can be purchased on the island as well at one of its many restaurants. Head over on the weekend before noon and ride free. Check here for a current ferry schedule.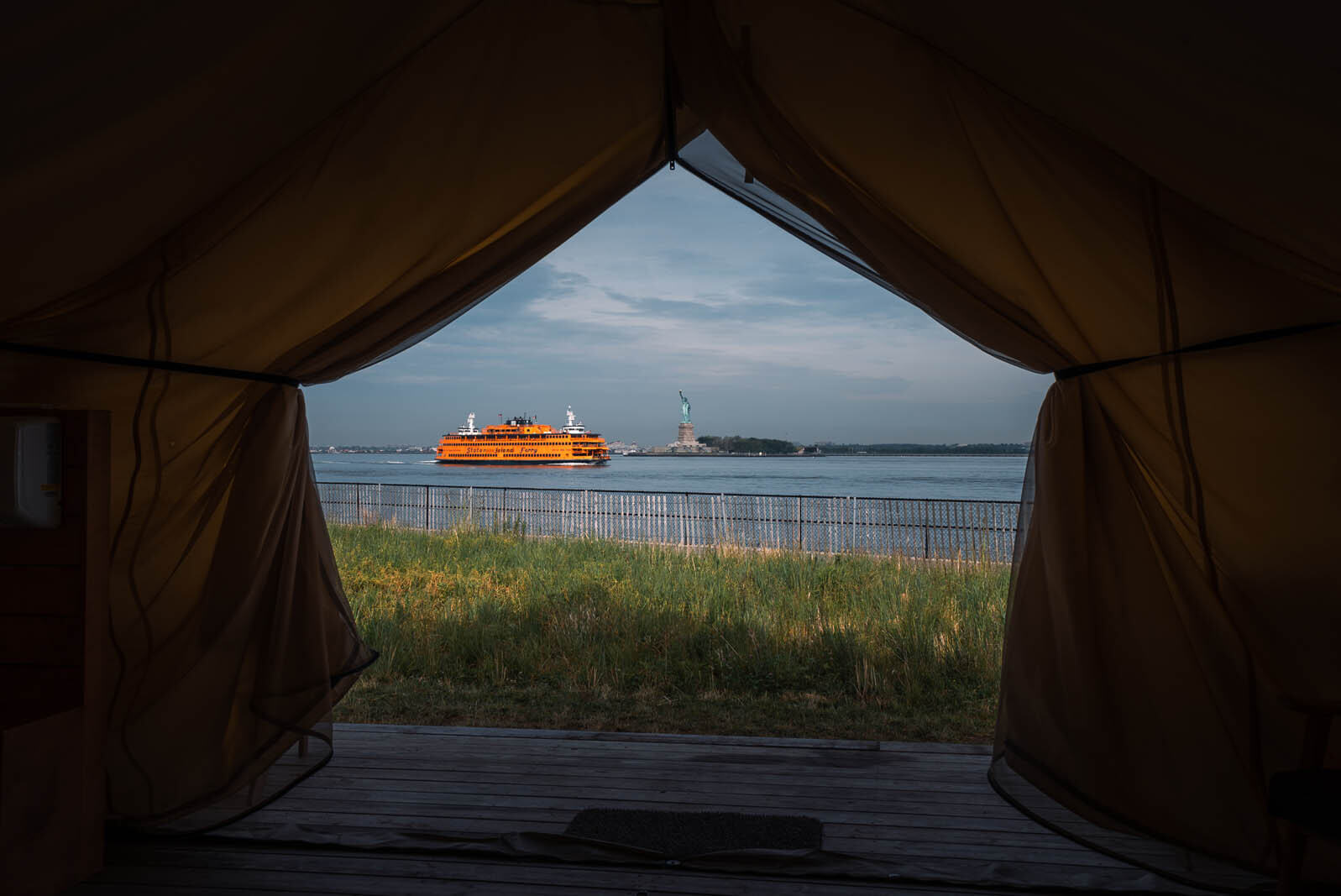 For one of the most unique views of the Statue of Liberty, you can actually stay overnight and enjoying glamping on Governors Island staying in a luxurious tent facing Lady Liberty not to mention sweeping views of the Lower Manhattan skyline including the World Trade Center. Check out the property, find rates, and book here.
Liberty State Park
If you know anyone at all from New Jersey, then you're well aware that the Statue of Liberty sits in New Jersey waters. (They'll inform you of this within thirty seconds of any conversation mentioning NYC.)
Though the statue isn't actually located in New Jersey since New York owns the actual land the monument sits atop and it is definitely under New York State jurisdiction, this does mean that New York isn't the only state providing excellent views of this symbolic model.
From New Jersey's idyllic Liberty State Park, visitors have free access to mesmerizing NYC skyline views and an excellent Statue of Liberty viewpoint. Within this massive 1,212-acre natural space lie abundant picnic areas, fishing spots, cycling routes, and hiking trails.
The massive park also includes surprising gems like canoeing opportunities down the Hudson River and sailing lessons at the on-site marina.
If you're trying to plan an affordable family escapade including breathtaking glimpses of the nation's most recognizable artwork, Liberty Park provides exactly how to see the Statue of Liberty free.
Post beside it for timeless photos along the waterfront fence after kayaking down the river or grilling fajitas with your family after rounds of golf— it's all your choice.
Brooklyn Heights Promenade
Another place for how to see the Statue of Liberty for free is from the beautiful Brooklyn Heights Promenade. This beautiful esplanade sits over the BQE (Brooklyn Queens Expressway) overlooking Brooklyn Bridge Park and the New York Harbor including views of Governor's Island, Lower Manhattan skyline, and the Brooklyn Bridge.
This is hands-down one of the best sunset spots in Brooklyn and vistas available in the city not to mention one of the best views of the Statue of Liberty that you have to pay zero dollars for!
While you're here, check out all the best things to do in Brooklyn Heights or walk down to DUMBO, just moments away for more dining options! Not to mention a few of the best spots for pizza in Brooklyn are all within walking distance from here too.
---
Did this post on the best views of the Statue of Liberty and how to see the Statue of Liberty help you? Or did we miss one of your favorite Statue of Liberty views? Let us know in the comments below!
Also, if you enjoyed all of these how to see the Statue of Liberty suggestions, consider bookmarking for later or sharing the love below on Pinterest!