Looking for some of the best street art in Williamsburg for your upcoming trip and where to find them? Check out our full guide on our favorite Williamsburg murals plus their location for inspiration on your next visit to Williamsburg! And if you love street art, check out our guide to the best Brooklyn street art.
Speaking of visiting this awesome Brooklyn neighborhood, be sure to check out our local's guide to best things to do in Williamsburg!
Read Next: 100+ Awesome Things to do in Brooklyn
Disclaimer: Your Brooklyn Guide is a very small, independent publisher with only one active person working on the site. With the temporary nature of street art, we try our best to stay on top of updating our work. Please be aware that some of these murals will change over time and I am doing my best to keep this guide (along with all the others) updated.
If you notice any of the street art in Williamsburg mentioned in this piece are gone or heavily tagged, you can help us by letting us know so I can update! Thanks so much and happy street art hunting!
Best Murals in Williamsburg
The Mona Lisa of Williamsburg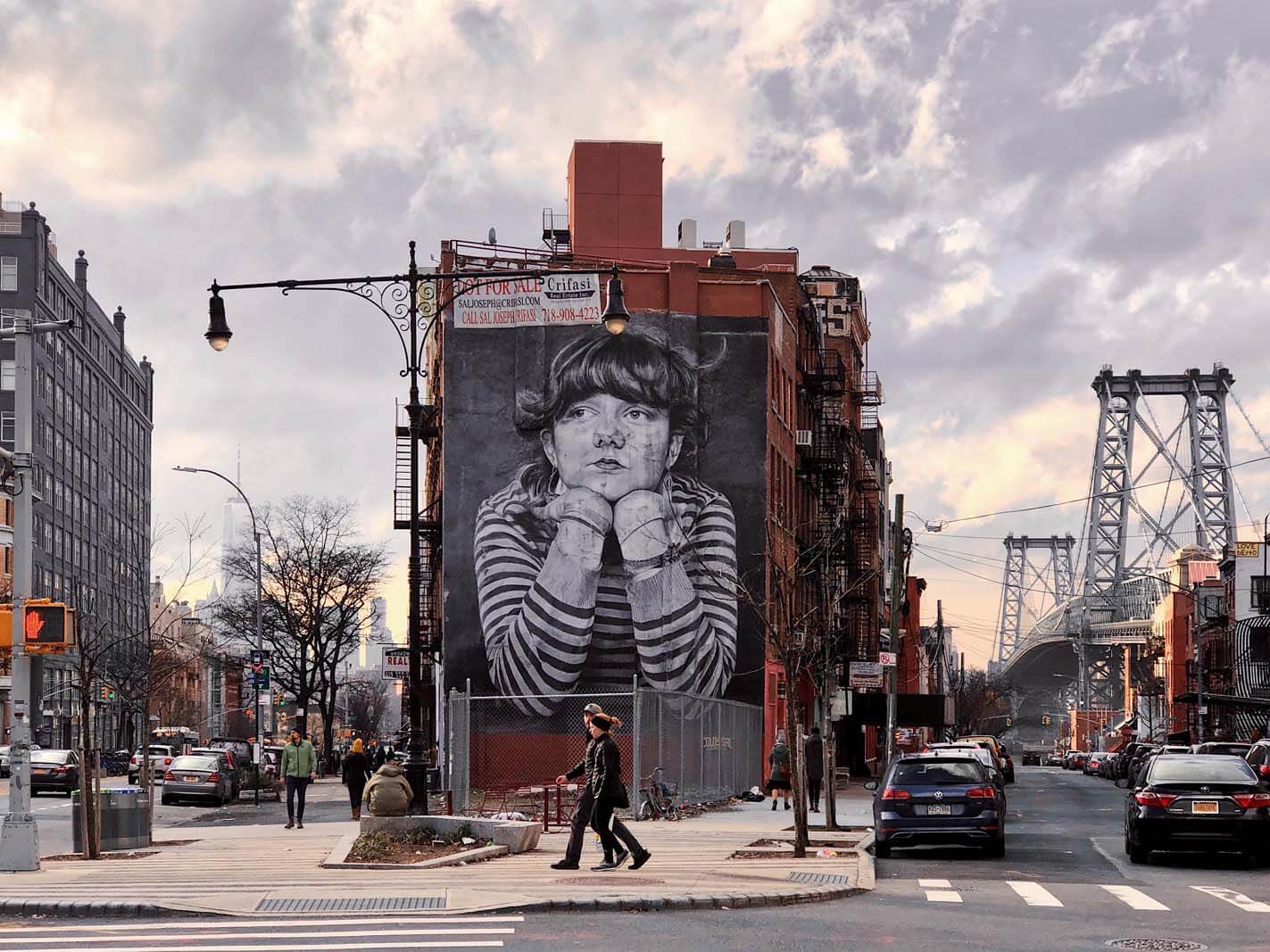 by Colossal Media & Steven Paul
Easily one of the most famous and well known Williamsburg murals is the 'Mona Lisa of Williamsburg,' by teen photographer Steven Paul who was only 17 years old when he submitted his photograph, "Lost Time,' in The Scholastic Art & Writing Awards in 2014.
There were over 255k submissions to this contest and Paul won the gold medal for his photo which led to a collaboration with Colossal Media by turning this photograph into a giant Williamsburg mural at this busy intersection on Broadway Avenue perfectly framed in the center between One World Trade Center in the distance in Manhattan and the Williamsburg Bridge.
Towering over 4 stories high, this has become one of the most recognizable murals and street art in Williamsburg.
Location: Broadway Avenue at the corner of Bedford Avenue
Peace & Love Wall
View this post on Instagram
by Chris Riggs
One of the most famous spots for Instagram and street art in Williamsburg is the 'Peace & Love Wall,' by artist Chris Riggs spreading the colorful message of peace and love right here in the streets of Brooklyn.
You'll see layers and layers of the word 'love' over and over in different colors. His mission is to make the world a better place through painted murals all based around the theme of peace and love which he started all the way back in the 80s.
His work and message is spread worldwide from Korea, Russia, Miami, Basel, London to Brooklyn to name just a few. His designs are simple yet powerful which is one of the reasons we love his work so much.
Location: 175 Marcy Ave
Jean-Michel Basquiat & Andy Warhol Mural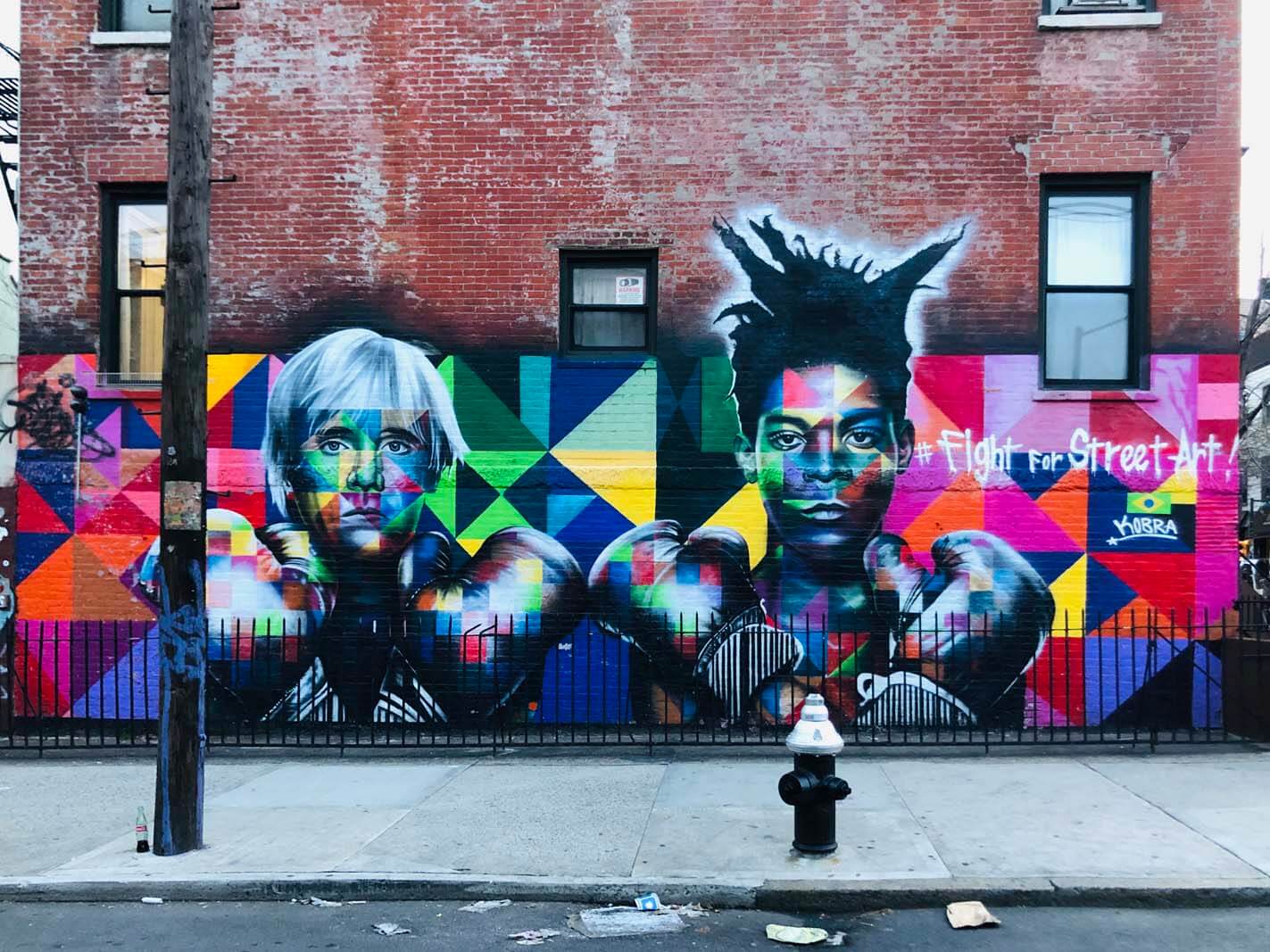 by Eduardo Kobra
One of my all-time favorite street artists is Brazilian artist Eduardo Kobra, aka Kobra. His vibrant, kaleidoscope designs and powerful messages behind his pieces always are a showstopper and will make you stop what you're doing to look at his impressive creative expression through his murals when you see them.
Kobra has not one but two works of murals and street art in Williamsburg pretty close to each other, we will get to the other one later.
This Williamsburg mural is another one of the most famous in the neighborhood depicting a famous image from photographer Michael Halsband where Pop Art legend Warhol and 80s superstar Basquiat were wearing boxing gloves with their arms criss-crossed. Kobra added his vibrant colors and famous kaleidoscope design to this image with the message and hashtag #FightForStreetArt.
This piece by Kobra references pop culture and consumerism. Critics have applauded Kobra's use of symbolism here as early in Warhol's career he was often in disagreement with the art world of his time and Basquiat first was recognized from his work as a member of the NYC graffiti group SOMA during the late 70s and early 80s.
Kobra's hidden in plain sight commentary is about modern artistic expression and experimentation through collaboration which has led to some of the most inventive work in the art world which aligns with both Basquait and Warhol during their time.
Location: Bedford Avenue & 9th Street
Read Next: Williamsburg Bridge Walk Guide & Tips
Donut & Heart Williamsburg Mural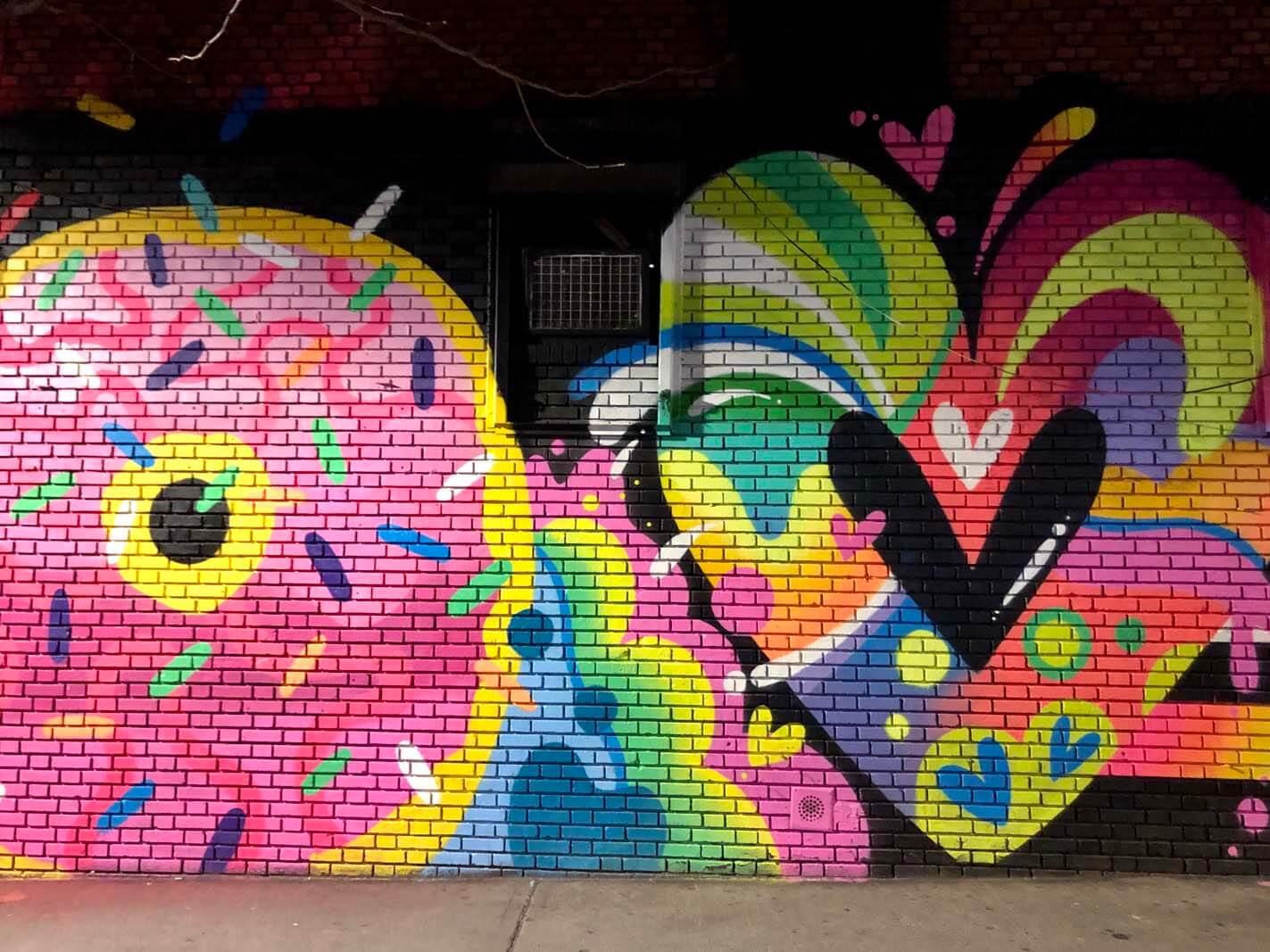 by Jason Naylor
The bright and colorful murals by Brooklyn based artist Jason Naylor are always recognizable. This is another one of our favorite murals and street art in Williamsburg located right on Bedford Avenue.
Naylor's work always consists of bright colors and rich blacks spreading the message of love, kindness, happiness, and overall positivity. Which is why you probably feel good when you see his work!
Besides seeing his work through Williamsburg murals, you can often see or recognize his work from cosmetic companies' collaborations. He actually got his start in the corporate offices of MAC cosmetics before this.
We love this donut and heart Williamsburg mural on Bedford Avenue. It just radiates happiness and spreads the mission of Naylor's mantra to spread color and positivity around the globe, plus it makes for one of the best
Instagram spots in Williamsburg
!
Location: 265-273 Bedford Ave
Elvis Presley War is Hell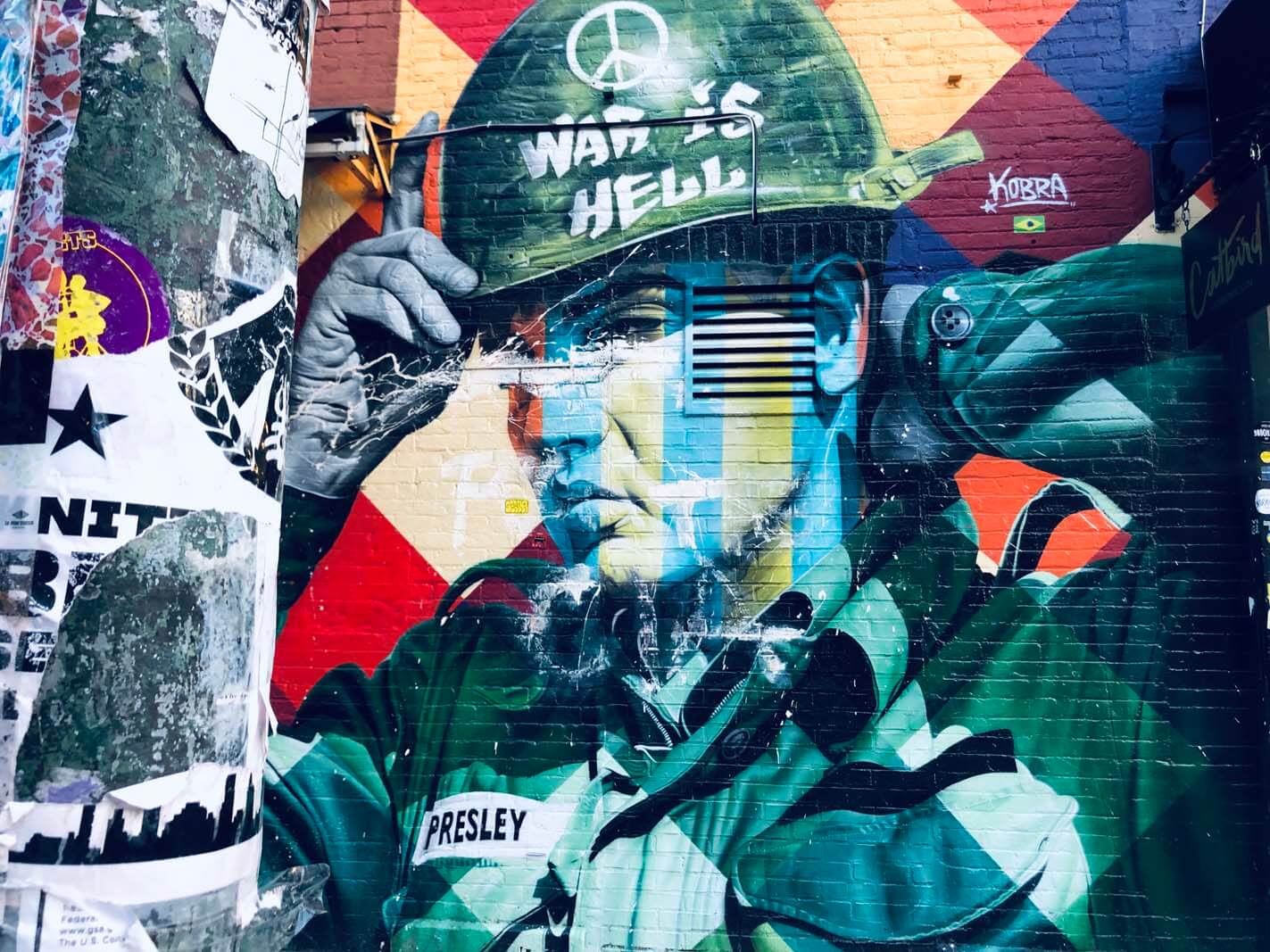 by Eduardo Kobra
Another amazing piece of street art in Williamsburg is 'Elvis Presley War is Hell,' by Brazillian artist Eduardo Kobra, or just Kobra as many know him by. As mentioned before, Kobra is no stranger to the walls and murals of Williamsburg or NYC.
In 2018, Kobra was commissioned for a project with New York City named the Colors of Liberty in which the idea was to pay tribute to public figures who were or are still fighting against violence and spread the message of peace.
His unmistakable and recognizable vibrant colors and geometric designs of public figures will stop you in your tracks just as this Elvis Presley mural does.
Presley who is simply known as the 'King' of Rock and Roll famously was drafted and served in the US Army during the Cold War during the peak of his fame in his music and acting career.
Sadly, this Williamsburg mural has been heavily tagged, we are unsure of the future of this mural and are waiting to see if it will be replaced or repaired.
Location: 218 Bedford Ave
Flower Mural: Spontaneity of NYC
By Brolga
While this isn't the official name of this cool mural and street art in Williamsburg by artist Brolga, it does convey the message the artist intended.
Brolga, an Australian artist based in Williamsburg, Brooklyn is one of the most popular and common to see street artists in NYC with not only murals in Williamsburg, but all over the city.
This particular piece titled 'Flower Mural' Brolga captures the "spontaneity that happens on a busy NY street in any given moment," as he says on his Instagram feed.
From the tall guy carrying flowers, a cranky looking lady with a dog in her bag, the cat stretching, the reading man, and the steam coming from who knows where, and the shifty looking character lurking all paints the perfect picture of the chaos that is NYC.
Location: 197 Bedford
Sadly, this mural, one of my favorites has since changed to the mural below by artist Lucky Rabbit.
Another Brolga Mural
While the name of this piece is unclear, you can find another one of my favorite murals and street art in Williamsburg by artist Brolga.
Technically in East Williamsburg, this mural is said to deal with luck, fate, and superstitions by the artist in an interview.
Personally, I am a huge fan of this style and the bright colors! I will be keeping an eye out for more Brolga in the future!
Location: 320 Manhattan Ave
False Prophets (Don't Believe the Hype)
By BKFoxx & JMZ Walls
False Prophets (Don't Believe the Hype) is a metaphor Williamsburg mural by Brooklyn based artist, BKFoxx in collaboration with Bushwick Collective JMZ Walls.
This incredible photo-realistic mural and street art in Williamsburg is a stunner and taking up an entire side of wall right as you exit Broadway Subway Station.
BKFoxx completed this piece by freehand spray and according to his Instagram page this piece is a metaphor referencing Matthew 24:24 & 2 Timothy 4:3 from the Bible.
Matthew 24:24: "For false messiahs and false prophets will appear and perform great signs and wonders to deceive, if possible, even the elect."
2 Timothy 4:3: "For the time will come when people will not put up with sound doctrine. Instead, to suit their own desires, they will gather around them a great number of teachers to say what their itching ears want to hear."
As mentioned, this Williamsburg graffiti and mural was done in collaboration with JMZ Walls, a group of Bushwick residents who collaborate and encourage art in their community through the turning the streets of Bushwick into a gallery recounting the history and progression of NYC and the global community.
JMZ Walls also cleverly named themselves after the J, M, and Z lines that run on the subway along Broadway in Brooklyn. Most of their work and collaborations are typically within a block or two of Broadway including this Williamsburg mural.
Location: right outside of Broadway Subway Station by BP at 1 Boerum St
The Chronicles of New York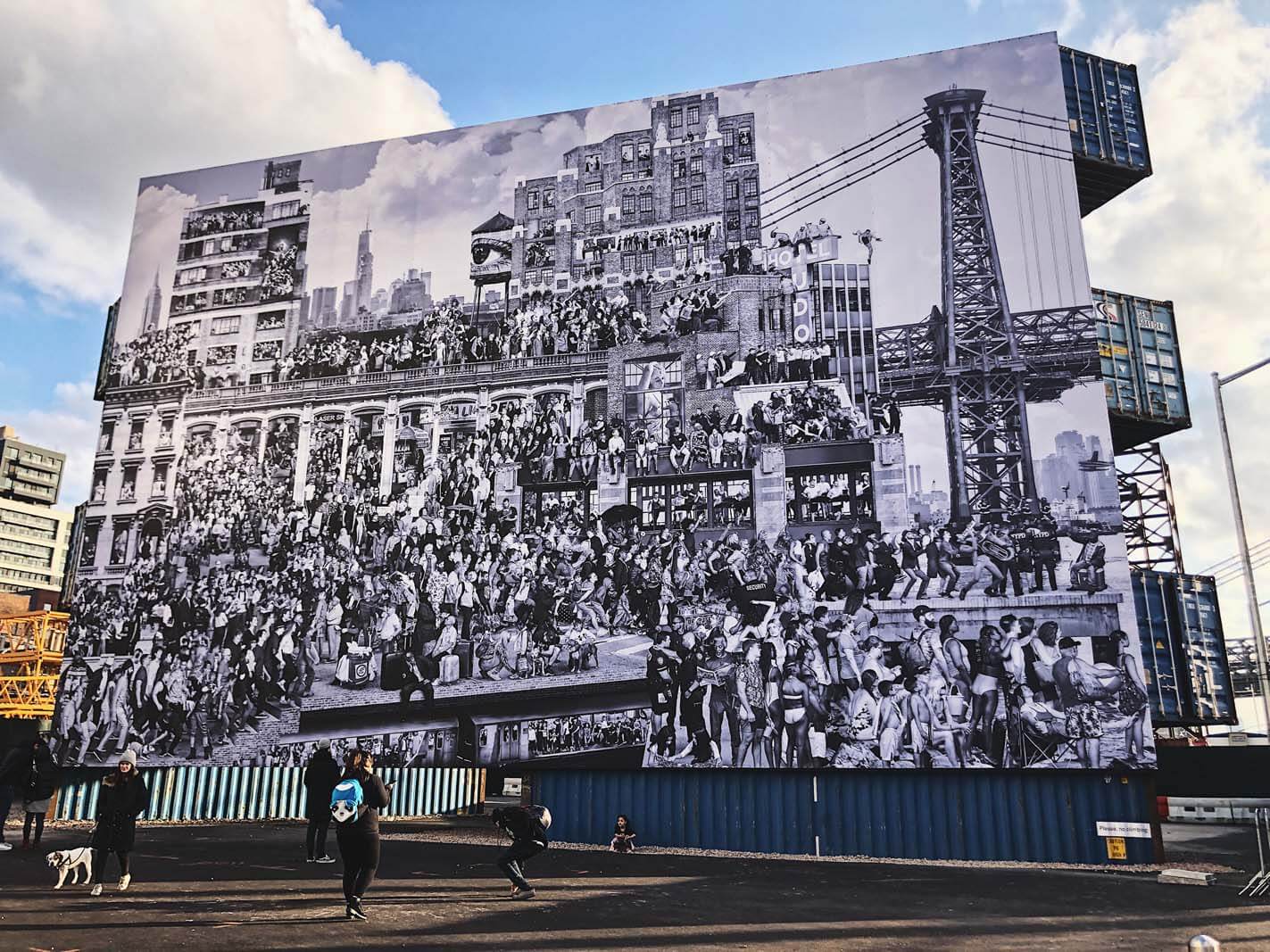 by JR
Another massive and impressive mural and street art in Williamsburg is "The Chronicles of New York," by French artist and muralist JR located towering next to Domino Park held up by stacks of shipping containers.
In this ultra-large waterfront Williamsburg mural, the artist JR has compiled a collection under the same name of this piece in the Brooklyn Museum on exhibit.
This piece though soars at 53 ft in height and has 1,128 New Yorkers in their element of the city iconic NYC landmarks including the Williamsburg Bridge and Empire State Building in the background.
Each of the 1,128 people were photographed individually and combined into one image including celebrities like Robert De Niro and even JR makes a cameo in his own work popping a wheelie on a bicycle.
What makes JR's work especially unique is that he has a custom app called JR:Murals where he brings his murals and subjects to life. For each person in the Chronicles of New York City there's audio where each tells their story.
Be sure to check out the rest of his exhibit through 2020 at the Brooklyn Museum, one of the best things to do in Brooklyn!
This mural is no longer on display as it ended at the end of 2020. Looking forward to see what this space will be used for after the construction.
Muhammed Ali Louisville Lip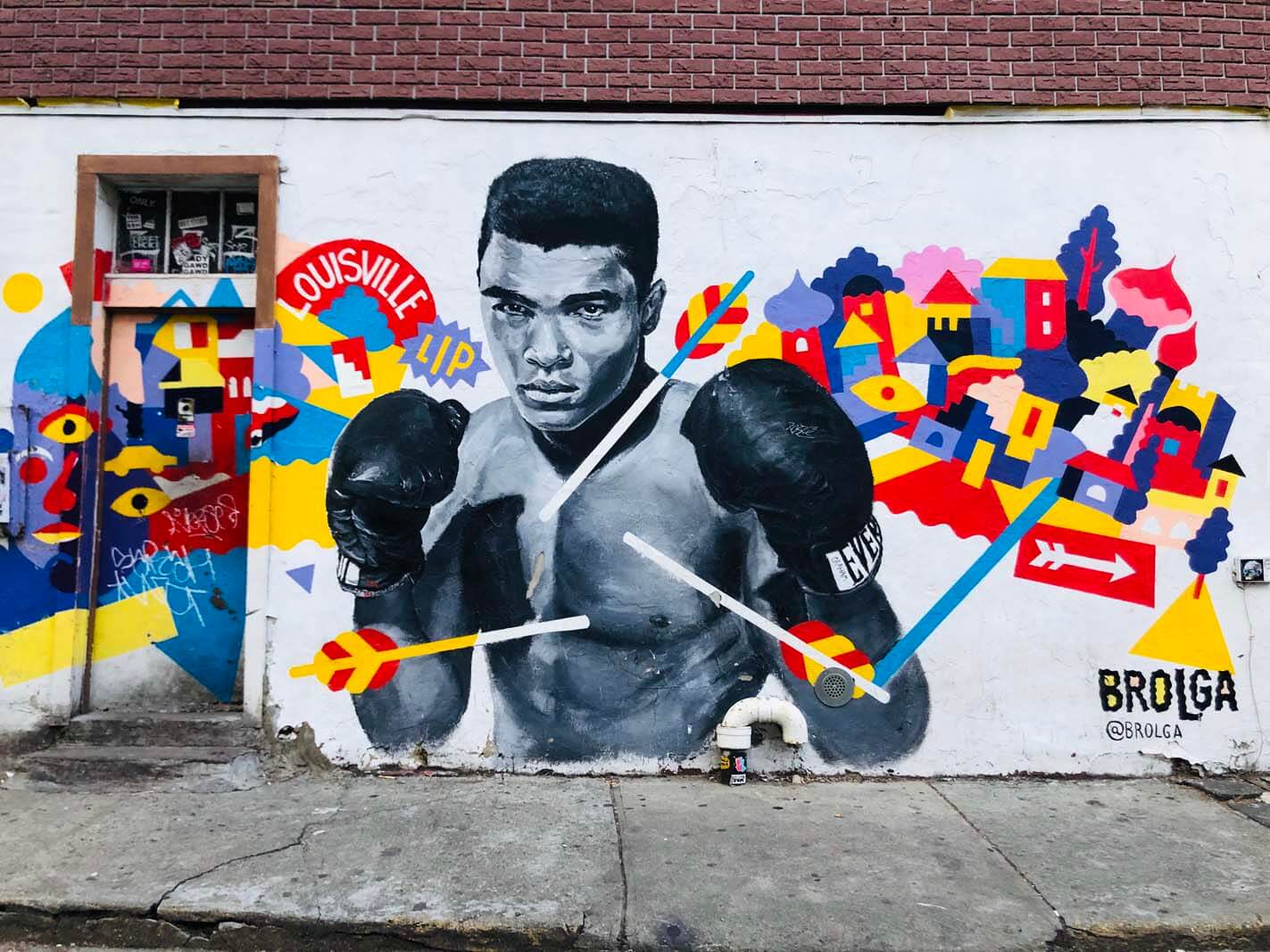 by Brolga
Another fantastic example of Williamsburg graffiti and murals by one of our favorite artists living in the city is the Muhammed Ali Louisville Lip mural by Australian artist Brolga.
As mentioned before on another Williamsburg mural, Brolga who's from Australia is a Williamsburg, Brooklyn resident with murals all over the city.
This Williamsburg mural though is a special one for the artist Brolga as it was the first mural he painted according to his Instagram.
This piece is based off the famous Esquire magazine cover for the image. Brolga also wanted to honor Ali's dramatic life and times in this piece as he admired Ali for his boxing career, philanthropy efforts, and of course, he thought Ali was a word-smith.
Better yet, this street art in Williamsburg is in a clutch location on Bedford Avenue right next to Joe's Pizza, one of the best slices in the city and one of our personal favorites too!
Location: 218 Bedford Ave
Brooklyn Mural at Sun and Air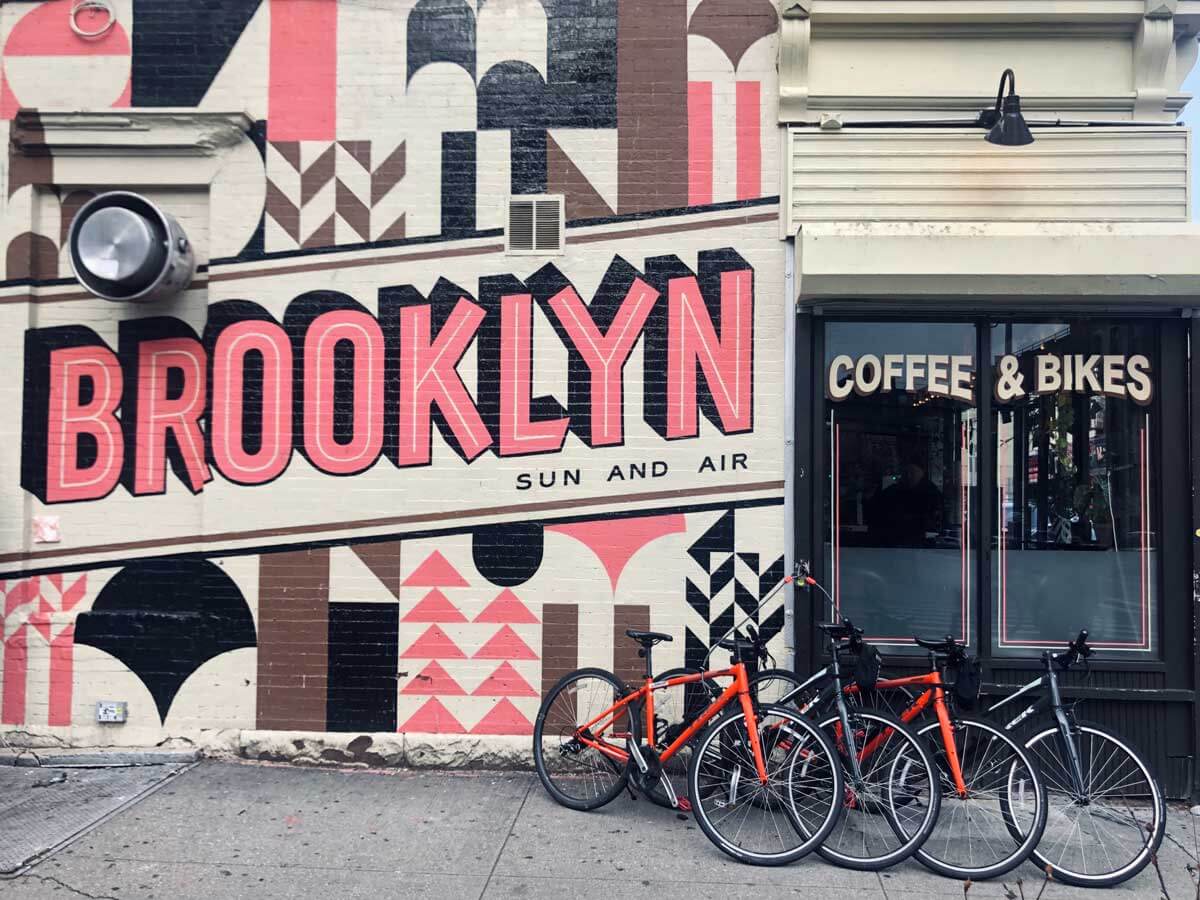 by Unknown
One of the really cool things about this neighborhood is that the businesses and even advertisers contribute to the street art in Williamsburg. Many cafes, shops, and other businesses all have murals on the side of their businesses and instead of seeing regular billboards you'll see a giant mural that's actually a product ad from Cheetos to Smart Water.
One of the best examples of this and best Brooklyn photography locations is at this Brooklyn Williamsburg Mural at Sun And Air.
Sun And Air is a bike repair shop, bike shop, cafe, and a place you can rent bikes for the day right by the entrance to the Williamsburg Bridge and we are absolutely in love with their colorful Brooklyn and Williamsburg mural!
Location: 788 Driggs Avenue
Read Next: Best Instagram Spots in Brooklyn
Meet Me Here
by It's a Living – Ricardo Gonzalez
Another example of cool street art in Williamsburg implemented on the side of a business is at Tom's shoe store. The Meet Me Here mural by It's a Living is another fun piece of artwork by It's a Living artist Ricardo Gonzalez who is known for his colorful giant messages and words used on walls across the world and even on the packaging for products including a special Budweiser beer for the Mets.
This Williamsburg graffiti is especially fun covering an entire side of the Tom's store location where there's some outdoor seating making for a perfect backdrop or a photo spot.
Location: Tom's at Bedford & 6th
Bat Girl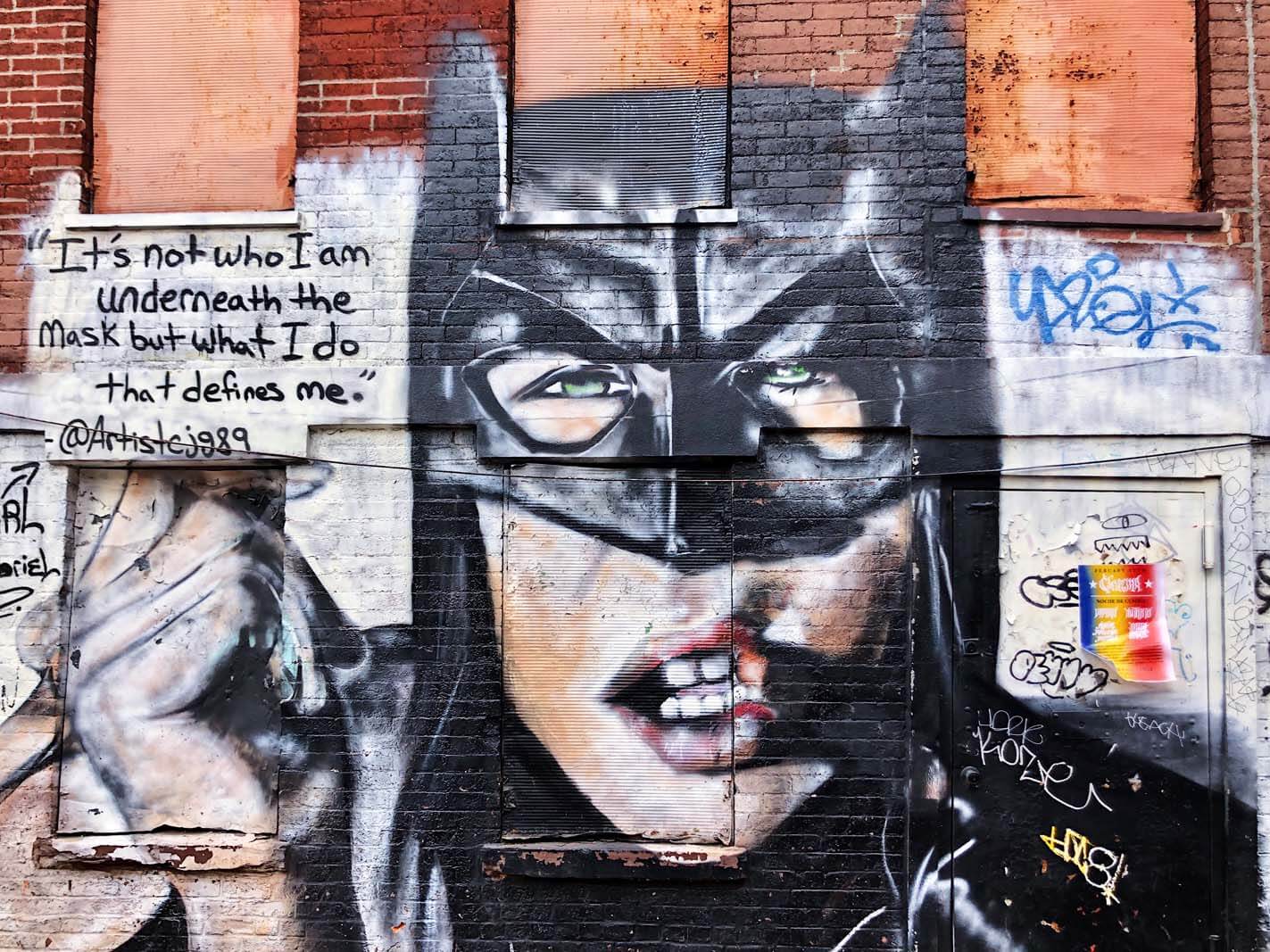 by Carl J Gabriel
Another great piece of street art in Williamsburg is Bat Girl by artist Carl J Gabriel. In this piece you get a gritty Bat Girl who is smoking a cigarette with the quote, "It's not who I am underneath the mask but what I do that defines me."
Artist Gabriel is a muralist living in Brooklyn, woot woot for another local artist. His work display the beauty that exists in our society and culture from his viewpoint.
With another Batman movie about to come out, we are all here for the Bat Girl.
Location: 87 S Sixth Street
Hokusai Geisha
by Brolga in collaboration with Keya Tama
One of the coolest things about the street artist community is when artists collaborate on a mural or project. In this case and Williamsburg graffiti and mural we have one of our favorite Brooklyn based artist Brolga and LA based South African artist Keya Tama collaborating on this wall in Williamsburg.
According to Brolga, the Hokusai Geisha which was completed in 2017, was inspired by the work of Hokusai, a famous Japanese woodblock printer. This isn't the first time Brolga has used Geishas as his subject in his work, he also has done colorful 'pop Geisha' murals in his career.
We really do love seeing how the two artists converged their styles in this piece.
Location: 161 N Sixth Street
Mural of a Child
by Jorit Agoch
Another showstopping Williamsburg graffiti piece is by hyperrealist muralist Jorit Agoch, or just simply Jorit, from Italy.
The face of this boy looks so real that it looks more like a photograph than a mural. Jorit's work is known for doing very realistic, or hyperrealistic paintings of faces. Jorit believes that the face is the most telling part about humans as well as the direct indication of a person's emotion and human spirit.
You can see through his work how he can beautifully and artistically convey emotion of his human subjects.
This particular piece is the face of a 10 year old boy named Camilo, who's father is Italian and his mother is Jamaican. And according to Jorit, the boy "has the kind of face that, despite his uncommon ethnic background, instills a sense of oneness in passersby."
Location: 165 N Tenth Street between Bedford Ave and Driggs Ave
On the Outside Looking In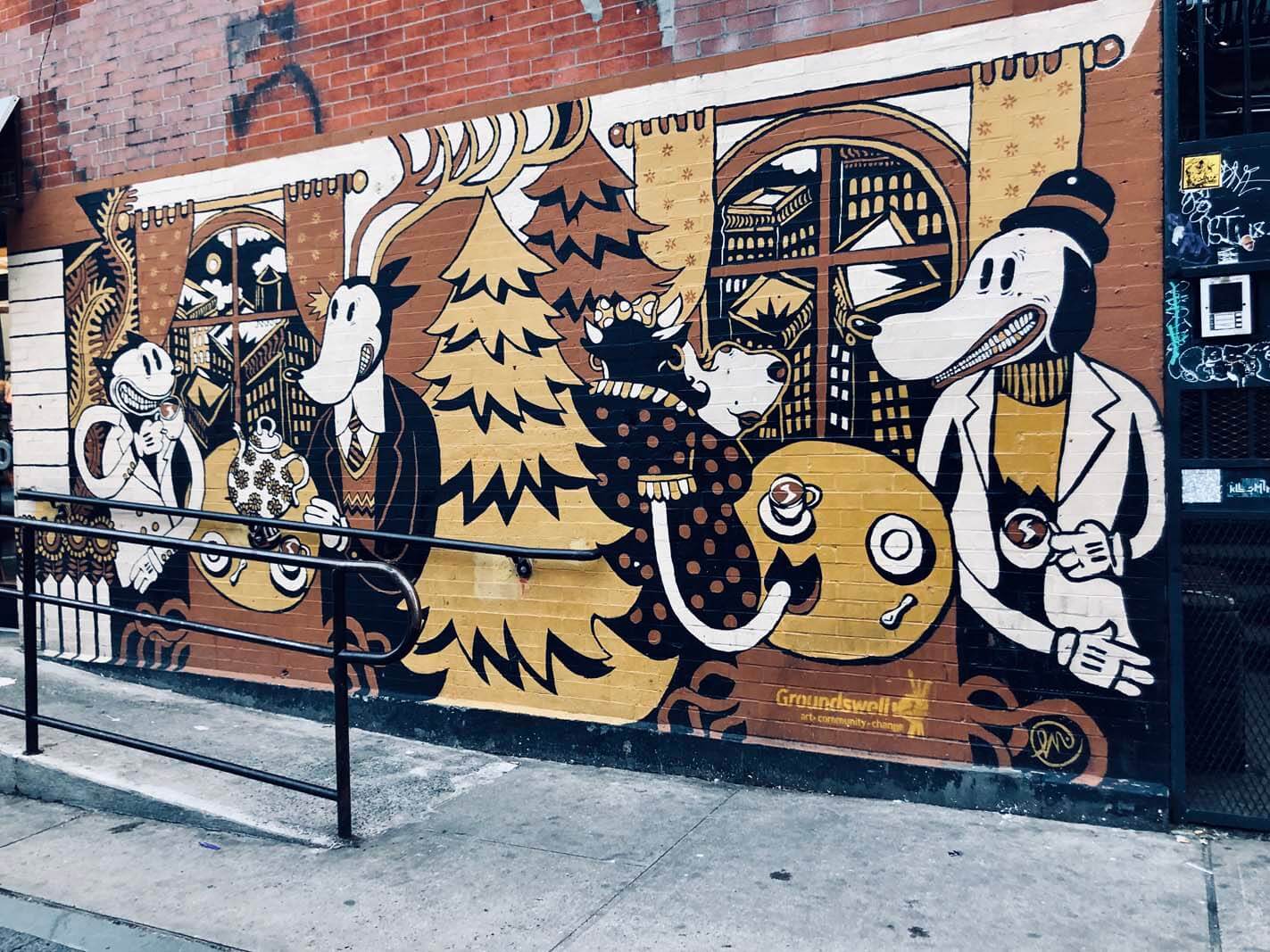 by Misha T of Groundswell
This next piece of street art in Williamsburg is located on the side of Dunkin Donuts. The artwork was done by Groundswell Art Collective's artist Misha T in Williamsburg and commissioned by Dunkin Donuts.
The objective was to create a mural that showcases and is a commentary on the changes of the neighborhood and its artistic identity and 'hipster culture.'
The piece includes happy looking brown and white animals enjoying a coffee inside with views of the city through the windows.
Williamsburg used to be known as the artist neighborhood, hipster area that was inexpensive to live in the city. However, the transformation this neighborhood has seen from being an affordable artist neighborhood to one of the most coveted places in the city with real estate with a huge price tag.
This neighborhood has gone from being a neighborhood for working-class enclaves of immigrants to one of the most gentrified neighborhoods in the city. This article by Brianna Merritt does a great job explaining the satire behind this Dunkin Donuts and happy looking piece.
Not to mention, Dunkin Donuts wasn't very welcome to Williamsburg when they announced their store opening in that location. Williamsburg is the neighborhood of independent coffee shops and cool hangouts, not mainstream fastfood chains and corporate beasts. In order to fit in better, Dunkin Donuts had this piece commissioned which in itself is one of the layers of satire this piece represents.
Location: Dunkin Donuts on Bedford Ave & 7th
Also, check out our guide to the best Williamsburg cafes!
Warby Parker Mural
by Stephen Powers ESPO
Chances are if you see a cool pair of glasses on the face of any New Yorker they are from Warby Parker. Or maybe that's just my experience. Here's another example of a business and big brick and mortar store using street art in Williamsburg to fit in this 'cool' neighborhood.
To be fair, Warby Parker is already a cool brand. They probably didn't have as hard of a time being accepted in this neighborhood as say, Dunkin Donuts did.
The artwork on all sides of the exterior of this Warby Parker location is done by artist Stephen Powers ESPO. Which according to his Instagram, he was disappointed with how this turned out. We will have to disagree as we think it's a pretty awesome use of space.
You can also find a smaller piece by Stephen Powers at the Wythe Hotel in Williamsburg.
Location: Warby Park on N 6th Street & Bedford Ave
Searching for Jellyfish
View this post on Instagram
by Ramiro Davaro-Comas for Ramiro Studios
Another famous Williamsburg mural is by the artist Ramiro Davaro-Comas, an artist from Argentina living in NYC. His signature pieces of work are known for his pen, ink, and watercolor illustrations with characters usually in motion, like this piece 'Searching for Jellyfish' in Williamsburg.
This is such a unique and cool piece of street art in Williamsburg! It makes me want to learn more about the artist himself and seek out more of his work because I really haven't seen anything else like it in the streets of New York, Berlin, Paris, or any other city I've went street art hunting in.
Location: Waterbury & Scholes Streets
Pet Bird RIP
View this post on Instagram

by ROA
Another one of the best pieces of street art in Williamsburg is by internationally famous artist ROA from Belgium. The dead parakeet is a tribute to his friend who lived nearby this spot in Williamsburg just coming outside from Lorimer Street subway station.
ROA's friend passed away two years before this Williamsburg mural was made in 2017. You'll find 'pet bird' stickers all around the piece as well.
ROA, although from Belgium is in Brooklyn during his artist residency. The new artist residency is Bed Stuy Artist Residency. He has other pieces around the city including another pick for best street art in Williamsburg next.
As of February 2021, this mural in Williamsburg was heavily tagged.
Location: Lorimer Street Station
Raccoons
by ROA
Another great Williamsburg mural by Belgian artist ROA featuring his signature giant black and white animals. This piece is above Much More's in Williamsburg.
ROA is known for featuring animals in his work, depicting the relationship between humans and nature is a constant struggle. If you feel like the animals are a bit grim, you're not alone. They are meant to be as a part of the metaphor and message that ROA is conveying through his work.
Location: 2 Havemeyer St
Modern Love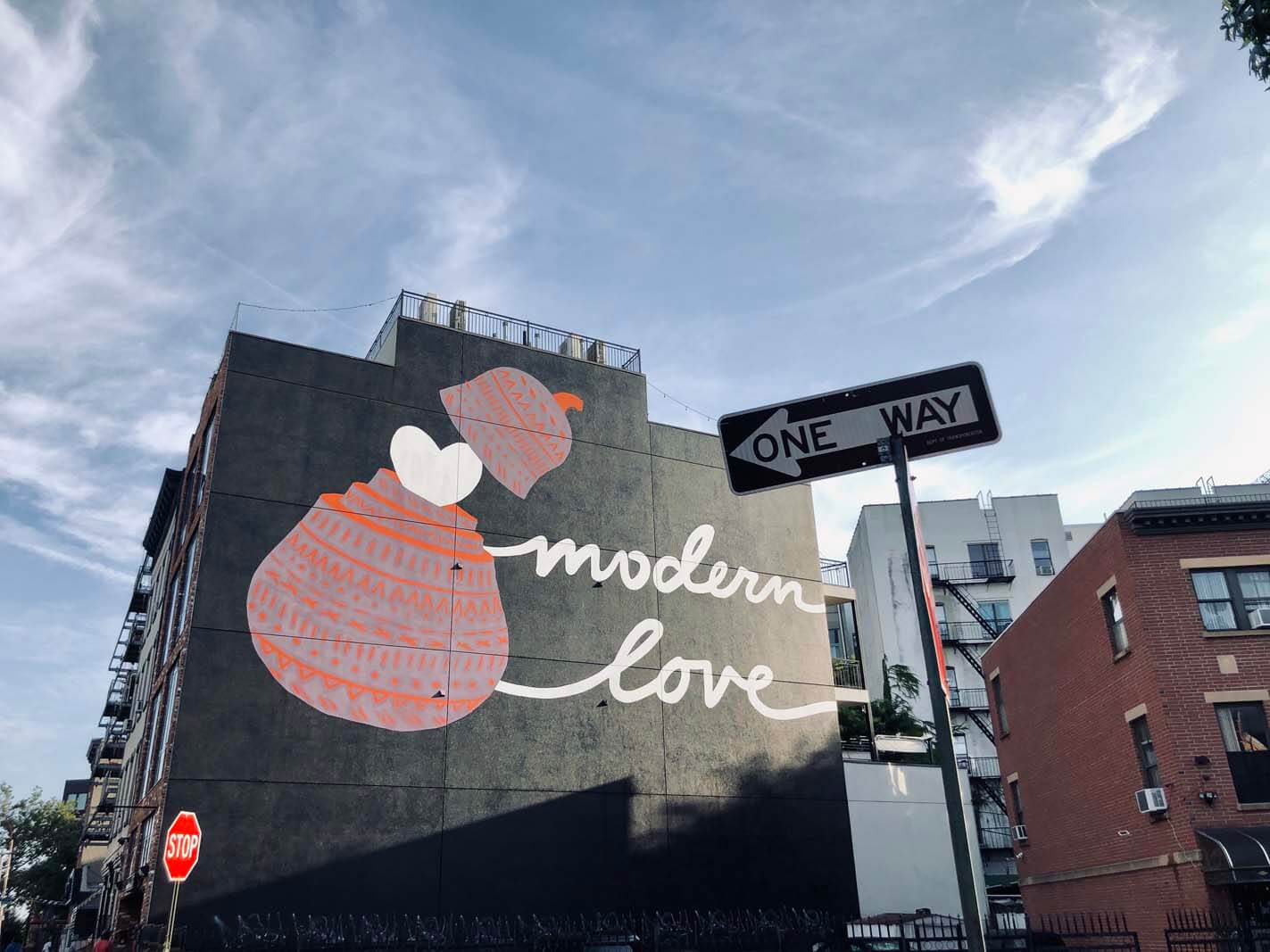 by OVERALL MURALS
One of my favorite giant Williamsburg murals actually is on the side of a vegan restaurant, all you have to do is lookup. This adorable street art in Williamsburg simply says "Modern Love," using the same logo as the restaurant.
Vegan chef and author of Post Punk Kitchen, Isa Chandra wanted to get some hype around her new vegan restaurant, so she did what any business in Williamsburg does, commissioned a mural!
The mural is hand-painted by the team at Overall Murals and takes up an entire side of a building. I am head over heels in love with the design and logo for Modern Love as it's not blatantly obvious its a part of the restaurant unless you walk by and see that or out on the prowl for some of the best vegan food in Brooklyn.
Anyway, its sweet and radiates with nothing but good feels.
Location: 317 Union Ave, Brooklyn, NY 11211
---
Know of any other incredible street art in Williamsburg? Share it with us and we will check it out! Also, be sure to check out more amazing walks in Brooklyn to check out!
If you enjoyed this post on the best Williamsburg murals be sure to bookmark for later or share the love below!